As an Amazon Associate I earn from qualifying purchases. I get commissions for purchases made through links in this post.
Did you know the average cruise passenger puts on 5-10 pounds on a 7 night cruise. Sometimes more. These are many ways you happily cruise without gaining weight.
You could imagine my despair when I first found this out whilst already cruising Alaska. Totally oblivious to the pitfall, I just wanted to have a good time.
For a person that only has to look at Baked Alaska to gain weight, it's scared the s*** out of me.
I was on high alert from that moment on and come away 2 pounds under. That's a miracle for many people.
Every time I cruise now I'm well prepared. I unfortunately know what the day after feels like and I'm guessing you do too.
How to cruise without gaining loads of weight.
AVOID "CRUISE MENTALITY"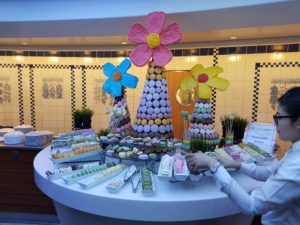 Cruising is seen as a time to relax, unwind and have others look after our every needs. It's pretty exciting that someone gets to make our bed everyday, cook all our meals and even wash up afterwards. Take us to each location whilst we indulge in midday cocktails on sun lounges by the pool.
You can still indulge a little but let's not get too extreme!
Is stuffing yourself senseless and lounging about 24/7 really your idea of be "rewarded", especially when it comes at such a high price.
So change your way of thinking and you'll change your outcome.
ORDER IN & GET ROOM SERVICE
A good healthy breakfast can set the mood for the rest of your day. Start off on the wrong foot and you'll probably be duplicating this all day long.
I ordered breakfast in my room each morning,having to leave my order out the night before. Just toast, cereal and fruit, nothing indulgent or too high in calories. This meant I couldn't unexpectedly splurge once I saw the breakfast buffet.
DINE AT THE RESTAURANT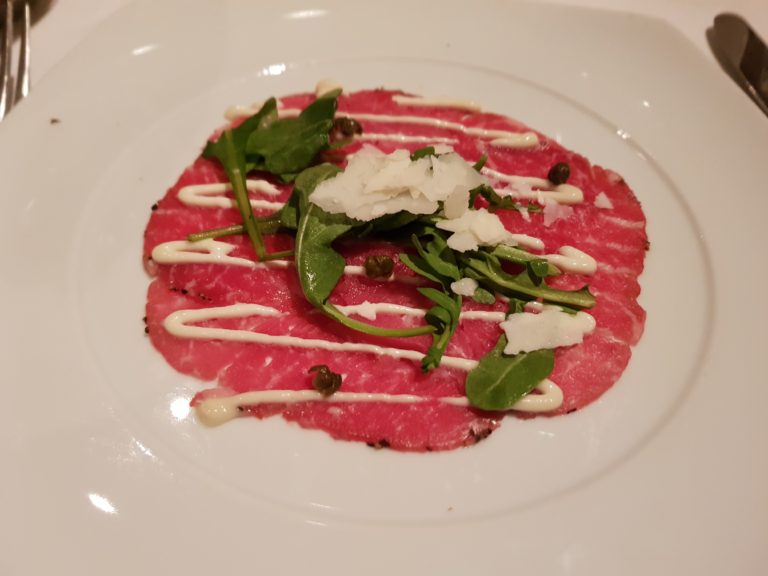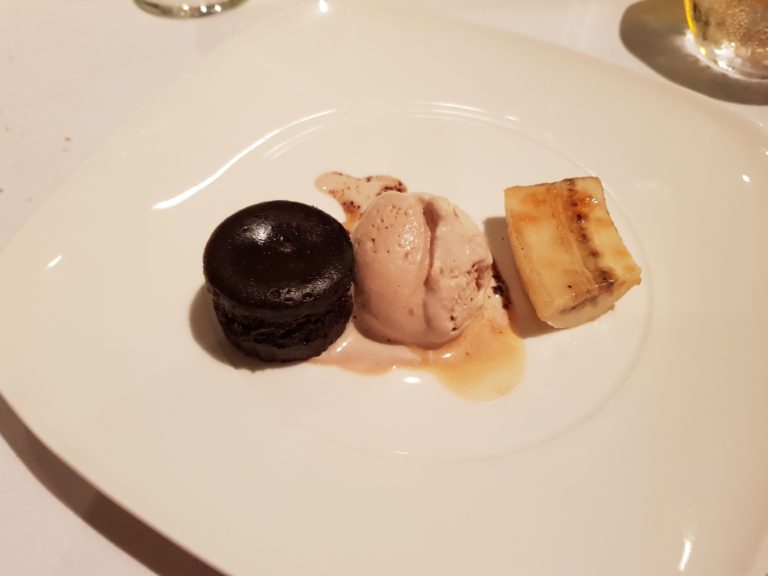 Your cruise package includes so much food choices and I recommend dining in the restaurant each evening. Not only is the food better but you'll have a much better dining experience.
I find the food much tastier and therefore can handle smaller portions. And because your 3 course meal is staggered over the evening, you will have time to digest it and realize you are actually satisfied.
AND IF YOU USE THE BUFFET…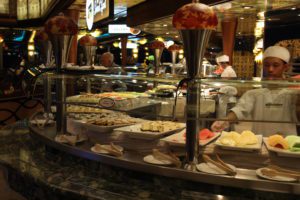 So much food, so many choices. We start at one end and by the time we go full circle our plate is holding up a mountain of food.
It's pizza, steak, stir fry and creamy fish all rolled into one.
Scope out the competition first.
That is, check out all your food choices and go back to what you'd really like to try. It's better than having your plate fully loaded and then you notice they are serving yummy lasagna at the pasta station.
By doing this you will more than likely put less on your plate.
TAKE AN ADVENTURE CRUISE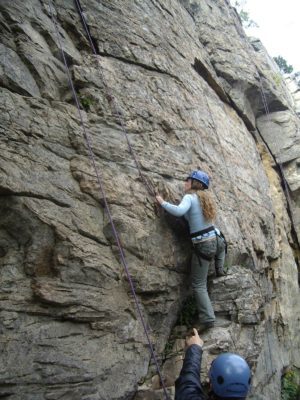 Many of the big ships have some pretty cool activities going on. From water slides to rock climbing walls. Why not try something new, be adventurous!
Then head on shore and find some more fun things to do.
On my Alaska cruise I went rock climbing & rappelling in the Yukon. It was hard work but I loved every minute of it. I also went on a 5 mile guided hike to the face of a glacier. Absolutely brilliant.
Whilst in the Caribbean I swam with dolphins and zip lined in Honduras, and went on a snorkeling tour on Grand Cayman.
This is not exercise, this is adventure!
GO TO THE GYM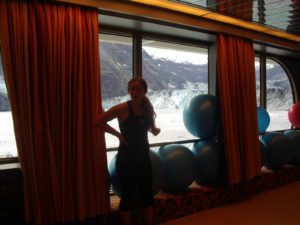 Have you ever stepped foot inside a cruise ship gym?
Not a gym person?
You'll find most gyms are up the front of the ship & the treadmills and bikes are positioned right in front of the windows.
So you'll get a ongoing and ever changing view like no other gym on the planet.
If it's just not your scene then use the walking track around the ship. Usually you can see how long the track is and can set yourself a goal of how many laps you wish to achieve.
Also take the stairs. The elevators can be a tad slow when you have 7 decks to ascend and passengers get on and exit 1 floor later. What's with that!
DITCH THE DRINK PACKAGE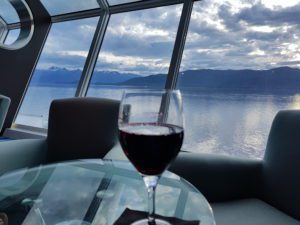 Ditch it and enjoy yourself in moderation less the hangover.
I like a drink like most people on holiday but never did I think the drink package was going to pay for itself. And I don't really feel like having to put drink after drink away to feel like I got my monies worth.
If you were lucky enough to get a drinks package as part of a deal, it still doesn't mean you have to turn it into a booze cruise right…right!
I could have 3 or 4 drinks a night and I still don't think it would cover the price of the package most times.
DANCE THE NIGHT AWAY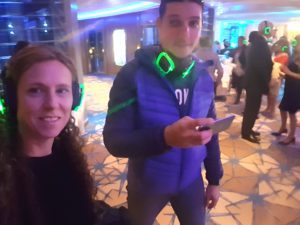 What happens on holiday, stays on holiday right!
So no one will see your bad or crazy dance moves . You can party like no one is watching.
Yeah sure, it's a little cheesy sometimes but like a wedding, if you are in the mood you'll dance to just about anything.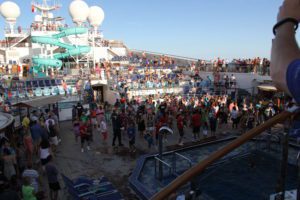 So cruising doesn't have to involve elastic pants and over sized t-shirts.
You can most definitely have a great time away without your friends having to comment,
"I see you had a great time away!"