As an Amazon Associate I earn from qualifying purchases. I get commissions for purchases made through links in this post.
So many travelers are always looking for that allusive deal of quality versus budget. Luckily both these hotels hit the brief. So let's look at The Whaler versus Kaanapali Beach Hotel. 
I have stayed in both and enjoyed both but there are some differences that may help you make your final decision.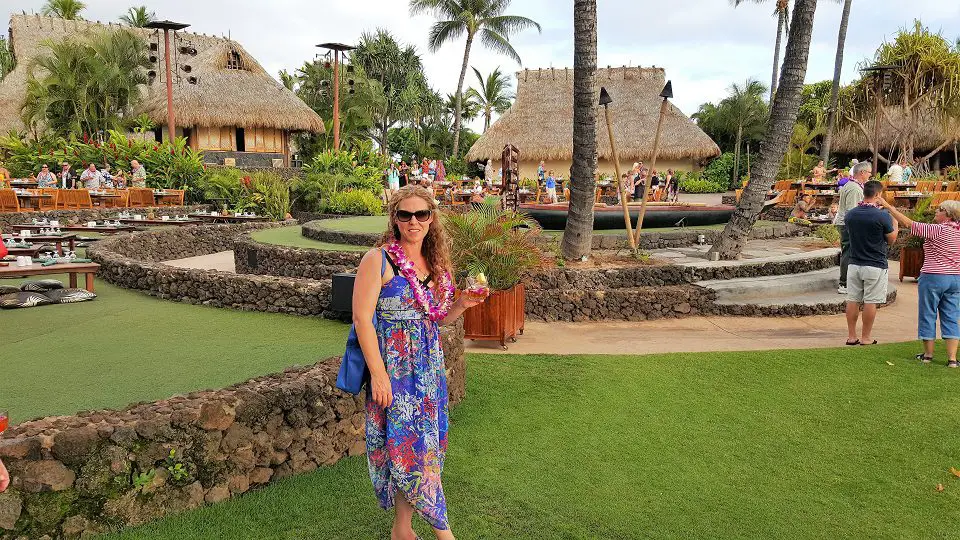 Kaanapali Beach Hotel versus Aston on The Whaler
 
Kaanapali Beach Hotel
The Whaler
THE HOTEL
432 rooms/ 6 floors
Built 1964. Last renovated 2009.
360 rooms. 12 floors
Built 1975. Most rooms upgraded.
ROOMS
Categorized by view. All rooms offer free WiFi & balcony.
Condo property. All have free WiFi and full kitchen. Balcony.
LOCATION
prime beach frontage.
prime beach frontage
AMMENITIES
Large pool. Nightly entertainment. Spa. Free Hulu lessons. Lei making.
Tennis courts. Fitness Center. Activities desk.
Pool. Spa.
RESORT FEE
None
US $20 per night.
TRIP ADVISOR RATING
4.0 / 5.0
4.5 / 5.0
Now we'll look at the WINNER in the following categories.
---
Location
Winner: both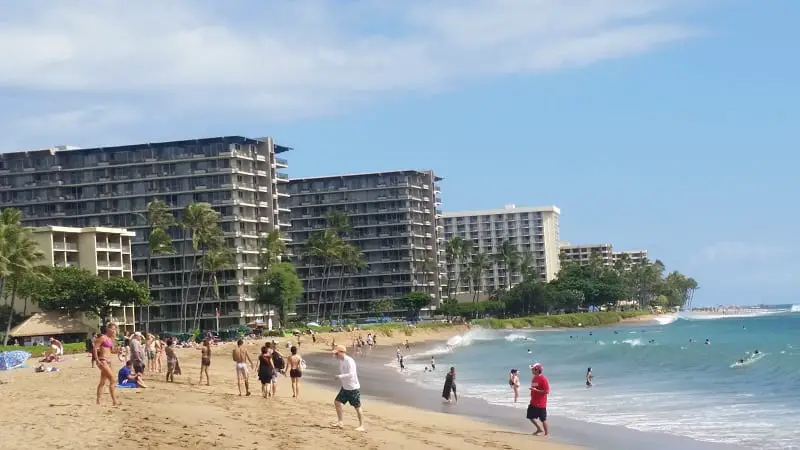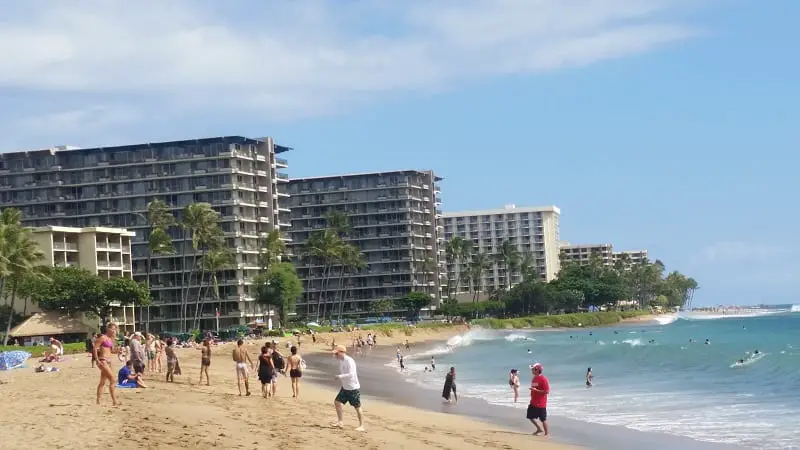 This stretch of beach is simply stunning and both hotels are in the heart of it all, located side by side so both win. You really couldn't ask for better.
Kaanapli beach is one of if not the MOST sought after locations in all of Maui. The waters are a haven for swimmers, snorkelers and diving enthusiasts.
A shuttle bus is situated out front of Whalers village and takes you into the town of Lahaina. Here you can shop, go to one of the many restaurants, buy groceries or partake in lots of activities.
---
Customer Service
Winner: Kaanapli Beach Hotel
It is here you will receive the warmest welcome of all. The hotel is famous for its true Hawaiian hospitality. Everyone from hotel staff to groundsman will extend you a warm "aloha" every day.
---
Rooms
Winner: Aston on The Whaler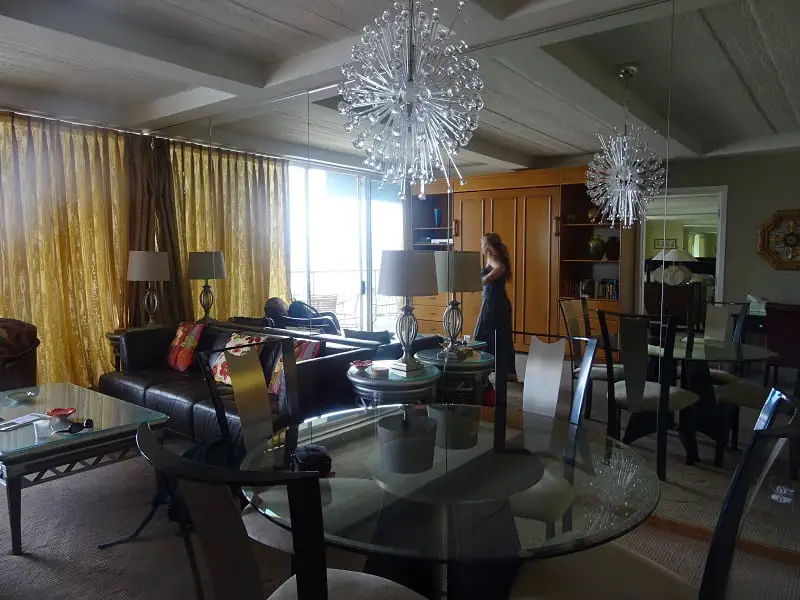 Being a condo resort , The Whaler offers standard and premium style rooms. Having a kitchen offers a chance to cook meals and a bit more space to relax as well. Though you may pay a little more for this resort, you'll save money on meals if you cook. For this reason I choose The Whaler.
Note: if staying at Kaanapali  Beach Resort, they have rooms in the "old section" as part of their accommodation range. After staying in both the old and new wings I much prefer the new wing for overall comfort.
---
Activities & Entertainment
Winner: Kaanapali Beach hotel
If you are looking for that true Hawaiian feel then this is the place.
From taking a free Hulu lesson to lei making for the kids and adults.
The best part is the nightly entertainment where you might see a Hulu show or  some local singers and dancers.
It may not be the best show in town but it's so authentic watching these beautiful people share their culture on stage. Highly recommend.
Both hotels have an activity centre and offer FREE beach towels.
---
The View
Winner: Aston on The Whaler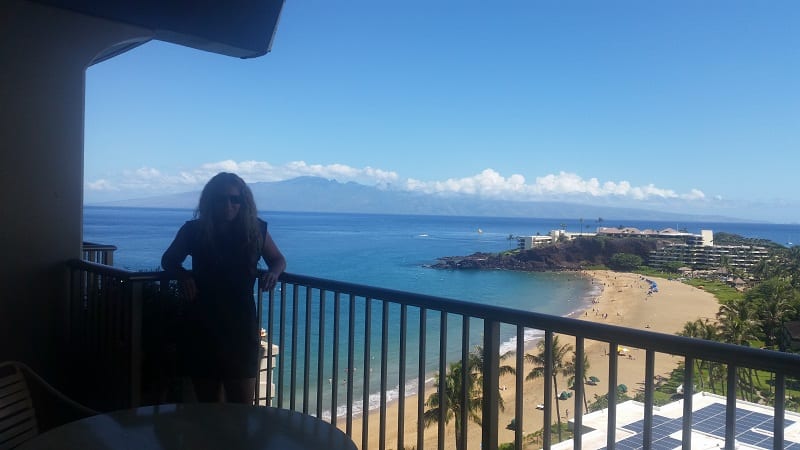 Though both offer sea views, it's The Whaler which has the most stunning. This is because the rooms are very beach front where as Kaanapali Hotel is set back with its gardens in front.
Note that rooms facing Black Rock are generally the most sought after but either side is good.
It is also worth noting that all this depends on what room you are in and what floor you are located on. Both can offer great views but I found the Whaler probably has a better chance of getting that "WOW" view.
---
The Pool & Grounds
The Winner: Kaanapali Beach Hotel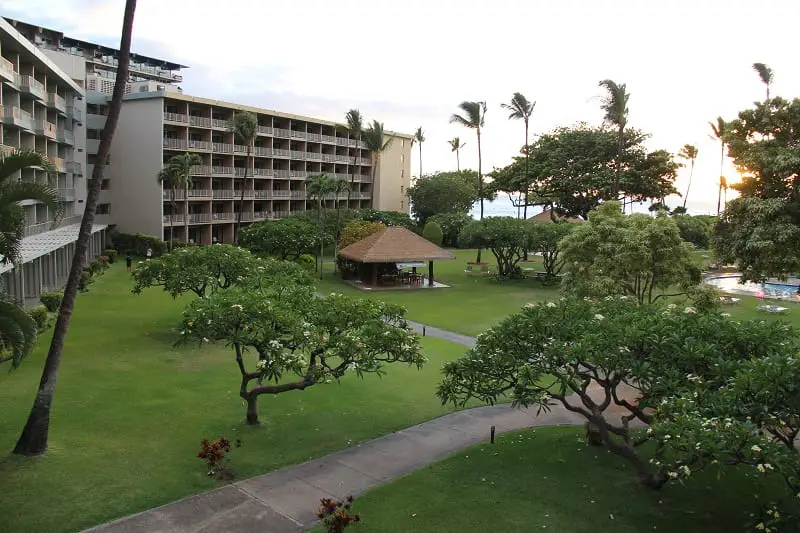 Hands down, there is no comparison. The pool here is much larger and is set on large grounds for laying out your towel or reading a book on a comfy lounge chair. This will also bring lots more kids.
The Whalers' pool is small and is right on the main footpath so you'll get an audience as well as seen in this picture.
Even if you are not into using the pool, it's the grounds overall that make Kaanapali Beach hotel the sure winner.
---
Restaurants / dining
Winner: both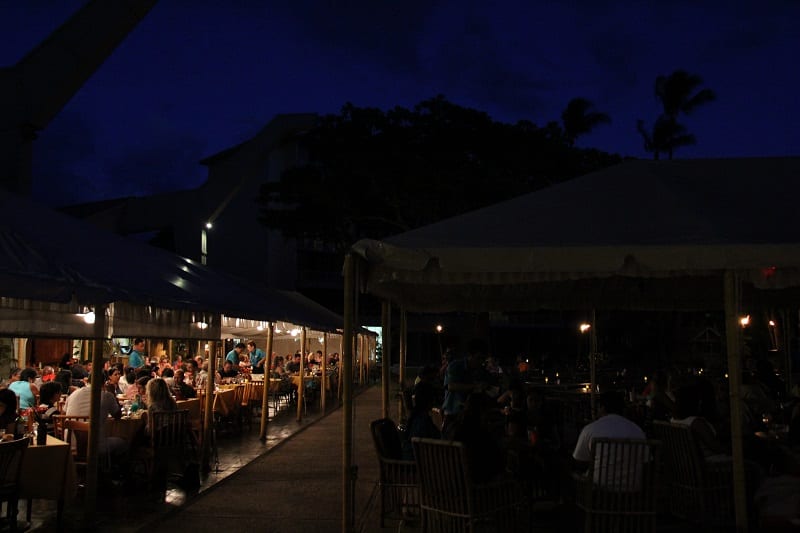 Kaanapali Hotel has their onsite restaurant , Tiki Terrace and the Tiki Grill for grab and go snacks. They also do a Sunday Champagne brunch. The Whaler on the other hand has restaurants steps away at Whalers Village.
It's really dependent on what you feel like and what type of dining you prefer. You have the choice to  dine at any of these establishments so it's really a win win situation.
---
In short
Pick Aston on The Whaler if you like:
The conveniences of home. Plus a gorgeous view, great room, well manicured grounds, tennis court and gym, a place to cook meals and a spacious room to come back to. If you prefer a bit of luxury, choose a premium unit.
Pick Kaanapali Beach hotel if you like:
A true Hawaiian experience plus great customer service, authentic activities, nightly entertainment, wide open grounds and large pool, family fun.