As an Amazon Associate I earn from qualifying purchases. I get commissions for purchases made through links in this post.
The chance to see a Dugong doesn't come around too often. There is never any guarantee when faced with open water. But this Private Tour on the main island of Vanuatu had something amazing going for it. A wonderful lady  by the name of Touran. – Dugong in Vanuatu.
She was an attentive and dedicated tour guide who was determined to deliver the goods, and she did, twice.
---
About the Dugong
The Dugong is a medium sized mammal and grey in appearance .
Closely related the the manatee, the only difference being in the tail which is fluked like a whale. They are often called a "sea cow" due to the fact they eat large amounts of sea grass.
They live in various places around the world in warm coastal waters. The female dugong will give birth only once every 3 to 5 years.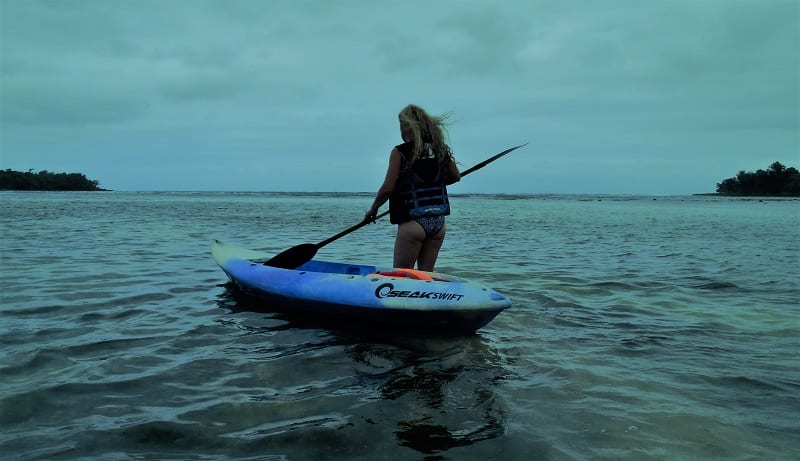 About the tour.
This tour is by single person kayaks. We met our guide Touran at Vale Vale Beach Villas which is directly on the beach.
There was only three of us, two in single person kayaks and one in a double kayak with Touran.
The water close to shore are calm and still. Head out past the reef and the water became a little choppy but nothing we couldn't handle. The day may bring you flat conditions but today it was not to be. I only hoped this would not dampen our efforts to spot anything.
Never having kayaked before I was a little apprehensive about going out so far but Touran eased any concerns we had. With our life jackets and a big desire to see these graceful creatures, we were more than ready.
The dogs on the beach, one stray and Touran's own dog, Lola bid us farewell.
The kayaks were easy to navigate and soon we were out far enough to begin our search. We banged on our kayaks, trying to create some underwater noise, letting the Dugons know we were here. Now it was their turn to show up.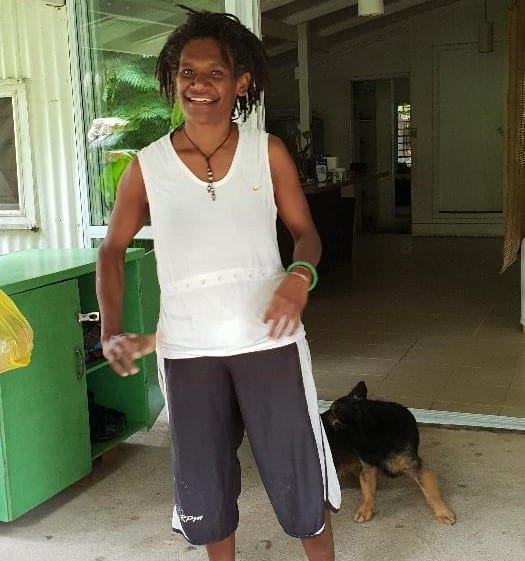 Our first sighting.
After close to an hour in our search Touran spotted the dugong, a baby calf just up ahead. We had a clear view of its size and appearance and the three of us were in a state of pure excitement. It was magnificent and we stayed back in the hope that it would come to us.
After a short period the calf dived deeper and soon it was out of our view.
Now where there is a calf, the mother can't be too far away. It was now a matter of time before we would see her too.
After more searching, paddling back and forth, it was again Touran who made the discovery of the mother. She  came up to the surface, her head clearly out of the water.. This is where the adrenaline really kicked in.
What a privilege it was.I felt completely satisfied, our large open smiles telling the story.
We spent close to 2 hours or more in our kayaks. I'm sure Touran would have stayed longer if the need was there. She was just so determined to get us the opportunity we were desiring. It was her mission and she delivered twice.
We also spotted a few large turtles on on tour which was a bonus.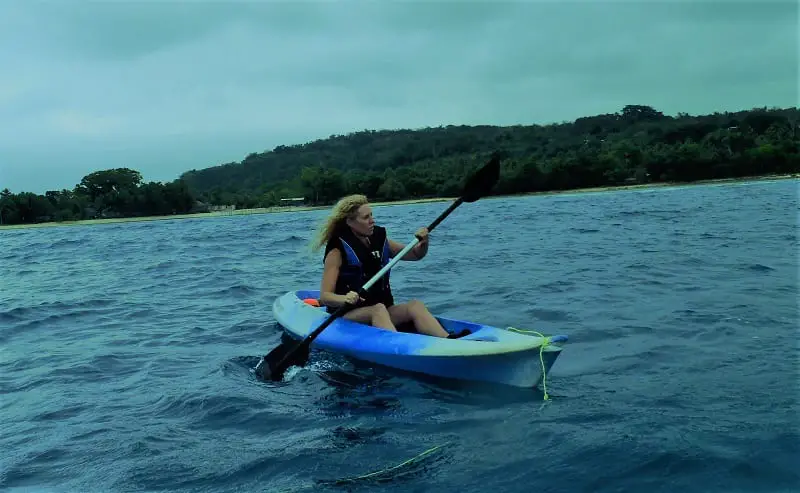 Unexpected visitor
We certainly had a visitor but it wasn't a dugong. The stray dog from the beach had followed us out quite a distance. She had obviously recently had pups and I was getting concerned about how long she had been paddling. When we changed direction, she just kept following.
 Unable to persuade her to head back to shore. I made the decision to take her on board, Balancing off the back of my kayak I think she was relieved to rest her weary legs. She fell out but Touran took her on board also. After moving closer back to shore she simply hopped off and we watched her head back to the safety of the beach.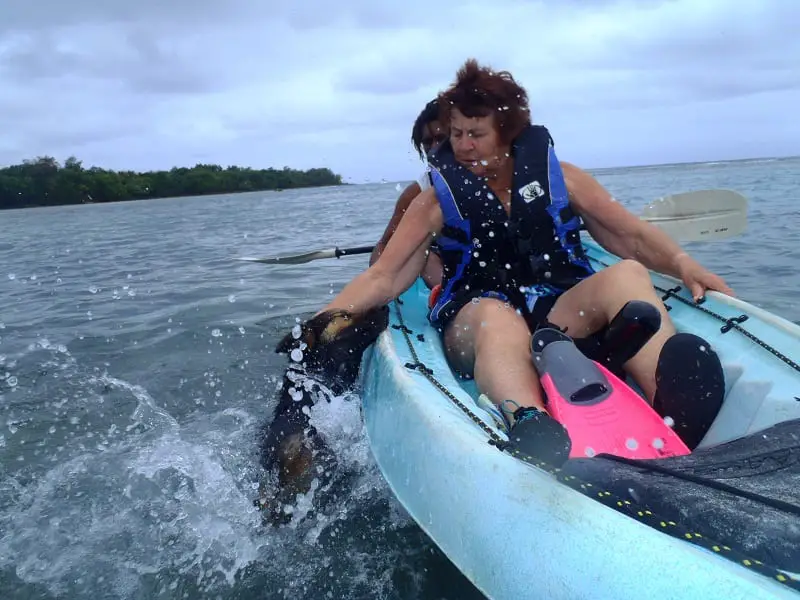 How to book.
If you too are interested in seeing a Dugong this tour is for you
Through the Vale Vale Facebook Page.  To send a private message  CLICK HERE.
Note: There is no website so you'll have to contact the resort directly.
COST:  $1000 Vanuatu or around $12 Australian. That's insanely cheap for what you get.
Prices may fluctuate or be different for smaller or larger groups.
 We actually booked through Vila Hope Tours as it was by chance they told us about the Dugong tour.
Paying only $2000 or $25 Australian, this included the transfer. Our driver sat on the beach on waited for us whilst we went out so thank you to those guys.
But the biggest thank you goes to Touran. You exceeded our expectations. Your passion and professionalism was outstanding.
---