This post may contain affiliate links. As an Amazon Associate, I earn from qualifying purchases. That means I may receive a small commission at no extra cost to you, and it keeps me alive and running. 
I recently returned from a week long trip to the impressive islands of Vanuatu. Here we stayed at the best value accommodation in Port Vila, Hideaway Island Resort.
This little island just off the mainland was the perfect home for next few nights.
The overall value for what we received was absolutely outstanding. And seeing I had forked out a large sum for a Volcano Tour, it was perfect for our stay.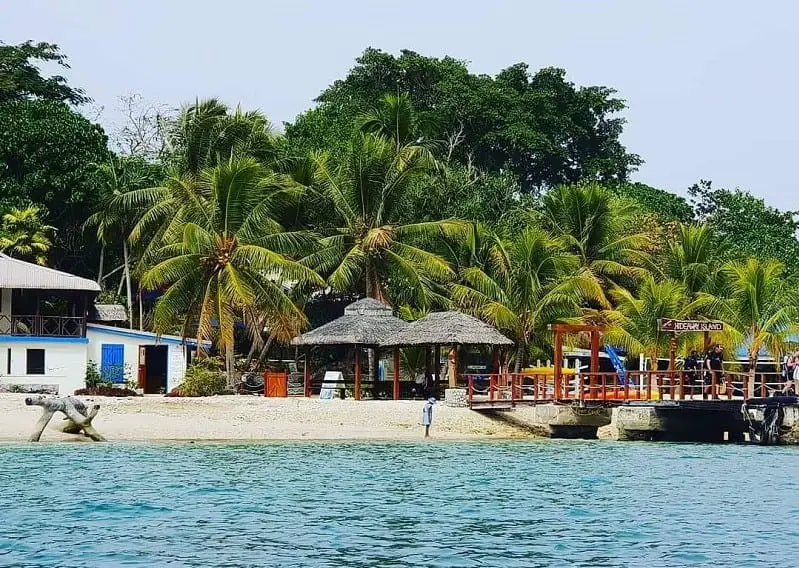 Location is everything.
The Island is located a mere 5 minutes boat ride off the mainland in Mele Bay and only 7 km from the city centre. Transfers are free and the boat runs 24 hours a day
It's a quick trip to the airport too.
Taxi buses will greet you on the mainland and for around $3 Australian dollars to you can go back and forth into Port Villa for shopping, groceries, dining or any other needs.
All tour companies will pick you up right off the beach.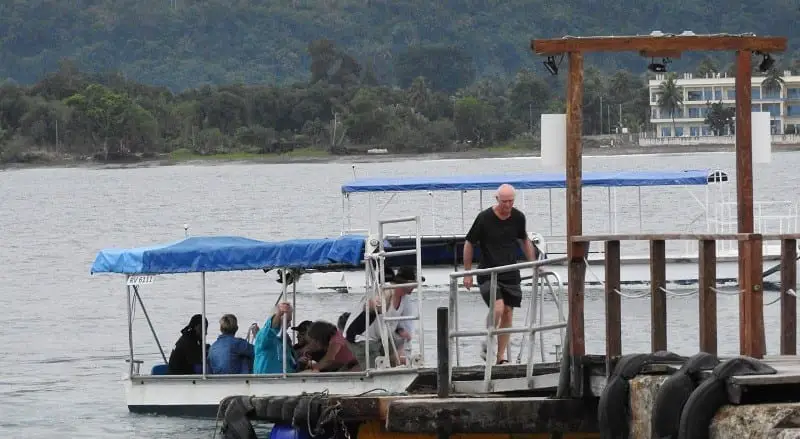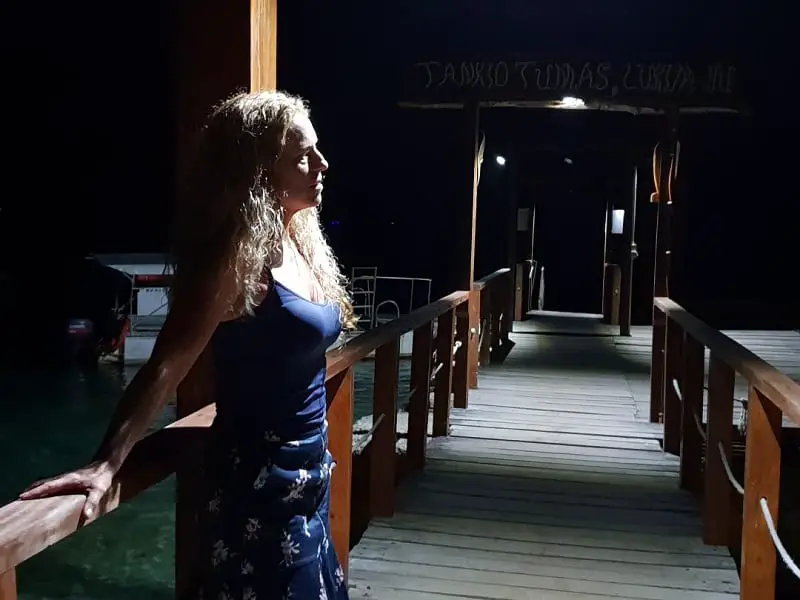 Accommodation on Hideaway Island. 
You'll have plenty of choices here from the cheapest hostel style accommodation to private villas situated on the other side of the island. There are only 27 guestrooms so it's not too crowded at any time.
We chose a twin room with shared bathroom facilities all for under $40 per person per night.
This included a continental breakfast.
The rooms were small yet provided us with a basin and place to hang our clothes. You will also have chair and table where you can sit and take in the view of the beach and water. What more could you ask for! There is tea and coffee in the room and a small fridge.
The beds were surprisingly very comfortable. Firm but not hard. I had the best nights sleep every night.
The shared bathrooms are spacious and private. Shower, toilet and basin in the one room so no sharing along side someone else. There are 2 bathrooms for the 6 twin rooms so I never waited once to get in. Towels are provided with shampoo etc.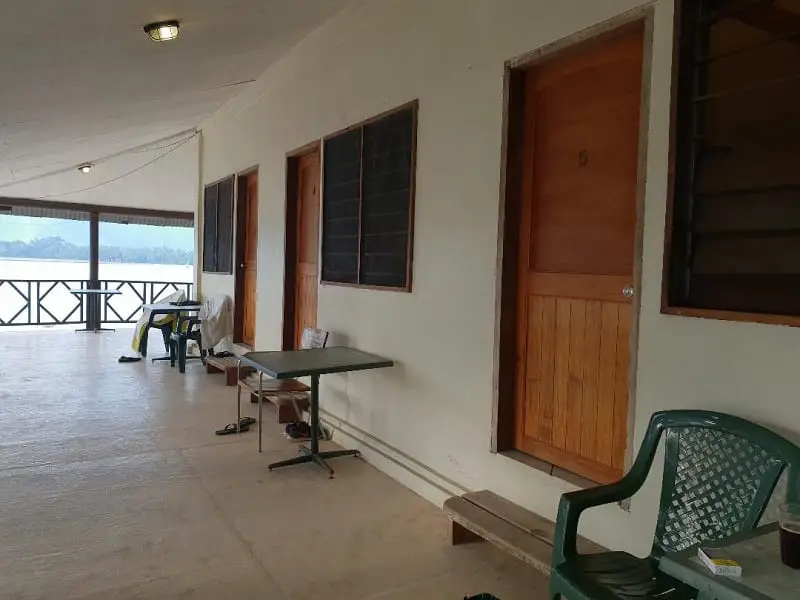 Lots of free stuff
The biggest winner here was all the free stuff you got with your stay.
From Glass Bottom Boat Tour, Snorkeling tour, use of kayaks and stand up paddle boards, it was impressive value. Yes there is a pool and free WiFi in public areas too.
Hideaway Island also offers a free village tour off the island. It only runs on certain days so be sure to ask when you first arrive.
Movie night happens in the main restaurant after dark.
As the island has a natural reef just offshore and no dangerous currents, grab your free snorkeling gear and go exploring. It's a great place to bring the kids as the water moves form shallow to deep.
Just off the first pontoon there is an underwater post office. Yes, you can purchase a waterproof postcard and deposit it to be send home. The mail gets picked up every day. It's a novel idea right.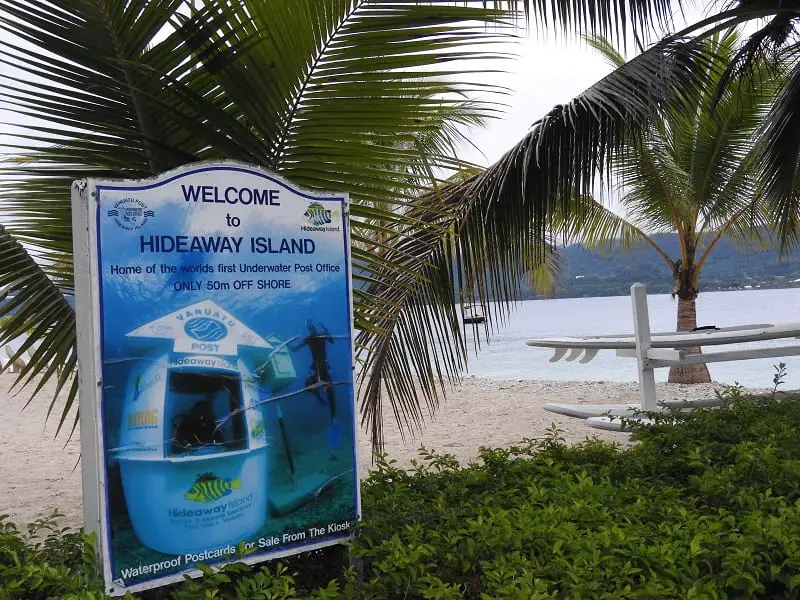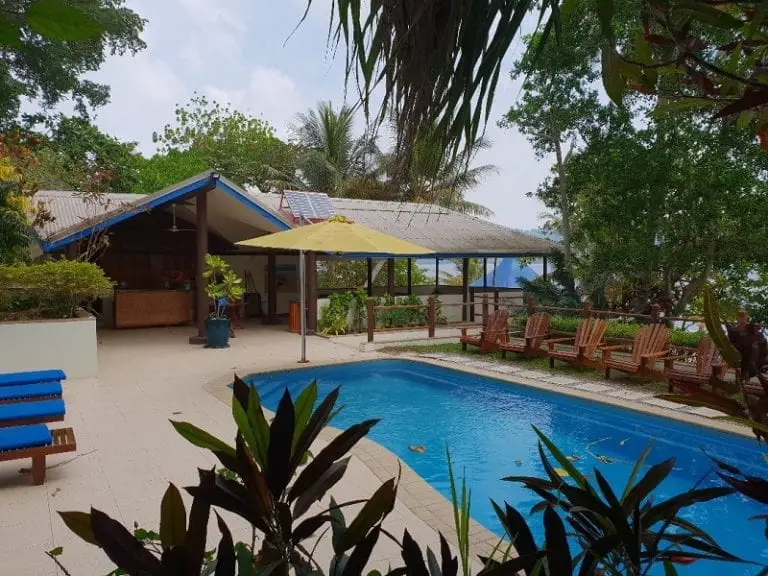 Hideaway Island  beach.
Hideaway Island is made of of sand and coral. Your packing items should include reef shoes as walking into the water and around most parts of the island requires some sort of footwear.
You can circle the island in around 10 minutes, it's not that big so you really feel happily isolated. Yet all the main island's action is only minutes away. It really was the best of both worlds.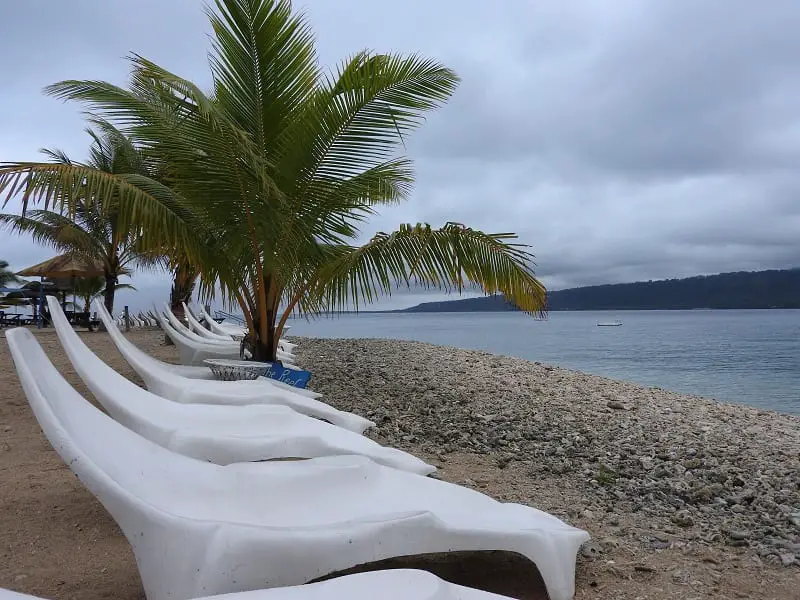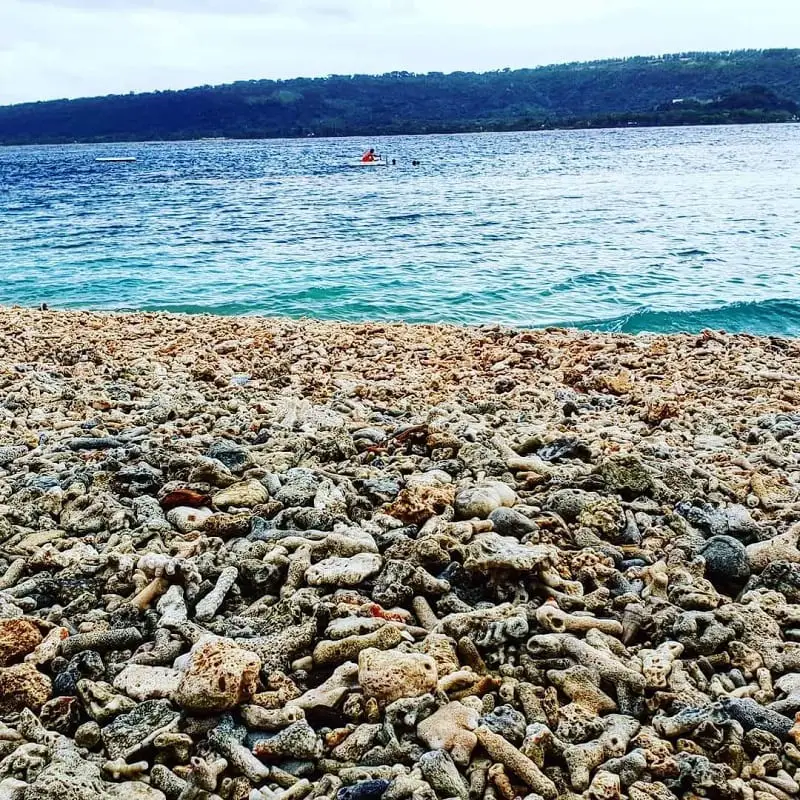 Popular for divers.
There is a Padi Dive Centre on Hideaway Island. They offer dives during the day and nights too. Though i didn't use this facility I spoke to a few divers who expressed their approval of the dive sites.
The dives were "easy" and the crew were professional. I think beginner or less advanced divers would find Vanuatu and particularly Hideaway Island a great choice for this reason.
A fancy dress dive was going on one evening.
Restaurant and bar.
As mentioned, a continental breakfast is provided in your overnight cost.
It's not anything fancy but it was adequate and hit the spot. Toast, cereals, muffins, fresh fruit, baked beans and tea & coffee are provided. You can purchase a hot breakfast if you wish.
The nightly meals were really nice. Try fish, chicken or beef curry for around $15 Australian or a pizza from $10. It was certainly affordable.
We also ate at the Beach Bar located on the main island directly off the ferry. Burgers, wood fired pizza and more plus a huge sports screen right on the water. What more could you ask for.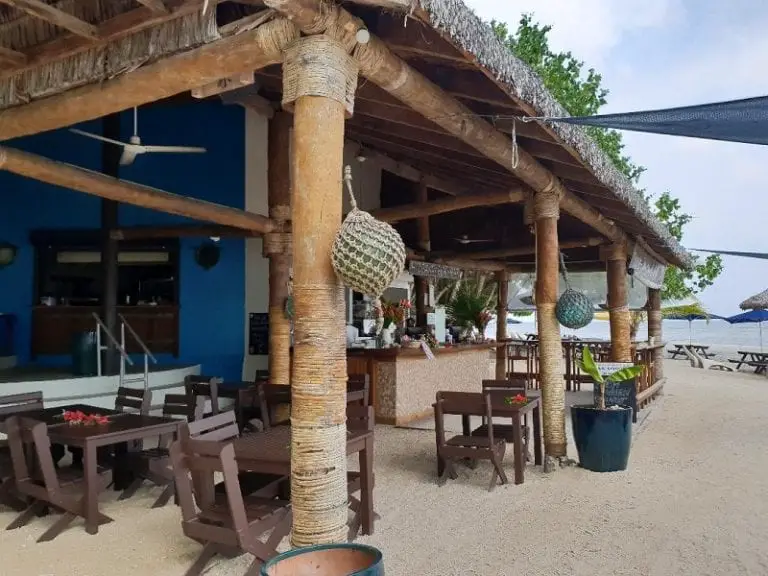 Melanesian Feast
Once a week the island has a special Melanesian Feast. You can book at reception.
I recommend trying some local cuisine whilst you are there, the food is good. The fish is amazing.
It will set you back around $30 Australian.
You'll get to try some Kava. Vanuatu's famous drink is pretty terrible but you have to try it. It looks like a combination of mud and dirty dish water. Just don't sip it, it's not made for that. Straight up and quickly.
After our dinner and desert we headed onto the beach for some story telling and dancing around the fire. Everyone was having a good time. The staff did a great job.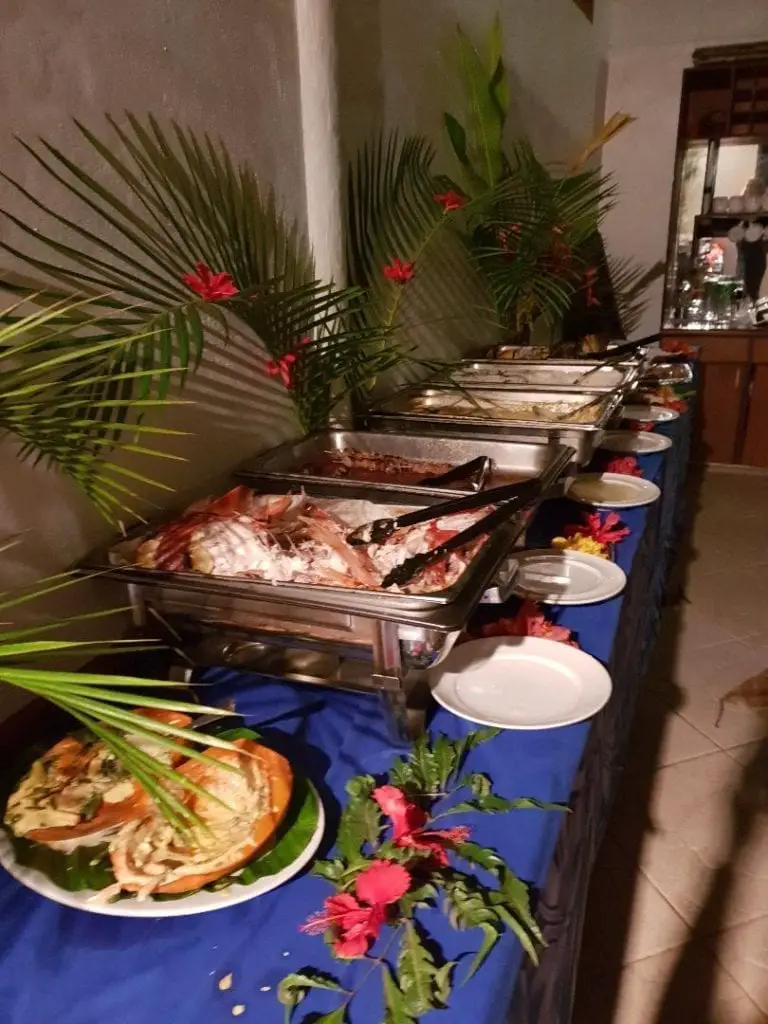 To the staff 
The people of Vanuatu are simply beautiful. I never felt unsafe or about to challenged with my money. They are genuine and obliging.
A special mention to the staff of Hideaway Island. You really made us feel welcome You were fun and lively at all times.
You learnt our names and stopped for a chat every once in a while.
Thank you for such a great stay!
---