As an Amazon Associate I earn from qualifying purchases. I get commissions for purchases made through links in this post.
There is plenty of cool things to do in Vanuatu. This guide is based out of the main island of Efate. While some things I found through research, others came recommended by the locals. 
10 cool things to do in Vanuatu
Spend a day at Hideaway Island Marine Park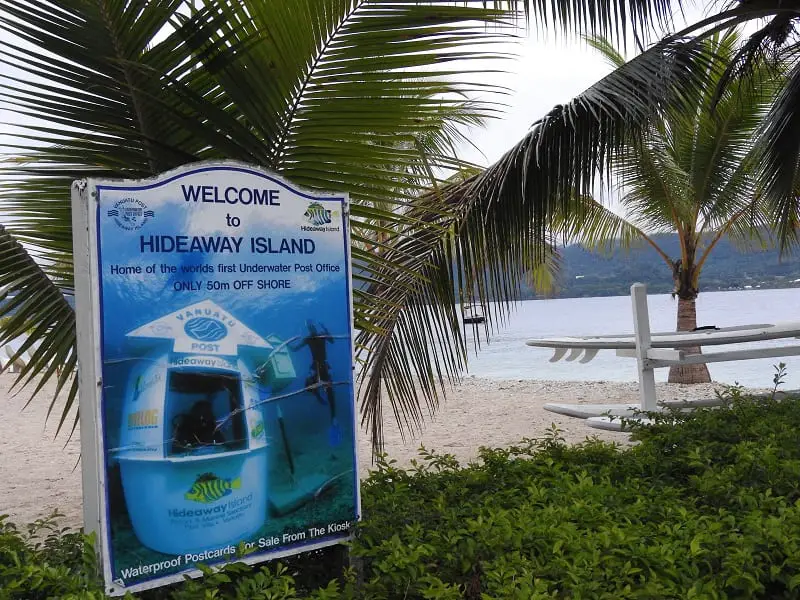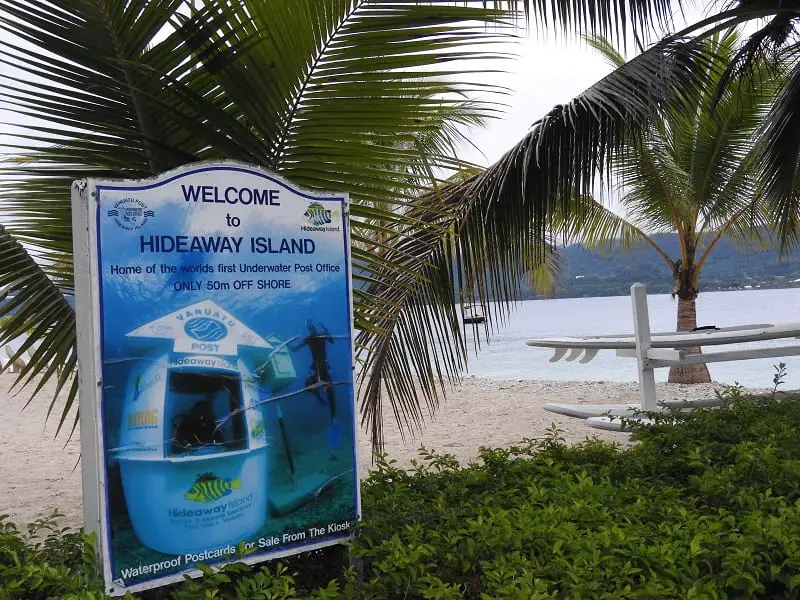 Fancy a swim in calm sheltered water? Or a snorkel adventure straight off shore?
Hideaway Island is a short and free boat ride from the mainland. You can easily catch a cheap taxi from the centre of town to the jetty. The boat will pick you up, no need to book.
The island is only small but you can sit on the beach and take in some rays for the afternoon or rent some snorkel gear.
Take a snorkel tour or jump on the glass bottom boat tour.
There is an underwater post office where you can purchase and deposit a  postcard and YES it will be delivered.
I actually stayed at Hideaway Island Resort. You can read a full review here.
Swim in the Blue Lagoon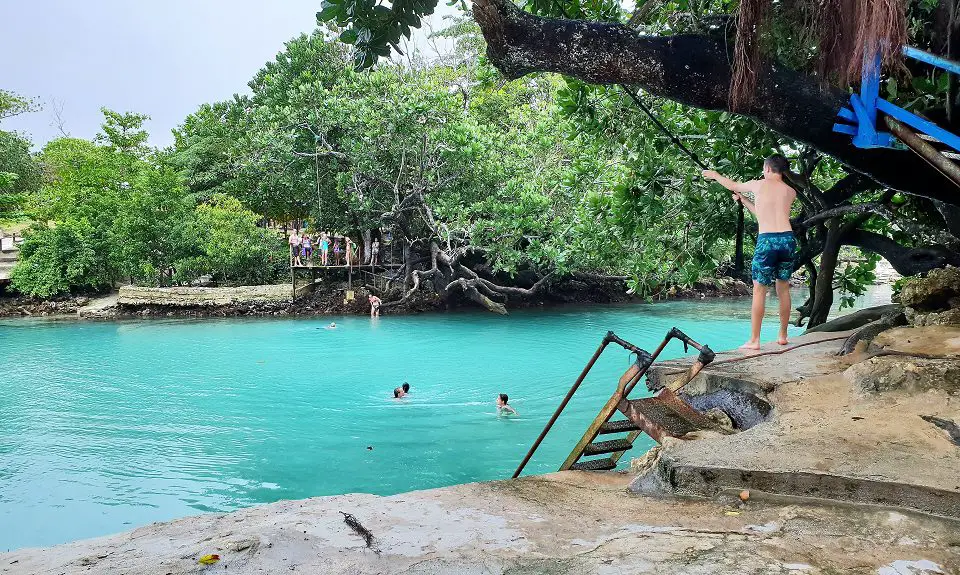 It's as pretty as the pictures look and as blue as you can imagine.
The Blue Lagoon is a popular spot and well set up.Visitors can take a swim and plunge from a rope swing. There are change rooms and seating provided. It's a great spot to picnic and families, couples or friends will love it here.
This was high on my list as places to visit and I couldn't wait to jump in that inviting water.
I accessed the Blue Lagoon via a full day island tour. We were given an hour or so here which was actually plenty of time for a swim. You can see the tour I took here.
Tour the Pepeyo Cultural Village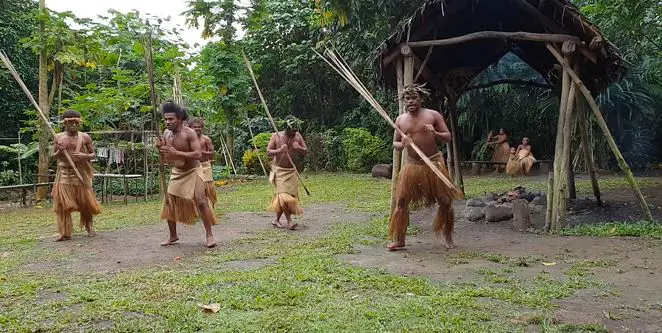 It's always interesting to learn about other cultures and their traditions. While many families still live completely off the land, others have moved a little closer to our technological world.
So a tour of the Pepeyo Cultural Centre is well worth a visit. See fire walking, basket weaving and traditional costume plus a musical demonstration. Plus hear stories of life and culture in traditional Vanuatu.
See a fire show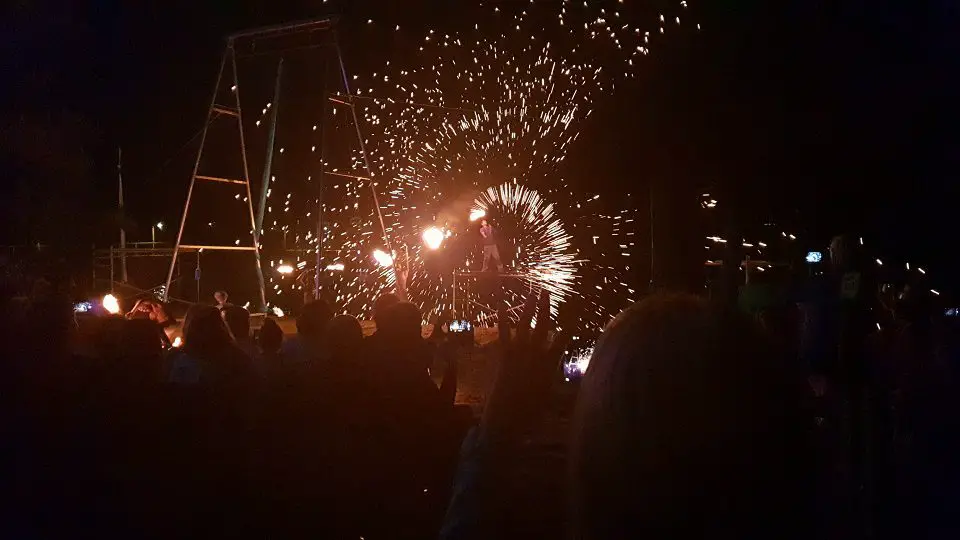 Every Friday night, the Beach Bar at Mele puts on a fantastic fire show.  The performers are all young kids from the local youth theatre in town. They do such a wonderful show and the bar is packed so book if you can. It starts at 7 pm and it's FREE but donations afterwards are welcomed.
The beauty of us staying at Hideaway Island was the Beach Bar was right at the end of the jetty. We decided to go early and enjoy a meal before the show. Seating starts from 5.30 pm.
Alternately, for those staying further out, there was plenty of shared taxis waiting to take you back to your accommodation. It should only cost you a couple of dollars.
Spend some time at "Survivor beach"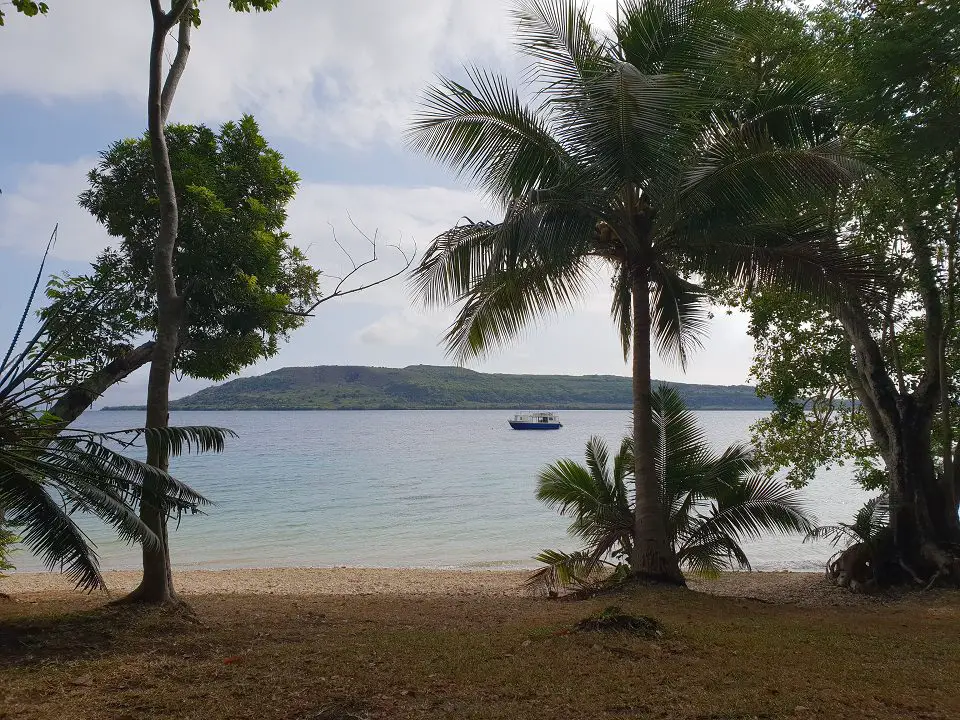 A short drive out of town will bring you to Havannah Beach or "Survivor beach" as it is dubbed. This is where they filmed the 2004 season of the US TV show, Survivor. The location is one of the best on all the island of Efate. The water is inviting and people are happily snorkeling and swimming.
There are bathrooms and a good bar to grab a drink right off the waters edge.
Shop at the local handicraft markets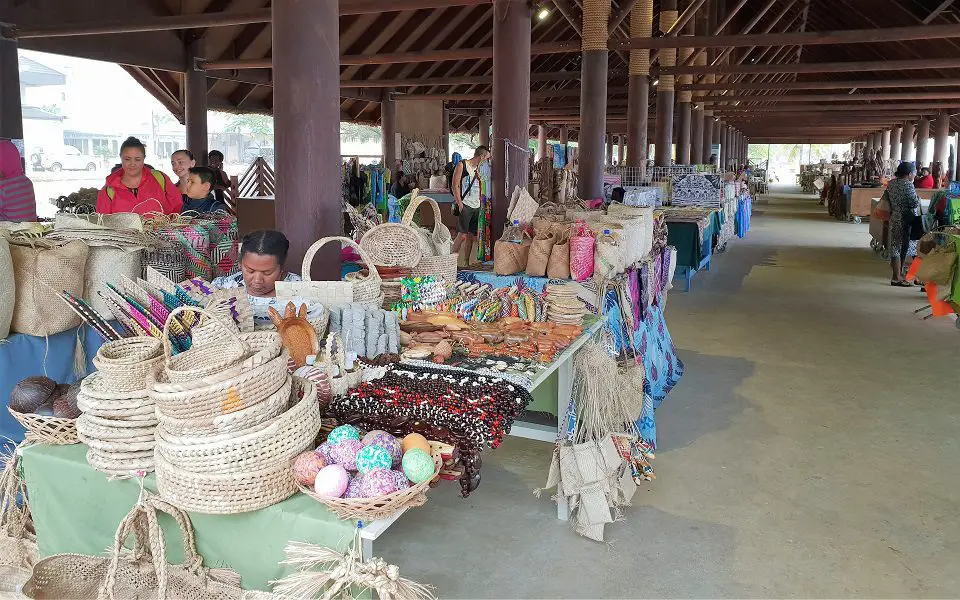 Backed behind the main shopping area of Port Vila you will find the market
place. It is right on the waters front.
There is a range of home wares, clothing and many hand carved items to purchase. The Melanesian influence throughout provided tourists with an assortment of souvenirs to take back home.
There are some nice eateries here as well and local tour operators.
Stop by the textile shop in Port Vila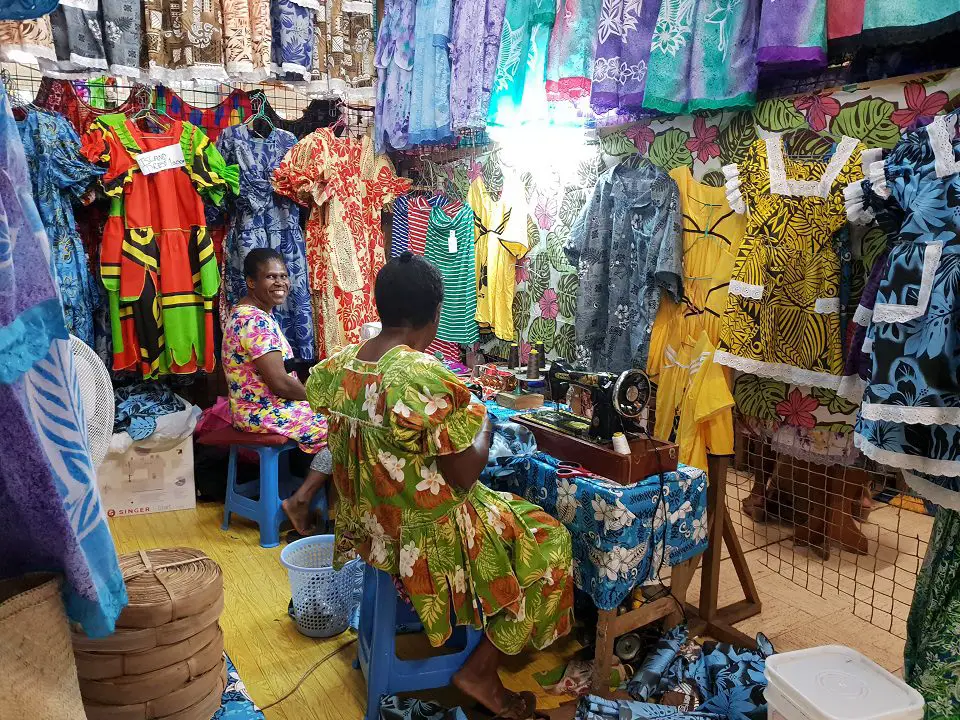 The main street of Port Vila is not exactly huge so a walk up and down should take you to a colouful clothing shop of local Mother Hubbard dresses.
The clothes are made on sight as woman are seen in each small section working away at their craft. It is an explosion of bright colours and you can purchase anything while you are here or just enjoy having a look.
Go kayaking in search of Dugongs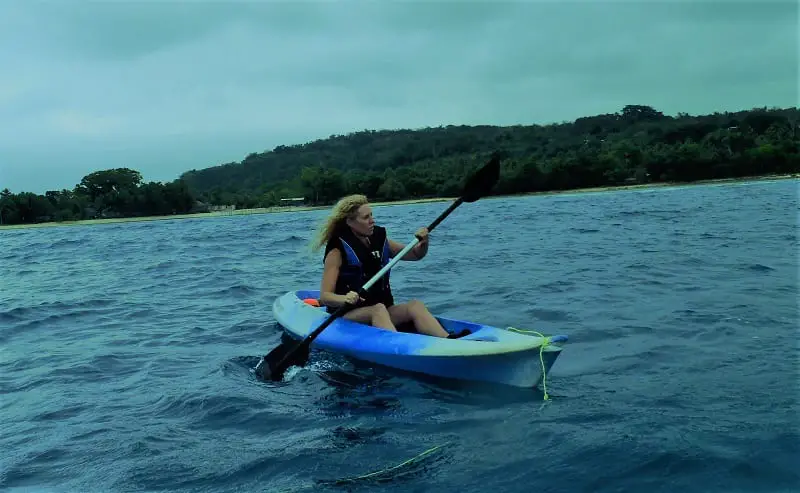 These amazing creatures can be found off shore just beyond the protection of the reef.
Head out on a private guided tour in your kayak and cross your fingers. The dugong is a medium sized mammal and closely related to the manatee.
For more information on this tour – click here.
Try the local food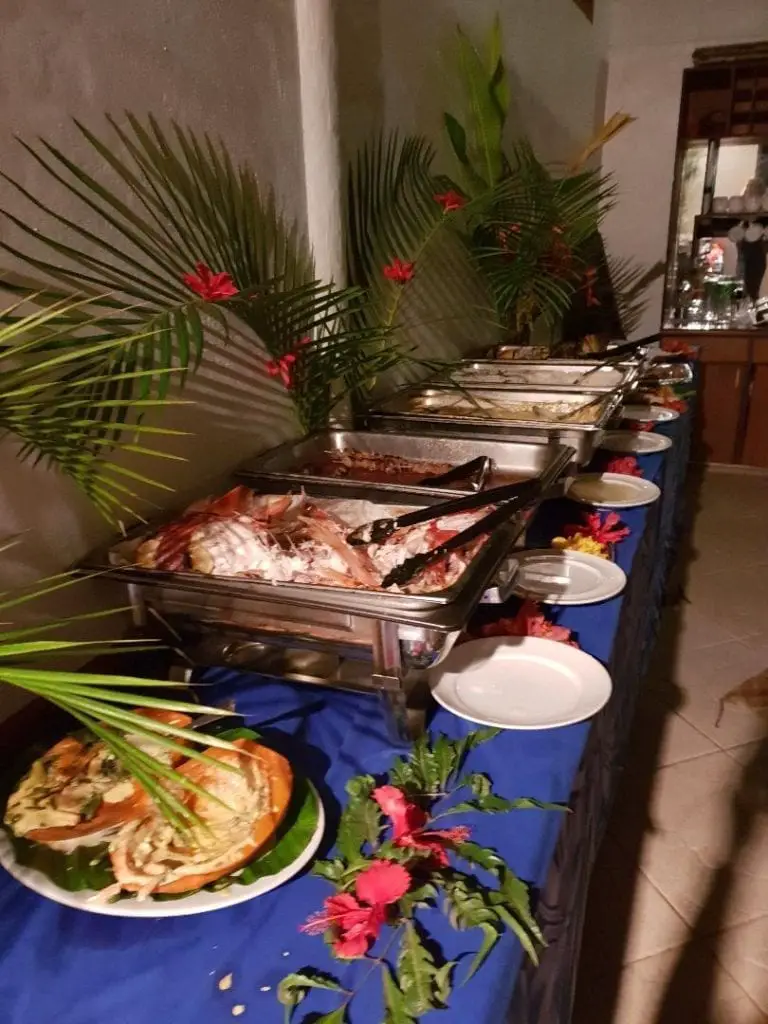 The island hosts many places to enjoy a Melanesian feast. 
You can try laplap, a starch based meal turned into paste and cooked in an underground oven in banana leaves and generally served with pork or another type of protein. Other local foods may include tuluk, kumala, steamed fish and most likely some western style curries. Fresh salads and fruit  will accompany all this.
The traditional Kava drink that usually served to each guest on arrival.This potent and muddy water lookalike is known to be intoxicating though not alcoholic. If you are a little reserved, ask your host how strong the one they are serving is.
For a range of feasts, ask your hotel or resort for recommendations.
Fly over a volcano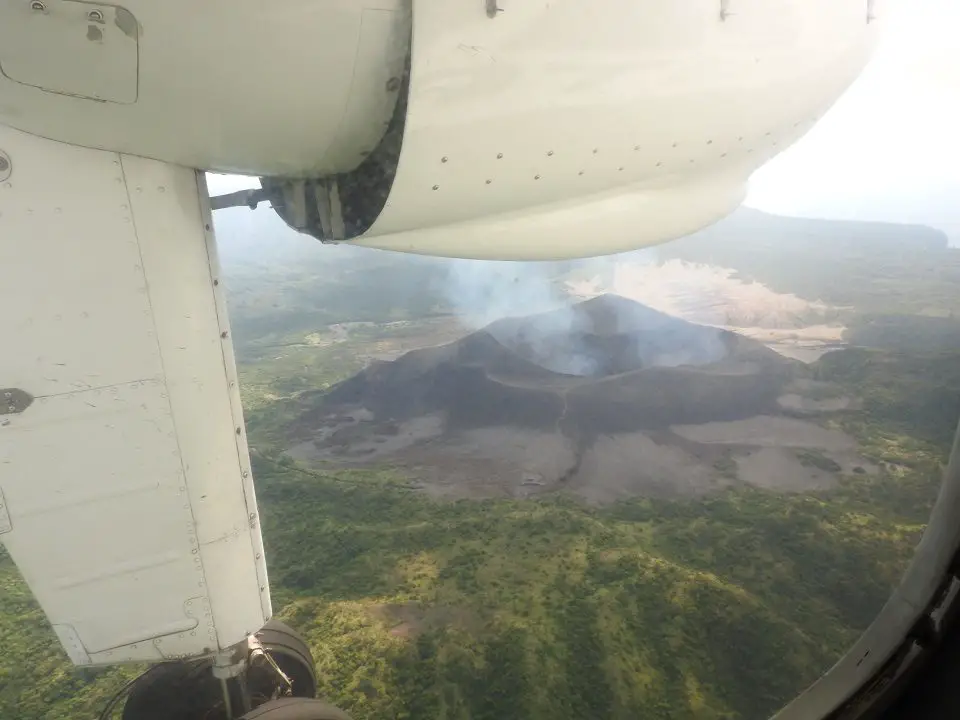 One of the most exciting things you can do while visiting Vanuatu is to see an active volcano.
But you will have to fly to another island to do so. Mt. Yasur is located on Tanna island and it is a spectacular sight. You can choose to do a fly over or if you are lucky enough, you can do an overnight tour leaving from Port Vila airport.
After landing on one side of Tanna, you will be taken to the other side via four wheel drive vehicles. The scenery is incredible along the way. Once you arrive after checking out the lava fields, guides will escort you to the rim of this powerful volcano. As night falls, the glow and eruptions that take place every few minutes (depending on activity at the time) will leave you in awe.
It's a once in a lifetime opportunity. You can read about my experience here of the tour.
---