As an Amazon Associate I earn from qualifying purchases. I get commissions for purchases made through links in this post.
The Big Island Hawaii is jam packed with highlights and unique experiences. A 45 minutes direct flight from Honolulu means you'll be on the ground in no time. This Big Island itinerary 5 days takes you full circle around the entire island.
Flying to the Big Island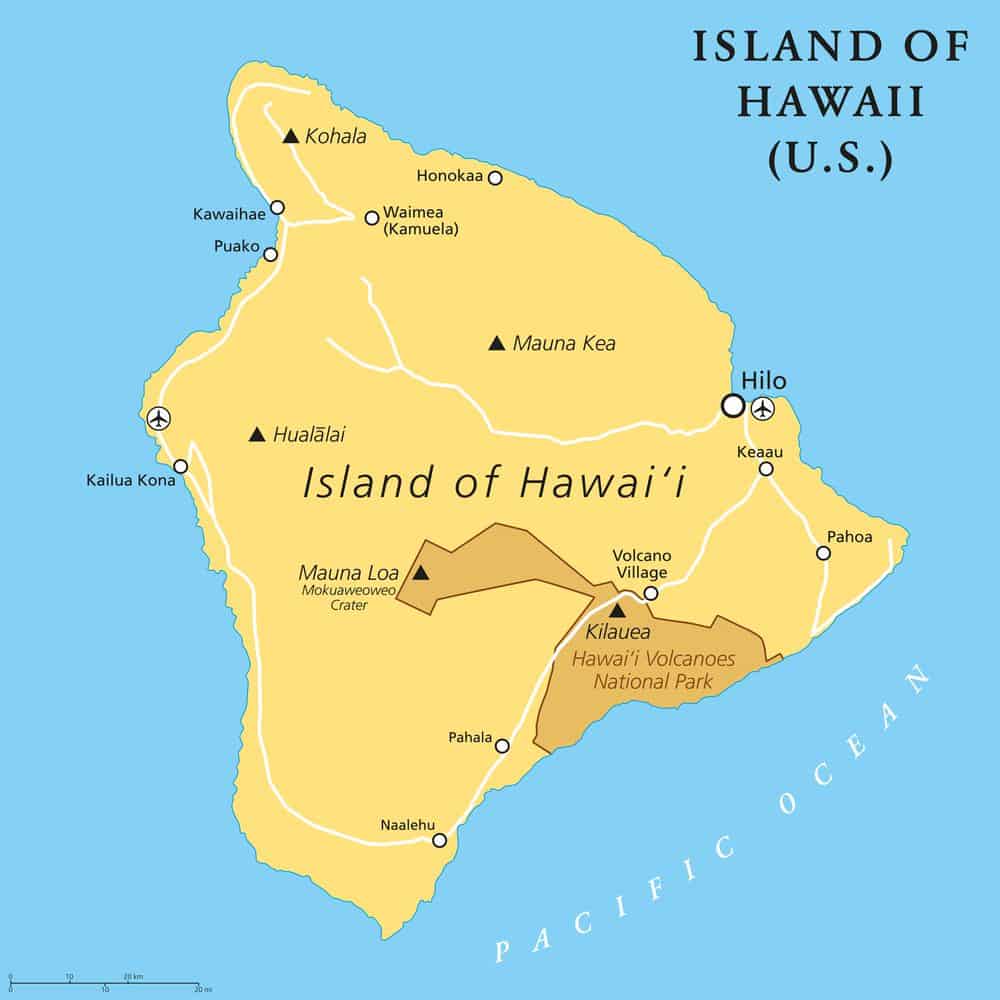 Firstly, you'll need to decide if you you want to land in Kona or Hilo. If you have already taken a look at what others are saying then you're probably nursing a headache right now. Everyone has an opinion and there is no BEST answer right!
If this is your first visit to Hawaii, you couldn't have picked a more unique island. Many first time visitors will choose only to stay on the main island of Oahu, primarily on Waikiki Beach. It is such a nice change of pace when you get to experience one of the other islands too.
Based on our decision to circle the entire island it really made no difference where to land. But I was leaning toward Kona as it had some epic water activities that I was very keen to try, such as the manta ray night snorkel. I also felt the township itself appeared more tourism friendly then Hilo and finally. our flight to Maui was easier accessed from Kona. OK, that's settled then.
Kona climate
Kona has that tropical island feel but you sense it's hiding more than that!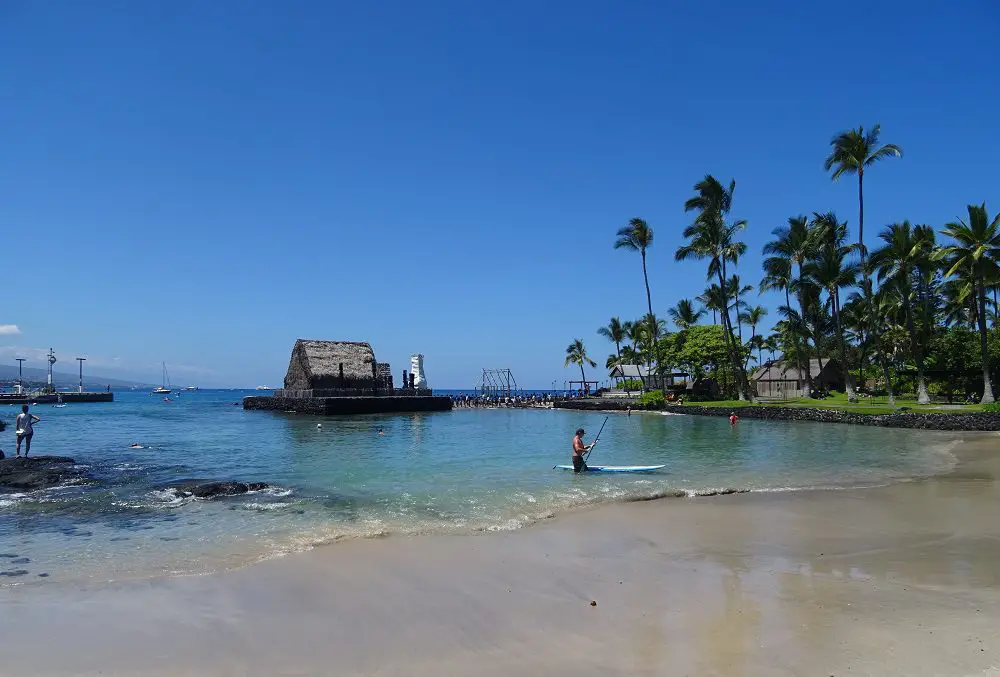 Population: 15,231
Average yearly temperature: 70 to 80 F / 21-28 C (January is the coolest month & August the hottest)
Summer season: May to September / Winter: October to April
Average water temperatures: 77 to 82 F / 21 to 28 C
The Big Island has a dry and wet side, luckily Kona is on the dry side. Hilo, on the other hand tends to see much more rain and is also much windier.
BIG ISLAND ITINERARY 5 DAYS
Our trip to the Big Island was actually 6 days but we didn't do any thing the first day. A 14 hour flight from Australia meant we were all happy to stay in and just start fresh the next day.
Major air carriers from the west coast of the USA fly directly into Kona and seasonally from Vancouver.
Day 1 & 2 Staying in Kona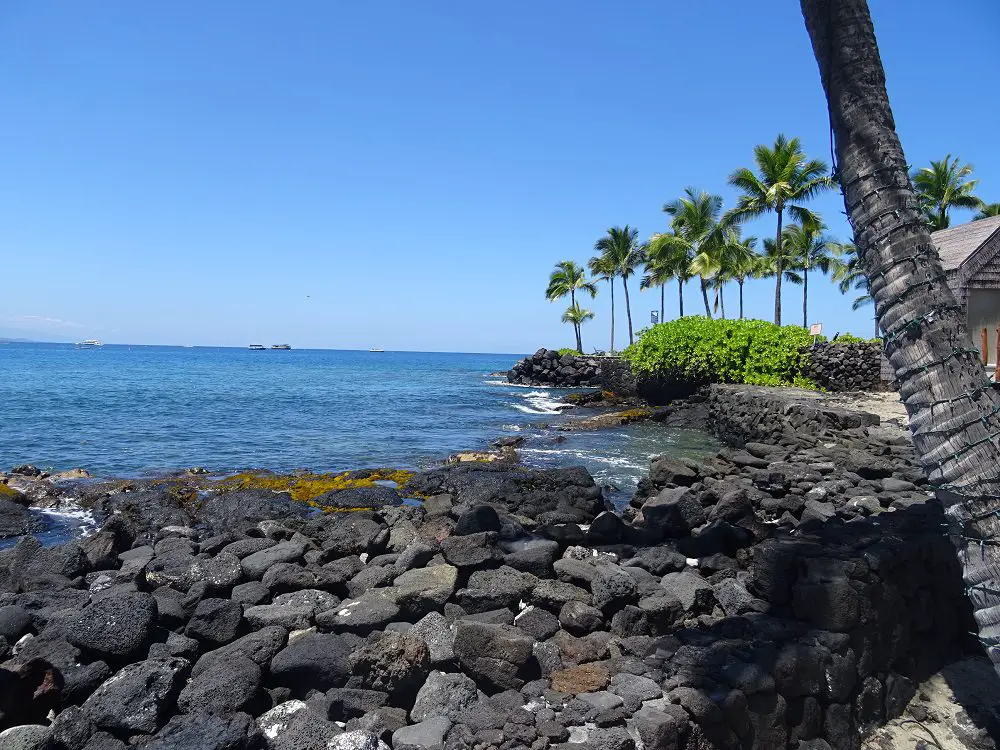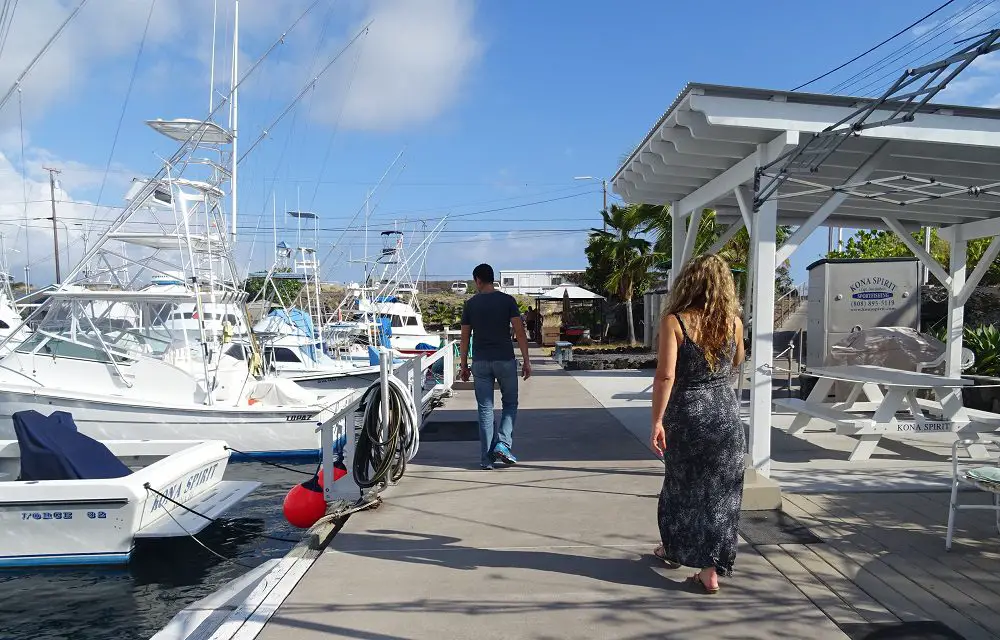 Let our Big Island itinerary 5 days begin!
The black volcanic rocks seen on the shore line are your first indication you have landed somewhere "different". Head further along the coast and there are some good beaches to swim at, something you wont easily find in Hilo. There are also lots of seaside cafes and restaurants, tourist shops and of course, famous Kona coffee.
What is Kona known for?
Apart form the Kona Coffee Plantation, Kona is known for its deep sea fishing, diving and snorkeling hot spots and the Ironman World Championship Triathlon. It is also located on the western side of the island so enjoys gorgeous sunsets.
Kona is a great starting place and introduction to the Big Island
Where to stay in Kona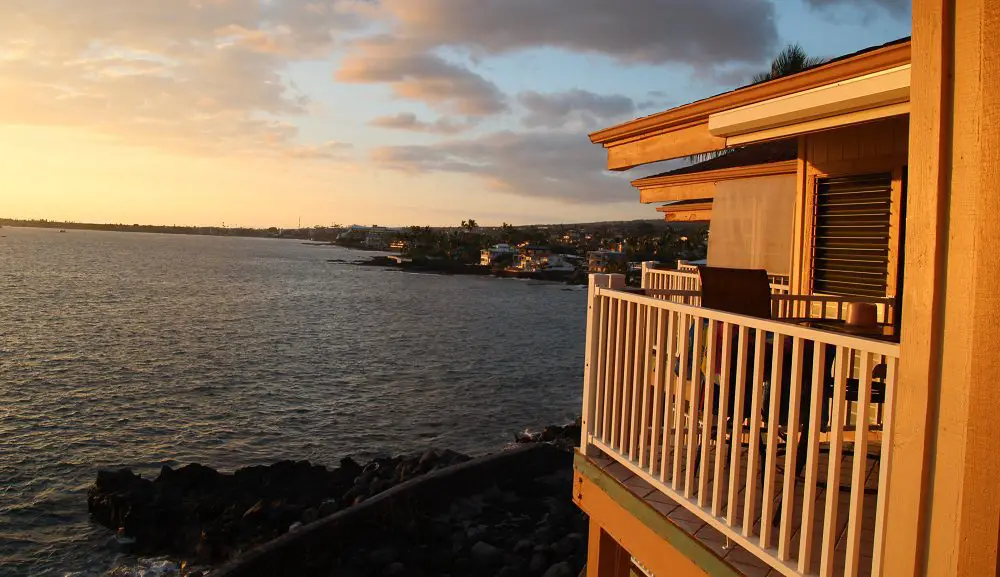 Sea Village in Kona have beach front condos. Our waterfront room had unobstructed views of the ocean, a refreshing way to view the gorgeous nightly sunsets over a glass of wine.
I really enjoyed the coastal views and hearing the sounds of crashing waves at night. The resort was a nice walk from a range of dining options and morning coffee. You'll also find the farmers market on the way into town.
To check out prices for an ocean front room at Sea Village click here.
Other Kona Accommodation
5 star luxury right on the beach. The Four Seasons includes 5 restaurants, a full service spa and golf course.
Great beach location and the perfect family getaway with kids activities.
A good budget friendly option right in the heart of town.
This trip included 3 nights in Kona and 2 nights in Hilo, renting a car to go full circle.
In hindsight an extra night at both would be more reasonable but if you love to drive and you see it as part of the adventure, then you can still do it all comfortably.
Best activities in Kona
Kona has some wildly fun water activities to participate in. If you love water activities, you'll love staying here.
Dolphin Encounter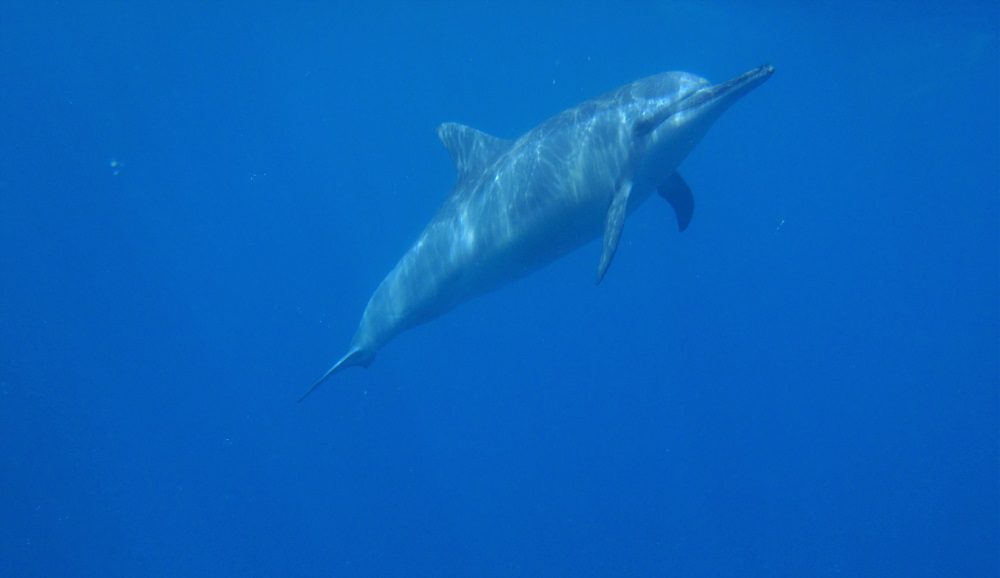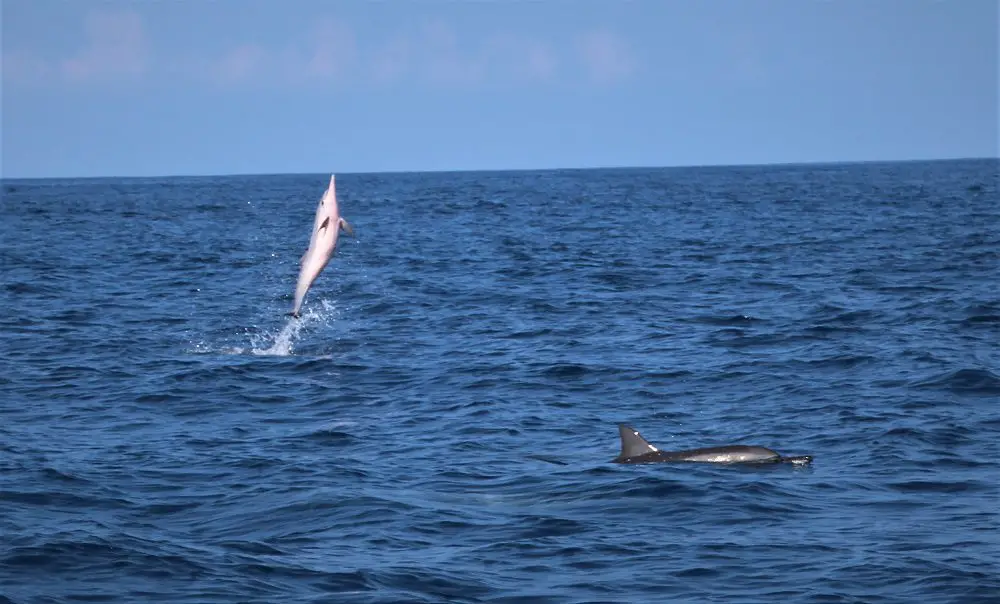 A chance to swim with dolphins, I'm there!
Please note, these animals are protected so the aim is not to get up close but to view from a distance that keeps them protected.
Our boat captain did a great job out on the water. We were able to jump into the water several times and view  spinner dolphins up to at least 30 to 40 in a pod. The visibility was ideal so it was not too hard to watch from a distance.
The agility and speed in which they move through the water is impressive, and when you get to see one jump high out of the water and do their "spin" maneuver, it's quite incredible. A great day out.
For a full description on the tour – Swim with Dolphins
Manta Ray night snorkel
The greatest attraction on the planet!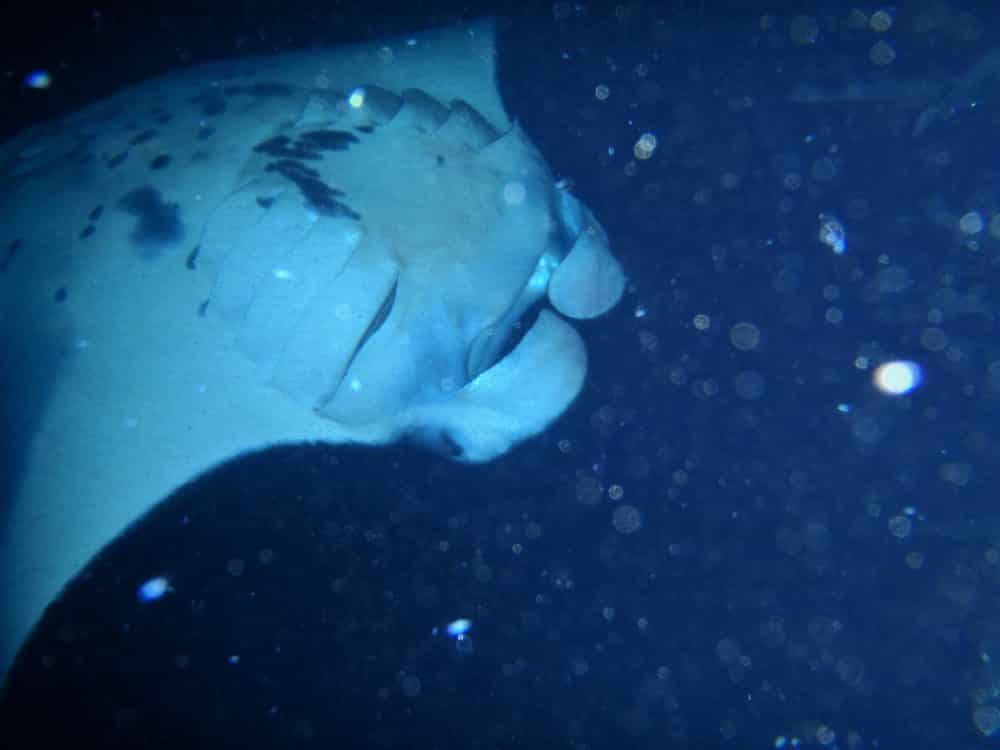 Hands down, this was the best thing we did on the entire island, and our whole trip across 3 Hawaiian Islands. I couldn't have predicted how touching this experience would be.
The company were incredibly professional, well organised and provided the most unique animal encounter I could have ever imagined.
You'll be taken out on sun set from Kona by boat to the location. Very safely you will be guided to a lighted board where arms outstretched and eyes down in the water, the manta rays will make their way toward you. Everyone is together so don't worry, you won't be left alone.
The visibility is clear as a light is directed down toward them. There were up to 30 or more in the water, everyone known by name.
We had Lefty with us most the time and Big Bertha (16 ft wing span) even made an appearance. The adrenaline is at full capacity about now.
I can't highlight enough how mind blowing I found the whole thing. The closeness they get to you is within inches as they roll their bodies over and over. True Big Island adventure.
MUST READ: Snorkel with Manta Rays in Kona – full review
To see prices for this tour :  Manta Ray Night Snorkel
Kealakekua Bay Snorkel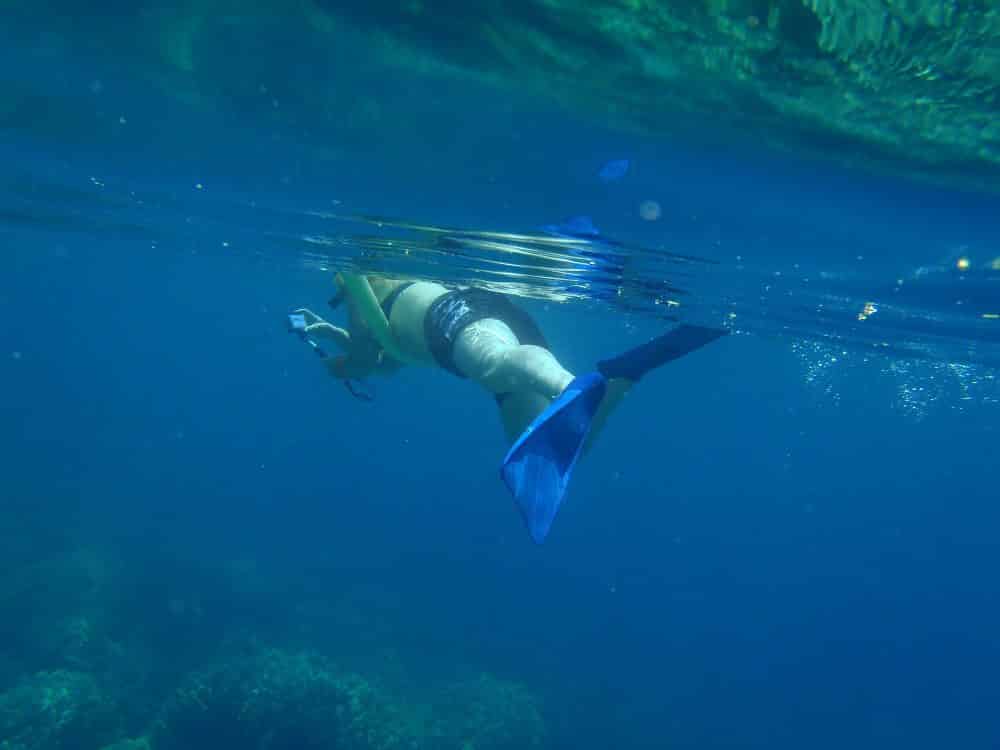 Wow, so our Big Island adventure starts again. This tour aboard our small vessel took us very swiftly along the coast toward Kealakekua Bay to snorkel.
We listened to a brief history lesson and discovered that this was the place where Captain Cook was killed after a  skirmish with local Hawaiians.
About the coral and aquatic location
The snorkeling was good but I'm not going to lie. I've done a lot of snorkeling in some pretty amazing locations such as the Great barrier Reef, the Maldives & the Red Sea in Egypt, so this was good at best. It can only be compared with what you have already done right!
Overall, I enjoyed the boat ride and getting out on the water so if snorkeling is something you are keen to do, then this is the best spot on the Big Island.
Day 3. North Coast route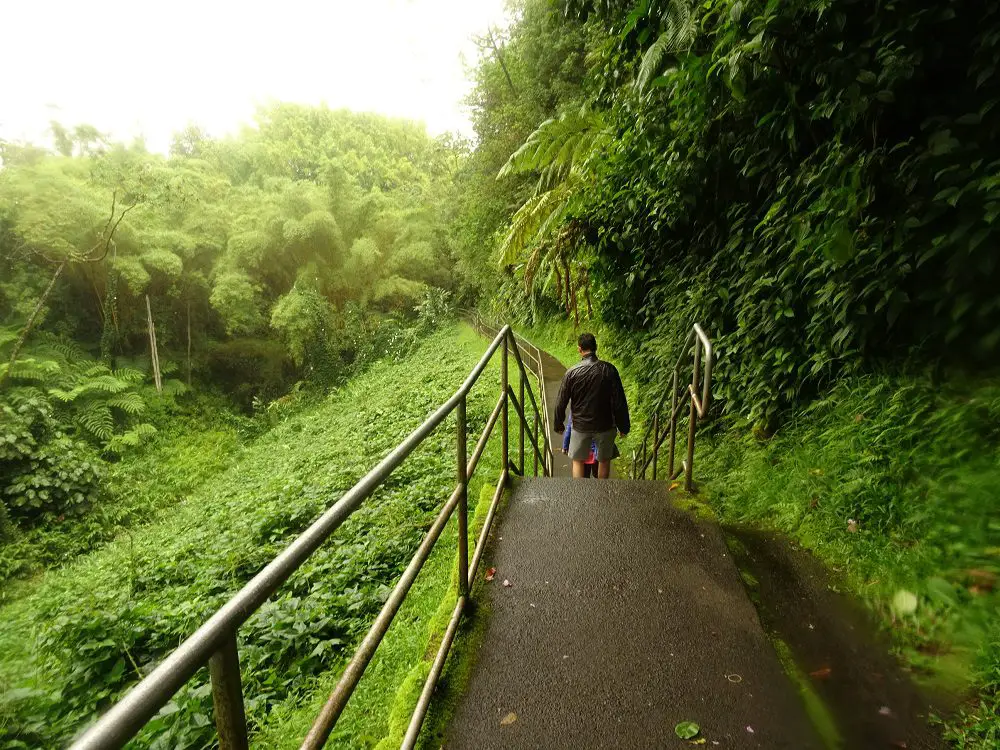 Our Hawaii Big Island road trip is ready to take on the rest of the island.
So one thing you wont find much argument with is the road in which to travel. The north route is very scenic with a lot of wonderful stops. The Saddle road (through the interior) is rough and not recommended though continuous works means it's getting better . The southern route is shorter, less scenic and not recommended at night.
This is a full day if your stops are frequent and long. Otherwise you can do it in half a day. The drive time without stops is around 2.5 to 3 hours. Again this comes down to what you have decided you want to see. Leave early and beat the Kona traffic.
Akaka Falls State Park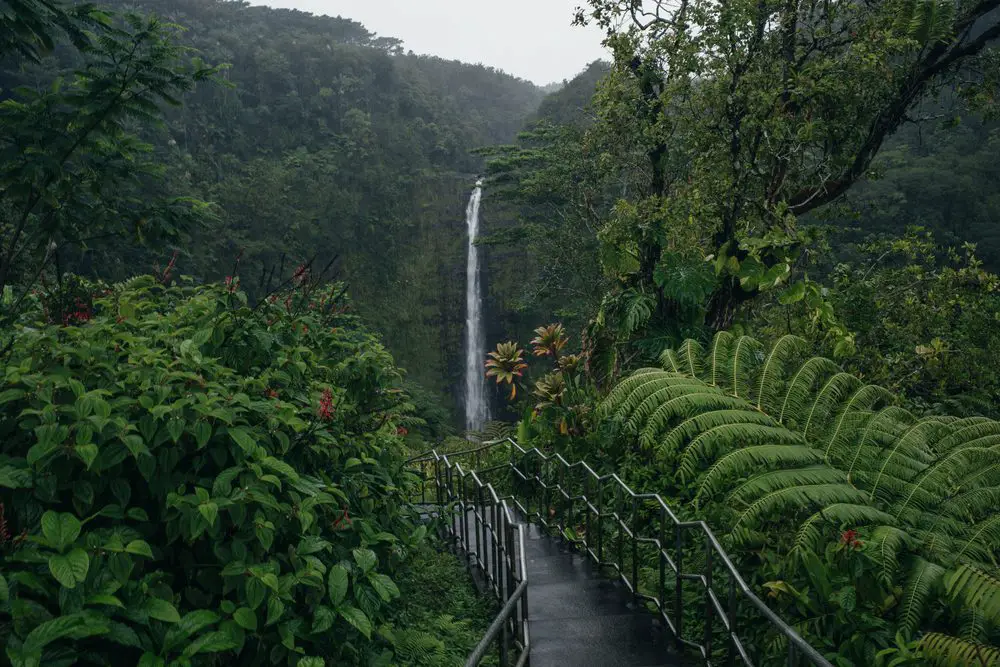 We took the north coast route in search of rainforest and waterfalls. What we got was nearly "washed out." Known for the rain in this area, we got on and off showers that really came down. Lucky we had our "I'm on holiday" mentality , so sucked it up and pushed on.
Akaka Falls State Park is a worthwhile place to visit. The beautiful lush rainforest is dense and tropical. Take the Akaka Fall Loop Trail which is well paved and the hike though short, requires some physical exertion.
You will see the Akaka Falls as well as Kahuna Falls during your visit.
Location: 3.6 miles southwest of Honomu
Loop Trail: 0.4 miles
entrance fee $5 per person (child under 3 free)
parking fee $10 per vehicle
Staying in Hilo
Hilo has plenty of affordable accommodation to choose from. If you are on a budget, you will have plenty of choice.
With 379 rooms, a pool and golf course, the property also has oceanfront rooms.
A great budget choice with kitchen, great for extended stays.
Day 4. Volcanoes National Park
I am ready for more action on our Hawaii Big Island itinerary 5 days of sight seeing.
I'm pretty excited about today's adventure. I had never seen an active volcano before so was thrilled to get the chance to set foot on the surrounding landscape.
Volcanoes National Park
who gets to see an active volcano during their life time?

One of the most active volcanoes in the world, Kilauea is part of Hawaii Volcanoes National Park .
There are 5 volcanoes here but it is Kilauea that brings in the tourists. Erupting continuously since 1983, it is also the youngest of the group
You could easily spend days here. It is such an impressive place and how often do you get to see this sort of thing?
As we had just one day, that meant a trip to the visitor center to make sure we would get to see some incredible highlights. The area changes dramatically and road closures occur based on activity within the park.
We took the popular Chain of Craters road, past volcanic craters and other points of interest as you head toward the ocean There are many hikes too within the park.
We also checked out Thurston Lava tube located near Kilauea'iki parking lot. This illuminated tube is easily accessible.
The landscape is mesmerizing, so different and so fascinating. A trip to Volcanoes National park is a very cool experience. 
Stay for the nightly show, it gets way better.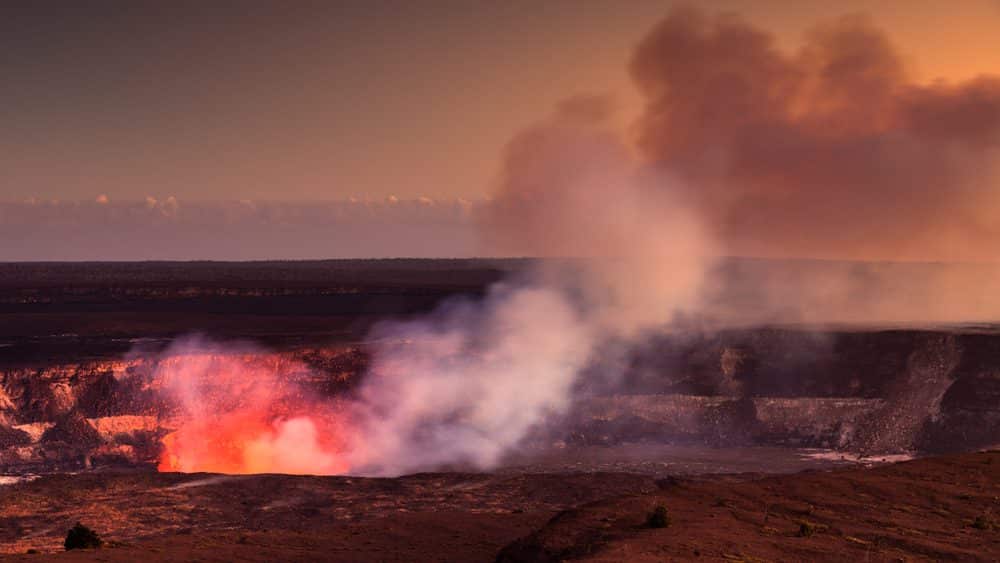 You absolutely have to stay to see that red glow right!
An active volcano during daylight hours is just a plume of grey smoke. As dark increases, the light changes and suddenly you become witness to a stunning light show.
Want to see the Volcano form the air?
One of the biggest tours here on the island is the helicopter tour above the volcano. I wish we had a chance to do it but it is a big seller,  so bookings are needed in advance because it regularly sells out.
Fly above Kilauea volcano and onto tropical rainforest and coastal areas.
Full description Helicopter tour – Big Island Spectacular Helicopter Tour
Staying at Volcano
The town of Volcano is perfect for a late night commute after leaving Volcanoes National Park.
Quaint cabins and cottages located close to the entrance of the park.
Aloha Crater Lodge and Lava Tube
Situated on lush property grounds and an outdoor hot tub.
Day 5. Punaluu Black Sand Beach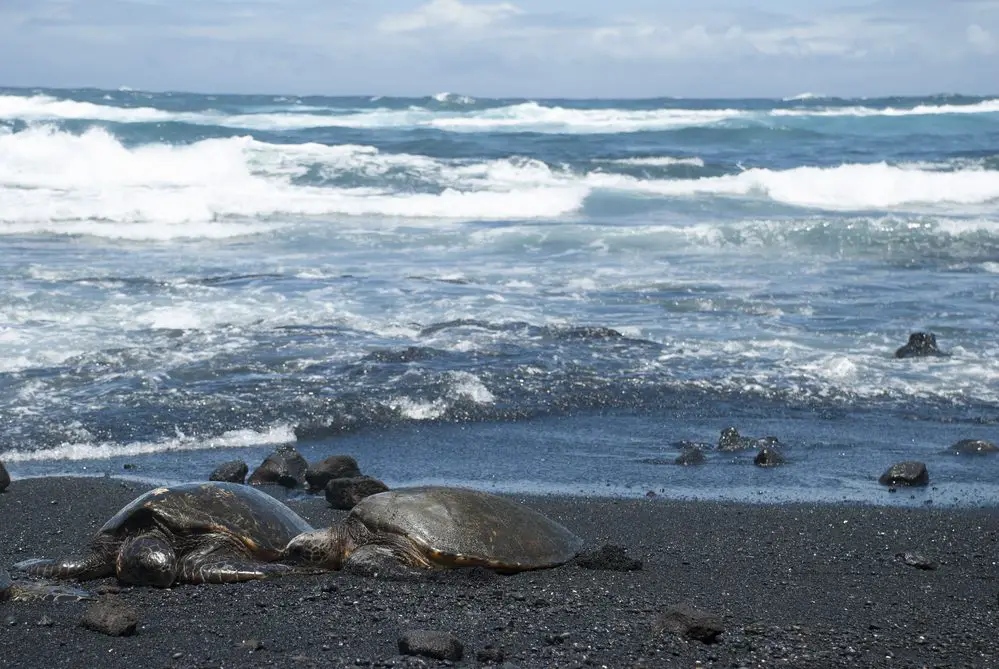 OK, it is time to head back toward Kona for an early afternoon flight to Maui. Yet another adventure awaits.
But before we do, a stop at the famous black sand beach of Punaluu is on our agenda. It's not every day you get to step foot on jet black sand. The volcanic activity on the Big Island makes it possible.
Swimming is not advised here as the currents are so strong, and it's not exactly ideal but don't let that deter you coming here. If lucky, you might spot a green sea turtle up on the beach.
There are rest rooms and a picnic area here.
Is the Big Island really worth it?
Wherever you stay, wherever you go and whatever you do, you will LOVE the Big Island. It is big on uniqueness, big on adventure and big on scenery.
How long to stay on the Big Island?
Our 5 day Big Island itinerary was jam packed and on the go much of the time. I really do think a solid week is needed but if you are limited on time like we were, pick your top activities and work around that.
For us, it was the night manta rays, the black sand beach and of course the Volcano. That meant renting a car and driving full circle. I certainly wouldn't change a thing, it was meant to be adventurous and it was.
WHAT TO READ NEXT:
Hawaii for first time visitors