As an Amazon Associate I earn from qualifying purchases. I get commissions for purchases made through links in this post.
How thrilling does this sound – a night snorkel with Manta Rays Kona,  Hawaii . I can already feel a rush of excitement just thinking about it. What an incredible experience and one I will never forget. This full review covers everything you can expect from THE TOUR that takes place after the sun does down.
You might also be interested in :
Hawaii Big Island Itinerary 5 days
Hawaii on a Budget – the best guide to paradise
Why is Kona the place to snorkel with Manta Rays?
Kona, on the Big Island of Hawaii is world famous for offering manta ray snorkel tours. While there are other well known places in the world such as the Maldives, Australia and Mexico to name a few, Kona is extra special.
Why? Imagine the added feature of a pitch black night in the middle of the ocean and the adrenaline levels start to  ramp up considerably. Imagine an animal encounter so thrilling, you'll be talking about it for years to come.
This was by far one of the most incredible  animal encounters I have ever experienced!
A bit about Manta Rays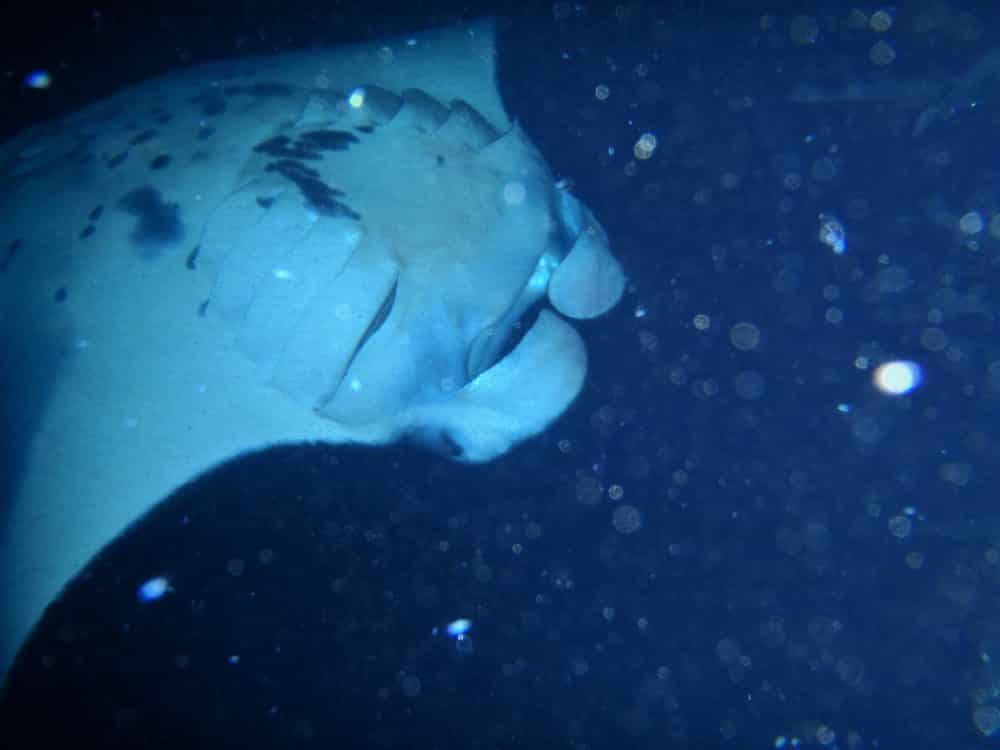 Are Manta Rays safe to swim with?
Manta Rays are completely safe to snorkel, swim or dive with.
They are gentle creatures, feeding primarily on plankton. So they are absolutely harmless yet very curious. Also, they do not have teeth so they funnel their food through their huge mouths.
Feeding on plankton, the manta ray swims with their mouths wide open to collect these tiny organisms. They are closely related to the stingray BUT do not have a barb in their tail so are not considered dangerous to humans.
How big can Manta Rays grow?
The Manta Rays found along the coast of Hawaii are known as "reef" rays and can grow up to a wingspan of 5.5 metres.
Do Manta Rays swim in groups?
It is thought that Manta Rays live an isolated life and only come together in groups to feed in certain locations. But more and more evidence is revealing that the rays do have a social bond with each other. The good news for your snorkel trip is, you will see many manta Rays at the one location.
Why is the snorkel trip at night?
Manta Rays are attracted by plankton, and plankton is attracted by bright light. So at night time a very bright light is directed down into the water and voila, the manta rays are not too far away.
Night snorkel with manta Rays, Kona – Review
First time visiting Hawaii?
You can also read : Guide to visiting Hawaii Islands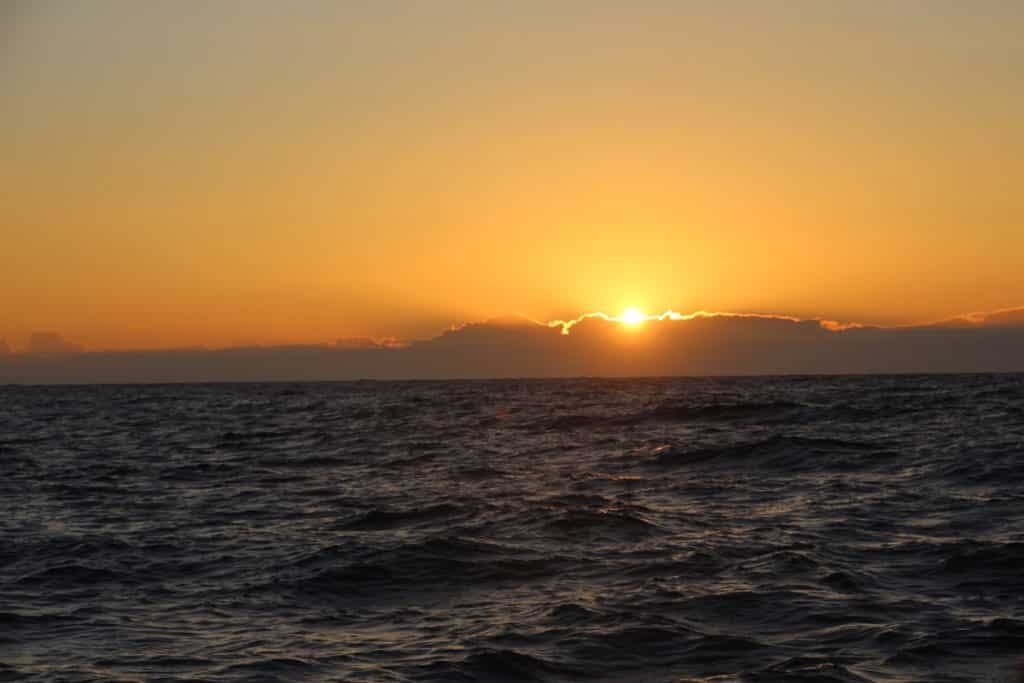 When I heard you could snorkel with Manta Rays in Hawaii on my trip to the Big Island, I booked immediately.
Who needs the night life of Waikiki Beach when this is the best fun you can have at night
The manta ray night snorkel in Kona sells out fast, so do not hesitate with your decision. Just book it.
While I was feeling excited at my upcoming snorkel trip with manta rays ,my husband was doing his own happy dance. He was going to dive on the same night and off the same boat. So we would both be checking off that bucket list item simultaneously.
It reminds me of the time we were in the Maldives and both headed out to find whale sharks on different tours. I had a terrific story to tell that night of my snorkel adventure while he came home empty handed from a dive trip. So I was thrilled to know we would be celebrating together.
What time does the tour leave?
The tour leaves several times in an evening but the earliest is around 5 pm, just in time to watch the sunset. The boat ride is only 15 minutes and can be a little choppy at times so take seasick precautions if necessary.
We head off into the sunset with our bathing gear on, ready to go.
Please note that everyone needs to be able to swim and have some sort of snorkel experience. Not that it's too hard, but asking someone to give you a crash course under dark skies is not ideal.
You will be given a mask, snorkel, fins and a wet suit if needed. 
Prepping for action
We are given a brief of what to expect and what is expected of us.
The crew take a raft that has several lights attached and haul it into the water. They make their way out a moderate distance from the boat. Now it is your turn to swim to the raft.
You will be directed to hold onto the raft with arms outstretched and legs the same. In other words, you needs to be long and flat. Everyone is together so don't worry, you won't be left alone.
The divers have also entered the water and will make their way to the bottom of the ocean floor to view everything from underneath.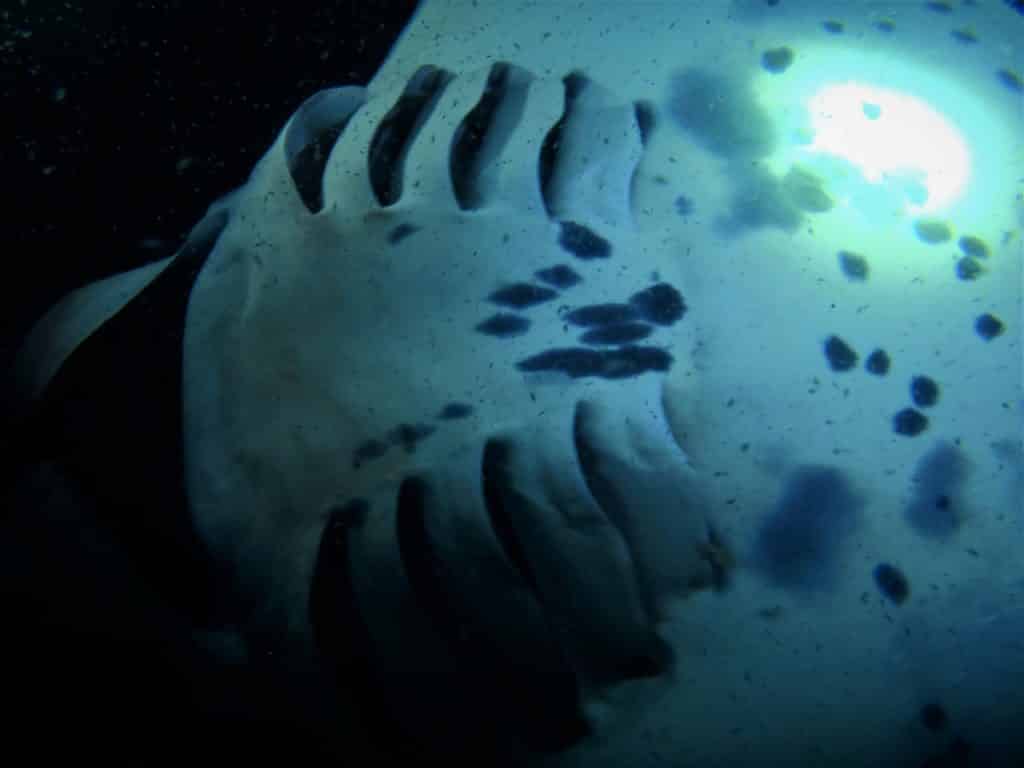 Lights, Camera, Action!
Once the lights are projected into the water the plankton starts building up around us. It is not too long when we see our first Manta Ray.
If you didn't know this (I sure didn't) manta ray feed by rolling backward in circular form over and over while opening their huge mouths to filter feed. This way of feeding is more efficient as they can maximize their intake.
It is the most captivated thing I have ever seen. The gentle giants of the sea gracefully maneuver their bodies over and over again in a slow but also swift manner.
We have up to 30 manta rays in the water tonight, everyone known by name. "Lefty" is with us tonight among other rays. She is probably the most famous of the group because of her damaged left cephalic fin. (unfortunately i have heard Lefty is no longer around)
The manta Rays come within inches
One thing i found out was just how close the rays get to you. I actually felt a slight brush at one time but otherwise it is within inches of your body. They can sense the distance and avoid getting too close. It's simply insane.
And then we see "Bertha" the 5 metre manta ray. She is a beauty, absolutely huge in size. I'm beyond words.
We have other rays coming in now as they obviously all want that yummy plankton that has gathered around our light. It's the best front row tickets I've ever had. The whole experience is so theatrical to watch. Incredible movement from all angles just gliding through the water so effortlessly.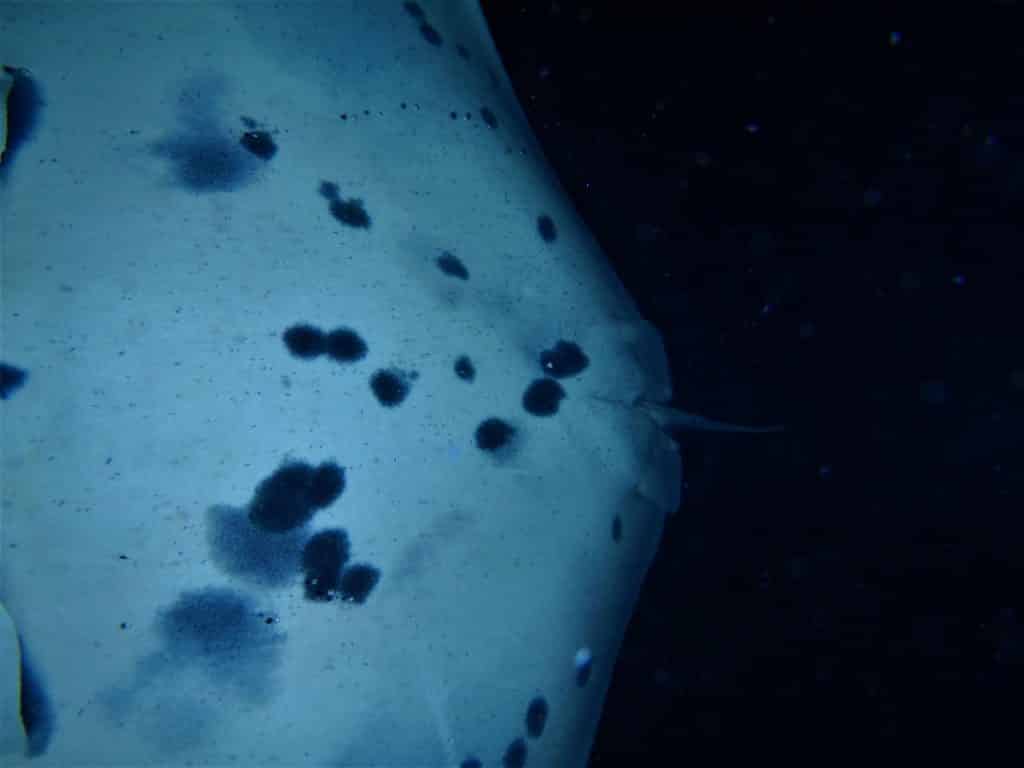 Back on board
We stayed out for around an hour and one by one we were called back to the boat. Having to wait for the manta rays to move away from us wasn't as easy as it sounds and Lefty didn't feel like leaving. That's OK I thought,  I'm not in a hurry.
Back on board we indulged in a hot chocolate and a few high fives to go around.
What a magnificent night snorkel with manta rays, Kona Hawaii.
Please consider doing this tour, it is brilliant. If you love snorkeling, if you love animal encounters,you will LOVE this!! It was hands down the best thing we did on the entire island and our whole trip across 3 Hawaiian Islands. I couldn't have predicted how touching this experience would be.
More posts on Hawaii
First time visit – Guide to Hawaii Islands
Full Day Scenic Drive around Oahu Island