As an Amazon Associate I earn from qualifying purchases. I get commissions for purchases made through links in this post.
All the islands of Hawaii have pristine scenery. From volcano's to lush rain forest and spectacular coastlines, there is plenty of beautiful places to explore. The island of Oahu is no exception, most famous for Waikiki beach. Rent a car or take a full day tour going full circle in this Oahu scenic drive.
You might also be interested in : Hawaii on a Budget- best guide to paradise 
Oahu Scenic Drive – best direction
It is best to go anti-clockwise if possible as you will always be driving on ocean side. Pulling over (especially last minute) will be much easier.
If you do not have a car you can jump on an Full day Island Tour.
Viator – A Tripadvisor Company (AU)
Diamond Head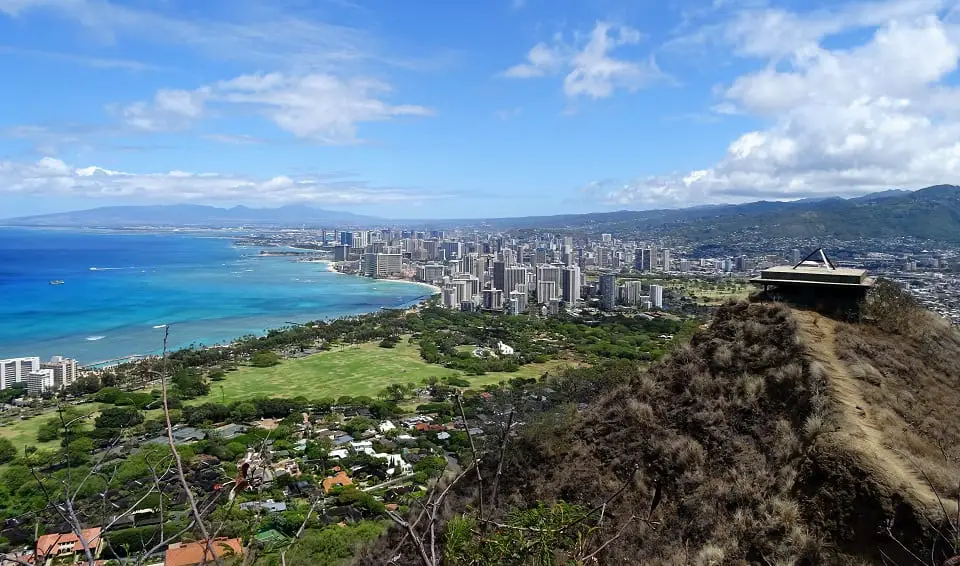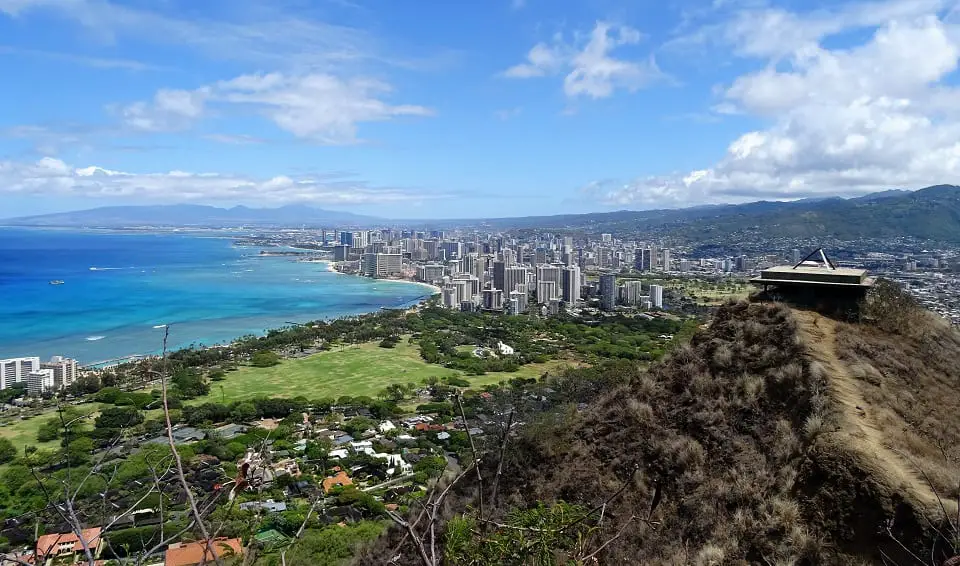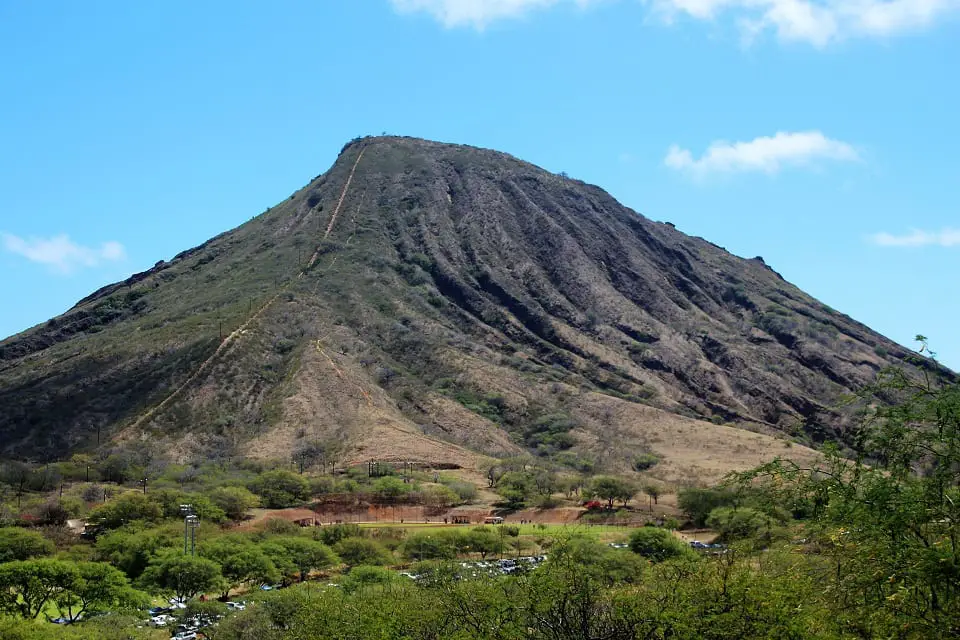 If you are willing to exert yourself just a little I promise the reward will be so worth it.
Diamond Head is a dormant volcanic cone located a short drive from Waikiki beach and your first stop. The hike from the crater to the lookout takes around 30 – 40 minutes but is dependent on your fitness levels and how crowded the track is.
The scenery is simply gorgeous and once you ascend a final set of steps to reach the summit you'll be feeling on top of the world. The view is incredible taking in the city of Honolulu and surrounding beaches.
Best Tip: arrive early enough to avoid the hottest part of the day. Wear good walking shoes for comfort. 
Hanauma Bay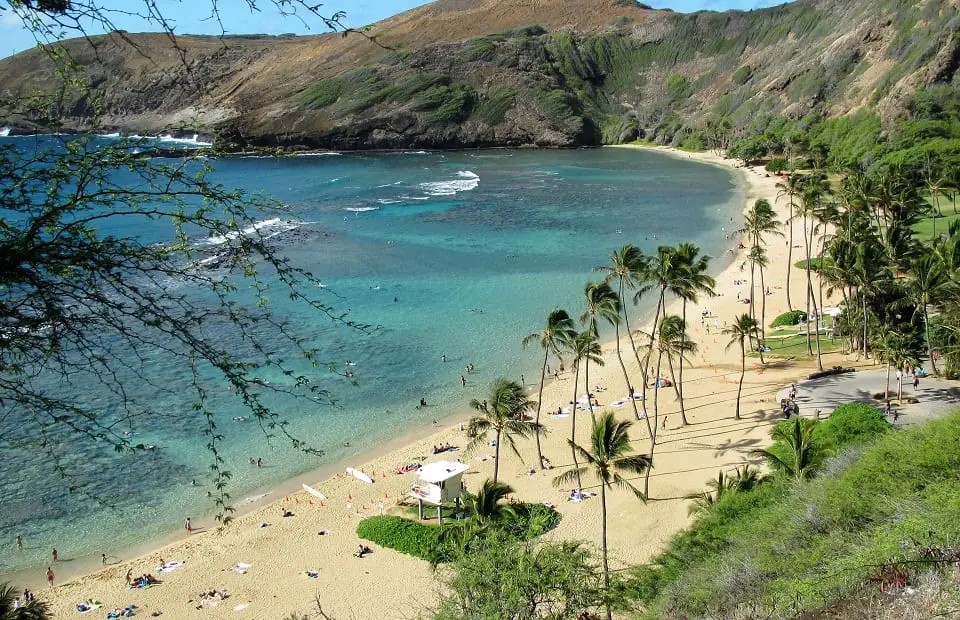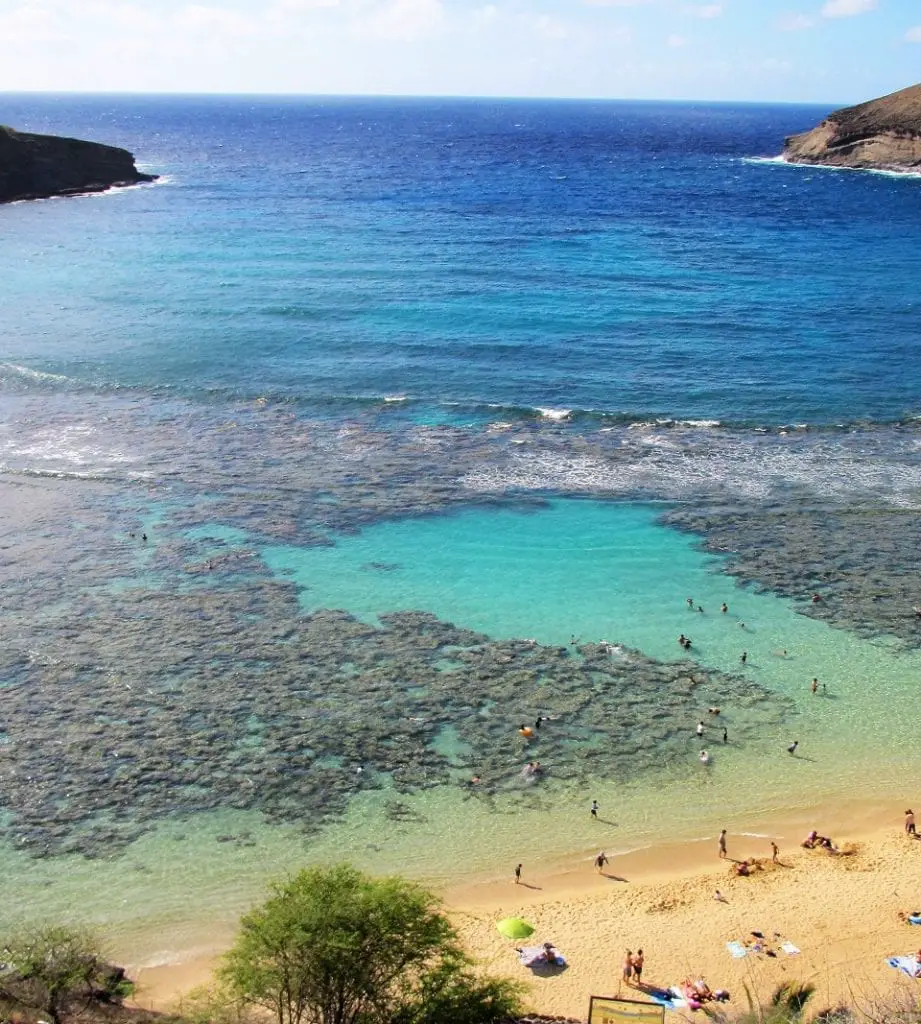 If you are keen to do some snorkeling then this nature reserve is the place to come. Most organised day tours will stop here and it's one of the most popular tourist destinations on the whole island.
Entry will cost you $7.50 per person (kids under 12 FREE) and you can rent snorkeling equipment if needed. Even for those happy to sit and relax and take in the views, you will still enjoy Hanauma Bay.
Makapu'u Lookout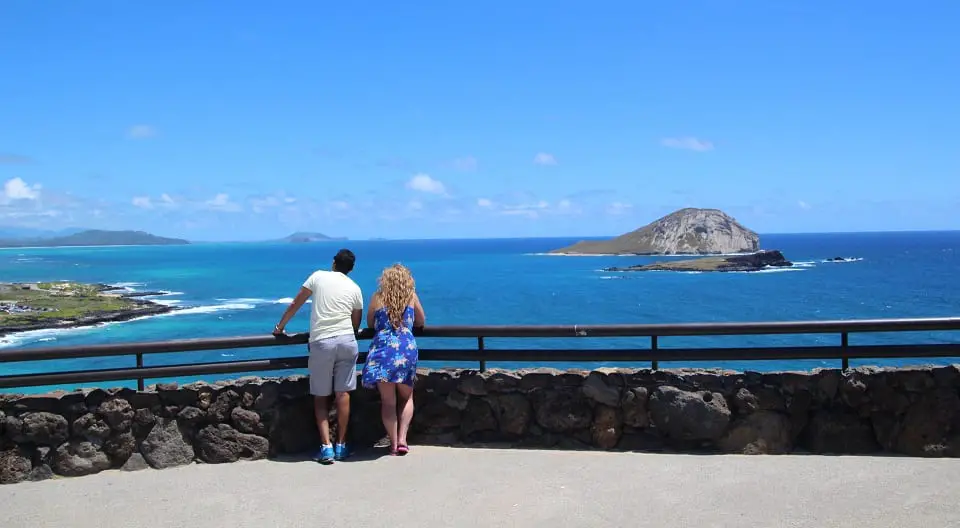 Making your way to the other side of the island comes up quick and so does the scenic Makapu'u lookout. Don't worry, you can't miss it. Be sure to pull over as the view is worth the stop, especially for the driver who deserves to safely take it all in.
This is most likely the place you'll be capturing a photo or two to send home.
Kailua & Lanikai Beaches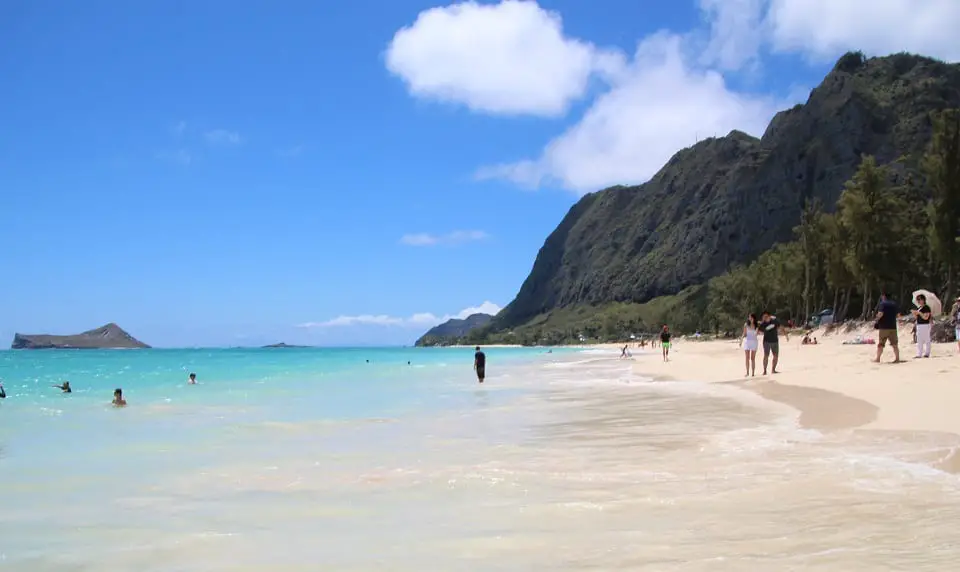 As you continue your Oahu scenic drive along the south east side of the island, you'll have a chance to stop at the best beach on all of the island, Kailua.
The 3 miles of fine soft white sand and warm turquoise water is heaven on earth. We swam here for a couple of hours and promised ourselves to return again one day. It wasn't too crowded either which made it feel like we had found some secret location. (I'm sure weekends are a different story)
There are restrooms just off the beach so if this is important be sure to stop at Kailua rather than Lanikai which doesn't.
Tropical Farms Macadamia Nuts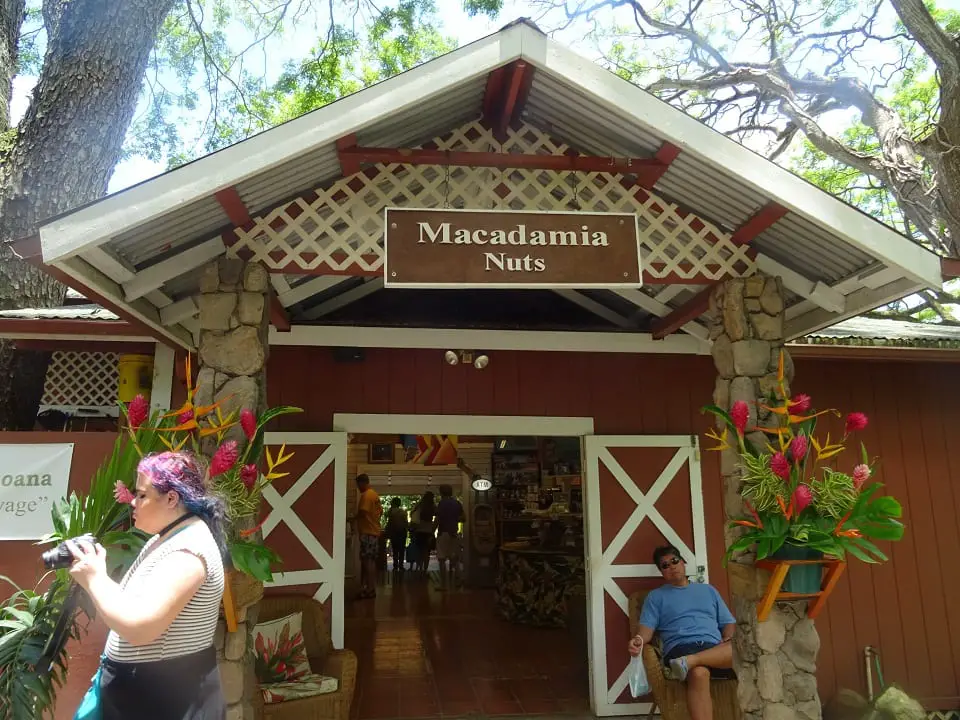 As you start to head toward the North Shore there is a nice little macadamia nut farm.
The stop shouldn't take up too much time. You'll be happy to know you can try many samples here. The Kona coffee glazed nuts we're to die for and after purchasing a bag and devouring them I only wished I had bought much more.
There is macadamia nut coffee, chocolate covered nuts and gift baskets to purchase.
North Shore Shrimp Trucks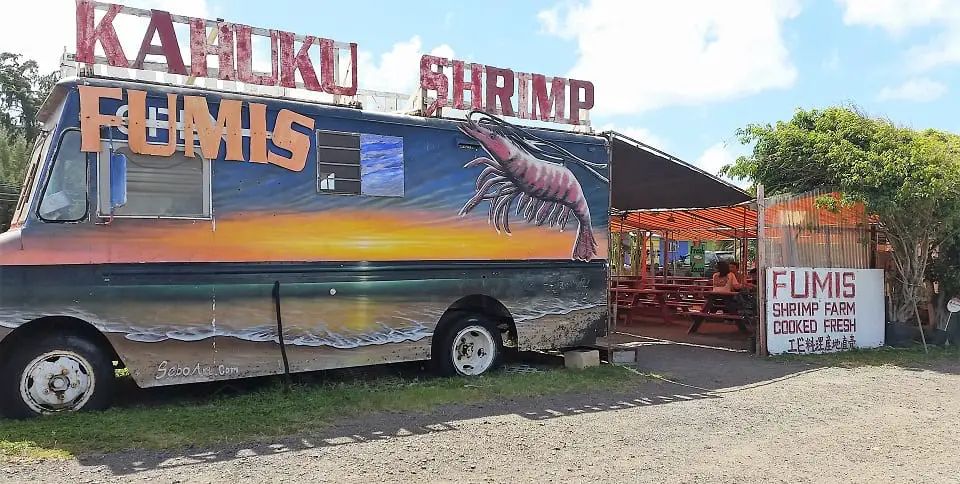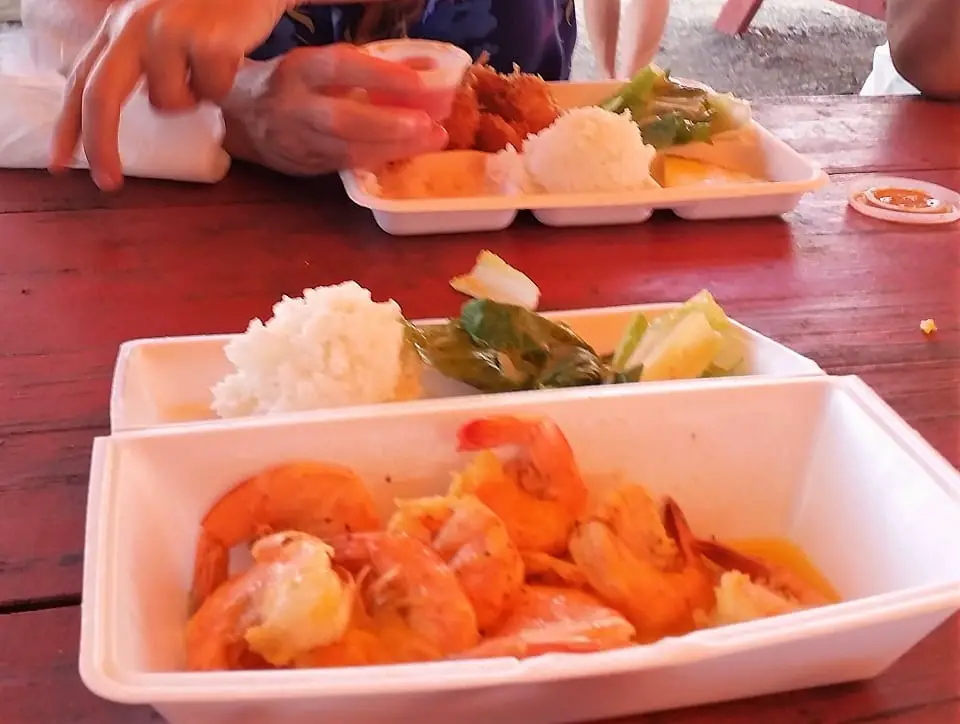 Fancy a break for lunch?  Heading further up the coast, you'll soon come across a few road side shrimp trucks near the town of Kahuka.
These trucks are a perfect stopping place to grab a bite to eat and take a moment off road. The most recognized is probably Giovanni's which was the first to set up here.back in 1993.
Garlic and butter or hot and spicy are generally the most common shrimp and plates are usually served with rice.Each individual truck will have their own menu's and side orders.
Laniakia Beach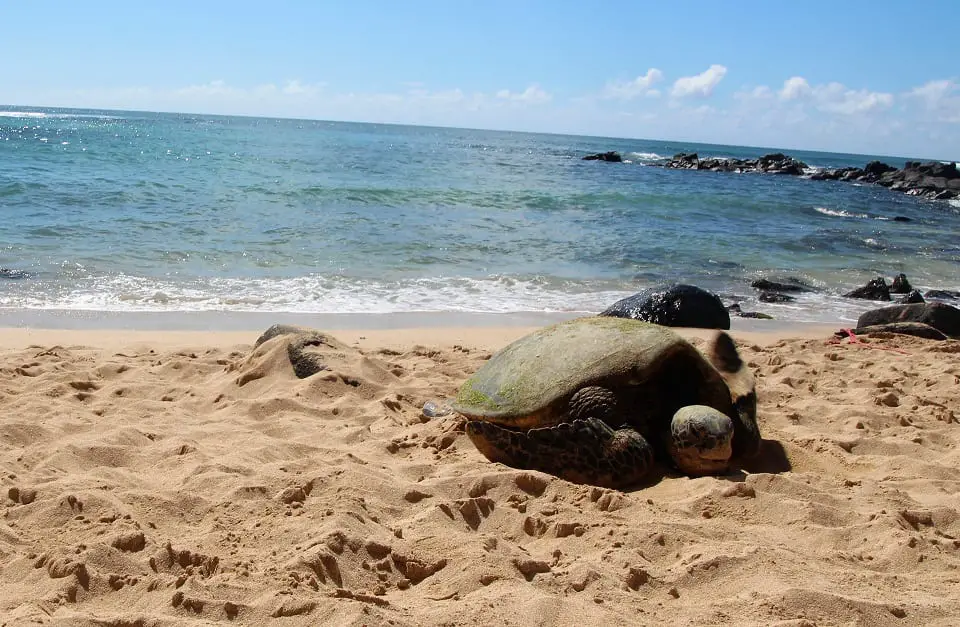 Also known as turtle beach, this stretch of road is super busy and parking a bit crazy. Tour buses also frequent here so be patient and you'll get a park.
Home to green sea turtles, these amazing creatures can regularly  seen sunning themselves on the sand.
The turtles are protected so volunteers are there to educate visitors and point out the "no go zones" through roped off areas.
Dole Plantation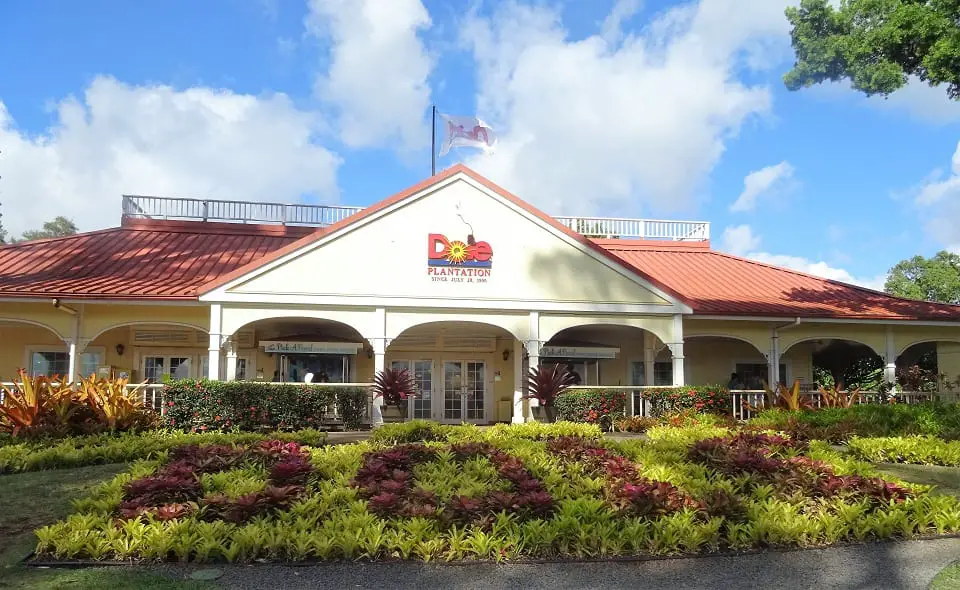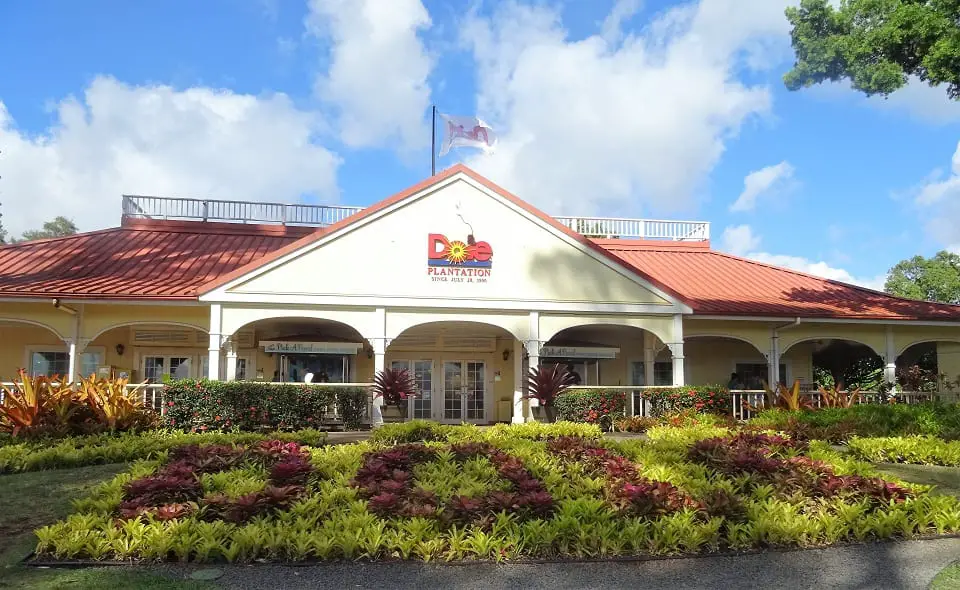 The Dole Plantation is the final stop on this round island tour.
Be sure to try some pineapple ice-cream and watch a quick demonstration on how to properly cut a pineapple. OK, so i really stayed around for the free samples. Wow, juicy, fresh, succulent pineapple.
You can get on a tour of the farm or simply spend some time in the huge gift shop where you can purchase an incredible amount of food items. Think chocolate coated pineapple, jam and preserves, coffee and herbal teas, macadamia nuts and so much more.
It's a great last stop before heading back into Waikiki. The Oahu scenic drive is something all first time visitors should do.
Whilst Pearl Harbor is on your way back to town, I think it's worth a day all on its own. And besides, you'll most likely be done and dusted after your amazing day exploring the island of Oahu.
---