As an Amazon Associate I earn from qualifying purchases. I get commissions for purchases made through links in this post.
This budget Waikiki Beach Guide covers everything to help you plan your stay for first time visitors to Hawaii. From choosing the best hotel locations , activities, food, shopping and more. So before you head off, make sure you know all the best tips for a memorable vacation.
Heading to other islands? Looking for more budget guides and tips?
Read: Hawaii on a Budget – the best guide to paradise
Waikiki Beach Guide 
Waikiki attracts millions of visitors each and every year. It's just so damn popular. You'll find the following topics that many people want to know more about.
How to get from the airport to your hotel
Best area in Waikiki to stay
Accommodation Options
Best activities in and around Oahu from Waikiki Beach
Should you consider visiting the other islands
Shopping in and around Honolulu
Dining options for everyone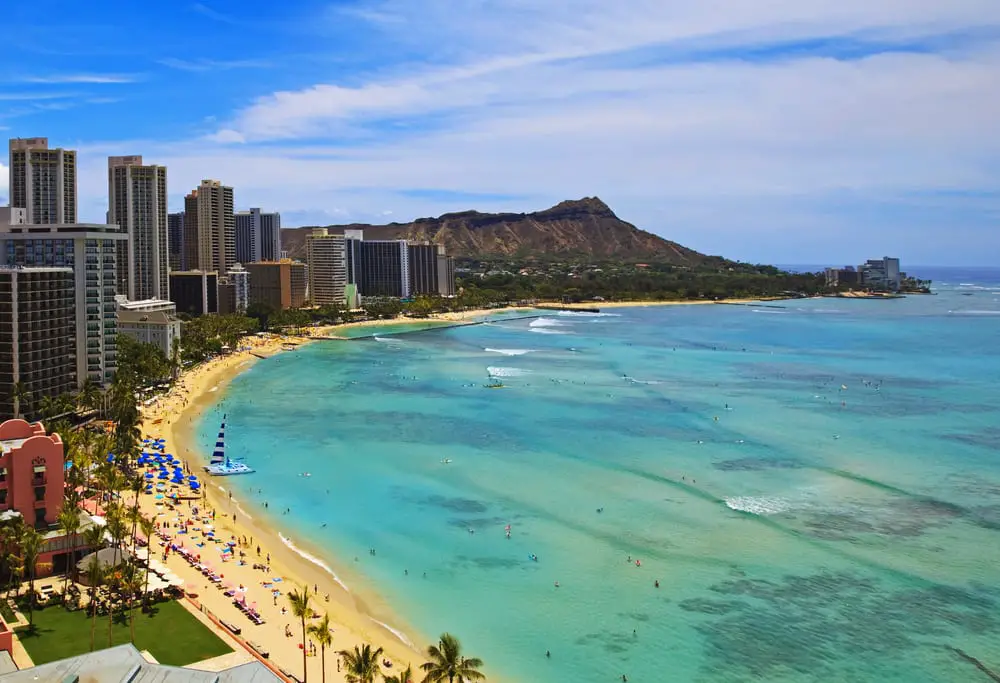 How to get from the airport to Waikiki Beach
The distance from HNL international airport to Waikiki Beach is 9.3 miles and around a 20 minute drive by car. Public Bus will be the cheapest but not the fastest. Here you can see all the ways to get to Honolulu based on your budget.
Airport Shuttle 
When flying into Oahu, it's easy to make your way toward Honolulu from the airport using a shared shuttle service. It's pretty efficient too. Though some companies don't require you to pre-book, many do. I like to be organised and on my way without too much waiting, so for peace of mind I suggest booking in advance. The cost will set you you back around US $16 on average each way with a door to door hotel drop off.
Click below for more information
Honolulu Airport return transfer – approx $16 each way ($32 return)
Private one way mini van transfer (for groups/families up to 5 people) – approx $70 for up to 5 people, that's only $14 each
Taxi or Uber 
A taxi  from the airport will take much less time but will be more expensive. Expect to pay US $40 to $45 one way. Alternately, you can choose to take an Uber ride starting from $20 to $25.
Public Bus 
The longest and cheapest option is to take the public bus to Waikiki. The bus stop is located on the second level on the center medium. Current prices are $2.75 adult and buses leave every 30 minutes or so from Bus Stop 19 and Bus Stop 20.
Rental Car
If you are planning on seeing more of Oahu, which I recommend you do, then hiring a rental car is well worth it. Main car rental companies include Hertz, Thrifty, Alamo, Enterprise, Dollar, National and Budget. Make sure you shop around for the best deals to save money.
I prefer to see all major car rental companies in one place in order to get the absolute best price. that's why I use Rentalcars.com
Go to Rentalcars.com to see all cars in Hawaii.
TIP: Hotels can charge overpriced parking fees up to $25 per day. I suggest taking a shuttle or the bus to Waikiki Beach and only renting a car on the days you will actually use it. This is how we did it and only had to rent a car for 2 to 3 days which was much cheaper overall.
Best part of Waikiki beach to stay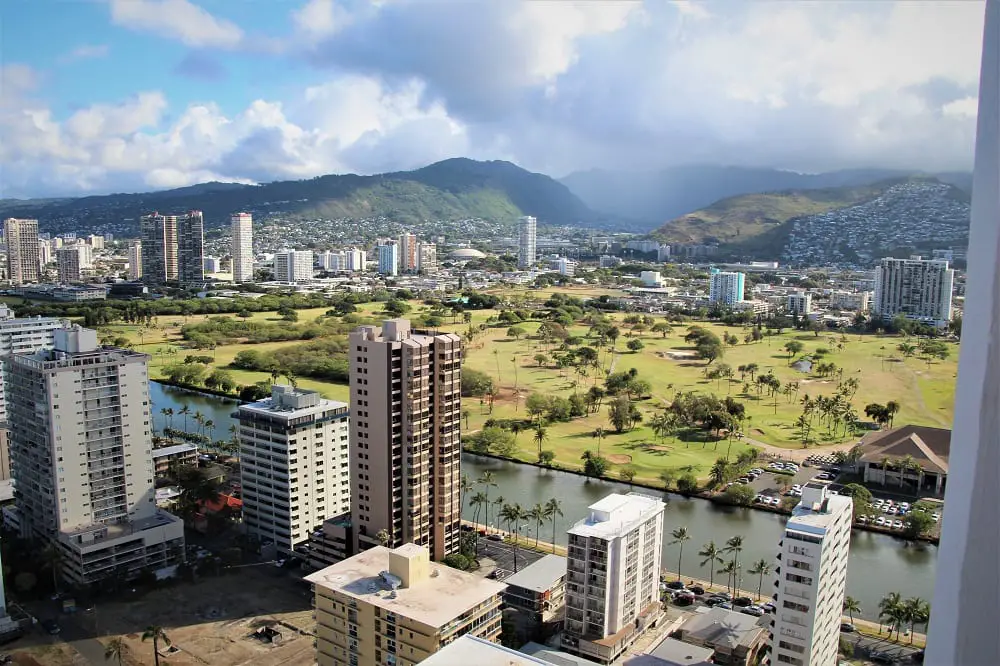 South End for the best views and accessibility to beach
When staying in Waikiki, you'll have plenty of choice on accommodation options. But getting the one you want can be tricky during high season  Deciding out what part of town to stay in can also be a hard puzzle to figure out.
If you are reading reviews from fellow travelers most will be directing you toward the south end, and for good reason.
I highly recommend staying toward the Diamond Head end of town BUT before the Zoo.
It's much quieter and I think the beach is nicer. The further you look north along the main thoroughfare, the more big name hotels block any chance at a view to the beach. So unless you are staying in one of these more pricier hotels. you won't have the same access.
Getting around Waikiki on foot is easy, as you on right on the edge of all the action but far enough away for a good nights sleep.
Accommodation options to consider
OK, think about it.
If you are only there for a couple of days then go for convenience or even price it that's what it comes down to. If you are there for a few more days or even a couple of weeks then consider renting a condo or suite with kitchen.
On my first visit to Honolulu I booked a hotel right on the beach for 5 nights. I really thought I needed to be mere steps from the water but for the price I could have done a lot  better. My room was tiny and I had to buy all meals. Big mistake for a budget traveler.
So on my second visit I stayed in a condo for 7 nights with a kitchen and seating area. It was much more comfortable and I saved a tonne of money on food, still dining out at least half the time. So the extra you pay will save you more in the long run.
I always use VRBO for private rentals as they have over 2 million properties across 190 countries in the world. Simply put in your MAX price and search the best homes, apartments and unique stays.
See the range of VRBO properties in Waikiki here.
For hotel stays I recommend staying a block or two back from the beach in order to secure the best deals. With prices in Waikiki noticeably increasing over the past few years, getting a good deal generally means staying a few minutes walk from the beach.
Also remember, a basic hotel room means having to buy every single meal. That's 21 meals over a week which can add a couple of thousand dollars onto your holiday costs.
We stayed at Aston at the Waikiki Banyon which has 235 apartments. This 3 star resort is relatively cheap and only a couple of blocks from the world famous beach. It comes with a kitchen and separate bedroom. I also had an amazing view from the 33rd floor taking in Diamond Head and a partial ocean view.
For hotel bookings, I always use Hotels.com as they give one free night for every 10 nights booked. For the budget traveller, a free night is pure gold right! So be sure to sign up and reap the rewards too.
Go to Hotels.com for all the best hotel deals in Waikiki – USA website
Go to Hotels.com for all the best hotel deals in Wiakiki – Australia website
Best Activities in and around Oahu
There is a mountain of activities to do in and around Waikiki Beach. These are some of my favorite.
Go Surfing, Stand up Paddle Board or a Yoga Lesson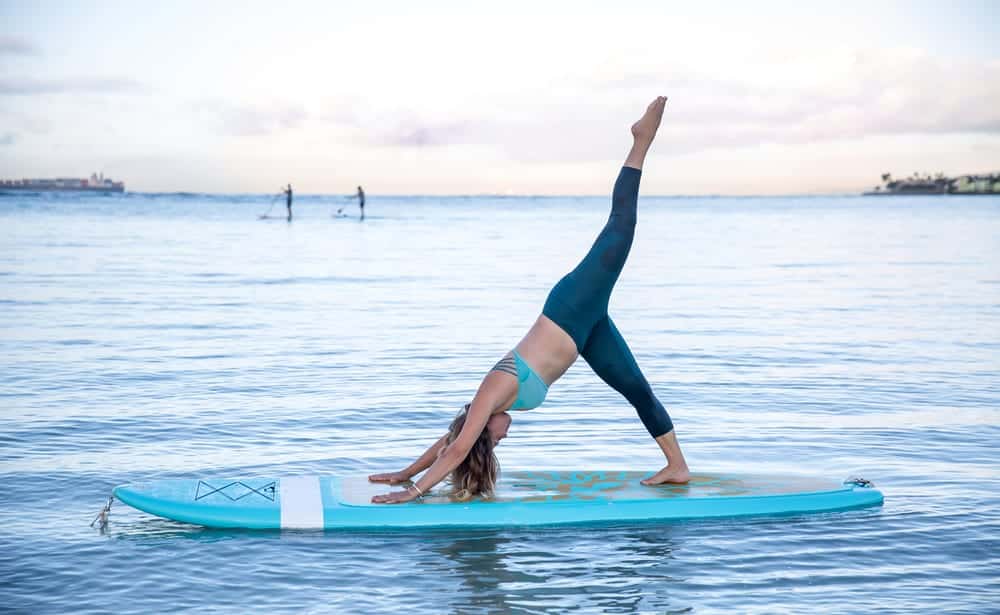 My Waikiki Beach Guide includes trying your hand at surfing or stand up paddle board. When in Rome right! (or in this case, Hawaii)
The beach is perfect for beginner surfers as it's shallow, and the waves are just high enough to get up and not to high that you'll be getting dumped every try. You can take a group lesson like I did and be riding a wave in no time. Trust me, it's so much fun.
Alternately, SUP (stand up paddle board) is super popular too here in Hawaii.
I have used Big Wave Dave a couple of times for lessons but also for board rentals. They have a huge range of boards and will store them for you if you have booked a couple of days or longer.
Prices for surf boards start at $20 for 2 hours while SUPs start at $35 for 2 hours rental. They also have day rates and weekly rates too.
For something really different, why not do a Yoga session on a SUP if your budget allows it. Beginners are fully catered and boards are provided.
While it is cheaper to just rent over taking a lesson, Waikiki is great place to experience riding a wave or two. I was actually quite surprised I managed to stand up every time (not like my other companions). Apparently all that Pilates I do really paid off.
See Stand Up Paddle Board Lesson
See Stand Up Paddle Board Yoga
Drive around Oahu Island in a day
Oahu is a gorgeous island and staying exclusively on Waikiki Beach for the entire trip is a crime.
How to get around Oahu
The best way to get around the island of Oahu in one day, is by car.
Make sure to take your swim wear as the beaches on the opposite side to Waikiki are simply gorgeous. While you can complete a full lap of Oahu quite comfortably in a day, I suggest leaving enough to make time for leisurely stops. Be sure to check out my self drive itinerary here – Oahu Full Circle scenic drive
The cheapest way to get around is by bus. A single trip will cost you only $2.75 or you can purchase a day pass for $5.50. The bus system will take you to many of the best island attractions such as Pearl Harbour, Diamond Head and Hanauma Bay.
Of course, the time travelled will be much more than by car so be patient and instead think of how much you saved. Go to Honolulu Bus Website to see all routes and prices.
For those who want to let someone else take care of everything, taking a full day tour might be your best bet.
The island tours takes in all the best sights including the famous North Shore, Hanaumu Bay and Pineapple Plantation. Drive the coast full circle and stop at all the best locations away from the big crowds.
Visit Pearl Harbor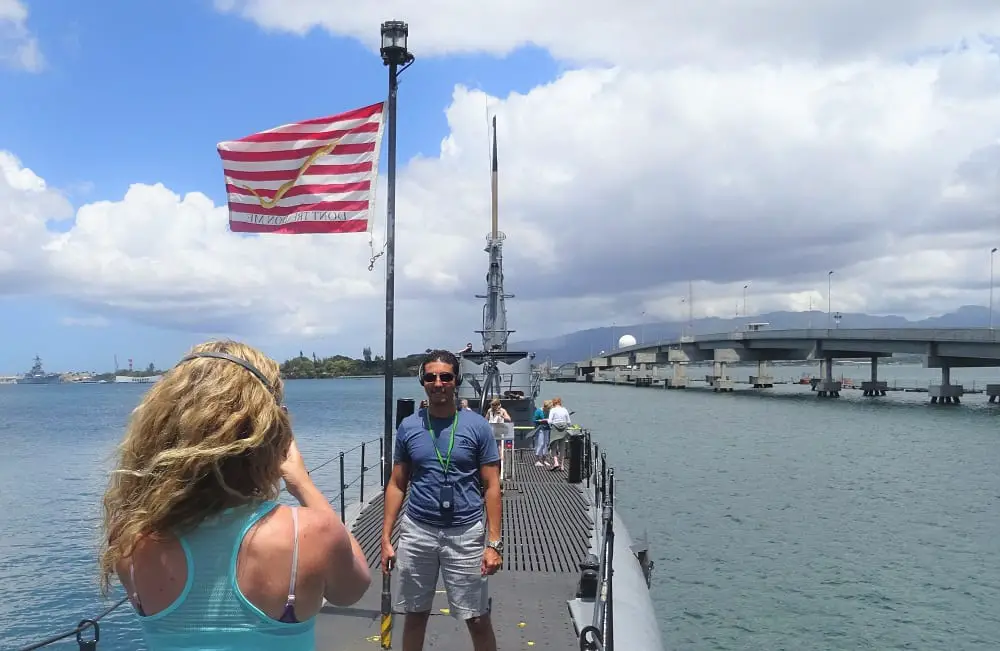 Take a half day tour out to the historic memorial of Pearl Harbor.
The site includes access to the USS Arizona.
See Half Day Pearl Harbor Tour
Or try Pearl Harbor / Punch Bowl  City Tour
Hike up Diamond Head for incredible views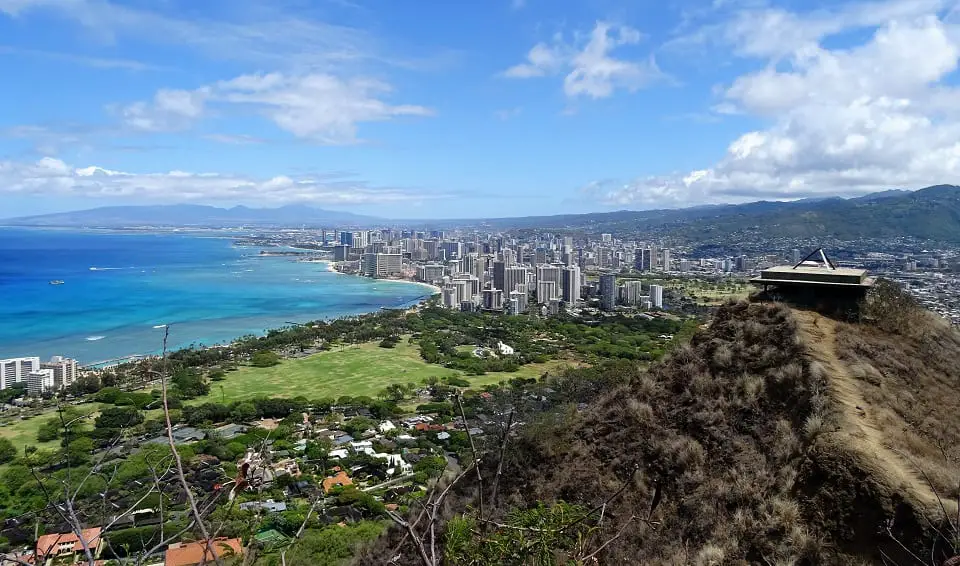 Be rewarded by hiking to the top of Diamond Head. The view over Waikiki is simply breath taking.
This incredible monument looks challenging from the base, but the hike is a lot easier than you might think. The track winds its way up the mountain at a moderate pace and going earlier in the day will be a little easier also. Be sure to wear appropriate footwear and you'll be so glad you did it.
You can take the number 23 bus from Kuhio Avenue to reach the park.
Should you visit the other islands
That's a question only you can answer. If you are only there for 3 to 5 days  then don't even consider it. It's too much hassle and you'll only get to see a little bit of both places.
For a more detailed article on this very question go to my article on – Guide to Visiting Hawaii Islands
I think the main island of Oahu is one of the best to visit because it's so diverse. There is so much to see and do so don't feel bad that you're not visiting any other island. You don't want to shortchange yourself by going somewhere just to say you went.
Cost to visit other islands
Island hopping in Hawaii is actually quite cheap and won't set you back a huge amount. Expect to pay anywhere from U$40 to $90 for a one way flight with Hawaiian Airlines.
The best part is the fact that flying is quite quick so won't take up much of your day, so you can be exploring another island in no time.
The flight times vary such as :
Honolulu to Maui – 40 minutes
Honolulu to Big Island – 45-50 minutes
Honolulu to Kauai – 40 minutes
If you do have extra days, a trip to another Hawaiian island is only a short flight away. The Big Island is one of my favourite, particularly seeing Volcano National park. You can see mhy 5 day itinerary here – Big Island Adventure Itinerary
Shopping in and around Honolulu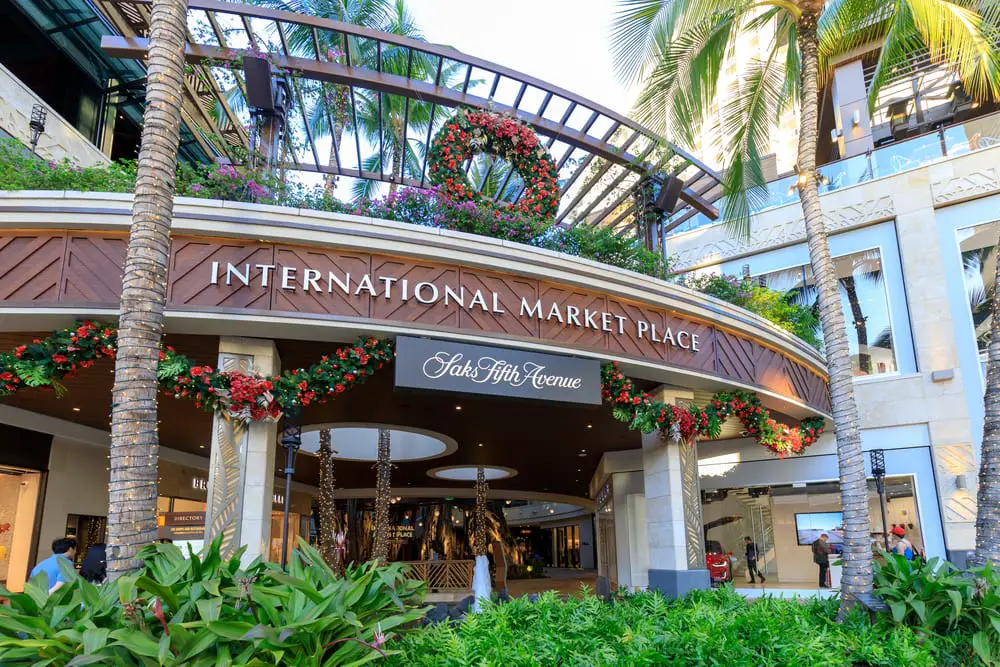 Is the shopping good in Waikiki? In a nutshell, YES.
But for the budget conscious, I suggest staying away from the stores on Kalakaua Drive, Waikiki beaches main strip. Instead, head to Waikeke Premium Outlets for your shopping fix.
Waikele Premium Outlets
If you are in Hawaii to spend up your holiday dollars then Waikele Premium Outlets are the place to go. You will need to drive yourself out or you can catch the shuttle bus. 
Though the outlets may not be as big as others in the USA,  they still have plenty of great bargains.
Even for Aussie travellers, there are some seriously good savings going on, especially high end brands. Think Calvin Klein, Coach, Kate Spade and Armani. There is also plenty of sports wear, shoe shops, clothing and jewelry.
I got seriously caught up buying Kate Spade handbags for under US $100 because it was their one year anniversary at that particular location. You never know what savings you'll find!
Ala Moana Center
This bargain shoppers paradise is the worlds largest open air mall with over 350 shops. It is also the ninth biggest shopping mall in the US.
It has multiple department stores, boutique shops and 160 dining options.
Though you can reach the center on foot, on a hot day it's easier to catch the bus. You can also take the trolley service from 14 locations in Waikiki, arriving every 10 minutes or so. Cost is $2 each way.
Waikiki Shopping
The main street of Waikiki is Kalakaua Street. It has hundreds of great shops, but as mentioned, you will pay more here.
The Royal Hawaiian Center has 150 stores to browse and then you have the International Market Place opposite Dukes.
Remember to pace yourself when in Waikiki and don't get caught up in shopping when you have a world famous beach right  at your doorstep.
Places to eat out
Finding somewhere to eat won't be a problem, choosing what to eat might be.
OK, so this section is particularly for my fellow Aussie friends. As many of these places are not known to us back home. We just don't have the chain restaurants like you do in the US.
Dukes
Try not to miss the tourist hot spot, Dukes. Named after the local surfing legend, Dukes is a local institution. Serving up locally caught fish, steaks, chicken, ribs and more, the restaurant is lively yet the low light makes if feel intimate also. Finish with the signature Hula Pie, enough for two people.
Main dishes will set you back from $30 to $40 so it's really a special treat for those tight on a budget. Be sure to save your appetite and upgrade to the all you can eat salad bar for only $5. It is so worth it, trust me.
Also, don't expect to walk in and get a table, so book in advance.
Cheeseburger in Paradise – chain
OK, so I know it's a big American chain, but for us Australian travelers, it's new to us. And we know most Americans love a good burger.  Located at the south end of Waikiki, this casual venue serves up some pretty tasty burgers.
P.F Chang's – chain
Another popular chain restaurant serving up Asian cuisine,  P.F Chang's is  The two story venue is very nice, the food even better.
You won't find it hard in choosing something to eat as the menu is quite extensive. The service and wait times were spot on.
Tanaka of Tokyo
For the best Teppanyaki  in town you have to try Tanaka of Tokyo. 
A popular spot located on the third floor of the Waikiki shopping center with seating for 170 people. The steak and seafood is high quality and the fun of eating  Teppanyaki make this restaurant a fun night out.
Rock Island Cafe
Step back in time to the 50's in this old fashioned diner where memorabilia is covered wall to wall. Think Happy Days! The Rock Island Cafe is great for families and anyone who likes something a little out of the ordinary. With waitresses dressed the part and menu items such as "Fonzie" french  Fries to "The Big Bopper" hamburger, you'll be easily entertained here.
The Cheescake Factory -chain
This American chain restaurant had quite the line up going on. How does Reece's Peanut Butter Chocolate cake Cheesecake sound or maybe Craigs Crazy Carrot cake cheesecake. Not to mention Lemon Meringue Cheesecake.
But there is a lot more going on, as this place is a full restaurant with steaks and pasta and even a healthy options menu. I just took the cheesecake and ran!
Waikiki Beach Guide Conclusion
Whether you are on route to another destination or have planned a trip exclusively to Hawaii, you' will be so glad you came.
Hawaii is one of the best island destinations you could hope for. It suits a range of itineraries, budgets and holiday types. In short, there is something here for everyone regardless of your personal preferences.
Be sure to check out VRBO and Hotels.com for all the best places to stay.
Enjoy your stay in the heart of the Pacific.