As an Amazon Associate I earn from qualifying purchases. I get commissions for purchases made through links in this post.
This ultimate Hawaii on a budget guide covers everything from getting there, best budget accommodation in Hawaii and all the cheapest and best activities.
I'll also show you what you can expect to pay for your island getaway, how to save costs in Hawaii, as well as whether you should consider heading to the other islands that make up the full chain of Hawaiian Islands.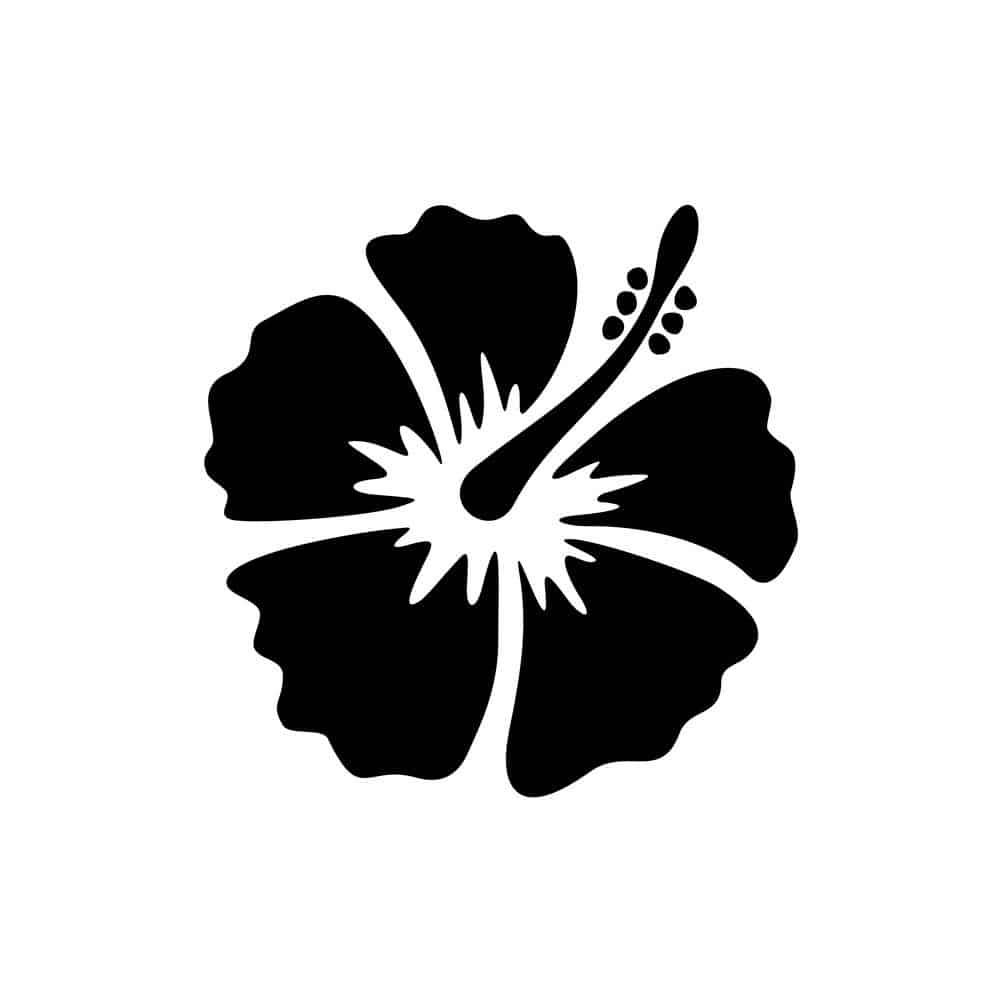 Budget Guides to Read
Further reading: Planning a trip overseas you can actually afford
Further Reading: A cheats guide to saving money while traveling.
Is Hawaii Expensive?
Hawaii is one of those places that everyone wants to visit at some stage. For many first time visitors planning a trip that meets your Hawaii budget can be challenging. Having a cheap vacation in Hawaii means knowing up front what you can and can't afford. Hawaii can easily become a huge blowout on your wallet when not monitored.
The reason why Hawaii can be on the expensive side is because once you get here, you realize just how many cool things there are to see and do. And these generally all cost money, making it somewhat hard to do Hawaii on a budget.
Further Reading: Visiting Hawaii for first timers – Guide to visiting Hawaii Islands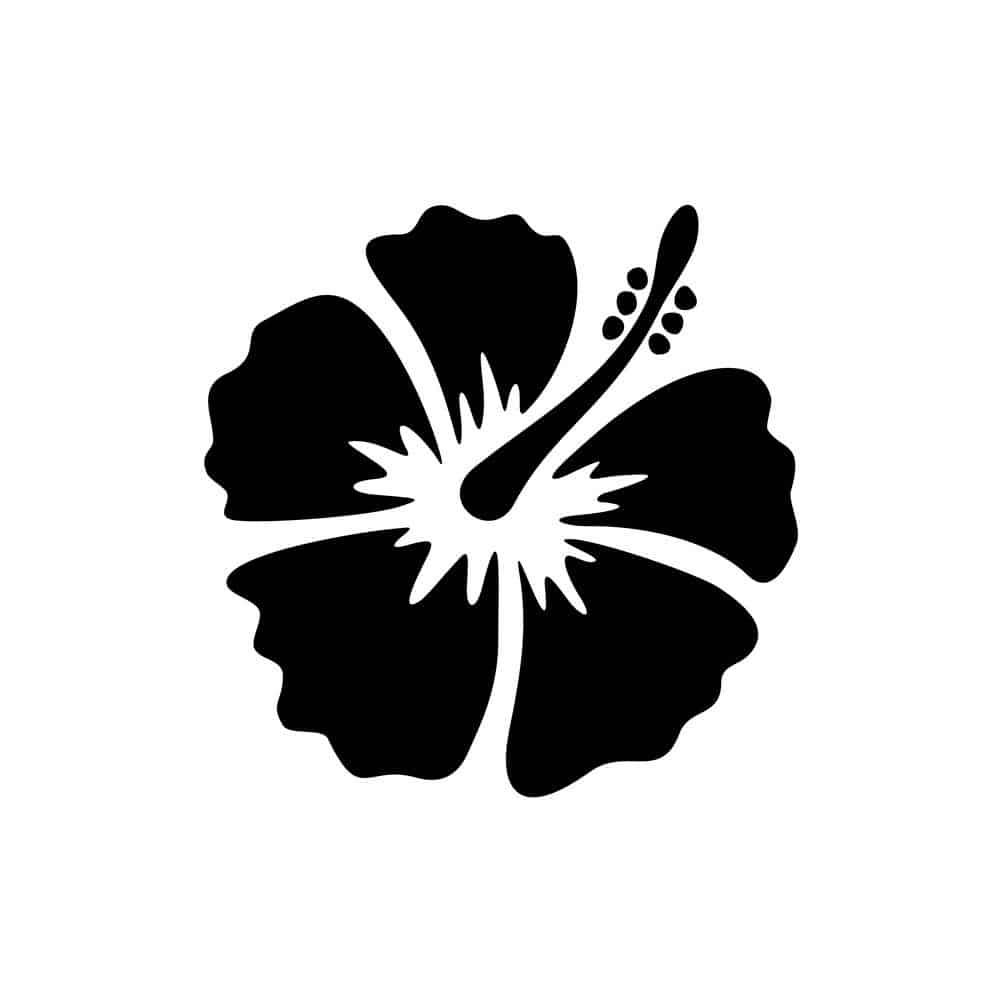 How to Budget a trip to Hawaii
Hawaii has always been a location high up on many travellers wish list. The popular sunny beach destination is known for lush tropical vibes, gorgeous turquoise water and not to forget, a place of endless entertainment & outdoor activities. But with it comes a cost, so knowing how to do Hawaii on a budget means planning ahead. This way you can have the best time ever.
Now, let's face it, everyone's budget is going to be different.
Are you a couple, family or flying solo?
What are you wanting to experience?
Do you have a set budget that can't be stretched if needed?
Firstly, I always suggest having some backup funds in case…well just in case.
Also, consider the things that absolutely matter to you. Maybe you want to stay in a resort or hotel right on the beach or go to a famous Hawaiian luau.
Maybe you are here to participate in plenty of cool water sports or just want to party and shop likes there's no tomorrow. Whatever the reason, I suggest thinking about what really matters and budgeting the rest. That way you'll get what you want out of your vacation without feeling like you had to give so much up.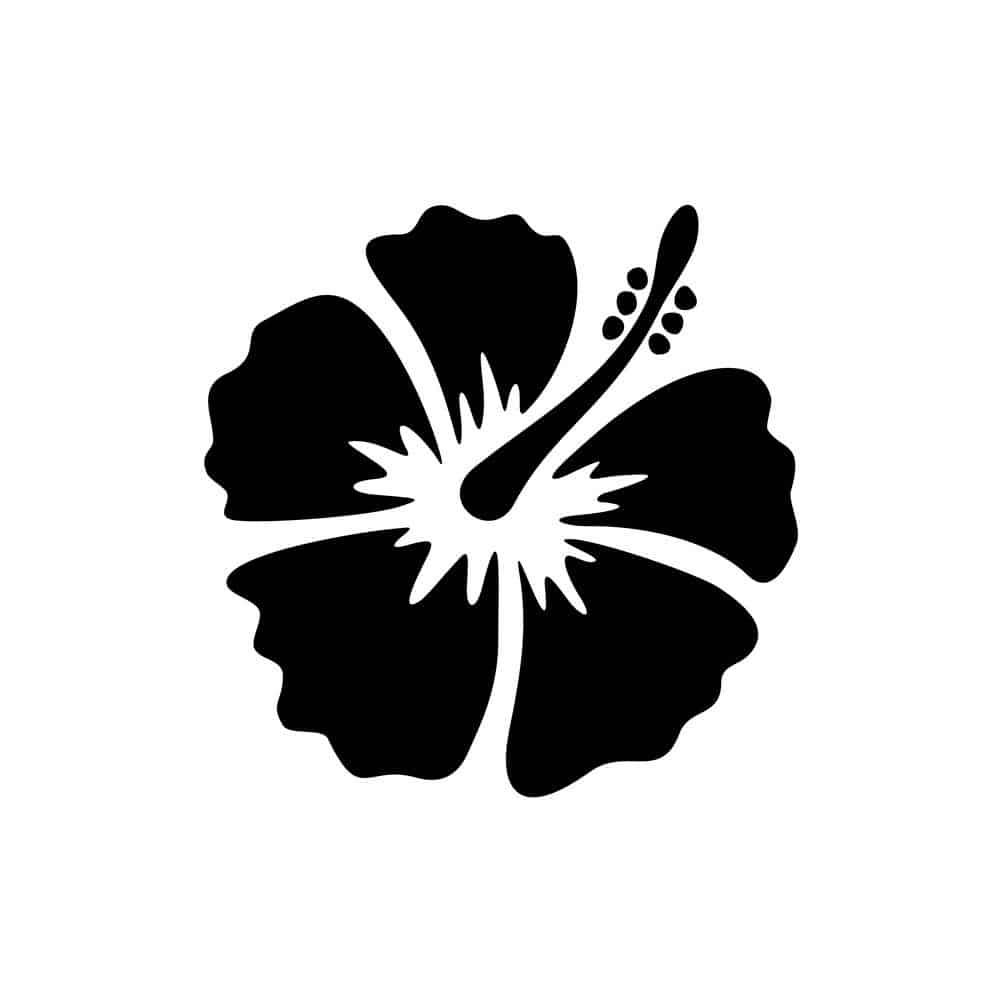 Where is Hawaii?
Hawaii lies over 2000 miles south west from USA mainland in the Pacific Ocean. It officially became the 50th US state in 1959.
While there are over a hundred islands here, there are 8 main islands of which 7 are inhabited. These include Oahu, Maui, Hawaii, Kauai, Molokai, Lanai, Niihau, and Kahoolawe.
Honolulu is on the island of Oahu and is capital city of the state of Hawaii. It is also the largest city with around 350.000 people.
Distance from other major locations
Australia to Hawaii – 4500 miles / 7200 km
Japan to Hawaii – 4100 miles / 6600 km
Canada to Hawaii – 4800 miles / 7700 km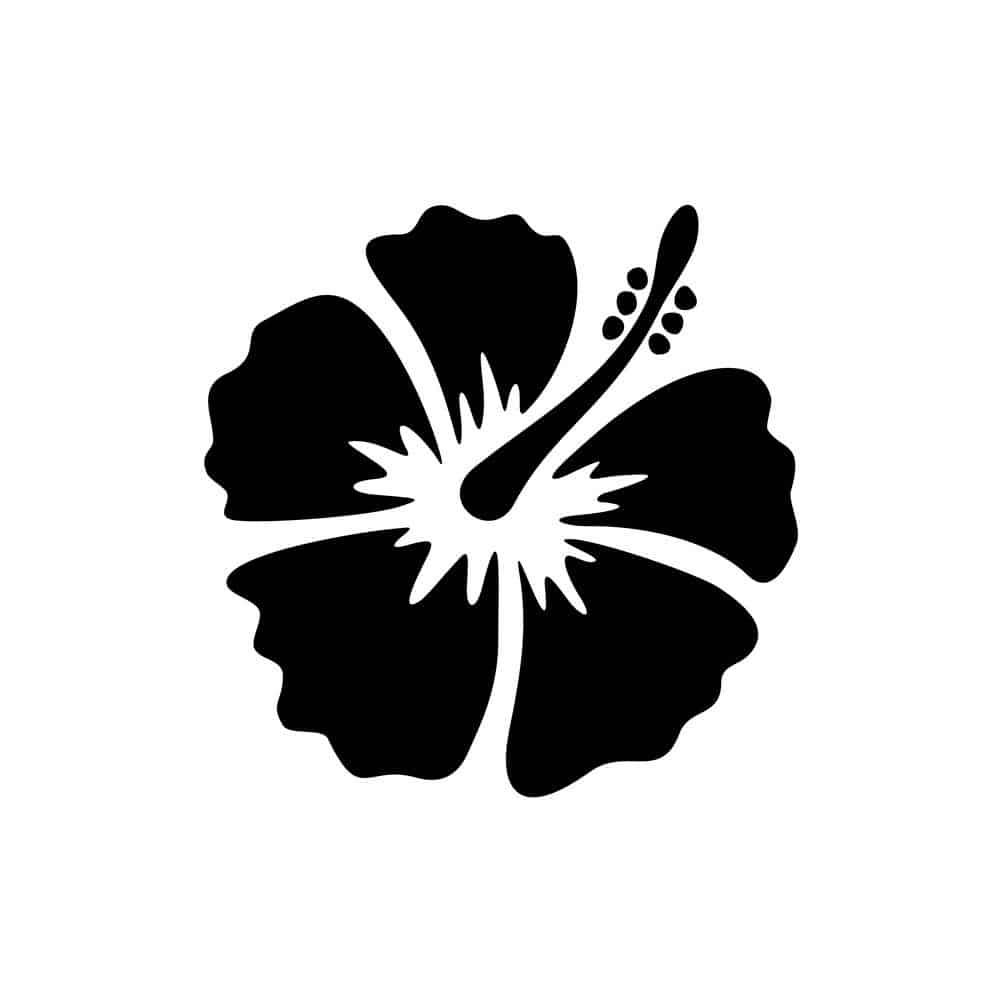 Fast Facts about Hawaii
Population (all islands) – 1.4 million Yearly Visitors – 9.4 million (2019) – the year of COVID in 2020 was 2.7 million Currency: US dollars Seasons – Hawaii is known as having only 2 seasons. Summer is May to October & Winter November to April. You can expect great weather all year round regardless. Yearly Average Temperatures: Summer 29.4 / Winter 35.6 Average Water temperature: Oahu 76 to 81 F / 24 to 26 C Average stay Hawaii: most people stay anywhere from 4 to 12 days with 7 days being the most popular (50%)
10 Hawaii Travel Tips for Saving Money
Compare flight costs through companies such as Skyscanner and CheapOair for the best deals
Use the local bus system to get around rather than renting a car for the entire trip
Travel during the low/shoulder season months of April (post Easter break), May, September through mid December
Book your accommodation as early as possible so you have plenty of budget choices
Stay in a condo /apartment with kitchen facilities to cook
Discover free activities
Shop the bigger supermarkets & local grocery stores over ABC stores where prices are much higher
Walk as much as possible
Try the street food and stop by the off road food trucks for cheap tasty treats
Purchase a Shaka Gold card for discounts on many activities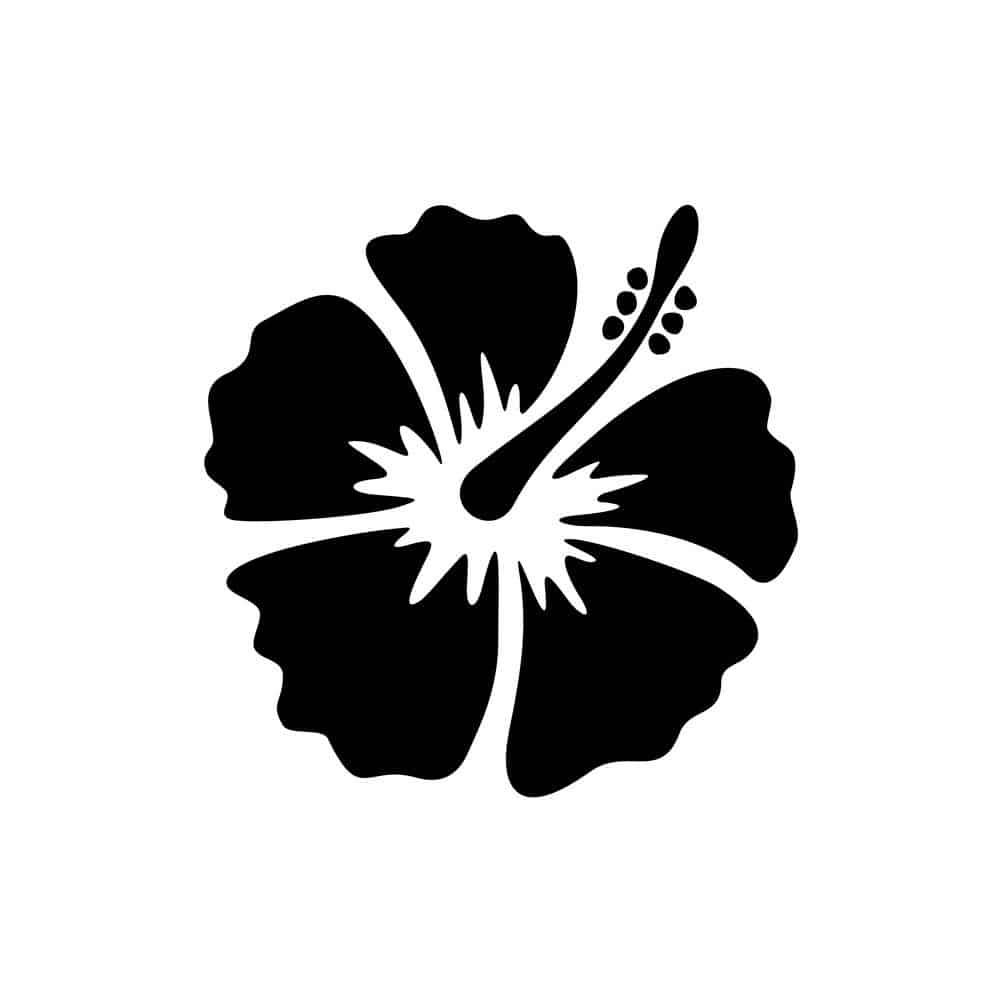 Hawaii Vacation Costs – Considerations
Once you can work out what you are willing to sacrifice, you can then move on and start to find awesome deals and discounts.
After reading my top Hawaii on a budget travel tips , it's time to consider which ones are the MOST IMPORTANT to you. 
For example, if all you care about is beach life, shopping and a few incredible activities, then start looking for cheap flights in the low season and budget accommodation options in particular.
Maybe you are set on travelling in a certain month and staying with the family at a great resort. Then you may want to go with a budget airline, use the local bus system and find free activities for everyone to enjoy.
For those on a really tight budget, spending some time researching (like reading this article) all your options is key to getting your costs down. Alternately, if your costs keep heading north then be sure to ready my post on How to Stick to your Travel Budget.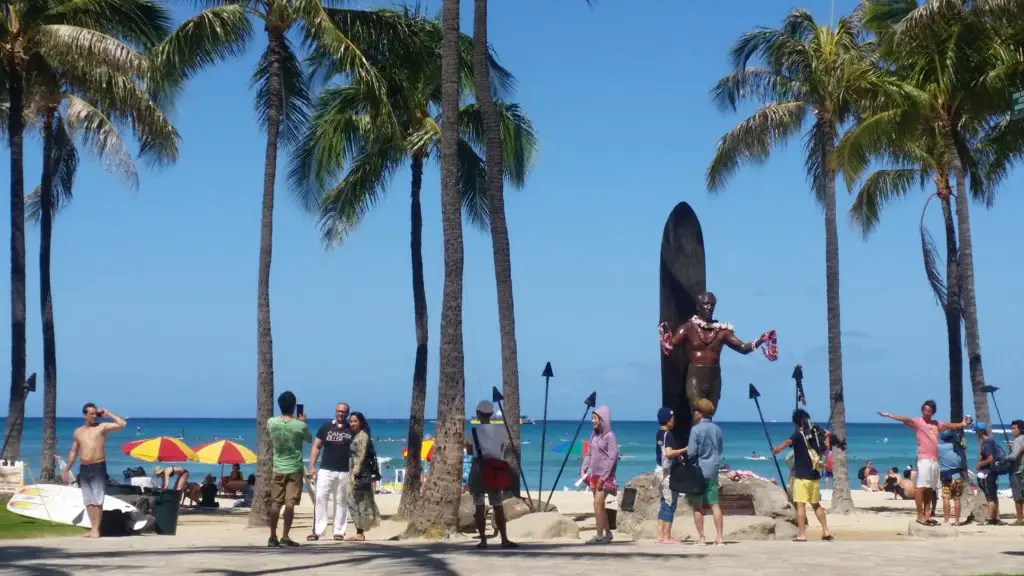 Hawaii on a Budget – best ways to save
OK, so now we dive into all the ways you can save for your budget vacation to Hawaii and tips along the ways to help keep your costs down.
Starting with at least an idea of how much you want to spend is a good way to understand what it is gong to take to make it happen. After some initial research you might discover Hawaii is more than you expected. Or even cheaper than you thought. Wouldn't that be awesome!
When I know how much I have to spend, it becomes easier to start planning accordingly. Also, I'm always thinking about the next holiday and have a yearly travel budget which I work around. That way I can take frequent vacations every 3 to 4 months.
How to get cheap flights to Hawaii
Most domestic and international flights will arrive at Daniel K. Inouye International Airport in Honolulu, Oahu.
Major carriers within the US include Hawaiian Airlines, United, American Airlines, Southwest, Allegiant, Delta and Alaskan Airlines to name a few. Budget airline Sun Country offers cheap flights out of Los Angeles for around $300 and up return.
Hawaiian Airlines has the most flights from the mainland of the USA but also flies direct from Sydney and Brisbane, Australia. There is a dedicated 'deals and offers' page on their website, or you can sign up to their emails to be notified of any future deals. 
The months of January, February and September regularly offer discount prices on flights.
For Australian visitors, Qantas, Jetstar and Hawaiian Airlines (code share with Virgin AUS) are the only carriers that fly direct to Honolulu. Generally, Jetstar, a budget airline will offer the cheapest flights. Baggage is not included. Also, the months of February and March are usually cheaper times to fly to Hawaii but be on the lookout for 2 for 1 seats during Jetstar's Birthday sale in May and annual sale around November.
More ways to save on flights to Hawaii
sign up to newsletters and notifications from the airlines direct
use your frequent flyer / mileage points
be flexible with month of travel
Use a multiple search across all airlines such as CheapOair or Skyscanner.
The sooner you know you are going, the longer you can keep an eye out for flight specials which do come up quite regularly. If you can secure good priced flights, you should be able to do Hawaii on a budget much easier.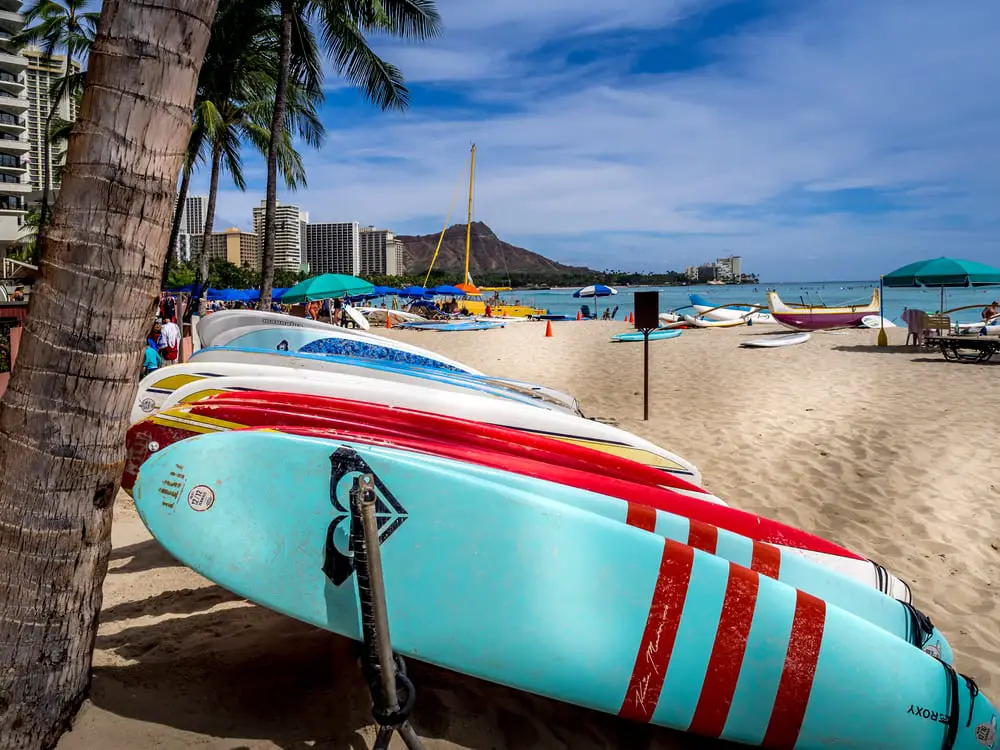 Is staying only in Ohua a cheap option?
It would make sense that if you choose to stay on the same island you would save money. For a start, you wouldn't have to pay for more flights to the outer islands.
With deciding to make the main island of Oahu your preferred base in Hawaii, and in particular, Waikiki Beach Honolulu, comes higher prices for accommodation.
Waikiki Beach attracts the visitors and therefor attracts much higher prices. So in fact, it may be more cost effective to fly to another island. With flights ranging from as low as $50 up to around $90 one way, you actually may end up paying much more by staying put in Oahu.
Further reading – Waikiki Beach Guide – for the best budget vacation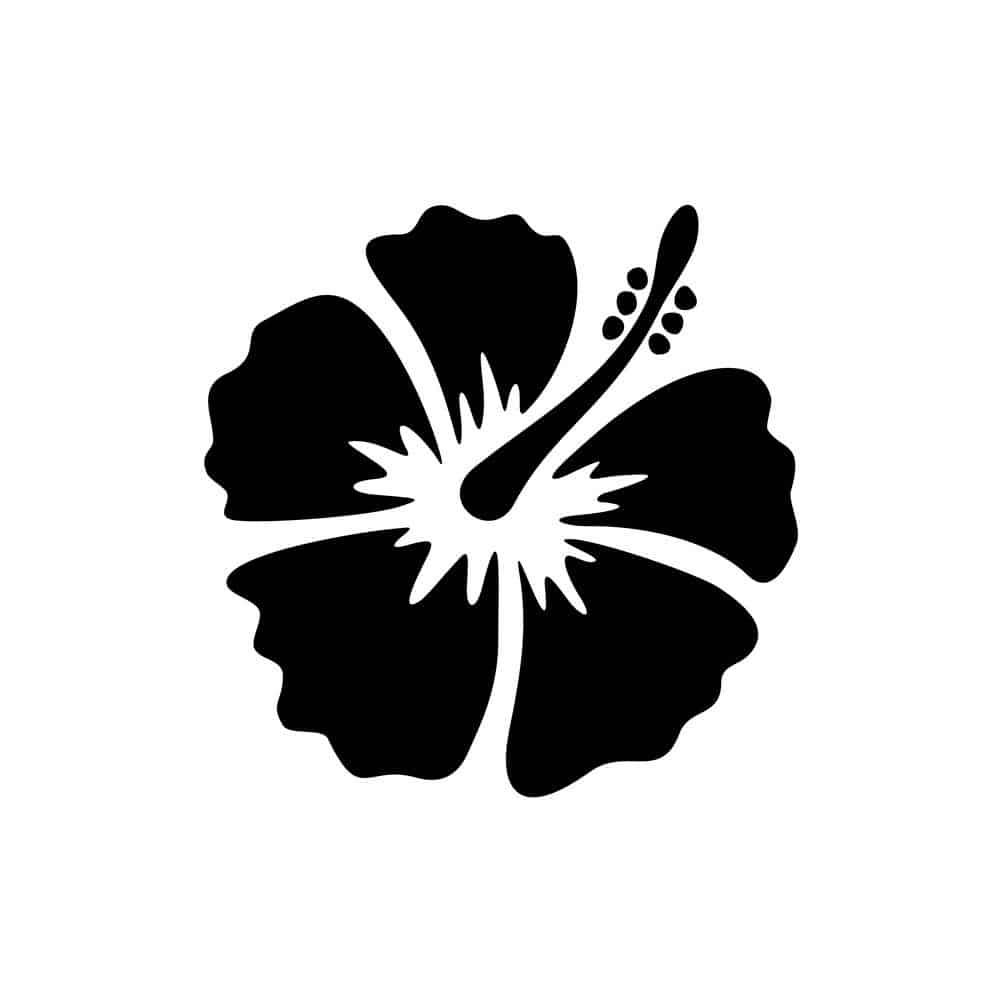 Oahu Estimated Costs – Oahu on a Budget
It's time to look at all the main costs associated with doing Hawaii on a budget , including accommodation, transport and food.
Accommodation Oahu
The following accommodation prices reflect what you might expect to pay if you were on a budget and looking for cheaper deals. Most properties are around a 3 star rating at most. Note: prices may fluctuate at different times of year, and you may also find cheaper prices if on sale.
Pricing in both US dollars and Australian dollars.
Hostel – Single in dorm
Per Day USD $40 / AUD $54 Ave 3 Days USD $120 / AUD $162 Ave 7 Days USD $280 / AUD $378
Hostel – Private Room
Per Day USD $87 / AUD $120 Ave 3 Days USD $$251 / AUD $360 Ave 7 Days USD $$609 / AUD $840
Hotel Room – 2 people
Per Day USD $124- $145 / AUD $170 – $200 Ave 3 Days USD $372 – $435 / AUD $510 – $600 Ave 7 Days USD $868 – $1015 AUD $1190 – $1400
Studio – 2 people
Per Day USD $145- $180 / AUD $200 – $250 Ave 3 Days USD $435 – $540 / AUD $600 – $750 Ave 7 Days USD $1015 – 1260 / AUD $1400 – $1750
1 Bedroom apartment – 2 people
Per Day USD $170 – $250 / AUD $250 – $350 Ave 3 Days USD $540 – $750 / 750 – $1050 Ave 7 Days $1260 – $1750 / AUS $1750 – $2450
2 Bedroom – family of 4
Per Day USD $250 – $360 / AUD $340 – $490 Ave 3 Days USD $750 – $1080 / AUD $1020 – $1470 Ave 7 Days USD $1750 – $2520 / AUD $2380 – $3430
Note: For families, seeking cheaper deals, opting for a single room with multiple beds will save you even more.
PRO TIP: Did you know that Hotels.com give members a free night for every 10 nights booked. This is based on the average amount you spend per night. So far I've redeemed well over 25 free nights, and around $5,000 worth of hotel stays simply by booking through Hotels.com. How cool is that. Plus members receive special "member only prices" and lots of bonuses such as late check out, free parking or chocolates and wine. I love it! Melinda
Hotels and private rentals worth checking out Hawaii on a Budget
ROYAL GROVE WAIKIKI BEACH – Standard Room – 2 queen beds (children free) from US $112 – HOTELS.COM
ROYAL GROVE WAIKIKI BEACH – 1 and 2 bedroom apartments from US $174 – HOTELS.COM
Click here for US Site / Click here for Australian site
PACIFIC MONARCH HOTEL – Studio Suite with Kitchen & Balcony from US $180 – HOTELS.COM
Click here for US Site / Click here for Australian Site
I always use VRBO for private rentals as they have over 2 million properties across 190 countries in the world. Simply put in your MAX price and search the best homes, apartments and unique stays.
Aloho Suite – 3 min walk to beach from US $112 + fees – VRBO
Waikiki Studio – sleeps 2 from US $99 + fess – VRBO
Corner Unit – sleeps 4 – 4 min walk to beach from US $150 + fees – VRBO
1 Bedroom suite with 2 queen beds – 2 min walk to beach from US $175 + fees – VRBO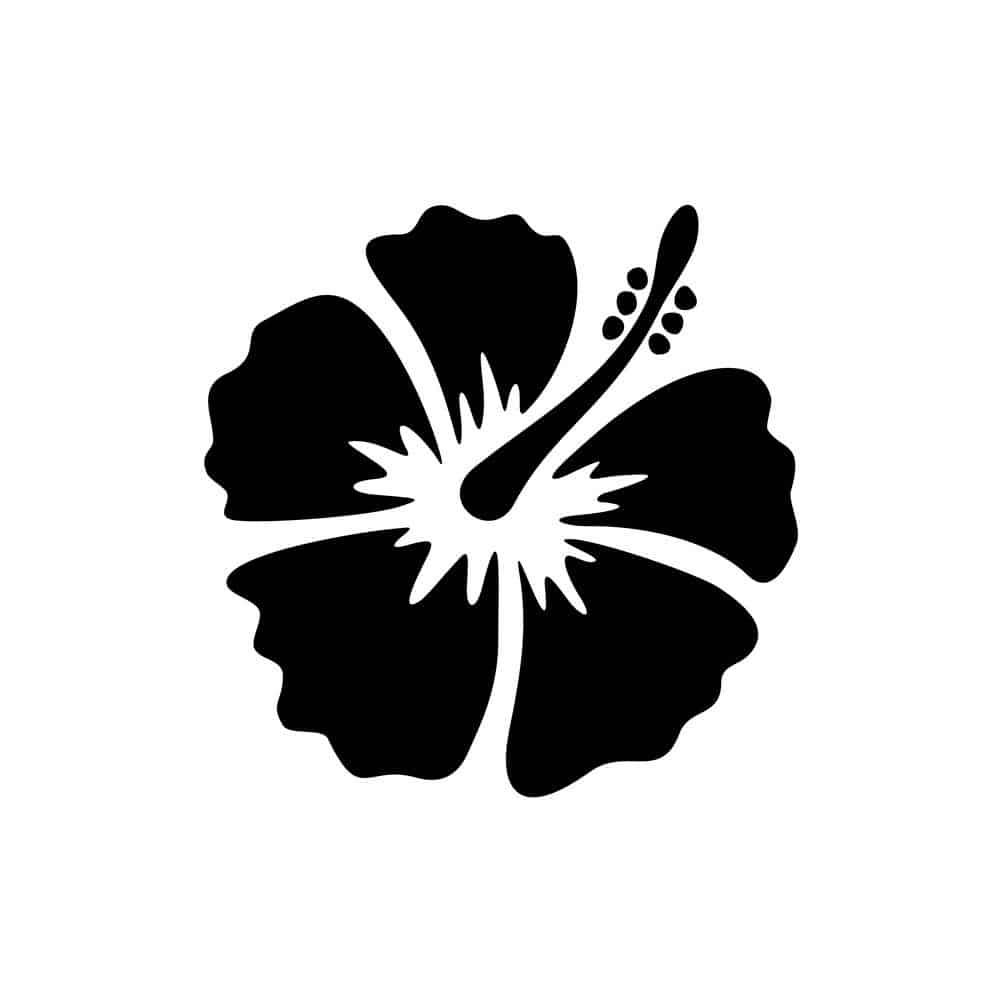 Accommodation – Maui, Big Island & Kauai
You may pay up to $90 each way to fly to another island but you can easily save that on your hotel and condo booking too. And you may end up completely beach front too.
In fact, I have stayed beach front at 3 island locations with Maui & Big Island both being incredible and lovely properties. In comparison, the Waikiki Beach hotel room was cramped, humid, run down and yet I paid a similar price across all locations. So yeah, I made sure not to do that again when in Honolulu.
Maui
When in Maui I always stay right on Ka'anapali Beach – because it has the best beach and plenty of fun activities in the area. I also love not having to share the sand with huge crowds like at Waikiki Beach. I feel like I can relax here and enjoy some chill out time in the sun.
The water here is divine and you can even snorkel right off black rock. Take the shuttle bus to Lahaina for shopping, activities and great restaurants. Also if your budget allows, I totally recommend the Feast of Lele Luau, it is first class and my favorite luau in Maui.
As for accommodation I have stayed at Kaanapali Beach Hotel, the "most authentic Hawaiian" hotel in all of Maui. They have free entertainment including a luau, lei making and free hula lessons for guests. The hotel is one of the original resorts so it is a little older, but well priced for those on a budget and did I mention it's beach front location. You will not find a cheaper hotel than the Kaanapali Beach Hotel. Starting from US $190 per night for beach frontage- WOW right!
See Kaanapali beach Hotel – Hotels.com USA site
See Kaanapali Beach Hotel – Hotels.com Australian site
I have also stayed at The Whaler,(next door to Kaanapali Beach Hotel) in a top floor condo. The view was insane and the room was decked out in lux furnishings. As there was 3 of us, the price per person was justified. For a couple, the price may be a little high. You can see it here via VRBO.
Further reading: Kaanapali Beach Hotel Hotel Versus The Whaler
Big Island
For Kona, on the Big Island there is a terrific range of affordable resorts and hotels. Expect to pay US $150 and upwards per night for either beach front or close to. I recommend Royal Kona Resort or this ocean front room condo with full kitchen & gorgeous views from the balcony.
Kauai
Kauai Island might be a bit pricier over Kona (Big Island) but there are some great bargains to be had under US$200. Try Hotel Coral Reef where you can get a room with kitchenette for around US $170 per night. As the name suggests, it's right on the beach. Alternately, if you have a rental car, Kauai Inn has cheap rooms, is highly rated by customers and comes with free breakfast. BONUS!
Transport
Whatever island you decide to call home while in Hawaii, you have a choice on whether to stay put or hit the road for some extra sightseeing.
The main island of Oahu is by far the most accessible in regards to getting around. That's because you can take the public bus around many places on the island for only $2.75 single fare, or $5.50 per day.
Other main islands such as Maui and Big Island you'll need a rental car if you plan to really explore. While they both have a public bus system, the accessibility to tourist attractions is limited, even more so on the Big Island.
Rental cars start from around US $50 per day for a compact to mid size vehicle.
PRO TIP: Only book a car for the days you will use it. Hotels and vacation rentals usually charge between US $25 to $35 per day which is outrageous. This is usually associated with Honolulu more than other locations.
Budget Attractions and Activities by Island
There is a tonne of great things to do during your stay in Hawaii. Some free, some budget friendly and some on the more expensive side. Seeing we are talking about Hawaii on a budget, let's jump into affordable options.
Further Reading:
Here is a list of great affordable and free attractions & activities throughout Oahu, Big Island and Maui.
Oahu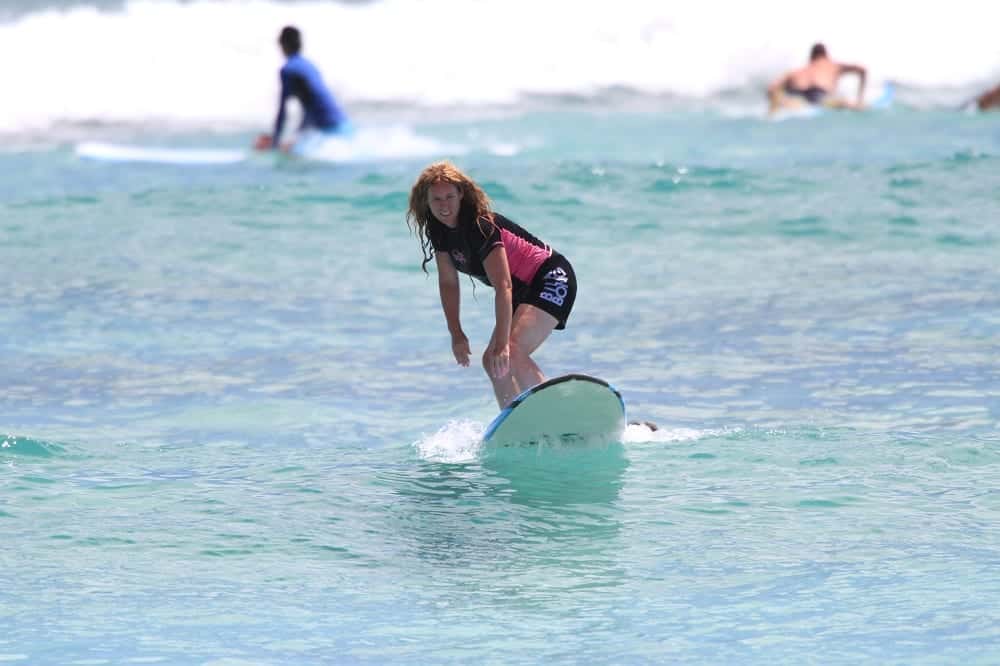 Other great attractions include:
Pearl Harbor National Memorial – FREE
Honolulu Zoo – $19 per person
Polynesian Cultural Center – $59.95 per person
Koko Crater- FREE
Further Reading: Full Day Oahu Scenic Drive – Discover Hawaii
Maui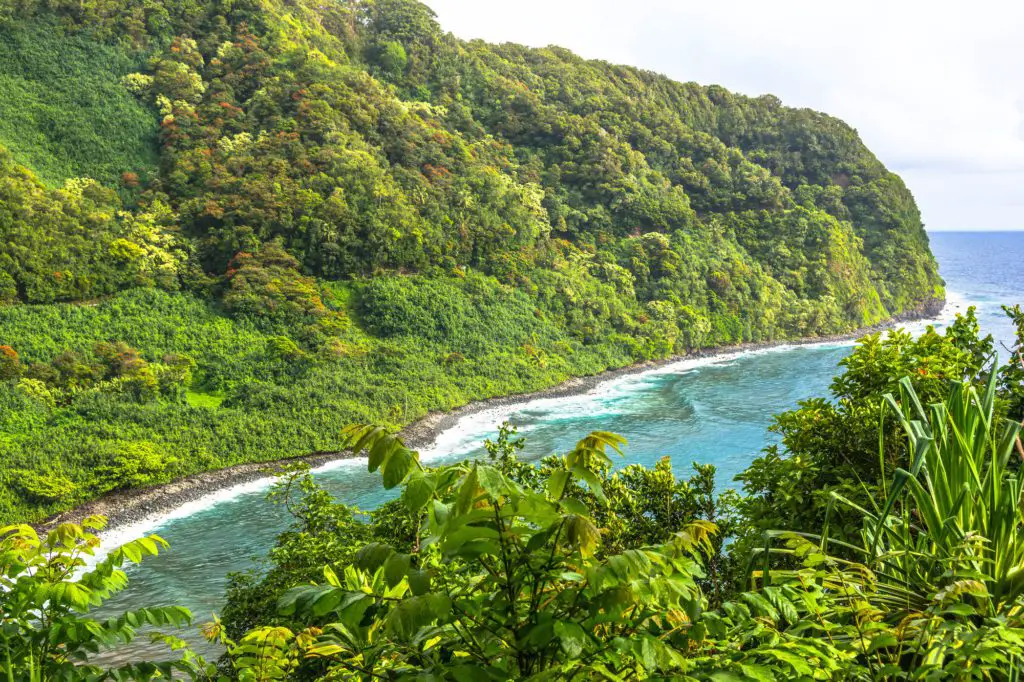 Other great attractions include:
Visit the gaint Banyan Tree in Lahaina – FREE
Big Island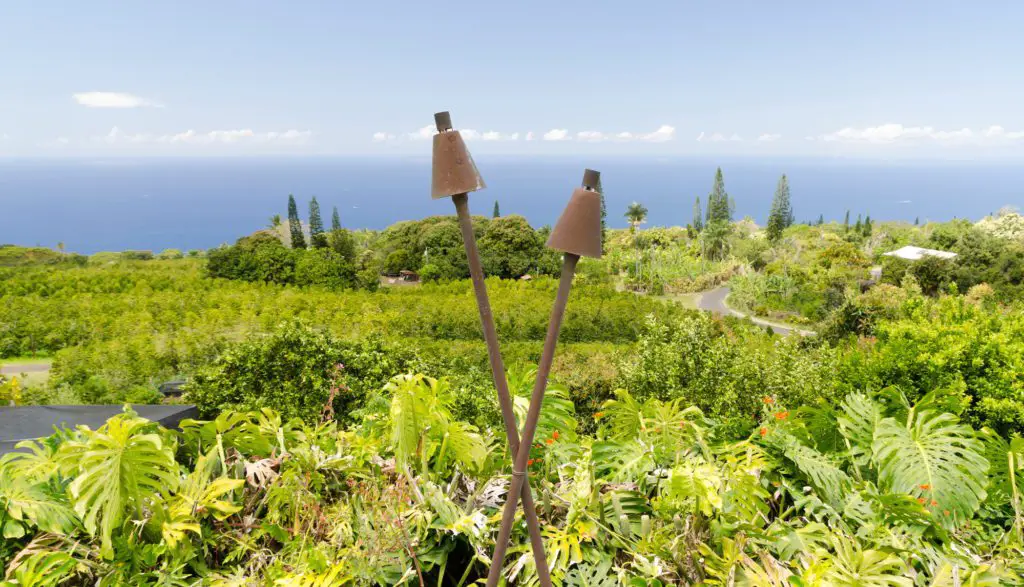 Other great attractions include:
Pu'uhonua o Honaunau National Historical Park – $15 per vehicle
Pololu Valley Overlook – FREE
Further reading: My Night Snorkel with Manta Rays in Kona – absolutely insane
Kauai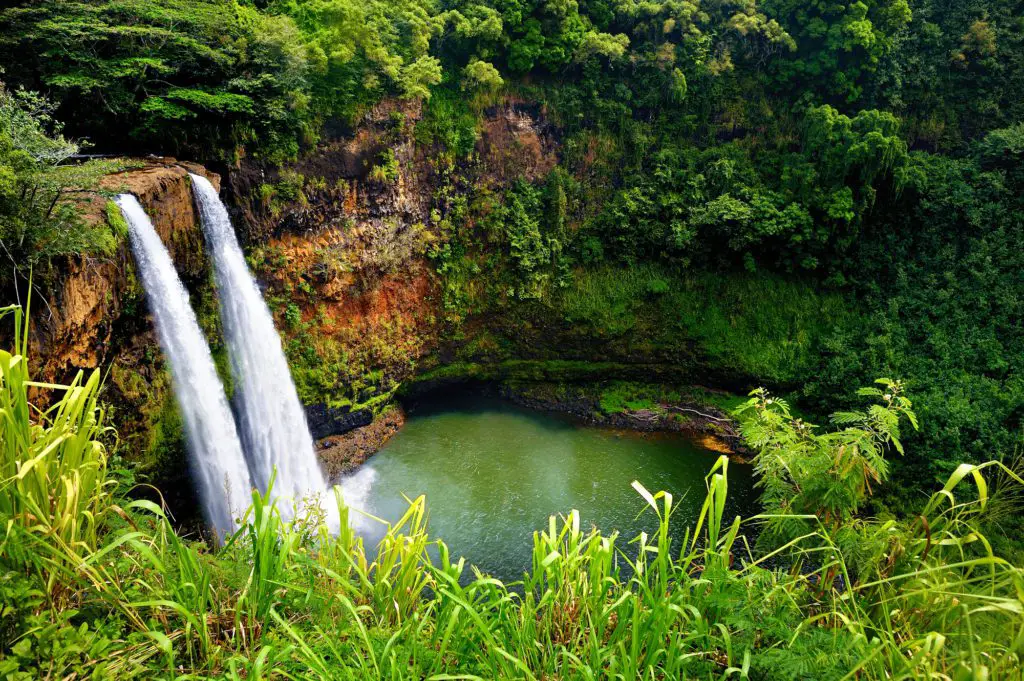 Other great attractions include:
Princeville Botanical Gardens and Chocolate Tour – $85
Kauai Coffee Company – FREE
Purchase a Shaka Guide for great savings
For those who have decided to rent a car and explore an island destination independently, you can't go past the Shaka Guide.
These comprehensive self guided audio tours cover both driving and walking tours. Each island has more than one tour which can all be bundled for the best overall savings, regardless if you use everyone or not. For example, in Oahu you will pay $14.99 for one tour or bundle ALL SIX TOURS for $29.99. See what I mean!
I absolutely love this concept and from the hundreds of 5 star ratings on Trip Advisor, you can see how popular they are.
The Shaka Guide audio tours explore some of the best places on each island as well as secret locations only known by locals. You'll also hear interesting Hawaiian stories along the way,
How it works
Download the app
works offline
Turn by turn navigation
your at your own pace, your own way
For budget travellers, we often miss out on hearing the in depth stories and historic facts that a tour guide provides. Either we can't afford or justify the expense. But in this case, the Shaka Guide is well priced and the best part is, we don't have to follow a crowd around all day.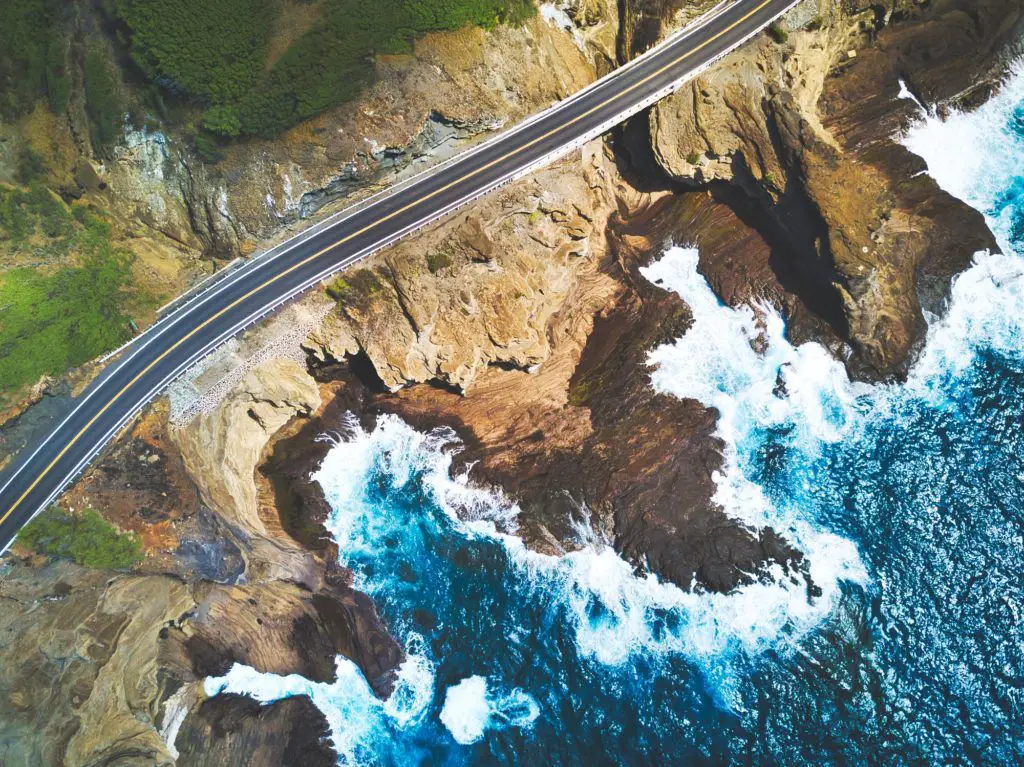 Conclusion to Hawaii on a Budget
A trip to Hawaii is a once in a lifetime opportunity for many. So it would make sense you would want to do and see as much as possible. For those who have visited an island or two before, you know it can be tricky to not go overboard on expenses.
I hope this guide has given you some tips and ideas to make your perfect vacation a reality, without breaking the bank.
Booking resources:
Booking.com – the biggest range of hotels / apartments / entire homes
Hotels.com +plus get a free night for every 10 nights you save up.
VRBO – for private rentals on condos, cottages, homes and apartments.
RentalCars.com – why look at one car rental company when you can look at them all.
Expedia – Book your flight and hotel together to get great discounts. Plus cruises.
CheapOair – these guys service over 400 airline carriers with huge discounted prices.