As an Amazon Associate I earn from qualifying purchases. I get commissions for purchases made through links in this post.
To travel to the Maldives on a budget might sound impossible, but it's not I promise. In fact, I have done it for under US $700 for 7 nights, and that included flights. 
This ultimate guide to having a cheap holiday in the Maldives covers everything from getting there, best budget resorts in the Maldives, how to save costs, best local island in the Maldives on a budget and many tips along the way.
So whether you are here to honeymoon, swim with whale sharks, a romantic getaway or snorkel or dive, the Maldives does not disappoint.
If this is your first trip the the Maldives, you can read my post on what to expect and things to know before you go – click below.
Visiting the Maldives for first timers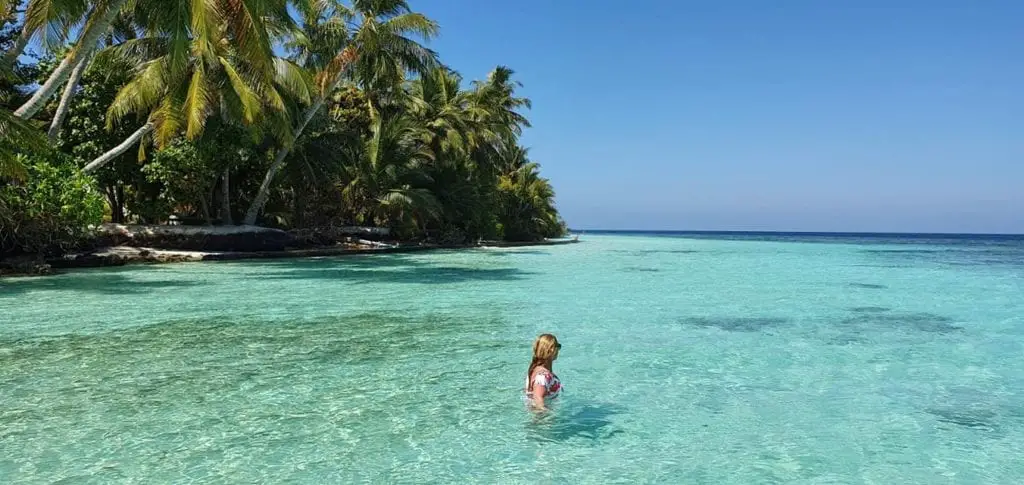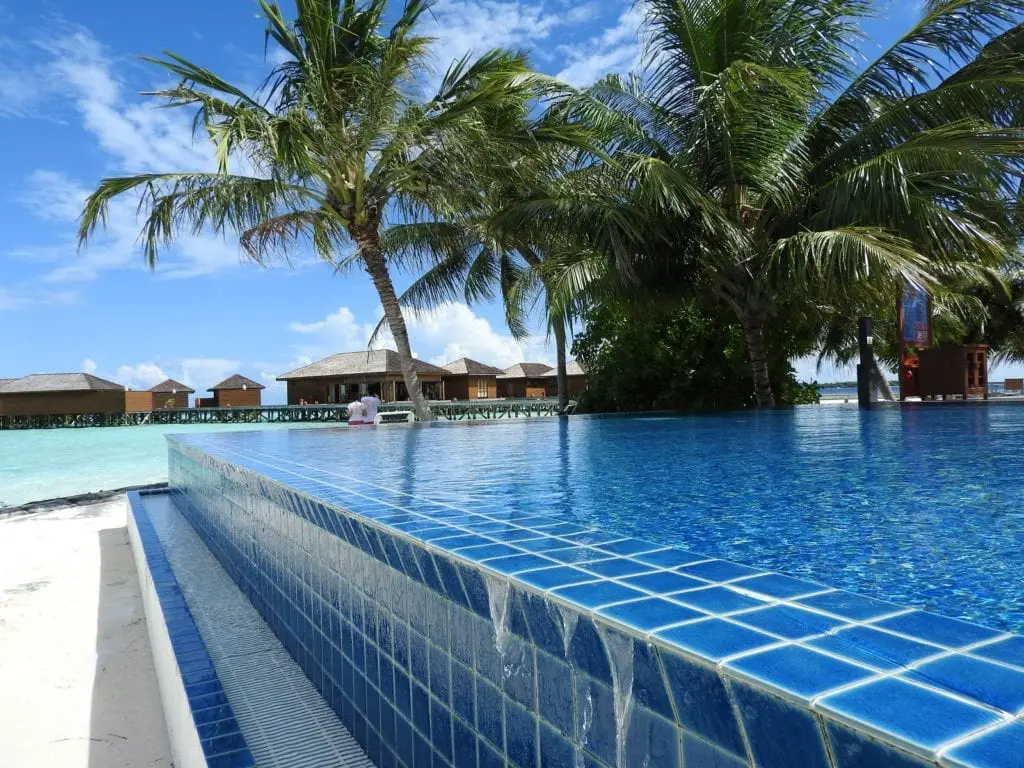 Now, let's face it, everyone's budget is going to be different.
You may want to know what the cheapest of cheap Maldives holiday entails and if it suits your ideal vacation. Don't worry, this does not include hostels or dodgy locations, not at all. I'm here to show you the best affordable resorts in the Maldives along with most sought after locations and local islands. 
Must read for saving money: Maldives itinerary – 3 affordable and spectacular itineraries you'll love
You may want to know what the cheapest resorts in the Maldives offer. Are they up to par with others? Are there any downsides? I'll explain all this. 
What is the cheapest water villa in the Maldives? And, is this possible on a budget? Well, that will depend on YOUR budget but there are ways to get cheaper deals than usual.
With so many possibilities for everyone's budget, the Maldives are waiting for you!
You can check out my post on 21 savvy ideas to help you save money for your perfect getaway.
Maldives – on the World Map
About the Maldives
The Maldives are located in the Indian Ocean, around 640 miles (1034 km) South West of Sri Lanka and are part of South Asia. 
A chain of 26 atolls make up the 1192 coral islands, which are dispersed over 90,000 square kilometres.  Pretty huge right! 
But not all these islands are inhabited. Only around 200 are actually inhabited, either as local islands or luxury resorts.
The equator crosses through the Maldives, so some islands are part of the Southern Hemisphere and some are in the Northern Hemisphere. 
Did you know: The Maldives is the world's lowest country on earth where the average island is 1.8 metres above sea level. That's right, there are no hills here. 

Fast Facts
Population: 531,000
Religion: Muslim
Currency: Maldivian Rufiyaa
Climate: Tropical Monsoon climate
Average year round temperatures: 26-32 degrees Celsius
Average year round water temperature: 28-30 degrees Celsius
Maldives on a budget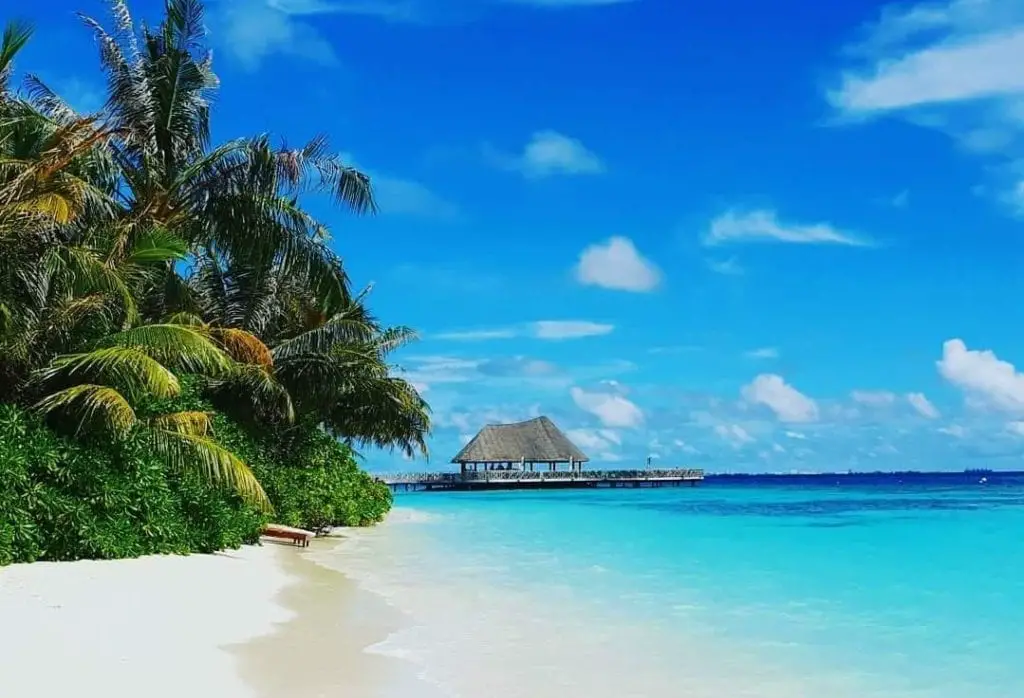 Firstly, I want to say, that wherever you end up staying in the Maldives, you will not be disappointed. 
It is simply heaven on earth, just as everyone says. It is a paradise of pristine white sandy beaches and the clearest and bluest water on earth. 
So it doesn't really matter whether you can only afford a local island or one of the more affordable luxury resorts, there is no bad experience. 
I have done them both, and had an equally awesome time at both. 
Why? Because I was there to relax, swim, read, sunbath and snorkel and you don't need a luxury villa to pull that off right!. 
OK, so it might help just a little. But if your budget can see past that, you will be equally pampered by the exclusiveness of your remote location.
Think of it this way. 
The best resorts are not located on the best islands with the best beaches. 
The best coral and sea life is found in all locations.
And the best sunsets make an appearance everywhere.
So let's dive into the tropical warm waters!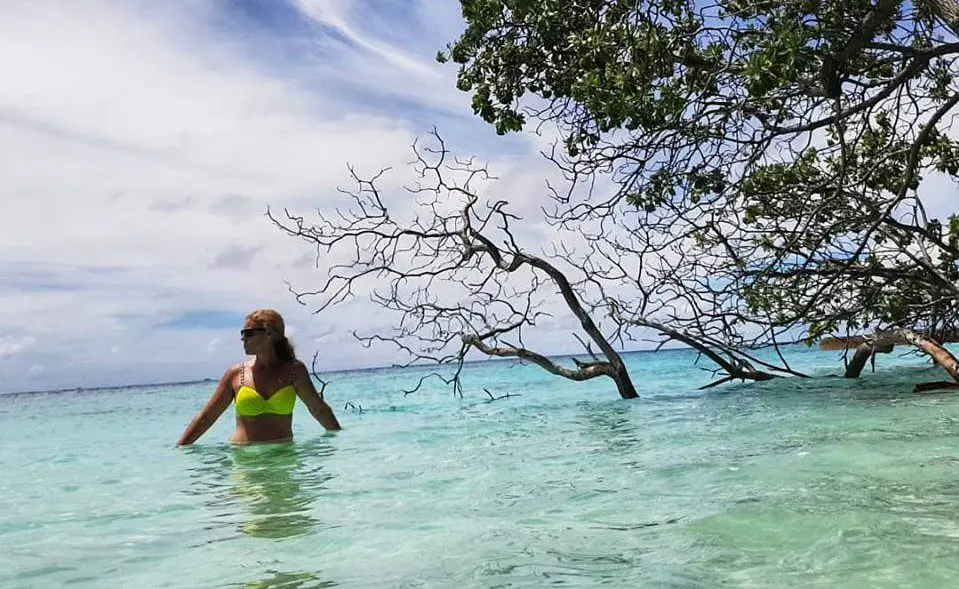 Choosing your Maldives Budget trip
Most people, when thinking about the Maldives, picture high end luxury resorts with beach front villas and prestigious over water bungalows. It feels unattainable for the average person. 
I know that's I first thought, BUT I realize now that this is actually not all true.
Advertisers ALWAYS show us prices that literally blow our minds.
"5 nights for only $3000 per person", are you kidding! I could tour South East Asia for 2 months on that budget. It seems so much for such little time.
OK, so time to think about what you CAN afford. This quick guide below will help give you an idea of what is possible.
Budget Costs based on 7 nights accommodation (per person) and including transfers and meals. 
Under US $500 – local island
US $800 – $1200 – Resort (beach front)
US $1500- $2000 – Water Villa
To get these type of prices you will have to possibly travel in the low season. The local islands have great deals all year round.
10 best tips for saving a tonne of money
fly with budget airlines
take carry on only (which I now do – bathers, sarong and a couple of dresses go a long long way)
stay on a local island (best deal)
utilize the ferry from Male (only available for local islands)
travel during the low season (May to October)
find deals that include all meals at your accommodation
choose resorts close to Male for cheaper transfer costs 
take supplies from the Male supermarkets to avoid hiked up resort prices
stay at one resort only as island hopping is not feasible (resorts each have their own transport costs )
for the best deals, staying 5 nights or longer generally decreases the average price per night.
Maldives Vacation Cost Considerations
There are many considerations that will determine just how far you will be able to push your Maldives vacation cost. 
After reading my 10 top tips for saving in the Maldives, it's time to consider which ones are the MOST IMPORTANT to you. 
If you are set on staying at a Maldives Resort, you can get your costs down by travelling in the low season or finding closer islands that have cheaper transfers. Even a lower room type or meal options will cut it back considerably. You just have to decide what is "non negotiable" so you can make the best choice. 
If you want to find a quiet place to read, relax and take a dip when you feel the urge,  then it probably doesn't matter where you stay, as long as it is nice right! A local island is perfect in that case.
So if you are willing to forgo that spa villa for a nice cozy guest house, or a sea plane for a local ferry, you can most definitely still find paradise all round. Read on.
How to get to the Maldives on a budget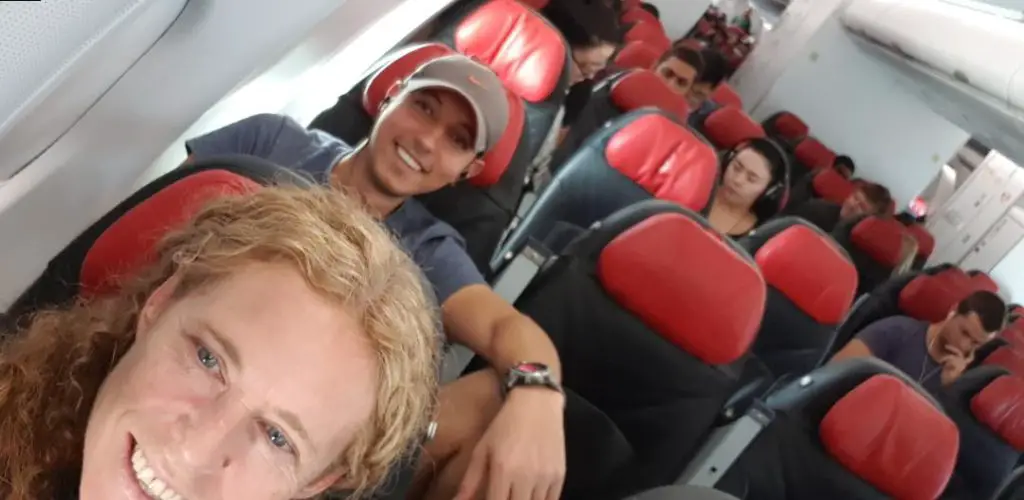 Most international flights will arrive at Velana International Airport (sometimes known as Ibrahim Nasir International Airport) . 
Major carriers include Emirates, Qatar, Singapore Airlines, Cathay Pacific, Etihad, Turkish Airlines, KLM and Sri Lankan Airlines. 
While we all love to travel with those added comforts such as meals and entertainment, sometimes the budget option is the more suitable option. 
Think of the savings and what you can put those toward. Accommodation, activities and food. It all adds up, so see it as a way for you to have the best experience once you get there.
Budget airlines include Air Asia, Scoot, Silk Air via Asian destinations and  IndiGo and GoAir via India and Sri Lanka. 
So even if these airlines don't fly out of your city, you can always land in Singapore or Kuala Lumpur and fly to Male (Maldives International) from there.
I have used both Scoot and Air Asia from Melbourne Australia and never paid more than $500 return. 
The sooner you know you are going, the longer you can keep an eye out for flight specials which do come up quite regularly. 
For a full review of my Air Asia trip to the Maldives read this post below.
A quick guide to Male
To stay or not to stay
This bustling capital is most likely your gateway to paradise. 
A population of 143.000 people, Male is a busy place. With supplies leaving the docks to the outer islands constantly, the waterfront is a hive of activity. The fish market and produce markets are located here too.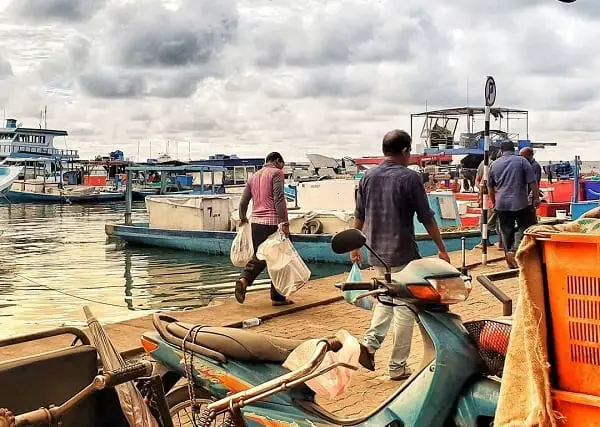 The airport is not officially located in Male but on a neigbouring island of Hulhule.
Arriving passengers may never step foot in the capital if they are whisked away to their resort. 
I usually stay a night in Male because my flights always seem to land late at night. If is worth checking what time you land as there is definitely a cut off time for resort transfers. Sea planes don't fly at night either but that shouldn't be a problem if you are reading this to save costs.
Male is not the type of place you would stay for your holiday duration. There are too many restrictions such as beach access, peace and quiet and dress requirements. It is a Muslim country remember. You need to cover up, especially here. 
Not convinced, check out Male form the air.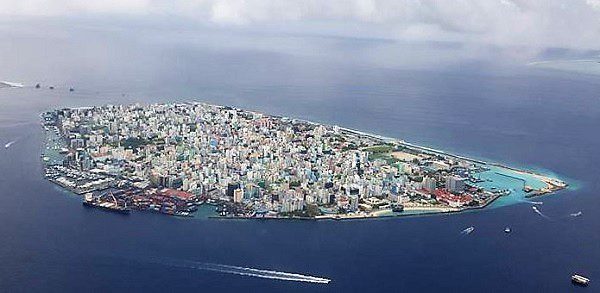 Getting from the airport to Male City
Now Male is worth a short visit never the less.
Getting from the airport is really easy. You can take the water taxi which is located right out front of the airport for only US $1. Staff will help load your luggage and the ride only takes 5 minutes. Boats run 24/7.
If you have booked a hotel, make sure you give them your flight details are they can help with the transfers which in many cases is complimentary. There is also the new bridge which connects both islands. A taxi is capped at around US $2.50 each way. I highly recommend getting a hotel transfer to ease any wait times. 
Where to stay in Male
I always stay at Somerset Inn in Male. The rooms are cozy and very modern. A comfortable bed, air conditioning and a complimentary breakfast (very nice too). The service is outstanding. 
The hotel is also close to the local ferry terminal, fish market, main attractions and my favourite restaurant, Lemongrass.
Tip: why not buy your supplies such as snacks and sunscreen from the supermarkets and take them out to either your resort or local island. We always do it because it's way cheaper. Seriously, way way cheaper. Think 5 times less than at a resort. 
What to do in Male
If you have the time, a city tour is a great way to get an insight into the local attractions and Maldivian life in general.  The tour time is only an hour or two so won't take up too much of your day. 
You'll visit the President's Palace, Friday Mosque, Victory Monument and the local fish and produce markets on harbour side. 
You can read more about a Male Tour here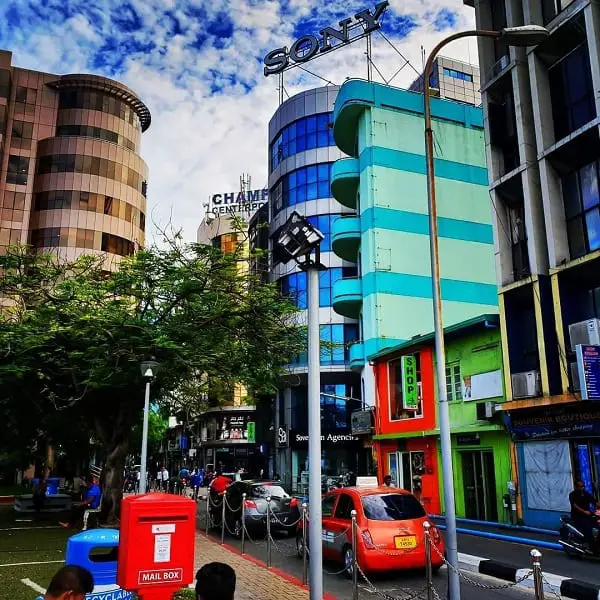 Local Islands – for the biggest savings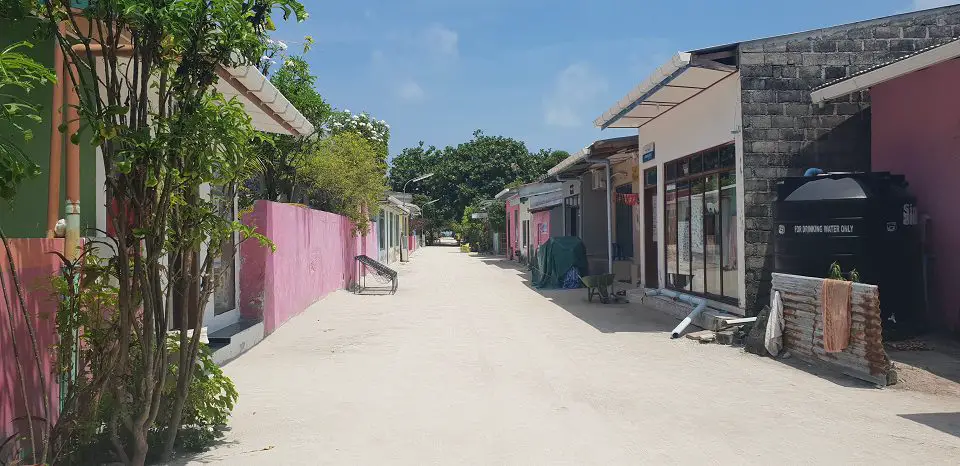 Without researching, you probably wouldn't know that the Maldives have a range of local islands that would suit even the most tightest budget.
Rooms
Rather than resort style accommodation, you will find guest houses with comfortable rooms. 
Each usually have their own en-suites, and may share a dining area or have a private balcony. It really depends on each accommodation.
Lucky enough, there are smaller and more secluded islands if this suites you.
Transfers
If you want to continue to keep your costs down, stay at a local island that is part of the local ferry system. 
The dhoni boats (as they are called) are slower than the speed boats but the ride is quite nice. These boats take up to 100 passengers so are large and steady on the water. Think of that salty sea breeze and gorgeous water views you get to soak up.
Note: you cannot book a public ferry online so either show up a bit earlier or ask your accommodation if they can arrange the tickets. 
Speed boat transfers to a local island are more expensive than the ferry but much quicker. They work as a shared service. In comparison,  the resorts will charge up to 5 times the amount over the same distance. Ouch!
You will be able to get a transfer back to the airport or the capital of Male. Also, you may have to do another pick up at another local island along the way. I don't think most will find this an issue if it saves money.
Get your accommodation to arrange this transfer. 
Dining
Keen to try some Maldivian food?
I love the curries which come with rice, salad and usually some fresh local fruit. You can opt for something a little less spicy if needed. 
Your guest house should offer you all meals and quite cheaply. From US $4 for breakfast, you can have a western style meal or a more traditional dish of Mas Huni. This comprises of tuna, coconut, onion and chili. A delicious must try.
Maafushi Island – activities for the budget adventurer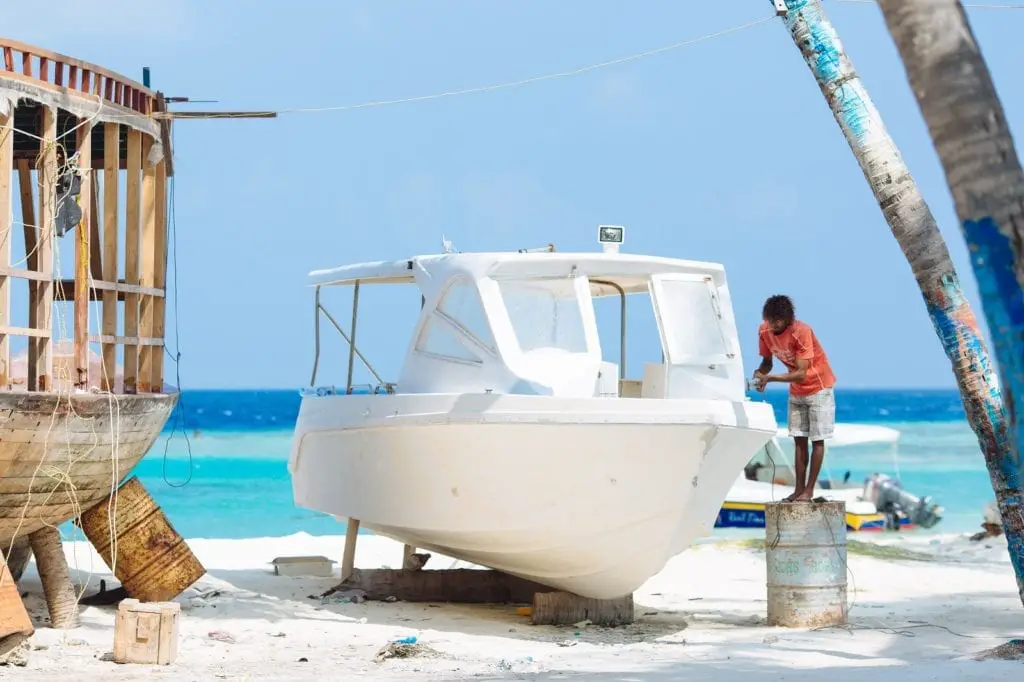 If you are keen to try a few activities but are worried about what you can afford, I suggest heading to Maafushi. You won't find a better local island to indulge in many water sports and tours.
Local ferry US $2
Speed boat transfer US $20
Unbelievably cheap right!
Maafushi is the most well known local island and is popular in it's price for the budget conscience. It is also one of the largest islands in the Maldives with 2,700 local residents. Add the many visitors who stay here and you lose that intimacy and beach space. This may or may not appeal to you. 
What I do suggest is, staying here for a few nights and then moving onto another smaller local island such as Fulidhoo. It is all part of the same ferry route so you are already half way there. 
You can swim anywhere but there is also a bikini beach here. it is not overly big in comparison to the visitors staying here. For that reason I suggest staying close by so you can simply head straight into the water. 
There are many restaurants and you will be spoiled for choice. 
Best Maafushi activities under $30 
Water sports – jet ski, paddle board, canoe
Best Maafushi Activities under $70
Snorkel with Nurse Sharks and explore Vaavu Atoll
Half Day Snorkeling, Dophin Watching & Sandbar Excursion
Sunset Fishing with BBQ dinner
Best Maafushi Activities under $100
Single Scuba Dive including equipment
Biyadhoo Island Resort Day trip
Maafushi Island budget hotels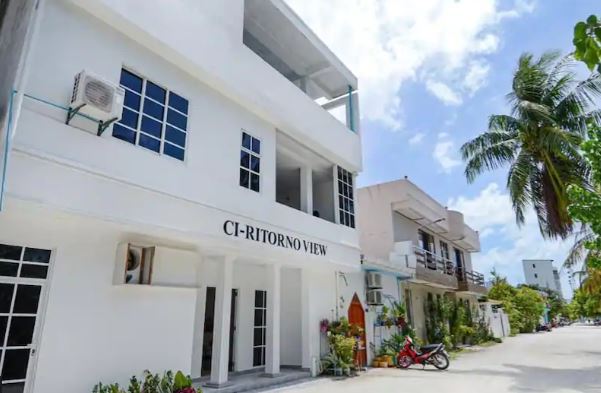 Extra Cheap – Ci-Ritorno View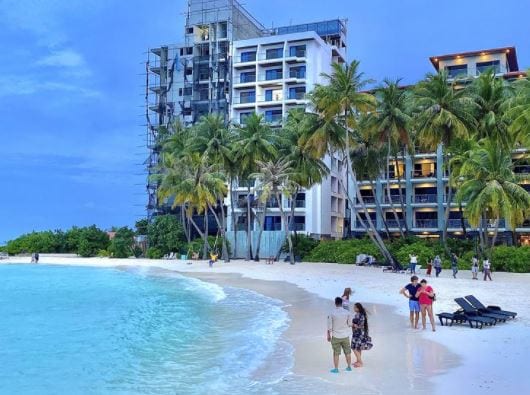 Bikini Beach-Kaani Grand Seaview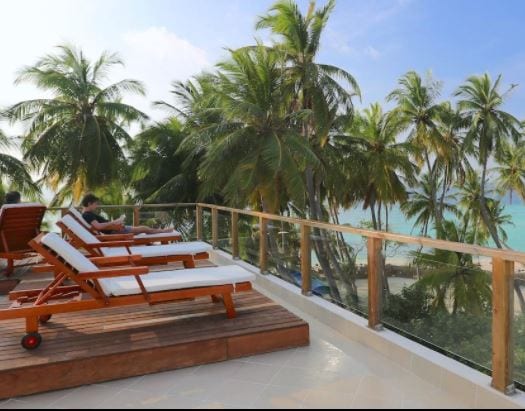 Budget Choice-Kaani Beach Hotel

Fulidhoo – best local Island in Maldives
cheap enough to go in the high season
range of budget activities
cheap dining options
range of suitable accommodation
extra cheap transfers
This gorgeous destination is regularly rated 'best local island in the Maldives" for good reason. 
The beaches are divine, the small island intimate and relaxing. It's also one of the cheapest islands in the Maldives yet that turquoise water follows you everywhere. 
A big advantage is, having Fulidhoo Island on the local ferry route. Not all local islands have this option. Without this, you will have to take a shared ride speed boat.
Local ferry US $4 each way
Speed boat transfer $40 each way
I took the ferry out to Fulidhoo island and the speed boat back to  the airport. The total cost was US $44 otherwise you can use the ferry return for US $8. As a comparison, a resort transfer will set you back minimum US $100 and can exceed US $250. It's a big chunk of money!
Another advantage is the 'bikini beach". 
Again, not all local islands have made provisions for tourism in this way. Guest houses are relatively new to the Maldives so not every local island has one. Without a bikini beach, you will have to cover up in the water which is not ideal, so Fulidhoo Island is a great choice.
You can access a range of budget activities including diving, reef snorkeling, sand bar excursion, shark snorkel trip and more. 
The island also has a great dive shop. 
When you compare the accommodation rates, water activities, intimacy and bikini beach, Fulidhoo Island is the best place to stay in the Maldives on a budget. 
You can read how I spent one full week on Fulidhoo Island for less than US $400. This includes a review of my shark snorkel and sand bar excursion. Click the link below.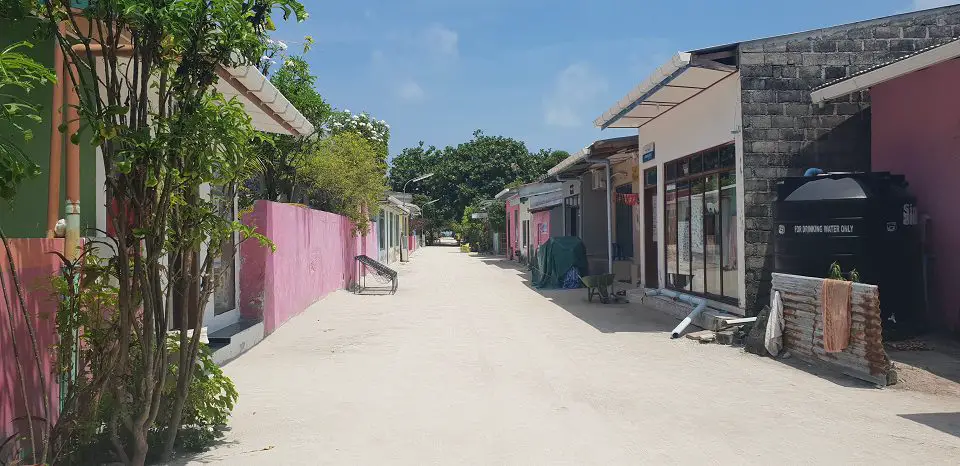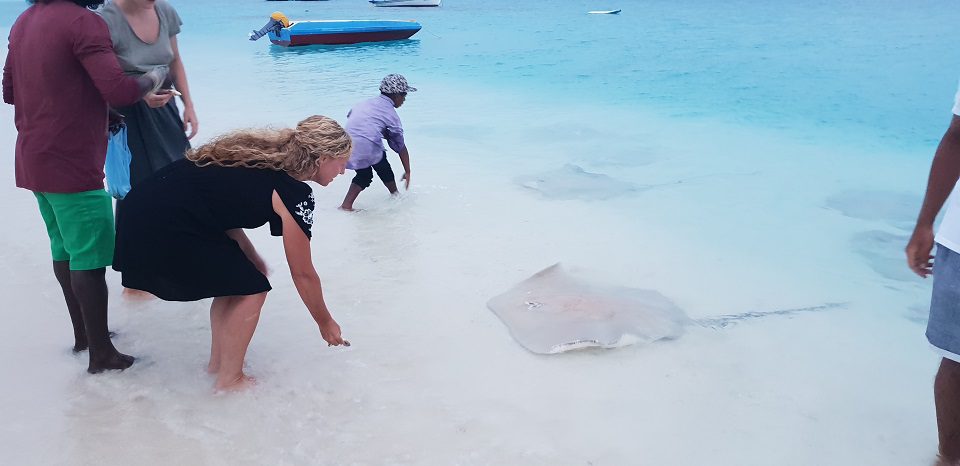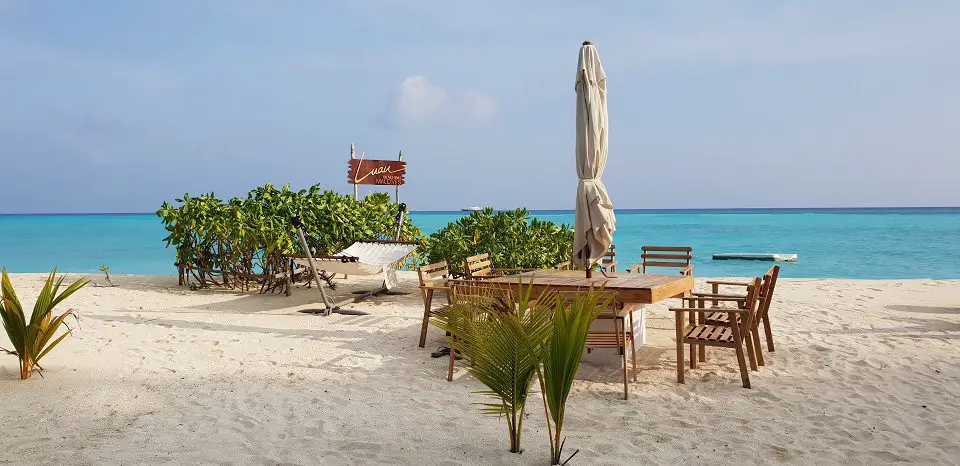 Fulidhoo Island accomodation
Click below for accommodation options on Fulidhoo Island.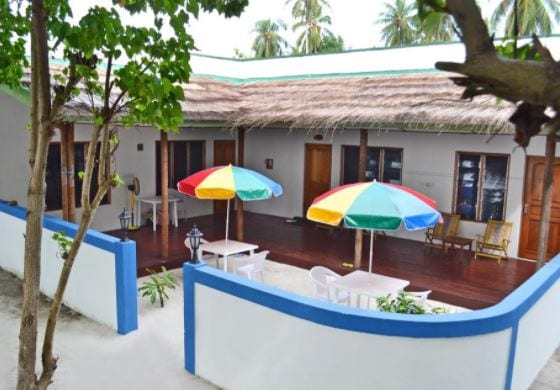 Budget friendly- Laperla Guest House Fulidhoo Island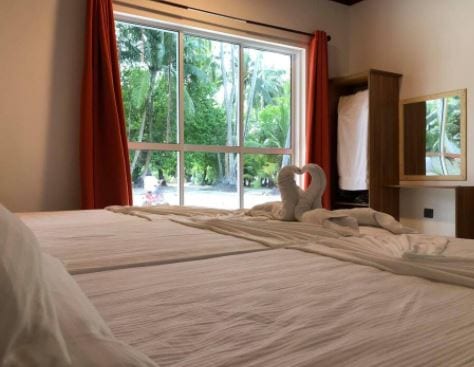 Highly rated- Huvan Inn Fulidhoo Island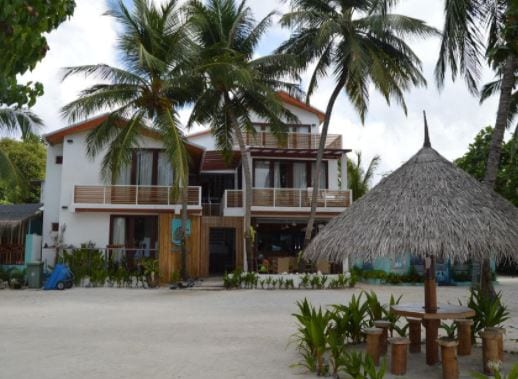 Popular choice for visitors – Kinan Retreat
How to stay at a Maldives resort on a budget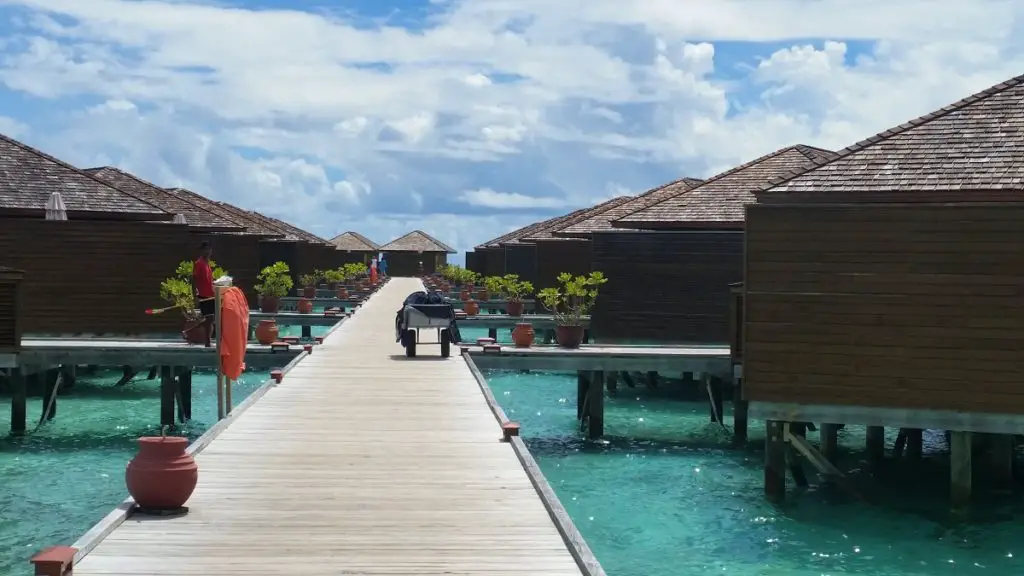 Resorts in the Maldives range from hundreds to thousands of dollars per night. Staying at a resort on a budget can be tricky so choosing the right island that can cater to this is essential
Rooms
Then you have many options on what type of accommodation you want or should I say, can afford.
While the garden rooms are generally the cheapest option, I would never go there. You could justify that the beach is still only steps away BUT there is nothing like walking out of the water and seeing your beach villa or bungalow in prime position. It's also nice to sit back in the morning or early evening from your deck/patio and be mesmerized by the turquoise surroundings. 
 I've also found many times that upgrading to beach frontage is not a deal breaker, sometimes even cheaper than the garden room. It generally comes down to whether it is a standard room type or superior which is not actually a big difference. 
Transfers
The main factors you really need to consider are transfers and dining options.
The further away your resort is from Male International, the more you will pay. I'm talking US$100 to $400 per person return. 
And the further away a resort is, the more likely you will have to take a sea plane. A speed boat transfer won't be an option if the distance is too far. 
Dining
Some Maldives resorts are automatically full board, so all meals are provided in the room rate. You can usually upgrade to 'all inclusive" which means with the addition of alcohol and non alcoholic drinks and some water activities. This again will hike the price up. 
Other resorts may start their prices with the inclusion of breakfast only, and you can then upgrade to half board, full board and the all inclusive as mentioned. 
You really need to do your research because you are stuck on the only island and you WILL end up paying for their food anyway. 
The GOOD NEWS is there are some resorts that are much more budget friendly.
Bandos Island- Best Budget Resort Maldives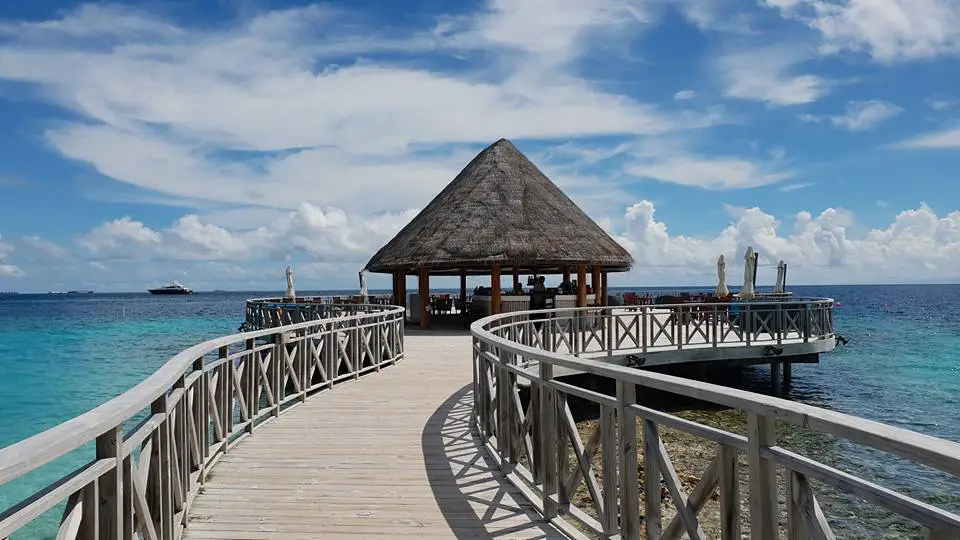 the cheapest island transfers in the Maldives. 
biggest savings are in the low season – May to November.
stays of 5 nights or longer will give you the best daily rates
range of dining options to keep your overall spend down
amazing "house reef" so no need to book any snorkel excursions
wide range of accommodation options to suit all budgets
best Maldives resort for diving 
FAMILY FRIENDLY RESORT
'I love Bandos Resort and have been here twice. "
It's such a great resort for all types of travellers and caters to a range of budgets. 
I have been in the off season of May and the high season in March. Both times I had great weather. 
The price difference between high and low season was significant and while you can't predict rain occurrence, the longer you stay the more likely you will get good weather. 
We stayed in a beach front villa, mere steps fro the ocean. It was pure bliss!
I love Bandos Resort because the house reef is outstanding. It is a prime reason many choose to stay here, regardless of what they can or can't afford, It's just that good. 
Another main draw-card is the dining options. I'm yet to find a resort that has a restaurant that doesn't charge outrageous prices. This is particularly good for those who don't want to lock into the buffet meals. Best of all, it's a great way to keep your costs down. 
Seabreeze restaurant at Bandos charges around US $15 to $20 for most their meals. A very affordable price considering you will pay $50 or more per person for the buffet. ( whether you pay as you go or up front in your room rate, you are still paying for it)
The island also has a terrific sports and gym facility, spa, pool, dive shop and activities centre. 
Bandos Island is quite a large island in comparison to others, so you can enjoy plenty of great scenery and walks along the beach. it also means that it never feels too crowded. In fact, I spent many days in the water with no one else in sight. Heaven!!
You may also like to read –
Bandos Island, Everything you want to know
You can see a much bigger review of Bandos Island and how I spent 9 days here for under $2000 inclusive of flights, accommodation, meals and activities. Click below.
Bandos Resort- best budget resort

Bandos is not only an amazing snorkel site but the diving is first class. They are also the only island in the area with a decompression chamber. See the beautiful dive sites in the link below.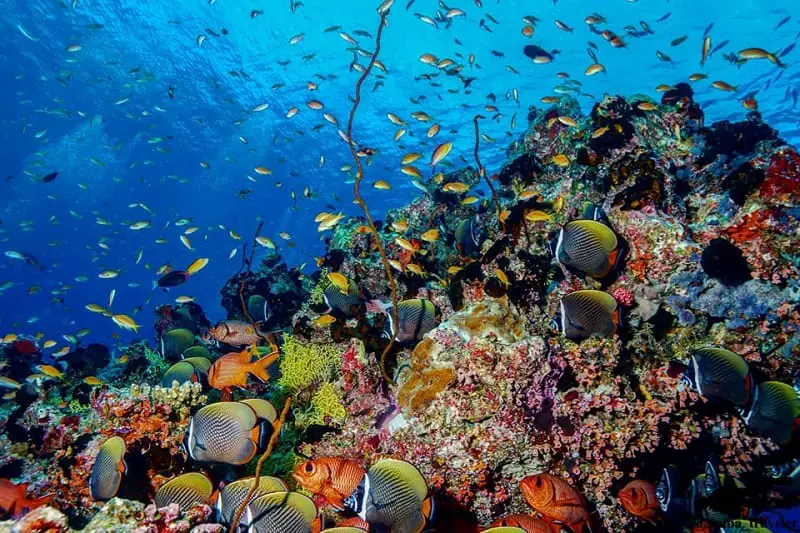 Best affordable Maldives Resorts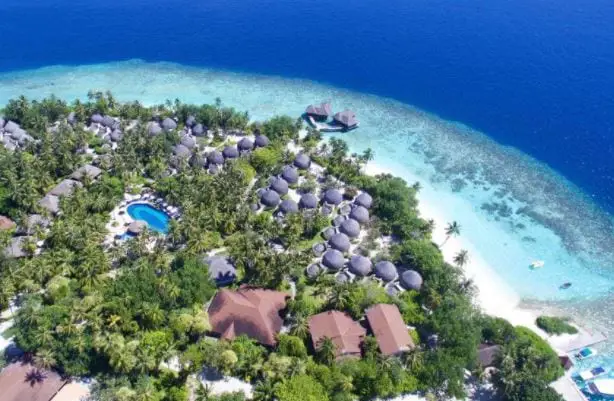 Best Overall Value- Bandos resort
Highly Rated- Makunudu Resort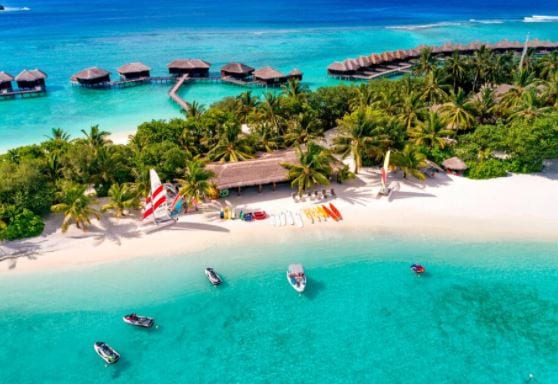 Popular choice – Sheraton Maldives Full moon Island Resort
Cheapest Overwater Bungalows Maldives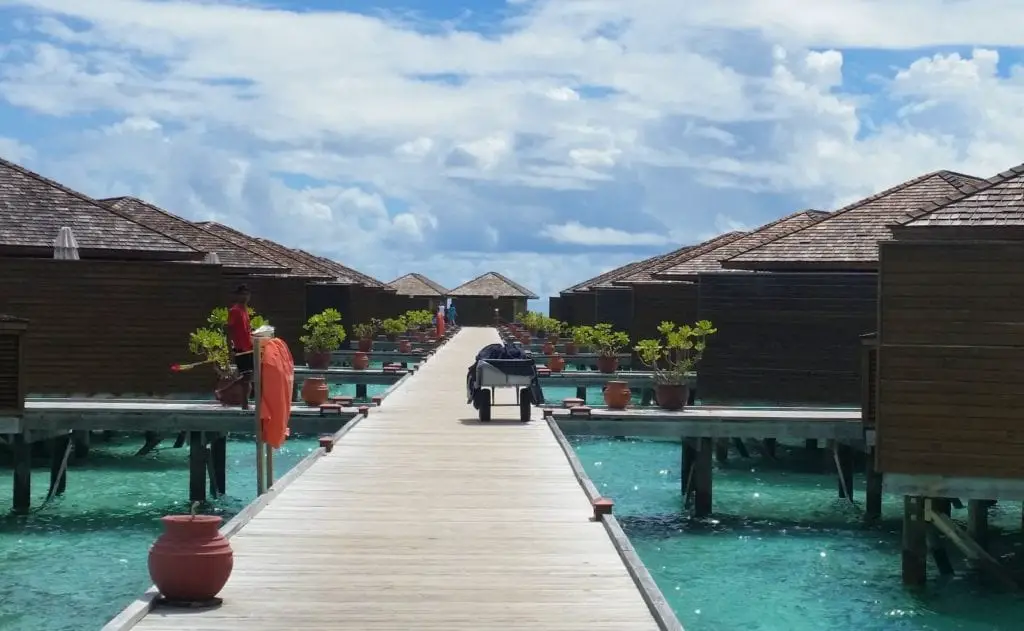 stay during the low season for the best deals available
 research the package options to grab the best possible deal
stay close to Male for cheaper transport costs
For reference, an overwater bungalow is generally called a "water villa" in the Maldives. They are basically the same thing.
Choosing an affordable over water bungalow in the Madives is similar to my tips for staying at a resort.
These luxurious and stylish villas are the epitome of glamorous vacations. It's the the best of the best and a hefty price tag to go with it. 
Finding the the cheapest overwater villas in the Maldives can be met with reservation. Will it be good? is it really worth it, if it's the cheapest?
An overwater villa can range from $500 per night up to $30,000 (double occupancy)  This will depend on so many factors. The exclusiveness of the resort, room size and amenities, meal options, whether it's a spa villas, has a private pool attached and provides a private butler service.
While it may seem extraordinary and completely unattainable, if you can afford at least $500 per night, it is possible to find the right island. 
Lets break down the cheaper option.
  – $250 per person
  – includes the room rate
  – includes all meals
  – includes a spa
 It actually sounds better when you break it up and look at what is included. 
Here is a great tip for those who need to squeeze a little more out of their budget.
Consider breaking your room type up, on the island of your choice. So staying a couple of nights in an overwater bungalow and the rest of your time in a more standard beach front room. 
People do this all the time and it's a great way to still have the experience you want. So you get the best of both worlds.
 It also might extend your stay so you don't have to leave earlier than you want to. 
Another way to really push the holiday into a second week is to stay at a local island for one week and then cross over to a resort. Use the local ferry so transfers remain cheap and then arrange your resort transfer back at the airport.
Best budget water villas in Maldives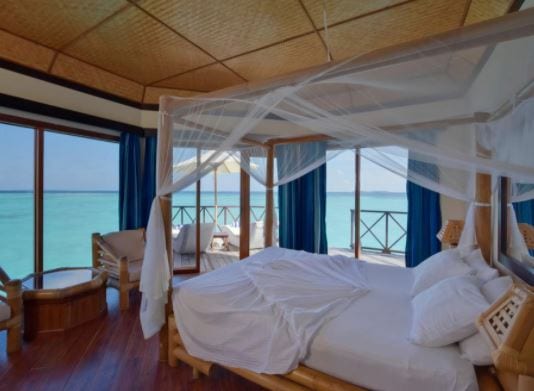 Best overall value – Thulhagiri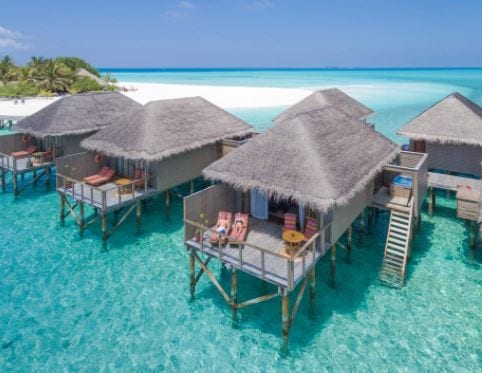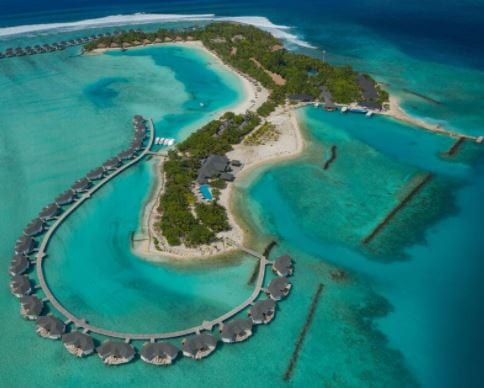 For a more extensive look at the cheapest overwater bungalows in the Maldives. you can read more here.
11 Cheapest Overwater Bungalows Maldives
All things cash related – Maldives Currency
Banking 
Needing an ATM? 
You will find a money exchange at the airport and an ATM. 
Bank of Maldives can also be found in Male along with a few ATMs.
While I hear there are now a few ATM's that can be found on some of the other islands, I'd want to know in advance exactly where and if they are always operating. I wouldn't take any risk of your card not working  (there are many circumstances where tourists have had trouble withdrawing money) so get US dollars from the money exchange as it is widely used throughout the Maldives. 
What cash you'll need at a resort
If you are staying at a resort, everything will be booked up to your room account. This includes transfers,meals, drinks, activities and spa treatments. Everything!
The final bill will be charged in US dollars and you can pay by credit card. So you don't need any cash what so ever if this is your only destination in the Maldives.
What cash you'll need at a local island
On the main island of Male and all the local islands, they will deal in their local currency of Ruffiyaa. BUT you can pay in US dollars and they will give you the change back in their own currency. For this reason, take smaller notes. 
I also was able to use my credit card at major stores like the larger supermarkets in Male no problem. But I always had my backup stash of cash.
FAQ's about the Maldives
Best time to visit maldives?
December to April brings the best weather, light winds and lower humidity. But the Maldives experiences high average temperatures all year round. 
Are the Maldives safe?
For the most part, yes. Petty crime is possible and a normal amount of precaution should be taken.
Do I need a visa?
No. All nationalities receive a free 30 day visa exclusion.
Can I take alcohol into the Maldives or purchase duty free.
No. Alcohol is only available at the resorts.
Is alcohol expensive?
 You can purchase a beer for around US $10 and cocktails and spirits start from $10 to $15 onwards. 
Do I need to tip?
No, it is not expected. But, you can always leave something for your regular staff in appreciation. 
Where can I Swim with whale sharks?
Whale sharks are commonly seen throughout the South Ari Atoll. They can be found all year round but do peak between August to November. ( I swam with them in May). Many resorts outside these boundaries do provide whale shark excursions but may run on lesser days than those in the whale shark region.
Is the diving and snorkeling good?
Insanely good. The aquatic life is quite prolific and coral formations are both soft and hard corals. If you stay at an island with a house reef, you will be terribly spoiled.  
What should I pack?
I always like to pack light when I go, and only take carry on. I find you spend all day in your bathers and only need a couple of light dresses (or shorts for the men during the evening. Just remember, if you are staying on a local island, make sure your attire covers the shoulders and just below the knees. 
So I recommend the following. (based on 1 to 2 weeks)
Bathers x 1 or 2 / Sarong / Dresses x 2 / Skirt and sleeveless top x 1 / Hat and sunglasses / Camera / Sunscreen, moisturizer  and insect repellent.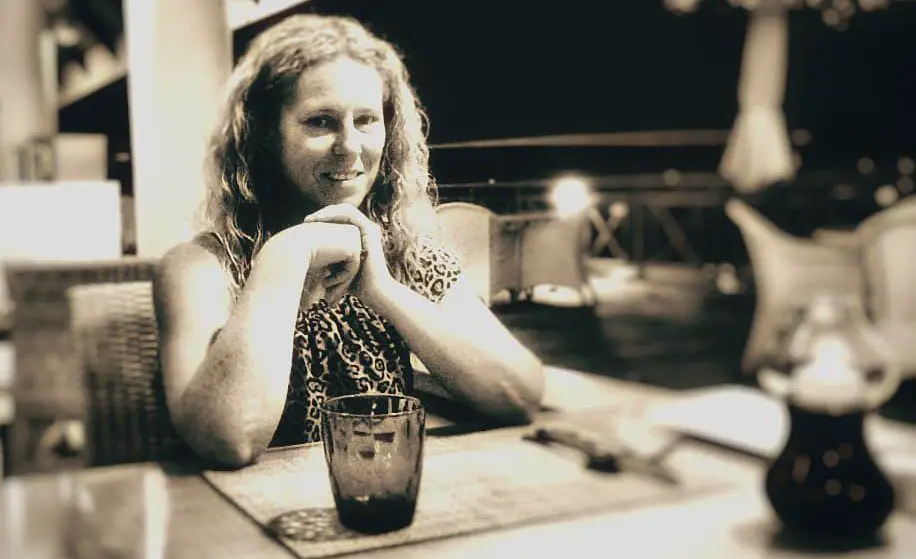 I have other posts related to the Maldives. Many covering the budget and affordability aspects. Be sure to check them out below and leave any comments if you like. 
I hope you have decided that the Maldives does indeed fit your budget and you will be enjoying a beautiful holiday in paradise soon enough.  
Enjoy your planning.
Like it. Pin it for later.