As an Amazon Associate I earn from qualifying purchases. I get commissions for purchases made through links in this post.
This Bandos Maldives Review covers everything you want to know about the island. From the best room location, restaurant choices, diving & excursions and amenities on-site.
" the best budget resort in the Maldives and  5 star "
I've concluded that the Maldives are heaven on earth. And Bandos Resort is perfect for those seeking the best budget resort in the Maldives. With a 5 star rating, you simply can't go wrong. After two trips here, I plan to visit again.
Depending on where you are coming from, the flight alone might cost a lot so searching for the perfect island is crucial. I flew Air Asia which had direct flights from Kuala Lumpur.
Looking for luxury, pristine beaches and turquoise waters all within your budget?
Welcome to Bandos Maldives.
TRAVEL TIP: Travel out of peak period and go between May to December for the best nightly rates.
Why Bandos Island is best for your budget
Location
The beaches
Rooms
Dining
The reef
5 star rating
Activities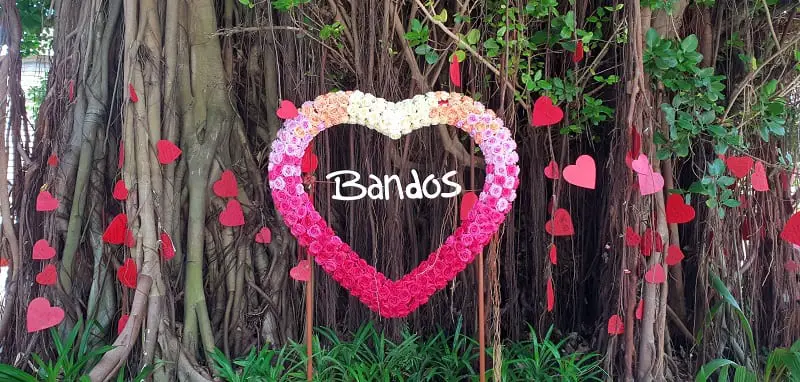 ---
BANDOS RESORT – LOCATION
Before you choose which Maldives island to book, you might want to look at the location you have chosen. There are hundreds of islands and getting to each one will require either a boat or seaplane.
The transfer costs are simply outrageous so it makes sense to stay a little closer to the airport to get your costs down.
Alternately, you can stay in the capital of Male, but I wouldn't dream of it. Yes, the hotels are very cheap but for good reason. The city is jam packed and does not offer that feeling of being in tropical paradise. I suggest you head straight to the island resorts.
First timers- you can read my post on "Visiting the Maldives for first timers" here.
The Bandos is in the North Atoll and only a 15 minute boat ride away from the Male International Airport. The cost of this transfer is, at present,  US $90 per person return. Head any further and you could be up for hundreds more on a seaplane.
For this reason, Bandos Resort Maldives, is best in terms of location on a budget.
TRAVEL TIP: be sure to let the hotel know your flight details for a prompt and smooth transfer.
---
BANDOS RESORT – BEACH
I can't imagine any island in the Maldives to be so so.  What I loved about Bandos Resort Maldives was it's overall size. Considered a medium sized island, there is plenty of space for all to enjoy the sand and water. There are ample sun lounges too, so you can easily grab your piece of private paradise.
My trip took me there in May, just out of peak season and I had the water to myself many times. It's never crowded.
TRAVEL TIP: be sure to take sunscreen for that hot Maldivian sun & mosquito repellent.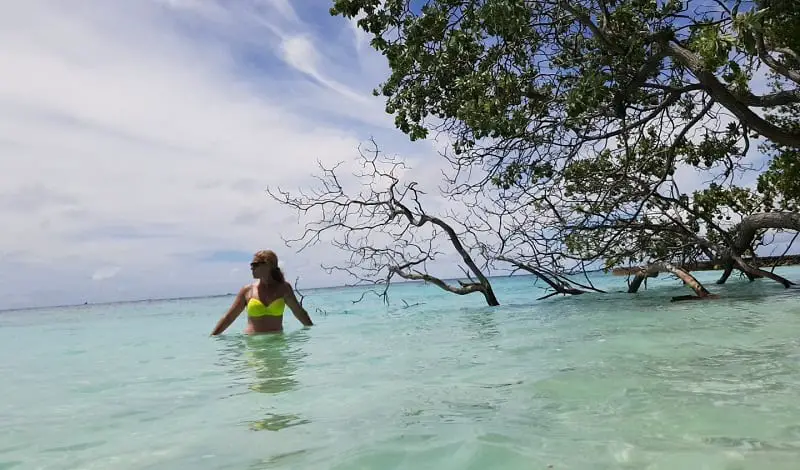 BANDOS  – ROOMS
There are plenty of room choices to suit your budget. And with only 2 over water villas, it kind of shows that Bandos Resort Maldives deals more in affordable travel.
INTERNET speed was good. I gather being close to Male, it may help.
We chose a standard beachfront room which was perfect.
The view was stunning and just steps away form the ocean. We were provided free in room water every day. The room was super clean and comfortable, with a king size bed. We had chairs and table on our private patio.
The superior rooms and  Beach Villas are all located close to Huvan, the over-water sunset bar.  I would have loved to have stayed in one of these but I couldn't justify going over budget. Also, I thought many of the standard rooms actually had the best overall location on the island and the beach area was a little quieter.
The only minor downside I found at Bandos Resort Maldives (and in comparison to our trip to Vilamendhoo Island ) was that some rooms didn't get much of a view due to the lush trees in front of the beach.
TRAVEL TIP:  for the best standard beach front room – we stayed in room 229 which provided a great ocean view. Anywhere from 227 to 233 would be perfect.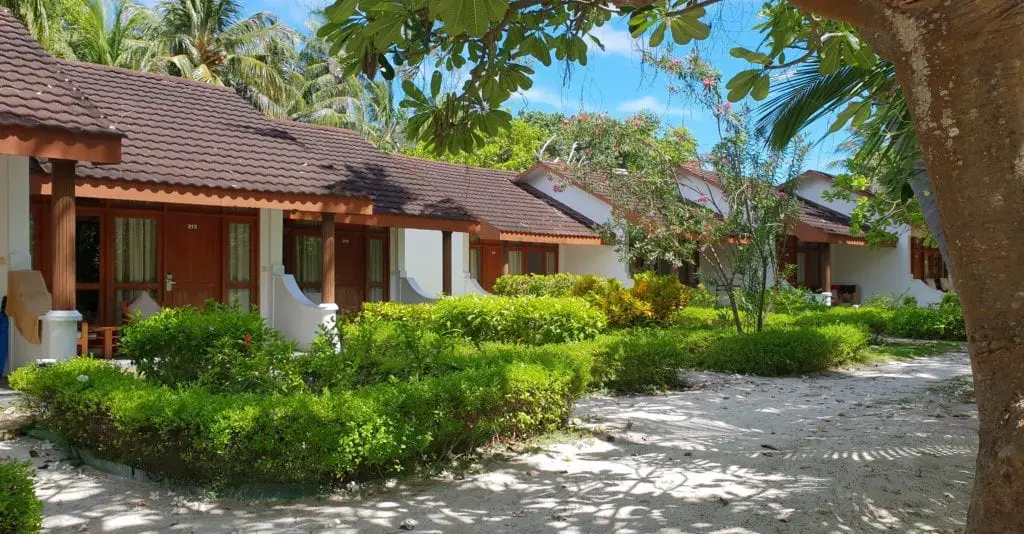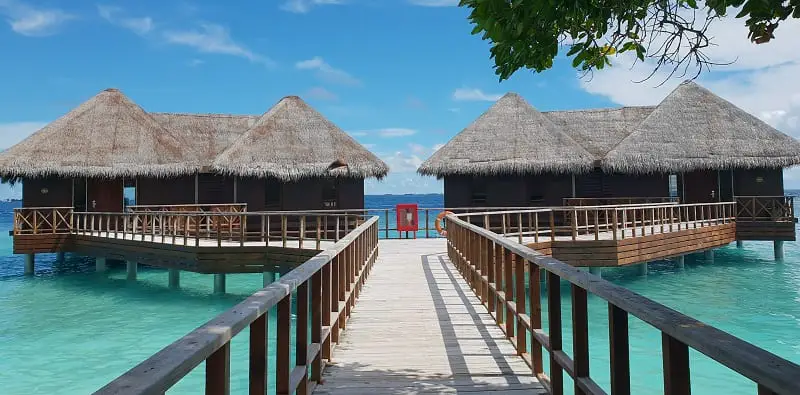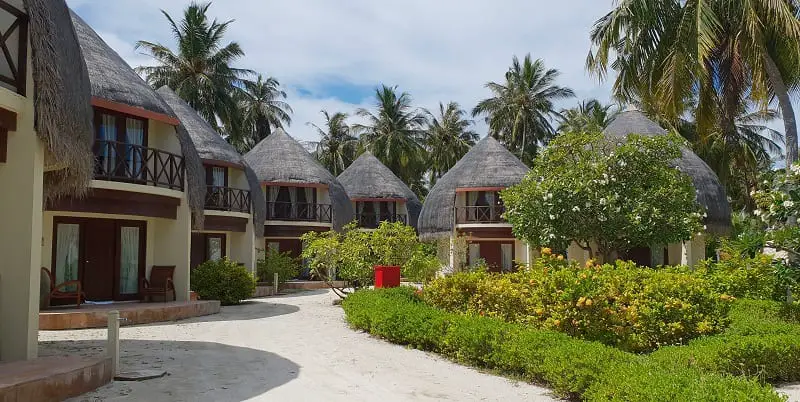 BANDOS – DINING
Bandos Resort Maldives certainly has a lot of dining options.
As we only opted for the breakfast package on our first trip, I was keen to know what the cost of food was going to be like.
Sea Breeze restaurant had an extensive menu and cheap meals.The chefs do such a good job at provided quality meals. We sat right on the water every day and and enjoyed our meal.
Sea Breeze offered up western dishes as well as Maldivian, Indian and Asian. They had lots of seafood and salads but you could also just buy a soup or even burger and chips. Lots of snacks as well for under US $10.
Most meals were around $16 with some cheaper or more expensive. I especially loved the local dishes.
TRAVEL TIP: ask for the bread basket with your meal which is free.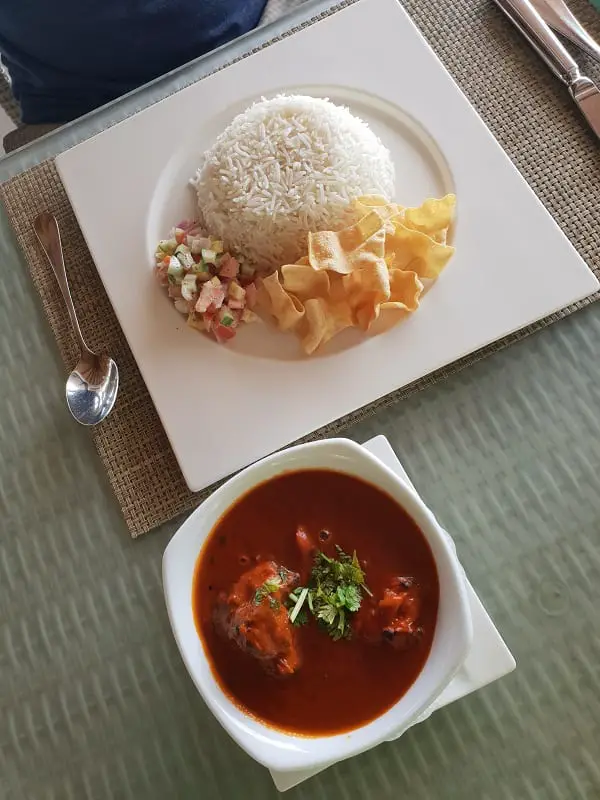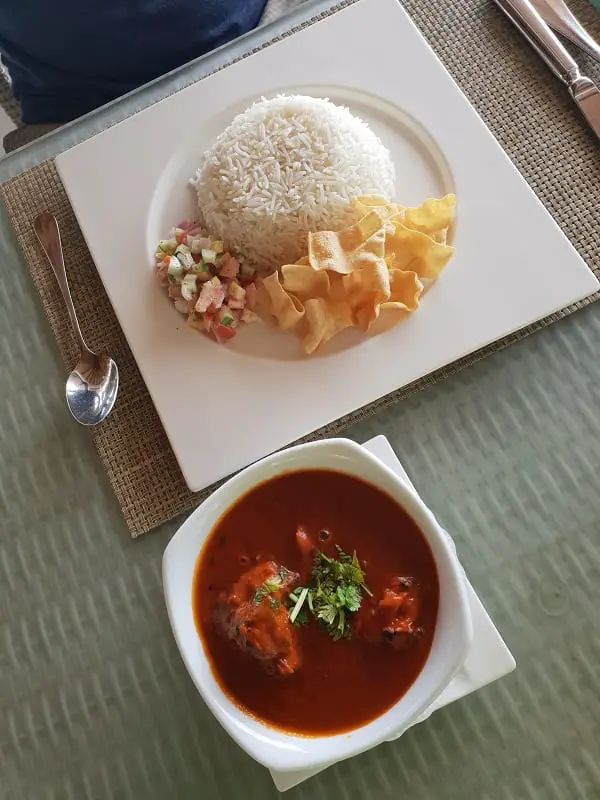 Other restaurants include:
Teppanyaki: I love Japanese food, it's fresh and filling. We had it one night in a lovely little setting near the water.
Thai Koon: prices we cheap and food was extremely tasty. Whilst the restaurant closes during off season, the Thai menu is offered in Sea Breeze instead.
Huvan: best place to watch sunset with an early evening cocktail. They have a BBQ grill night every Friday for US $60 though we didn't make it there.
Gallery restaurant: This is the buffet restaurant. I had a half board package on my second trip here and the food was amazing. Don't be turned off by buffet style food, this is not one of them. The food was fresh, well presented and plenty of variety. I noticed they used Australian beef and lamb from the live cooking stations. The salads were varied, an array of meat and pasta dishes, breads, fruits, cheeses and proper desserts made well.  I truly could not fault it.
For breakfast, expect cereals, yogurt, fresh fruit, sweet breads, savory breads, variety of hot items, curries, salad, egg station, pancakes and waffles. I think I got most of it.
TRAVEL TIP: purchase canned sodas to keep back in your room from the Sand Bar during Happy Hour times each day. You'll get 20% discount.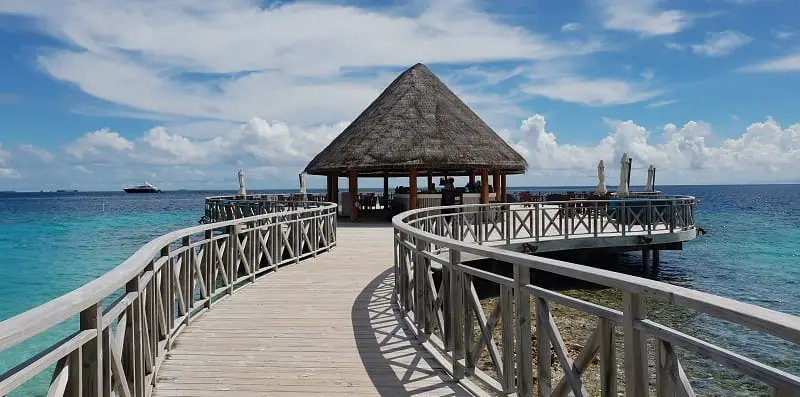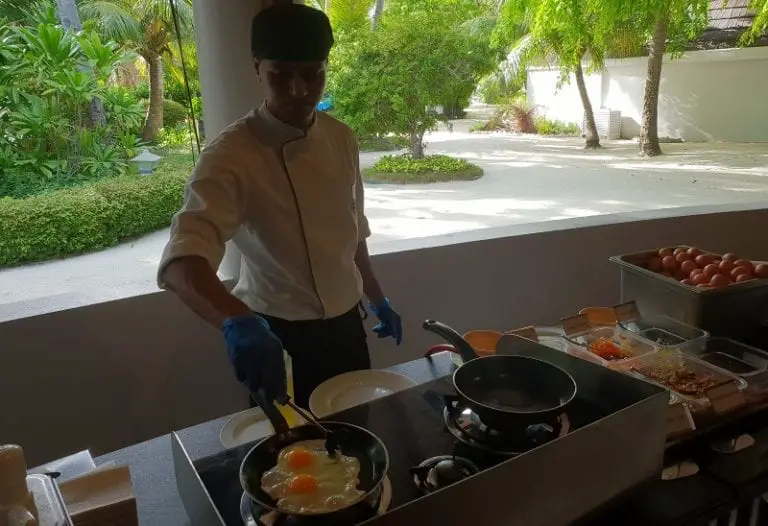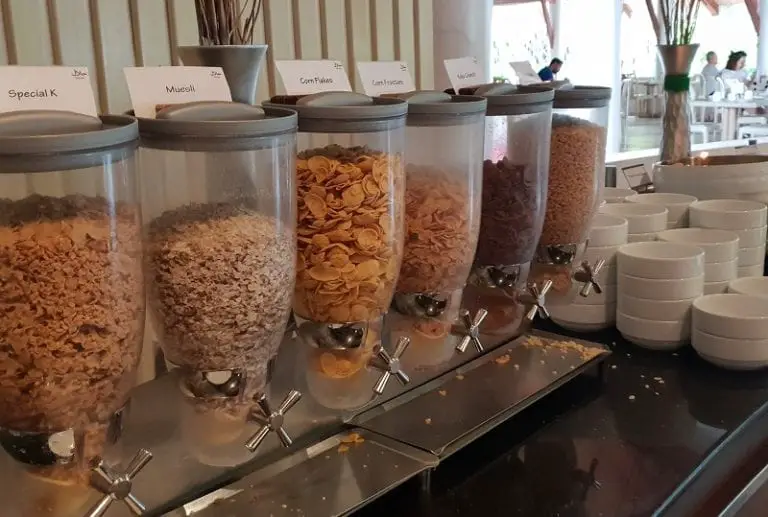 BANDOS MALDIVES SNORKELING 
If you love snorkeling or diving, you will love Bandos Island.
Why? Because it has its own house reef. And it is quite amazing.
Many islands don't have a house reef so you would have to pay for an excursion. Here, it's at your doorstep and absolutely free.
The coral formations are bright and beautiful. These soft corals provide some of the best snorkeling and diving on the planet. The aquatic life is also outstanding. Plenty of tropical fish, turtles, rays, reef sharks and octopus.
Diving was well priced and the instructors very professional. Though I didn't myself dive, my partner did and his photos were jaw dropping. The soft corals he managed to photograph, as well as the marine life was nothing less than outstanding.
One of his dives included a trip to Sting Ray City where he estimated up to 200 stingrays in one area. Freaks me out just thinking about it, but to a diver, jackpot!
For snorkelers, you will be thrilled. I spotted an octopus and a few reef sharks (totally harmless) on my last day out. And you will be happy to know that the reef is in good condition. You will be able to see quite a bit of colour from inside the reef.
You can read my post on all the dive sites (with beautiful pictures) Bandos Island Diving Sites.
TRAVEL TIP: invest in your own snorkel and mask so you don't have to rent one which can add to your costs.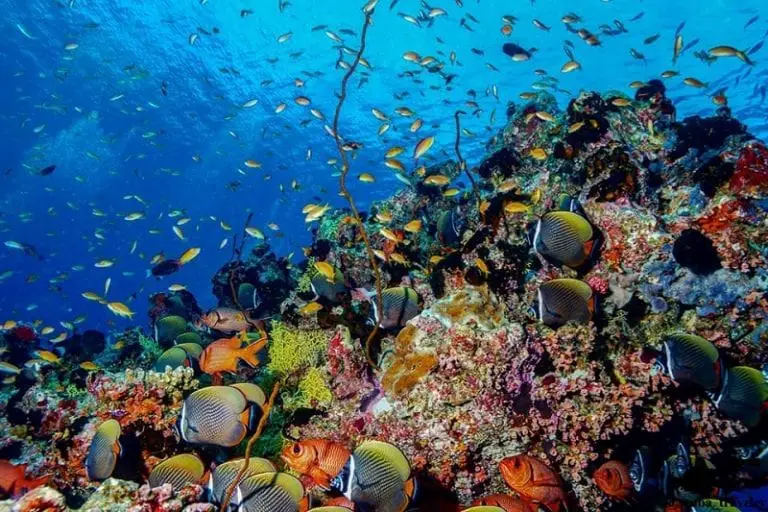 BANDOS RESORT  – 5 STAR RATING
Bandos Resort Maldives gets a very high rating which makes it so popular for those wanting the best for their dollar.
I was surprised that with such a high standard you could find an island at such a good price. Yet there is nothing that makes it less than this. It really has everything you could want.
TRAVEL TIP: head to Trip Advisor and hear from others who help rate Bandos 4.5 of 5 stars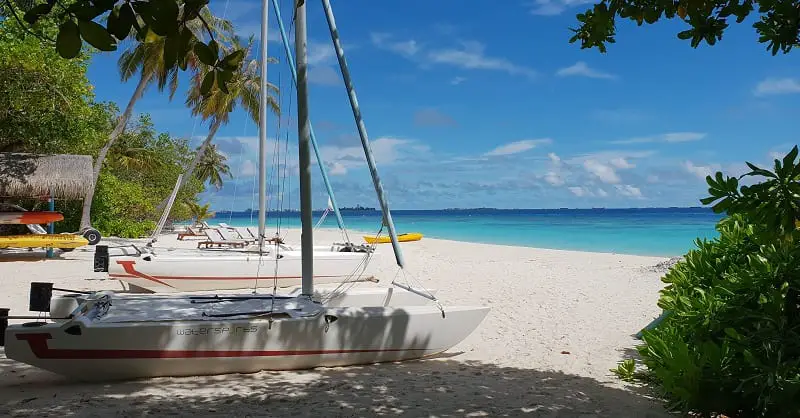 BANDOS  – EXCURSIONS & ACTIVITIES
The island has loads of things to keep you occupied. The actives offered are very reasonably priced too. I took a tour of the capital, Male which was very interesting.
The pool area is great for kids but also has a swim up bar and jucuzzi.
The gym is quite a good size and has classes as well. Their was a games room, internet lounge (you do get free internet in your room) and tennis court.
There is also some shopping provided. Clothes, souvenirs and a gallery.
We had a spa visit once and it was refreshing. The girls did a great job.
TRAVEL TIP: if you want buy some snacks, try to purchase from the mainland before you go. The mark up on the island is like most, a crime.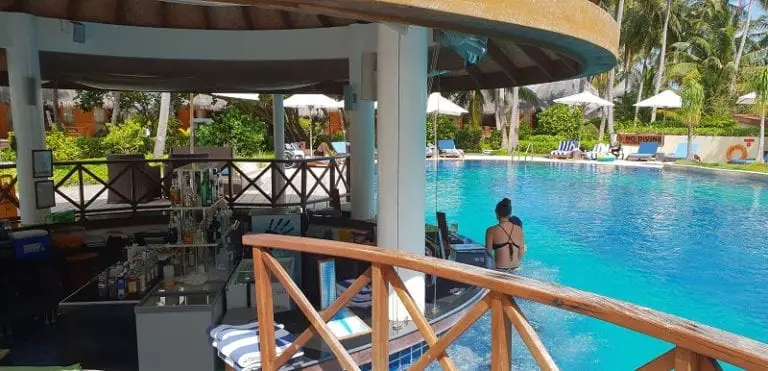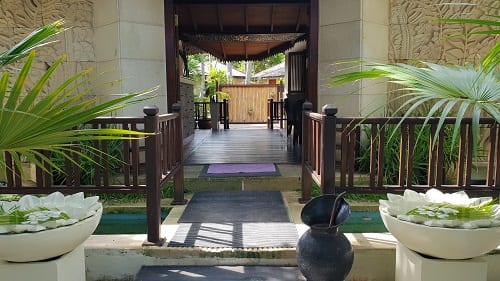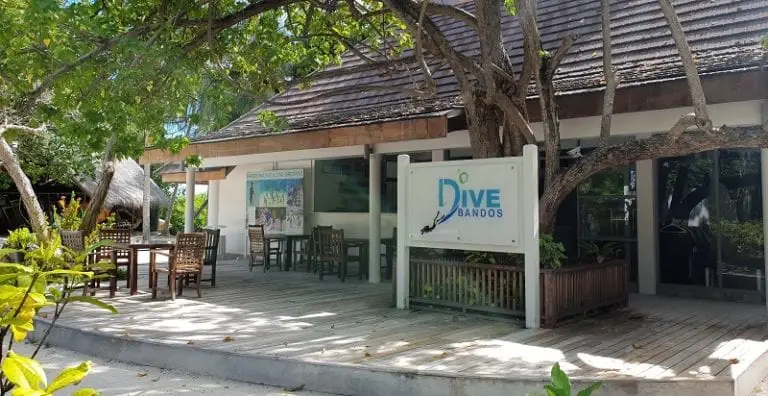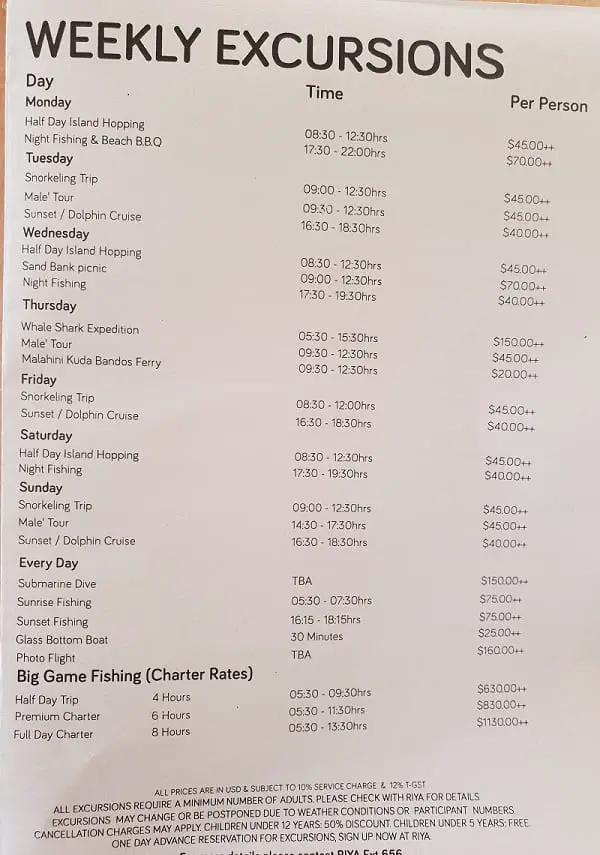 Overall, I find the price of Bandos Resort Maldives hard to beat.
It's convenient location meant we stayed on the island right up till only a couple of hours before our flight departure. When we caught a seaplane on our first visit, we had to wait at the airport 7 hours before hand because of our check out schedule.
When you weigh up everything from price to location, Bandos Resort Maldives has to be the best resort for your budget.
I hope you found this article interesting. Please feel free to ask any questions you might have about the incredible Bandos Resort Maldives.Click here to see more
Other suggested posts:
Visiting the Maldives for first timers – what to expect. 
Guide to Male International Airport.
---