As an Amazon Associate I earn from qualifying purchases. I get commissions for purchases made through links in this post.
Pack your bags and let's go to the Maldives. Can you imagine being lucky enough to swim with a whale shark? This true bucketlist animal encounter is what dreams are made of right! But there are only a handful of places in the world where this is possible. The Maldives is one of those such places, an amazing slice of paradise. So let's dive in to all you need to know – Swim with Whale Sharks Maldives.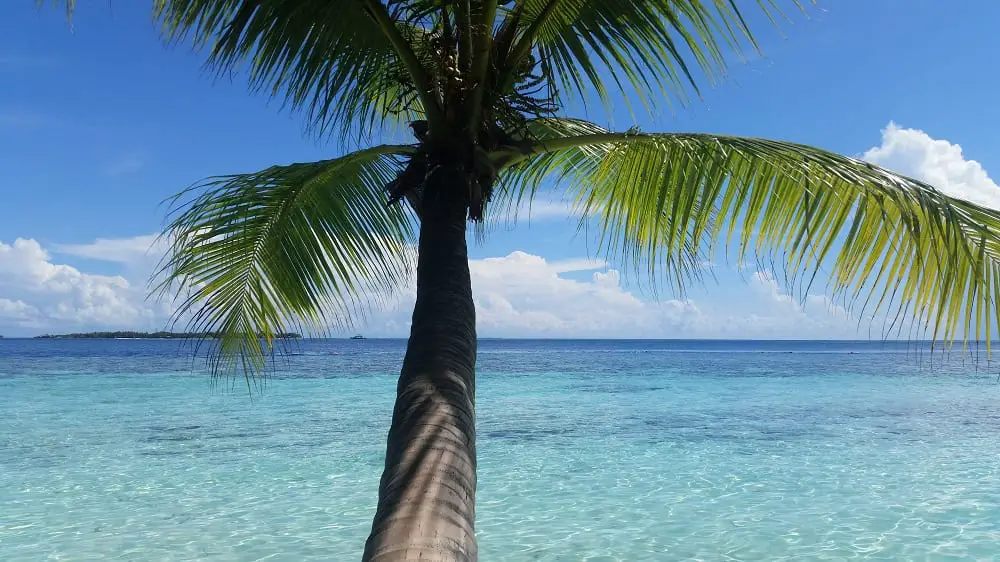 WHAT YOU WILL FIND IN THIS GUIDE

Where to see Whale Sharks in the Maldives
Best time of year to see Whale Sharks in the Maldives
What are your chances of really seeing a whale shark?
Getting to the resorts in the Whale Shark Region – South Ari Atoll
Handy things to know before you go
Is there a budget time to go to the Maldives?
My personal account of swimming with Whale Sharks
Full guide to best resorts to stay for whale shark excursions including
1. Price of excursion
2. Resort information
3. Excursion frequency
4. Tips and further information

Where to see Whale Sharks in the Maldives
The south end of the South Ari Atoll is the best place to see whale sharks in the Maldives.
This marine protected area is famous for many things, particularly diving, as the coal reefs and aquatic life are truly outstanding.
It was during our very first trip to the Maldives that we stayed in the South Ari region and my husband got to dive every single day. He was always blown away each and every night upon returning, raving about the under water colours and marine life he encountered.
My love of the Maldives was also born and so we returned every year after that, addicted to the tropical vibes.
Many visitors may have already heard that you can swim with whale sharks in the Maldives but not realize that they are predominant in the channels of the South Ari Atoll.
So if you want to swim with whale sharks Maldives, South Ari is the best place.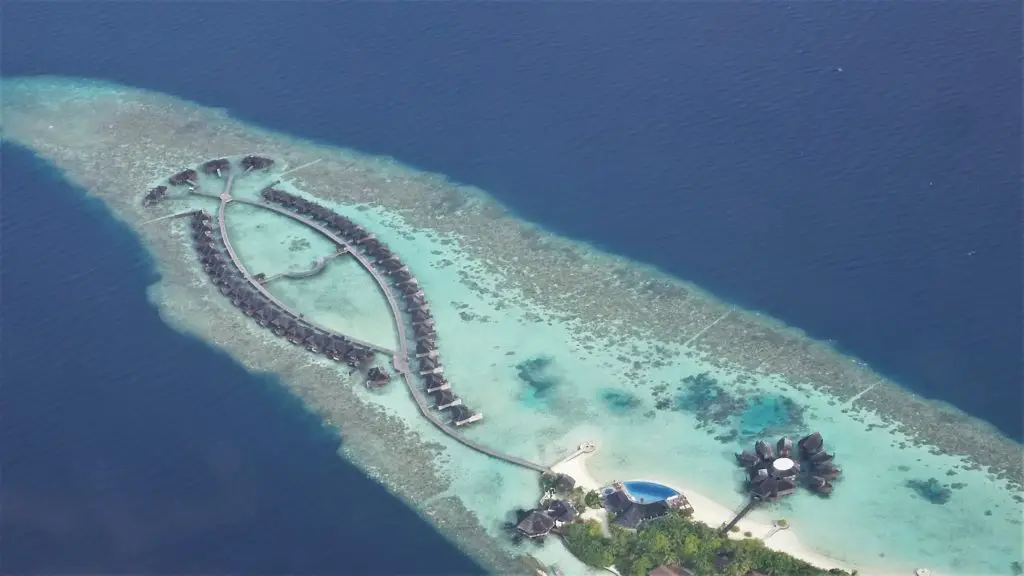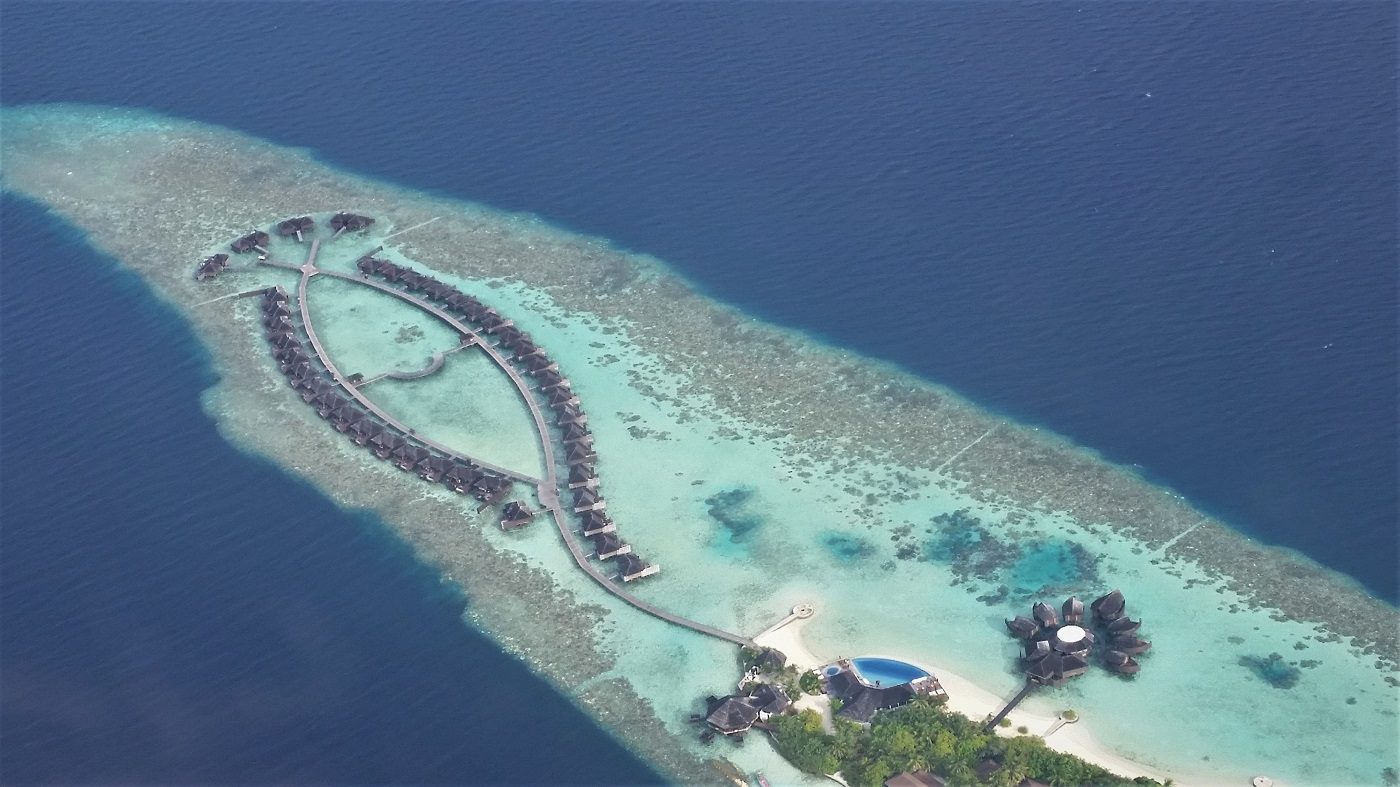 Best time of year to see Whale Sharks – Maldives Whale Shark Season
You will be excited to know that the whale shark season in the Maldives is throughout the entire year. This is quite an advantage over other destinations across the globe that have a particular season. It is a great reason to choose the Maldives for your next holiday. Here are 20 other convincing reasons to visit the Maldives.
The sharks tend to favour the western side of the Indian Ocean from May to December and move to the Eastern side from January to April.
The Maldives experiences 2 distinct seasonal monsoons each year. The Summer Monsoon starts early May till around the end of October. Periods of heavy rain and wind sweep through the islands, churning up the ocean. This can last several days or virtually minutes, there is no way of predicting it. Many visitors come during this time of year and experience nothing but sunny days.
The Winter Monsoon is between November to April and is known as the "dry" season. You can expect sunny days, light winds and little rain, but of course not even this time of year is certain, just more predictable.
What are the chances of seeing a Whale Shark?
I have read many reports on this and one thing is certain. There is no definitive answer.
I have heard anywhere from 30% up to around 75% and even as high as 90% which I find a little hard to believe. Of course the longer you are out the better your chances, but nothing is certain, that's for sure.
At Vilamendhoo Island where I stayed they suggested around 50% so I think it's fair to say you have a 50/50 chance.
If you are really set on wanting to see one then I suggest trying to allow enough days to get at least a second chance to head out if your first trip comes up empty handed. For many, it is a bucketlist activity so it might be something to consider.
How to get to South Ari Atoll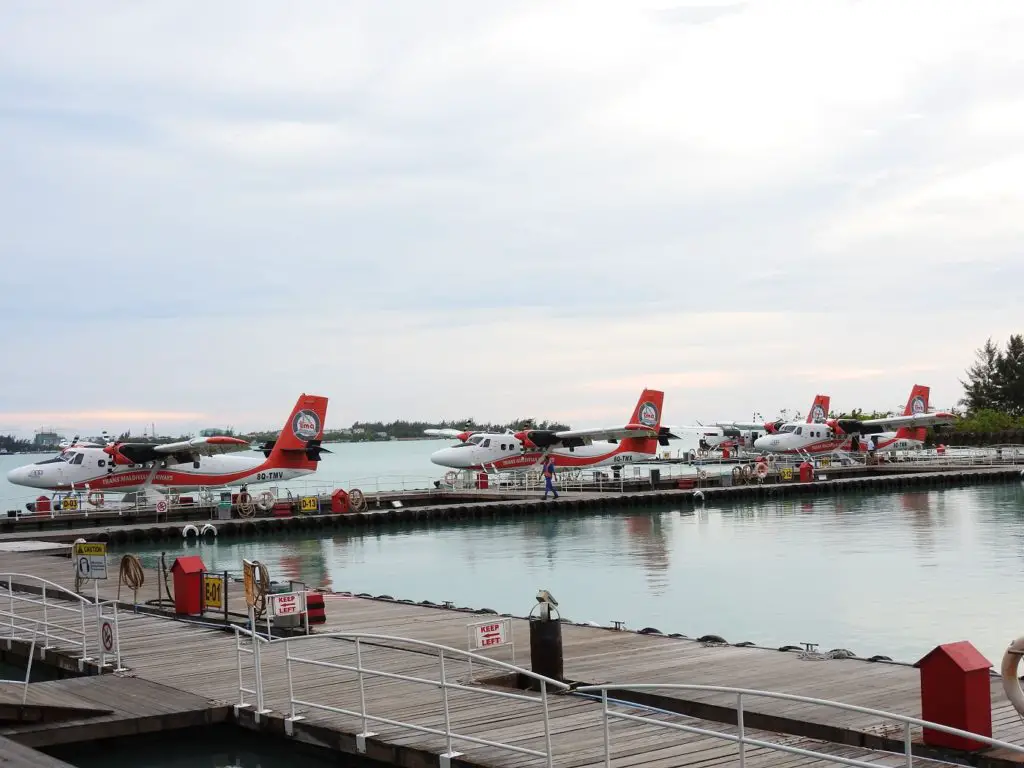 The South Ari Atoll region is approximately 100 km from Male, which is the capital of the Maldives.
Sea planes and speed boat transfers all leave from the airport so getting to your resort couldn't be any easier. Also, your resort will arrange everything for you.
If you are going by sea plane it will take around 25 to 35 minutes to reach your resort. It is important to know that sea planes do not fly after late afternoon simply because they do not fly after dark.
Domestic Flights also fly to the South Ari region before transferring you via a speed boat. Depending on your arrival time into Male airport , you may not have a choice as to how to reach your island. For this reason, I always stay overnight in Male at a cheap hotel and then transfer the next morning back from the airport. That way you also get a full day at your much more expensive resort.
You can read my full Male Airport Guide here.
Things to know before you go
Participants will most likely need to have some swimming experience due to whale sharks occupying the running channels.
Snorkel gear will either be provided or can be hired off the island. You are also welcome to take your own gear.
This tour generally doesn't take young children due to the water conditions. Please check with your resort.
Whale Sharks are completely harmless and feed off plankton (not humans)
It is recommended to stay at least 4 metres from a whale shark for your own safety
BOOK in advance due to minimum numbers and popularity
Is there a budget time to go to the Maldives?
Peak time in the Maldives is mid December to the end of April. This is when you can expect sunny skies and calm seas. It is a lot more predictable and prices for resorts are much higher.
We generally love to go early May before the season changes yet peak prices have dropped overnight. It is also considered a great month to swim with Whale Sharks in the Maldives.
Looking for more budget information on the Maldives?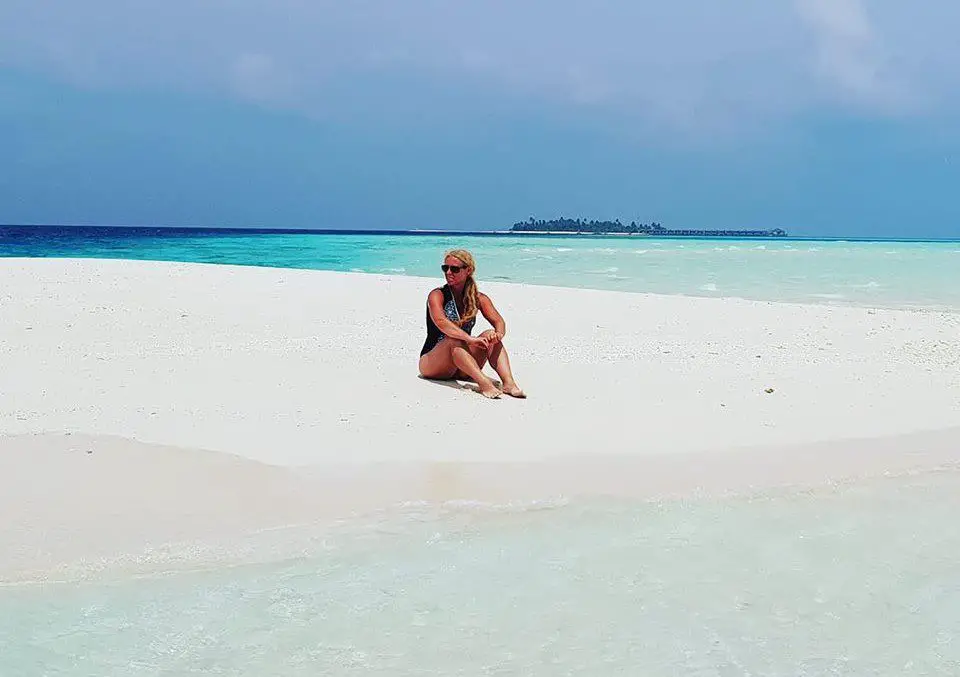 Visiting the Maldives on a Budget
Click to read more here
My incredible day swimming with Whale Sharks Maldives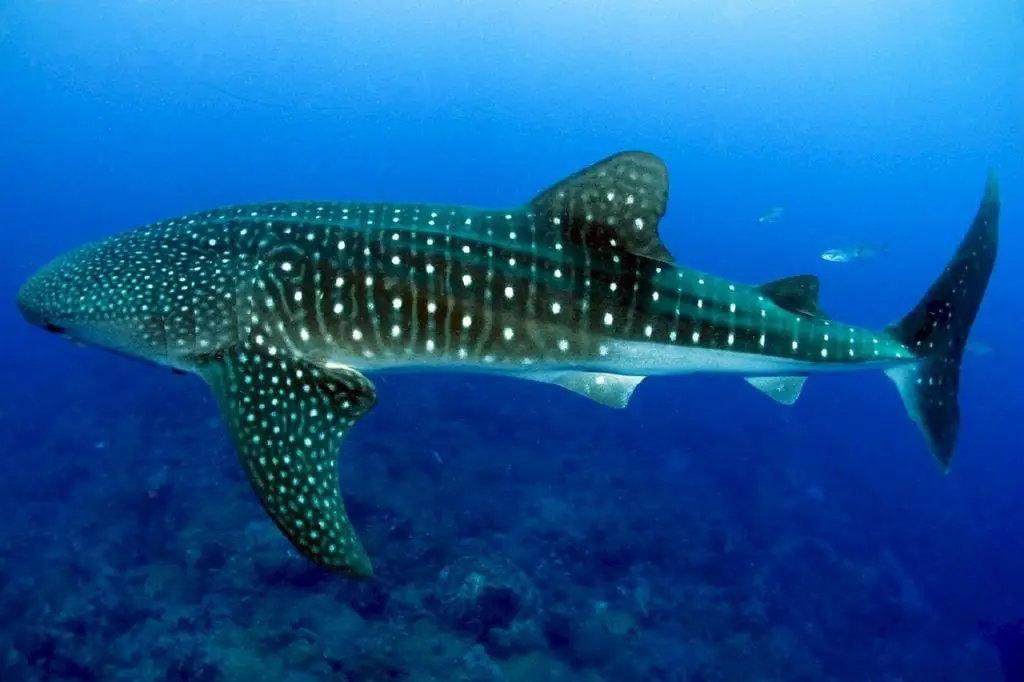 I didn't actually go to the Maldives to swim with whale sharks. It was also purely by accident that I booked a holiday in the South Ari Atoll region, staying at Fulidhoo Island. This gorgeous small and exclusive resort was a 25 minute sea plane flight away.
We did choose the resort for the dive program they had and the wonderful reviews many before us provided. Vilamendhoo was also a full board only island so all meals were provided in the price.
Once we arrived I noticed they had whale shark excursions running 4 days a week. I knew I had to go but hadn't really thought of which day I would get the opportunity.
My husband was heading out early morning on a diving trip in search of the whale sharks and I would have the day to relax and enjoy the turquoise water. After he set off on his adventurous day I decided to head to the activity centre to inquire about the possibility of getting on to an excursion as well that day. But unfortunately with only 10 persons maximum, it was not possible.
In hindsight I can't recommend enough booking in advance due to the minimum numbers and sheer popularity of the tour. Remember, many stay in the South Ari Atoll just because this is the place to swim and snorkel with whale sharks.
In search of Whale Sharks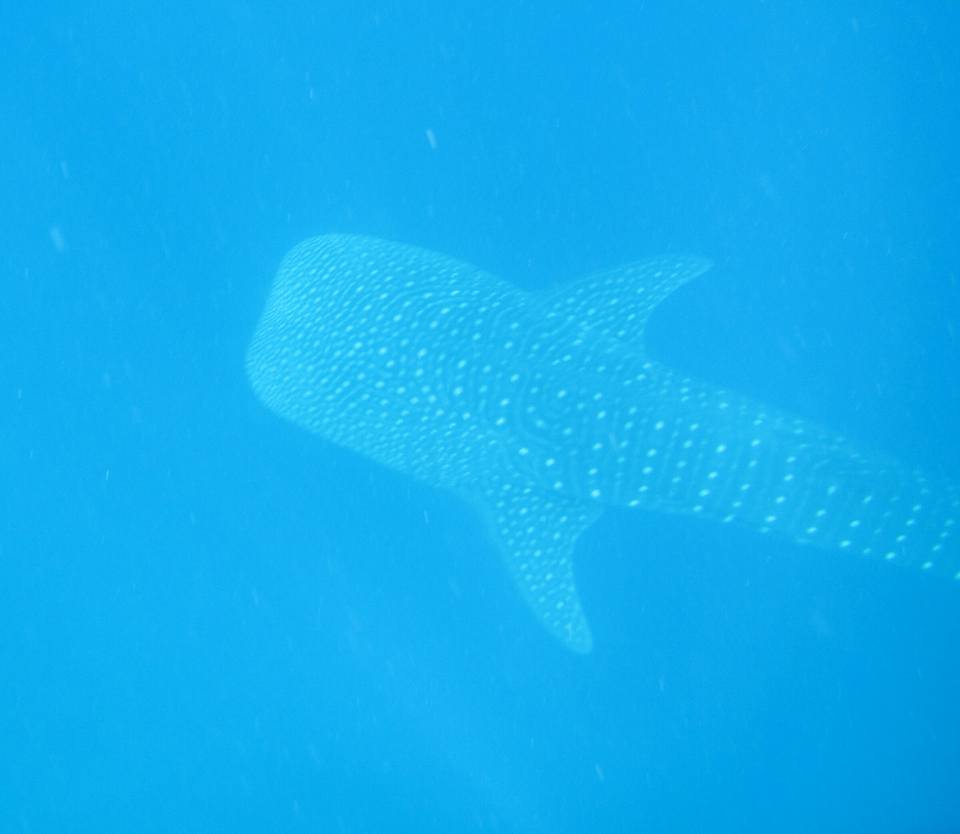 It was less than an hour later I had a call to say someone had pulled out due to being sick. I was in, and pretty excited.
The boat tour is 4 hours long and heads for the channels where we search up and down hoping to spot a giant shadow in the water. It is quite hard to see as the channel is a little choppy and the water is so deep and dark. But these guys are pros and know what to look for.
We are also told to be ready as there will be no time for getting your snorkel gear on. When they say jump, you jump.
The boat searched long and hard and we all waited patiently. Time seemed to stand still without any sighting and then it was time to start making our way back. I was quietly crushed and wondering if my husband was having the time of his life in his own quest to find a whale shark.
As luck would have it
It was all of a sudden that I heard the loud cries coming from the front of the boat, "JUMP". Wholly sh**, I was not prepared and neither was anyone else. We jumped in all directions, as if leaving a sinking ship. it was abrupt and fast.
The guide directed us to swim and so we did. The idea was to get in front of the shark so we could see it before it kept moving or decided to dive deeper into dark water.
It was a beauty, around 6 metres or so which is decent for the Maldives. They apparently grow around 5 to 8 metres here. It glided toward us and I was mesmerized beyond words. I could not believe I was witnessing this insane creature in the middle of the ocean, something very few are lucky to do. It was a privilege I know and something I will never forget.
A few minutes later it took that deep dive and suddenly it was gone.
You could imagine the smiles back on the boat as we recounted our amazing moments sharing snaps from the underwater photography.
Back at the room I waited for my husband to return hoping he had a similar experience. But it was not to be. Remember, he did not now I went out as it was a last minute cancellation that got me a ticket to the greatest show on earth.
"So ask me what I did today" was my opening line. And then I showed him the photos.
Guide to resorts in the South Ari Atoll with Whale Shark Tours
The South Ari Atoll is home to many gorgeous island resorts and hotels that will take you out on a whale shark excursion. The tours are extremely popular as you can imagine, so booking early is a high priority. You would do this directly with the resort you are staying at.
Whale Shark Excursion Cost
$85 to $95 US dollars
Excursion Frequency
Monday, Tuesday, Wednesday & Saturday (8.30 am – 12,30 pm)
Tips and further info
Excursion is 4 hours with a minimum age 12.
Up to 10 participants only. Snorkel gear not included but can be hired.
Resort information
Vilamendhoo Island involves a 25 minute sea plane transfer. The island is 900 metres long and 250 wide and includes full board in the cost plus the ability to upgrade to all inclusive. Amazing house reef and dive centre.
Room rates
Find out more here
Whale Shark Excursion Cost
$68 US dollars (not inclusive of taxes)
Excursion Frequency
Monday, Wednesday & Friday (9.15 am – 11.45 am)
Tips and further info
Excursion is 2.5 hours
Minimum participants of 8 , no max amount
Resort information
Sun Island is reached via domestic flight and speed boat transfer. They offer a wide range of accommodations and many restaurants.
Room rates
Find out more here
Whale Shark Excursion Cost
$210 – $230 US dollars (not inclusive of taxes) includes lunch
Excursion Frequency
Monday, Thursday, Saturday (9.30 am – 3.00 pm)
Tips and further info
Excursion is 5.5 hours
Minimum participants of 4 , max amount 10
Resort information
Mirihi Island can be reached via domestic flight and speedboat transfer. It is 350 in length and only 50 metres wide, making it a much smaller exclusive island. It has beach villas and overwater villas.
Room rates
Find out more here
Angaga Island Resort & Spa
Whale Shark Excursion Cost
$55 US dollars (not inclusive of taxes)
Excursion Frequency
Sunday & Thursday (8.30 am – 12.30 pm)
Tips and further info
Excursion is 4 hours
Minimum participants of 8
Resort information
Angaga Island can be reached either via domestic flight and speed boat transfer or by sea plane. This tiny island has a killer house reef and dive centre.
Room rates
Find out more here
Whale Shark Excursion Cost
$200 US dollars (not inclusive of taxes)
Excursion Frequency
Contact the resort
Tips and further info
Excursion is 4 hours
Minimum participants of 4
Resort information
Conrad Maldives Rangali island can be accessed via sea plane or domestic flight and speed boat transfer. It is well known as world class luxury and boasts an under sea restaurant
Room rates
Find out more here