As an Amazon Associate I earn from qualifying purchases. I get commissions for purchases made through links in this post.
First time visit to Maldives? Before you head off on your long awaited trip, knowing what to expect will help you plan your holiday more smoothly.
These things to know for fist timers before going to the Maldives are aimed at answering all the common questions most people ask and many other questions you may not have realized you need to know.
Related article: Is Maldives worth visiting-21 convincing reasons
First time visit to Maldives
The Maldives are simply stunning and known for those luxury over-water bungalows that we always see in pictures. But there are also many beautiful local islands for those travelling to the Maldives on a budget, but I'll answer more on that in this post.
Whether you are travelling with a loved one, here to dive the incredible reef or keen to swim with whale sharks, there are a few things to know a first timer should know before heading to the Maldives.
Ultimate Maldives Travel Tips Guide
This ultimate Maldives Travel Guide explains all those burning questions about the Maldives to help you plan your trip better.
Want to know how long you should stay or what currency the resorts deal in?
Want to know where you can see whale sharks or how you will arrange transfers to the islands?
Keep reading for everything you can expect from your bucket list trip to the Maldives.
Where are the Maldives?
The Maldives are located in the Indian Ocean, around 640 miles (1034 km) South West of Sri Lanka and are part of South Asia. 
A chain of 26 atolls make up the 1192 coral islands, which are dispersed over 90,000 square kilometres.  Pretty huge right! 
But not all these islands are inhabited. Only around 200 are actually inhabited, either as local islands or luxury resorts.
Maldives Travel Tip : Fly via Singapore on Scoot Airlines or Kuala Lumpur with Air Asia. These budget airlines always have great deals and you can also enjoy a city stopover while you are there.
Related articles:
5 day budget itinerary Singapore
Are the Maldives expensive?
A typical and very common question for anyone making a first time visit to Maldives.
The answer is yes and no. Confusing hey!
Need some help with your itinerary costs? Read Maldives itinerary – 3 affordable & spectacular itineraries you'll love
Of course we see the most luxurious side of the Maldives when looking at brochures and wonder who can really afford all that. In particular, honeymooners are targeted with enticing romantic stays in some of the most exclusive resorts and hotels the Maldives has to offer.
But the Maldives does have a cheaper side too. The real price difference is not the impressiveness of the actual island but the room type and inclusions. So in other words, the island won't be any less amazing than any other, it will ultimately come down to the resort built on top of it. I have stayed at the 5 star Bandos Maldives for a mere US $200 per night.
Maldives Travel Tip: Join a program like Hotels.com when booking your stay and you'll get one night free for every 10 nights.
Related article: Bandos Maldives Resort Review
You can also read my articles on planning a trip overseas, cheapest travel hacks and saving for your ultimate Maldives getaway.
Planning a trip overseas that you can actually afford
How to save money for travel – save $10,000 a year
Cheap Travel hacks for people who love to travel
What is the best time of year to go to the Maldives?
While temperatures don't change much throughout the year, the weather conditions do.
November to April is ideal for sunny days and the least amount of rain. The seas tend to be calmer also, making it ideal to snorkel. In saying that, this doesn't mean that the other months are not ideal. You may experience no rain at all during your stay or just short periods of rain lasting only a few minutes.
For the cheapest rates, May to November and even into early December will attract more reasonable prices for the resorts. So if you are planning to travel to the Maldives on a Budget and want to stay at a resort then consider these months.
Maldives Travel Tip: go in May or November which is just outside the peak season months and will save you hundreds of dollars.
Related article: Maldives on a Budget – best ultimate travel guide
How many days in Maldives is ideal?
Most honeymoon stays in the Maldives barely exceed 5 nights. This is generally due to the high cost of luxury. But is is enough time to really enjoy your stay in the Maldives?
I suggest 7 to 10 days is probably more ideal. Personally, I have always stayed anywhere from 8 to 12 days but could have easily stayed longer. While you might think you'll get bored (hard to believe), if it's an option between going back to work or hanging out in paradise, the latter seems to always win.
Of course your budget might have something to do with how long you stay. You can read my Maldives itinerary article which includes 3 affordable itineraries starting at under US $500 per person below.
Maldives Travel Tip: stay on a local island before heading to your resort for cheaper travel and to extend your time away
Maldives itinerary – 3 affordable & spectacular itineraries you'll love
How do I get to my resort?
Once you land at Velana International Airport, you will either need a speed boat transfer, sea plane or domestic flight with boat transfer in order to get to your island resort. You cannot arrange your own transfers from Male airport and therefore will pay whatever the resort charges for transfers. This could be anything from $80 to $500 depending on how far away your resort is to the airport.
Be sure to contact your hotel resort in advance and let them know your flight details. That way they'll be able to meet you at the airport and arrange your transfer swiftly. They will generally make you aware of this during your booking process.
Once you pass through customs and have gathered your luggage you will see many counters with all the hotel names. If you can't find yours be sure to ask, the airport personnel are all very friendly and ready to help. You will pay your hotel directly the costs of your transfer either via credit card or US dollars.
Maldives Travel Tip: Stay closer to Male international airport for the cheapest transfers.
Related article: Male International Airport Guide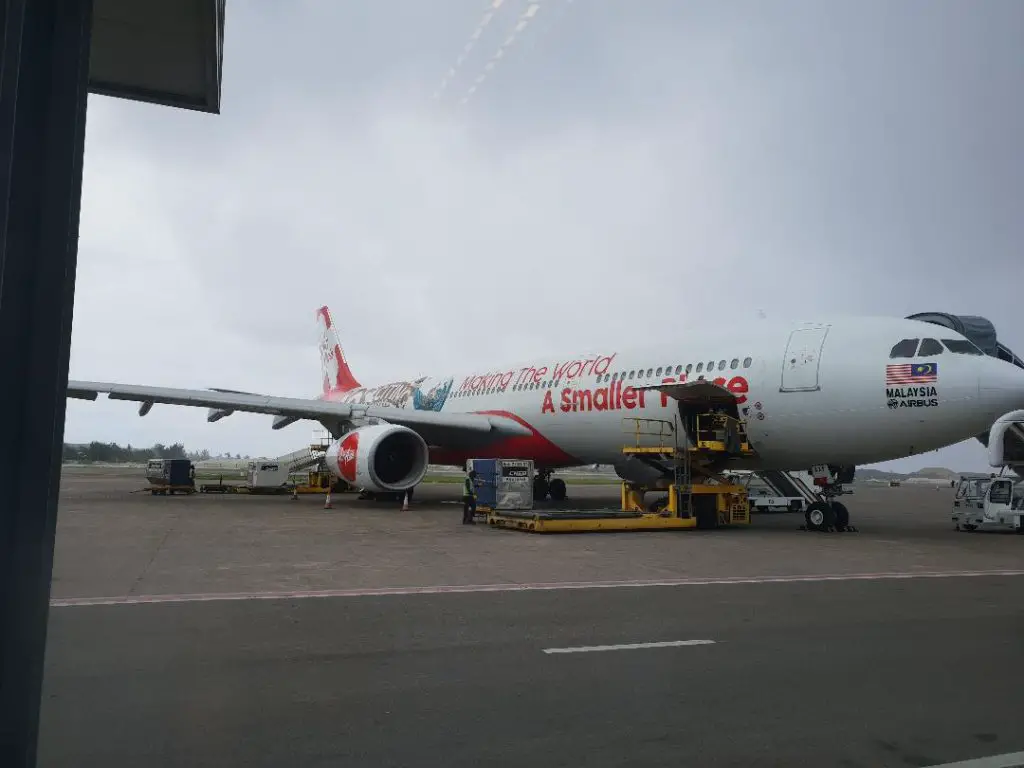 What are the Visa requirements to enter the Maldives?
All nationals will be granted a visa upon entry into the Maldives without any pre approval.
For most nationals, a 30 day visa is given at the airport as long as you can meet the requirements including a return ticket, accommodation pre booked and enough money to support your stay. You can read more about these and other requirements here.
Maldives immigration has included a new requirement.
Post COVID now requires tourists to fill out a declaration form at least 24 hours before travel. This can be done electronically here.
What are the best resorts in Maldives?
All resort islands in the Maldives are considered a luxury choice so there is no bad decision when choosing the right one.
You budget might ultimately play a key role in which resort to stay at but the following resorts are considered some of the best based on guest reviews.
For pure luxury / honeymoon / couples
Waldorf Astoria Maldives: where every room type has a private pool.
Conrad Maldives Rangali island: Beach side villas to huge ocean pavilions for multiple people
For 5 star luxury moderate price
Paradise island – great for families, water sports and over water villas
Cinnamon Dhonveli Maldives: affordable room types and great water activities including snorkeling and surfing
For 5 star budget islands
Bandos Maldives : incredible house reef and dive centre, plus perfect for all types of travellers including families
Eriyadu Maldives: smaller island perfect for couples plus great house reef
Can I take alcohol to Maldives?
The Maldives are a Muslim country and NO alcohol can be purchased or consumed on the main island of Male or any other local island. That means there is no duty free alcohol to purchase. If you try to bring it in from your initial departure it will be confiscated at the airport until you depart.
Most people are heading to the island resorts and you can purchase alcohol there.
If you are planning on drinking your fair share then you may want to consider an "all inclusive rate" but if you are only having one or two drinks per day, then paying as you go is a cheaper option.
Maldives Travel Tip: Enjoy a bottle of wine from your mini bar rather than by the glass at the resorts bar as it will be cheaper. Why not make it a spritzer to make your bottle go even further.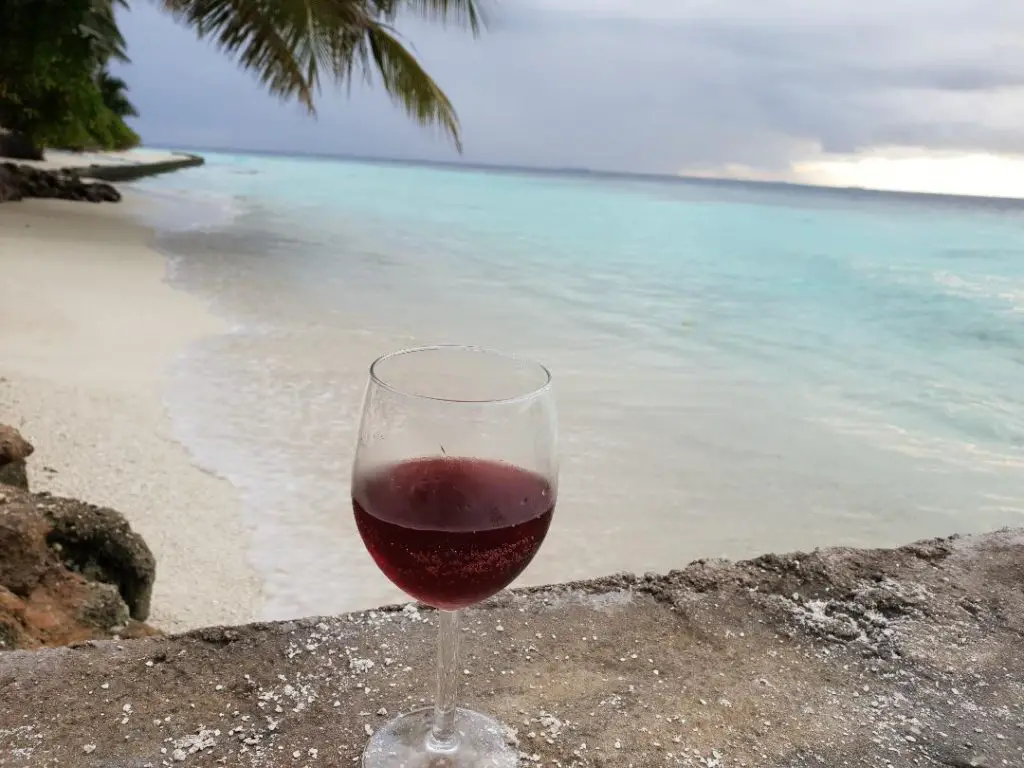 Should I take cash or credit card?
The resorts will generally be cashless during your stay. Meaning you will book everything up to your room and pay before you leave. Much like a cruise ship.
You can finalize your bill by card or USD cash.
As for local islands, cash is preferred and many won't have an ATM. As for the few that do, if your card doesn't work or the ATM is not working you are stranded. For this reason I'd take some small US dollars and local cash if you have it. The local currency is Rufiyah and you can always get this at the airport on your arrival.
Maldives Travel Tip: keep an eye of what you are spending so you don't get a fright at the bill when checking out. Also, look for resort rates with at least half board as this will be cheaper than paying as you go.
Is tipping expected in the Maldives?
Tipping is not expected but the staff at your resort will warmly welcome any tips you may pass on.
If you decide not to tip the staff they will not be rude about it as they are very gracious people. If you do decide to, the person who cleans your room everyday and maybe one or two waiters that have shown you great service is all you need.
You can tip as you go or just pass on a final amount at the end of your stay. The staff are most likely there for your entire stay.
I tip the following at a resort:
person who cleaned my room US $10 per week
waiters US $30 (total to be shared)
person who collected my bags on arrival & departure US $2
a kind worker who produced a coconut for me US $1
dive instructors US $5 to 10 per day on average.
Maldives Travel Tip: take some small USD $1 notes for tipping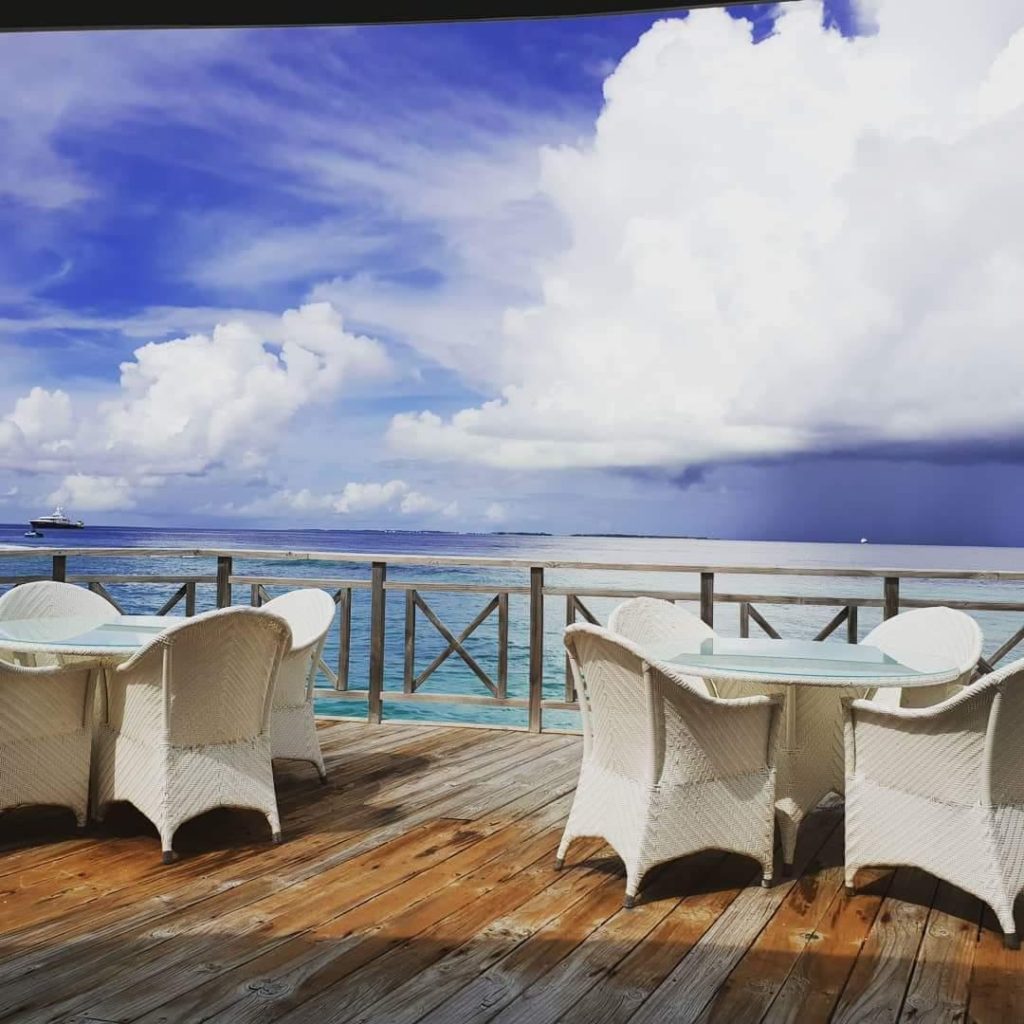 How can I afford an overwater villa?
We all want to stay in an overwater bungalow. It looks so damn dreamy right!
Water villas can set you back anywhere from $500 to $5000 per night. It all depends on which resort and the amenities that come with it.
You may have a spa, glass floor panel and even a water slide. You can imagine how all these things affect the overall price. The other price difference is to do with when you stay. High season equals high season prices. You may also find that staying longer will get your nightly rate down even more. So a 5 night stay will be cheaper per night than a 1 or 2 night stay.
You can read my article on the 11 Cheapest overwater bungalows Maldives here.
Maldives Travel Tip: consider booking a beach front room and then asking what the upgrade cost is for just a couple of nights in a water villa.
Is it worth staying in Male?
Male is the capital of the Maldives, an island densely populated by the local people with much infrastructure.
When you first arrive into the Maldives, you will most likely land at Male International airport (Velana Airport). While it is worth an overnight visit it is not the dream holiday you are probably thinking of. If you are wanting to experience something more authentic in the local culture, then a trip to a less populated local island is a better choice. That way you can relax on the more secluded beaches and enjoy walking on the sand rather than concrete pathways.
I always stay the first night here and the people are very friendly and welcoming. Be sure to take a Male City Tour to learn more about this amazing destination.
Maldives Travel Tip: if you are landing late in the day stay a night in Male so you are fresh the next day to travel to your resort. You'll also get more value in arrival early and having a full day to enjoy yourself.
Read more: What to see on a Male City Tour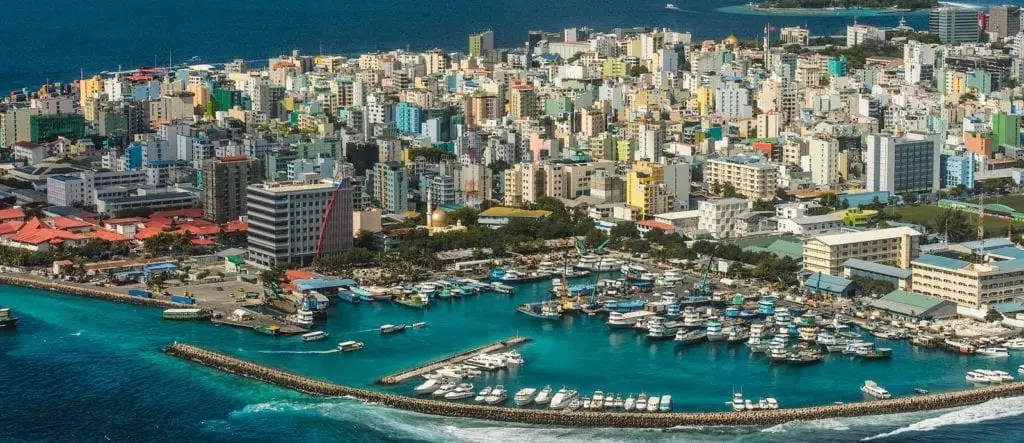 Should I visit a local island?
If you have a chance to visit Male or any of the local islands you will need to dress accordingly. Many of the resorts offer half day trips to a local island as part of their paid excursions. It's nice way to see what island life is really like for the Maldivian people.
Generally shoulders and lower legs should be covered. Anything knee length and a t-short is fine. Some people wore mid thigh clothing and no one seemed bothered. It's more about being respectful so keep that in mind.
If you are visiting a mosque you should cover up fully. So full length skirt and pants and long sleeved top is required. A sarong comes in handy too if you need to cover your head.
If you are considering staying on a local island, though it is much different to a resort, the experience is just as rewarding. It is also the best way to save a lot of money. I have stayed on Fulidhoo Island and loved the island. You can read more below.
Maldives Travel Tip: a trip to the local islands on a ferry starts from USD $2 each way. It may be a slower trip than a speed boat but the scenery is off the charts and you save heaps.
Related article: Best local island in the Maldives – Fulidhoo Island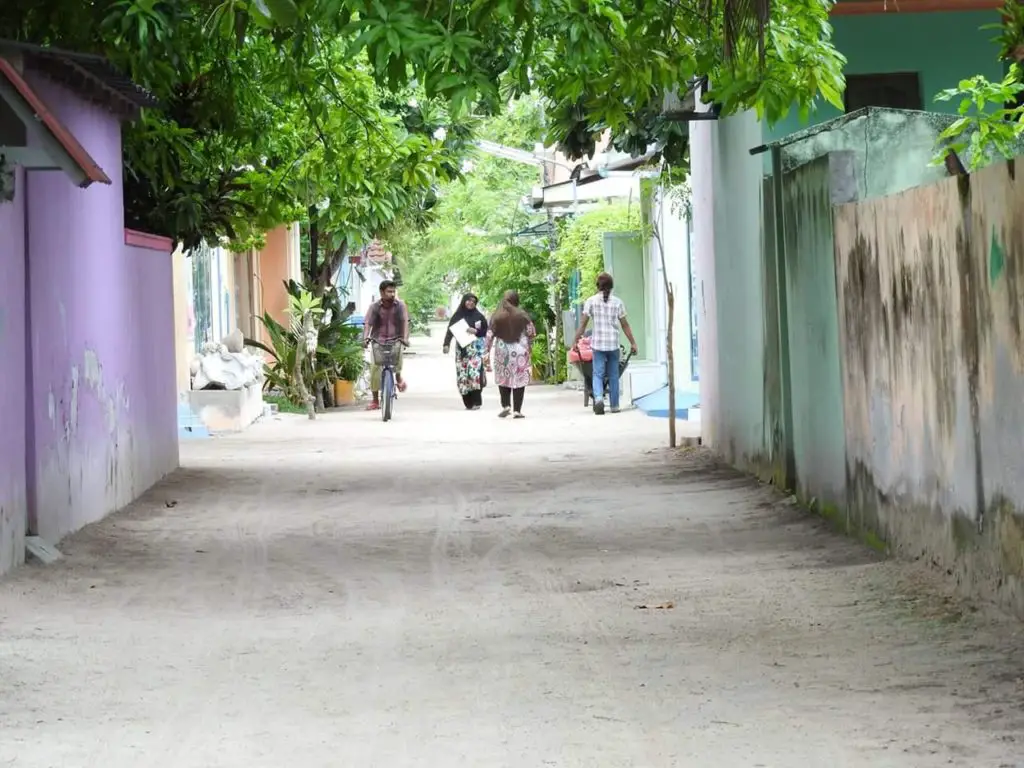 What is the diving like in the Maldives?
Simply incredible!
Maldives are a popular destination for divers any time of year. The warm waters means a wetsuit is probably not necessary most times. As my husband puts it, the Maldives has the best marine life he has ever seen. The rich and colourful reefs attract a massive amount of diverse fish varieties in an abundance of colours. The coral formations are also a divers dream and you will find most resorts will have a dive shop where you can organize your daily excursions. Beginners are also catered well here.
Besides fish, you can expect to see reef or nurse sharks, octopus, turtles and manta rays.
You can see more of the dive sites with incredible underwater photography here: Best Dive Resort Maldives
Maldives Travel Tip: for dive enthusiasts look for an island that offers a dive package such as 5, 10 or 15 dives. It works out much cheaper than those who don't.
Can I swim with whale sharks?
The Maldives are a popular place to swim with whale sharks because you can see them all year round.
Found in the South Ari Atoll region, visitors will be better finding a resort in this area as not all resorts offer this trip. It is dependent on how far away your resort is to this region of the Maldives.
I have been lucky enough to swim with whale sharks while staying on Vilamendhoo Island.
Maldives Travel Tip: whale shark sighting are not guaranteed. improve your odds by allowing another day if your first day comes back empty handed. Also book in advance, the excursion is usually very popular.
You can read more about this here. Swim with Whale Sharks Maldives – which resorts and prices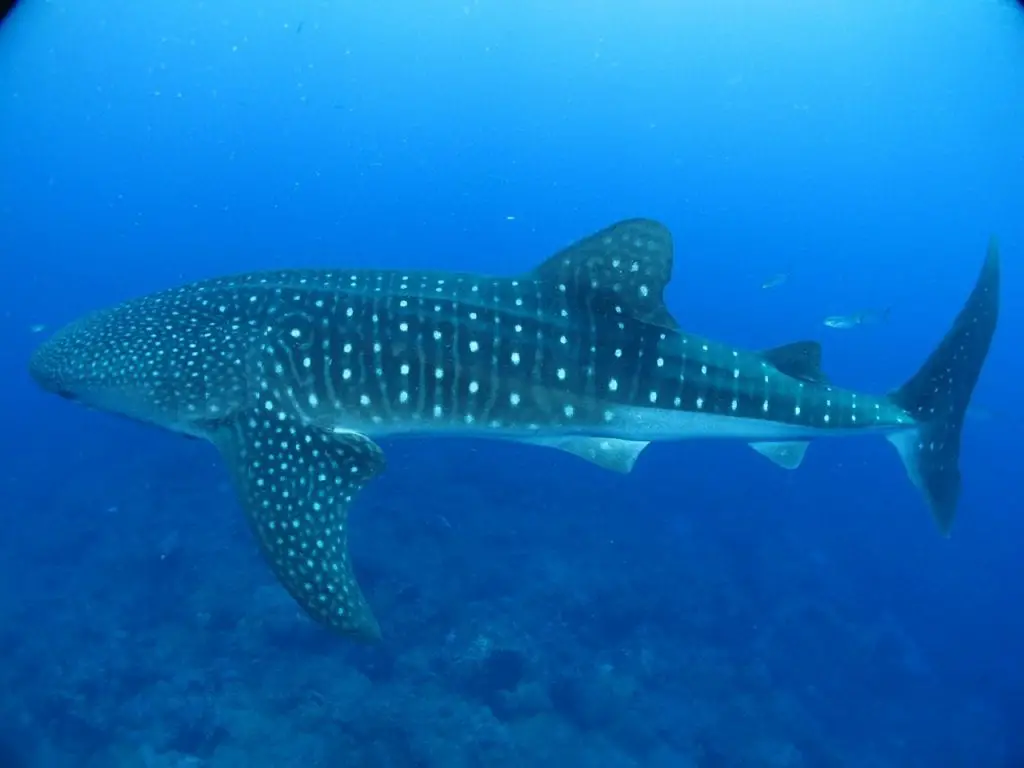 What clothes should I pack?
Oh how I learnt this lesson after my first trip. My idea of the Maldives was high end fashion meets paradise island but it was not the case.
I spent most of the day in a bikini and sarong so only really got dressed up at night. And it was hot, sometimes very humid. I found I kept wearing the lightest outfits I had packed and ones that could withstand the heat.
Certainly feel free to take 1 or 2 nice dresses, shorts, etc…but I ditched the maxi dresses and went with shorter, more free flowing outfits. For a 7 to 10 day stay, 2 to 3 dresses is more than enough if you want to pack light.
The same goes with shoes. Thongs are all you really need and maybe a nice pair of flat shoes. You may find on some islands that the restaurants are sandy floors so heels really aren't required.
As for make up , I suggest a tinted moisturizer and some mascara to do the trick.
be sure to read this full article on The Best Maldives packing list – resorts and local islands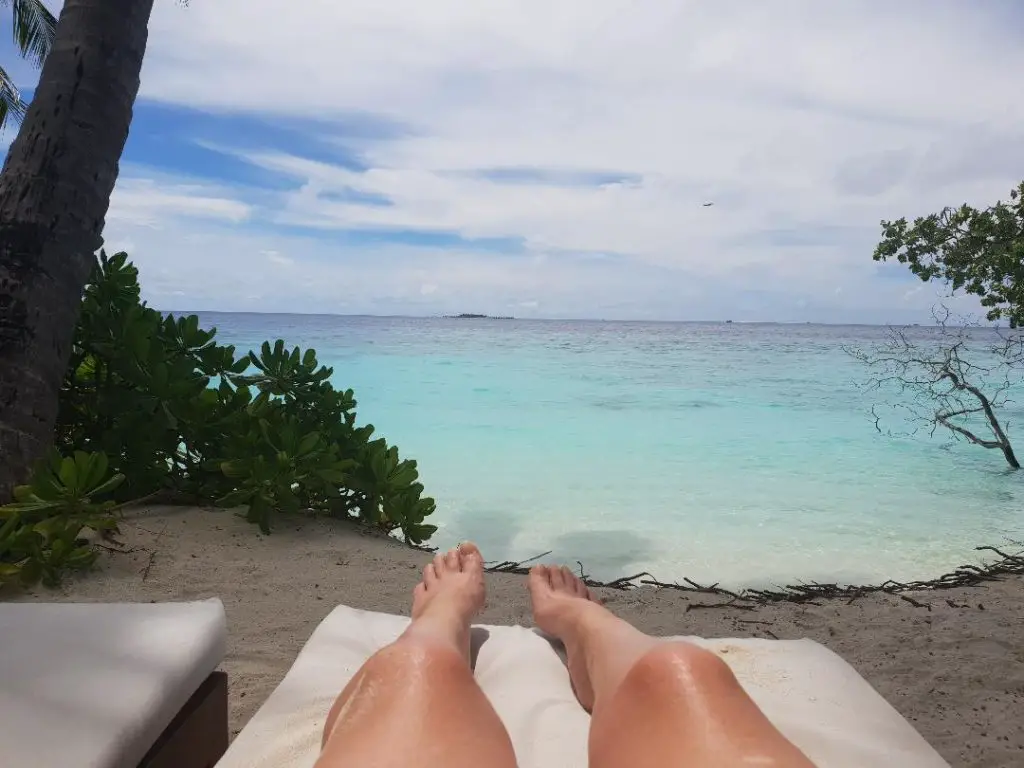 What else should I take on my trip to the Maldives?
Sunscreen. That Maldivian sun can be ruthless. Even in slightly overcast conditions it can burn quickly. We all know how a bad case of sunburn can be terribly painful. You wouldn't want that to dampen your holiday.
Insect repellent is also not a bad idea. Mosquito's were out especially at night. I did notice one night the ground staff spraying but once you are bitten, it's hard not to scratch.
Camera to capture all those gorgeous sunsets the Maldives are famous for.
A good book to read for all that lounging you'll be doing.
A hat for keeping the sun away.
Hair ties is you have long hair. My long curly hair wasn't a fan of the humidity so I needed to keep it back most the time.
What you won't need to take with you
Umbrellas are not needed as the resorts will provide your room with one. (here's hoping you don't need it)
Beach towels are provided by all of the outer island resorts.
Snorkel gear. If you plan on doing some snorkeling and have your own gear it might be a good idea to bring it but if you don't have any, not to worry. You  can easily rent your gear on the island you are staying at.
Maldives Travel Tip: do your bit for the environment and consider a reef friendly sunscreen such as Sun Bum SPF 30
I hope you have found this an interesting read and know a bit more about what to expect on your trip to the Maldives. Have a wonderful time.
If you have any questions feel free to drop a comment or if you have other insights on what to expect I'd love to hear it in the comments below.

---