As an Amazon Associate I earn from qualifying purchases. I get commissions for purchases made through links in this post.
Nomad Africa Review (Overland Camping Safari)
A trip to Africa are what dreams are made of. No other place on earth has wildlife quite like it. It's where the "Big 5" roam wild and free and I'm embarking on a three week adventure safari with Nomad to explore Africa's wild side. 
[wpgmza id="14″]
Trip details: Capetown to Victoria Falls
Our starting point is in the trendy coastal city of Capetown, South Africa.
We are heading north toward Namibia where much of the tour is based before crossing over into Botswana and finishing in the adventure capital of Victoria Falls, Zimbabwe.
While this is my second overland tour, it is my first with Nomad Adventure Tours. I'm here with my mother who is on her 25th tour with Nomad. She currently holds the record for most tours with this company, you go girl!
Though she has used other companies, this one is her personal favourite based on itineraries, cost and overall experience. If anyone can give me a recommendation, it's her.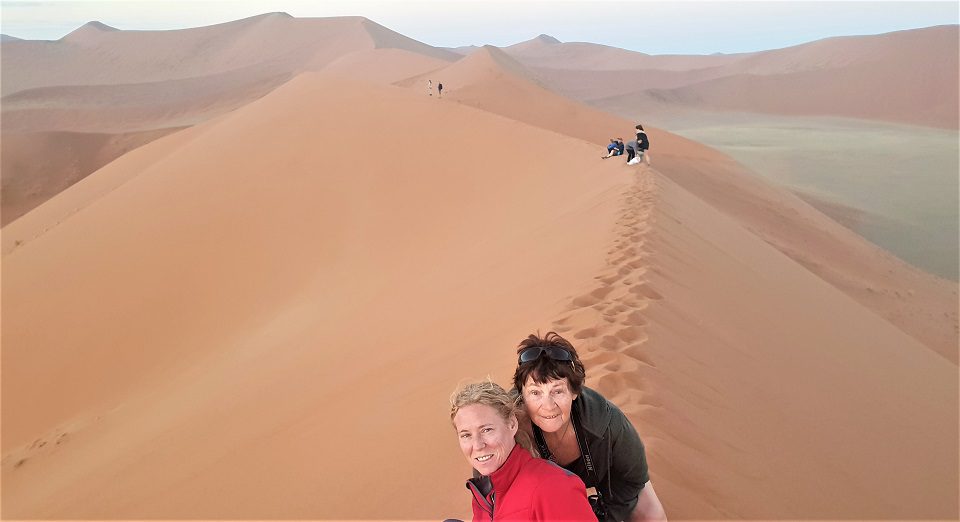 What is an overland camping safari
The overland safari takes you by road on an unforgettable experience.
While Nomad offers both accommodated and camping safari options, it surely has to  be the latter that really brings you closer to nature and all that this great continent has to offer.
You'll be pitching your tent in some mind blowing locations, right on the edge of adventure. But don't worry, it's perfectly safe and thrilling to say the least. In fact, I truly believe there is no better way to see and do Africa.
It certainly means that taking a budget tour in Africa is not only cost effective but also a smart choice.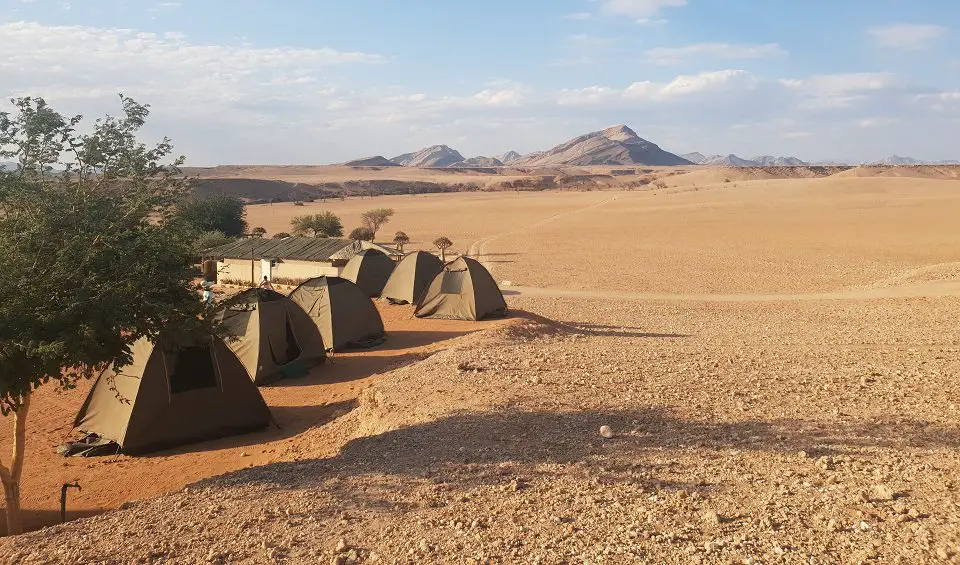 ---
The following is a breakdown of what you can expect on your Nomad tour.
THE NOMAD AFRICA GUIDES
Our amazing guides for this trip are Laurine and Dingz.
Dingz is from Zimbabwe and he has the task of doing all the driving. He is as professional as they come and knows the route like the back of his hand. I'm sure he's done it many times over.
Laurine is also from Zimbabwe and is our chief guide and cook.
She's effortless at multi tasking and never misses a beat.  Her knowledge is second to none, not only about each destination but about the land and its occupants in general. Of all the tours I have done, I've never met a guide with all the answers – until now.
Each night Laurine gives a brief run down on the coming days and reminds us of those little things that keep the group running on schedule. For example, what time breakfast will be, will there be internet tomorrow, can I buy snacks and is there a bar at the next camp. All stuff that really matters!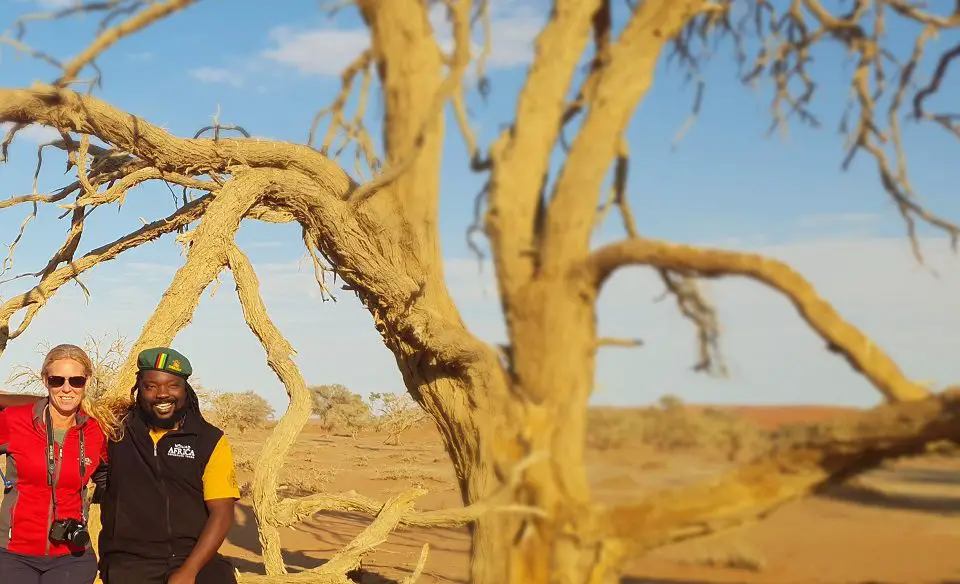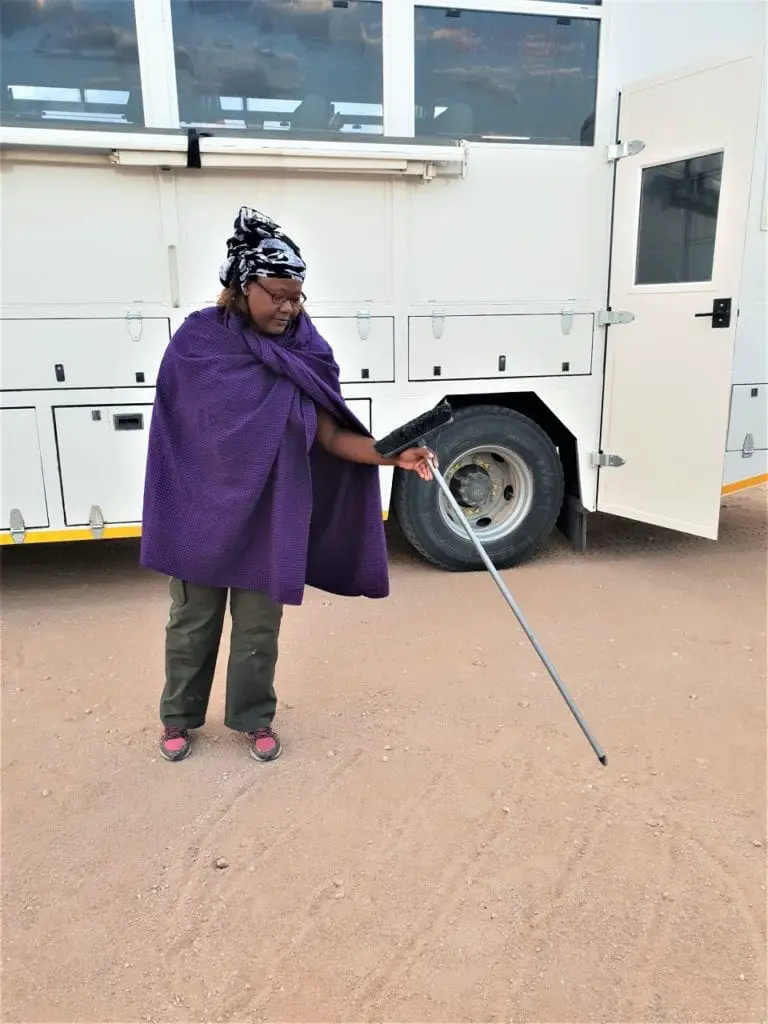 NOMAD TRUCK SET UP
The Nomad Africa trucks are equipped to take up to around 24 people not including the driver and guide. The seating is arranged 2 either side and you have large enclosed windows for prime viewing along the way.
There is a compulsory seat rotation each day which everyone happily obliges.
The trucks are well decked out. All our gear gets accommodated inside the truck in personal lockers and everything else like tents and cooking equipment goes underneath.Every square inch of these vehicles has a compartment for something and it works very well.
There are overhead compartments for small back packs, jackets,pillows and anything else you need handy. Also your seat comes with a front pocket.
We had a cooler for our drinks and alcohol which we were able to restock every couple of days.
The one thing you won't get is air conditioning. You'll have to rely on the good old fashioned windows down if needed.It really wasn't a bother and it only helped us get acclimatized much easier.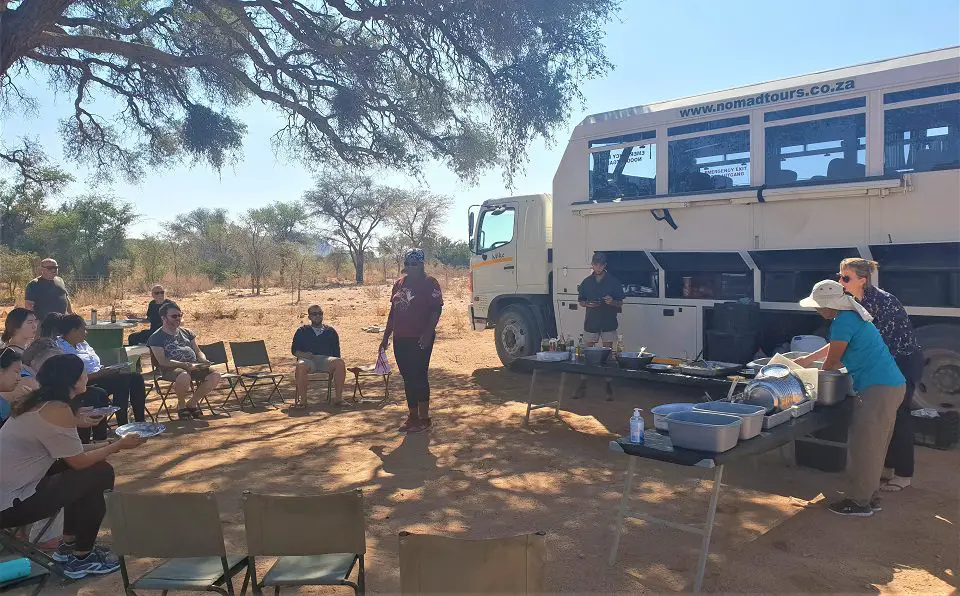 WHAT TO TAKE ON AN OVERLAND SAFARA
What you feel you need to take on your tour is up to you but some things are necessary.when camping.
First and foremost, you'll need your sleeping bag. Make sure you check the temperatures and what grading of bag you'll need. Also don't forget your pillow and a towel.
Be sure to bring a head torch as sometimes you'll get into camp after dark. You'll also use it for those middle of the night bathroom runs.
Nomad will give you a checklist so you don't forget anything.
Tents are supplied. They are 2 person and pretty easy to set up. It takes under 5 minutes to get it up and back down once you have done it a couple of times.
You will also be given a decent mattress which I found reasonably comfortable. Hey, it's camping.
Fold out chairs are also supplied .
THE MEALS
Nomad Africa does a great job at providing many of the meals.
This all comes down to what locations you stop at, but if you are camping, expect to get nearly all your meals supplied. They will have all that information in their tour itineraries.
Laurine's cooking abilities were absolutely brilliant. It was like being home.
Breakfast consisted of cereals, toast, fruit and yogurt each day. We also had eggs at least every second day and occasionally bacon, porridge, pancakes and french toast.
Lunch was generally something simply in order to keep moving on the road..
Many times we would just be pulling over on the side of the road or getting into camp before heading off again. We ate sandwiches and salad most of the time. I for one really appreciated the fresh ingredients over anything heavily processed.
Dinner was everyone's favourite meal time. We ate like kings every night.
Our plates were loaded with whatever Laurine had lovingly cooked. Think fish, pork chops, hearty stews, BBQ and marinated chicken. This would usually be accompanied with rice, pasta or potato to keep us filled. Anything left over was usually turned into a delicious salad the next day
We had people with dietary requirements and they were well looked after also. No one ever went hungry.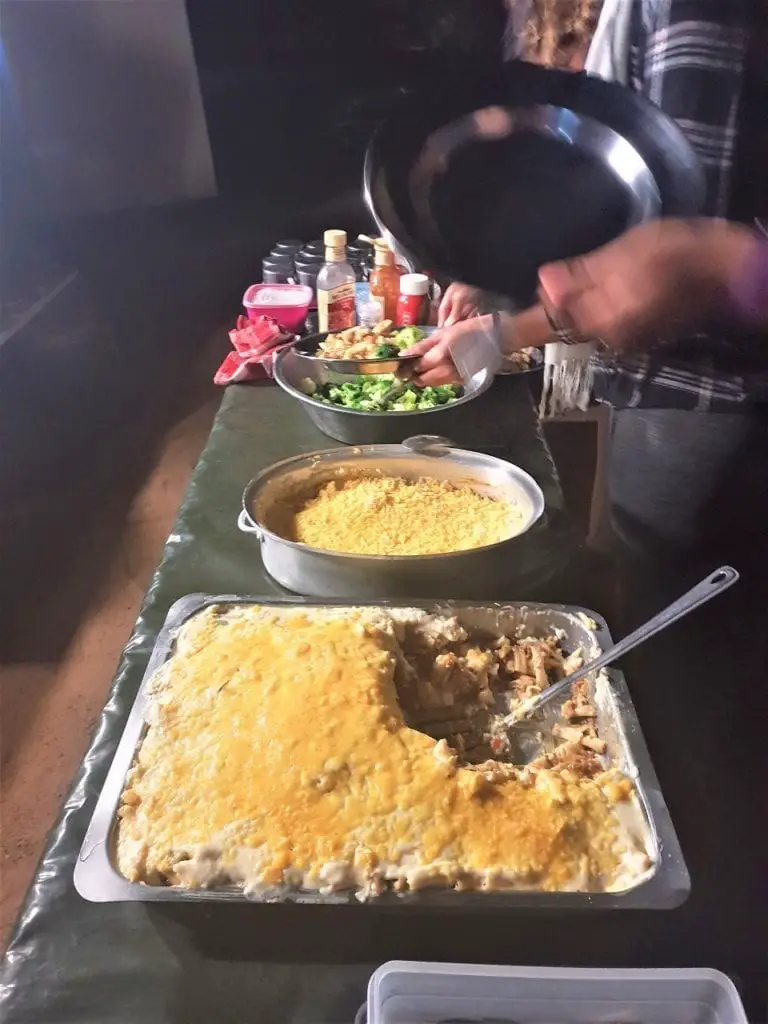 THE CAMP SITES
We stayed in some pretty nice well equipped camp sites while others were much more basic.
Some had full facilities like restaurant, pool, bar and laundry. After pitching the tent we usually had time for a shower and then many headed down to the bar for a cold beer.
Others were simple bush camps which possibly meant no power. We had showers sometimes heated by fire. Don't worry, it won't be your job.
Occasionally we had the opportunity to "upgrade" to a basic cabin which generally only cost a few extra dollars. Just ask your guide before you arrive whether the camp has such facilities as there is usually only a couple us for grabs. Head straight to reception.
If you enjoy the camp experience then you'll be happy either way but I understand sometimes we need something a little more like home.
The best part about camping is being as close to nature as possible. The pictures below shows the water holes only a few steps from our camp site. It was fully fenced so we had the opportunity to safely walk across at any time to see what wild life was out and about.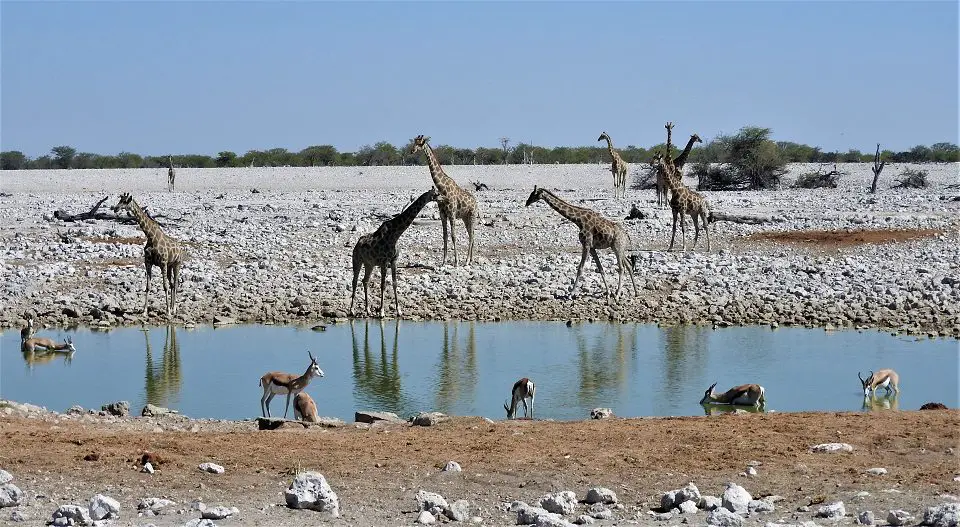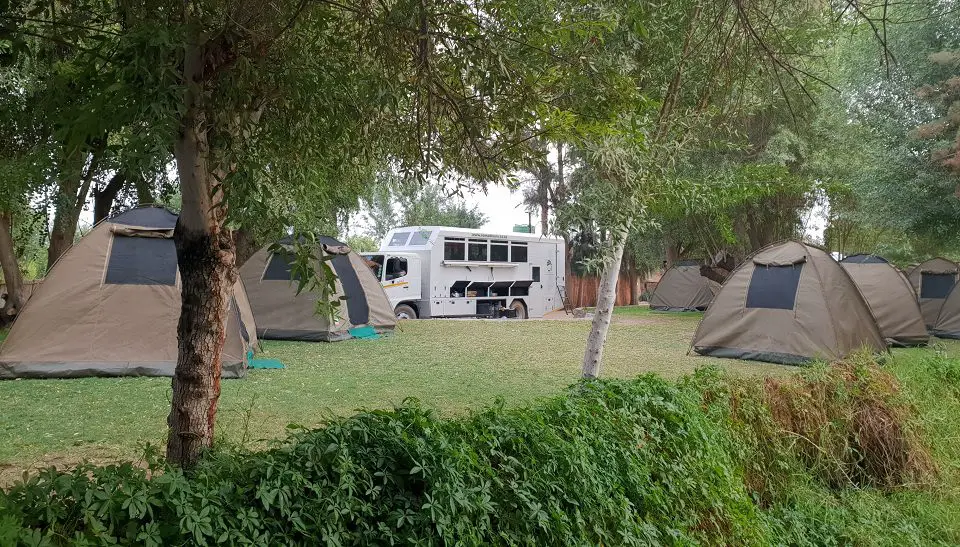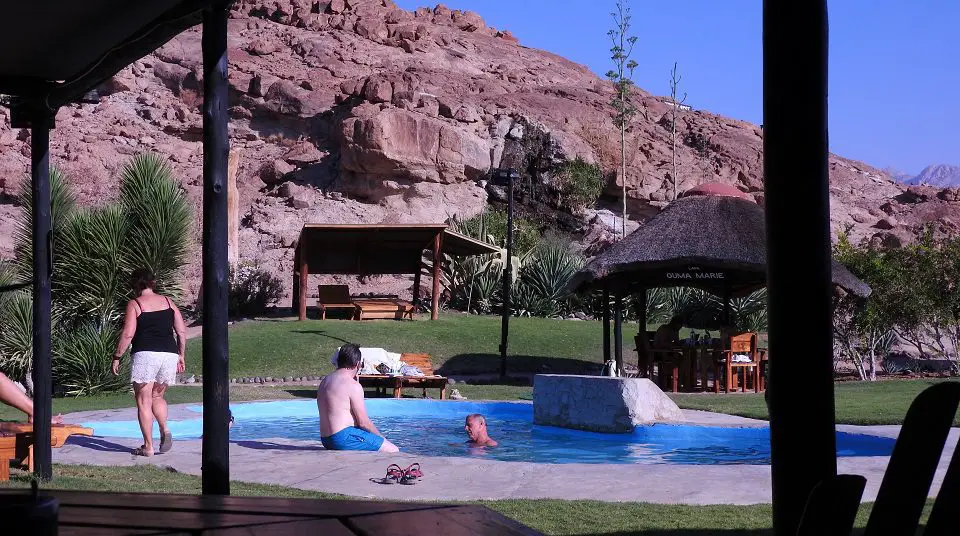 STAYING CONNECTED
Internet can be hard to come by on the road even though many of us bought data packs which were very cheap. If you can appreciate that we don't need to have access to the outside world every minute of the day you'll be fine.
Many of the camp sites had free WiFi but it could be sketchy at times.
In terms of charging your electronics, the trucks have USB ports on each seat so keeping your phone or camera charged was easy. We also had power each night in the truck so could recharge everything for the next day.
THINGS TO KNOW
If you haven't heard of the term "bushy bushy" you soon will. Welcome to Africa.
Sooner or later you'll have to use a bush to relieve yourself. It goes with the territory and really isn't that bad. Sometimes we had to go behind the truck because the surrounds provided no camouflage.
The African massage is another thing you will definitely get to know. Referring to the road conditions, it was at times heavily corrugated or riddled with pot holes This rough and bumpy ride was simply life on the road for now.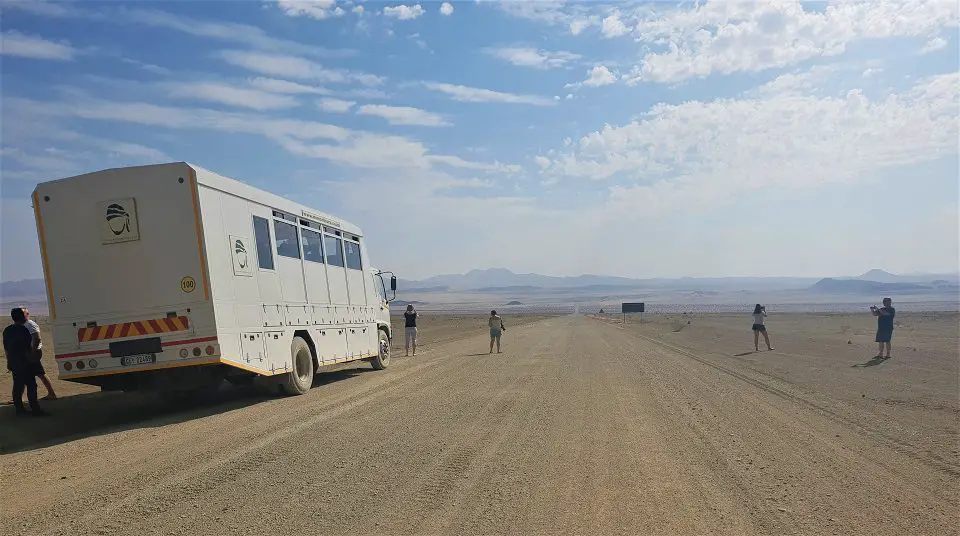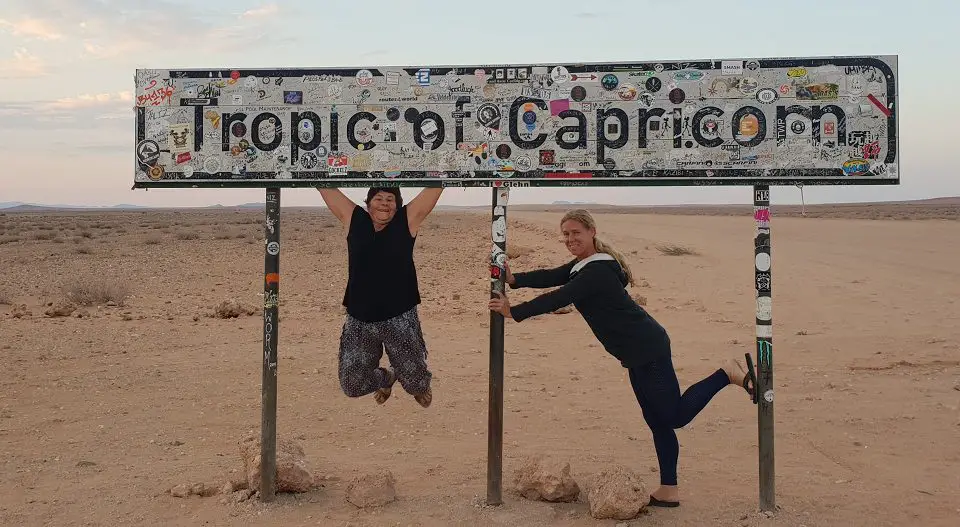 NOMAD AFRICA IN A NUTSHELL
This a great way to see Africa for the budget traveller. As most of your meals are provided and many of the activities are part of your cost, it really is a cheap way to go on tour.
Nomad Africa provides the very best itineraries and really understands their clients needs.
Most of the tours are a combination of smaller tours so you can easily hook up on the next adventure if you want to extend your time in Africa. Even my three week trip saw some people leave us half way through and others join the group. Many went on to other destinations as well when it was all over.
As i mentioned, Nomad Africa has accommodated tours also if camping is a definite "no no". Of course you'll pay extra but it is still very reasonable.
I also had an opportunity to look on board one of their new small group luxury tour trucks. I wished I hadn't as it was extremely fancy. First class all the way.
My time in Africa was full of epic scenery, first time experiences and wonderful emotion. I really can't thank Nomad Adventure Tours enough for taking good care of me.
For a range of tours Nomad Africa see here. 
---