As an Amazon Associate I earn from qualifying purchases. I get commissions for purchases made through links in this post.
While there are many free Cape Town highlights, there is also so much that is worth forking out the cash for. This picturesque city by the water is surrounded by incredible beauty with the impressive and staggering Table Mountain towing above in the background.
Cape Town Highlights –  Paid and Free Attractions
TABLE MOUNTAIN CABLE CAR – For a Fee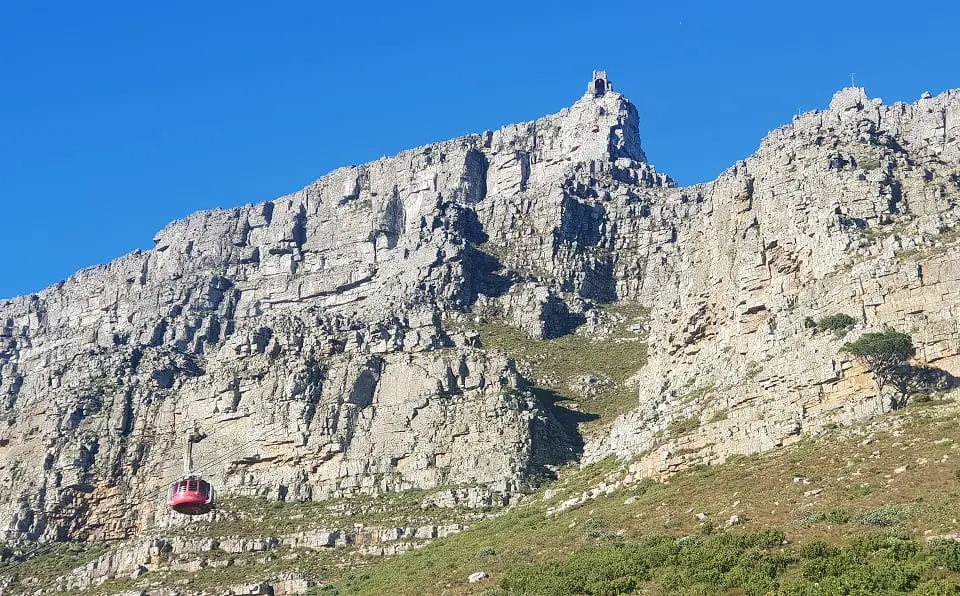 A visit to Cape Town must include getting high above the city for some of the most epic views you'll ever see.
Otherwise you can take the cable car up or as some people choose to do, walk up and cable car down.
The cable car is steep and holds over 50 people. Luckily the day I went up there were only 5 of us so it was very comfortable. Regardless, the floor revolves so anyone taking it will get a chance to see the surrounds from all angles.
Be aware that in high winds the cable car will stop operating so if you are already at the top be prepared to have to walk down.
For cable car with hotel pick up click here
TABLE MOUNTAIN – Free attraction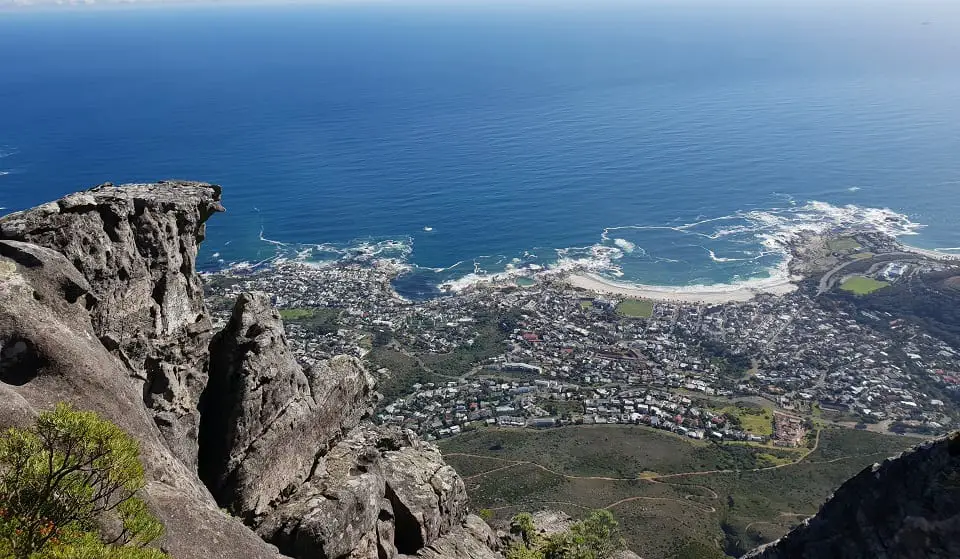 If you choose to walk up then there is no additional fees to pay. You can do it all for free.
The 2.5 km steep ascent starts nearby the cable car. It will take anywhere between two to four hours depending on weather and fitness levels.
Once you reach the summit you have a variety of walks to take. You can choose to stay on the shorter paths or venture out around the relatively easy hiking trails. You'll be rewarded with stunning views across the whole region.
There are many rocky outcrops where you can stand to get the most amazing pictures of your time there.
Table Mountain can at times be shrouded in cloud so if you have a clear day take the opportunity to go see it that day.
If you prefer to hike with a guide you can find a range of tours here.
ROBBEN ISLAND – For a Fee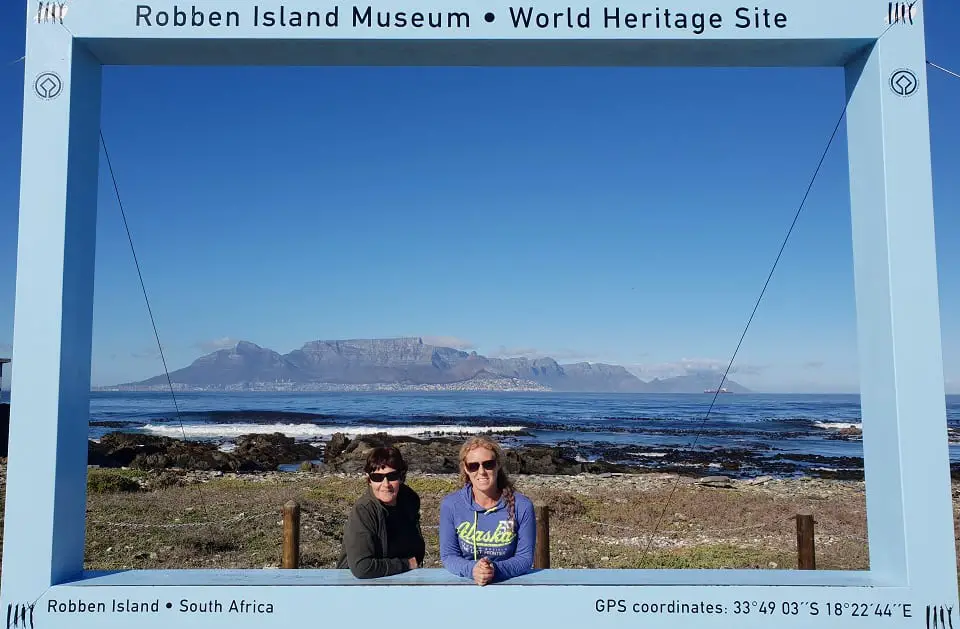 This is the place where Nelson Mandela was incarcerated for 18 of his 27 years behind bars before the fall of apartheid. It is one of the most popular things to do for tourists who visit the area.
Located 6.9 km offshore, thousands of people each and every day (weather permitting) head out on commuter vessels to take a tour of the island and see the very cell Mandela was held for so long.
Buses are ready as each boat docks and you just jump on any one. You'll be given an informative tour of the whole island before entering the prison where accounts of those imprisoned and the conditions they faced are hard hitting. The tour is itself told by former ex-prisoners which makes it even more significant
Once finished you can wander back to the dock and catch the next boat back.
The island cannot be explored independently, all visitors must stay in a tour group.
Robben Island Tours pricing and bookings. 
Viator – A Tripadvisor Company (AU)
CAPE OF GOOD HOPE – free attraction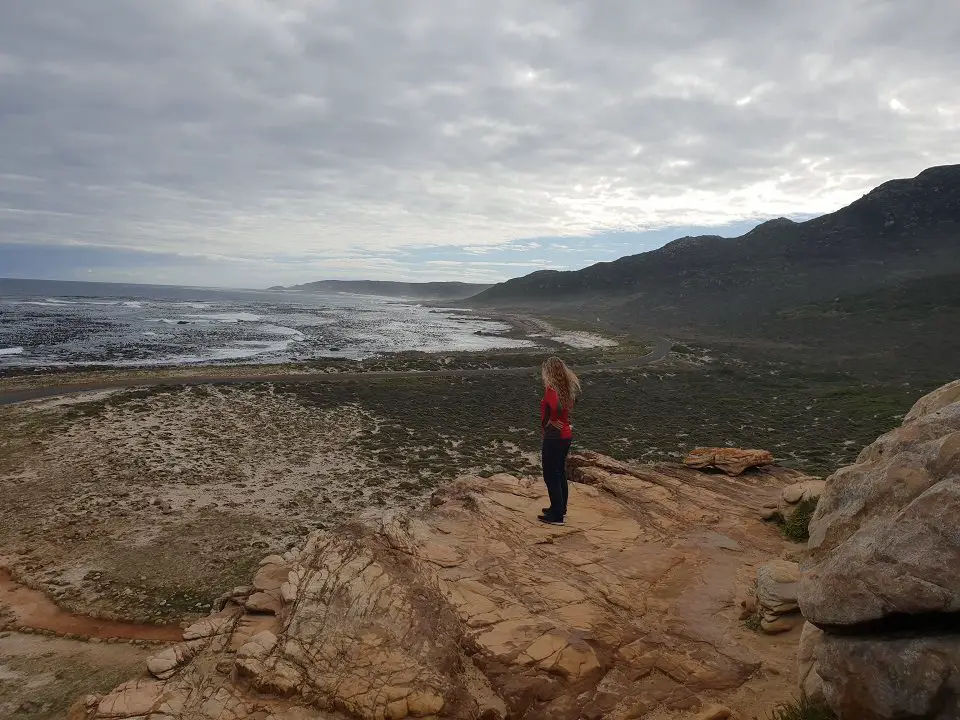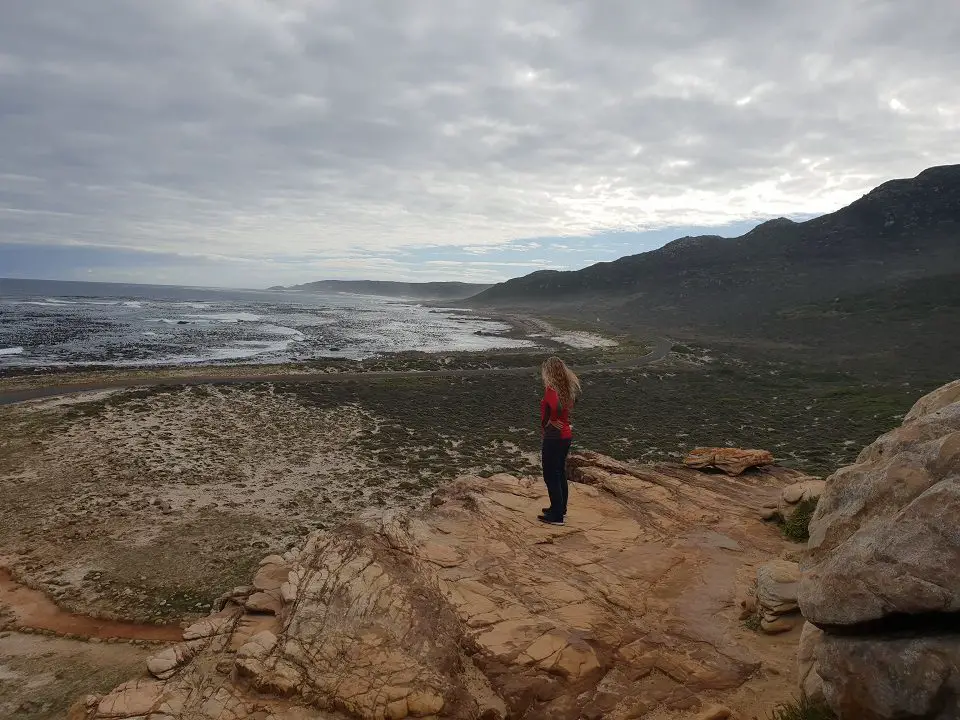 Located an hour and half from Cape Town, the Cape of Good Hope is the most south western point of Africa.
Take the obligatory photo in front of the sign then head up the stair case to get a better over view of the area.
The winds and seas can be ferocious here, especially during winter.
Note: For those without transportation you can take a full day tour which incorporates Cape Point and plenty of other highlights.
CAPE POINT LIGHTHOUSE- free attraction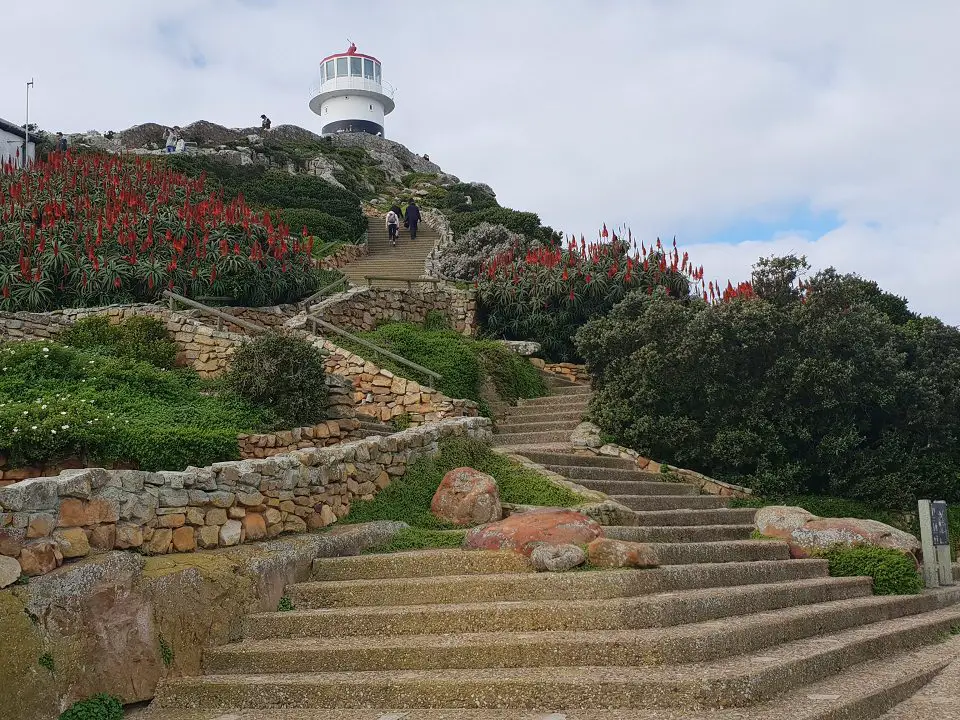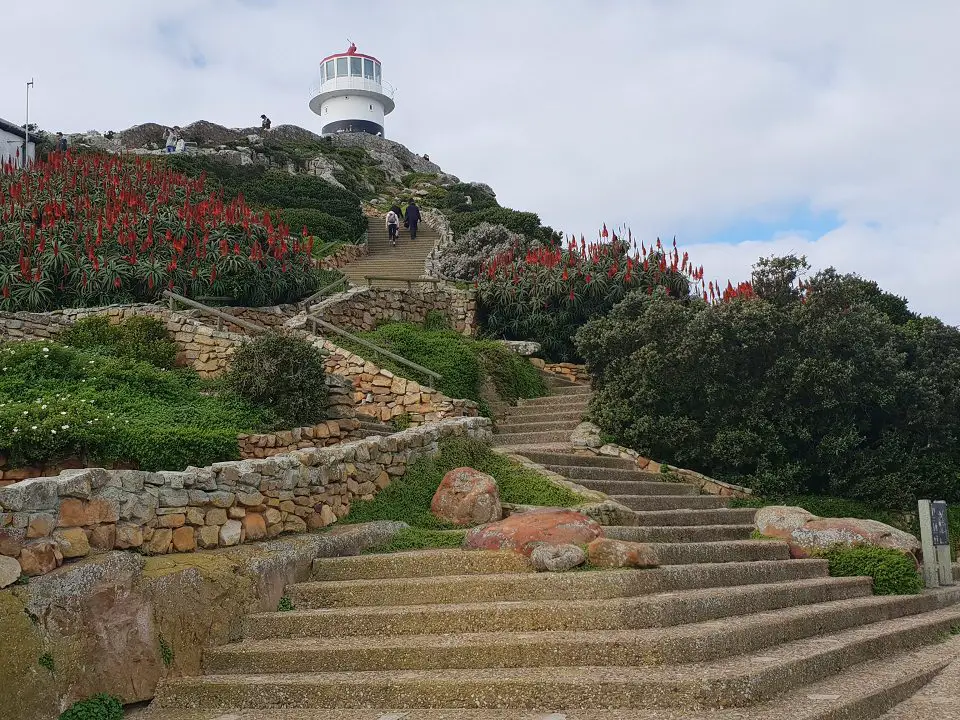 Not far from Cape of Good Hope is Cape Point. In fact you can hike from one to the other.
The old light house sits high up the mountain commanding expansive views of the entire region.
If you are driving or on a tour, the car park will stop in front of the visitor centre and you can easily walk the rest of the way. There is a cable car that can also take you up but I find walking better as there are a few scenic lookouts along the way.
The walk should only take you 10 to 20 minutes.
COLORED HOUSES – free attraction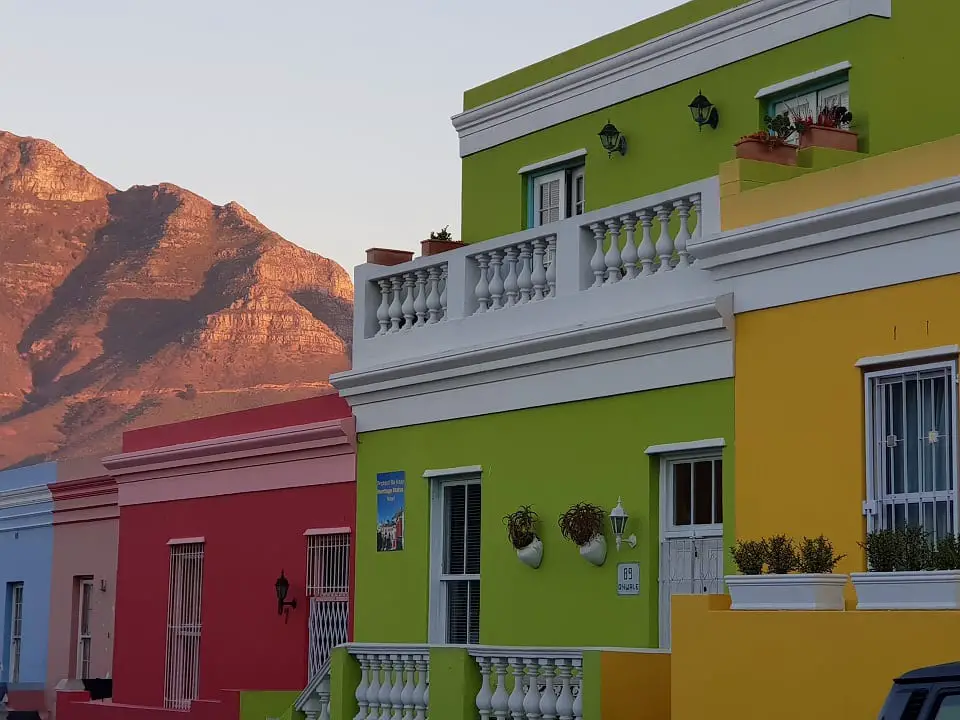 One of the most photographed areas in Cape Town is Bo Kaap.
This distinct and unique neigbourhood has a long history dating back to the 1700's when slaves were sent here by the Dutch.
The slaves were made to wear basic plain attire and paint their houses white. After this all ended they celebrated by painting their houses in the rich colorful tones you see today.
It is located near the city centre at Signal Hill.
LONG STREET-  free attraction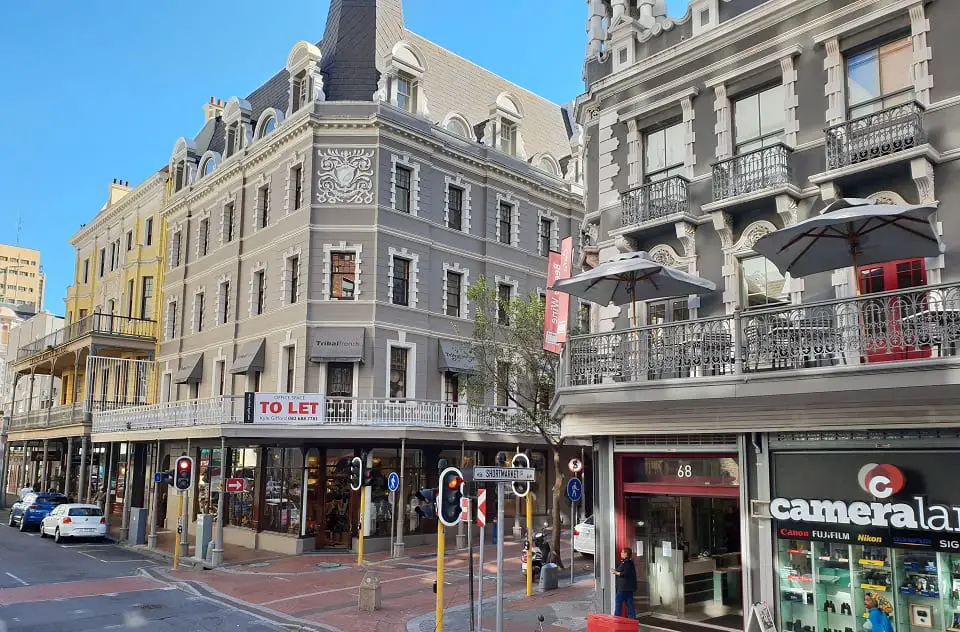 The party capital of Cape Town, Long street comes to life each night after dark .
It is lined with pubs, clubs, restaurants and shops. It is quite cultural so you will find plenty of dining options to suit your taste.
Be aware of a few things :
if walking back to your hotel late at night , especially after a night of drinking make sure you are in a group and not alone. Though you may not encounter any issues there are definitely people who may harass or mug you. Take a taxi to be cautious.

if you are staying in a hotel near by you may encounter late night music. Maybe check the reviews of the hotel, I'm sure people would post such things there.

This part of Cape Town looks a little seedy during the day but is perfectly safe. You will most likely encounter beggars during this time but be sure to keep moving as they tend to follow you for quite the distance.
KIRSTENBOSCH BOTANICAL GARDENS- For a Fee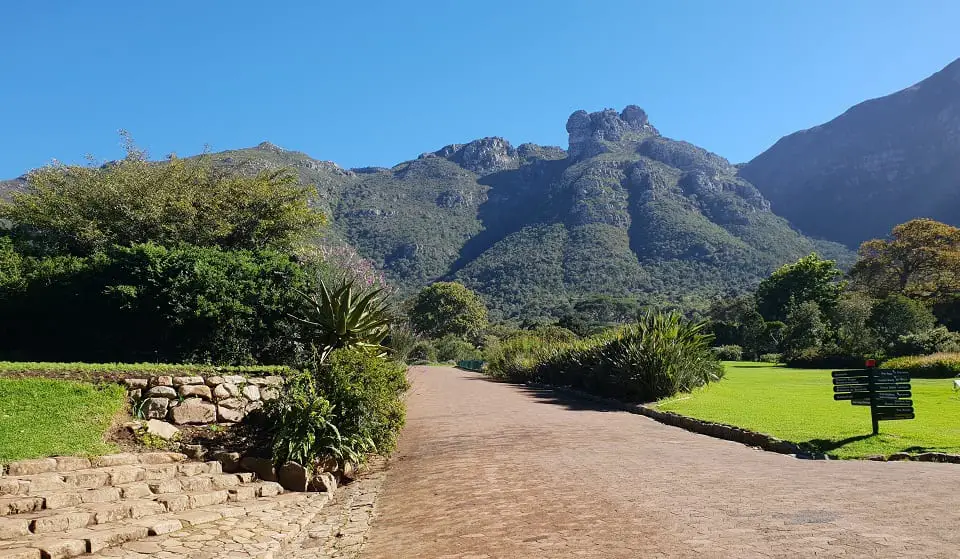 An impressive and pleasant place to visit, the gardens are open from 8 am each and every day.
Wander the paths that at will guide you through a diversity of plant life. With the eastern slopes of Table Mountain in the back ground, it is very picturesque.
There is a bus line that operates every day as well as the hop on hop off line. For more information on entry fees and how to get there click here.
V & A WATERFRONT – free attraction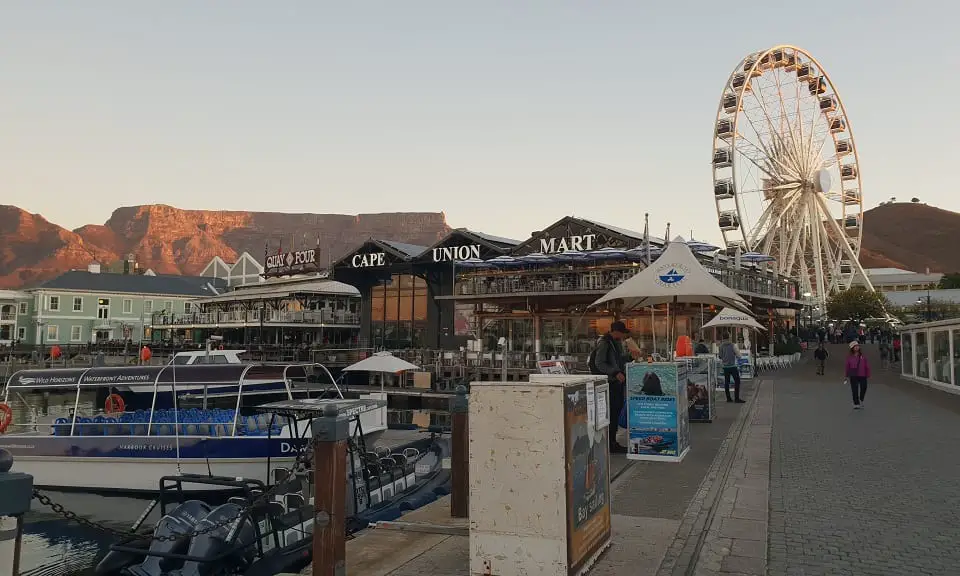 Head on down to Cape Town's trendy waterfront precinct to spend some time browsing the area.
It is very up and coming with a range of restaurants, cafes, hotels,shopping and entertainment options for the whole family.
The food hall is well worth a visit if you can resist walking through. The food stalls throughout are full of delightful delicacies
For fun there is the aquarium or Ferris wheel or just grab a drink and enjoy the surrounds.
It's a great place to visit day or night.
SEAL ISLAND – For a Fee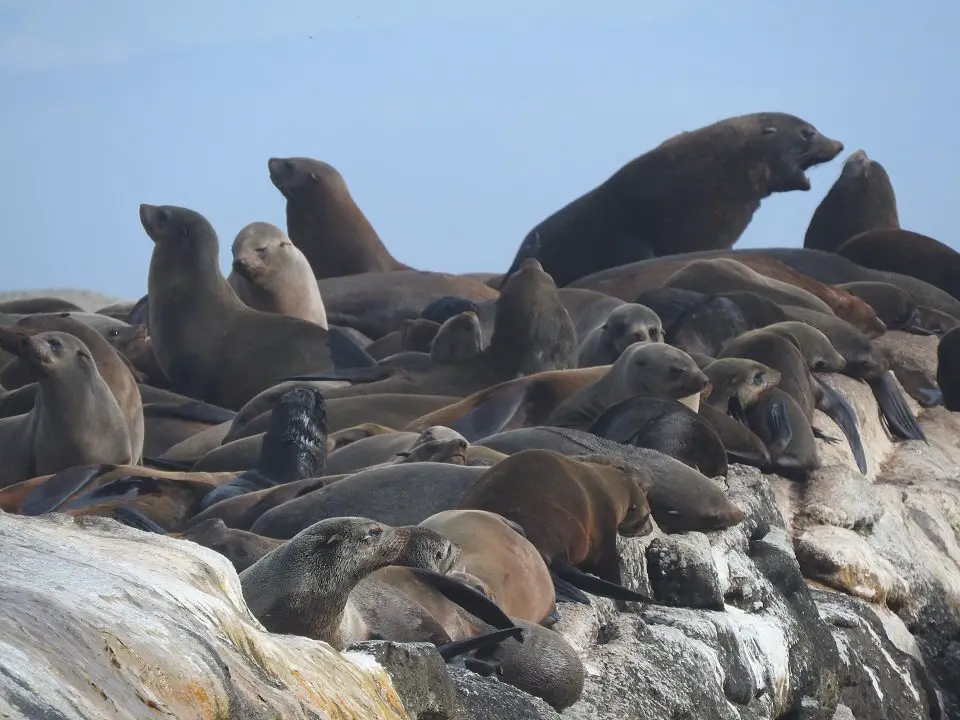 Head on down to Hout Bay to take the 40 minute return cruise out to Seal Island.
Located a few shorts miles from the marina, the island holds a large colony of Cape fur seals, up to 6000.
The boats are large and can take several people but during rough weather the tour will be cancelled.
CAMPS BAY – free attraction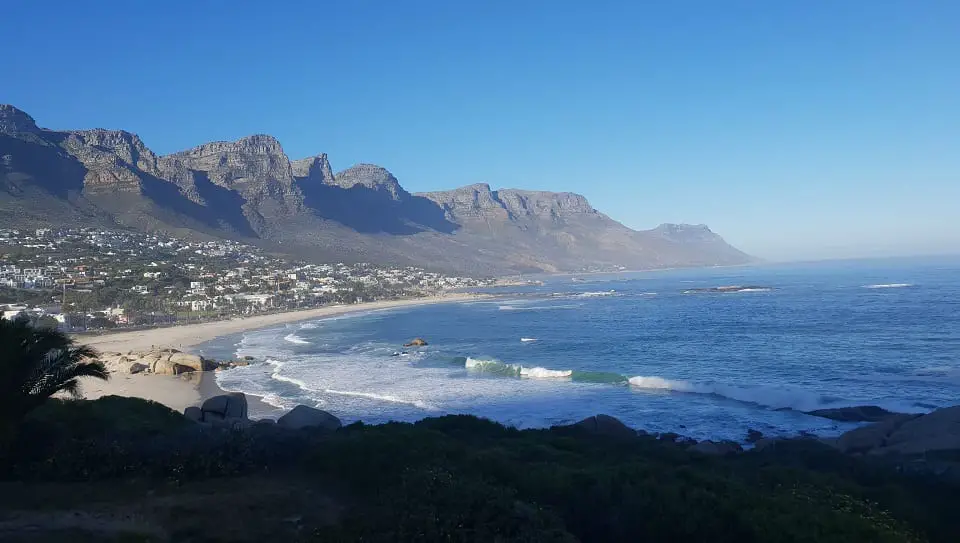 The upmarket suburb of Cape Town is a popular stop for tourists visiting the city.
Stroll along the white sandy beach or have a picnic on the grounds out front. There is plenty to enjoy here on a warm sunny day.
You'll find a range of dining and hotel options.
BOULDERS BEACH PENGUINS – For a Fee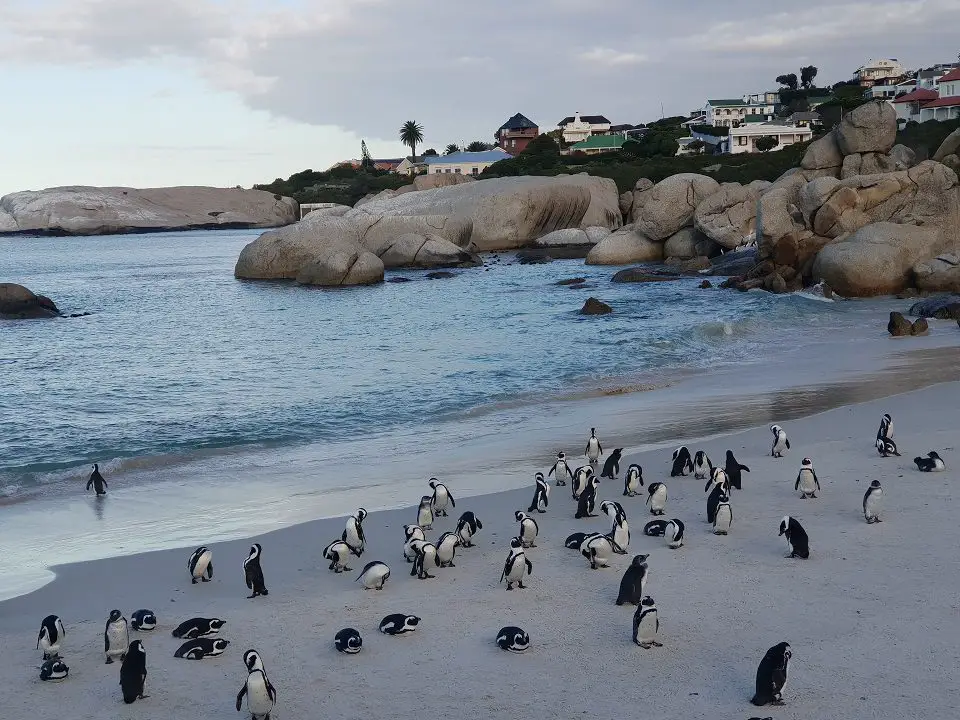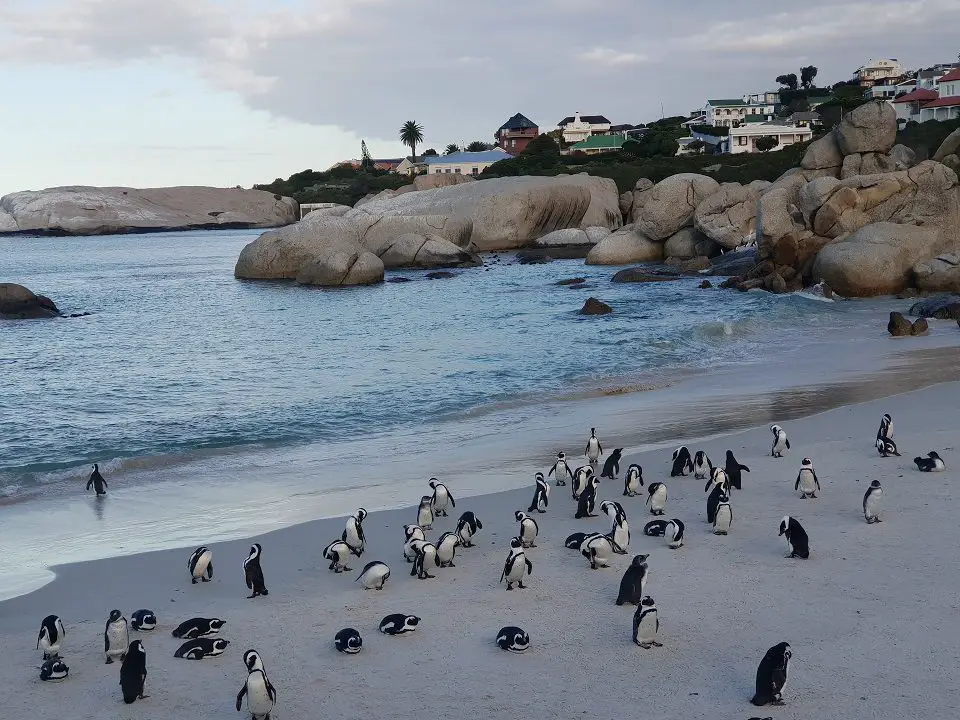 Discover the African penguins at Boulders Beach, Simonstown.
The marine protected area is home to a large colony of penguins. If you are lucky enough to visit during breeding season (March to August) you will find hundreds of nesting birds on the beach.
The boardwalk down to the beach provides a great vantage point for viewing . In fact, you may be surprised just how close you get to the penguins. It also acts as a much needed protected barrier for the colony.
Watch the penguins swimming and comically waddling their way up the sand dunes.
You can either take a half day tour from the city or drive out yourself and pay entry once there. 
GROOT CONSTANTIA  WINERY – fee or free attraction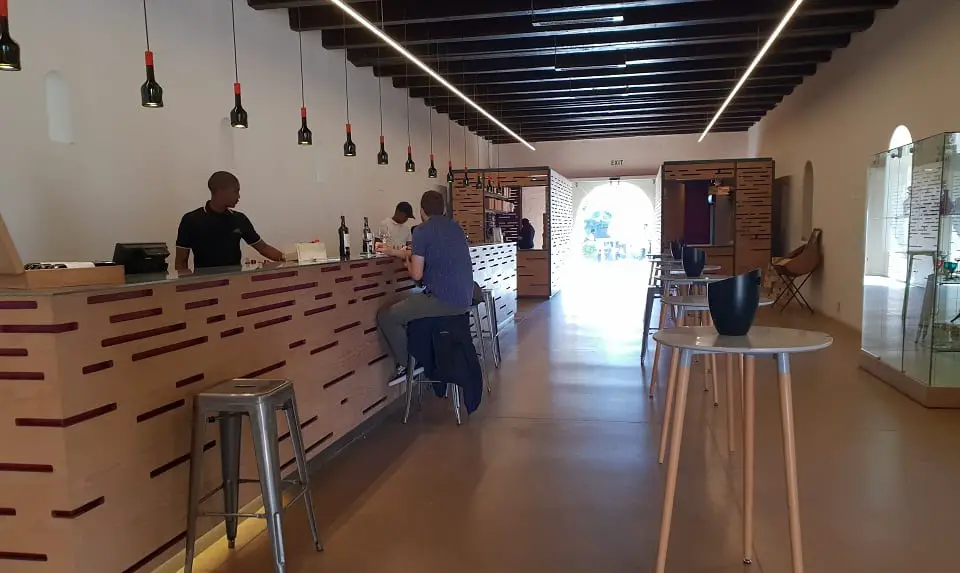 This is the oldest winery estate in South Africa.
Though there is no cost to enter the grounds you do have to pay to sample the wines. You can try up to 5 wines for 90 rand.
Alternately you can include a visit to the museum, cellar tour and chocolate pairing.
There are 3 locations on the estate for wine tasting and a restaurant on the grounds.
Even if you don't want to spend any money you can still enjoy a short visit here.
HOP ON HOP OFF BUS – For a Fee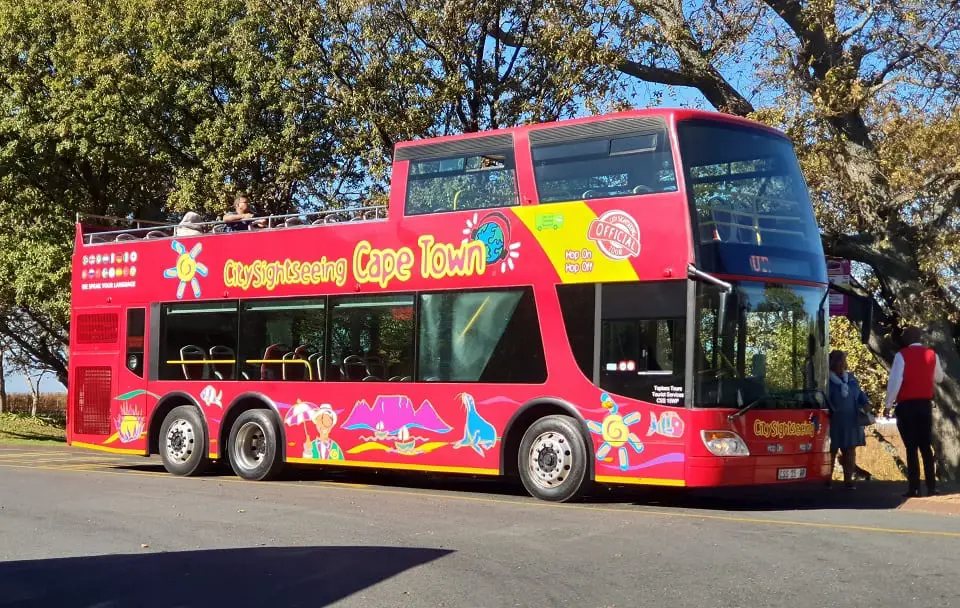 This is truly one hop on hop off tour that is worth it's price. 
The bus runs to many of the top attractions and covers the outer areas of Cape Town such as Camps Bay, Botanical Gardens and the scenic Beach road precinct. 
Price wise, it's quite a bargain. Check it out here. 
---