As an Amazon Associate I earn from qualifying purchases. I get commissions for purchases made through links in this post.
With its incredible wildlife and unique experiences not found in other parks such as flood lit water holes, visiting Etosha National Park promises an unforgettable African experience. Namibia's largest game sanctuary is perfect as part of an organised tour but is also suitable for independent travelers.
So let me show you what you can expect when visiting Etosha in Namibia including what makes it so wonderfully special. From wildlife sightings during the day and night, as well as accommodation and tour options .

Encountering Africa's exquisite wildlife for the first time simply blows one mind. But even for us repeat visitors, the thrill simply never dies.  So the chance at visiting Etosha National Park for the first time was simply a no brainer.
Etosha, Namibia – a unique African treasure
Etosha National Park lies in northern Namibia, covering some 8,598 square miles. It is just over a 4 hour drive from the capital of Windhoek.
The country of Namibia is made up of vast desert landscapes and savannah, attracting an abundance of wildlife including some exclusive animals only found in Namibia. It sits on the western side of Africa facing the Atlantic Ocean and borders the countries of South Africa, Botswana, Angola and Zambia.
Namibia is not a overly populated country, having only 2.5 million residents living mostly in the southern cities and along the coast.
A quick introduction to visiting Etosha National Park
Etosha means 'the great white place"
At over 20,000 square km , Etosha is the second largest game reserve in Namibia.
It is dominated by a massive salt pan which can be seen from outer space but there is still much vegetation which draws the wildlife in.
Unlike other parks where heavy brush and long grasslands can obscure and camouflage animals, Etosha also has vast areas where viewing is much easier.
there are many water holes so just head to one to wait and watch the animals come to you.
There is plenty of accommodation options from camping to lodges and caters to all budgets.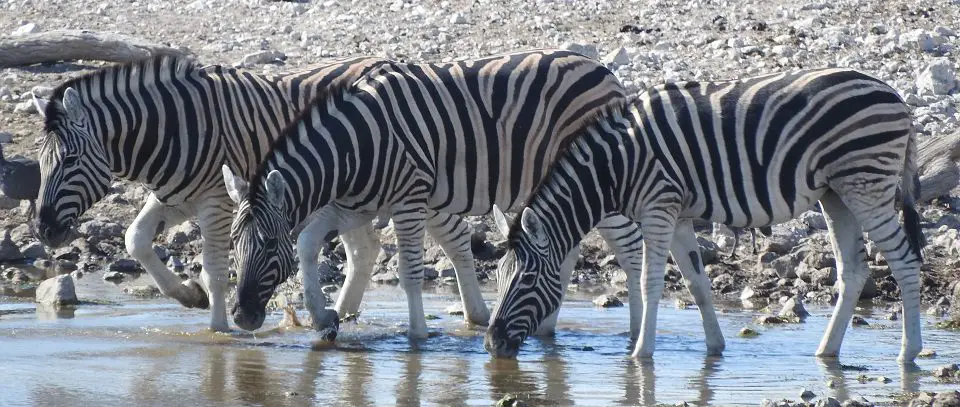 Best time to visit Etosha National Park
Winter – best time to go (May to October)
The dry season which is also the winter season is without doubt the best time of year to go to Etosha.
As animals need water they will all be heading for the water holes which become a hub of activity during this time.
The park will also be much busier so booking your accommodation well ahead of time is necessary.
Summer – (November to April)
The summer season is also the wet season and temperatures can be extremely high during this time.
The good news is, a larger amount of bird life is in the area. Also, the large salt pan becomes a haven for flamingos which cannot be seen in the dry months when the pan is empty and completely dry.
Etosha National Park Accommodation
Staying inside the park is an absolute highlight and we chose to camp while here, but there is also lodging for couples and families too.
The safety behind open fencing means a good night's sleep can be enjoyed  whilst knowing how close to nature you are.
Also, being able to stay out on a game drive all day before heading back to camp makes it all the worthwhile.
There are six camps in total scattered throughout various locations. The 3 main ones include Okaukuejo, Halali & Namutoni.
Read on to see the two camps we stayed at.
Facilities at the main camp grounds
flood lit waterholes for day and night game viewing
fenced grounds
Restaurant and bar
swimming pool
BBQ facilities
fuel
Depending what direction you are coming in from and therefor the gate you enter from, may determine your accommodation choices. There are a range of chalets, standard rooms and even camping available.
For budget travelers – camping starts from around USD $30 per night
For more luxury options – chalets start from around USD $100 per room per night
Click here for all accommodation options for Etosha National Park
Camp ground – Flood lit water holes for night time viewing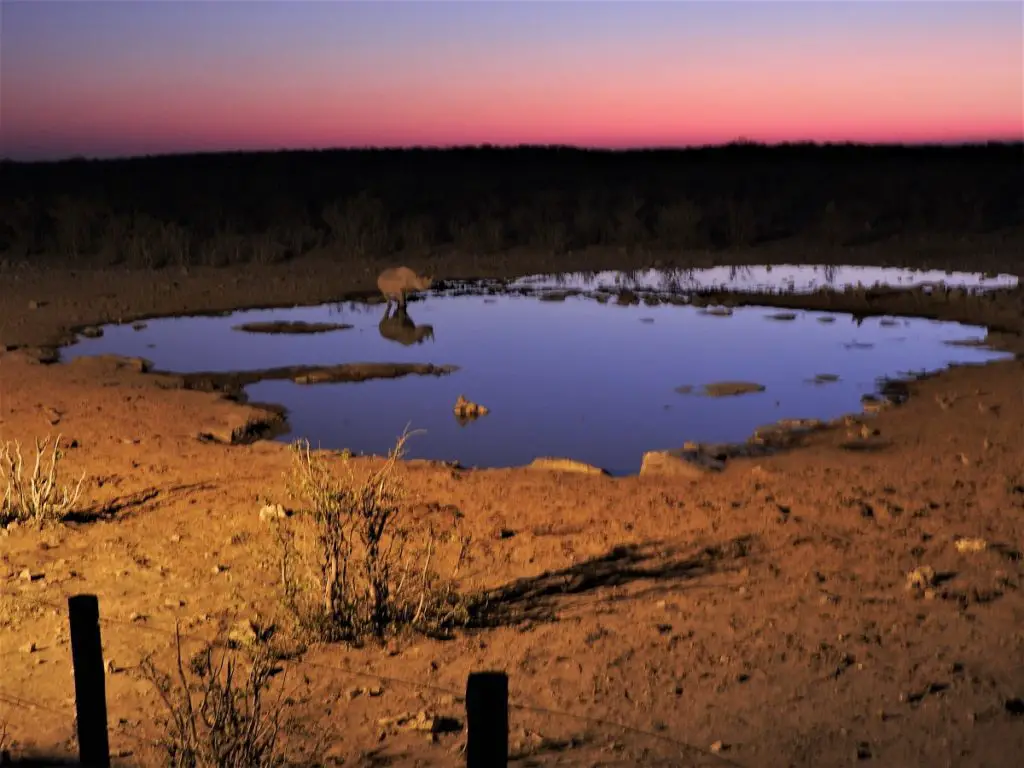 One of the true highlights to staying in Etosha are the water holes that are flood lit at night.
While you can see animals all throughout the day, it is the stillness of the night that really gets the heart pumping, waiting in silence for a hidden figure to appear from the distance.The sounds heard off into the night from creatures such as rhino or hyena are quite incredible.
You are able to safely make your way from your accommodation toward the boundary fence and sit for as long as you like watching herds of animals around the water hole. It is an experience you simply can't imagine without having done it. It is also a photographers dream come true.
I was constantly going back and forth and even went for a walk at 3 am to see what might be at the water hole that time of night.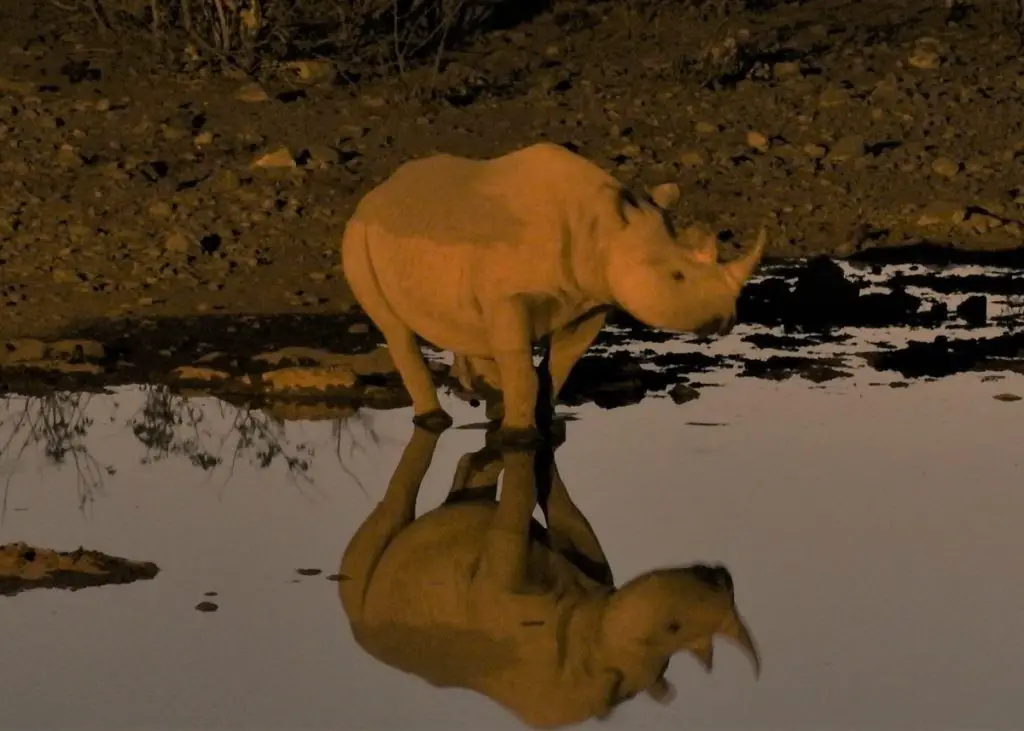 Our camp sites were chosen based on the fact they both had viewable water holes. This gave us the ability to view the animals day and night time while standing out in nature, rather than having to do it from the safety of a vehicle.
Okaukuejo camp has a range of accommodation options from camp sites to chalets. There is a grocery store, petrol station , restaurant, bar and pool.
The water hole was buzzing much of the day and is very open. Animals such as giraffe and elephant could be seen well off in the distance coming in for water.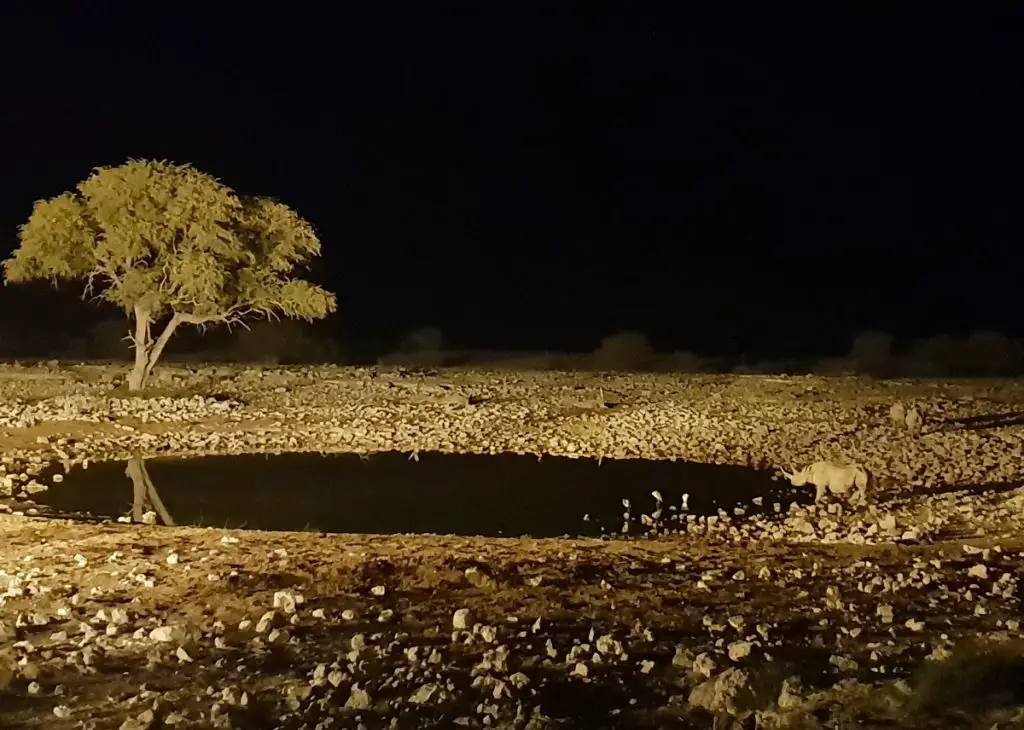 Halali camp is a bit more centrally located within the park and offers camp sites as well as bush chalets and double rooms. It is not quite as fancy as Okaukuejo camp and the walk to the water hole is a couple of hundred metres out but the path is well lit. There is much more bush scrub here so it's a completely different experience.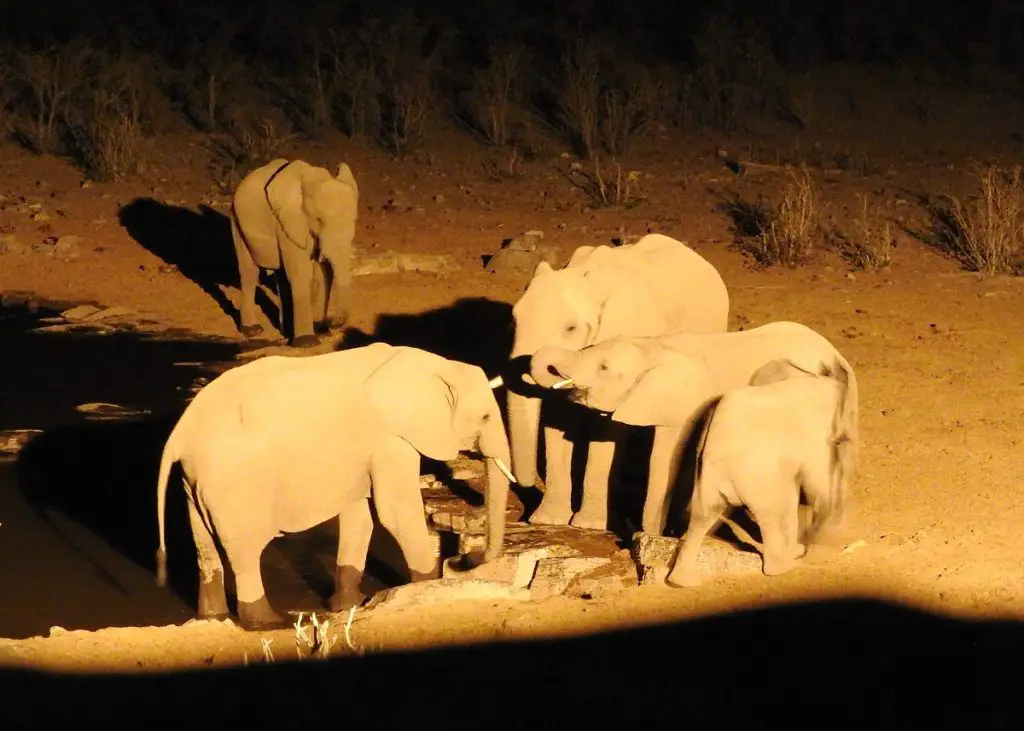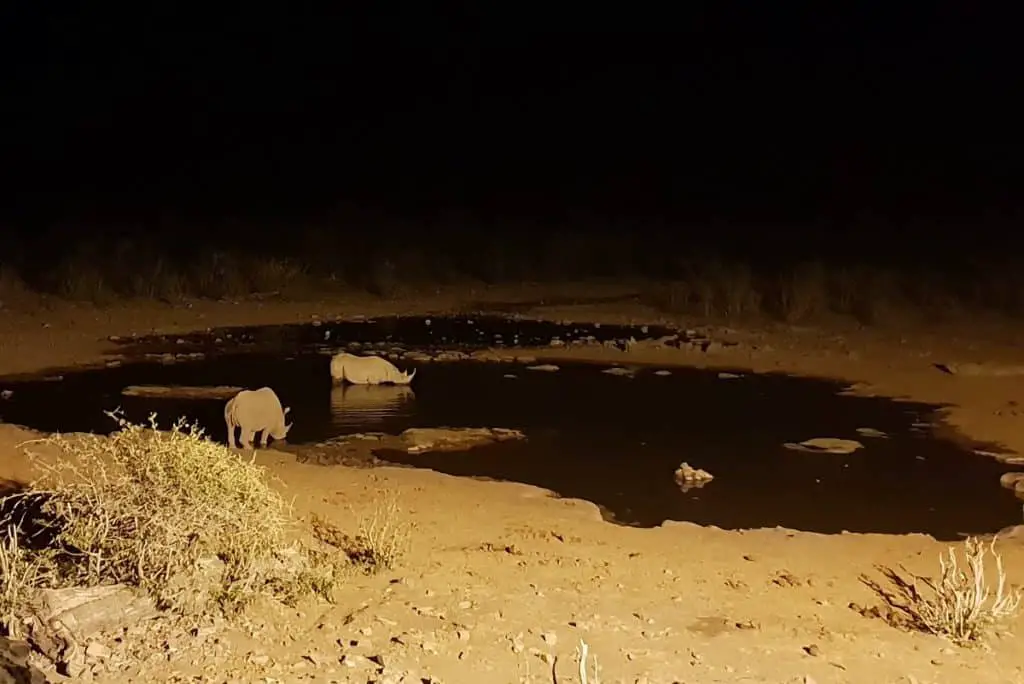 It is important to stay as quiet as possible as animals are already on high alert when they come in to drink.
Taking a guided tour
Interested in a guided tour of Etosha National Park?
It makes sense to want to take a guided tour. Africa is a unique place where the thought of driving your own car might feel like you are out of your depth.
What's safe and what's unsafe, can I get fuel, and what will happen if I get lost or get a flat tire. In most cases, you would be fine, but having a tour guide that takes care of everything is probably a welcome relief too.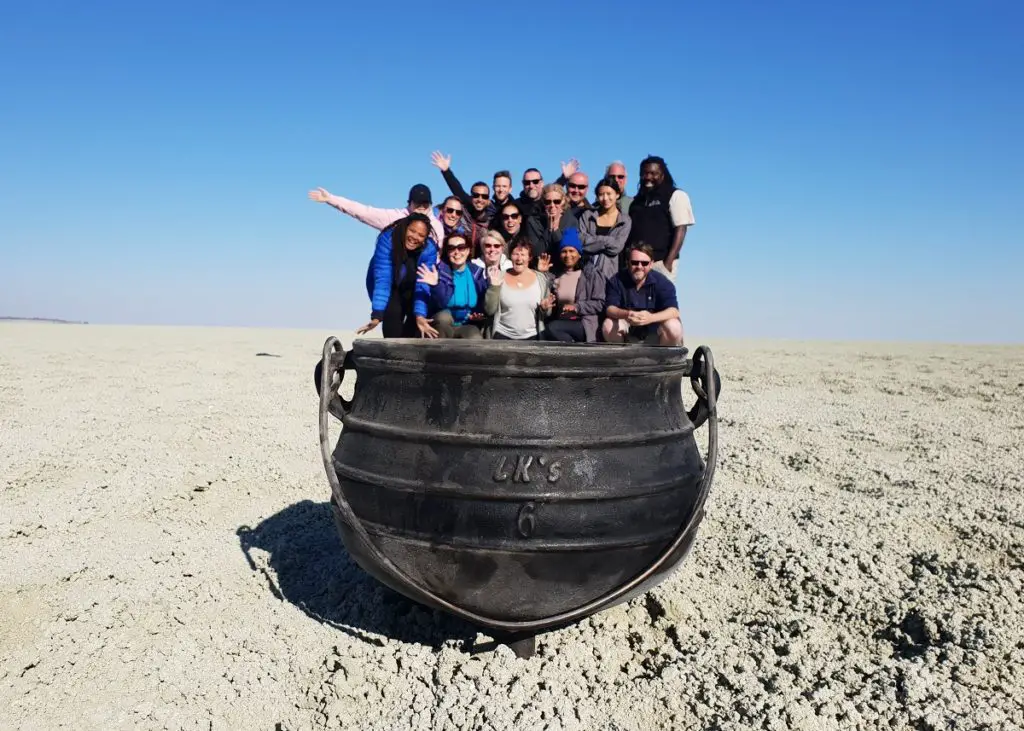 Tours worth checking out
departs from Windhoek
includes game drives / accommodation / meals / transport.
from USD $600
departs from Windheok
includes game drives / tented accommodation / meals / transport
from USD $530
departs from Windhoek
taking in Etosha NP & Sossusvlei highlights
includes game drives / tented accommodation / all meals / transport
from USD $1200
For all tours taking the great sights of Etosha – click here.
Visiting Etosha National Park – Diverse Landscapes
Not having done much research on what to expect on my time within the park, I was pleasantly surprised by how different the landscape compared to places such as the Serengeti in Tanzania or Chobe National Park in Botswana.
Distinctive open grasslands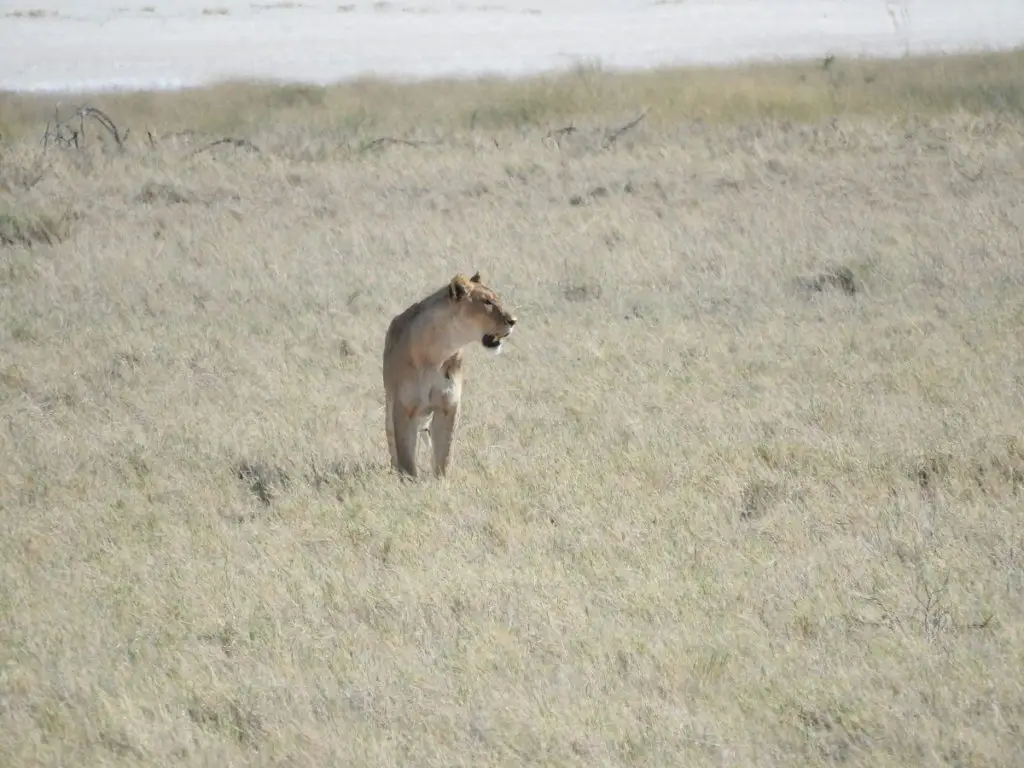 It also features flat and visible terrain, giving one full advantage to seeking out wildlife. For this reason alone, the park is one of the best places to see a large variety of animals, including even the smaller kind that are hard to find such as the jackal and honey badger.
Africa's largest salt pan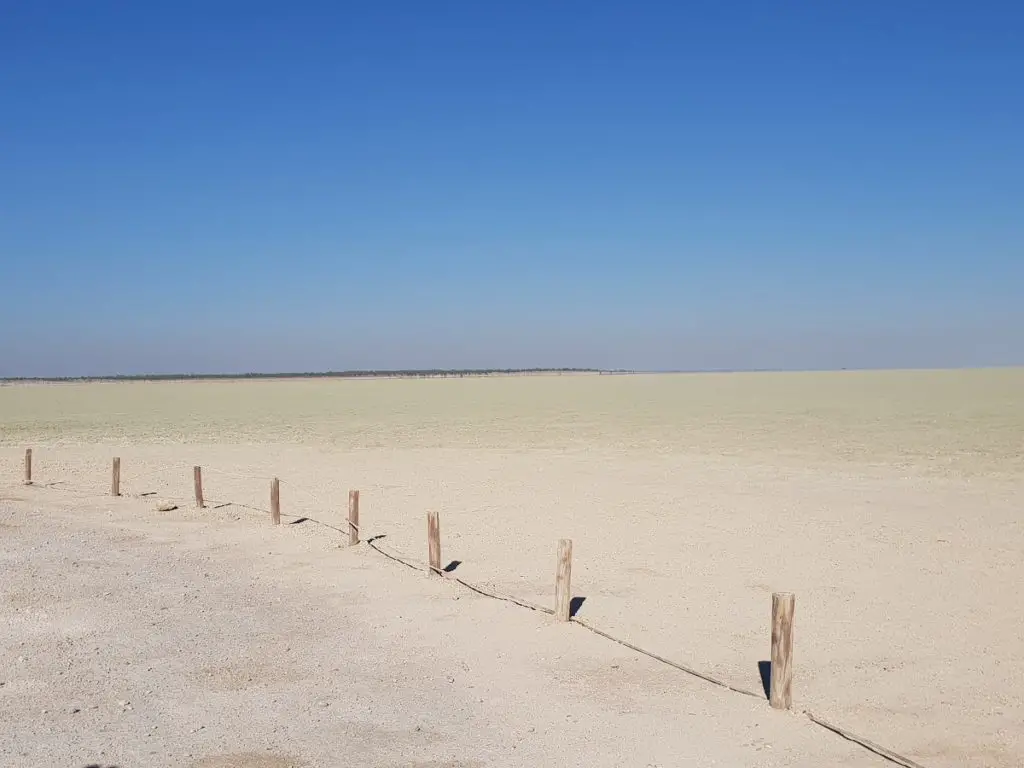 This vast open park is distinctive by it's 130 km long Salt Pan, the largest in all of Africa. It covers a large amount of the park and is a shimmering white crust that certainly requires sun glasses to take in.
This natural mineral pan was supposedly formed over 1 million years ago when a tectonic shift caused the river which supplied the lake it's water to change direction, leaving the current dry lake bed.
In the rainy season when the lake fills up, you can witness thousands of flamingos
Social Water Holes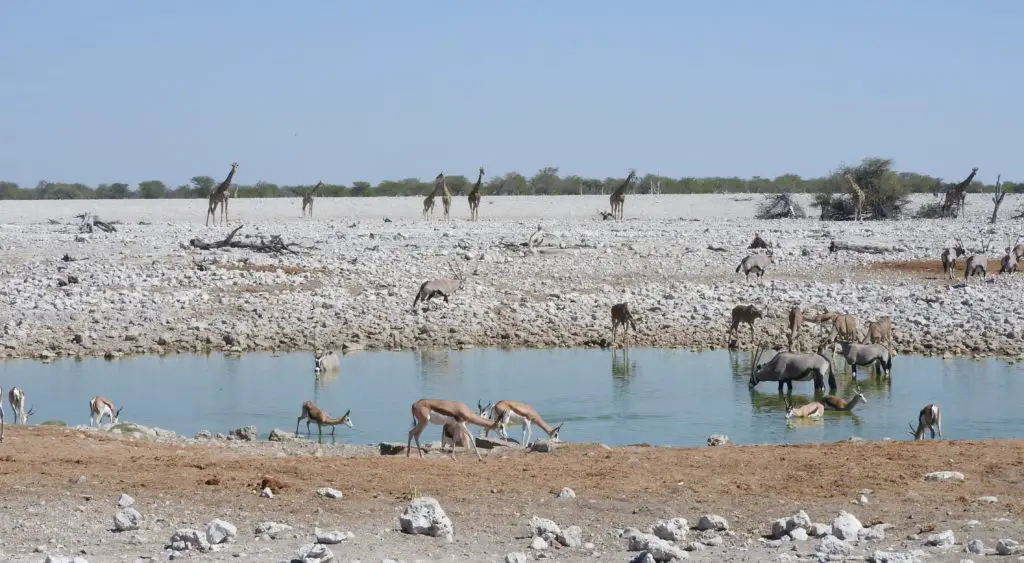 With no river supplying the thousands of animal's much needed water, Etosha National Park is made up of around 40 water holes that are found across the park.
For this reason, you will find many different species of wildlife all congregating together to get their share of water. But of course, it is also a place of predators such as lions seeking a fresh kill, so the more susceptible species tend to come and go fairly quickly.
I found it fascinating to see giraffe approach with caution, with some staying back to keep an obvious eye out while others drank, then changing the guard over before moving off into the distance again.
Thick and shaded vegetation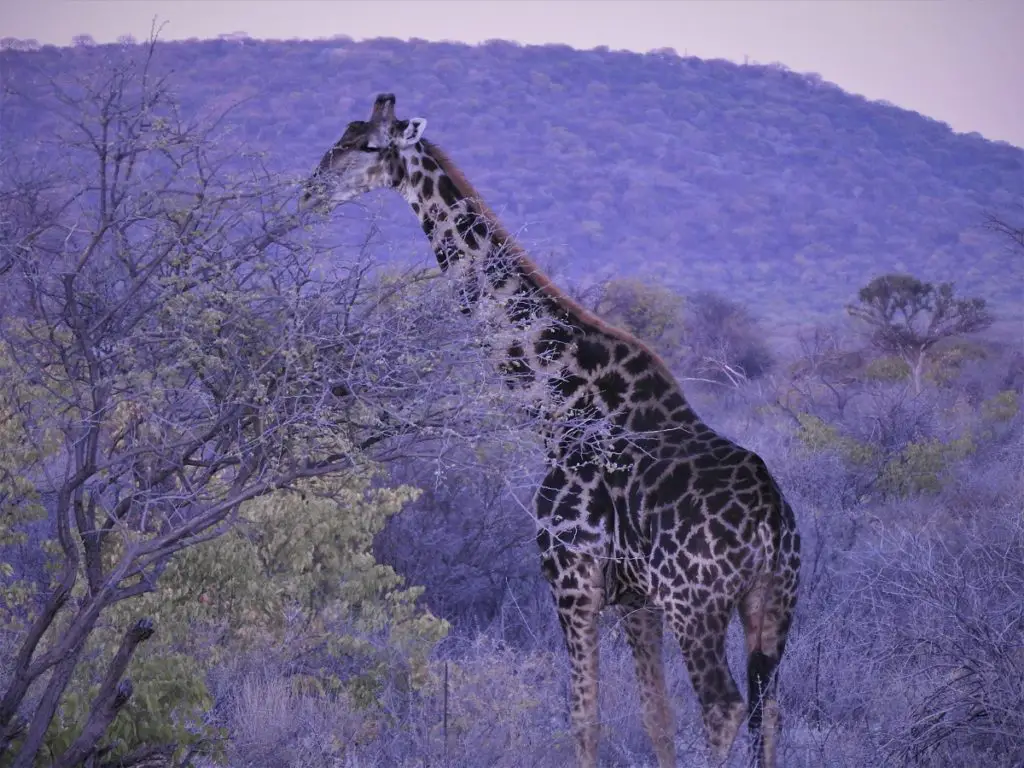 Etosha is not without its dense scrub and trees. Many larger animals such as elephant and giraffe feed in these lusher areas which make for game drives on 'high alert'. And while lions can be easily spotted in the vast open spaces, they also use these shadier areas to hide out and rest, or hunt.
Having such a wide changing landscape makes visiting Etosha National Park a real highlight for many.
Can I see the Big 5 in Etosha NP?
When visiting Etosha National Park, you will be able to see 4 of the Big 5 animals.
While lion, elephant, leopard and rhino are all present, it is only the buffalo that you will not see. Also, though not part of the big 5, there are no hippos here in Etosha.
Etosha is home to an incredible amount of wildlife including;
over 120 species of mammals
around 340 bird species
over 100 reptile species
Entry to the park including fees and opening times
Entry points
There are 4 entry points to the park.
From the south – Anderson's Gate
From the east – Von Lindequist Gate
From the south west – Galton Gate
From the north – King Nehale Lya Mpingana Gate
Entrance Fees
Adults (foreigners) NAD 150 (around USD $10) per person per day
Children under 16 are free
Vehicles under 10 seater are NAD 50 (approx USD $3)
Opening times
The park's opening times change constantly and is based on sunrise and sunset. So be sure to ask at the gate if you are unsure and not staying within the park.
Also, be sure to take some form of identification such as passport or drivers license as park staff combat possible poaching.
Game driving expectations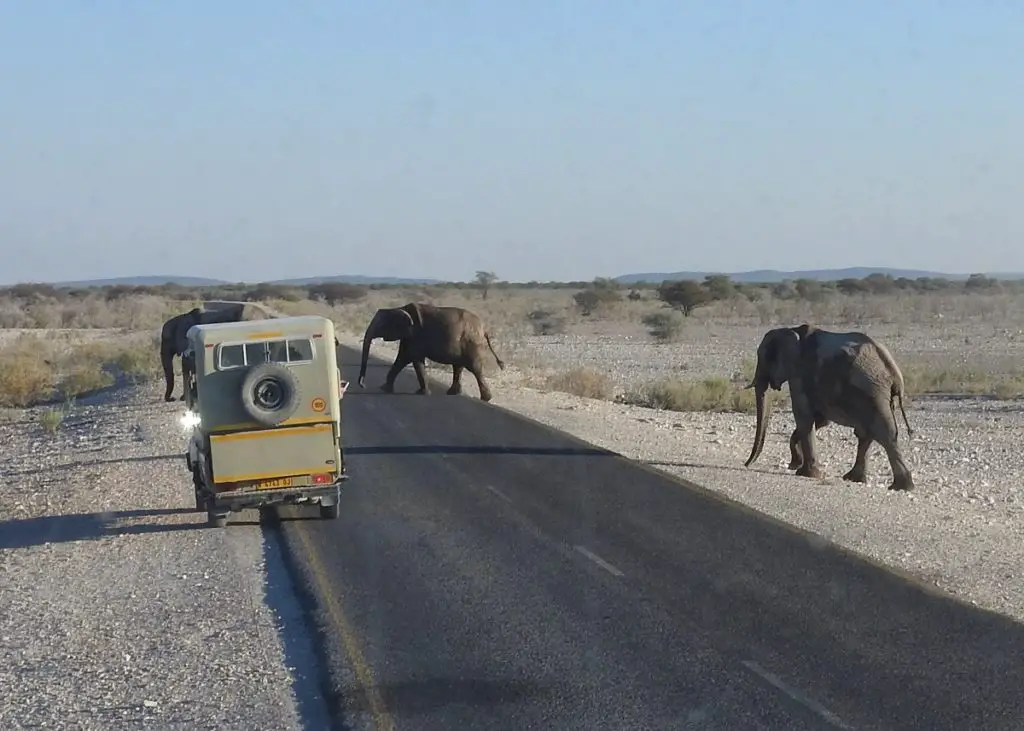 Etosha can be accessed by a regular sedan as the roads are predominately flat and accessible. Not all parks offer this such as Chobe NP which we also visited on the same trip and can only be accessed via an organised jeep safari.
As we were on a four week tour in Africa, starting in Cape Town South Africa and finishing in Victoria Falls Zimbabwe, our overland truck became our game vehicle. We spent two full days searching all corners of the park. Considering there are over 3,500 km of roads here, it is fair to say we only scratched the surface.
The truck had one very good advantage over the cars and the 4 x 4 jeeps. As it sat a lot higher we had a prime advantage of seeing out over the Savannah, and therefor better opportunity to see animals off in the distance.
But whichever way you choose to access the park, you'll be guaranteed a fantastic experience.
Certainly, for those going it independently, by no means are you allowed to exit your vehicle in most parts of the park. Though there are some enclosed rest room areas where you can exit your vehicle and also if you do make a stop at the salt pan you will be able to get out and stretch the legs.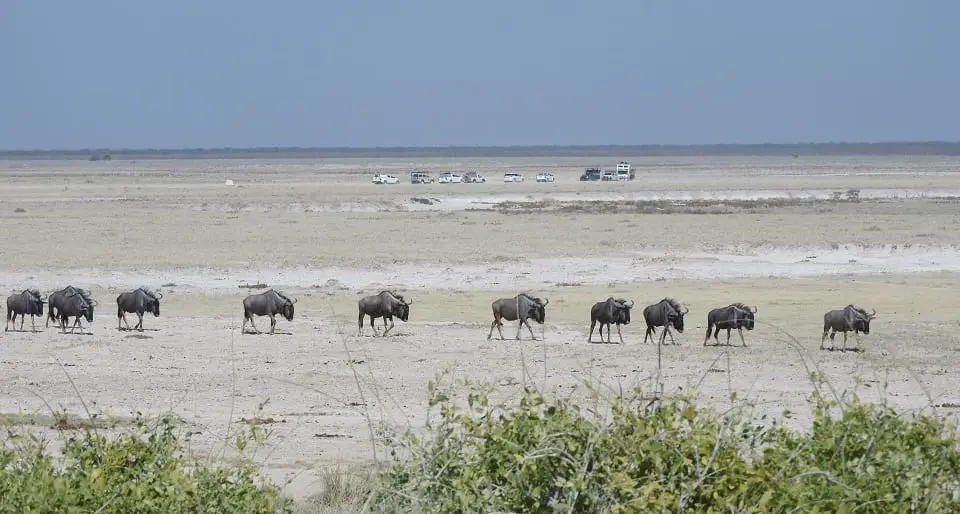 What animals can you expect to see in Etosha?
The wildlife in Etosha is simply impressive. You can be sure that you will see a varied amount of animals and bird life.
Elephant encounters
Did you know the elephants of Etosha National Park are the largest in all of Africa?
The majestic elephant population is over 2500 thanks to the ongoing conservation being provided here.
I have to say that during this particular trip to Africa I saw more elephants than I had in the Eastern African countries of Kenya and Tanzania. They completely fascinated me and Etosha provided some of the best encounters.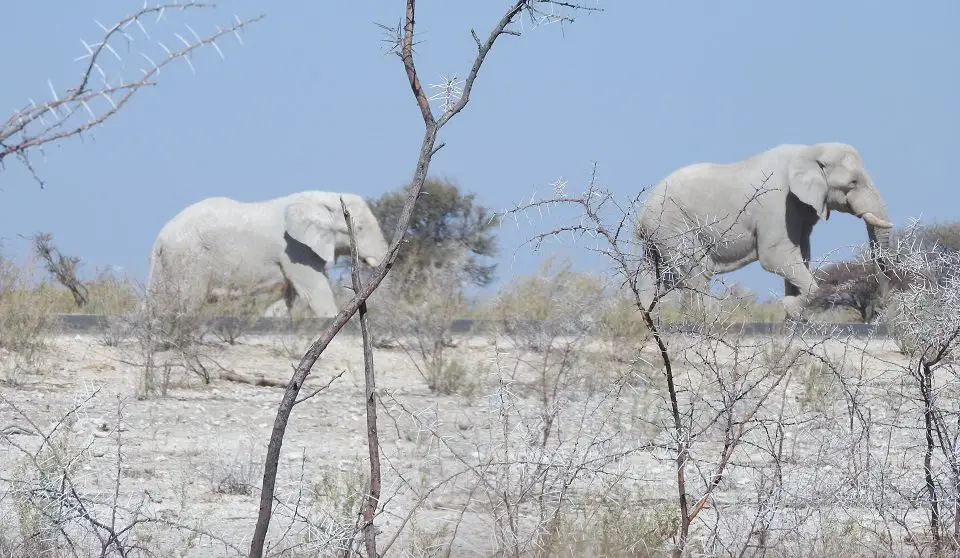 Elephant antics from our tour
Watching two bull (male) elephants slowly making their way to a nearby water hole was quite incredible. The trees they passed completely dwarfed their towering bodies. I had never seen elephants this incredible size in any other game park.
During another encounter we were making our way into our fenced camping enclosure for the night when a herd of some 30 or more elephants came trudging across the dry plains. The herd comprised of bull (male), cow (female) and calf (baby) elephant. I watched in delight as the babies rolled and played in the dusty ground. They were unfazed by the herd trying to keep them moving. We gave them right of way as they crossed the road in front of us and moved off into the distance. It was a moment I will never forget.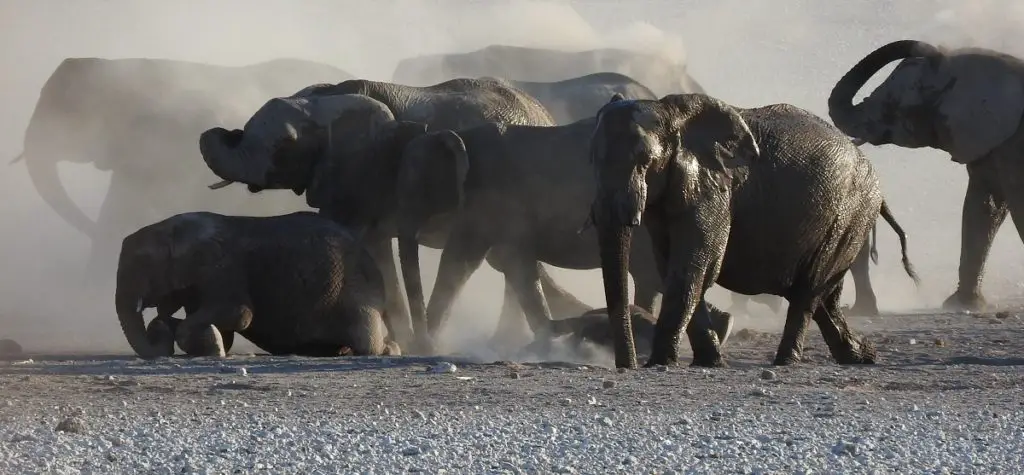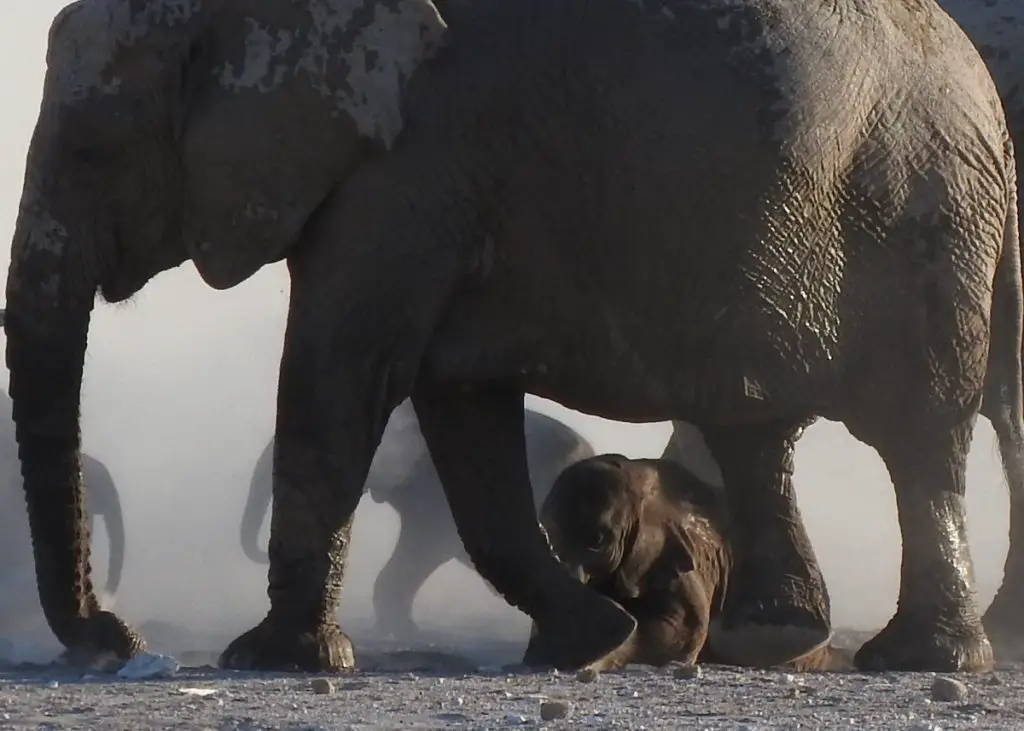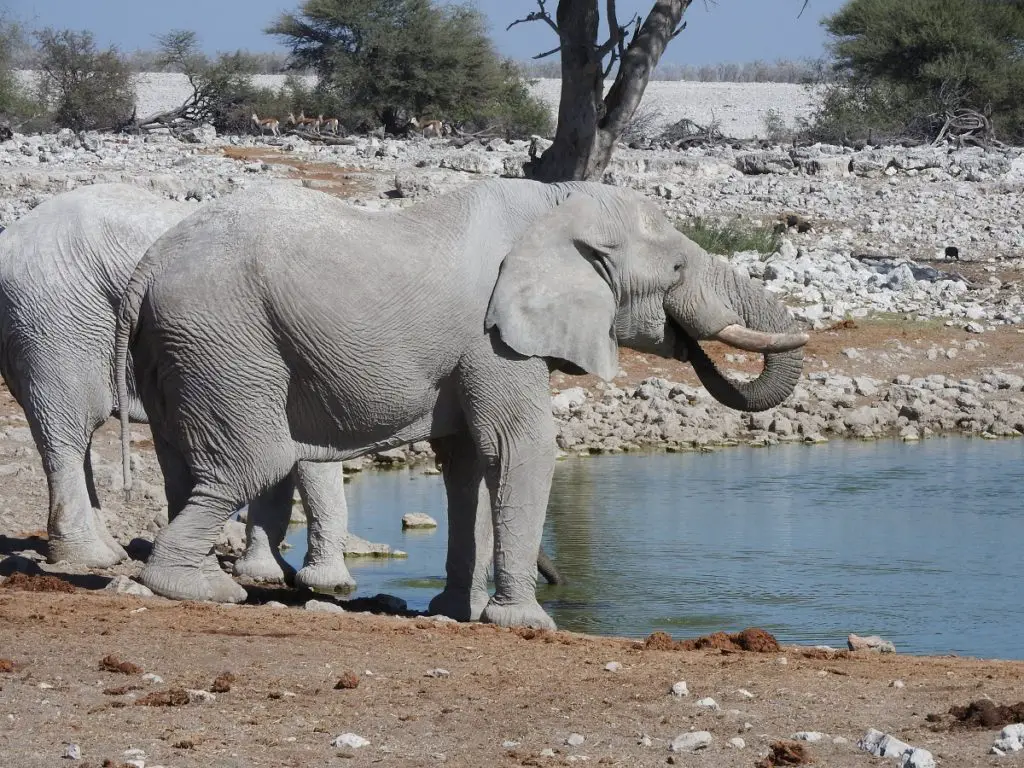 The intimidating black rhino
Etosha has a healthy black rhino population that makes it's home here. Chances that you will see them are very high.
Their huge muscular bodies and iron like cladding certainly make them look very intimidating. And when they grunt and run toward your vehicle, its time to move.
Rhino sighting from our tour
Though we saw quite a few rhinos during our daily game drives, it was a nightly waterhole incident that really showed how dangerous and fierce they can be.
We had headed down to one of the water holes that that was dimly lit up at night, safe behind our fenced enclosure and high enough to view without any obstructions.
After some time watching a lonely hyena case the perimeter, a rhino made it's way to the water's edge, much to the delight of quiet onlookers. He appeared restless and the low growling sounds we could hear coming from a distance alerted him as well as us, that he was not alone.
It was then another rhino appeared, and they went into a stand off with each other over several minutes. Suddenly the unwelcome visitor launched himself into attack mode while my heart went into overdrive. Luckily for the other rhino he decided it wasn't worth the fight and quickly retreated back into the bush, leaving the intruder to pick a fight elsewhere.
There is certainly no doubt in my mind I could not have witnessed this unlikely chance anywhere else during my trip. Etosha was certainly living up to it's incredible reputation.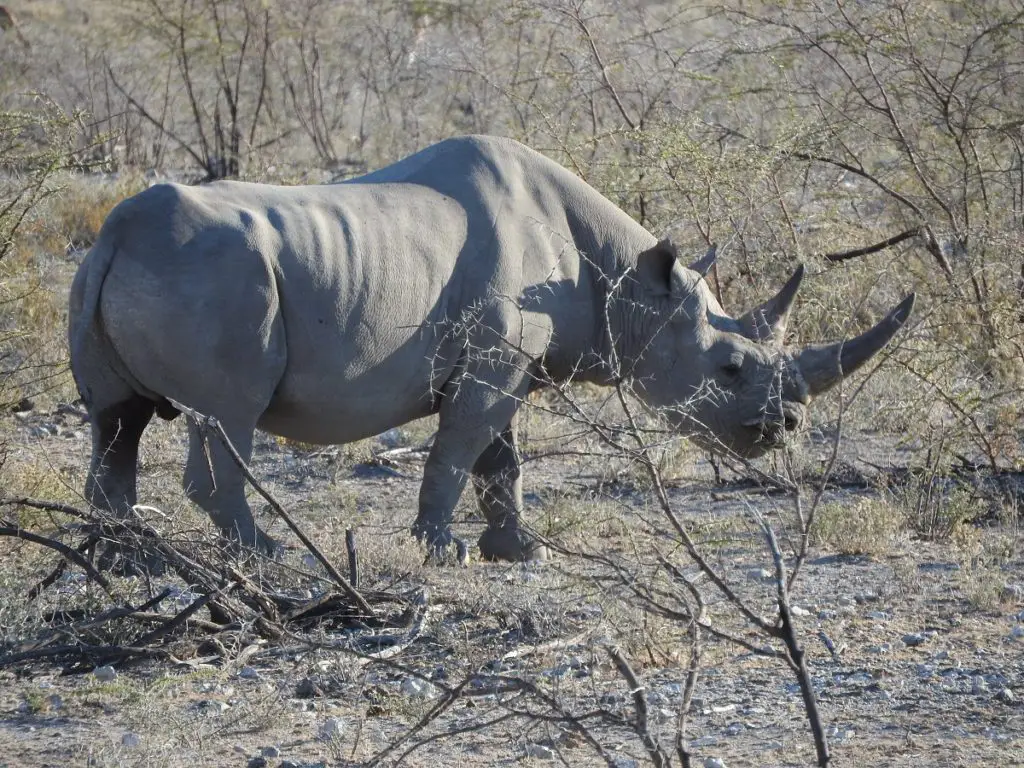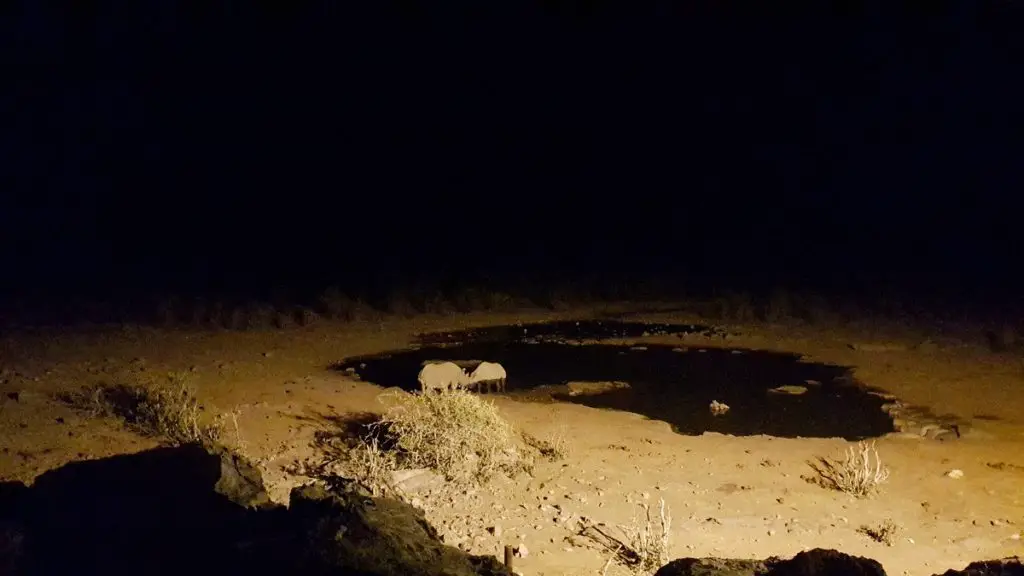 Lion sightings
Etosha National Park has a healthy population of around 750 lions roaming all corners of the park.
You should be able to easily see them, particularly across the open plains. During the warmer months they tend to laze during daylight hours and then hunt at night. They are often seen in their prides resting in the grass or under a shady bush.
If you happen to see a lot of vehicles all parked in the one place, chances are there is a pride nearby.
Our family focused lion encounter
It was during my first trip to Africa I saw a lion take down a zebra. This was the first time the guide had seen this in 11 years he said. That was in Ngorongoro crater, Tanzania. So seeing a live hunt and kill is something not everyone gets to see when in Africa. (nor may they want to)
Instead during this trip we observed a couple of prides in resting mode while the young cubs played happily nearby. We also witnessed the mating between two lions. While males in the wild may only mate once every one to two years, once they enter this phase they will continue to mate every 20 to 30 minutes and this can then last up to 4 days.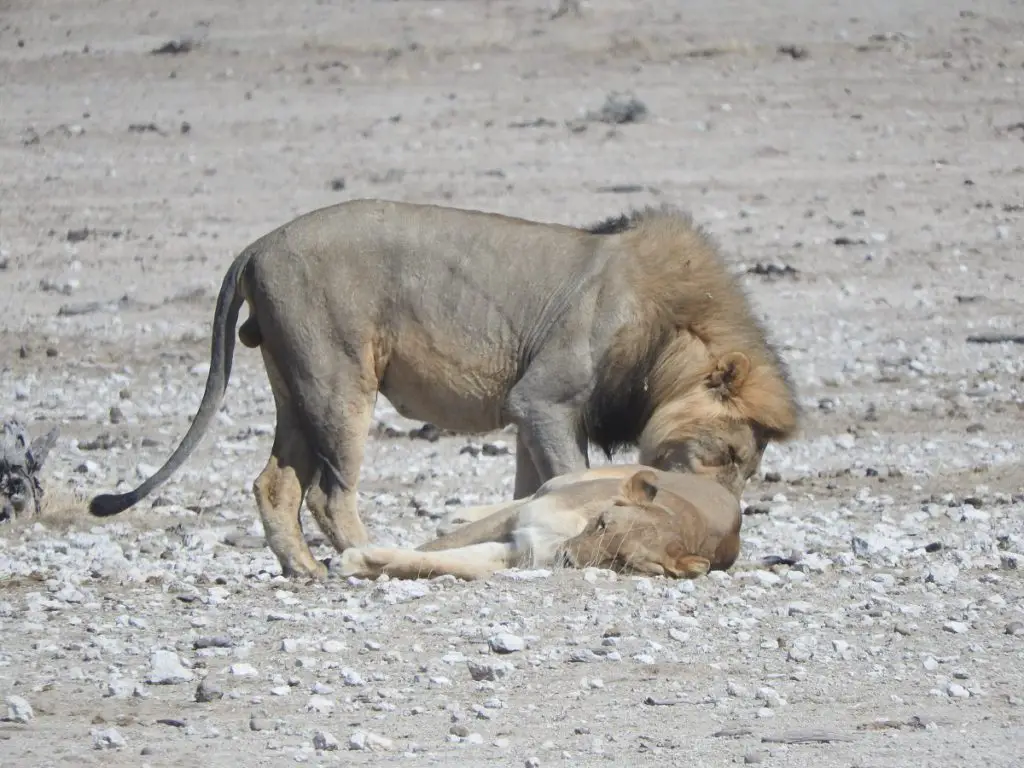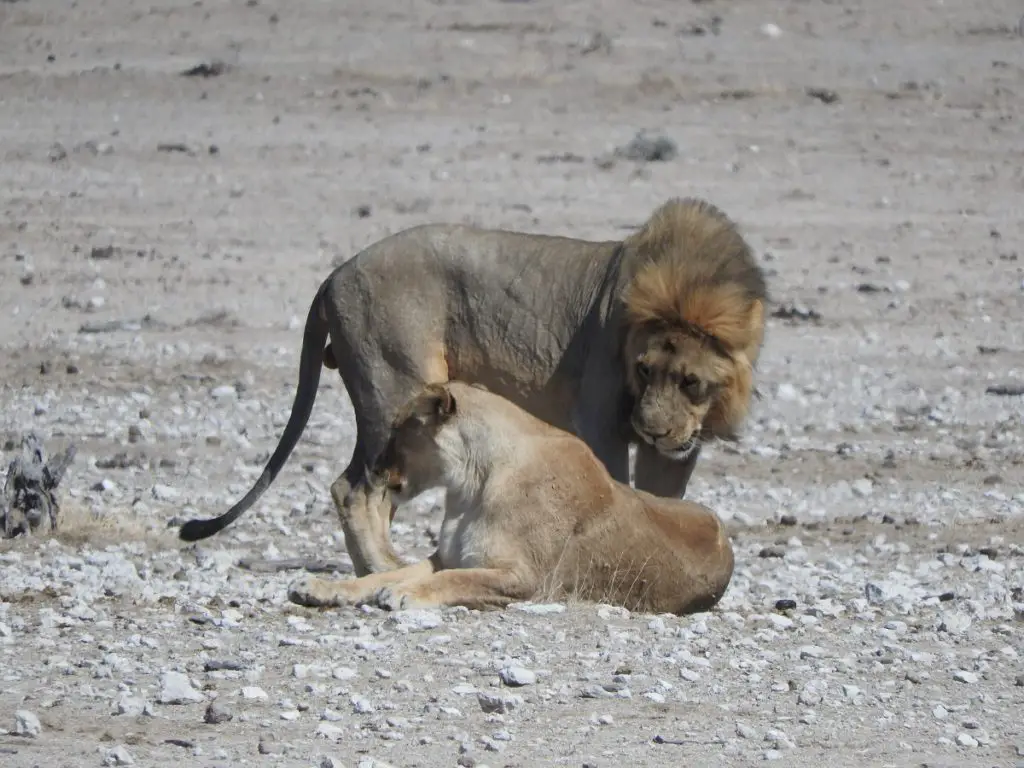 Other wildlife
Springbok, zebra, impala, oryx, kudu and wilderbeest can be seen all throughout, especially at the various waterholes. They all gather in harmony to drink water while staying alert to predators.
Other sightings can include cheetah, leopard, giraffe, honey badger, blesbok, jackel and hyena.
Did you know – the oryx is a dessert dweller and can go for many days without water
With so many different species here, there is always something exciting to spot. Plus you will be treated to some incredible photo opportunities just like these pictures I took below.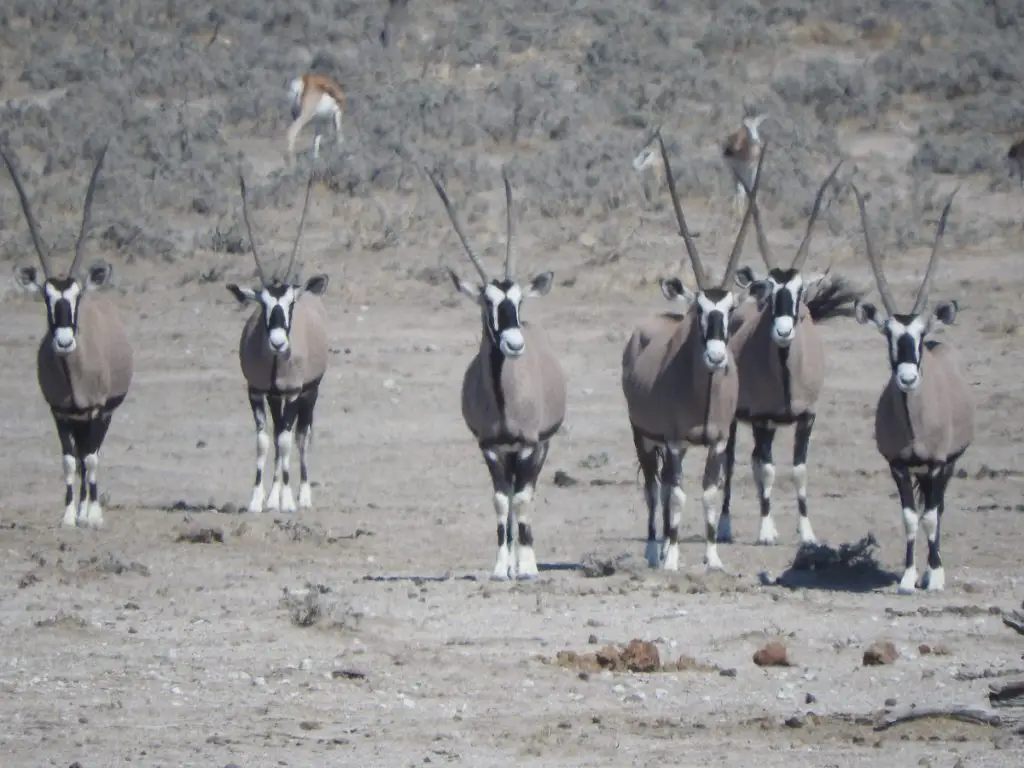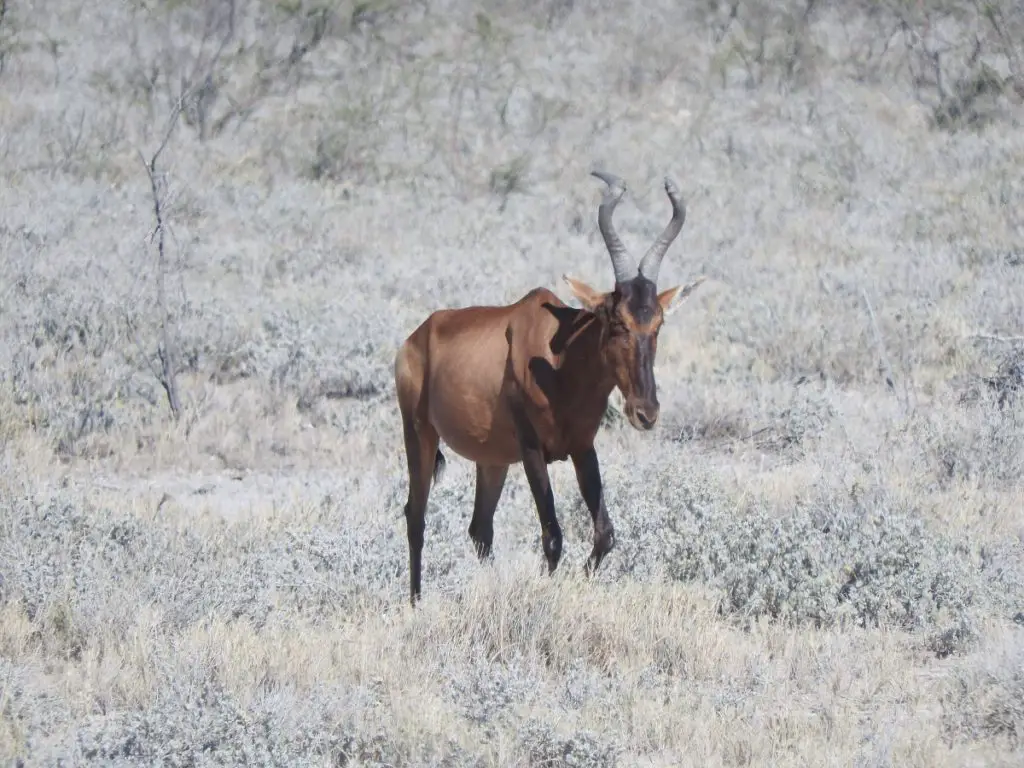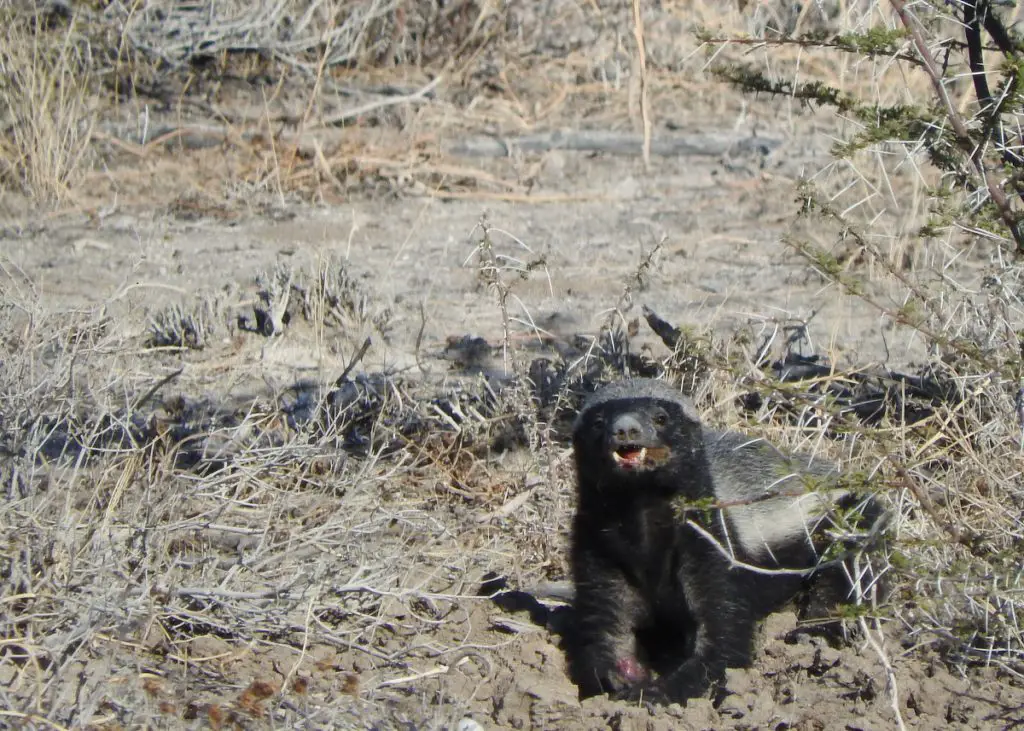 Incredible bird life
Etosha has well over 340 species of birds, with a third of those being migratory.
As mentioned, if you visit Etosha National park during the wet summer season, you will be able to see flamingos at the salt pan, which is truly a highlight.
As for other bird life, Etosha is home to species such as horn bills, eagles and my favourite, the lilac breasted roller.
You can also see ostriches here throughout the park.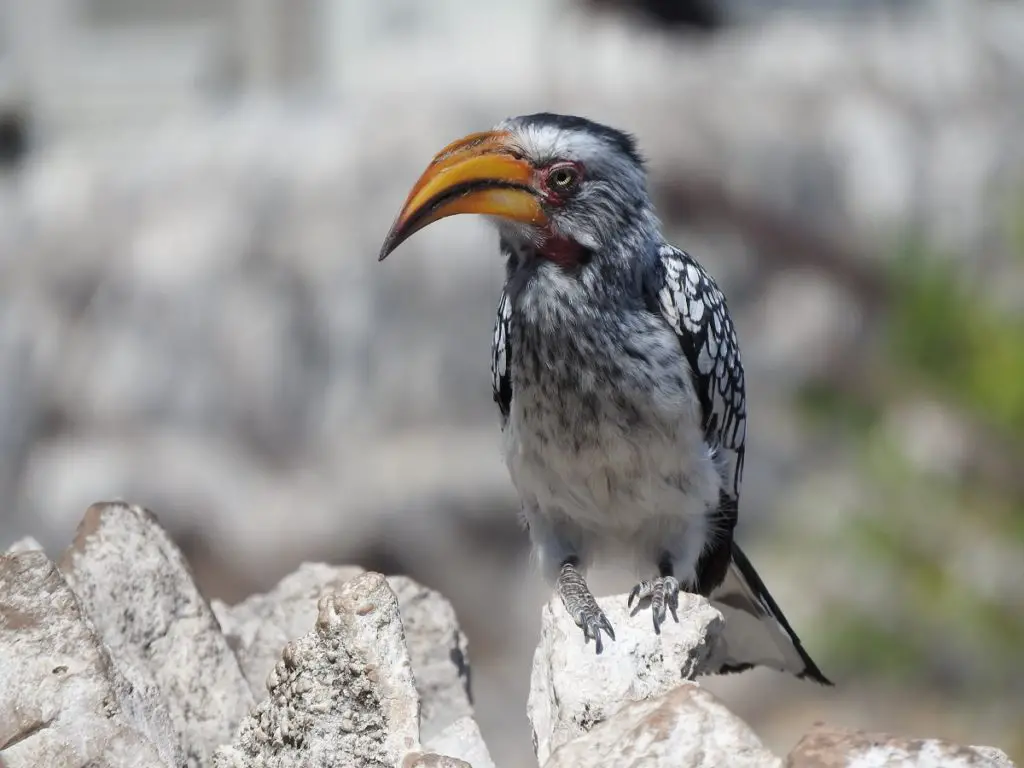 Conclusion to visiting Etosha NP
If I could have stayed a full week here I would have. I had an incredible three days and saw so many wonderful things. The animals were of course the highlight but I was even captured by the beautiful bird life. There were so many animal encounters.
Don't forget the following:
All visitors much show proof of identification due to poaching incidents.
Park gate opening and closing times are based on sunrise and sunset.
Accommodation should be booked well in advance during the dry season of May to October.
---