As an Amazon Associate I earn from qualifying purchases. I get commissions for purchases made through links in this post.
Encountering Africa's exquisite wildlife for the first time simply blows one mind. But even for us repeat visitors, the thrill never dies.  Etosha National park in Namibia is simply stunning in every possible way.

At over 20,000 square km , Etosha is the second largest game reserve in Namibia.
It is dominated by a massive salt pan which can be seen from outer space but there is still much vegetation which draws the wildlife in.
Unlike other parks where heavy brush and long grasslands can obscure and camouflage animals, Etosha also has vast areas where viewing is much easier.
there are many water holes so just head to one and wait and watch the animals come to you.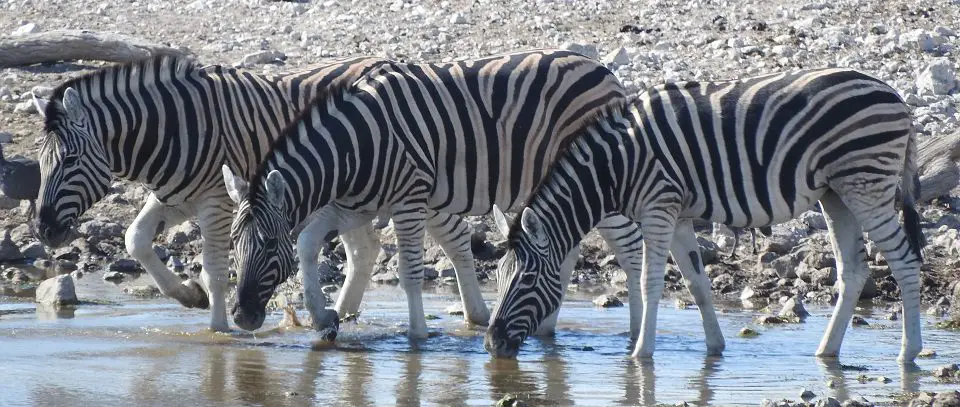 Game drive Etosha National Park
Etosha can be accessed by a regular sedan as the roads are predominately flat and accessible. Not all parks offer this such as Chobe NP which we also visited on the same trip.
As we were on tour with Nomad Adventures our overland truck became our game vehicle. We spent the entire day searching all corners of the park. The truck had one very good advantage over the cars and the 4 x 4 jeeps. It sits a lot higher and therefor has a better opportunity to see animals off in the distance.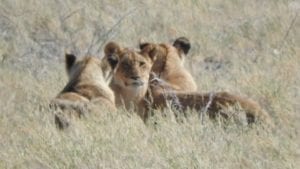 Whichever way you choose to access the park, you'll be guaranteed a fantastic experience.
By no means are you allowed to exit your vehicle. There are some enclosed rest room areas where you can enter safely. Also if you do make a stop at the salt pan you will be able to get out and stretch the legs.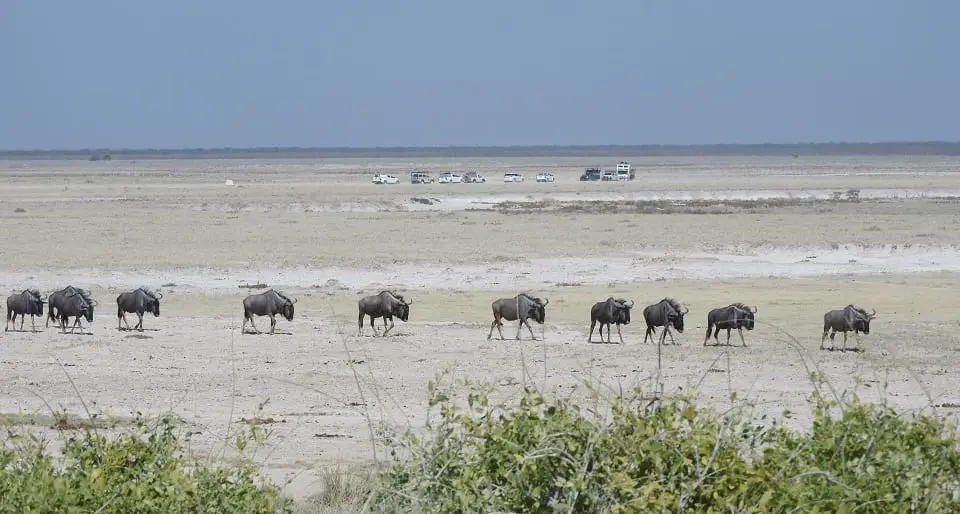 Animal sightings
Etosha National park is home to 4 of the "Big 5." The buffalo is the only animal not found here.
It has quite a large elephant and lion population but it is also the black rhino that makes it's home here. Chances that you will see them are very high.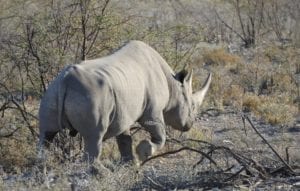 Springbok, zebra, impala, oryx, kudu and wilderbeest can be seen all throughout, especially at the various waterholes. Other sightings can include cheetah, leopard, giraffe, honey badger, blesbok, jackel and hyena.
With over 100 animal species here and more than 300 different birds, there is always something exciting to spot.
Staying inside the park
Camping inside the park is an absolute highlight. The safety behind open fencing means a good night's sleep can be enjoyed  whilst knowing how close to nature you are.
Being able to stay out on a game drive all day before heading back to camp makes it all the worthwhile.There are six camps in total scattered throughout various locations.
We stayed at two separate camp sites which both had water holes just outside the fenced zones. This gave us the ability to view the animals day and night time.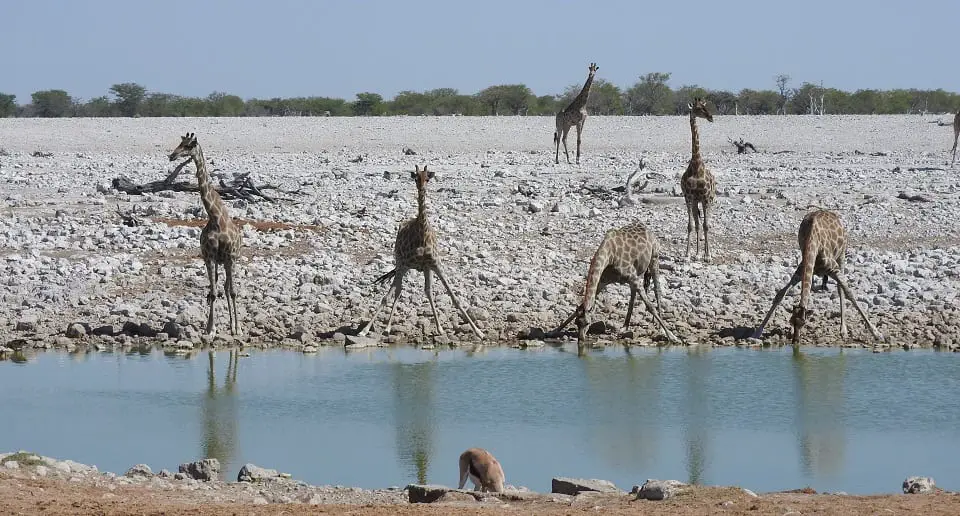 Flood lit water holes 
The greatest advantage to staying within the park is the water holes that are flood lit at night.
As the light fades at the end of the day, visitors make their way toward the outer fenced area to view wildlife coming in.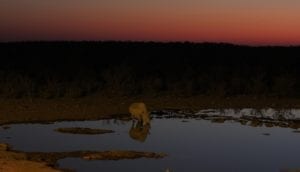 While you can see animals all throughout the day, it is the stillness of the night that really gets the heart pumping, waiting in silence for a hidden figure to appear from the distance.The sounds heard off into the night from creatures such as rhino or hyena are quite incredible.
It is important to stay as quiet as possible as animals are already on high alert as they come in to drink.
Did you know: the park is malaria free.
All visitors much show proof of identification due to poaching incidents.
Park gate opening and closing times are based on sunrise and sunset.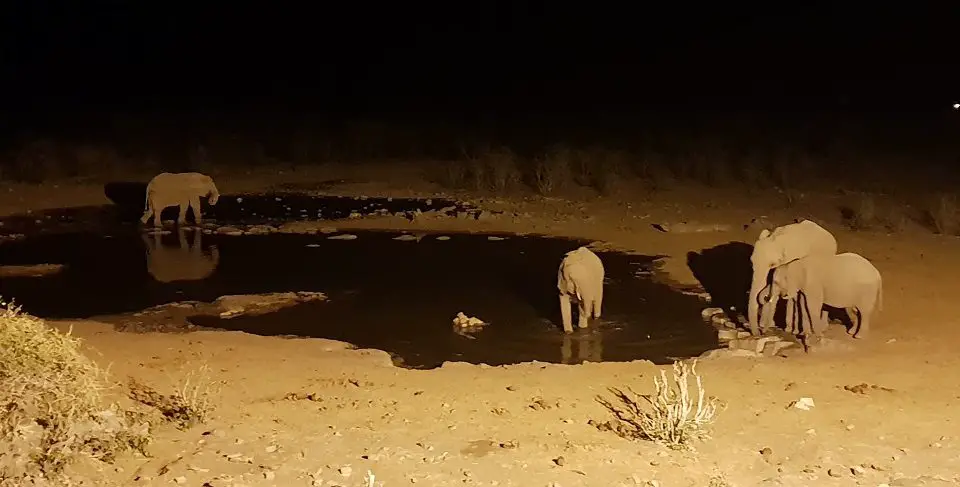 Etosha – meaning the "great white place." 
If I could have stayed a full week I would have. I had an incredible two days and saw so many wonderful things. The animals were of course the highlight but I was even captured by the beautiful bird life. There were so many animal encounters.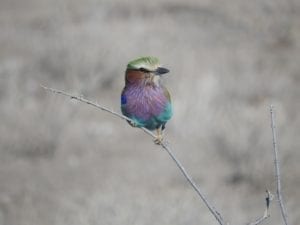 I can highly recommend either of the two camps we stayed in.
Okaukuejo camp has a range of accommodation options from camp sites to chalets. There is a grocery store, petrol station , restaurant, bar and pool.
Halali camp is a bit more centrally located within the park and offers camp sites as well as bush chalets and double rooms. It is not quite as fancy as Okaukuejo camp and the walk to the water hole is a couple of hundred metres out but the path is well lit. There is much more bush scrub here so it's a completely different experience.
Full Etosha National Park information can be viewed here. 
---
..