As an Amazon Associate I earn from qualifying purchases. I get commissions for purchases made through links in this post.
This ultimate Broome to Darwin Tour Review covers everything you can expect to encounter when taking on some of the best scenery in the country. See the daily highlights from our Broome to Darwin Road Trip, especially when tackling one of Australia's most famous outback roads, the Gibb River Road. BONUS: Check out my short daily video series included in this post.
Looking for a Broome itinerary? Read Best Budget Broome itinerary – unique things to do in Broome
The Kimberley's are an amazing outback experience everyone should get to see and do
I was highly anticipating this Broome to Darwin tour, especially after completing a road trip to South Australia's impressive Flinders Ranges and Kangaroo island. It certainly spurred me on to discover more of this great country.
So if you love a good Aussie adventure, you'll love this outback overland safari along the famous Gibb River Road. It includes swimming in fresh water gorges, scenic hikes, waterfalls and camping out under the stars each night.
Rather do it in reverse? You can also choose to do a Darwin to Broome tour.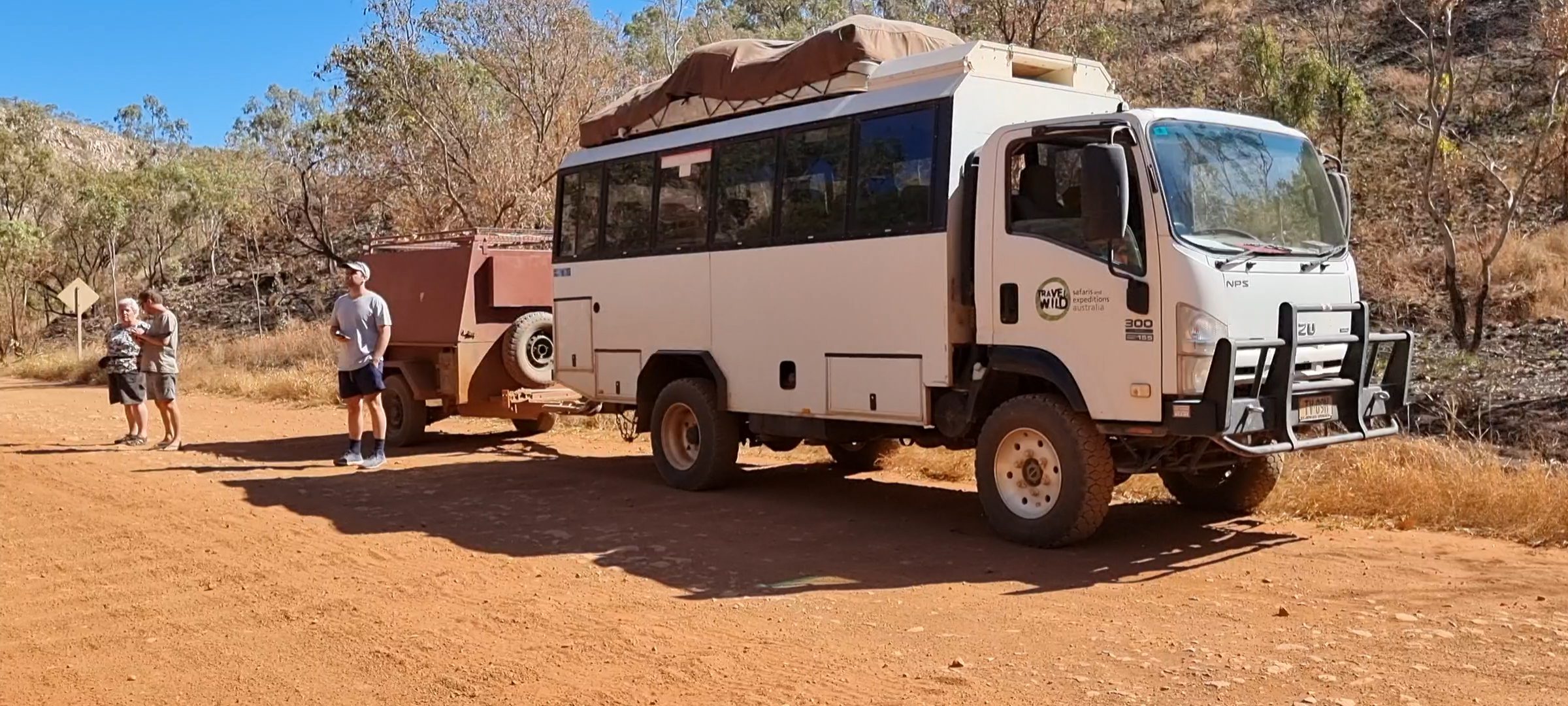 What to expect- Broome to Darwin Road Trip
This Kimberley and Gibb River Road Tour Review includes:
a breakdown of the things you can expect to see and do
the conditions and antics of an off road outback tour
cuisine and campsites
river crossings and crocodiles
Other questions I'll answer include:
is this tour a cost effective way to travel through the Kimberley?
which direction is better, Broome to Darwin or Darwin to Broome?
what I had to provide and what the tour company provided
how much you might spend on tour
how hard are the walks to each location you'll visit
who are your fellow travellers
why you should consider doing a tour of the Kimberley's
BONUS: check out my DAILY VIDEOS in the day to day adventures below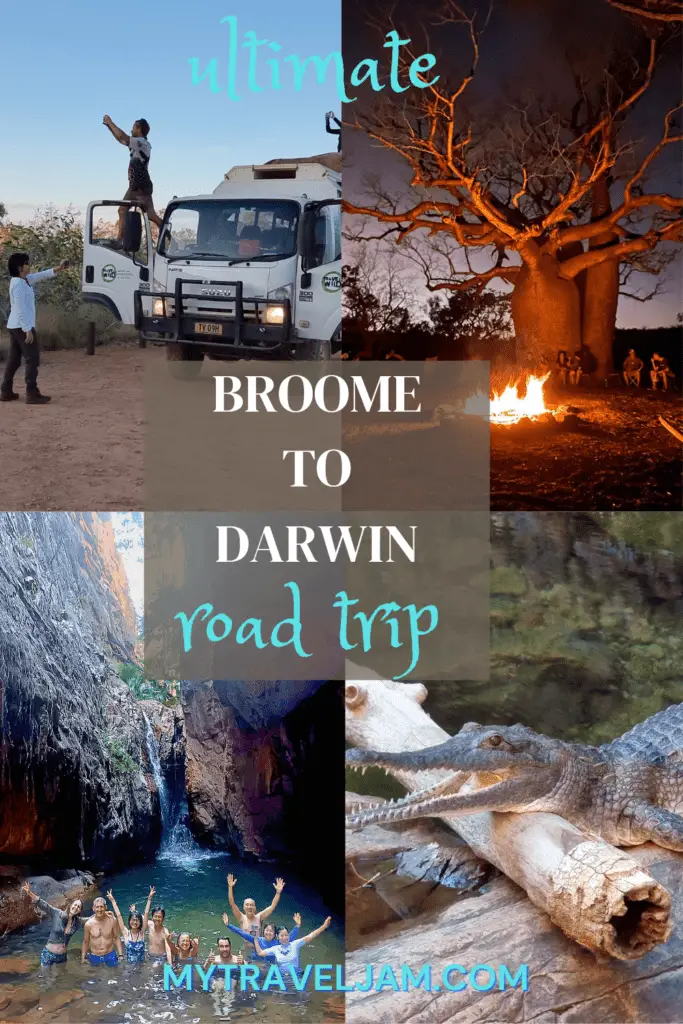 List of Kimberley & Gibb River Road Tours
Time of year – April to October
Number of days – 9 -11
Type of tour – overland camping or accommodated luxury coach
Pre departure stay in Broome
Be sure to read : Best Budget Broome itinerary – unique things to do in Broome
For those who have the time and have never been to Broome, I highly recommend staying a few days to experience some of the region's great attractions. From famous sunsets at cable beach, to the magnificent Horizontal Falls and exploring the coast on an organized boat tour, you really have to witness this special part of the world.
I would suggest around 3 to 4 nights minimum, but for those with a week to spare, you certainly won't regret it.
Personally, I stayed 5 nights pre tour and it was a good way to get myself acquainted with the inevitable rusty red dust that would follow me around for the next two weeks, as well as the warmer weather.
Further reading:
Where to stay in Broome
Since WA opened their borders early 2022, Broome has had a surge of tourist bookings. It appears the country has gone mad over Broome, meaning accommodation options, but also popular day tours are constantly selling out.
Due to me having to reschedule my tour, I found my original hotel booking in Broome was well and truly sold out, leaving me to book either a $600 a night resort room or take a private room at a hostel. I most certainly opted for the latter, and this was around 4 months out from going.
I later heard when I arrived into Broome that people who had booked tours or driven into town expecting a bed for the night were constantly being caught out. So do yourself a favour and book everything well in advance.
Accommodation in Broome
Here is a few well rated and cheaper options for Broome you might like.
Cable Beach Backpackers – (supercheap)the best back packers with 10.30pm no noise curfew. Yes, I stayed here, and we saw a lot of mixed ages here. Private rooms from $70 per night
Moonlight Bay Suites- located close to Roebuck Bay – 1 bedroom suite from $220 per night
RAC Cable beach holiday park – (affordable) self contained cabins. Studio cabin from $215 per night
Seashells Broome – 1,2 & 3 bedroom apartments near Cable beach. 1 bed apartment from $330 per night
Broome to Darwin Tour – Day to Day Adventures
Be sure to read all my tips as well as common questions at the conclusion of this Broome to Darwin itinerary.
Day 1 – Broome to Windjana Gorge
An early morning pick up and we are off on our Broome to Darwin road trip, headed east along National Hwy 1. It's the final chance to experience smooth road conditions before we take on the Gibb River Road in all it's bumpy 700 km glory.
Also, if you didn't get that all important memo to purchase your alcohol before starting the trip, hopefully your tour guide will make a brief stop at the supermarket in Derby. From here onwards it will be another 5 whole days before we set foot in a bottle shop again.
Boab Prison Tree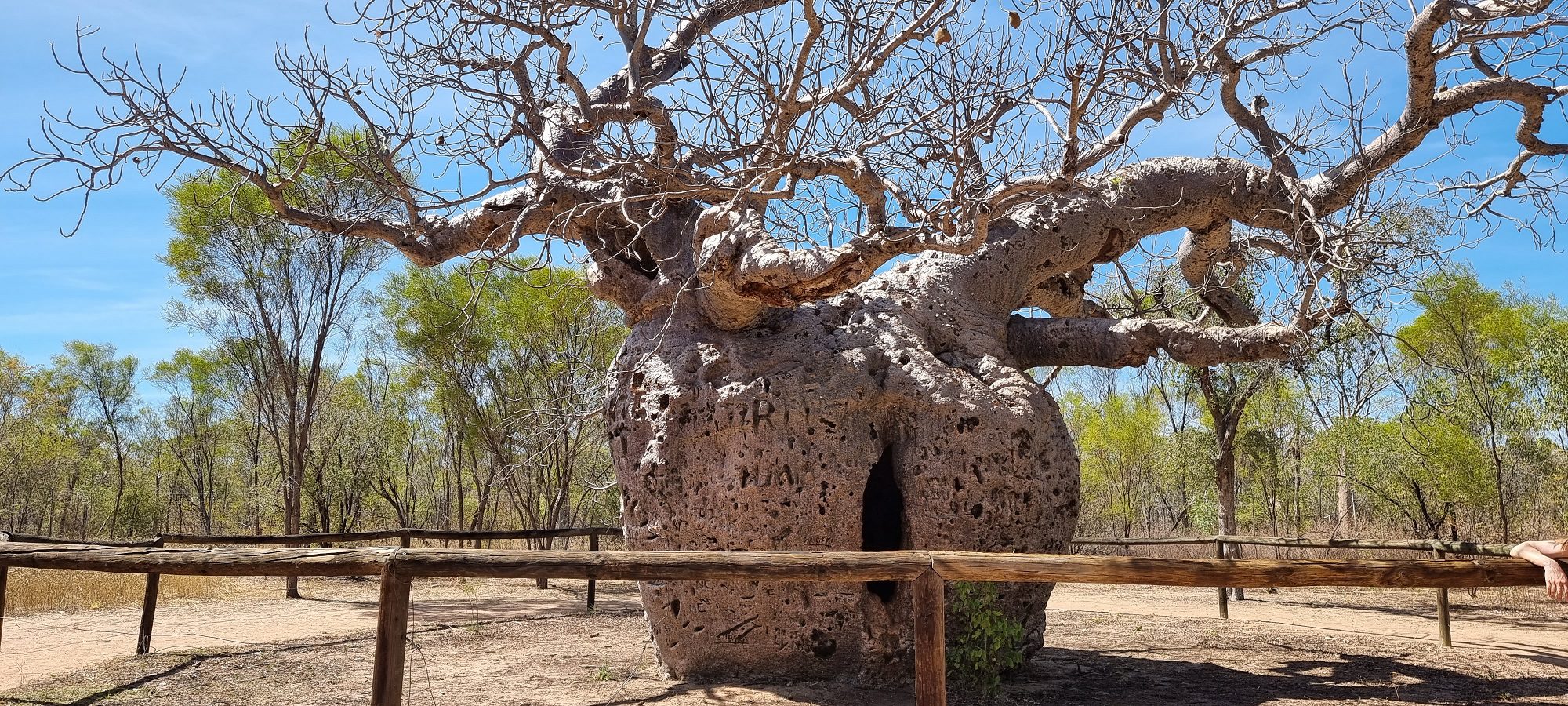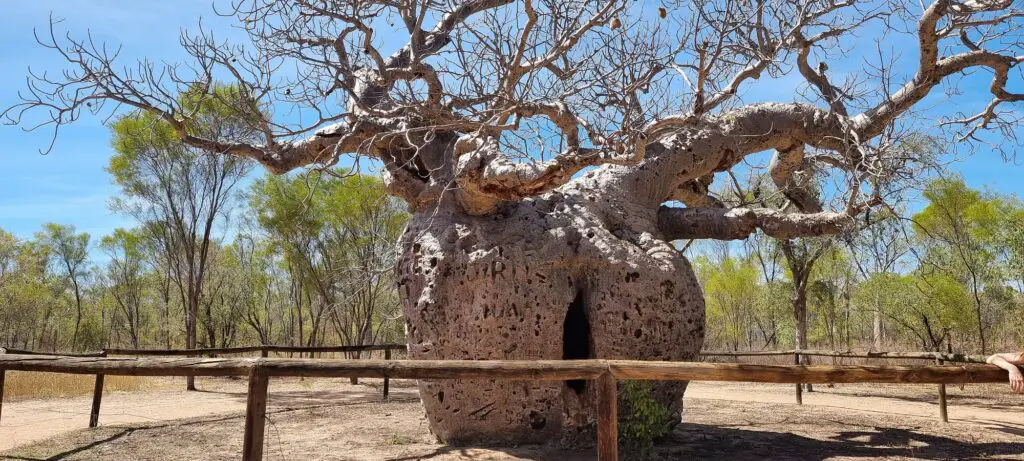 The Boab Prison Tree is our first official stop on this Broome to Darwin Tour.. The tree itself is simply huge, over 14 metres in circumference and around 1500 years old. Once used as a holding cell for Aboriginal prisoners, you can read all about it's haunting history on your visit there.
Norval gallery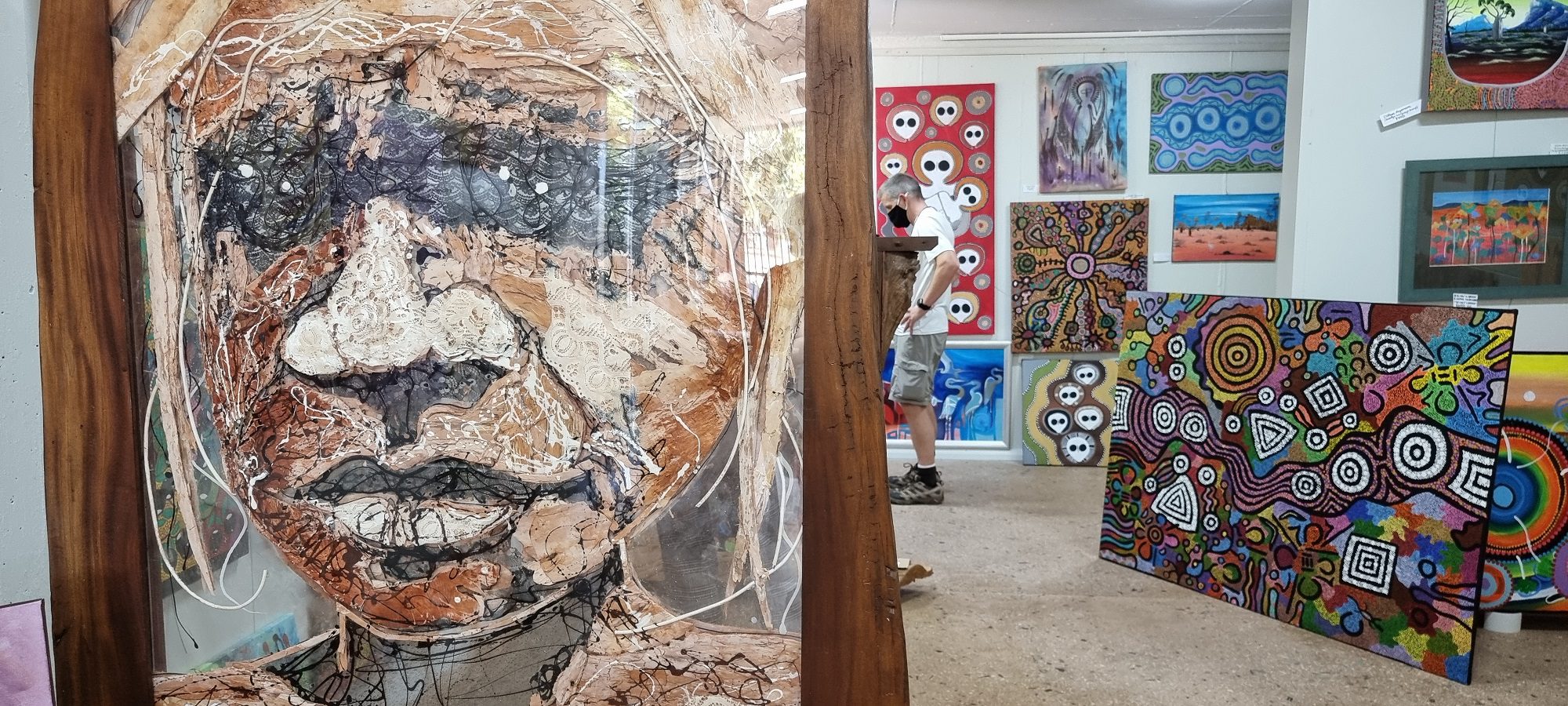 A very delightful and interesting Aboriginal Art Gallery with an array of eye catching pieces.
I was lucky enough to see Indigenous artist Alison Larry in the processes of painting a piece inspired by her grandmother.
Windjana Gorge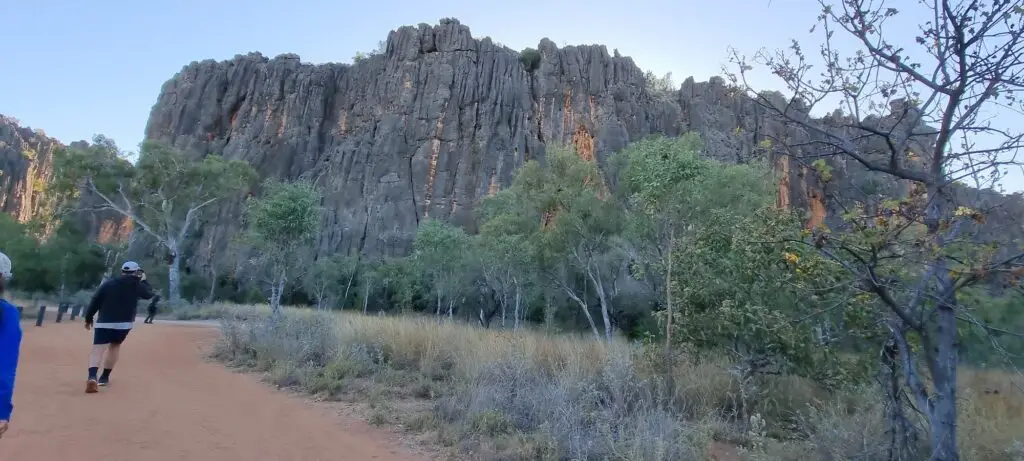 Arriving at Windjana Gorge late afternoon, there's certainly no building up toward spectacular scenery. We've literally hit it head on.
An easy 1km walk from the carpark takes you down into the gorge. The high vertical limestone cliffs are a brilliant sight along the way until we reach the rivers edge. Unfortunately, there's no swimming here as the amount of fresh water crocodiles clearly outweighs any desire for a dip.
Tunnel Creek
Time to don our head lamps as we make our way into Tunnel Creek.
The 750 metre underground cave system has a creek running through it's interior. We move through the cave, a formation of lights paving the way. But it's not completely void of light, with subtle gaps of outside light illuminating the cave walls. We stop to observe the many bats that call Tunnel Creek home, as well as a couple of smaller fresh water crocs.
There are times we have to wade through water which is anywhere from knee to hip deep. Luckily it's not too cold and only adds to our exhilaration.
From here we set up camp for the evening. Our tour guide Niall is on hand to give those camping virgins a lesson on how to pitch a tent. I'm sure after nine more nights of this, we'll all have it down pat.
TIP: Make sure to leave you tent cover off. You simply cannot miss sleeping under a magnitude of stars on a dark and clear night in the Kimberley.
Day 2 – Winjana Gorge to Adcock Gorge
It was the perfect first night's sleep in my cozy sleeping bag and surprisingly comfortable swag. ending at first light.
The funniest part about rolling up our swags is seeing the struggle from everyone to get it back to it's original size. It seems virtually impossible.
King Leopold Ranges Lookout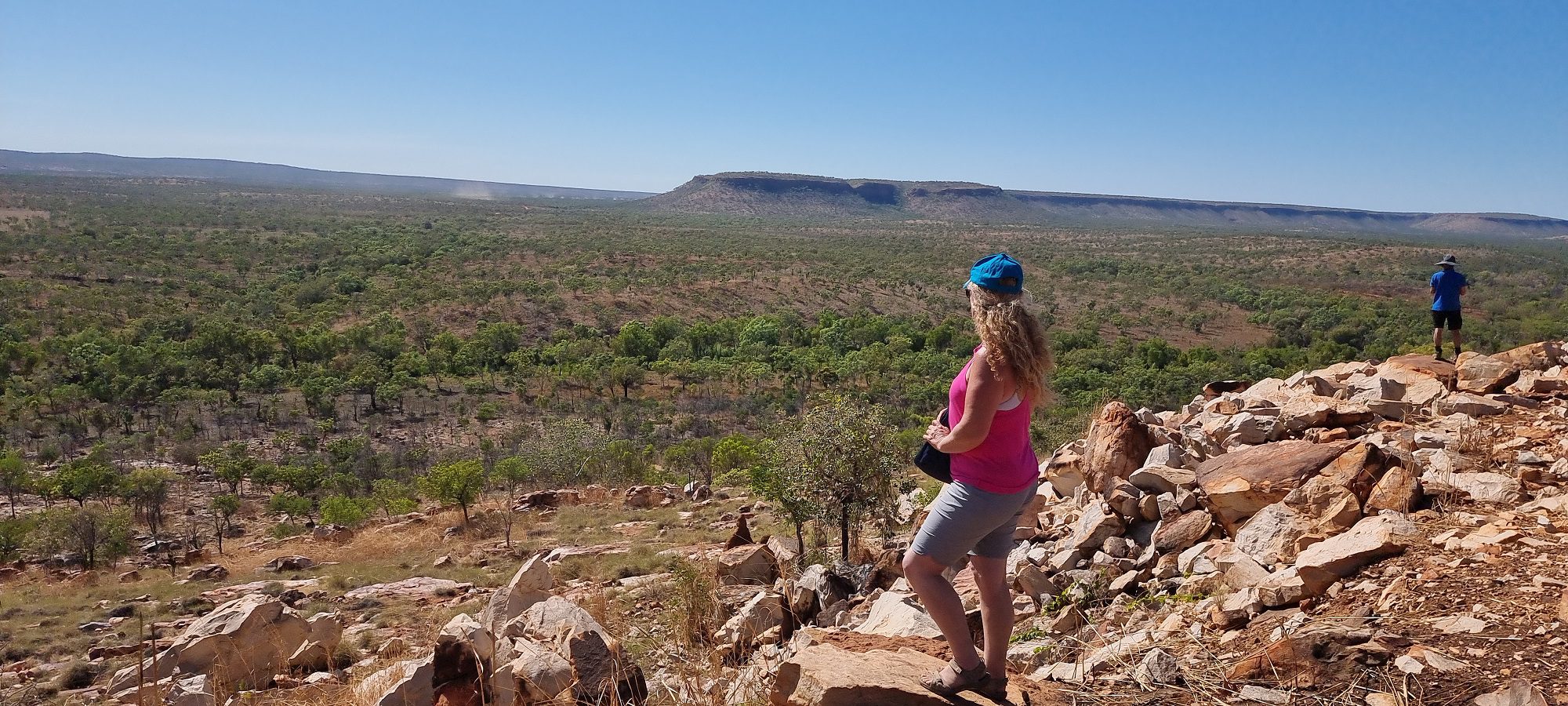 A nice place to stop for that panoramic view of the King Leopold Ranges, and a great introduction to the vastness of the Kimberley region.
It also brings that realization that we'll be without many creature comforts while on tour, such as mobile phone coverage and public toilets.
Bell Gorge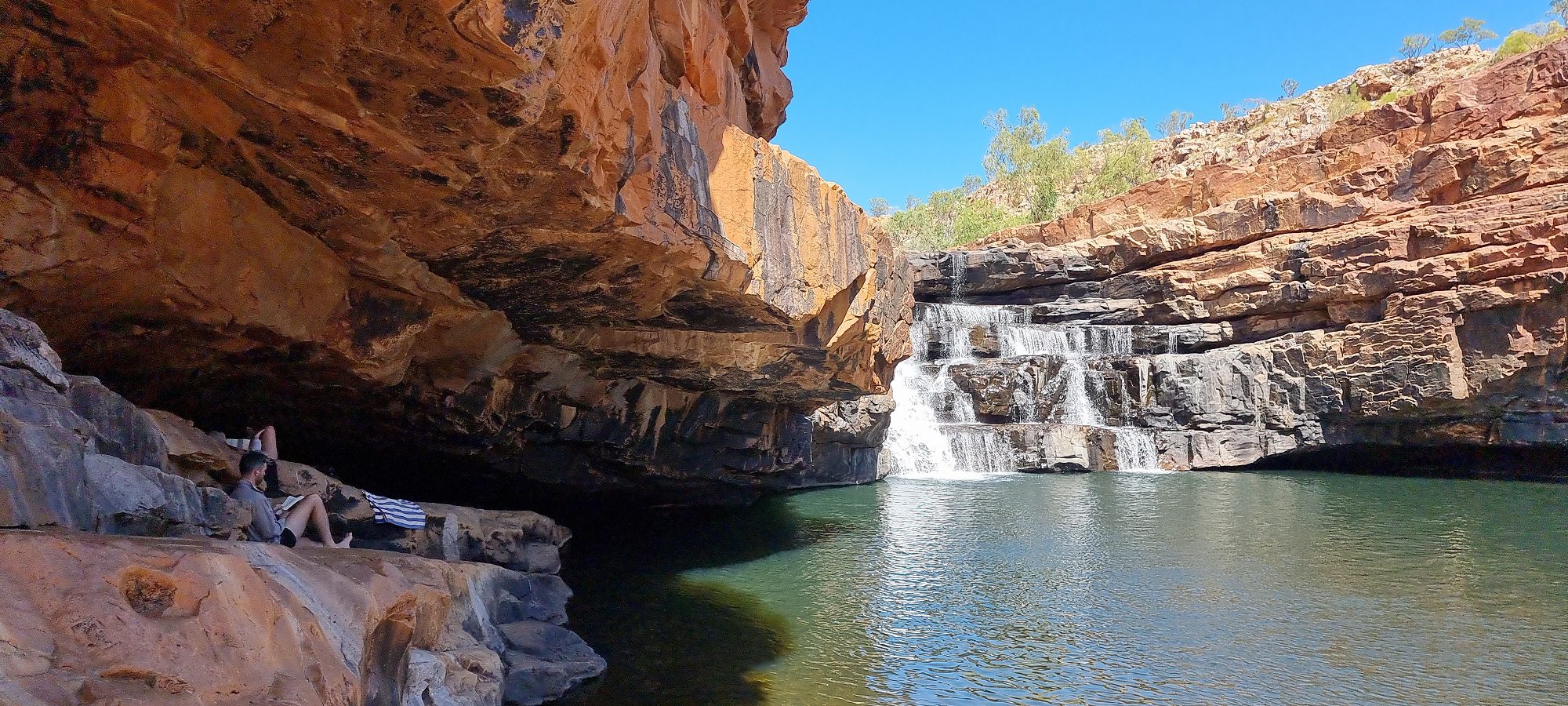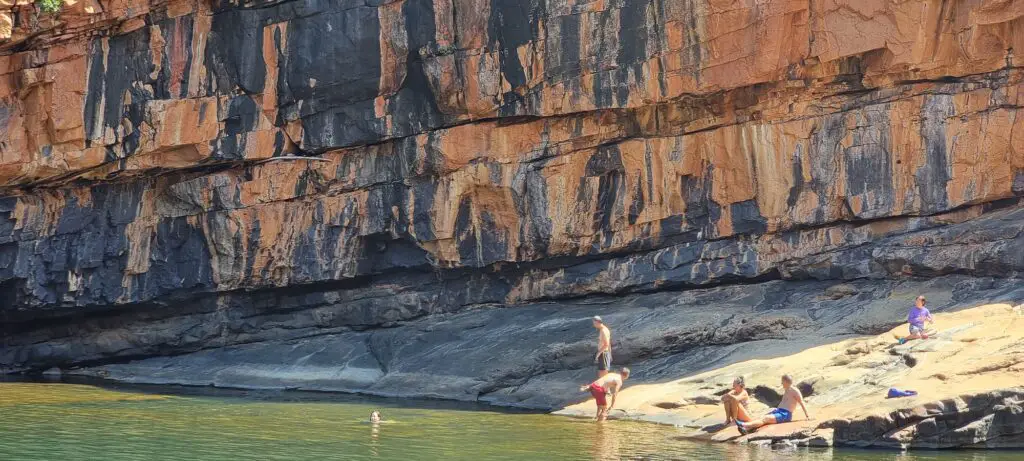 One of the great things about this Broome to Darwin tour was the amount of hiking we were able to do. Though the distances may not sound too lengthy, add some rocky terrain and that hot Kimberly sun and you got yourself a true outback adventure.
Bell Gorge is the first waterfall on our trip, and it's pretty special indeed. You'll arrive at the top of the fall where nature has provided the best outback 'infinity pool".
Make sure you're wearing appropriate shoes if you want to make your way to the bottom because it can be a bit slippery in places. You'll be rewarded with a refreshing swim in the lower pool and plenty of time to soak up the stunning surrounds. Definitely one of my favourite spots of the trip.
Adcock Gorge
Our next stop for the day is Adcock Gorge.
The walk in is nicely shaded and follows much of the river. Being a bit further off the road we are lucky to have this place to ourselves.
The deep green pool is certainly on the cooler side and so, I decide to sit this one out. It has nothing to do with the fact that there is a fresh water croc eyeing us off from the other side of the gorge. Unfortunately I'm just not ready to comprehend that it is only the salt water variety that is of great concern. (something I would get over quickly thanks to the unwavering absence of fear from my fellow travellers)
As the day draws to an end, it's time to get to our private off road bush camp before dark. The road has well and truly disappeared, making way for giant gutters. The tour guide brings the truck to a halt and asks us to put our seat belts on. He has aptly named the part of the track "The Highway to Hell". Boy was he not kidding!
Day 3 – Adcock Gorge to Manning Gorge
One thing we don't have readily available on this trip is firewood. That means seeking out suitable logs on the side of the road every couple of days. The group divides up and heads into the bush in search of wood. It's friendly competition to see who will come back with the accolade of having the day's largest and most impressive log balancing across their shoulders.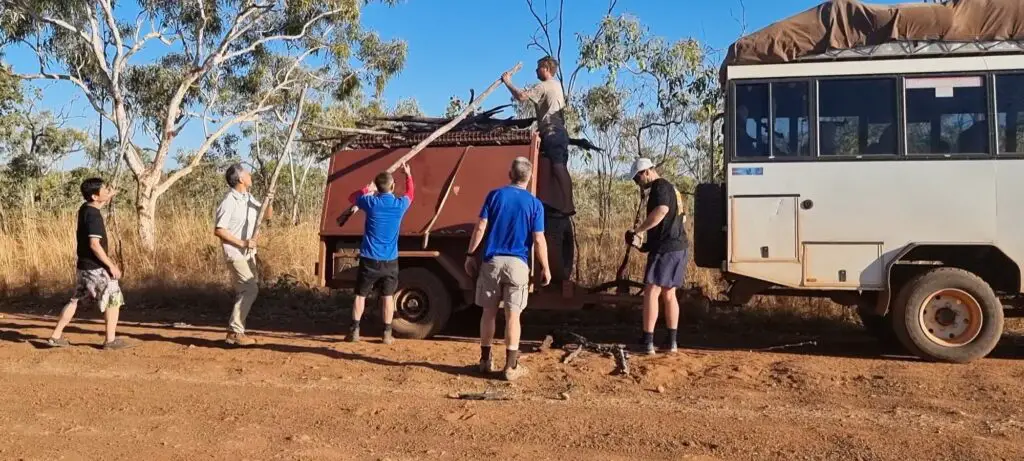 Someone has accidentally carried out a frilled neck lizard and after much gathered interest, we promptly set him free.
Galvin's Gorge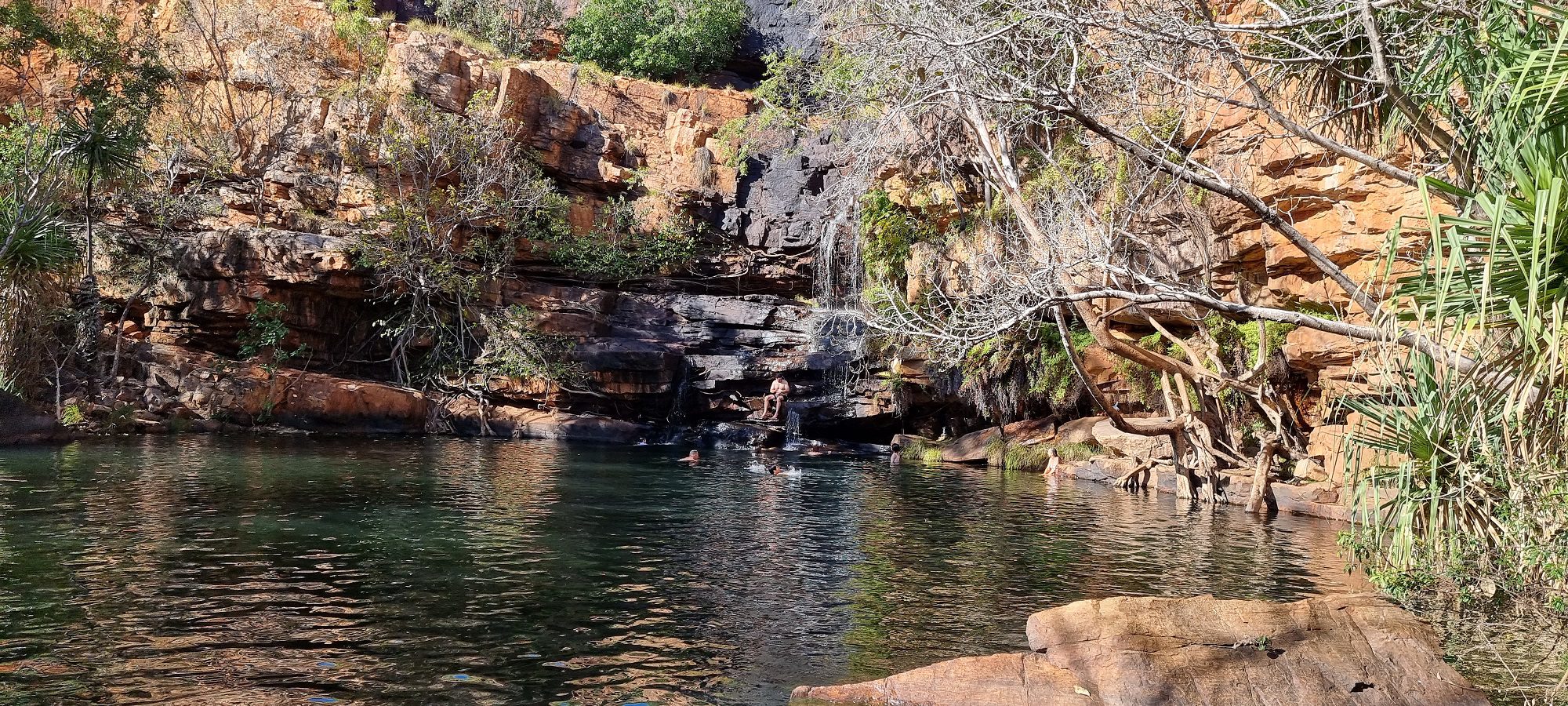 You might be wondering how cold the water is at some of the gorges. Well, they can certainly be on the cooler side but no where near as cold as you might expect. Some are simply pure joy in the heat, while others take a bit more convincing. I guess it depends on what you can handle, but trust me, you will eventually want to escape the heat.
Galvin's Gorge is a cozy spot with a pretty little waterfall and a rope swing for those up for some fun.
From here, we are heading to the popular and impressive Manning Gorge, but not before making a brief stop at the Barnett Roadhouse, which is also the entrance to the campground we are staying at. If you'd like to buy an $8 ice-cream here, be my guest. (the fact that it has probably been shipped over 500 km makes it pretty cheap)
The campsite itself is indeed a scenic spot. Set next to the banks of the Barnett River, we pull up right along side a magnificent towering Boab tree. Once our tents are set up, it's time to start our 5.6 km return hike, the longest hike on our Broome to Darwin Tour. Our guide, Niall has promised a feast back at camp tonight.
Manning Gorge

To access the 5.6km track you'll have to either swim across the river, or jump in a small boat that uses a pully system to get from one side to the other. From here, follow the track using the not so well signposted arrows to guide you.
The hike is hot under that Kimberly sun, with next to no shade and I'm certainly working myself up to a well rewarded dip. Finally after a good hour and some navigating through gully's and subsequent rises, we have made it to the top of gorge.
The scene is incredible with a gorgeous waterfall leading into a huge pool. There are some rocks to navigate down to the water's edge and I can't get my clothes off quick enough before jumping into the refreshing pool.
The falls even in August have a decent amount of water and it's the perfect backdrop to heaven. People are climbing up the rocks before plunging into the pool below, while others are sunning themselves and simply taking in the tranquil surrounds.
I definitely recommend hiking back fully wet in order to stay cooler for longer and don't forget lot's of drinking water for this hike. you'll need it.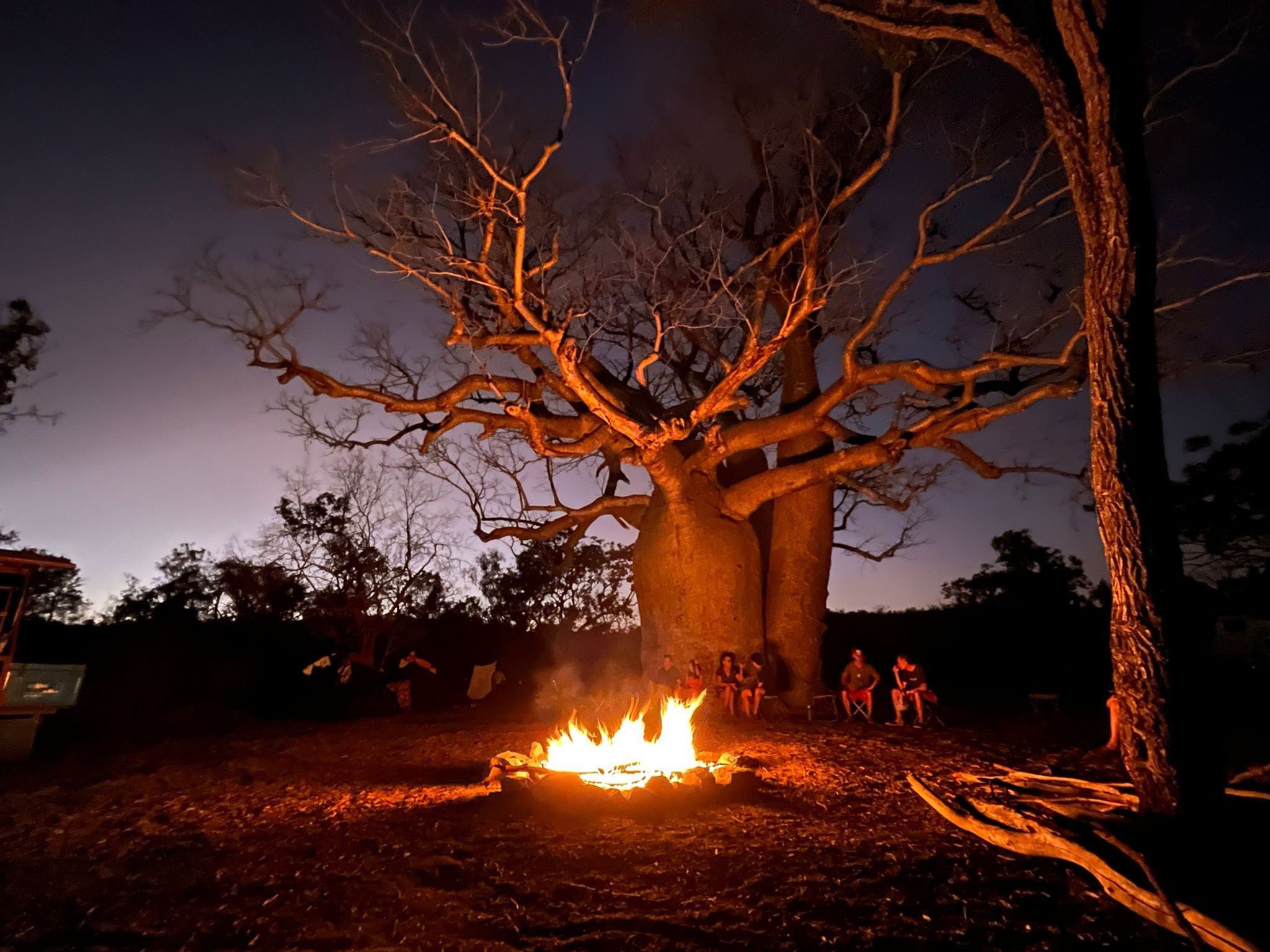 Camp is the greatest tonight. We have showers and even a laundry to do some washing. Our tour guide Niall has cooked the most amazing roast pork and roast beef in the camp oven with a huge pot of vegies. A camp fire is something we have every night, and tonight is no exception, with a beer in hand and some seriously good laughs all under that incredible Boab tree.
Day 4 – Manning Gorge to El Questro Station
Today on our Broome to Darwin Tour, we are making our way to El Questro Station near the famous Pentecost River. We will be staying here for 2 nights due to the number of impressive highlights in the area.
Our drive takes in the wide open spaces of the Kimberly but that doesn't mean there is nothing to see along the way, quite the opposite.
Wandjina Rock Art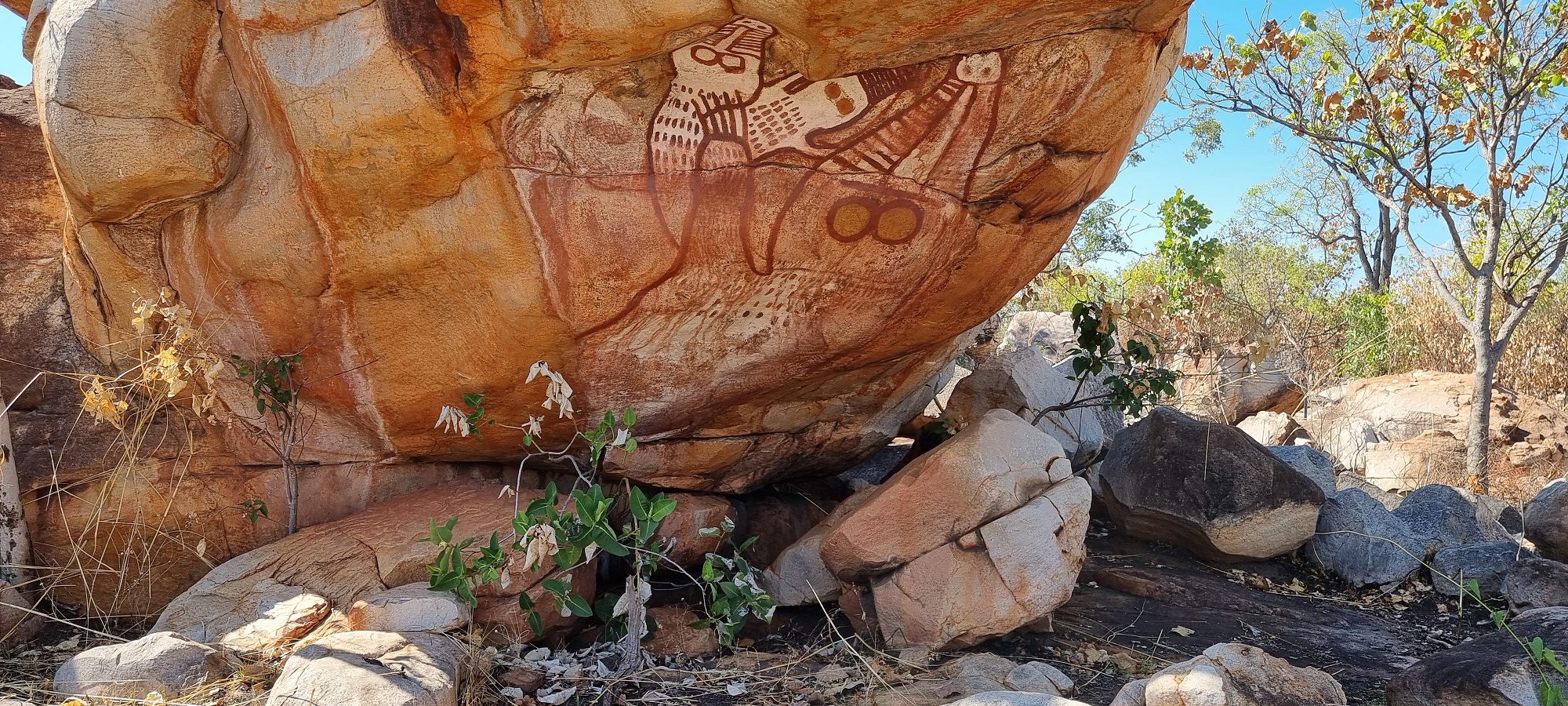 Known as the cloud and rain spirits of the region, the ancient rock art found here appears extremely well preserved. But we find out that the painting are repainted over every 10 years or so to preserve the colours and depictions on the rocks.
Ellenbrae Cattle Station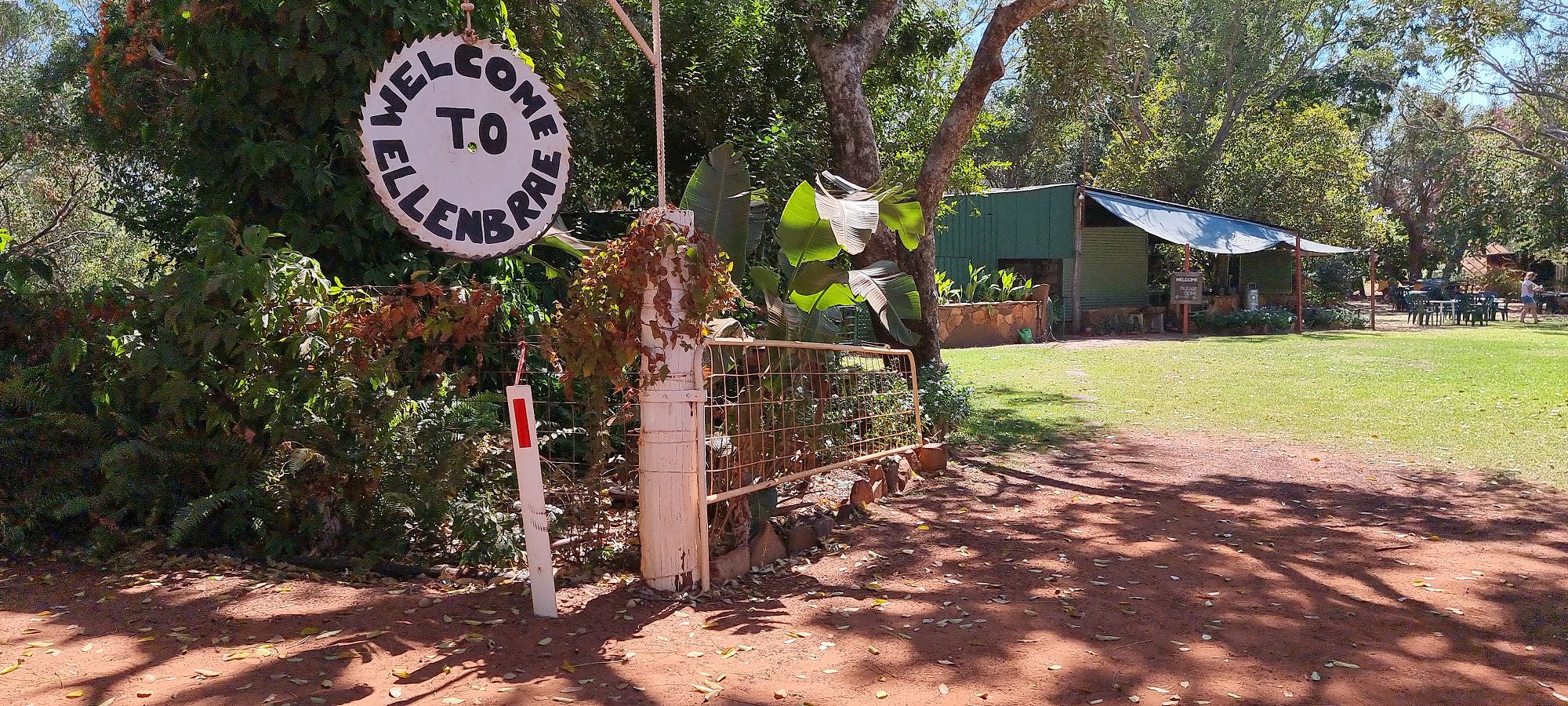 A nice stop at Ellenbrae Cattle Station for a sit down and a serving of their famous scones with jam and cream. We hear stories about the 1 million acre station and what life is really like in the Kimberley, not only during the dry season but also during the wet season when access to the outside world is well and truly cut off.
Cockburn Ranges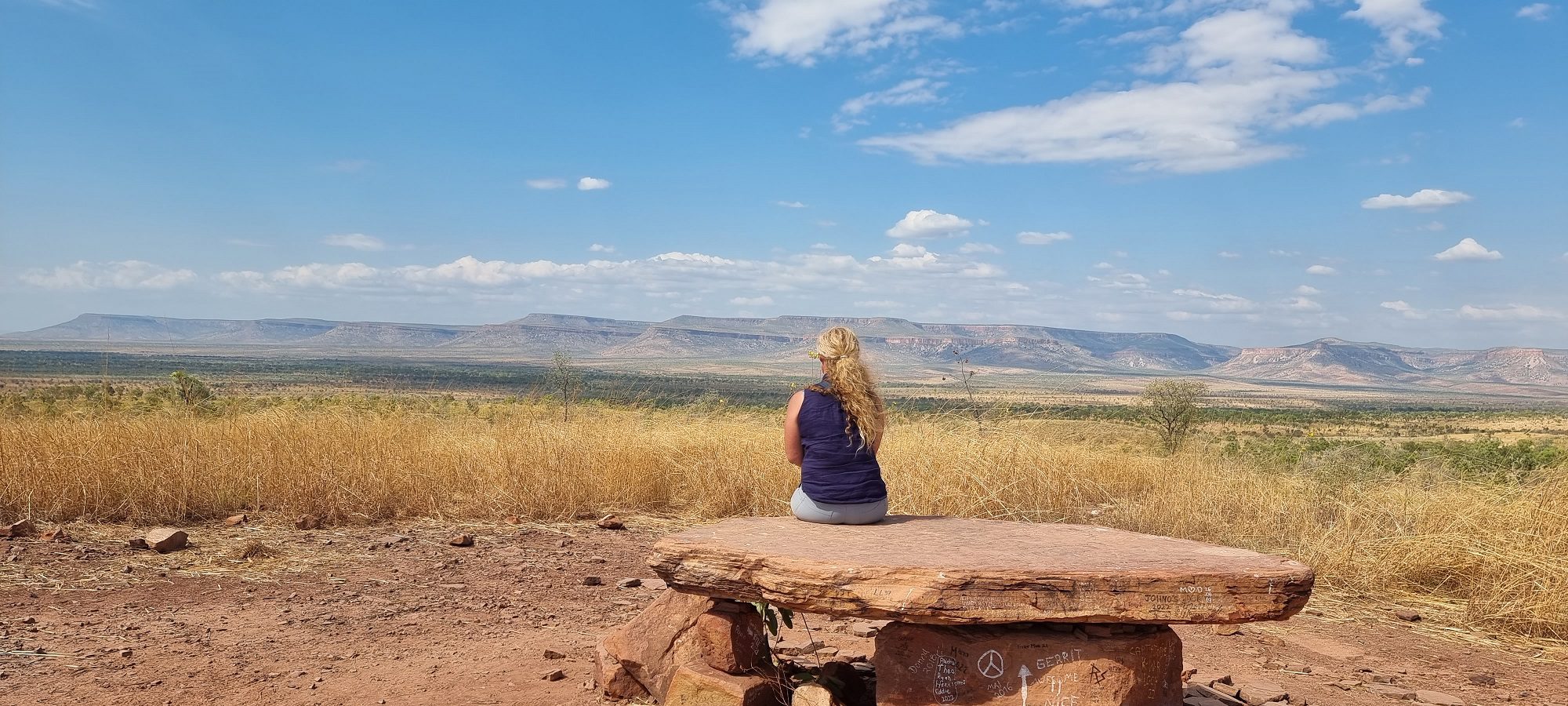 One of the most predominant landscapes you'll see in the Kimberley region as you move east to west (or vise versa) is the Cockburn Ranges. The view from our vehicle is mostly unobscured as we travel along the Gibb river Road toward our next stop, El Questro Station. You'll have plenty of time to soak up the scenery as the Cockburn Ranges stretch for quite a distance.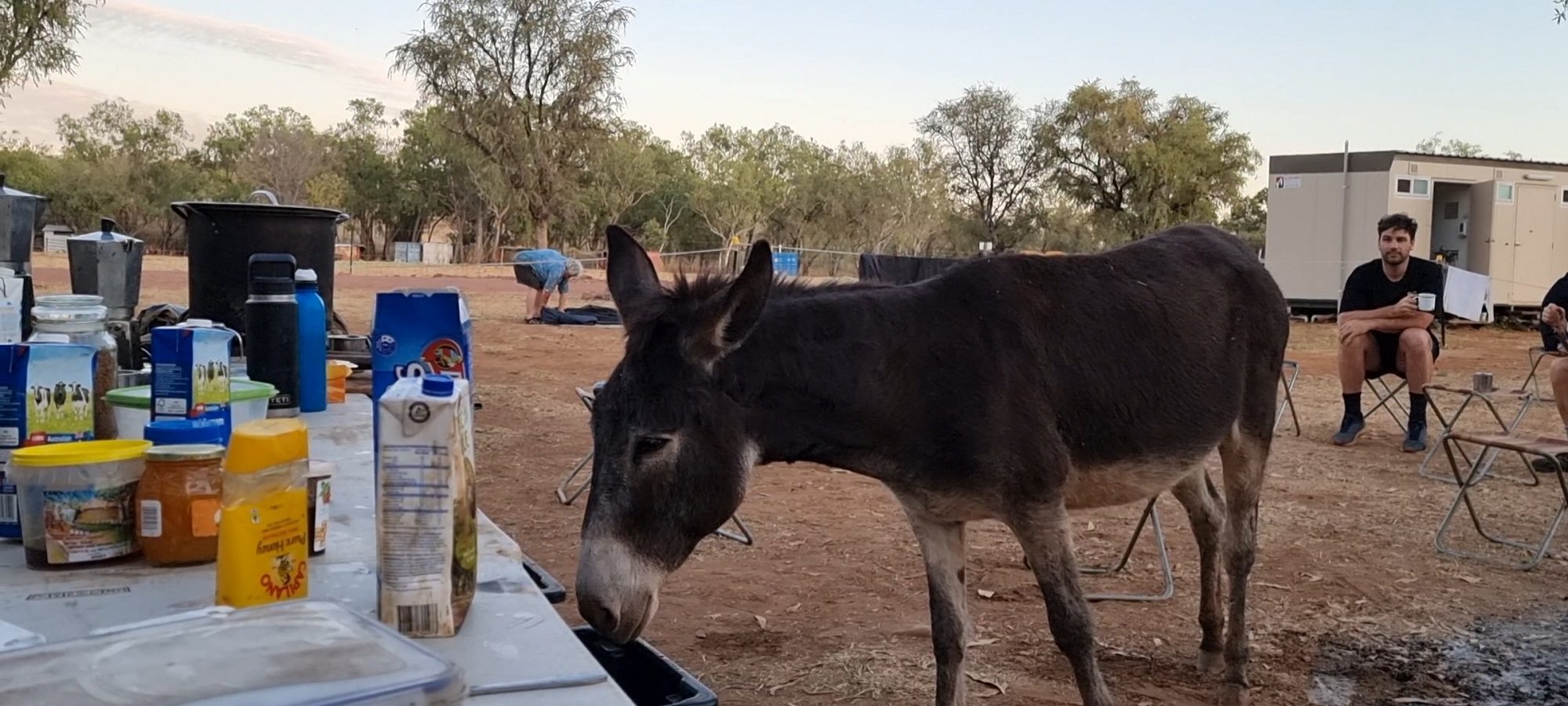 El Questro Station feels a bit like civilization and it is a major hub of the Kimberley's.
You can find all types of accommodation here, from luxury cabins to camp sites. There is a main bar with restaurant attached and prices are surprisingly reasonable considering our location. With that being said, cooking duties are on hold tonight and instead its pizza and beer for the group as well as toilets and hot showers.
Day 5 – Pentecost River – Zebedee Springs – El Questro Gorge
Today will prove to be one of my favourite days on our Broome to Darwin road trip. The scenery just keeps getting better, as we move from one epic natural attraction to the next.
The journey from the eastern side of the Kimberley's to the western side means that salt water crocodiles are now present in some waterways. I just wish they told those crazy tourists down on the Pentecost River's edge who obviously haven't heard yet. It's just another bonus of being on this Gibb River Road tour in an region you are not accustomed to.
Pentecost River & water crossings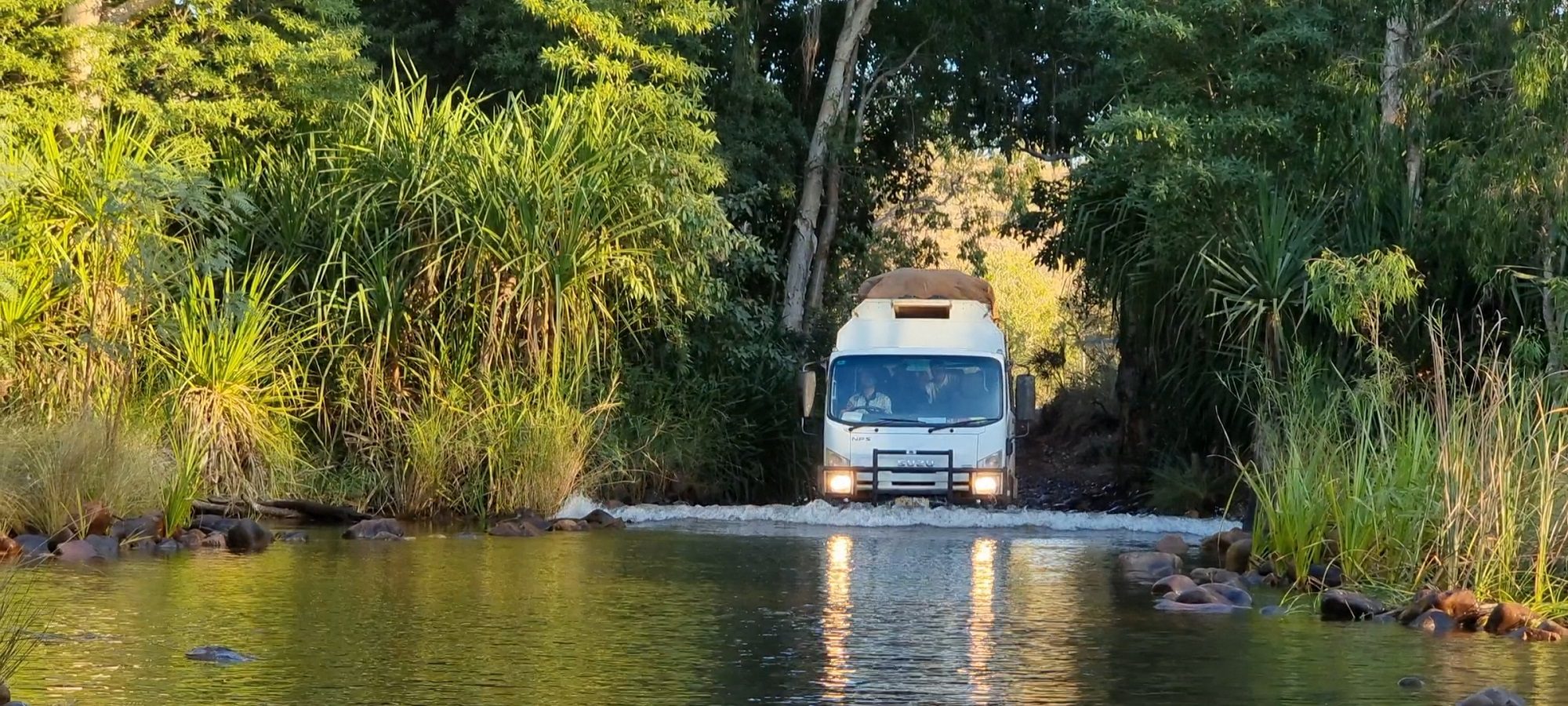 A major waterway along the Gibb River Road is the Pentecost River. These river crossings are necessary to get to many of the days highlights and everyone on board is excited.
Depending on the time of year you cross will depend on the depth of the river. Of course, this only applies during the dry season when the water levels are passable only by four wheel drive.
Zebedee Springs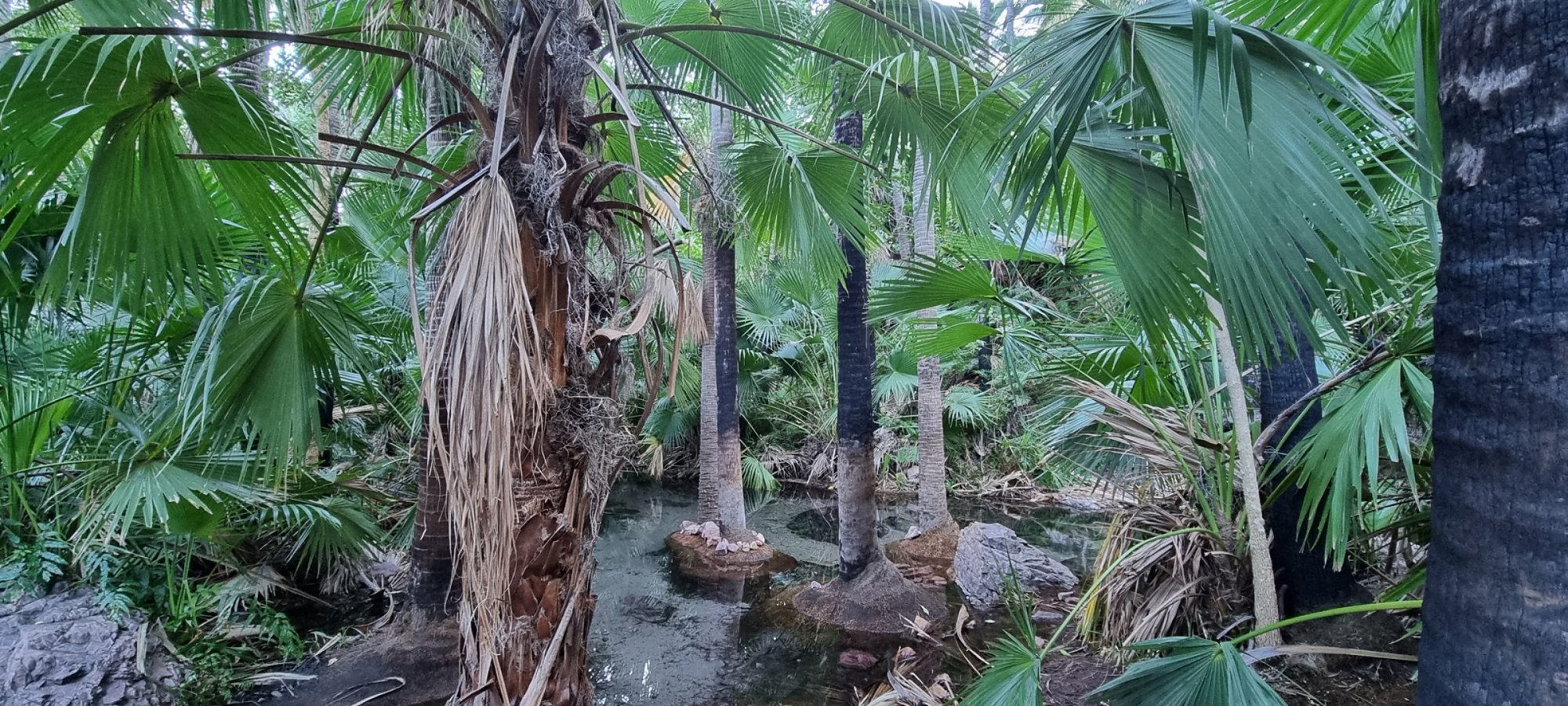 We arrive extra early for a chance to enjoy some spa time at Zebedee Springs. How we have managed to be the only ones there is beyond me, as I'd heard this place gets super busy.
The lush oasis is a short and easy walk from the carpark, and is quite enchanting I must say. Naturally heated thermal springs are set in a forest of giant palms and if you are lucky enough you'll find your very own little pool to relax in.
Elquestro Gorge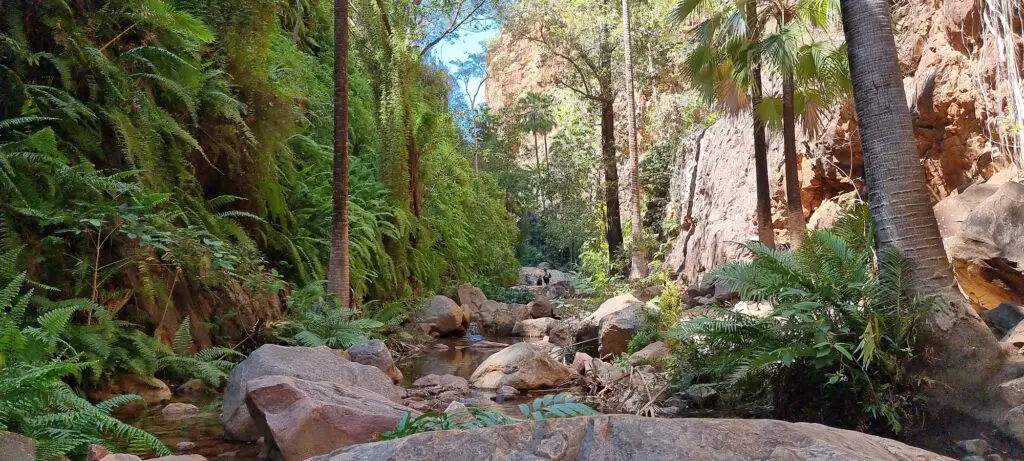 I would have to say that Elquestro Gorge was probably my favourite gorge throughout the Kimberley (and we saw a lot) on our Broome to Darwin Tour.
The hike in would prove to be incredibly stunning, with the sounds of nature and birdlife all around. It was simply breathtaking.
The track is well shaded providing some respite during the heat of the day. It was nice to enjoy the picturesque surrounds including the creek that we followed all the way to the gorge without the belting sun penetrating from above.
Once you reach the first lower pool you can chill out for a while, or you can choose to push on to the upper pool some distance still away. The track from here gets quite challenging and requires some serious rock climbing but that didn't stop much of the group who were keen to test their legs out.
Day 6- El Questro to Lake Argyle
Like everyday, we pack up our tents and swags which are nicely stacked on the roof of our overland truck. One by one the stronger of the group hurls each piece up to Niall, our guide. I simply love the comradery, whether it's chief swag thrower, camp chair organizer or onion chopper, everyone has a place in this group.
Emma Gorge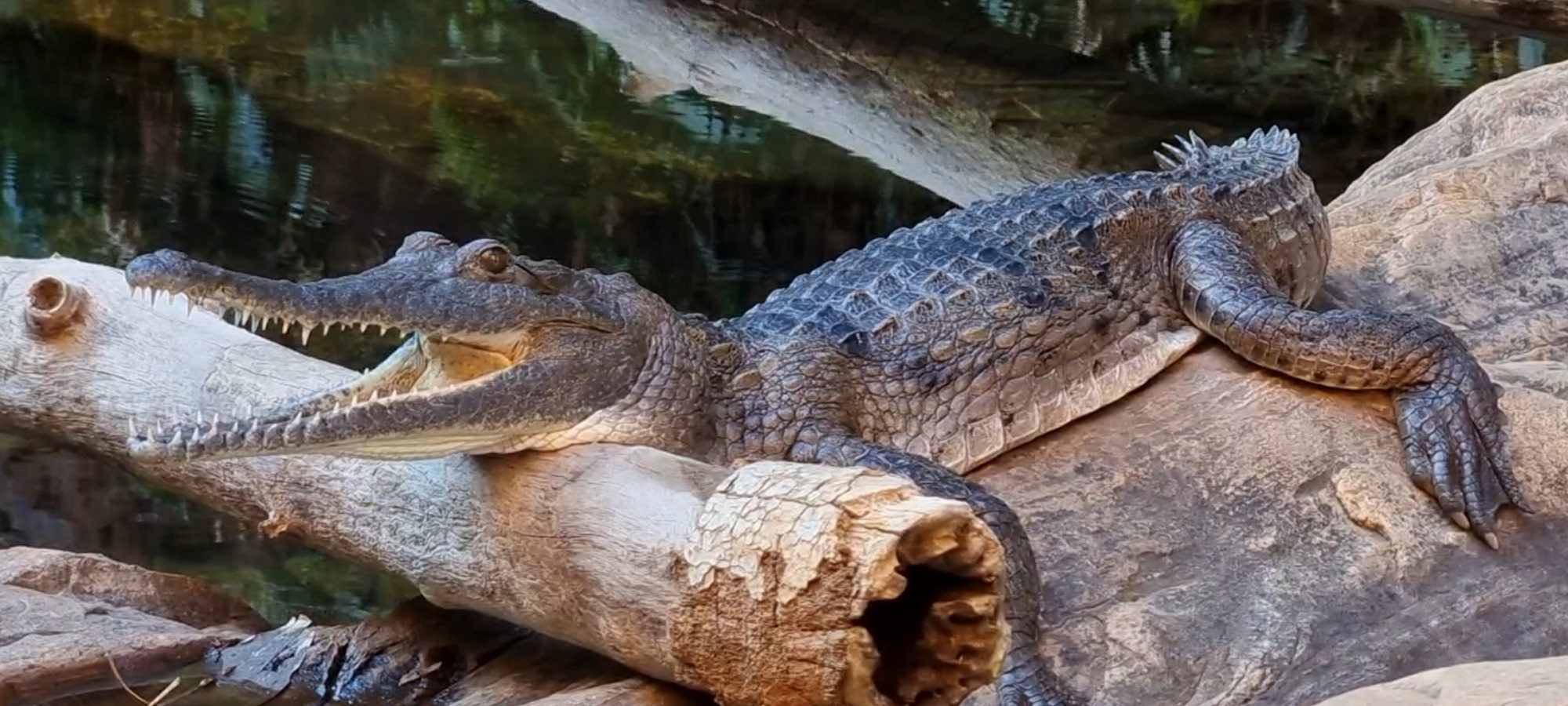 'Wow" Emma Gorge is one of the most impressive beauties of the Kimberley's.
A nice pleasant hike into the gorge is best done early morning as much of the track is exposed to the sun. One thing you see a lot of on your hikes are giant boulders, which at times need to be negotiated in order to get to where you are trying to go. Emma Gorge is one of those places.
As we come to the first swimming hole we notice a surprising visitor looking almost strategically placed against the rocks. He's a small fresh water croc, and though no one wants to swim here anymore, we all are happy to take plenty of shots instead.
Further up into the larger pool, a waterfall makes for a gorgeous resting spot with plenty of people also in the water enjoying the beauty of the area.
When things don't go to plan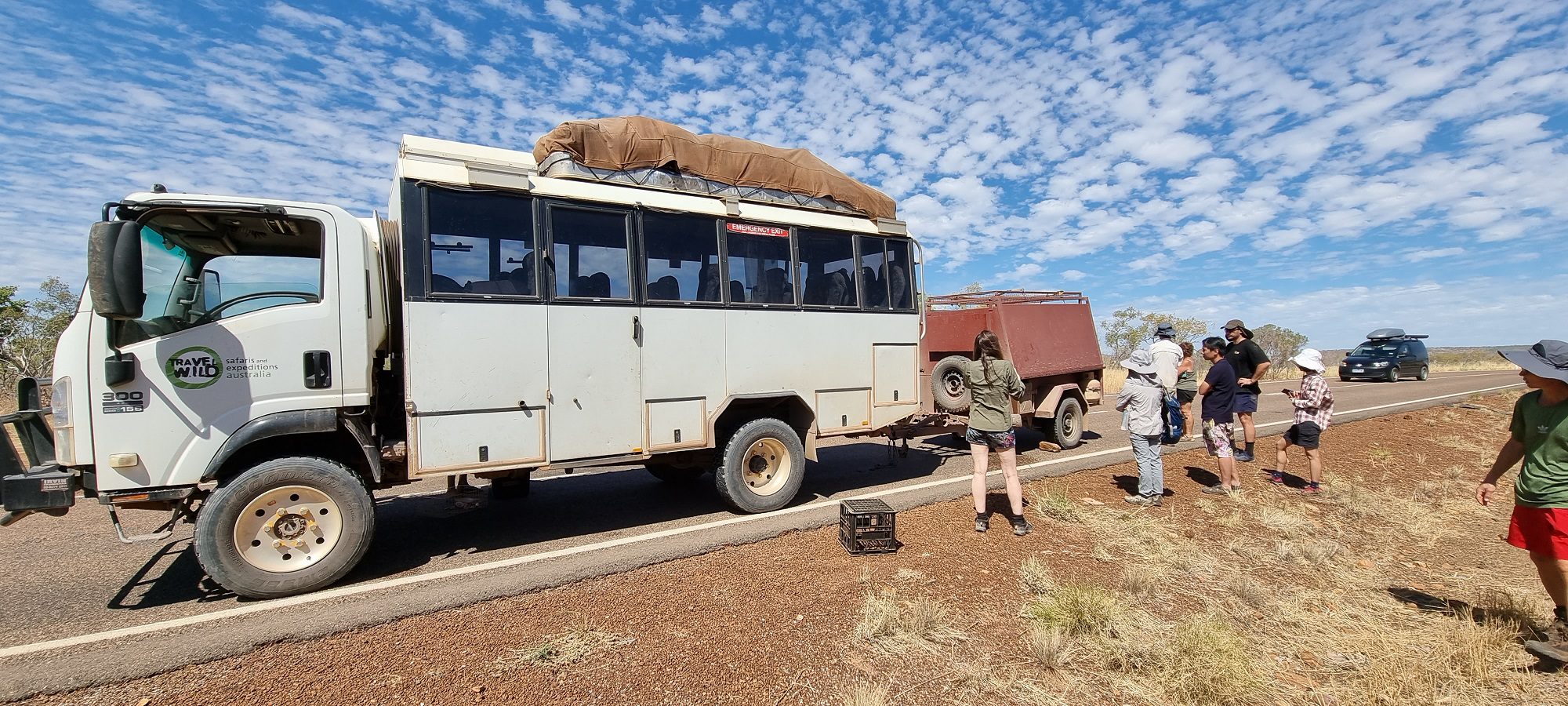 Once back on the road, we are full steam ahead, on a mission to get to our boat that will take us to an island in the middle of Lake Argyle.
But a sudden jolt from the back of the truck confirms our worst nightmare. We have broken down by snapping the tow bar that connect the trailer clean off the back of the truck.
This is when good ole Aussie hospitality comes to the rescue. Everyone is stopping to assist our dilemma and soon enough we are with new parts and back on the road. Everyone is in high spirits.
Kununurra
The outback community of Kununurra marks the end of our Gibb River Road adventure, and it's also the first time we've seen a bottle shop in nearly a week. While Niall heads off to stock up our food supplies, we have time to grab a coffee, load up on snacks or go and swoon over a half million Argyle Pink Diamond.
Lake Argyle Sunset Cruise and overnight camp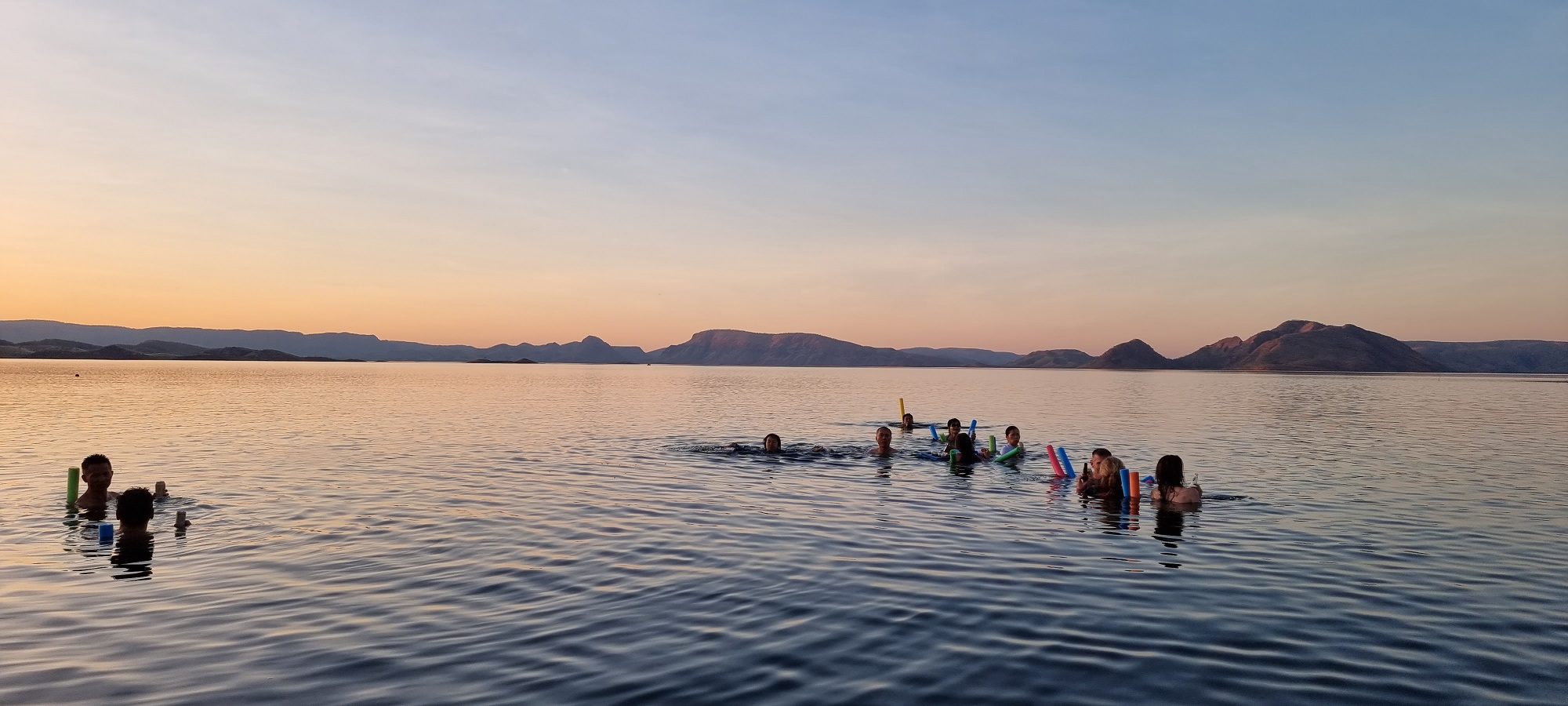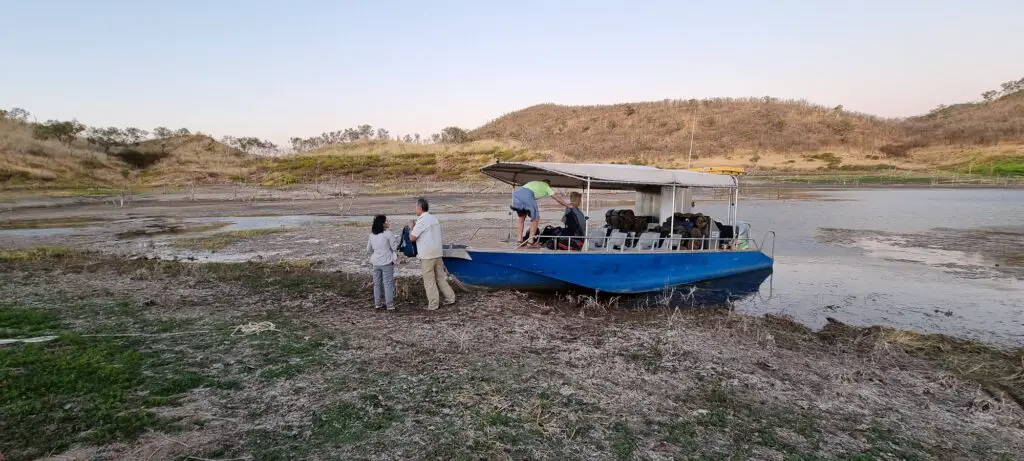 The largest Western Australia man made lake and home to over 70 islands, the magnitude of Lake Argyle has to be seen to be believed.
We pack a small overnight bag, the esky's and all our camp gear for a night on one of the islands. It's late in the afternoon and we have wood collection and a cheeky sunset dip before reaching our overnight destination.
With up to 30.000 fresh water crocs (no salties) residing in the lake, it's hard to imagine we are all happily wading around on pool noodles watching the sun going down. The crew hand out drinks while floating an esky lid out to us filled with cheese and crackers. It truly doesn't get an better than this.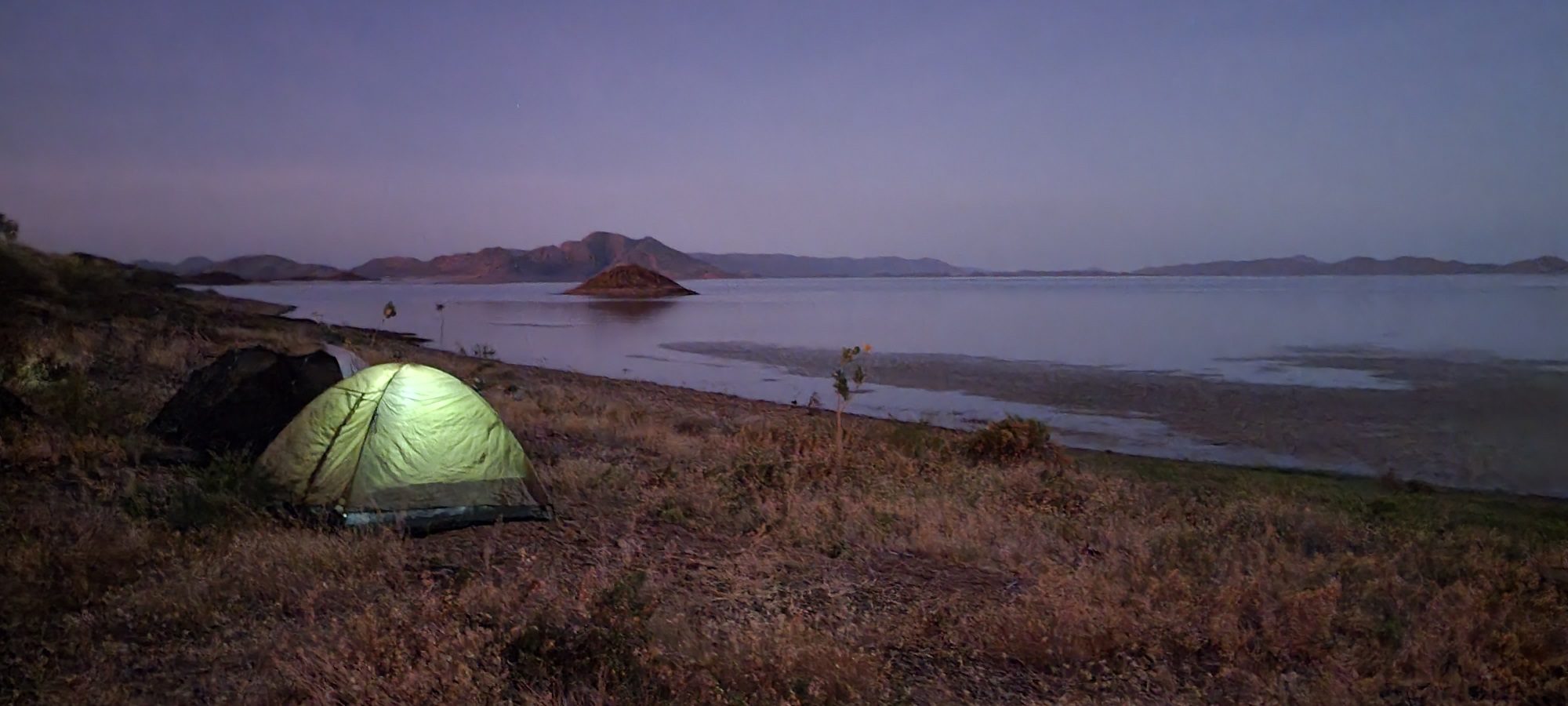 Camp tonight involves some steaks on the BBQ and classic Aussie tunes such as "Home among the gum trees" being sung around the camp fire. For our international guests, it was a lesson in Aussie bush classics.
Day 7 -Lake Argyle to Bungle Bungles
Bush camps are the best. Pitching a tent in the middle of nowhere and sitting around a camp fire is one of the joys of our Broome to Darwin road trip. It also generally means going to bed at some ridiculous hour only reserved for bush camping and 5 am gym junkies, but it also means waking to some glorious sunrises.
We pack the boat and head back to the mainland for breakfast which is a treat today of bacon and eggs on toast. I decide afterwards it's a good idea we don't get this every morning.
From here we have a hour or so at the Kimberley Caravan park to shower or take a dip in their ultra impressive infinity pool. That's right, an infinity pool overlooking the lake in a caravan park.
From here, it's back in the overland truck for our journey toward Purnululu National Park, better known as the Bungles Bungles.
Hoochery Distillery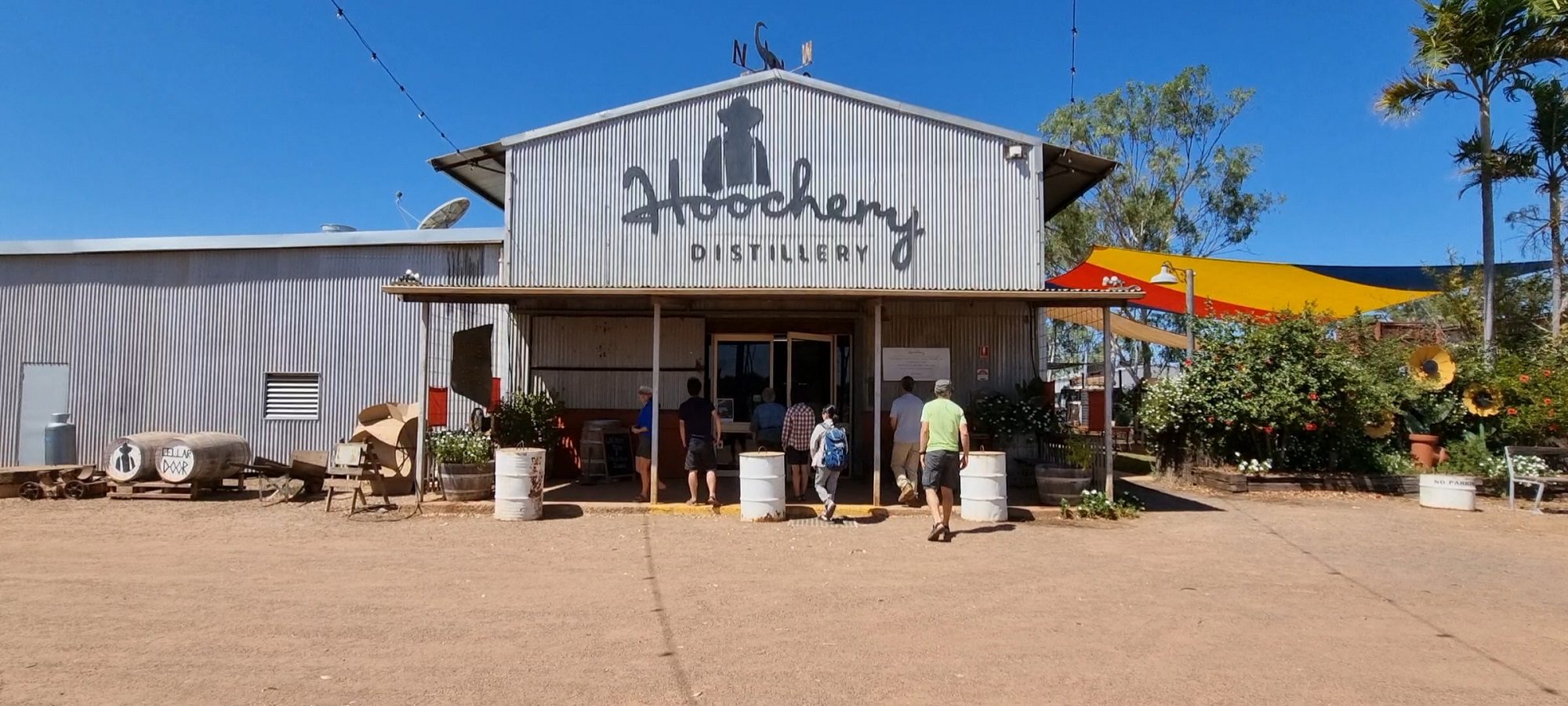 A great little stop for coffee, rum cake or a paddle of tastings.
The distillery has quite a range of products to choose from including whiskey, gin and liqueur but it's their rum range that they are famous for.
If you are lucky you might also get time to visit the Sandalwood Store only 1km further down the road. You can try many of the products that they sell such as the skin care range. But they also sell toiletries, food products and gift ware. I decided I'm only here once so brought some deodorant and bath salts to take home.
Road into Bungle Bungles
The 50 km or so road taking us from the final turn off into camp for the night was horrendous. It surely is the roughest road massage throughout the Kimberley.
I couldn't wait for it to end knowing that we had to do it all again tomorrow when leaving.
Day 8- Bungle Bungles
Iconic and majestic, no Kimberley road trip should miss seeing these amazing rock formations. We'll spend all day here exploring some of the hiking trails and seeing a whole lot of amazing landscape.
The Beehives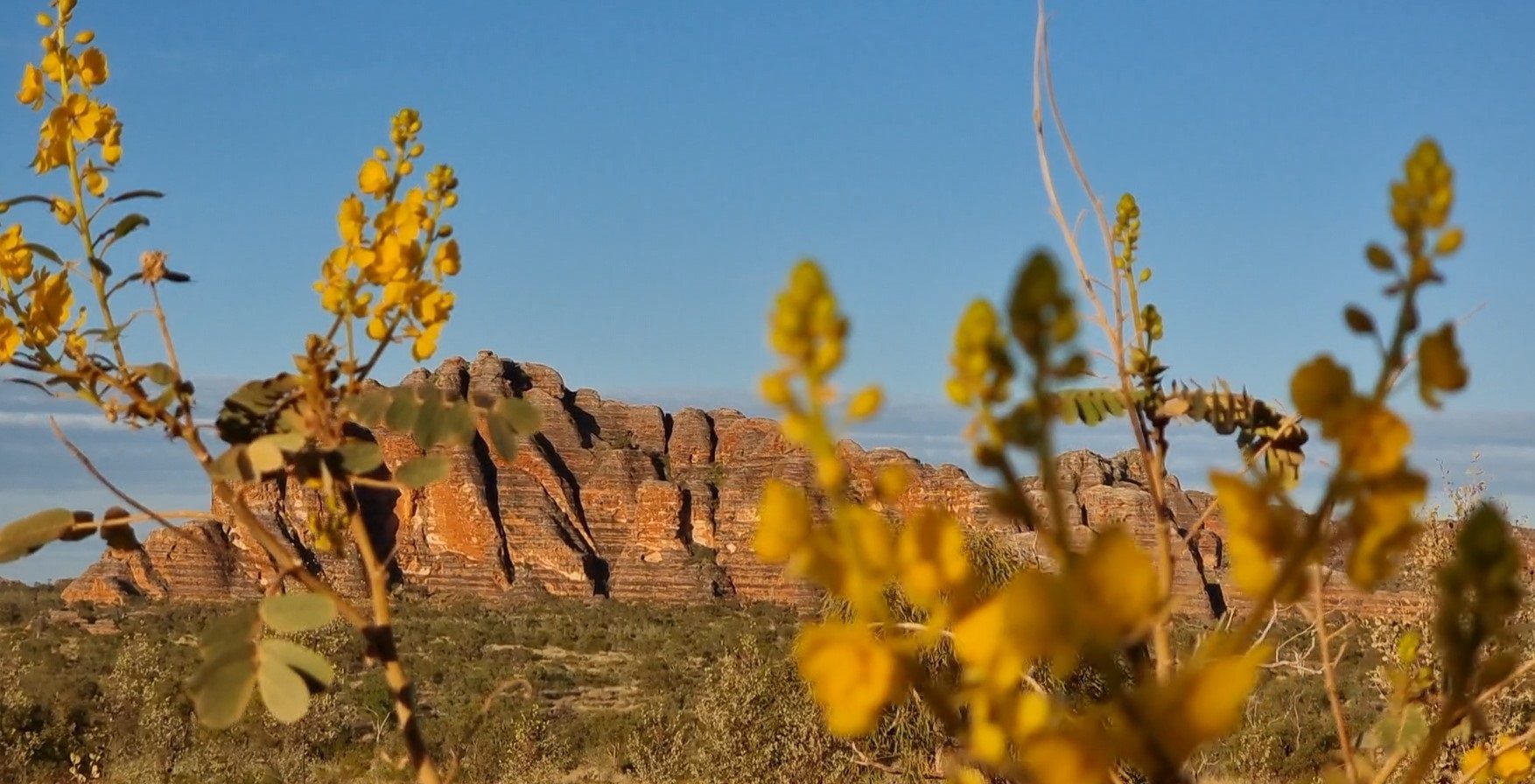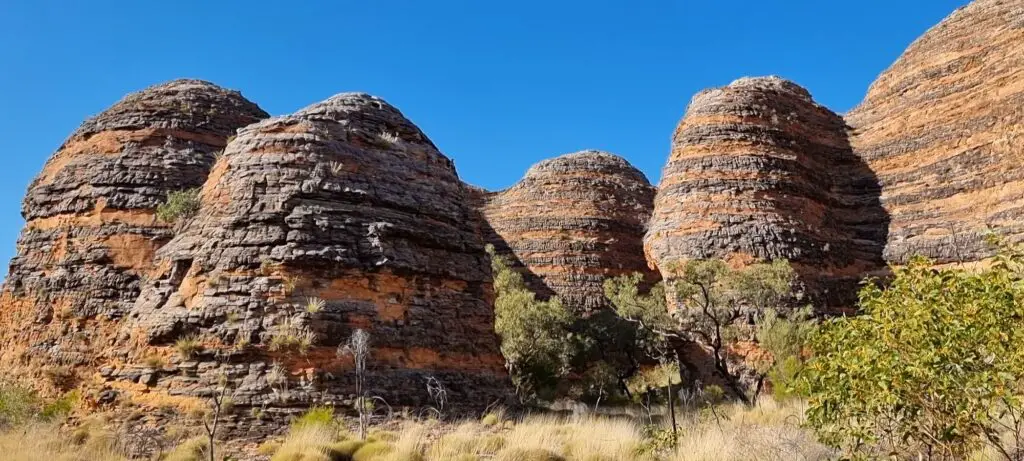 Those mystical orange and black striped "beehive domes" are what make the Bungle Bungle range so famous. Hiking through the domes area is quite magical, especially being able to see the detail in the rock up close. I have to admit, I was completely in awe of how incredible this place was.
Piccaninny Creek Lookout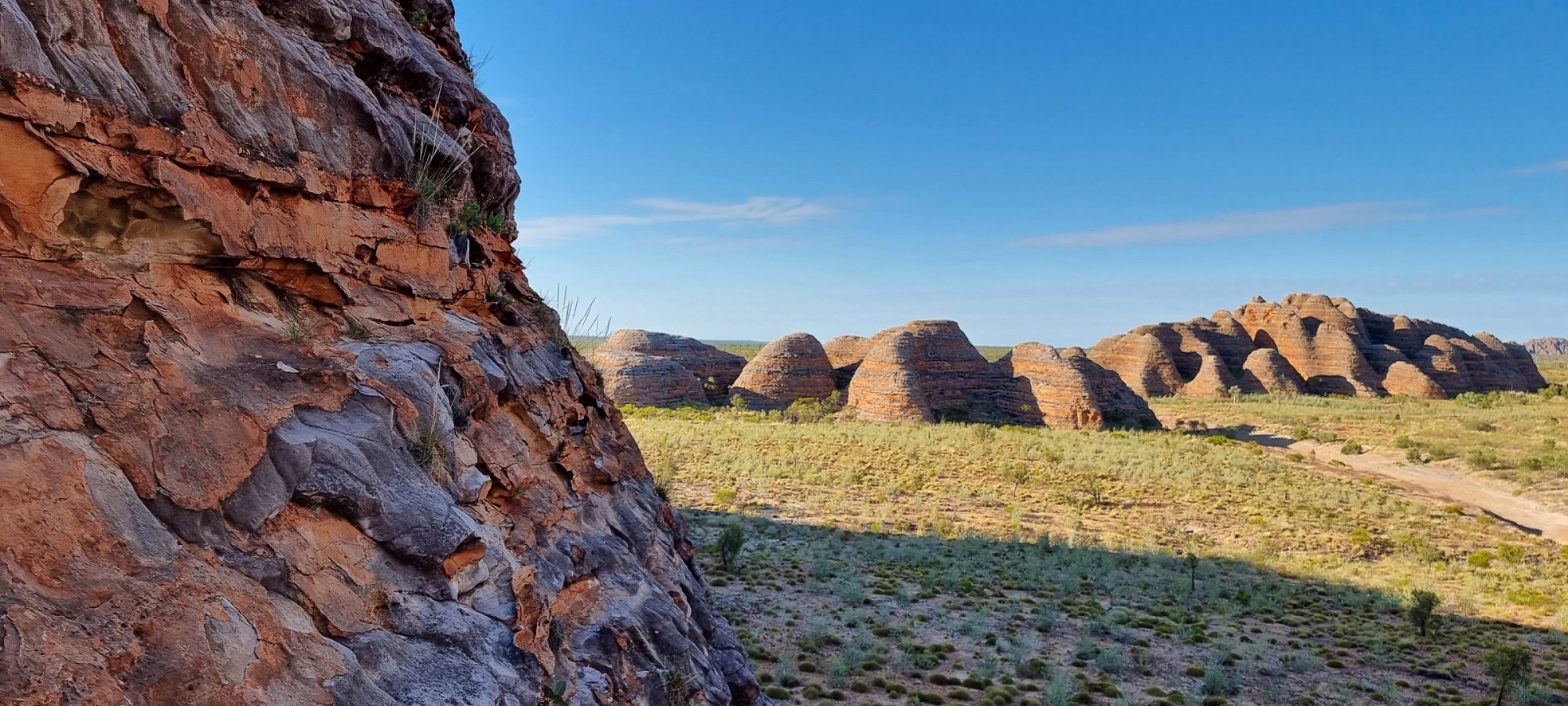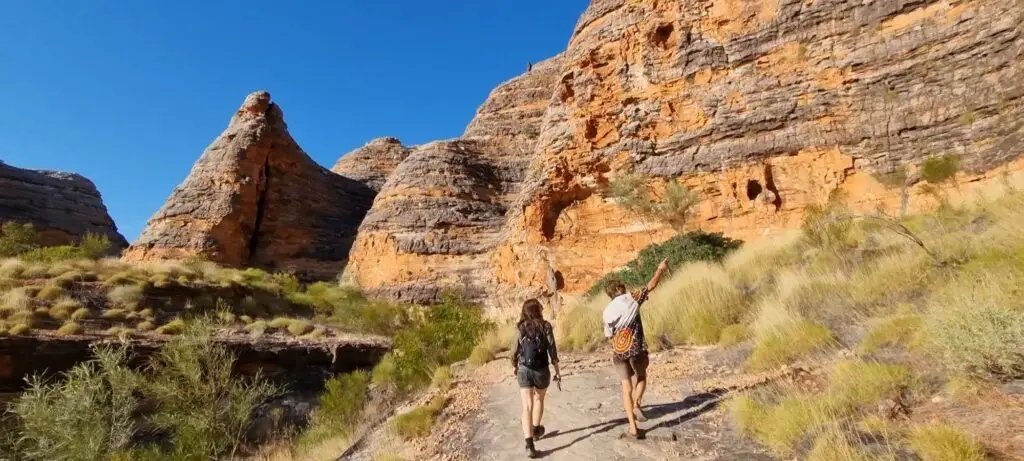 The Piccaninny Creek lookout trail is a 2.8 km return hike and gives a great overview of the area. All the way we are blessed with incredible views from every angle, so don't forget to look upward and outward along the way.
Cathedral Gorge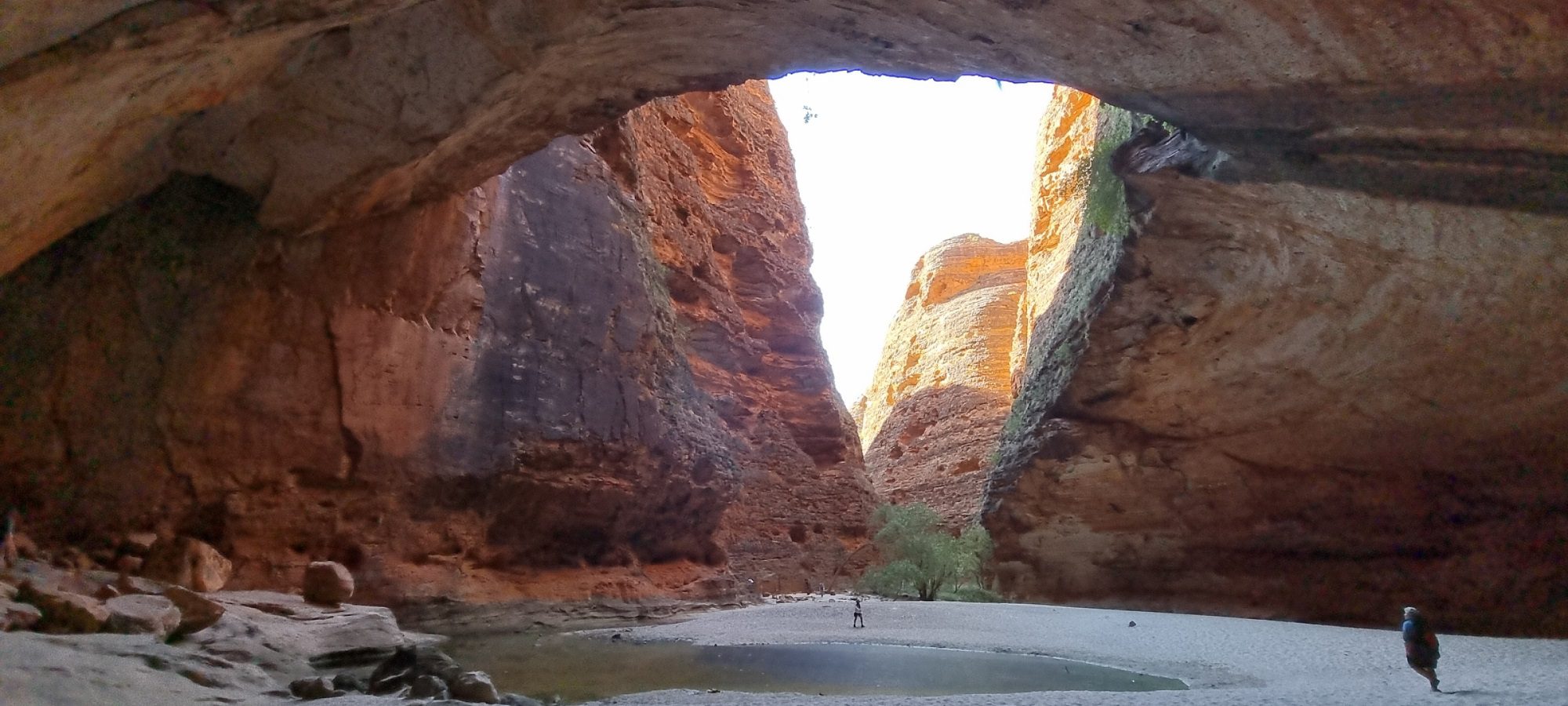 Seeing Cathedral Gorge is on everyone's wish list when visiting the Bungle Bungles as it is so well known to the area. Again we are spoilt on scenery during our hike to the cathedral.
This natural red rock amphitheatre is around 2km return from the carpark and was created by the rushing waters during the wet season. It offers a well shaded overhang and natural acoustic sound for those with singing capabilities.
Fortunately no one will get to hear my vocal cords today.
Echidna Chasm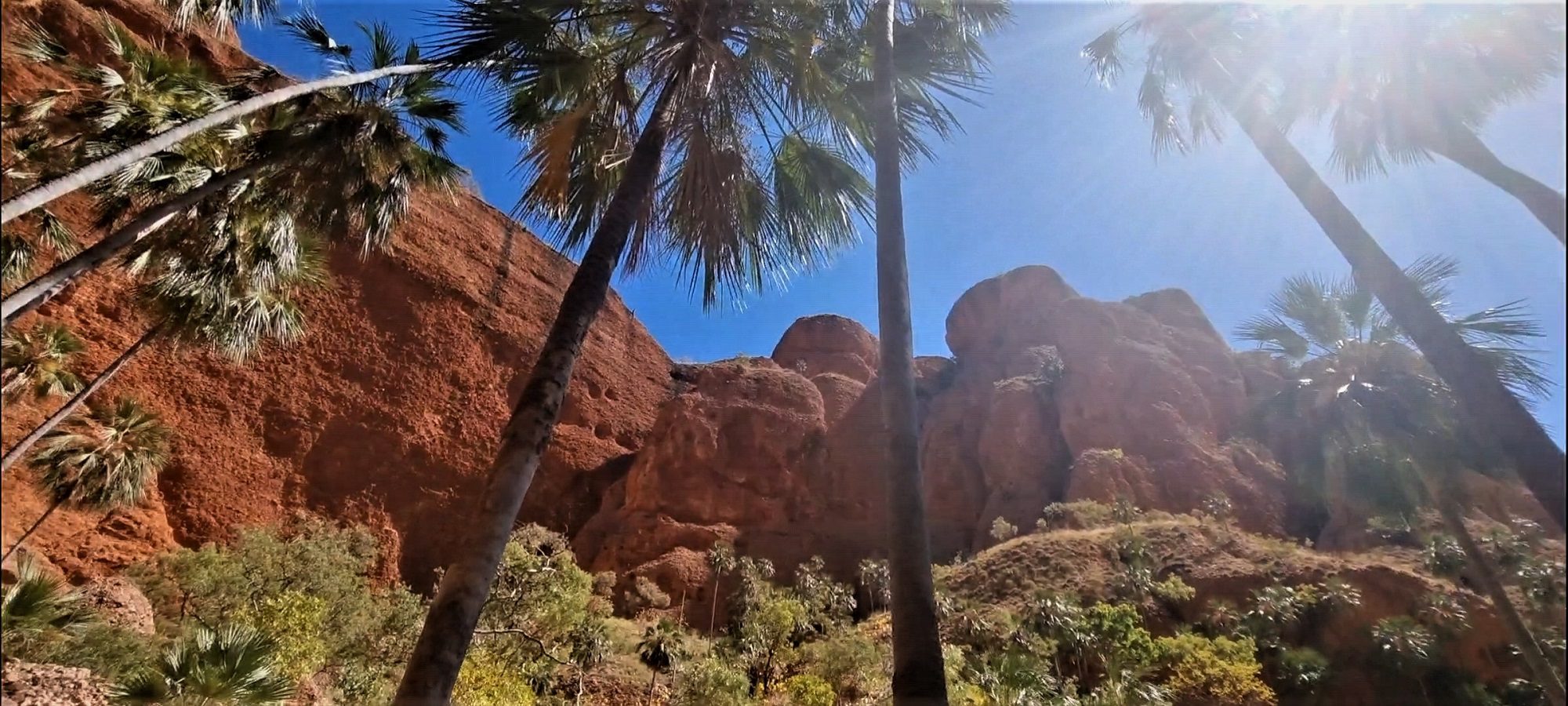 Located on the other side of the park, Echidna Chasm offers a different experience for hikers. The walk in feels quite tropical, with tall palm trees all around.
Once you reach the start of the chasm, the walls around you will slowly close in as you make your way deeper into the chasm. There is some minor rock climbing (nothing too hard) to reach the end and note the walls do enclose to around 1 metre wide. It is totally up to the individual how far they decide to enter the gorge but it never feels like a case of claustrophobia, and instead a new exciting adventure.
Bungle Bungle helicopter flight – optional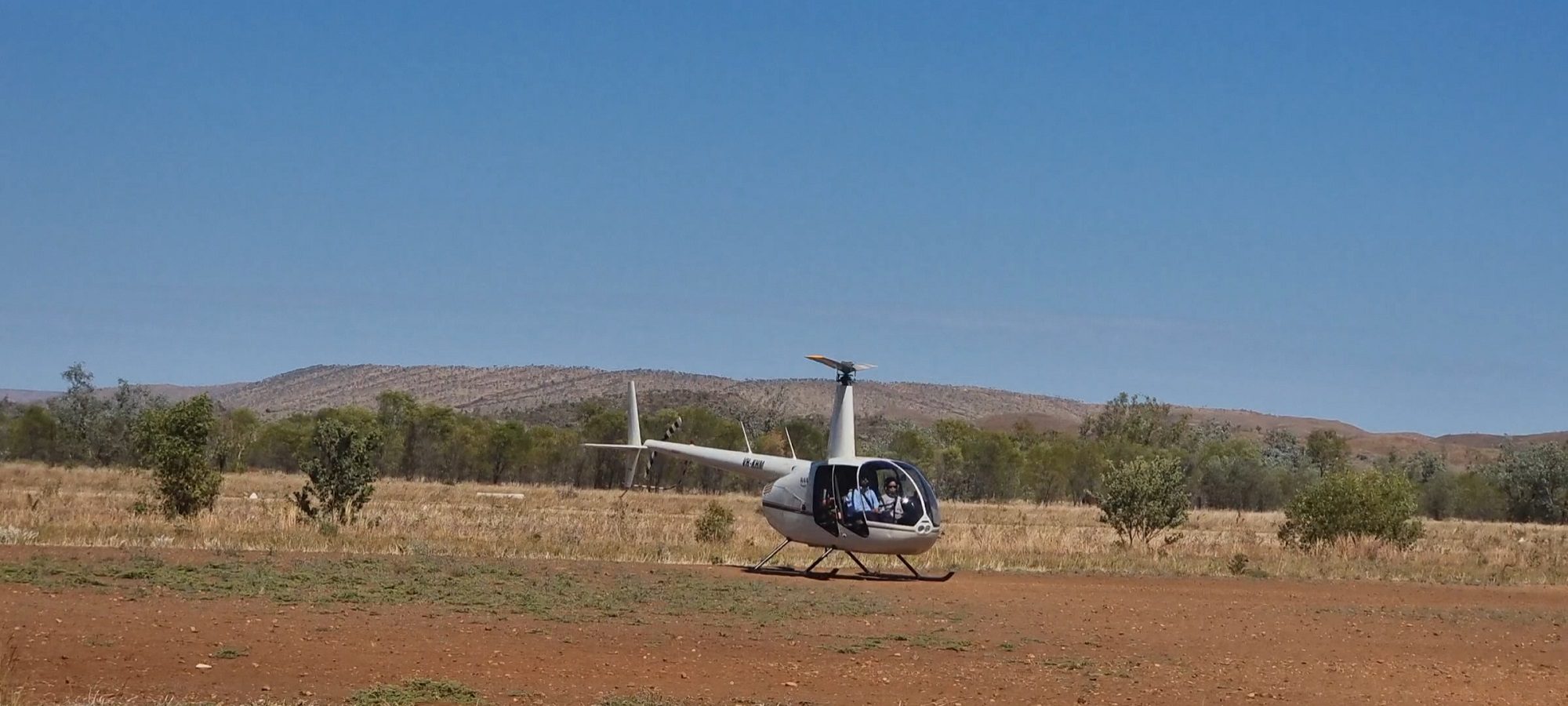 Though I did not participate in the helicopter flight, many in the group did.
This is an optional tour and from what I've heard, the Bungle Bungles are a pretty special place to do a helicopter flight. The group was raving about it on their return so if your budget allows, I wouldn't hesitate for a chance to soar above the Bungle Bungles.
We leave another magical destination behind and make our way to bush camp, one of my most favourite camps of the trip. Located next to a river, the sunset down stream was mesmerizing and of course we are the only ones who got to experience it.
Day 9 & 10 – Crossing the border & en-route to Darwin
Today we cross over into the Northern Territory, sadly leaving the great state of Western Australia behind. It's also the realization that things are slowly coming to an end. The only upside is knowing I'll soon be swapping my dusty sleeping bag with crisp white linen. But there is one last highlight before we make our way to Darwin.
Bill Harney – a dreamtime experience
We had the absolute pleasure of meeting Bill today who took us deep into the bush to see some incredible rock art.
Everyone in the group was fully engaged when hearing Bill speak, and it was a real honour to learn more about the culture and stories of dreamtime.
A stop in Catherine, NT is part of the last leg as well as a stop at Edith Falls. Unfortunately we are a little bit behind schedule so the falls will have to wait another time. That's the things about outback travel, things can change and not everything goes completely to schedule. The group gathers in Darwin for a farewell dinner. It's a chance to swap contacts and any photos we are dying to share.
It's been a wonderful experience on my Brooome to Darwin Tour, and I'd do it all again in a heartbeat. In fact, I'm certain that going a couple of months earlier when the wet season has only just finished would be a completely different adventure.
A big thanks to Travel Wild, Niall our tour guide and of course the Kimberley for putting on such a spectacular show.
FAQ'S for Kimberley Road Trip Tour
What are the overall condition like?
This is a overland camping tour so expect some dusty and bumpy conditions. Plus, you are out in the wilderness much of the time, experiencing a true iconic Aussie outback adventure. Facilities such as toilet and showers are not always up to scratch, and sometimes even non existent. But you'll have plenty of opportunity to swim and regain a sense of cleanliness along the way. I suggest embracing it just like everyone else and enjoying your once in a lifetime opportunity.
What type of meals do we get?
The great thing about this type of tour is knowing you'll be well fed each and every day. What actual meals you get will depend on how inventive your tour guide/chef is in the kitchen.
For breakfast we had the standard cereal, fruit, yoghurt and for lunch it was fresh salads, bread and generally chicken and sliced meats. I was happy that we given fresh healthy alternatives over any type of unhealthy pre packaged foods. Plus, we were constantly on the move so lunch needed to be kept simple.
Dinner was the highlight of day with meals such as butter chicken, pasta and roast meats with vegies cooked in the camp oven. We also were given snacks such as fresh fruit and muesli bars, plus water, tea and coffee.
Also note that we had some vegetarians in the group who were well catered for.
What Internet and charging facilities are there?
Don't expect to get internet in the outback, but you will occasionally find one or two bars showing on your mobile phone. This only applies to Telstra customers though.
As for keeping your things charged, the truck had plenty of USB ports running 24/7 so just remember to bring your charging cables.
Are there crocodiles in the water?
As mentioned we did swim with crocs in the water but these were fresh water crocs only. I never actually saw any, as they tend to keep away when people are in the water. They are much smaller than salties and pose little threat. I know, it was hard for me also to wrap my head around this but rest assured, you'll be fine.
How strenuous are the hikes?
The hikes are truly the best part of this Broome to Darwin Tour and they ranged from a few hundred metres up to 5 km or so. Many were easy to moderate but occasionally required some extra effort or rock climbing. Longer hikes such as Manning Gorge are optional but I wouldn't want to miss it.
You'll also need some trainers with good tread or hiking shoes, as conditions of the rocks are at times slippery.
The last thing to consider is the heat as that does contribute to how difficult you might find it. But as long as you take plenty of water, you'll be absolutely fine.
Is a tour a cost effective way to see the Kimberley?
Definitely. Once you have paid for your tour you really don't have many other costs to worry about. Your meals, accommodation, transfers, guided tours and park entry fees are all taken care of, so in my opinion it's an absolute bargain to travel this way.
I estimated I spent around $200 which included the Lake Argyle overnight cruise, alcohol and some light snacks along the way. I also gave a tip to my tour guide of $100 at the end but that is optional of course.
Be sure to read my guide on How to Save Money for Travel for those needing some extra tips.
What do you need to bring for this trip?
As I just mentioned, you have to bring your own alcohol which will be stored in a communal esky. Plus you'll get one or possibly two other chances to purchase more but your guide will fill you in on this.
The other crucial things to take are sleeping bag and pillow. The tour company provided a tent and swag.
Finally, don't forget a head torch as you'll need it for setting up camp, trips in the middle of the night and during the hike into Tunnel Creek.
Who are your fellow travellers?
This type of trip attracts the young and old and certainly above all, the adventurous. You'll most likely have international guests also, keen to experience the Australian outback at its best.
Participants should be willing to go with the flow and not afraid of a bit of dirt and dust. This is not a trip for someone who's not a team player. Be prepared to share the experience and remember that occasionally you might need to 'suck it up' like the rest of us. If you can do that, you'll love every minute of it.
Which direction is considered the best way to travel?
Personally, I think Broome to Darwin is the way to go but you'll see it all which ever direction.
The reason I say this is because once you leave Broome the adventure begins immediately. You are on the Gibb River Road first day enjoying the gorges and scenery of the Kimberley. It also naturally winds down toward the end of the tour. When you go Darwin to Broome it takes a couple of days before you really get into it.
It may come down to what tour is available because it sells out quickly due to it's popularity.
Which month is best?
These Kimberley tours run during the dry season starting in May and generally end September/October before the wet season starts again.
The months of May and June are a great time to go when the waterfalls are still flowing quite hard and the rivers are still well and truly up, but it can also mean high humidity. My trip started early August and it was incredible in every way, so I think the best answer is – the best month is any time these tours are running.
Why should I consider this tour?
The Kimberley is a place of incredible beauty and so much diversity. When we think of the outback we imagine dry and desolate conditions. But the Kimberley is so much more.
This is your chance to get off the beaten path and immerse yourself in the richness of the Australian continent. You will find a place of wild and untamed landscapes, breathtaking gorges and waterfalls, cultural highlights and a whole lot of dusty adventure.
Tours of the Kimberley