As an Amazon Associate I earn from qualifying purchases. I get commissions for purchases made through links in this post.
A Broome Horizontal Falls Day Trip has certainly become one of the most sought after excursions for visitors to the Kimberley region, and I'm here to show you what you can expect from this full review. A must in your Broome itinerary, the day promises thrill seeking adventure, and some of the country's most jaw dropping scenery not only from the air, but also on ground and in the water.
You'll also get to visit the famous Cygnet Bay Pearl Farm as well as One Arm Point Aboriginal Community and Hatchery. It is quite simply a day full of breathtaking and informative highlights.
This particular tour is one of the most unique things to do in Broome, Western Australia and is worth saving money for. So if you can afford a Horizontal Falls day trip from Broome, you definitely won't regret it.
Related articles
Best Budget Broome itinerary- unique things to do in Broome
Ultimate Broome to Darwin Tour – what to expect
Best Horizontal Falls Tour from Broome
There are generally two Horizontal Falls Tours that include the seaplane and boat ride.
Option 1. Fly from Broome return
You have the option to fly directly from Broome to the falls for your boat tour, and back which is great for those short on time.
Option 2. Broome to Cygnet Bay four wheel drive / Cygnet Bay to Horizontal Falls scenic flight / fly directly back to Broome
This was the option I chose to take after many recommendations from previous travellers.
You'll drive up to the tip of Dampier Peninsula, seeing some of the Kimberley sights along the way. From here, fly to Horizontal Falls for your boat tour. The return flight takes you directly back to Broome, so in other words, the four wheel drive section is only one way.
Why are Horizontal Falls so unique?
Located in Talbot Bay, the Horizontal Falls are only accessible via seaplane and high speed boats, which means only a select few ever get to actually witness this amazing phenomenon.
Driven by some of the highest tides in the world of up to 10 metres, the water is forced between two narrow gorges, pushing at incredible force to create a horizontal "waterfall" like feature.
Broome Horizontal Falls Day Trip – full review
This full review of starts in Broome, before we fly to Horizontal Falls from the tip of the Dampier Peninsula.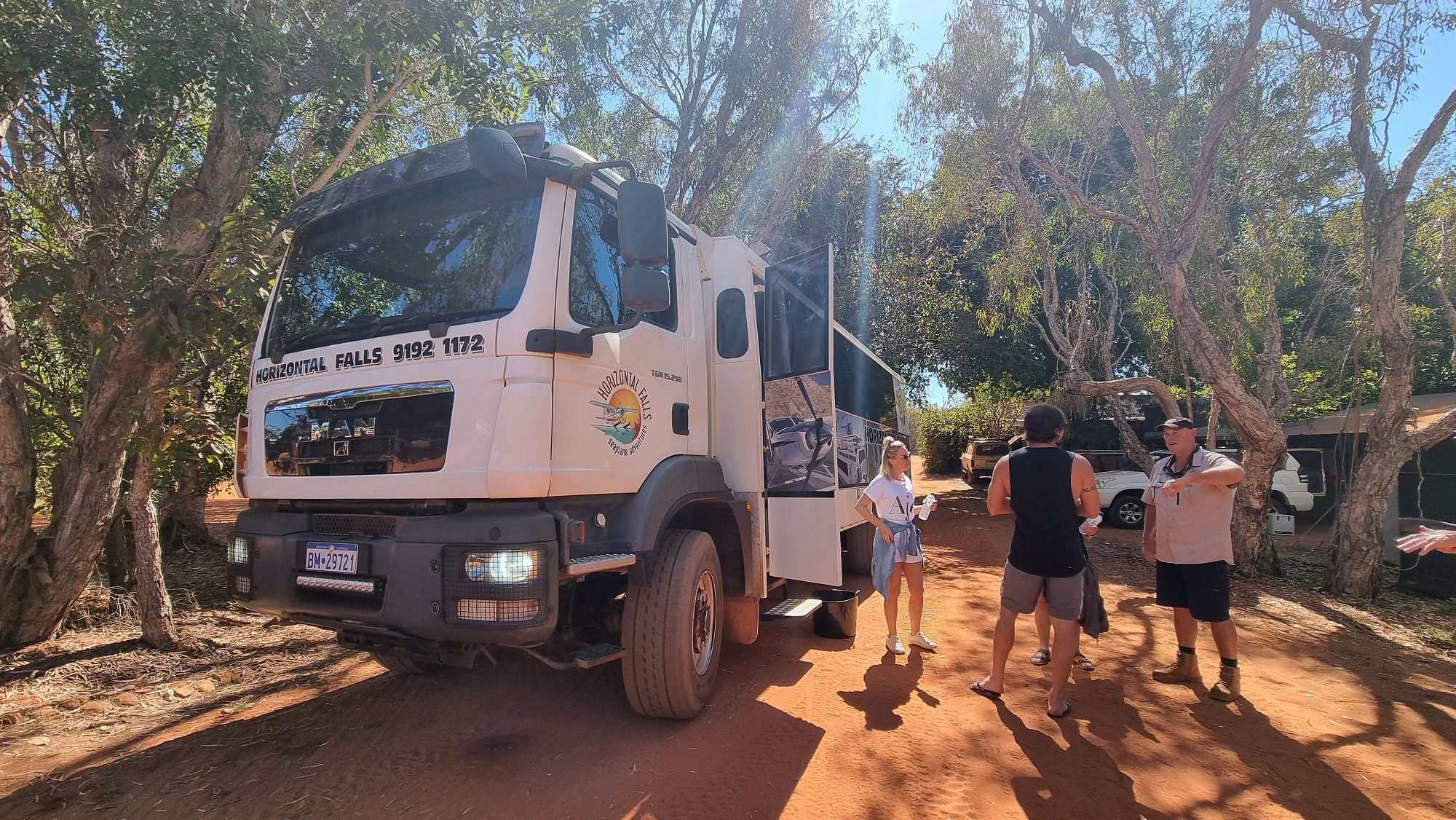 Four wheel drive along the Dampier Peninsula
A full day of adventure, we are picked up around 5.30 am from our Broome accommodation. The driver invites anyone who would like to join him in the front and I jump at the chance. That way I'll get to see the road easier and maybe spot some wildlife along the way.
The first light of day slowly but surely begins to illuminate the Kimberly landscape in tones of red and somewhat purple. It's quite magical this time of morning.
We head north along the Cape Leveque Road which is a comfortable sealed road. There is plenty of evidence of what the rains can do to the road during the rainy season, with huge gutters forming along the sides of the road.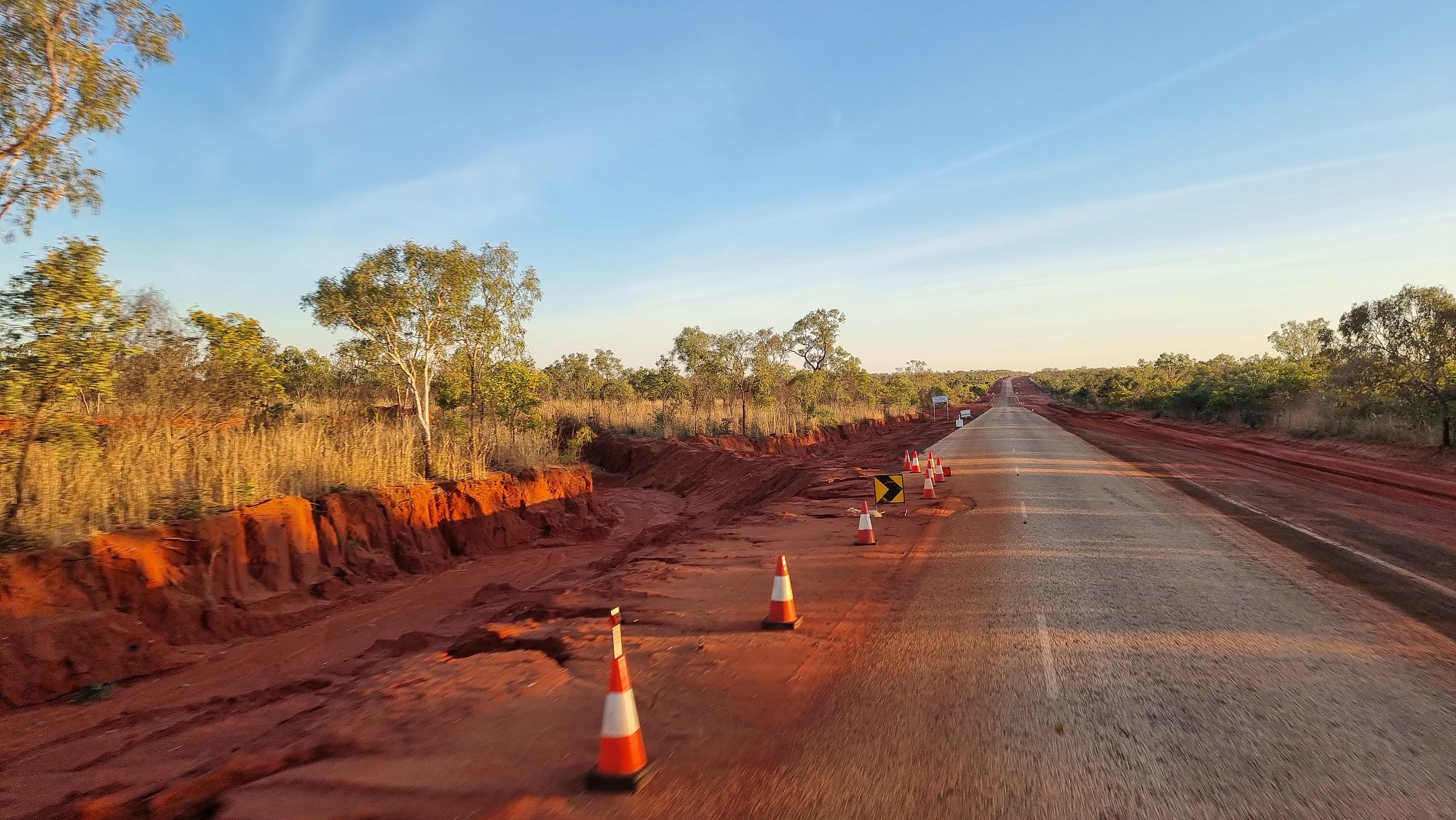 Cygnet Bay Pearl Farm
The Cygnet Bay Pearl Farm is our first stop, arriving around 9 am. We head inside to the restaurant for a fully cooked breakfast before our tour begins, which is included in our tour cost.
The pearl farm is the oldest in Australia and has quite a rich history which is explained to us through a video presentation and a talk from the local tour guide.
It's quite amazing to hear how the pearling industry was formed in such a remote and challenging environment by one man, Dean Brown who came to the area, pitched a tent and set about to farm pearls.
Also, it was hard to imagine the diving conditions they were once subject to, with divers enduring many hours underwater in equipment that can only be described as heavy and prehistoric. It certainly was a hard life back in the time.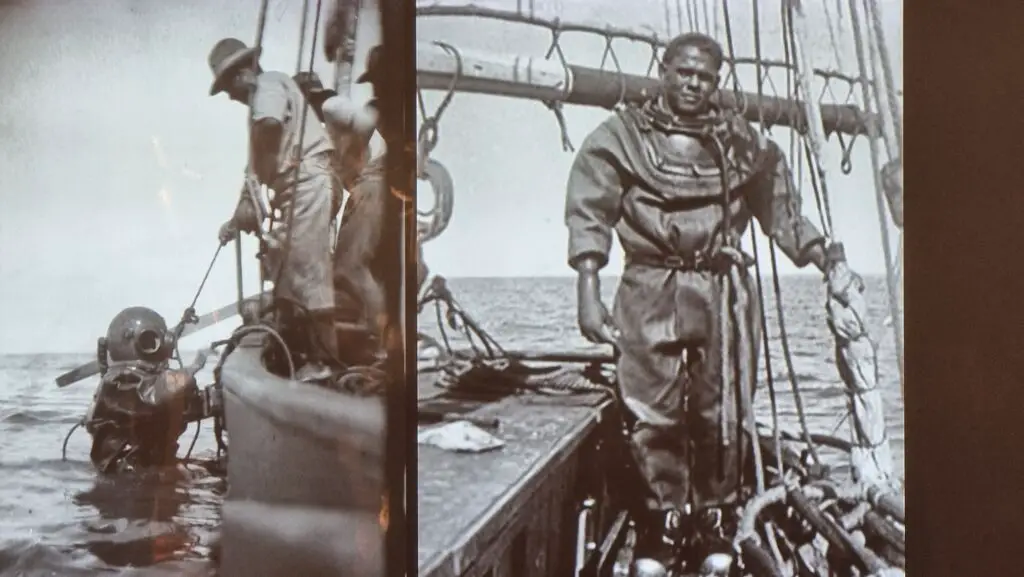 We head out the pearling shed to see just how they cultivated the pearls before getting to see the world's biggest fine quality round pearl, farmed right here in Cygnet Bay.
I really enjoyed this portion of the tour and found it extremely informative and hands on. The guide displayed great enthusiasm and had some very interesting stories to tell. The tour is a great insight into how farming in such a remote part of Australia was successfully achieved all those years ago.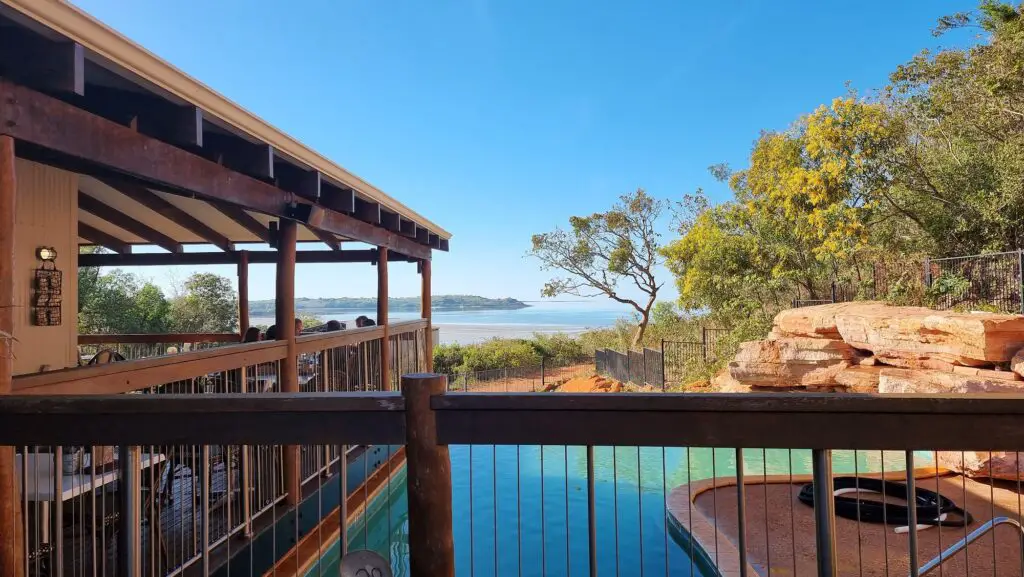 One Arm Point Aboriginal Community and Hatchery
Next we make our way to the community of One Arm Point Trochus Hatchery and Aquarium. It is located at the very tip of the Dampier Peninsula.
The area in incredibly scenic overlooking Jackson Island. It is here you get a good view of just how fast the tides can move in and out.
The Trochus shell was once farmed during a viable time when buttons were created and sold throughout the world. It was when plastics arrived on scene that the need for the shell was made virtually obsolete.
The hatchery, established in the late 1980's was formed to help restock the shell along with fish, coral and various crustaceans.
Again, this was another informative tour. It provided a glimpse into an industry and a way of life so far removed from anything most of us have ever experienced. It was a privilege to hear all this from the people themselves on the land they have lived all their lives.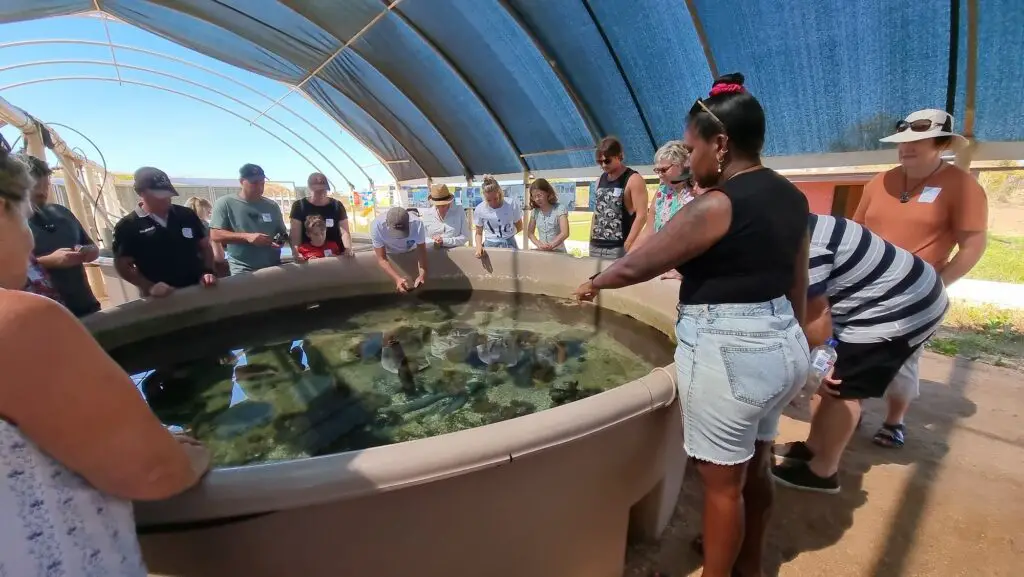 Seaplane flight to Talbot Bay – home to Horizontal Falls
Around midday we make our way to the local airstrip ready to board our flight. It takes around 45 minutes or so to the falls.
After a quick briefing, we are allocated a seat on the plane. What do you know, I'm in the front with the pilot. As seats are based on achieving equal weight distribution, choosing your own seat isn't an option. Either way I'm pretty happy with the pilot's decision.
The planes were 12 seats I believe, and though we are taking off from a dusty red airstrip, we'll be landing on water once we get to Talbot Bay.
The take off is smooth, immediately starting a low climb that will never gain too much altitude. That's because this portion of the flight is all about the scenery. So staying low means having spectacular views all the way.
We pass over hundreds of islands through the Buccaneer Archipelago. It is a feast for the eyes and lucky for everyone on the flight, we all have prime position.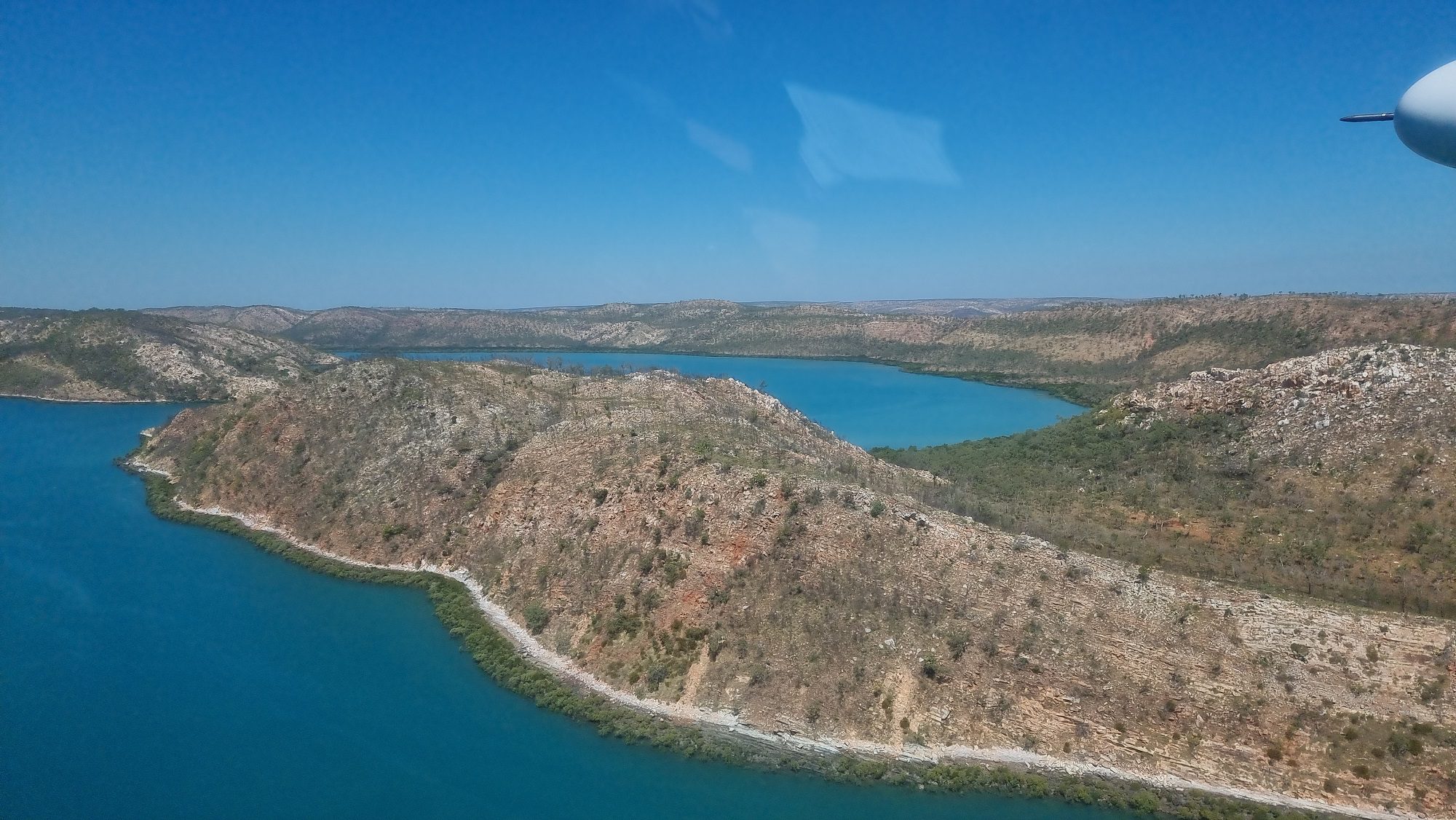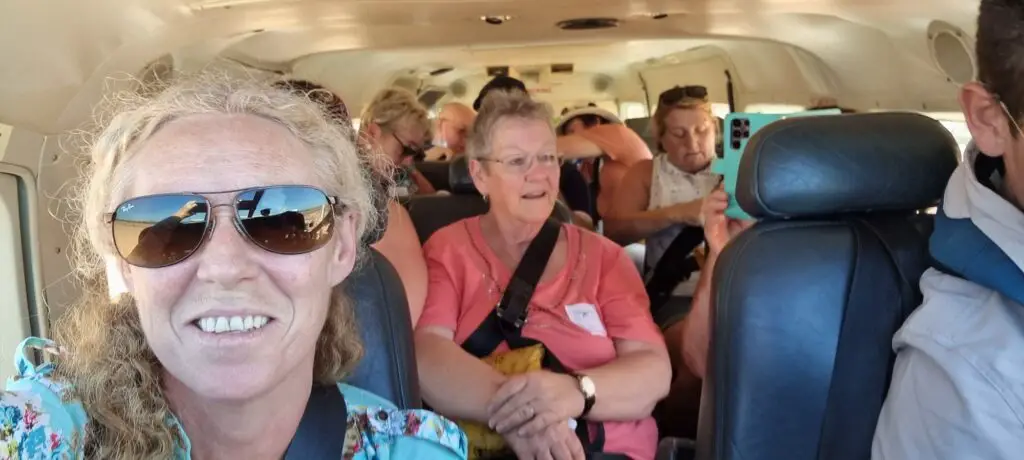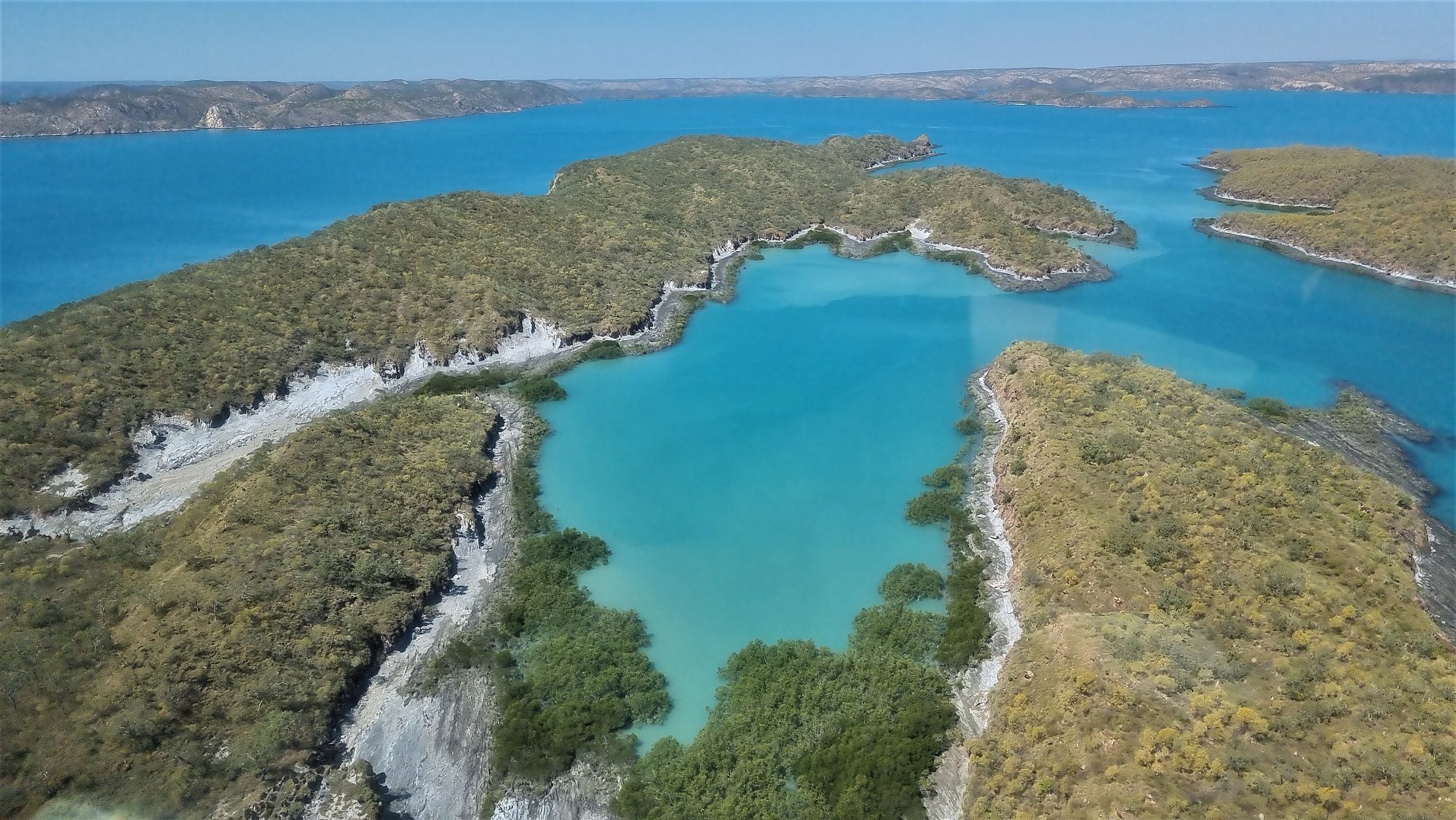 Circling the Falls
Once we reach Horizontal Falls the excitement really ramps up.
The pilot maneuvers like a pro, circling the falls in order to give us the best possible vantage point to witness this incredible sight. It truly is a magical moment.
From here the plane makes a beeline for the water, coming in long and easy. He motors to the pontoon where we disembark for lunch.
We enjoy a meal of fresh barramundi and salad. It is by far the best seafood I have had during my time in Broome. I'm also contemplating whether to go back for seconds.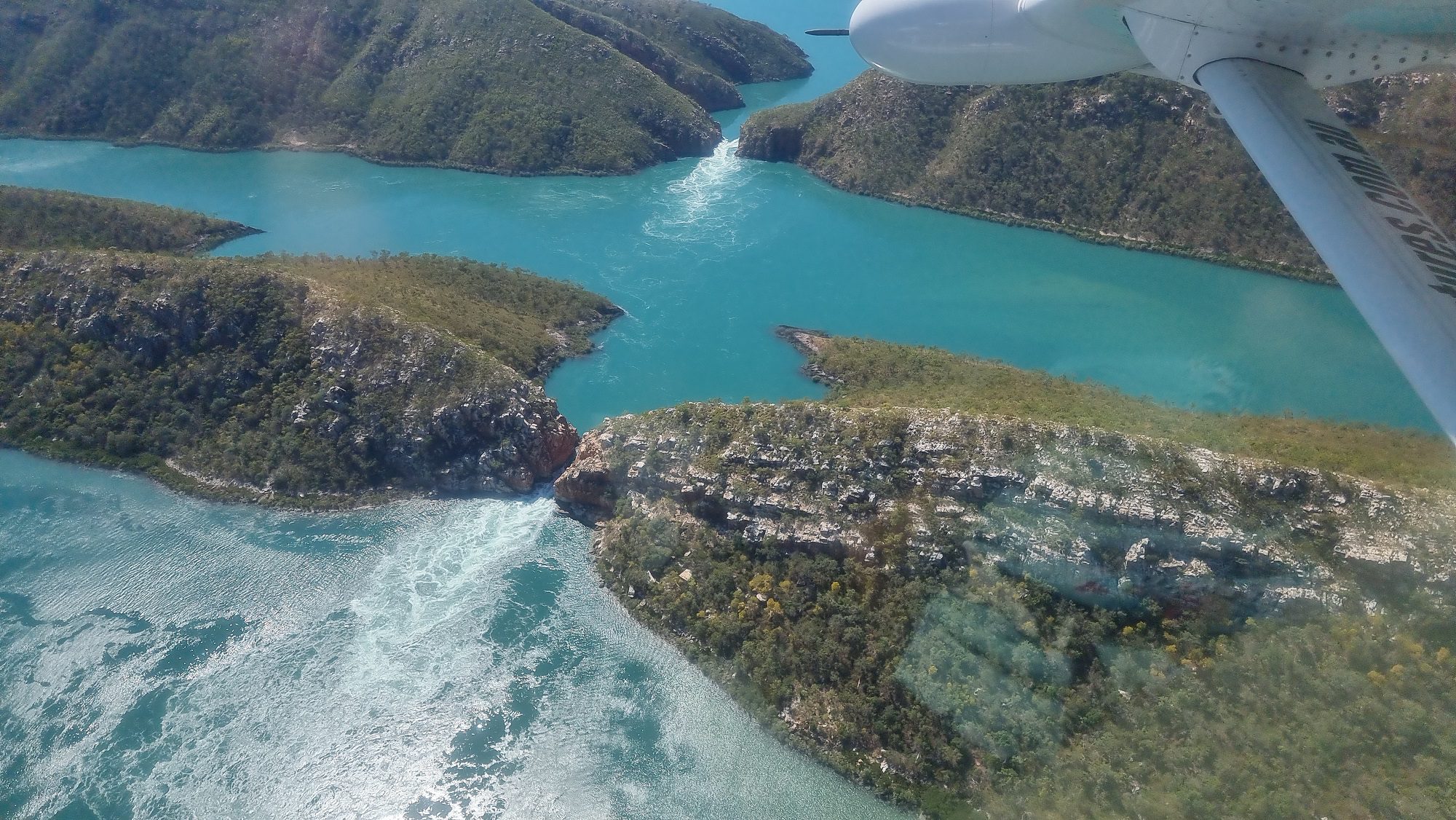 Boat ride to Horizontal Falls
All aboard the 900hp fast speed boats for a trip out to the falls.
It is unfortunate that today has been deemed unsafe to enter the falls. Therefore we must abandon any hope to experience the thrill of passing through them.
It's a shame, but in hindsight it is not a make or break situation. Instead we are taken out on the boat not once, but twice. We were also offered a partial refund which I put that toward a boat trip to the Dinosaur footprints.
We do get to feel the power of these boats regardless, as the captain moves within range of the churning water. We hover for several minutes watching the incredible force of the tide pushing hard toward us.
Next, it's onto Cyclone Creek for a closer look at this magnificent part of the country. The colours and textures are constantly changing as we move slowly through the water, backed up by some great commentary.
Finally, we finish with yet another rush at the entrance to the falls before heading back to the pontoon.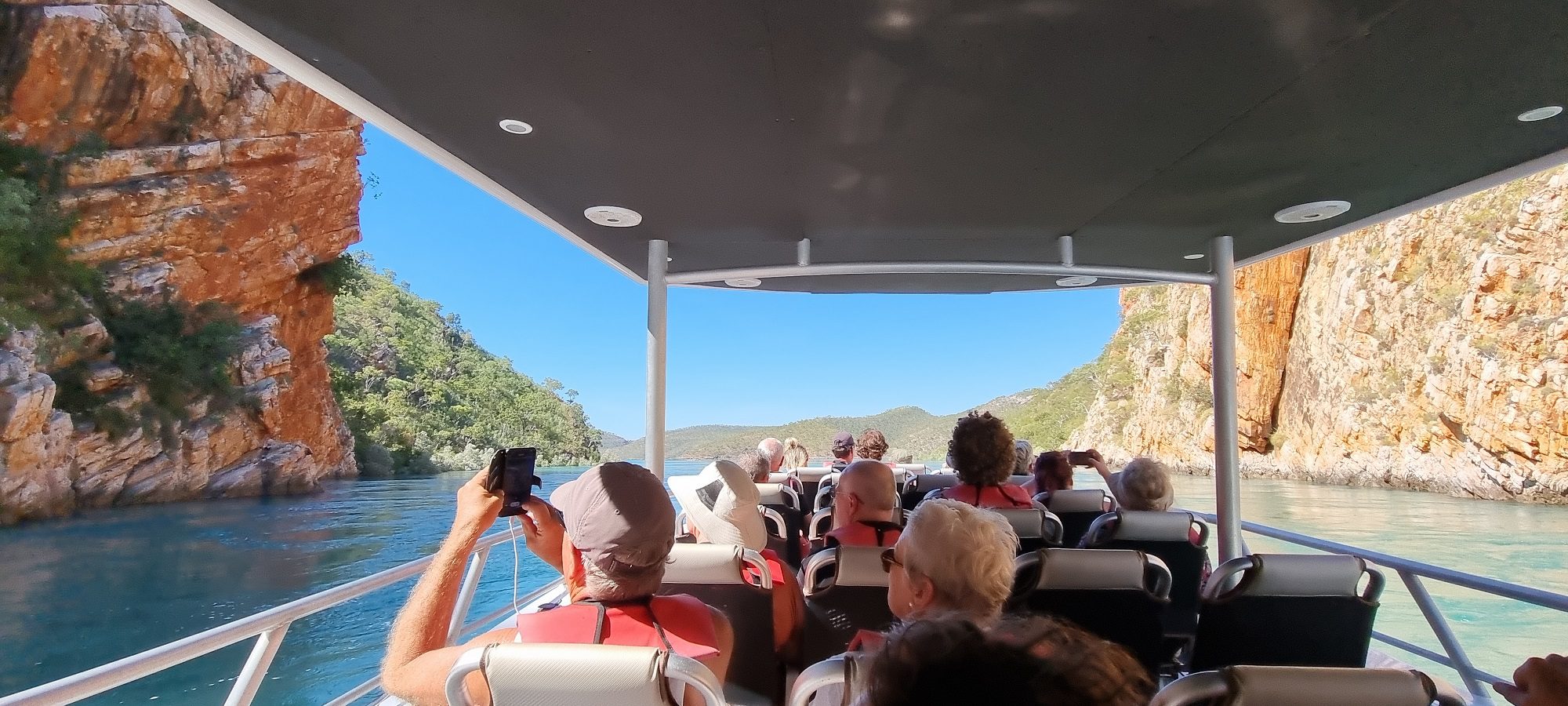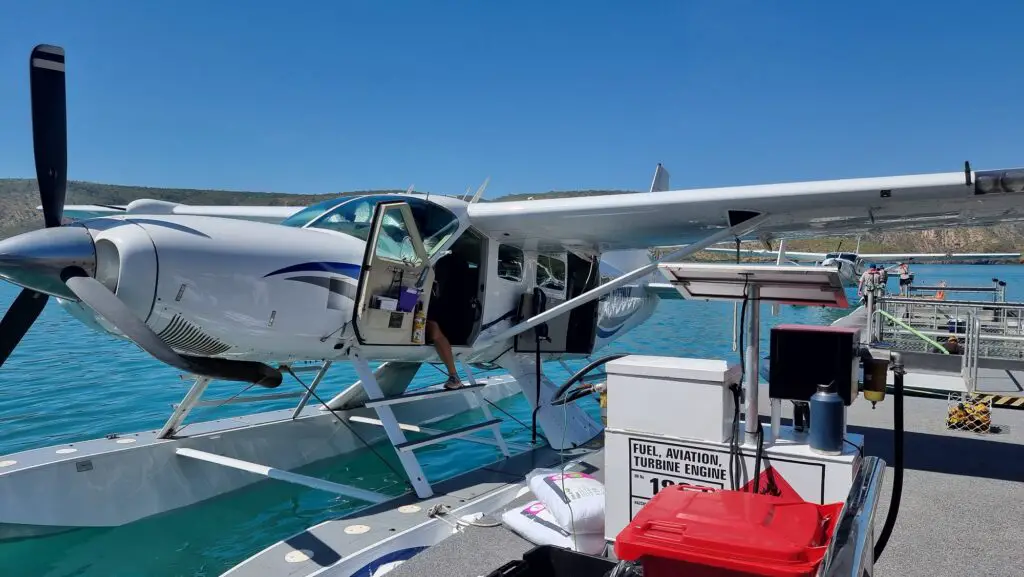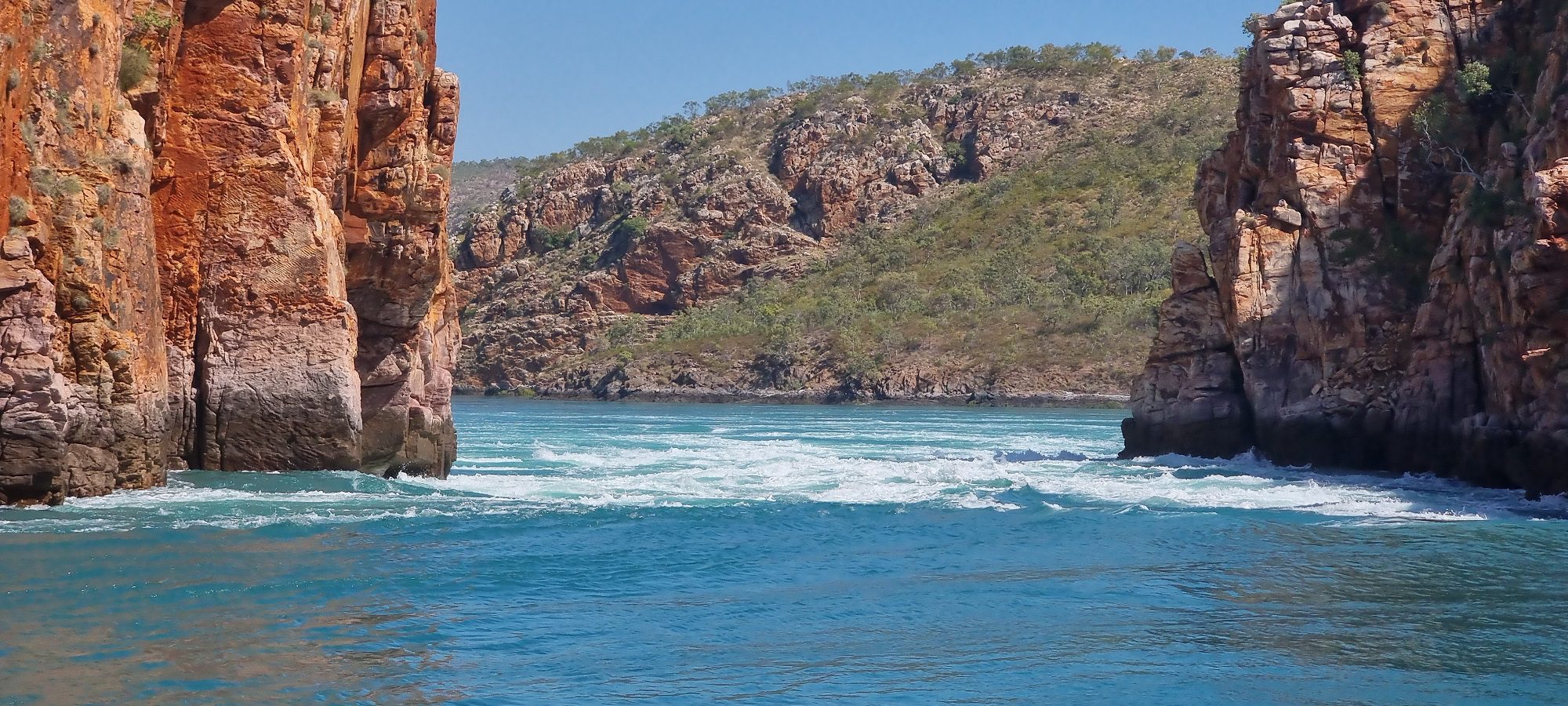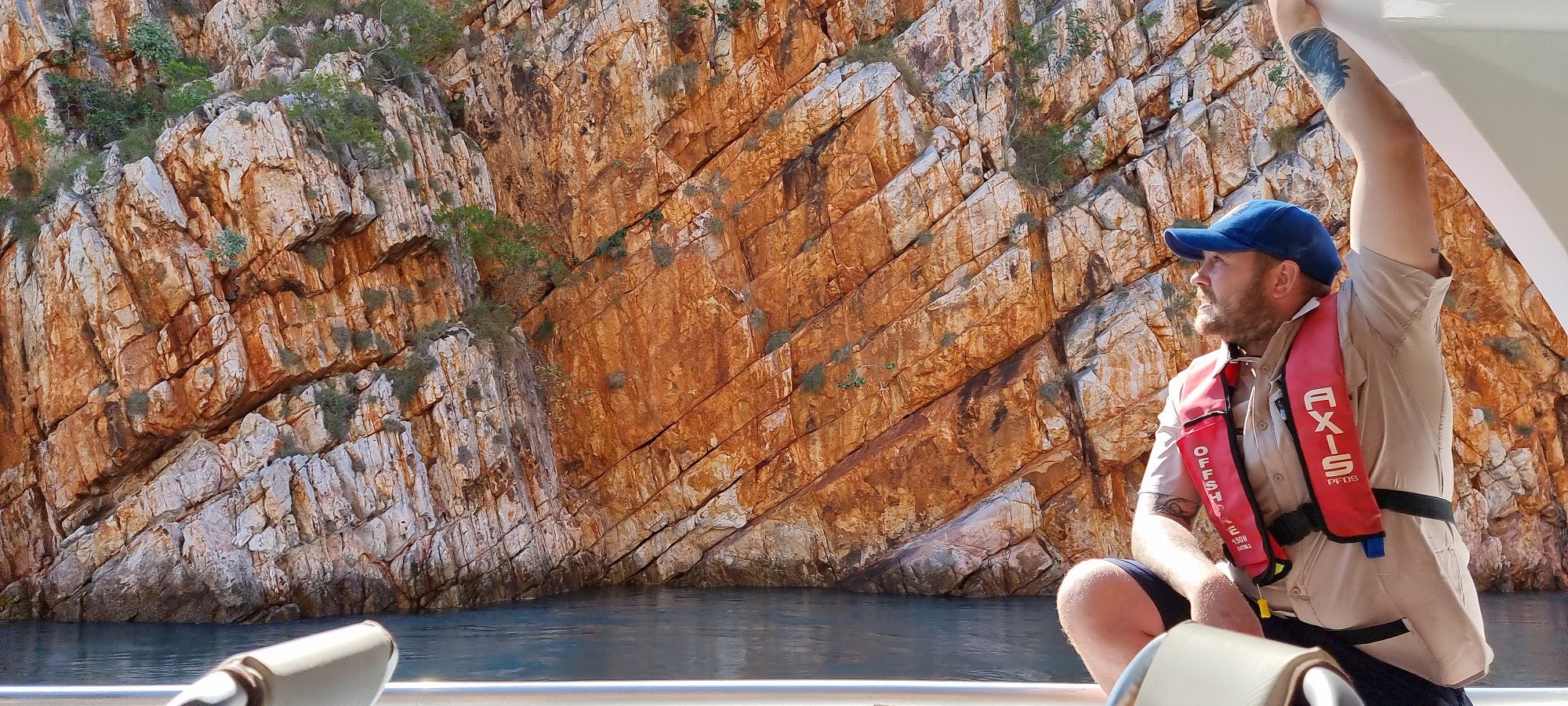 Shark Feeding and Swim
While the words 'shark feeding" and 'swim' don't exactly go together, it's not what it sounds.
The pontoon houses a very small tank which anyone is welcome to jump in. At the same time, the sharks in the next tank are fed by one of the team. The sharks can enter from the open water so it gets pretty crowded. They're all waiting for something to come their way.
As far as the shark feeding goes, it was cool to watch but I had no desire to jump into the tank. Even though I had brought my bathing suit, it really didn't look that inviting. Most other people decided to stay dry too.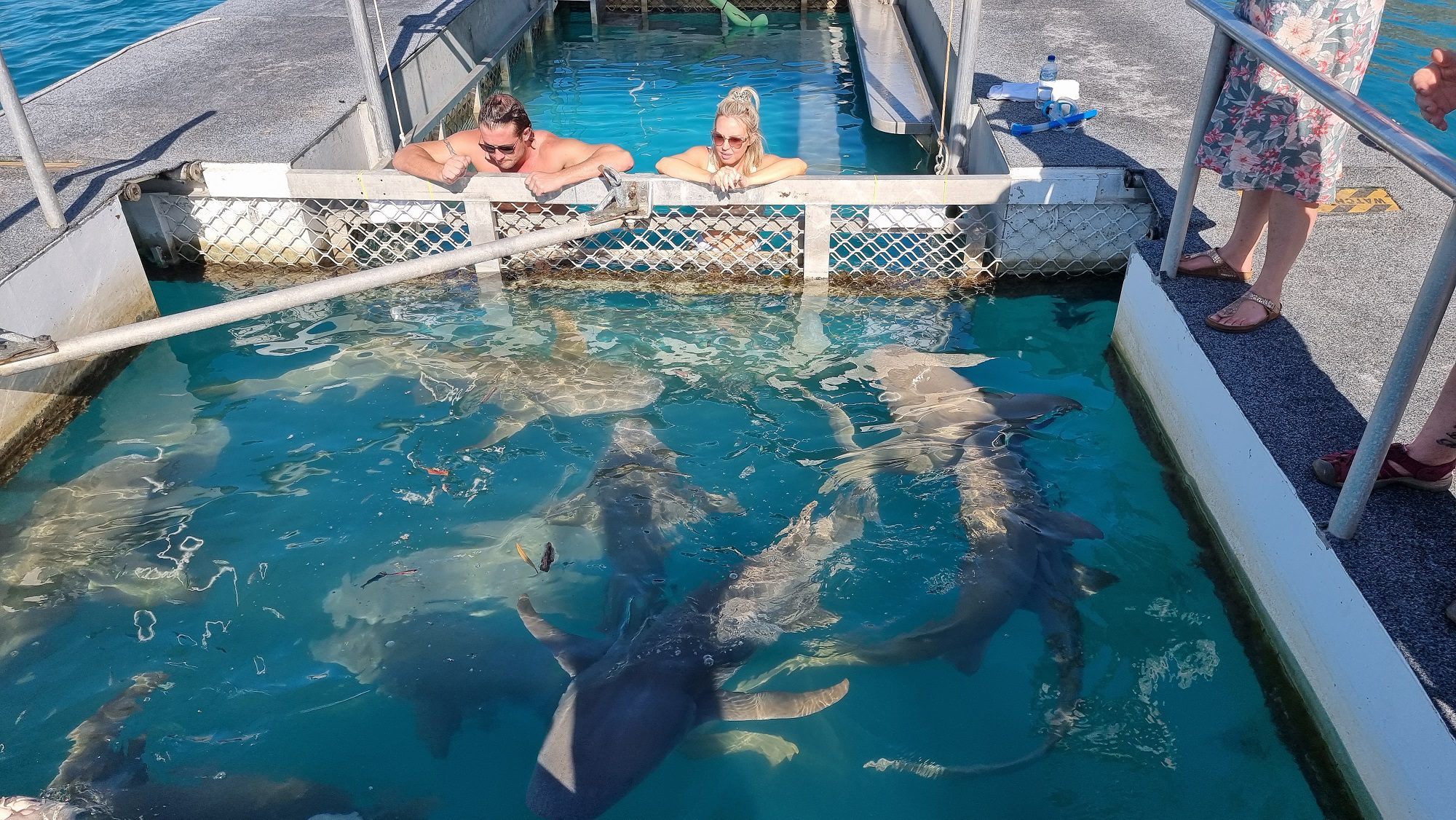 Flight back to Broome
Our Broome Horizontal Falls day trip is coming to an end and it's time to head back late afternoon.
This time we get much higher in the air still enjoying the amazing views. The afternoon sun is slowly descending and a gorgeous light reflects across the ocean below us.
It's around 1.15 hours to Broome, and as we get closer the pilot flies over the township as well as Roebuck Bay before touching down at Broome airport.
We depart for our bus ride back to our individual accommodation, totally blown away for the day's adventure.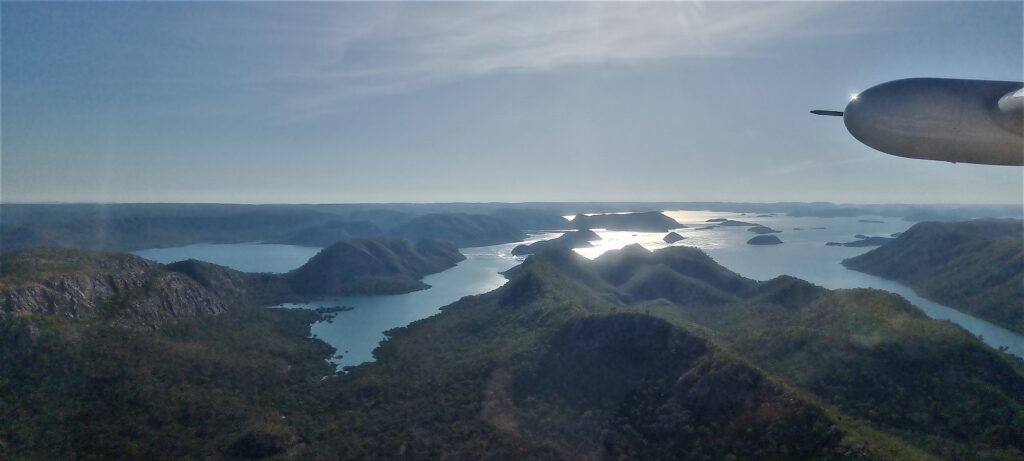 Is a Horizontal Falls Tour really worth it?
This is not a cheap experience, so understandably you will be asking the question "is a Horizontal Falls Day Trip really worth it?
I have to say that while the flight and boat trip are obvious highlights of the day, the four wheel drive section along Dampier Peninsula was incredibly informative and scenic too. It was great to drive up through the Kimberley region and learn more about the region, making it a full day of diverse and unique attractions.
For the best Horizontal Falls tour, I highly recommend the drive to Dampier Peninsula first, then flying out from there. You also get to see some incredible views of the Buccaneer Archipelago.
For the price it think it is extremely reasonable for everything you get to see and do.
Which Horizontal Falls Tour includes the four wheel drive to the tip of Dampier Peninsula?
This is the tour I went on here: Horizontal Falls and Dampier Peninsula Discovery Tour
Duration : 10 hours
Includes:
4 x 4 along Dampier Peninsula
Cygnet Bay Pearl Farm
One Arm Point Community and Hatchery Tour
Scenic Flight over Buccaneer Archipelago and the falls
Jet Boat ride though Horizontal Falls
Breakfast and lunch included
Return flight to Broome
hotel pick up and drop off