As an Amazon Associate I earn from qualifying purchases. I get commissions for purchases made through links in this post.
For first time visitors to Broome, the area is a wonderland of stunning and unique things to do. This guide takes a look at where to find dinosaur footprints in Broome and the best way to experience this interesting attraction on.
Why not join a tour:
4 hour Scenic and Prehistoric Boat Tour
Staying a few days in Broome? Read this first: Best Budget Broome itinerary – unique things to do in Broome
About the dinosaur footprints in Broome
The Kimberley Coast is a stunning and dramatic location, with fossilized dinosaur footprints being part of it's makeup for thousands of years.
The beaches of Broome are known as having the most significant dinosaur fossil site in the world. This "Jurassic Park" in North Western Australia is home to around 21 different types of footprint. In fact, some are exclusive to this region making them extremely unique.
It is also interesting that the world's largest dinosaur footprint is found right here in the Broome region. It spans around 1.75 metres and is the print of the largest member of the saurapods. The brontosaurus is part of this species.
When you consider that the next biggest footprint in the world is just over 1 metre, this is truly a special and significant find.
Where to find dinosaur footprints Broome
You can find the dinosaur footprints in areas around Cable Beach and Reddell Beach, but the most popular place to discover them is at Gantheaume Point.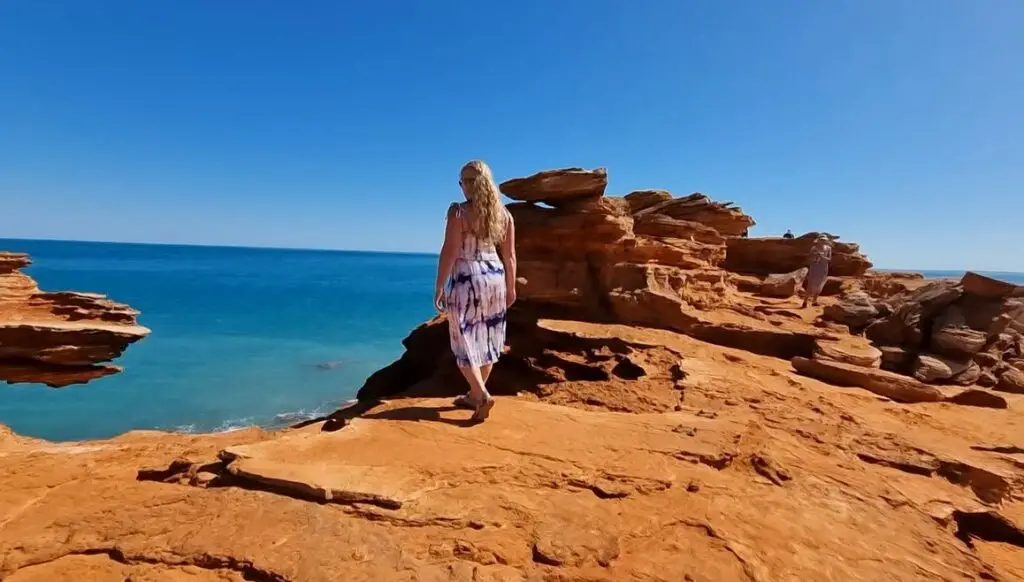 Gantheaume Point – best place to see dinosaur footprints
The Point has long been "the place" to discover the fossils of footprints left behind in the rocks.
Located in the car park is a series of informative boards, so be sure to take the time to read a few of them before making your way down to the beach.
Gantheaume Point is indeed a very scenic spot to visit. The bright earthly red rocks and turquoise water showcase the most amazing and colourful landscape. You will find a couple of footprints in the rock area here but they are not the real ones, rather a demonstration of what you might find.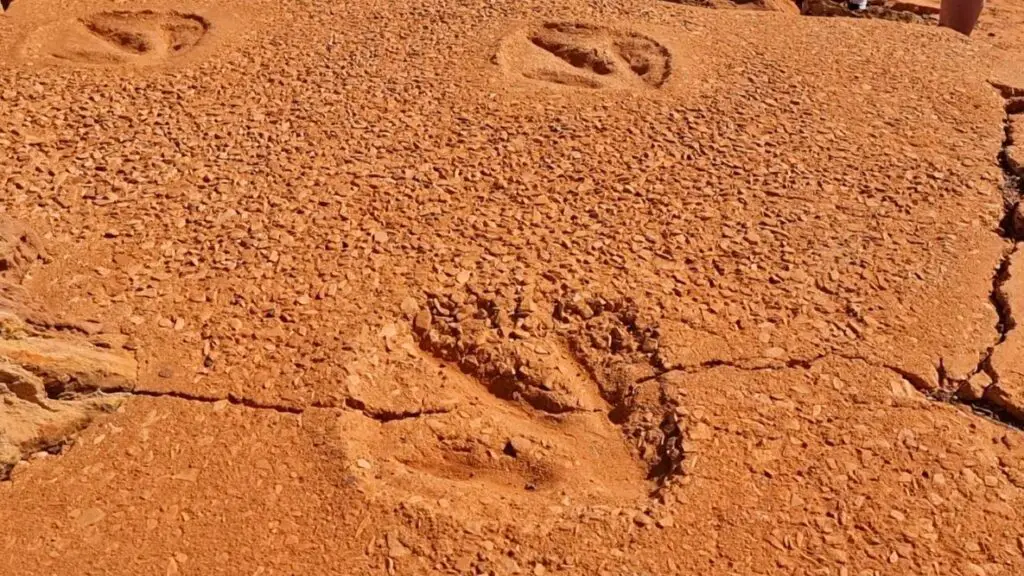 Footprints only accessible at low tide
You will need to come here at low tide in order to view the dinosaur footprints, when the tides are less than 2.16 metres. Be sure to check the tide times before you visit.
Getting to Gantheaume Point
Located a few kilometres north of Broome, the point can be reached by the following means:
self drive approximately 7 km
take the Broome Explorer Bus – there is only 1 bus per day that goes to Gantheaume point but does not return so you will have to walk back. It is the first bus of the morning.
walk from Cable Beach – approximately 6 km one way. Allow 1 to 1.5 hours each way.
By tour boat
Are the footprints easy to find?
For someone who knows what they are looking for, it may be easier to discover the prints, but for the every day person, they will definitely be more elusive.
Though I'm sure you will come across a footprint, you probably won't know it. Unfortunately there is no signage on the beach which makes it harder to spot.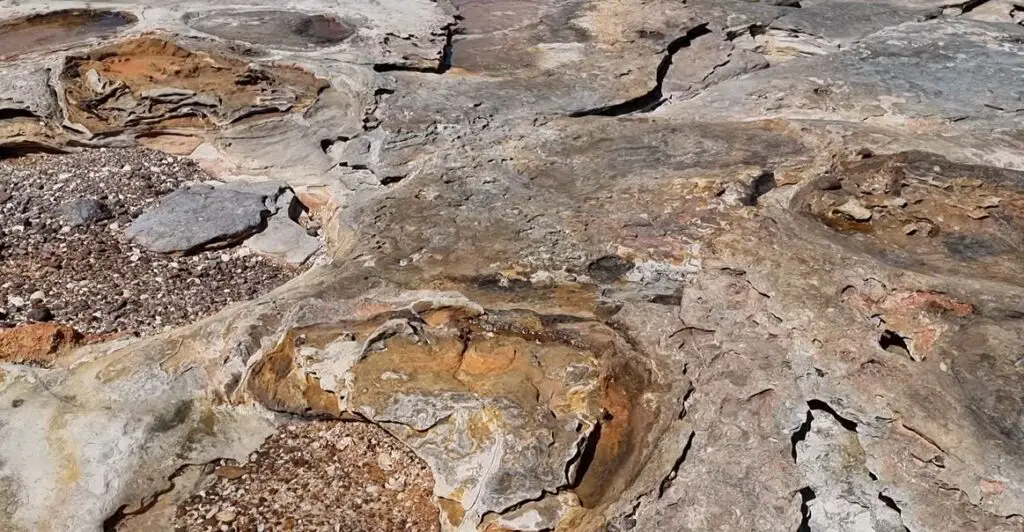 Taking a prehistoric dinosaur tour + what to expect
Why you should consider a dinosaur tour:
informative tour where you'll learn so much from truly enthusiastic guides
you'll actually get to see the footprints
a scenic boat ride in Roebuck Bay
learn about the king tides in Broome and witness just how quickly the water really does come in
take a cruise up Dampier Creek with champagne and appetizers to finish the day
short half day tour
Tour overview
This tour is run by the most friendly and enthusiastic family owned business in Broome.
After being picked up from our accommodation we are driven to Roebuck Bay and fitted with reef shoes. (you can provide your own, hire them or purchase)
The walk to the boat is at least a couple of hundred metres off shore, that's because it is low tide. We stand in a long line where the water starts and watch it quickly move past our feet. By the time we get back it will have reached the shore.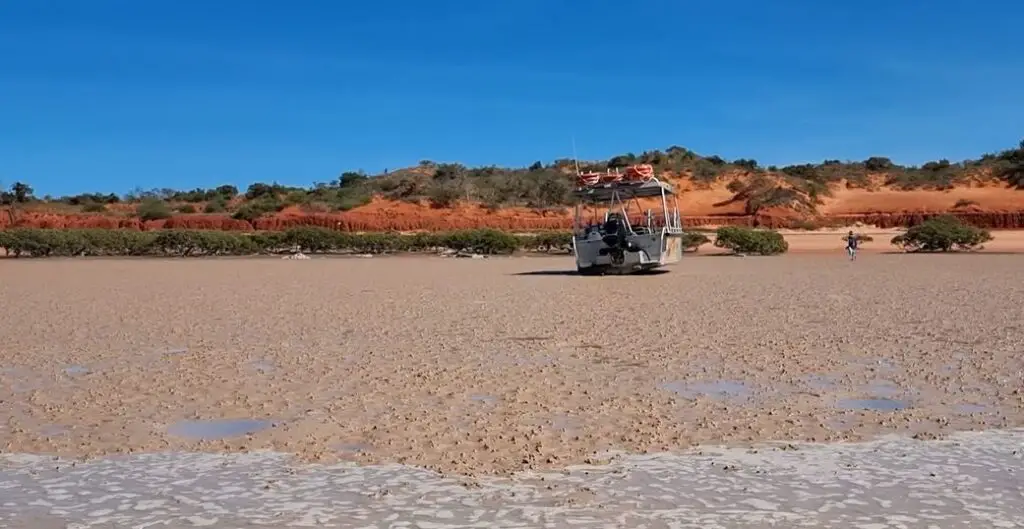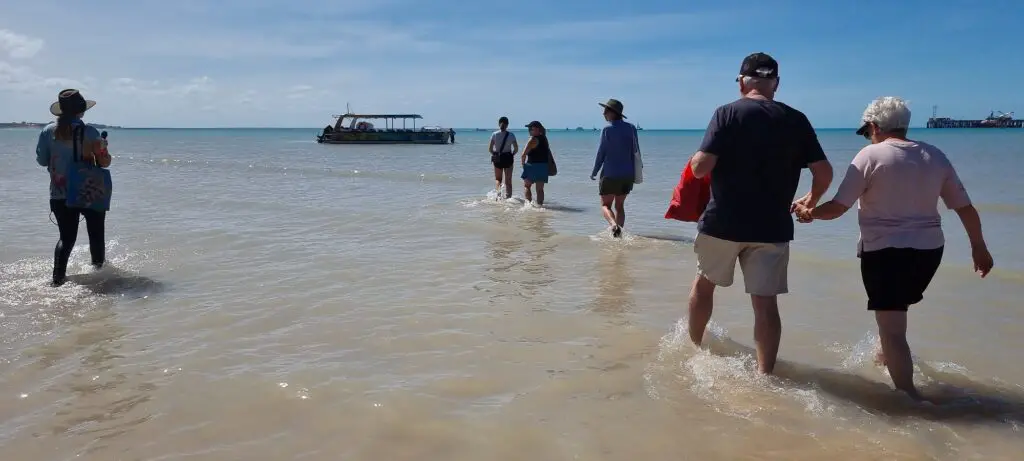 The cruise out to Gantheaume Point is very scenic, following the shoreline around Town Beach. The guide has a wealth of interesting information to share about the region. In particular, she explains the different marine life and the mind blowing 10 metre tides that are present here.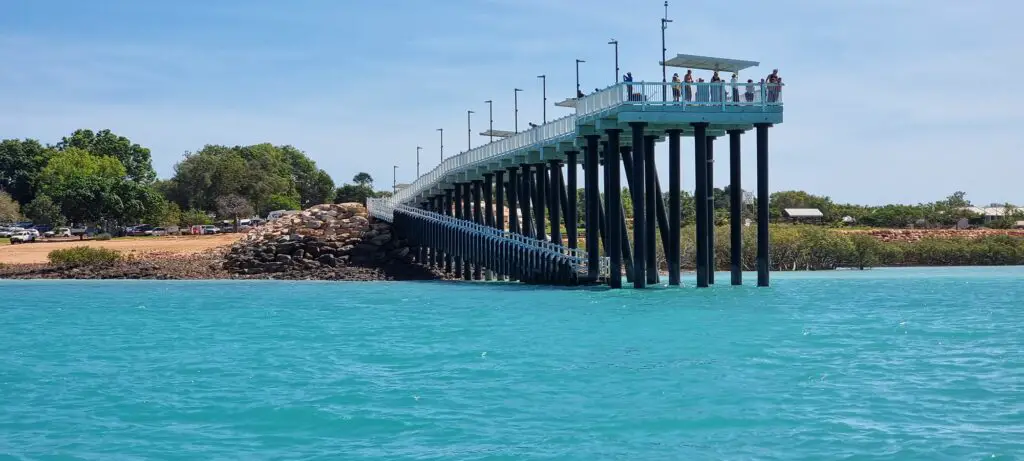 The water at Gantheaume Point is an interesting red colour, obviously stained by the red rocks. We jump off onto the sand and make our way a short distance down the beach.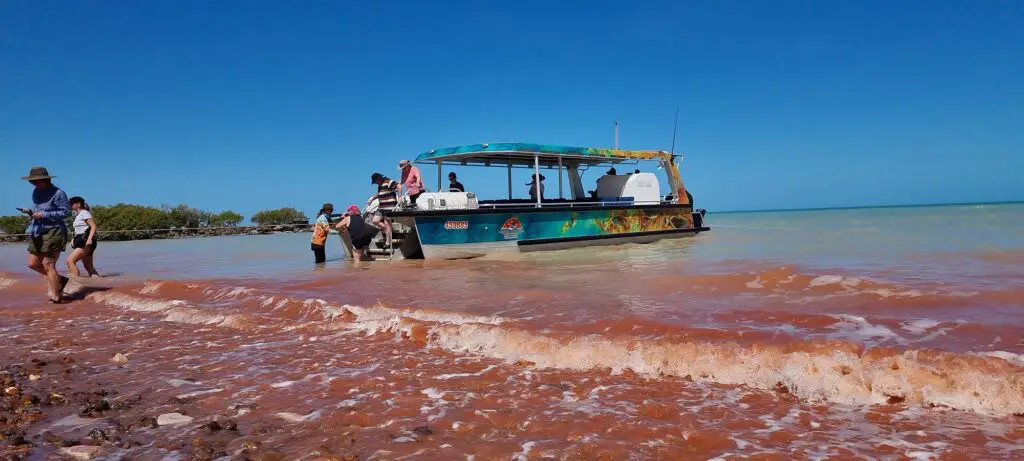 If I wasn't told "these are dinosaur footprints" I would have completely missed them. There are several to discover as the guide points each one out.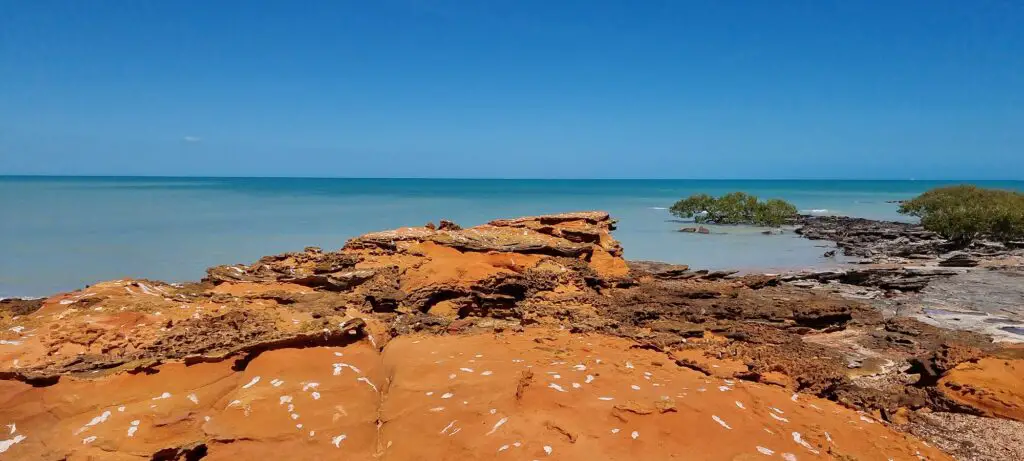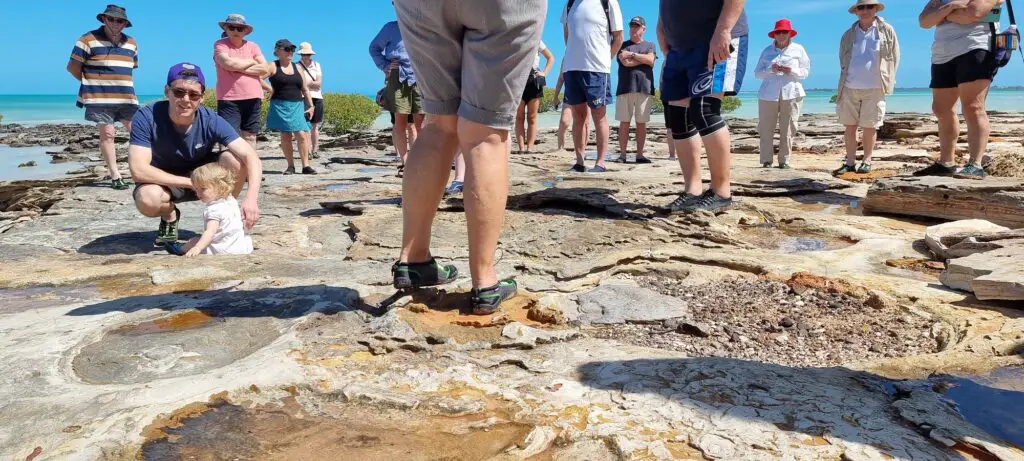 Once we have had our "Jurassic" experience, it's time for a cruise up Dampier Creek. We are offered some tasty appetizers and a champagne or two wash it all down with. It's a great place to spot some local bird life and simply just sit back and relax through the calm water.
As promised, by the time we get back to our starting point, the tide has well and truly come right in.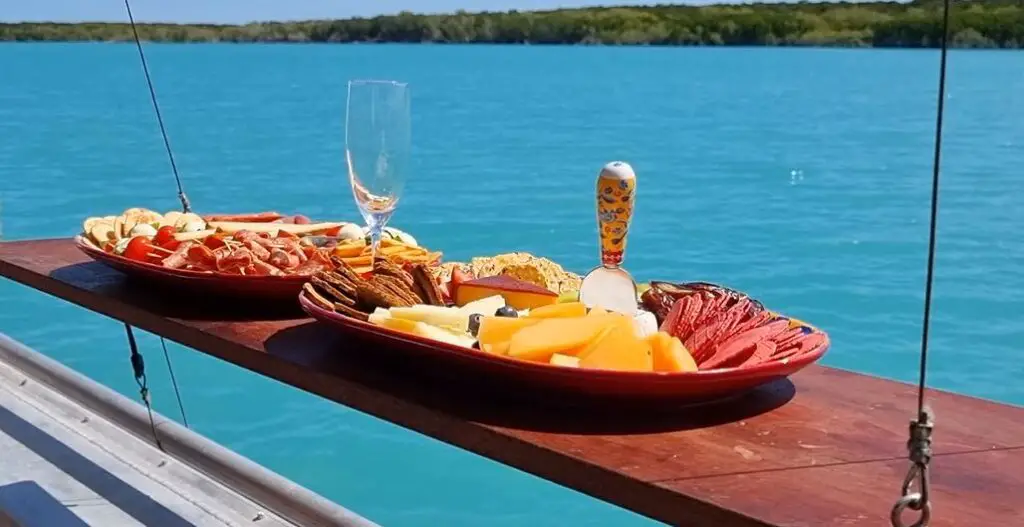 This is a small group tour so be sure to book early and secure your spot.
4 hour Scenic and Prehistoric Boat Tour
More Broome posts to read: