As an Amazon Associate I earn from qualifying purchases. I get commissions for purchases made through links in this post.
Our Adelaide to Flinders Ranges road trip was to be an epic getaway. A true iconic Aussie adventure to somewhere remote.  The previous year of 2020 was something we wanted to put behind us, and the Flinders Ranges seemed like the perfect opportunity to go off grid for a few days. If was everything I had hoped it would be. 
If you are after a 2 x wheel drive adventure in search of epic scenery, roaming wildlife, hiking the magnificent Wilpena Pound and spectacular sunset points, please read on.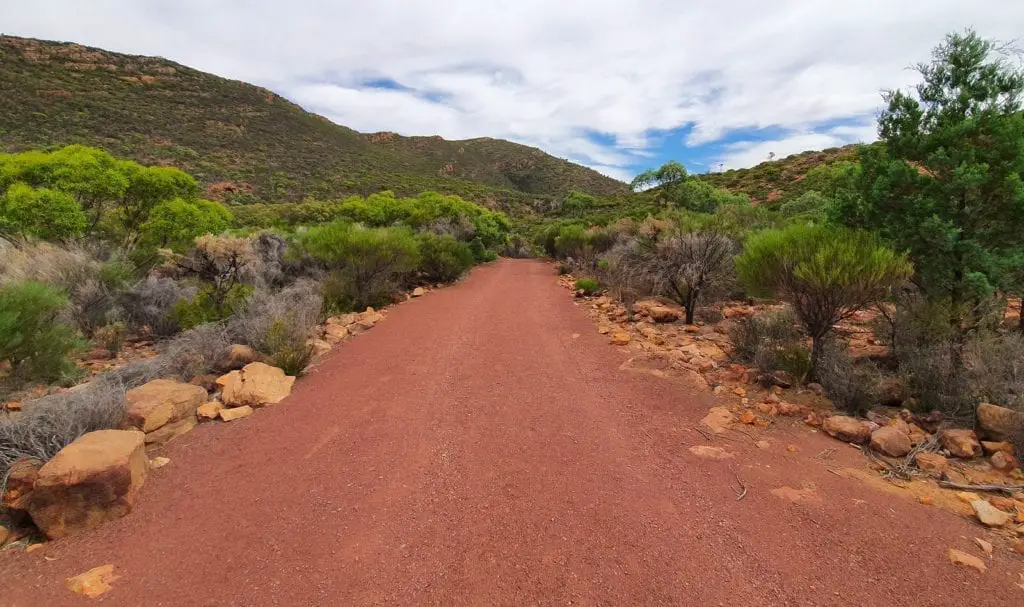 Our Flinders Ranges road trip itinerary
Who doesn't love a good road trip!
If you are wondering how long you need in the Flinders Ranges to see and experience it all? I'd suggest up to 5 days to really appreciate all it has to offer. 
For this particular trip, our Flinders Ranges itinerary included 3 full days. It was just enough time to drive to all our chosen destinations. It was not rushed in any way either. We had plenty of time to appreciate the landscape and even grab an afternoon nap along the way. 
What we missed was any extra long hikes and excursions. But it was summer and the long hiking tracks were closed. And even though I would have loved to take a scenic flight, we kept both feet on the ground.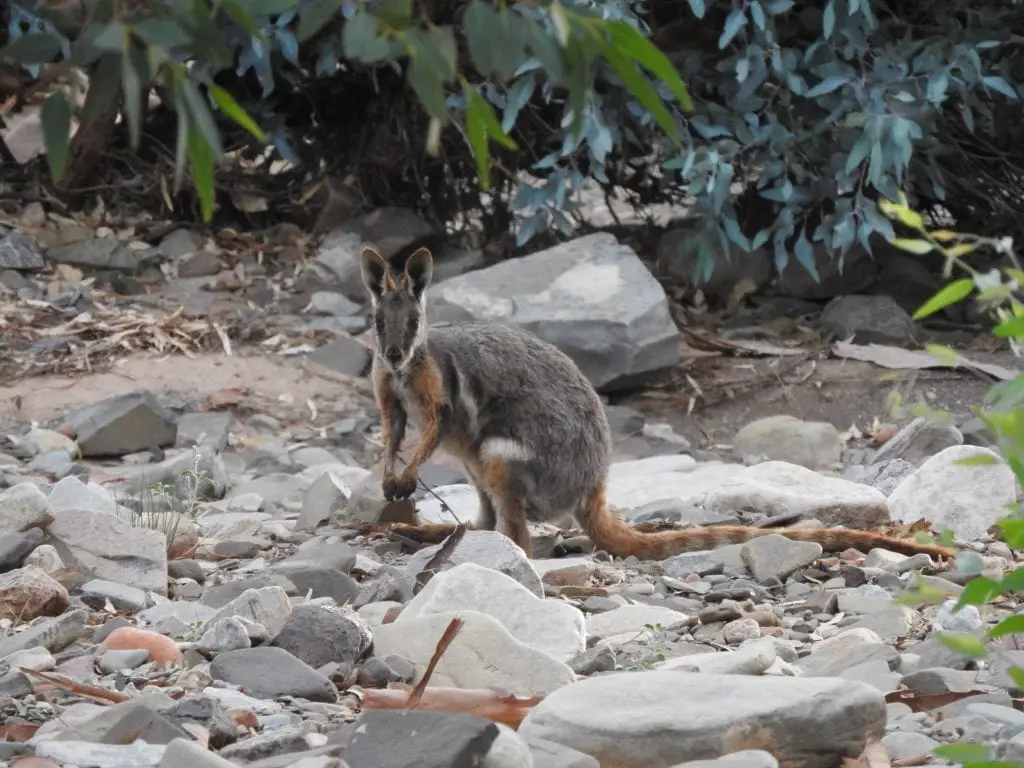 Day One – Driving Adelaide to Flinders Ranges
Our trip originally started a day earlier. Driving Melbourne to Adelaide, we spent a night resting up before hitting the road again for another decent day of driving.
The drive from Adelaide to Flinders Ranges is 450 km and takes approximately 5 hours. This is non stop so if you are planning on stopping along the way, you'll want to allow extra time. 
The road from Adelaide is open and double lane for the first half. Once you make it past Port Wakefield it backs down to only one lane. It's a relatively long straight road with plenty of overtaking lanes. And the speed limit is 110 km. 
Just a few kilometres before Port Augusta is the turn off for the Flinders Ranges. If you need to fuel up, I'd do it here. it will be a lot cheaper than in the park. 
Our Toyota Prado has a long range fuel tank so we were pretty set but decided to top up in Hawker. (the final turn off for Flinders Ranges). The BP service station has after hours fuel, so you pre-pay, fill up and you're on your way. I love it. 
If you are wondering, Wilpena Pound has unleaded (91 & 95) and diesel.
You will need to purchase a park pass which can be done at Wilpena Pound resort. It will cost you $11. Or you can purchase a Multi park Pass for South Australia if you will be visiting a few on your trip. Just note, not all parks require a pass and not all parks are covered by the multi park pass. Kangaroo Island is one of those parks not covered.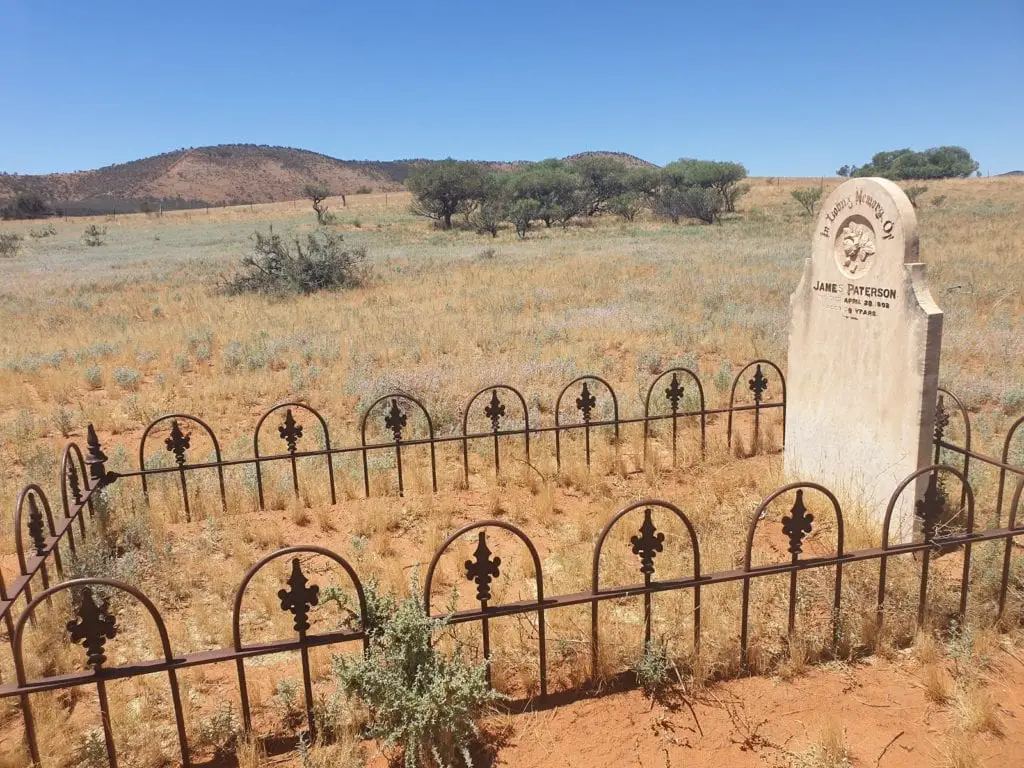 Wilpena Pound Glamping
Wilpena Pound Resort is the perfect place to base your yourself over the coming days. 
Alternatley, you could make your way up to Bilman area for a night as well,  but we chose to stay put, as there was no need to keep moving around.
Wilpena Pound Resort has a range of accommodation options. From units to campsites and luxury glamping. We'd come all this way and I was keen to have an outback experience without having to lug all my camp gear. OK, I just wanted a comfortable bed and my own ensuite. 
The safari tents are in a gorgeous location at the resort, well away from anyone else. 
We arrived mid afternoon and settled back on our deck under the hot summer sky. The view of the mountain ridge was glorious and we opened a well deserved bottle of wine, waiting for the kangaroos to arrive at dusk. 
You can read a full description and review of the Flinders Ranges Glamping tents at Wilpena Pound Resort , as well as the resort facilities in my blog post below.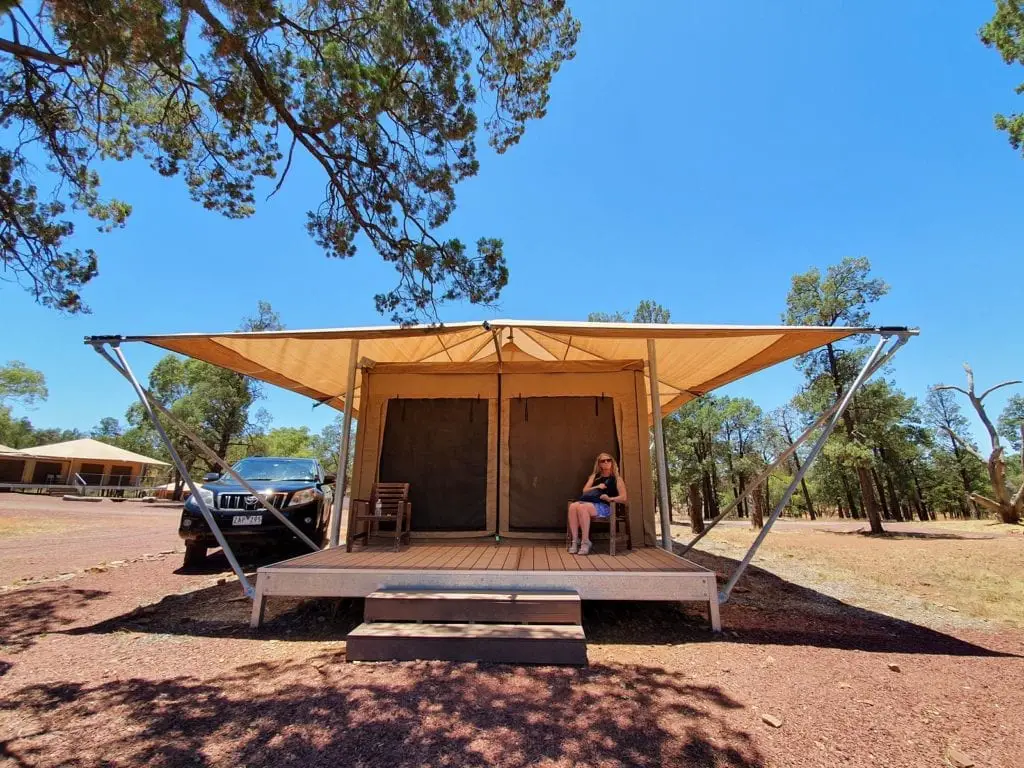 Day Two – Flinders Ranges Map
We woke early, so typical when you are on holiday. I never do this when I have to work, but I was super keen to hit the road.
We had a big day planned, and wanted to get a start knowing it was going to be a hot one. This is a good time to pack lunch and plenty of water. 
The Visitor centre and reception can give you a Flinders Ranges map for guidance. Be aware, there is no mobile phone reception in most parts of the park. 
The map below highlights our day trip around the Finders Ranges. This was suggested by one of the resort staff on how we could utilize a full day. We took his word and off we went. 
To give you a rough estimate, this following route was 280 km in distance. It took us around 7 hours to complete with plenty of stops and photography opportunities.  We left at 9.30 am and arrived back at Wilpena Pound at 4.30 pm. 
The Hucks and Stokes Lookouts were done later that same evening. 
Scenic Route Around Flinder's Ranges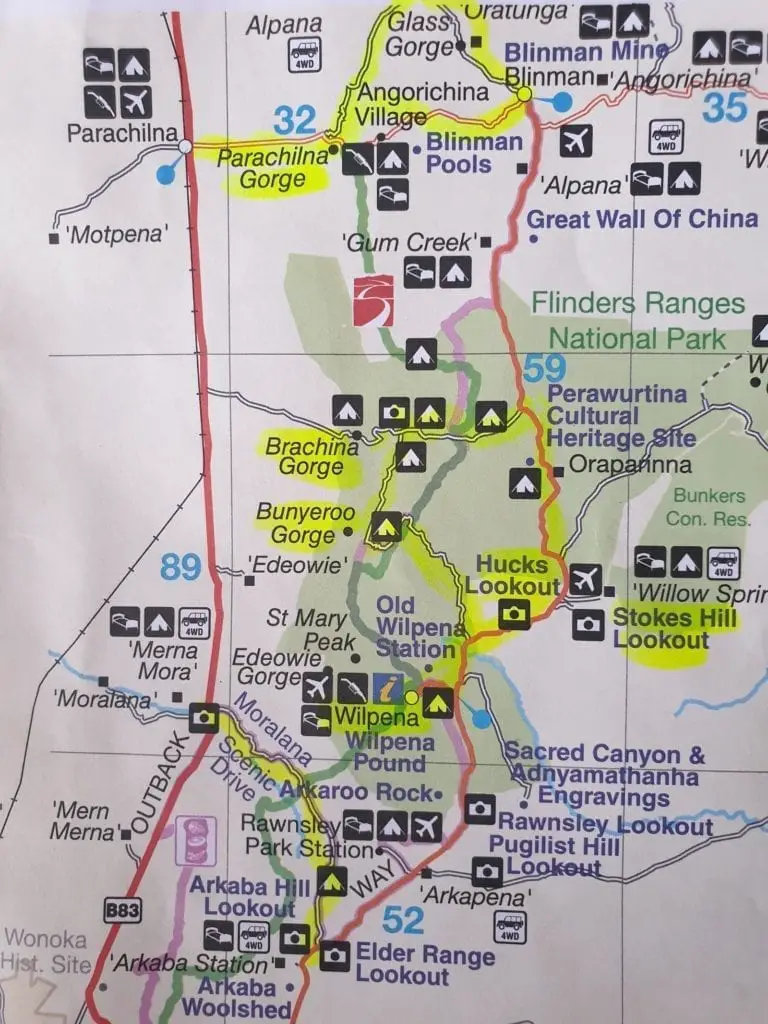 The dark red lines indicate a sealed bitumen road. 
The lighter red lines indicate main gravel road.
The white lines are a secondary gravel road.
These are ALL accessible for 2 x wheel drive. You will notice when you drive the white line roads, they are a little rough and rugged and sometimes you may question if it gets any worse. There are dips, corrugations and plenty of bouncing around. It's like a back country road that's had minimum maintenance. Just take it easy and drive to the conditions.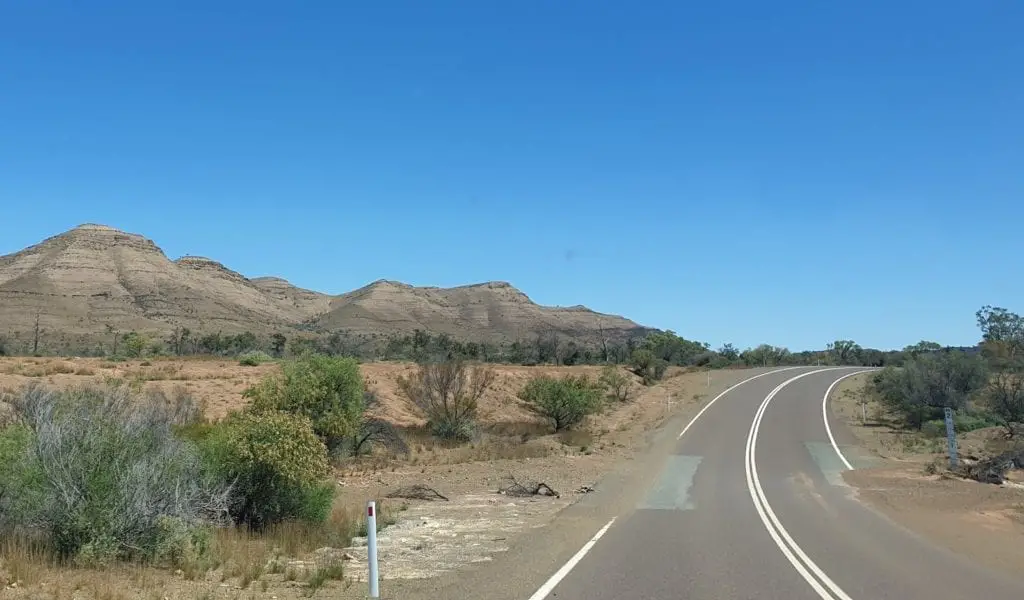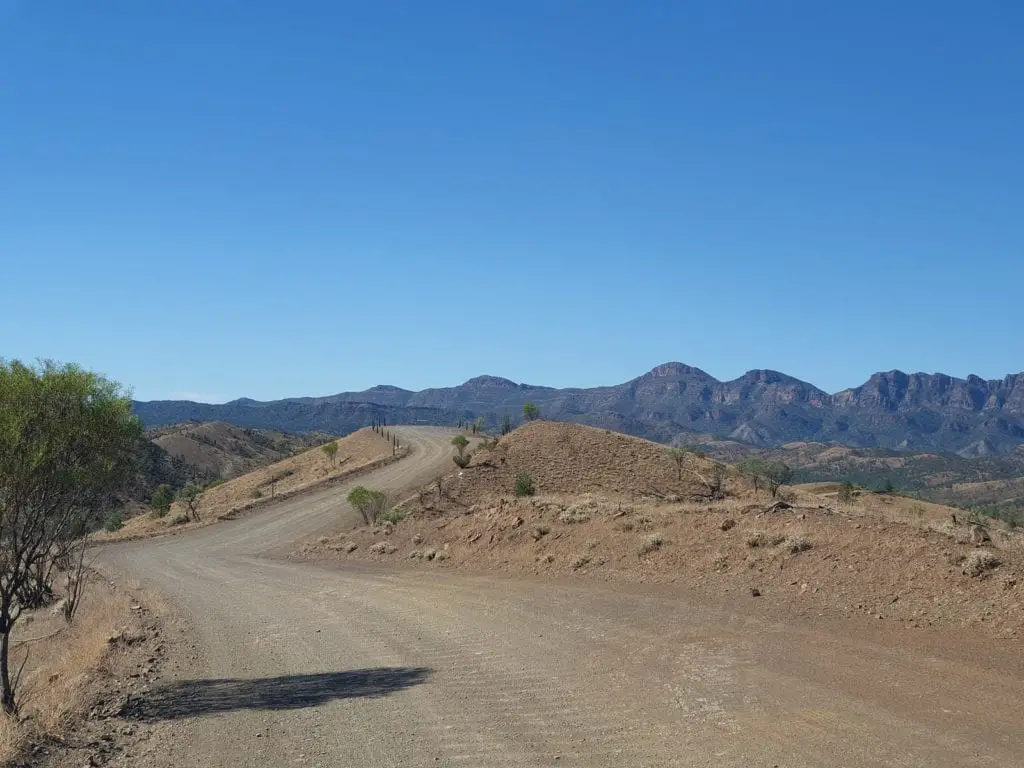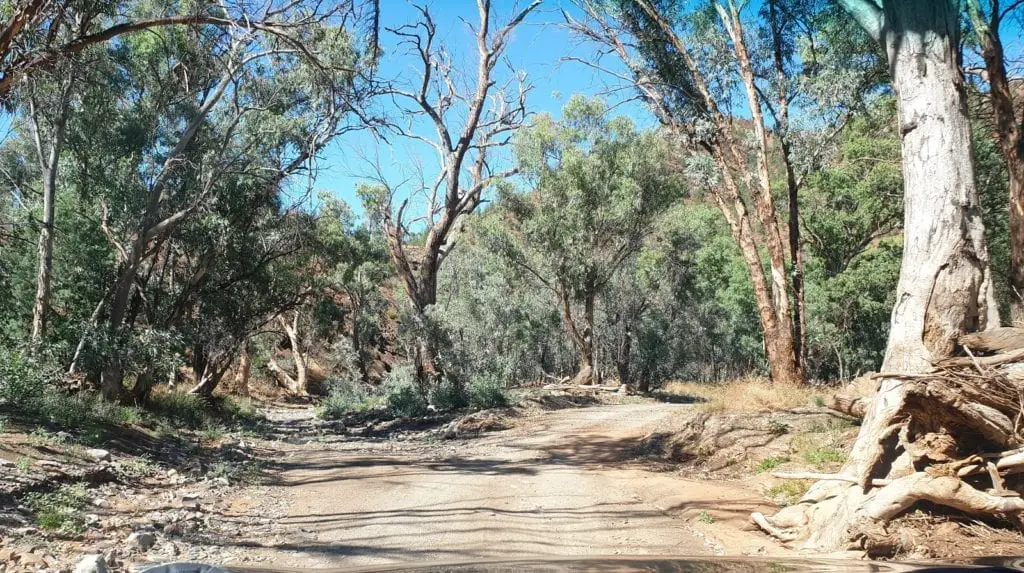 Bunyeroo Valley and Gorge
From Wilpena Pound Resort, the turn off to Bunyeroo Gorge is 9 km. 
As we turned onto the dusty gravel road, I felt that sense of adrenaline kick in. We were off on an adventure, a day of exploring the unknown. It was exhilarating. 
The landscape has quintessentially got "Outback Australia" written all over it. From the dry creek beds to the bush land and those iconic gum trees, it felt amazing. We sighted wedge tail eagles and brown falcons soaring high in the sky. 
Bunyeroo Valley Lookout
Our first stop was the Bunyeroo Valley Lookout. It is a short one minute walk from the car park.
The 360 ° views are impossibly stunning. This vantage point displays an unobstructed view of the mighty Wilpena Pound and surrounding country side. 
It's a magnificent commanding view and quite breath taking. If this is the opening act, I'm already hooked on what's to come. 
Further along you will find Razorback Ridge Lookout also. 
The whole area is teeming with rich landscape and is not to be missed. As we visited in summer, there was no water in the creeks but during heavy rain these can fill easily. This means the road may have areas you need to cross. For this reason, ask the information centre at Wilpena Pound about the expected road conditions.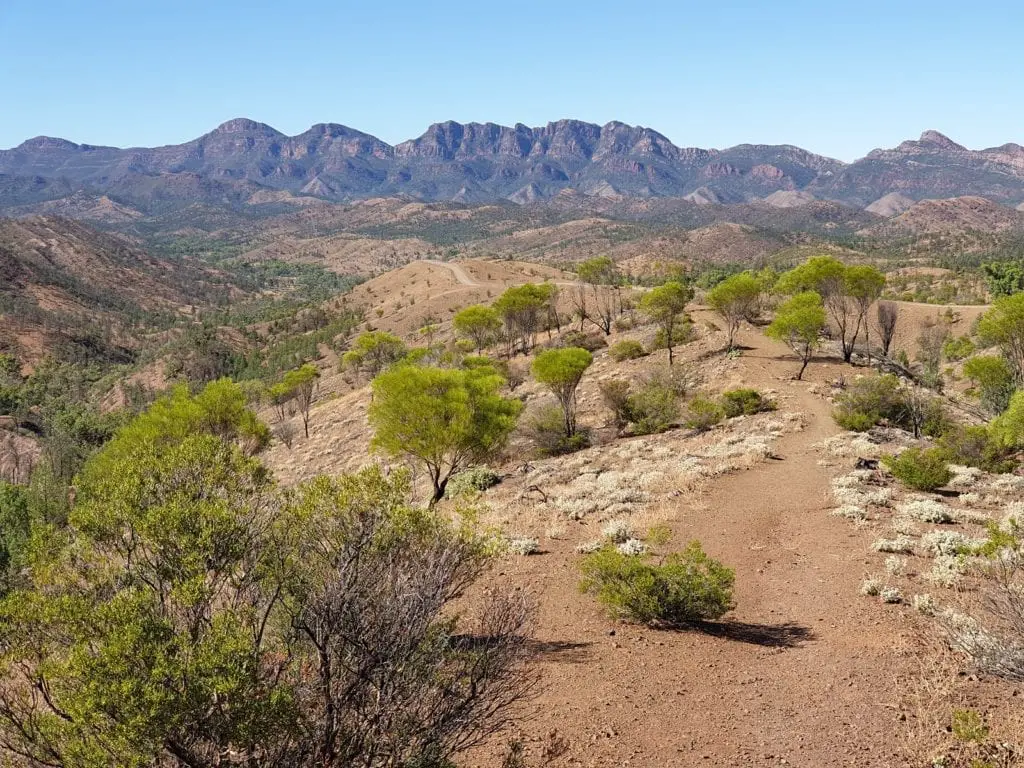 Brachina Gorge
Our next stop was Brachina Gorge. And without doubt, my favourite place on the whole trip. We would end up here twice, it simply had it all. 
Note: this location can be accessed from the main road also, the Flinders Ranges Highway. It is 16 km in from this point and is a more frequented road by other travellers. 
What a gem in the rough. Brachina Gorge is absolutely amazing. Make sure you follow the road right around as it gets better the further along you go. Many people turn back at the start of the gorge and totally miss the best bits.  
Searching for Rock Wallaby
The gorge walls are home to the Yellow Footed Rock Wallaby and maybe the only time you will get to see one. But they are not always easy to spot. My eyes were already having a hard time adjusting against the midday sun. It was sheer luck we spotted them. 
The little caves within the gorge walls are their hiding place, but they seemed inquisitive in coming to check us out. 
If this was all I did today, it would be a great day. But we had plenty more to come. Time to push on.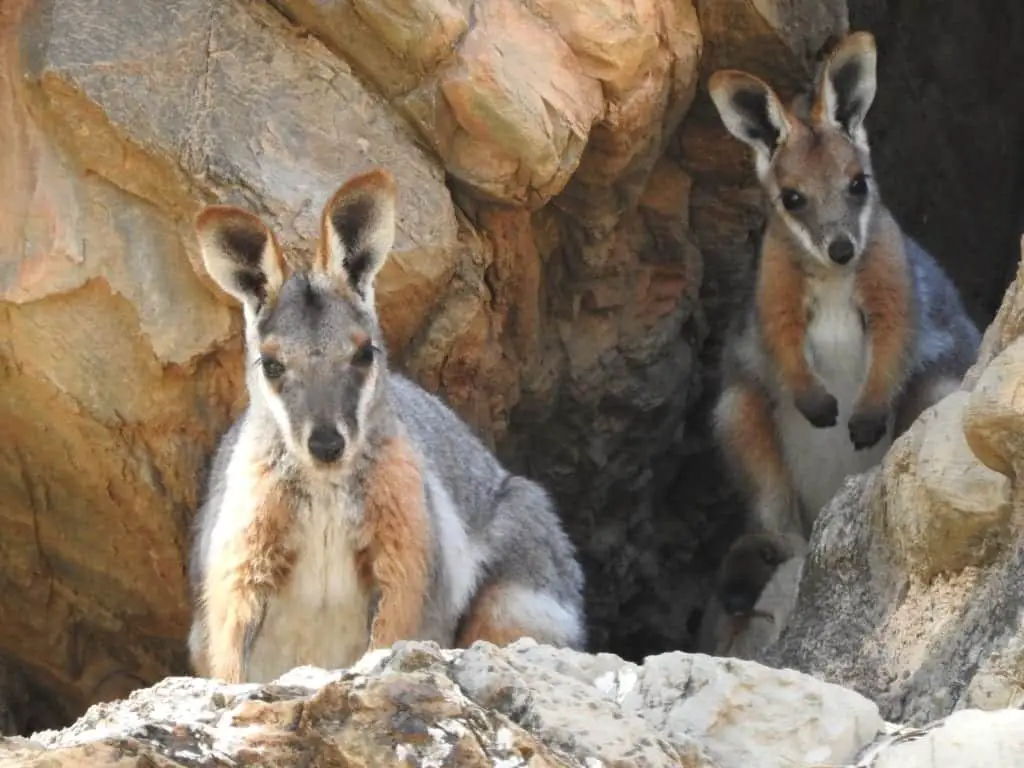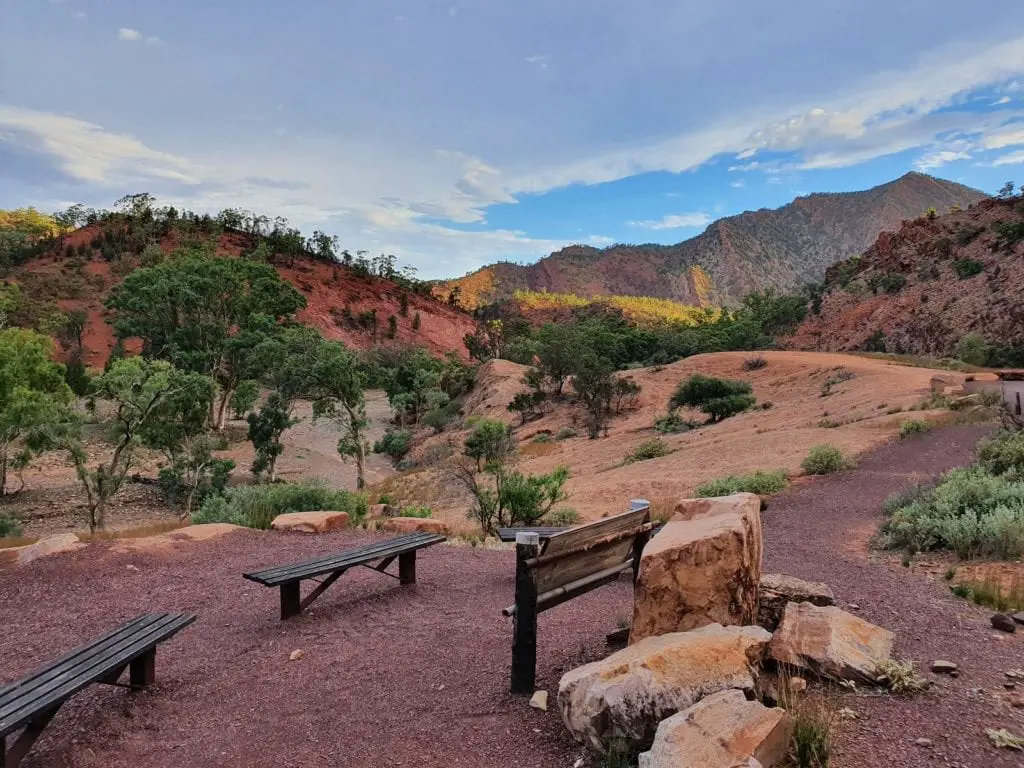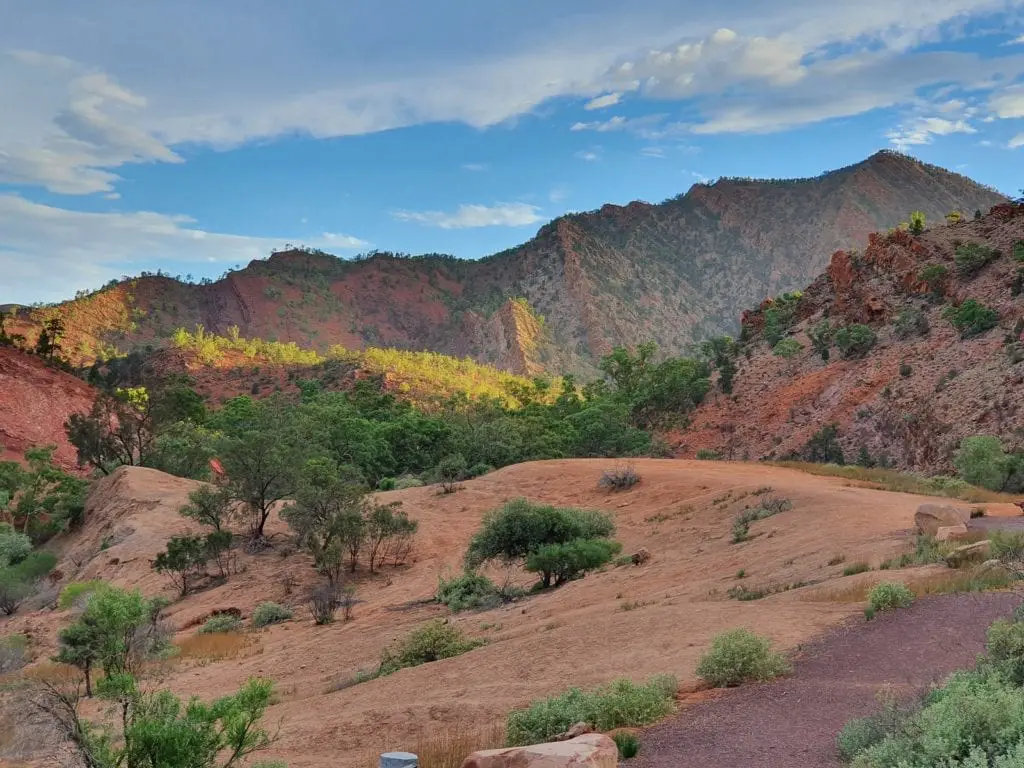 Great Wall of China
From here we headed back to the main road (Flinders Rangers HWY) with a brief stop at the Aroona Valley Lookout. 
Further along the road is the right hand turn for Great Wall of China. It is clearly visible from the road. 
The formation of stacked rocks is quite unusual and guess what, it looks a bit like the Great Wall of China.
You can make your way a bit closer closer by taking the road up to a vantage point.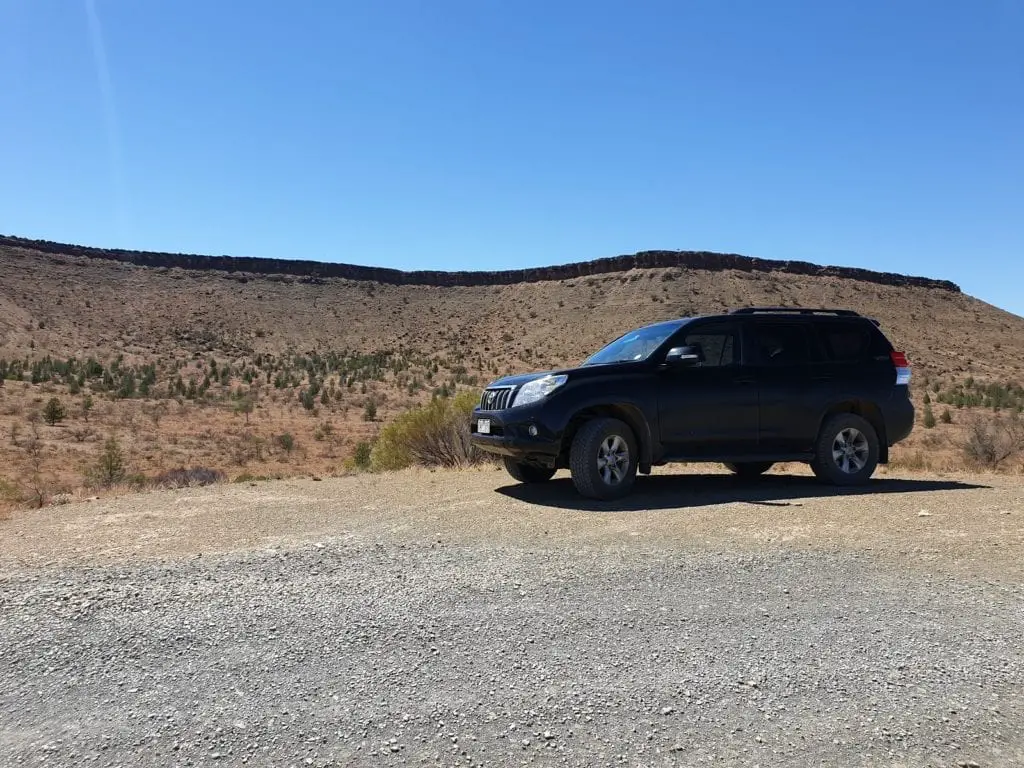 Blinman & Glass Gorge
Blinman is located to the north along Flinders Way. Population 35.
This once copper mining town offers mine tours and a cold beer at the pub. The day we arrived everything was shut, without a sole around in sight. The tiny town is also the highest town in South Australia. It is certainly isolated in every way possible. 
We took the road to Glass Gorge and then decided to turn around when the road got a bit bumpier than usual. We made it to the gorge anyway and were keen to take the wider and easier drive to along Parachilna Gorge road. It was nice but it had nothing on Brachina Gorge. Maybe another time and different season. 
Once we hit the gorge, it's was a straight shot toward the Outback Highway, and back to bitumen.
From here we made our way back to Wilpena Pound via Hawker. We've had enough of dirt roads for now. It took around 90 minutes to complete this final  section.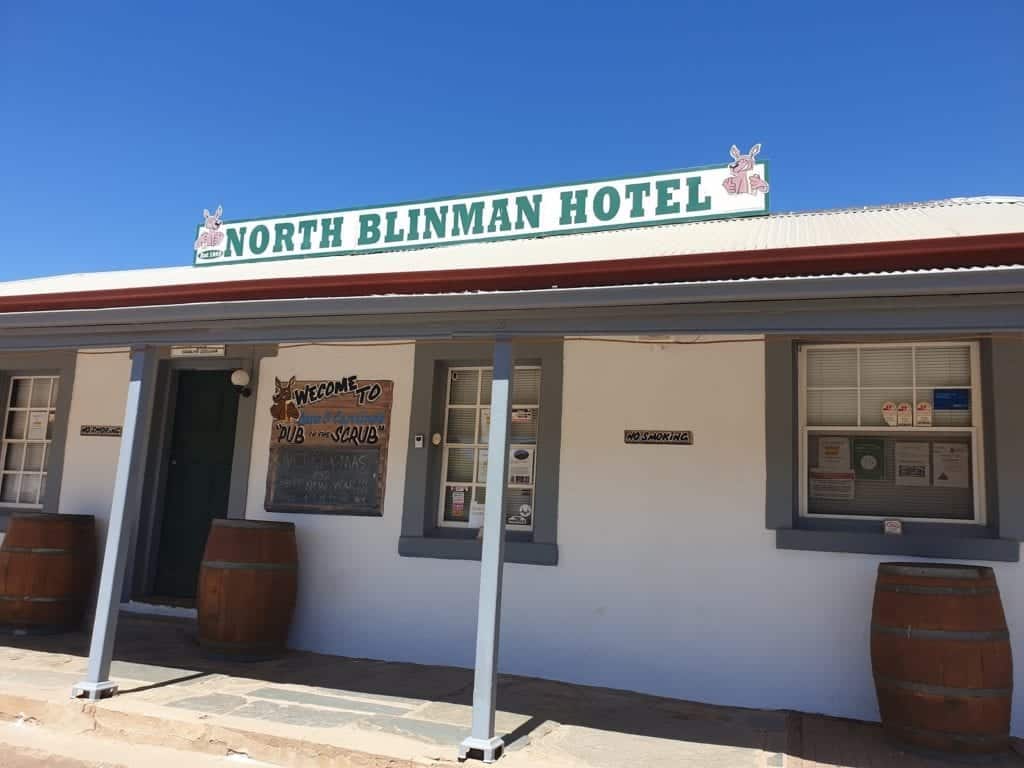 Stokes Sunset Lookout
A true highlight is making your way up to Stokes lookout for a spectacular Flinders Ranges sunset.
This is "the" place for sunset viewing as the sun goes down over rugged Wilpena Pound. Cars are gathering on top of the hill and everyone is here to enjoy the spectacle. 
The red earth to the east side is magical in the evening light. It's a panoramic sensation all round. 
There are tours also that come up for the sunset. 
It takes around 20 minutes from the resort to reach, but a bit longer on the way back as you slow for kangaroos coming out at last light. 
Hucks lookout is located a few kilometres before Stokes Lookout and is best for sunrise. Sadly, we never made it.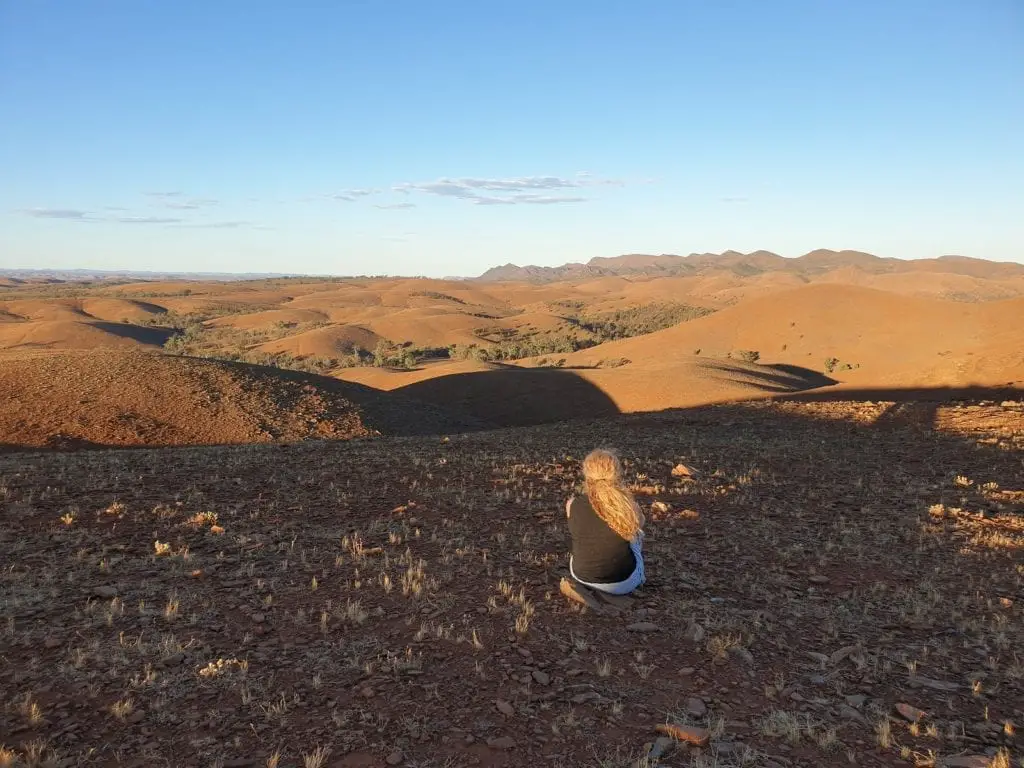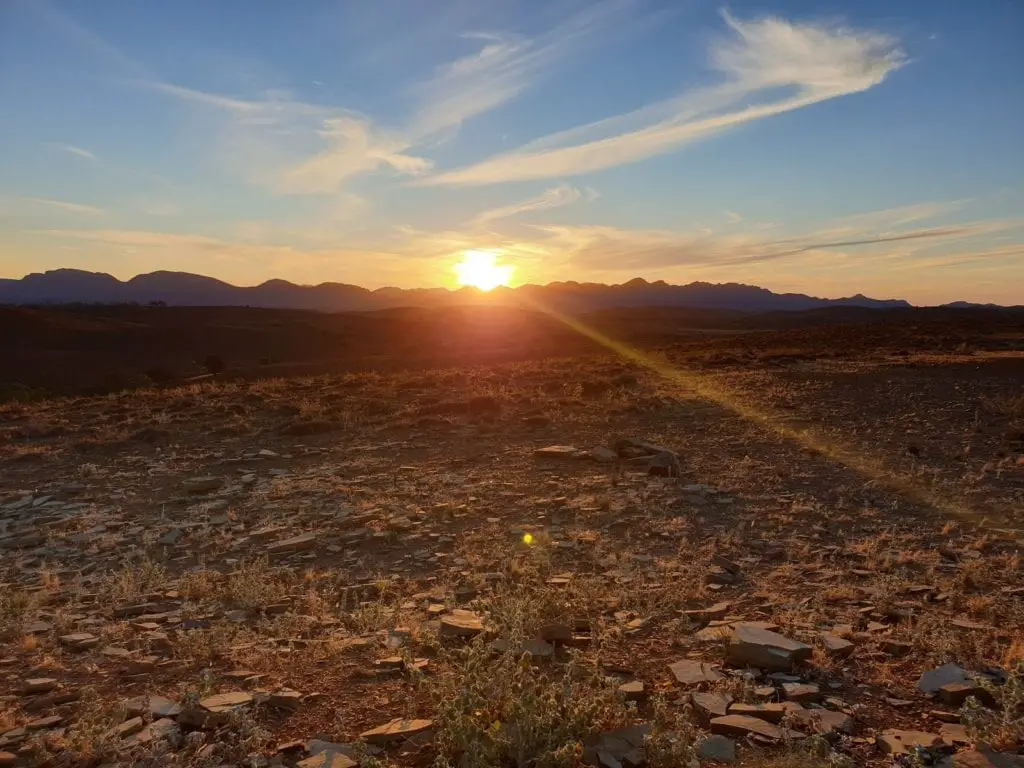 Day 3. Hiking and Wildlife
Today we walk. The day was forecast for  38 degrees so we couldn't go far. In summer they close all the longer hiking tracks due to the heat. 
So we had to utilize the two ends of the day, early morning and late afternoon. 
Don't expect to see anything anyway during the height of the day, unless it's during the cooler months of the year.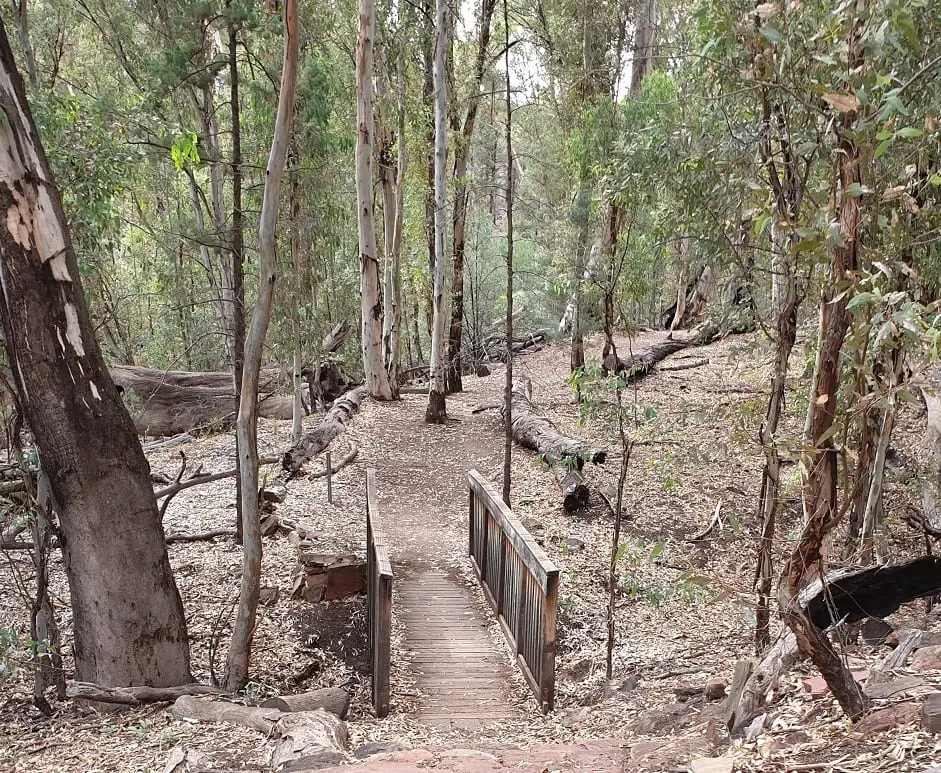 Wilpena Pound Walk and Hills Homestead.
The 6.6 km walk starts near reception at Wilpena Pound Resort. Once you cross over the dry creek bed, turn left. The signs are well displayed and no, you can't get lost. 
The Wilpena Pound walk is easy graded, nice and flat and well shaded. 
For a more comprehensive overview of this walk, you can check out the post on this below. 
Wilpena Pound Walk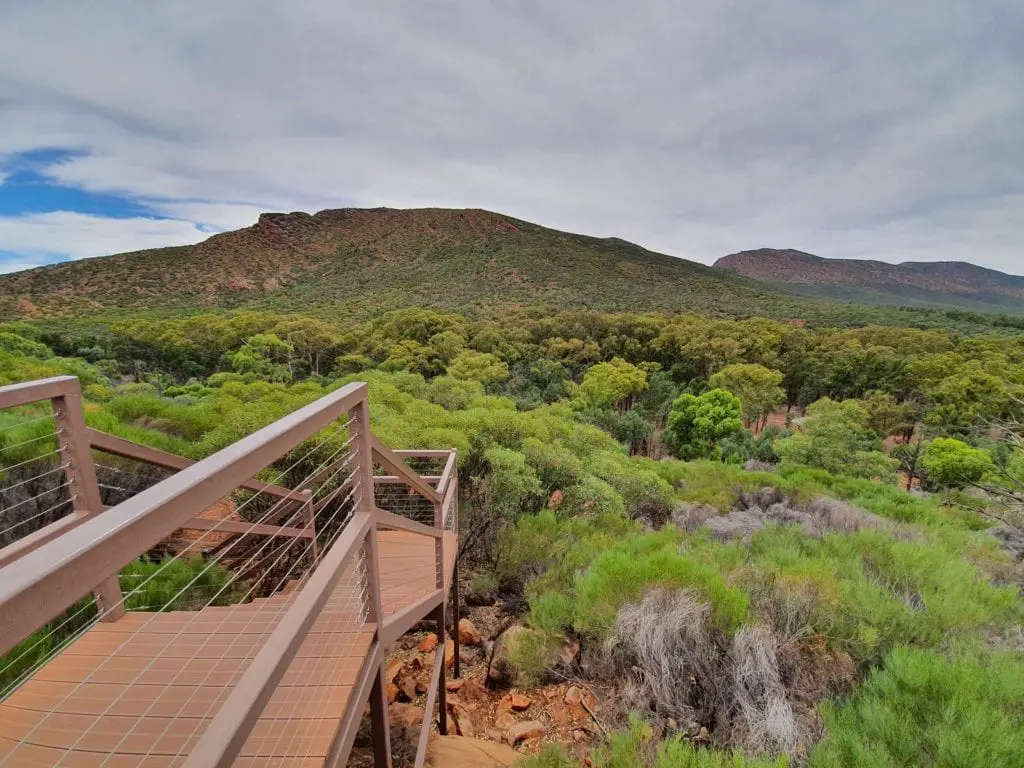 In search of Wildlife – Flinders Ranges
The animals are a little too hard to find during the day but once the sun starts to set, they begin to appear. 
We took off in search of wildlife around 6 pm. It would not be totally dark till 9 pm so there was plenty of chances. 
Animals sightings
Emu
We had seen the emus just outside of Wilpena Pound and they were there every afternoon along the road side. 
Kangaroo
While you will see several Western Grey kangaroos throughout the entire park, it was along Brachina Gorge Road that we spotted the larger Red Kangaroos.
The more the sun set on the horizon, the more wildlife that appeared. 
Rock Wallaby
The Brachina Gorge was the only place we spotted these intriguing animals. They were there both nights and I was delighted to get some good snaps. 
Wild Goat
Yes, wild goats were spotted along the Wilpena Gorge Walk. They were too busy feasting to care about our presence.
Birds of Prey
The Wedge Tail Eagles were sighted at several locations, sweeping the skies above. They are Australia's largest birds of prey. We also saw the Brown Falcon but you might see other birds of prey including Kestrals and Black Kites. 
Mallee Ringneck Parrot
This species of parrot is native to South Eastern Australia so keep an eye out when in the Wilpena Campground area and you will surely see a few.
Other birds in the area include Cockatoos, Corellas and Crimpson Rosellas.
For a bigger overview of animals found in the Flinders ranges click here.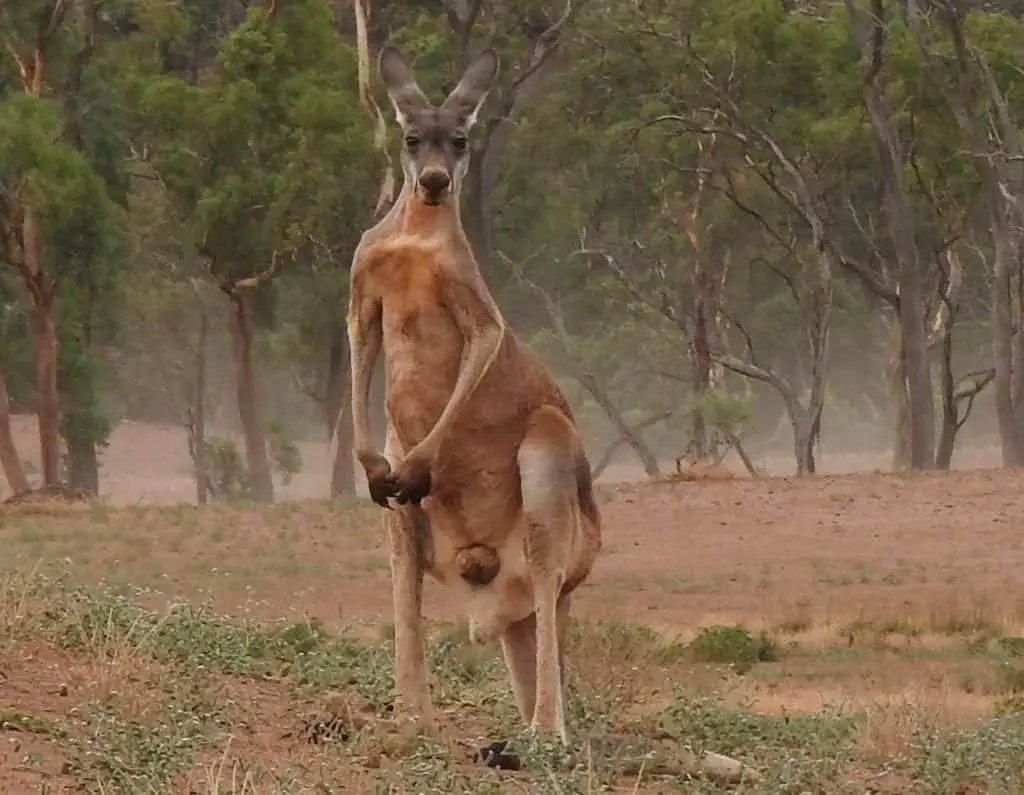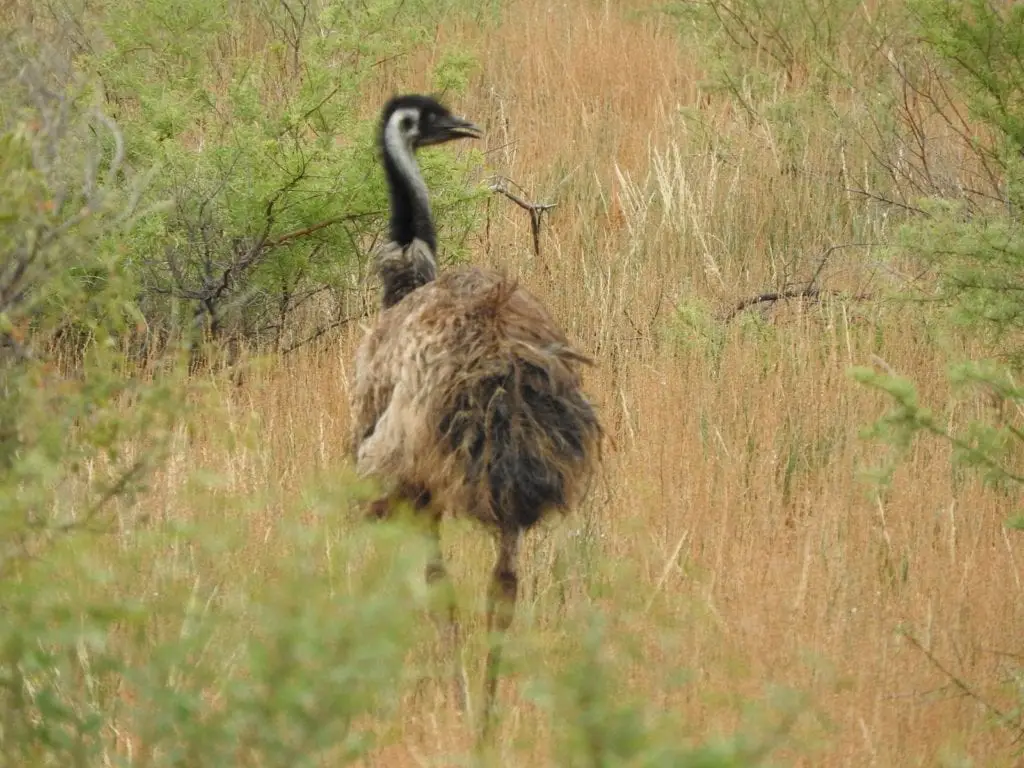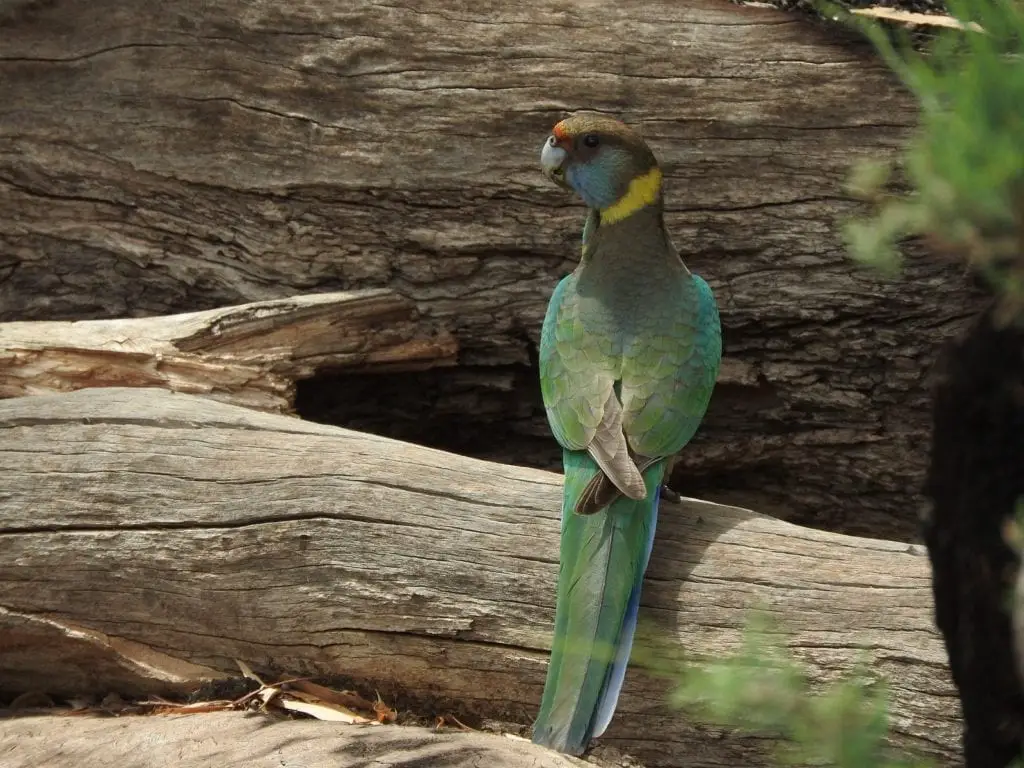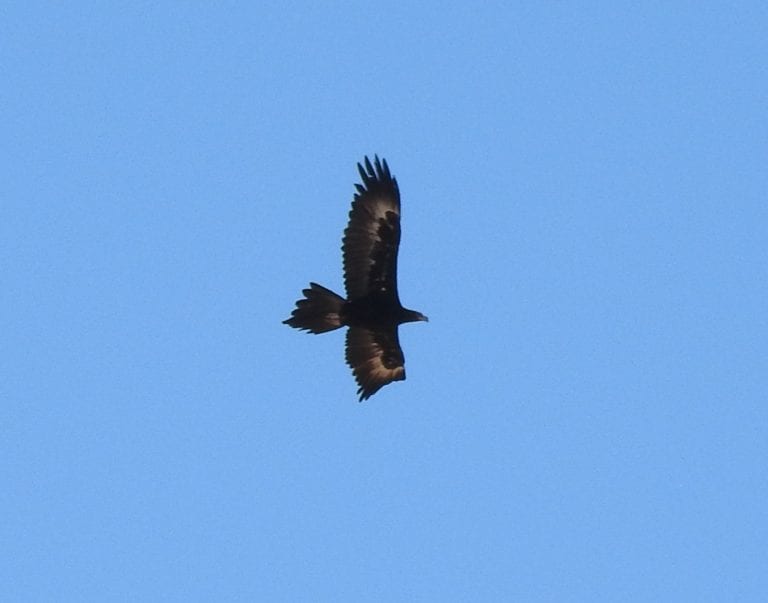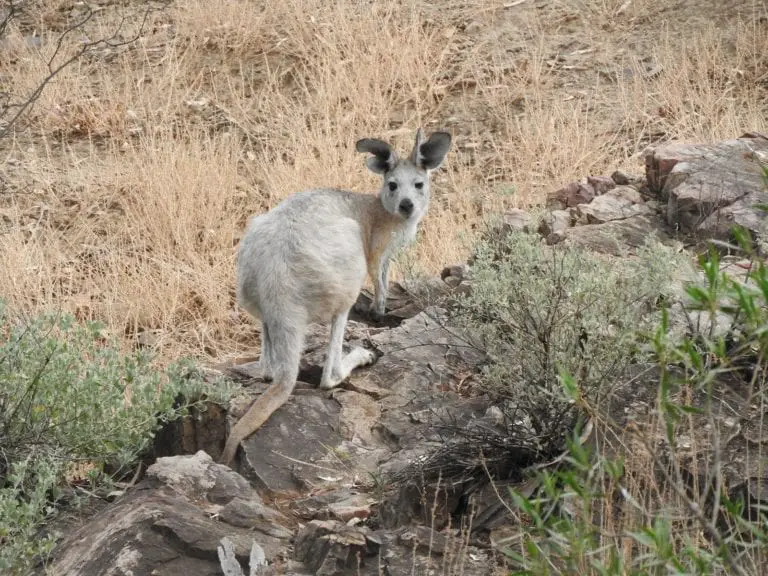 One last sunset over Flinders Ranges
If you are still in the Brachina Gorge area, this is definitely a great place to be during the last hours of the day.
The landscape is constantly changing as the last moments of light present a brilliant display over the horizon. 
It was hard to leave, knowing we would be travelling back to our safari tent in the dark. It took around 40 minutes, keeping an eye out on the road for kangaroos. 
We spent our last night reminiscing about the amazing time we had over the last 3 days. Our next destination was Kangaroo Island, another amazing location I had always wanted to visit.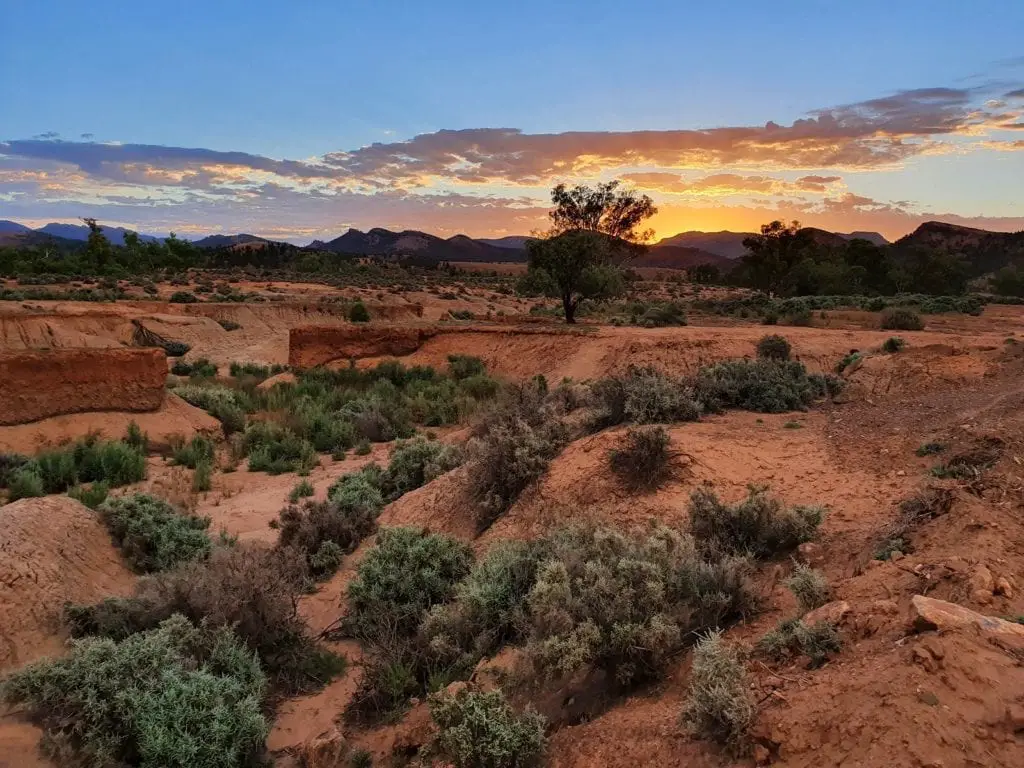 Best time to visit Flinder Ranges
The cooler months of June through to August attract avid hikers. There are many great hikes in the park, you see more on that here. 
The overall best time to visit the Flinders Ranges is May to October, when temperatures are ideal. Spring is when you'll see the wildflowers and creeks running from the winter rainfall. 
Our trip was in summer and while this is not prime time and temperatures were hot, if can still be very magical. For one, the sunsets are magnificent. The roads are fully accessible to a 2 x wheel drive, more so than other times. Always check the road conditions with the Visitor Centre if in doubt before setting off. 
A great combination to this trip is Kangaroo Island which we did on the way home. You can read all about it here.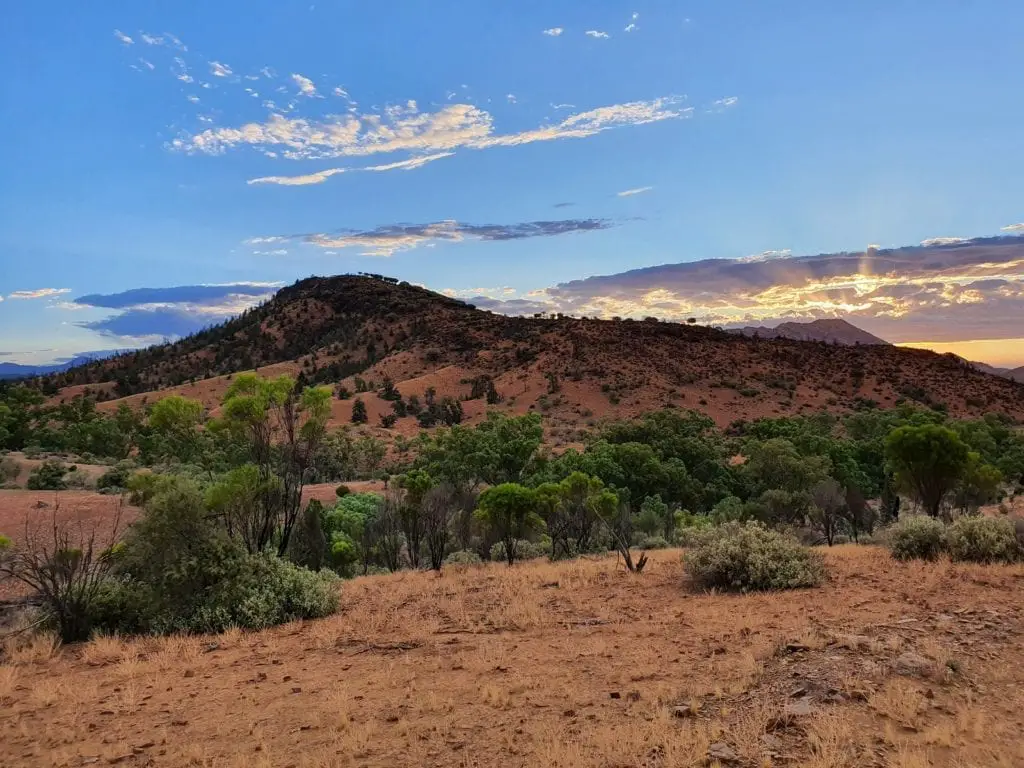 Activities within the Park
There are a range of great day tours within the park you can access. 
Day Tours within the park
Sunset Spectacular from Wilpena Pound 
Half Day Tour of Flinders Ranges
Yura Udnyu Aboriginal Culture Walk
Sacred Canyon Aboriginal Culture Walk
For those who prefer to take a tour to the FIinders Ranges rather than drive.
Multi Day Tours to Flinder's Ranges
3 day 4WD tour – Flinders Ranges from Adelaide
3 Day Flinders Ranges Outback Tour from Adelaide
5 Day Flinders Ranges Outback Tour 
6 Days Eyre Peninsula and Flinders Ranges
For those wanting an independent package.
Wilpena Pound Accommodation Packages
3 nights accommodation  / 4WD tour / scenic flight 
2 nights accommodation  / scenic flight