As an Amazon Associate I earn from qualifying purchases. I get commissions for purchases made through links in this post.
I'm an Aussie girl, so I've done my fair share of camping. On our road trip from Adelaide to Flinders Ranges, I wanted to "up the anti" so booked  3 nights in the Flinders Ranges, glamping. I was looking for some serenity in the bush, that included a shower , king size bed and air conditioner. 
Flinder Ranges Glamping – Wilpena Pound Resort
Staying at Wilpena Pound was simply stunning. A 5 hour drive from Adelaide or 2 hours from Port Augusta, the Flinders Ranges are a popular and well known Australian National Park.
Wilpena Pound Resort was the perfect base to many attractions through the entire park, including some popular hiking opportunities.
The 15 luxury Safari tents (glamping) are located well away from the main reception area, in a secluded spot overlooking a mountain ridge. There is also a double tent for families or larger parties.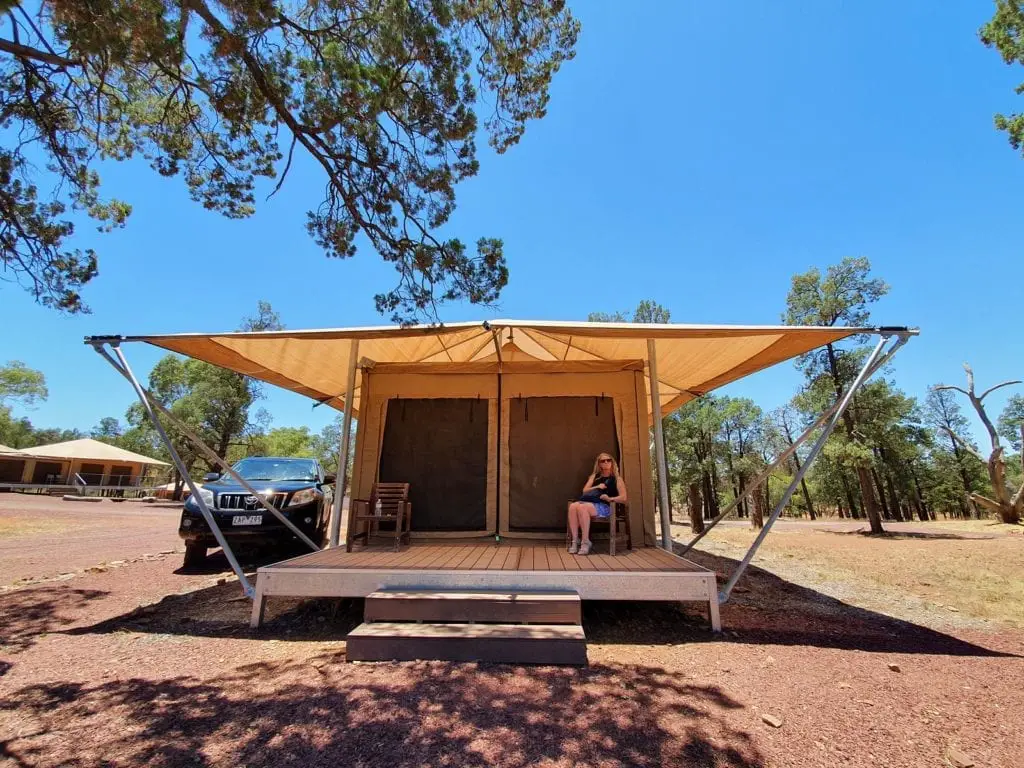 Glamping in style – Ikara Safari tents
This was not my first time glamping so I was extremely happy when I first set eyes on where we were staying.
The tents are quite large  and nicely appointed. A beautiful king size bed which can be converted to 2 singles. Hard wood floors and deck, dresser and camp style wardrobe.
The bathroom was quite luxurious with walk in shower and extra large shower head. Shampoo, conditioner, body lotion and shower gel provided.
There is a small fridge, kettle and  tea and coffee facilities.
Other inclusions are, comfortable rattan chairs , ironing facilities, wine glasses, safety deposit box and outdoor furniture and fire pit. You will have heating and air conditioning for your comfort.
What you won't get is a TV.  But you will have the beautiful sounds of nature right outside your door. I'm so glad this was not provided and we were forced to relax in peace.
Also, internet is only available down near the reception area. If you are with Telstra (the only network here), you'll have internet anyway.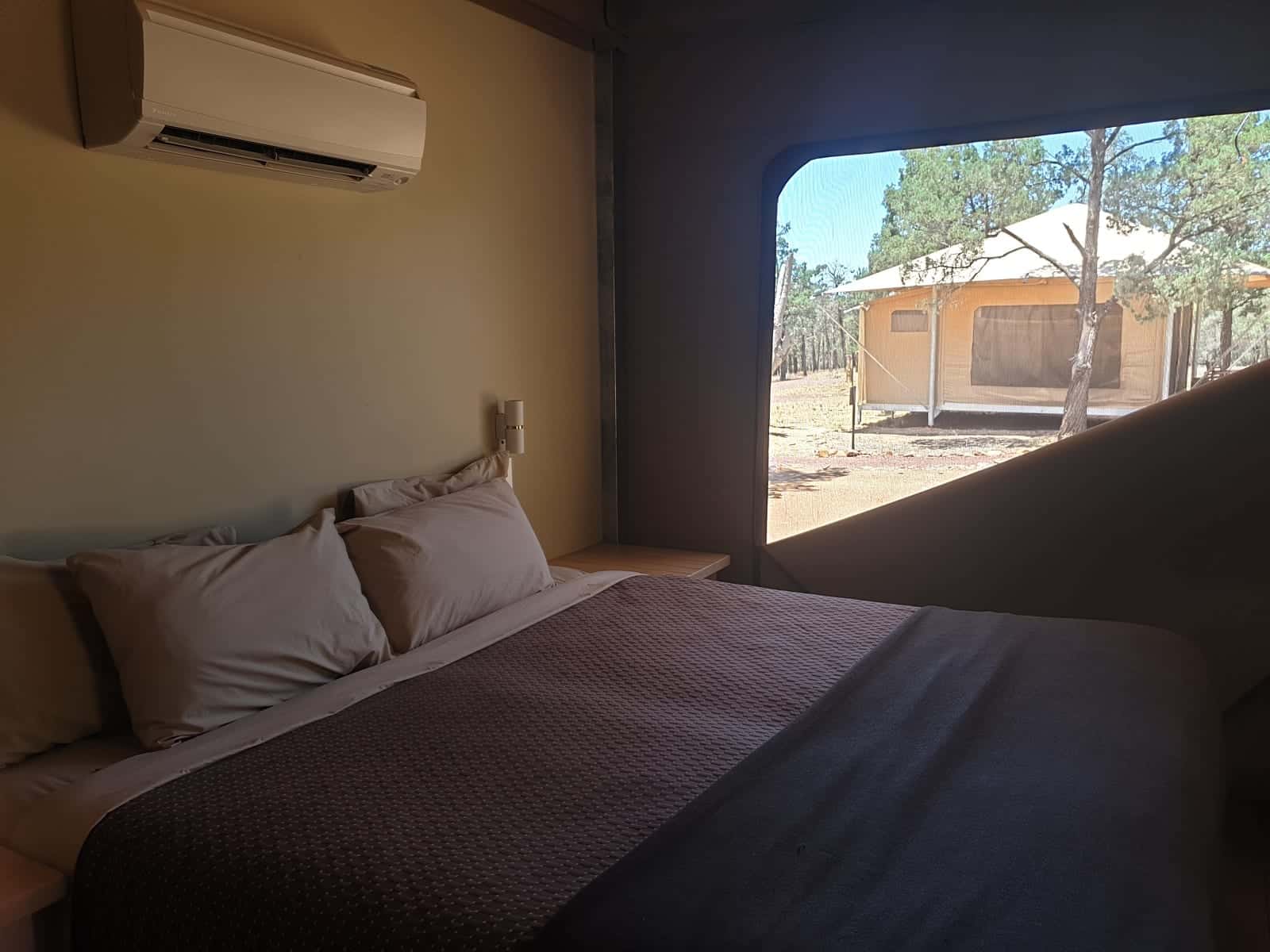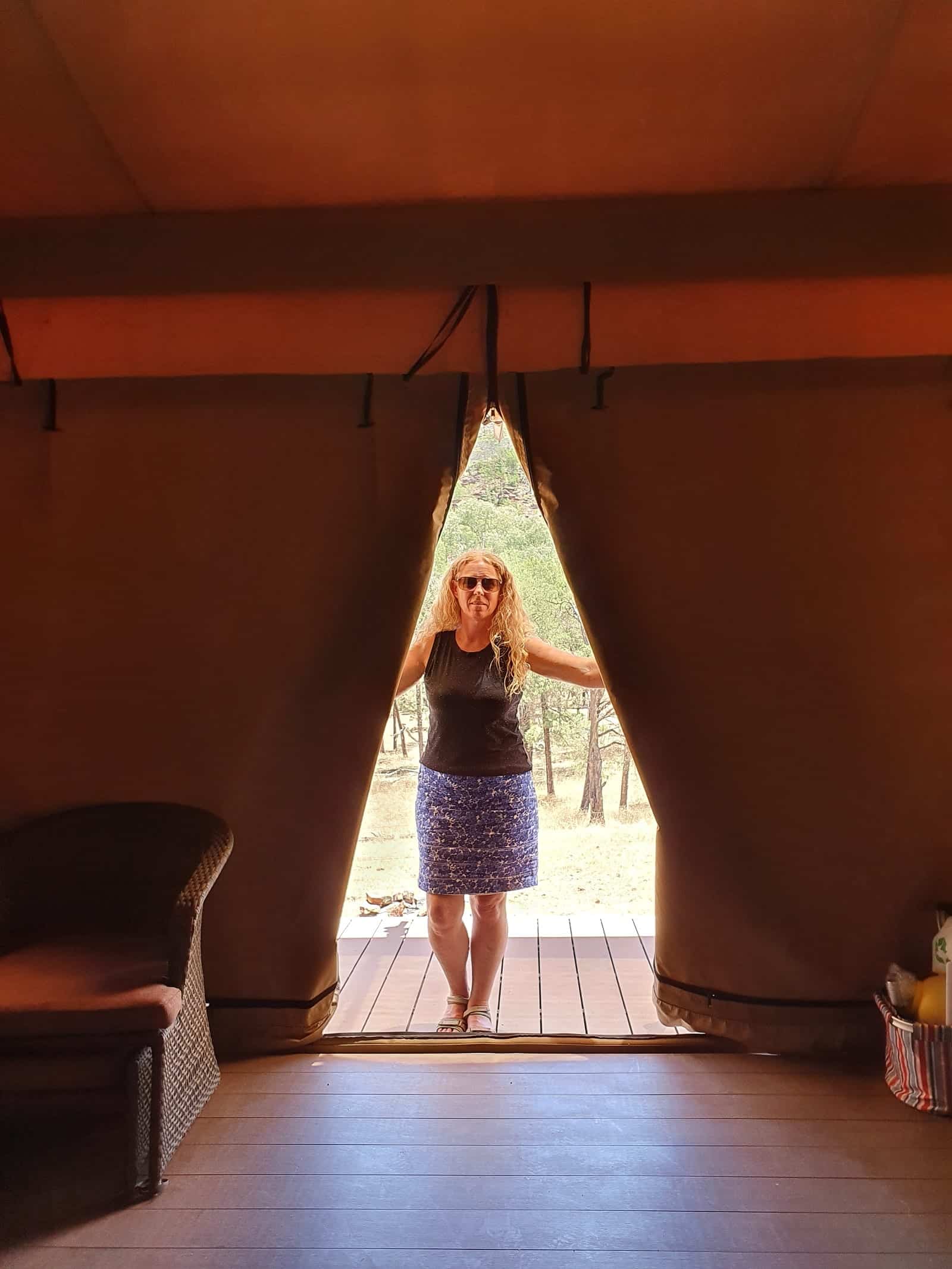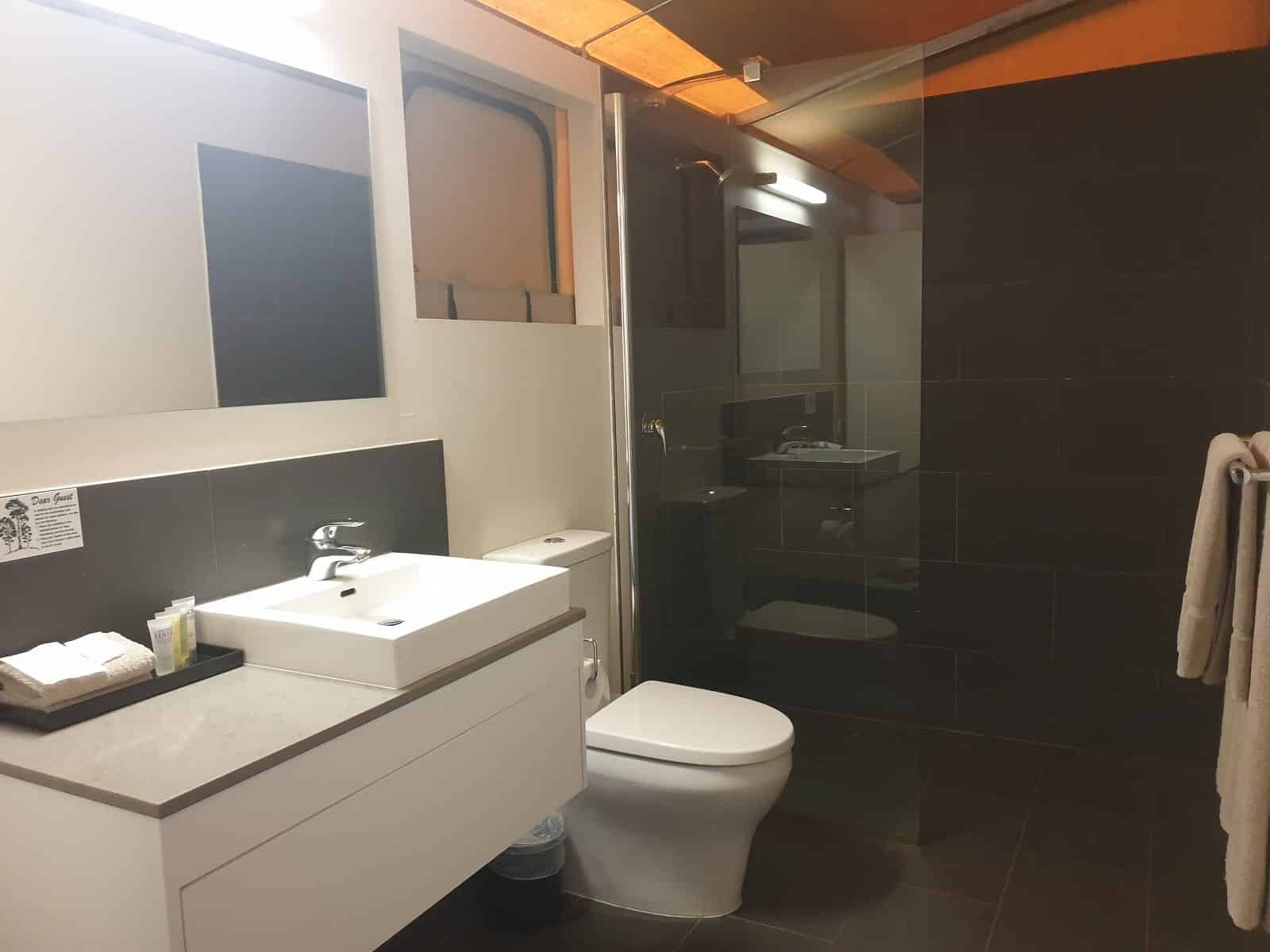 "I posted a picture of us at Wilpena Pound Glamping and had the most comments and likes than any other post for the entire year. It was that pretty. " 
Wilpena Pound Resort amenities
Besides the Safari tents, there are a range of accommodation options. There is also a camp ground here.
The resort  has a pool near reception area plus restaurant and bar. They serve breakfast, lunch and dinner but best to check, depending on what time of year you are coming.
The visitor centre is located at the main entrance and is open 8am – 6pm. These times vary during the summer period.
There is also an small IGA supermarket. It was much bigger than I was expecting and we were able to get everything we needed including alcohol.
Lastly, you will be able to get fuel here including diesel.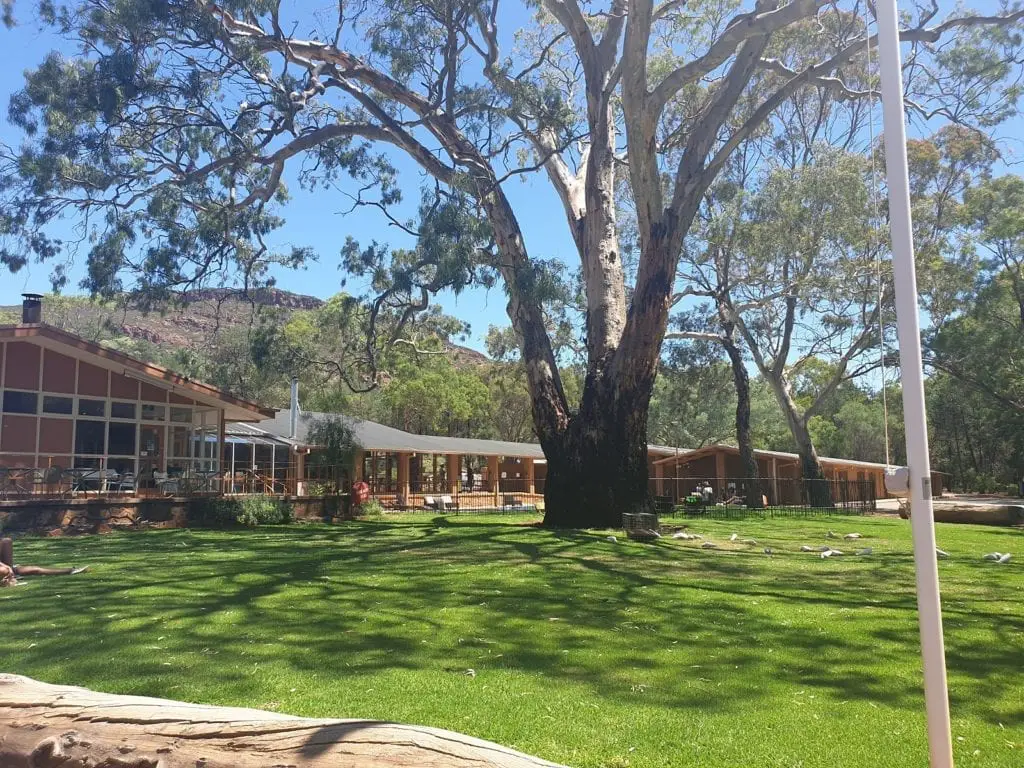 Wilpena Pound things to do
The first thing I would absolutely do is the Wilpena Pound walk. This is an easy 6 km round trip along the creek bed and into Wilpena Pound. You can access it here from the resort.
There are a range of other self guided walks that leave from the resort which is a great convenience. Be sure to check the distances and weather conditions and go with ample supplies. It does get hot here.
Tip: be sure to head up to Stokes Lookout for the sunset. It is truly magnificent. You will need a car and it takes around 20 minutes off the main road to reach.
You can also book guided walks and scenic flights from the visitors centre.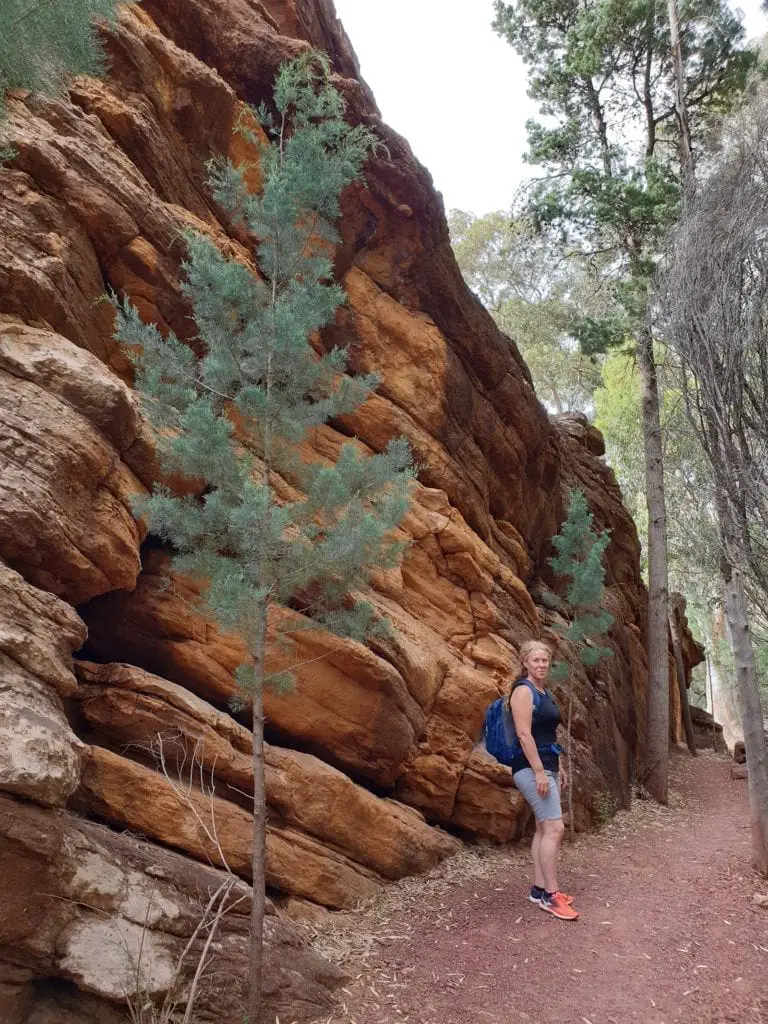 Best time to visit Flinders Ranges
The Flinders Ranges are certainly a special place to visit.
June, July and August are considered the best time to visit the Flinders Ranges, particularly if you plan to hike. It is much more comfortable. The average temperature this time of year is 15 degrees. The nights tend to get chilly, good reason to snuggle up I say, and you can have a cozy camp fire.
Otherwise from April to October is still very ideal.
We arrived Christmas Day which is considered low season due to the heat. This also meant we got a really good rate for our three night stay. Temperatures can range from high twenties to thirties and even sometimes tip over the forties. We did a fair bit of scenic driving and short walks early in the morning.
It was actually quite comfortable in the Safari Tents utilizing the air conditioning. My prime reason to be there was to see the landscape, but to also relax after a bumper year. Wilpena Pound Resort certainly took care of that.
For a full itinerary to all the best spots in the park – check out Adelaide To Flinders Ranges Road Trip.
Like it. Pin it for later.