As an Amazon Associate I earn from qualifying purchases. I get commissions for purchases made through links in this post.
Local and International visitors are heading south for good reason. With so many free things to do in Melbourne, this tourist friendly city has a lot to offer.
How to see Melbourne for FREE.
I recently spent a day in my hometown and covered all this on foot and by public transport (still standing by my word, yes "free") to show you that you can see some of the city's biggest attractions without spending a cent.
"Most Livable City in the World"
Did you know Melbourne has been named for the seventh year in a row,  the Most livable City in the World. To give you some perspective, Vienna and Vancouver came in 2nd and 3rd.
These rankings are based on a range of things from transportation, crime rates, infrastructure and environment.
As a visitor to our great city you are being welcomed to :
The Sporting Capital of Australia
A multi-cultural melting pot
Easy to use transportation system
Shopping Capital
 Coffee Capital
Biggest & most diverse range of dining options
World Class Entertainment
Free stuff
My starting point is the Crown Casino. We cover the first points on foot, making a full loop through much parkland. It's then onto the CBD (central business district) by free transport.
SOUTHBANK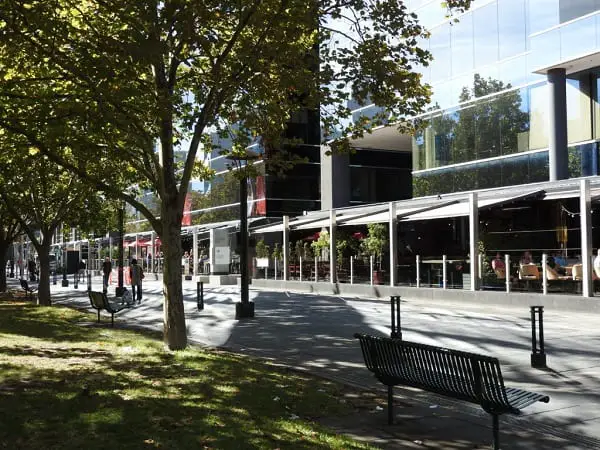 Southbank on foot is a great place for people watching. Nestled along the Yarra River you will find many restaurants, floating bars and forms of artwork. You will at some stage see street performers at work vying for your attention. The city skyline creates a outstanding backdrop on the other side of the river.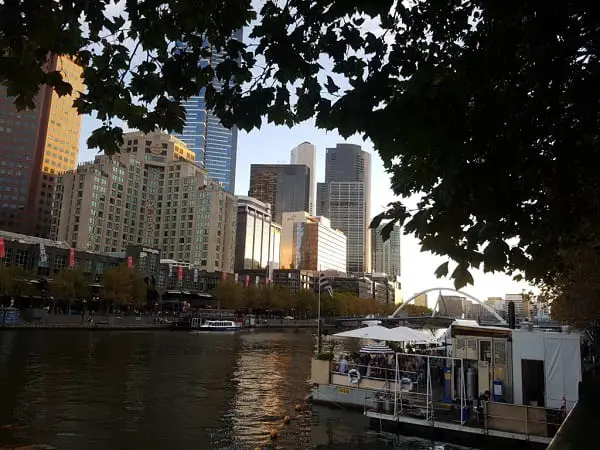 Look behind you and you'll see Melbourne's tallest building, the Eureka Towers.
Head up to Princes bridge and take the stairs up onto the main road where you'll cross over heading right down St Kilda Road.
Here you will pass Alexandra and Queen Victoria Gardens before making your way to the Shrine of Remembrance.
Shrine of Remembrance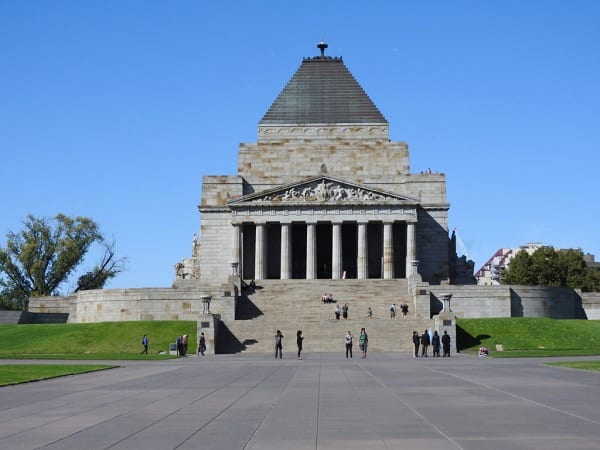 The shrine is Victoria's memorial to those who served in all war and peacekeeping operations.
Built in 1934 ,it was originally built for those who served in World War 1.The biggest days of the year are ANZAC Day April 25th and Remembrance Day November 11th.
As you make you way to the Shrine of Remembrance you will see the Cenotaph and Eternal flame close by.
Enter the Shrine to the Sanctuary, where the Stone of Remembrance lies.
Head down into the Crypt where a bronze statue of a father and son stands as a representation of two generations who served in both World War 1 and 2. See genuine artifacts and view the many battalions and regiments that served our country.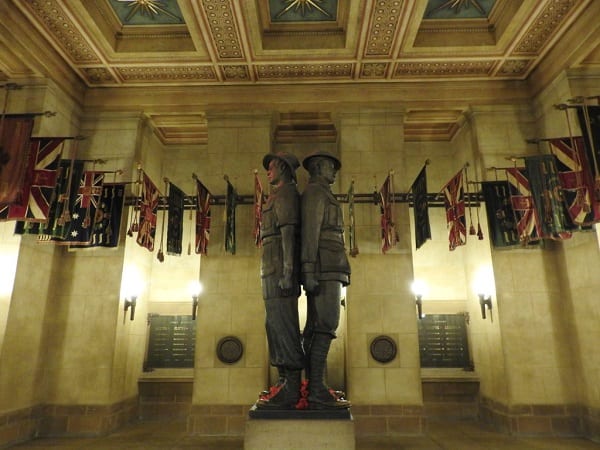 Up on the balcony you can view the grounds overall with the city also within your sight.
There is much to see and read about our history through times of war. It was a very moving experience and much to reflect on as we remember Australia's fallen heroes.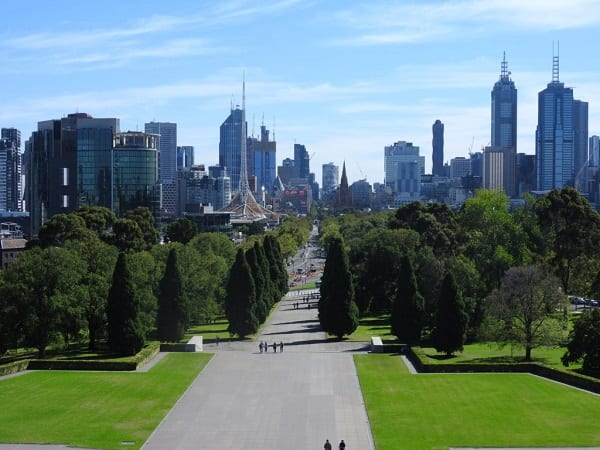 From here we head to the Botancial gradens, located directly behind.
Melbourne Botanical Gardens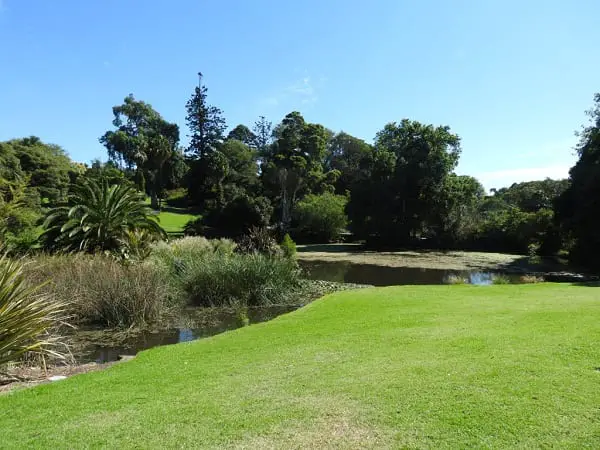 The gardens are huge housing more than 50,000 species of plant life. Follow the signs through different settings.
Take the kids to the Children's garden where they can play and explore.
There are lakes and a lot of parkland to sit and relax on a warm Melbourne day.
Melbourne's popular, The Tan running track also encompasses much of the outer gardens. Every man, pram and his dog are on the track, especially morning hours. Bike riding is also popular here.
Exit the gardens from the opposite side and you will find yourself back on the Yarra River. Head left toward the city through Queen Victoria Gardens and you will have completed a loop.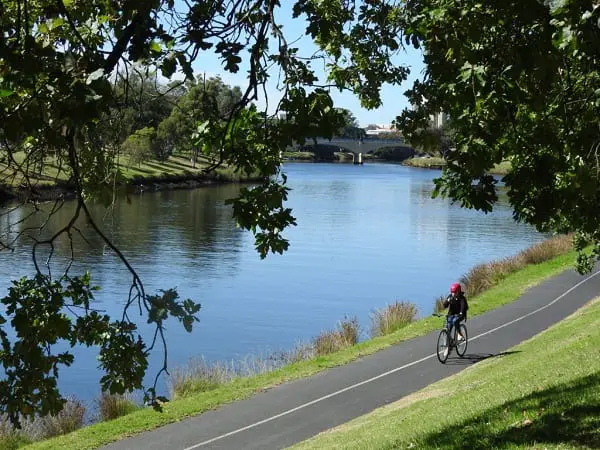 Four iconic Melbourne sites sit on one of the busiest intersection.
Flinder's Street Station
Federation Square
St Paul's Cathedral
Young & Jackson pub.
Flinder's Street Station.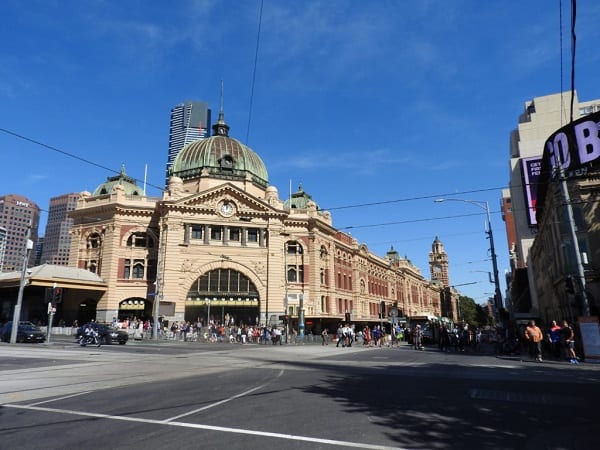 The most iconic city landmark is also the busiest train station in Australia. Completed in 1909, the steps in front are the perfect meeting place for many local and tourist visitors due to it's prominent location.
The bright facade is a standout feature and has recently been restored to it's original colors of over 100 years ago.
Federation Square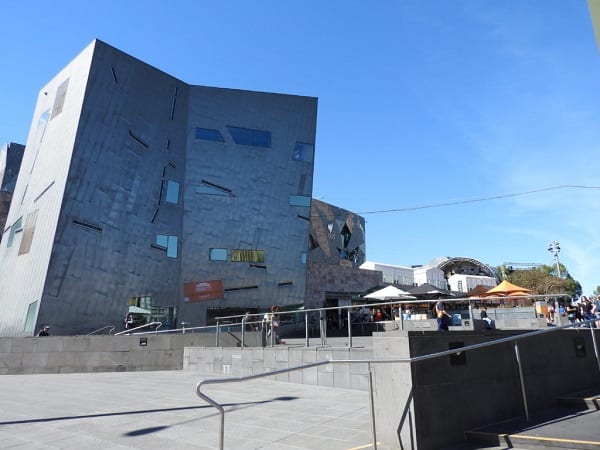 When Federation Square was first unveiled in the early 2000's  no one was impressed. The abstract design just didn't belong and it was deemed "ugly".
Today we have come to accept it. Forgiving as we are, it is now a much loved landmark due to the many purposes it serves.
Firstly, it is the "new" meeting place with open areas and levels of steps to sit and wait.
With art displays and a jammed packed calendar of events and activities, there is always something going on here.
The Ian Potter Centre displays only Australian Artwork and is free to enter.
There are many free activities and festivals taking place here throughout the year at Federation Square.From markets to exercise classes and outdoor concerts and performers. Out front you will find giant screens where sporting events are broadcast live such as the Australian Open Tennis and our beloved Aussie Rules Football .
There is a Visitors Centre located here right out front.
With this much free stuff going on here, it's no wonder Fed Square get's the thumbs up.
St. Paul's Cathedral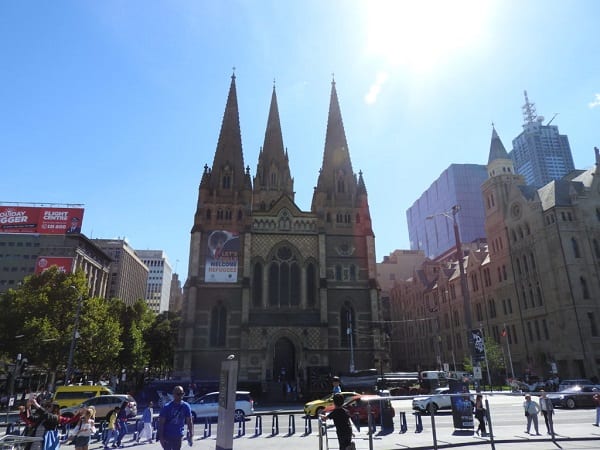 The beautiful St Paul's Cathedral is a stand out along Flinders Street. The grand cathedral's construction began in 1880 and was completed eleven years later. The 3 spires that rest on top came some years later.
I was surprised to see you needed to purchase a permit to take photos here. Something that was new from my last visit a few years back.
Not to worry, you'll have a chance to take photos at Melbourne's other grand church, St Patick's Cathedral.
Chloe – Nude Portrait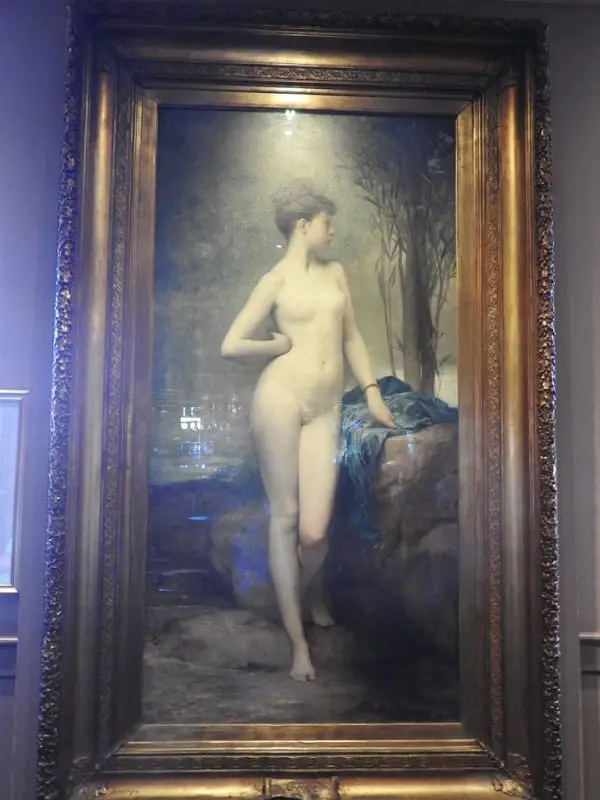 Make your way across to Young and Jackson pub for a look at the famous "Chloe" nude portrait. It hangs on the wall on the first floor of this historic pub. Painted in 1875 by Jules Joseph Lefebvre, the oil canvas has been hanging here since 1909.
Chloe, a young Parisian model has become a famous part of the Young and Jackson establishment and is well known to the locals.
Melbourne has an extensive tram service that extends to many of the outer suburbs. It's an easy way to get around. You'll be catching the FREE City Circle Tram.
Queen Victoria Market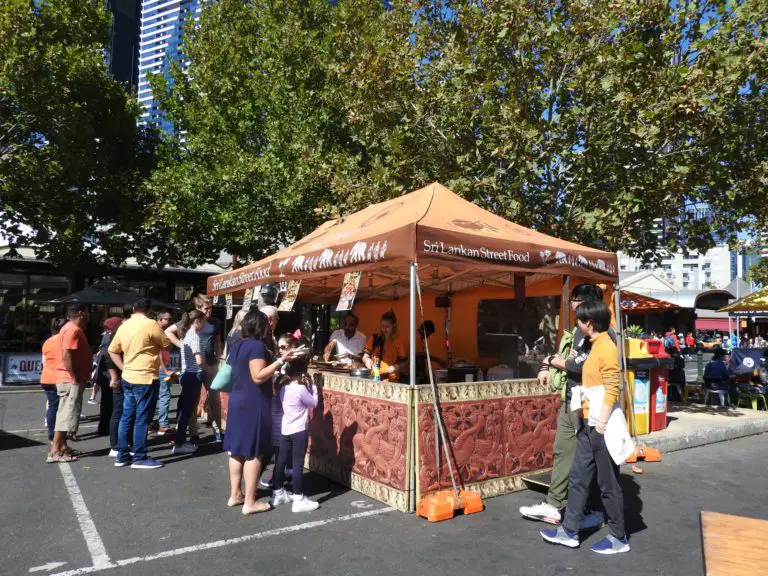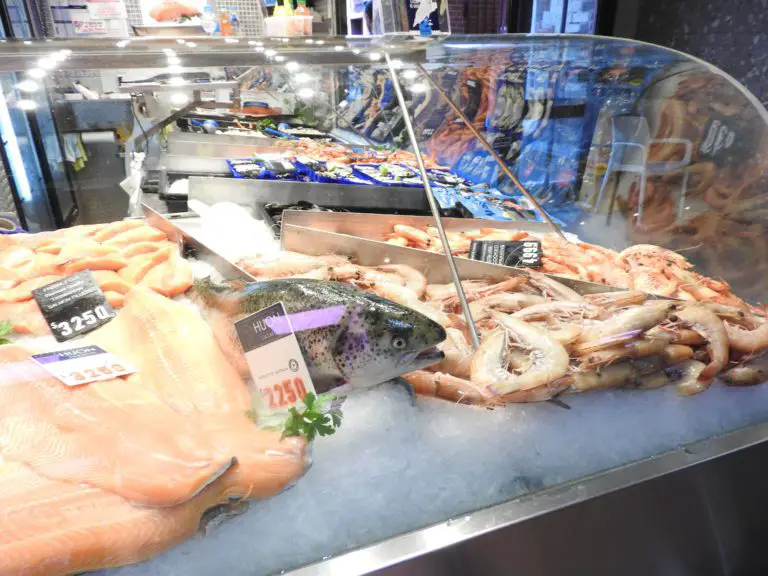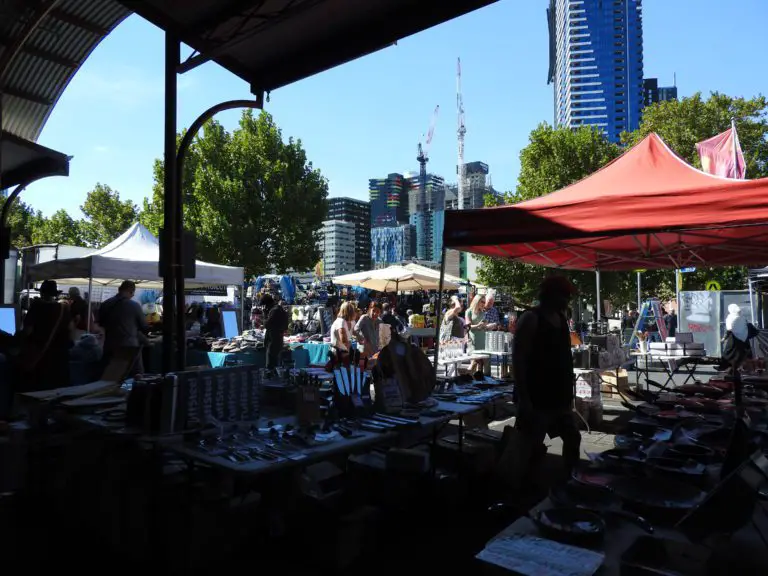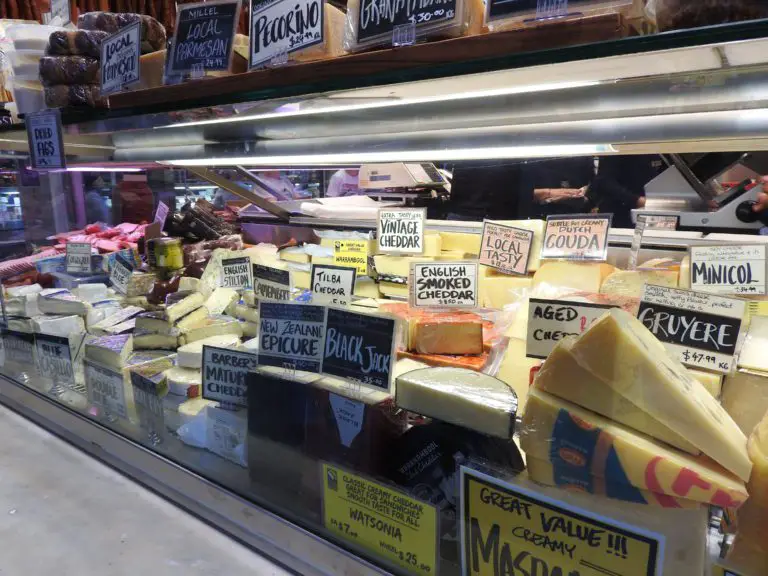 A Melbourne institution, the Queen Victoria Market has been opening it's doors for 140 years. Open every day except Mondays and Wednesdays, you will find everything from fresh quality produce to home wares, clothes and souvenirs.
It is a vibrant and lively place to visit, whether you are here to shop or just want to pay a visit.
Head over to the meat and seafood pavilion and then into the deli section to sample the diverse range of international and local tastes.
This is a cheap place to grab lunch or a bite to eat.
State Library of Victoria.
    
In all my time living here I had never visited the State Library so now was the time. In the name of research I was pleasantly surprised.
My vision of floor to ceiling book shelves and sliding ladders was consequently replaced with desks of people at computers.
The building house over 2,000,000 books, many of them stored underground.
There are free exhibitions here. We went to three including the Ned Kelly exhibit to view his suit of armour on display. Ned Kelly was a famous bush ranger and gang leader who was famously gunned down (though not killed) and later hanged in 1880.
Your next stop is in front of Parliament house. It includes St Patrick's cathedral and Fitzroy Gardens.
Parliament House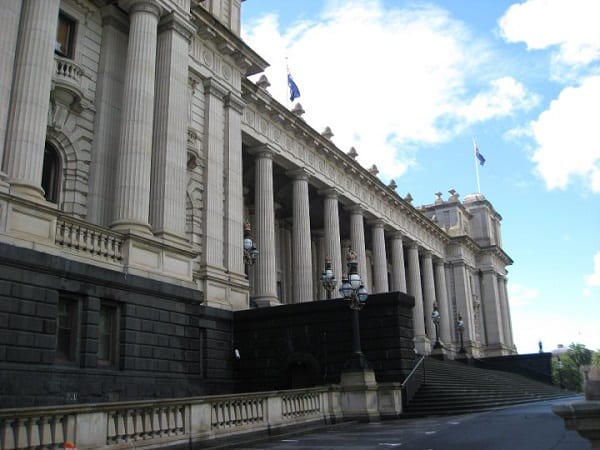 Parliament House is open all year round except weekends and public holidays.
Free tours are offered to the public and on days of sittings members of the public may enter and watch the action unfold.
Unfortunately I was there on a Saturday so did not enter the building.
Instead you will be most likely treated to many bride and grooms coming here for their photos. The staircase and the large doors that open into Parliament are a popular setting for photos. I counted nine brides in the space of 30 minutes.
St Patrick's Cathedral.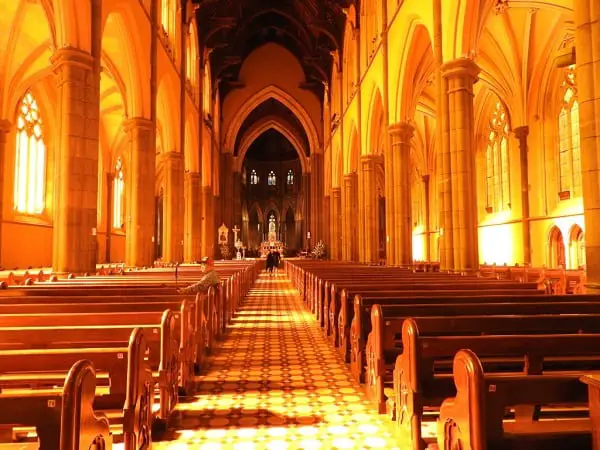 A beautiful cathedral with a more impressive interior. Very grandeur indeed.
The stained glassed windows and  mosaics are simply stunning. The location being on the edge of the city doesn't attract as many visitors as St Paul's so it's a much more subdued visit.
Photos are allowed so click away.
Fitzroy Gardens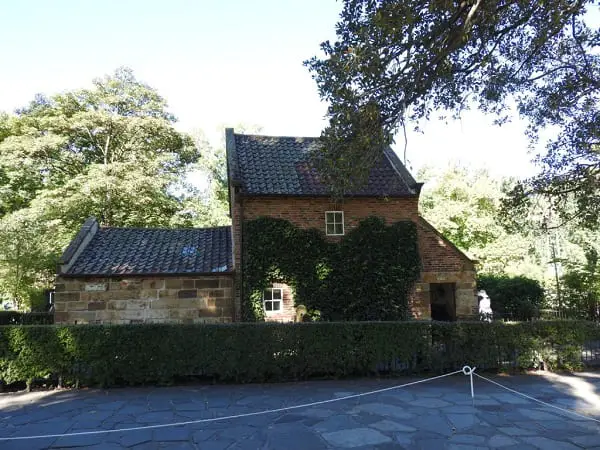 A stroll through Fitzroy Gardens will take you to Captain Cooks Cottage, the Observatory and the Fairies tree.
The wide paths are lined with English Elms and a glimpse of Melbourne's skyline hovers above.
Captain Cooks Cottage was the home of the famous navigators parents and it is thought the great man himself lived here.
The Conservatory houses many floral displays.
The Fairies tree and Tudor Village are a great place for the kids to spend some time.
With over 2,000,000 visitors each year and it's close proximity to the city, Fitzroy Gardens is well worth a visit.
Head back to Parliament house and make your way back to your starting point. Exit the tram one stop prior. 
Street Art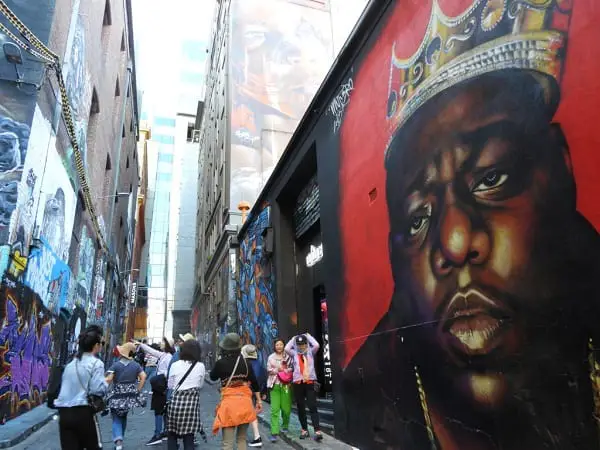 Melbourne has a place for street artists to come display their craft on the walls of lane-ways around town.
Head up Hosier Lane for a colorful display of artwork. It is really cool what these artists can do.
Another popular location is ACDC lane. Yes you are right, named as a  tribute to the Australian band.
It's time to leave the tram behind and take a walk up toward China town.
Melbourne Laneways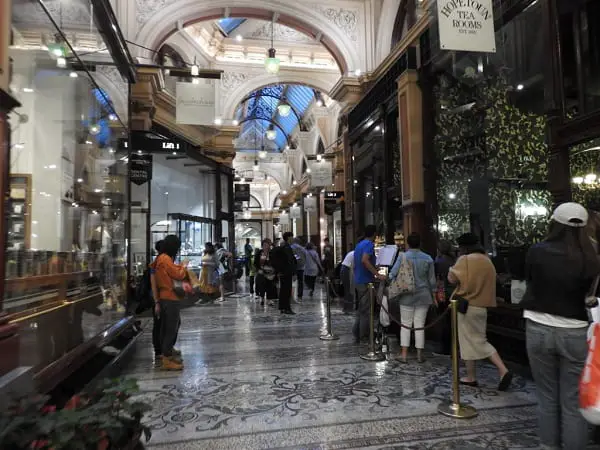 I have to make mention of Melbourne laneways because they are part of the culture here. Melbourne is renowned for them.
Discover places such as Degraves Street and the Block Arcade.These bustling laneways are alive with restaurants,bars, shops and cafes.
China Town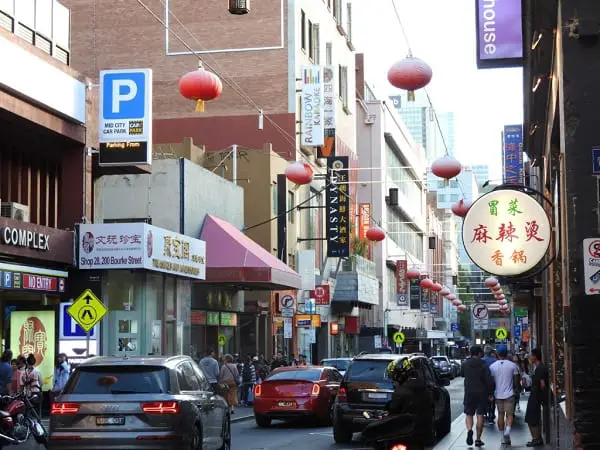 Located smack bang in the middle of the city is China Town. It's long history takes it back to the gold rush era in the 1850's.
There is dining, shopping and entertainment to be found here including accommodation.
It is much better visited during the evening when the sun goes down and the lights come on.
Crown Casino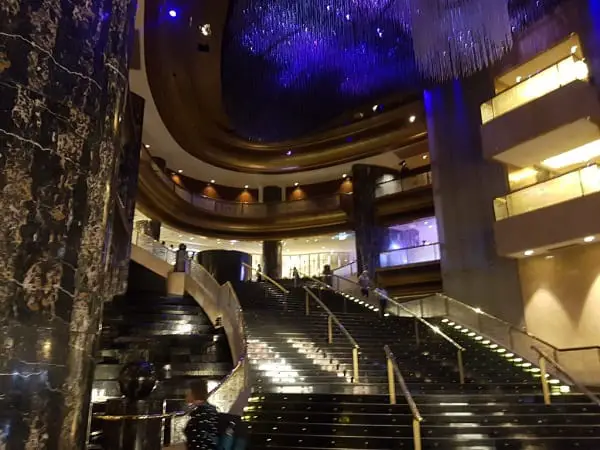 This exuberant complex is world class.
The largest casino complex in the southern hemisphere, Crown is an exciting place to visit.
Head into the atrium for a grand view. If you are in town during December you will be delighted with a special Christmas display.
Some of the countries best restaurants are here. Heston Blumenthal recently opened here but if the price is a little overwhelming there are a range of other dining options that suit all budgets.
There are clubs, bars, cinema complex, concerts and kids arcades that make this place a one stop location. You can enjoy a walk through the complex without having to spend any money.
During the evening once dark has set in, head outside and watch the 8 fire towers go off on the hour, every hour until midnight weekdays and 1 am weekends. A display of fireballs that shoot into the night sky are impressive as the heat is felt from a distance.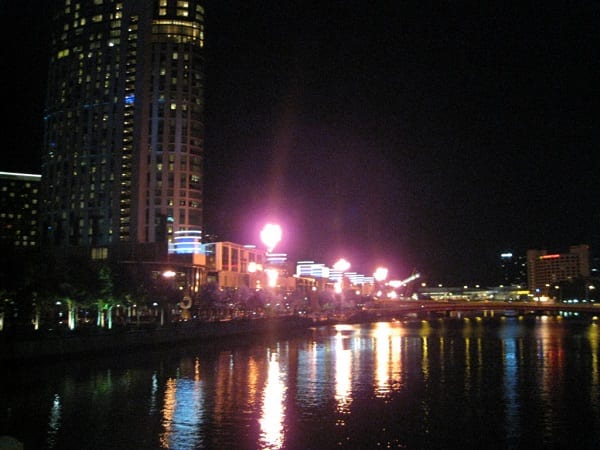 This extensive list was completed in a full day but is not intended to be taken that way. If you have the time then do it at your own pace.
Whether you are coming from out of town, interstate or overseas Melbourne is a great place to visit and is growing in popularity every year. See you soon!