As an Amazon Associate I earn from qualifying purchases. I get commissions for purchases made through links in this post.
What is the perfect Broome itinerary?
With so many unique things to do in Broome, a trip here is filled with many 'first times". It's simply like no other place in Australia. Which is why the once quiet location in the far north west Kimberley region is gaining incredible popularity with tourists.
Whether flying in or you're on a road trip, this budget Broome itinerary is perfect for 5 to 7 days.
I was here for 5 days before embarking on an incredible adventure tour from Broome to Darwin. You can read my full review about that here: Ultimate Broome to Darwin Tour – find out what to expect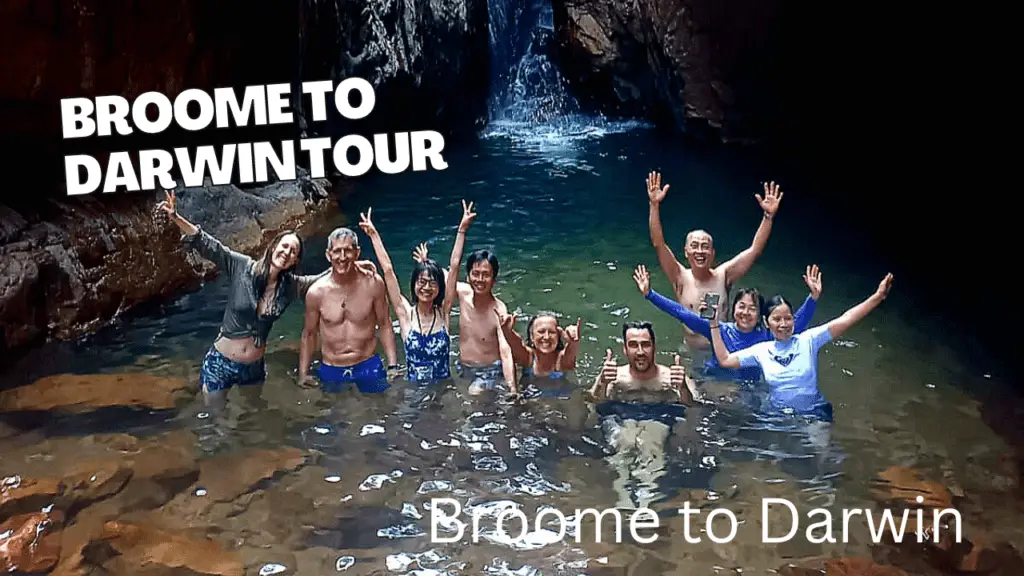 Unique things to do in Broome
It's without question that Broome has a multitude of uniqueness going on.
Here, you will find attractions as well as really cool features that can't be seen anywhere else in the country and are also rare on a world wide scale.
Has the highest tides (10 metres) in Australia and second highest in the world (Novia Scotia in Scotland has the highest)
Dinosaur footprints found along the coast are recognized as the worlds most significant site
The Kimberley is the traditional home of the pearling industry with the world's biggest pearl ever farmed
The phenomenon of Horizontal Falls cannot be found anywhere else in the world
Best time to visit Broome
The dry season in Broome is May to October making it the best time of year to visit.
Temperatures will in general top around 30 degrees making the days warm to hot and perfect for swimming. The nights are balmy and might only require a light jacket but usually not even that.
When a destination relies heavily on a short tourist season, apposed to locations such as Hawaii which draw visitors year round, the prices are naturally higher.
Broome also has a shortage of hotels and resorts compared to the amount of people wanting to visit. This also tends to drive prices up.
While I could tell you to go in the off season in order to do Broome on a budget more easily, you would be limited to what you could see and do, and it would also be incredible muggy with a high chance of rain.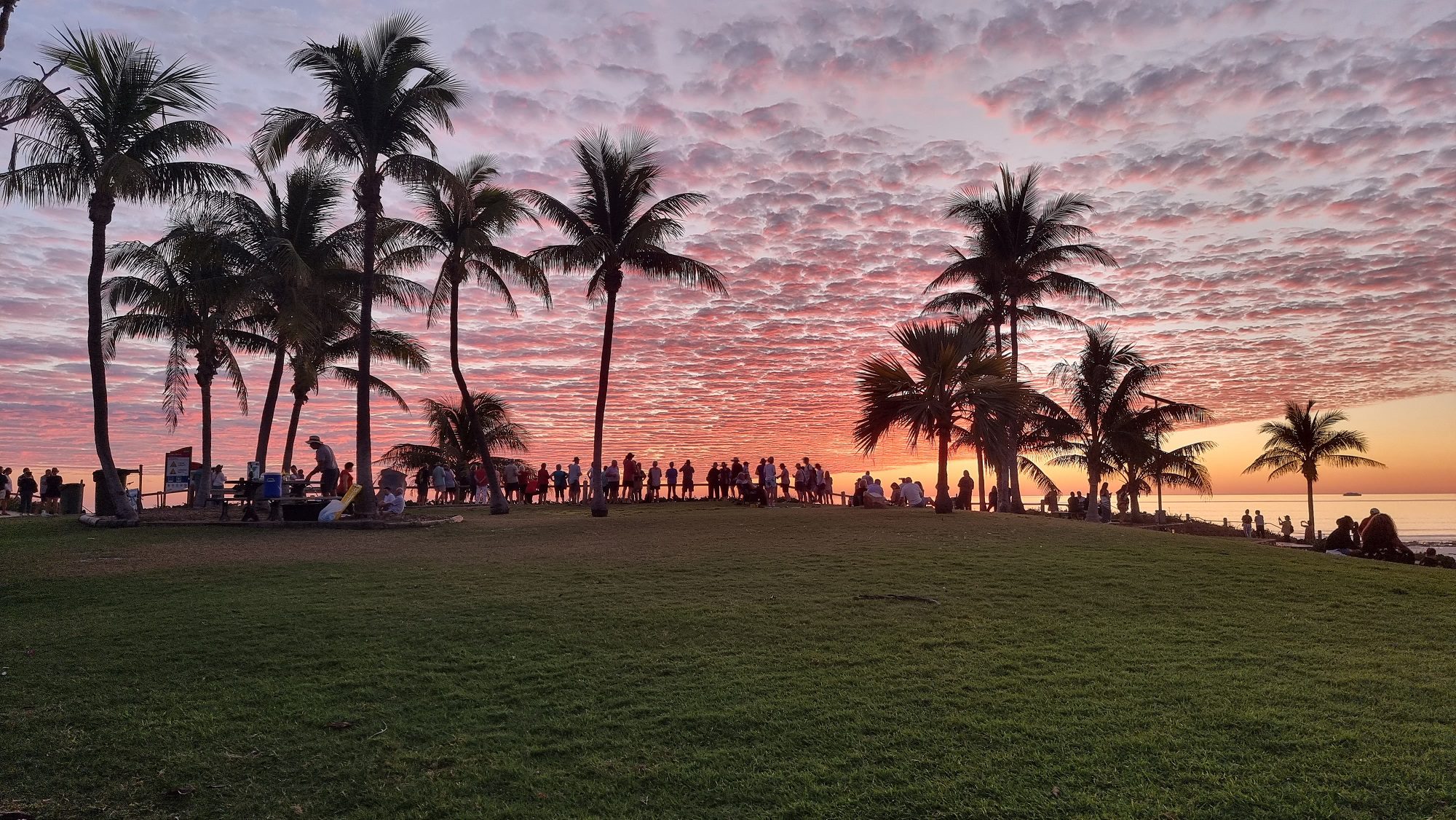 Who flies to Broome?
Qantas: Direct flights from Perth, Sydney, Brisbane and Melbourne depart on select days.
Virgin: Currently Virgin only have direct flights from Perth.
Jetstar: Do not fly to Broome
Want to do Broome on a budget?
Don't skimp on an epic Broome itinerary, make it affordable instead.
Contrary to belief, Broome can be done a budget. It's all about making the right choices.
Question? Would you rather stay in an expensive hotel and see and do nothing, or stay in a budget hotel and experience the best of the region? It's really up to you.
Wherever I go, I'm always looking to save. In fact, I love the challenge to put together a vacation based on my budget, yet still see and do everything I want.
How to make your Broome itinerary more affordable
I'm not going to lie. Broome can be expensive. So I'll show you how to save money and put it toward some epic adventures rather than some overpriced accommodation.
4 Best ways to save
1. Book early
In order to get the best deals for your Broome itinerary, you really need to start thinking about accommodation and flights well in advance. Many of the best places to stay in Broome are well and truly sold out months in advance. I would consider booking your accommodation around 6 to 8 months out.
Don't believe me? I booked 4 months out and ended up in a hostel, ahving to change rooms twice in order to accommodate me.
Booking.com have a big range of hotels, resorts and even private rentals to choose from. Plus, they generally offer free cancellation and you don't have to pay till you arrive. A good reason to book now rather than later.
Affordable Broome accommodation
Does your Broome itinerary involve pricey hotels and resorts, or comfortable and affordable choices?
Cable Beach Backpackers – as mentioned this is where I stayed. We had a private room for around $70 per night. The no noise policy after 10.30pm was a blessing. Plus having a pool, communal kitchen and plenty of tables and chairs made it an enjoyable stay. i was quite surprised to see the older age group also staying here as an alternative to cheap Broome accommodation.
2. Don't eat out too often
Expect to pay $50 per head when dining out, particularly if you are planning on trying the local seafood. There are plenty of great restaurants but it will add up if you let it.
So if you want to do Broome on a budget try eating out less often, particluarly at night. Lunch specials are generally cheaper and at night why not take your dinner to the beach.
Also, there is a Coles supermarket in Chinatown precinct which caters quite well to tourists with ready made meals and easy snacks.
For fresh barramundi when in Broome, you can't go past Cable Beach General Store and Cafe. The portion of fish and chips that I bought was huge and it was simply delicious. I added a side saad to make it a full meal and it was much cheaper than most restaurants.
Another option is the Courthouse Markets for local and international cuisine right on the beach on a Thursday night.
Lastly, why not grab some fish and chips and hit the beach for that incredible nightly sunset.
3. Catch the Broome Explorer bus everywhere
The easiest way to get around Broome is on the bus.
Geared toward tourists, the bus covers much of the Broome area, taking you to many attractions as well as major hotels and resorts.
Prices for 1 adult are as follows: (concession available)
single ride $4.50
24 hour pass $15
72 hour pass $35
10 ride pass $38
4. Enjoy the free scenery
One of the best attractions in Broome are the beaches. From Cable Beach to Main beach and Roebuck Bay, there is definitely some great free scenery to enjoy. In fact, you could spend all your time in Broome just seeing only the free stuff.
Keep reading my Broome itinerary where I'll include many free activities as well as affordable attractions.
Day 1. Broome itinerary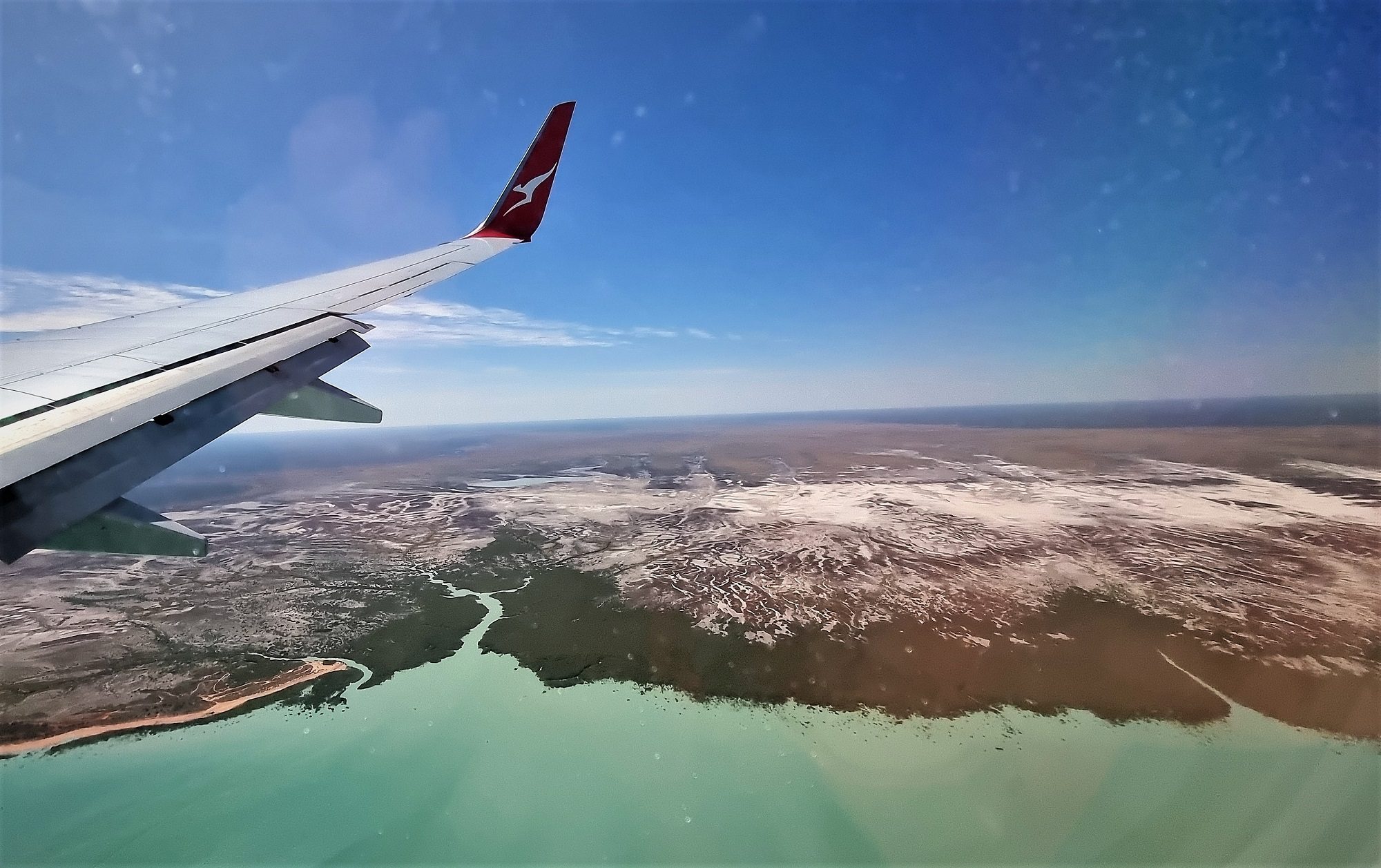 Today your Broome itinerary begins. Flying above the coastline, it's already evident that there will be plenty of unique things to do in Broome.
Depending on what time you arrive, you'll have the rest of the afternoon at leisure
Sunset at Cable Beach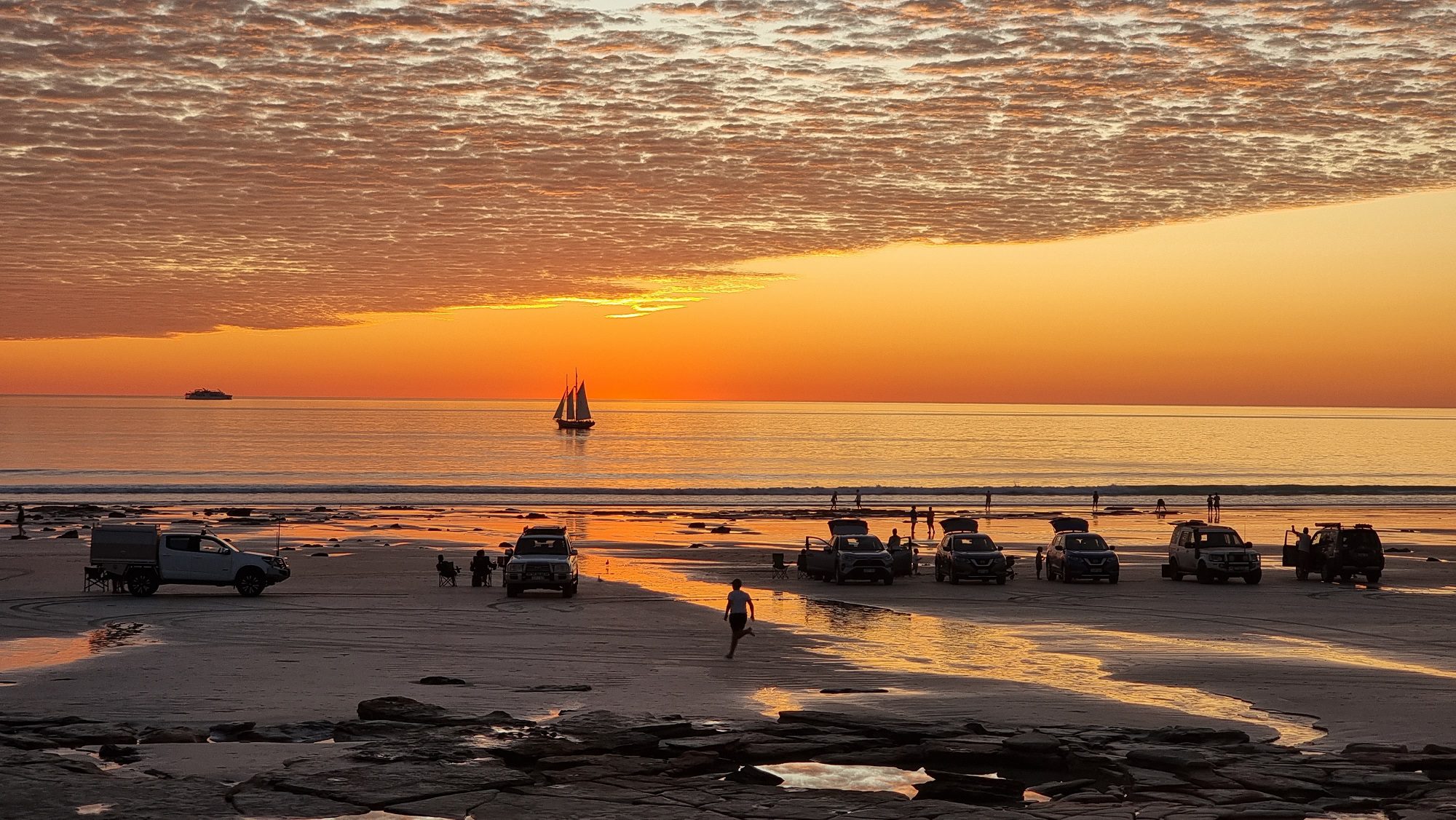 If you are drawn to a sunset like most people, then you are in for an absolute treat, because Broome sunsets are next level.
The sky turns to a spectacular orange glow, set against the Indian Ocean. It's truly magnificent.
Make your way down to Cable Beach before dark to find a cozy spot to sit. A great place is either in the parkland next to Zanders restaurant or down on the beach out front.
You'll notice to your right the many four wheel drive vehicles making their way onto the beach, and if you follow their direction you'll come across the camels also.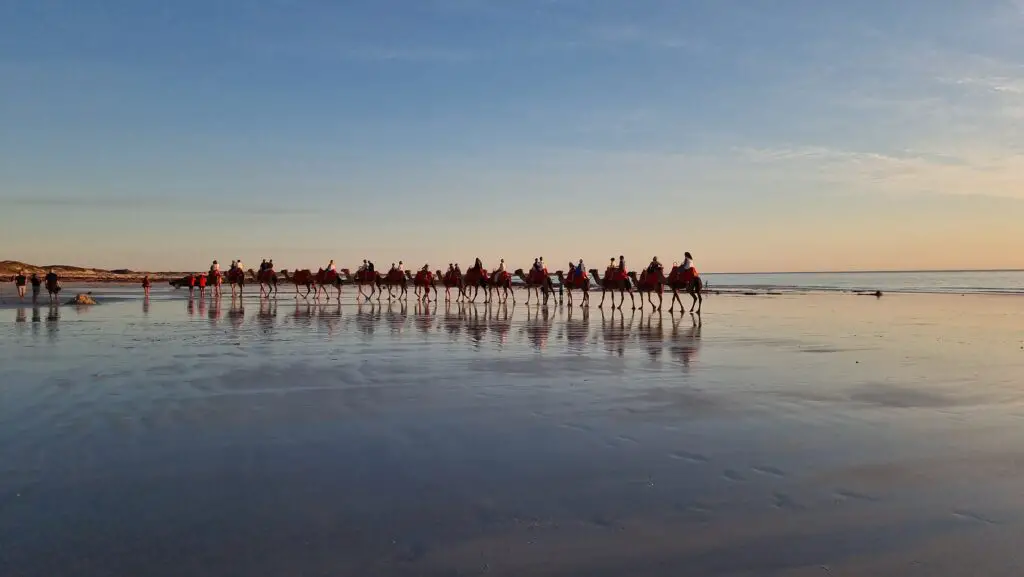 Day 2. Broome itinerary
Today is the perfect leisurely day, taking in some of the best FREE sights as part of your Broome itinerary. It's also a good way to get orientated with your surrounds before embarking a bit furthout out over the coming days.
Chinatown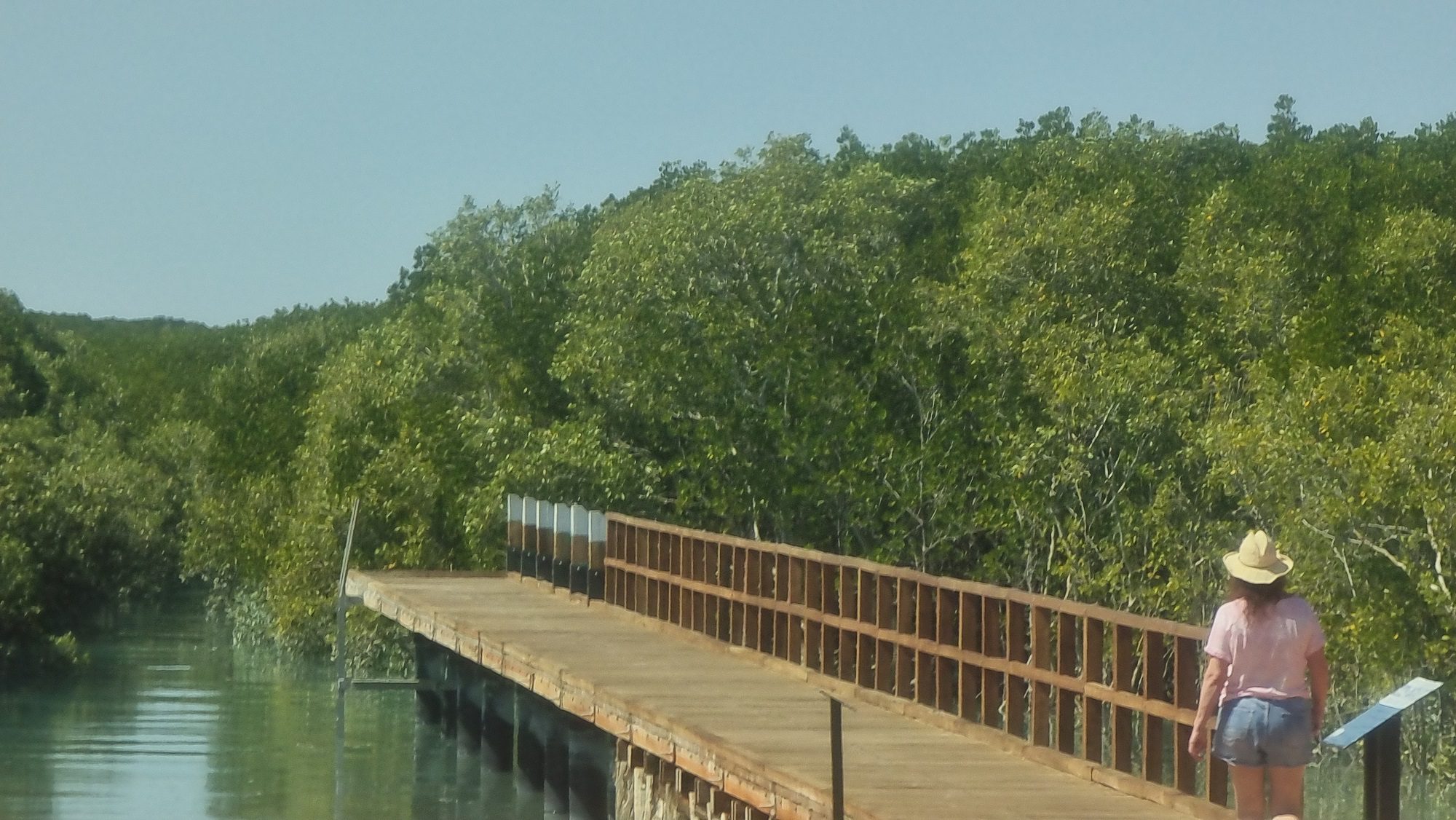 A visit to Chinatown is a good place to visit next as I'm sure you are ready for a bit a leisurely strolling. It's the heart and soul of historic Broome and represents the old pearling days way back in 1880's.
You'll find the main shopping precinct here with lane ways to explore full of boutique shops, cafes and art galleries. A good stop for lunch is Dragonfly Cafe where their fish tacos are simply delicious.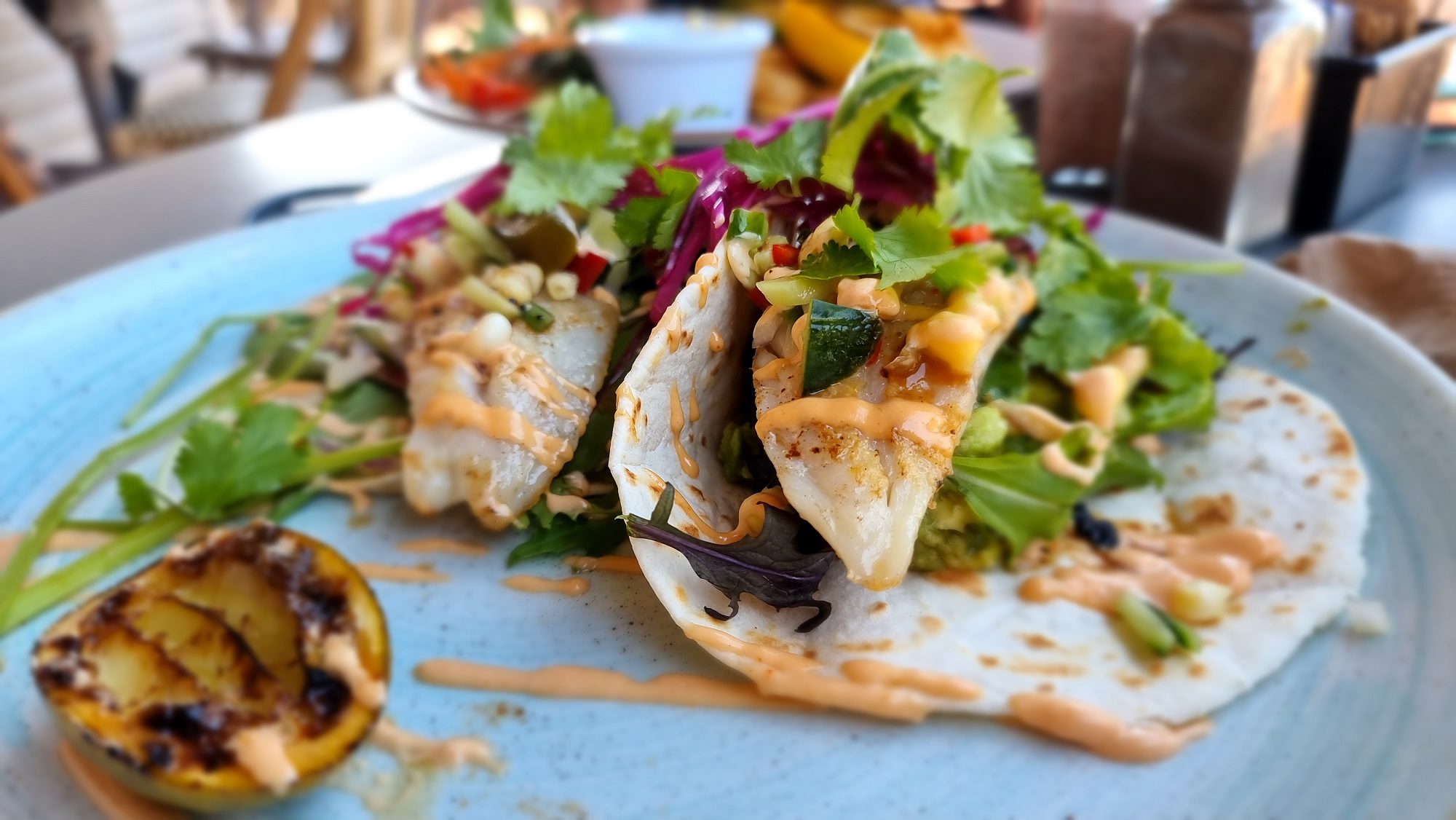 Be sure to cross over onto Dampier Terrace to access Streeter's jetty. The recently restored jetty juts out into the mangrove and was once an important link to pearl luggers coming in to Dampier Creek.
Roebuck Bay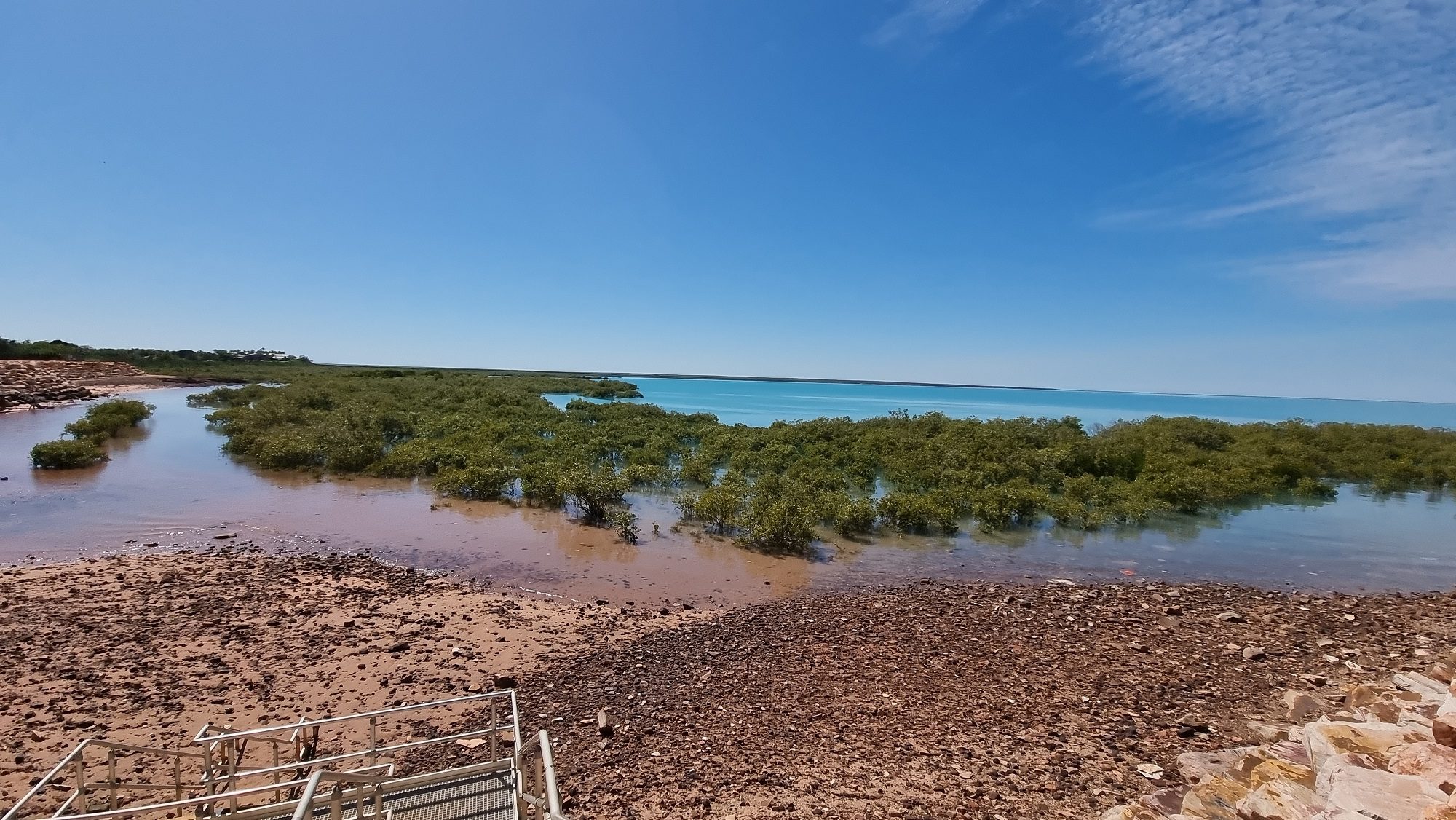 Roebuck Bay is a scenic and interesting place to visit, and should most definitely be part of your Broome itinerary.
The bay features a nice area of foreshore with surrounding mangroves hugging the shoreline. It's certainly a scenic spot to visit.
You'll notice immediately how incredibly colourful the landscape appears. The beach is a gorgeous orange colour with milky turquoise water, making it magnificently contrasting.
This is also a particularly good spot for photography and bird lovers.
Town Beach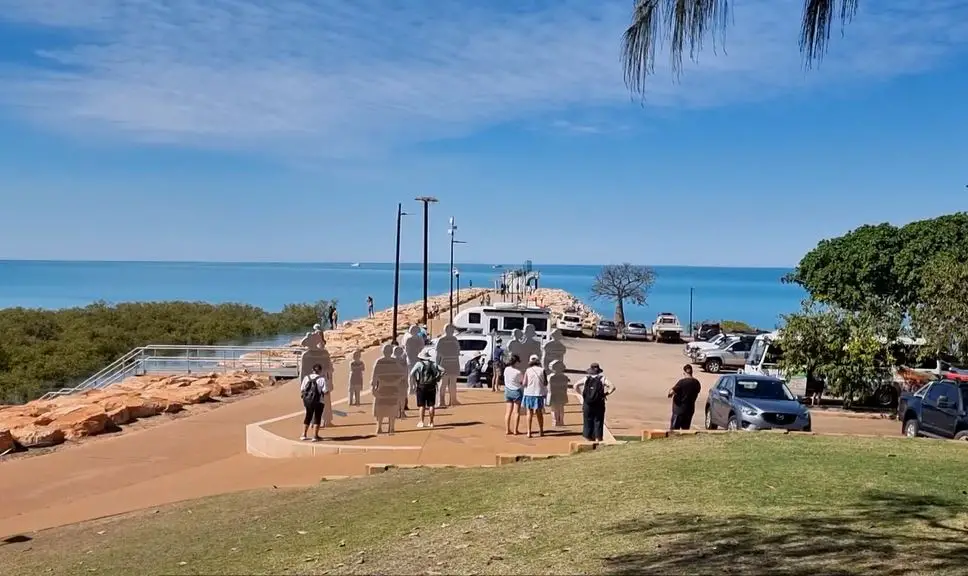 The area of Roebuck Bay is also where you will find Town Beach.
The entire area has recently had a significant upgrade as it is so widely popular to visit.
Enjoy a walk along the jetty and stop to read the WW2 memorial. There is also a childrens aprk and plenty of parkland to enjoy a picnic as you look out over the bay.
Matso's Brewery
Matso's Brewery is a local institute showcasing a range of beers on their menu. You can try brews such as Mango and Ginger. It's also a great time to grab a meal or a quick bite to eat while visiting.
Broome Historic Museum
Be sure to drop into the museum , located in the area, Entry is $12 adults, $8 seniors and under 16's are free.
Staircase to the Moon
This natural occurrence happens around 2 to 3 times per month during a full moon (between march and October) when the moon rises over the Roebuck Bay tidal flats. The light reflecting onto the sand causes a ripple effect, creating the illusion of a staircase.
Courthouse Markets
If you are around on a Thursday evening, the Courthouse Markets are held here at Town Beach starting from 4.30 pm. Browse the market right along the shore line and grab a cheap bite to eat at one of the many food stalls.
The markets also run in the morning on weekends during the dry season from 8am to 12pm.
Sunset Camel Ride on Cable Beach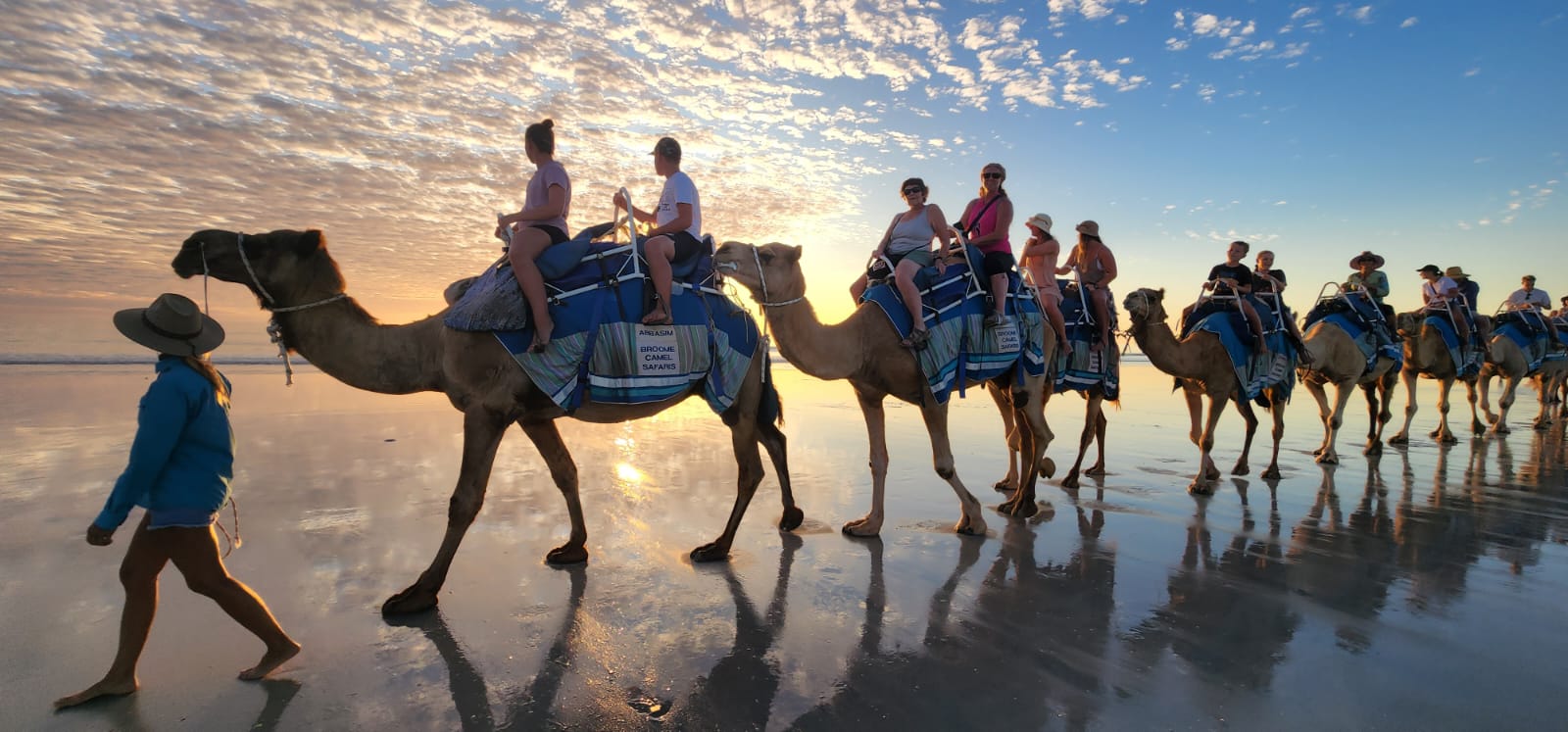 The sunset camel ride is incredibly popular, making it Broome's premier attraction. Its also not too damaging on your holiday budget.
Make your way down to Cable Beach late afternoon where you'll be allocated a number which will correspond with your camel. Every camel has their own name and it's quite evident these guys are well looked after.
The procession of camels leisurely heads out along the waters edge and I'm quite surprised how comfortable it is up there. Make sure you have your camera as the guides will offer to take photos for you.
Don't hesitate to book as this tour always sells out in advance.
To book go to: 1 hour Sunset Camel Ride on Cable Beach
For those who are on tight budget, you can book a ride earlier than sunset here: 30 minute pre sunset Camel Ride
Day 3. Broome itinerary
It's a relatively early start today to catch the first and only bus heading out to Gantheaume Point. If you miss the bus, there is no other transport for the day. Make sure to look up the Explorer Bus for current timetable. (it will be around 7.30am)
Gantheaume Point and beach walk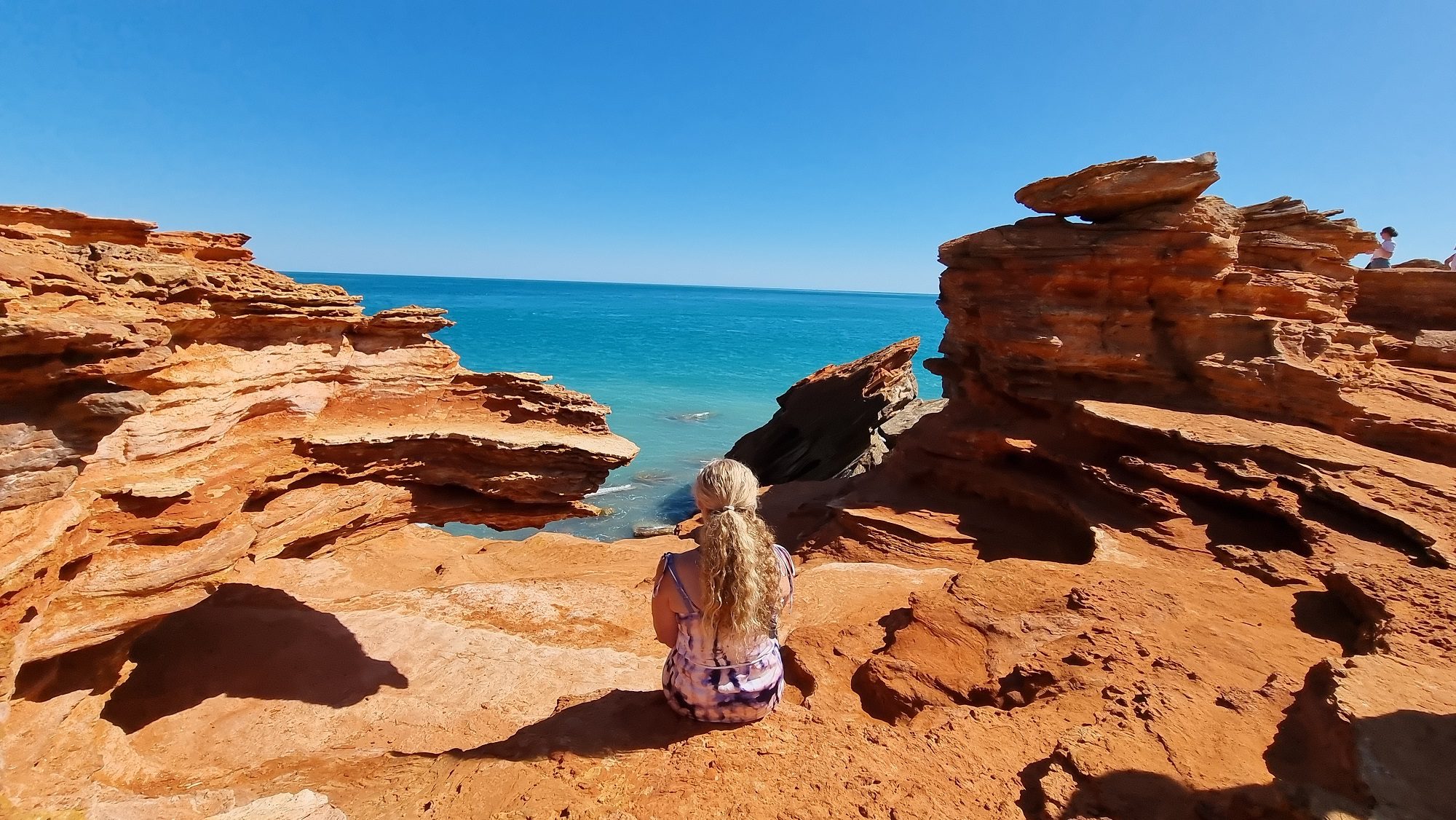 One of Broome's top attractions, known for it's incredible red rocky coastline overlooking an expansive blue sea. The views here are without doubt some of the best in town, so be sure to capture plenty of photos while here.
Arriving around 8 am on the bus is probably a blessing as shade is not high on the agenda here.
Explore the area best known for it's Dinosaur footprints, only seen at low tide.
When you are ready, the walk back into town along the beach will take approx 1 hour or slightly longer. So you'll be back well and truly early enough for more adventure in Broome.
Horizontal Falls Flight and Jet Boat Ride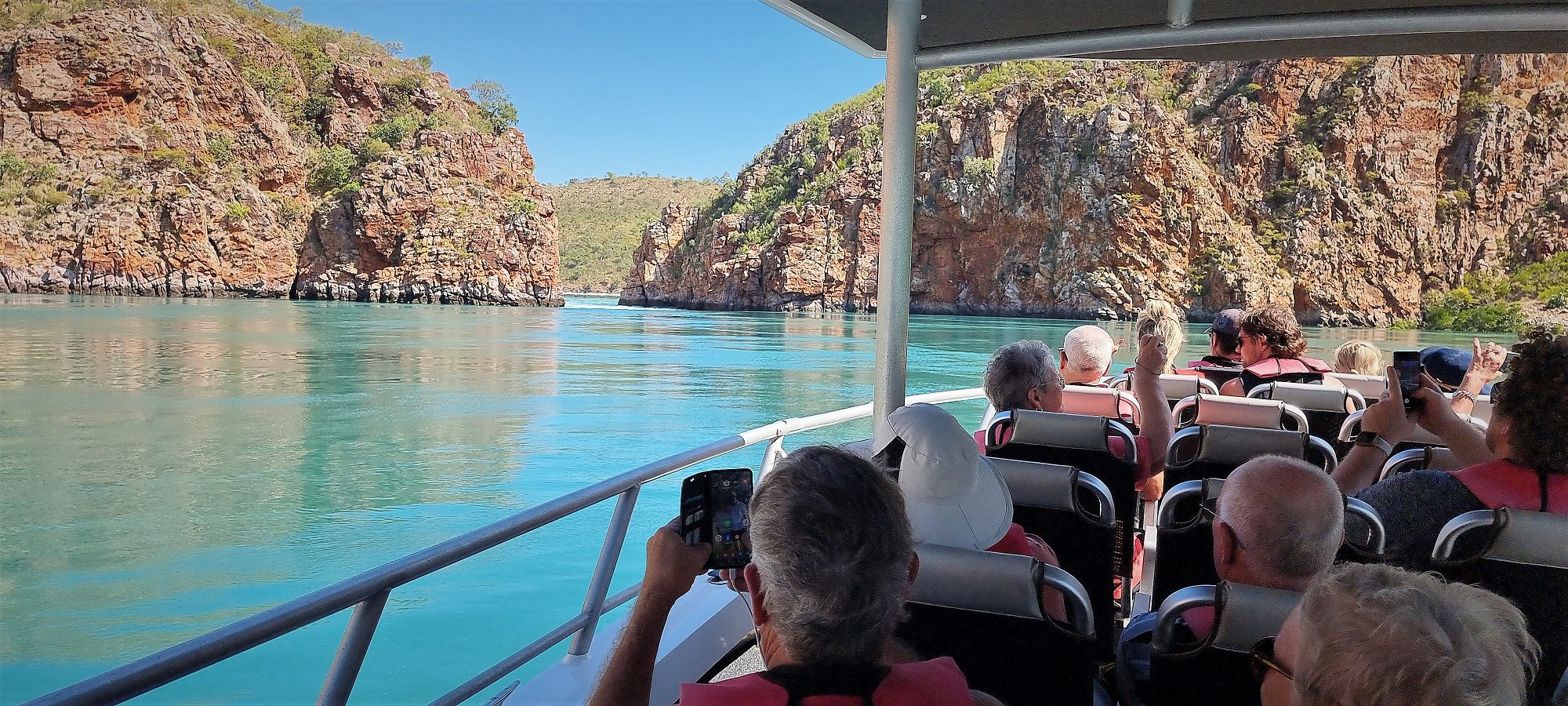 What are the Horizontal Falls?
Quite literally, they are described as "waterfalls turned on their sides". It is where the huge tides present in the Kimberley are forced through a narrow passage creating a massive force of water. It is a phenomenon not seen in any other place around the world.
While a trip to Horizontal Falls is not exactly for the budget minded traveller, it is certainly very possible when you take my advice and stay in budget accommodation in Broome. So use the money you save and put it toward a once in a lifetime experience instead.
The scenic flight to Horizontal Falls is incredibly stunning, aboard a seaplane where everyone gets a great view. The flights takes at least an hour or more so you really get to see a lot of incredible scenery.
You'll fly low enough to really capture all beauty of the Kimberley and also Horizontal Falls, where we circled to gain the best views before landing on Talbot Bay.
From here it's onto the pontoon for a delicious meal of freshly grilled Barramundi and salad before heading out on an exhilarating boat ride to the falls.
Half Day Tour: Broome to Horizontal Falls Half Day Tour
Or make a full day of it : Broome to Horizontal Falls Full Day Tour
Be sure to read my full guide and review of Horizontal Falls which also includes a video of what to expect.
Broome Horizontal Falls day trip including Cygnet Bay Pearl Farm
Day 4. Broome itinerary
When thinking about what to do in Broome, a trip out on the water is simply a must. Plus learning about the incredible 10 metres tides is quite mind blowing.
Scenic and Prehistoric Boat Tour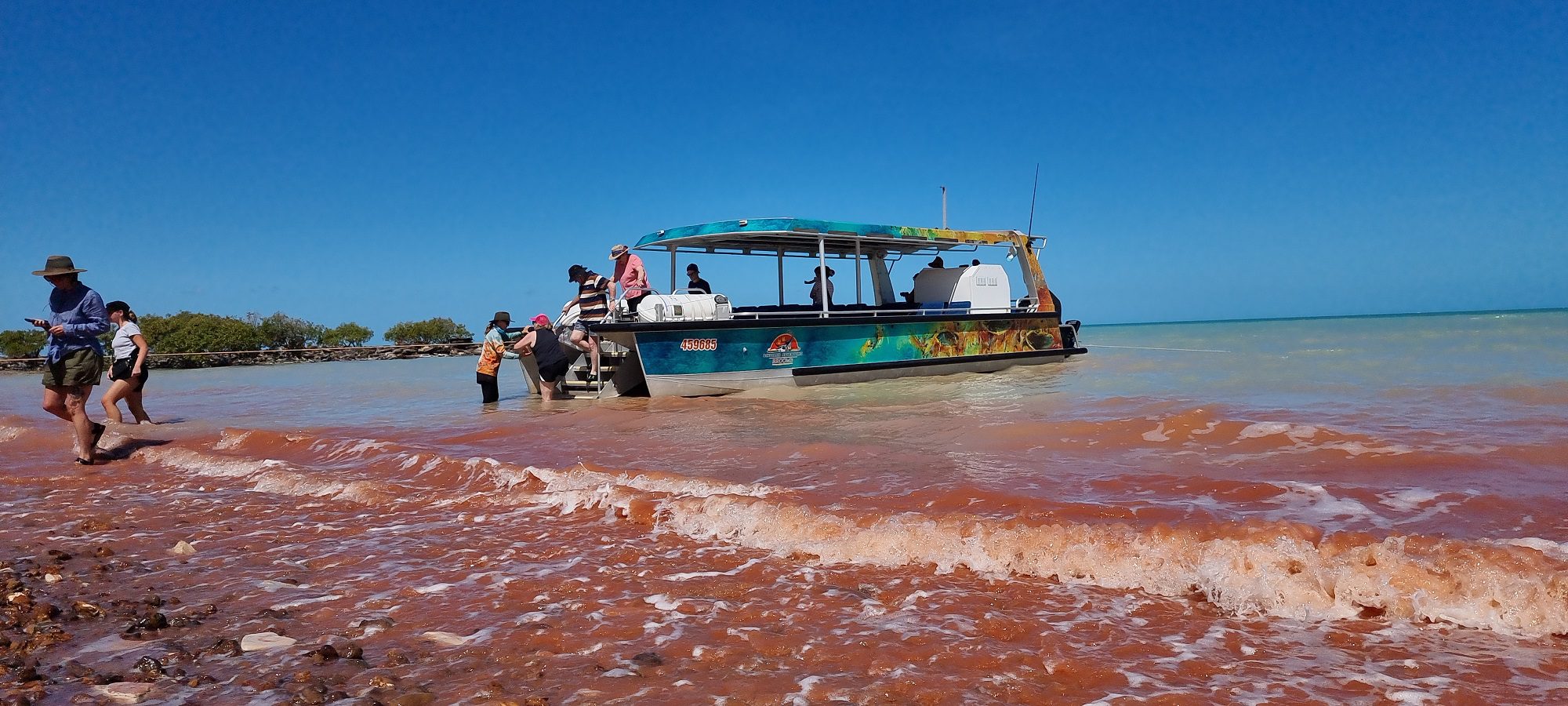 This highly rated tour is a must for any Broome itinerary.
We were driven by bus after a hotel pick up to a scenic launching spot where we changed into compulsory water shoes (you can hire them) and headed to our boat.
The tide was out so it was a bit of a walk in order to access the boat through shallow water. You can see the tide moving fast which gave us an idea of how quickly it does come and go.
Then we were off cruising around the calm waters of Roebuck bay. There was certainly a lot of great information to be learned about the tides and the area in general. It was certainly a well informed crew taking us today.
We then came to shore and went to see the dinosaur footprints. Seriously, you could not spot theseon your own, but once you saw then, it was quite evident.
From here it's a leisurely cruise up Dampier Creek for wine and delicious nibbles.
I absolutely loved this tour and highly recommend doing it.
It is very popular so be sure to book early. Departure times can vary based on when low and high tide are.
You can see the tour here: Scenic and Prehistoric Boat Tour with champagne and nibbles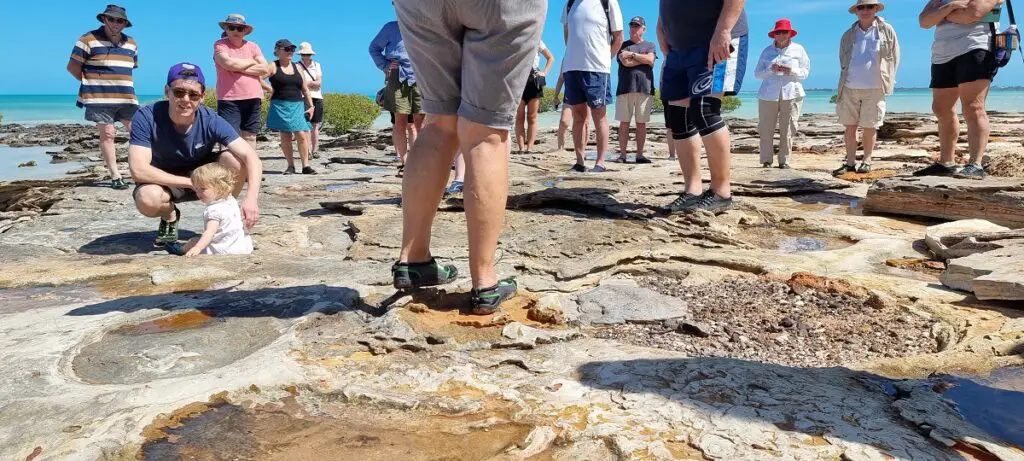 The remainder of the day is yours to enjoy.
Maybe some more beach time?
Another option is to grab a day pass on the Explorer Bus and jump out at some of the stops you have not done. This may include the Japanese and Chinese Cemeteries, art galleries in town or Willy Creek Pearls Store in Chinatown.
Day 5. Broome itinerary
Your last day in Broome should be epic right!
That's why I recommend a full day to explore some of the region outside of Broome.
Windjana Gorge & Tunnel Creek via Gibb River Road
Ready to explore the Kimberley's via one of Australia's most iconic outback tracks, the Gibb River Road.
This is full day activity heads north toward Fitzroy River with a stop at the Boab Prison tree. The tree itself is simply huge, over 14 metres in circumference and around 1500 years old. Once used as a holding cell for Aboriginal people, you can read all about it's haunting history on your visit there.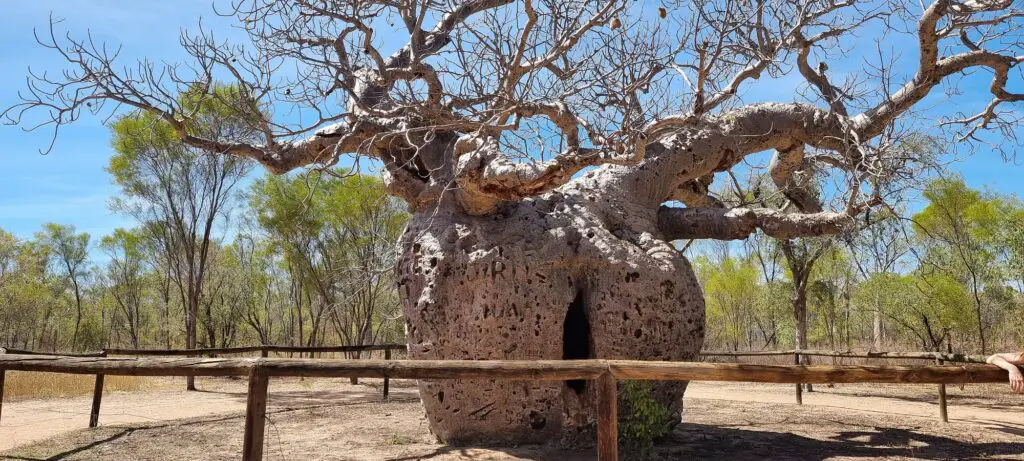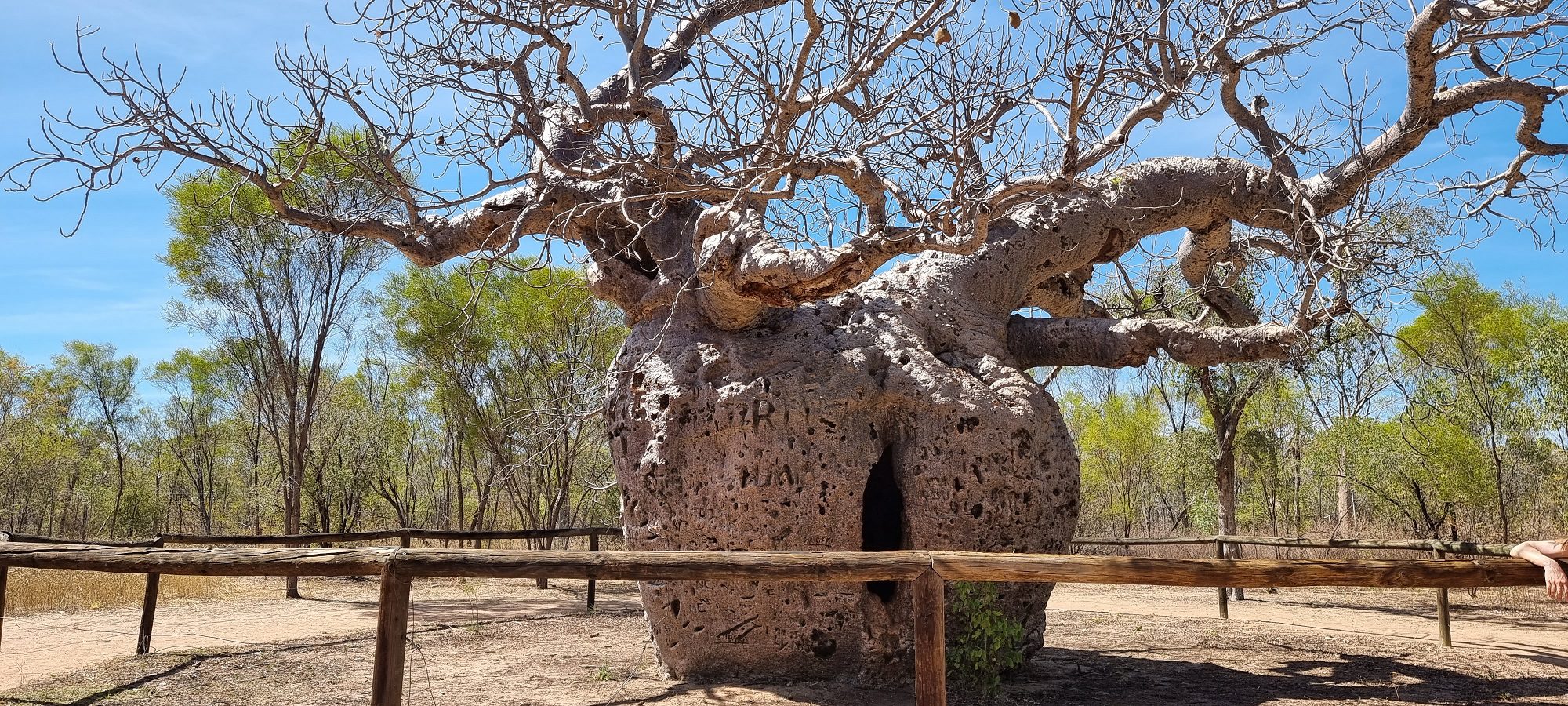 Windjana Gorge is certainly a spectacular place to visit. An oasis in the outback, the high vertical limestone cliffs stand tall among the lush green surrounds. It's an easy walk down to the river where it is very certain you'll see fresh water crocodiles.
The last part of this tour is Tunnel Creek. The 750 metre long cave system follows a creek and is mostly dark through its interior, with subtle gaps of outside light illuminating the cave walls. We stop to observe the many bats that call Tunnel Creek home, as well as a couple of smaller fresh water crocs.
You will need to wade through water in parts but it's not too cold and only adds to your adventure.
You'll finish with a gorgeous Kimberley sunset before heading back to your hotel in Broome.
To see this tour, go to Windjana and Tunnel Creek four wheel drive tour
Extra Day Bonus: Day 6. Broome itinerary
For those with an extra day up their sleeves I highly recommend a trip north to Cape Levique and Cygnet Bay Pearl Farm.
You'll also visit an Aboriginal Community and One Arm Point Hatchery and aquarium.
You can read more here: Dampier Peninsula from Broome
Alternately Malcolm Douglas Crocodile Park is a great afternoon out. You'll be picked up from your accommodation in Broome early afternoon and be able to watch the 3 pm crocodile show plus wander the park and see all the Australian animals here.
Itinerary Broome conclusion
As you can see a trip to Broome is quite unique.
From the gorgeous waters of Cable beach to gorges, dinosaur footprints, incredible sunsets, 10 metre tides and horizontal waterfalls, this is a true Aussie outback adventure.
Don't forget to book in early on these cost saving accommodations and put the money saved toward mind blowing once in a lifetime experiences. You certainly won't regret it.
Your itinerary in short
Accommodation
Tours / Activities
Sunset at Cable Beach – FREE
China Town / Roebuck Bay / Town Beach- FREE
1 hour Sunset Camel Ride on Cable Beach
Gantheaume Point and Beach Walk _ FREE
Broome to Horizontal Falls Half Day Tour
Prehistoric Boat Tour with champagne and nibbles
Windjana and Tunnel Creek four wheel drive tour
Malcolm Douglas Crocodile Park
Booking.com – the biggest range of hotels / apartments / entire homes
Viator – for day tours from a range of tour suppliers
Klook – for all your entry tickets plus skip the line
---