As an Amazon Associate I earn from qualifying purchases. I get commissions for purchases made through links in this post.
Looking for the best way to spend 2 to 3 days on your  Abu Dhabi stopover. 
United Arab Emirates is the gateway for many travelers,particularly us Aussies heading to Europe,the Middle East and beyond. I was never one for utilizing stopovers and in hindsight I'm not sure why I never really took advantage of it. I mean, what a great way to see another exciting destination on the same airline ticket.
Save with Etihad Airways
Here's how to get big savings in Abu Dhabi during your stopover.
2 nights for the price of 1
Save potentially hundreds of dollars!
Book an economy flight with Etihad Airways and get two nights for the price of one at dozens of  budget to 5 star hotels. Fly business class and you automatically get 2 nights absolutely free!.
You also receive 2 for 1 activities to fill in your days – that's 50% off. An absolute bargain!
 For this reason we chose Conrad Abu Dhabi , a luxury hotel (you may have seen it in the Fast & Furious 5 movie)  with 24 hr check in. This means no luggage storage and no late check out fees. Having arrived at 7 am in the morning and flying out 11 pm, we spent three full days in Abu Dhabi and only paid for one night.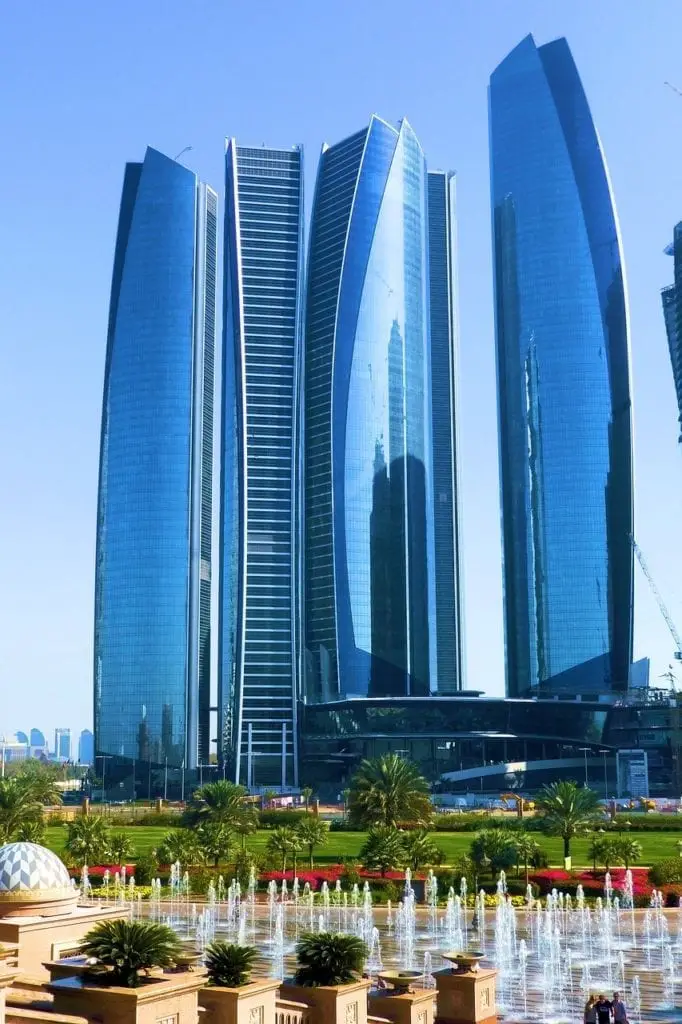 The hotel itself was absolutely amazing from the moment we arrived with welcome drinks. In fact I felt a little under dressed coming in from a flight so early. We were shown to our room which revealed a floor to ceiling view of the gulf. There are some cool extras like Nespresso machine, fresh fruit on arrival, free breakfast and entry to the Observation Tower. I like Abu Dhabi already!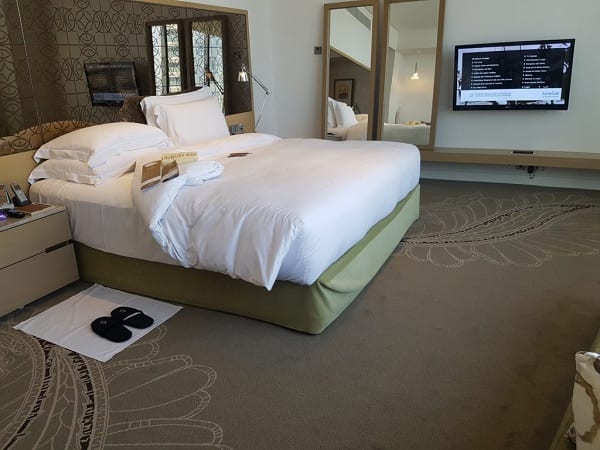 The hotel comprises of five separate towers and is home to one of the cities attractions, the Observation Deck at 300. 
Located on the 74th floor of Tower 2, 360 degree panoramic views of the city await you . You'll get a great birds' eye view of the city, gulf as well as Emirates Palace. You can enjoy a drink while you take in the view or have high tea.
The observation deck is FREE when staying at the hotel.
Ferrari World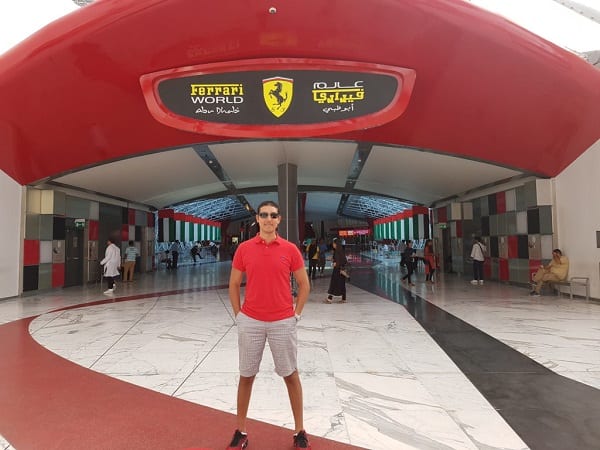 Fastest & Highest Roller Coasters in the World.
If you don't know about this place, you need to. Ferrari World is an indoor theme park and it's just massive. Fairly new to Abu Dhabi,  it's only getting bigger as they continue to add more thrills. Home to the fastest roller-coaster as well as the highest roller-coaster in the world, you have to try at least one of these rides. We took the fastest, reaching 240 kph (around 150 miles per hour) in less than 5 seconds, this is not for the faint hearted. Feel the G-forces against your body as you rocket around the course in no time.
Next, see the most Ferrari's' you'll probably ever lay eyes on and be in awe of what people with loads of money can buy. There is plenty of other entertainment such as the Virtual Ferrari rides where cars are hoisted up in front of large screens . We chose a quieter ride in mini vintage cars that cruise around the Italian countryside.
Walk the streets of Little Italy and enjoy some fine Italian food.  Also, don't forget to take a trip into the manufacturing side as well, very fascinating.
There are many different experiences for young and old so something for everyone.  You'll enjoy a few hours here and possibly a full day if this is your thing. I certainly enjoyed it.
 We concluded the day with a visit to the largest mall in Abu Dhabi,  Yas Mall which is very close. Well laid out and plenty of options for shopping.
Half Day City Tour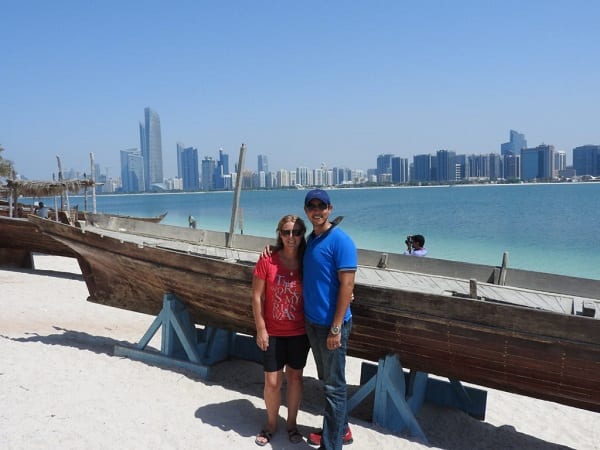 We chose the half day tour which packed in plenty over 5 hours and gave us time to explore more of the city on our own.  A visit to the Sheik Zayed Mosque was a true highlight. You'll need to cover up and dress appropriately but I was given a robe to wear anyway which proved extremely hot in the Abu Dhabi heat. Pictures are allowed which was nice as the interior is stunning. A visit to the Heritage Village , World Trade Souk and the Date Market were all great stops as well.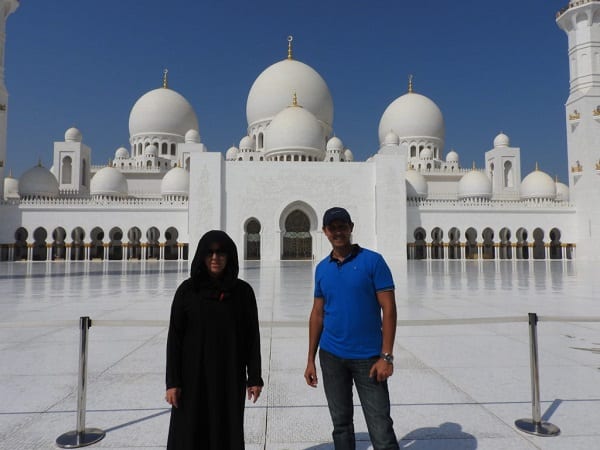 If you can fit in a desert drive tour (we previously did one in Dubai so opted out on this visit) , I highly recommend doing one as it's unique and a great way to see beyond the city.
Our last day concluded with a visit to the Abu Dhabi Mall. We did a fair amount of walking outside but that heat can be a killer so an air conditioned mall was our retreat from the scorching sun. We visited in September so not even the hottest time of year but temperatures still reached over 40 degrees Celsius.
There is plenty to see and do and the city is growing at a rapid rate. It's culture is firmly rooted in Arabians Islamic traditions yet with its international influence creates a world of old and new. I wore long or knee length skirts and singlet tops and felt very comfortable. The people are very friendly and obliging and that's why Abu Dhabi is going places!