As an Amazon Associate I earn from qualifying purchases. I get commissions for purchases made through links in this post.
Our Vancouver to Banff road trip itinerary took on some of the most jaw dropping scenery throughout the Canadian Rockies I have ever witnessed. The mammoth mountainous peaks and turquoise lakes, particulalry from Jasper to Banff dominated the landscape and cannot be missed. It is visually stunning and wonderfully spectacular. The best part , you get a front row seat, all from the comfort of your vehicle. Pack your bags for this incredible road trip Vancouver to Banff.
Road Trip Vancouver to Banff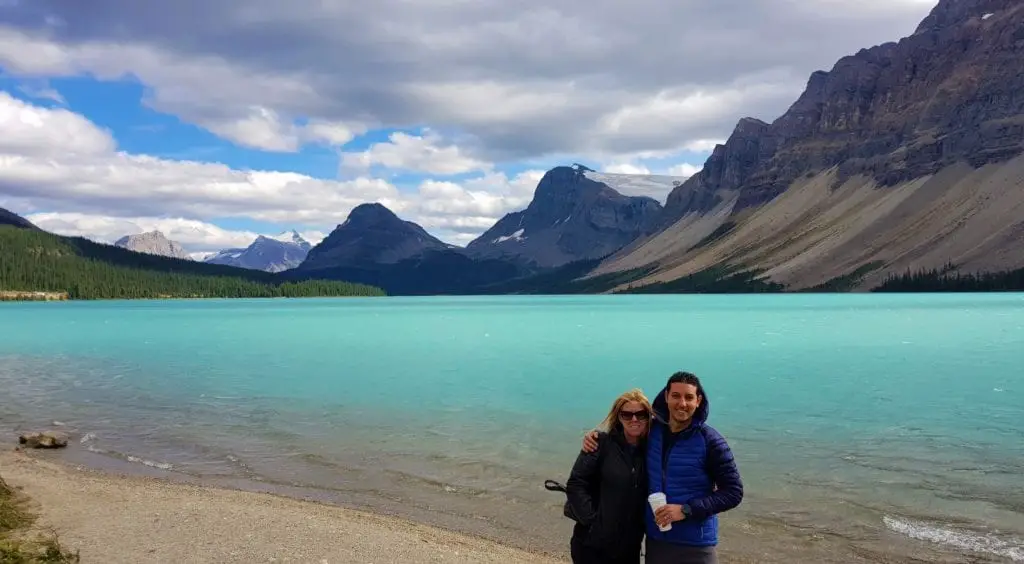 Our drive from Vancouver to Banff National Park was taken in the first week of September. We just missed the busiest months of July and August  and the weather was generally perfect. You could also use this itinerary in reverse as a Banff to Vancouver drive.
Our Canadian Rockies itinerary was also based on our need to make it as affordable as possible. So if you are hoping to keep your own costs down, I have focused on all the great free things to see, as well as some of my favourite optional activities.  
We had just finished a road trip to Alaska as well as an Inside Passage cruise. Our Canadian Rocky Mountains trip was next, and then it was onto the US, taking in another road trip from Calgary to Las Vegas. Doing the Candian Rockies on a budget was crucial so Vancouver to Banff by car is perfect independent way to see it all.
We covered some 12 National Parks over 6 weeks. It was epic all round to say the least, but this portion of the trip was highly anticipated. Of course, it delivered ten fold. 
Don't wait a lifetime to do a Canadian Rockies Road Trip!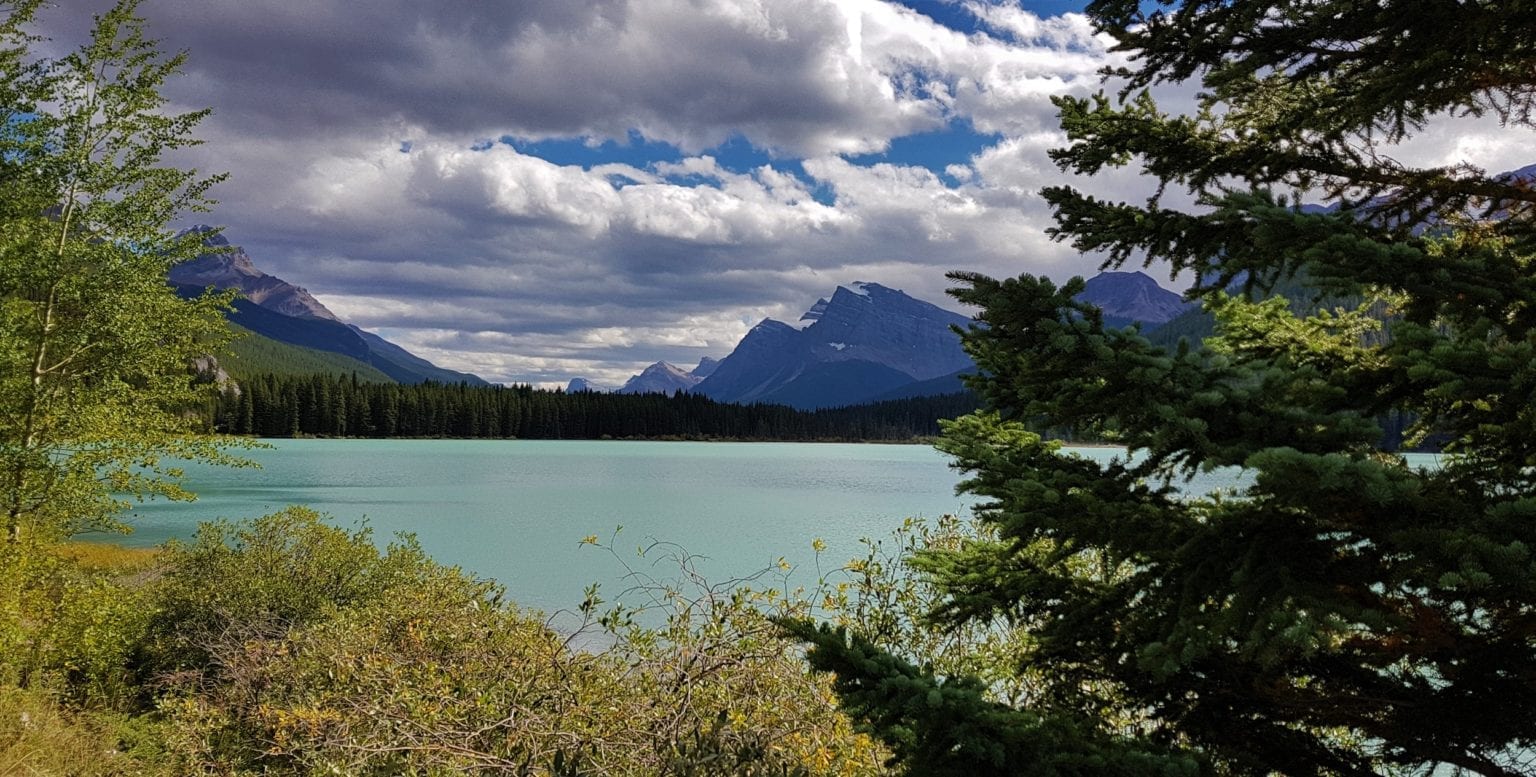 Driving from Vancouver to Banff. Canadian Rockies itinerary 
Trip Itinerary: 6 nights/ 7 days + 2 pre-trip nights in Vancouver
Driving from Vancouver to Banff :distance covered 1,084 KM
Accommodation stops: Vancouver 2 nights/  Blue River x 1 night / Jasper x 2 nights
Banff X 3 nights.
You may be asking, is this Canadian Rockies road trip long enough?
 No, because you could spend a month here and still never want to go home. But if 7 to 9 nights is all you can manage, you'll have ample time to see all the Canadian Rockies highlights and just enough down time to choose some of your own adventure. 
Top tips to save
Self drive – rent a car and do it YOUR way. It's an easy drive, no need to jump on a train or on a tour. You can save hundreds if not thousands by doing it yourself. 
You can see car rental prices with Hertz here.
Book accommodation in advance so you have plenty of choice at the cheaper options. 
Jasper: Places sell out ridiculously quick here, as it's much smaller than Banff.  Accommodation prices may be more than you are expecting and many of the cheaper places go quick. We booked 3 months out and it was still quite limited. 
Banff: You'll find Banff has a much bigger range of accommodations to choose from. Canmore is another option as its only a further 24 km away.
Hotels,com has the huge range of affordable options
Book hotels/resorts with kitchenettes for cooking. We all know how much eating out can really burst the budget. Buy a small cooler to pack lunches and drinks for the road.
Stay out of the Park. Though i don't recommend the hassle of driving in & out especially after dark, some instances make sense. You'll read more below on this.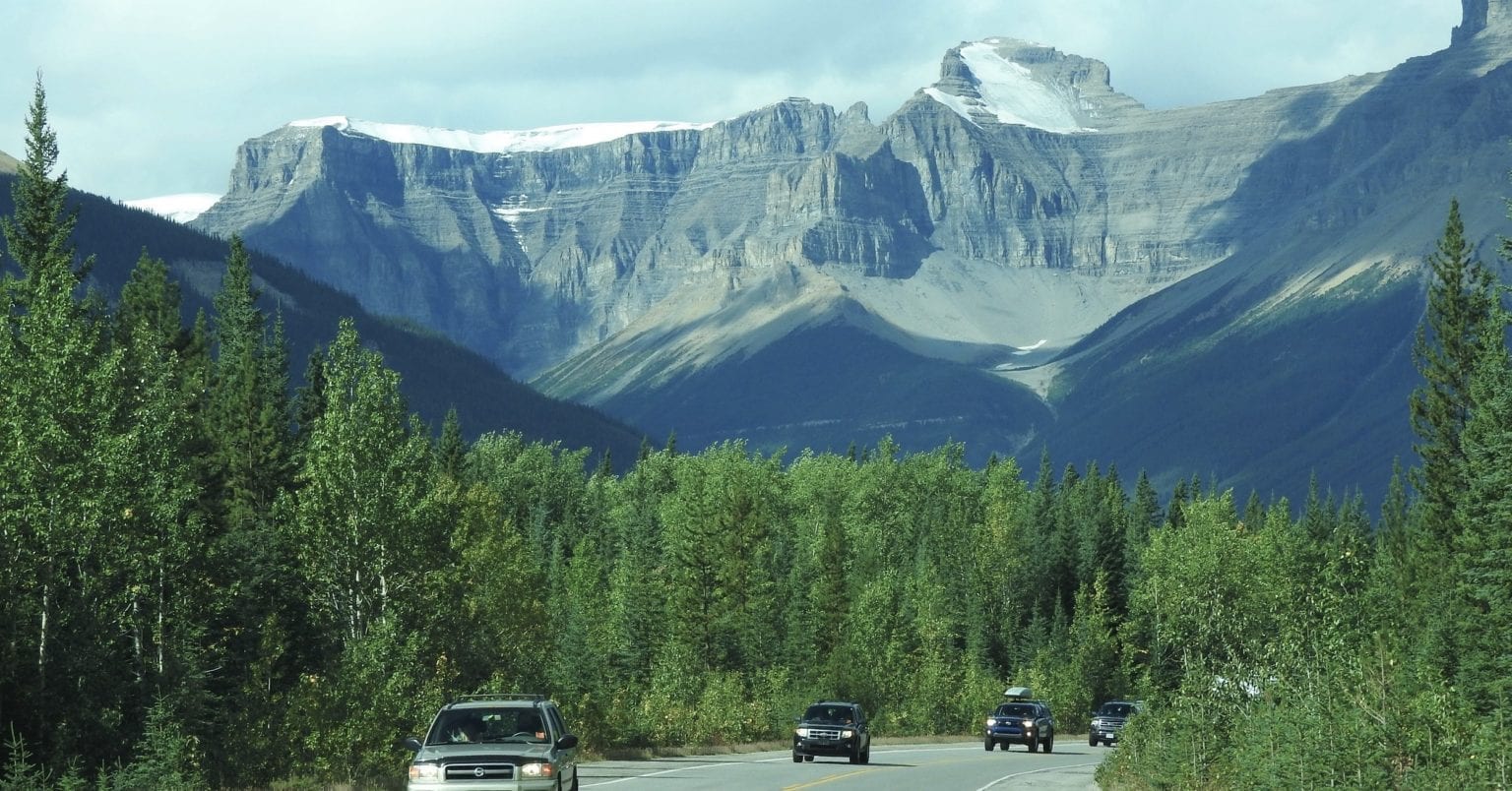 Pre trip stay in Vancouver
Are you staying in Vancouver as a visitor? 
I suggest taking 2 days at least to see some of the highlights. And if you do have an extra day, Vancouver Island and the famous Butchart Gardens are simply magical. They have daily tours that you can access here.
Vancouver to Victoria and Butchart Gardens Tour
Vancouver is a very pretty city and there is so much you can see on foot. Take a stroll along the bay-side precinct all the way up to Canada Place, then onto Gastown, an  historic and trendy area. Head down Robson Street, Vancvouer's shopping district before catching the ferry over to Granville Island. The 15 minute ferry will only set you back $6 return ticket. 

Best things to do in Vancouver
Stanley Park is a must do for any visitor to Vancouver. The extensive grounds wrap around the bay, offering a staggering amount of open space. We hired bikes from Spokes Bike Rentals near the entrance of the park and rode all the way around Stanley Park.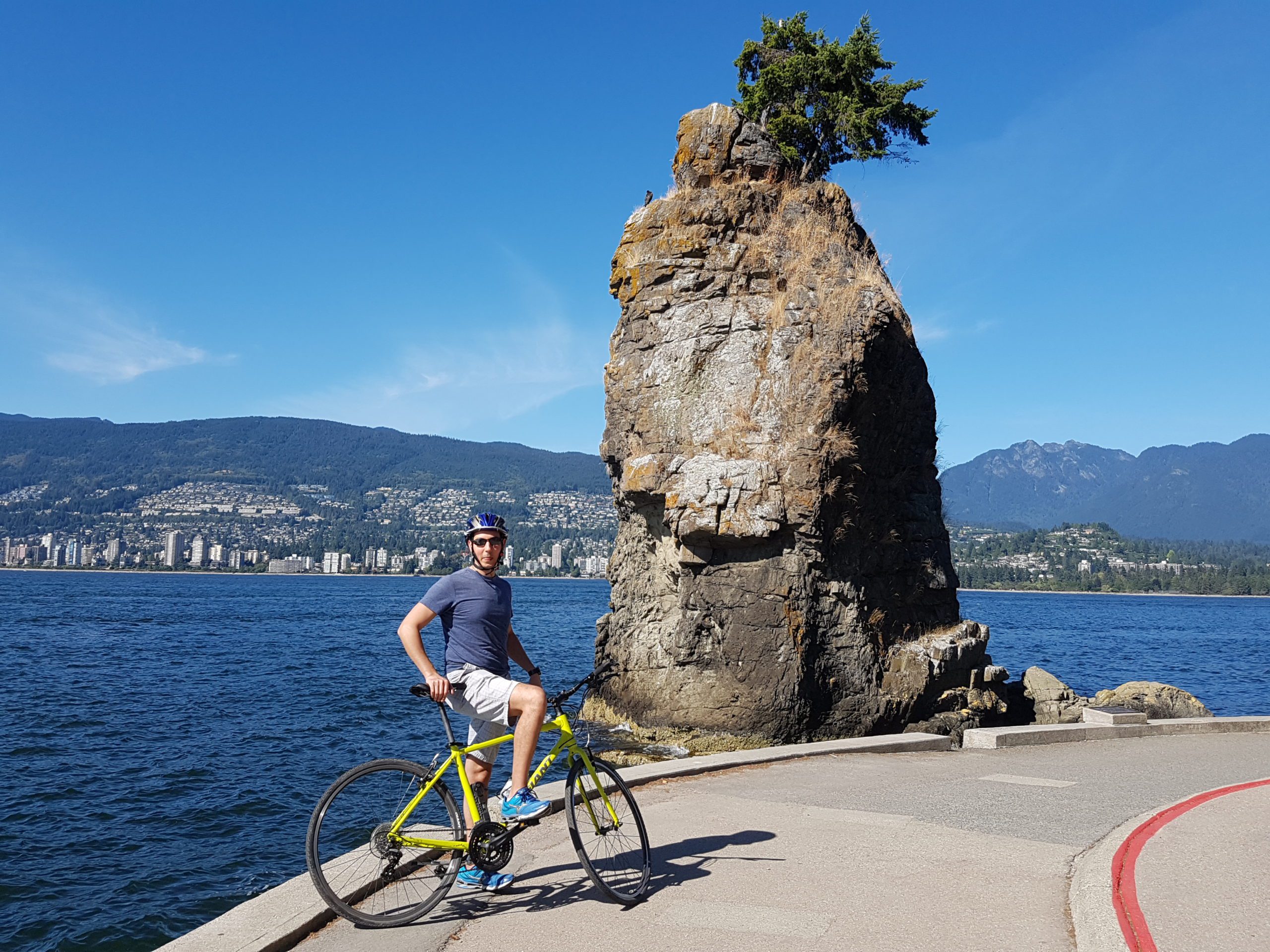 Capilano Suspension Bridge
The other must do activity is Capilano Suspension Bridge. The famous swing bridge rises high above the Capilano River, and you will certainly enjoy the overview from the bridge itself. Once you reach the other side, there is a fantastic tree top walk. 
To get to Capilano Suspension Bridge, you can take the FREE SHUTTLE bus which leaves from a variety of  locations from within Vancouver. 
For a more detailed article on what you can do in Vancouver, see my post for this below.
Vancouver 2 to 3 day itinerary

 Affordable places to stay -Vancouver
Vancouver is an expensive place to stay with average prices well above $200 per night. But there a few more cost effective hotels to call home for a night or two.  Affordable options in the Banff region
Day One – Vancouver to Blue River

Distance 585 km/ drive time 6.30 hrs
Get on the road early. The drive from Vancouver could turn out to be a longer day than expected because it's so darn pretty. You'll want extra time to stop along the way when something incredible comes up, and that happens a lot.
We took the Trans Canada Highway all the way to Kamloops, which is not the fastest route, but it's definitely the most scenic route. We also wanted to check out Hell's Gate along the way.
The route north of Hope follows the Fraser River. You will possibly catch glimpses of The Rocky Mountaineer train along the way. I have previously done the train journey which is simply stunning but not for the budget seeking traveller.
At least by driving yourself, you get to do the trip at YOUR pace and on YOUR terms.
We stopped in Kamloops for lunch but had no reason to stay any longer, time to push on.

Things to do Blue River (& on the way)
Hell's Gate: (fee)
A really scenic and interesting stop on your Vancouver to Banff road trip is Hell's Gate. It is located an hour north of Hope. 
Jump on the air-tram and cross over Fraser Canyon to reach the other side.Then head out on the suspension bridge for an opportunity to soak up the ruggedness of the canyon.
The canyon gets its name due to the treachery of this section of the Fraser River. The history behind it is fascinating..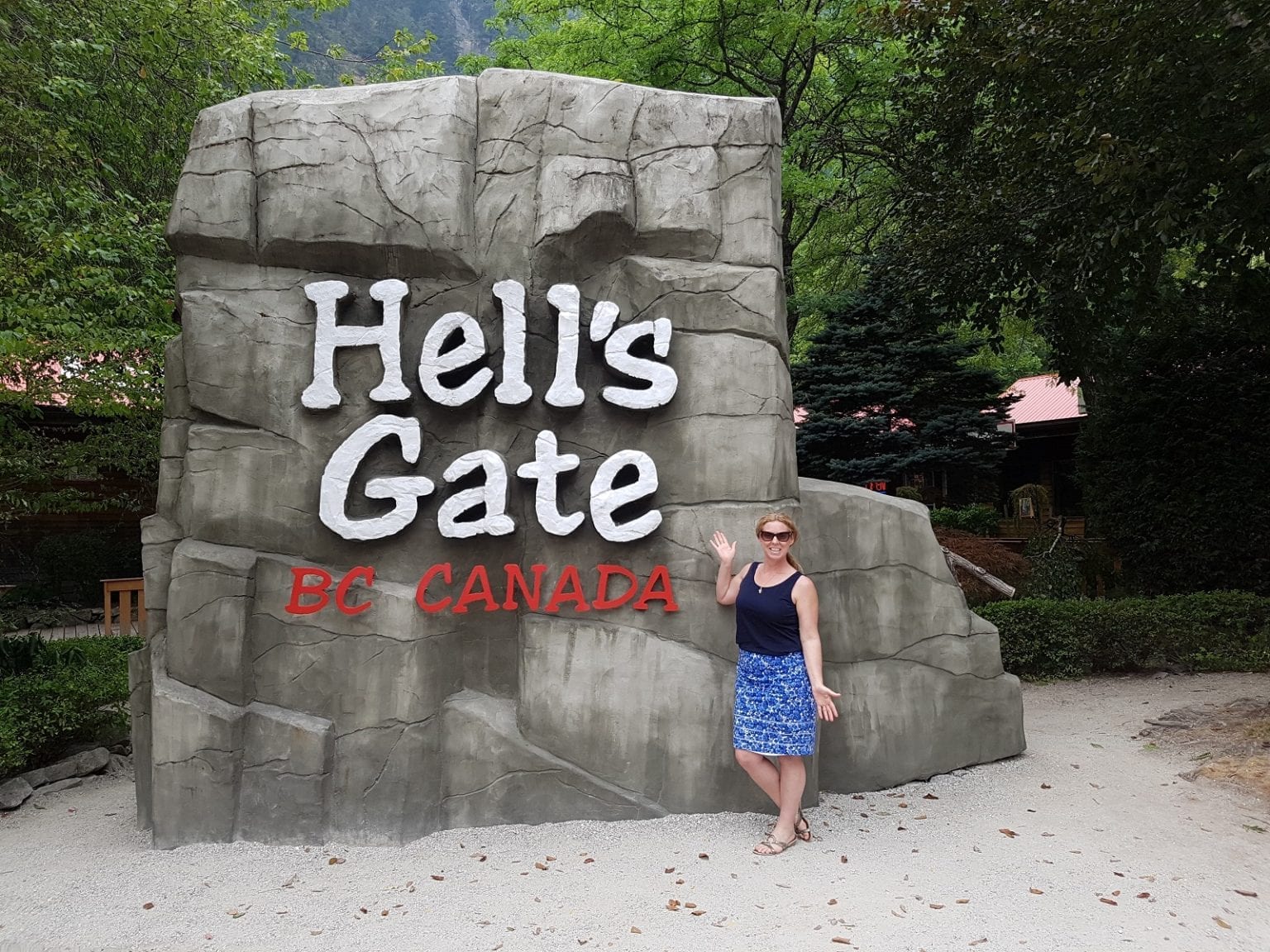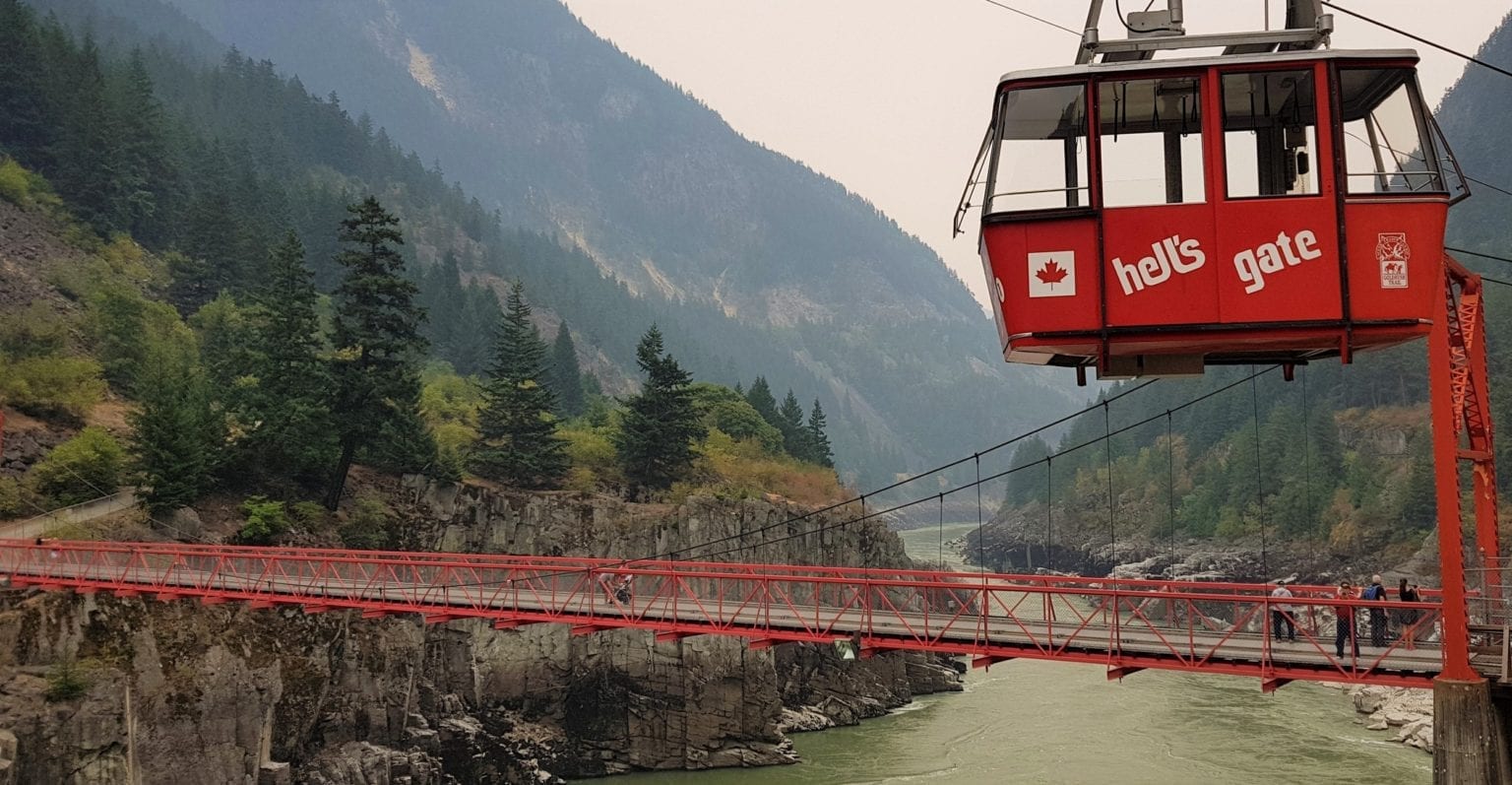 River Safari – Blue River (fee)
"We saw bears"
I love an unexpected jewel in the crown. River Safari delivered ten fold.  It was a chance encounter the next morning just down the road that halted our departure from Blue River. 
This last minute decision to pull over gave us our first and only bear sightings in the Canadian Rockies with Blue River Safari Tour.  
Grab your complimentary gear to put on and jump on the next available boat. (every 30-60 minutes) Head out on the river in search of bears and have your camera ready.
It wasn't long before we spotted our first black bear, and a total of four within the next hour.What I loved about this tour was seeing the bears along the water's edge, drinking peacefully. We quietly drifted toward the banks of the river for a closer look.
I think many people believe seeing a bear in inevitable in the Rockies, but this is not always the case. The first time I came I only saw one, and it was eating from a trash can. So jumping on a tour like this gives you much better odds.
I highly recommend the River Safari Tour.
Affordable place to stay – Blue River
Arriving early evening into Blue River, we stayed at Sandman Inn right on the main road. This budget style accommodation was all we needed to rest up for the night There is a restaurant here that serves up cheap satisfying meals and very welcoming owners.
Money Saving Tip: by staying in Blue River  you'll pay much less than inside Jasper National Park.  It's late anyway by the time you arrive and Blue River is only a couple of hours from Jasper.
You'll wake up fresher , well rested and ready to go!
Affordable options in Blue River
Day Two & Three – Jasper National Park

Distance Blue River to Jasper: 212 Km / drive time 2.20 hrs. 
It's only a short drive from Blue River to Jasper. Stop along the way at Mount Robson Provincial Park for a photo opportunity at the visitor centre before moving on to Jasper. 
Jasper is a popular spot in the Rockies. It's much smaller than Banff and doesn't offer as many places to stay, so book well in advance.
As you'll be entering a National Park from here, you'll need to have a Parks Pass. You can pre- purchase or pay on entry.
You can either pay a daily rate or purchase the Annual Parks Pass which may be more economical. 
PARK PASS COSTS
DAY PASS
ADULT (18-64 )  $10
SENIOR (65+)   $8.40  
YOUTH (6-17)   free
FAMILY / GROUP $20
CANADA PARKS DISCOVERY PASS
ADULT $69.19
SENIOR  $59.17
FAMILY / GROUP  $139.40
You can order your passes here.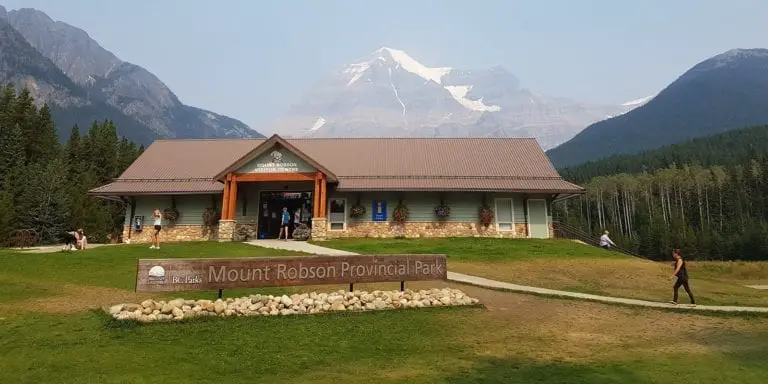 Things to do – Jasper 
Athabasca Falls: (free)
Located south of Jasper heading along the Columbia Ice fields Parkway, this is a really cool place to stop. 
The walk in is busy with other tourists due to its popularity. You will get a chance to see the Falls from different vantage points. Even at the end of summer,  it was really pushing hard. Be sure to take the staircase down to the bottom of the canyon and marvel at the scenery. It's not difficult nor too steep for most.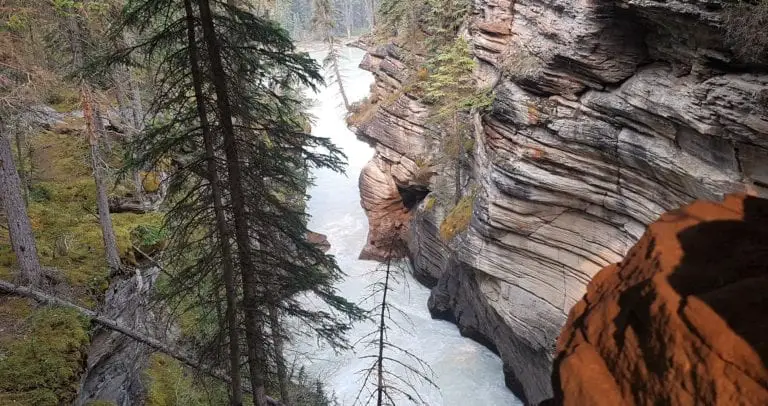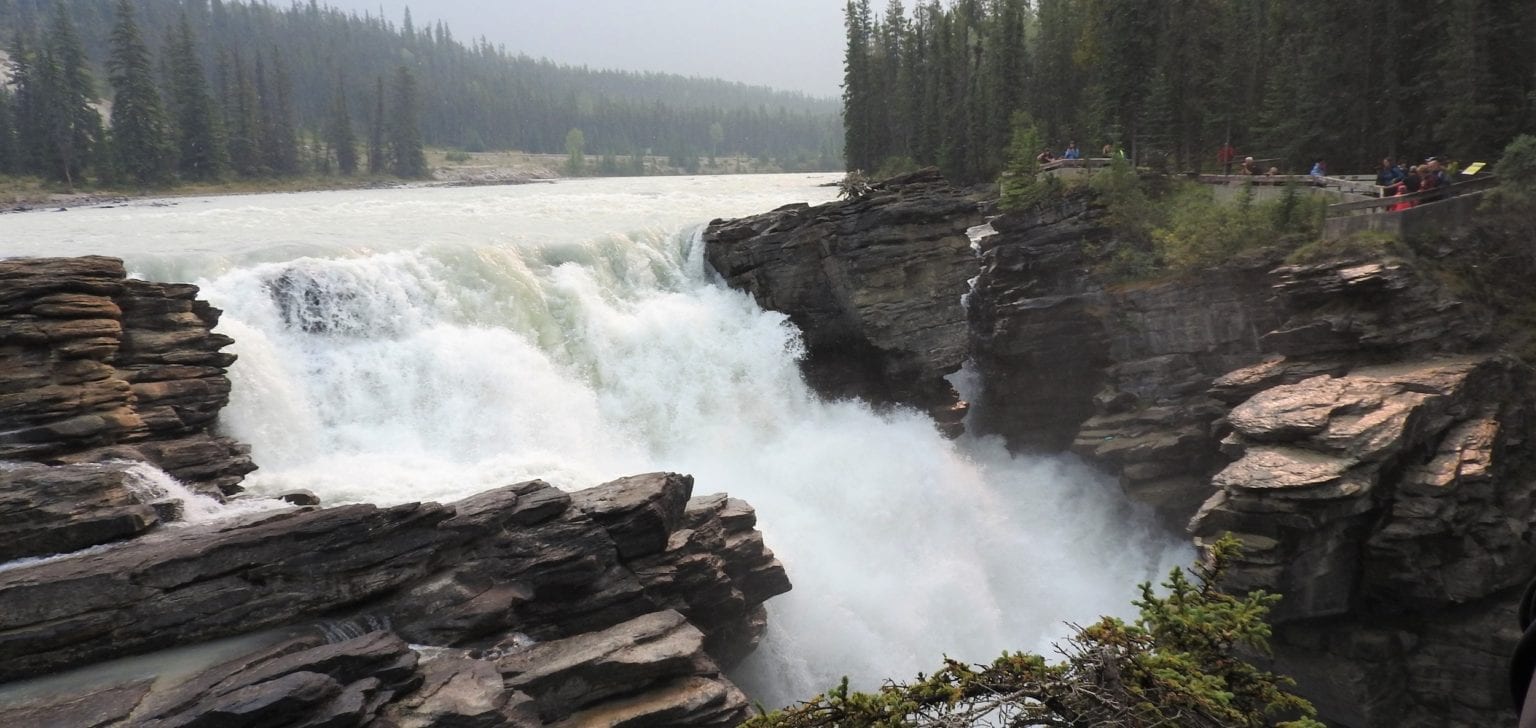 Maligne Lake Cruise. (fee)
Rated as one of the 'MUST DO" activities in the area, the Maligne Lake Cruise is hard to say no to. 
The lake is glacial fed and it's as pretty as a picture. The cruise is breathtaking in every way and you'll get a chance to stop and stretch your legs along the way. As you head out to Spirit Island, you'll discover this is one of the most photographed spots in all of the Rockies. Hard to argue with that right!
For pricing and bookings – click here.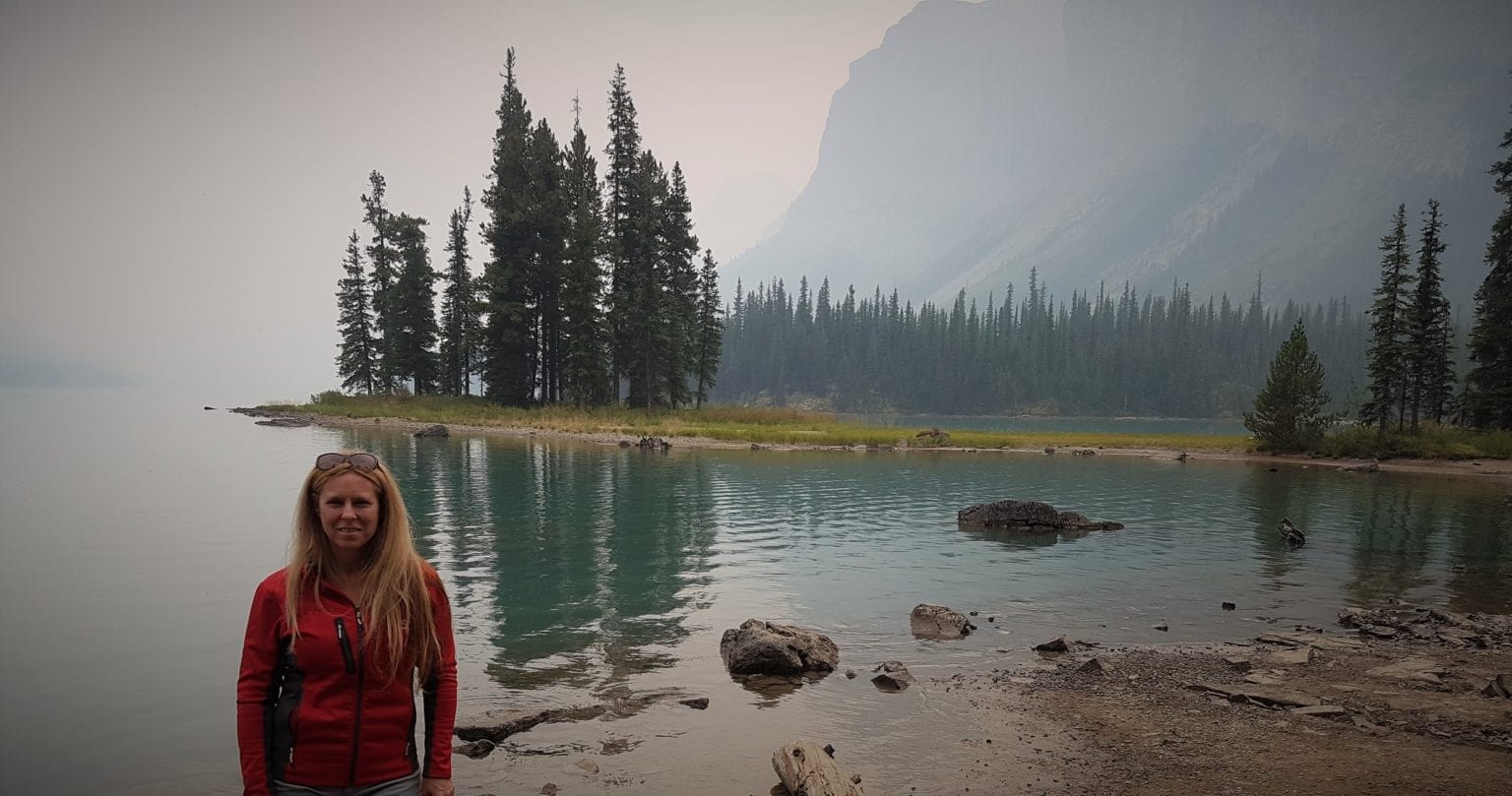 Maligne Canyon (free)
Located on your way to Maligne Lake, don't miss this interesting stop.
The canyon is well accessed via a series of 6 bridges. Each has their own view point of the canyon. It is a MUST SEE if you are doing Maligne Lake but I recommend going after the lake cruise so you are not rushed. I really enjoyed the walk around the area and took plenty of good shots. 
I think many people miss this stop which is a pity considering how beautiful it is in it's own right.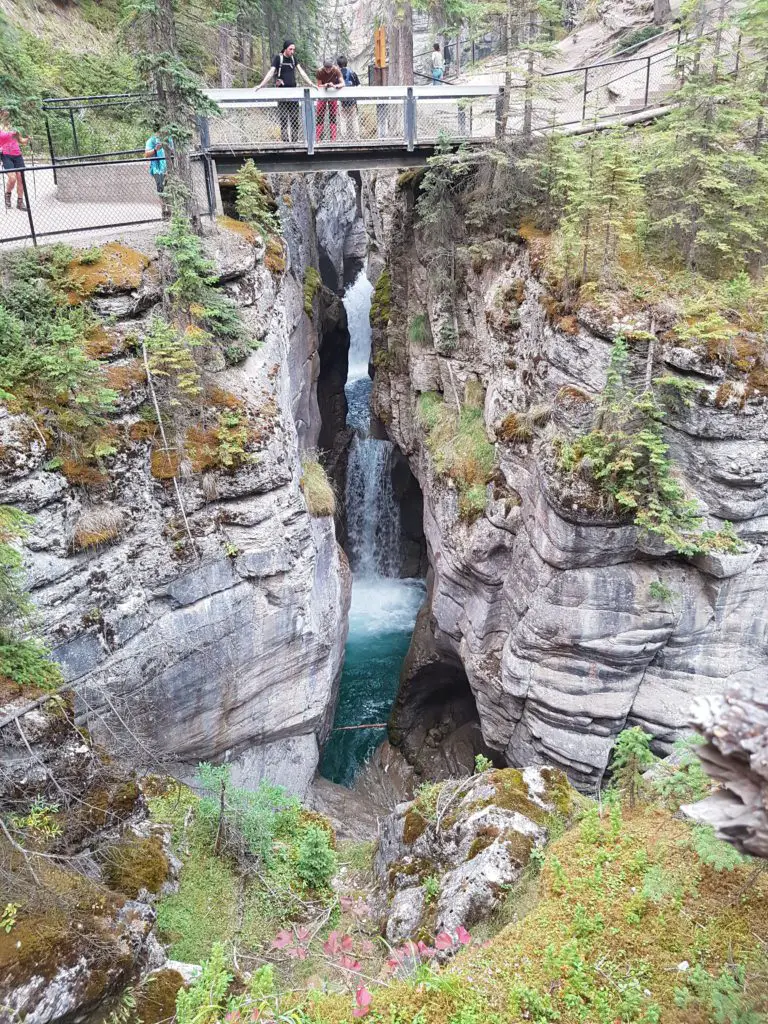 Affordable places to stay in Jasper
Conveniently located in Jasper we stayed at Malign Lodge. Staying in a Junior Suite with kitchen facilities, we were able to cook all our meals which saved us a tonne of money.
Don't you hate using  the bed as a couch in hotel rooms? It can get a little tiring travelling this way every night. You may pay more up front, but you'll save in the long run.
Affordable options in Jasper.
Days Four – Icefields Parkway (Jasper to Banff)

Distance Jasper to Banff-  288 km / drive time no stops 3.40 hrs.
This is it. This is why you came!
If you want to see the Canadian Rockies in all its glory, you MUST drive the Icefields Parkway. Located between Jasper & Lake Louise, you'll be utterly blown away by the spectacular scenes that await.
The road only takes around 3 hours BUT you'll be hard pressed to do it in even double that time.
Jaw dropping around every corner, the landscape is simply "full on."
The mountain peaks, the glacial fed turquoise lakes, the wide expansive valleys just have to seen to be believed. You'll be raving about it for weeks.
The road is in great condition and there is no way you'll want to take a short nap in the passenger seat. There is too much feasting for the eyes to get sleepy.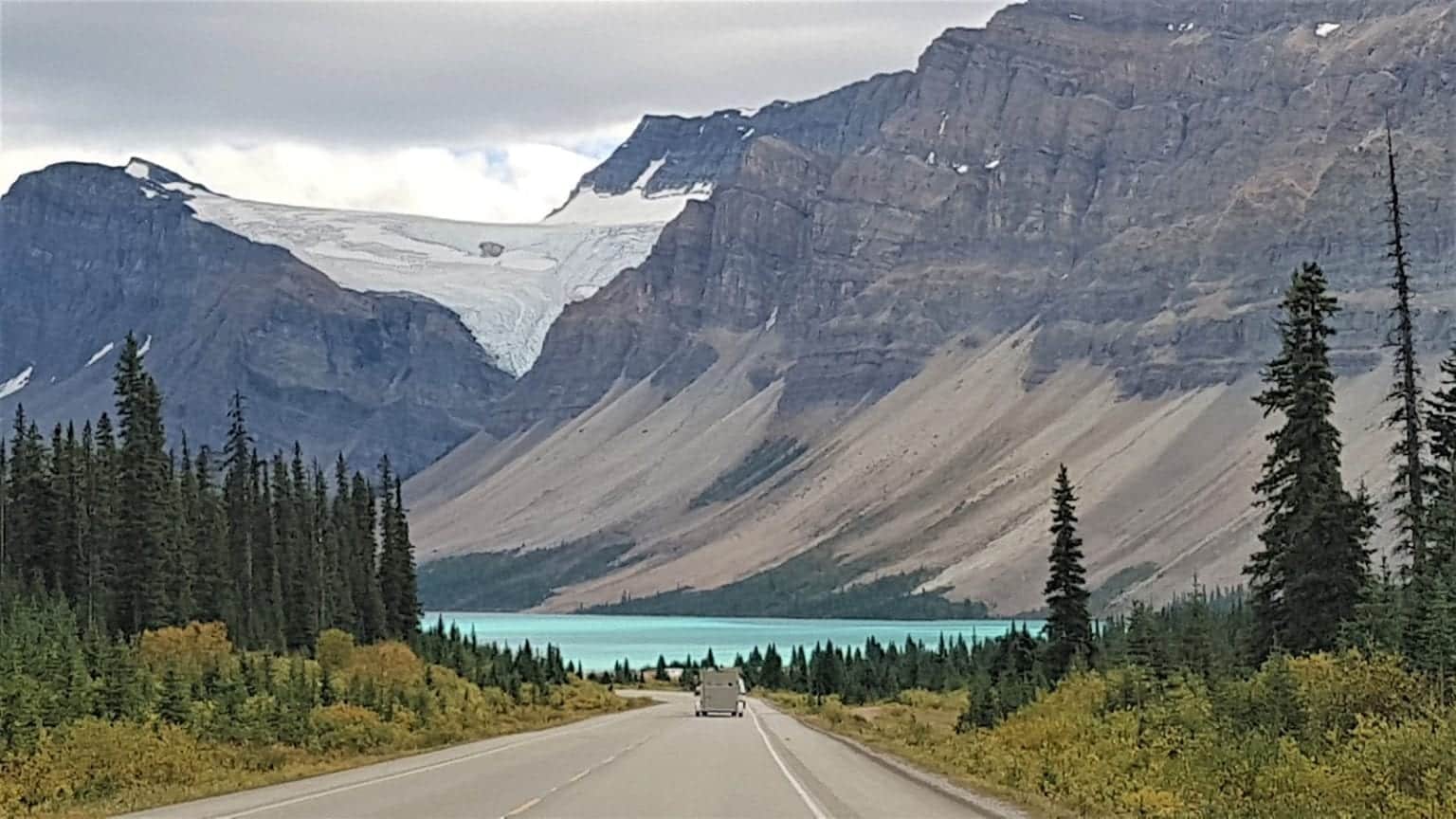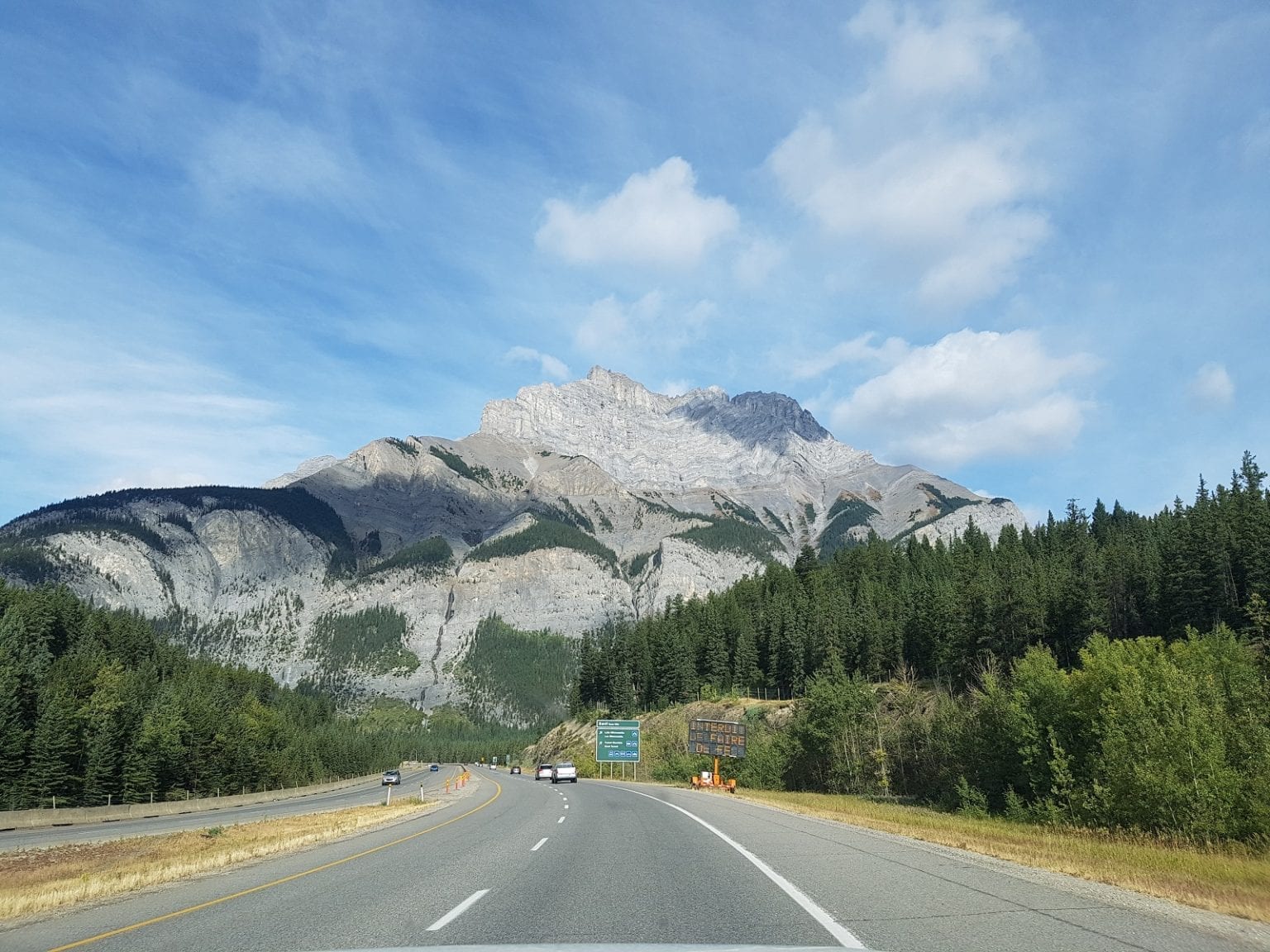 Which direction? 
Many people want to know which way to travel the Icefields Parkway for the best views.
I did some research on this and found more people recommended Jasper to Banff route. I have to agree BUT both ways are outstanding.
We drove the road from Jasper to Banff ,then 2 days later drove back toward Jasper and back to Banff again. This was particularly due to the wild fires that were in the region and causing substantial haze on the first day. 
It was lucky we had some spare time, plus it was a chance to see both directions. It took the whole day but a packed lunch and a tank of fuel was all we needed.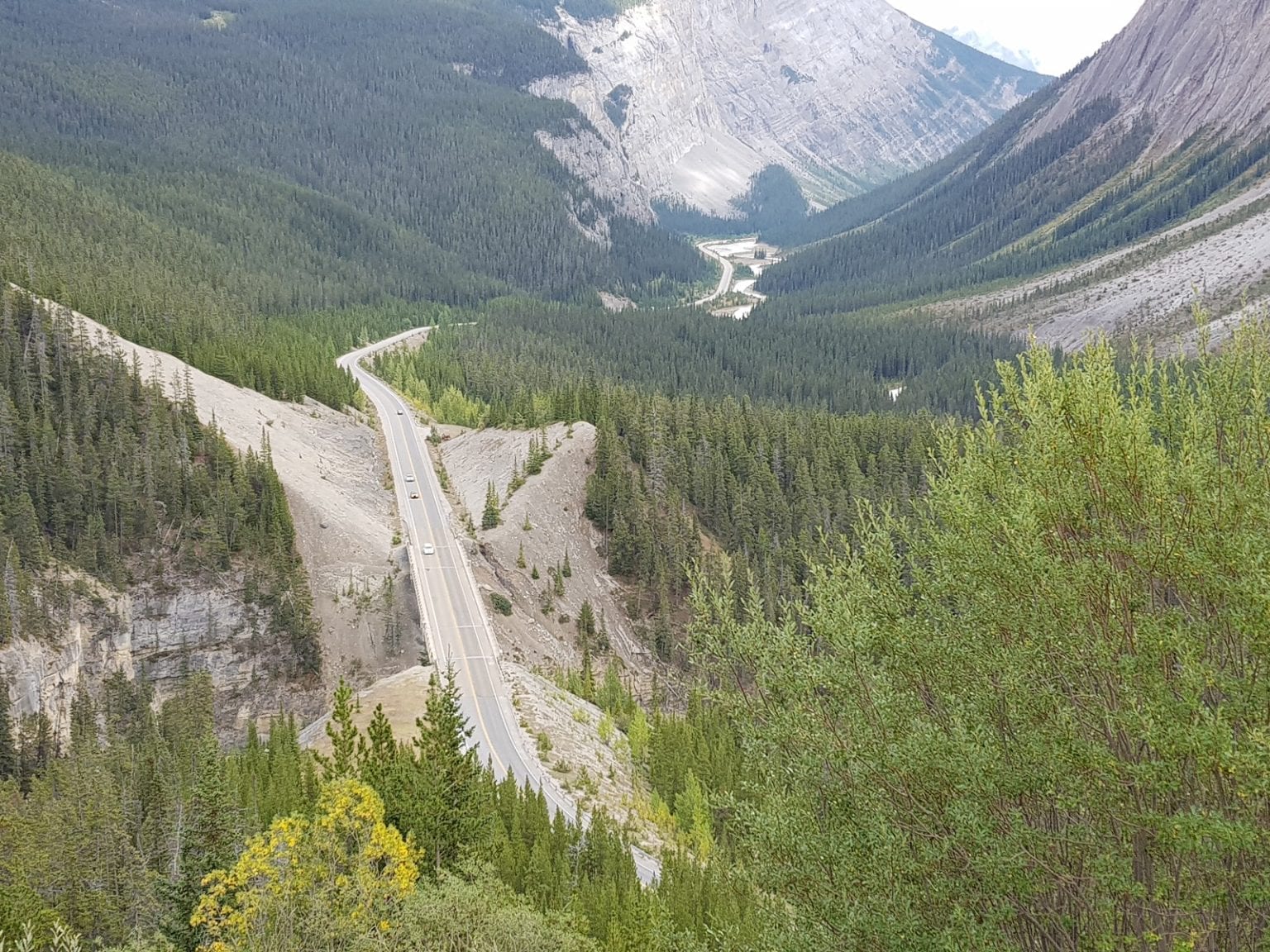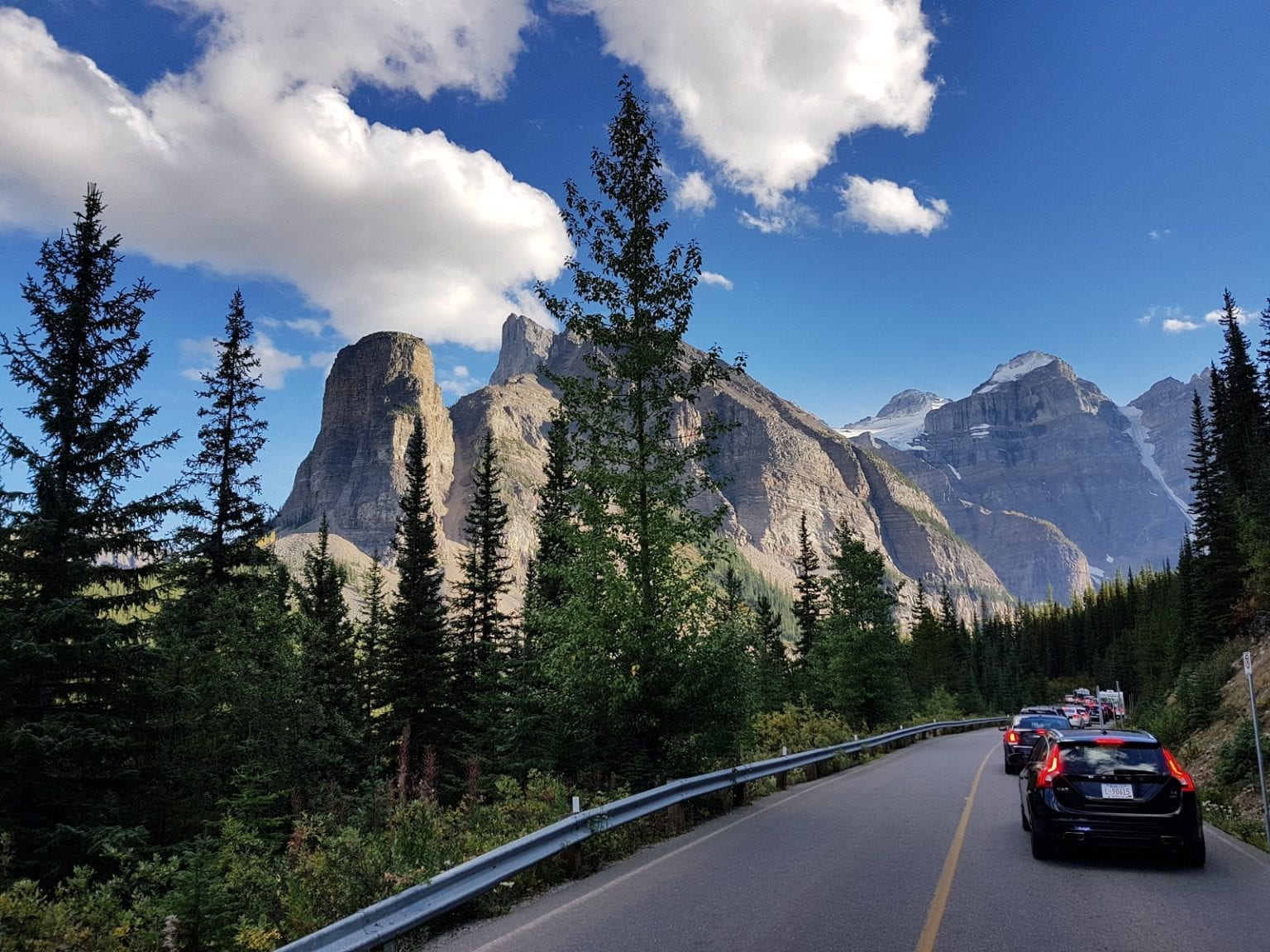 Things to do – Icefileds Parkway
Glacier Skywalk (fee)
This latest attraction is perched above the Sunwapta Valley in the Rockies.
The glass floor observation deck gives you a view like no other. Glaciers and mountains encompass the scenery.
Unfortunately our day was wet and wild and visibility was low. I imagine on a clear day this attraction would be simply stunning.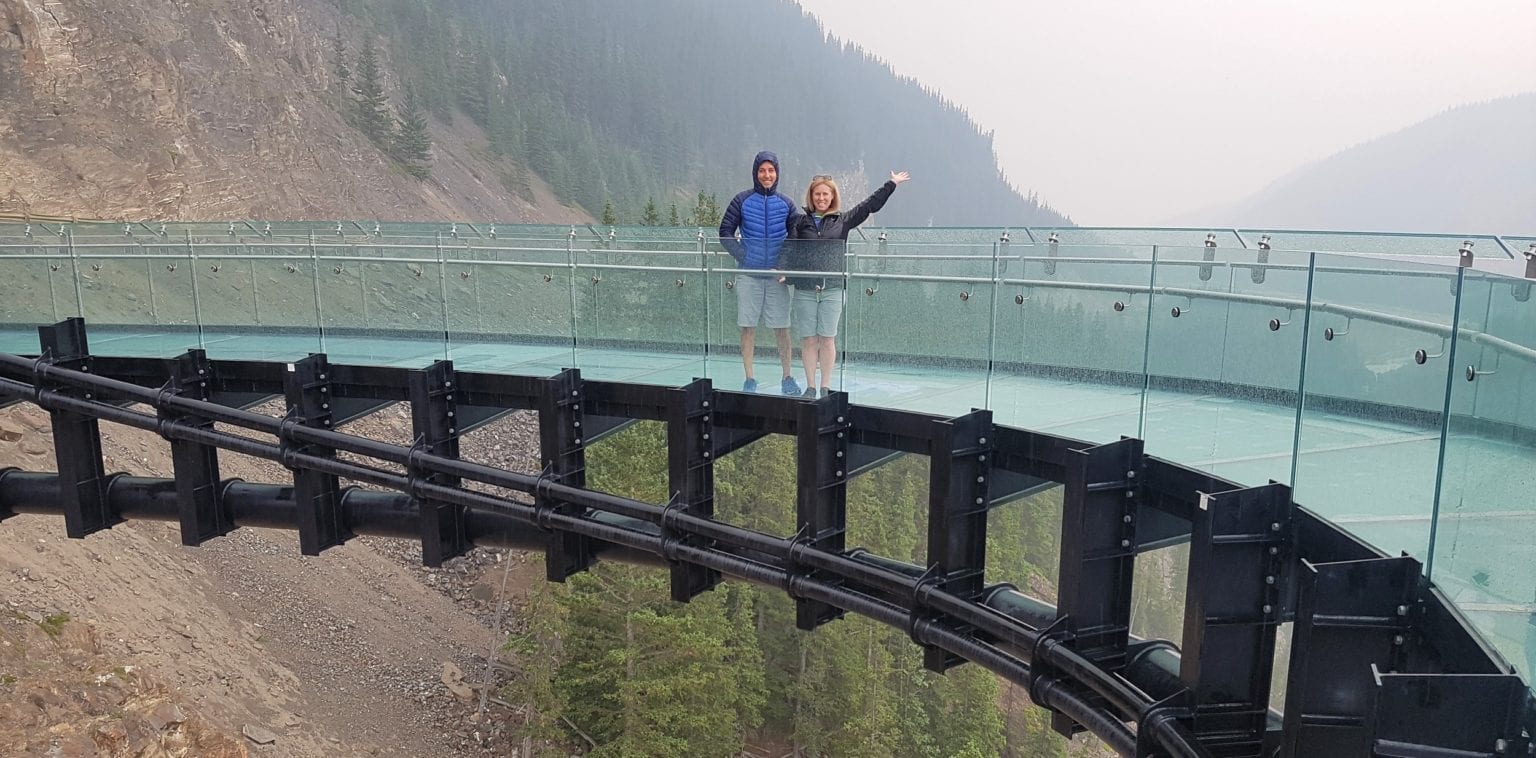 Columbia Icefields. (free or fee)
This is one activity I'd book in advance. 
I could see the wait times for this tour and the people who thought they could just show up and get on a bus.
If you haven't stepped foot on a glacier then do it. The tour is well organised as you are escorted by bus up to the ice.
You can opt out, save your money and simply walk up toward the glacier, though you won't actually be able to touch it. The view is still pretty awesome.
Be sure to bring a jacket, the closer you get, the colder it gets.
I've done both and enjoyed both versions.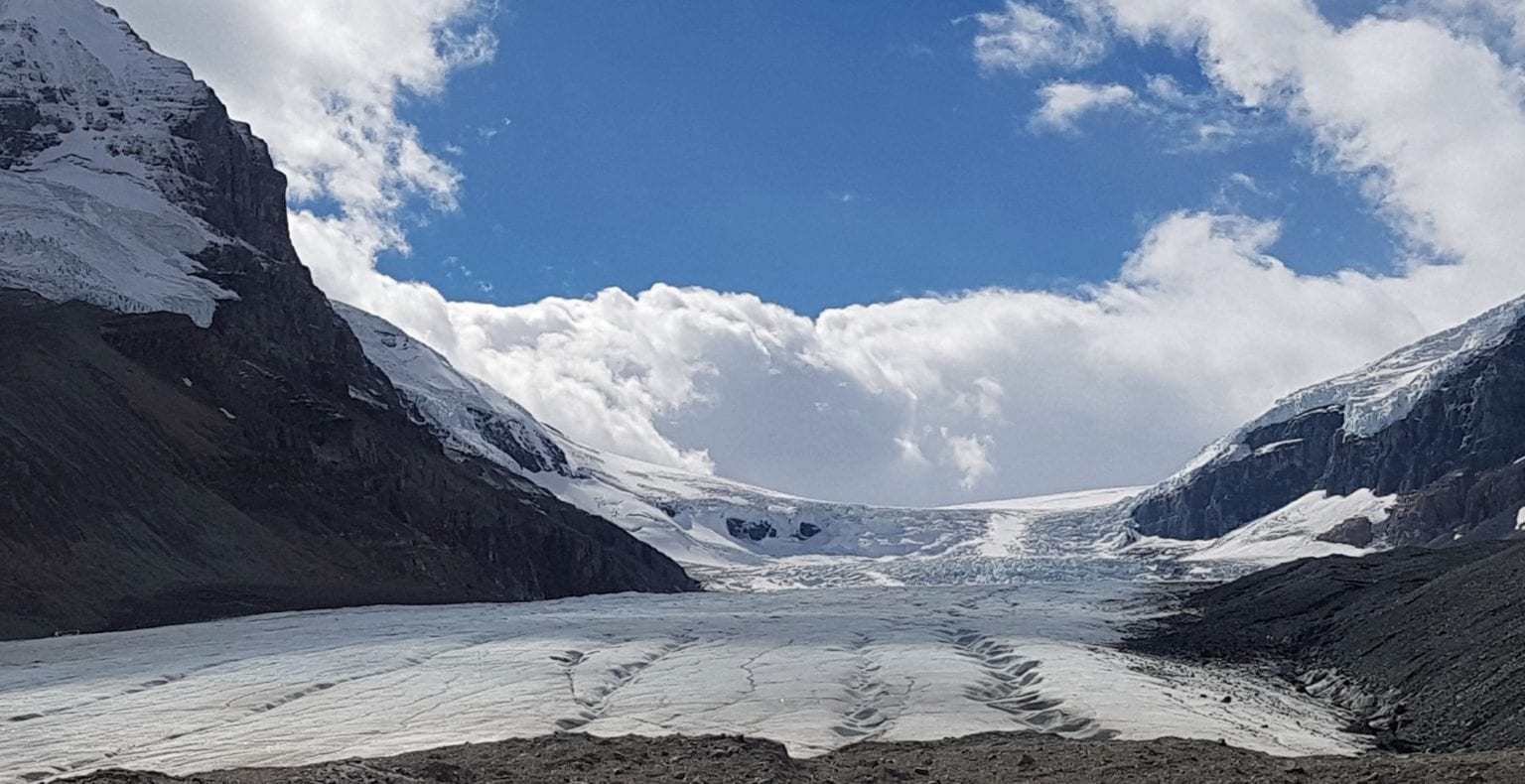 Peyto Lake (free)
Apart from all the road side stops I recommend stopping at Peyto Lake to stretch the legs. It's a popular spot and requires a short walk to get to the viewing platform. I'm sure if you have researched any pictures of the Rockies, you have seen this one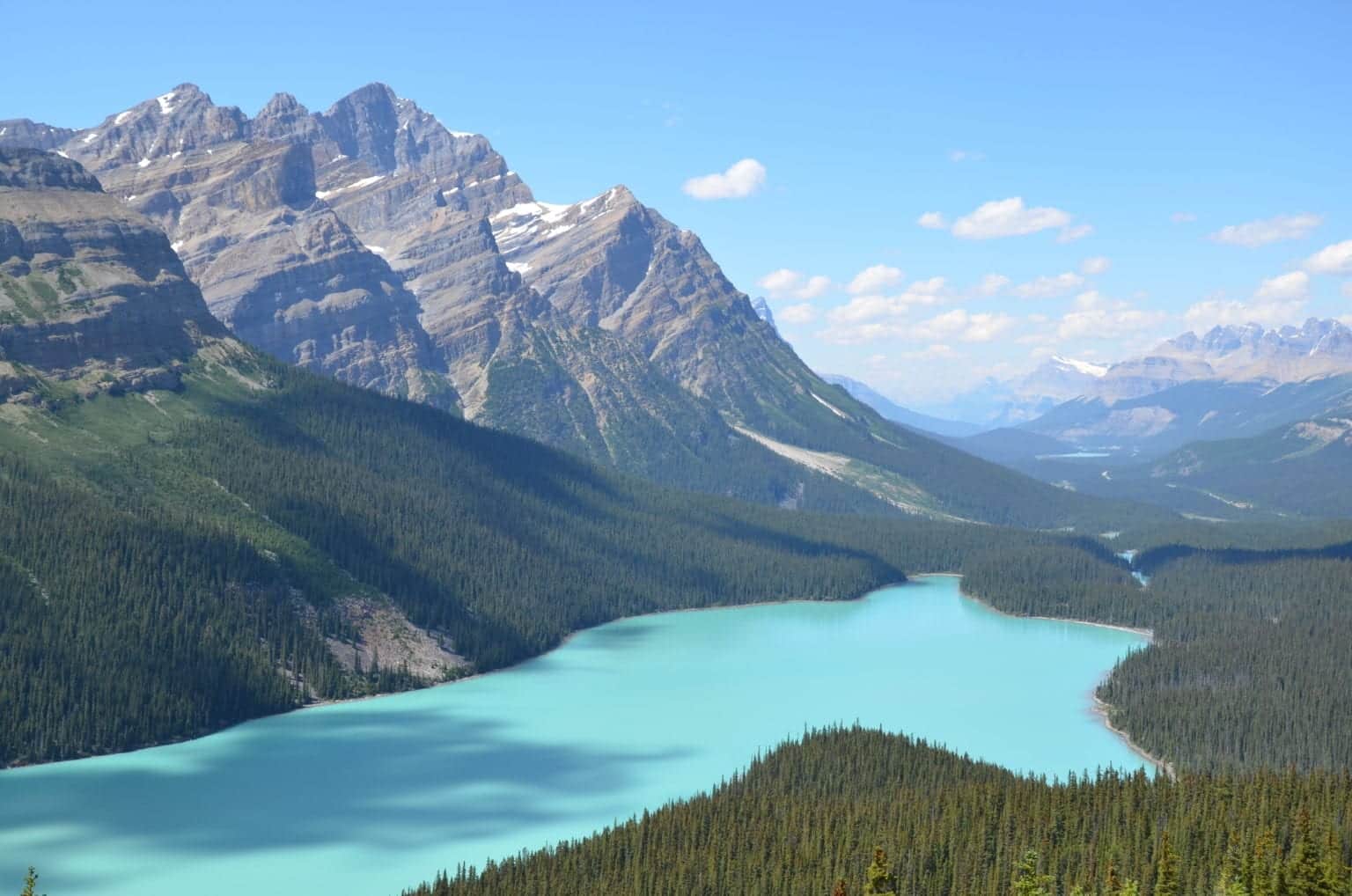 Bow Lake (free)
Driving along the Icefields Parkway, a sparkling blue body of water comes plainly into view from the road. It is the highly photogenic Bow Lake. The surrounding back drop majestic mountains and glaciers make for a breath taking scene. 
You will find a few vantage points to stop along the lake edge, including at the historical lodge, Num-Ti-Jah Lodge.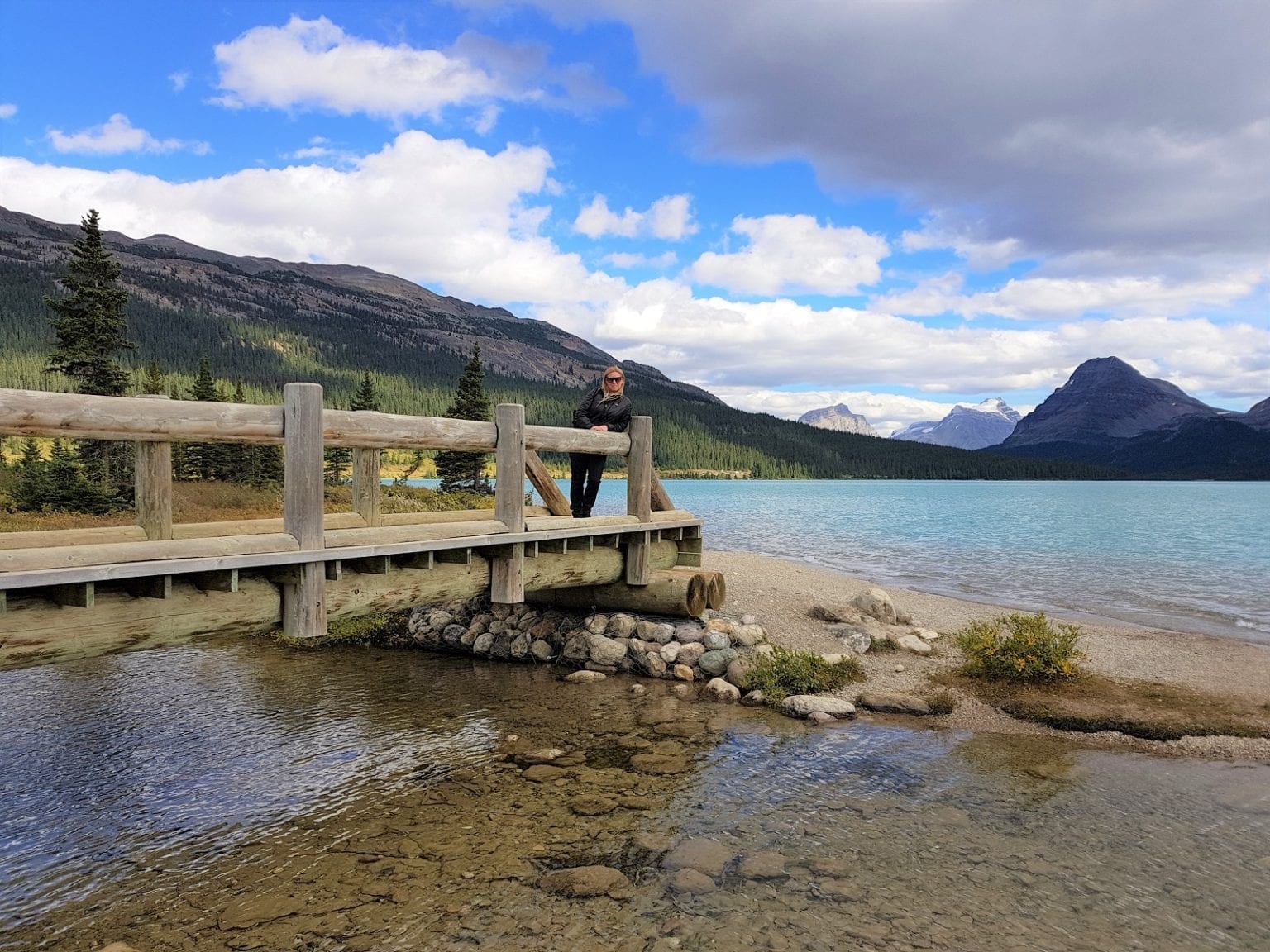 Day Five & Six – Banff National Park
Whilst Jasper was quieter and more relaxed, Banff is anything but. The city is bustling and full of energy yet still retains it's charm. You can really tell why it's so darn popular.
There is a great range of restaurants and shopping here. The main street is a great place to explore for an hour or two.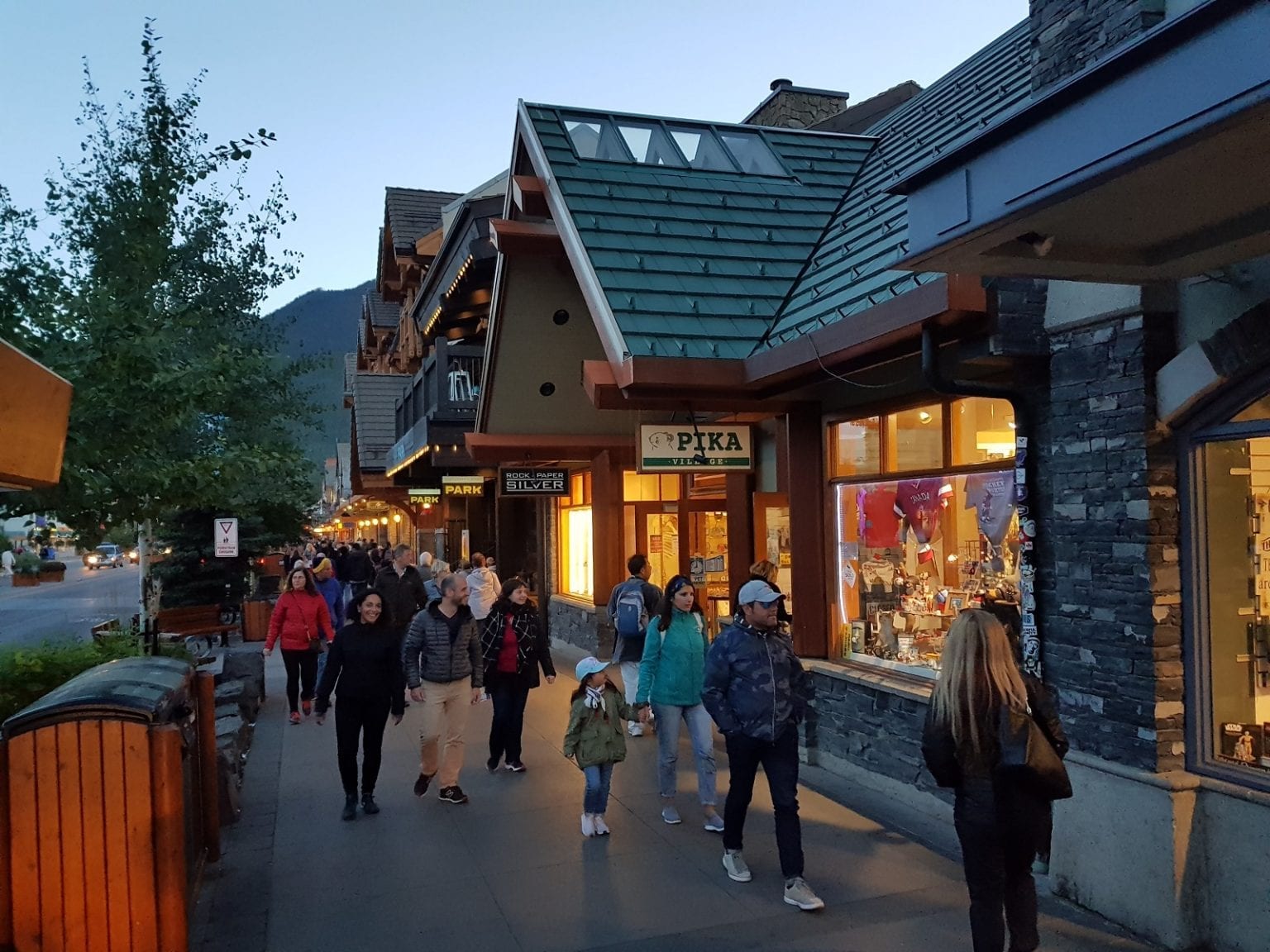 Things to do – Banff
Lake Louise (free)
Once you arrive at Lake Louise, you are now in Banff National Park.
The famous Fairmont Chateau Lake Louise is an absolute hot spot. Though you may not be able to afford to stay here, you can still dream of it while you watch the view.
There is a 4 km walking track around the lake. Allow 1 hr.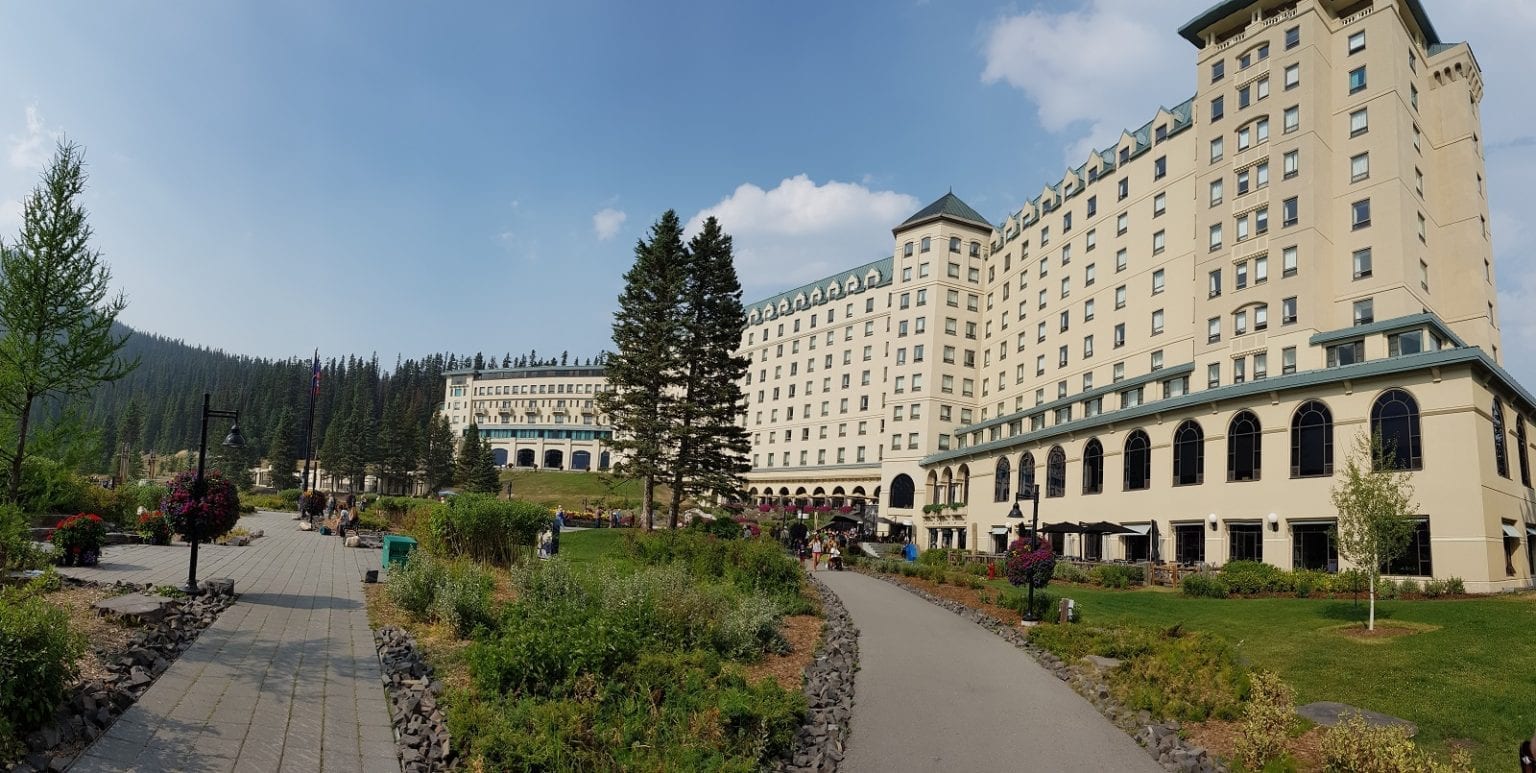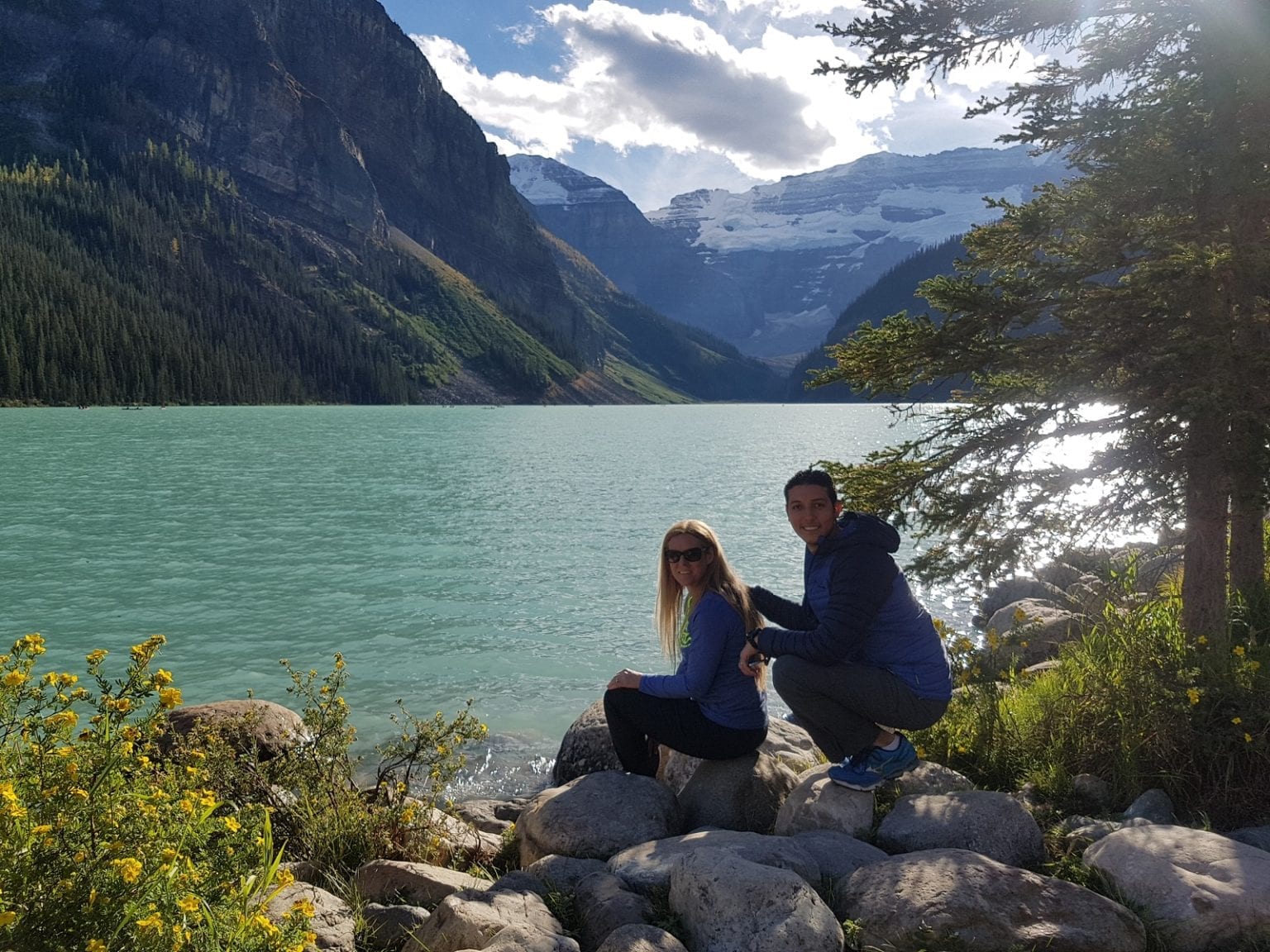 Moraine Lake. (free)
Further down the road is one of the prettiest of lakes in all of the Rockies.
The car park is crazy, not nearly enough spaces to cater for everyone so be patient. You can opt to take the shuttle bus which leaves every 15 minutes from the Park and Ride on Trans Canada Highway.
You can walk around the Lake Shore Trail and hire a canoe during those summer months. 
I must say this was my most favourite photo stop.  What do you think?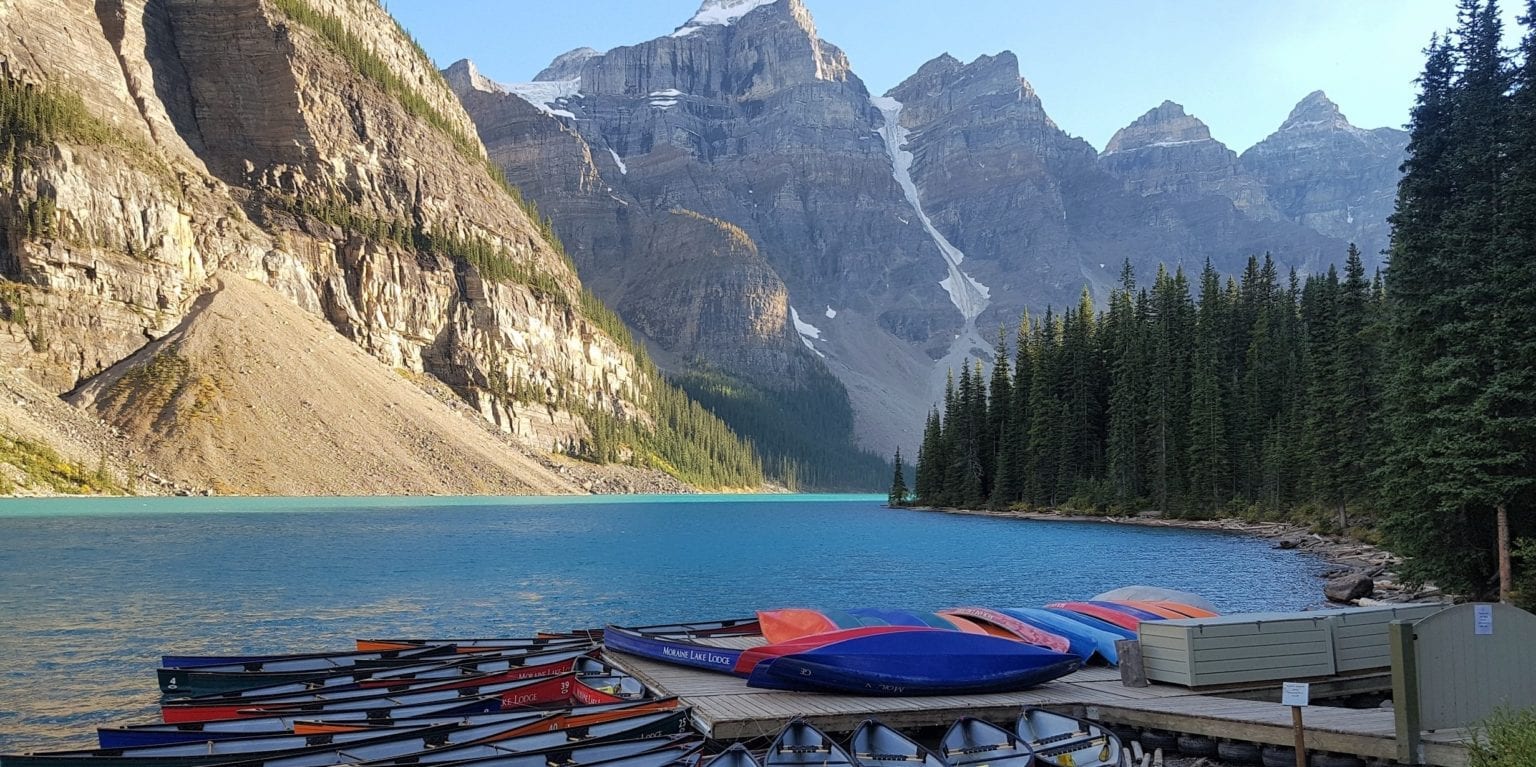 The Kananaskis Wildlife Trail. (free)
This scenic 153 km loop takes you out the back of Banff starting in Canmore. This high grade partial gravel road feels quite remote in comparison to the parkway.
The road is far less travelled so it was good to get out and explore a region that many miss. 
A stop at Mount Engadine Lodge for a quiet drink was really nice. We had time to relax and take in the scenery before moving on. 
Wildlife sightings are common here such as elk, bears, moose and deer.
Thanks to the Canmore Visitor Center for recommending this to us.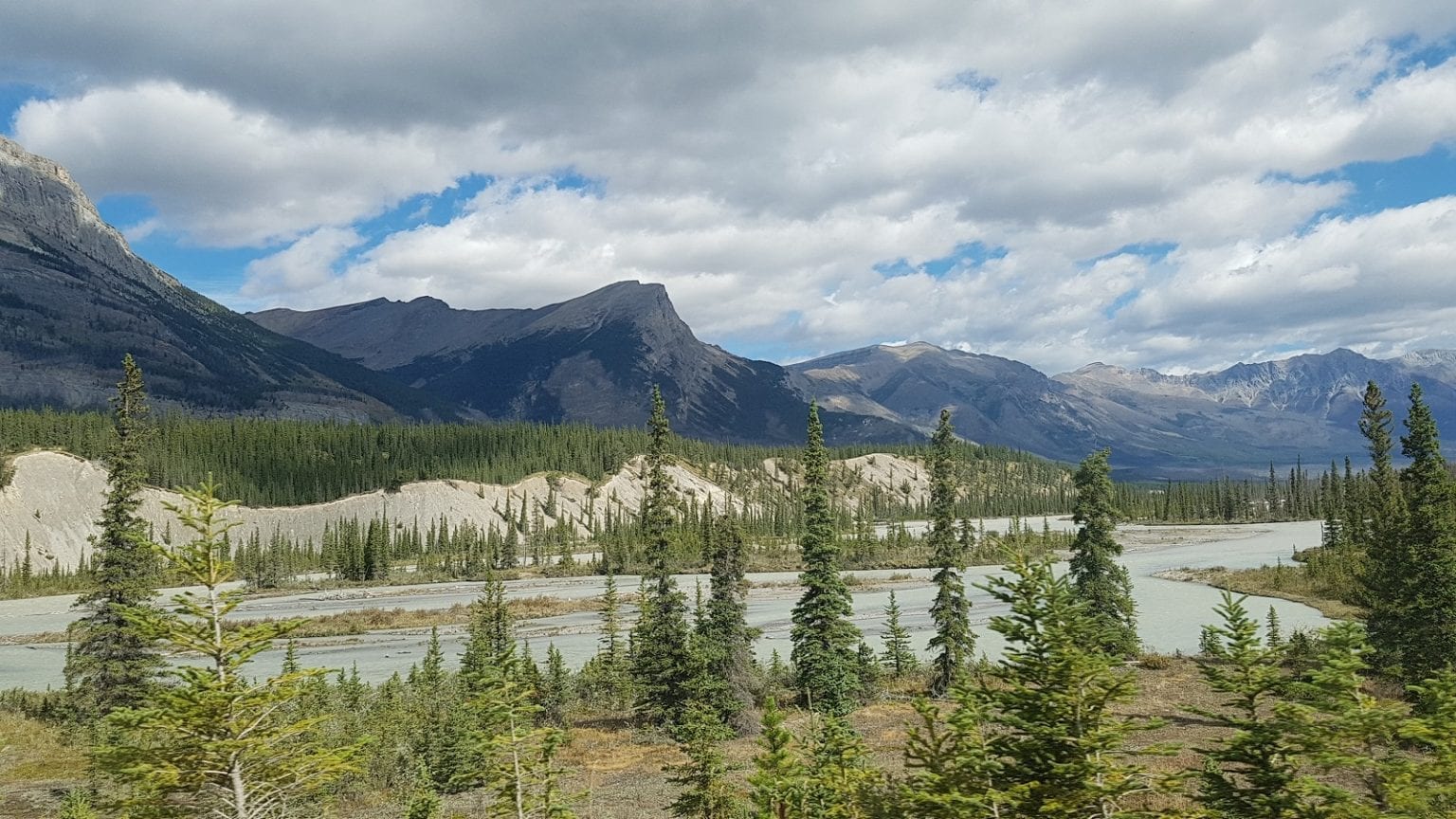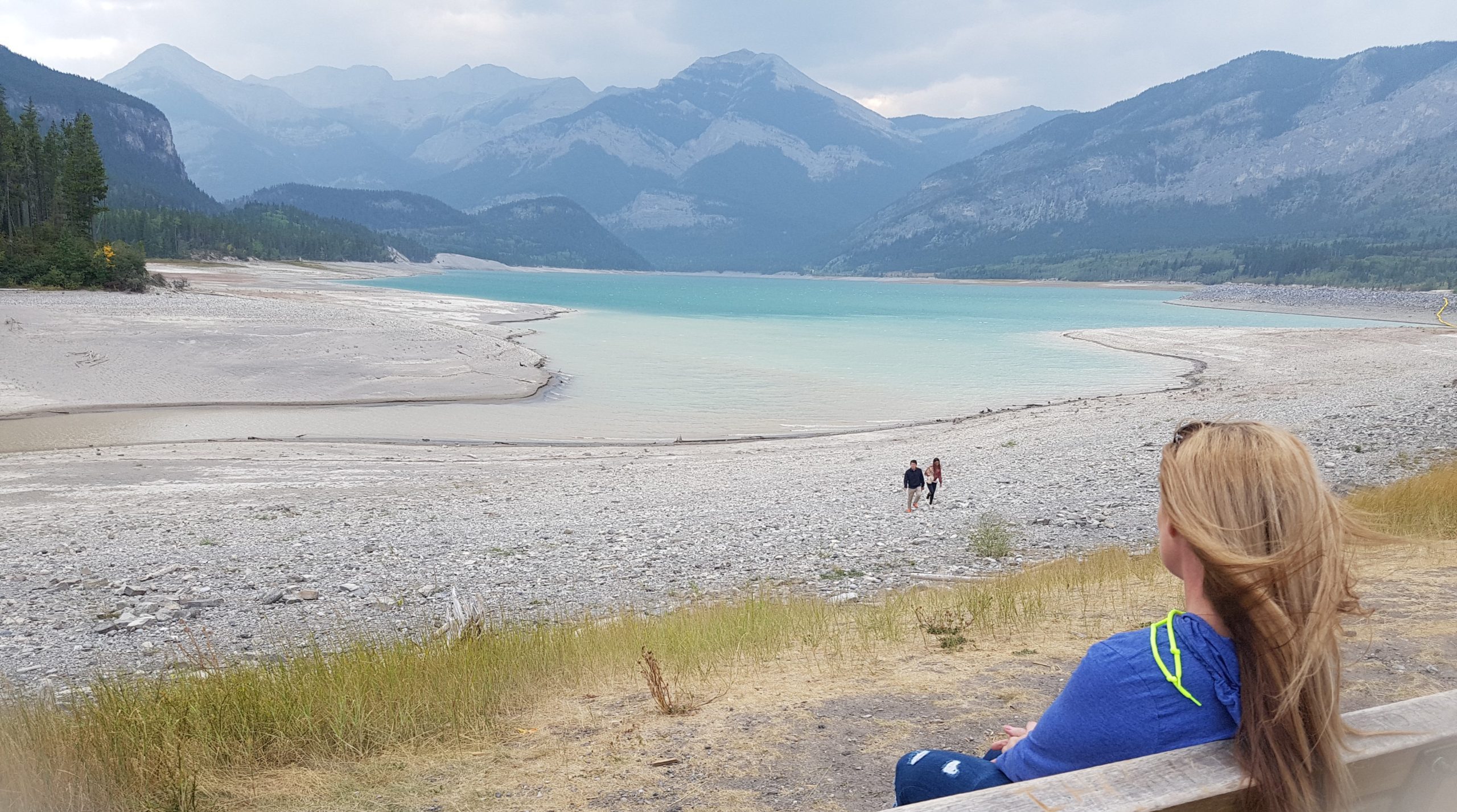 Affordable places to stay in Banff
While Banff has a wide range of places to stay, I couldn't stop looking at the town of Canmore. So much cheaper, and close by to Banff. The more I caught eye of some more luxurious hotels and resorts, the more I wanted a decent place to stay. Which brings me to the Copperstone Resort.
Located in Dead Mans Flat, Copperstone Resort by Clinique is a 15 minute drive south of Banff and 5 minutes out of Canmore, this resort is gorgeous. I chose Copperstone due to it's irresistible price and luxury suites.
It is out of the park (approx 12 km) which is why the cost is so reasonable. 
This really is your home away from home. It has everything for a comfortable stay. Full kitchen, lounge, a TV in the living area & bedroom, washer & dryer, Free WiFi and an outdoor setting.
Affordable options in the Banff region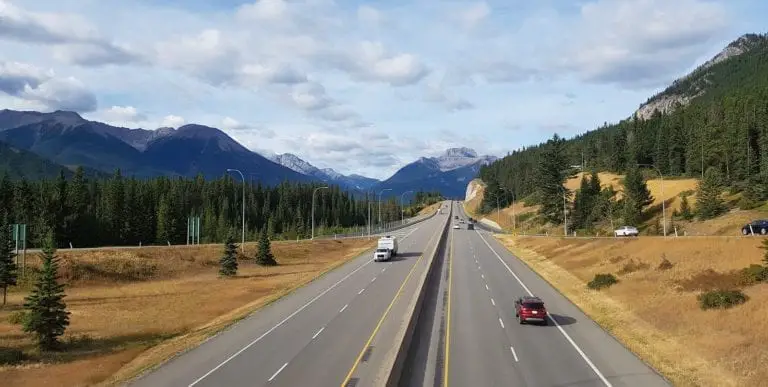 Day Seven- Calgary

Distance: Banff to Calgary 128 km / 1.30 hrs. 
The Canadian Rockies have so much in the way of natural beauty, you really don't need to spend much money.
I do believe that the paid attractions on offer are quite reasonable in price. Maybe because it's in a National Park and not some greedy tourist trap.
So for this reason  I think you should spend the money on the things that really matter to you.
Remember, you may never be back in this part of the world. 
You can read about our epic US road trip which starts in Calgary, heading south to Glacier National Park and beyond.
USA road trip articles
Like it. Pin it for later.