As an Amazon Associate I earn from qualifying purchases. I get commissions for purchases made through links in this post.
Spending only 2 days in Vancouver is such a hard task, there is just so much to see and do. And when the weather really turns it on for you, it's even harder. The best Vancouver experiences are not to be missed, so rise and shine if you can and get out there because you won't want to miss a thing. This is my 2 day Vancouver itinerary taking in all the best sights and more.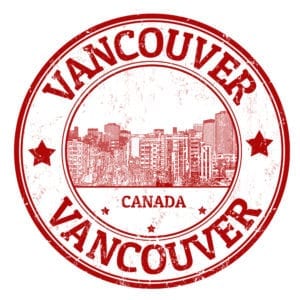 Best time to visit Vancouver
Vancouver is a beautiful city any time of year.
The summer months of June, July and August are the most popular when temperatures are at there highest and conditions are ideal. It is also when hotels are charging the most.
Shoulder season in Vancouver
The months of April, May and September are much milder in Vancouver. They are considered shoulder season months as they fall on either side of summer time. They can bring unexpected showers, but while the weather is less predictable, the crowds have died down and hotel and travel prices are more favorable for the budget traveler.
I have had the pleasure of visiting Vancouver twice in September, early in the month. We had exceptional weather, reaching 30 degrees Celsius.  
The first trip was a short stay before heading to Alaska  on an Inside Passage cruise. Thousands of people are here for the exact same reason.
The second was a stop over before entering the USA on our way to Seattle. 
2 Day Vancouver itinerary – Day 1
If you have an extra day, I have also included a 3 day Vancouver itinerary, but you can switch up things to meet you time constraints. Alternately, I'm sure if you are up for some big days, you might get to do it all over the 2 full days.
Grouse Mountain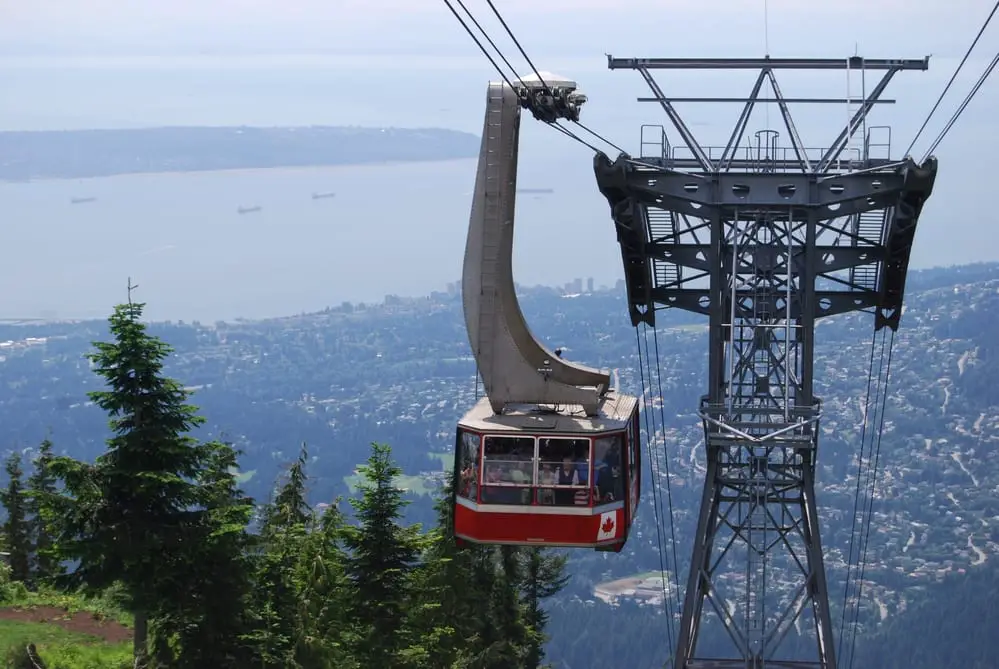 The mountain overlooking the city is well worth a day out. Expect to spend 2 to 4 hours here.
There is so much to see and do that you will want to allocate a few hours here if you plan to take advantage of all the things included in your ticket price. Try to arrive between 9 am and 10 am to make the most of your day.
Grouse Mountain ticket inclusions
The Skyride up the mountain (1 minute trip)
Peak Chairlift ( Trip time 14 minutes)
Grizzly Bear habitat
Lumberjack Show
Ranger Talks
Owl Talk
Kids Tree Top Adventure
Disc Golf
Enjoy panoramic views of the surrounding area, including the city and Pacific Ocean.
Tickets and transportation
At present (2021 season) , tickets reservations are needed. Also, in order to get on the Skyride early it is best to pre book.  Check Grouse Mountain Tickets
Getting there 
Option 1: Take the FREE shuttle from Canada Place (included in your admission price) Trip time – 30 mins.
Option 2.: Take the Seabus from Waterfront Station (opposite Canada Place) to Lonsdale Quay and connect onto the 236 bus line which takes you directly there.
Capilano Suspension Bridge
From Grouse  Mountain we make our way toward Capilano Suspension Bridge. This amazing park is one of the most popular attractions in Vancouver and is only minutes out of the city.
There is a great story centre as you enter the gates on it's previous owners and how the bridge came to be so be sure to take a look. The location itself is very pretty and provided some short easy walks.
Specs about the Bridge
The bridge itself stretches out for 140 metres and 230 feet above Capilano River.
It takes a serious amount of weight so the number of people on it at any one time is a lot. It you are afraid of heights or things, it can be a bit hairy but try to to just enjoy the exhilaration. This is no rickety swing bridge, it can handle a fleet of trucks fully loaded or 1300 people, not that that people are on it at any one time. 
Things to do
Once across you can complete the Treetops adventure, another seven smaller suspension bridges above the forest floor. Stop for a bite to eat or a hot chocolate and be sure to visit the resident owl and birds of prey on display.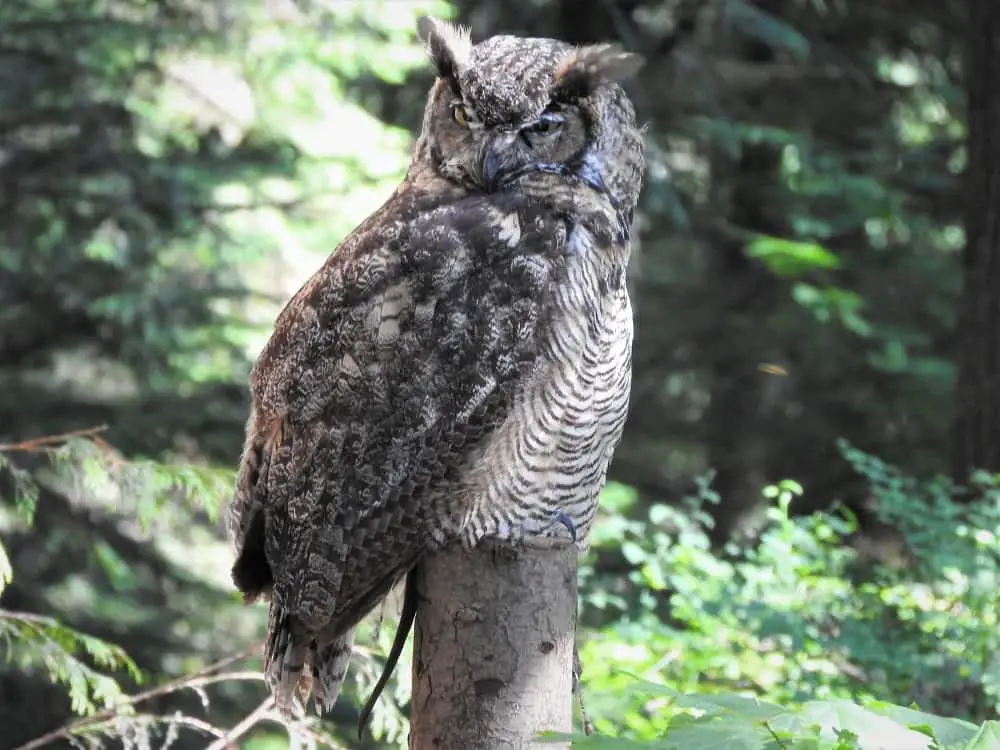 Back over the bridge (yes it's a return trip) and you can continue your adventure with a walk on the newly built Cliff Walk (extra cost). The walk is high and narrow and in some sections, glass. It gives you a direct view of the valley below. 
Tickets and Transportation
In order to keep our day on track, we booked our tickets in advance. You only need to inlcude the day, not a certain time. It saves any delays in having to queue up. Check Capilano Suspension Bridge
Getting there from Grouse Mountain
Option 1: Take the 236 bus line (7 minute) and rejoin the bus back into the city
Option 2: Take the 236 bus line and ride the FREE shuttle back to the city
If you have decided not to do Grouse Mountain, you can ride the free shuttle to Capilano in both directions. Note: the free shuttle is currently not running at time of this publication)  Capilano free shuttle 
Sunset at English Bay Beach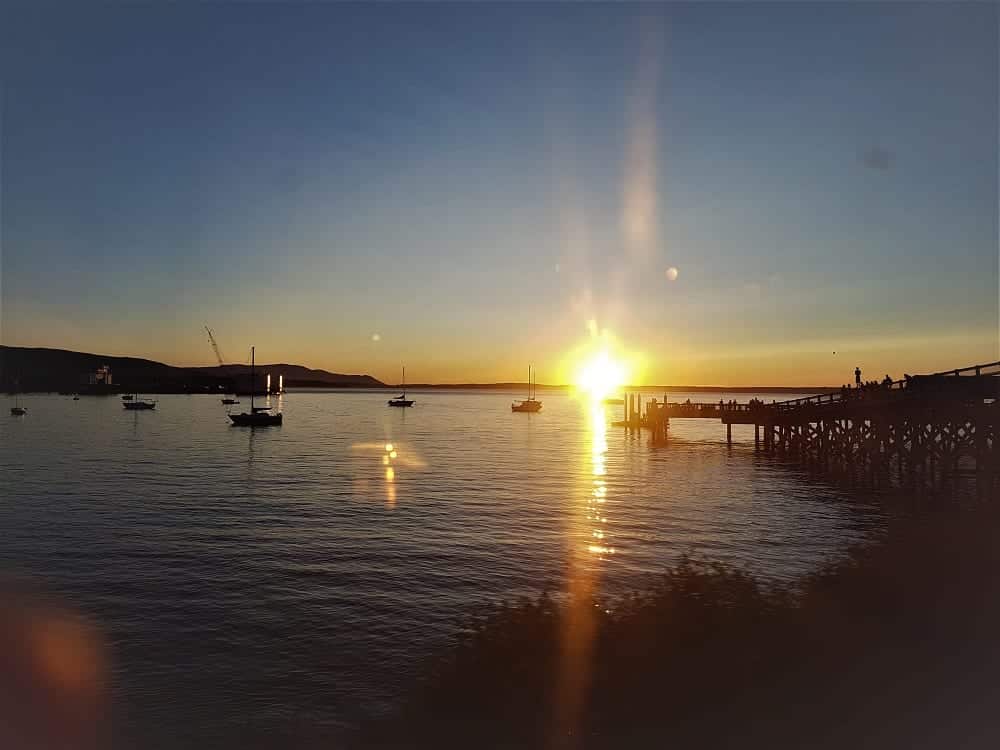 It's time to take a stroll or just sit and take in the spectacular sunset over English Bay.
This popular past time attracts hundred of visitors, but is a great place to come to watch the nightly show. There are paths that make their way along the seawall close to Stanley Park and eateries along the way.
Location of English Bay Beach
Located on the west side on Vancouver, it is an easy 20 minute walk from the downtown area. You can see the sunset times here. Vancouver sunset times. 
2 Day Vancouver itinerary – Day 2
It's time to tackle another amazing day in Vancouver. If you are up for some light exercise, you will be able to cover a lot of ground today.
Take a bike ride around Stanley Park
Hire your bike from Spokes Bicycle rental which is conveniently located just outside the park entrance. We headed in an anti clockwise direction and stopped to grab some epic shots of the city skyline.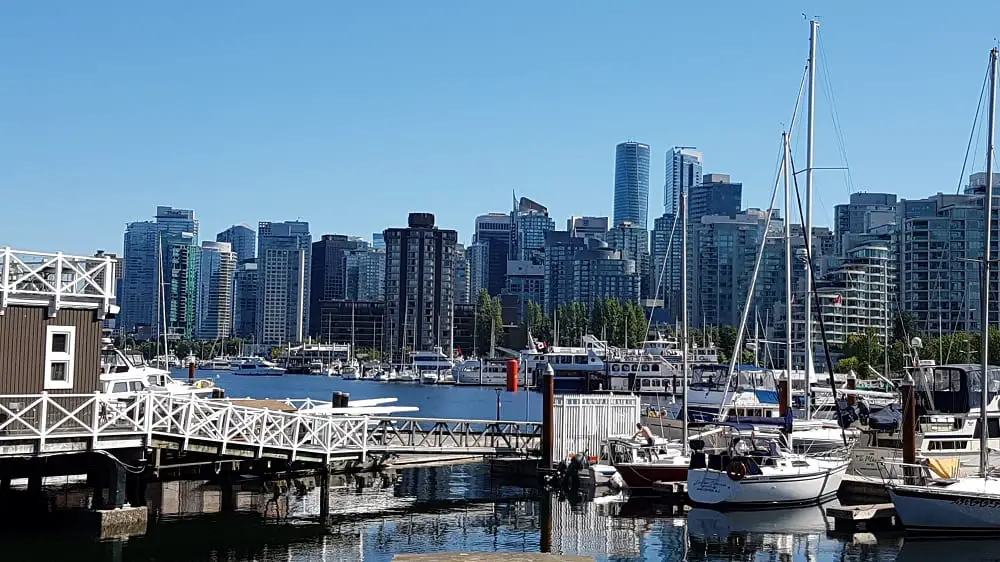 What a great way to see this part of the city. In fact, Vancouver is extremely bike friendly and provides many other rides within the city and beyond. Stanley Park is just so huge so the best way to see it is on two wheels. 
Take the Seawall route which takes you around the outskirts of the park. It's a popular pastime and you will pass many others doing the same.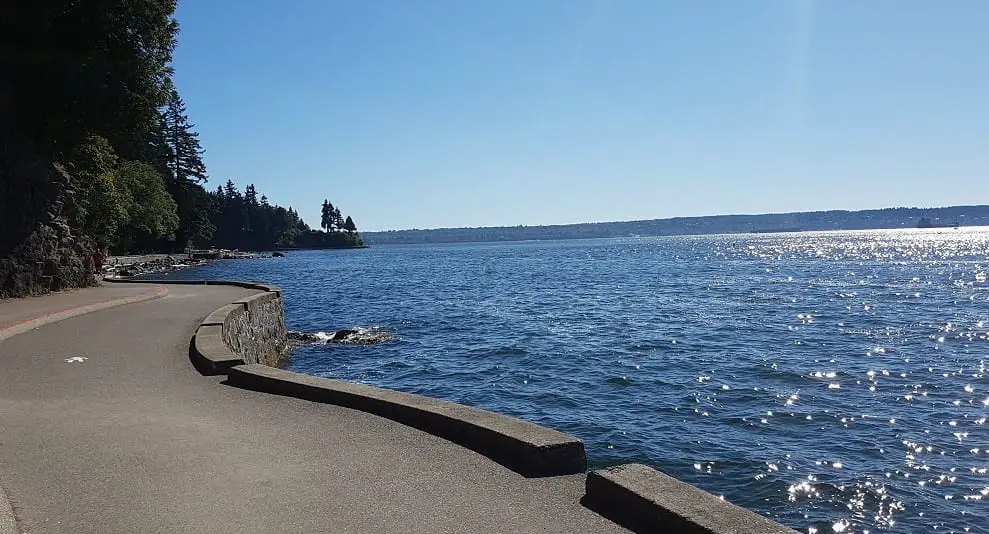 Distance and time
The 10 km (6 miles) flat ride will take around 1 hour to complete without stops and photos, so allow 2 hours.
If you prefer to walk – expect up to 3 hours to complete.
City highlights
The rest of the day in on foot as we take in the Vancouver City highlights. Everything is walking distance and gives you a chance to see as much as possible.
Canada Place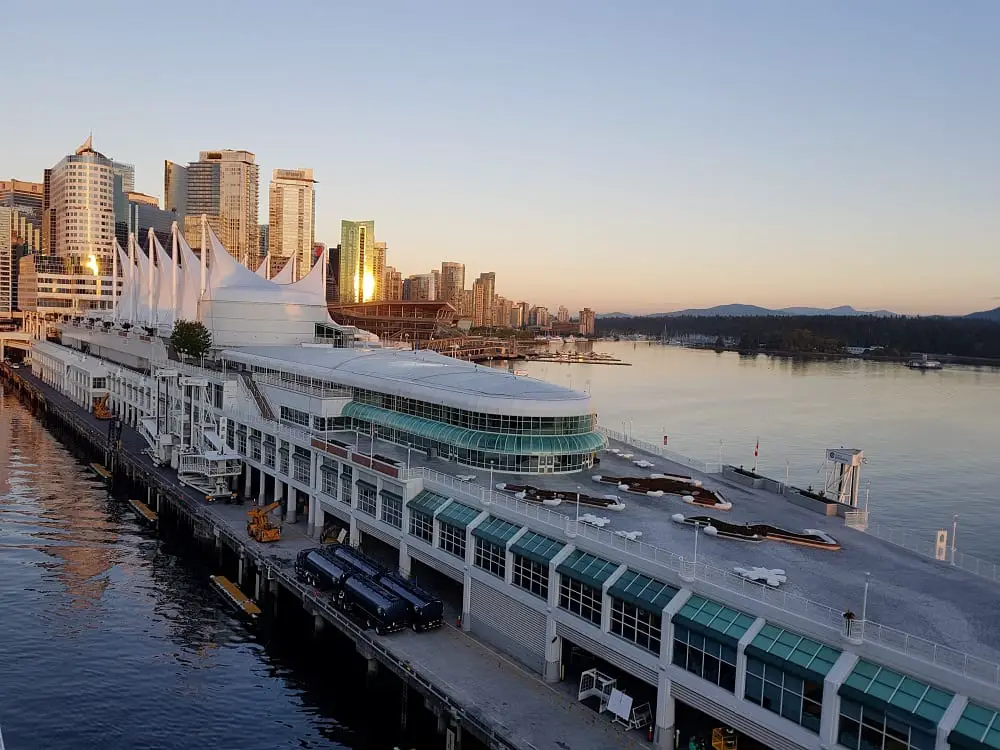 From Stanley Park, we walk along the promenade toward Canada Place. The area is teeming with runners, roller blading and people walking their dogs.
There are plenty of dining options and we chose to grab a bite to eat at The Lift bar and grill.  it is conveniently located right on the water for great views over the bay,
Canada Place is home to cruises departing and arriving from the Alaskan Inside Passage. 
Gastown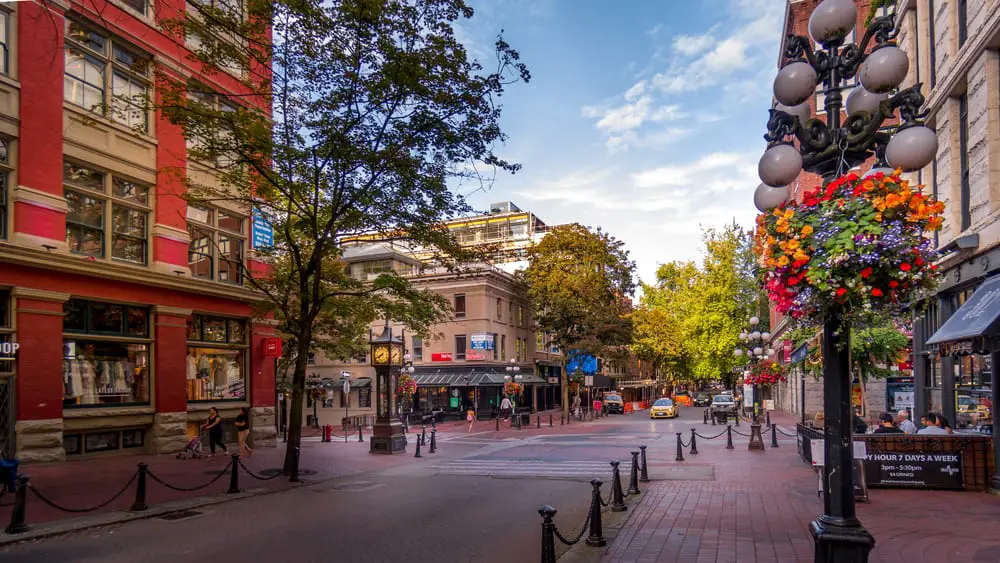 A short distance away is the bustling area of Gastown. This historic precinct of cobblestone streets and Victorian architecture is filled with boutique shops, cafes, restaurants and bars. Make sure to see the Gastown Steam clock which blows its whistle every 15 minutes. 
Note: Gastown has a reputation of being unsafe after dark. This relates to  the area between Gastown and Chinatown in particular. 
Granville Island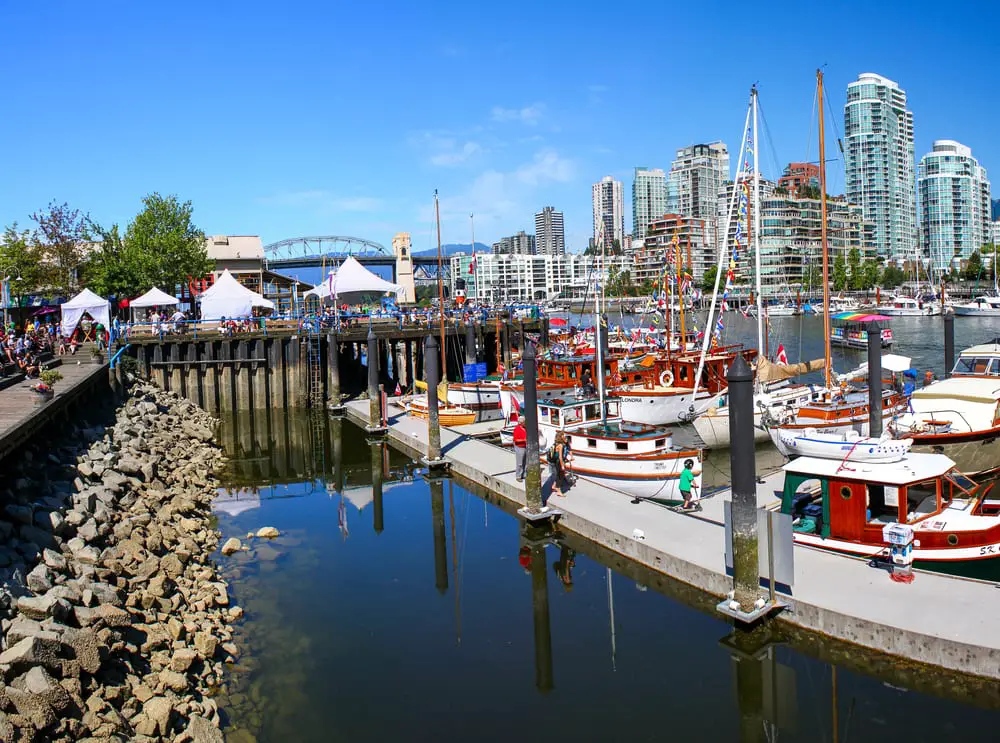 One of Vancouver's premier tourist attractions, Granville Island has something for everyone.
There are a few possible ways to get to Granville Island which includes the ferry, bus, taxi or on foot. Many choose to take the Aquabus or Flase Creek ferry which takes just a few short minutes.
The island is famous for its markets which run 7 days a week from 9 am to 6 pm. But if you are all shopped out, there is plenty of others things to do such as Art galleries, a brewery, seawall walking track and much more.
If you arrive mid afternoon you can do a whale watching excursion. The season runs April to October. The summer months run three afternoon tours starting from 2 pm to 3.30 pm on a range of boats. You can see more here. Granville Island Whale Watching OR Vancouver City Departure Whale Watching 
Robson Street shops
Depending on how your day has panned out, you may or may not have time to take a look at Robson Street. It may be on your way back to your hotel . 
This is Vancouver's famous downtown shopping district. All the big luxury brands are here including many international chains. Whether you are here to splurge or find all the best bargains, there is plenty to suit everyone's budget. You'll also find the  Pacific Centre Mall which has a  hundred or so stores.
You may also find a special event taking place during certain times. We were lucky enough to run into an large outdoor fair of may different Korean cuisines, and stopped for a bite to eat of juicy lamb, chicken and beef skewers. There seems to be something always happening in Vancouver during the warmer months.
Optional 3 Day Vancouver Itinerary
Vancouver Island
If you have the time, a trip out to Vancouver Island is an absolute must. You'll want most of day to see it all including the time it takes to get there. you will have to catch the ferry over which takes around 90 minutes each way .
Butchart Gardens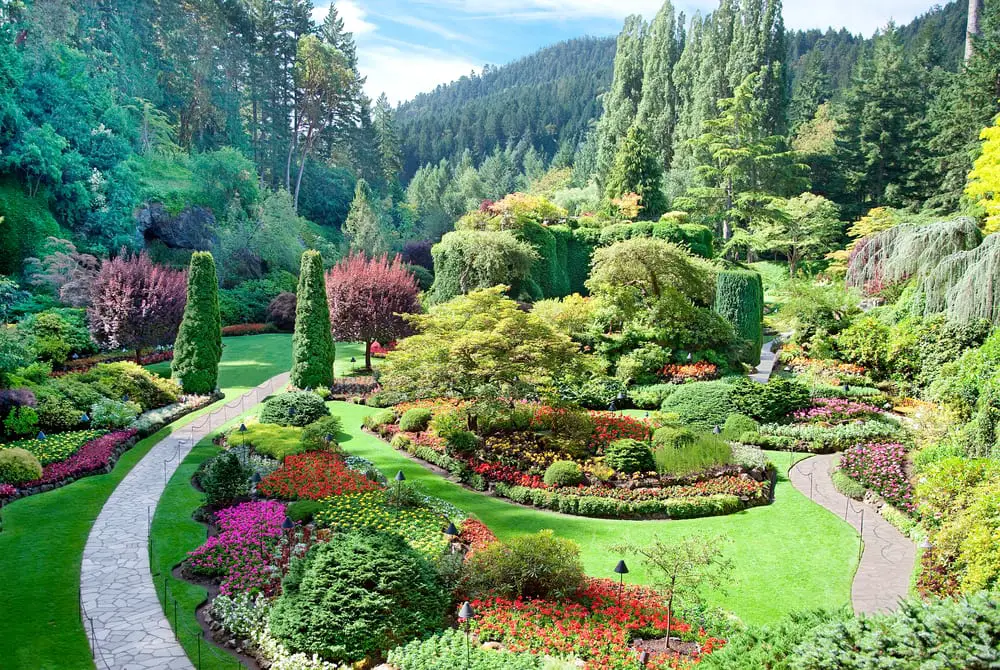 The famous Butchart Gardens are the number one attraction here, and are simply stunning. You will have an impressive 55 acres to explore and 900 plant varieties.
The gardens include:
Rose Garden
Sunken Garden
Japanese Garden
Mediterranean Garden
Italian Garden …and more
Getting to Vancouver Island and Butchart Gardens
The best option is to take a tour. It takes 4 hours to get to the island including a 90 minute ferry ride, so to save you the hassle I recommend a tour.
The tour lasts 13 hours and includes the gardens and free time to explore the city. You can read more below. Vancouver to Victoria and Butchart gardens Tour
Head into downtown Victoria for a walk along the picturesque Parliament street. You'll find cafes, horse drawn carriage rides and many points of interest to keep you happily occupied. I hired a scooter and headed out around the island for a better look whilst others in our group went whale watching. My first time on a scooter, I had an absolute blast even though I nearly fell off more than once.
Vancouver really is a tourist friendly destination. It's an easy place to navigate and offers so much to anyone who visits. Regardless of your interests, budget or time limit, you are sure to have an exciting 2 day Vancouver itinerary full of absolute fun. 
What to read next
How to save hundred on your inside passage cruise
Best of Alaska including Denali National park