I had always wanted to go to Kangaroo Island. It sounded so rugged and diverse, with beautiful beaches and amazing wildlife. So we packed up the car and hit the road. We drove from Melbourne to Adelaide and then onto the Flinders Ranges.  Kangaroo Island was our final destination and I couldn't wait. Visiting these two bucket list destinations together is a great combo and also a great way to have a budget holiday. That's because all the highlights are based on the scenery and we took full advantage of that. This is our Kangaroo Island itinerary.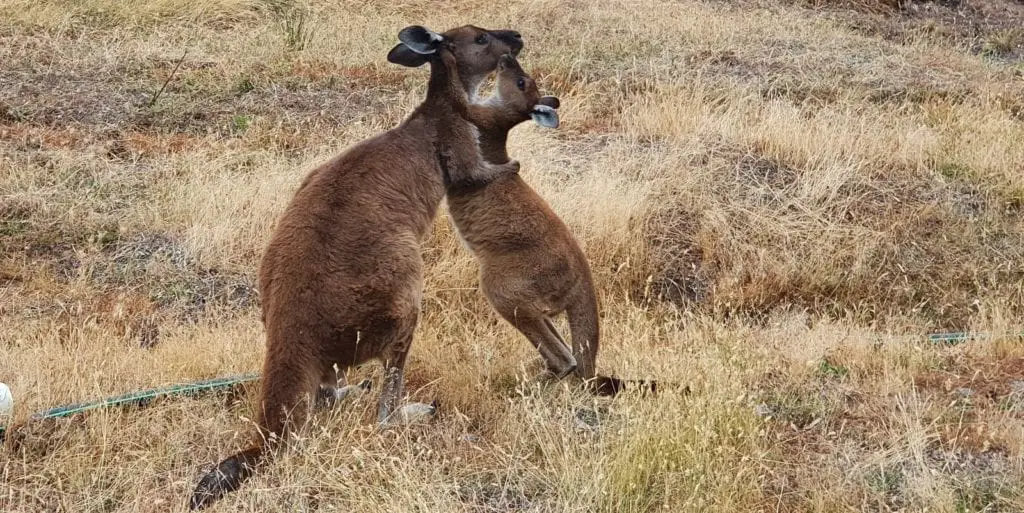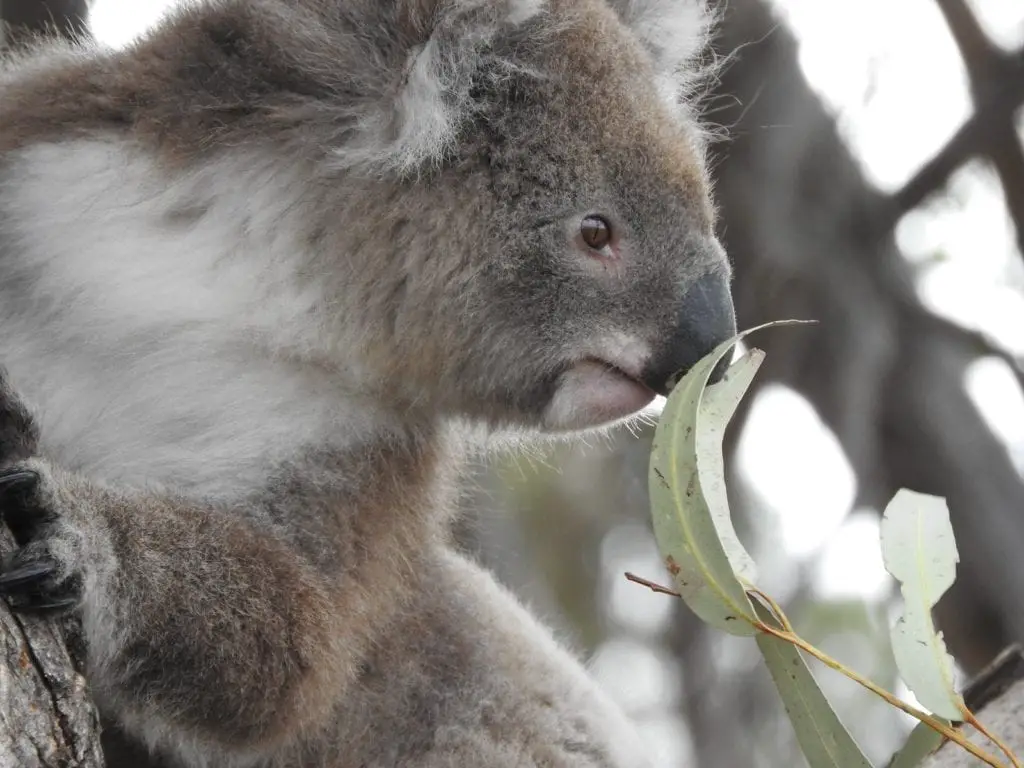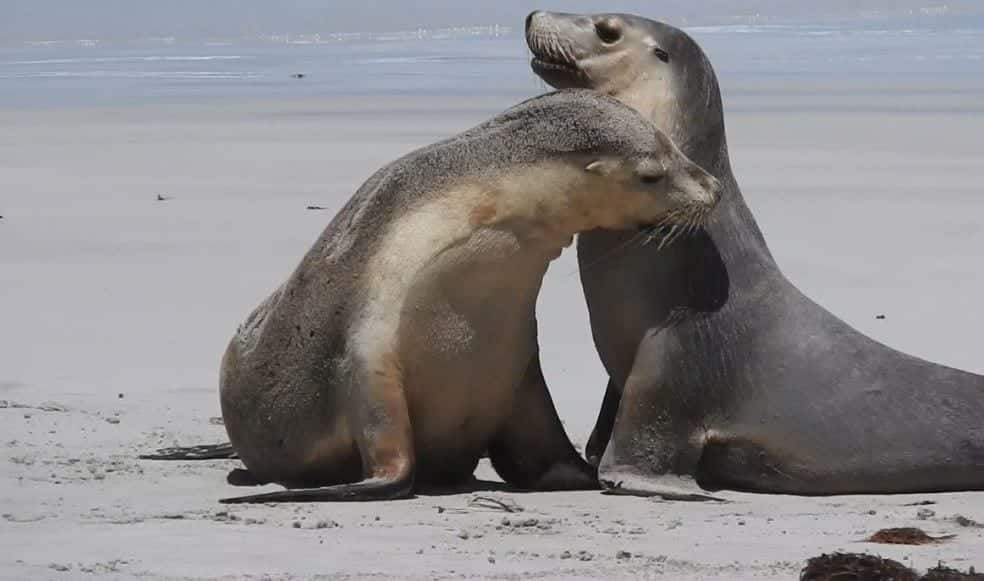 KANGAROO ISLAND ITINERARY
Day 1. Adelaide to Jervis Bay – Kangaroo Island Ferry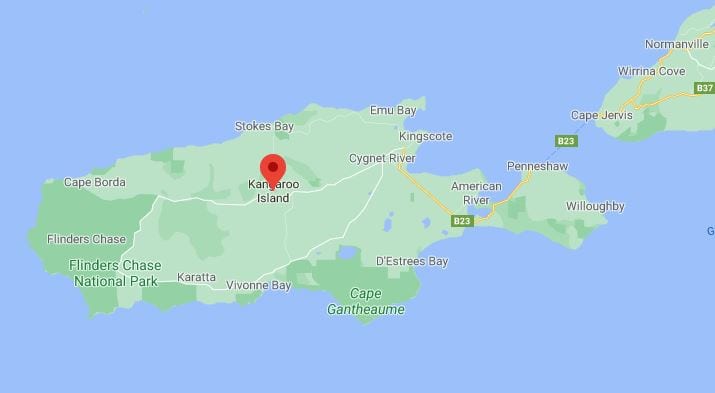 The drive from Adelaide to Cape Jervis, where you will make the crossing to Kangaroo Island will take approximately 90 minutes. Allow yourself plenty of time to stop along the way. The scenery is gorgeous, with coastal views inspiring the trip ahead.
Once you arrive, you'll check in and park your car in one of the 5 lanes provided. Generally, the driver only stays with the car and all passenger make their way to the terminal, ready to board 30 minutes prior.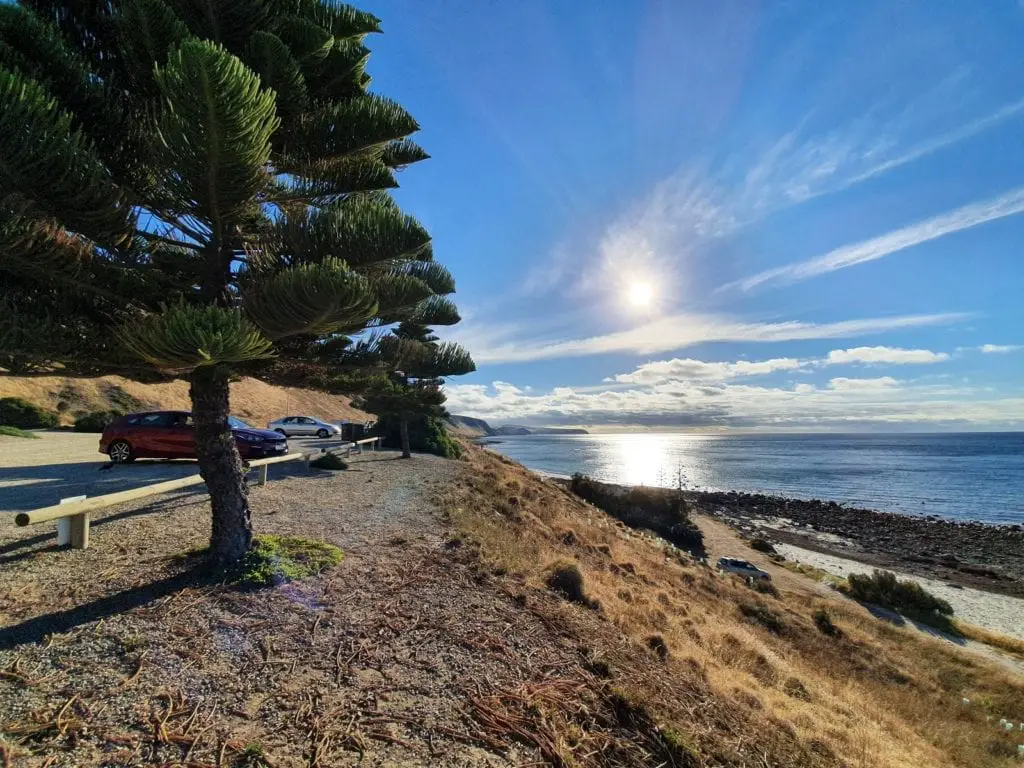 Kangaroo Island Ferry
The Kangaroo Island Ferry (operated by Sealink) enables you to take your car across to Kangaroo Island. Alternately, you can fly from Adelaide, which takes around 30 minutes.
A car up to 5 metres will cost $98 each way. Then the same amount if taking a caravan. For passengers pricing on Sealink, click here. 
The Kangaroo Island ferry departs from Cape Jervis. The crossing is around 22 km and takes 45 minutes. You will arrive at Kangaroo's Islands second biggest city, Penneshaw.
There is a small snack shop on board where you can purchase drinks and food.
As I do suffer from seasickness, I was constantly checking the swell conditions. My husband thinks I'm working myself up for no good reason. he is totally right. But anyone who suffers from seasickness knows it can wipe you out for an entire day. Lucky for me, the swell was calm, I took a precautionary seasick tablet and we arrived 10 pm at night feeling awesome.
If arriving in the evening, I suggest staying in Penneshaw. Wildlife is out and about and the distances will take much longer due to your reduced speed.
We stayed at Kangaroo Island Seafront, which is only a one minute drive from the ferry. I got a good nights sleep and hit the road early morning.
For all Penneshaw accommodation, click here. 
TIP: if you are planning to go to Kangaroo Island during the busy holiday season, book early. The ferry sells out quickly and you may need to take alternate dates or times.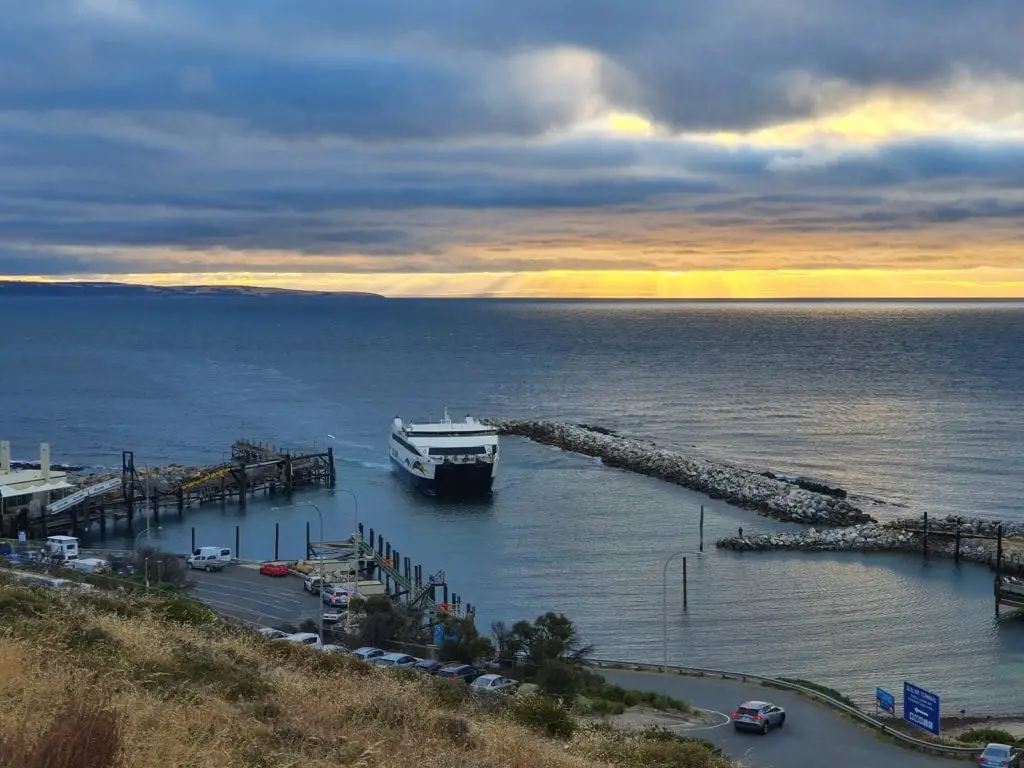 Day 2 – Penneshaw – American River- Seal Bay- Vivonne Bay-Flinders Chase NP
American River 
Day two of our Kangaroo Island itinerary involved getting on the road early. Kangaroo Island is a big place. It takes time to get to each place and many roads are gravel. Also, sometimes you will have to turn off for a particular point and then return the same way you came.
Heading along Hog Bay Road, we made our way toward American River. For those up for some gorgeous coastal views and added exercise, you can stop at Prospect Hill. The climb up is some 500 steps. Unfortunately, we had other plans so pushed on.
American River is a well known fishing and boating village, due to it's calm and protected waters. The Oyster Farm Shop is a popular place, with visitors to the island coming here especially for the fresh oysters. If it were the Scallop Farm Shop I would have obliged but oysters are not my thing. They are open 11 am- 3 pm with oyster season being April to January.
There is also the  Deck Cafe which sits right on the water, the perfect place to soak up the scenery.
Down along the foreshore, the pelicans are gathering around a local fisherman as he cleans his morning catch. They anxiously wait for him to throw them a free feed.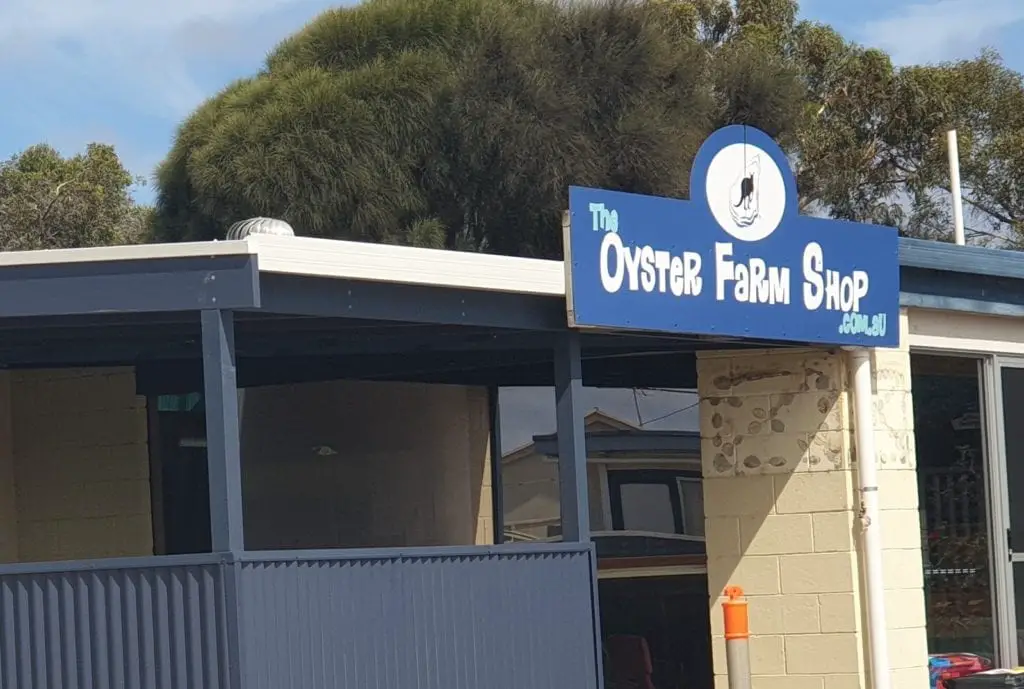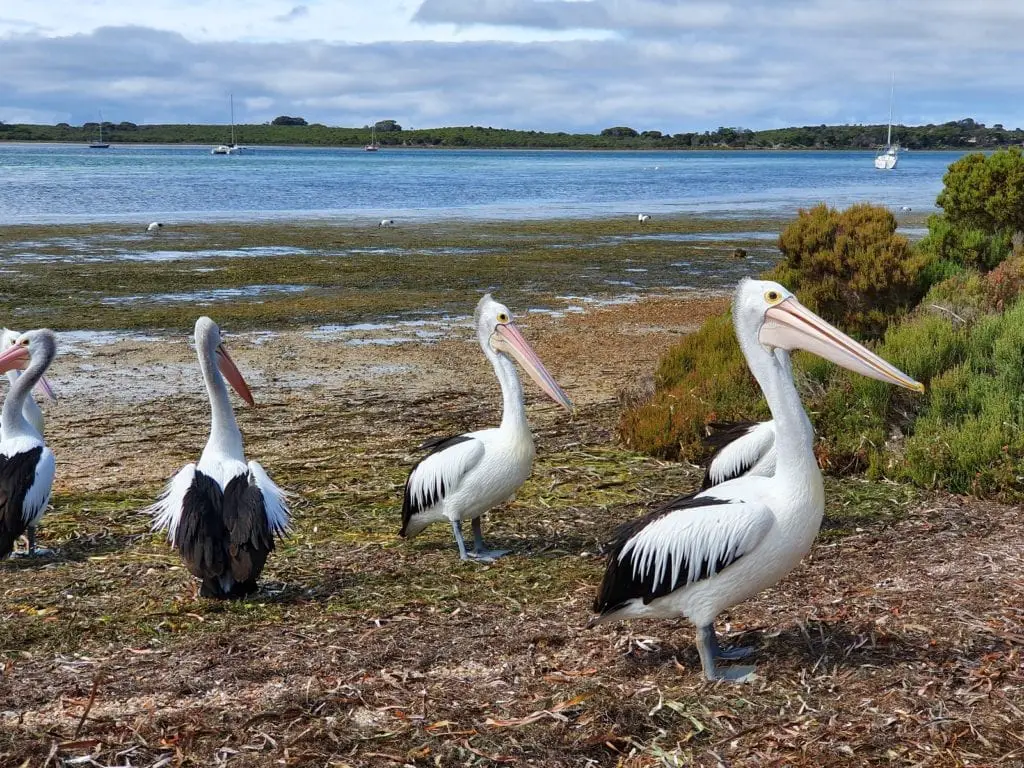 Seal Bay 
The road to Seal Bay involves some dirt roads, typical of Kangaroo Island.
We make a stop at Emu Ridge Eucalyptus Farm. They have quite a large gift shop and offer guided and self guided tours of the farm. It was really interesting to learn about the history, and how the eucalyptus oil is derived from the plants.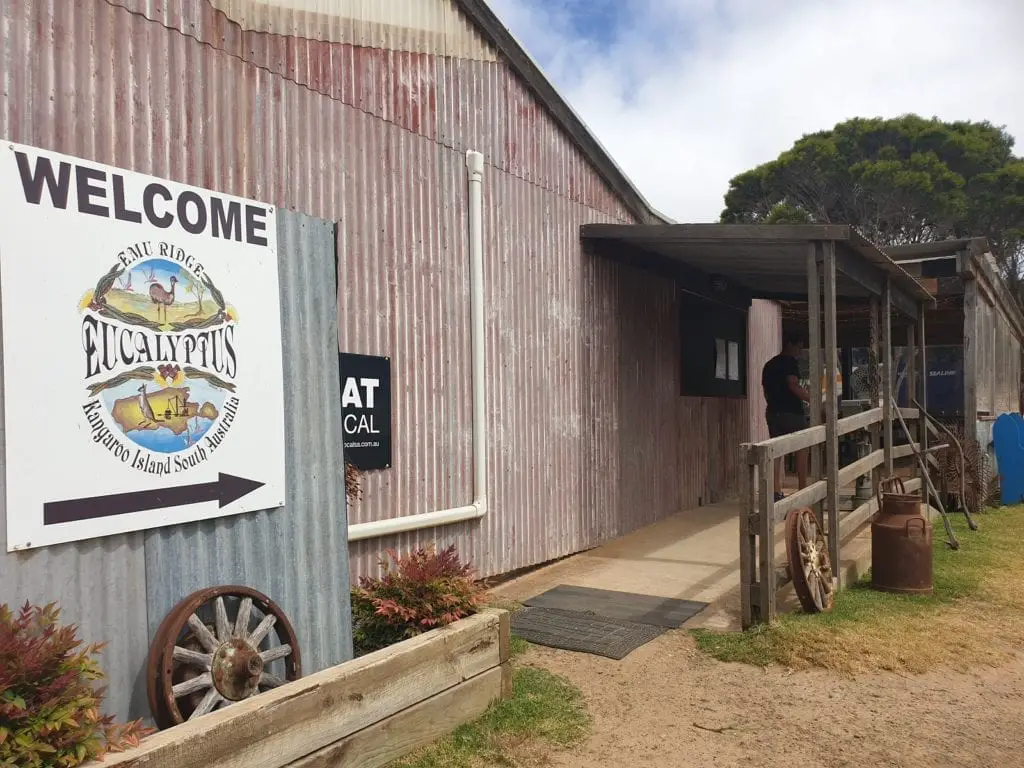 Seal Bay is the home of thousands of fur seals that make this area their feeding ground. To view them , you must pay an entry fee to gain access to the boardwalk. It will take you down to a viewing point along the beach, or for an extra fee you can take a fully guided tour, which we did.

The tour is informative and you have the added benefit of stepping onto the beach with your guide. Some of these fur seals are extraordinary large and can be dangerous if approached. For this reason, a 10 to 15 metre distance is observed. I thought it was well worth it, with the tour lasting  around 45 minutes.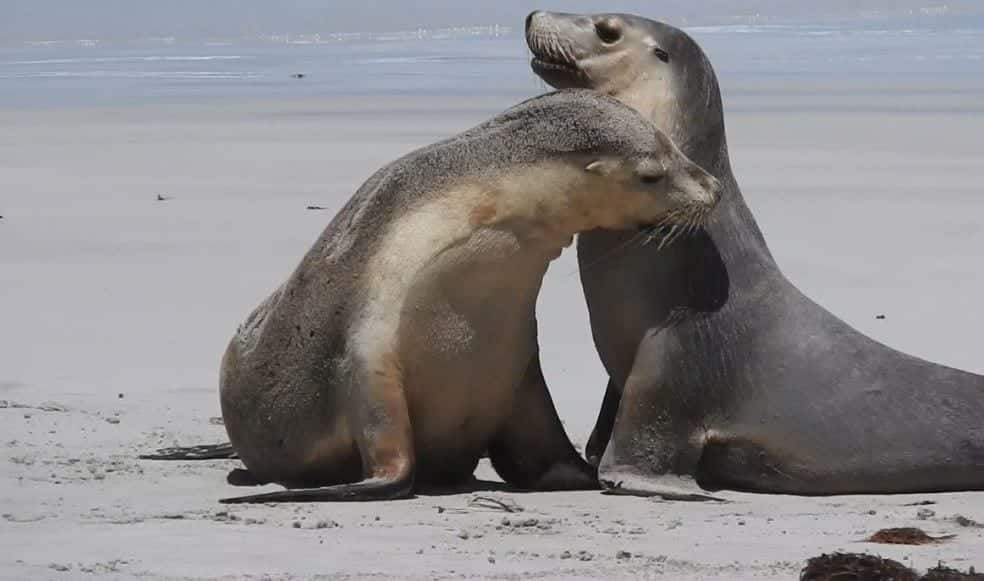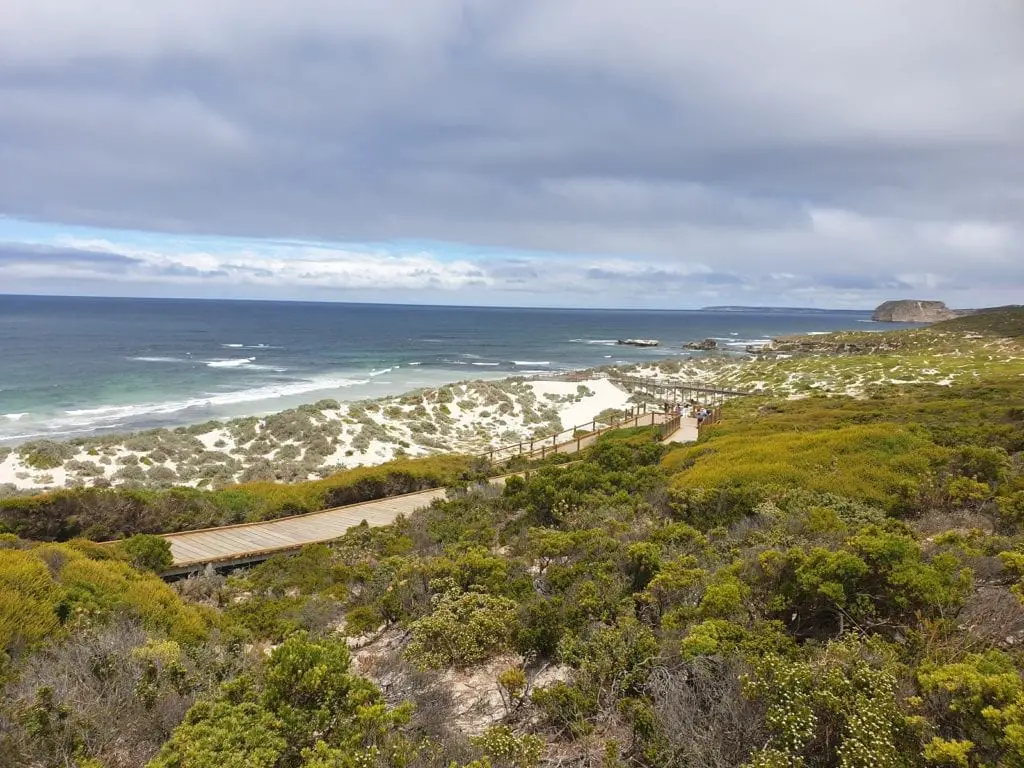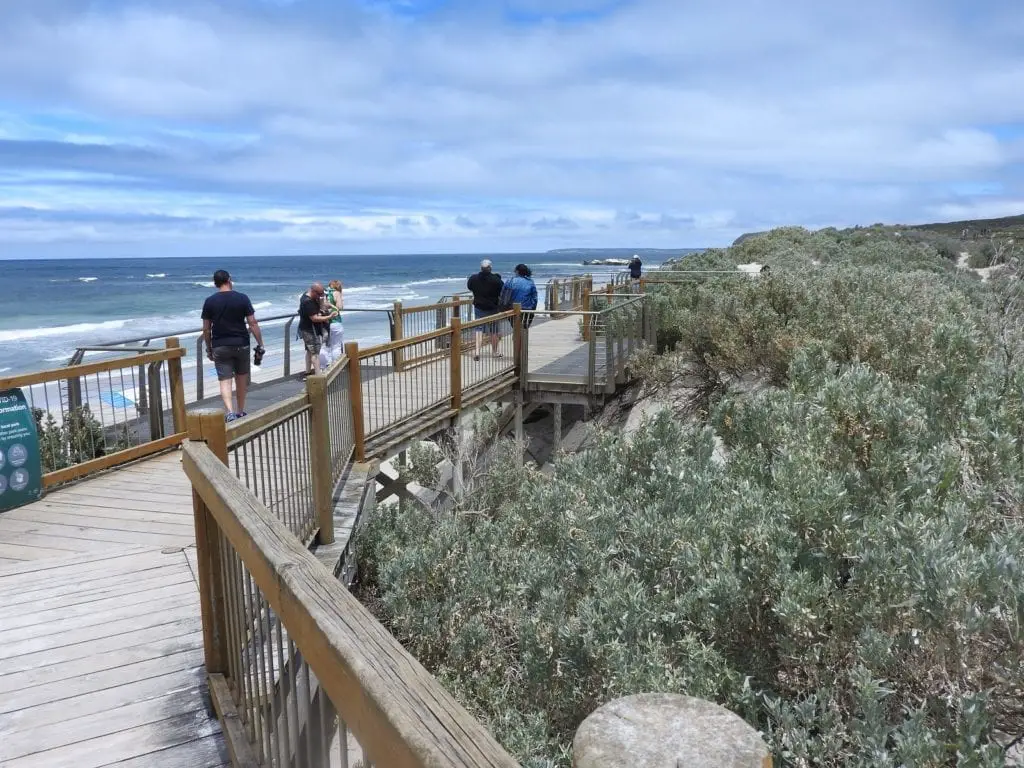 Vivonne Bay
Along the way to Vivonne Bay you will pass Little Sahara Adventure Centre. The sand dunes attract visitors coming to sand board, it looks like fun but I won't be doing this today.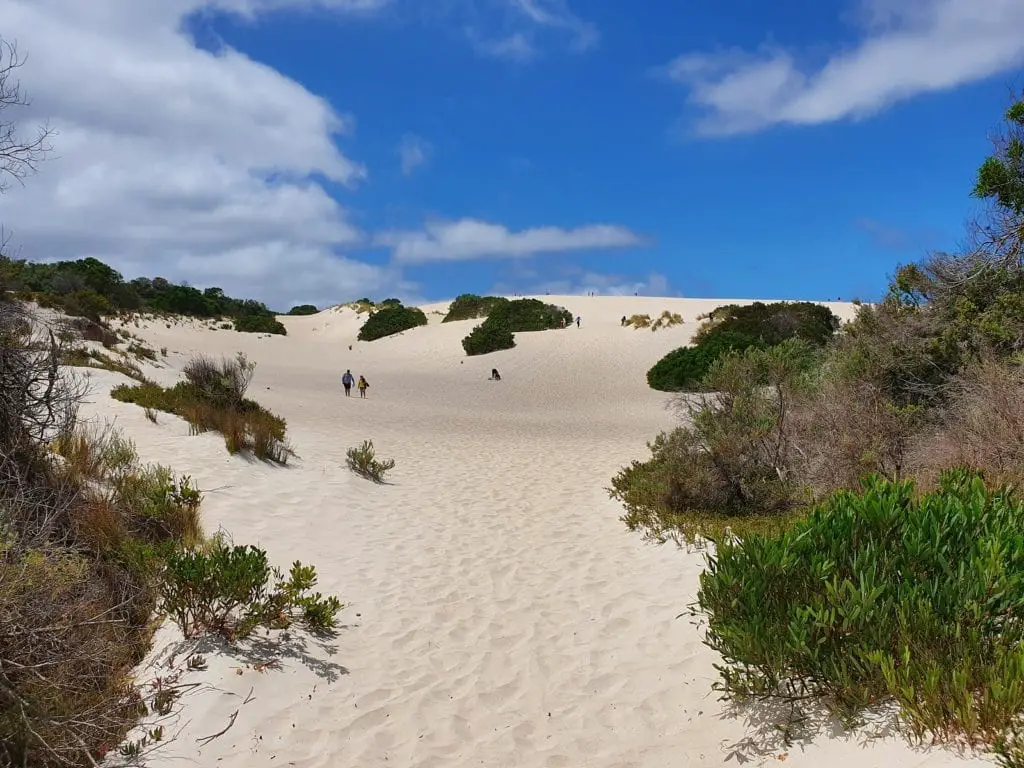 Vivonne Bay is a picture perfect postcard location. It must be part of your Kangaroo Island itinerary as it is considered the island's most scenic beach.
I have to admit, it was simply stunning. The calm blue bay with its white sandy shoreline was an inviting scene. We walked along the jetty to see who was having a good day fishing and took some photos to remind us how beautiful Vivonne Bay really is.
The rock pools here attract snorkelers but also those looking for a safe swimming area. You can utilize the BBQ facilities or bring a picnic and just enjoy the view.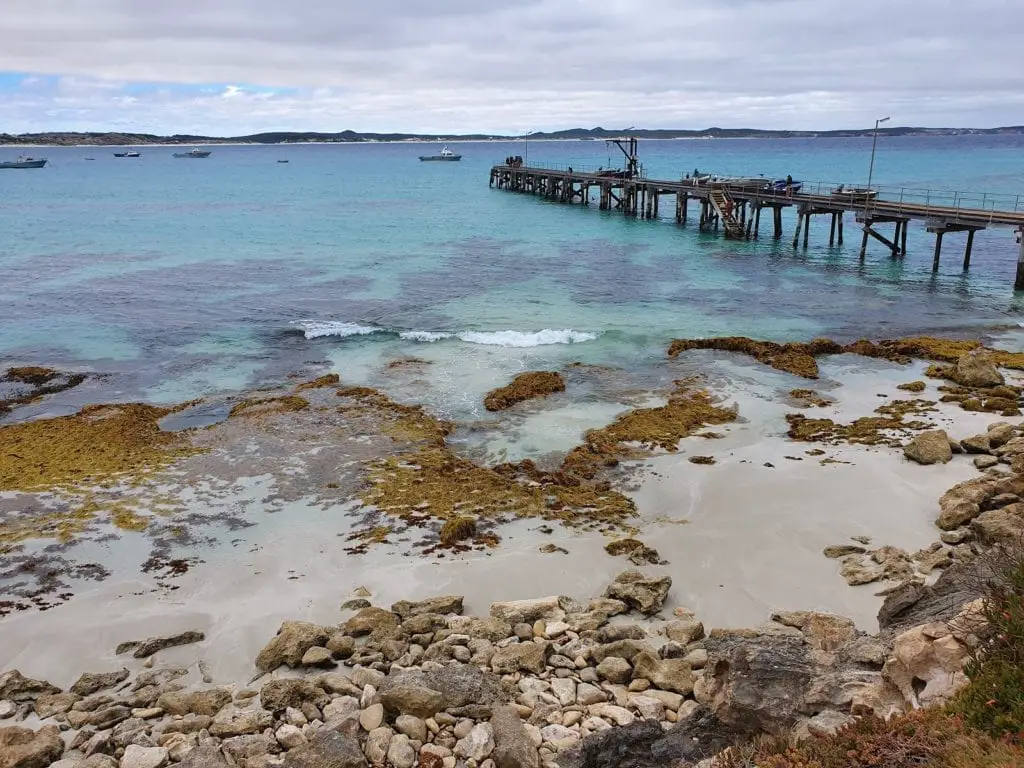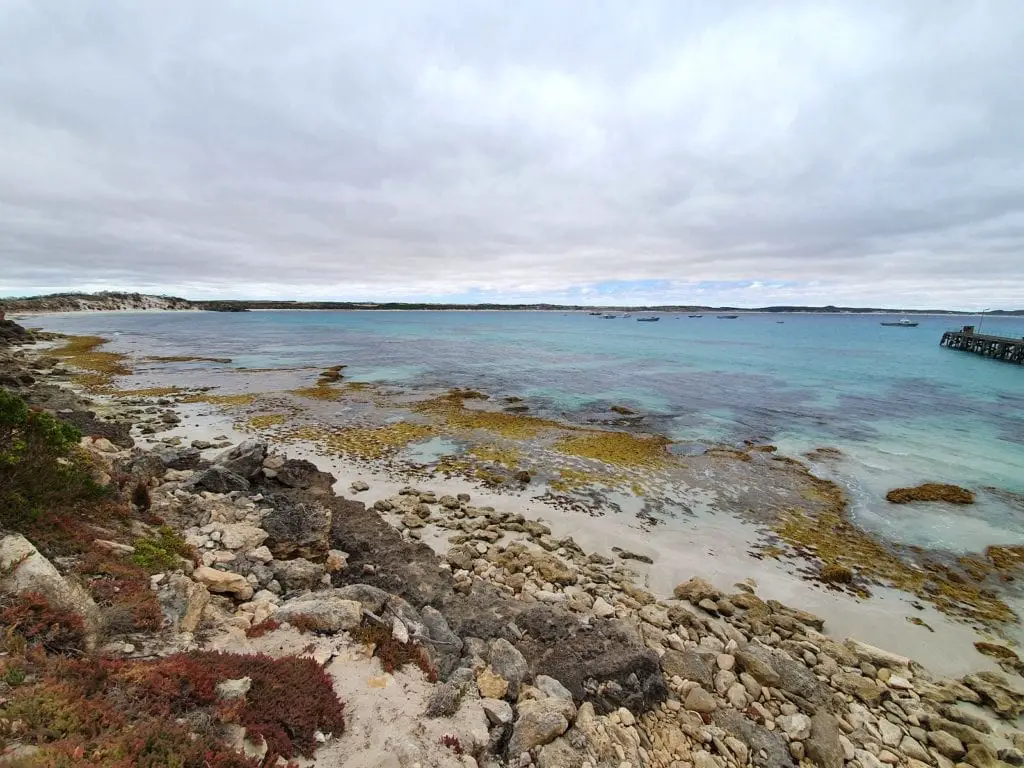 Flinders Chase National Park
Of course, your Kangaroo Island itinerary has to include Flinders Chase National Park.
After the January, 2020 devastating bush fires on Kangaroo Island, the rejuvenation process in still under way. You will see much evidence along the 30 minute drive toward and into Flinders Chase National Park. Up to 95 % of the park was affected, so some roads are still closed.
The visitor Centre, Wilderness trail, boardwalks and other infrastructure was destroyed.
Also, at present, the only places you can visit are Remarkable Rocks, Admiral Arch, Cape Du Bouedic Lighthouse and Weirs Cove. For any further updates on the rebuilding process- click here. 
The park is open 9 am to 5 pm, with 3 pm being the latest you can enter. Park admittance is $11 per adult. It is recommended to pre-purchase your tickets online before you go due to the lack of facilities.
You may notice part the road heading in along Cape Du Couedic Road, as one of the most Instagrammable roads in South Australia. See if you can spot it along the way.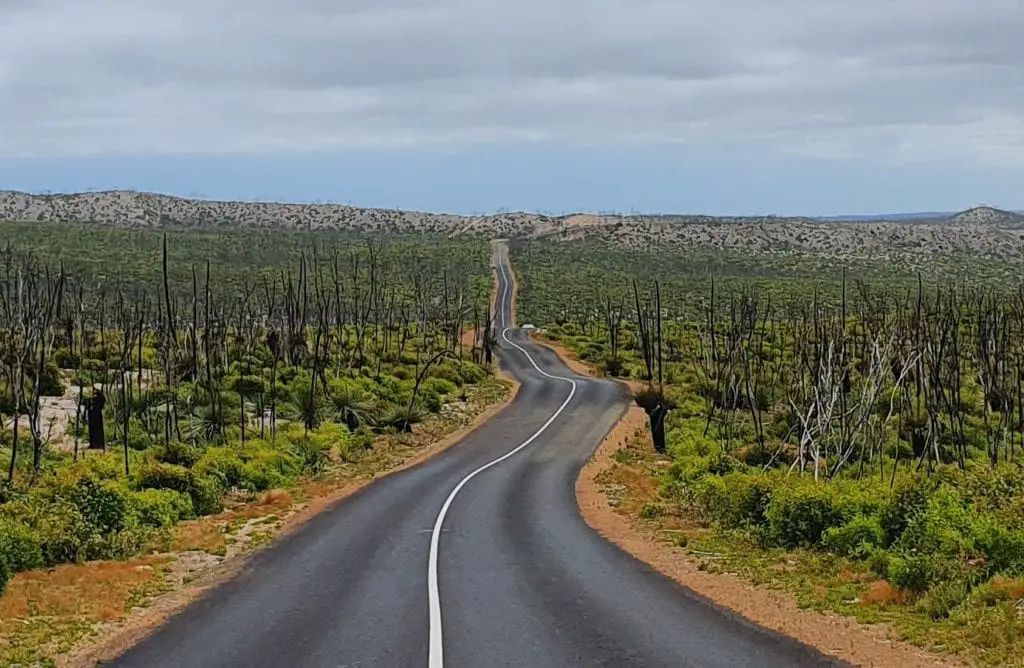 Remarkable Rocks
Remarkable Rocks are just that, remarkable. Located at the edge of the ocean cliff, the unusual formations are quite incredible. The huge granite boulders were formed over 500 million years from rain, wind and pounding waves.
The shapes and contours are spellbinding. You can understand why it is considered a "must see" when on Kangaroo Island. I took a tonne of photos here, snapping at all angles.
This is not the place to let young children wander. There is no barriers to the edge so keep a close eye and grip on them.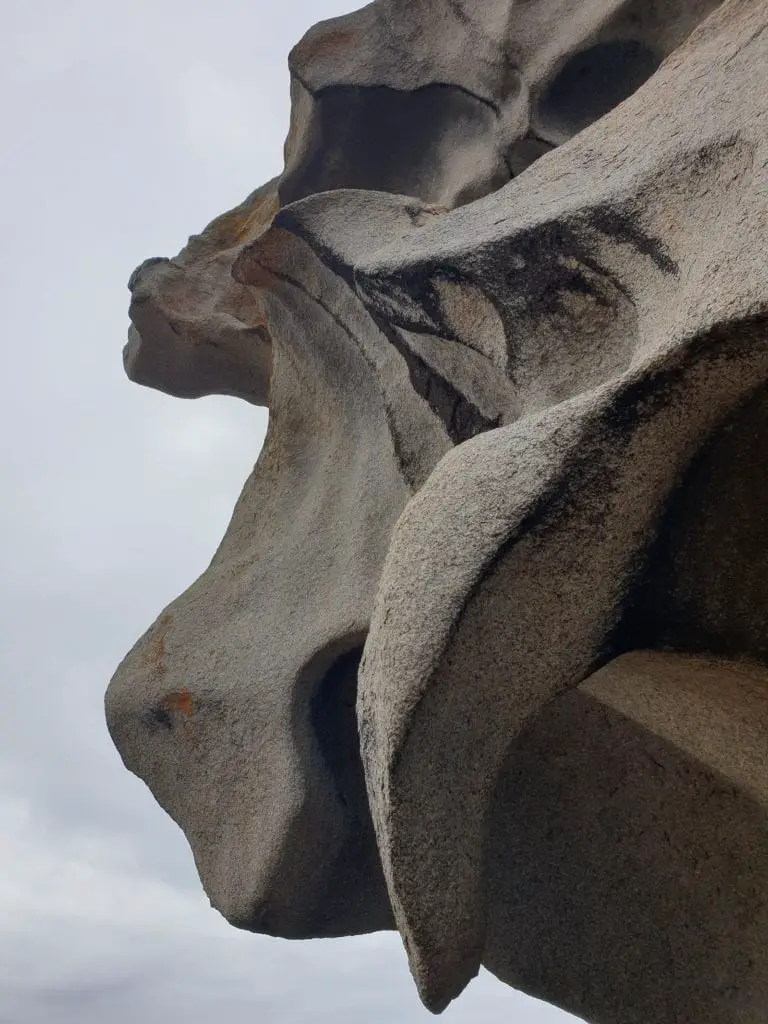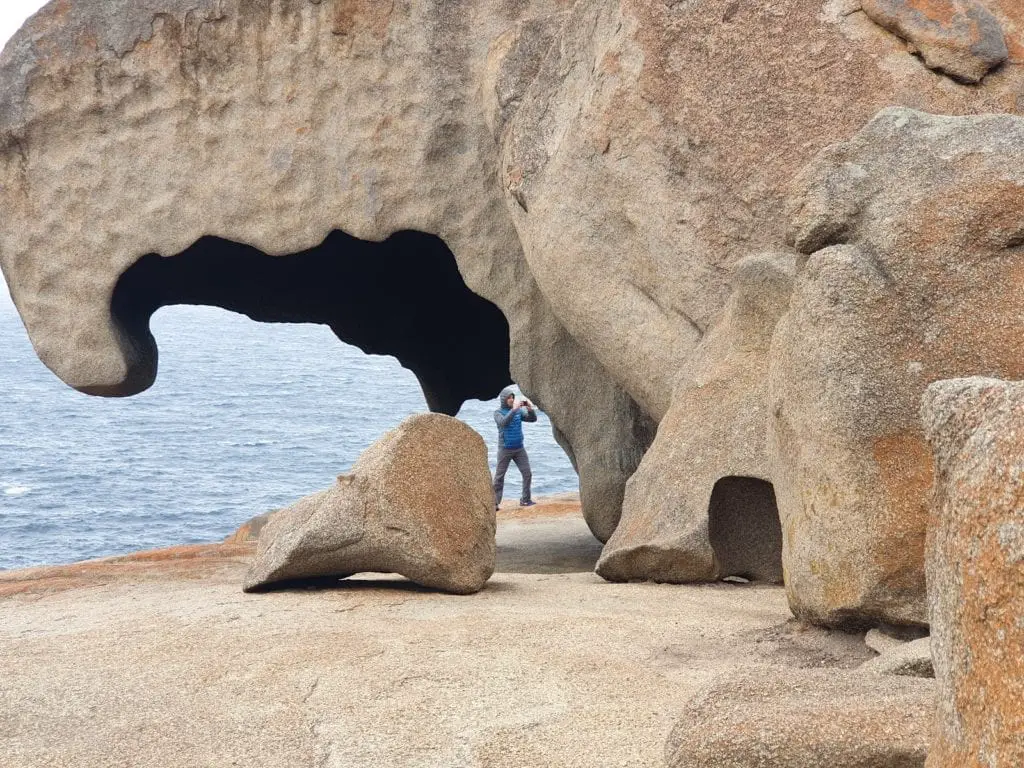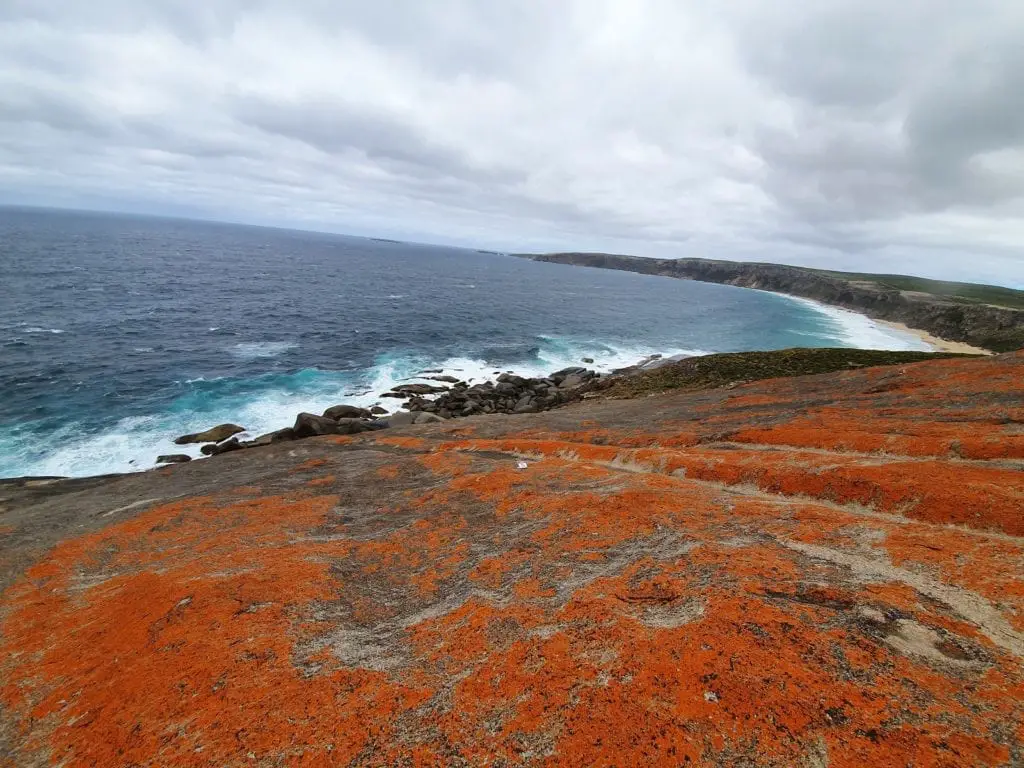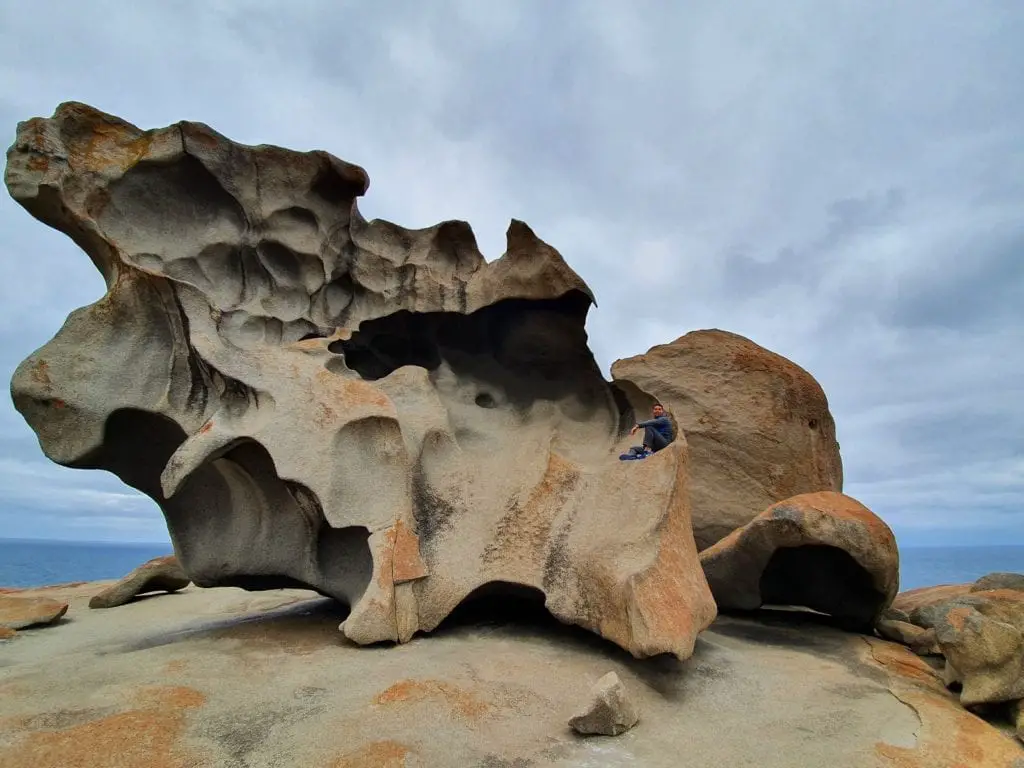 Admirals Arch
This is another impressive location in Flinders Chase National Park.
The natural landmark is a giant arch caused by erosion, with a window to the ocean.
It was blowing hard when we went and the seas were raging below. You will take the boardwalk down to the arch platform. This is also home to an incredible amount of fur seals, many lazing on the rocks below.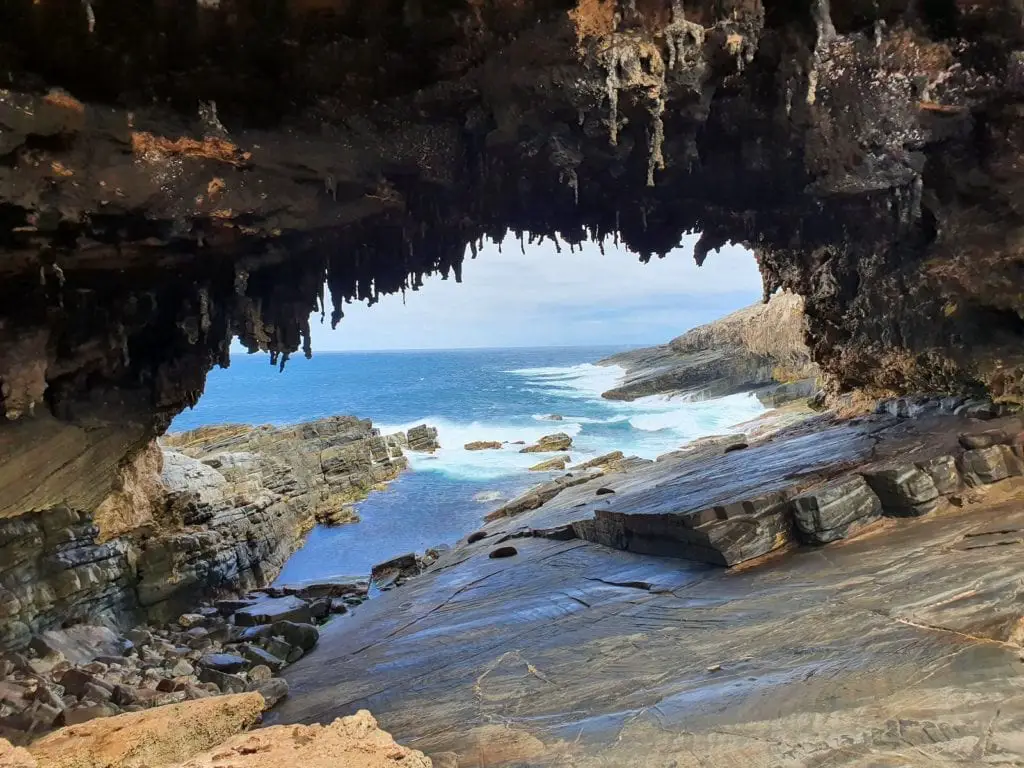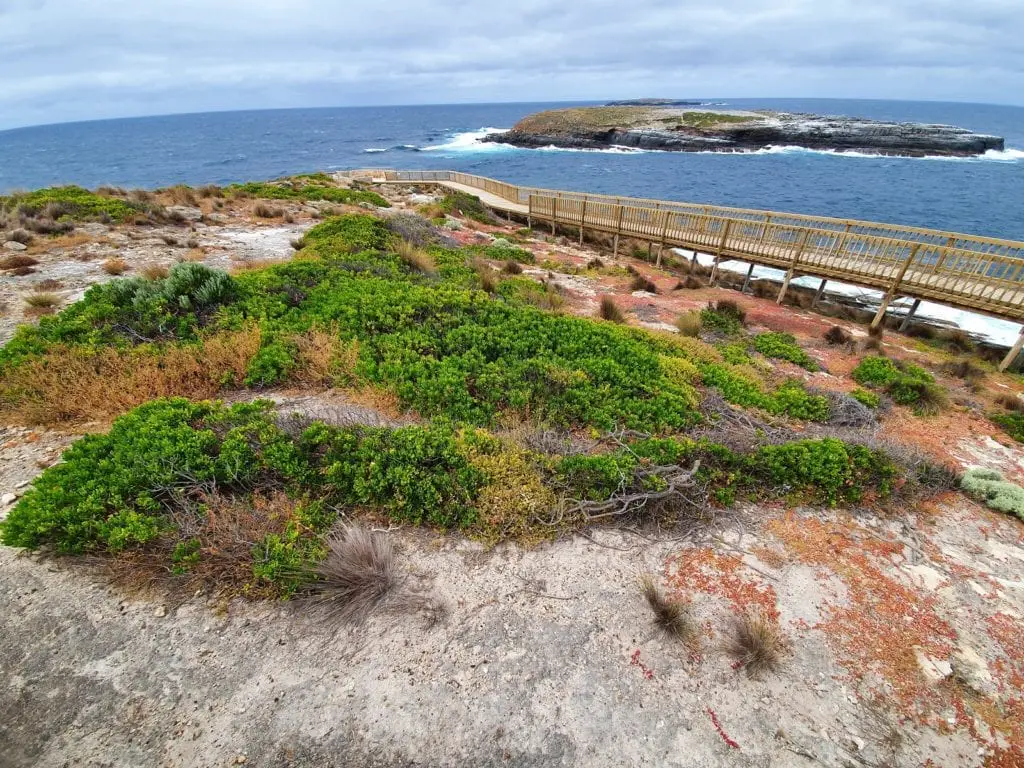 Weirs Cove
Located a short distance from the main road, Weirs Cove is a fascinating place. The views are incredible for one but the old  storage building has quite a history.
This was the supplies location where ships would come in and offload up to 3 months of supplies. It was then winched on a pulley system against the cliff face to the summit. It is even said that visitors to the island were winched up as well.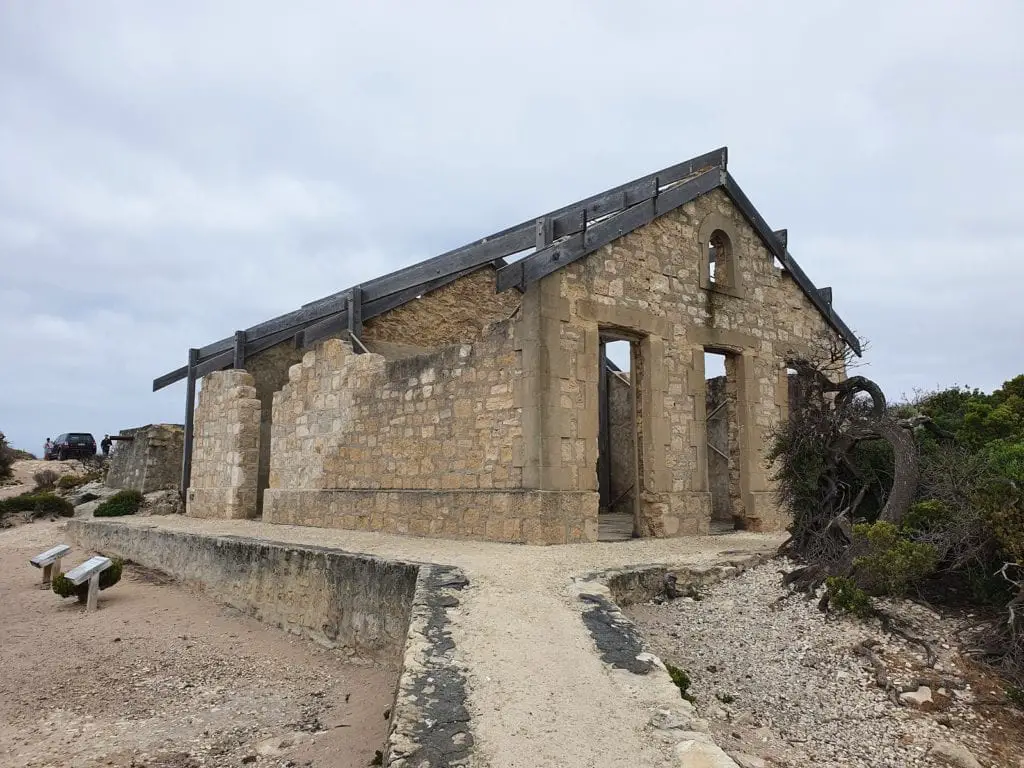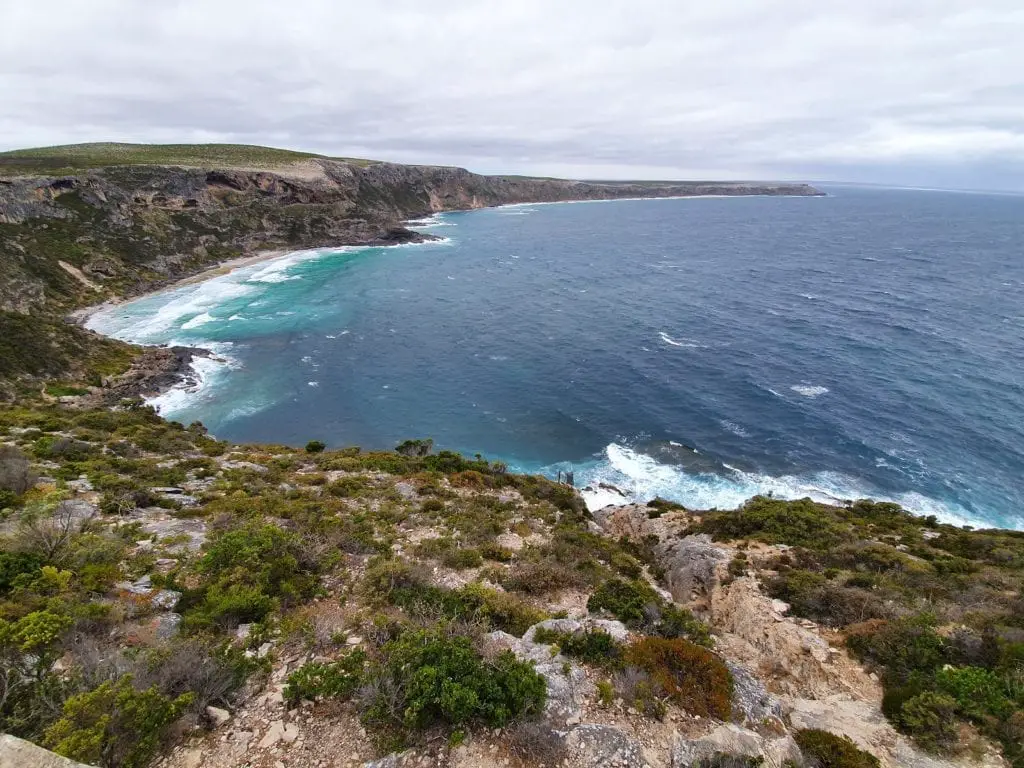 Cape Du Couedic Lighthouse
The last stop is the lighthouse which you would see on your way in. So you could stop here first.
You cannot access the building, as tours were not running at the time of this posting.
There is a public bathroom here if needed.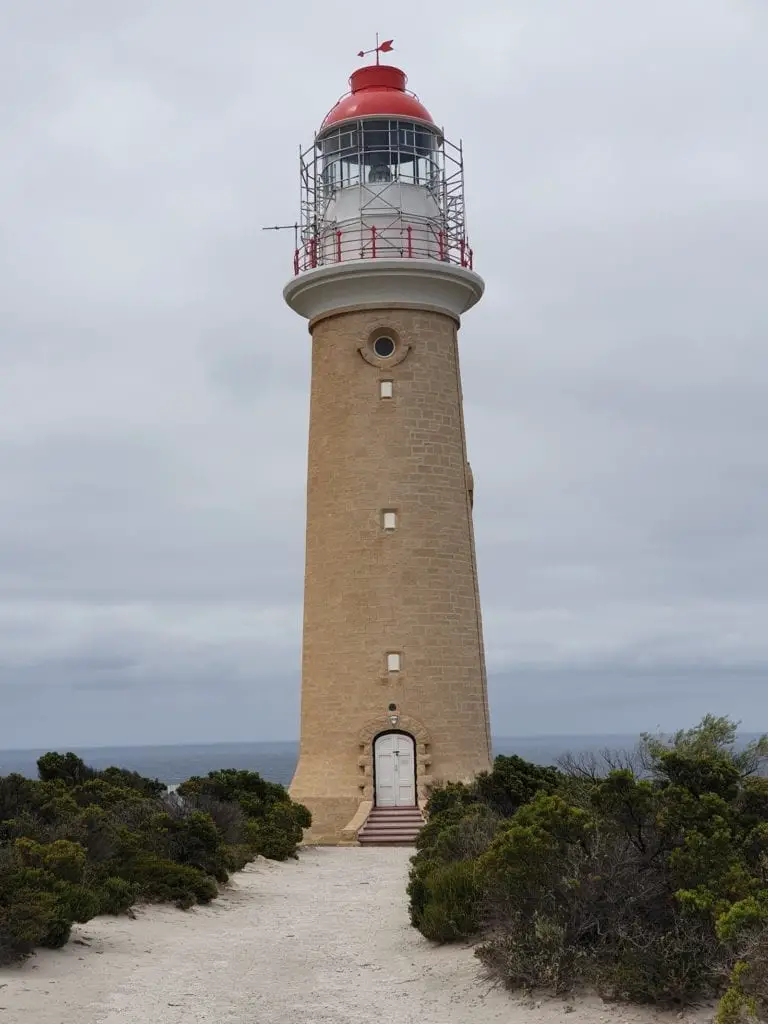 Camping on Kangaroo Island
The Western KI Caravan park & Wildlife Reserve  is located conveniently just a few minutes from Flinders Chase. Camping is extremely popular, and will be on many peoples Kangaroo Island itinerary.
We arrived in the early evening and pitched our tent before siting down for a self prepared meal. The new camp kitchen was brilliant with all your cooking facilities fully provided.
The park has several cabins but also powered and un-powered sites.
We had a few koalas in camp that night which are seen regularly here, as well as the kangaroos. It was a great spot to rest up for the night. The owners are super friendly and very welcoming.
As we lay down and drifted off into a beautiful nights sleep, the sounds of grunting koalas filled the air. I could hear other campers giggling as this went on for quite some time. Eventually, I guess I stopped listening and fell asleep.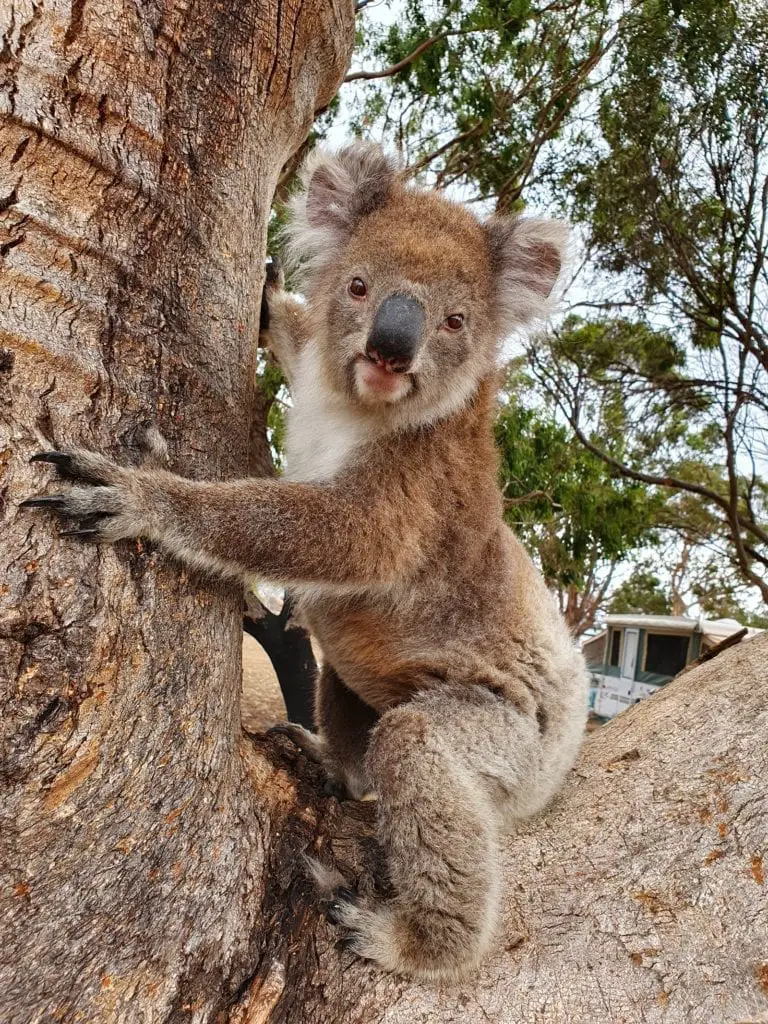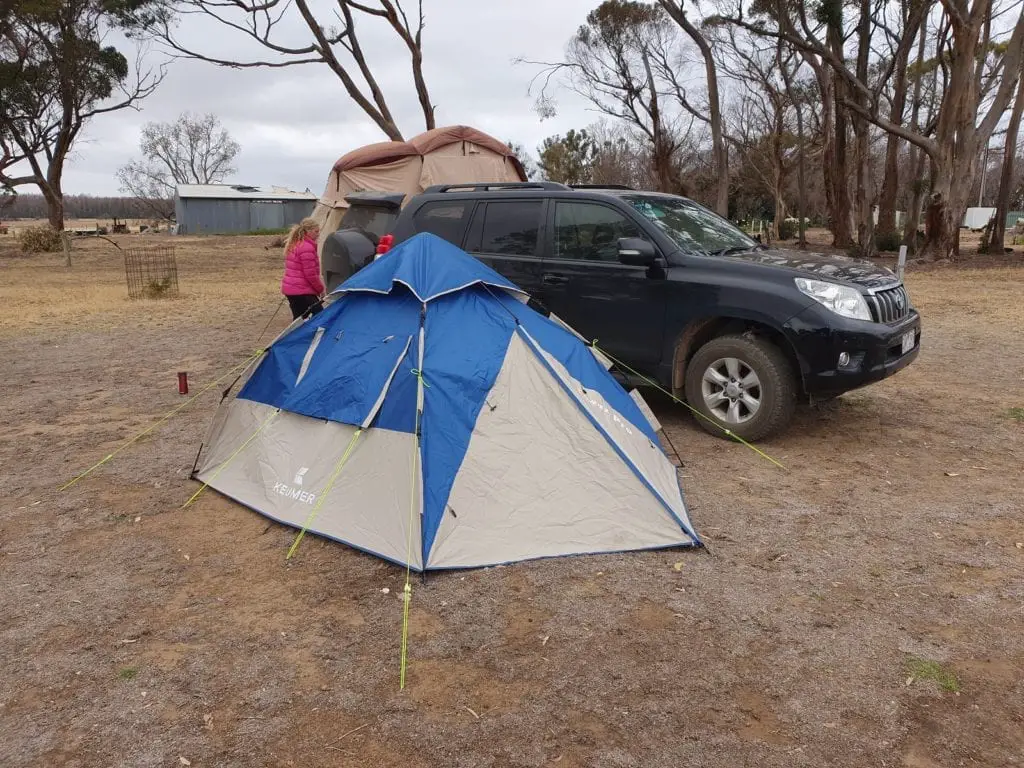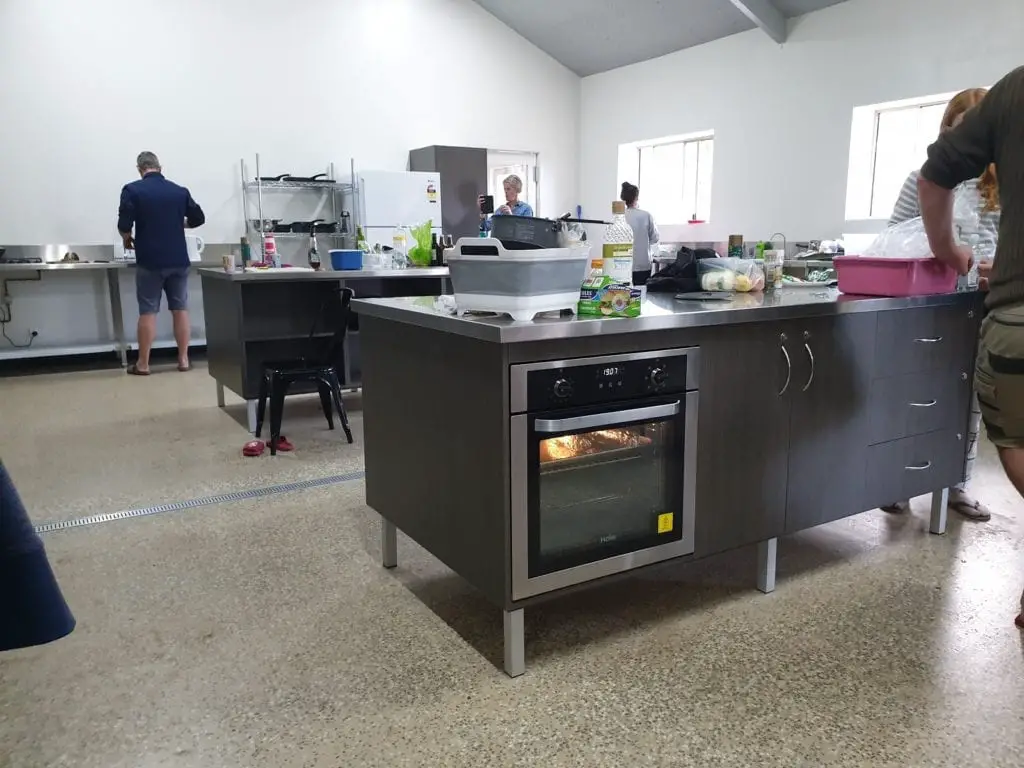 Day 3. Stokes Bay – Emu Bay- Kingscote – Penneshaw
I highly recommend staying at two different locations on Kangaroo Island if you want to see and do as much as possible. This is due the distances between places. The island is 155 km in length so it's time consuming if you plan on going back and forth from one place.
Also, if you are limited on time like we were, it makes sense to move around this way.
Stokes Bay
This is a gorgeous place with a secret beach.
From the Stokes Bay car park you'll make your way through a really cool caves system on the beach. It weaves its way through the rocks, finally emerging out the other side to a beautiful white sandy beach. So this is where all the people are!
The little shallow lagoon here is perfect for families, fully protected from the open water. People are gathered on the beach, enjoying a sunny day and frolicking in the water.
The walk along the beach reveals some rock pools up further you can explore. You can then mak your way to the Rock Pool Cafe next to the car park  for a deservedly cold drink.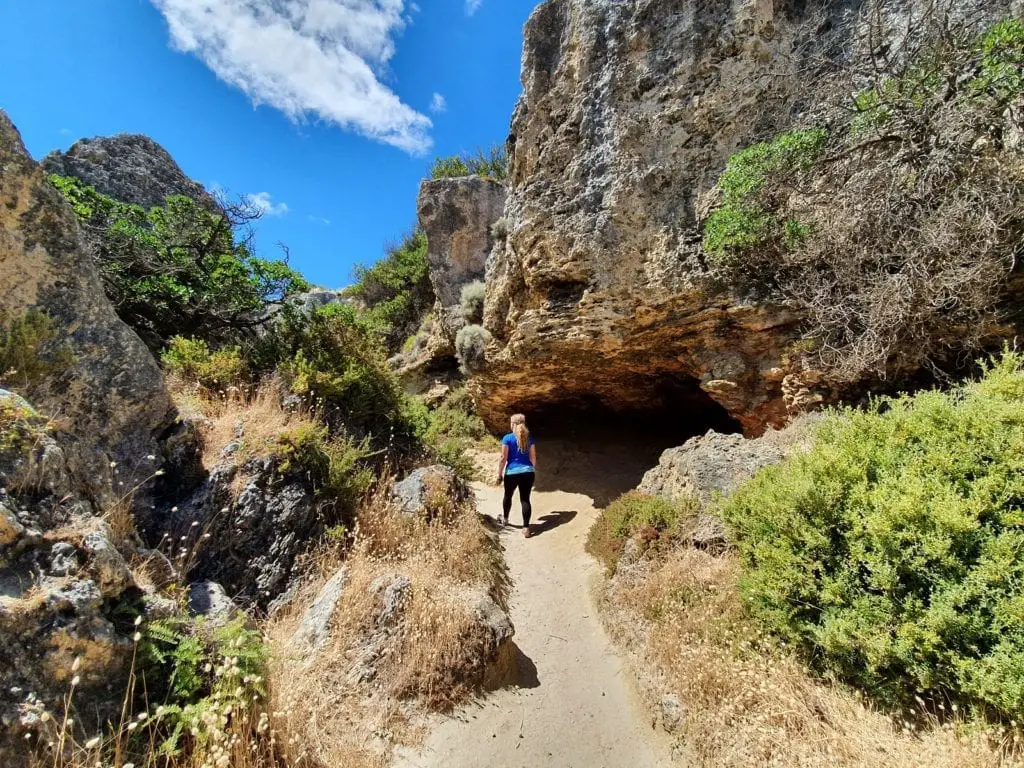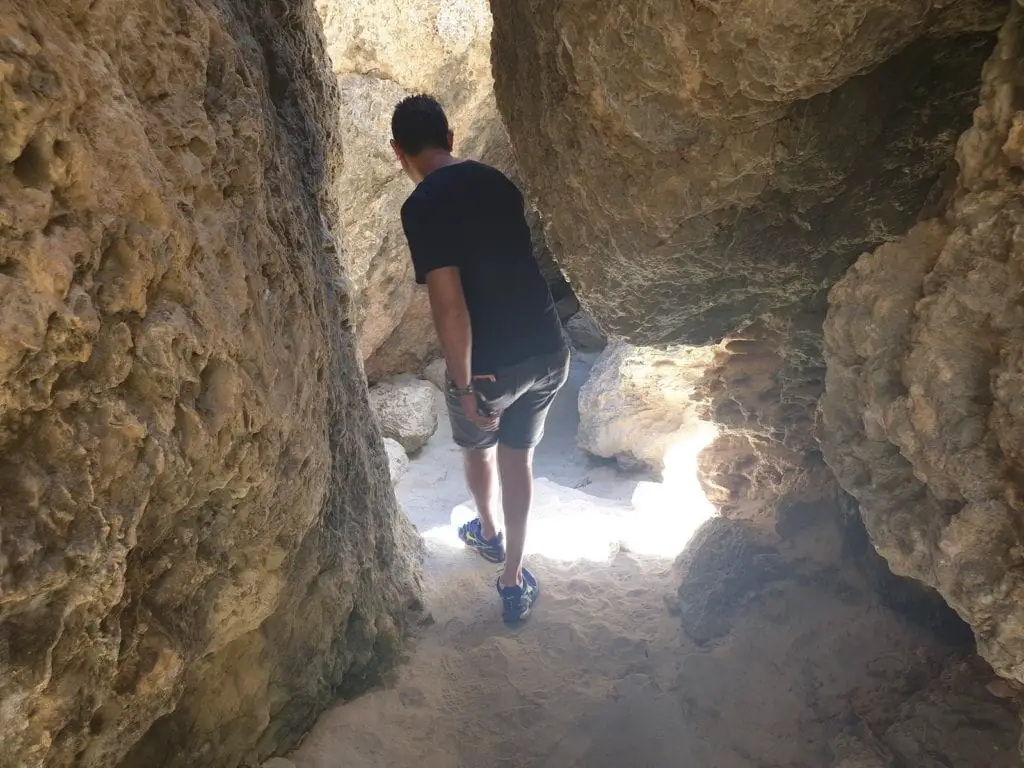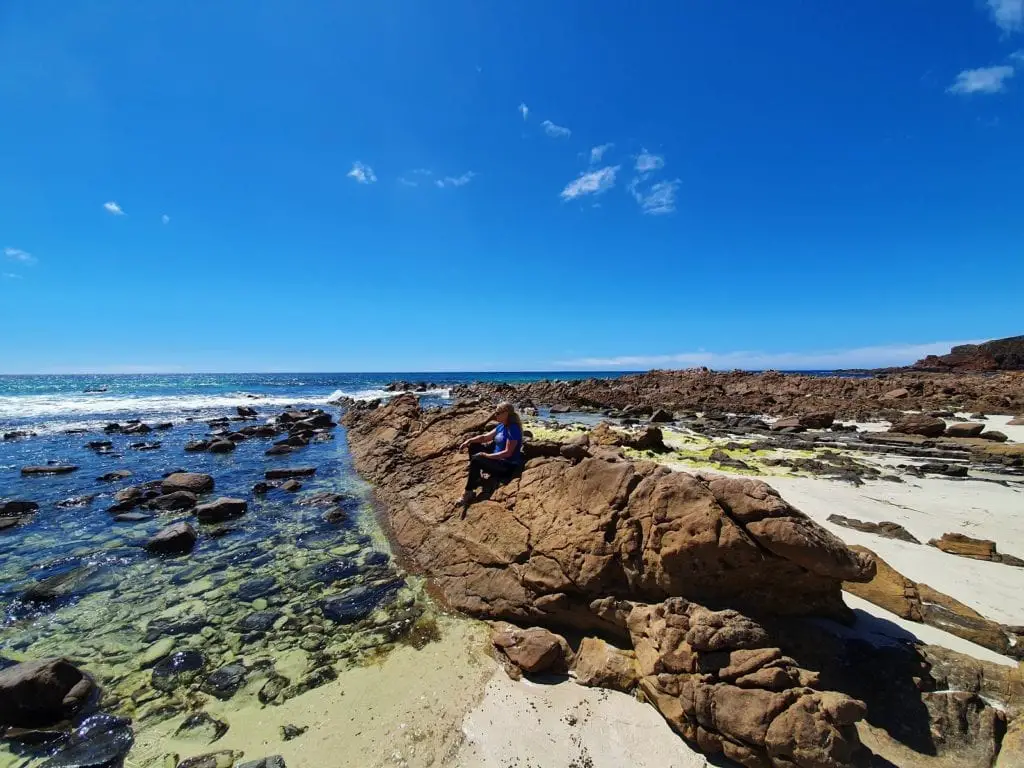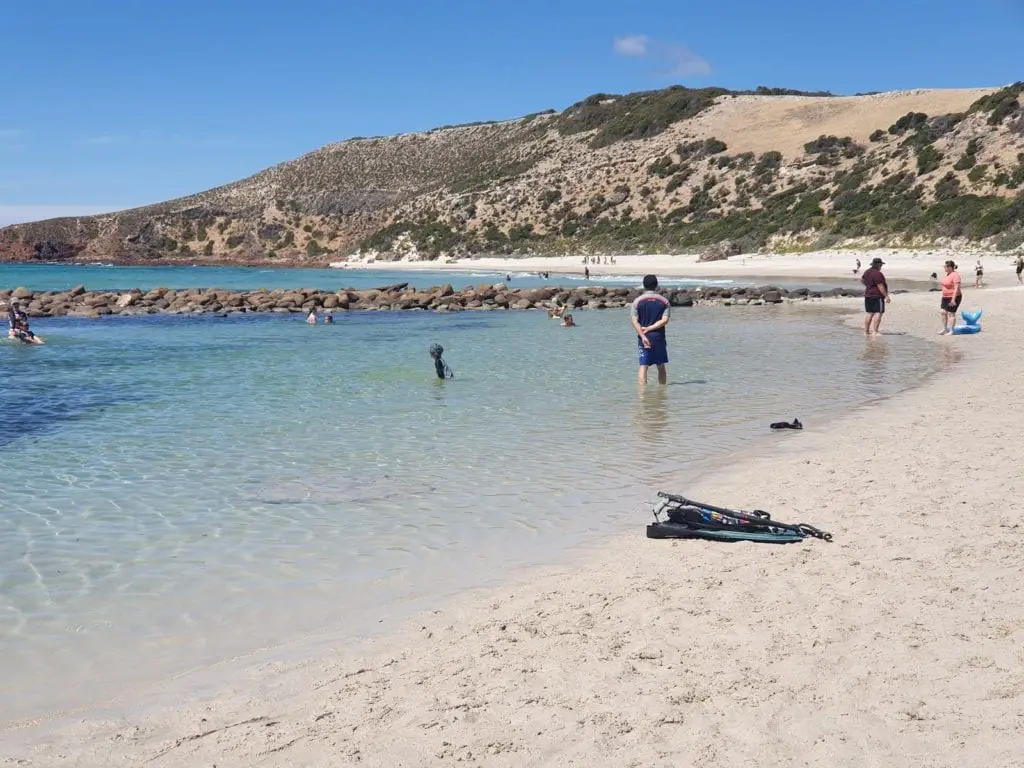 Emu Bay
On the way to Emu Bay we came across  Kangaroo Island Spirits at Cygnet River. We were ready for a feed and they sell the best slow cooked beef brisket burgers. The lawns were filled with people out enjoying a drink with friends.
Emu Bay is such a cool place. The water is pristine and looks so inviting.
But the best part, you can actually drive on the beach here. All cars can access the beach as the sand is pretty solid. Just make sure to stay on the hard surface.  We make our way onto the beach and cruised along the shoreline for the 4.5  km.
This is the only beach on Kangaroo Island you can drive on.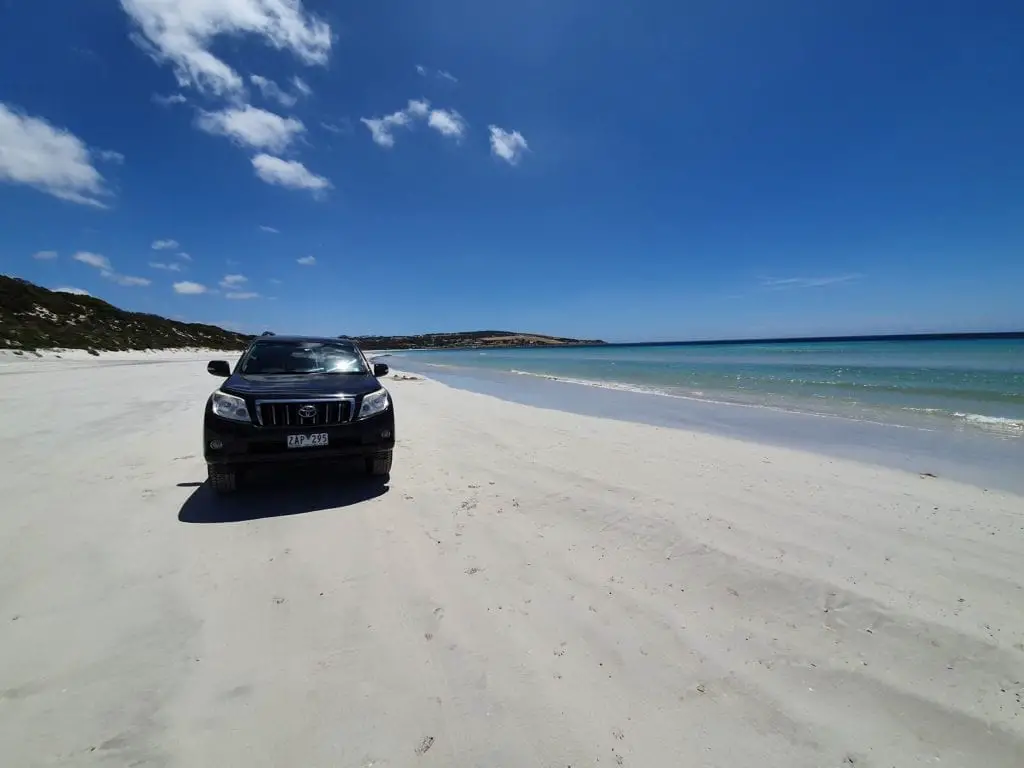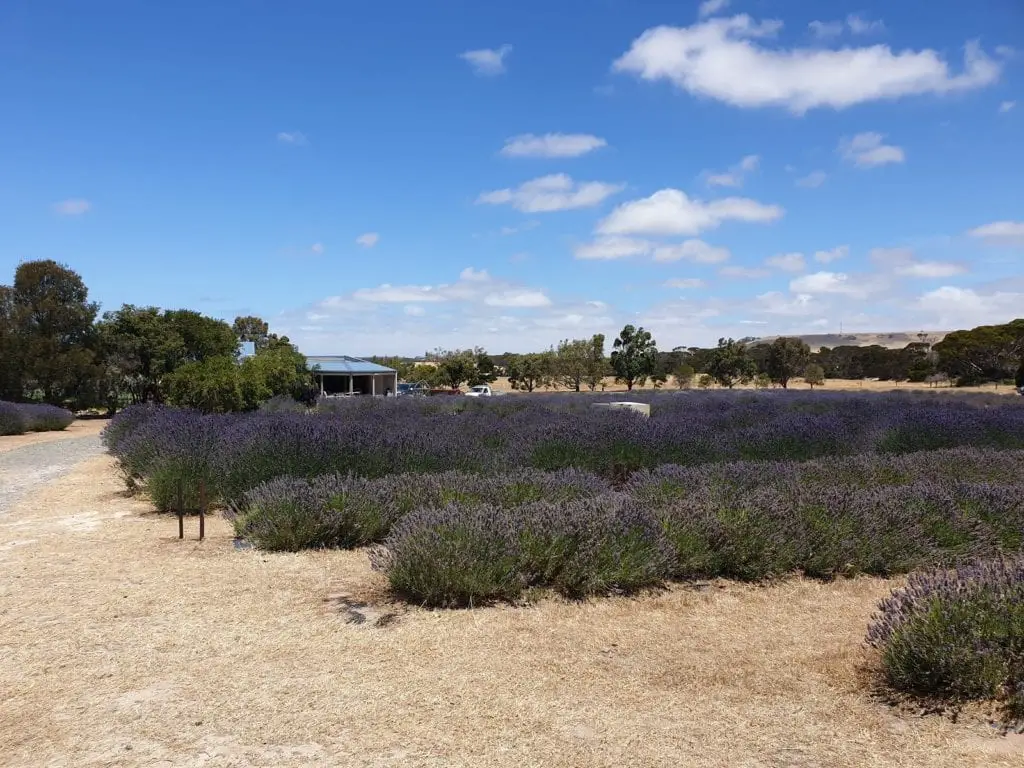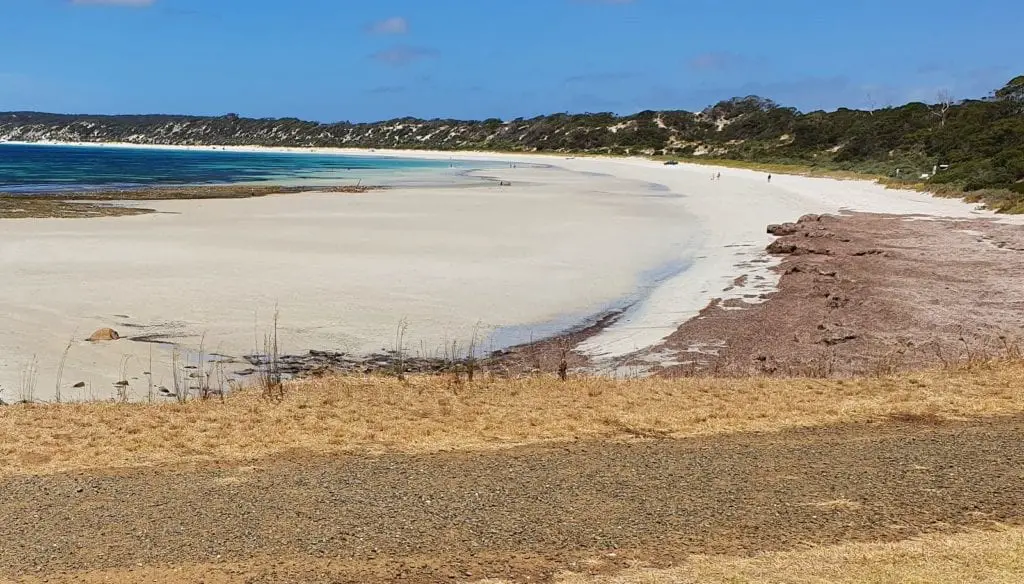 Kingscote
Kingscote is the largest town on Kangaroo Island with 1800 permanent residents.
Here, you will find the majority of places to eat, shop and stay. It is the islands gateway for visitors arriving via the airport. It was a brief visit, just gaining an overview of the area.
From here, we made our way back to Penneshaw, an hours drive away. It was back on board for the late afternoon ferry that would take us back to the mainland.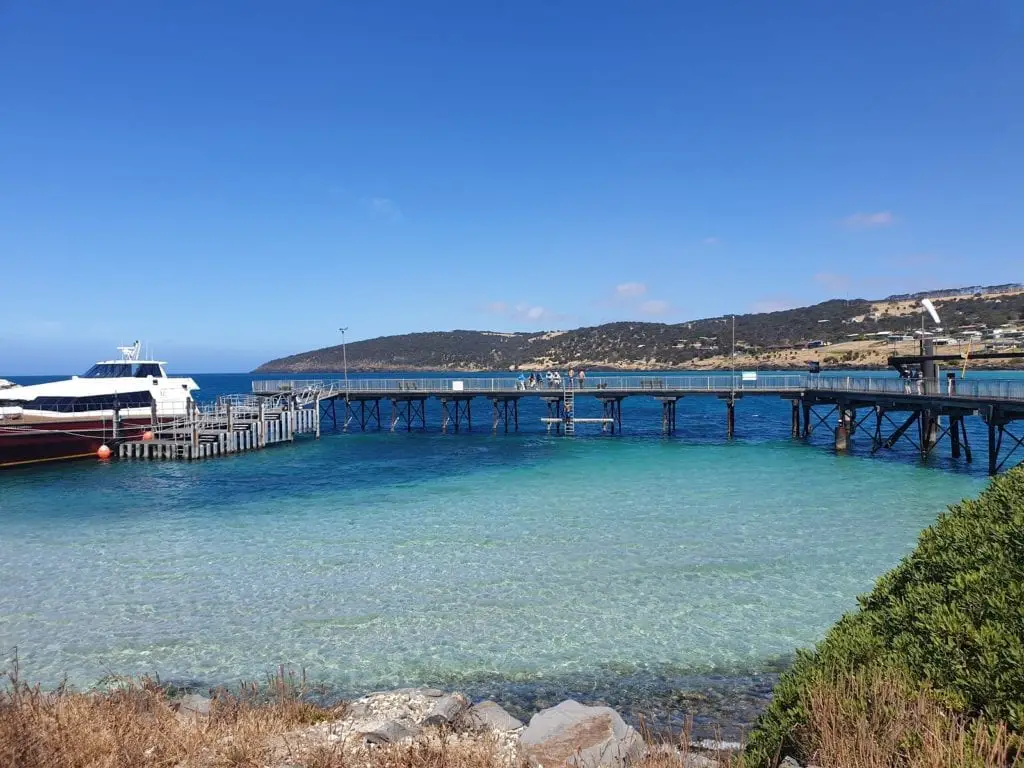 Kangaroo Island review.
Overall, we had a rushed but fantastic trip. "Simply unique" is what I think about for this Kangaroo Island Review.
Our 2 night/ 3 day trip would have been better suited for an extra day at least. But it is still possible to see so much in this time, you just need to plan each day in advance.
What we did achieve:  all the scenic locations we wanted to see were covered. Knowing we had limited time, I did my research as always to get the most out of it. Staying at opposite ends of the island worked well too, and was definitely the best choice.
What we didn't achieve: any additional activities such as wineries,  tours and simply, downtime. We didn't have that luxury.
If you are here to only see the beauty of Kangaroo Island, and just want to experience the best of it, 2 full days is doable. Just be up early and ready to go, so if you do come across somewhere you want to pull over, you have time.
This  Kangaroo Island itinerary shows you how you absolutely can make the most of  a short stay. You simply must see it for yourself.
For all accommodation options on Kangaroo Island, Booking.com has an extensive range to suit all budgets.
This post contains affiliate links. That means I may receive a small commission at no extra cost to you, and it keeps me alive and running.