As an Amazon Associate I earn from qualifying purchases. I get commissions for purchases made through links in this post.
To be able to travel is one of life's greatest gifts. So when planning a trip overseas you can ultimately afford, it means being well organized so things go smoothly from start to finish, and you have the time of your life.
Underestimating your travel budget when planning an overseas trip leads to a huge headache. Plus coming home with a credit card blowout is not the greatest outcome.
Whether you travel as a couple, a family or solo, knowing how to plan a holiday abroad is important. It can be the difference in having a memorable time away or regretting your over zealous decisions.
I always say, paying off a holiday you've already had is a complete bummer and will only hinder any further planning until you are back on your feet. So I suggest saving for it in advance .
You can find my best tips for saving money to here below.
How to Save Money for Travel – stop wishing & start dreaming
18 Cheap Travel Hacks for people who love to travel
Planning a trip overseas- Budget or destination – which comes first?
OK, so the big questions for planning an overseas trip:
a. Have you already decided the destination, and need to figure out the costs so you can budget your trip accordingly?
b. Do you have a budget in mind and now need to figure out what fabulous place in the world you can go?
So in other words;
Are you planning the budget around the destination OR the destination around the budget?
Let's look at both scenarios and what you ultimately how o plan an overseas trip.
Your destination is already decided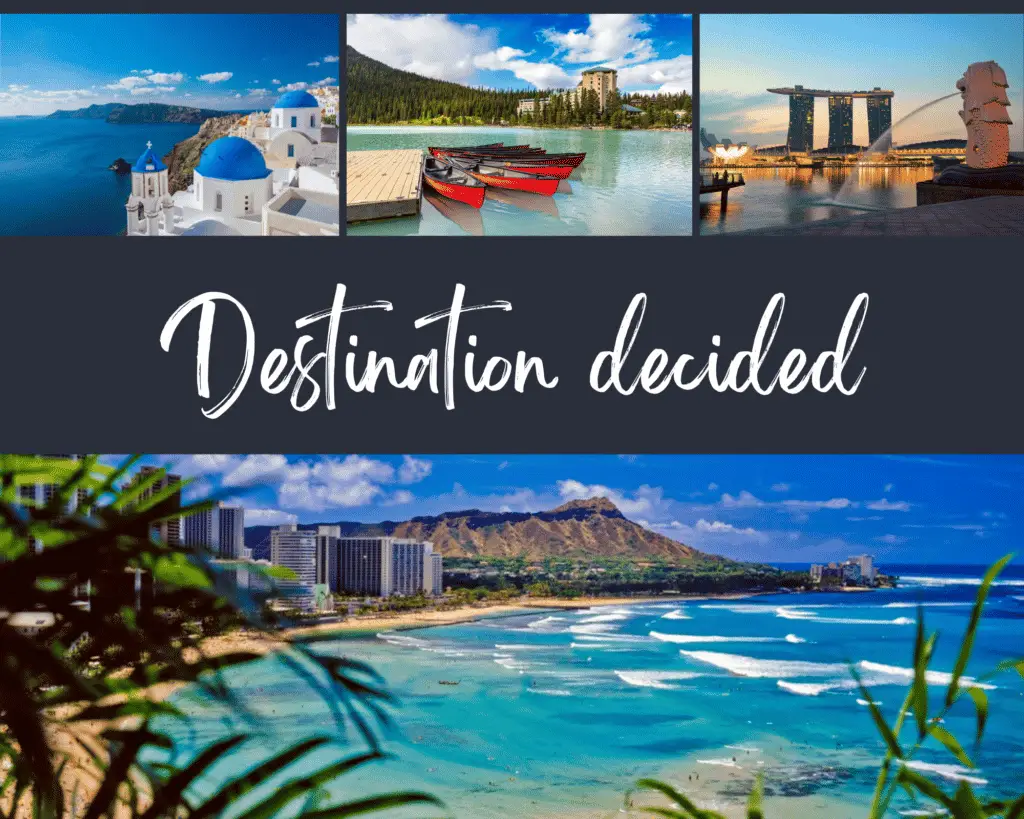 When planning an overseas trip, having the destination sorted and secured means your budget now relies on when you go and what you do.
Maybe you have decided on a trip to Hawaii, or a road trip through the Canadian Rockies. It might even be a city stay in Singapore seeing all the highlights. Wherever you choose, I'm sure it's going to be epic.
These are all the thing I would look at in this order:
Proposed dates of travel
How long you will be away
Cost of flights
Accommodation
Transport & transfers
Estimated food costs
Activities
Any other major costs that will make up your trip costs – such as visas / alcohol / tipping / vaccinations / special attractions
Once you have gathered up all the estimated costs, it's time to see if it fits your budget and also most important, do you have some surplus for emergencies or for when you have underestimated your spending? Yes, you could use a credit card for emergencies too, I guess that's why we have one.
Be sure to see my notes below on how to reduce your costs when the travel budget is too much.
Your budget is already decided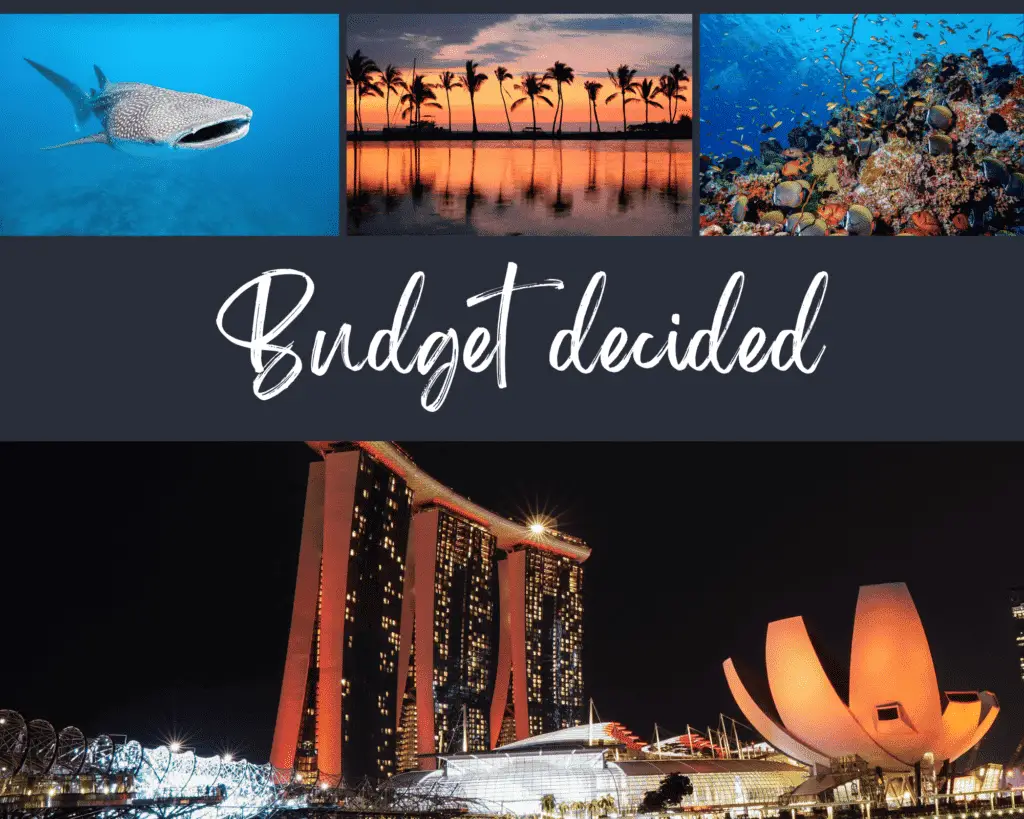 For planning an international trip, having a set budget without a destination decided is a much easier way to stick to it. It means everything revolves around your expenditure. You might also surprise yourself on what locations are much cheaper than expected.
This happened to me when looking for a destination based on my budget. Can you believe I ended up in the Maldives for less than US $400. You can read more about that below.
Fulidhoo Island Maldives – complete guide to the best local island
In order to gather up all the information on costs I would look at this first:
Choose up to 3 potential locations to search
Decide how long you plan to be away
What are the most important things you are willing to spend money on – accommodation / activities / food and dining
Will you need a tour for transport or can you do it all independently?
Once you have decided on your top 3 destinations, it's time to add all the costs up for each . So flights, accommodation, transfers, activities, food and extras.
Don't forget spending money
Once you have those finer details worked out, the remainder becomes your spending money.
Be sure to see my notes below on how to reduce your costs when the travel budget is too much.
Planning a trip abroad – what to do first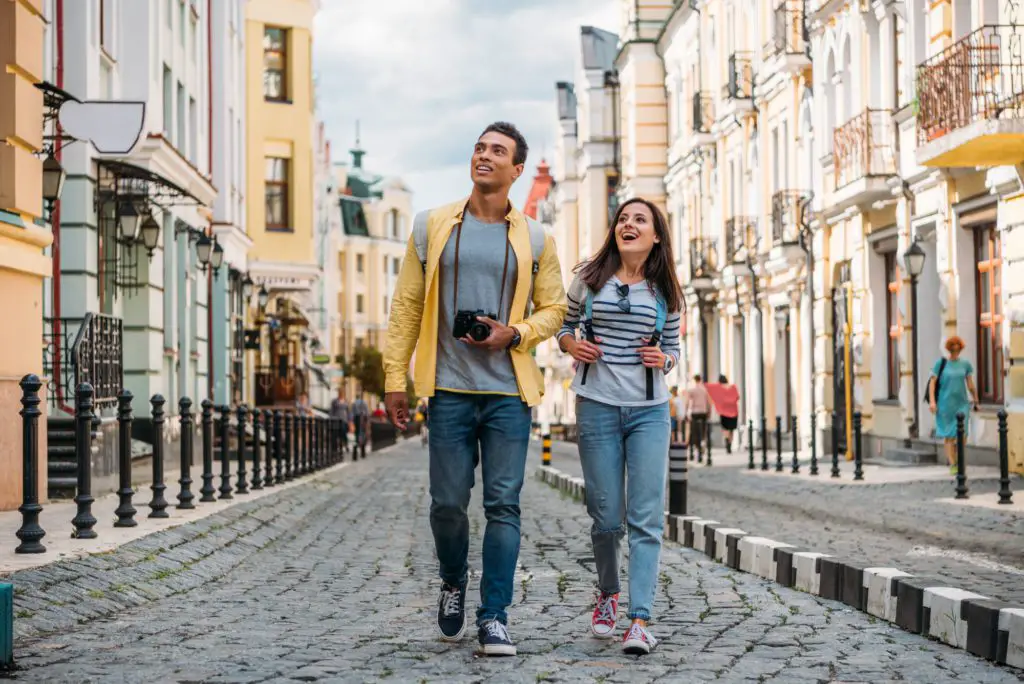 The order in which you plan a vacation overseas doesn't necessarily have to be precise, but before you get carried away with planning your first or tenth overseas trip it can be helpful to start thinking of the overall needs.
Where are you going?
a. What time of year is it there? Peak, shoulder or low season. Is there a special event on you might not know about which is driving prices up?
b. What will the weather be like? Have you got plans if it is expected to rain a lot, or even worse, be during a monsoon season
c. What is the currency conversion like for you? Will it be more expensive for you or you sure to have plenty of cash to spend cheaply.
d. What is the safety relating to this destination? Have you checked any civil unrest or outbreaks in that region.
e. Are there any cultural issues you should be aware of? Do you know the language, religion and cultural expectations such as what to wear.
f. Do you know much in general about the place you have chosen?
How long are you going for?
a. Will you have enough time to enjoy yourself?
b. Do you have enough time to get there, see and do all the activities you plan to do, and get from A to B whilst there.
What type of transport are you primarily using?
a. Are you taking flights including internal flights, cruise, bus or train? Do they all line up on a time line and allow you enough time without worry of missing a connection.
b. If you are renting a car is it on the opposite side you are used to driving? Do you need extra cover for being under 25 or any other requirements.
c. What are the road conditions like for that time of year you are planning to go?
d. how reliable is the mode of transport you have chosen?
e. How are you planning to get from the airport to your hotel?
Where are you staying?
a. Do you have transport to move freely to and from your location?
b. Does the property require any extra payments such as resort fees or incidental cover?
c. Do you require any type of accessibility such as an elevator or ground floor access?
d. What part of town is your property located in? Have you checked the safety of the area, particularly after dark?
e. What amenities do they offer that you might want or need? Free internet, a kitchenette, private bathroom, pool, business centre or concierge.
Where will you be eating?
a. What type of food will you have access to? Is it culturally different to what you eat at home?
b. Can you drink the water and eat local food safely?
c. Do you have any special dietary requirements? Can you source these easily where you are going?
d. Are you expected to tip in restaurants?
What activities are you planning to do?
a. Is it best to book in advance for more popular activities?
b. Are you flexible with dates if the activity is sold out or cancelled due to weather?
c. Are you physically fit enough? Have you checked the fitness level of the activity?
d. Will you need to tip the driver and tour leader?
What other things do you need to consider?
a. Will you need a visa? Can you get it there or do you need to apply for one before you travel. Be aware that certain countries, though visa free may require online forms to be submitted such as the ESTA for Australians travelling to the USA.
b. Does your passport need renewing before you go? Will it be valid for more than 6 months from the time you get back home?
c. What vaccination requirements are current for your destination/s. Are there vaccinations you need to get such as yellow fever, typhoid and malaria. Check the government websites and your local GP for advice. Also, what time line do you need to be fully covered. (some vaccinations are required up to 3 months before departure)
Budget tips for FLIGHTS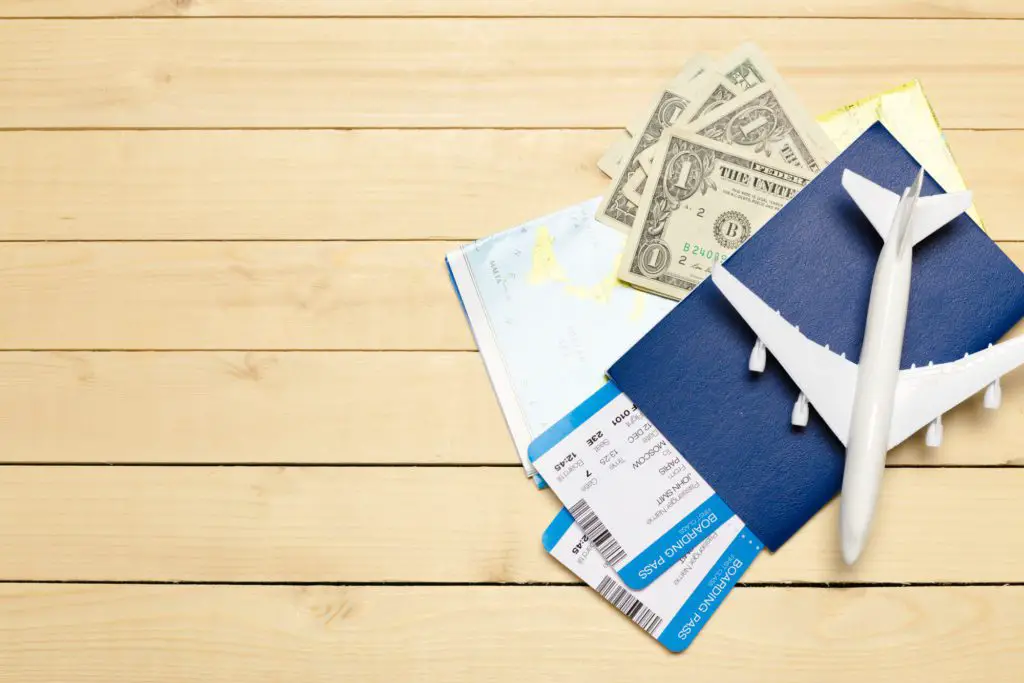 Let's look at the best ways to get your flight costs down when planning an overseas trip.
Fly mid week : Sometimes flights taken on a Tuesday to Thursday attract a cheaper flight as most people tent to take off and return over the weekend. Be sure to search all days of the week.
Fly budget airlines: with so many budget carriers in the air these days, getting from A to B has never been cheaper.
Use your frequent flyer points – I prefer to use my points on a long haul budget trip abroad, or when my budget is not looking so good. If you're not with a frequent flyer program, it might be time to sign up.
Search your flight through Skyscanner which shows all airlines on one handy search platform. Plus it can show you the entire month for comparison prices. Their rates are also super competitive. Alternately, CheapOAir has all the discount carriers for even more potential savings.
Take a non direct flight: though not the greatest way to get a discount, making a extra stop or flying a longer route can save you money. Just be sure to check the flight route isn't a 40 hour flight.
Sales sales sales: Most airlines have sales more than once a year. It might be a birthday sale or anniversary sale. You can always google to see when the airlines had sales the year previous for an indication.
Book 8 to 16 weeks out – many people speculate that airlines tend to have the lowest prices during these times but really, nothing is concrete. I'm not a fan of waiting for a window to open up too close to departure. Also, what if the flights sells out? If you feel you have the best flight at the right price, I say book it.
Don't take check in baggage; if your chosen airline requires you to purchase check in baggage, consider whether you can get away with just carry on. I never take luggage to places like the Maldives or most beachside locations anymore, and have managed to pack a small carry on with clothes, toiletries and camera just fine. It usually saves me around $50
Combine your flight and hotel together: Expedia have great package deals and discounts when you combine your flight and hotel. You can pick your carrier and a range of accommodations. You can also opt for a flight with only a partial amount of days in a select hotel. I have used them before and couldn't beat the price.
Budget tips for Accommodation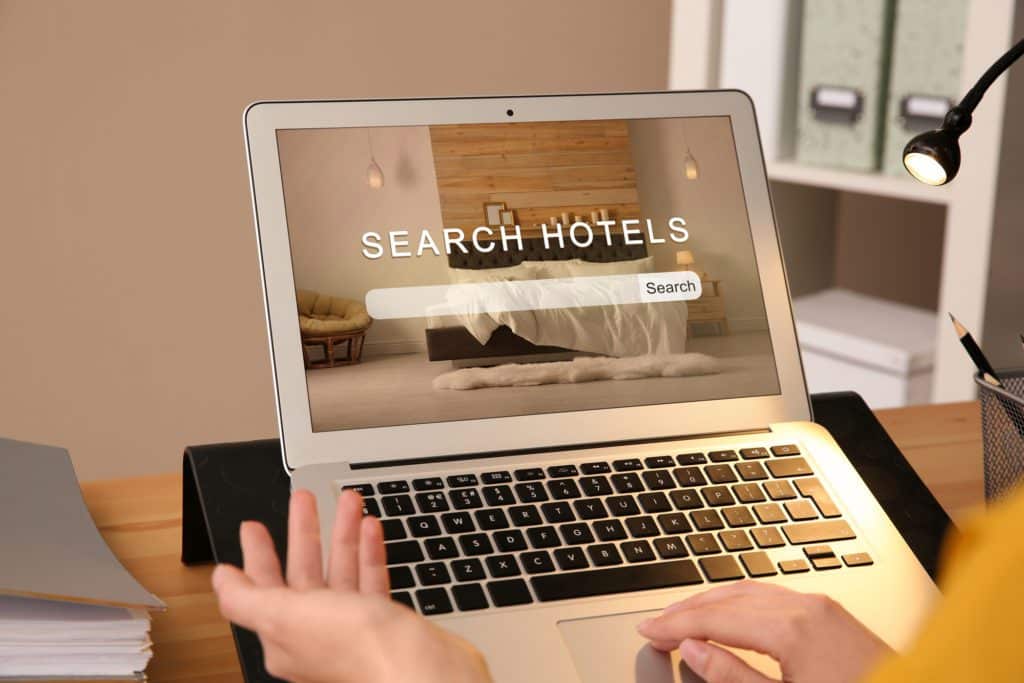 Accommodation is another one of those high costs but usually comes with several options to help make it cheaper.
Stay further out: staying a bit further out can noticeable be cheaper. Even a few blocks over can make a difference. This can apply to all locations such as beach side destinations, National Parks and tourist hot spots.
Consider a hostel with private room: everyone knows that a hostel is a cheap option, but many who don't like the sound of staying in a hostel never consider booking a private room. If noise and the type of patronage is an issue check the website for reviews and an overview of whether it has a party reputation. Sometimes the location is an indication. I stayed in a hostel in Alaska and it was super clean and quiet. On the other hand, if it was Cancun, I'd opt out.
Compare all hotel searches: Booking.com, Agoda and Hotels.com all offer varied accommodation options. I particularly love Hotels.com as you get every 10th night free and you merely need to create an account. I've racked up over $5,000 in free nights simply by using hotels.com as my preferred booking platform. I also like Booking.com simply because they have so many properties to choose from.
Private rentals: for the price of a hotel sometimes you can pay the same amount for a private studio or entire home. The added benefit of having a kitchen to cook your meals (saving you money) and laundry facilities is usually worth the extra money. VRBO have a huge range of properties all across the world.
House Sitting: I love this idea of looking after a persons house for FREE in exchange for keeping the place looking tidy and looking after their pets. Maybe you'll need to walk the dog or change the cat litter every couple of days. You can sign up for a small fee (approx$20) and start applying for house sitting opportunities. See more here- mindmyhouse
Stay longer: sometimes a property will have a discount if you stay longer. Usually this falls between 5 to 7 days but sometimes it can be less. i find resorts are more common for this, so check whether the price changes per night the longer you stay.
Budget tips for Transport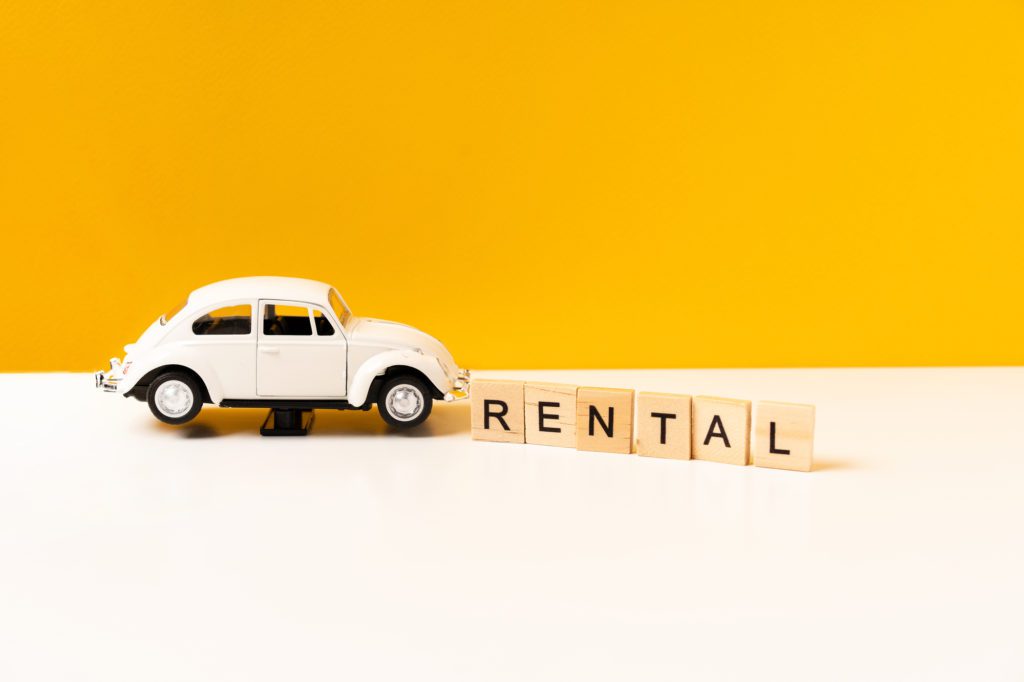 Transport is one of those costs that can add up easily when you are not prepared. It also becomes hard to work out when you safety use public transport or not, particularly if you are out late at night.
Ride share: with Uber taking residence in over 85 countries, the ride share giant is increasingly popular for tourists. For a map of what countries you can find Uber, see here – uber countires
Free city transport – there are some countries that offer free transport for locals and tourists like. Though it is a small pool that provide free public transport, others are slowly trailing it. hopefully this will increase over time. Why not try a google search of your destination to see what you can find.
Public transport: Trains, buses, ferry's and water taxis all make up public transport and it can be much easier than driving around an unknown city or country. Places like Singapore and Japan have one of the most efficient train services I have ever used. And it usually isn't too expensive for a day pass. Europe also has the Eurail Pass for those wanting to venture from country to country.
Hire a bike: I actually used an electric bicycle to get around the city of Hiroshima in Japan. It was free with my hotel stay and a great way to see a city. Hiring a bike is not only a great transport option, it's a good way to keep fit too. Many cities also have bikes and scooter hire dotted all over the city. You simply grab n go for a small fee or sometimes free.
Airport transfers: Getting from your terminal to your hotel can be costly. All major airports offer ride share via shuttle but i would also research buses which will be much cheaper. I took a bus from Kuala Lumpur airport into the city because it was a so far away. The shuttle one way was US$20 and the bus only $2 so check first.
Car Hire: Car rental companies really can differ in price so search around. Rentalcars.com and Klook will search all the big car rental companies. Also, airport car rentals tend to be higher in price so try to go off site where you can still access free pick up and drop off.
Walking: use for feet for transport as you navigate the streets and get some free exercise at the same time. it's a great way to see more of a location from a local's perspective. Discover new digs and get a better insight into your location.
Stay in the one place: the more you move around the more you will ultimately pay for transport. So consider less locations and therefore cheap transport costs.
Stay in larger cities: city stays is where you will always find plenty of transport options compared to more remote locations. Without a car, it may be hard to get around. Choose your location wisely if you don't want to rent a car or take internal flights.
Budget tips for Food Costs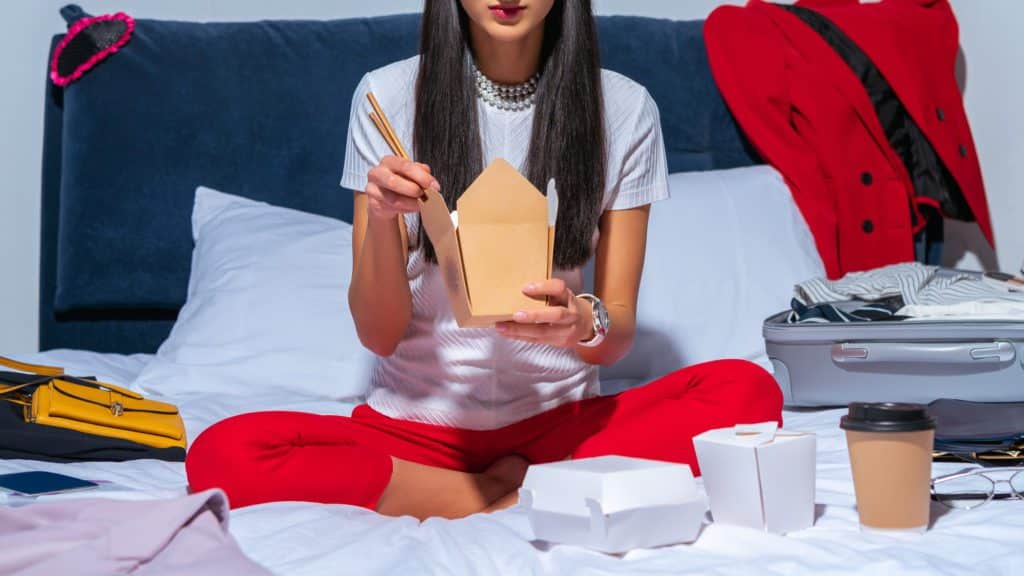 The great thing about budgeting your food costs is the amount of options you will have.
Go on a cruise: cruising can be very cost effective. A hotel room, transport, entertainment and of course-food. in fact, once you have paid your cruise fare, you don't really have to splurge on anything else if you choose not to. It's a good way to easily estimate your budget.
Eat the local food: Markets and street stalls not only give you a chance to try the local fare but it is usually very cheap too.
Stay in an apartment: Weight up the daily cost of food against the extra you will pay for an apartment or a hotel with kitchenette. Many times it is well worth the cost and the extra comfort.
Book a hotel with free breakfast: the free breakfast is a huge plus for many, including myself. if I can start the day with a decent meal, I tend to have a light lunch and only need to then worry about buying dinner. You an always throw a couple of pieces of fruit from the breakfast buffet in your bag too.
Shop at larger supermarkets: When purchasing water and snacks i tend to try and head straight to the bigger supermarkets. A bottle of water for $3 compared to 0.75 cents adds up over the time you are away, so don't discard this handy tip.
Pack a cooler; for road trippers, i love to buy a cheap cooler (esky) and fill it with sandwiches and drinks for the road each day. You can then pullover in some great random spots and enjoy your meal.
Make lunch your biggest meal: if you are planning on dining out, make lunch your main meal for the day. Cafes generally offer cheaper meals over dinner restaurants and also have more lunch specials. So even if you have your eye on a particular restaurant you want to visit, try eating there for lunch instead.
Budget tips for Activities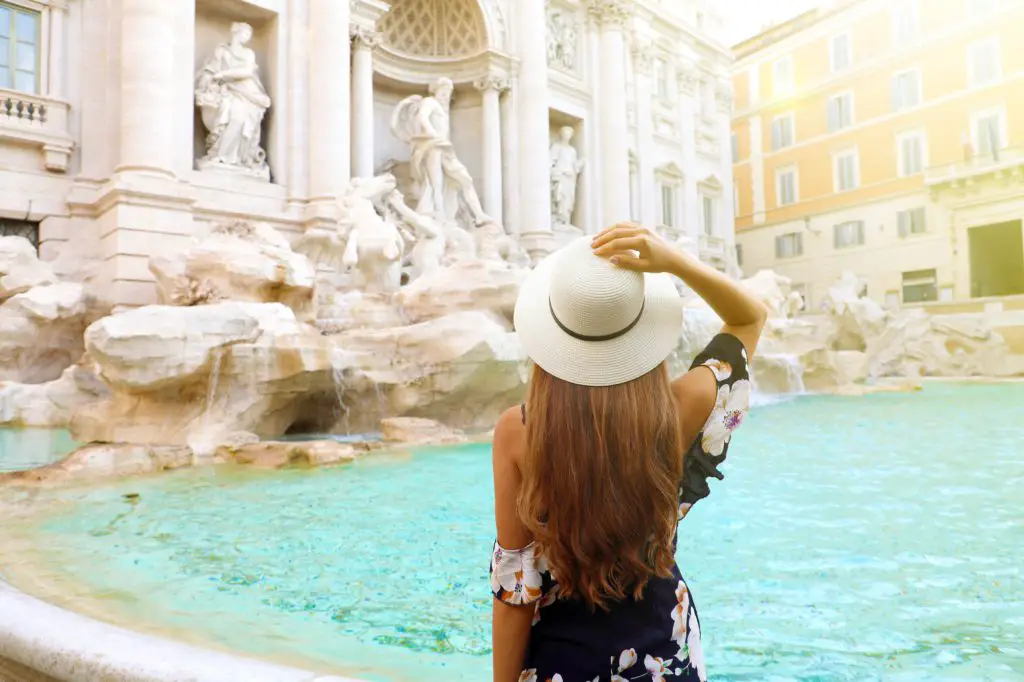 Activities are a big player in many travel itineraries. i would never suggest not doing something that you absolutely want to see or do. I think it is part of the travel experience right! So here are some other options to get your costs down.
Look for free activities: there is always something to see or do for free so why not work your itinerary around doing just that. If you especially love parks and gardens, museums and architecture, you can do a lot for free.
Take a free walking tour: i love this concept. Cities all over the world offer free walking tours with locals. You can read more about it here and where to fin one. Freetour.com
Walk your own walk: You know you don't have to see and do everything just because it's rated number 1 on Trip Adviser. Think twice about the activities you choose and whether it is because you really want to do it or because it's what everyone else does.
Stay in a scenic location: The nicer the scenery, the less you should need to spend. National Parks are a great way to see and do so much and it's usually all free. Beach side or rural locations all offer gorgeous surrounds that don't need any extra spend.
Go with a larger crowd: When you need to cut costs but still want to do something, then go with the bigger crowds. Small group tours and activities under 10 people tend to attract a higher price than a larger bus type tour. Always compare the prices.
Pre-book your activities: early bird specials such as booking online can save you a few dollars. It also means skipping the line and saving time. I always use Viator for my day tours, but Get your Guide is also very popular. For tickets to attractions go with Klook for the biggest range.
Look for time savings: I once visited the Seattle Space Needle and noticed that tickets before 10 am were cheaper than any other time of day. This also happened when visiting Antelope Canyon in Arizona. So double check if there are cheaper time options for your tour before you book it.
Planning an overseas trip conclusion
Now that you have a better idea how to plan a vacation abroad, you can get started on working out all those finer details.
Remember to either;
Choose your destination – plan your itinerary- work out your costs – budget down till you are happy with the outcome
OR
Work out your budget – choose some favourable destinations – work out an itinerary for each – work out the costs – choose your best option
Happy travels!
My Go to travel Resources
CheapOAir – for cheap flights including all the budget airlines
RentalCars.com – why look at one car rental company when you can look at them all.
Expedia – Book your flight and hotel together to get great discounts. Plus cruises.
Booking.com – the biggest range of hotels / apartments / entire homes
Hotels.com +plus get a free night for every 10 nights you save up.
VRBO – for private rentals on condos, cottages, homes and apartments.