As an Amazon Associate I earn from qualifying purchases. I get commissions for purchases made through links in this post.
I decided to write this Air Asia review because I initially had my doubts. Too many negative reviews had me questioning whether to search elsewhere. But I went anyway and my experience with Air Asia ended up being a very positive one.
I would definitely fly with them again.
The budget carrier
Not everyone is suited to a budget carrier. Those extra comforts we get on a full service carrier can make an uncomfortable flight more bearable. But if you are prepared to just worry about getting to and from your destination, it may be the perfect choice.
Air Asia initially got my vote because it provided the quickest route to my destination.
I completed 4 flights that would take me to Kuala Lumpur and on to the Maldives before doing the same in reverse.

The price
Oh what a bargain! I just couldn't help myself. But was my Scrooge attempt to snap up cheap flights going to pay off? Absolutely!
I hadn't seen prices this competitive in years. It seemed too good to be true. Sure food and entertainment was not included but the overnight flight helped with that.
I slept a fair portion of my 8 hour flight from Melbourne to Kuala Lumpur.
Seating
Seat width appeared slightly tighter than usual, leg room no different than I had experienced.
My travelling companion and I were separated on both outgoing flights and we couldn't change this fact without paying for specific seat selection.
Lucky enough we had two window seats so on our flight to Kuala Lumpur I offered up my seat to the man in front and my friend and I were able to sit together. The flight to Male was half full so we easily moved into a whole row each.
If we couldn't have changed seats would I have thought differently of my opinion of Air Asia?
I don't know. But if I had any doubts , what happened next was going to make up for it.
On the way home I kindly explained at check in that we had not been given seating together so far. With that we were allocated the "quiet zone".This is an exclusive area between rows 7 and 14. No young kids allowed and priority disembarkation .The area is curtained off from the rest of economy class. It was quiet and comfortable.
I was very pleased with the service they had provided all in a courteous manner.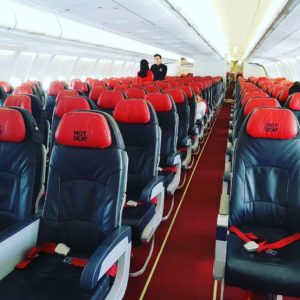 Entertainment
If you want to watch movies you can pre book at a lower price but I thought I'd just wait and see. The entertainment is not amazing, not much to choose. I suggest taking a book, magazine or games to keep you occupied just in case.
If you have the opportunity to take an overnight flight, maybe consider it. If you are the type who can sleep on a plane, it's a good way to pass the time.
The Food
The food is pretty good as far as airline food goes. A meal will cost  you around 20 Malaysian Ringgit or about Australian $7. Water was under $2 and snacks all around $3 each. Overall, they had a good range of food and beverage.
You can see an example of prices below. (in Malaysian currency)
Usually on long haul flights and full service carriers I eat everything given to me. I'm sure it's just another good way to distract the boredom of flying. I found I arrived quite refreshed and ready to go as I had less food in my stomach.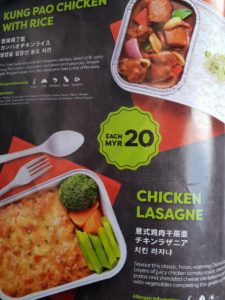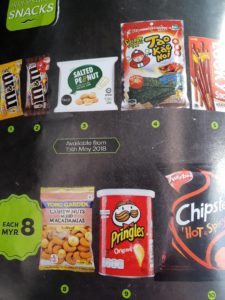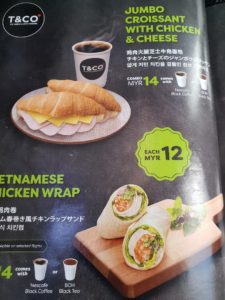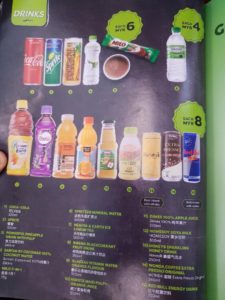 Check in 
Get this…the counters were always empty!
Not sure what's going on here but the check in process was probably the best I have encountered. We breezed in and out in record time.
The only place we had a short wait was in Melbourne. Staff were friendly and smiling. It wasn't a coincidence, I had this service at all check in counters.
In flight service and overall
The flight attendants were super nice, always polite. It's not a full service flights so you may not be seeing them as much as usual and especially if you don't need anything. They are there to help just like any other airline so call on them if you need.
Most negative reviews I had read involved a bad experience in regard to service. Policies, unresponsive emails, excess luggage and rude staff.
But I had anything but. Just don't change your mind or pack more luggage than your allowance , these low cost flights are cheap for a reason.
I pre-paid $40 Australian dollars for 20 kg allowance and stayed below that. They never once weighed my carry on.
Let's face it, sometimes you do get what you pay for but sometimes you surprisingly get so much more.
I waited till around 8 weeks prior to book my flights which is unlike me. I'm usually well and truly booked but I was a bit more apprehensive after the many complaints from unhappy travelers.
I think waiting till I felt absolutely certain about my flight and not going over my baggage allowance meant no unnecessary stress.
On time:
Lucky enough all my flights were on time. We had a slight delay out of Kuala Lumpur but that was traffic congestion rather than anything the airline could do. We still made it into Melbourne on time so I guess they made up time in the air.
Overall I could not fault my experience with Air Asia. They were well priced and on time. Budget airline are not for everyone but for some, it's the reason they can afford to travel.
I plan on using Air Asia for a trip to Sri Lanka next year. Without these low cost carriers, the airways would be less competitive and I'd be stuck at home more often.
I've had good and bad flights with many different airlines. Some delayed and even cancelled. It can happen on any flight. My objective is to get there safely at a competitive price. I think that's what most people want.
[the-post-grid id="4730″ title="Air Asia review"]