As an Amazon Associate I earn from qualifying purchases. I get commissions for purchases made through links in this post.
This ultimate Singapore on a budget guide covers everything from getting there, best budget accommodation in Singapore and all the cheapest and best activities.
I'll also show you what you can expect to pay, how to save costs in Singapore, as well as my TOP TIPS to save more money while you're there.
Reading relating to this article
Further Reading: A cheats guide to saving money while traveling.
Further Reading: 5 day Singapore Itinerary – an affordable itinerary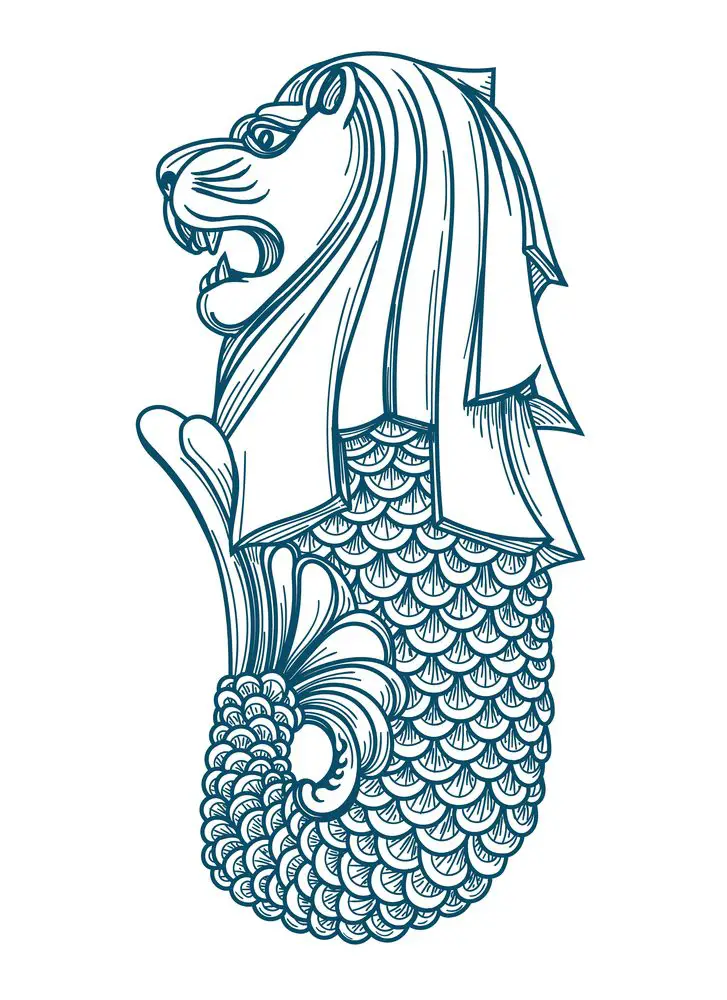 Is Singapore Expensive?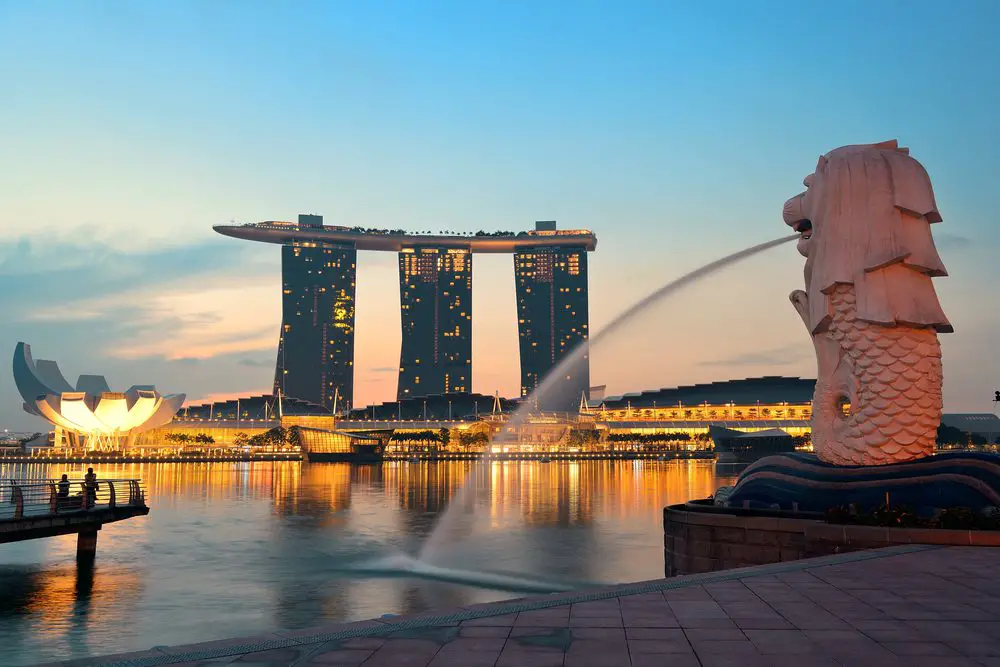 In a nutshell, yes.
Singapore is a dazzling city of spectacular scenery. It's modern skyline seamlessly stands alongside it's older and more cultural precincts, making it a destination of abundant opportunity. For many first time visitors to Singapore it is a pleasant surprise, just like it was for me.
Where to start?
During my initial research I discovered that Singapore was going to be a challenge to budget. I also didn't want to get carried away as this was just a stopover trip on my way to the Maldives.
Having a cheap vacation in Singapore means knowing up front what you can and can't afford. This is because Singapore has a lot to offer, maybe more than you first imagined. And while there are many amazing attractions that do cost money, there are also many wonderful places and sights that are completely free, which of course I will go into more detail about.
I suggest looking at what attractions you want to see and do. Once you have established how much this going to cost, you can start budgeting everything else such as food, accommodation and transport.
This is my travel motto –
Before heading to Singapore, it is worth knowing these handy travel tips.
etiquette
WiFi connectivity
language
tipping
local food and much more
Check out my other article: First time in Singapore – 16 handy travel tips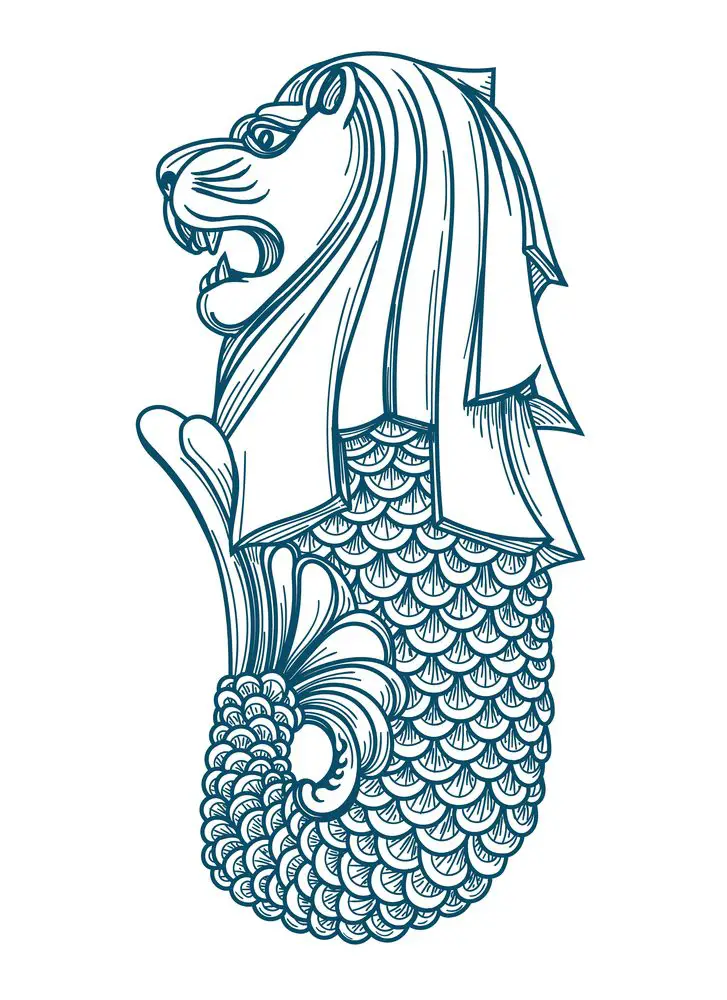 Budget trip to Singapore – daily costs
Starting with at least an idea of how much you want to spend is a good way to understand what it is gong to take to make it happen. After some initial research you might discover Singapore is more expensive than you expected. Or even cheaper than you thought. Wouldn't that be awesome!
Your budget trip to Singapore comes down to the type of travel you usually do. Are you a backpacker or a couple wanting to keep their costs down.
Now, let's face it, everyone's budget is going to be different.
Are you a couple, family or flying solo?
Are you looking a dirt cheap holiday or just cheaper alternatives to everything?
Firstly, I always suggest having some backup funds in case…well just in case.
Type of travel – back packing
dorm room in hostel
no paid attractions
MRT transport (train)
local food at Hawker Centres (street food)
Expect to pay USD $40 – $60 / AUD $50 – $70 per person per day
Add a mix of paid attractions – an additional US $40 – $60 / AUD $50 – $80 per day
Type of travel – Budget travel – based on 2 people
cheap hotels in cheap locations – twin share
a mix of free and paid attractions
MRT transport (train)
a mix of street food and cheaper restaurants
Expect to pay USD $110 – $130 / AUD $150 – $170 per person per day
Type of Travel – budget travel- family of 4
cheap hotels – sharing the same space
a mix of free and paid attractions
MRT transport (train)
a mix of street food and restaurants
Expect to pay USD $300 / AUD $400 per family per day
If you can truly pinpoint what brings you to Singapore, what attractions and activities are unmissable, and what you are willing to sacrifice (budget on), you can end up having a cheap vacation to Singapore that you will love.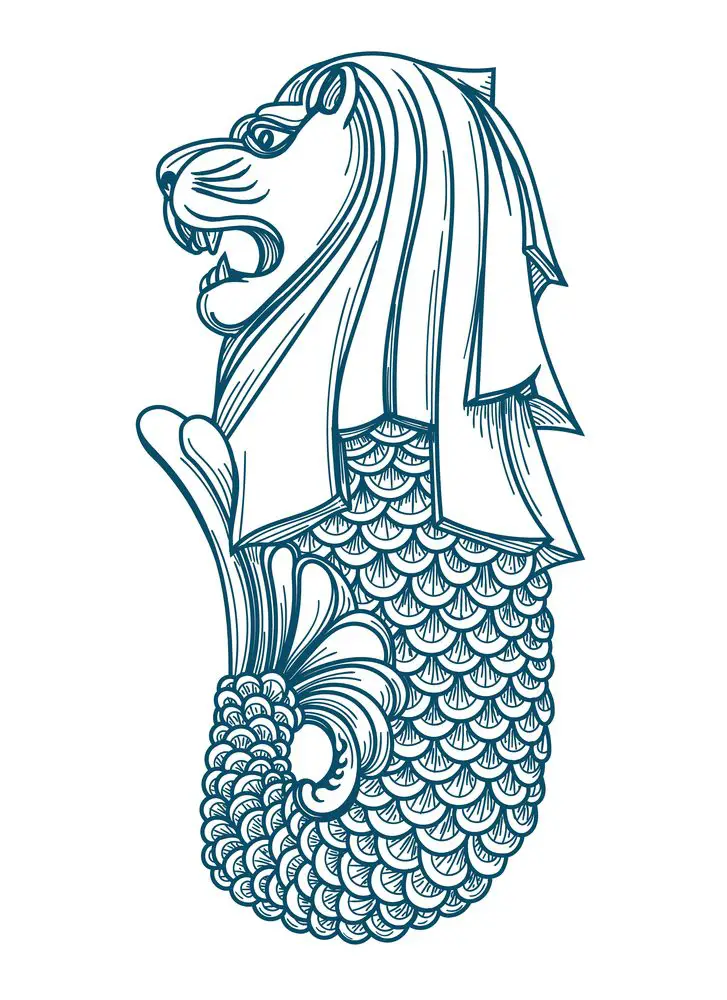 Where is Singapore?
Singapore lies at the southern tip of the Malay peninsula. It is 85 miles (137 km) north of the equator.
While there are some 60 small islets, Singapore Island makes up the main population within a land mass expanding 50 km east to west and 27 km north to south. From a tourists perspective, this means many of it's most treasured attractions are relative close by, with many within walking distance to each other.
Distance from other major locations
Malaysia (Kuala Lumpur) to Singapore – 354 km / 220 miles / Flight time 55 minutes
Australia (East Coast) to Singapore – 6300 km/ 3900 miles / Flight time 7.40 hours
Australia (West Coast) to Singapore – 3900 km/ 2420 miles / Flight time 5.05 hours
Japan to Singapore – 5250 km / 3260 miles /Flight time 6.30 hours
USA ( West Coast ) to Singapore – 8700 km / 5450 miles / Flight time 15.10 hours (add 3 extra hours from East Coast)
Fast Facts about Singapore
Population – 5.686 million
Currency – Singapore Dollar (conversion AUD to SIN dollars aprox 0.98 / USD to SIN dollars approx 1.36 )
Official Languages – English, Malay, Mandarin &Tamil. English is most common
Yearly Visitors – 19.2 million (2019) – the year of COVID in 2020 was 2.7 million
Climate – Singapore has a tropical climate being so close to the equator. Typically is experiences a dry and a wet season though rain is experienced most months of the year. It also typically experiences high temperatures and high humidity.
Yearly Average temperatures- steady year round temperatures range from highs of 30C to 32C ( 86F – 90F) and lows of 23C to 25C (73F to 77F)
Average Stays in Singapore- most tourists spend 3 days on average in Singapore. This is mainly due to treating it as a stopover city.
8 Singapore Travel Tips for Saving Money
Compare flight costs through companies such as Skyscanner and CheapOair for the best deals
Use the rapid & reliable train system to get around. Renting a car is not necessary.
Avoid high season for the best deals (November, December & January)
Book your accommodation in budget friendly precincts such as Bugis, Chinatown and Little India
Discover the many free activities
Eat at the many Hawker Centres dotted across the city for cheap local street food.
Walk as much as possible
Purchase a Iventure Unlimited Attraction pass if you are planning to visit multiple attractions (2,3 or 5 day passes)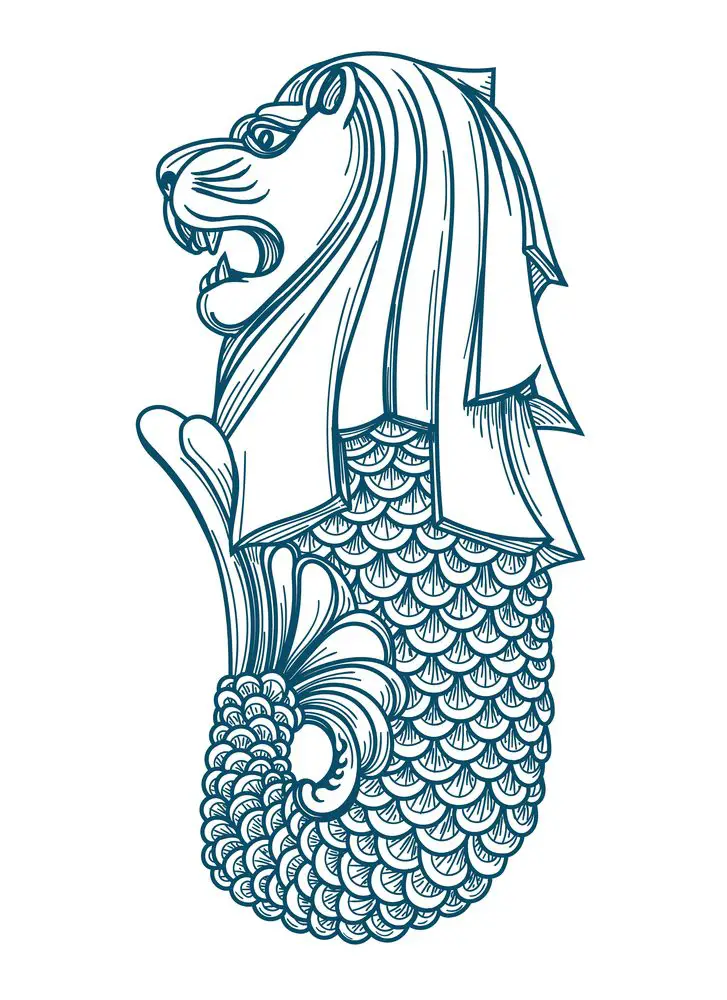 Further reading: Planning a trip overseas you can actually afford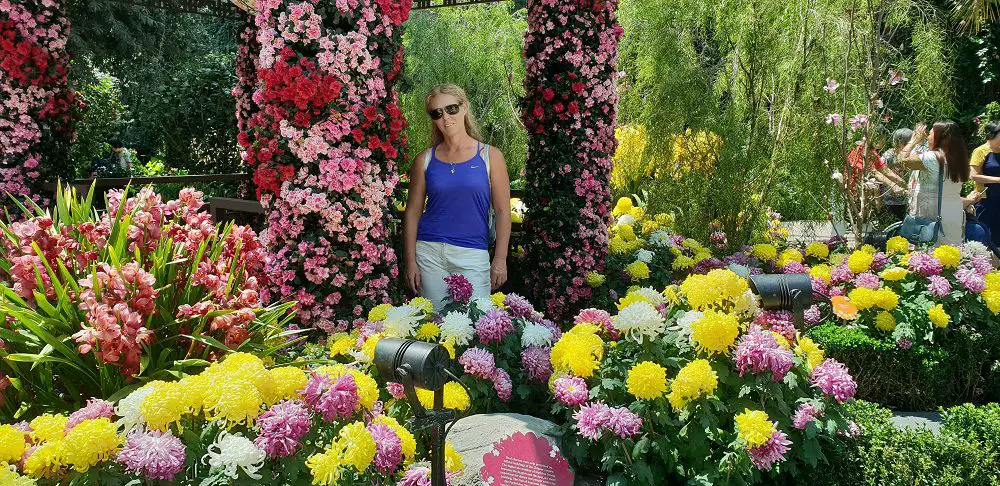 Singapore Estimated Costs – Singapore on a Budget
It's time to look at all the main costs associated with doing Singapore on a budget , including flights, accommodation, transport and food.
Further Reading: A cheats guide to saving money while traveling.
How to get cheap Singapore flights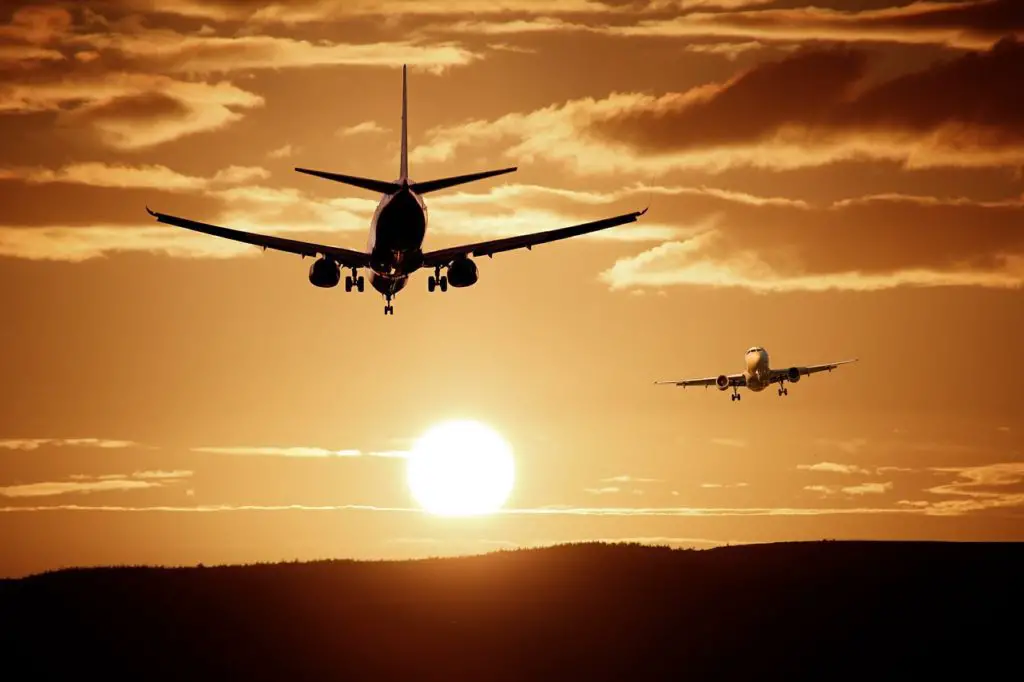 International flights will arrive at Changi International Airport
There are over 100 carriers flying into Changi Airport at any given time. So chances are one of your preferred airlines are heading there.
Singapore's National Carrier- Singapore Airlines has a huge network right around the world. It is also regularly rated the worlds best airline.
Note: while flights are not fully up and running with many airlines, the below information was correct prior to COVID restrictions. Hopefully these flight routes will be back up and running very soon.
For Australian travellers to Singapore, there is generally no shortage of cheap flights heading to Singapore on various carriers. It is not unusual to find return flights from AUD$300 which is incredibly cheap.
There are currently around 5 budget airlines moving in and out of Singapore's bustling airport, and 3 main budget airlines flying from Australia to Singapore. These include:
1. Scoot Airlines
Based in – Singapore (subsidiary of Singapore Airlines)
Flies direct from Melbourne, Sydney, Perth and Gold Coast
2. Jetstar & Jetstar Asia – flies direct
Based in – Australia (subsidiary of Qantas Airlines) Jetstar Asia is based in Singapore
Flies direct from most major Australian capital cities
3. Air Asia – via Kuala Lumpur
Based in – Kuala Lumpur
Most flights from Australia will fly via Kuala Lumpur unless under a code share airline
Major carriers within the US include United Airlines at present. American Airlines are currently code sharing with British Airways, Iberia and Japan Airlines. (AS OF EARLY 2022).
More ways to save on flights to Singapore
sign up to newsletters and notifications from the airlines direct
use your frequent flyer / mileage points
be flexible with month of travel (key in various dates and days to make comparisons)
Use a multiple search across all airlines such as CheapOair or Skyscanner.
The sooner you know you are going, the longer you can keep an eye out for flight specials which do come up quite regularly. If you can secure good priced flights, you should be able to do Singapore on a budget much easier.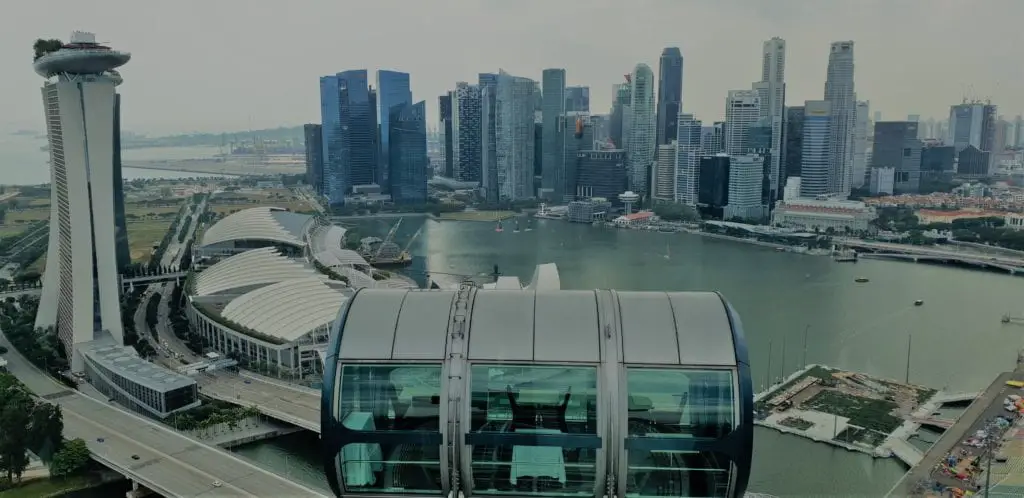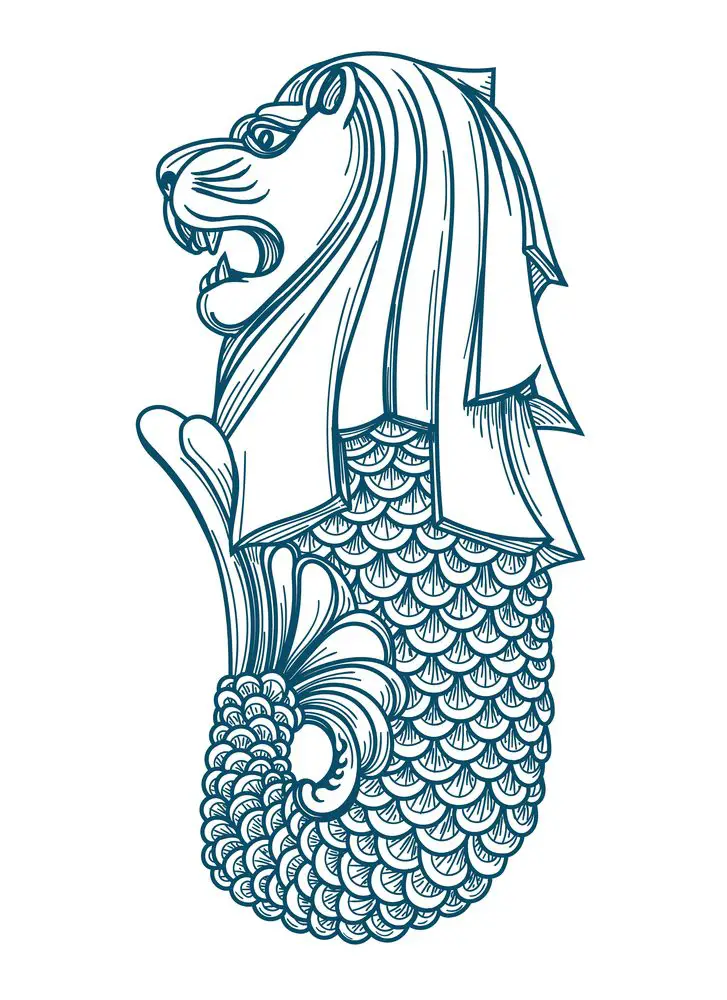 Budget Accommodation Singapore
The following accommodation prices reflect what you might expect to pay if you were on a budget and looking for cheaper deals. Most properties are around a 3 star rating at most. Note: prices may fluctuate at different times of year, and you may also find cheaper prices if on sale.
Something to be aware of is the size of many hotel rooms. In most western countries you would expect the average room to be around 20 to 30 square metres but not in many Asian countries.
In Singapore, an average priced hotel might be only 9 to 12 square metres. That's just enough room for a bed and not much else. Even the bathrooms can be super cramped with showers virtually over the toilet. But it's not always like this, you might just want to check these details on your booking if it's going to be an issue.
Also, many budget rooms have no window, so it's an interior room within the hotel.
Pricing in both US dollars and Australian dollars and are average prices.
Hostel – Single in dorm
Per Day USD $20 – $50 / AUD $30- $70 Ave 3 Days USD $60- $150 / AUD $90 – $210 Ave 5 Days USD $100 – $250 / AUD $150 – $350
Go to: Hostel World
Hostel – Couple in Private Room
Per Day USD $73- $145 / AUD $100 – $200 Ave 3 Days USD $219 – $435 / AUD $300 – $600 Ave 5 Days USD $365 – $725 / AUD $500 -$1000
Hotel Room – 2 people
Per Day USD $95- $115 / AUD $130 – $160 Ave 3 Days USD $285 – $345 / AUD $390 – $480 Ave 5 Days USD $475 – $575 AUD $650 – $790
Note: For families, seeking cheaper deals, opting for a single room with multiple beds will save you much more than a 1 to 2 bedroom apartment. You will also gain more 2 to 3 star options this way.
PRO TIP: Did you know that Hotels.com give members a free night for every 10 nights booked. This is based on the average amount you spend per night. So far I've redeemed well over 25 free nights, and around $5,000 worth of hotel stays simply by booking through Hotels.com. How cool is that. Plus members receive special "member only prices" and lots of bonuses such as late check out, free parking or chocolates and wine. I love it! Melinda
Hotels and private rentals worth checking out Singapore on a Budget
The Hotel 81 chain is located in many areas within the city. It is cheap in comparison to other hotels but doesn't come without it's negatives. Generally small rooms, small bathrooms, no windows in some rooms and limited amenities. But it's cheap and does the job. Perfect for those who don't want to do hostels. I have stayed in a Hotel 81 to save money . As I really only needed a bed that was not far to get to on foot, it was suffice.
HOTEL 81 BUGIS – Standard Room -1 queen bed from US $65 / AUD $90 – HOTELS.COM
Click here for US Site / Click here for Australian site
HOTEL 81 CHINATOWN – Standard Room -1 queen bed from US $88 / AUD $120 – HOTELS.COM
Click here for US Site / Click here for Australian site
FURAMA CITY CENTRE – Superior (up tp 3 people) US $97 / AUD $132 – HOTELS.COM
Click here for US Site / Click here for Australian site
HOTEL CLOVER 33 – Plush queen (up to 3 people) from US $111 / AUD $155 – HOTELS.COM
Click here for US Site / Click here for Australian Site
For Families: HOTEL CLOVER 33 – loft (up to 5 people) from US $145 / AUD $200 – HOTELS.COM
Click here for US Site / Click here for Australian Site
Still not sure where to stay?
I suggest reading my article on Best Area to stay in Singapore for Cheap Hotels. It also includes a handy walking guide from each location to all the top attractions. This way you can calculate how far everything is to get to on foot from your hotel.
Related reading: Best area to stay in Singapore for cheap hotels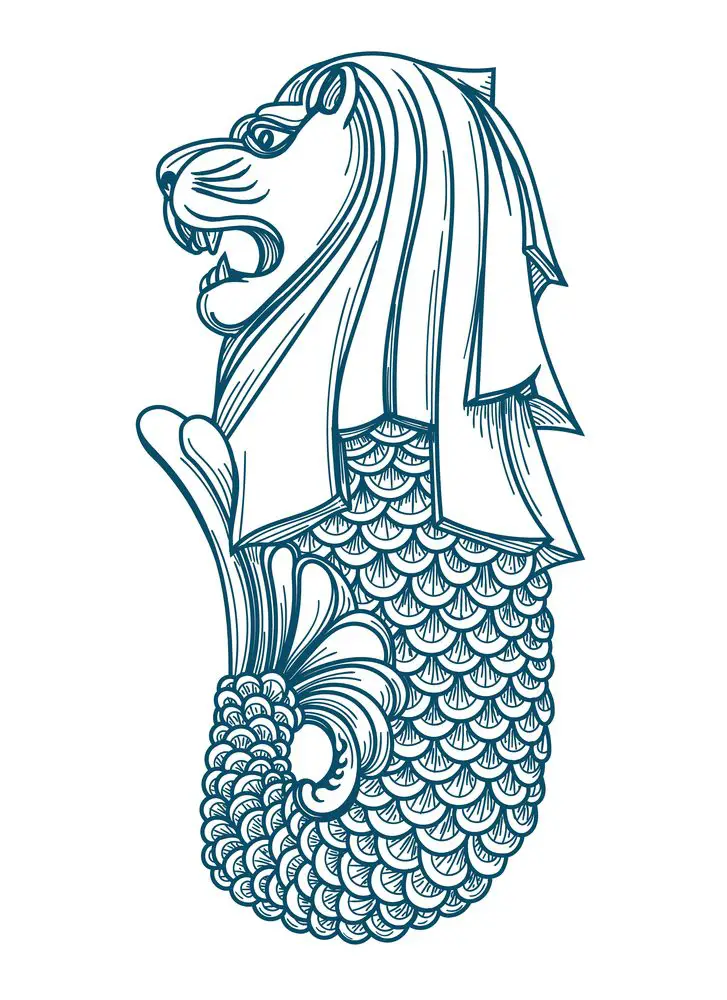 Transport
Singapore is an easy place to get around, and best part is, it's cheap.
With a world class train system that is always on time, there's no need to worry about how much time you'll lose getting to each destination.
Using the MRT (mass rapid transport)
Singapore has an extensive track system with stations all over the city. It's cheap and reliable. The longest wait in time I had on any train was 4 minutes so if you miss one, the next train will be along any minute. The trains are also well maintained and extremely clean. You really won't have an issue using it. Also, because everything is in English there is no language barrier.
Most single train trips cost between $1 to $2.50 within the greater city area. You can then top up you ticket as you go.
Use the MRT to get from the airport to your hotel. Train $2.50. Taxi approx $20
Alternately you can purchase a tourist pass which will get you unlimited rides on the MRT, LRT and basic bus services.
Tourist Pass Costs
1 Day – $10 + $10 refundable Deposit
2 Day – $16 + $10 refundable Deposit
3 Day – $20 + $10 refundable deposit
BEST DEAL
3 Day – $25 No deposit required.
Purchase your tourist pass directly at the train station. Click to see the locations and more information on the MRT Tourist Pass
Can I walk around Singapore easily?
Absolutely, the city is perfect on foot, and even if you stay in one of the budget locations you can still get around easy enough. But you will most likely at some stage need a train. Places like the Singapore Zoo and River Wonders are located well out of town so impossible on foot.
Singapore is a big city so you will clock up the miles even walking. I estimated doing minimum 10 km each day and that was in conjunction with using the train. It is also very hot and humid at times so you may want to conserve some energy.
Train stations in Singapore are also airconditioned and many have shopping centres connected to them. This ultimately means when it rains or when you are desperate for a cool place to hide, you can virtually walk an entire block inside without getting wet. It is such a god send at times.
Budget and Free Attractions in Singapore
There is a tonne of great things to do during your stay in Singapore. Some free, some budget friendly and some on the more expensive side. Seeing we are talking about Singapore on a budget, let's jump into affordable options.
Free Attractions in Singapore
Here are some free attractions & activities in Singapore.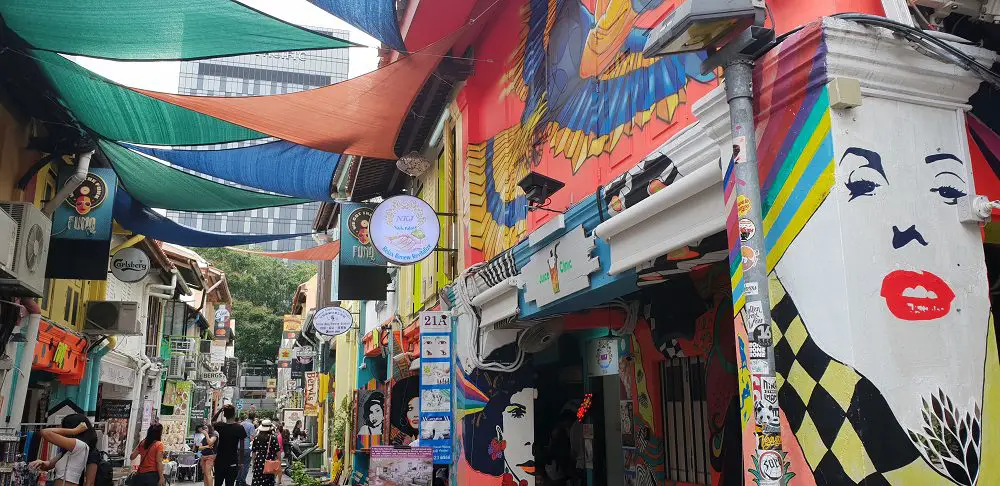 Other great free attractions include:
Singapore Botanical Gardens
Fort Canning Park
Art Science Museum
Sultans Mosque
Areas to explore on foot include:
China Town
Little India
Kampong Glam
Clarke Quay
Orchard Road
The Shoppes at Marina Bay Sands
My favourite attractions that won't break the bank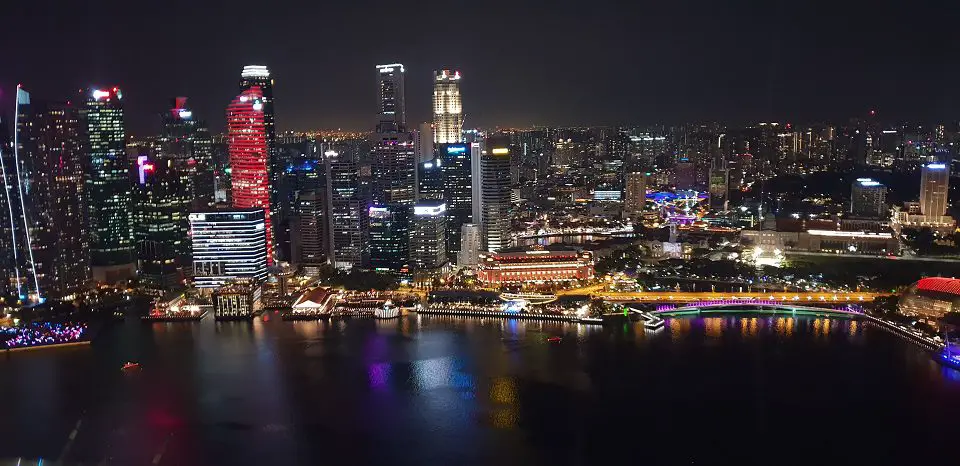 Other great attractions include:
Related article: Breakfast with Orangutans – Singapore Zoo
Save with the iVenture pass or Flexi Attraction Pass
For those who are keen to not miss a thing, I suggest the iVenture card which can be used as 3,4 or 5 day pass. All the attractions are unlimited, so you can do as many as you can fit into your day. Plus you'll skip the line. (saving you time too)
To see more of Singapore's most popular attraction pass – iVenture pass.
Alternately, a cheaper option again is the Singapore Flexi Attraction Pass. It enables you to choose between 3 to 5 attractions and is valid for 5 days. You can see pricing on Viator here.
For individual attractions you can book through Klook which also has discounts regularly.
Singapore Zoo – an open air concept Singapore Zoo USD $32 / AUD $44
River Wonders – see the giant pandas and more USD $28 / AUD $38
Singapore River Cruise – 40 minute cruise $19 / AUD $25
Gardens by the Bay – both domes included USD $22 / AUD $30
Singapore Cable Car Sky Pass – to Sentosa island USD $19 / AUD $25
Singapore Flyer – observation wheel USD $24 / AUD $33
Marina bay Sky Park – observation Deck USD $19 / AUD $26
Breakfast with Orangutans at Singapore Zoo USD $25 / AUD $35
Jurong Bird Park USD $25 / AUD $35
TOP TIP – head to the top of Marina Bay Sands to the outdoor bar, Ce Le Vi bar for a cheeky Singapore Sling (it will set you back about $18) instead of paying entry to the Sky Park. You'll still have great city views and an iconic drink to try.
Estimated Food Costs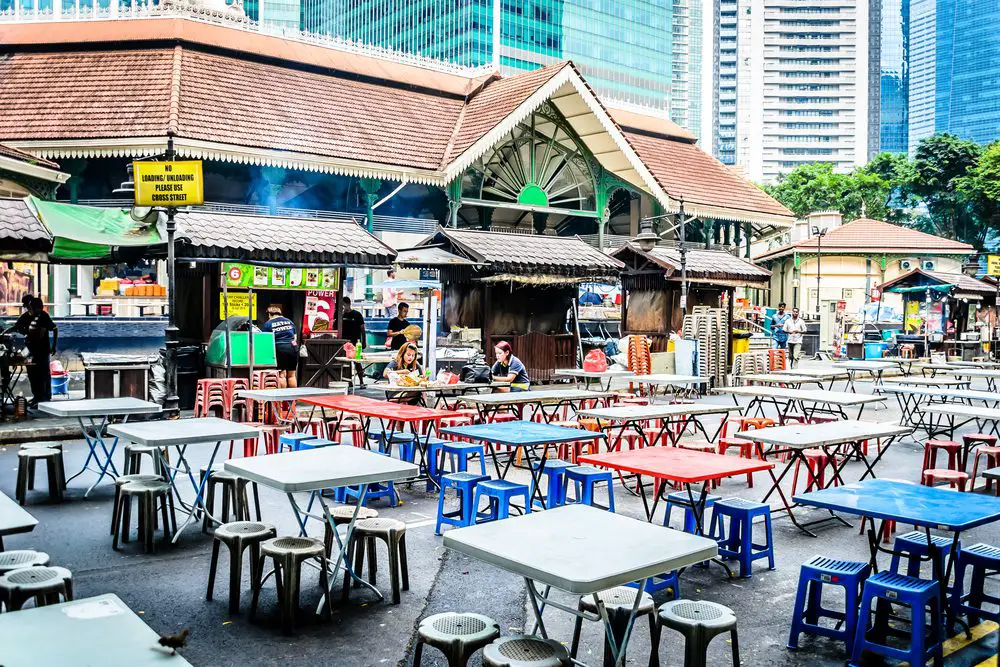 The wonderful news is YES you can totally save heaps of money on food in Singapore.
Hawker Centres are outdoor food halls that serve up delicious local food at next to nothing prices. Expect to pay $2 to $5 for a delicious meal. The food is fresh and will generally not upset your tummy.
Some of the top Hawker centres are:
Maxwell FoodHall – China Town
Lau Pa Sat Hawker Centre– central business district
China Town Food Street – China Town
Tekka Centre – Little India
The cafes and restaurants in many shopping malls are also reasonable priced, Grab a bowl on Singapore noodles for less than $10.
Other ways to save include eating at the many bakery's dotted across the city and by grabbing snacks at 7/11.
By budgeting your food this way you can expect to pay around $15 per day. Pretty cheap right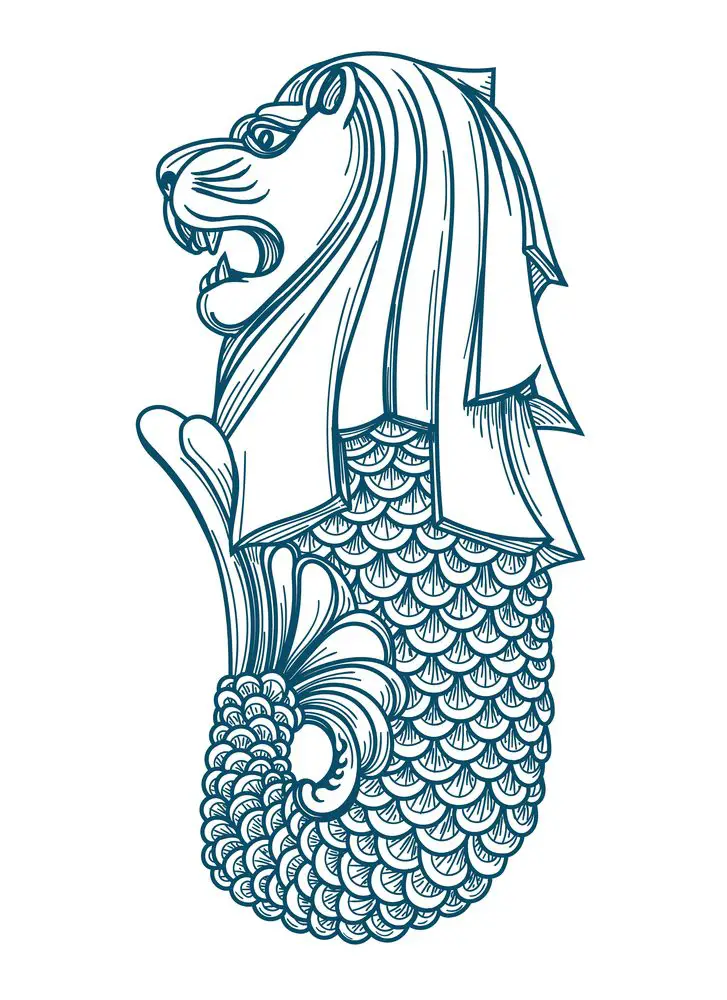 Getting free WiFi in Singapore
The internet is fast so staying connected has never been easier than here in Singapore.
Your hotel should most definitely have it and it should be working at full speed.
When you are out you're sure to find service throughout the day.
You will also find Free Internet at:
major tourist attractions
many restaurants
the MRT (trains)
Sentosa Island.
I love the Changi international airport also has free WiFi with no time or usage restrictions. Handy when you need to pass some time before boarding your flight.
Conclusion to Singapore on a Budget
A trip to Singapore is filled with endless possibility and exciting adventure. It is sure to be a whirl wind trip.
While 3 days is what most people average, I highly recommend 4 to 5 day if you can afford it.
I hope this guide has given you some tips and ideas to make your perfect vacation a reality, without breaking the bank.
Be sure to check out my perfect 5 day itinerary below.
Booking resources for budget travel
CheapOair – these guys service over 400 airline carriers with huge discounted prices.
Booking.com – the biggest range of hotels / apartments / entire homes
Hotels.com +plus get a free night for every 10 nights you save up.
VRBO – for private rentals on condos, cottages, homes and apartments.
RentalCars.com – why look at one car rental company when you can look at them all.
Expedia – Book your flight and hotel together to get great discounts. Plus cruises.
Viator – for day tours from a range of tour suppliers
Klook – for all your entry tickets plus skip the line