As an Amazon Associate I earn from qualifying purchases. I get commissions for purchases made through links in this post.
What is the perfect 5 day Singapore itinerary?
Whether an exclusive holiday or a stopover, Singapore has it covered for attractions, culture, food and shopping. Not to mention a tourist friendly atmosphere that welcomes you from beginning to end. There is so much to love about Singapore.
If you are visiting Singapore on a budget or just want to know how to save while there, be sure to check out my Singapore on a Budget guide below. I'll show the best tips for creating a budget holiday in Singapore.
Related article: Singapore on a Budget – ultimate guide to the city
This Singapore 5 day itinerary is also suitable as a 4 day Singapore itinerary. It will help you plan a smooth and memorable holiday for you and your fellow travellers. It covers the following:
Getting from the airport to the city
Where to stay based on budget
Getting around Singapore
Best time of year to visit Singapore
Singapore things to do – 5 days in Singapore
How I plan affordable holidays?
Wherever I go, I'm always looking to save. In fact, I love the challenge to put together a vacation based on my budget, yet still see and do everything I want.
5 Day Singapore itinerary
My five day Singapore itinerary was a whirlwind adventure, en-route to the Maldives. I thought that 5 days was going to be plenty of time to see all the great Singapore highlights, but what I realized very quickly was, this place is outrageously exciting. There are so many Singapore attractions and I wanted to see and do them all.
I really had no idea that I would be so captivated by this electric urban paradise.
There are several worthwhile tips to know before you go which will make your 5 days in Singapore run more smoothly, so be sure to check it out.
The MRT (rapid train system) is definitely a must and super easy to use. It's cheap and highly efficient. It will be your ticket around town, though I recommend doing as much walking as possible because you'll see so much more.
Related article: First time in Singapore – 16 handy tips to know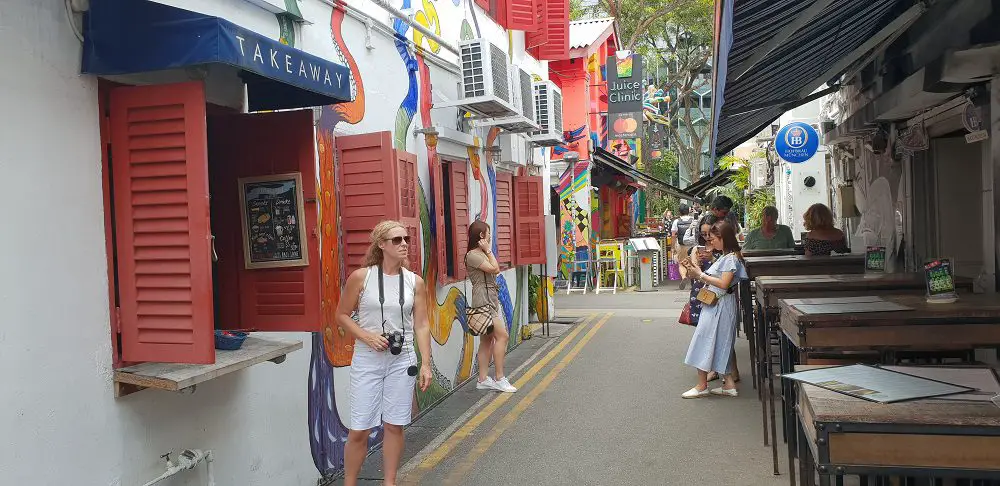 Singapore Airport to City Transfers
Getting from Changi International to the city is pretty easy, and you have a few choices dependent on budget and convenience. As we arrived at 4 am in the morning, a taxi was the easiest way to go. Then after navigating the impressive train system while staying in Singapore, we had no issue getting the train back to the airport.
Changi Airport to City Options
Taxi to Singapore City
You can find taxi's outside the arrivals area of Terminal 1 & Terminal 3.
ride time approx 30 minutes
available 24/7 with additional surcharges Fri to Sun 5 pm to midnight $5 surcharge / Midnight to 6 am 50% total fare surcharge / Peak hour 6 am to 9.30 am Mon to Fri & 6 pm to midnight Mon to Sun 25% surcharge of total fare / all other times $3 surcharge
Estimated cost of $20 to $40 SIN. Note that we took a 5 am taxi during the highest surcharge time and paid $40 one way.
Train to Singapore City – cheapest option
The train (MRT) is a breeze to ride and is clean and comfortable.
approximately $2 per person
30 minute ride (dependent on final destination)
leaves directly from the airport
Bus to Singapore City
There are several bus lines that run to the city from all terminals. Bus 36 is the standard line running every 10 minutes.
trip duration – up to an hour
available 6 am to 11 pm
max cost approximately $2 to $3 per person
correct money is required as no change is given
Hotel Shuttle to Singapore City
A city hotel transfer is a convenient and stress free option, especially when you have lots of baggage.
for a variety of shared and private transfers –

click here
From Bugis I was able to walk to places such as China Town, Arab Street, Marina Bay, Gardens by the Bay and Clarke Quay.
Where to stay – best areas in Singapore on a budget
When it comes to choosing a good location in Singapore that is not going to break the bank, there are 3 precincts that really stand out.
China Town
Little India
Bugis & Kampong Glam
You will find a range of budget options here. Also, these areas are safe, bustling with fantastic restaurants and street food and are close to train (MRT) stations for ease of getting around.
You really can't do better for your budget in Singapore.
Note: hotel prices will always fluctuate throughout the year so the below guide is simply to give you an idea of costs.
PRO TIP: Did you know that Hotels.com give members a free night for every 10 nights booked. This is based on the average amount you spend per night. So far I've redeemed well over 25 free nights, and around $5,000 worth of hotel stays simply by booking through Hotels.com. How cool is that. Plus members receive special "member only prices" and lots of bonuses such as late check out, free parking or chocolates and wine. I love it! Melinda
Singapore where to stay guide
China Town (budget choice) $70 – $150 – wide range of hotels / popular for the budget traveller
Little India (budget choice) $60 to $150 -popular back packer base with a vibrant atmosphere.
Kampong Glam / Bugis Street $100 + From the famous Bugis Street market to Sultan Mosque and ultra trendy Arab street and haji lane, you'll find a range of budget options here. Easy walking to many attractions.
Financial District 130 + Surrounded by impressive sky scrapers and located tothe south of the mouth of Singapore River.
Related reading – Best area to stay in Singapore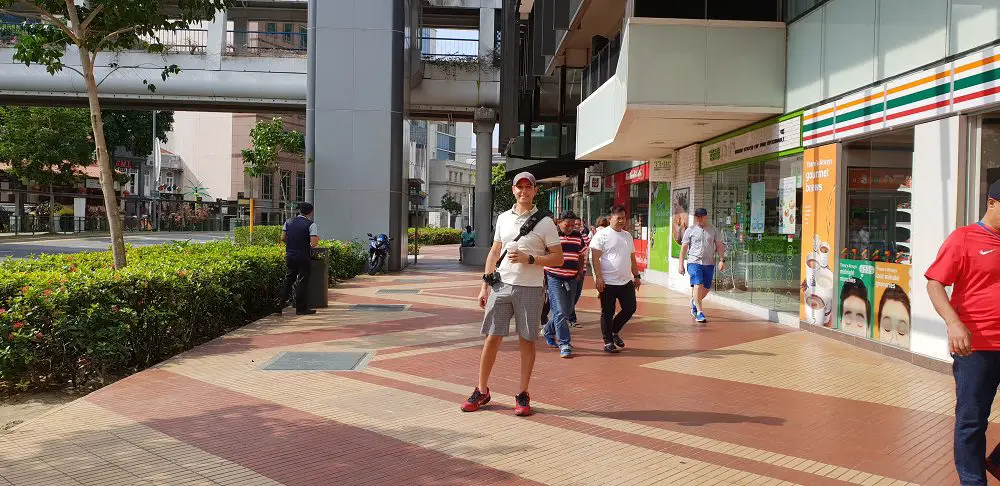 Getting around Singapore
The MRT (Mass Rapid Transit) train system is world class. Trains are punctual to the minute and there always seems to be another train arriving any minute.
Getting around Singapore on the MRT is so reliable that you really don't need to think twice about taxis. It is also very cost effective, only costing a dollar or two to get within the city's main precincts.
Singapore Tourist Pass – for transport
For better value and simply for convenience, you can't go past the Tourist Pass.
You can purchase 1,2 or 3 day passes. We purchased the SG tourist pass which is 3 days of unlimited public transport on train, buses and LRT trains. It cost $25 SIN. Unfortunately they don't have a 5 day pass but you could always buy a second if needed. I think the price is totally worth it. You can see more here: Singapore Tourist Pass
I knew I wanted to get in as much walking as possible for my 5 days in Singapore itinerary and I did. But it is a big place so sometimes you just gotta ride that train. Also, not all attractions such as the Singapore Zoo are within walking distance.
Best time of year to visit Singapore
Many people always ask "what is the best time of year to visit Singapore?"
The weather in Singapore may be unpredictable when it comes to the rain, but the temperature is always a certainty. You can expect a temperature ranging from 30 to 32 degrees Celsius all throughout the year.
Rain and humidity are the big factors because when it rains, the humidity sky rockets.
February to April is considered the dry season when there is less chance of rain, lower humidity and more days of sunshine. I went in February and we had intermittent showers that never lasted too long. It was ideal.
November and December are the wettest months but it rains every month of the year here. Most rain occurs late afternoon so plan your days around that if needed. Overall I would happily go any time of year and not let a few showers that may or may not last long get in the way of a perfectly good holiday.
For all Singapore things to know
Wanting to know?
etiquette
WiFi connectivity
language
tipping
local food and much more
Check out my other article: First time in Singapore travel tips
OK, lets get into this fabulous holiday of yours.
5 Days in Singapore Itinerary
With all the wonderful attractions to see in Singapore, I highly recommend getting the Singapore Flexi Pass OR the iVneture Card. You can potentially SAVE heaps of money without skipping out on all the great things to see and do.
Singapore Flexi Pass (through Viator) – choose 3 to 5 popular attractions (great for those who only wish to see a few paid attractions)
iVenture Pass (through klook) – unlimited attractions pass (for those who want to experience as many attractions as possible)
DAY 1 IN SINGAPORE
Bugis Street District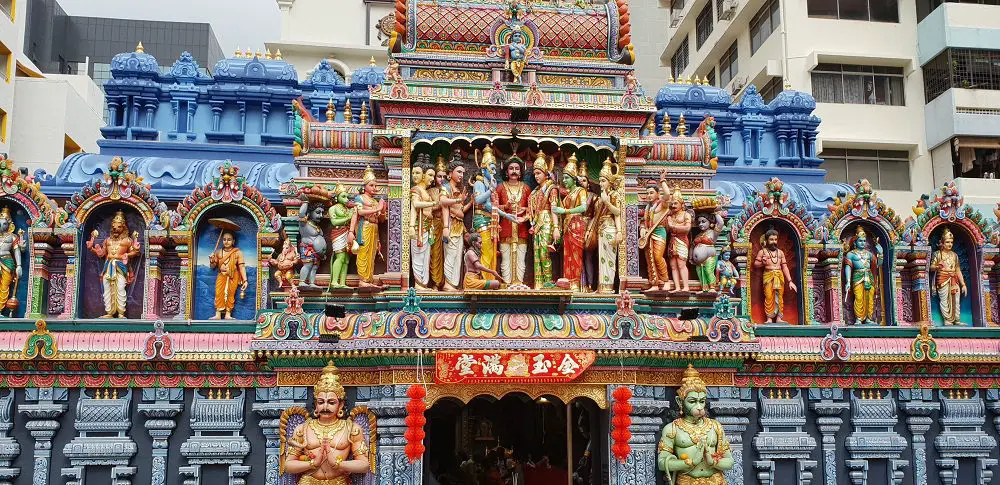 Bugis Street is a lively shopping precinct in Singapore and the location of our hotel for the next 5 days.
The street has well over 700 shops ranging in boutiques, electronics, souvenirs and so much more. It is an attraction in itself and full of locals and tourists enjoying the atmosphere.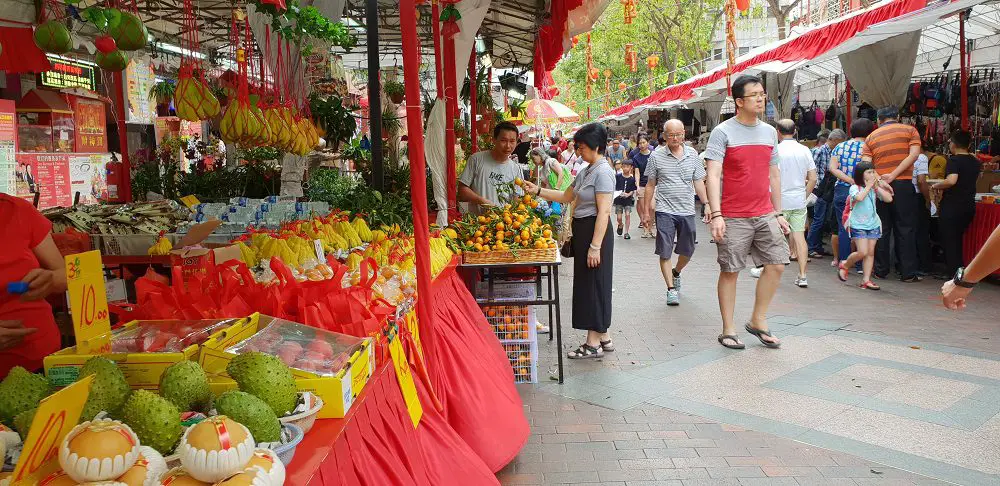 You'll pass by Sri Krishnan Temple before entering the Bugis Markets. This is a great place to try some interesting local cuisine very cheaply. Don't worry, the food in Singapore is clean and should not upset your stomach.
Arab Street / Kampong Glam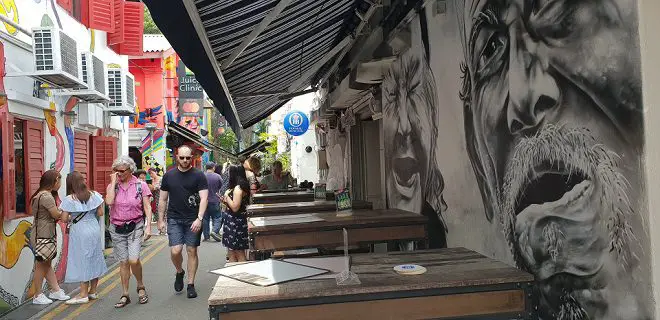 Arab Street is not just a singular street, but rather a whole neighbourhood.
The muslin quarter is a trendy hang out with lots of outdoor middle eastern restaurants and cafes. But it's the explosion of colour that really captures the eye here. With textile shops and Persian carpet stores lining the streets, it's a nice place to browse and simply stroll through the lane ways admiring the wall art.
Sultan Mosque stands out in the distance with it's golden domes, Be sure to take a look and if you have time you can enter when prayer time is not on. Entry if free which is a bonus. A note that you will have to remove your shoes and cover up if you decide to enter.
We sat for a delicious lunch and then explored the colourful Haji Street before moving on.
Singapore Flyer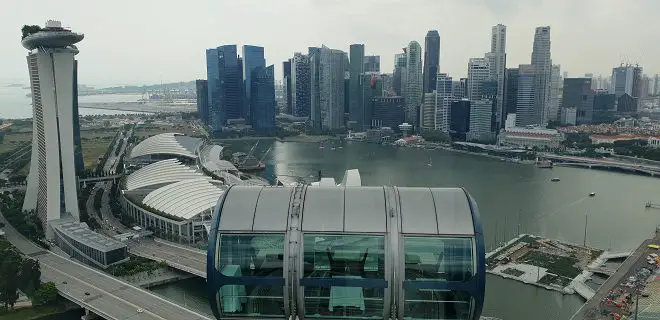 Though we didn't plan to go up on the giant observation wheel, I'm so glad we did.
It was around 2 pm at his stage and guess what…no lines. In fact we boarded the pod all by ourselves though it can accommodate 28 people.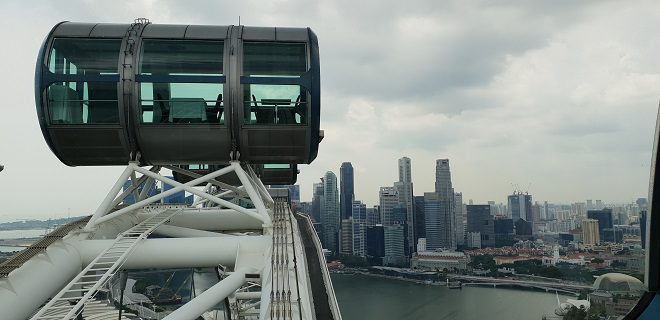 The flyer stands at 165 metres tall and commands an impressive view of all sides the city. As it sits on bay side, you can view the city skyline and well beyond, plus take in the waters of Singapore straight.
Marina Bay Sands is a stand out and looks impressive from the air. After a 30 minute air conditioned ride it's back to our hotel via Raffles City to get ready for another adventure.
Opening hours: 8.30am – 10.30 pm
Cost: SIN $33
Tickets: Singapore Flyer – observation wheel USD $24 / AUD $33
Night Safari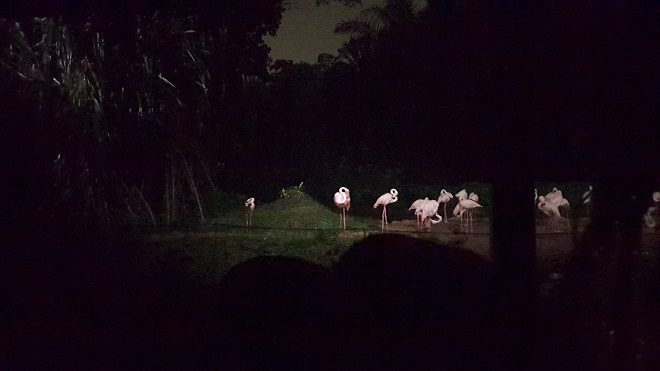 Wondering what to do in Singapore at night?
A train and bus ride will take you out of the city toward Singapore Zoo. The Night Safari, Zoo and River Safari are all located side by side.
The Night Safari involves taking a guided ride around the park after dark to view the animals. It's quite a unique and seriously popular excursion.
Animals you can see include the Asian Elephant, Malayan Tiger, Lion, Flamingo, Aardvark and many more.
Opening hours: 6.30 pm – midnight
Operating Days: Thursday to Sunday & the eve of public holidays
Cost: SIN $65
Tickets: Night Safari Ticket USD $48 / AUD $65
Included in Singapore Flexi Pass & iVenture Attraction Pass
DAY 2 IN SINGAPORE
Breakfast with the Orangutans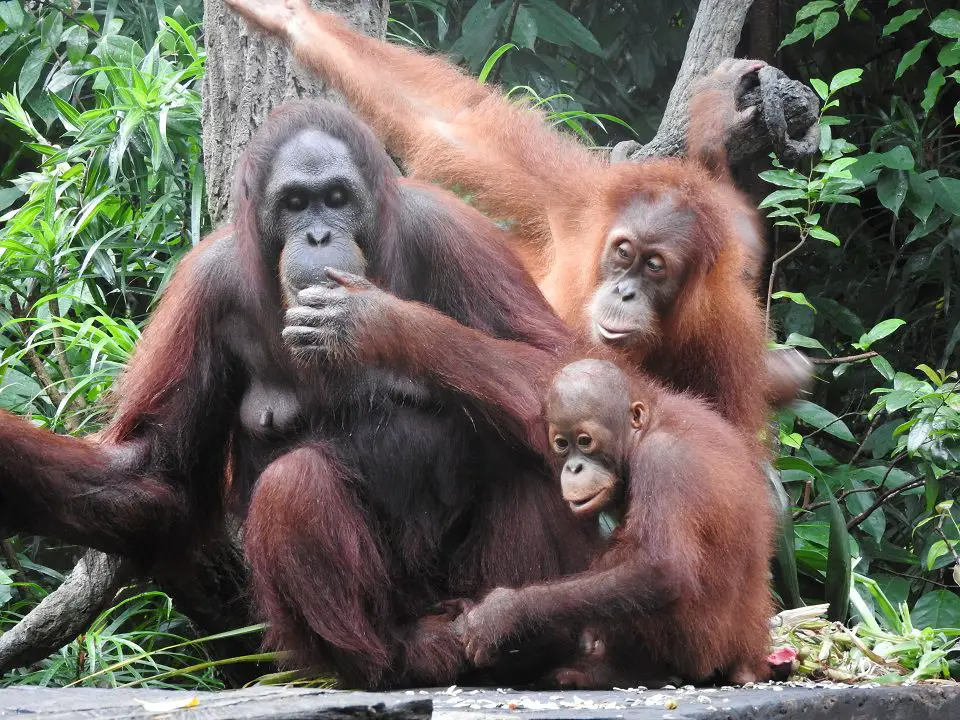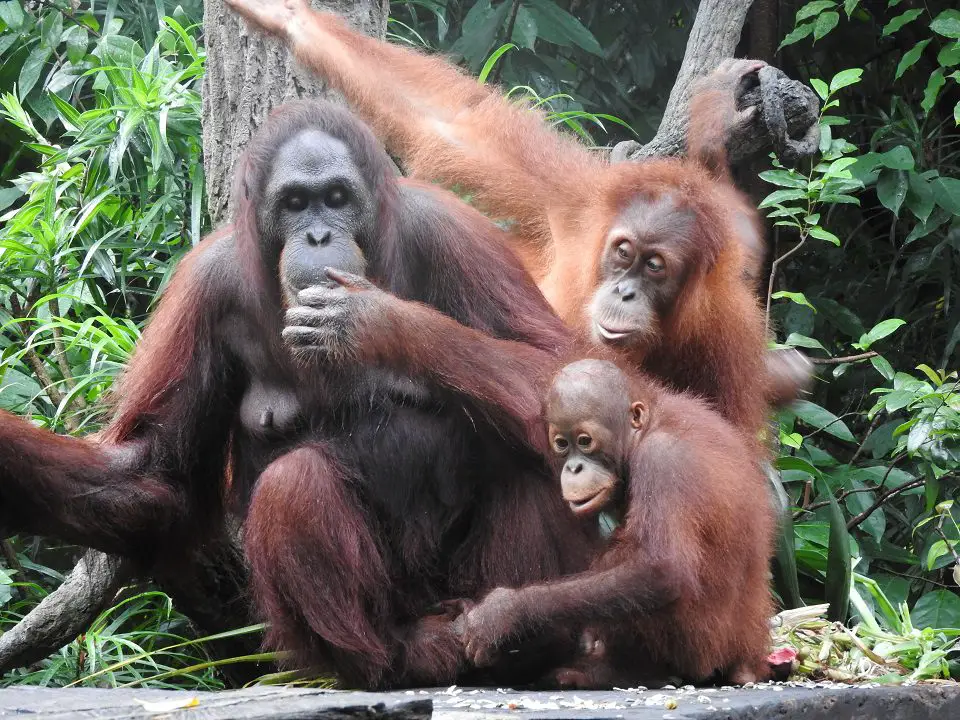 We start our day with this incredible animal encounter at Singapore Zoo.
Breakfast with the orangutans is a must do experience and highly rewarding. We arrived at 9 am, were seated and enjoyed a delicious buffet meal before waiting for the orangutans to arrive on scene. They too get to sit and feast while you happily take snaps.
You can read my full article here on Breakfast with the Orangutans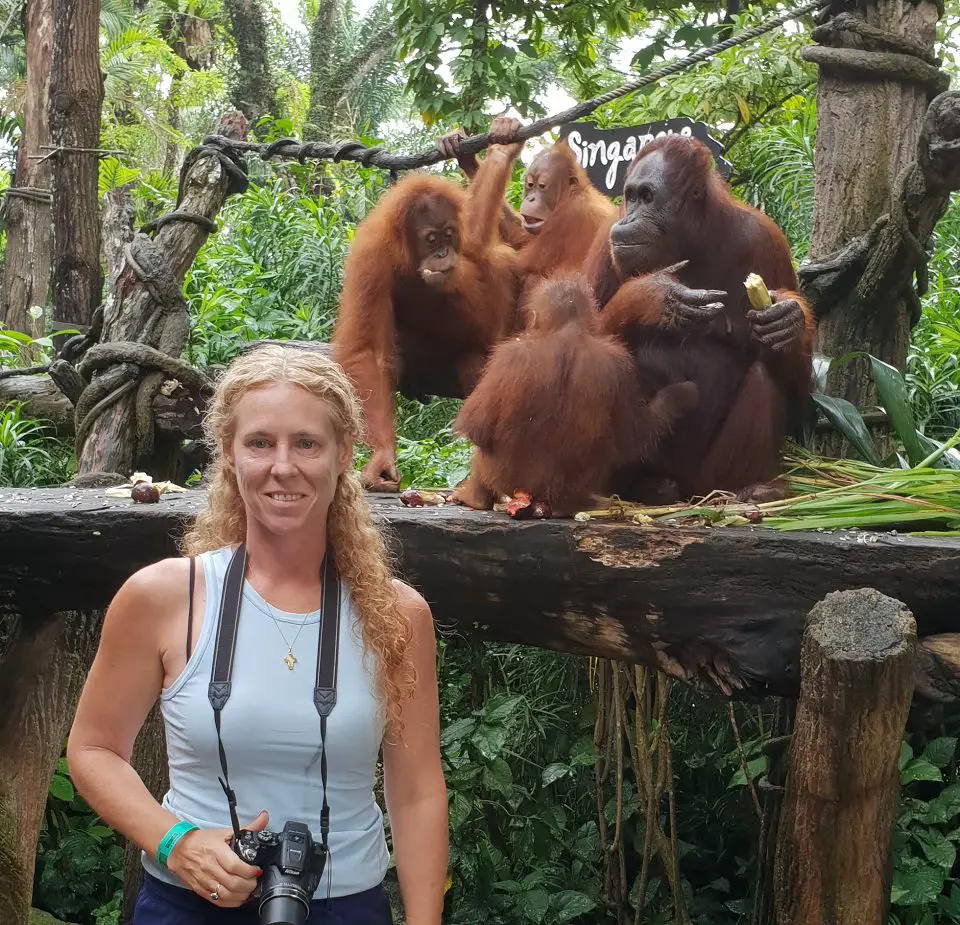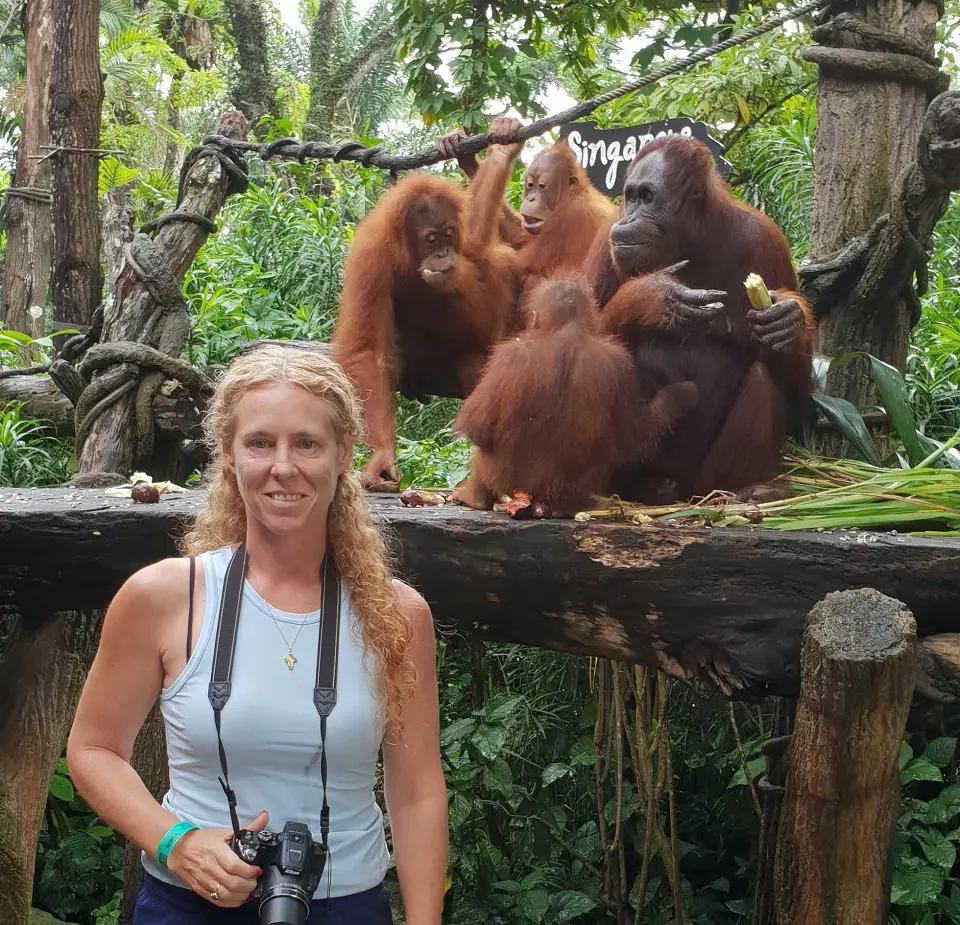 While you can't personally interact with them, you will be invited to get up close for a few pics. The keepers use your own camera devices which was really great as it meant I didn't have to purchase any.
A note that you need to have admission into the zoo to do this activity.
Opening times: 9am – 10.30 am
Cost: SIN $35
Tickets: Breakfast with Orangutans at Singapore Zoo USD $25 / AUD $35
Included in Singapore Flexi Pass & iVenture Attraction Pass
Singapore Zoo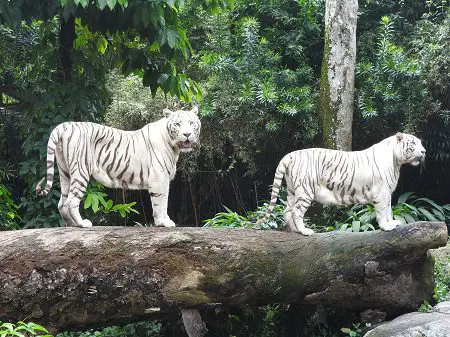 This is by far the best zoo I have visited around the world, even topping the San Diego Zoo in the USA.
The open concept is first class.
This mean that many of the enclosures are set at eye level with a deep pit separating you from the animals. For this reason viewing the animals becomes unobstructed without having to peer through a fence. The range of animals is also very impressive.
There is also another strong point about the Singapore Zoo that I noticed straight away. The animals were all quite active. I've been to so many zoos where the animals are either hiding or sleeping,but not here. Who knows why and whether I just got lucky. It was late morning and quite warm but the wildlife was in full swing.
My favourite enclosures were the white tigers and baboons.
Free shows at Singapore Zoo – 20 minutes each – Singapore Shows
Splash Safari 10.30 am / 5 pm
Animal Friends 1.30 pm / 4 pm
Rainforest Fights Back 12 pm / 2.30 pm
Elephant Show – temporarily suspended
Opening times:
Price: SIN $44
Tickets: Singapore Zoo – an open air concept Singapore Zoo USD $32 / AUD $44
Included in Singapore Flexi Pass & iVenture Attraction Pass
River Wonders (formerly River Safari)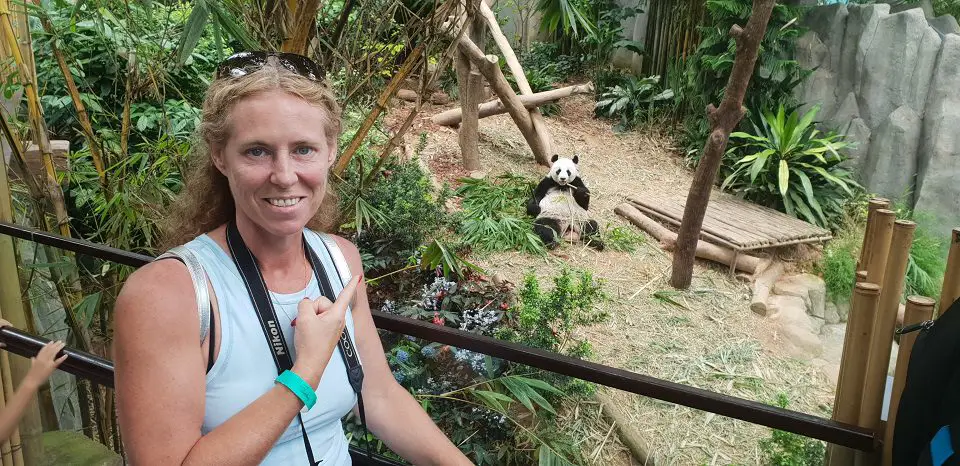 After breakfast with the orangutans and Singapore Zoo, we made it to River Safari by 2 pm.
This water themed park is truly worth the visit and this is where you'll have the opportunity to see the pandas, Kai Kai and Jia Jia.
The lines can be incredibly long and you have only 15 minutes to observe the pandas. For this reason, you might want to consider starting here so you don't miss out.
This must be our lucky day because there was no line, which I believe was because it was a Tuesday afternoon. I spent nearly an hour here taking video and countless photos, something I believe would not have happened on a weekend being so much busier. So avoid these days if possible if you too want to spend more than 15 minutes here.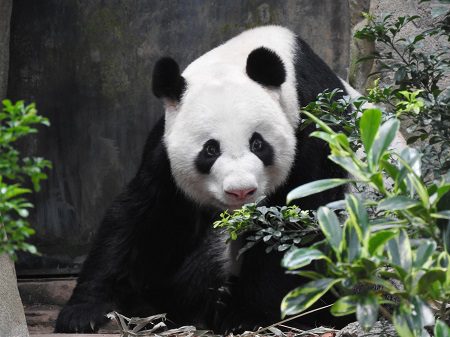 I was beyond excited and felt an overwhelming sense of happiness. I had wanted to see pandas since I was a child and here I was. Their adorable mannerisms were just mesmerizing and it was an incredible experience.
UPDATE: Jia Jia (mother) and Kai Kai welcomed a baby panda on August 14th 2021, their first. The young male panda has been named Le Le, by public vote.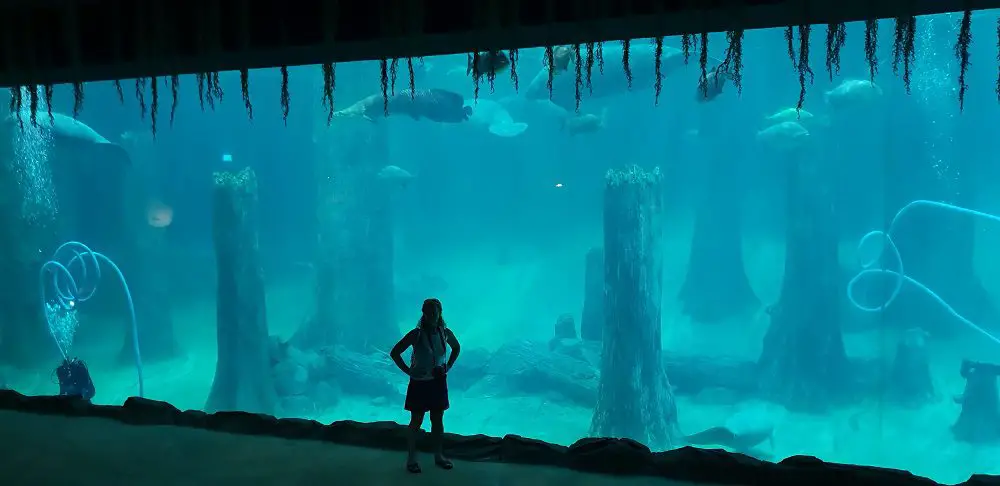 The rest of the park is really wonderful. I enjoyed seeing the manatee which you can view below through the large glass tank and also from above the water line. I also got to see a couple of manatee mating.
What else the park offers:
Amazon Flooded Forest – a fascinating look at some rare South American animals
Reservoir cruise
Amazon River Quest – take a boat ride through the jungle $5 entry
Once upon a river – interactive show 11.30 am / 2.30 pm / 4.30 pm
Opening times: 10am to 7pm
Cost: SIN $38
Tickets: River Wonders – see the giant pandas and more USD $28 / AUD $38
Included in Singapore Flexi Pass & iVenture Attraction Pass
Marina Bay at night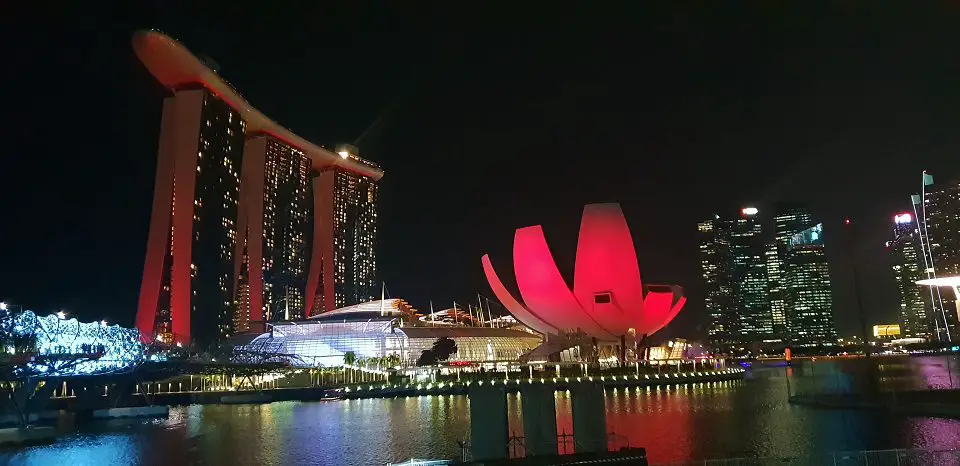 If you only had one night in Singapore you'd come here without question.
Iconic and memorizing, Marina Bay dazzles in the Singapore night. The view across the water must be one of the most photographed scenes in all of Singapore.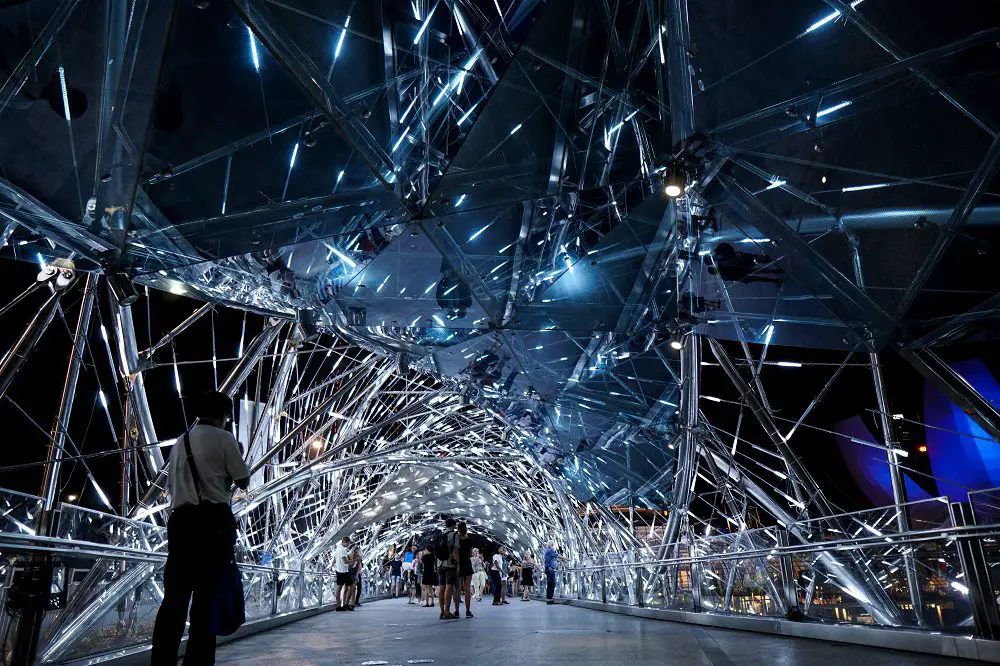 Marina Bay Light show – Spectra
Be sure to catch the Marina Bay Light Show for a spectacular display of lights, lasers and music.
The best vantage points include at the famous Merlion and across the footbridge from Marina Bay Shopping Mall. Alternately, there are quite a few restaurants and bars that provide a wonderful vantage point including the popular Fullerton Hotel.
Times for Spectra Light Show – 8 pm / 9.30 pm (7 days a week) + 11 pm (Fridays & Saturdays)
The Shoppes at Marina Bay Sands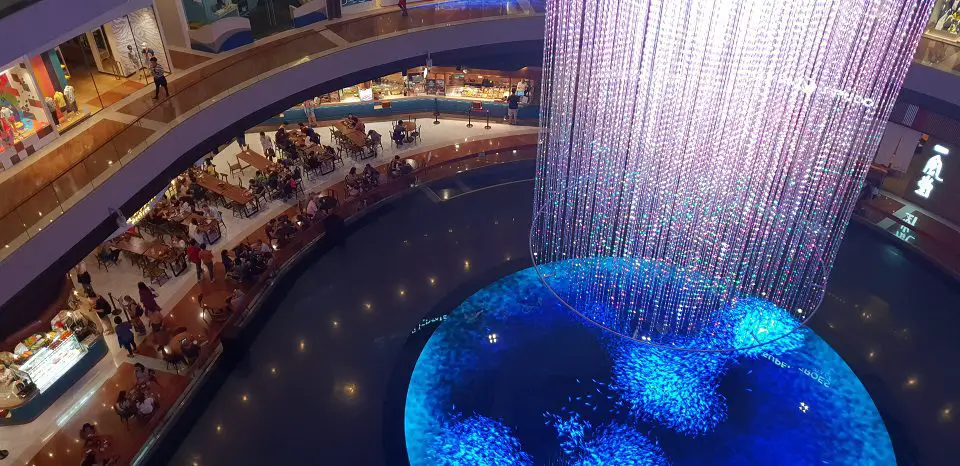 On the other side of the footbridge is the Shoppes at Marina Bay Sands. With over 170 luxury and famous brands, we found ourselves wondering through late at night.
After a big day and plenty of walking our appetites were high.We opted for the food court and a big bowl of noodles and laksa. Yummo!
It was only a  20 minute walk back to the hotel at around 1 am ready for the next day.
DAY 3 IN SINGAPORE
Sentosa Island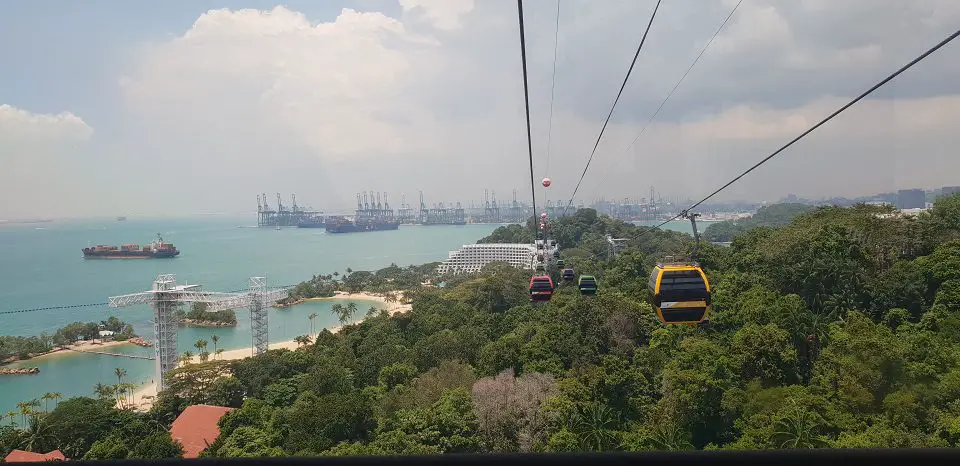 Sentosa Island is a different kind of day away from the city. Well it's kinda connected but definitely has a different vibe.
You can access the island via road, boardwalk, monorail or cable car, which is exactly what we did. The views were quite nice on our cable car ride and it only takes 15 minutes. The great thing about using the cable car is that it extends across different parts of the island so you can get off and back on when ready.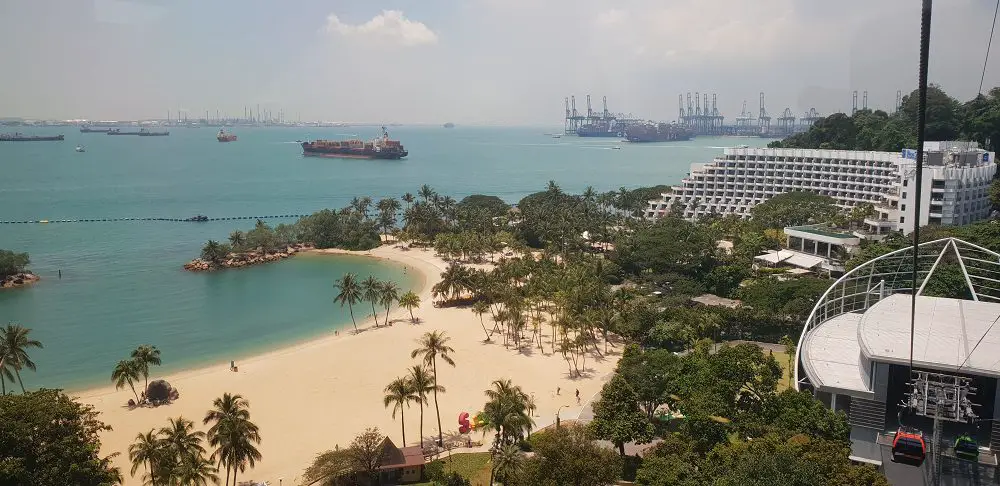 Though I didn't swim, the beach looked very inviting. Instead we rode the Luge which was fun and because the big kid I was with (my husband) insisted.
We spent most of the day here but you could probably spend 2 to 3 days as there is lots of other attractions such as:
Tiger Sky Tower
AJ Hackett Bungee
SENTOSA CABLE CAR DETAILS
Opening times: 8.45 am to 10pm
Cost: SIN $25
Tickets: Singapore Cable Car Sky Pass – to Sentosa island USD $19 / AUD $25
Gardens By the Bay Light Show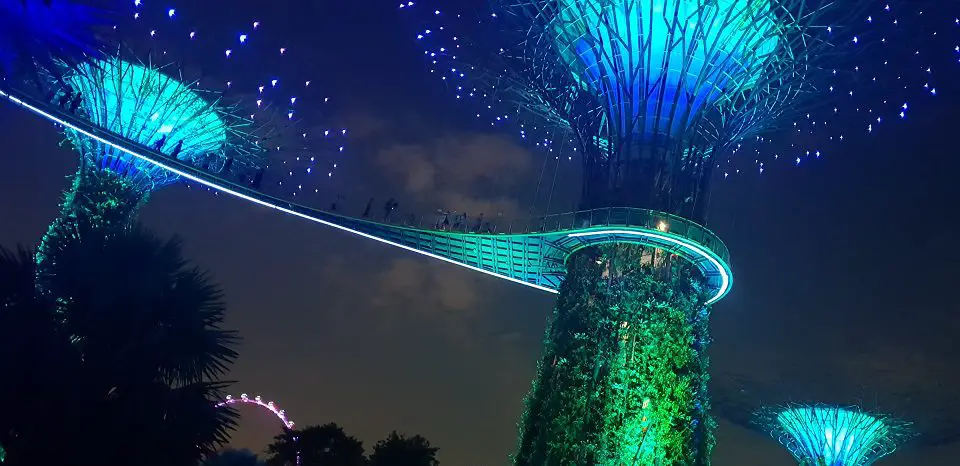 Wondering what to visit in Singapore for FREE. You have to visit Spectra.
A short walk directly behind Marina Bay Sands (just follow the crowds) is the astounding Gardens by the Bay Light Show.
Watch the super trees dance amid changing colour to the sound of music. It's quite the wonderment as hundreds gather to the see the show of all shows.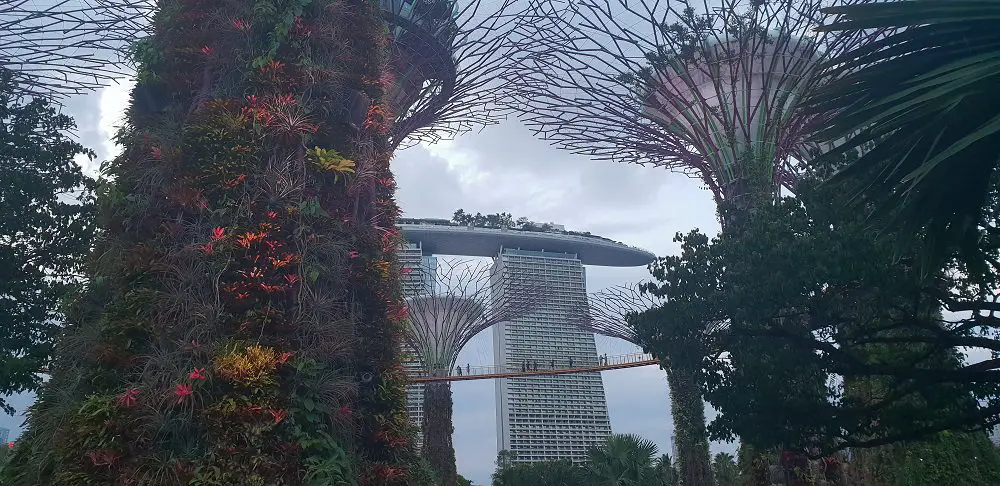 Theatrical and alluring, many consider this to be their highlight while in Singapore.
on every night of the week
starts 7.45 pm and again at 8.45 pm
15 minute duration
FREE show
Marina Bay Sands Sky Park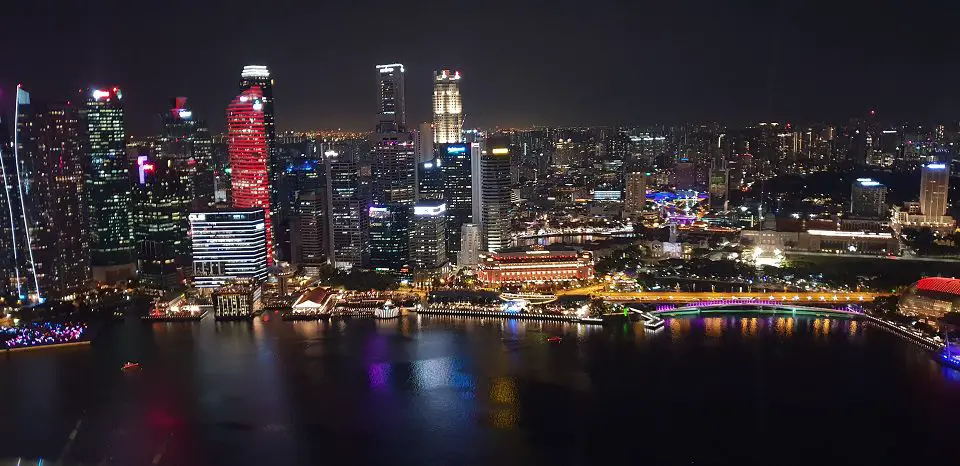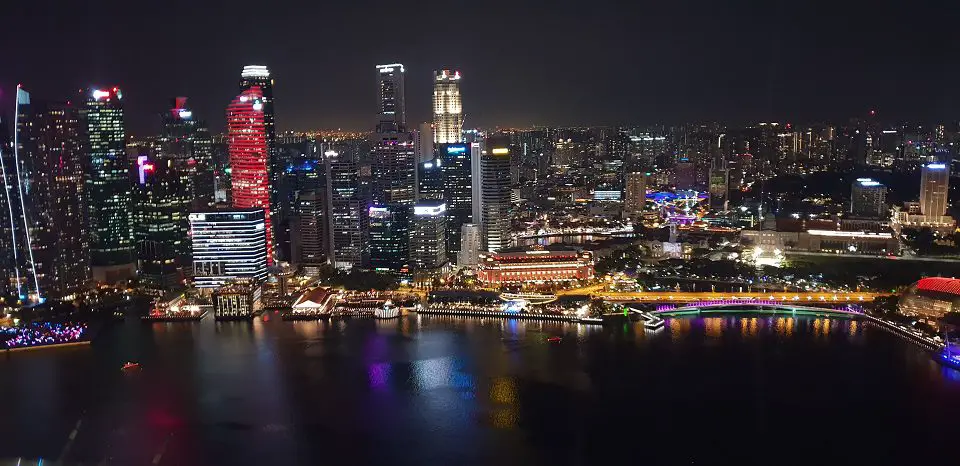 The Marina Bay Sands Sky Park can be accessed any time of day but the night lights across the city are something special.
This observation deck is perched 57 storeys up on the roof top of the famous Marina Bay Sands Hotel. As we had already seen Singapore from up high during the day it was time to view it at night.
Wow, what can i say. It is awfully high up up there and the warm night air blows enough to feel some relief.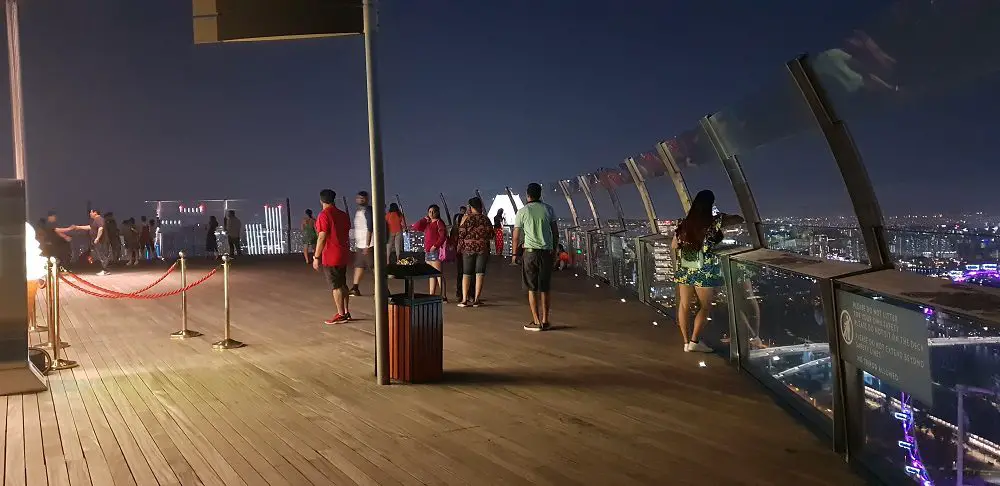 We arrived an hour before closing but by the time we made it up to the observation deck we only had forty minutes left. There is a fantastic bar and restaurant which closes at 1 am so if you want to stay back then head here.
I had a Singapore Sling and while it wasn't cheap the million dollar view made up for it just nicely.
Opening times: Sunday, Monday, Tuesday, Friday & Saturday 11 am – 9 pm / Wednesday & Thursday 11 am – 6 pm
Cost: SIN $26
Tickets: Marina bay Sky Park – observation Deck USD $19 / AUD $26
Included in Singapore Flexi Pass & iVenture Attraction Pass
DAY 4 IN SINGAPORE
Gardens by the Bay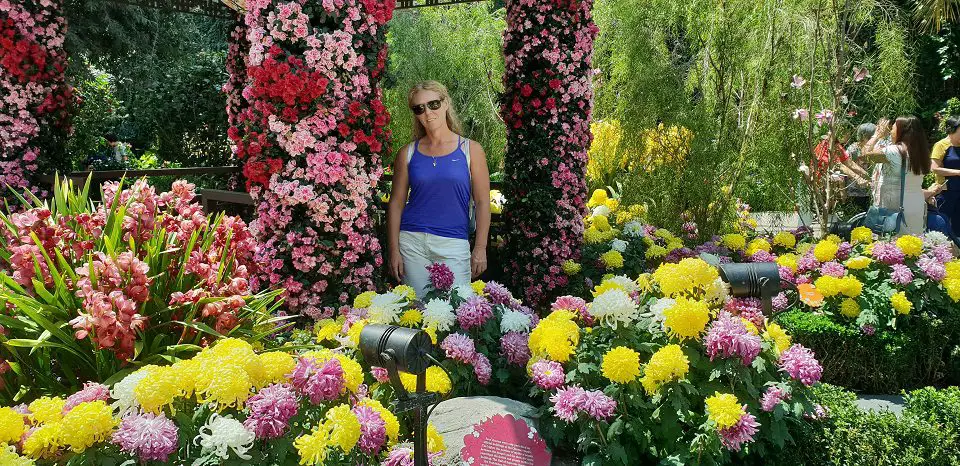 Gardens by the Bay is like nothing you have seen before.
We headed in early morning to get the most out of our day yet again. The two air conditioned domes are very different so worth a look at both. If you had to pick just one, I'm sorry I can't help you out with this one.
The Flower Dome is over two levels and showcases plant life from all around the world. Every climate from cool temperate to tropical is on display here.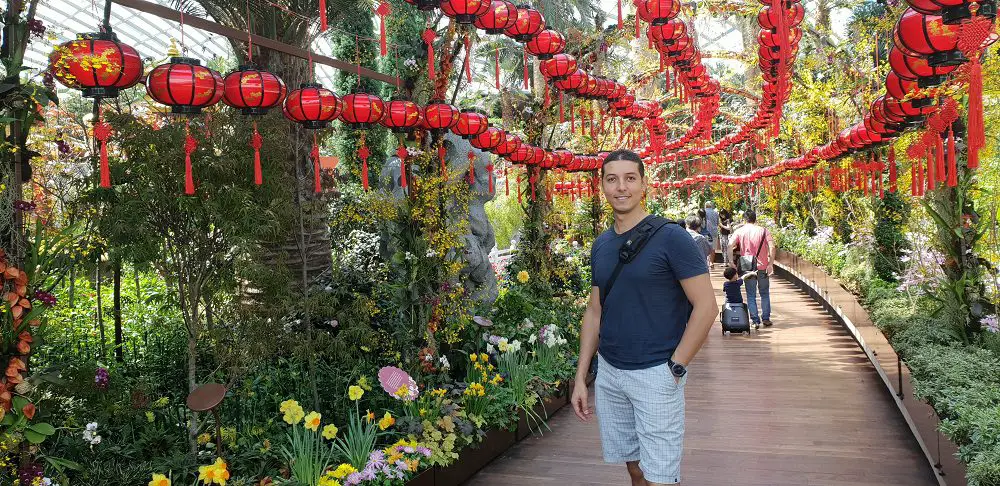 Inside the Cloud Forest Dome you will be greeted by a towering waterfall. The high platforms wrap their way around the dome's displays giving you some incredible perspectives.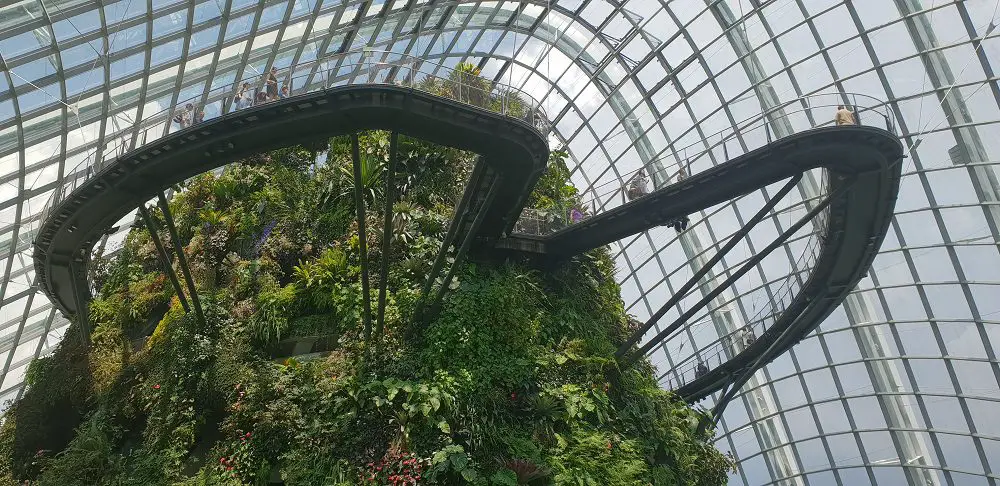 Gardens By the Bay is simply stunning and is one of Singapore's top attractions. OK, I know I've already used that line but damn it, it's just so pretty.
If you don't want to pay the admission you can still enjoy the outside gardens including Super Tree Grove.
Opening times: 9am to 9pm
Price: SIN $30 both domes
Tickets: Gardens by the Bay – both domes included USD $22 / AUD $30
China Town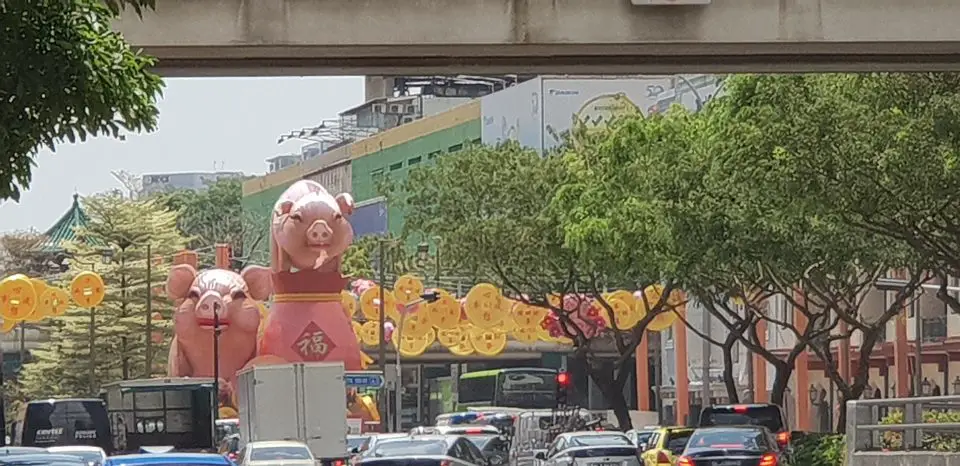 We caught the train up to China Town for a quick look. There is a lot happening here from street stalls, bars and plenty food options.
It is a mix of old and new here, where century old temples stand near trendy bars.
Feeling a bit peckish? Head to Smith Street where you will find China Food Street and a multitude of dining options.
After our brief visit it was time to keep moving in search of more adventures.
Clarke Quay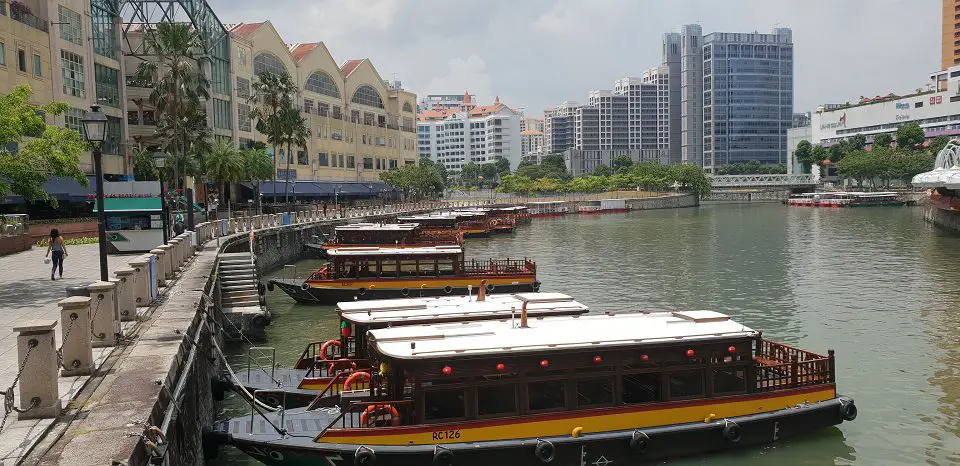 A short ten to fifteen minute walk away is Clarke Quay. This historical riverfront precinct is something quite different. The canal boats line the river ready to take you for a cruise up Singapore River.
We stayed for lunch on the rivers edge as it was such a cool spot then made our way back to our hotel via Fort Canning and Bras Basah.
Why not take a River Cruise aboard one of the original bumboats while you are here. The cruise typically takes 40 minutes.
Operating times: 9am to 11pm
Cost: SIN $25
Tickets: Singapore River Cruise – 40 minute cruise $19 / AUD $25
Raffles City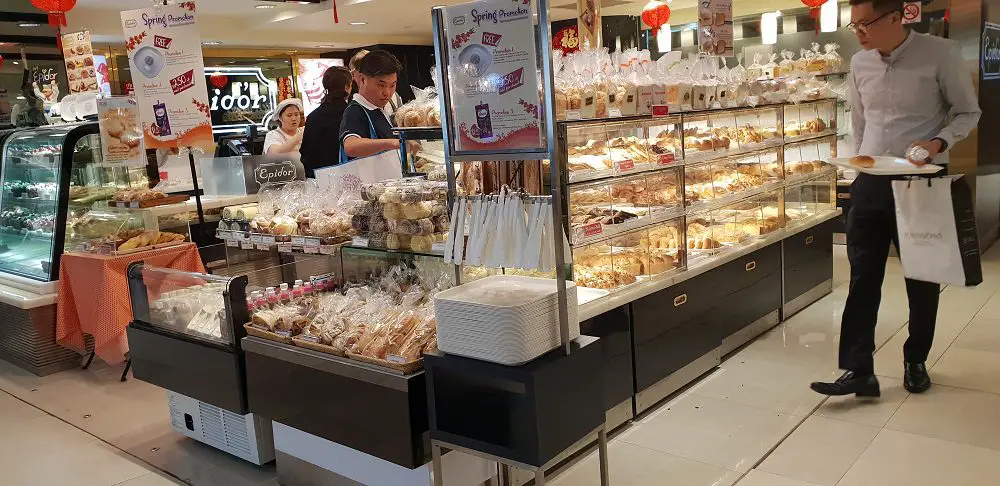 Raffles city is a large complex encompassing many things. It has a shopping centre, convention centre, various hotels, a food market hall and it's all connected to the City Hall MRT.
You can literally walk blocks from one area to the next, and all under cover in air conditioning. So it's a great rainy day or "I'm so hot and bothered" kind of place.
As our hotel was just around the corner, we spent most days here connecting from the train station. We also ate a few meals here for convenience.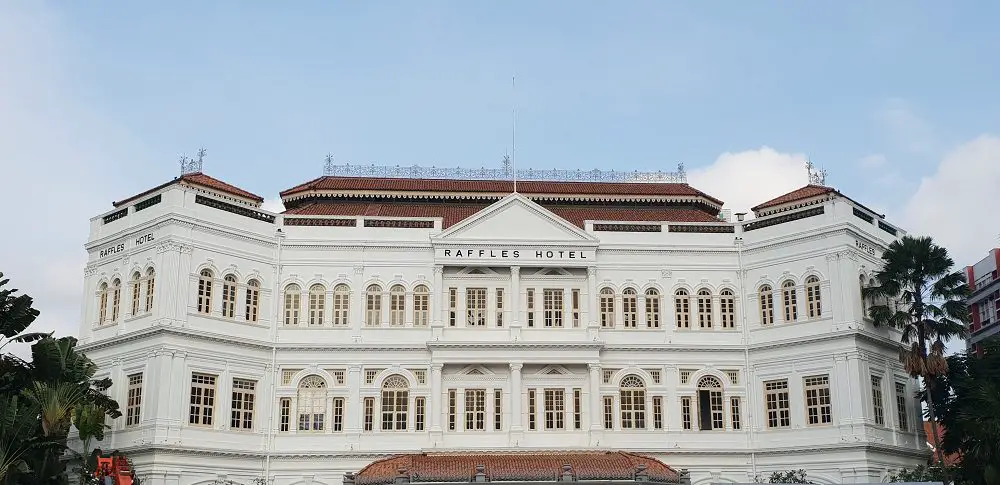 A short walk away is Raffles Hotel where you can treat yourself to the original Singapore Sling at the newly renovated Long Bar.
Merlion Park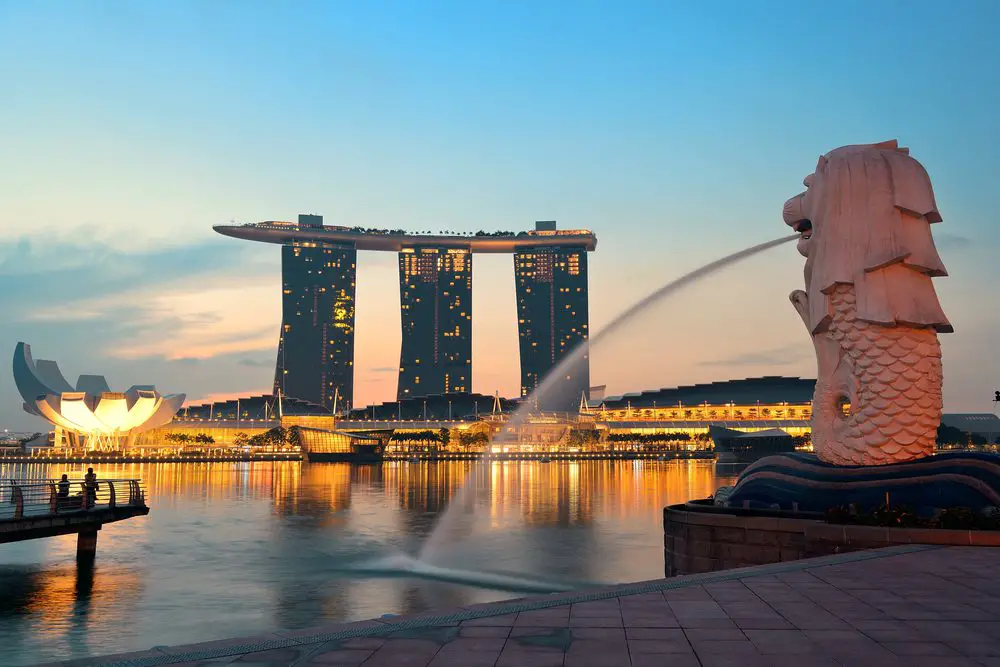 Our last evening in Singapore takes on one final iconic attraction, the Merlion.
This mythical creatures with lions head and fish body stands opposite Marina Bay Sands . The Merlion is a symbol of Singapore's rich history, dating back to when it was a fishing village.
From here you should definitely head to one of the many Hawker Centres. These cheap food halls are always buzzing with hungry diners. A bowl of rice and chicken might set you back a couple of dollars. The closest and best one's in the area are Maxwells Food Hall and Hong Lim Market.
Day 5 in Singapore
Depending on when you fly out or cruise away, you may still have time for a few more stops. So here is a list of things to do and see for your final day.
Little India
National Gallery
Orchid Road shops
Singapore Art Museum
Adventure Cove Water Park
Asia Pacific Breweries
Sky Park at Sentosa Island
Singapore is a tourists dream. It is so well catered to all visitors plus it is clean and safe.
5 Days in Singapore Conclusion
To stay in Singapore any less than 5 days will be a tough ask. Even beyond all the incredible things to do is the food, the shopping, the city walks and parks. You still need time to enjoy it all and not feel rushed. That's why a Singapore 5 day itinerary is the perfect amount of time if you are short on time.
Key Savings:
take the train from the airport to your hotel.
stay in affordable accommodation in budget areas such as China Town, Little India and Kampong Glam
purchase an MRT tourist pass (train) to get around Singapore
purchase a Flexi Saver Attractions pass or the iVenture Card for great savings
see the many free attractions such as Gardens by the Bay Supertrees Light Show.
Eat at the many local Hawker Centres across the city
What did I use to book my trip to Singapore?
Booking.com – the biggest range of hotels / apartments / entire homes
Hotels.com +plus get a free night for every 10 nights you save up.
Viator – for day tours from a range of tour suppliers
Klook – for all your entry tickets plus skip the line
---