As an Amazon Associate I earn from qualifying purchases. I get commissions for purchases made through links in this post.
If you are a big fan of animal encounters and love to experience new things, then breakfast with the Orangutans at Singapore Zoo is an absolute must. These wonderful and intriguing creatures display an affection for each other that makes your heart melt a thousand times over. During my 5 days in Singapore I knew I could not miss this opportunity. This is my experience and full review of Breakfast with Orangutans Singapore Zoo. 
Visiting Singapore first time – read these handy Travel Tips for Visiting Singapore first time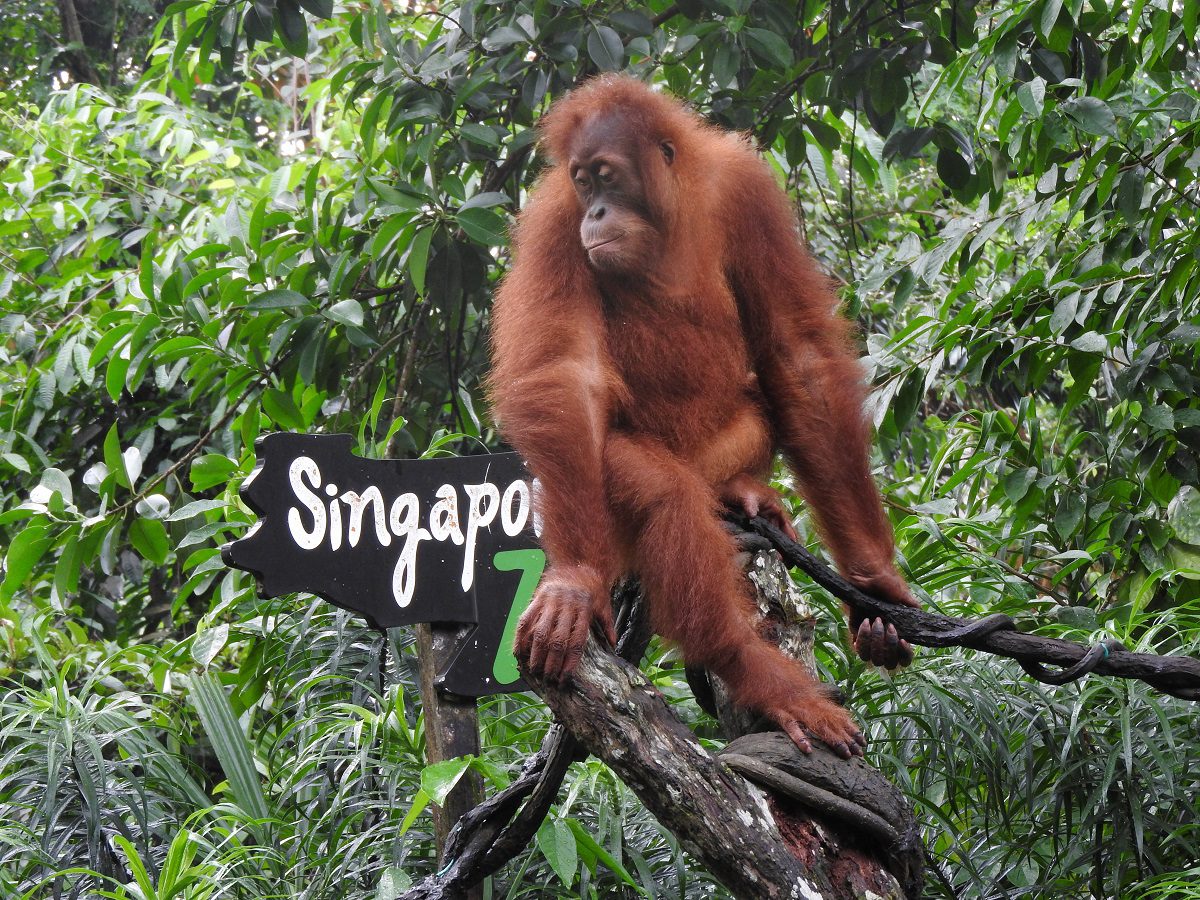 Breakfast with the Orangutans
Includes Zoo entry & Hotel Transfer
How to get to Singapore Zoo
The Singapore Zoo is located approximately 28 km to the north of Singapore city centre.
You have a few public transport options to get to the Singapore Zoo including:
Train and bus: There is no train that takes you right to the zoo, and instead you will need to do a couple of connections including a bus ride. First you'll take the north south line and then take the Mandai Express bus service. This will take around 1.07 dependent on where you start your journey.
Alternately, you can take the Safari Gate bus from Suntec City. The bus has 8 departure times from the one location but will drop you off at several locations. the cost of this is $7 one way and $12 return.
Finally, you can save some of the hassle by purchasing a hotel pick up as part of your "Breakfast with the Orangutan"s ticket and then make your way back to the city when you are ready. I particularly like this option as it's quick and easy and you are not bound on a set time to return.
Transport will be available out front of the zoo when you are finished seeing the Zoo and/or Safari River.
You can also read: Best area to stay in Singapore – all the hot spots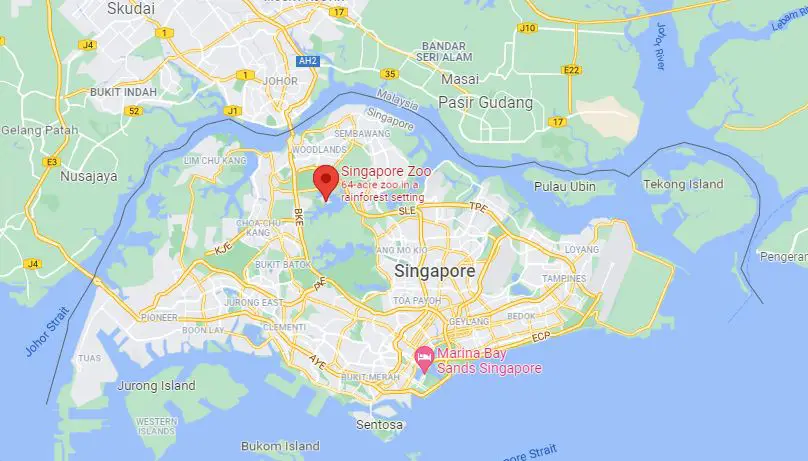 How much is the Breakfast with Orangutans Singapore Zoo?
The ticket alone for Breakfast with the Orangutans at Singapore Zoo is approximately $35 SGD.
BUT WAIT….. you have to have entry into the zoo as well. You CANNOT just purchase the breakfast, it is an additional charge.
Best deals for Breakfast with Orangutans Singapore Zoo?
Ticket only: Breakfast with Orangutans at Singapore Zoo USD $25 / AUD $35
Included in Attraction pass: Singapore Flexi Pass or iVenture Attraction Pass
You might like to read: Singapore on a Budget – ultimate guide to the city
You can do the breakfast then head out on your own and see the zoo for as long as you like. You might even want to head into River Safari Park ( a wonderful park and completely different to Singapore Zoo) located next door. Then when you are finished, head back to the city via the local bus service or taxi.
What to expect Breakfast with Orangutans Singapore Zoo
What time is Breakfast with the Orangutans?
The breakfast is open at 9 am and finishes at 10.30 am.
The orangutans don't actually come out till somewhere around 9.30 am so I recommend eating straight away. That way your attention is purely on them and you can enjoy your time without distraction before they head back into their jungle habitat.
Seating allocation
Unfortunately, you cannot choose our own seating, so even arriving early won't get you up front seating. This is what happened to us and we were seated further back, but I really didn't think it was an issue.
WHY? Well, you eat breakfast first well before the orangutans come out and then when they do, you can simply get up. Honestly it's not that big a deal, so it didn't make our experience an less. Just as I don't believe those in the front seating got a better experience than us.
I'm sure if the front seats were that much better they would have some sort of premium seating with a premium price, and I really hate that. It makes me feel that I'm choosing a great or just OK experience. And I can't always afford or justify paying more. So don't let that deter you.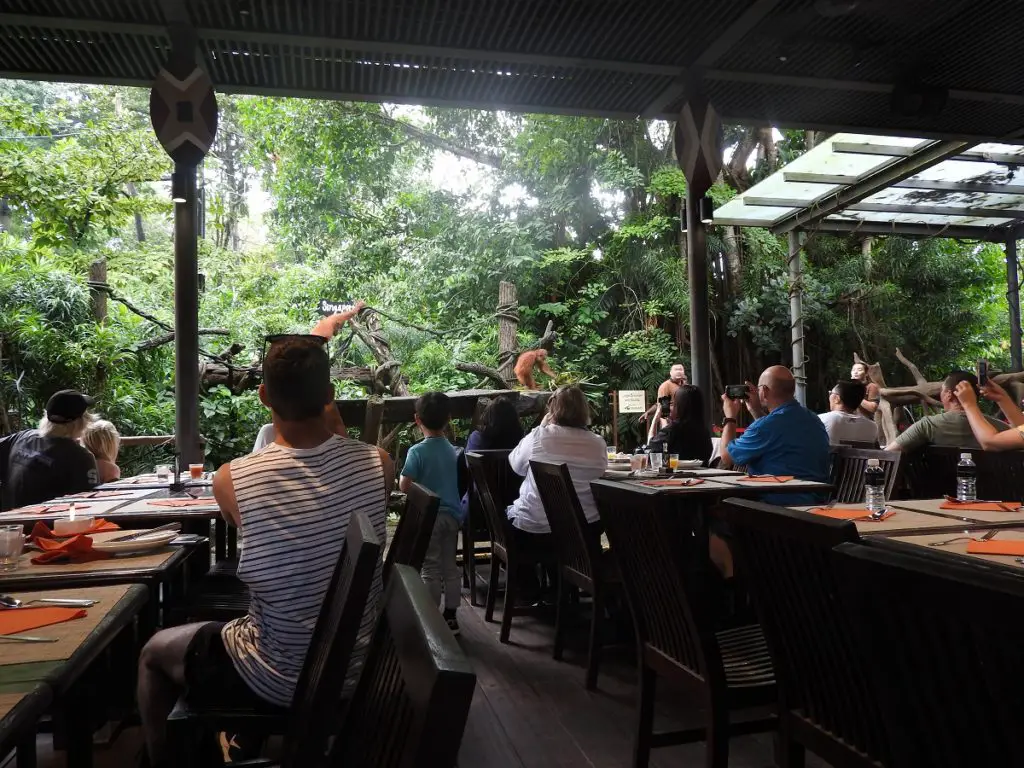 What's for breakfast?
The breakfast is quite good and just as I would expect.
The buffet style breakfast is filled with a selection of hot and cold food. You can expect cereals, pastries such as muffins, croissants & waffles, bread items,hash browns, eggs, beef bacon, and a selection of Asian dishes. There is also fresh fruit and drinks include juice, tea and coffee.
It is extensive enough to cater for most people.
I have to admit I'm not a "foodie" so as long as it's fresh and I eat it, I'm happy. Besides I really came for the animals and being fed as well is just a nice bonus.
See the orangutans
It was pretty cool to look up and see the orangutans coming in one by one along the vines high up in the trees. They are just so special to watch.
We have a large family of orangutans with us today and they are ready for their own feeding of fresh fruits. They happily sit back and enjoy meal time without any care that we are there. The younger ones play around and at times cling tight to others in the group. It is so sweet to watch and I'm smitten with their antics.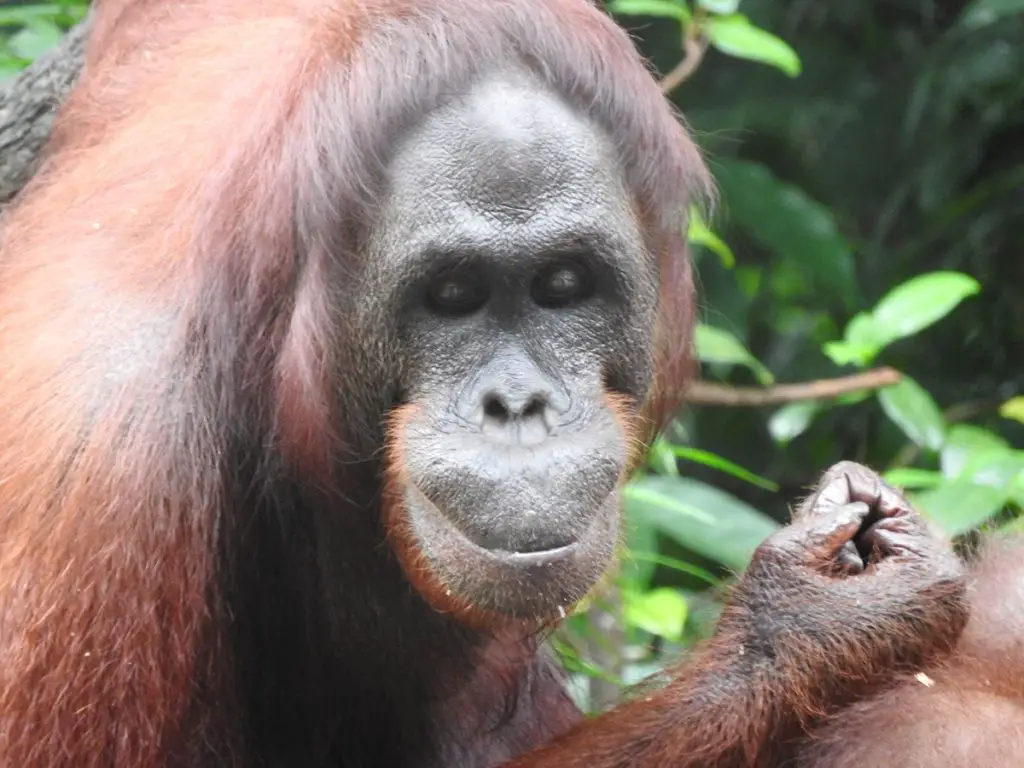 Getting photos
You'll be happy to know that you can get photos off your own camera, a real bonus right!
Everyone is invited to line up for a photo opportunity and the zoo staff will happily take your camera or phone and get plenty of happy snaps of you are the orangutans. It's really great that I'm not expected to pay for professional photos as they are always way too expensive.
One you are done you can still take photos from the side.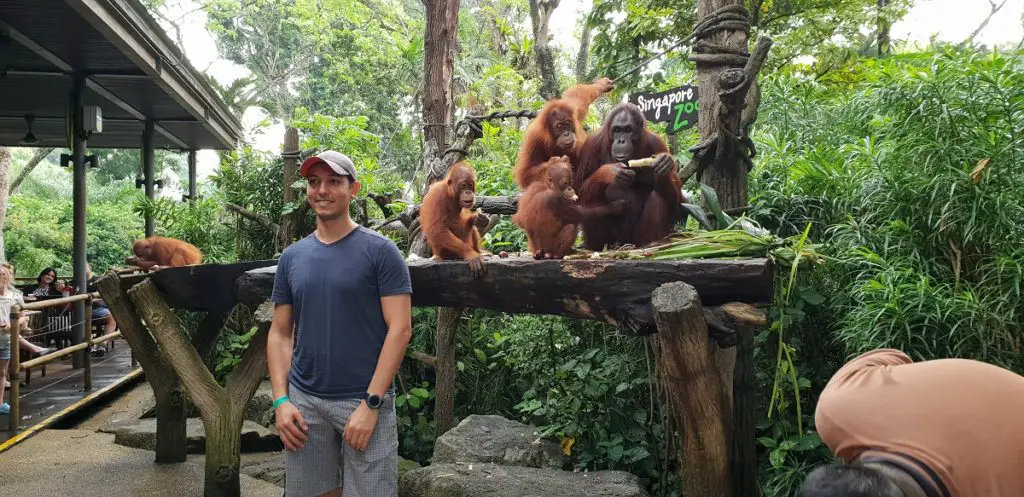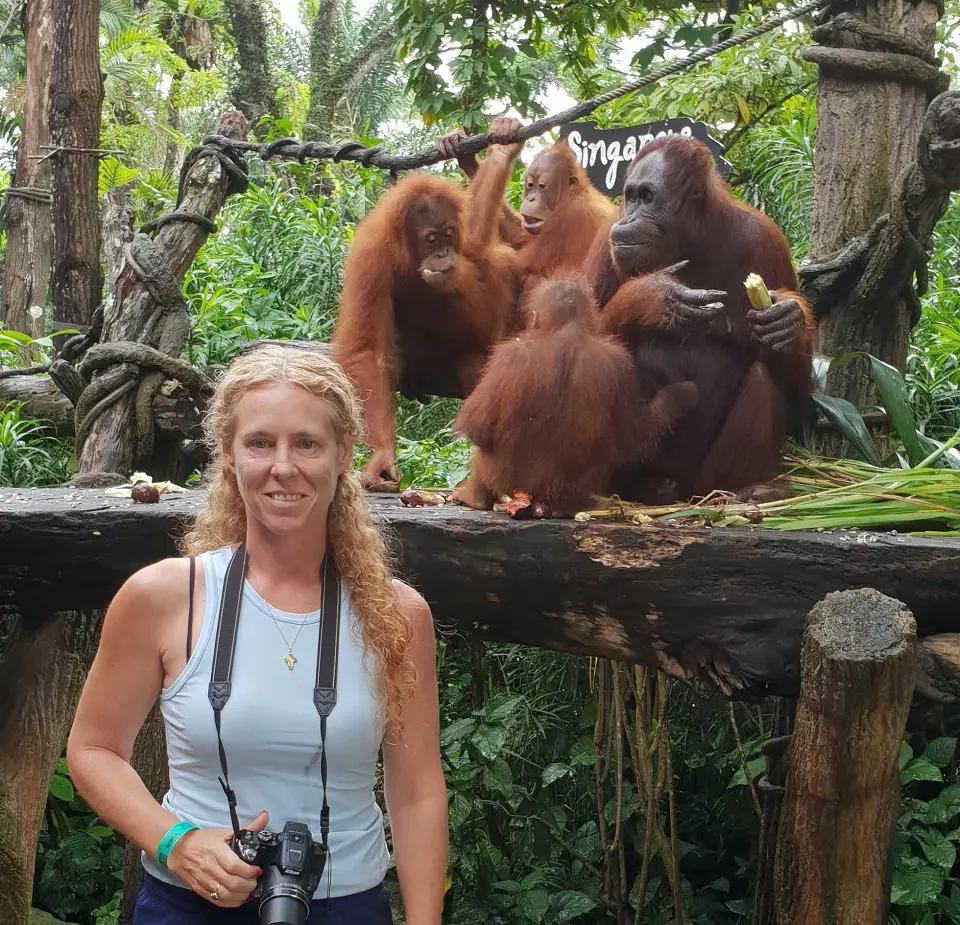 Breakfast with the Orangutans – includes Zoo entry & hotel transfer
What else you should know
You cannot touch or feed the orangutans
I believe years ago this may have been something you could do, but I'm glad it is no longer. It is such as privilege to see them up close without barriers and I'm just glad for the opportunity.
Singapore Zoo is a world class venue
The Singapore Zoo is one of the best zoos I have seen. The San Diego Zoo in the USA is regularly rated as the top zoo in the world, and I can say Singapore gives it a decent run for its money.
The open concept of not having fences up, and instead deep pits that separate you from the animals is brilliant. The enclosures are also spacious and true to their natural environment.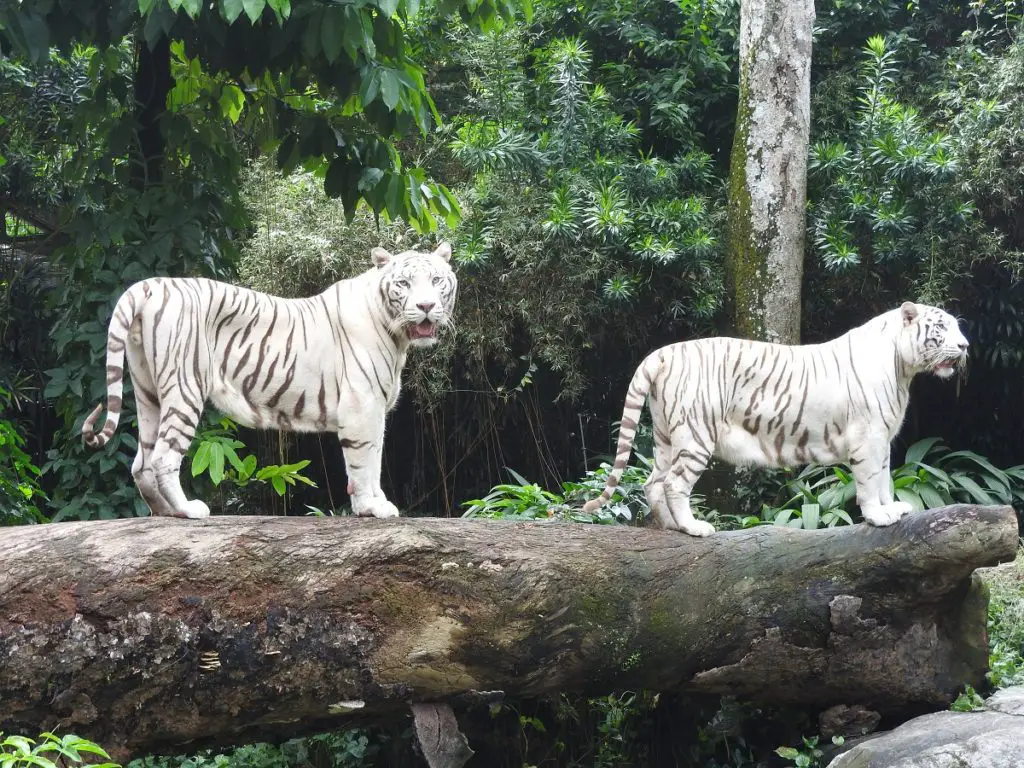 Which tour should I take?
Ultimately you can make your own way to the zoo which I have done, but it took all morning to get there. As there is no direct train, we had to take 2 trains and then a bus connection. This meant leaving super early to avoid being late. The trip took 1.30 to arrive at the zoo.
Alternately, you can get a hotel pick up and return which is around 4 hours. So after breakfast with the orangutans, you'll only have 90 minutes maximum to see the rest of the zoo. We spent 3 extra hours as there is so much to see. I really don't recommend doing it this way unless you have very limited time in Singapore.
Best tour – Singapore Zoo breakfast with Orangutans
You can take a one way only tour which means you'll be picked up from your hotel and will receive the breakfast with the orangutans and entry into the zoo. You can spend as much time as you like and head back to the city via public transport or by taxi when you are ready.
Also, you really have to visit River Safari if you have time. It is right beside the Zoo so all at the one location.
This is where you can see pandas and it is truly a wonderful experience. The river and aquarium themed zoo is completely different to the Singapore Zoo with a range of unique South American species, water rides and many aquatic animals including the manatee.
Overall, it was one of my best days in Singapore.
Looking for a full 4 to 5 day itinerary – read my 5 days in Singapore itinerary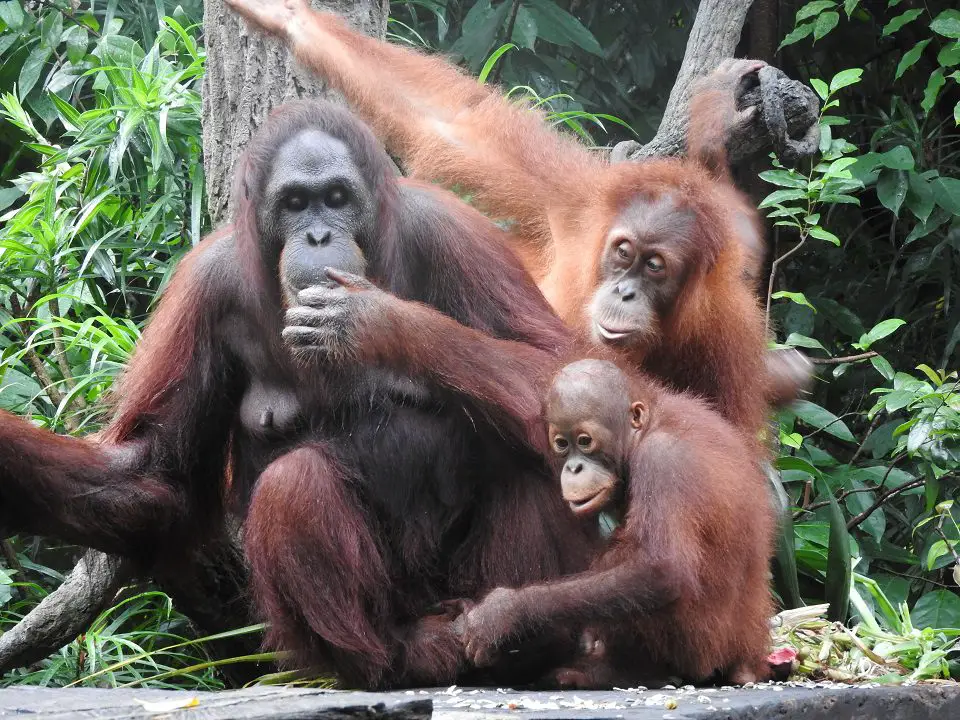 Breakfast with the Orangutans
Includes Zoo entry & hotel transfer
A love of animals
I love different animal encounters.
From seeing the wild animals on an African Safari, grizzly bears in Alaska, swimming with manta rays in Hawaii and the snow monkeys in Japan, it is always a truly incredible experience no matter how big or small.
You can read more on insane animal encounters here.