As an Amazon Associate I earn from qualifying purchases. I get commissions for purchases made through links in this post.
Wondering what to do in Sharm El Sheikh? I have ventured to Egypt on numerous occasions and always seem to find myself being drawn to the warm waters of the Red Sea, in particular, Sharm El Sheikh. With so many cool things to do in Sharm El Sheikh, it's no wonder it's such a popular choice for tourists. 
By the end of this article you are sure to be asking how to fit in all the amazing things to do in Sharm El Sheikh.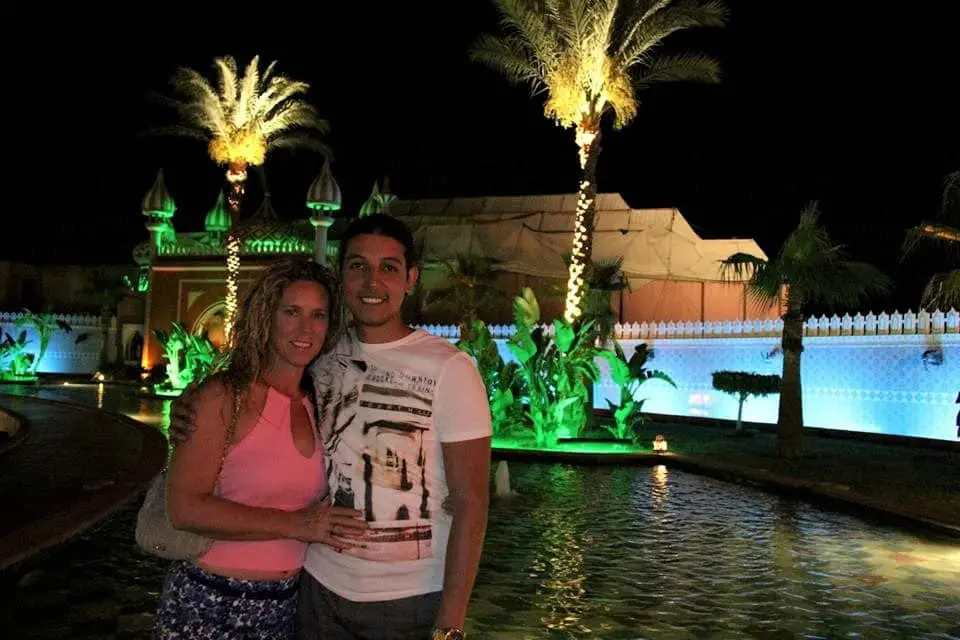 20 amazing things to do in Sharm El Sheikh
What is Sharm El Sheikh famous for ?
Diving & Snorkeling
Desert Safaris
Night Life
Adventure Activities
Cultural Experiences
One thing's for sure, you'll never get bored discovering the many Sharm El Sheikh things to do as well as those in the nearby region.
More articles on Egypt
Best time to go to Sharm El Sheikh, Egypt
One of the best things to do in Sharm El Sheikh is enjoy the warm waters of the Red Sea, and it's particularly busy during the months of April to October.
With the temperatures high during the day and balmy nights to enjoy, these months are definitely a favourite time to visit. Don't expect to see any rain, just clear blue skies all around.
The hottest months of July and August can be somewhat unbearable without a regular dip in the water, so if you don't particularly like stinking hot days and sticky hot nights, avoid these months.
The first half of September is also noticeably hot, while the second half is a bit more enjoyable for other attractions on dry land. You'll find plenty of adrenaline activities as well as some unique experience you absolutely must try. (keep reading)
The winter months of November to March can be a little chilly for some. Personally, I found I couldn't swim when visiting in December and January, though others certainly didn't care. It may depend on where you come from. I found the many tourists from Ukraine were happy to get in the water, but for myself coming from Australia, it was a bit cold.
I think the best months to visit Sharm El Sheikh are April, May, June, September (second half) and October.
What to do in Sharm El Sheikh
From the azure waters of the Red Sea to the mystical desert surrounds, Sharm El Sheikh can cater to all types of tourists.
BEST AREAS TO VISIT
1. Naama Bay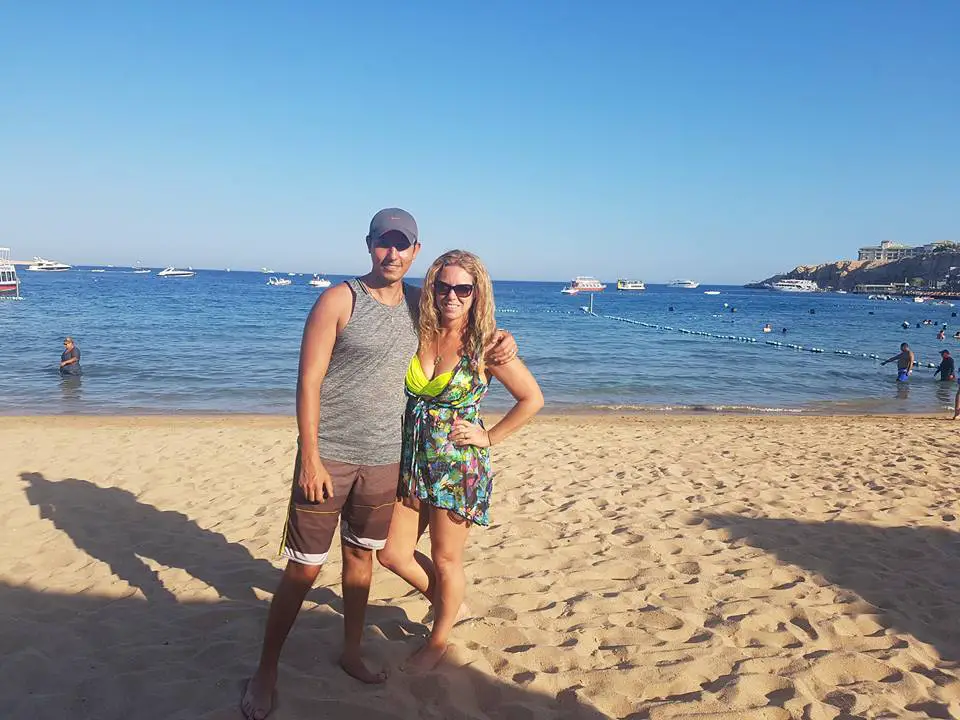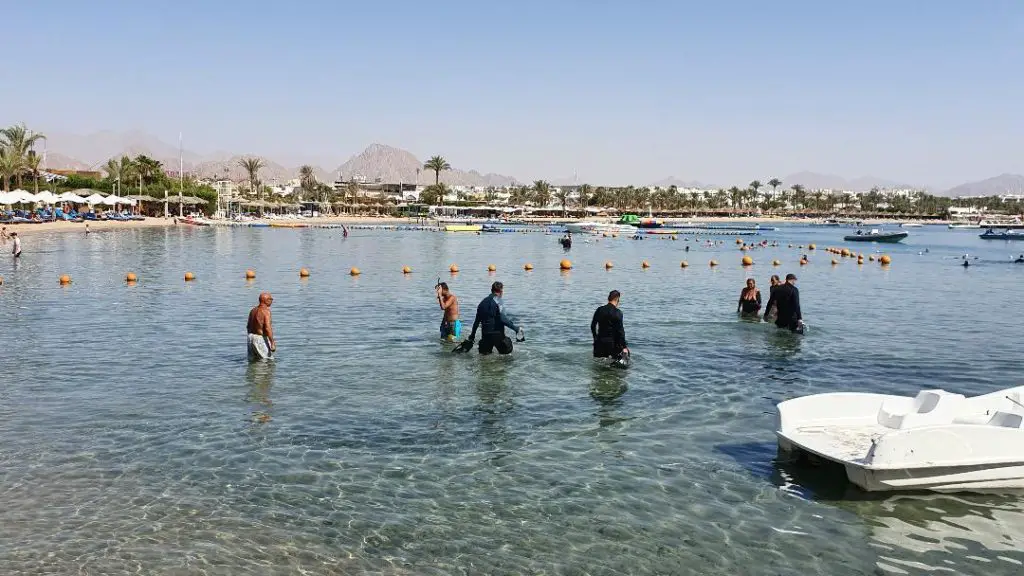 Located in the heart of Sharm El Sheikh , Naama Bay is a made up of white sandy beaches, high end resorts, outdoor cafes, restaurants and bazaars.
The water here is clear, warm and refreshing, averaging 24 – 29 degrees celcius year round. If you are staying right on sea side you'll have a private beach mere steps away with lounges and ice cold drinks.
If you are staying further out you can access the beach from public areas, but may have to pay a small fee of around 50 EGP ($3 USD).
Naama Bay beach offers a safe and sandy entrance. Head further out of town and you'll most likely be using a pontoon to access the water, as coral hugs most of the shoreline. For this reason, beach lovers are best to choose Naama Bay.
Naama Bay Accommodation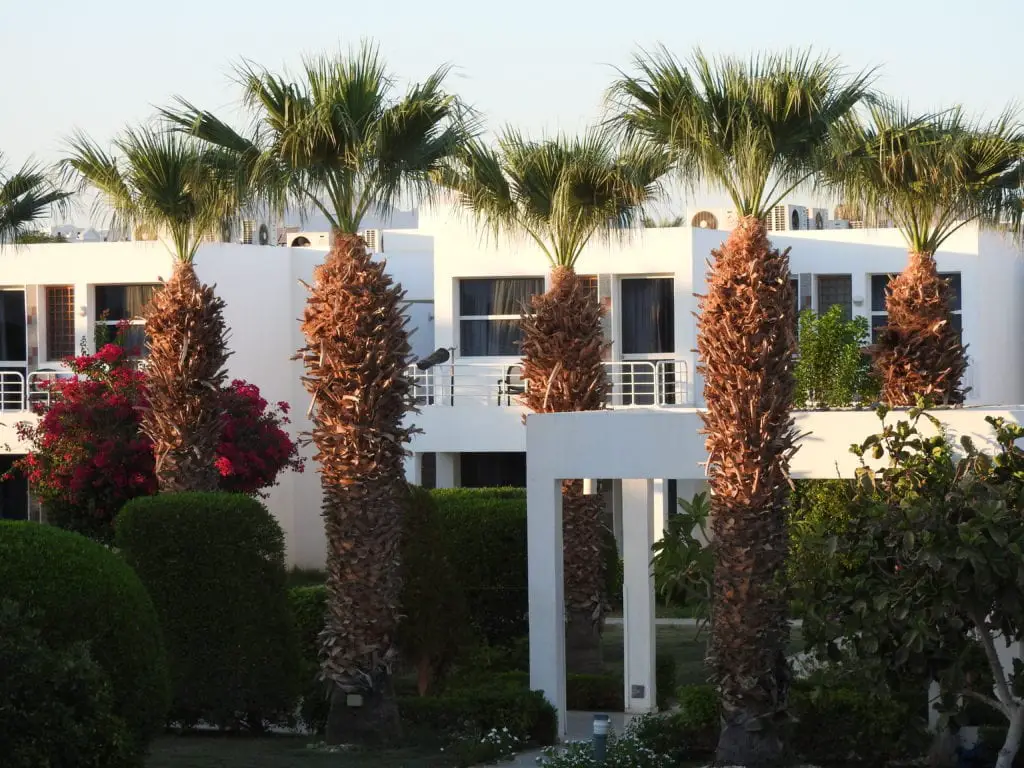 Absolute beach frontage
We have stayed at the Maritim Jolie Ville on many visits as it is absolute beach frontage. It offers a private beach, comfortable rooms and half or full board all at reasonable prices.
Prices start from EUR 71 / USD 75 per room per night.
For up to date pricing via Booking.com – go to Maritim Jolie Ville
Best budget hotel
As an alternative for those on a budget I recommend Naama Blue. They have a huge pool with plenty of daily activities for the kids. While the resort is not beach frontage, the hotel does have a private beach you can access right on Naama Bay. It is only a 5 minute walk from the hotel.
Prices start from EUR 35 / USD 37 per room per night
For up to date pricing via Booking.com – go to Naama Blue Hotel
Best all rounder plus great for single travelers
Oona Dive Club is nicely situated at the far side of Naama Bay with a private beach. The hotel is highly rated by guests and includes single, double, triple and family rooms, so everyone is catered. There is also a professional dive centre here.
While you are are still walking distance from the action of Sharm El Sheikh, the hotel is great for those looking for a bit of peace and quiet too.
Prices start from EUR 40 / USD 42 for single rooms and EUR 49 / USD 52 for a double room.
For up to date pricing via Booking.com – go to Oona Dive Club
---
2. Shark's Bay
The only thing questionable about Shark's Bay is the name itself. But don't worry, you won't find any here.
What you will find is white sandy beaches and also rocky coastline. it is also one of the best snorkel spots in all of Sharm. If diving or snorkeling is your thing then I highly recommend you come here. The reef here is perfect for beginners and you'll find a shallow area to one end of the bay, perfect for the kids.
For those wanting to learn and experience diving, Shark's Bay provides dive courses straight off the beach. There is also a marina where several boats launch from, heading to the outer islands and the many reefs.
Shark's Bay is located a 15 minute drive north from the centre of Sharm El Shiekh and is the perfect place to stay. if you prefer a quieter location than Naama bay, then consider staying in Shark's Bay.
Shark's Bay Accommodation
Best Value
With 9 swimming pools and located right on a private beach, the 5 star Xperience Sea Breeze Resort is a great choice in Shark's Bay.
Plus the rate is all inclusive so all meals and activities are included.
Room rates start at only EUR 136 / USD 140 per night for a pool side room.
For up to date pricing via Booking.com go to Xperience Sea Breeze Resort.
Budget Choice
Sunshine Divers Club is also beach front and includes breakfast. There is a restaurant on site and tour desk for booking all your activities.
Guests rate the property excellent for snorkeling and while the room rates are already pretty cheap, single travelers get a reduced rate for most rooms types.
Room rates start at EUR 38 / USD 40 for a single and EUR 55 / USD 58 for a double room.
For up to date pricing via booking.com go to Sunshine Divers Club
---
3. Nabq Bay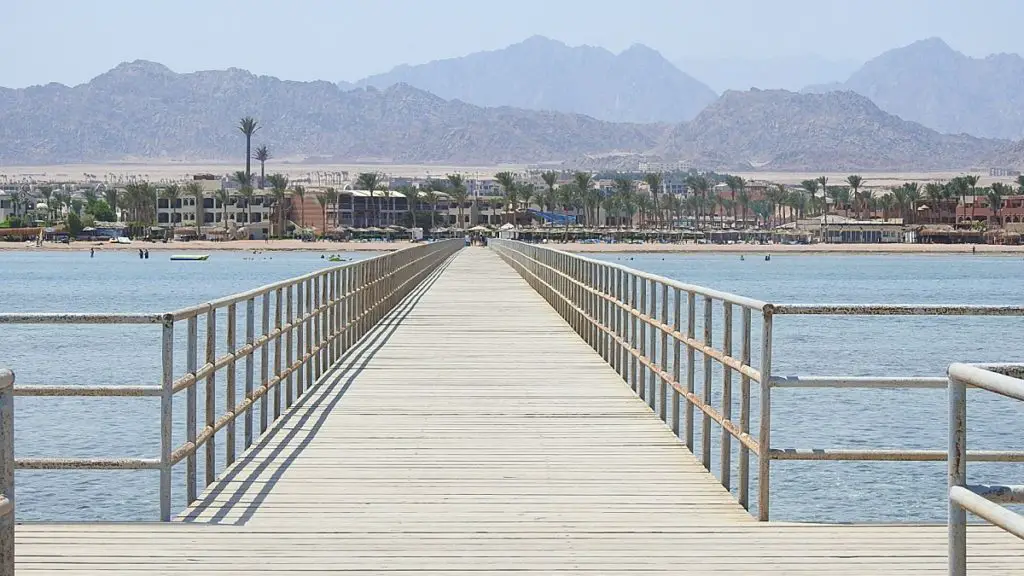 Located to the north of Sharm El Sheikh and only 8 miles from the airport, the area of Nabq is a popular place for those looking for a more quiet vacation away from the hustle and bustle of Sharm.
Nabq Bay consists of a Marine Reserve of desert, mangroves and protected coral sites. Things to do here include diving,snorkeling and desert tours.
Nabq is home to many large resorts, many all inclusive and right on the beach, making it a family favourite spot. You'll find these resorts have multiple pools and often aqua parks which the kids particularly love. Nabq is a great place for those who really just want to relax and have everything they need right on their doorstep.
There are also plenty of resultants and night clubs if you feel the need to take a night off from typical resort food.
Something to be aware of is you won't find the soft sands similar to Sharm El Sheikh here, instead access into the water is via long foot bridges. For this reason having the ability to swim is important.
Nabq Accommodation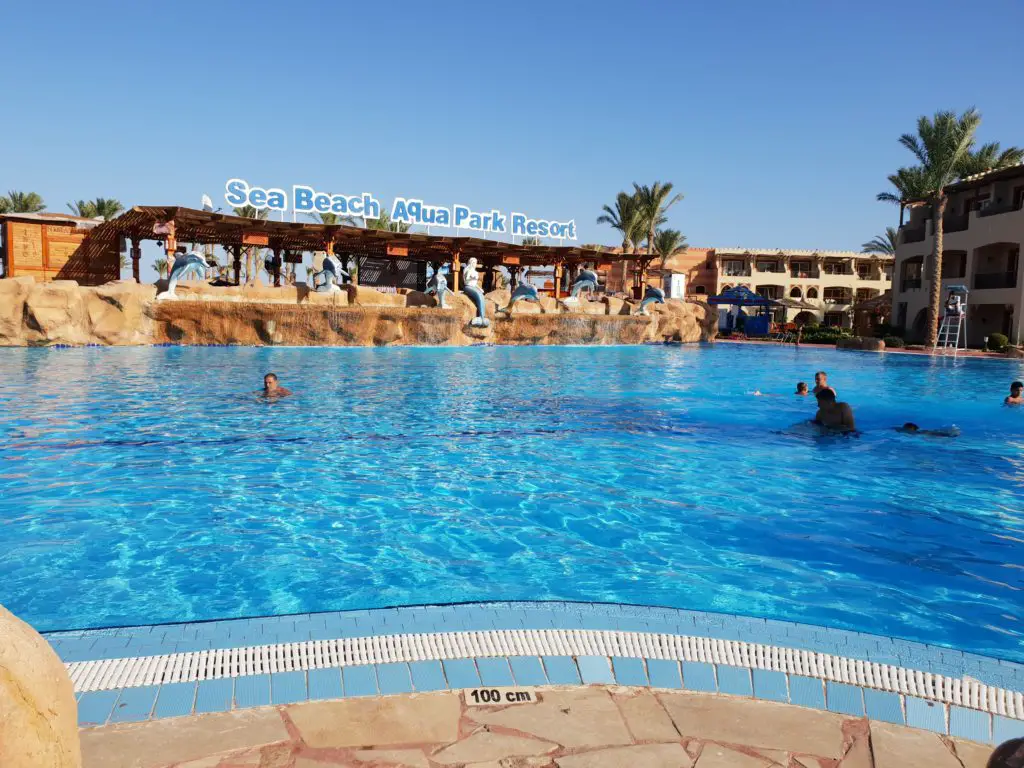 Best value
Rahana Royal Beach & Aqua Park Resort is great value and absolutely all inclusive.
The beach front property features 5 international restaurants to dine at, as well as Turkish Bath, massage and spa facilities.
Room rates start at EUR 120 / USD 127 for a double and EUR 134 / USD 142 for a family of four
For up to date pricing via Booking.com go to Rahana Royal Beach & Aqua Park
Budget Choice
Sea Beach Aqua Park Resort is all inclusive and is rated highly by guests.
Located on a private beach, the resort features 3 restaurants, swimming pool and aqua park, fitness centre and games room.
Room rates start at EUR 108 / USD 114 for a double OR family of four sharing the same bedding
For up to date pricing via Booking.com go to Sea Beach Aqua Park Resort
---
BEST MARINE PARKS
4. Ras Mohammed Marine Park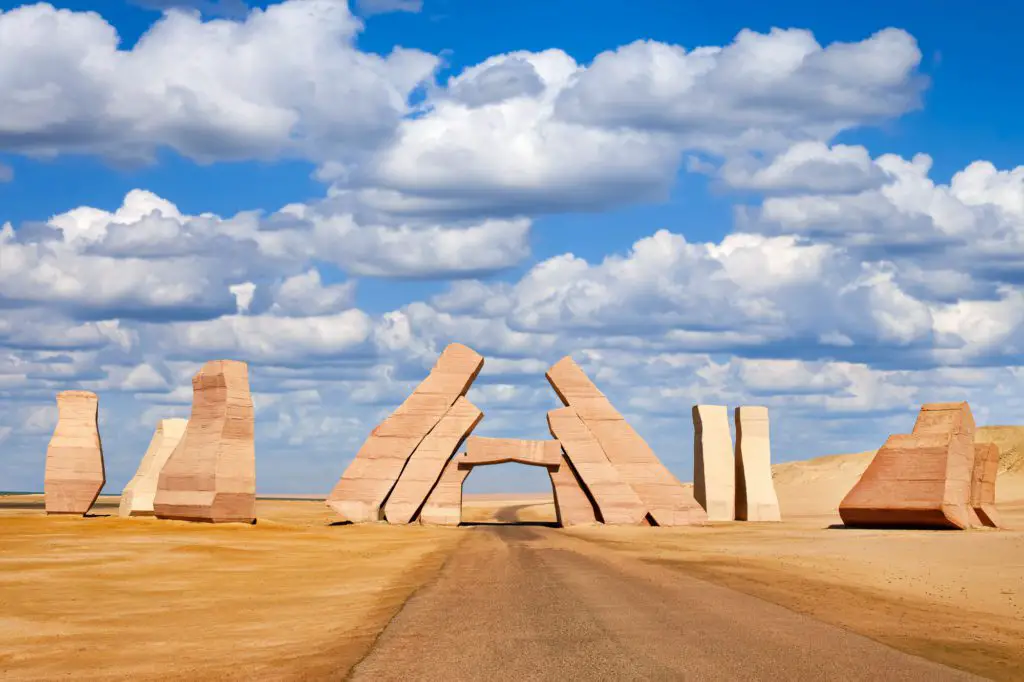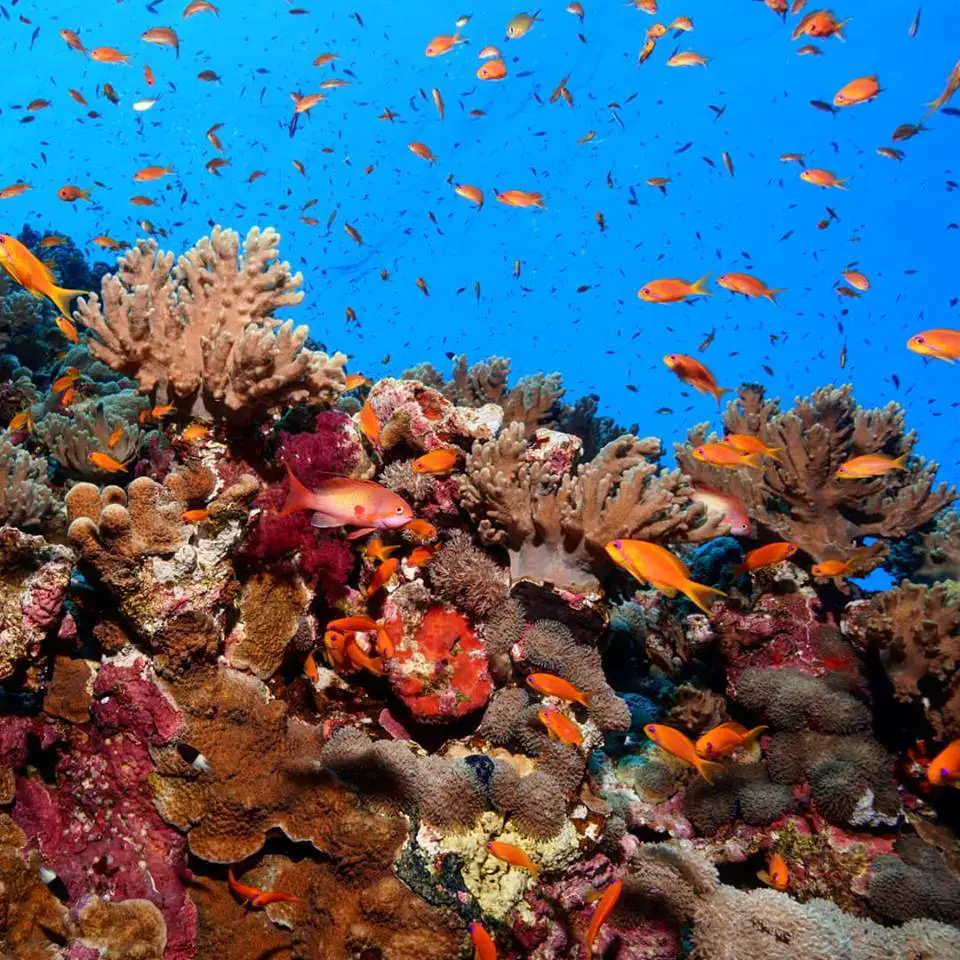 A trip to Ras Mohammed is undoubtedly one of the best things to do in Sharm El Sheikh.
The reefs in this area are outstanding, and of all the snorkel spots around Sharm El Sheikh I would not miss this one.
More than 220 species of coral are found here, 125 of them soft coral. It is also home to an abundant amount of sea life and makes this place a popular snorkel and diving destination. The park is characterized by vertical overhangs and expansive coral gardens. An absolue must.
Tours to Ras Mohammed
If you are lucky enough to have a car then you can make your own way there.
Alternately take a tour instead:
Half Day Ras Mohammed Snorkel by bus – from USD $20
Full Day Ras Mohammed Snorkel by boat – from USD $70
Ras Mohammed DIVE by boat – from USD $76
---
5. Tiran Island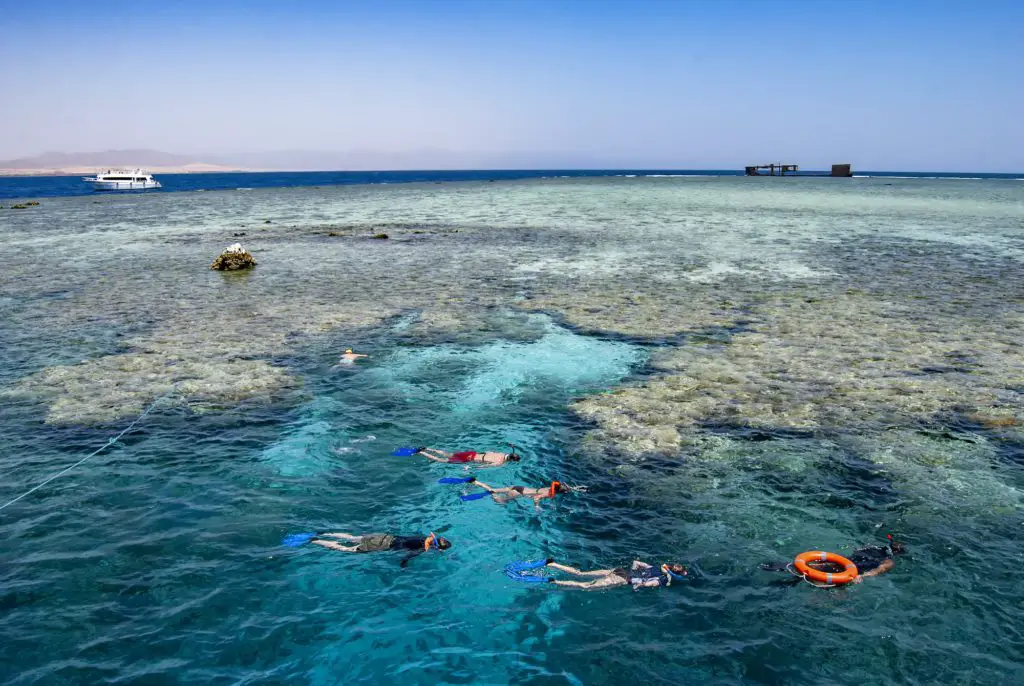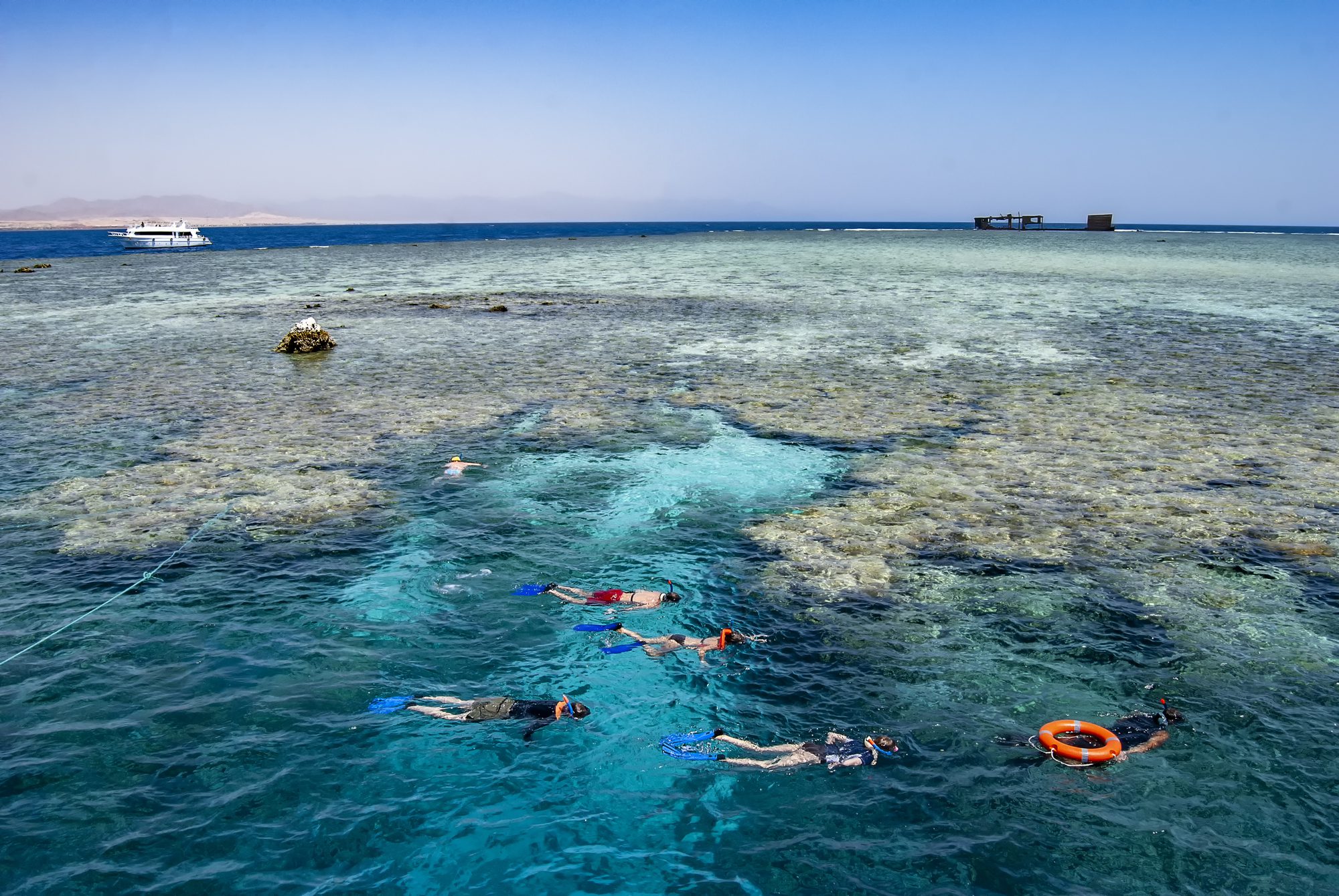 Located 6 km off the Sinai Coast, Tiran Island attracts divers and snorkel enthusiasts from all around.
Here you will find some of the best preserved reefs rich in colour and marine life. The cresent shaped island technically belongs to Saudi Arabia and separates the Red Sea and the Aqaba Straight.
Jackson Reef is probably the most famous for both snorkelers and divers and includes a ship wreck.
Tours to Tiran Island
A trip to Tiran Island is a full day of water adventure.
Full day Snorkel Trip with lunch from $32
Full day Snorkel trip with 15 min intro dive & lunch from $38
Diving experience for beginners & lunch from $45
Full Day diving experience plus lunch from $77
---
BEST ADVENTURE ACTIVITIES
6. ATV desert tour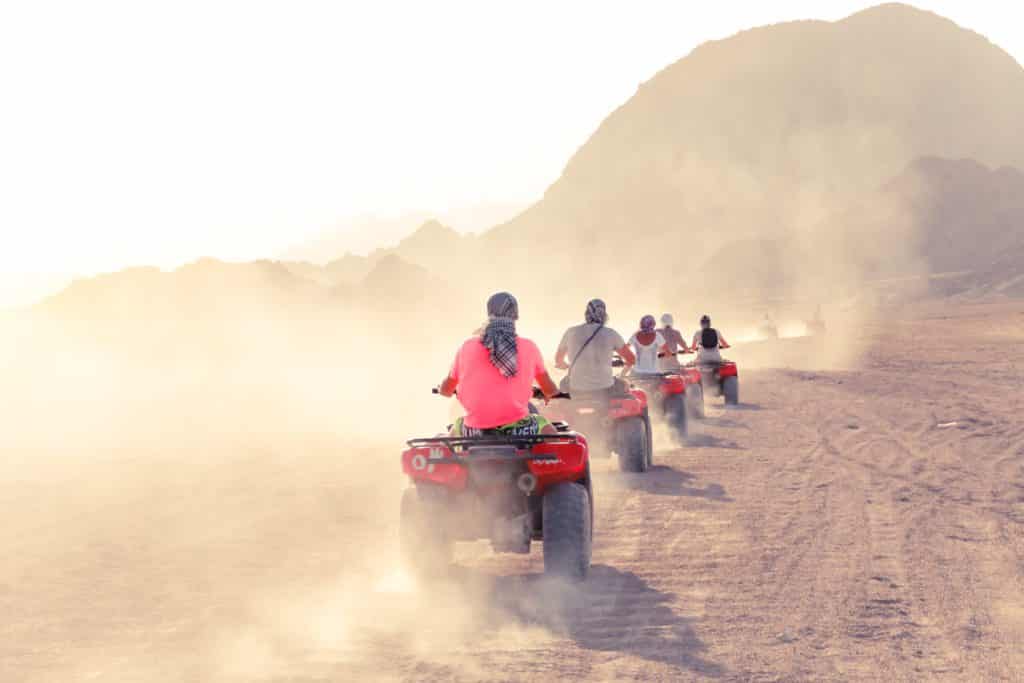 Explore the desert on four wheels by joining an ATV tour.
An ATV tour is one of the most popular Sharm El Sheikh things to do and promises a day of thrill seeking adventure though the sand dunes.
This 3 hour ATV tour includes a stop at a Bedouin Village for refreshments. Priced from USD 16.
---
7. Parasailing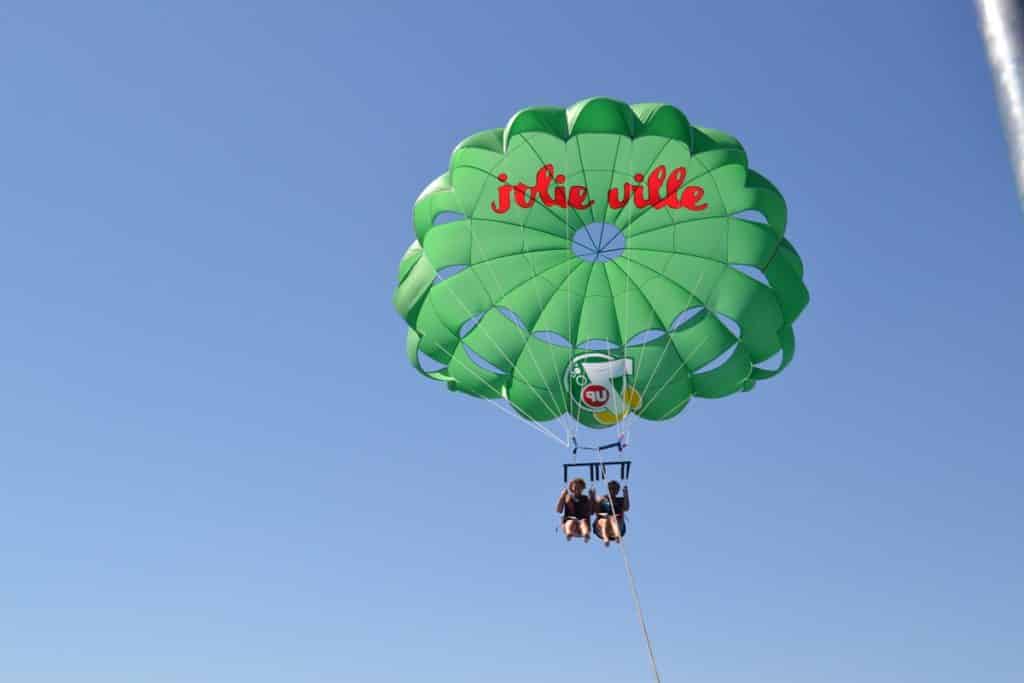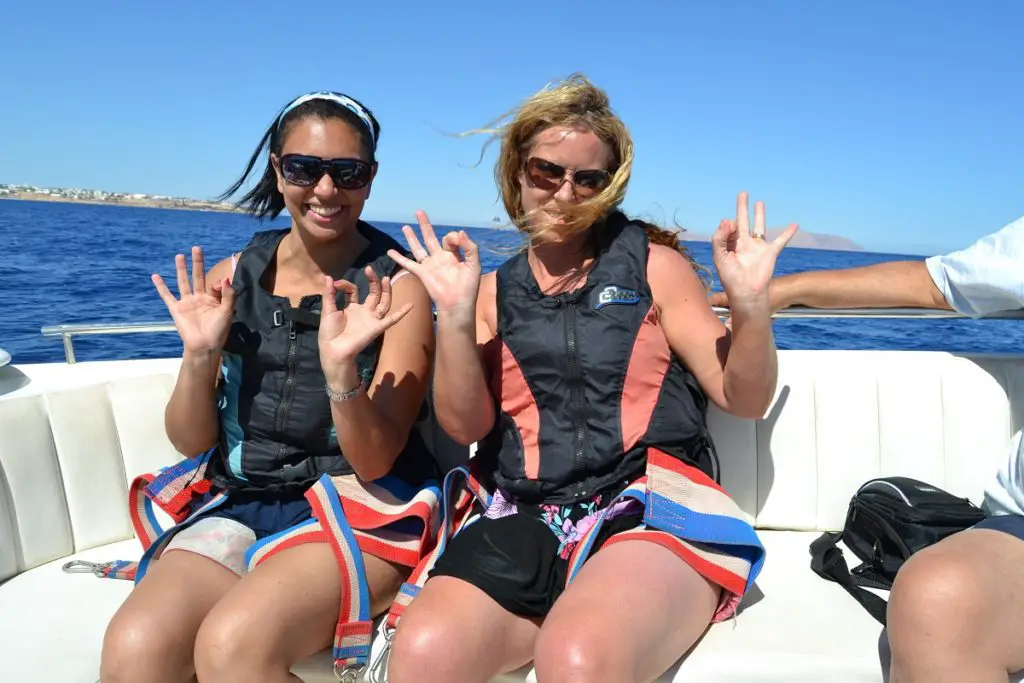 Head off the coast of Sharm El Sheikh for a parasailing experience.
You'll be picked up from your hotel before taking the short boat ride ready to set sail in the air.
A great affordable tour, parasailing in Sharm el Sheikh is extremely popular and something the whole family can do.
Check out this Parasailing tour with hotel pickup from only $28
---
8. Glass Bottom Boat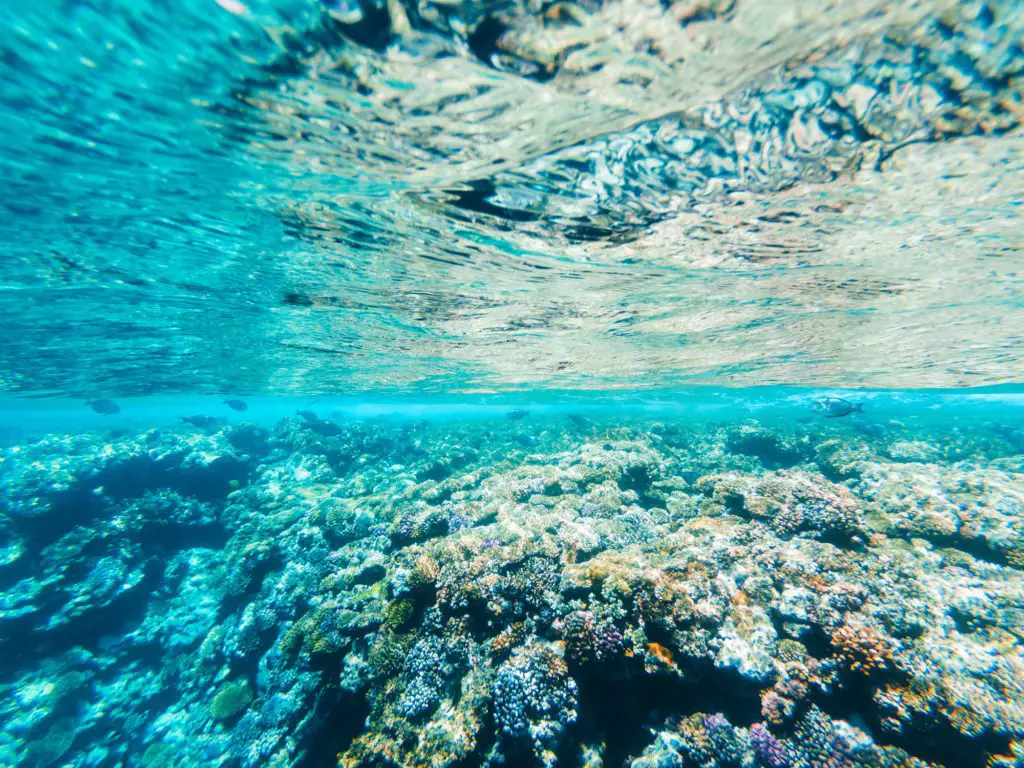 Enjoy the beautiful colours of the Red Sea reefs without getting your feet wet.
Head out to "the Garden" where you'll see some of the best coral formations from above. The 60 minute trip is cheap enough for anyone including families.
Read more about this Glass Bottom boat tour with hotel pick up. Prices start from $21.
---
9. Aqua Adventure Water Park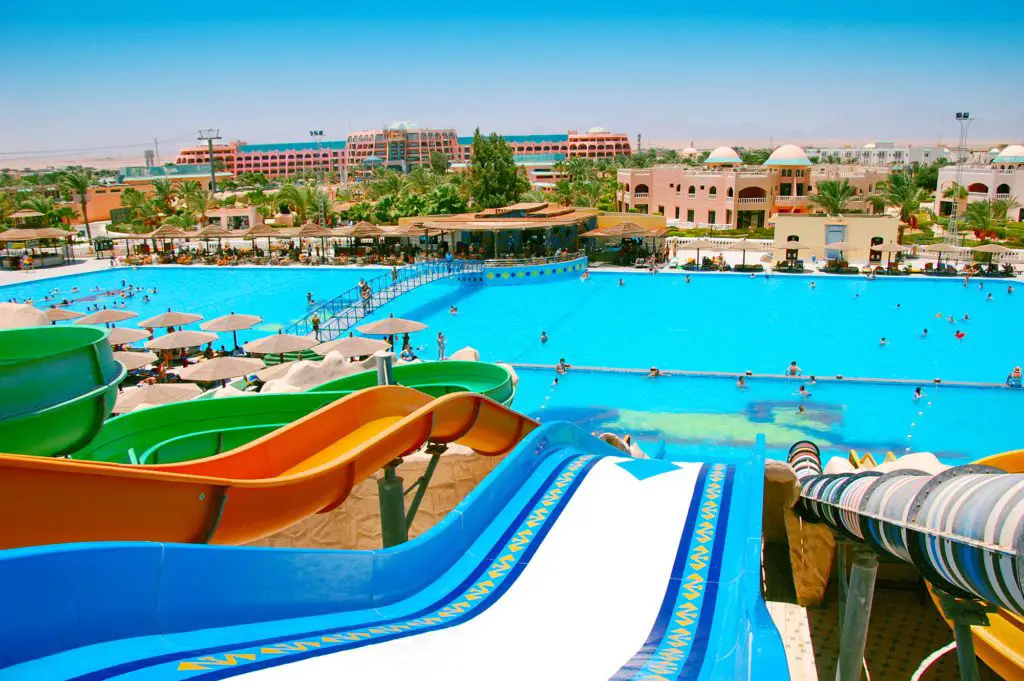 Get out of the heat and head to Sharm's Aqua Adventure Water Park for the day to cool off.
The kids will think it's one of the best things to do in Sharm El Sheikh, but so will the adults. The 5 star water park is simply huge with 9 individual pools, including 32 water slides.
Highlights include the Tsunami Wave Pool and Flying Boat.
Read more about Aqua Adventure Water Park including pricing
---
BEST THINGS TO DO & SEE – PLACES OF INTEREST
10.Heavenly Cathedral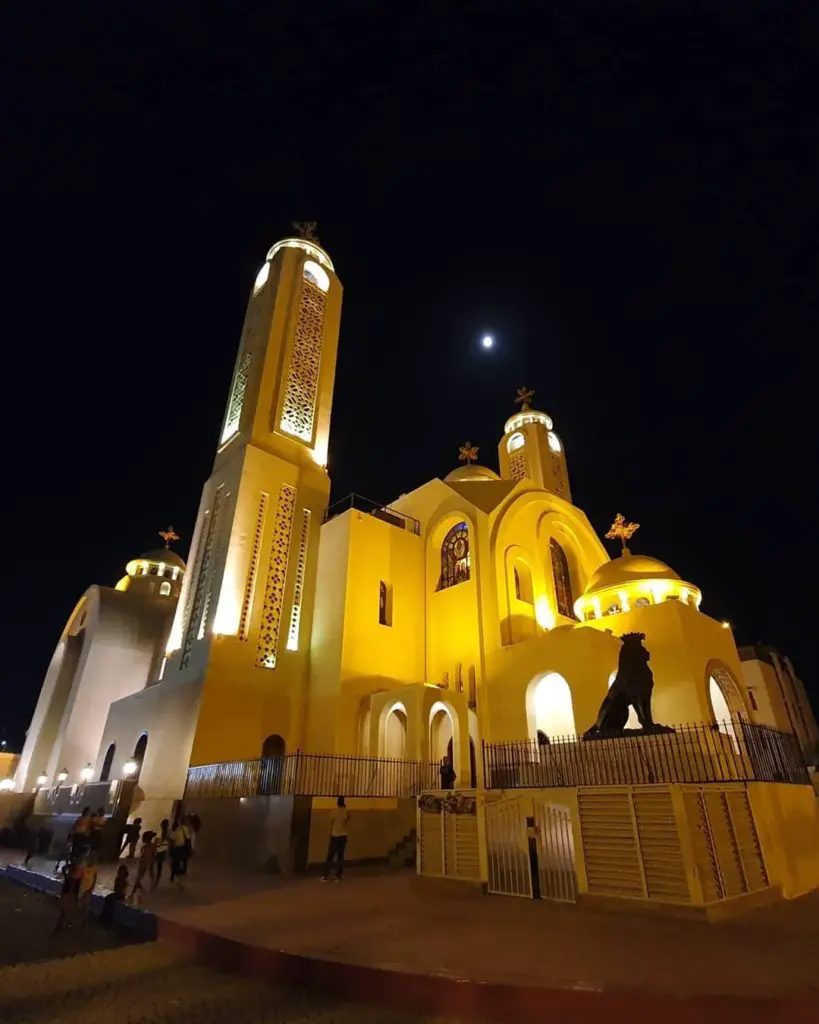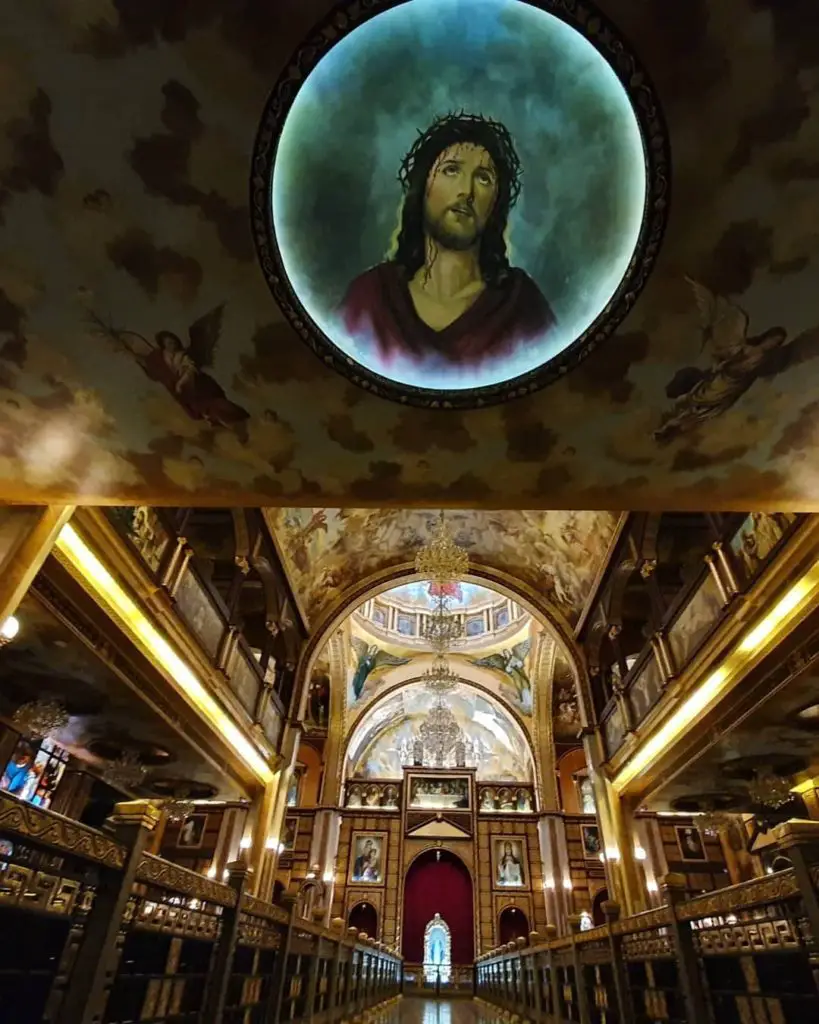 A 15 minute drive from the centre of Sharm El Sheikh is the ornate and highly decorated Coptic Church, Heavenly Cathedral.
A visit here is well worth the short taxi ride. You'll be moved by the incredible paintings and scenes that adorn the walls and ceiling of the church.
Entry is free and is open during the day and evenings.
11. Al Sahaba Mosque
Completed in 2017, the Al Sahaba Mosque is a masterpiece that sits in the area of the Old Market in Sharm El Sheikh.
Built by the Egyptian Army, the mosque attracts many visitors and is open for tourists to visit, but at certain hours that may or may not be changed at any time.
A strict dress code is a must and robes can be hired for those who would like to enter.
---
12. Farsha Cafe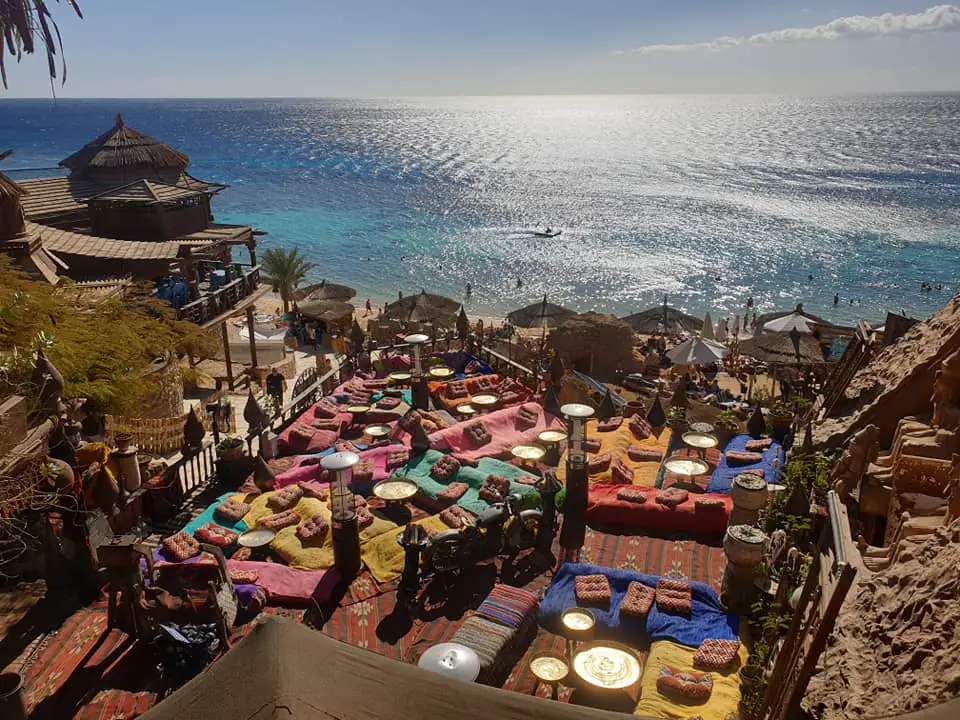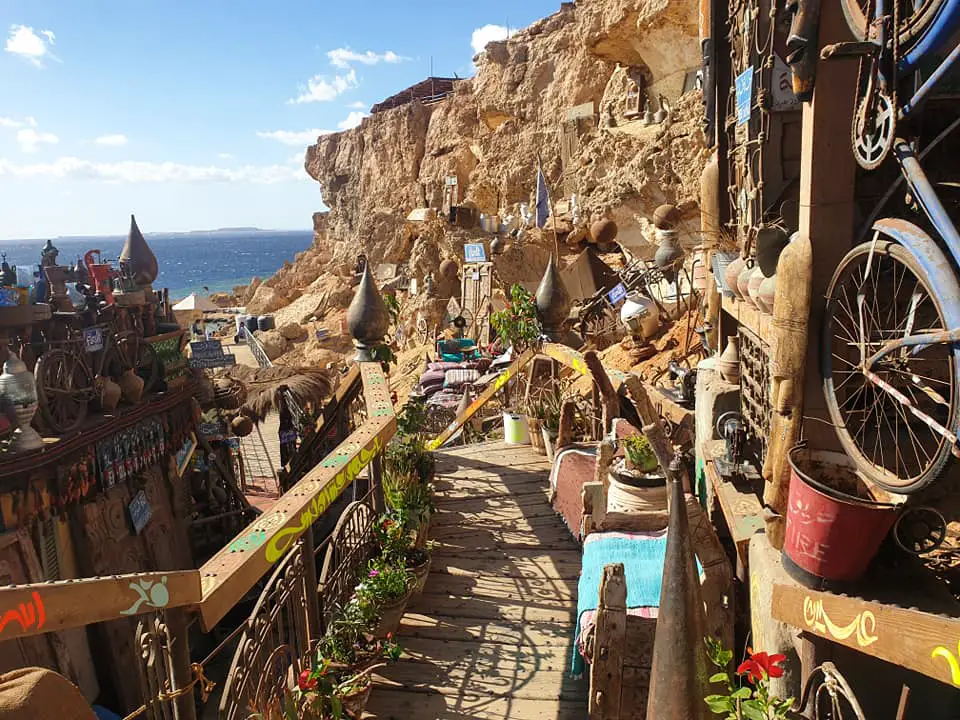 You simply must visit the wonderland that is Farsha.
This cliff side cafe is split on many levels overlooking the turquoise waters of the Red Sea, and it is one of the best views in town.
The area is a treasure trove of antiques and everything Arabian. Plus you'll find lots of small and larger spaces to sit and drink, and just enjoy "that view'.
Located a short transit from the main area of Sharm El shiekh, Farsha is beautiful both day or night.
---
BEST THINGS TO DO IN SHARM EL SHEIKH AT NIGHT
13. Capture a desert sunset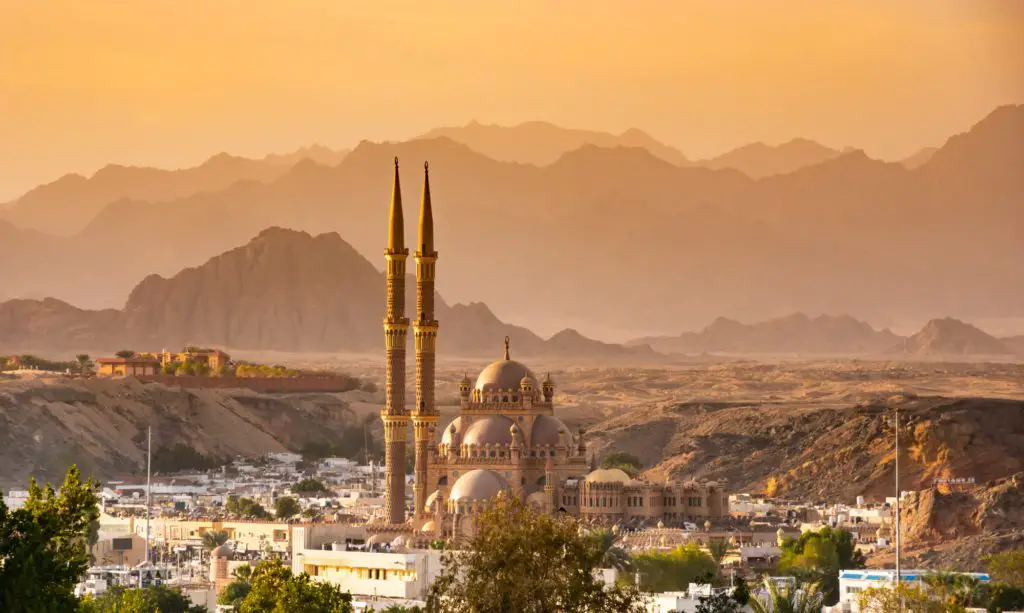 Wondering what to do in Sharm El Sheikh at night?
There is nothing quite like the sun going down over the desert, and you don't necessarily have to leave town to witness one.
Sharm El Sheikh sits right in the Sinai desert and a sunset over the Sinai Mountains is one of breathtaking beauty.
---
14. Soho Square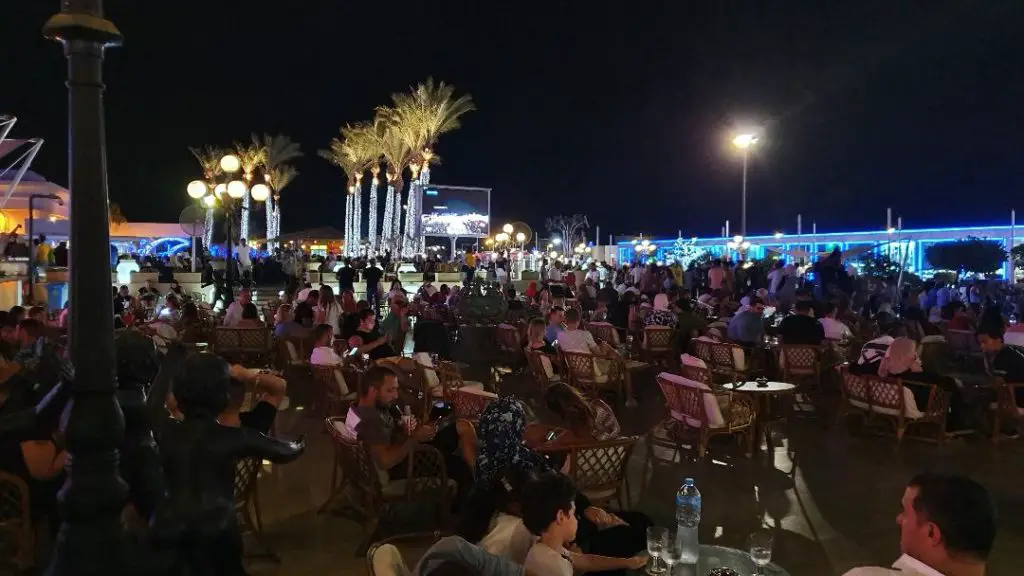 As the sun sets, jump in a taxi and head out to Shark Bay to the upmarket and funky Soho Square.  A  lively spot to head at night, this place is always packed with people. 
Whether you are looking for a nice meal, or just to enjoy people watching whilst having a drink and maybe some shisha, Soho Square has something for everyone. There is plenty of entertainment from open air performers, musical fountains and ten pin bowling.
This is also a great family place with rides and more for the kids.
---
15. Naama Bay Strip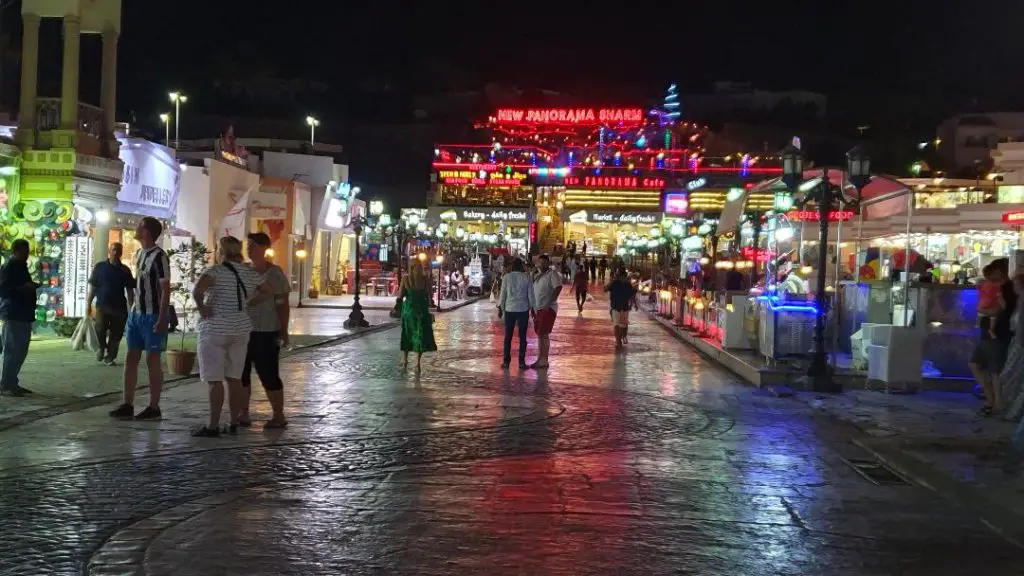 Located minutes from the waters edge of Naama Bay the streets here only comes to life after the sun goes down.
You'll find plenty of outdoor restaurants and open air lounges to sit for a bite to eat, or to smoke shisha. The area also has some well known American chains such as TGI Fridays and the Hardrock Cafe. But I also recommend you try some local seafood or Egyptian BBQ. Prices will be super competitive.
The area has quite a party atmosphere the later it gets, though you should know that in Egyptian terms, midnight is still pretty early.
---
16. Old Market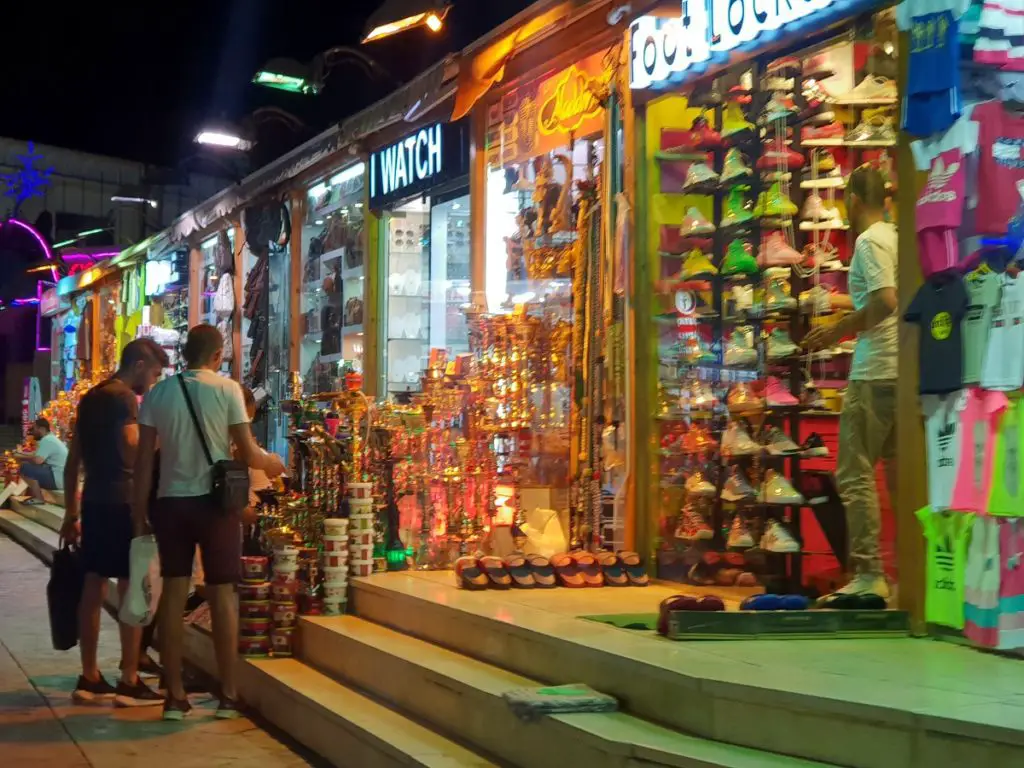 The Old Market is a must for visitors in Sharm El Sheikh.
Explore the streets and vendors selling all sorts of interesting things such as clothing, rugs, lanterns, souvenirs, spices and so much more.
You will need to barter to make a purchase as this is the Egyptian way. But don;t worry if you are not used to bartering, you get better as you go.
---
17. Bedouin Dinner & Show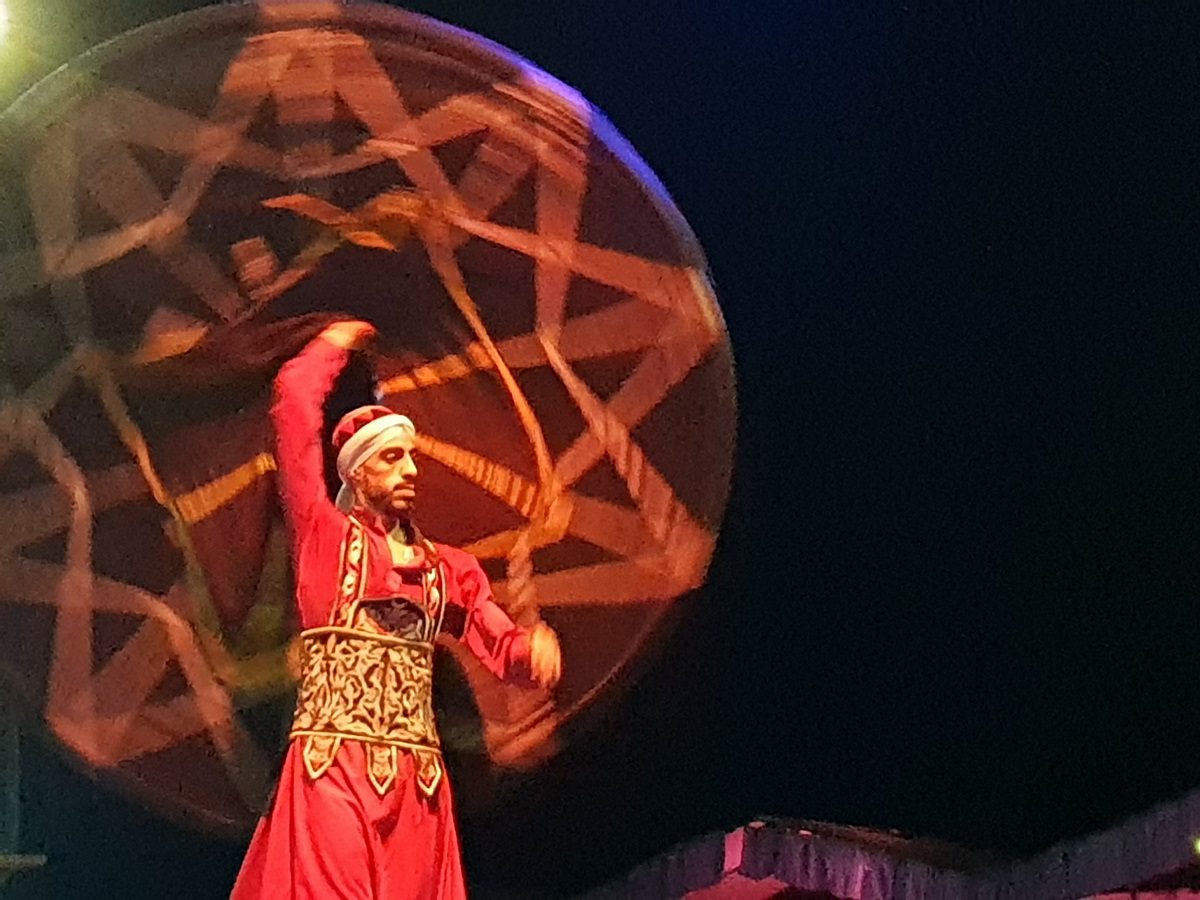 Located out of town and into the desert is a magical night of dinner and entertainment.
The perfect outdoor cultural experience, enjoy a Bedouin Dinner followed by dancers and entertainers including the famous Tanoura Show, my absolute favourite.
You'll see belly dancer and a fire show also plus have the opportunity to take a camel ride.
The Bedouin Show includes transfers from your hotel. See prices and more here.
---
18. Go Star Gazing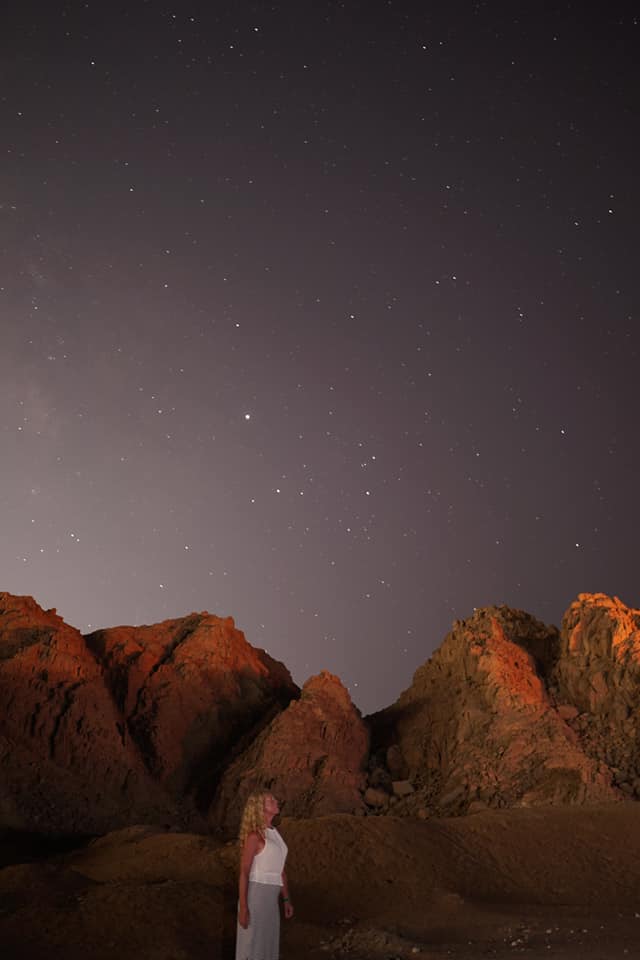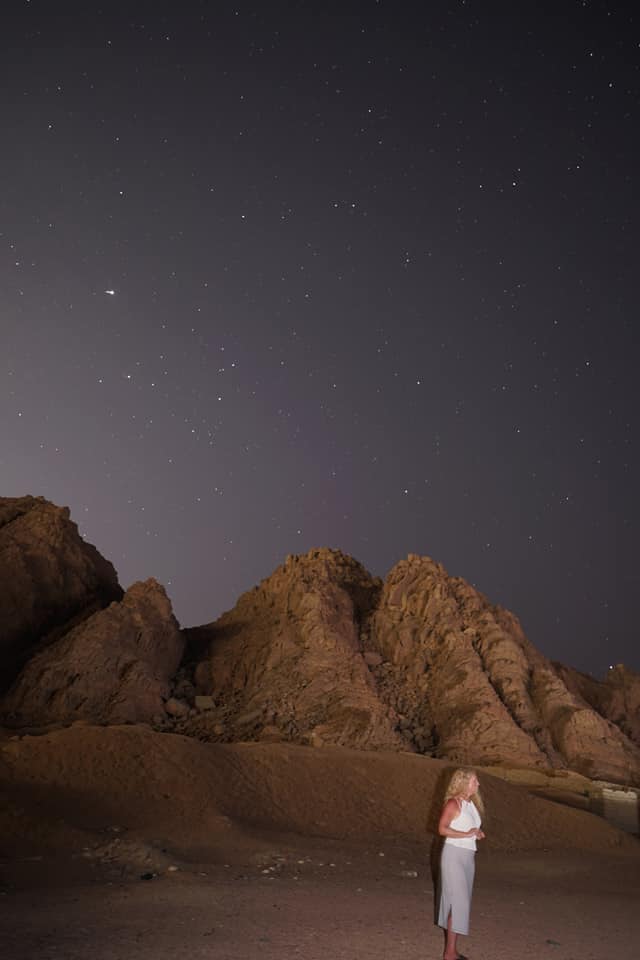 Out in the desert away from the bright lights of the city is some of the most beautiful star gazing opportunities.
This picture above was taken after our Bedouin Dinner show where we walked out of the lights in order to see the stars above and get some great shots.
---
MOST FAMOUS ATTRACTIONS NEAR SHARM EL SHEIKH
19. Dahab and the Blue Hole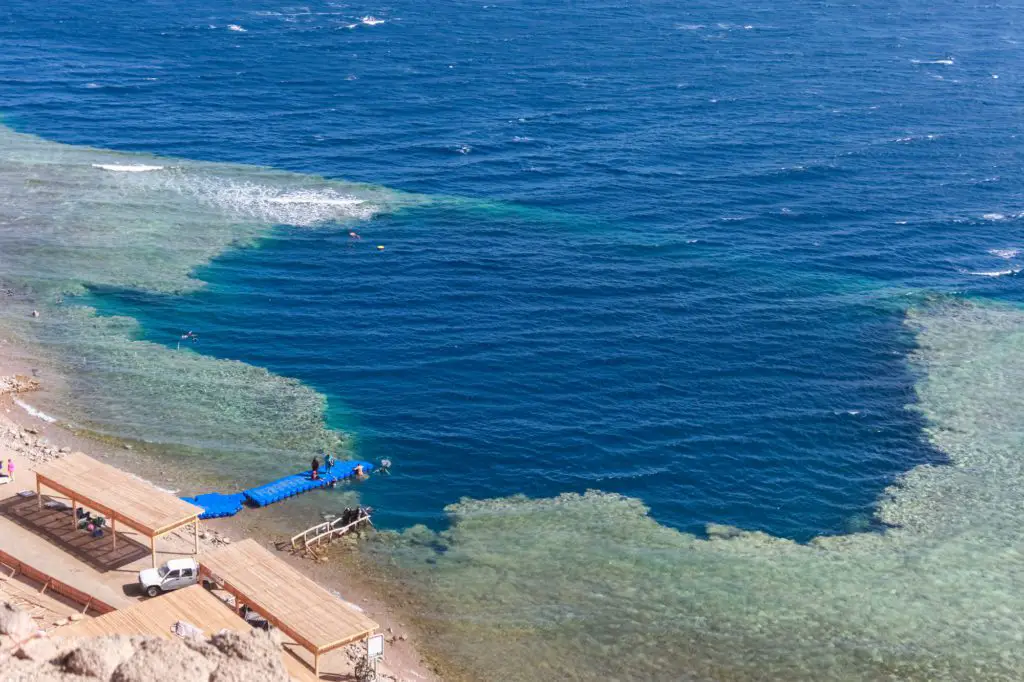 Dahab is popular seaside resort around 100 km from Sharm El Sheikh and one of the best attractions near Sahrm El Sheikh.
Smaller in size, Dahab is a big draw card for visitors due to it's more relaxed feel. The restaurants that line the waters edge make a great place to dine any time of day.There are also quite a few tourist shops for those seeking some Egyptian souvenirs. 
Dahab is also home to the  infamous Blue Hole. This 100 metre deep submarine sinkhole attracts recreational divers all year round. It is known as the most dangerous dive site in the world, with some claiming up to 150 – 200 divers have perished there in the last 10 years.
If diving doesn't sound enticing I suggest at least taking a swim as I did. It's not too intimidating as it is right off the beach and very refreshing.
Take a full day tour to Dahab including the Blue Hole, Camel Ride and Bedouin lunch included from only $49 per person.
---
20. Colored Canyon hike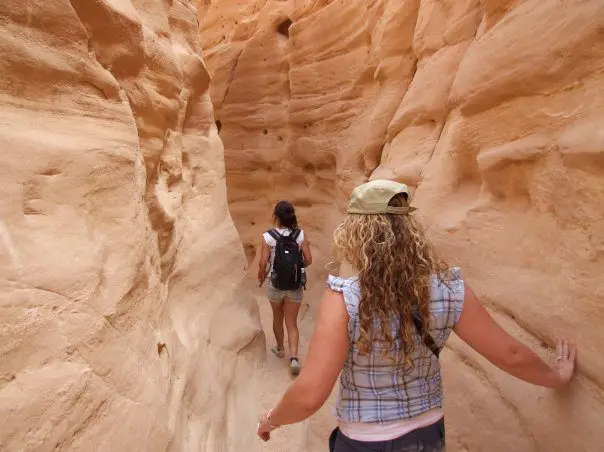 One of my favoutie things to do in Sharm El Sheikh is the Colored canyon.
Transfer from Sharm El Sheikh as part of a daily tour to the mesmerizing rock formations on the Sinai Peninsula.
The slot canyon is almost 800 meters long and you'll be guided through some pretty tight spots whilst taking in the really cool looking spectrum of color and banding within the rock.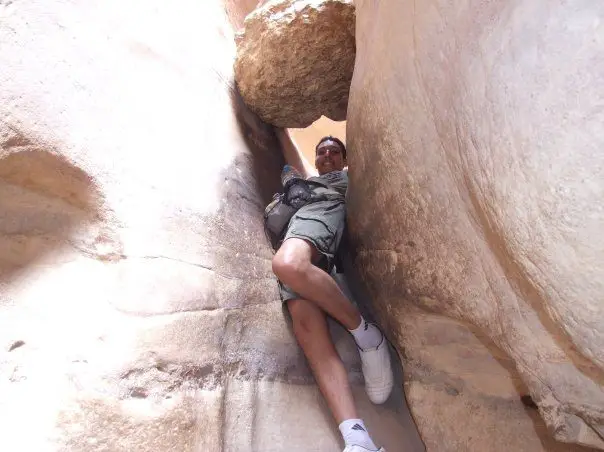 In some cases the canyon narrows to barely a metre wide. and sometimes large fallen boulders make for tricky navigation. The hike through is relatively easy so it's a great day out even in the heat. 
Lunch is included in Nuweiba right on the water before returning back to Sharm.
The full day tour leaves early to shield you from the heat of the day and you'll ride in air-conditioned vehicles.
I highly recommend this incredible tour, one of my favoutites.
Read more here on Colored Canyon Tour and pricing.
---
21. Climb Mount Sinai at night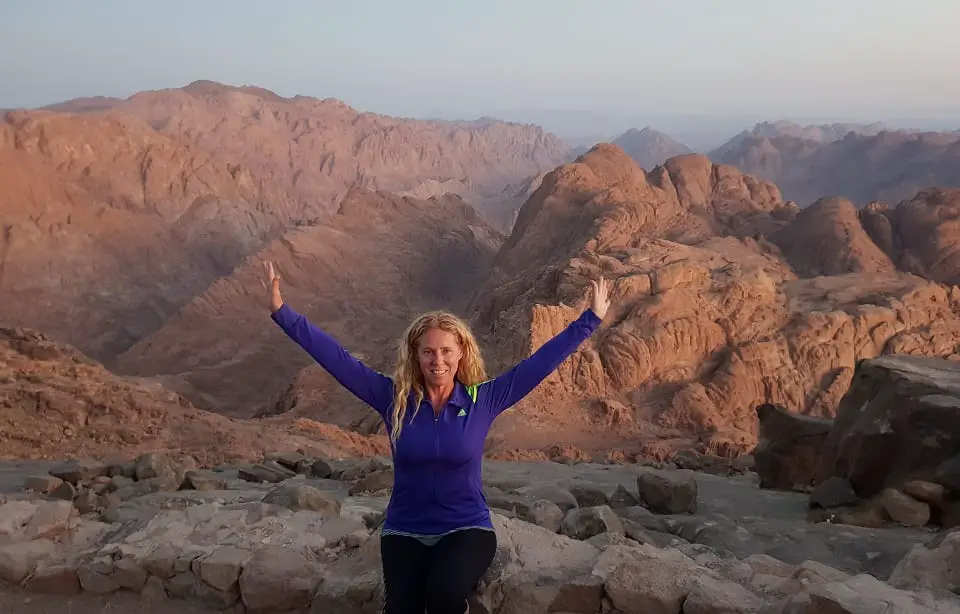 Saving the best to last! Climbing Mount Sinai is one of those ultimate bucket list adventures and i hope you get a chance to book a tour.
In the Bible, Moses climbs Mount Sinai to receive the Ten Commandments.
There are two routes for the 4.3-mile (7 km) round trip: The camel path, or a steeper, more direct route of some 3,750 stairs to the top. Most take the first option.
This walk through the night can be quite cold at any time of year so take a light jacket even though the summer months. You also have the option of paying for a camel to take you most the way before the final ascent.
Once you reach the summit, it's just a matter of waiting for the first break of light to hit over the desert, and it's incredibly breath taking. Almost beyond belief.
Once you descend the mountain you'll also visit Saint Catherine Monastery, an historic and significant biblical location.
You can read my full article on everything to expect from a Hike up Sinai Mountain here and why you simply must do it.
The tours from Sharm El Sheikh as pretty cheap so cost should not be an option, even for a budget traveler. This is an overnight tour which leaves early evening and returns the next day during the day.
Prices start from $45 per person for Mount Sinai sunrise and Saint Catherine Monastery here.
---
22. Take a 1 day tour to Petra – Jordan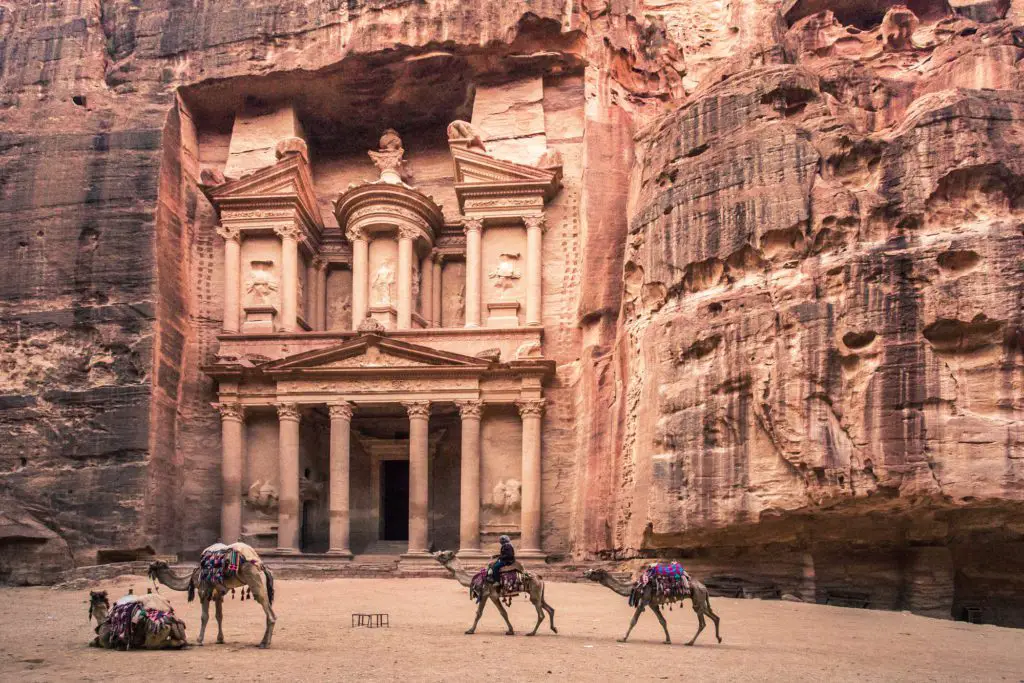 If time permits, a tour to Jordan is a true highlight. You'll soon learn why a trip to Jordan will blow your mind.
The UNESCO archaeological site of Petra is not to be missed. See the highlights of the ancient city including the Treasury, Royal Tombs and Street of Facades.
You'll be transferred to Jordan via ferry boat ride before making the 90 minute bus ride to Petra.
To read more and see pricing go to Petra 1 Day Tour from Sharm El Sheikh.
What to do in Sharm El Sheikh Conclusion
My trips to Sharm El Sheikh are usually around 7 days long but I could definitely stay longer when it comes to beach side locations like this.
A mix of attractions, tours and beach time is the perfect Sharm El Sheikh itinerary.
Enjoy!