As an Amazon Associate I earn from qualifying purchases. I get commissions for purchases made through links in this post.
Looking for the best Egypt travel tips to help you plan your vacation?
Whether you are still contemplating a trip to Egypt or looking for some handy must know travel tips for Egypt, I certainly have lots of great advice to share.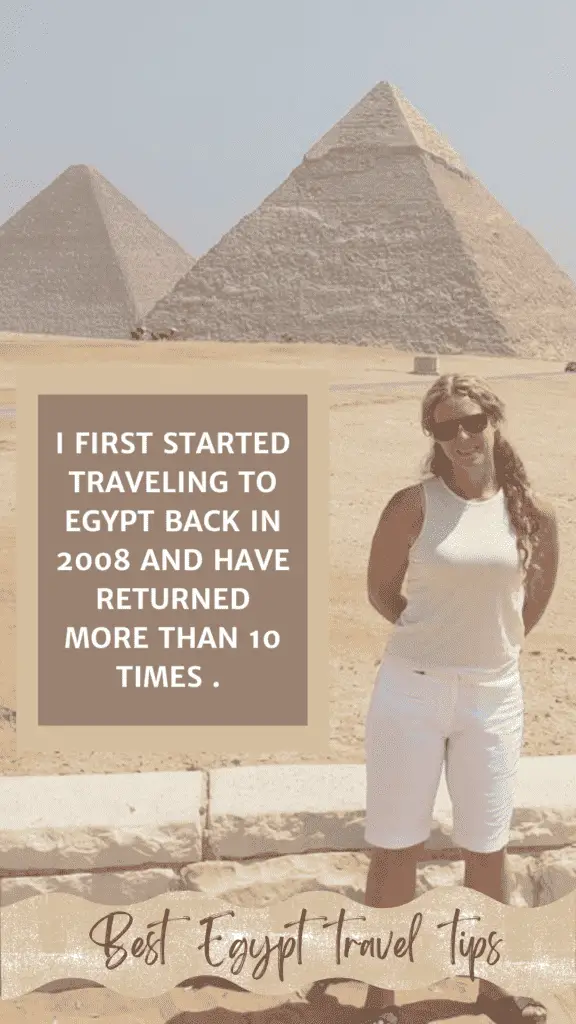 My long time fascination for Egypt eventually led to booking an incredible trip of a lifetime.
It was late 2008 and peering down onto the desert city of Cairo as we were coming in to land, I realized just how different this was going to be. The arid dry landscape certainly stood out and I wondered what on earth was in store for me.
The heat of late summer, overwhelming traffic congestion and uncharted Arabian culture was overwhelming at first glance. But once I got my fist glimpse at that ancient wonder, the Pyramids, I knew just how special this trip really was.
Being my first trip to Egypt I was on a tour, which was perfect as a first timer, but every other trip has been independent. So what I've learnt over 11 trips to date has been invaluable.
Things to know before going to Egypt
As a first time visitor to Egypt, there are plenty of things I wish I knew before traveling to Egypt. It certainly could have prepared me better, especially for a country that is so different to my own.
These traveling to Egypt tips are designed to help you know exactly what to expect with less surprises and unwanted problems. So let's get started.
More Egypt articles
Best Egypt Travel Tips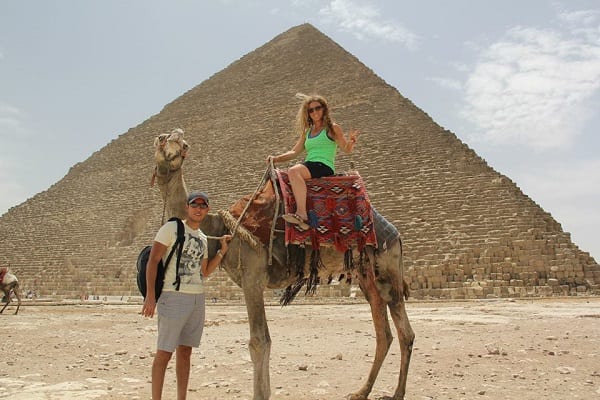 Is Egypt everything you would imagine?
This bucket list destination is draped in history that dates back thousands of years. It cannot quite be imagined until you actually step foot on Arabian soil.
But if you are dreaming of mystery and mystique, bustling streets & markets, and of course the ancient monuments that Egypt is famous for then yes, it is everything you have imagined.
Pro Egypt travel tip
Overwhelm is expected for first time visitors. The city is crazy and in your face constantly. There is just no easing into it. But I advice you to look beyond this and embrace the amazing and new cultural experience that you are about to embark on. In other words, don't try to compare it to life at home, because it's a absolute world away.
Is Egypt safe?
This is the burning question many people have before coming here.
Currently Egypt is deemed SAFE for travel. After seven years of political unrest, tourism gradually reached a peak in 2019 with over 13 million visitors. Now after 2 years of little travel throughout the world, tourism is back on the rise and it's the perfect time to visit.
Crimes against tourists are generally pretty low and even at times as a female traveler on my own, I always felt safe. Of course, my movements are well planned and I never put myself in vulnerable situations.
Pro Egypt travel tip
For safety and peace of mind it is best to travel in group scenarios such as trains and buses when going from city to city. Keep your money and passport on you (not in your hotel room) and divide up your cash in different spots rather than keeping it all in one location. For Cairo, taxis are generally fine but always establish where you are going and agree to a price before setting off.
Is the traffic as chaotic as they say?
As I mentioned when arriving in Cairo, you'll most likely be faced with culture shock as you make your way from the airport into the city.
The traffic is heavy any time of day and only the locals know how to navigate it well. You won't see many traffic lights either, instead it tends to be a first come first go system. This translates to the never ending sounds of horns, as cars try to merge through the busy streets.
While driving this way can appear aggressive, it's the way of life here. Otherwise no one would be able to get anywhere.
Pro tip for Egypt travel
Renting a car in Egypt, and particularly in Cairo is not recommended for most drivers. It's just too crazy trying to get from point A to point B. Parking is also a whole new challenge. For this reason, save your sanity and use public transport and/or taxis.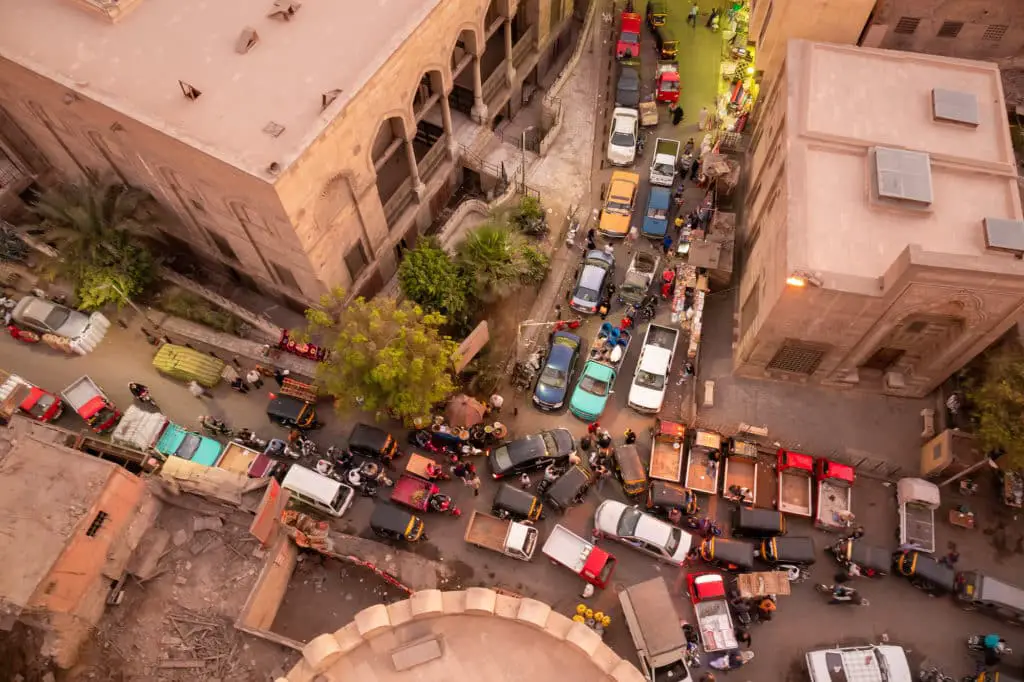 What's the best way to get around independently?
The metro train is the best and fastest way to get around. But you'll also have to use a taxi as not all trains will get you right to your destination.
The metro trains cost as little as $1 to use so it's certainly cheap enough.
A taxi will cost on average around $5 for a 15 minute trip.
You'll also see micro buses everywhere. These mini style buses are not easy to use as they have no written indication as to where they're going. You can try hail one and if there is a free seat, they will stop. They are also extremely crowded with no air-conditioning, and while you'll be safe riding the bus it's just too uncomfortable.
Personally, I don't use them in Cairo but have no trouble using them in other cities that are easier to navigate.
Pro tip for traveling in Egypt
While the transport system in Egypt is not the best for tourism, it's also not the worst. Getting from city to city on buses is much easier than getting around Cairo. The good new is, taxis are cheaper here than most places in the world but be sure to agree on a price to your destination before you get in. I can't stipulate that enough because taxi drivers are known to overcharge if you haven't agreed on the price prior to.
Where is the best area to stay in Cairo?
There are 2 primary places most visitors stay in Cairo. One is out at the pyramids which is located on the outer edge of the city, and two in is the centre of Cairo such as Zamalek.
Staying in central Cairo certainly has its benefits. Firstly, getting to many of the main attractions can be easier this way. Nightlife and restaurants are also more at hand, but Cairo is very heavily populated so there is always somewhere to eat close by.
The Pyramids are for people who want to spend time at the ancient wonder and also visit the Grand Museum. Sakkara Pyramid complex is also out this side of the city.
Pro tip where to stay in Egypt
I particularly love staying at the Pyramids. Hotels such as Number One Pyramids Hotel offer cheap rooms with amazing views of the pyramids. Waking up each morning to that view is quite incredible, plus you can watch the nightly Pyramid Light Show for free.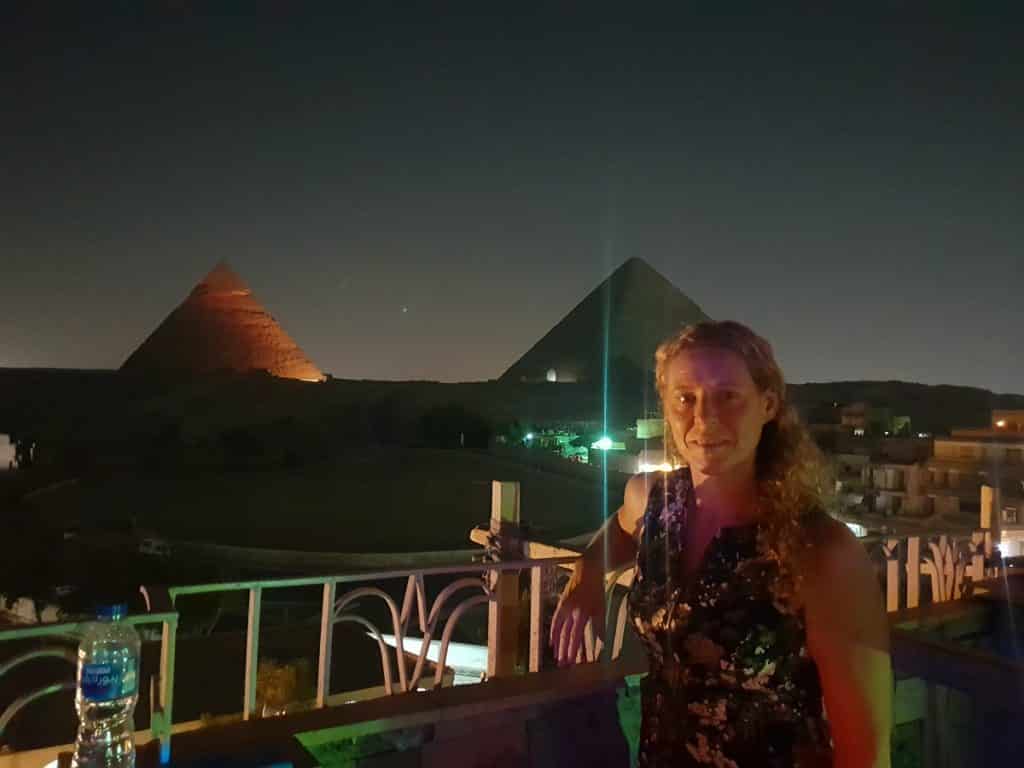 What should I wear in Egypt?
This is dependent on what area you are staying in.
Popular seaside resorts such as Sharm el Sheikh or Hurghada cater very well to the tourist and allow pretty much any type of dress code without question or judgement.
Head to cities such as Cairo, Luxor or Alexandra and it's a different story. For woman, I recommend at least knee length shorts or skirts, and be sure to cover your shoulders. I also fully cover my legs when heading to non tourist precincts and places of worship. T-shirts are also fine. Men tend to get it easier.Like any country, we all have our own culture.
When heading to more high end areas such as along the Nile where 4 and 5 star restaurants are common, you can wear shorter style dresses without being stared at or harassed. Use your common sense and you'll be fine.
Pro tip for Egypt travel
I like to take a sarong to throw in my bag when I travel around Egypt. It's lightweight and comes in handy for not only the beach but also for areas I need to cover up. It's also great because it doesn't make you too hot.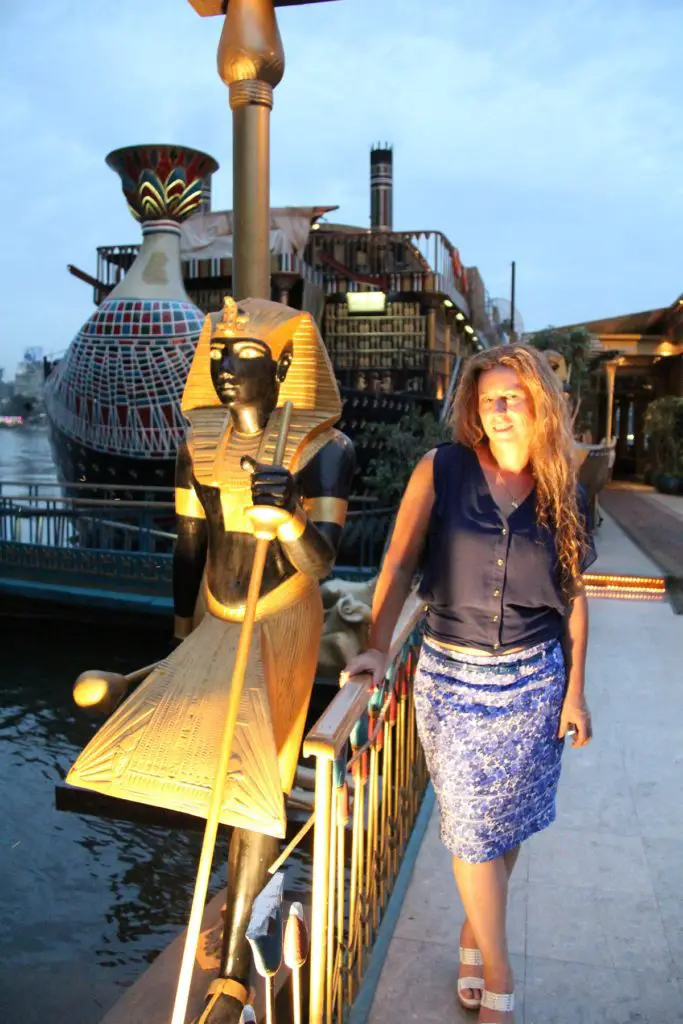 How hot is it in Egypt?
If you come in July or August expect the temperatures to soar over 40 degrees Celsius. The Upper Egypt regions of Luxor and Aswan can reach up to 50 degrees during this time so it's not considered the best months to travel. Most tourists will find the heat unbearable so I recommend mid September onward.
Many people don't realize Egypt can also get quite cool during the winter months. Desert temperatures can drop significantly during this time. If you are wanting to experience a warmer climate I would avoid coming during December or January in particular.
Pro Egypt tip
I personally think the best months to visit Egypt are April, May, mid to late September and October. The weather is warm to hot but not unbearable. It also is perfect temperatures for the Red Sea Resorts where diving and swimming are an every day activity.
Are public displays of affection OK?
Considering that Egypt is a Muslim country, public displays of affection are uncommon and heavily frowned upon.
Hand holding is not an issue but kissing is.
.Again, this is dependent on the area you are in. Egypt has many high end areas where dress code and public displays of affection are no problem.
Consider the area you are in before getting too loved up in public.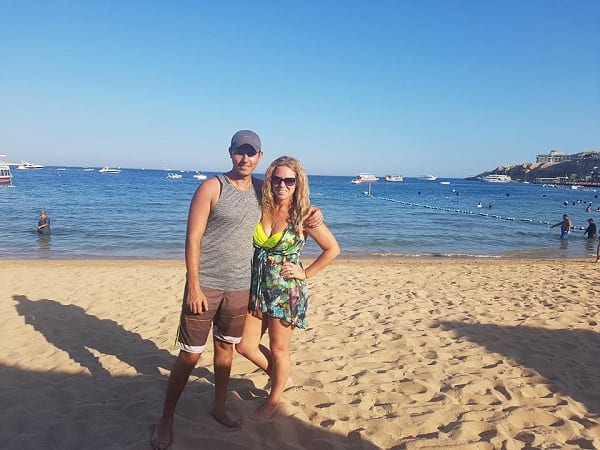 Can I drink the water in Egypt?
Like all regions, Egypt has its own bacteria that may upset your stomach. For peace of mind I recommend you drink bottled water only.
Do I have to barter everything when shopping?
Only when you visit the tourist markets such as Khan el-Khahili in Cairo.
For those who are not used to bartering it can be a headache, as you go back and forth trying to both agree to a price. it doesn't help when you have no idea what something is worth, making you feel vulnerable to being ripped off.
I recommend trying not to get to flustered and remember, you may be arguing over less than a dollar. You'll find most sellers are friendly but remember, they are there to make money.
Pro Egypt bartering tip
I usually recommend you start by halving the asking price from the seller, and then working towards a price you are happy with. If not, there is usually another seller with the same item. Also, while the old walk away trick works for some I find the Egyptian sellers usually don't chase you down so make sure you're happy to let it go.
Should I learn the language?
English is not wide spread in Egypt, especially away from the tourist hot spots.
In saying that, many Egyptians know the basic English words that they were taught in school, but without practice all that learning goes away. So it's worth knowing some basic words to exchange.
| WORD | EGYPTIAN | PRONOUNCIATION |
| --- | --- | --- |
| Hello | marhaban | mar-hubba |
| Thankyou | Shukran | shook-run |
| No | La | Luh |
| Yes | Aywa Or Naan | eye-wa Or narn |
| No thanks | La shukran | luh shook-run |
| How much? | Bikam | bee-cam |
| How are you? M | Izayak | Iz-eye-ack |
| how are you? F | Izayik | iz-eye-ick |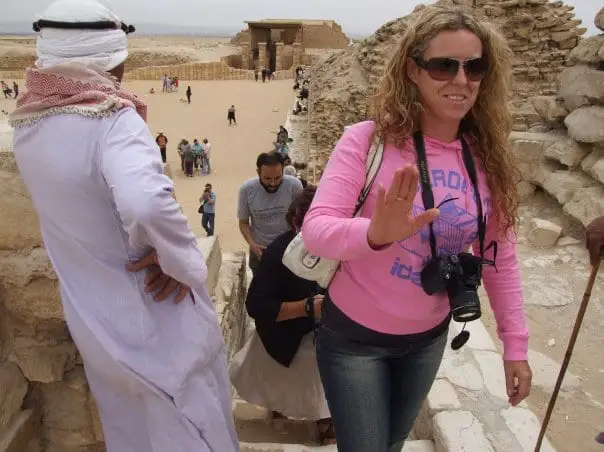 Is it customary to tip people in Egypt?
Yes, tipping is customary in Egypt but not compulsory.
Wages are extremely low so a small tip will go a long way for many and it's greatly appreciated. Remember this, 10 Egyptian pounds can buy a person a full meal, and it only cost you less than $1.
Some examples for tipping are:
Your waiter or hotel staff – 20 Egyptian pounds (just over $1 US))
Tour guide on an organised tour – half day up to 50 EGP / full day up to 100 EGP
public toilet with attendant 1 EGP
Tipping still comes down to the service. If it's exceptional, feel free to show your appreciation.
Pro Egypt tip
If you have bartered a tour guide such as someone giving you a horse ride at the Pyramids, you don't need to tip. The price you negotiate should also cover the tip.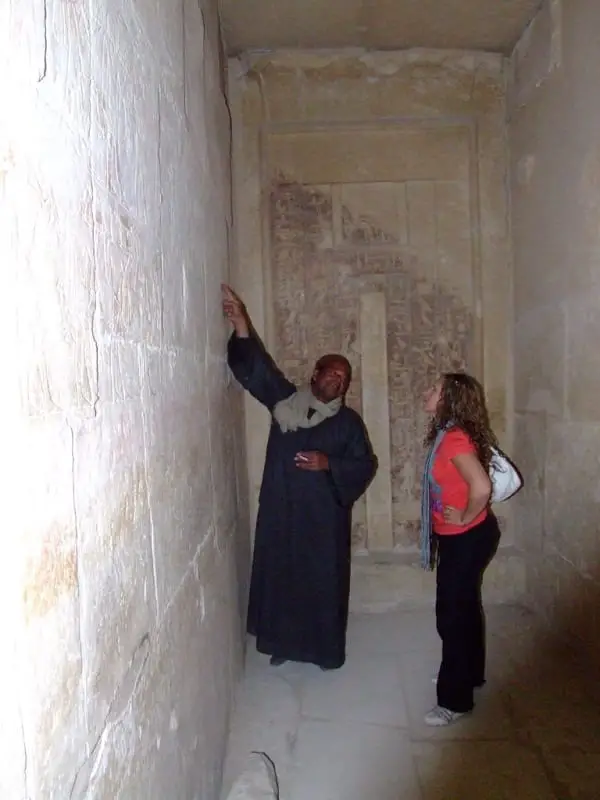 Can I buy alcohol easily in Egypt?
Alcohol is not consumed by many Egyptians.
A night out is sitting in a coffee shop drinking tea and smoking shisha.
Though you can purchase alcohol you may not find it easily. Resorts and high end restaurants will most likely serve alcohol on their premises but it may not be the same brand name you know. World wide hotel chain such as Soffitel are more likely to sell top branded alcohol than a sea side resort. for example.
Local beer and wine is quite good but spirit related drinks such as vodka and whiskey are in my opinion poor quality.
Note that during Ramadan (the fasting from dawn till sunset for all Muslims) alcohol may be harder to find. The time for this month long fast changes each year.
Pro tip for buying alcohol
I always purchase alcohol when coming though customs at the duty free. Though there is a limit I have never had any problem buying multiple bottles for my friends and family in Egypt. A small tip might be needed but it's well worth it too.
What are the must see places?
Depending on your interests, Egypt can cater to plenty of different tourists.
For ancient Egypt wonders:
Cairo/ Luxor / Aswan / Alexandria
Cruising the Nile:
Luxor to Aswan OR Aswan to Luxor
Beach side Destinations & Diving:
Sharm El Sheikh / Hurghada / Marsa Alam / Dahab
Interesting spots and activities:
Sinai Mountains / Ras Mohammed Marine Park / Siwa Oasis / High Dam / White Desert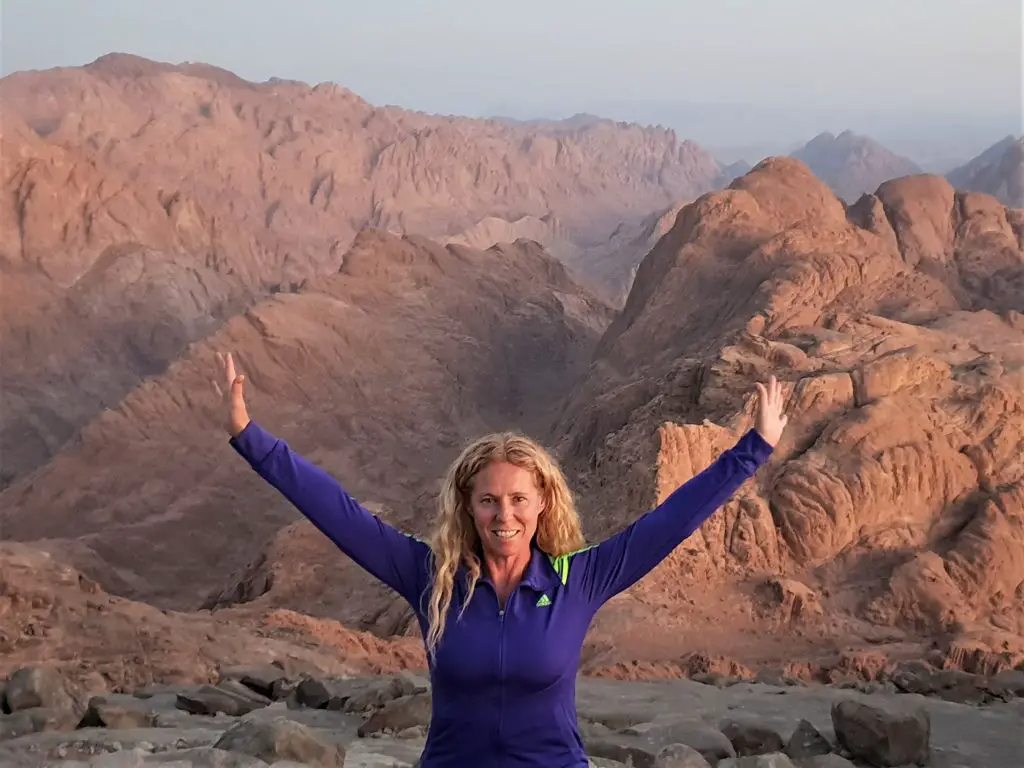 Egypt is a beautiful place to discover.I hope you found this article helpful.
I welcome anyone with further questions to please leave a comment in the comments box below.