As an Amazon Associate I earn from qualifying purchases. I get commissions for purchases made through links in this post.
There is generally only a handful of experiences in your life that truly take your breath away. Climbing Mount Sinai in Egypt is one of those moments. 
You might also like: 26 of the Best Egypt Experiences
I have a incredible link to Egypt as I am married to an Egyptian. We travel over most years and I always look forward to spending time with our family in the region of where Mount Sinai resides.
Climbing Mount Sinai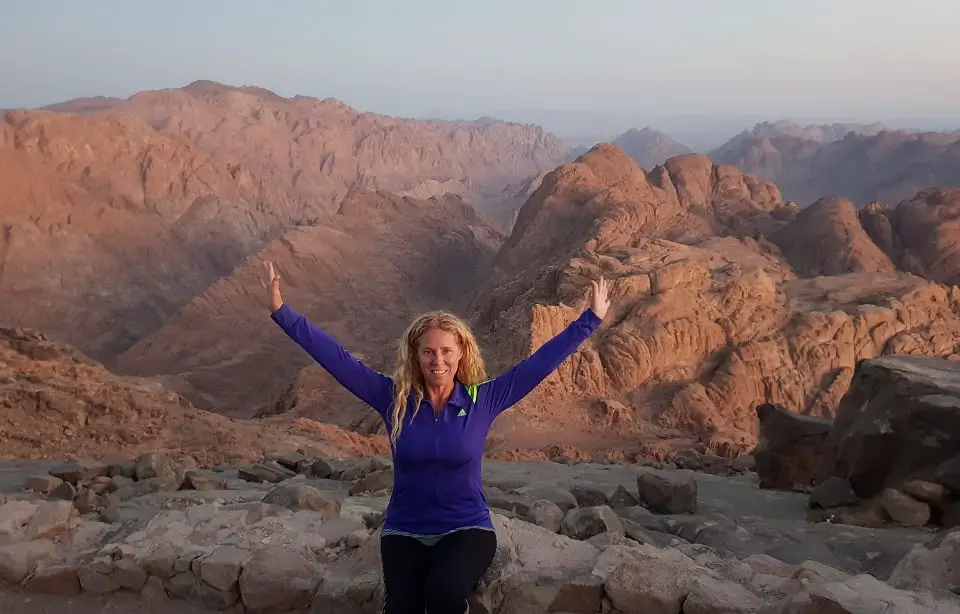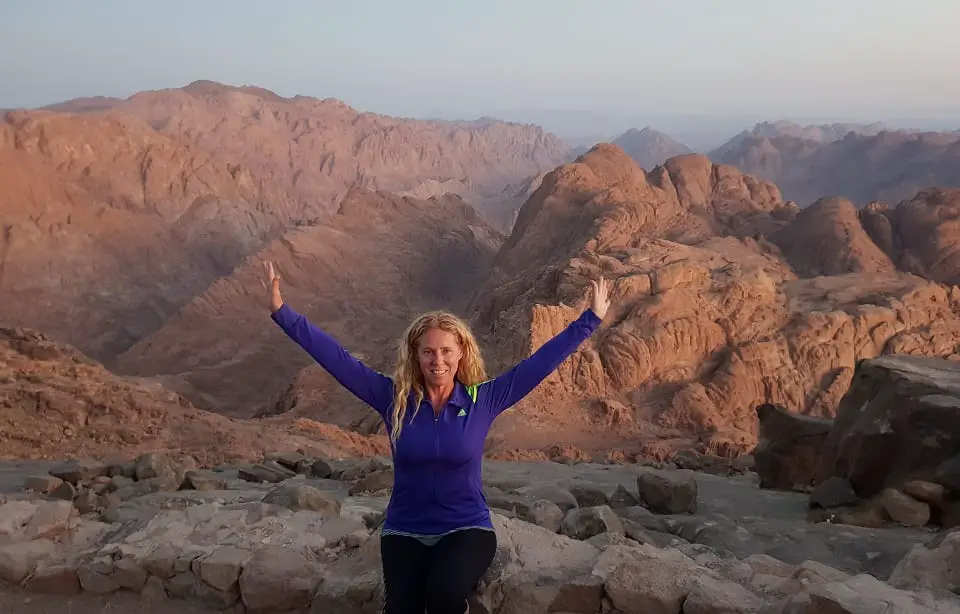 In the footsteps of Moses
The more I travel the more I face some truly unforgettable experiences. Egypt might be most famous for the pyramids, but Mount Sinai is a also one of the best reasons to travel to Egypt. 
Having already trekked up the mountain some 10 years earlier I was surprised how excited I was to be doing it a second time round. It is a once in a lifetime experience, but here I was repeating it all all over again. I have taken escorted tours from both Dahab and Sharm El Sheikh.
While Egypt already has some incredible experiences including visiting the pyramids , this is something out of the ordinary. 
Two routes up Mount Sinai
There are essentially 2 paths to the summit of Mount Sinai, but for the majority, it will be along the Camel Route path. This way up is much more forgiving as it is easier but longer. It is also very well maintained.
Previously, I had taken a different route via a series of harsh steps. We were isolated, just me and the Bedouin guide in the dark. It was an extremely difficult climb due to the staircase having such high steps. The legs certainly got a workout that night.
My guide also loved to cut the corners so I'd almost be on my hands and knees navigating the mountain with little visibility.  
Unless you want to avoid seeing others, I prefer the camel route. It also gives you a chance to take in the magnificence of the mountain silhouettes, whereas with the staircase, my head was virtually pointing at the ground the whole time.
You can see a range of tours departing Sharm El Sheikh here
For a range of tours departing Dahab, click here
"Those are the moments I live for"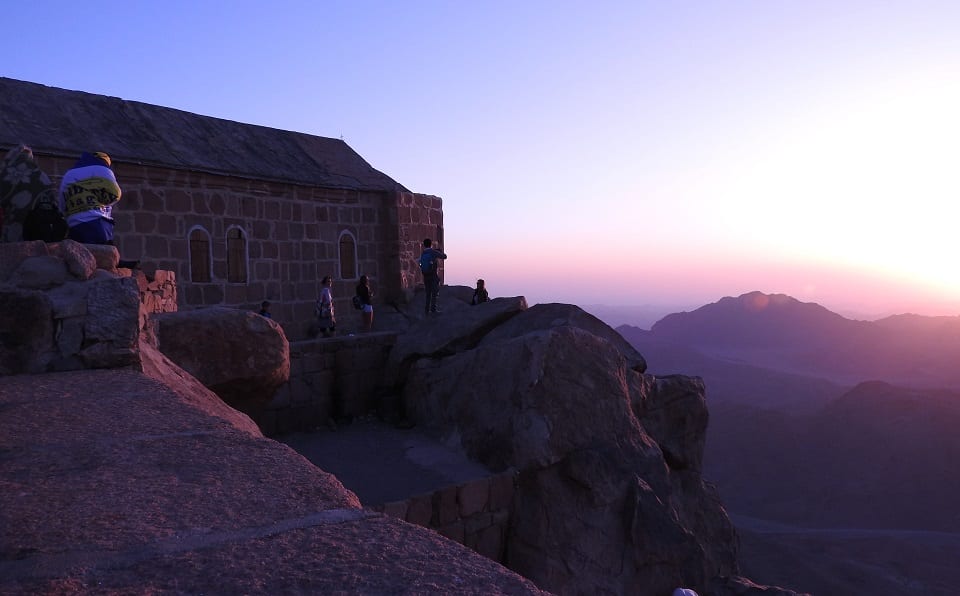 In the Bible, Moses climbs Mount Sinai to receive the Ten Commandments and I was about to retrace his very footsteps. After an overnight trek I would be rewarded by a magnificent sunrise over the Sinai desert. 
On arrival our Bedouin guide appeared and we loaded up our gear.Though this night is during one of the hottest months of the year, August, I already know the cold can really bite at you up there.
Where is Mount Sinai in Egypt?
Mount Sinai is located on the Sinai Peninsula.
It is closest to the Red Sea resorts of Dahab. Taba and Sharm El Sheikh. Visitors can access Mount Sinai from any of these locations in just a few hours.
How long does it take to climb Mount Sinai?
Expect the climb to take between 3 hours to 4 hours. This is dependent on your level of fitness.
It's a slow and steady pace that gradually rises into the night sky, so there is no use pushing beyond your limit. As long as you start early enough, you will have no problem.
Camel route  – what to expect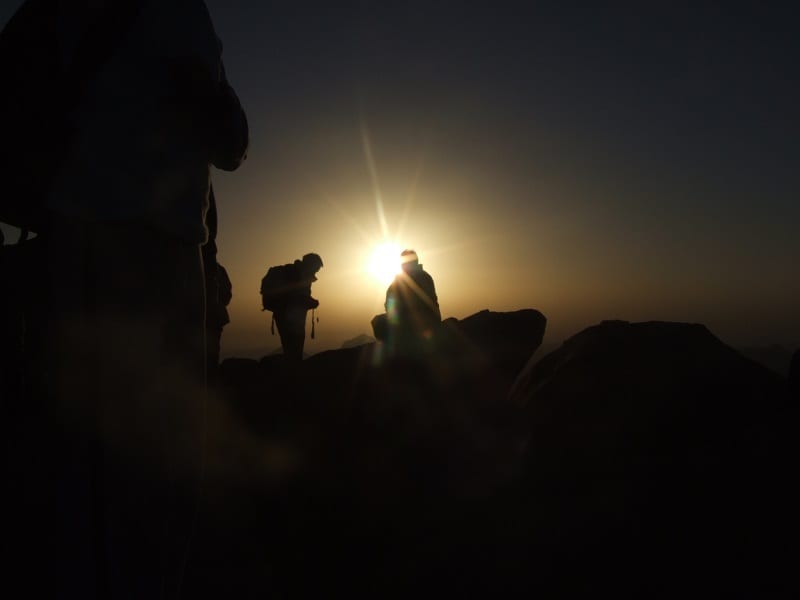 And so we began our ascent up the 7,500-foot mountain (2,285 meters) on a dark but clear night. The total distance is approximately 7 km in length. Torches in hand, we all went our own way, in our own groups but sticking together if needed. 
The path up Mount Sinai is well maintained and ascends in a zig zag fashion. It's slow going as mentioned but that's the best way to tackle it. There are guides waiting to offer anyone needing the assistance of camels to get them up. Hence, why it is called the "camel route".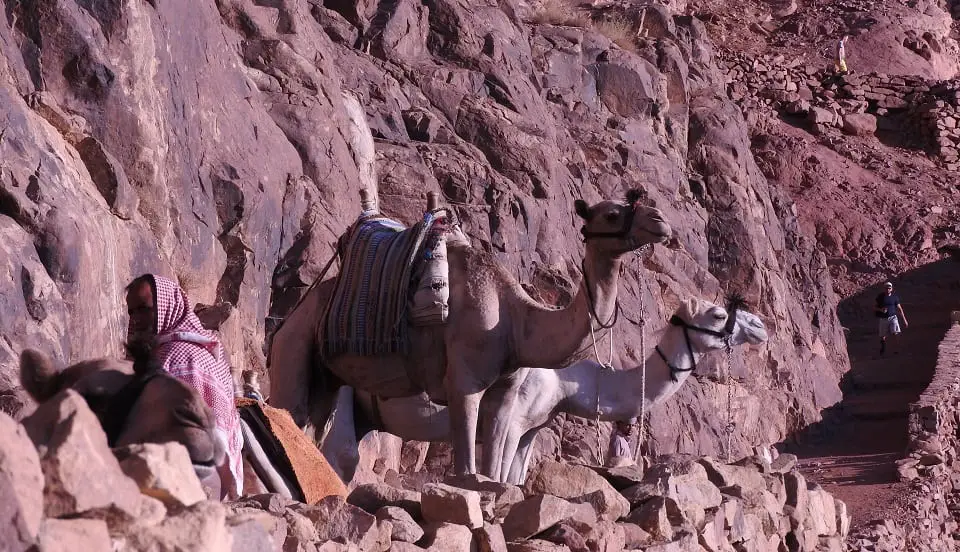 We stop on many occasions to rest our weary legs and wait for any others who may be lagging behind. There are a few make shift stops along the way to grab a hot chocolate, water or just a seat and hopefully a bathroom. 
Every step I take is significant. It was a real privilege to be there and it made me forget about how much pain my thighs were in at times. The mountains around us shone in the night sky, it was quite extraordinary.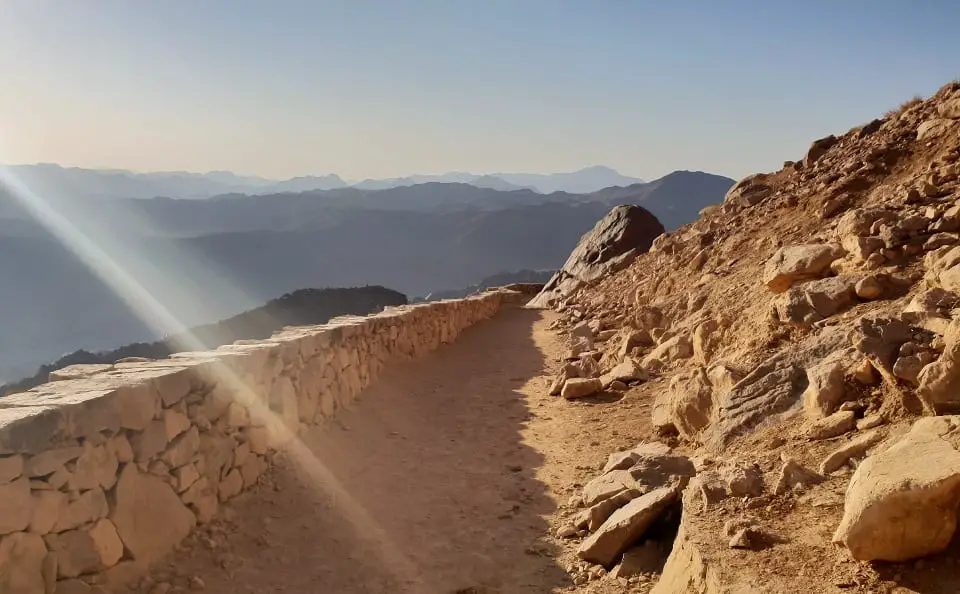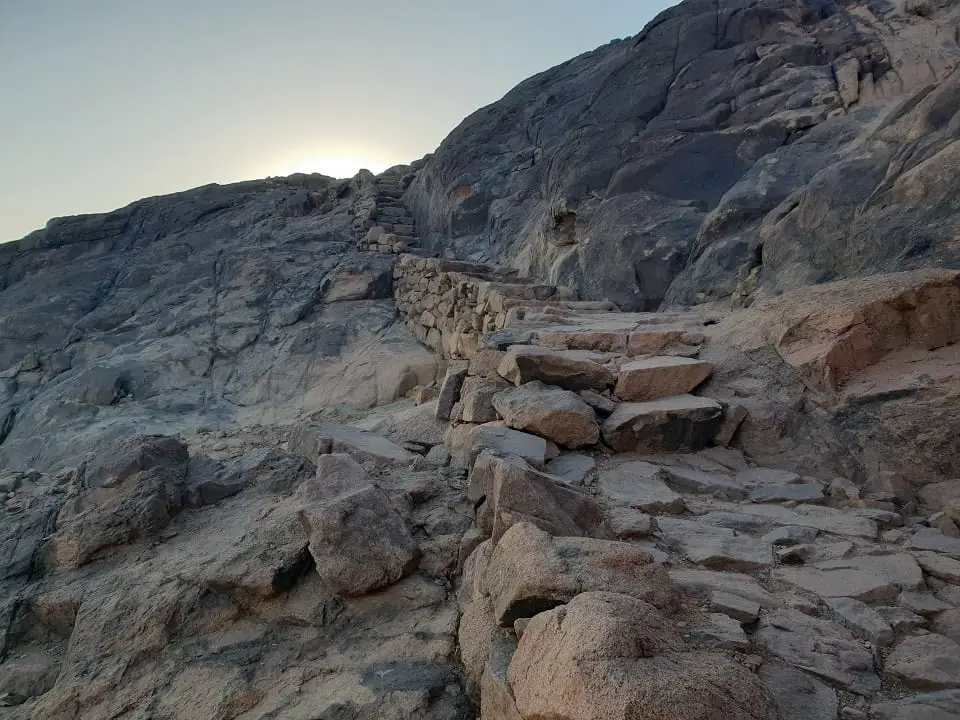 The overnight hike
Generally the guides like to have you starting around 1.30 am to allow enough time to reach the summit. It takes a good three hours and I'm in reasonably good condition. It important to be up before the light of day strikes, allowing you time to find a good vantage point to see the sunrise.
The camel route eventually comes to an end before a final staircase is all that stands between you and the summit. There are some 750 steps that will lead you to the top.
As I inched closer and closer my guide did something amazing. He grabbed my hand and in an all mighty last surge started running up the final steps with me in tow. Regardless of my fitness, this was overwhelming on my lungs at this altitude. 
He didn't stop, I couldn't let go…and we made it to the top of Mount Sinai.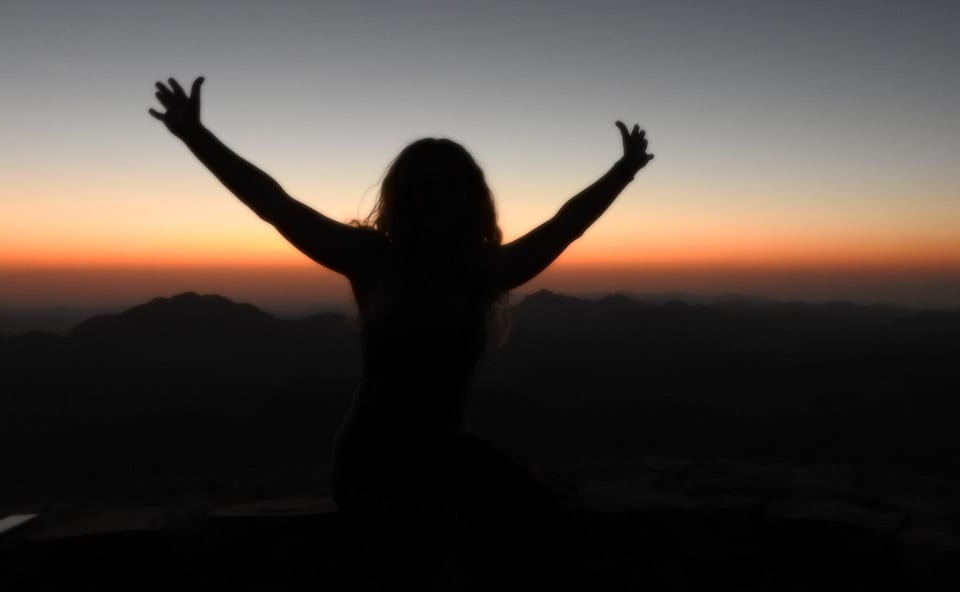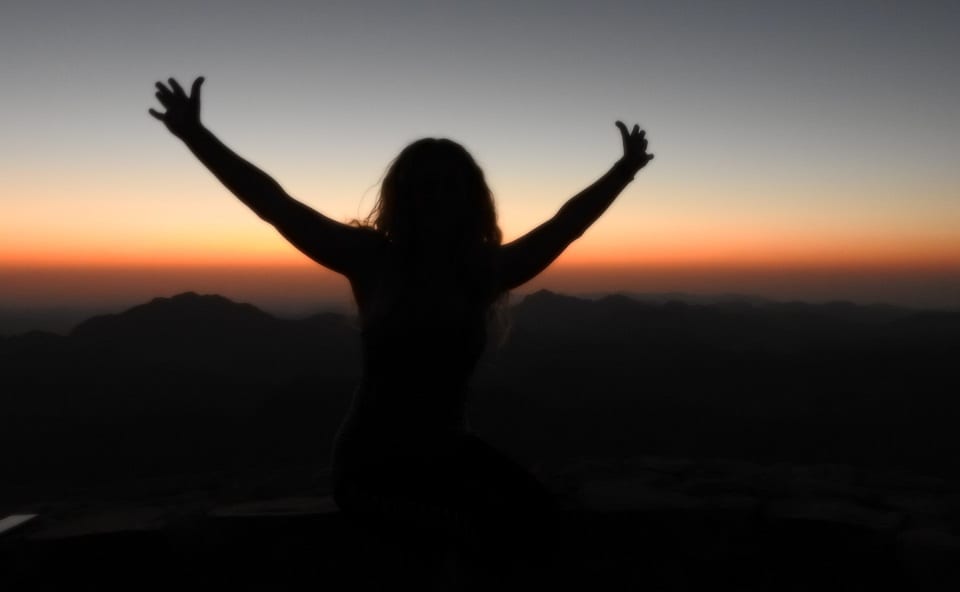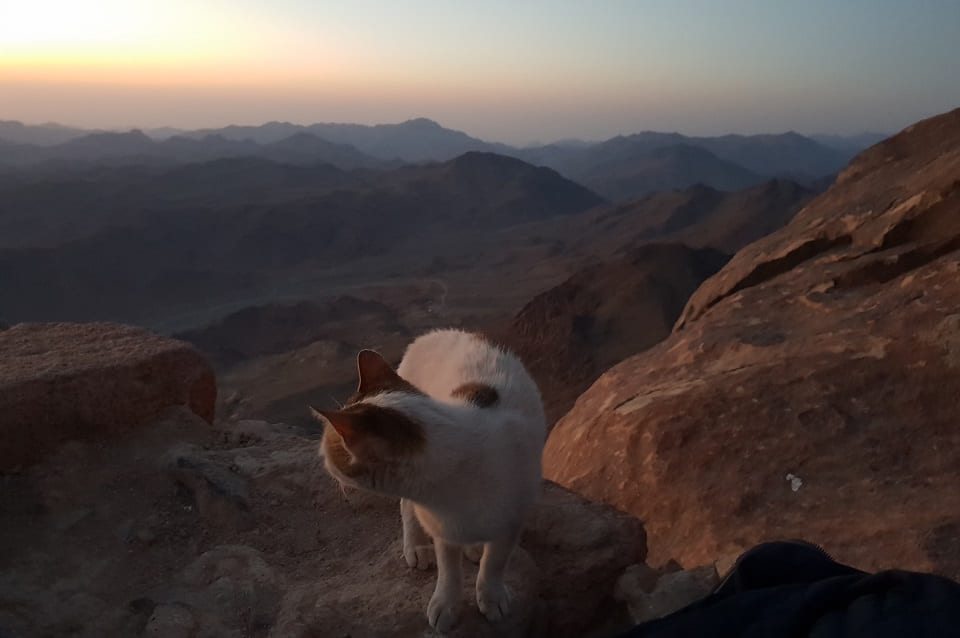 Mount Sinai Sunrise
It was now around 4.30 am and we had an hour or so to wait for sunrise.
My last visit was in September and the night air up there was chilly. Combine that with sweat that had cooled and you get quite cold. This time it was a month earlier and I had no issue with the temperature. 
You will be able to hire a blanket if it does get too cold.
Once we had our positions it was just a matter of waiting. 
And then the sun broke over the horizon at exactly 5.17 am. It was simply incredible and it gave light to the mountain we had just taken on.  You can't describe how just how amazing the view is. You feel so isolated, like being at the end of the earth.
I felt a tonne of emotion, in particular, a feeling of pure freedom. 
Whether you have come on a religious pilgrimage or just to experience the climb as i did , you will not be disappointed.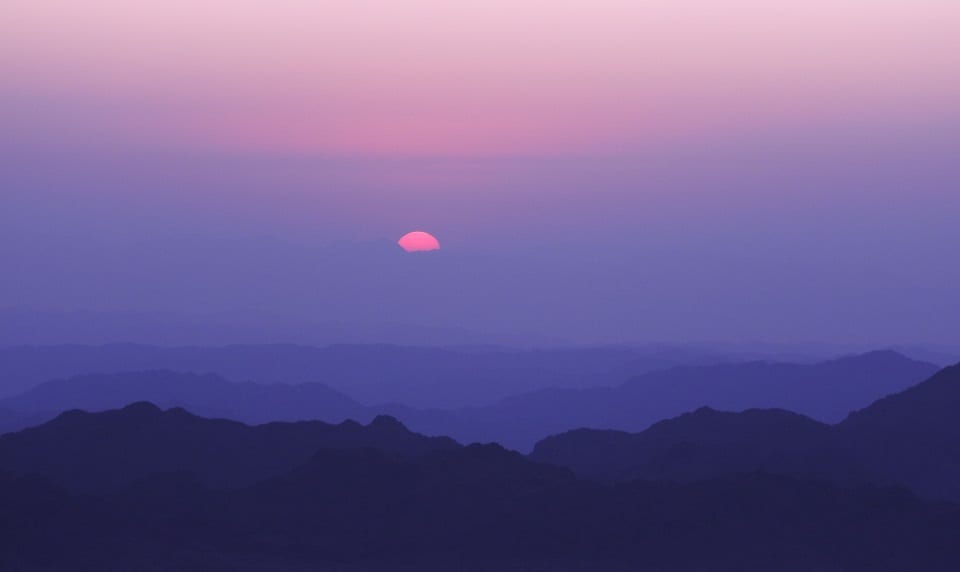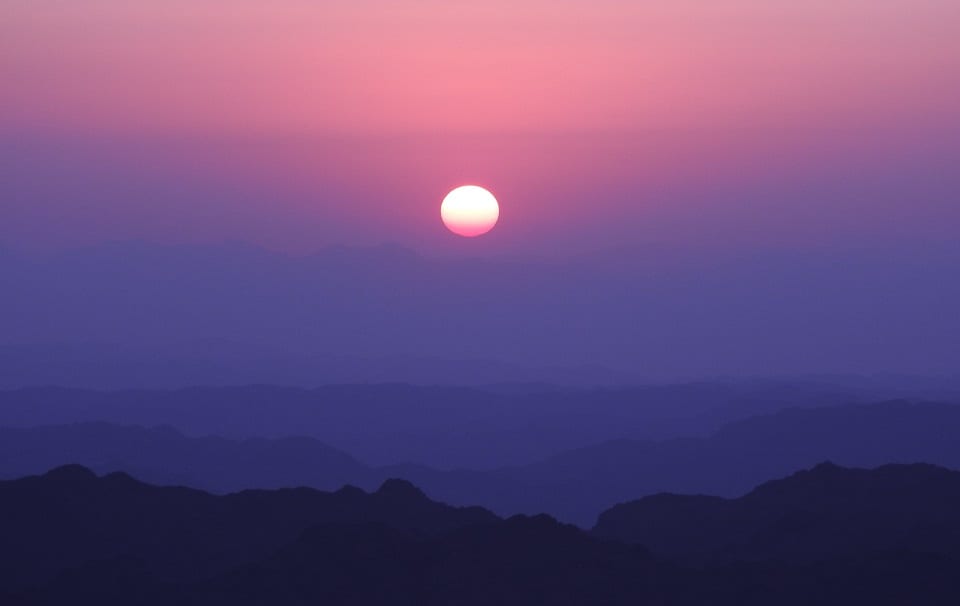 Descending the mountain
We had time to wander the summit area and see the church but it was then time to make our way down again before the heat of the day kicked in.
It took nearly 90 minutes to get back down to St. Catherine's Monastery which was our meeting point.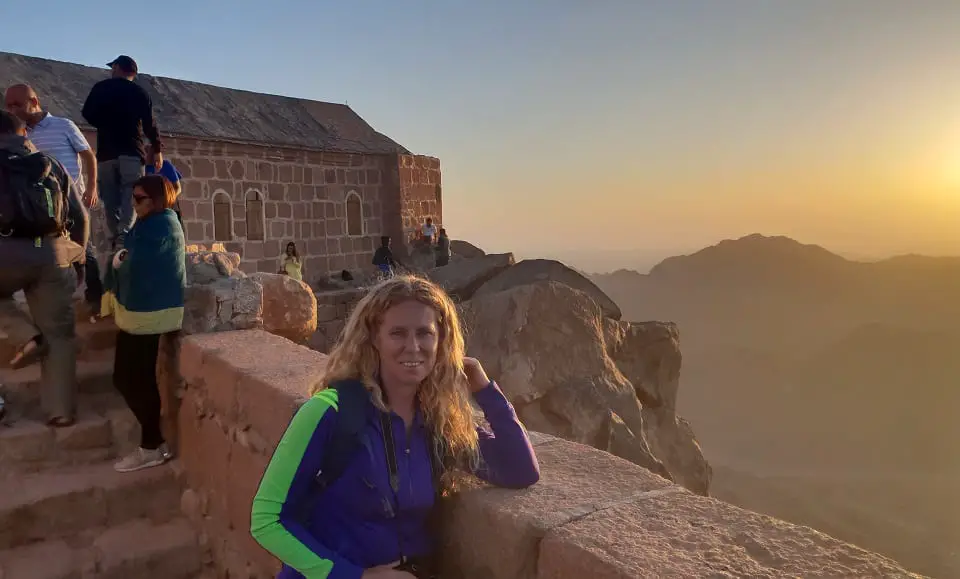 The descent was quiet, taking time to reflect. We now had the opportunity to see our surrounds in the light of day. It was nice to head down on our own as I didn't feel like speaking to anyone. 
The tour concluded with a visit to St Catherine's Monastery , considered to be the oldest in the world. 
Some 19 hours after leaving our hotel we made it back and I was well and truly ready to catch up on some much needed rest. 
How hard is Mount Sinai Climb?
The climb is not easy even for the fittest. It can be quite a challenge, but with a gradual ascent and regular stops, it is very possible.
It took me 3 hours to get to the top but I could have done it quicker. Being on an organised tour meant the group stayed together. We stopped every hour or so to wait for those behind us. I was actually quite happy to catch my breath and wait as I were in no hurry.
For those who are not fit and worry whether they will make it, you can take the camel up to the start of the final staircase. Even it you start walking and then decide it is too much, there are more camels along the route.
You can also find a local Bedouin guide at the staircase who will give you his arm and help you up the final 750 steps. Of course you will have to pay but from what I saw, it was worth it to the people who needed a helping hand. Just be sure to negotiate the price before you start. He can also bring you back down the staircase if you need. For a rough guide on price, 100 Egyptian pounds each is more than enough. The lady I was with used a guide and this is what she negotiated. The fact that the Bedouin guide climbed over 2 hours in the hope someone would pay for his services was well deserved.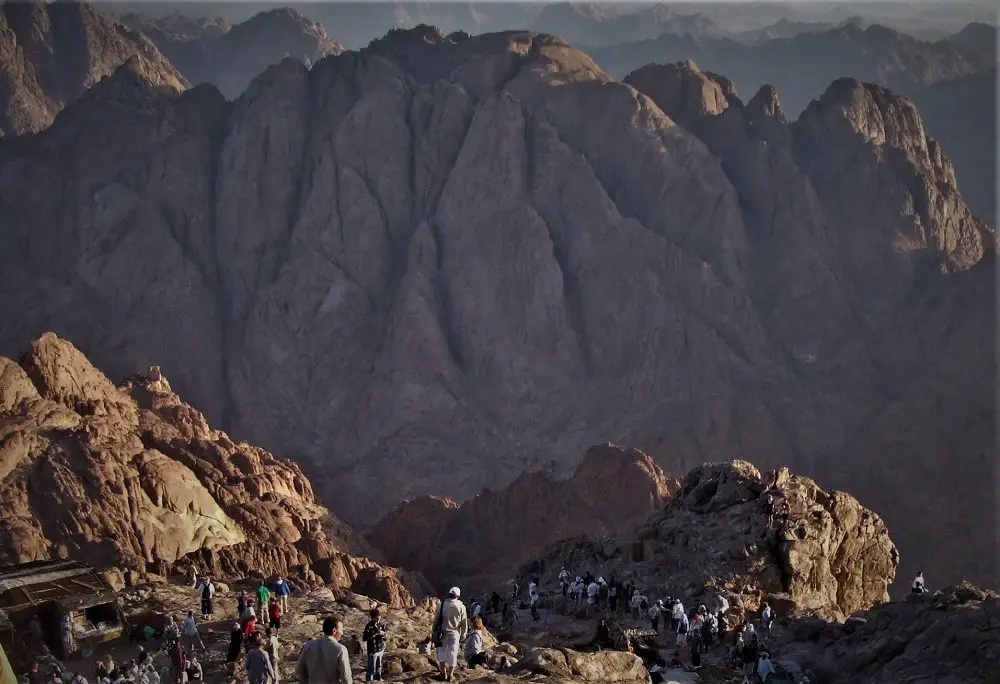 Best time to climb Mount Sinai
One of the best travel tips for Egypt I can give you is to not underestimate the heat, even at night.
When climbing the mountain though, the air temperature is going to drop significantly as you make you way up. The top of Mount Sinai can be quite cold, it not freezing.
For that reason, the shoulder months of September and October are great months to climb Mount Sinai, as well as April and May.
I have climbed in August and September while my husband has done the trek in October and March. I have to admit I much preferred August because when I went in September, it is very cold at the summit. I did not have this issue in August but the climb was harder due to it being hotter. You have to expect the temperature to be at least 30 degrees Celsius on the ground during the hotter months even in the middle of the night.
Expect winter months to be freezing on the summit, especially after you have broken a sweat on the way up.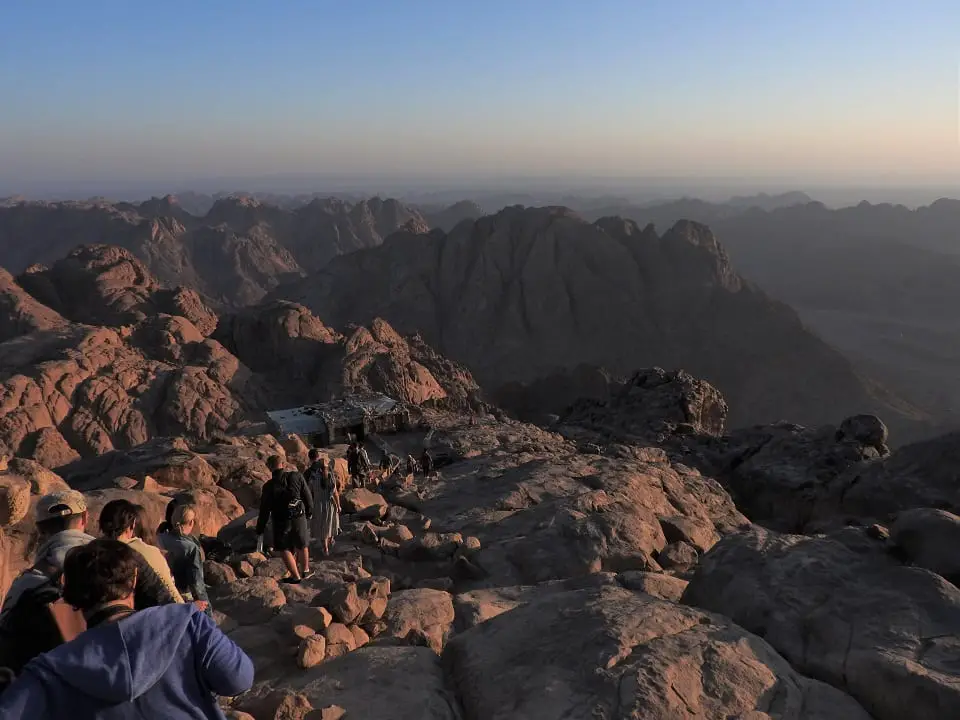 What to take on your tour and trek
It is important to take everything you are going to need but to also pack light. Any extra weight has to be carried a long way. This is what I suggest:
Small back pack to fit everything in or shoulder bag.
Camera
good walking shoes – enclosed is better
Water – at least 1 to 2 litres
Light jacket in summer / heavier jacket in winter
Snacks
Toilet paper for bathroom stops
Cash for the possibility of extra water and snacks if needed
Passport for check points from your starting point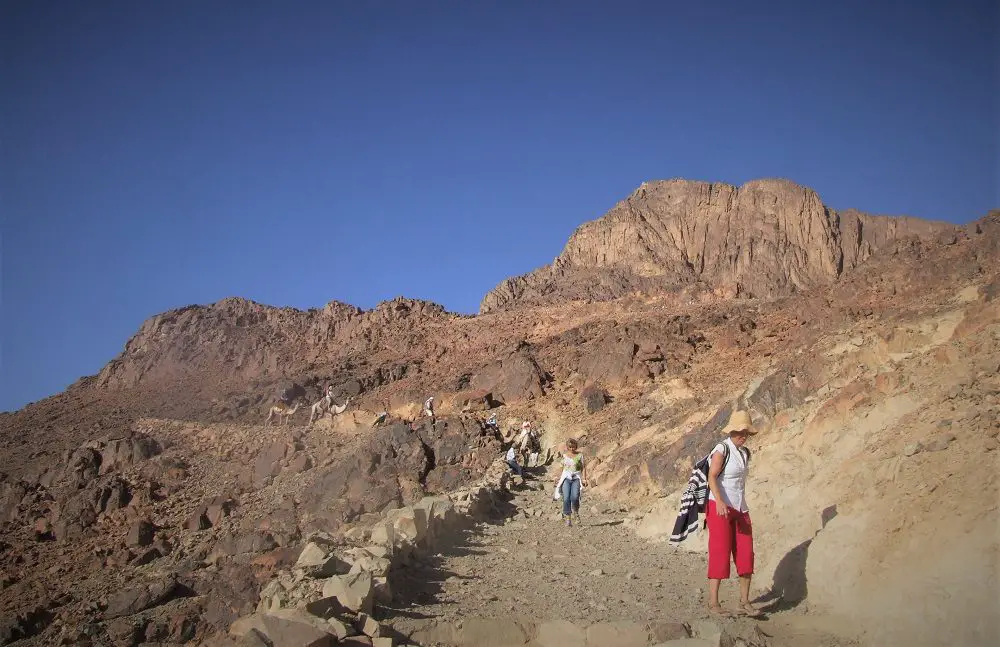 What to expect in short – Mount Sinai tour
we left around 8 pm from Sharm El Sheikh as it takes 4 to 5 hours to drive to the location.

the tour currently runs via a convoy for safety reasons with a series of military check points. 

try to get some sleep in the van by taking a pillow to ensure you are ready to climb

take water and any snacks you may like. You can purchase these at the site also.

though not necessary, a head torch can come in handy

wear comfortable shoes with good tread. Sneakers or trainers are better than sandals.

a warm jacket is a good idea no matter what time of year

you can take a camel for the first 6 km if you consider yourself unable to walk the distance. Negotiate the price if needed.

guides are also ready to assist you up the challenging staircase for a fee of around 100 EGP
For a range of tours leaving from Sharm El Sheikh click here.
For tours departing Dahab, click here.  
Like it. Pin it for later.
---