As an Amazon Associate I earn from qualifying purchases. I get commissions for purchases made through links in this post.
Antelope Canyon is a magical place to visit and an intensely popular attraction within the USA. The striking colors within the contoured canyon walls and brilliant beams of light create a mesmerizing atmosphere that must be seen to be believed. The following Antelope Canyon things to know will help you plan your trip and make the most out of this iconic location.
Antelope Canyon Things to Know
the most famous sandstone slot canyon in the USA draws millions of visitors each and every year. It is a huge draw card for professional and amateur photographers.

A slot canyon is a long and narrow canyon carved out through weather erosion over thousands of years.
The top questions that many people want to know when visiting Antelope Canyon all contribute to you having the most incredible experience possible. It covers both the Upper and Lower canyons and also compares the two.
 Best time to visit Antelope Canyon
How to get to Antelope Canyon
Upper Antelope Canyon what to expect
Lower Antelope Canyon what to expect
Upper Vs Lower (which is better)
Tours that go to Antelope Canyon
What to take on your tour
Best time to visit Antelope Canyon
There are two distinct "best times" to visit the canyon.
best time of year
best time of day
Best Time of year to visit Antelope Canyon
The warmer of May to September are by far the hottest, but also the most popular times to visit Antelope Canyon. This is for good reason. These particular months are when you'll see the incredible light beams that penetrate the canyon walls. This is due to the suns position high in the summer skies.
July and August can be unbearably hot in the desert with temperatures reaching over 100°F (40°C+). It is also a time a year when thunderstorms can randomly occur with potential flash flooding, making the slot canyon a dangerous place to be. For this reason, the canyon will close during uncertain times like this.
My visit was during early September after embarking on a 2 week National Park road trip. The heat was as expected, dry and incredibly hot, but worth every drop of sweat.
It is also a great time of year to consider visiting the nearby attractions of Bryce Canyon and Zion National Park, both famous for jaw dropping scenery and hiking opportunities.
Best Time of day to visit Antelope Canyon
The famous beams of light you have most likely seen in many Antelope Canyon pictures don't just happen any time of day. For the sun to reach deep within the canyon walls, it must be in directly above the canyon. This ONLY happens between 11 am am to 1.30 pm which is also peak time so crowds are something you will have to accept if you want see it yourself.
Is is worth going during peak times?
To give you an idea of what the canyon walls look like during the peak light beam times and without, see below.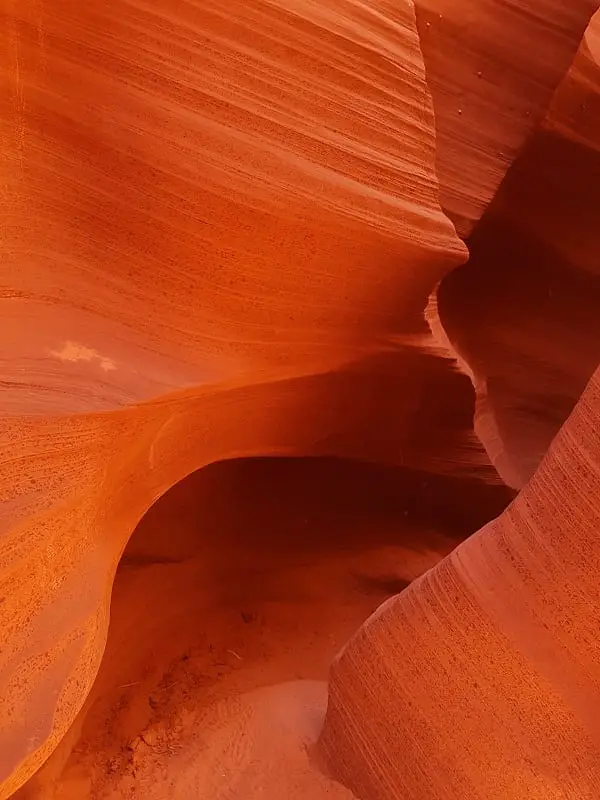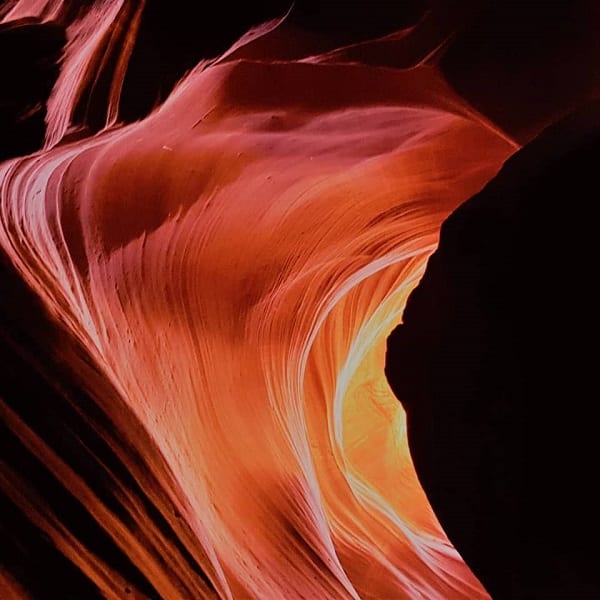 How to get to Antelope Canyon
Location: Page, Arizona
Distance from Page : 7.4 miles / 15 minutes drive
Distance from Las Vegas: 280 miles / 4.30 hrs
Distance from Phoenix: 277 miles / 4.16 hrs
Can you drive directly to Antelope Canyon?
No. You MUST be part of a tour to access both Upper and Lower Antelope Canyon.
Since the death of 11 people in August 1997 in Lower Antelope Canyon. you can no longer visit here independently. This occurred when a flash flood created a 40 foot wall of raging water which swept through the canyon. The thunderstorm that day came from several miles away which shows how dangerous and unpredictable an event like this can be.
So nowadays under the protection of Navejo parks and tour guides, visitors can only access the area by booking an organised tour.
Tours during the peak times of 11 am to 1.30 pm (May to September) book heavily in advance. Best practice – book 3 months or more out.
Upper Antelope Canyon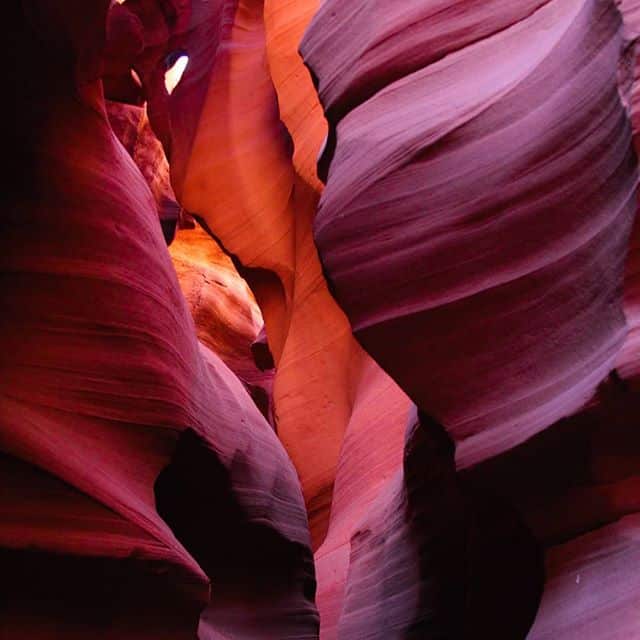 The Upper Antelope Canyon is by far the most popular for all visitors who come here.
Part of the Lake Powell Nanajo Tribal Park, Antelope Canyon is a star attraction in  Arizona. Visited by thousands of tourists each year, it is one of the most photographed places in the state.
It is where you will witness the best light displays and phenomenal sculptural rock formations. Keen photographers will really enjoy finding the right angles to shoot and the best light penetrations.
The narrow sandstone walls illuminate under the hot sun creating shades of rich color. Beautiful deep hues of orange,red, purple and pinks are stunning throughout.
More about the canyon:
flat on ground level
easy walking & short distance of 400 meters / 0.5 mile
large crowds – particularly during peak times
best light beams – amazing photography
tour bookings only
You'll pay a little more to access Antelope Canyon during these peak times times but it's not a time to be budget tight, so just do it. The Upper Antelope Canyon is truly a highlight and a must do trip.
A tour to the Upper Antelope Canyon involves firstly being transported from a designated car park a few miles out or from the township of Page.
Our tour group was treated to a native dance and talk before being separated into groups and driven by four wheel drive to the entrance of the canyon.
From here you'll be tightly guided through in order to keep everyone together. The amount of people in the canyon is a lot so everyone needs to keep moving when prompted. It's very well organised so be sure to keep close to your guide in order to hear some fascinating stories and facts.
Once we had slowly made our way out to the other side we had to turn around and head the same way back in much quicker fashion.
Lasting up to 2 hours, including transport time, you'll spend around an hour inside Upper Antelope Canyon.
Lower Antelope Canyon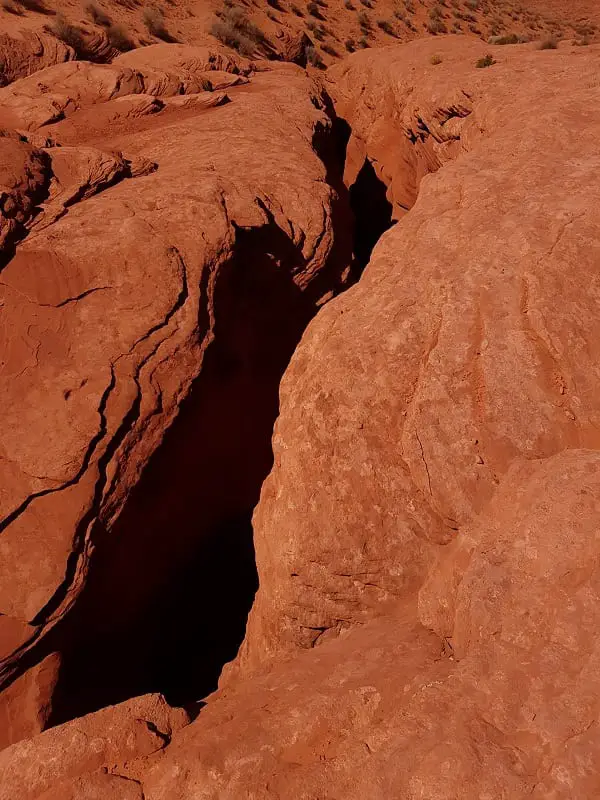 The Lower Antelope Canyon may not be the most popular of the two canyons, but never the less it is fascinating in its own right.
The big difference between the two is the Upper Canyon is above ground and the Lower Canyon is below ground. The space to move around is also a major difference in the two.
Lower Antelope Canyon is made of narrow and uneven passages so having some sort of mobility is needed. Fitness should not be an issue as it is not overly strenuous.
You will need to navigate some steady ladders and maneuver through those tight spaces within the canyon. Young agile kids will love exploring here probably more so than the upper canyon.
More about the canyon
below ground level
narrow with tight spaces
ladders to climb
less crowded
no light beams
tour bookings only
Antelope Canyon Upper V Lower
In my personal opinion, without the light beams in the upper Canyon, I would choose the Lower Canyon if I could only do one. 
If you cannot decide then why not both like I did. They are quite different and offer a varied experience.
Upper Vs Lower Antelope Canyon
| | |
| --- | --- |
| i want to see the famous light beams | Upper  |
| I prefer to avoid crowds | Lower |
| I have mobility issues OR I prefer limited exertion | Upper |
| I want the cheapest tour option | Lower |
| I like a sense of adventure | Lower |
| I want to go to the most popular canyon | Upper |
Antelope Canyon Tours
A reminder to book up to 3 months or more in advance during the peak times of March to October.
LIST OF  CANYON TOURS
3. Upper or Lower Antelope from Las Vegas
LIST OF  CANYON  + HORSE SHOE BEND TOURS
2. Antelope Canyon and Horseshoe Bend from Flagstaff
3. Antelope Canyon and Horseshoe Bend from Sedona
4. Antelope Canyon and Horseshoe Bend from Phoenix
5. Antelope Canyon and Horseshoe Bend from Las Vegas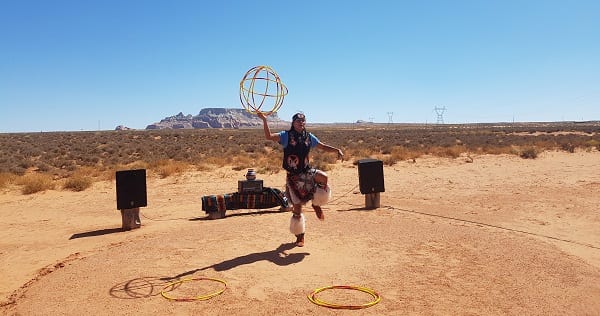 What to take on your tour
Suitable walking shoes – particularly if going into the Lower Canyon
Water – you'll need plenty of it during the summer months.
Sunscreen – expect some time in direct sunlight
Sun glasses – the sun and desert floor are a hard combination on the eyes
camera
For those thinking of going between March to October, be sure to book well ahead of time.The tours can sell out months in advance.
Out of this peak season reservations are still encouraged, especially if you have a particular time of day you want to go.Book as soon as possible to avoid disappointment.
 

See the full range of Antelope Canyon Tours

 – tours sell out quickly during the peak months May to October

 – to see the light beams between 11 am and 1.30 am, bookings more than 3 months out are recommended