As an Amazon Associate I earn from qualifying purchases. I get commissions for purchases made through links in this post.
This action packed 2 week National Park Road Trip in the USA covers some of the biggest and the best National Parks in the country. From glacial carved valleys to desert landscapes, get ready to see some of the best scenery on the planet. It is the ultimate & best National Park road trip of a lifetime. 
We had planned this incredible holiday over several months, and spent even longer saving every cent we had toward it. It is the perfect vacation for those on a budget. 
Need help saving for your trip: – Read How to Save Money for Travel.
Our original starting point was in Alaska. After spending a week checking out as much as possible which included Denali National Park, we then made our way to Vancouver on a 7 night cruise through the Inside Passage. From here, we crossed into  Seattle , rented a car and headed for the Canadian Rockies on a 7 day road trip. We then entered back into the US via Calgary.
Why not add: 7 Day Canadian Rockies – Vancouver to Banff Road Trip
2 Week National Park Road Trip USA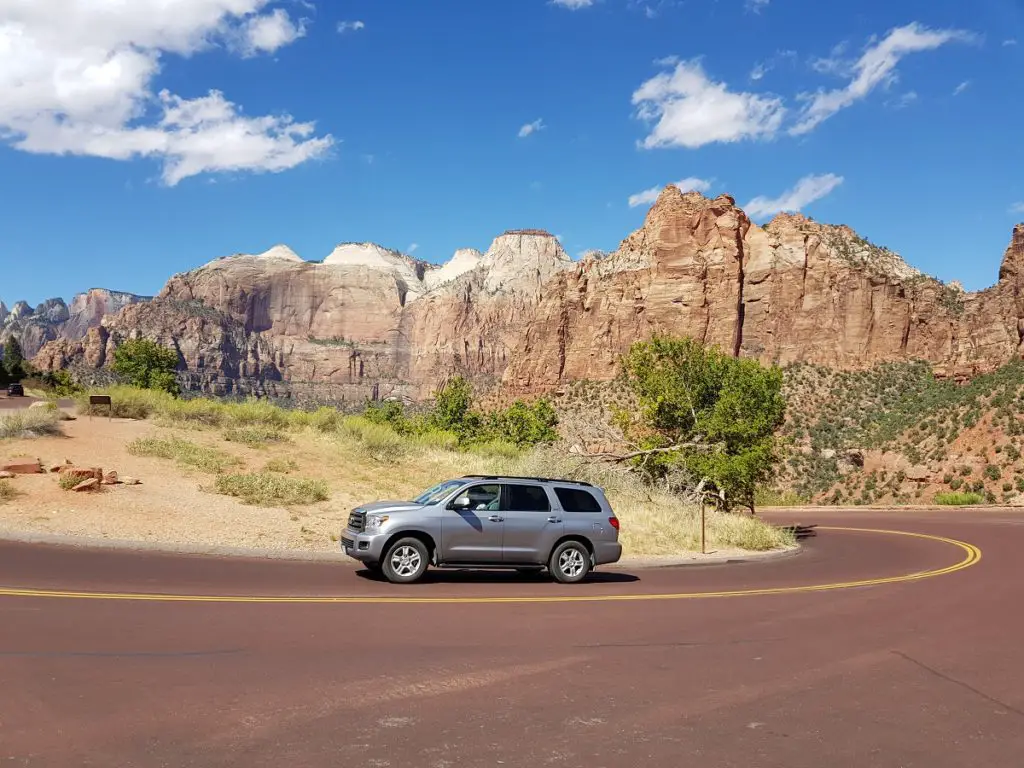 This carefully planned trip was fairly fast paced but you could take extra time at each location.
Top Tips for making your trip suit your budget
Book your accommodation well in advance as many locations offer limited places to stay and sell out fast
Fuel up regularly, especially in bigger cities for cheaper fuel prices
purchase a National parks Pass USA
Take your own food on your trip rather than eating out
Map of our 14 day National Park Road Trip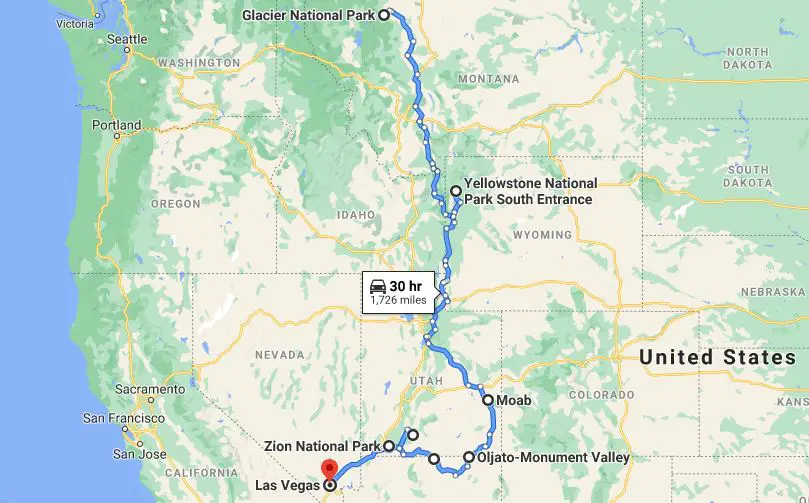 Distance covered: 1726 miles / 2777 km
Drive time: 30 hours (over 2 weeks)
As you can see, this was a huge 14 day USA road trip but we had good reason for pushing through so much.
Firstly, our time was limited. Second, we love to drive and felt the driving portion provided so much incredible scenery rather than just seeing it as just a way to get from A to B.
I would have loved to have added at least 3 more days to this 2 week National Park itinerary. Everything was included because we felt we just couldn't leave anything out. I am just so glad we had those extra summer daylight hours to get everything done.
Lastly, this trip does have some big drives as mentioned. Our biggest day was 8 hours on the road, not including stops so if you think you cant possibly drive that long then add an extra day or hopefully share the drive with someone else.
---

National Parks Road Trip Itinerary
Places visited
Glacier National Park   
Yellowstone National Park
Grand Teton National Park   
  Arches National Park
Monument Valley   
 Antelope Canyon
Bryce Canyon National Park   
  Zion National Park
Las Vegas.
Number of National Parks
6
States visited
5
(Montana, Wyoming, Utah, Arizona & Nevada)
Time of year best suited
June to September
Note; Some of these areas are closed or have limited access during the winter months. A revised trip plan may be needed. 
---
USA National Park Travel Costs
I have devised the following costs you can expect to encounter on your 2 weeks National Parks Road trip itinerary. It is based on those wanting to budget their hotel and food costs.
Accommodation Costs
Prices are based on 2 people sharing the same room.
Prices will vary dependent on time of year so this is just an average. It is based on summer season.
LOCATION
HOTEL
COST PER NIGHT
Glacier National Park
Swift Current Inn
2 nights
$137
Bozeman
Comfort Inn Bozeman
1 night
$151
Yellowstone National Park
Old Faithful Lodge
2 nights
$116
Grand Teton National Park
– Jackson
Super 8 by Wyndham
1 night
$309
Arches national Park
– Moab
Inca Inn
3 nights
$199
Monument Valley
The View
1 night
$269
Antelope Canyon
– Page
Rodeway Inn
1 night
$107
Bryce Canyon National Park
– Panguitch
Color Country Motel
1 night
$91
Zion National Park
– Springdale

1 night
$299
Food Costs
Packing a lunch a to go is not only cost effective but gives you freedom to stay on the move.
Being based in so many National Parks will make it hard to find restaurants and take away food option. So it makes sense to take your own. You could ultimately prepare all your own meals and occasionally eat out if needed.
Food Costs per day – by making and packing all your own food, you could expect to pay $20 per day per person.
If you would like to occasionally eat out, expect to spend $30- $40 per day per person.
Things that will help make a better trip
Consider the things that will make your trip so much easier but also cut your costs down.
These items are not only a must have for your 2 week National Park Road Trip but they become a great investment for all future road trips.
Coleman 50 quart 5 day cooler – approx $49
Keeps ice up to 5 days in temperature up to 90F. A cheap and ultra handy piece of road trip equipment.
12 volt car/camp refrigerator via Amazon – approx $269
This refrigerator and freezer holds plenty for your road trip. Take your food and drinks on the road while charging easily off your car battery.
Picnic Backpack – via Amazon – approx $49
A great road trip accessory with cups, plates, cutlery and blanket. Also ha a cooler compartment and wine bottle holder.
Day 1 & 2 : Glacier National Park
( 2 nights accommodation) 
Distance: 182 miles/ 294 km / Drive time : 3.20 hrs
Our 2 week National Park Road Trip itinerary started in the Canadian city of Calgary, but you may need to start elsewhere which is fine for this trip.
We picked up some friends who flew in from the US and began our Calgary to Las Vegas road trip. This trip can also be done in reverse from Las Vegas to either Glacier National Park or Calgary, Canada.
Alternate option is to start in Kalispell Montana if you plan to fly in and hire a car. The airport is close to the West entrance of Glacier NP.
The drive down to Glacier National Park was smooth sailing, nothing but wide open road. Crossing the border took minutes as we were the only ones there at the time. We entered Glacier National Park from the east side and made our way to Swift Current Lake.
Glacier NP is simply outstanding. Miles and miles of glorious mountain peaks and endless hiking possibilities. There are 25 "active" glaciers here.
Helpful links:
CheapOAir for discount flights
Rentalcars.com for all the best car rental companies in one place
Glacier National Park Highlights
Going to the Sun Road
Going to the Sun Road is not to be missed.
This narrow and scenic passage is your window to the parks monumental scenery.
It takes around 2 hours without stopping and is the highlight for most visiting. Be sure to stop at the highest point, Logan's Pass and set out on a short hike. The views are breath taking.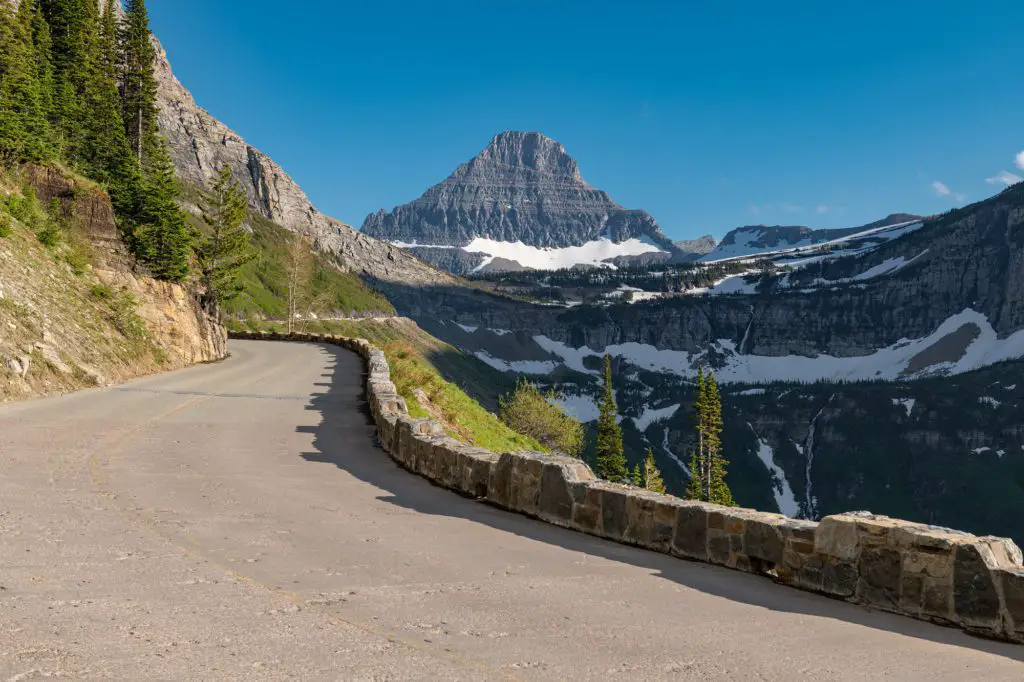 Swift Current Lake
Gorgeous view and well worth a stop. The Many glacier hotel is perched on the waters edge and commands some of the best views you'll find.
We took a relaxing two lakes cruise from here which included some walking. If you are not keen to set out on foot by yourself you can book other activities here.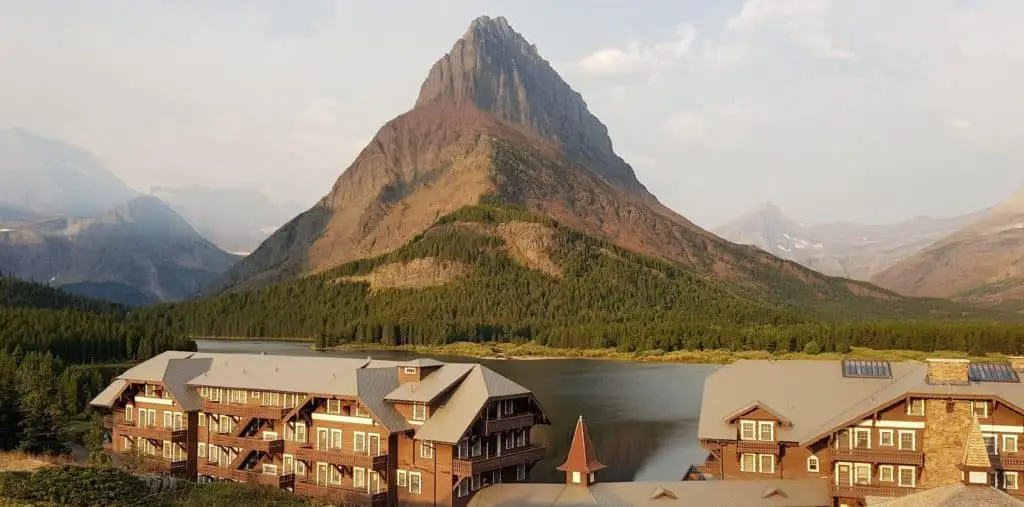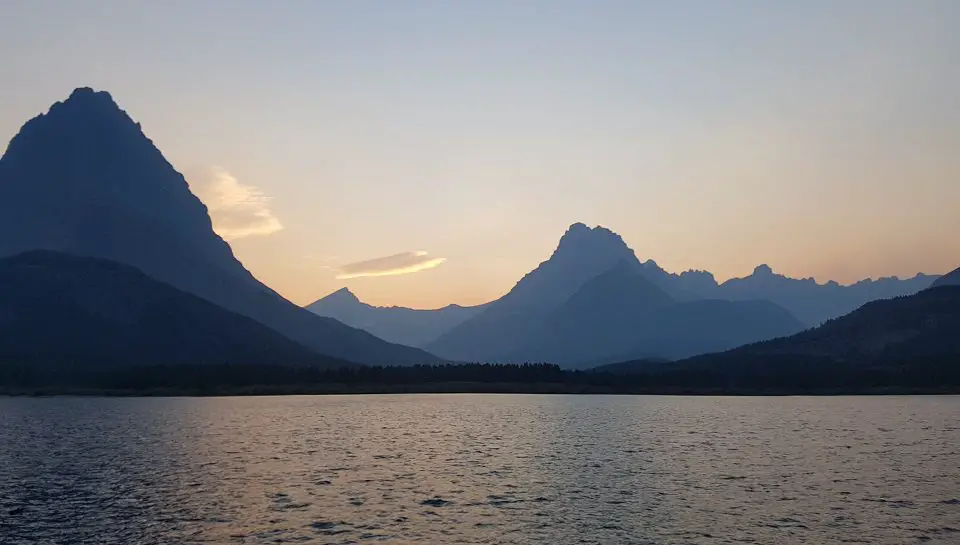 Hiking Opportunities
Hiking in Glacier National Park is without doubt one of the biggest highlights within the park. An incredible amount of trails start from less than a mile such as Trail of the Cedars and Running Eagle Falls Trail to multi day hikes such as the 50 mile (80 km) West Glacier to Saint Mary via Going to the Sun Road.
To see all trails including distance, highlights and difficulty, head to alltrails.com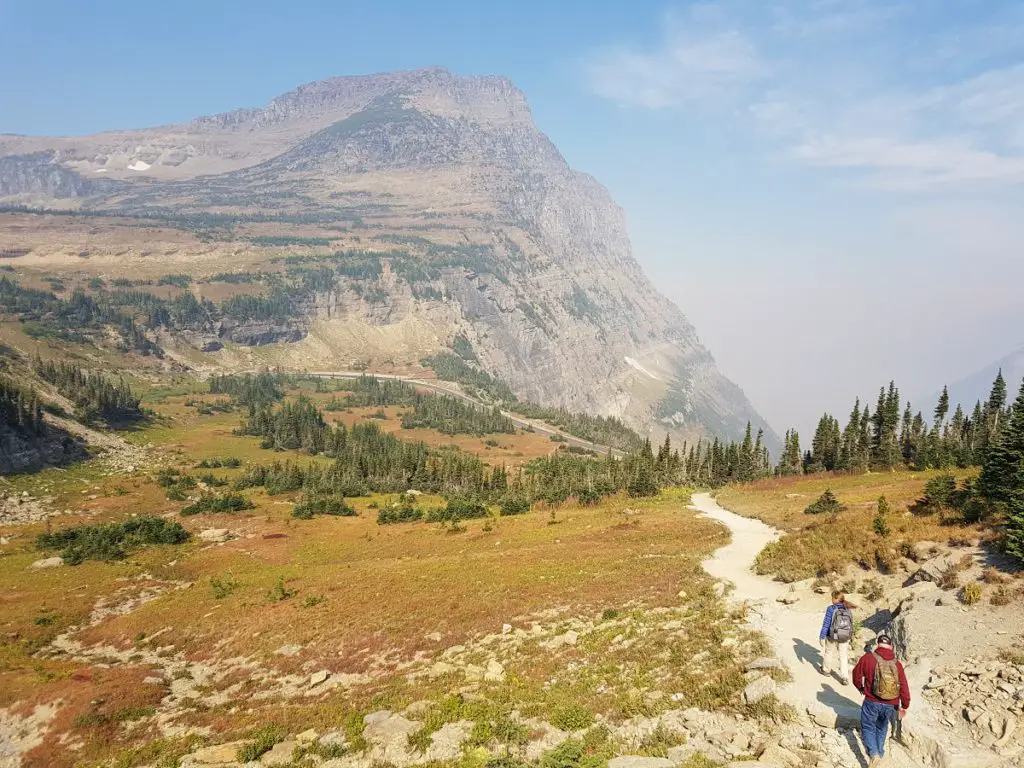 Wildlife in Glacier NP
Wildlife found within the park include grizzly & black bear, moose, lynx, bighorn sheep, elk, deep, mountain lion, coyotes and wolves.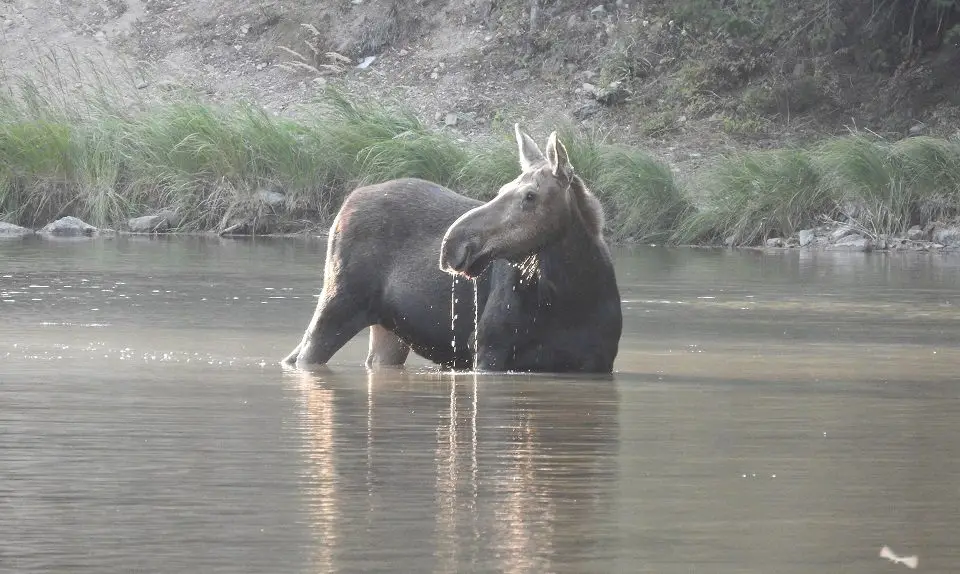 Accommodation
Best budget option:
Swift Current Inn: a basic and cheaper option for budget travelers. Cabins with and without bathroom were clean and comfortable. Restaurant also had basic low cost meals on location. 1 night. 
Prices start from $137 per night and bookings well in advance are a must.
Non budget option:
Many Glacier Hotel: this 5 story Swiss style hotel has a range of rooms and suites. Cafe, gift shop and up scale restaurant on site. 1 night. 
Important note: Accommodation within the park is not open all year round and you'll need to coordinate your trip to stay here or seek other alternatives. The closest city to the park entrance is Babb and St Mary.
Helpful links:
Go to Many Glacier Hotel  for prices
Go to Swiftcurrent Motor Inn for prices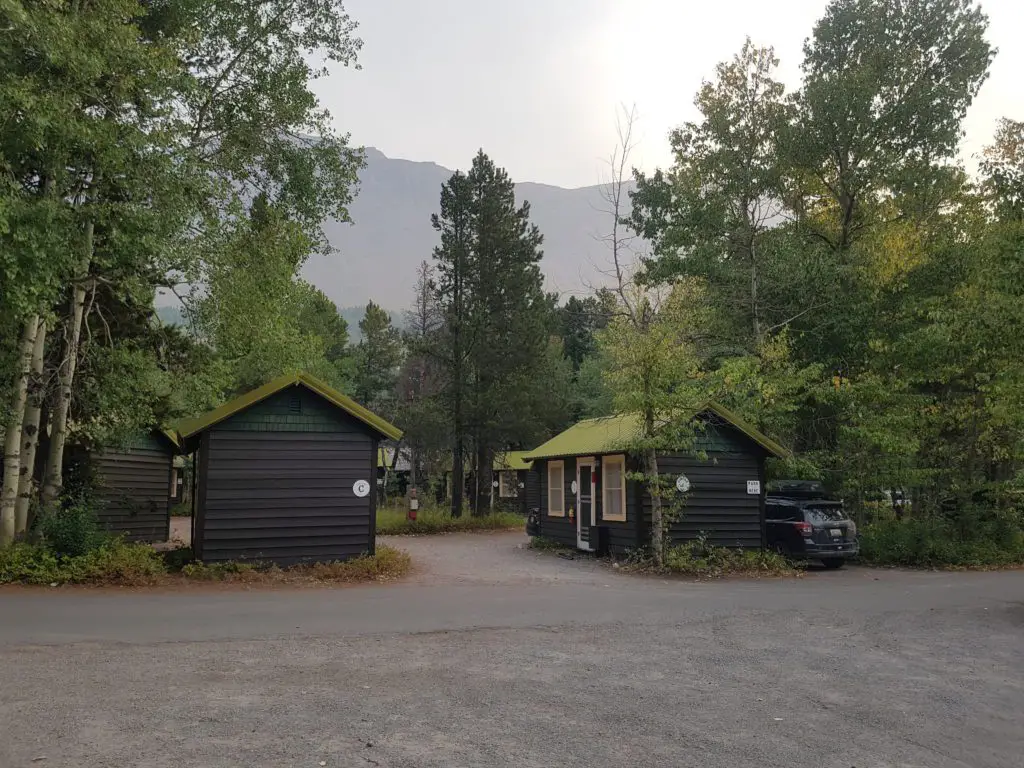 Further Reading: Road Trip Glacier National Park
---
Day 3 : Bozeman
( 1 nights accommodation) 
Distance: 315 miles/ 507 km / Drive time : 5.36 hrs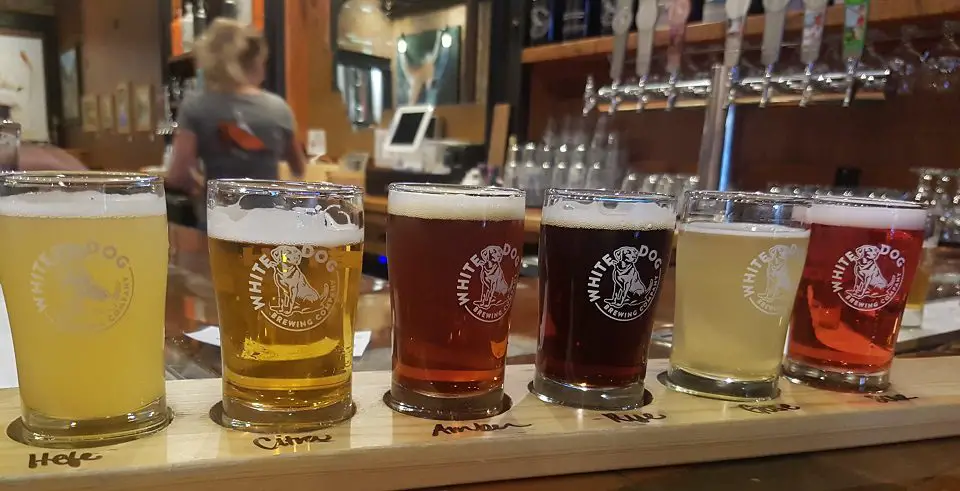 Heading off after lunch, the drive would take us within an hour and a half from our next destination, Yellowstone National Park. Th drive was over 5 hours but more like 6 hours with rest stops. We decided to rest up in Bozeman rather than drive all the way to the park. It would be dark anyway so it was better to rest up in anticipation for the next few days.
It would work out much cheaper to stay here and there was no need to push on any further. It meant we could get up early and be in the park mid morning.
Accommodation
My Place Bozeman had nice new rooms and a kitchen to prepare the next days meals, a great food saver.
If you have time during the evening be sure to stop by the White Dog Brewery for some pre – dinner drinks.
Budget Option:
Comfort Inn Bozeman rates highly and includes breakfast.
Helpful links:
---
Day 4 & 5 : Bozeman
to Yellowstone National Park
( 2 nights accommodation) 
Distance: 78 miles/ 125 km / Drive time : 1.19 hrs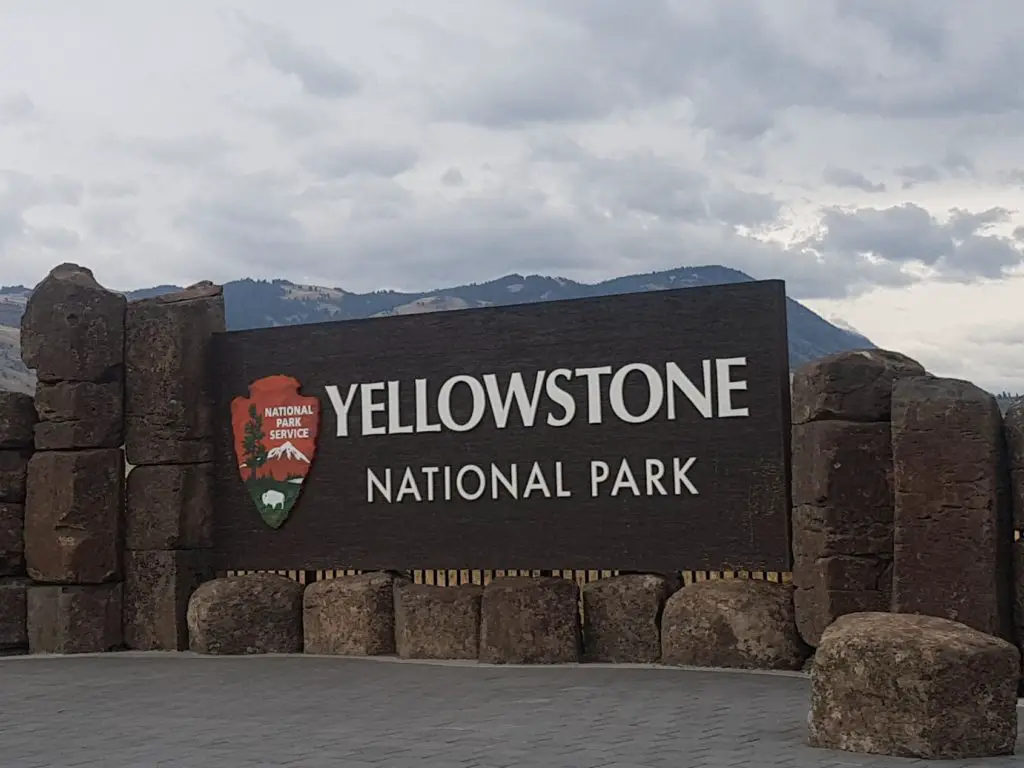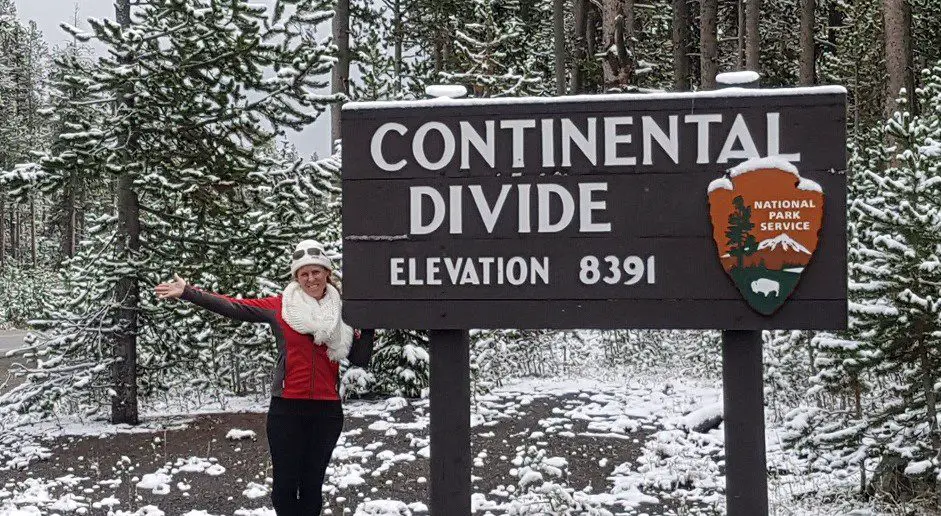 The magnificent Yellowstone was always on top of my bucket list for our 2 week National Park itinerary.
We entered Yellowstone through the north entrance via Gardiner and were at Mammoth Hot Springs within 90 minutes after leaving Bozeman. The speed limit within the park is only 45 miles on the Grand Loop road but you may be going much slower during times of heavy traffic and animal crossings.
Yellowstone National Park Highlights 
While there are MANY highlights here, these were some of my favorites.
Mammoth Hot Springs
What an opening scene it was. Totally mesmerizing. The steaming hot springs and limestone terraces are like nothing on earth. The boardwalks allow visitors to enjoy plenty of great vantage points from all different levels.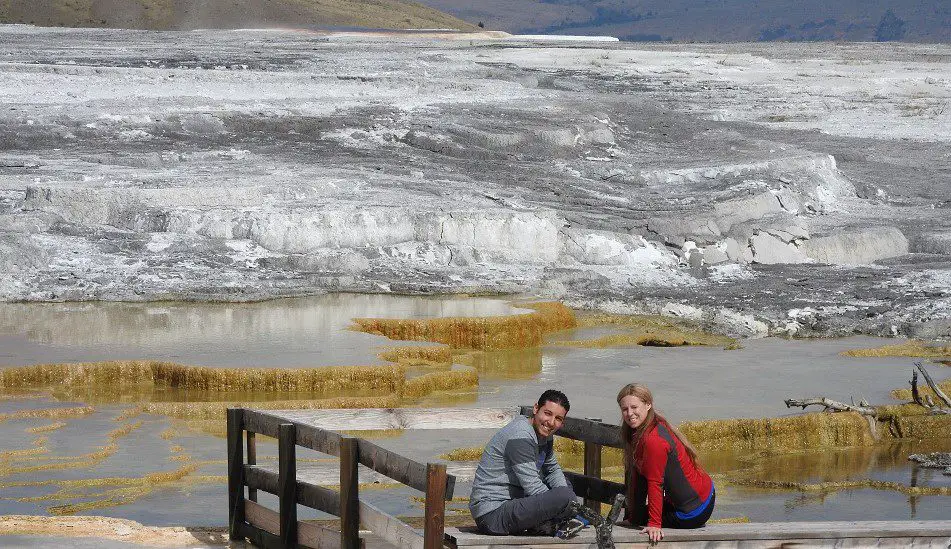 Lamar Valley
This was where we had the most unobstructed view of wild life. The wide open valley was some of the best back country I have driven through. We saw so many herds of buffalo roaming the land, it was paradise.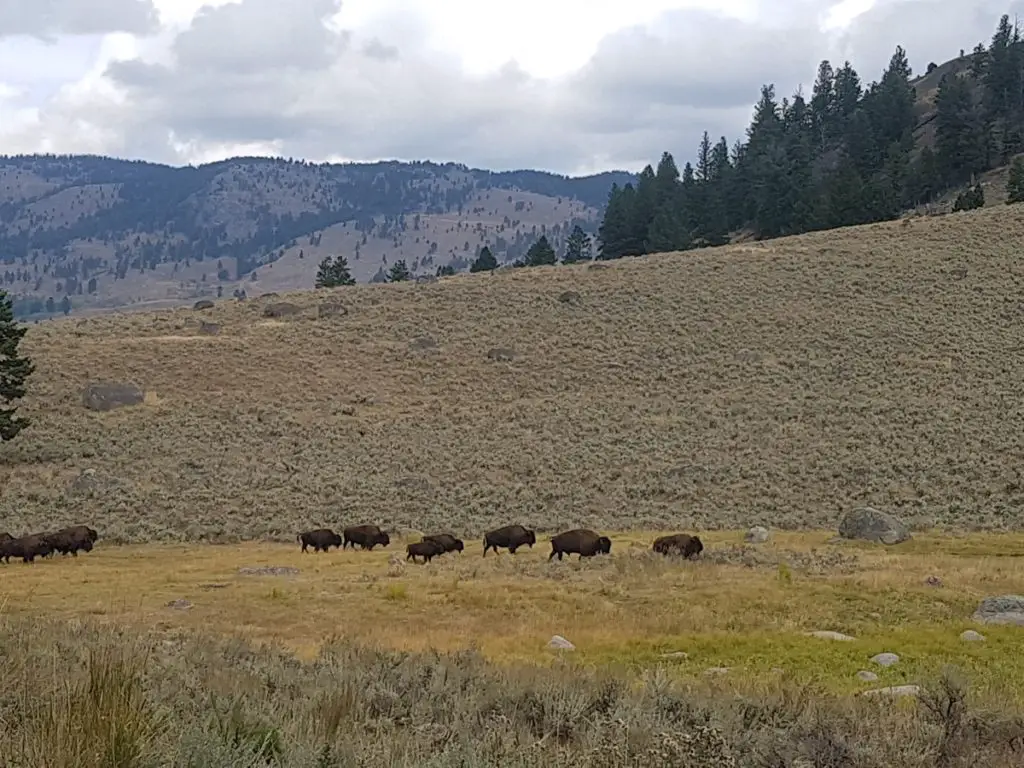 Noris Geyser Basin 
This geothermal area is expansive and requires a couple of hours to explore. There are plenty of board walks here. Be sure to stop by Steamboat Geyser.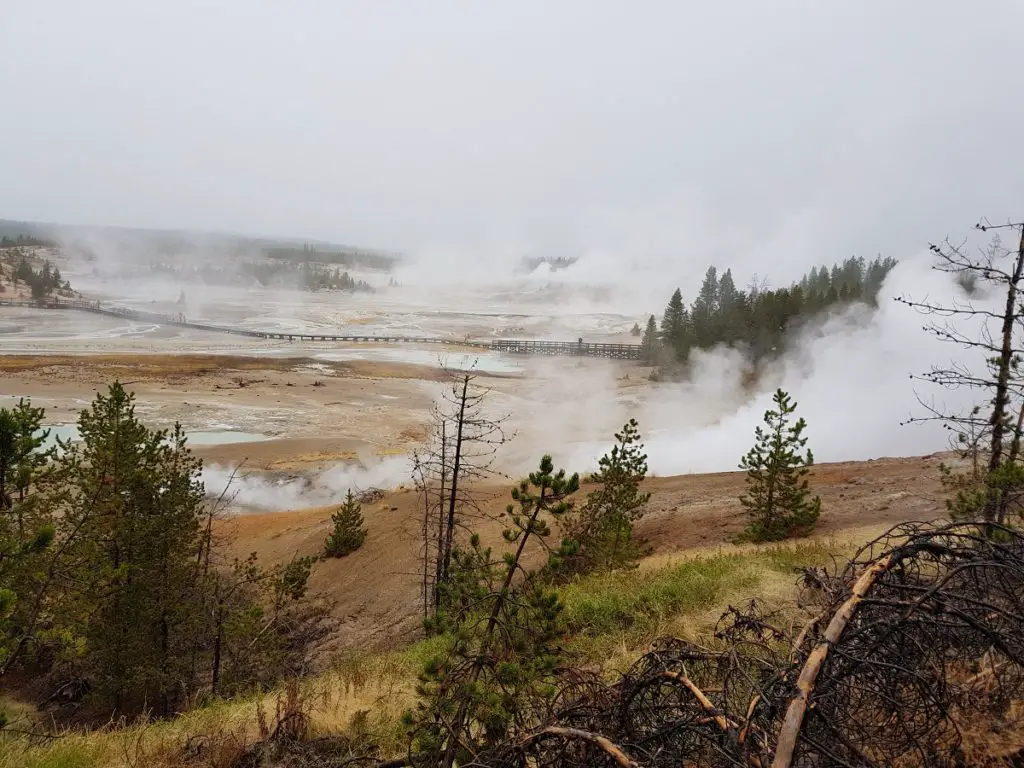 Grand Prismatic Spring 
You've probably seen the photos as it's the most photographed thing in all the park. Don't miss it.
Old Faithful
The most famous geyser in the world erupts on average every 74 minutes. It can reach heights of 106 to around 180 feet with great viewing right outside Old Faithful Inn. It's truly a wonder and doesn't disappoint.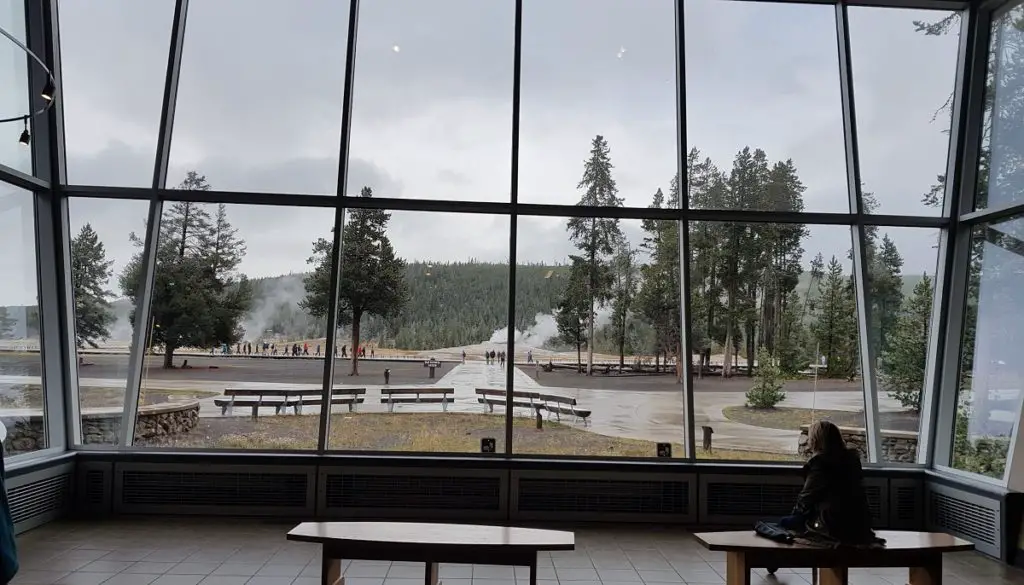 Wildlife in Yellowstone National Park
One of the greatest things about this 2 week National Park road trip is the incredible wildlife you will inevitably get to see. In Yellowstone, it is truly magnificent.
From the largest bison population in the USA, to elk, pronghorn, coyote, black bear, grizzly, moose and mountain lion.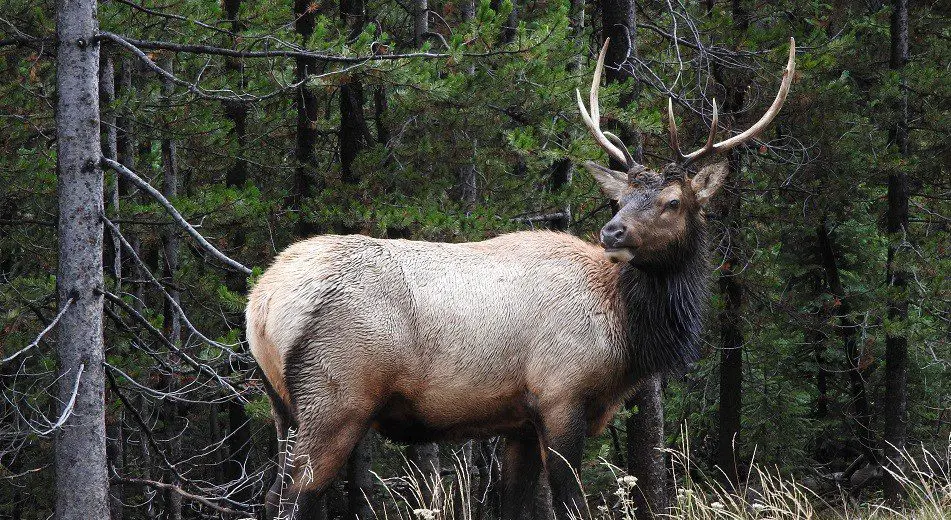 Accommodation
Non budget option
Canyon Lodge: this was not part of our travel budget but we had to stay one night when no other option was available. It was also a much better option than staying out of the park where prices were not much different. I can't remind you enough to book well in advance if you are chasing an affordable nights stay. The rooms were nice and comfortable.
Budget option
Old Faithful Lodge and cabins: great budget frontier cabins located next to Old Faithful himself. Basic rooms with shared bathrooms provided a cheap nights stay on our second night in Yellowstone.
Helpful Links:
Go to Canyon Lodge for pricing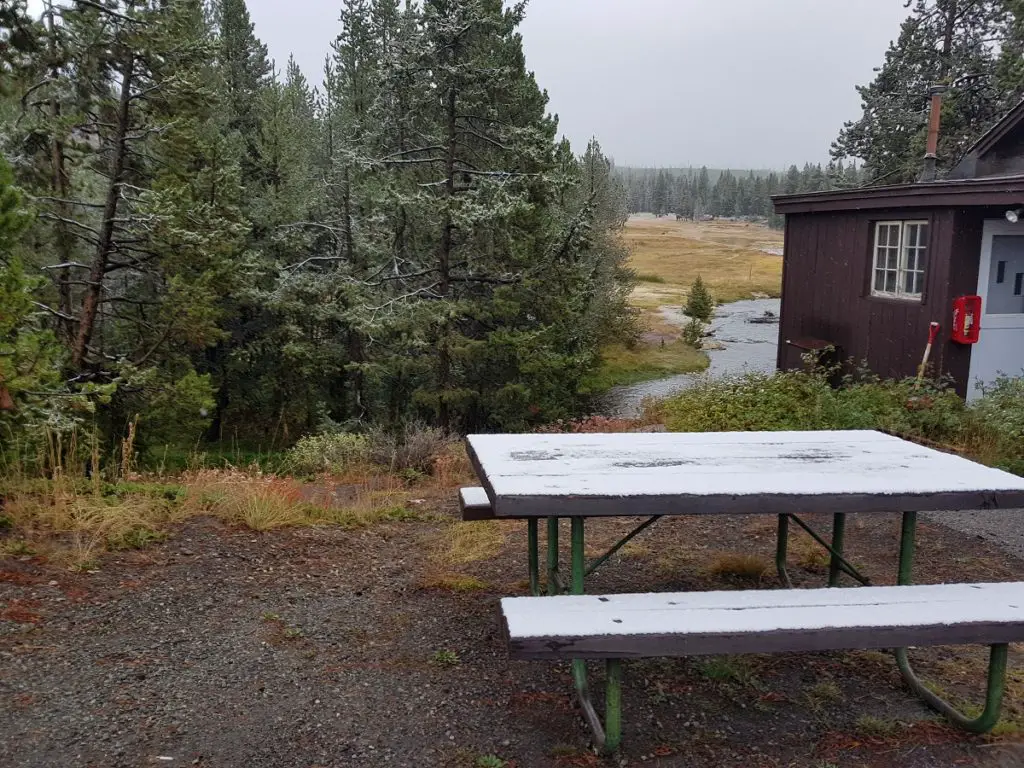 ---
Further Reading: 3 Day Yellowstone NP itinerary
Day 6 : Grand Teton National Park
( 1 nights accommodation) 
Distance: 88 miles/ 142 km / Drive time : 2.14 hrs
Leaving early morning we headed toward Yellowstone Lake and came across the first snow fall for the season. This is where sudden road closures can occur but we were lucky to make it through.
After a quick back track it was onto Jackson Hole via the magnificent Grand Teton National park.
Grand Teton Highlights
The drive provided the most epic and mighty views of the rising mountains. At this stage of the trip we were gob smacked by what had seen so far.
Jackson Lake
A stop by Colter Village will allow you some time to grab a bite to eat and browse some local stores. Down at the lake we took the time to just soak up "that" view. It was like having front row seats to the best show on earth.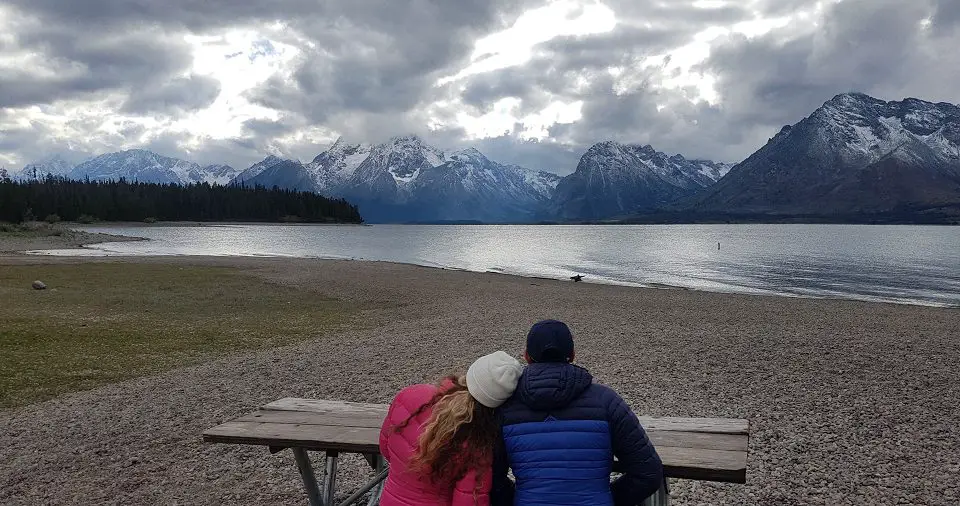 Jackson Hole
The town of Jackson is like driving into the wild west. Saloons and cowboys it is. When you come from a world away, it's pretty cool.
Head to the famous Million Dollar Cowboy Bar for drinks, dinner and live entertainment. It's located right in the heart of town.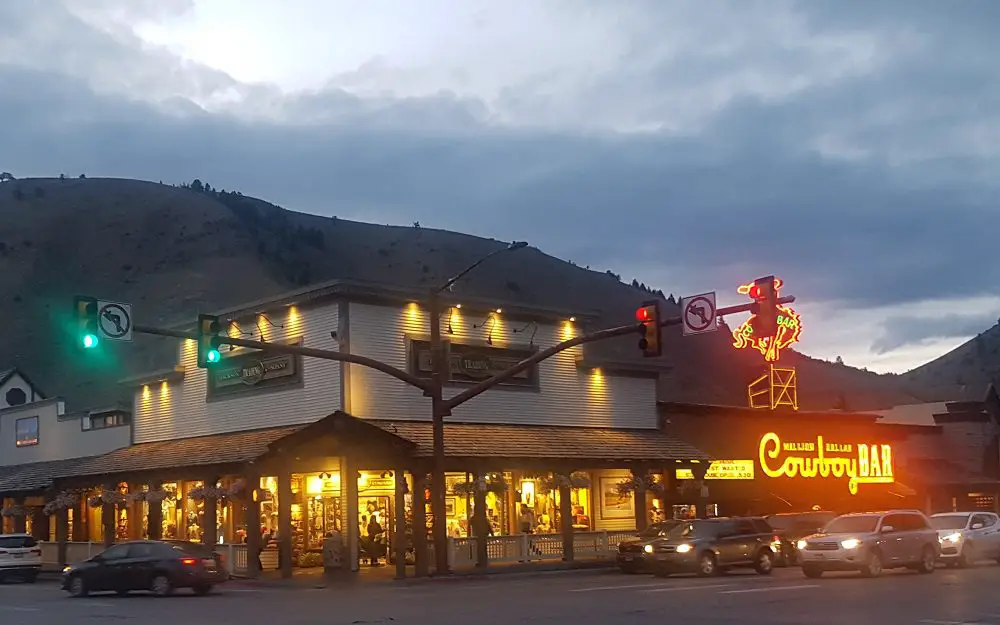 Wildlife in Yellowstone
Much of the wildlife that can be found in Yellowstone Np can also be seen here in Grand Teton NP.
The best time of day to see wildlife in generally early morning and late afternoon. For the best places to see various wildlife head the visitor center at Coulter Bay between 8 am and 5 pm.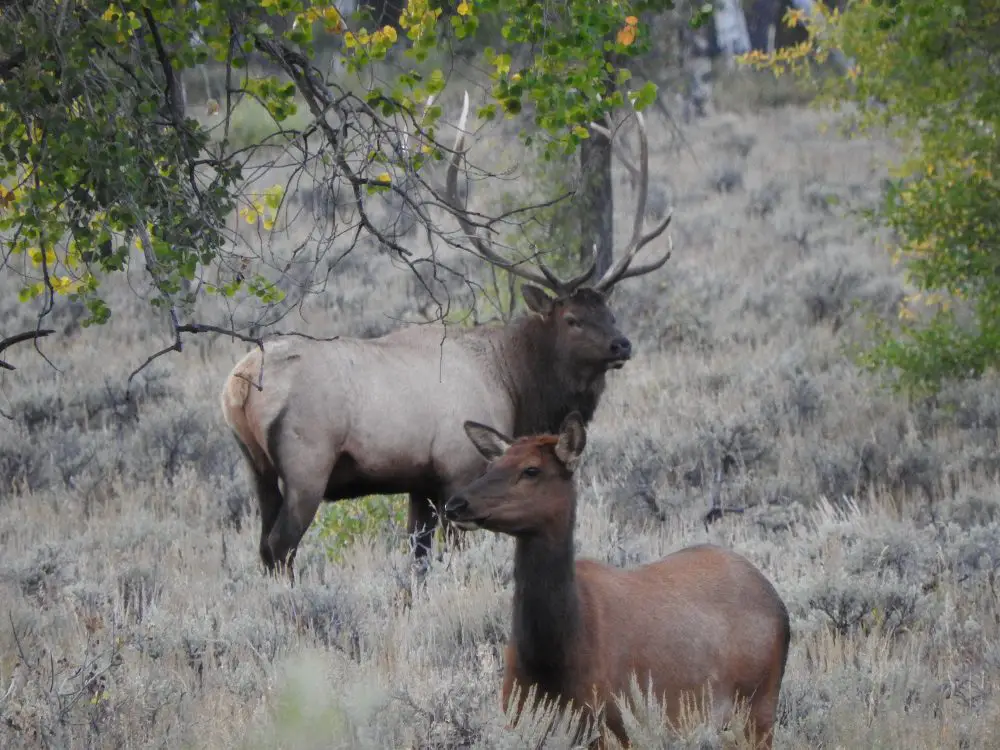 Accommodation
Non budget option
The Lexington: located right on the main road and with breakfast provided. The hotel rates very highly and provides plenty of comfort.
Budget Option
Super 8 by Wyndham is your best option for staying in a budget hotel.
Helpful links:
Go to The Lexington for pricing
Go to Super 8 by Wyndham for pricing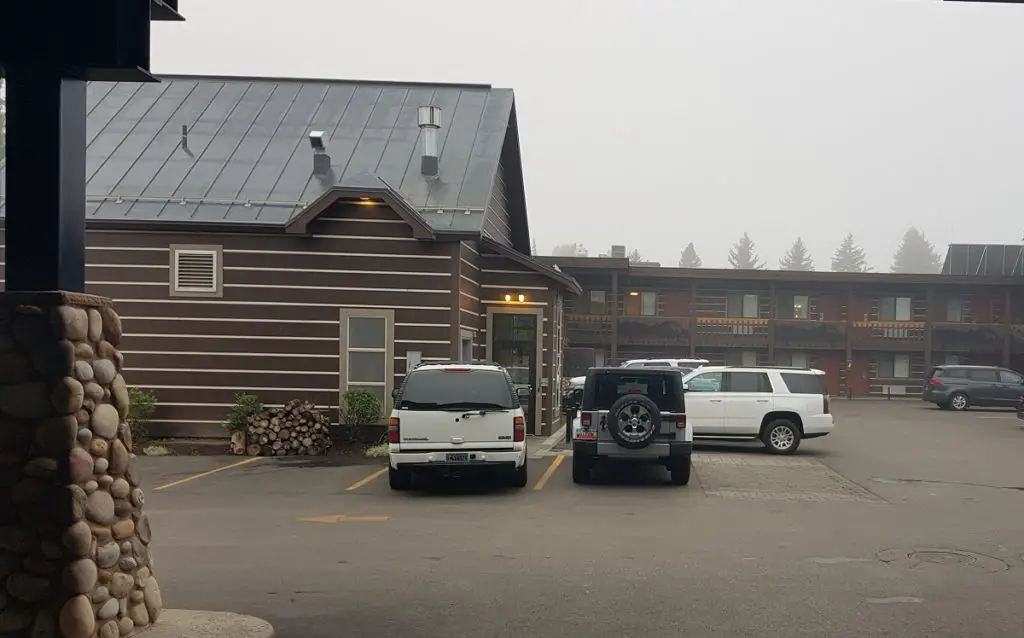 Further Reading: Scenic Drive through Grand Teton NP
---
Day 7, 8 & 9 Arches National Park
( 3 nights accommodation) 
Distance: 495 miles/ 796 km / Drive time : 8.26 hrs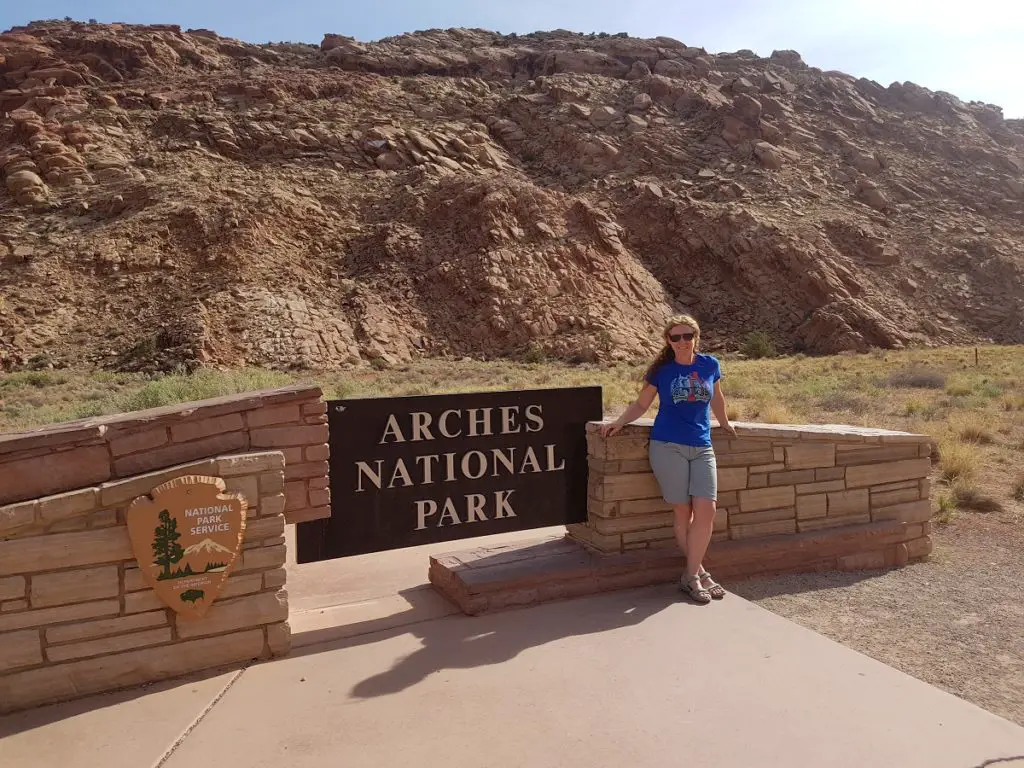 This is the half way mark of an amazing 2 week National Park Road Trip.
The reason we are doing 3 nights here, is because we basically lose a day during the long drive to Moab, Utah. There will be no stopping as there isn't time and we are pretty keen to see the next National Park.
During our drive the landscape changes dramatically from green to red as desert landscape replaces lush forests and glacial mountains.
Be sure to set off early, it's a big day but if you don't mind driving and taking turns, you'll have no issues. But if the drive seems unreasonable and you would rather stop along the way, Salt lake City or within the vicinity might be a good idea.
Arches National Park & surrounds Highlights
Arches National Park
What a contrast to what we had seen so far. There is so much more here than just a series of stone arches. The formations and colors of the rock are ever changing as you move around the park. Be sure to stop by the visitor center to grab a map of highlights. Parking can be limited at some stops.
The big highlights include Delicate Arch, Devils Garden, Balanced Rock and the Windows.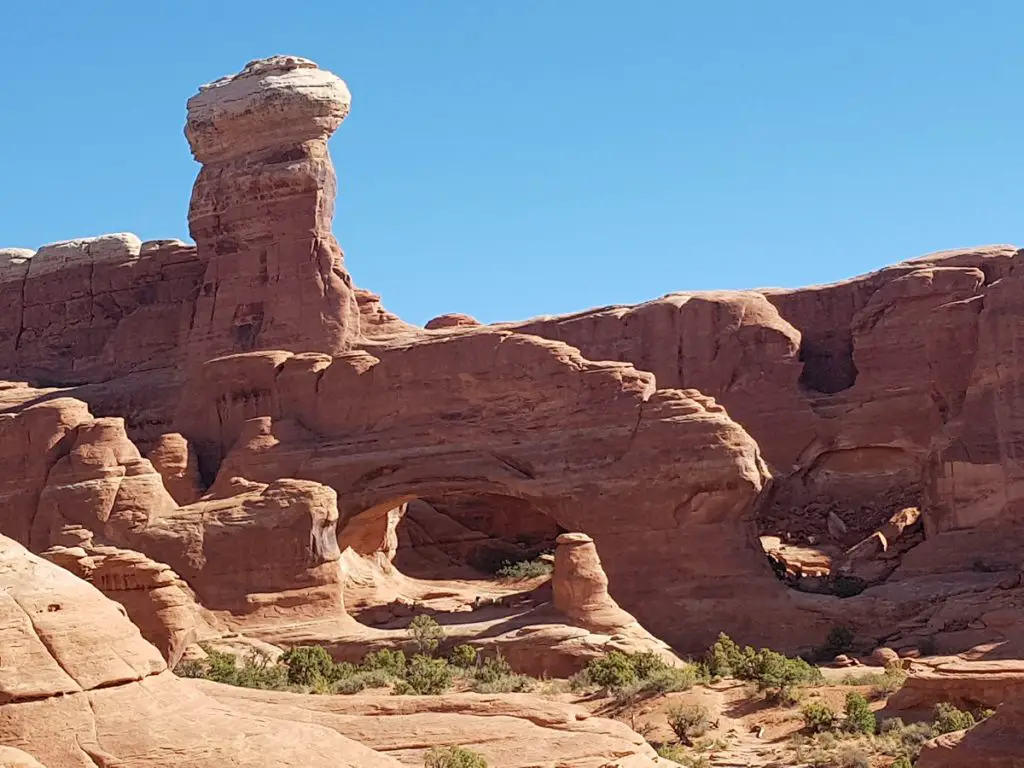 Four wheel driving
Oh my goodness, what a blast. We hired a jeep from Twisted Jeeps in Moab and took off in search of adventure. Some of the tracks were easy and it was just fun to be off road and away from the crowds. But then we went extreme up one track that required some 4 X 4 rock climbing. It was a bit scary but absolute exhilarating. Make sure when choosing which tracks to take to check the conditions and grading.
Alternately you can book a 4×4 jeep tour from around $175 per person through Viator or Get your Guide here.
Dead Horse Point State Park
Featuring expansive views overlooking the Colorado River and Canyonlands. The main viewing area near the visitor center offers an unbelievable panorama.
Stop at Dead Horse Point State Park for epic scenery and not to be missed. Located 40 minute drive from Moab and includes a $10 entrance fee per vehicle.
Accommodation 
Moab has a great range of hotels to suit all budgets. It's a good chance to also fuel up and grab any food supplies for the road.
Go to Moab accommodation prices
Budget Options
Rustic Inn is right in the center of town and features large rooms.
Inca Inn Moab is a cheap option with breakfast included
Helpful Links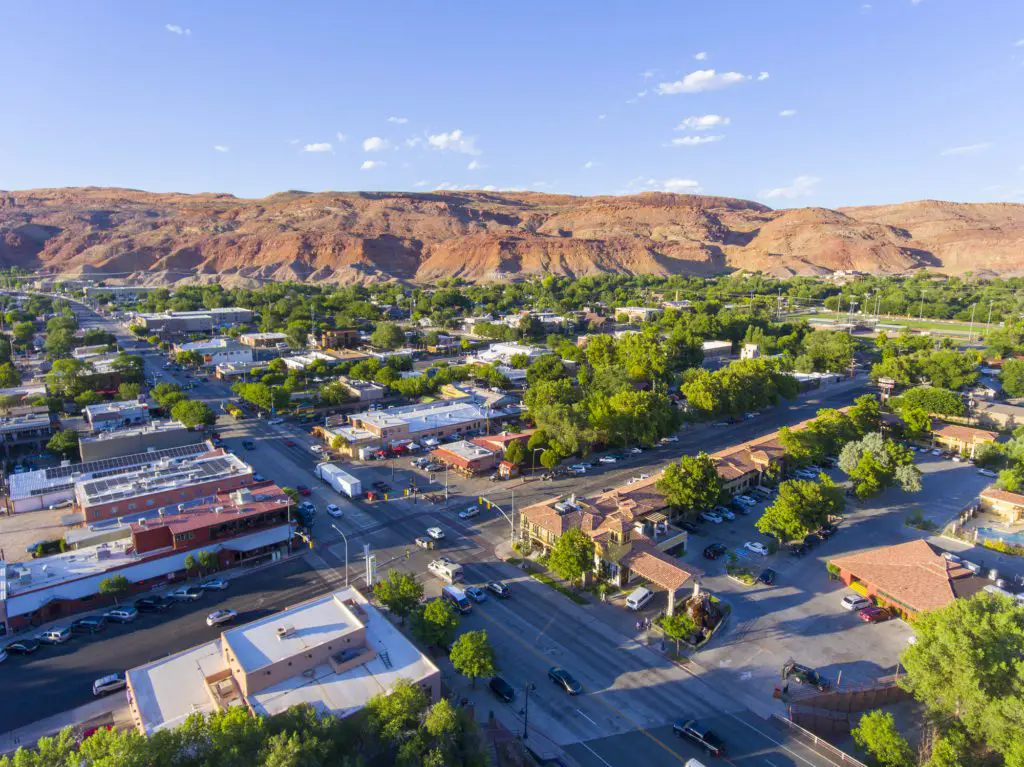 ---
Day 10 Monument Valley
( 1 nights accommodation) 
Distance: 148 miles/ 238 km / Drive time : 1.39 hrs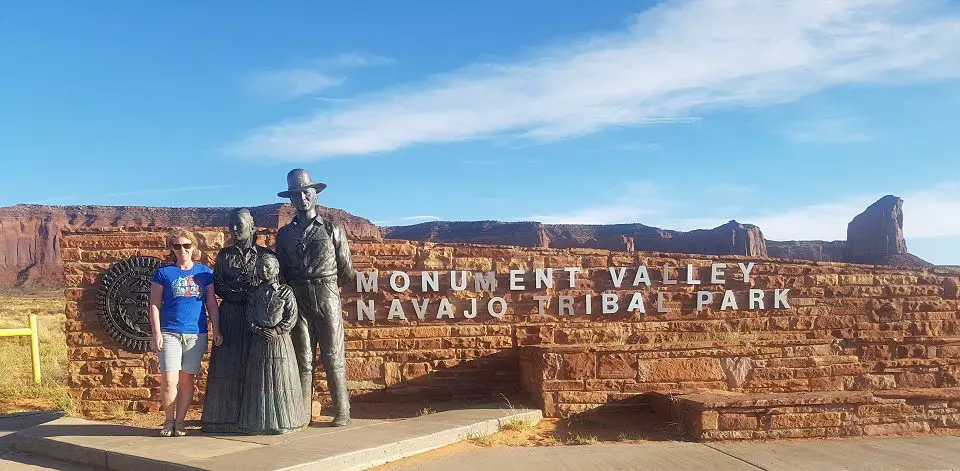 As we head back on the road today it's nice to know there are no more long drives. The wide open roads and expansive scenery is quite amazing, an real must do USA road trip.
It's only a short drive that will take you into Navajo territory. Located on the borders of Arizona and Utah, Monument Valley is  truly iconic .
Entry cost: $20 per vehicle
Monument Valley Highlights
Mitten Buttes
The absolute star of the show is the impressive and well know Mitten Buttes. Seen in pictures and movies, there is nothing like seeing them up front with your own eyes.
The sandstone towers rise above the desert floor in what has to be one of the most photographed places in the USA.There presence is commanding and when you actually get to see them for the first time in all their glory it's an incredible moment.
Be sure to stick around for sunset as the ever changing light makes for a magical appearance against the rock.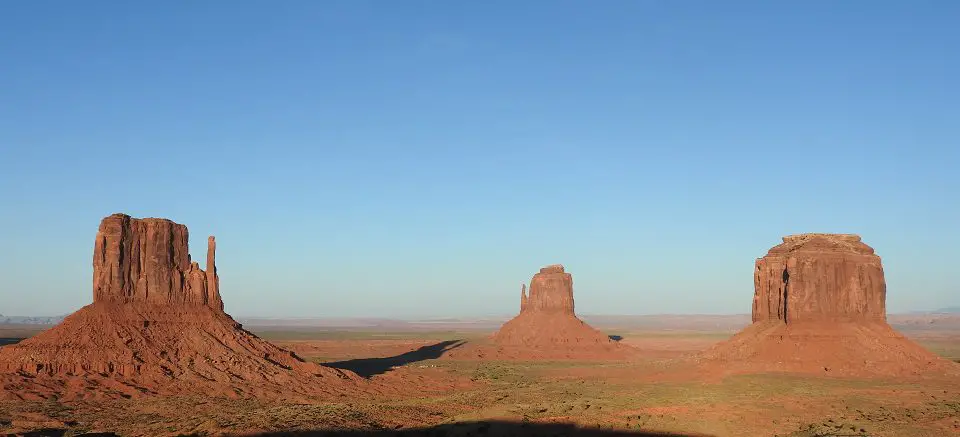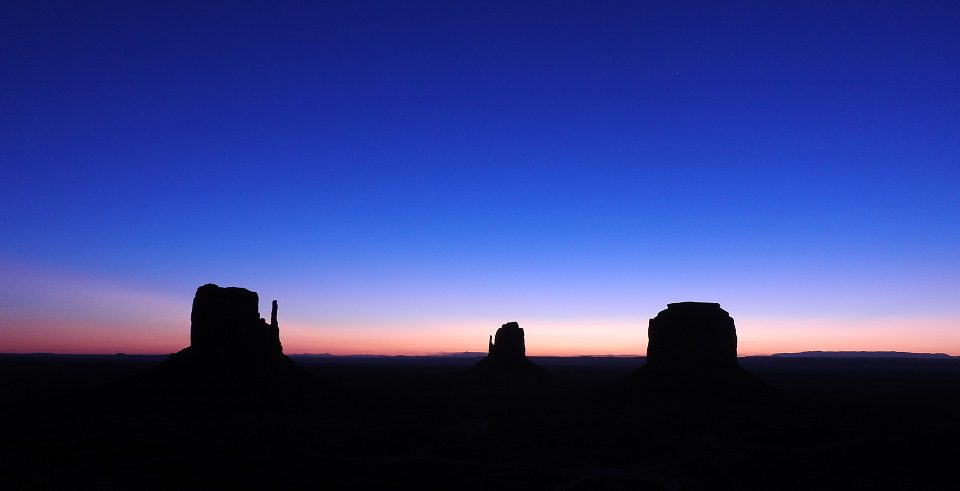 Accommodation
The View Hotel
Staying at the View hotel is certainly not a budget choice but this trip is all about experiences so I highly recommend staying here if you can.
It's pretty clever that when you enter your room the curtains are closed because when you draw them open it's quite mind blowing.
Once we checked in, we didn't leave our room, not even for dinner. Instead we ate snacks while sitting on the balcony. As the light changed and the sun set over the desert we took hundreds of photos. The final reward was the thousands of sparkling stars that  lit up the night sky.
Go to The View Hotel for pricing
Budget option
If the view is sold out or out of your budget – try Goulding's Lodge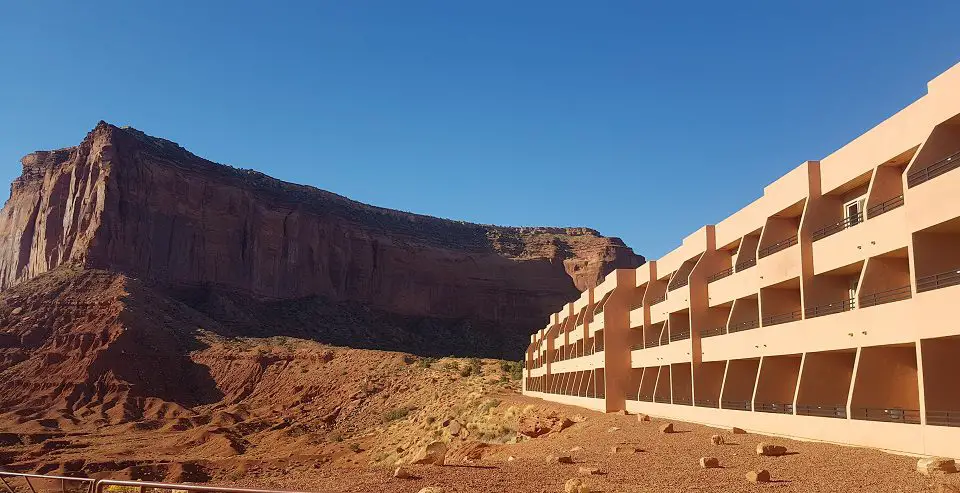 ---
Day 11 Antelope Canyon
– Page
( 1 nights accommodation) 
Distance: 125 miles/ 201 km / Drive time : 2.01 hrs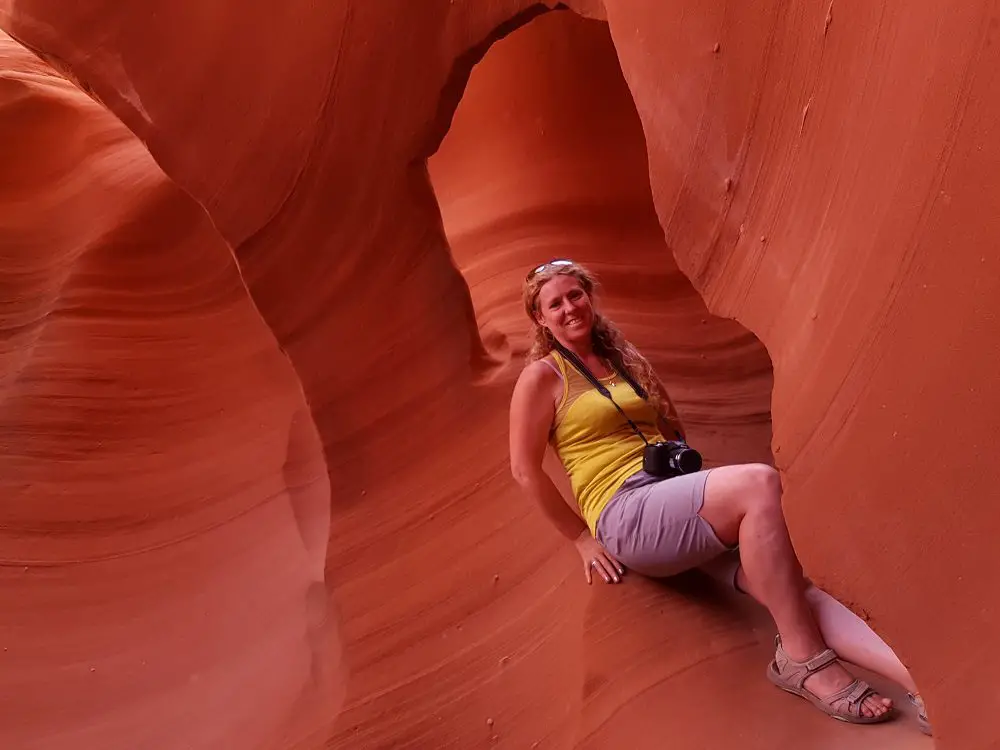 Another short drive today on this 2 week National Park road trip. You'll arrive into the town of Page early morning, ready for an exciting day ahead.
Highlights
It's amazing what nature can do. America's most beautiful slot canyon is easily accessed but only by guided tour as it's on Indian reservation
It was easy to be wowed by the beautiful colors within the rock. As you move through the narrow chambers your eyes are drawn to every angle. During midday in the summer time, the sun is able to penetrate the canyon walls which is by far the best time to visit.
It may be a bit more expensive but you won't see the vivid color that the sun creates so just save the extra money to allow yourself the most memorable experience.
As you can imagine the tour at these times sell out quickly so book as son as possible.
You can see prices for Upper Antelope Canyon via Viator.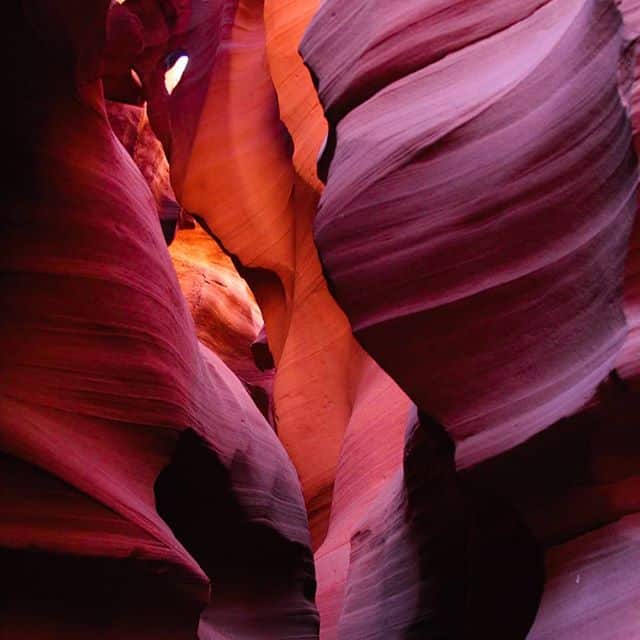 Lower Antelope Canyon
The big difference between the two is the Upper Canyon is above ground and the Lower Canyon is below ground. The space to move around is also a major difference in the two.
Lower Antelope Canyon is made of narrow and uneven passages so having some sort of mobility is needed. Fitness should not be an issue as it is not overly strenuous.
You can see prices for Lower Antelope Canyon here via Viator
Horse Shoe Bend
The famous stop that many visitors come for. The viewing area down into the Colorado River is located within a few miles out of the town of Page.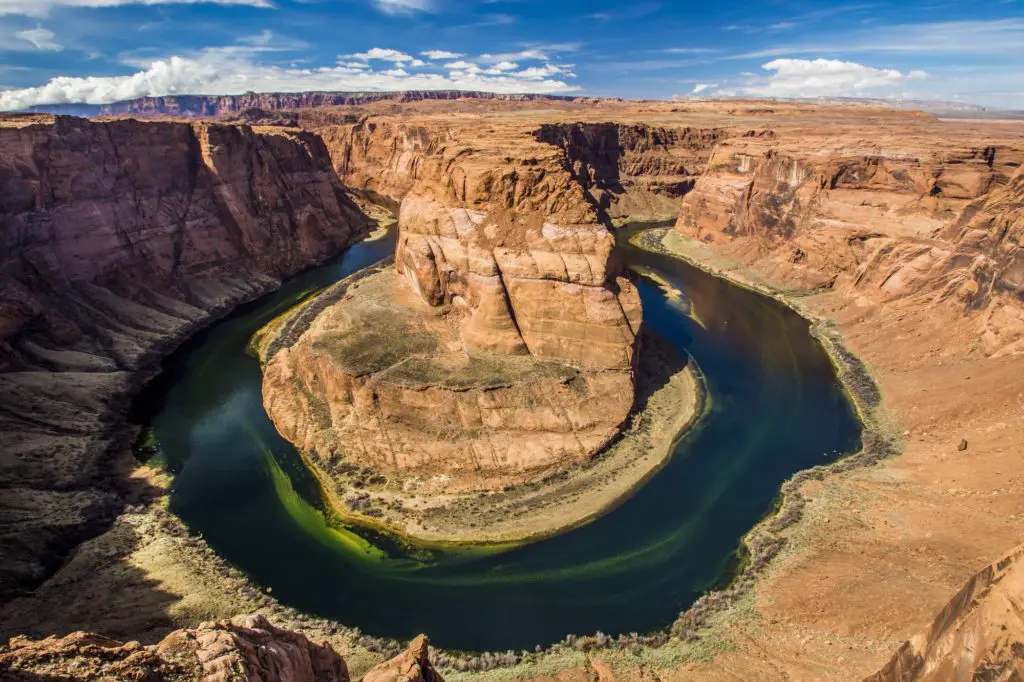 We headed down to Marina Village late afternoon and had a wonderful dinner overlooking the lake. A casual affair with drinks was really relaxing.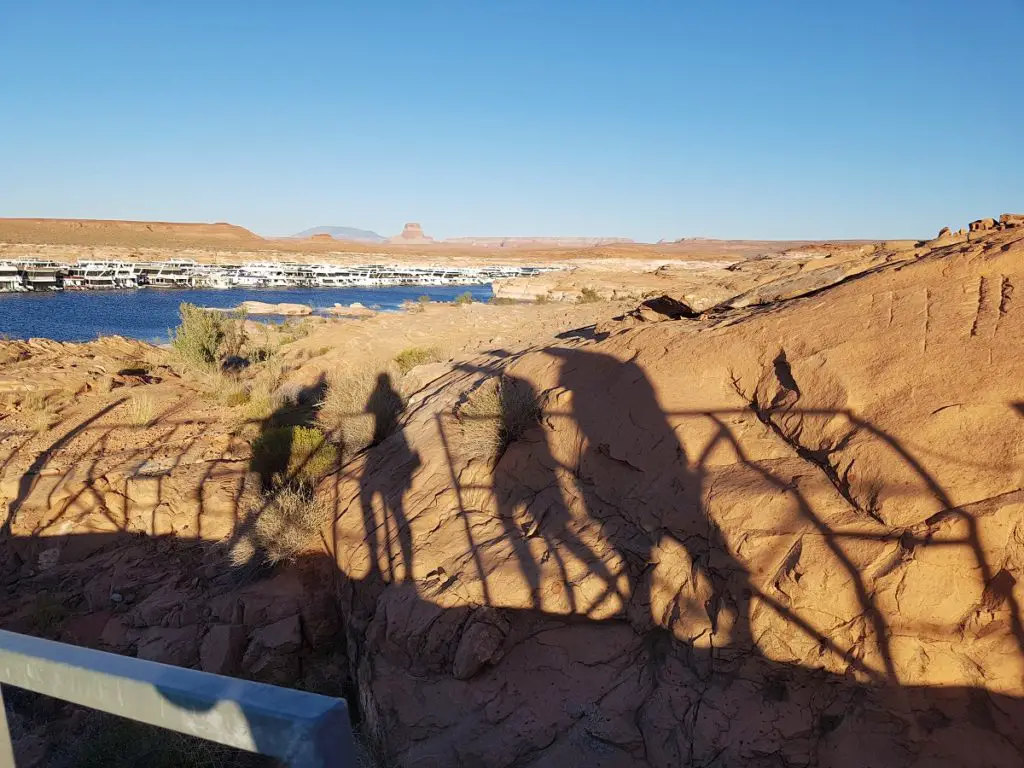 Accommodation
Non Budget / Mid Range Option
Sleep Inn and Suites had well appointed modern rooms for a good nights sleep. Breakfast was included.
Budget Option
Canyon Colors Bed and breakfast rates super highly for couples, while Rodeway Inn at lake Powell has really cheap rooms with breakfast included.
Helpful links
Go to Canyon Colors Bed and Breakfast for pricing
Go to Rodeway Inn Lake Powell for pricing
Go to Sleep Inn and Suites for pricing
Further Reading: Upper & Lower Antelope Canyon Guide and Review
---
Day 12 Bryce Canyon National Park
( 1 nights accommodation) 
Distance: 151 miles/ 243 km / Drive time : 2.35 hrs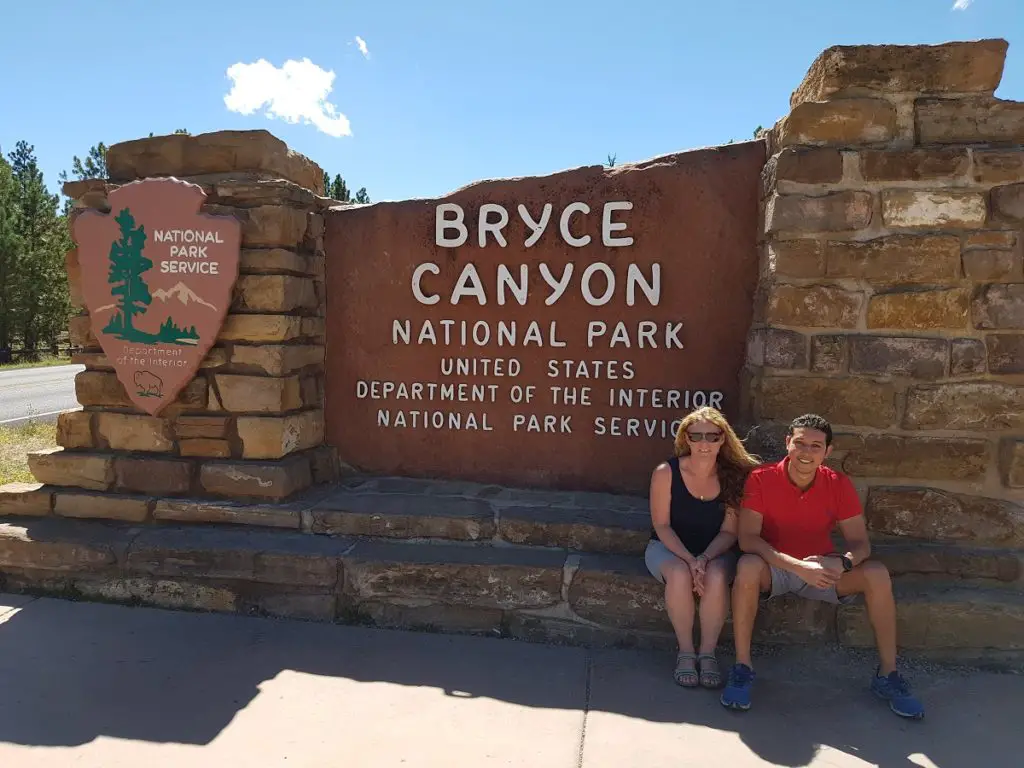 The drive up to Bryce Canyon is quite enjoyable as it's very scenic.
Bryce Canyon Highlights
Bryce Canyon Scenic Points
Simply a unique place to visit. I loved that you could visit Bryce Canyon comfortably  in one day, as all scenic stops are on the one road. There is one way in and out and the distance is only 18 miles with 13 main viewing stops.
Lookouts such as Inspiration, Rainbow, Sunrise and Sunset point as just a few. But the biggest draw card in the famous Hoodoos at the Amphitheater. These spires of eroded rock have formed something truly amazing.
We took around 5 hours to see everything comfortably.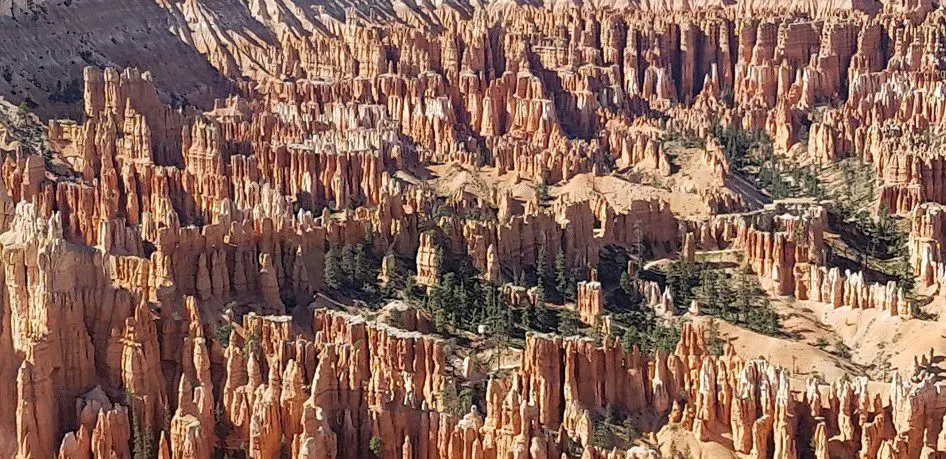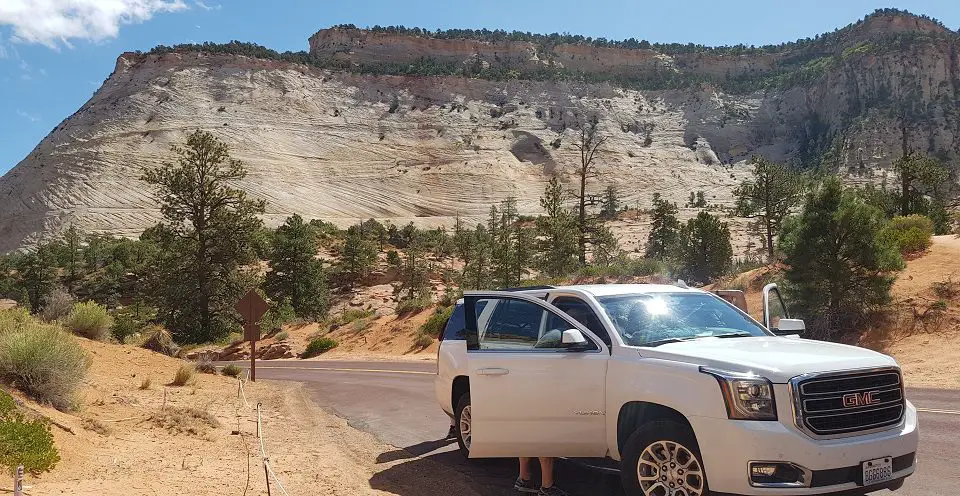 Accommodation
Accommodation can be limited close to the park so be sure to check early for the best deals. The Bryce Canyon village only has a handful of hotels and shops so you might want to look a bit further out.
A good option is to stay in the town of Tropic which is located around 15 minutes from the entrance. You will find a choice of budget options here as well as a good place to refuel and gather any supplies going into the final days.
Alternate stays in the towns of Cannonville, Panguitch and Hatch are also good options which are no more than 30 minutes from the gate.
Go to Bryce Canyon Accommodation for pricing
Budget options
Bryce View Lodge has queen rooms including breakfast. A great price considering the prime location.
Color Country Motel is located in Panguitch and has super cheap queen rooms.
Grand Staircase Inn in Cannonville rates highly with large comfortable rooms
Bryce Pioneer Village in Tropic has a restaurant and pool with queen rooms
Helpful Links
Further Reading: One day in Bryce Canyon highlights
---
Day 13 Zion National Park
( 1 nights accommodation) 
Distance: 72 miles/ 116 km / Drive time : 1.19 hrs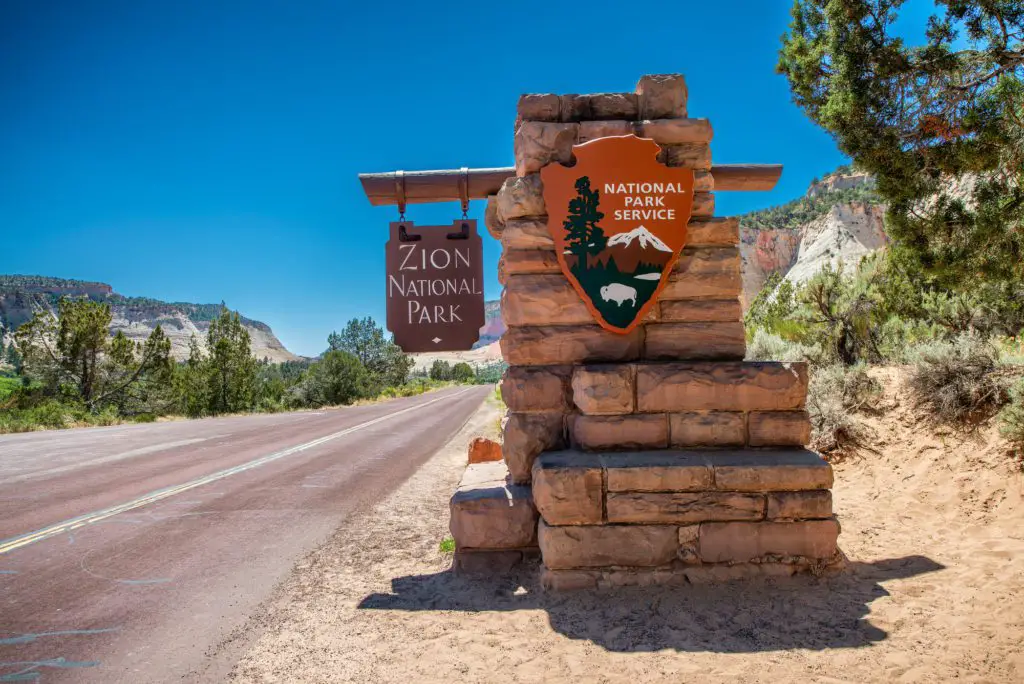 Today we back tracked and made our way toward Zion  National Park, entering through the east entrance.
The road in is simply breath taking and provides the best overview of jaw dropping scenery. But you'll have to ditch the car once you reach the visitor center (during peak months of summer) and take the park shuttle to get around.
Zion National Park Highlights
Mount Carmel HWY
The drive along this particular route was one of my favorite.It connects the east entrance to the south entrance. Every turn along this winding road was awe-inspiring. Looking outward to those incredible sandstone mountains and lush vegetation along the Virgin River is as good as it gets for breathtaking scenery.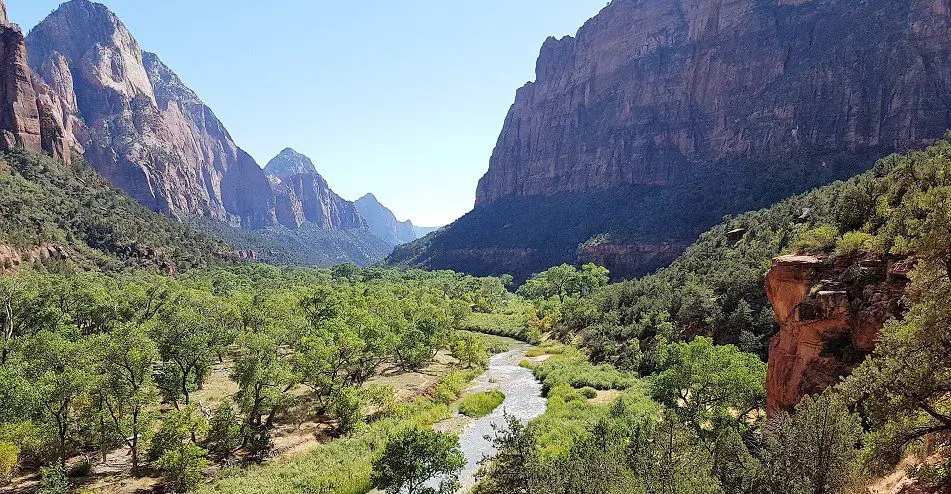 Canyon Scenic Drive
You'll need to park the car as entering from here can only be done via the parks buses from March to November.
The road is 54 miles and takes around 1.5 hours. There are many stops and getting a map from the starting point (visitors center) will help you decide when to get off.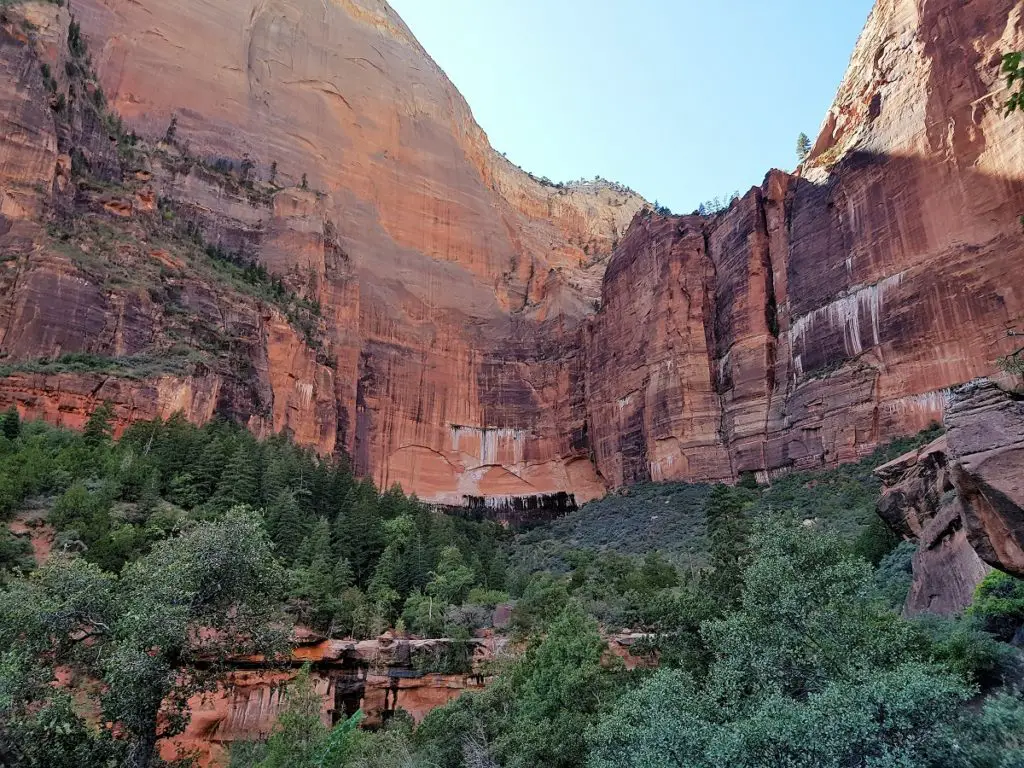 Hiking
One of the great things about Zion National Park is the hiking opportunities, including many easy to moderate walks. All of these are accessible from the many drop off points by the shuttle bus.
My favorite was the Lower Emerald Pool trail. You can read my in article on Zion here – One Day in Zion.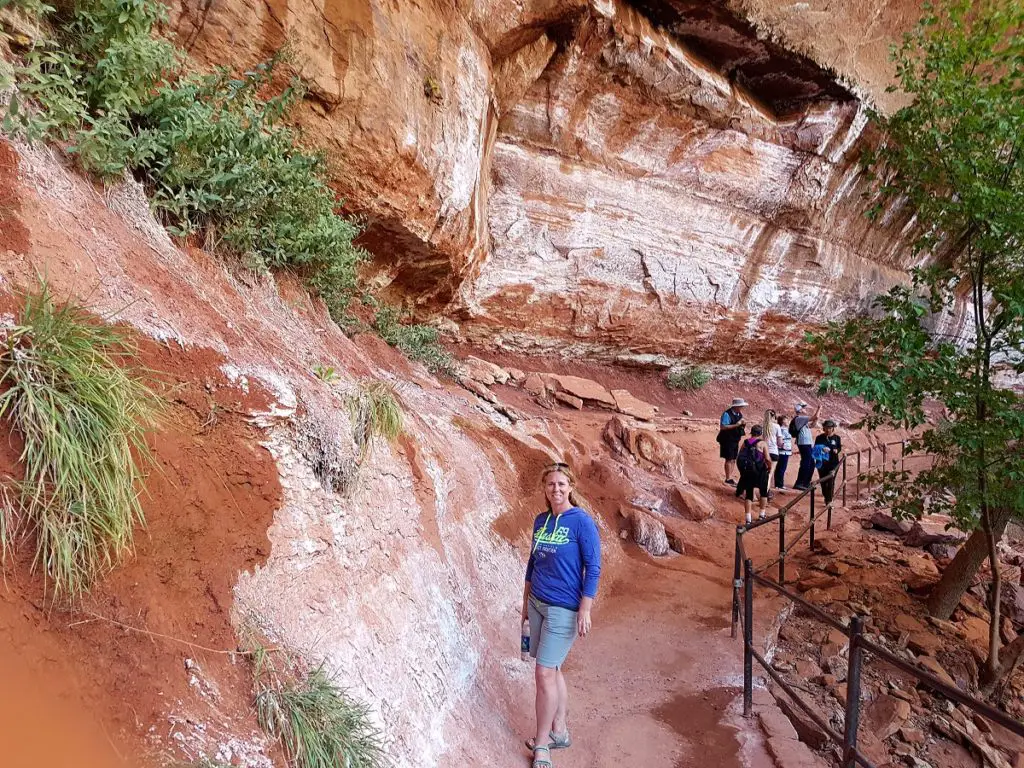 Accommodation
The best place to call home for the night is the town of Springdale. You'll find some great hotels but during peak summer months a budget option will be harder to find.
You may may to consider staying in the nearby town of La Verkin, around 25 minutes drive away from Zion NP.
Non Budget
La Quinta by Wyndham includes modern rooms with king size beds and rates exceptionally high. It is well priced compared to other hotels.
Suites at LaFave Gallery has luxury apartments nicely located on the main road in to town. It backs onto Zion NP.
Budget option
Hotel Zion is a great budget option in the nearby town of La Verkin. You'll save up to 50% by staying a bit further out. Deluxe King rooms offer a comfortable nights stay.
Helpful links
Go to La Quinta by Wyndham for pricing
Go to Suites at LaFave for pricing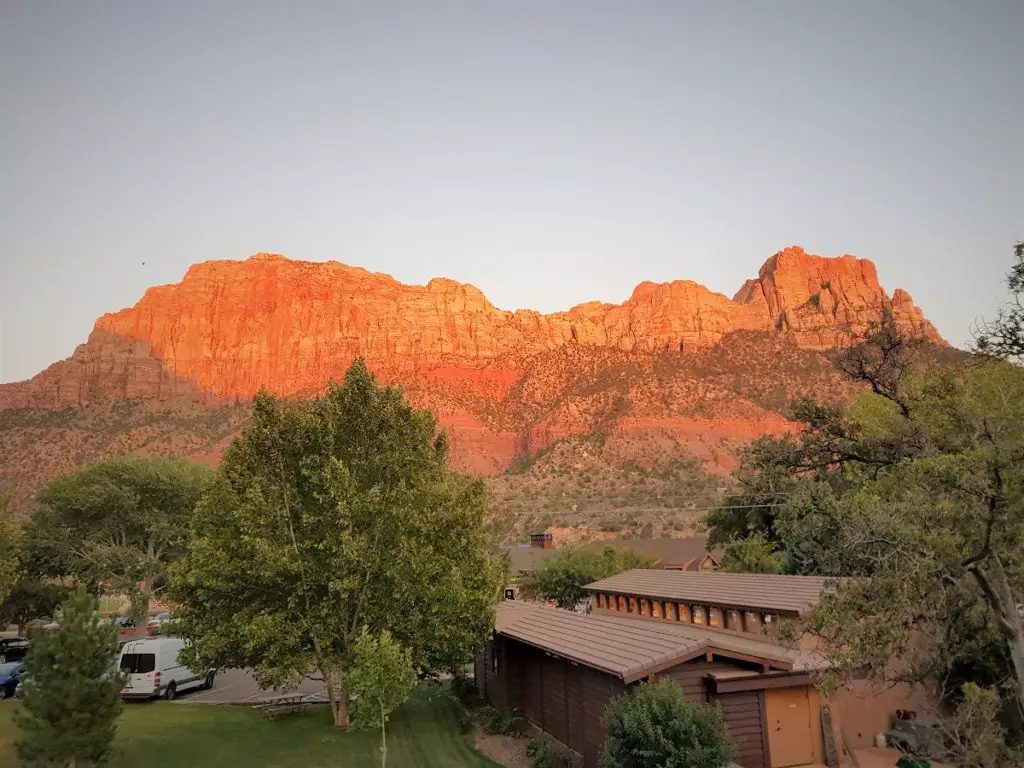 Further Reading: One day in Zion National Park – Utah
---
Day 14 Las Vegas
( optional nights accommodation) 
Distance: 159 miles/ 255 km / Drive time : 2.36 hrs
Sadly this 2 week National Park Road Trip is coming to an end.
With Las Vegas being the final stop you have a choice to stay on and enjoy a night or two in here. It is quite a contrast to the road trip that we have just undertaken as starry nights turn into neon lights.
This National Park road trip was made possible due to the fact we carefully budgeted the entire trip, plus looked for savvy ways to save along the way.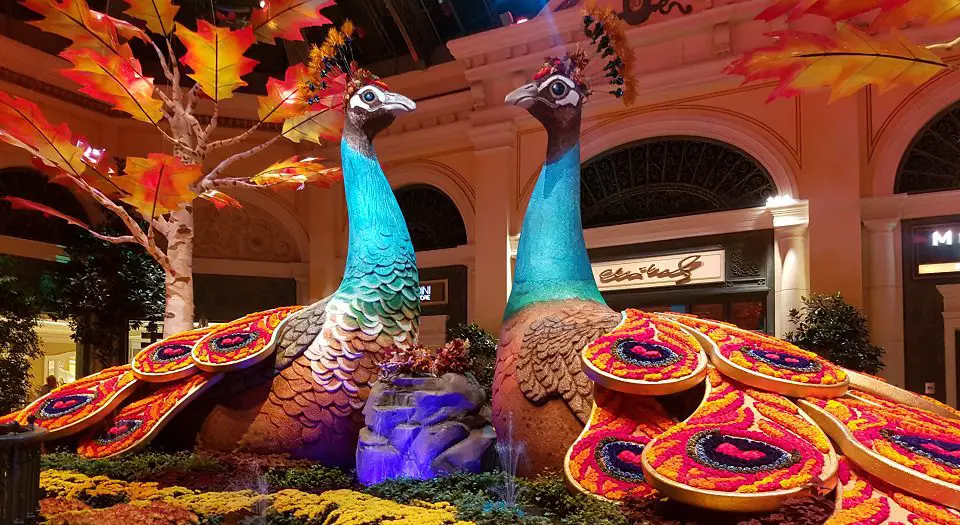 Ultimate 2 week National Park Road Trip Conclusion
In all we had been away for 6 weeks, starting in Alaska and finally finishing in the city of lights so if you are interested in our other road trip itineraries, click the links below.
A reminder to book as much as you can early. National Parks are popular in summer and accommodation books out up to 6 months in advance. Plus if you really want the more budget hotels and cabins, you'll have to get it even quicker.
---
More Reading
Alaska Road Trip – 6 days – click here
Vancouver to Banff Road Trip – 7 days – click here
Glacier National Park – 3 days – click here
Yellowstone National Park – 3 days – click here
Grand Teton & Jackson Hole – 1 day – click here
Antelope Canyon- 1 day  click here
Bryce Canyon – 1 day – click here
Zion Nation Park – 1 day – click here
Like it. Pin it for later.