As an Amazon Associate I earn from qualifying purchases. I get commissions for purchases made through links in this post.
It is hard to put into words how special Yellowstone National Park is in the USA. It is something I had envisioned for many years, a dream finally coming true.  We were praying the weather would hold out but it wasn't to be. The season literally turned overnight that mid September day.  Sunny and warm one day, snow the next. Visiting Yellowstone National Park requires some serious preparation for your 3 day Yellowstone itinerary.
"I imagine any time of year is breath taking."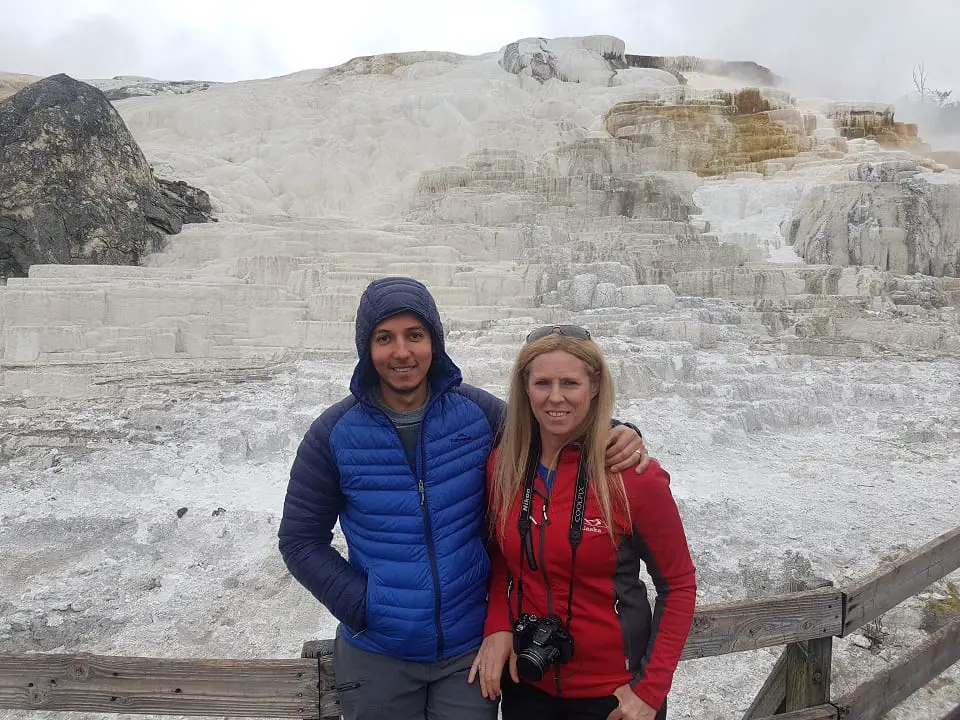 Planning a trip to Yellowstone
Our plan was simple. We would be driving through the North Entrance and exiting the South Entrance, heading for Grand Teton NP. The parks main roads make up a figure 8, which is great if you are exiting the same way you came in. Otherwise you'll need to double back a little bit like we did. The distances aren't that great so it really didn't bother us at all.
This Yellowstone three day itinerary was part of a much bigger trip, from Glacier NP to Las Vegas.
2 week National Park Road Trip USA
---
Things you should know before you go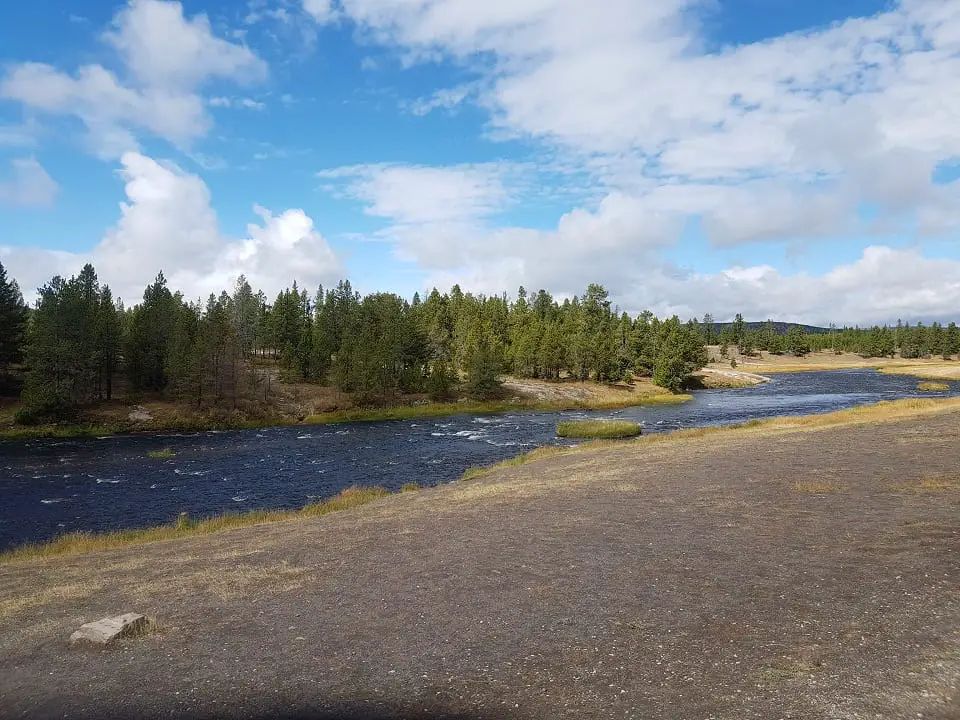 Whether this is a 3 day Yellowstone itinerary or longer. there are a few things to greatly consider, as they may impact your trip.
Book your accommodation well in advance if planning on staying in the park. There are many styles of accommodation fro

m budget cabins to the more expensive lodges. Some close earlier in the season too. Be prepared to stay outside the park if you don't plan your stay early enough.
Note: We managed to get all our accommodation within the park but had to settle for a costly option for one of our nights, after hesitating too long. Our need for budget travel didn't pay off on this occasion. Book early.
Road closures can occur when the season is getting on as did in our case. Fortunately we made it to all our destinations with no hiccups.
Traffic can come at unexpected moments. Also, though the roads don't appear long in distance, the time to get around can be much longer than anticipated. Traffic can be slow during peak season and when wildlife decide to cross the road. Cars will be pulling over or driving at a snails pace when this occurs, as everyone tries to get a picture. Be courteous and cautious.
Facts about Yellowstone
Yellowstone is America's and the Worlds First National Park, established in 1872.
It has over 300 active geysers
It has over 290 waterfalls
There are 5 park entrances and 466 miles of road
It is home to 67 species of mammal and 285 types of birds
July and August are the only months when all facilities, services and roads are open. You'll need to check the parks status other times to plan your visit
Best time to visit Yellowstone National Park
When to visit may depend on your schedule and what you hope to experience. Here is a brief rundown.
June/ July / August – the summer months are when crowds are at their highest and accommodation is booked well in advance. This is more emphasized in July and August.  It is also when families are visiting the most, when kids are out of school. Temperatures range on average from low 70's F (low 20's C) to low 40's F (5.3 C ) Overnight.
September / October / November – the first month of Fall brings generally favorable conditions, but temperatures can change quickly so prepare for cooler weather too. (we had snow in the south of the park mid September). October will bring even cooler temperatures as the park moves closer to Winter. An average of 61 F ( 16.4  C) in September, drops to an average of 48 F ( 8.8 C) in October. The nights will be considerably cold at times for this time of year. Best to bring plenty of layers. November is a chilly time with temperatures reaching near freezing during the day. Many facilities have closed for the season.
December/ January / February – Winter is well and truly here. December bring the coldest conditions of the year with temperatures plummeting well under freezing. Snow fall can be heavy and vehicle access is only permitted via the north entrances. The first two months of the year are no better, the park will be overwhelmingly cold.
March / April / May – It is not until May that winter conditions might finally feel like they are passing. March is still bitterly cold and April experiences anything from
---
3 Day Yellowstone 

Itinerary
---
Day 1. North Entrance to Canyon Village
    →  Distance covered – approx 100 miles / 150 km →
Our 3 day Yellowstone itinerary begins via the north entrance of Gardiner, coming in from Bozeman. The day consisted of a stop at Mammoth Hot Springs, a return drive through Lamar Valley and finishing at Canyon Village. 
Yellowstone Highlights include:
Mammoth Hot Springs
Lamar Valley
Tower Falls

  Stay 
  Canyon Village
Canyon Village provided a stopping point in the park to refuel, eat and rest up for the night. There are a choice of accommodations and restaurants to choose from. Again, it is recommended to book early. Due to availability, we stayed at Canyon Lodge in one of the new wings. It was pricey but comfortable for one night.  Reminder…….book book book in advance.
When should I book by? For all Yellowstone Accommodation – If you have set dates you want, then you should consider booking up to 6 months out (sometimes even longer) for best practice. If you have flexible dates, aim for at least 12 weeks or more during the high season (June to September). For flexible one or two night options, you may still be able to find something a few weeks out.  In other words, book it ASAP.
For a range of budget and comfort – Canyon Lodge & Cabins
For all Yellowstone accommodation – Yellowstone Accommodation
Pre-stay out of the park – Bozeman Accommodation
Facilities in Canyon Village (high season)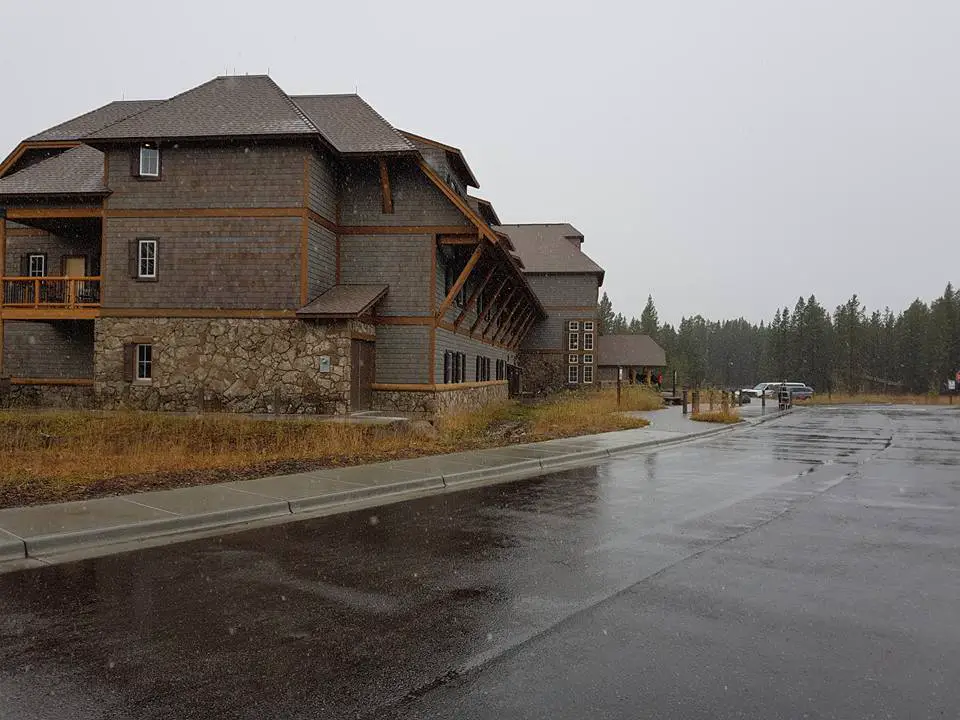 See and Do   
Mammoth Hot Springs
Mammoth Hot Springs are a highlight of the park. This extravagant complex of hot springs are  accessible via a series of boardwalks that guide you around the area.
The Springs encompass the upper and lower terraces. It covers some 1.75 miles of walking, so there many sides to this extreme lunar looking spectacle. The chalky limestone terraces that form are simply fascinating, and can be viewed from many vantage points. 
Once you head up to the Lower Terrace platforms, you'll get a better overall view of the terrain. With steamy vents and a display of earthy tones, it really feels like a world away.
You'll easily spend a couple of hours here taking in this amazing display.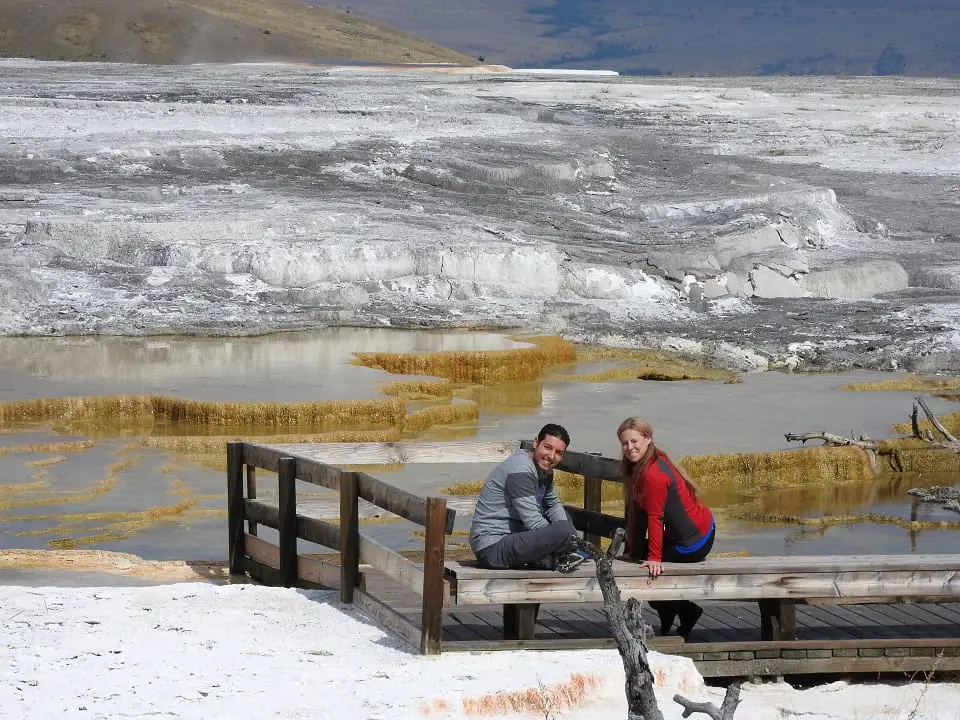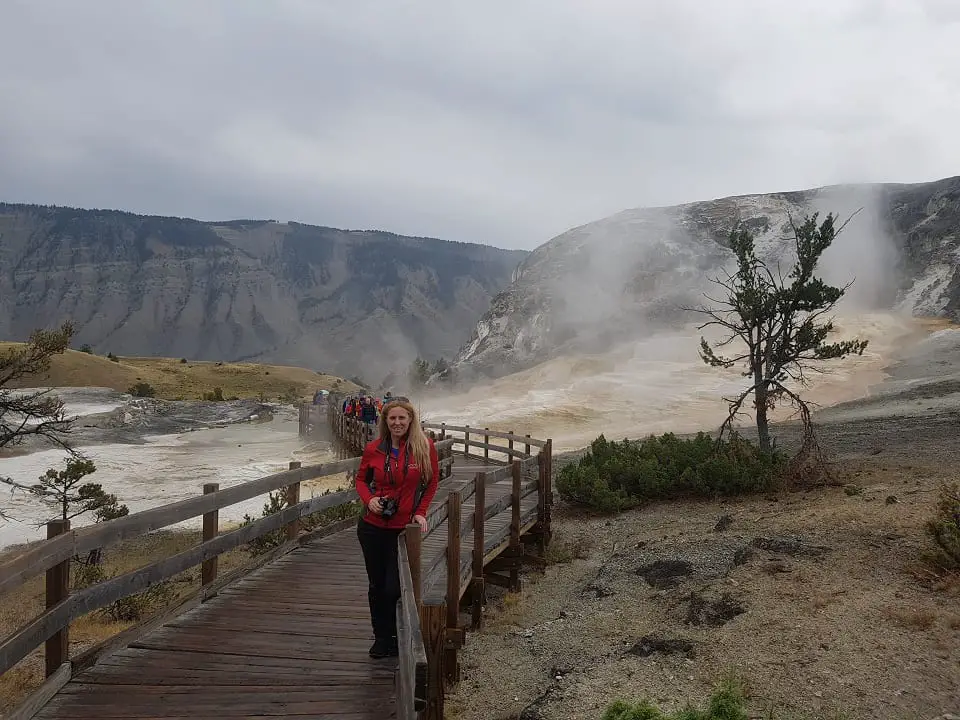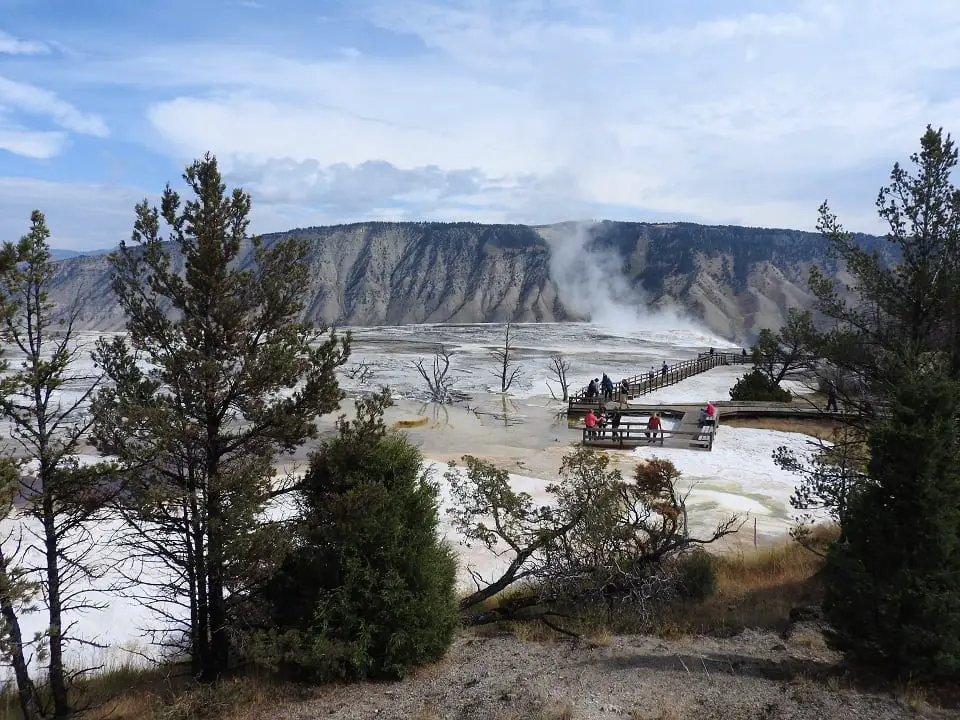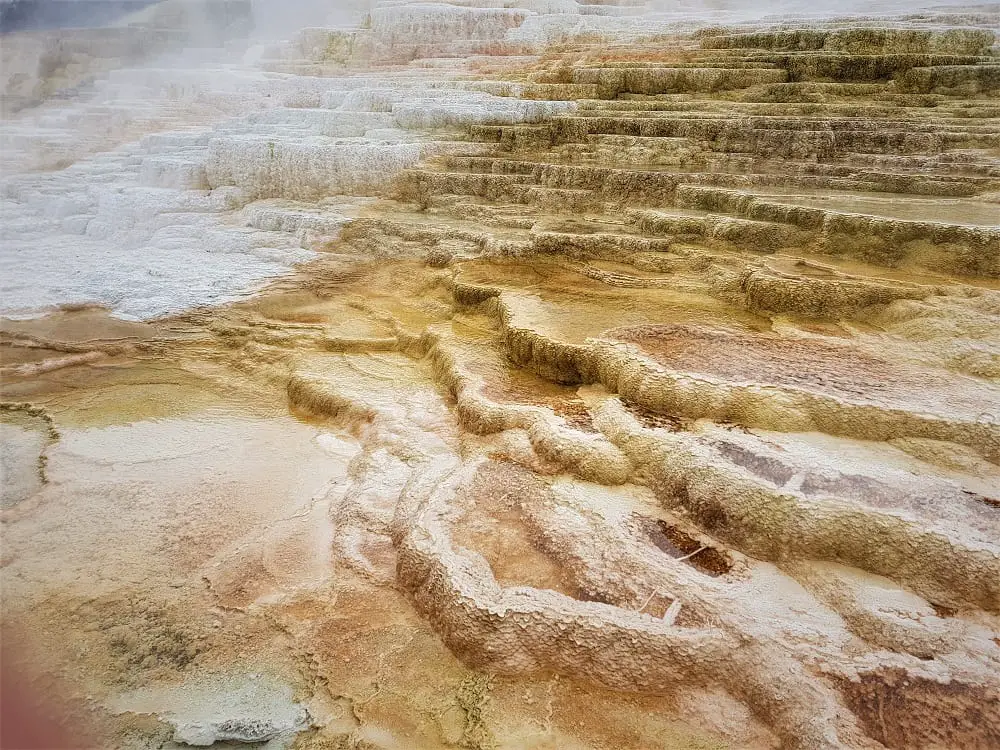 ---
See and do   
Lamar Valley
The  Lamar Valley is a panoramic driving route just off the grand loop and heading to toward the north east entrance of the park. 
It is a great opportunity to see wild bison (buffalo) in great herds moving along the open plains. In fact if you come here, they'll be hard to miss. Be sure to stay at least 25 yards. Though intriguing, up close these creatures are quite intimidating.
The valley is home to many of Yellowstone's wild animals including grizzly and black bears during the spring and summer months. You might also spot wolves, pronghorn and mule deer, badgers, eagles and osprey.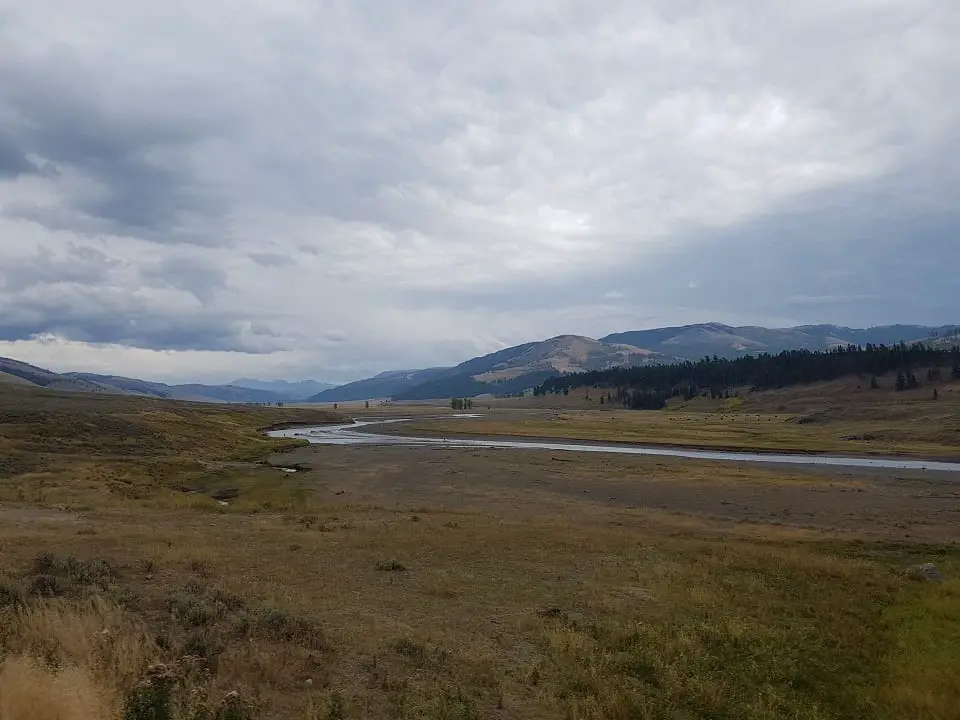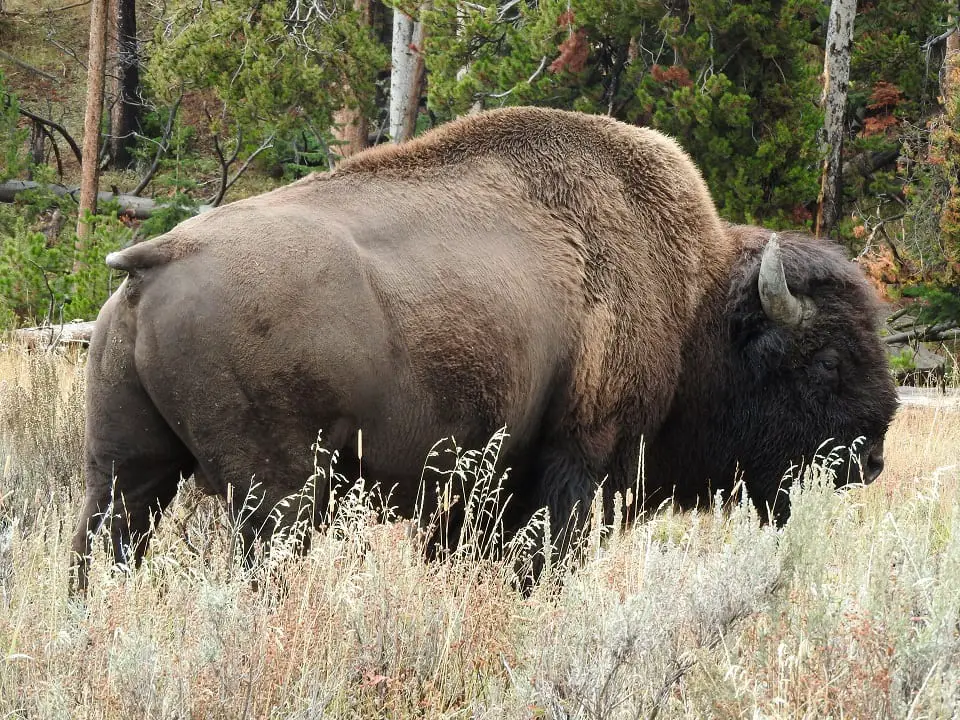 See and do
Tower Falls
Located around 2.2 miles south of Tower Roosevelt Junction, is a beautiful road side stop to see Tower Falls.
Plunging 132 feet, while the bottom of the falls are no longer accessible due to erosion, at you can at least view them from the lookout, which is close to the parking area.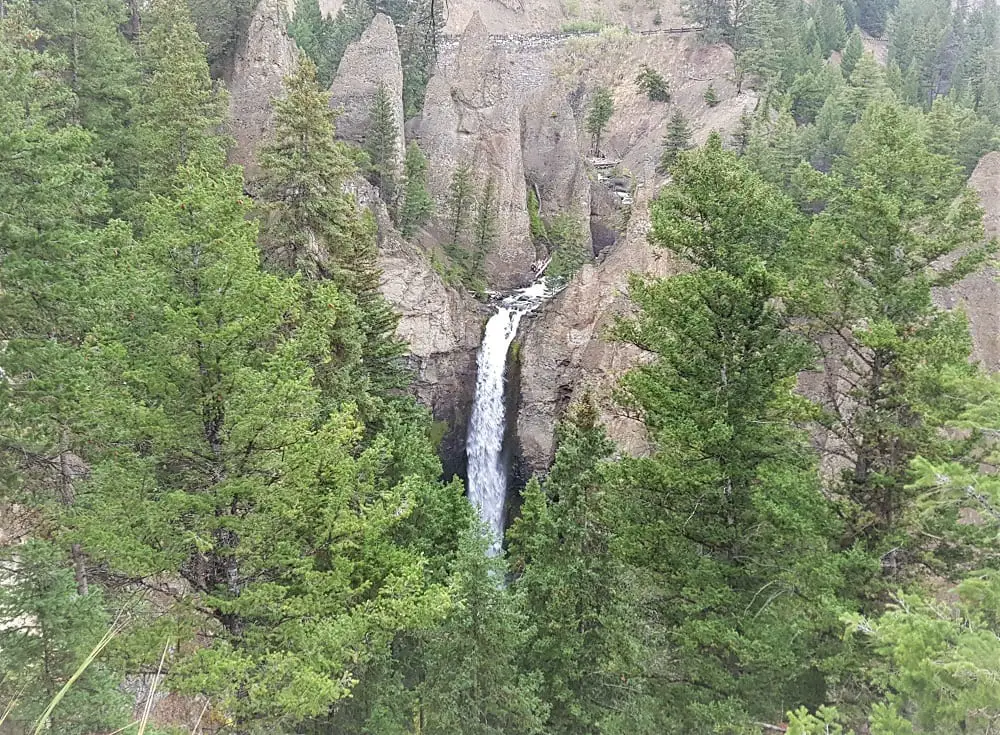 ---
 Day 2. Canyon Village to Old Faithful
  →  Distance covered – approx 40 miles /  70 km →
Today is packed with amazing walks and stunning visuals as part of our 3 day Yellowstone itinerary.
This geothermal area is spell binding and provides plenty of opportunities to stop and explore the region. You'll spend an entire day here walking along the many boardwalks that the park provides. 
Yellowstone Highlights include:
Norris Geyser Basin
Artists Paint Pots
Gibbon Falls
Grand Prismatic Spring
 Stay

Old Faithful Lodge Cabins
Old Faithful Lodge Cabins provide a cheap option for staying within the park.
The cabins as basic but comfortable and have shared facilities. The best is, they are located conveniently right out front of Old Faithful himself.
For budget comfort: Old Faithful Lodge Cabins
For all Yellowstone accommodation : Yellowstone accommodation
Facilities in Old Faithful (high season)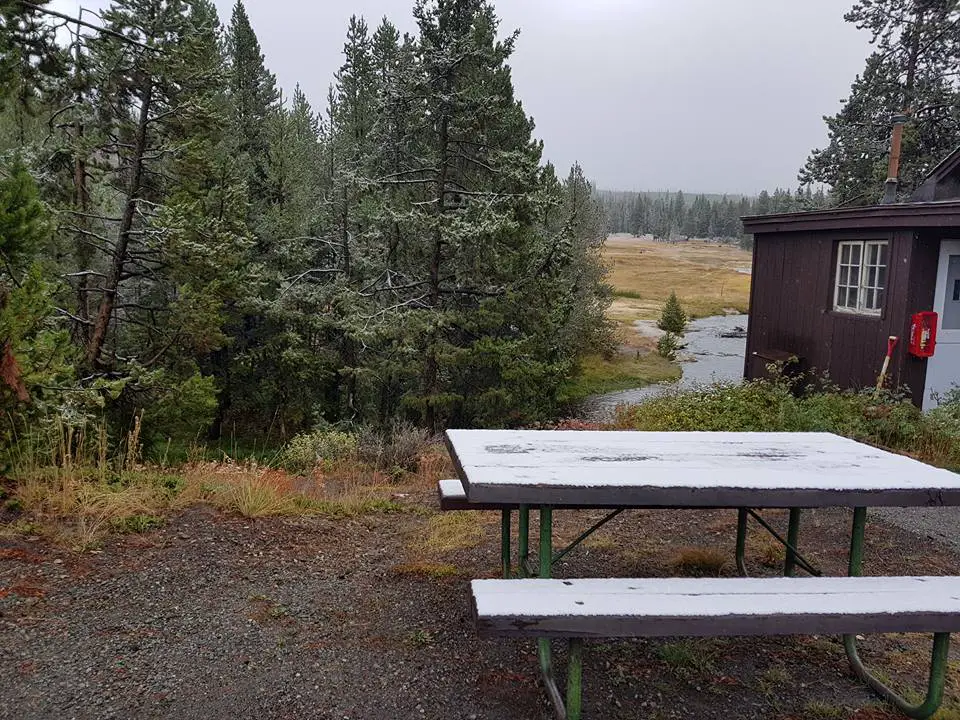 If you aren't staying at Old Faithful Inn at least go in and check it out, because it really is a spectacular sight. This place is really interesting and full of life as people sit around in front of the fireplace.There is a couple of nice restaurants attached too.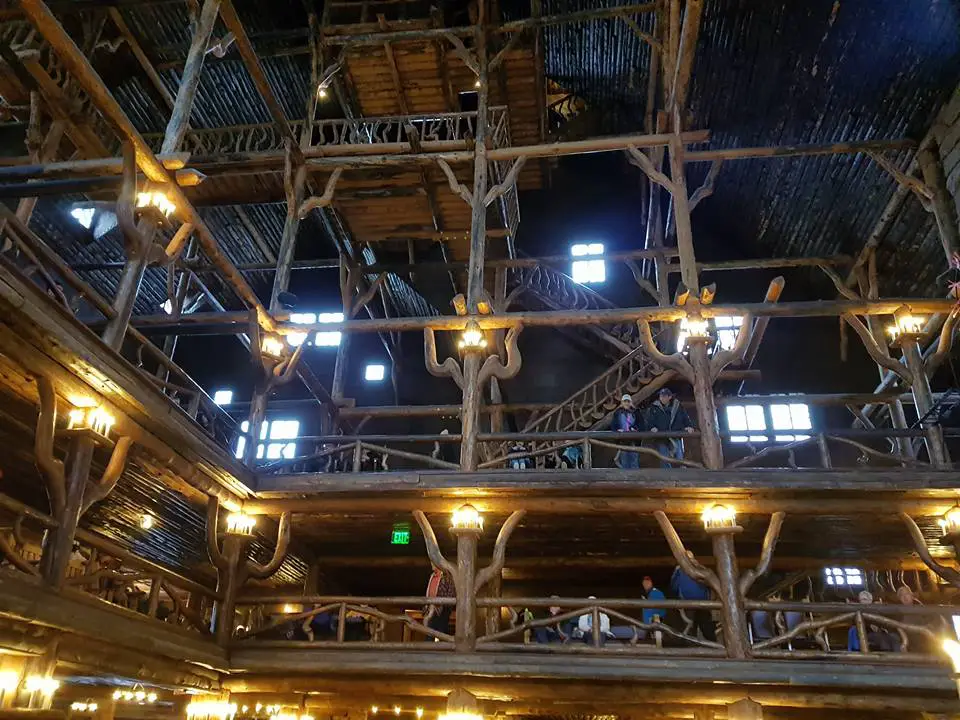 See and Do 

Norris Geyser Basin
Our first stop was Norris Geyser Basin. Norris ranks as Yellowstone National Park's hottest and most changeable thermal area, You'll spend up to a couple of hours here, so make sure you have your camera in tow.
Something to know is, when the weather is cold and crisp or rainy, the steamier the thermal pools tend to be. This definitely makes visibility a little harder, especially if the wind is blowing in your direction.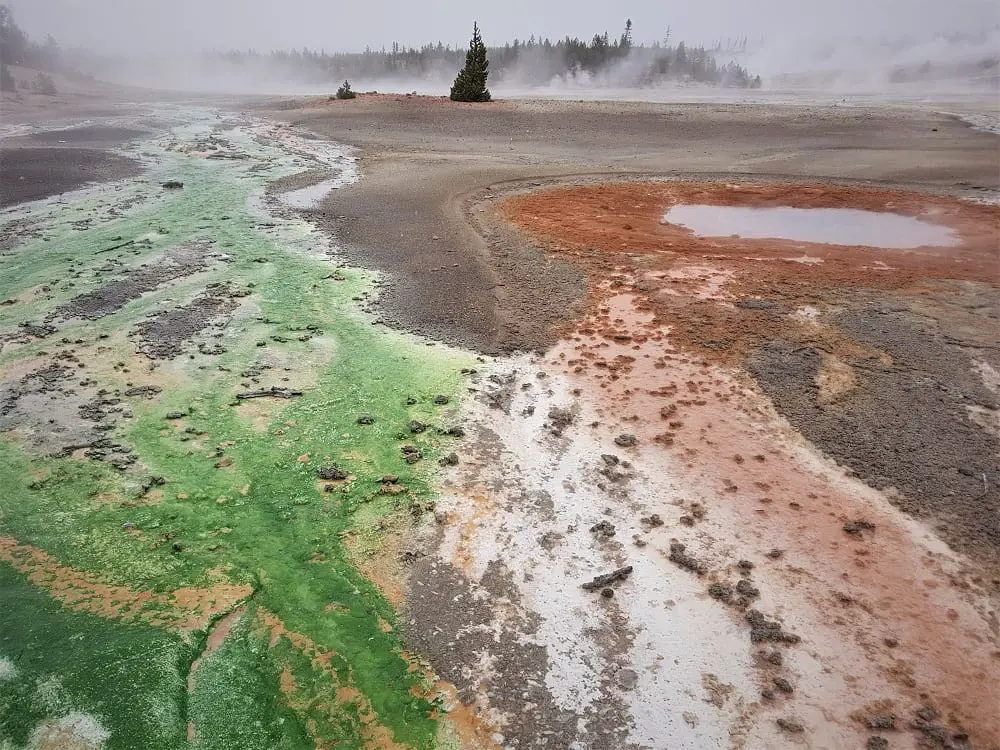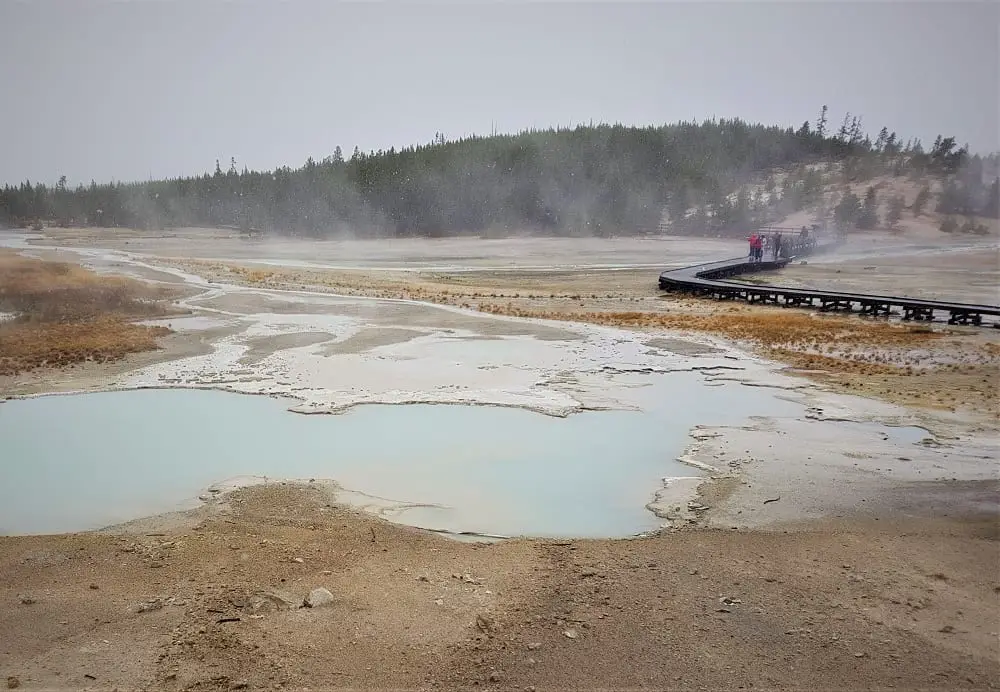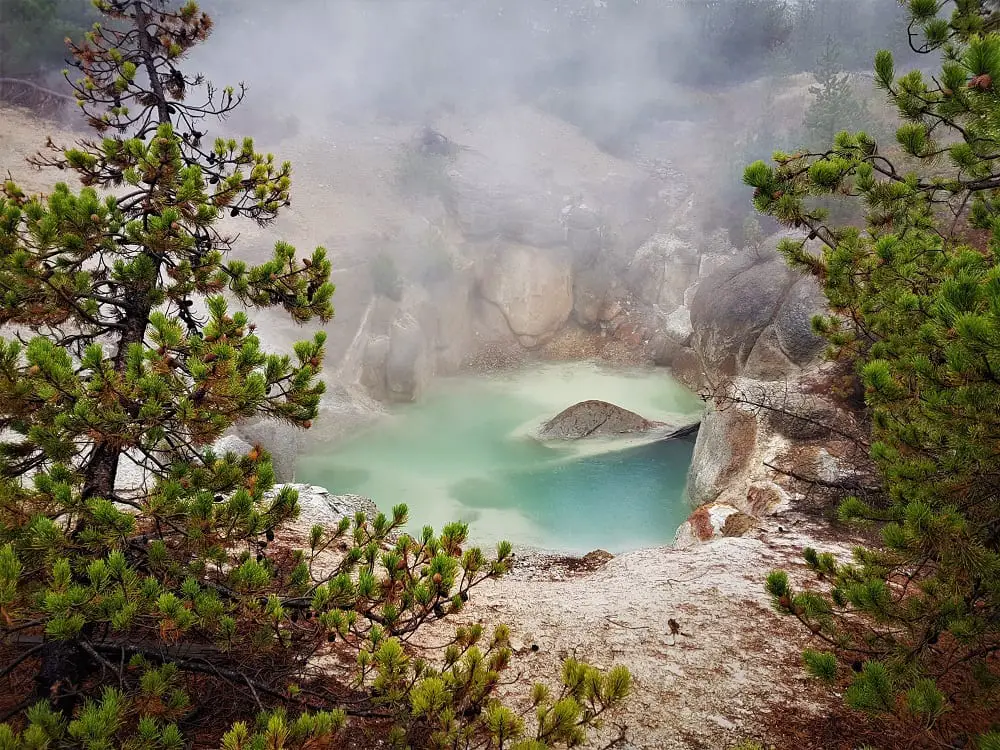 See and Do 

Artists Paint Pots 
The Artists Paint Pot  is a half mile trail with many features to see. 
You can clearly see why it's called the paint pot. The area has an array of color, just like  paint pot. Featuring geysers, vents and in particular, mud pools.
The board walk is relatively short  so jump out of the car and check it out.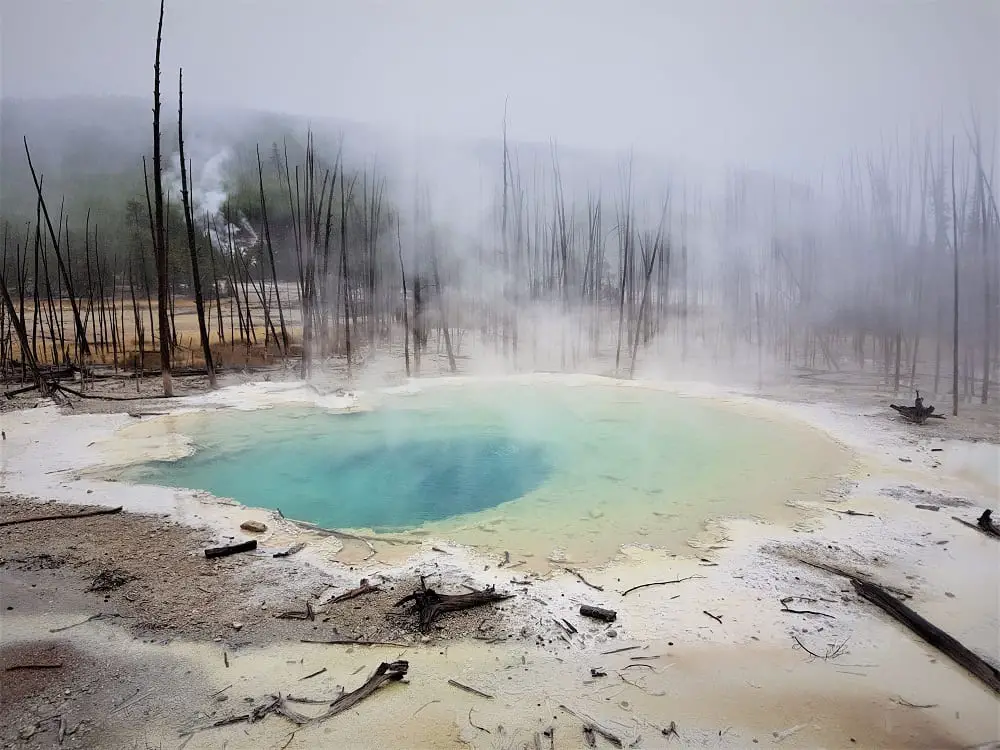 See and do

Gibbon Falls
This easy road side can't be missed.
Enjoy views over the Gibbon River and surrounding wilderness. The falls themselves are extremely picturesque with a thundering 84 foot drop.
Crowds can be big here but there is a good amount of parking too. Even if the parking pot is full, you shouldn't have to wait long to get a spot.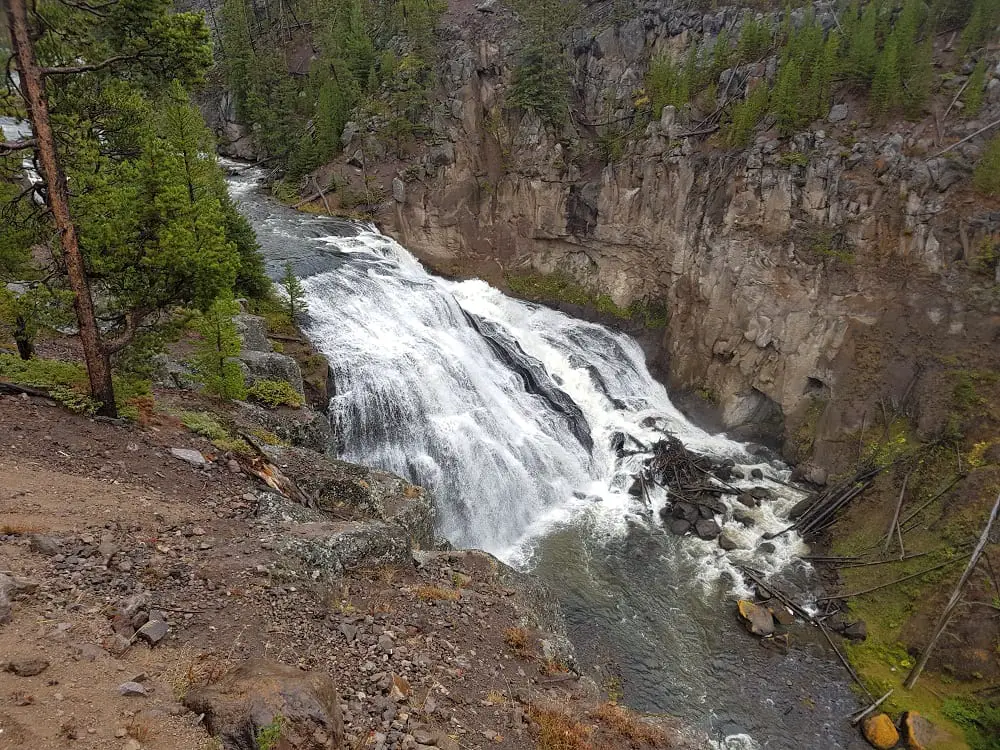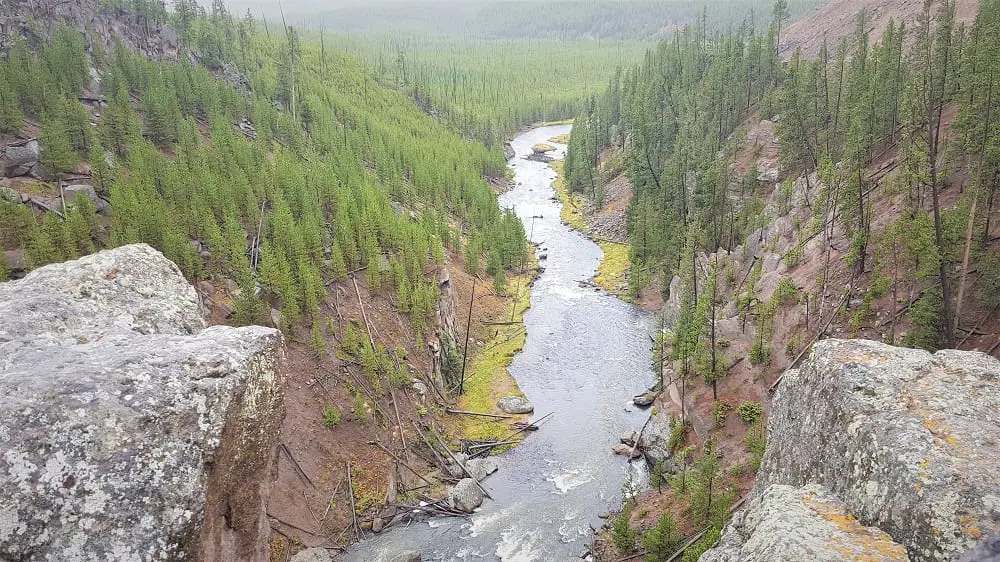 See and do 

Grand Prismatic Spring
Grand Prismatic Spring is a absolute highlight of Yellowstone. If you have ever looked at photos of Yellowstone National Park, then you have seen the photos of this famous highlight.
The spring is the third largest spring in the world and lays on a bright display of earthy color against the clear blue water. It is a very special sight indeed.
Follow the looped boardwalk and you will also be able to see Excelsior Geyser Crater, Turquoise Pool and the Opal Pool.
While the amount of steam made it a little hard at times to see, once the breeze cleared it, it was quite magical.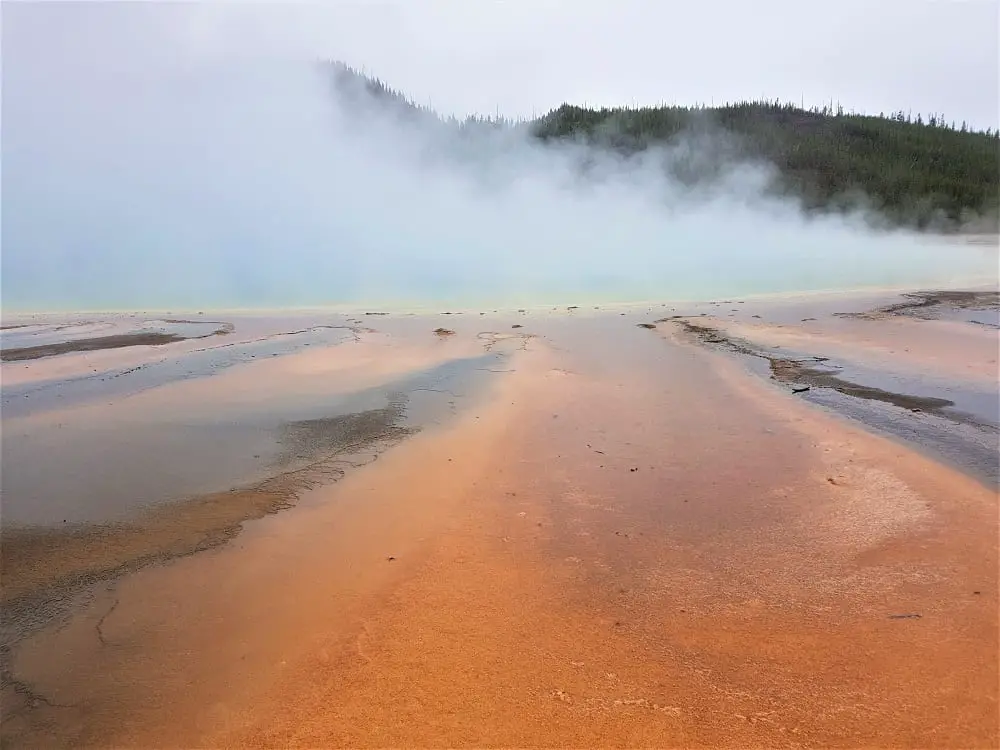 The Excelsior Geyser Crater overflows into the Firehole River.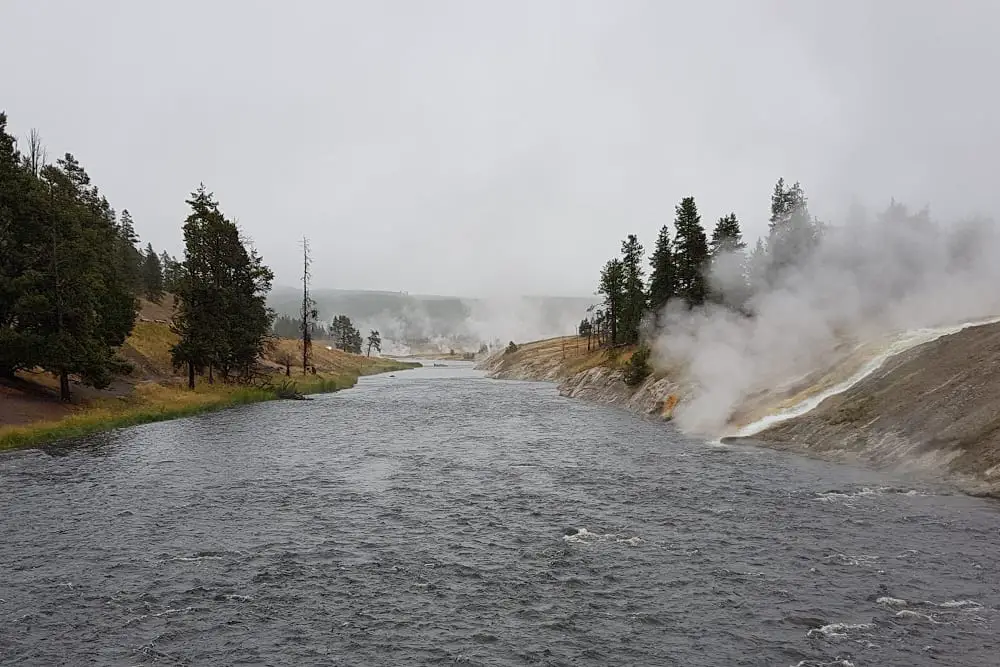 ---
Day 3. Old Faithful to Lake Village 
   →Distance covered in the park  60 km /  38 miles →      
We were always going to have to double back somewhere today, as we needed to exit the south entrance, en-route to Grand Teton National Park. Today's trip involved driving all the way to Lake Village before turning back. 
The road was relatively quiet and it proved to be a very pretty drive, as snow had fallen overnight.
Yellowstone Highlights include:
Continental Divide
Yellowstone Lake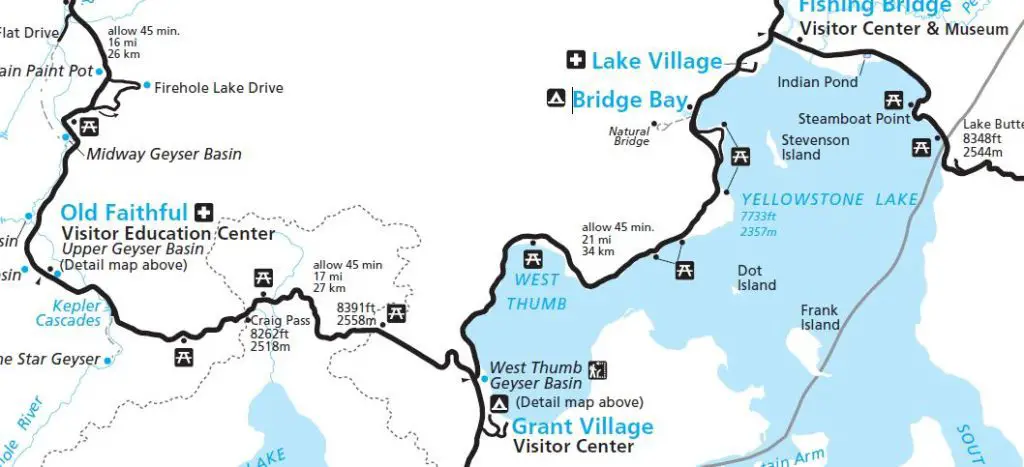 Stay 

Jackson Hole 
We'll be exiting out the park tonight as we head for Jackson Hole, Wyoming. 
See and Do 

Continental Divide
We had woken to the first signs of the season changing here in Yellowstone. It was snowing and roads were closed in certain sections of the park. Lucky our route was open and the scenery quickly changed as we gained elevation. Amazing enough, as soon as we started to descend out the other side, it was gone.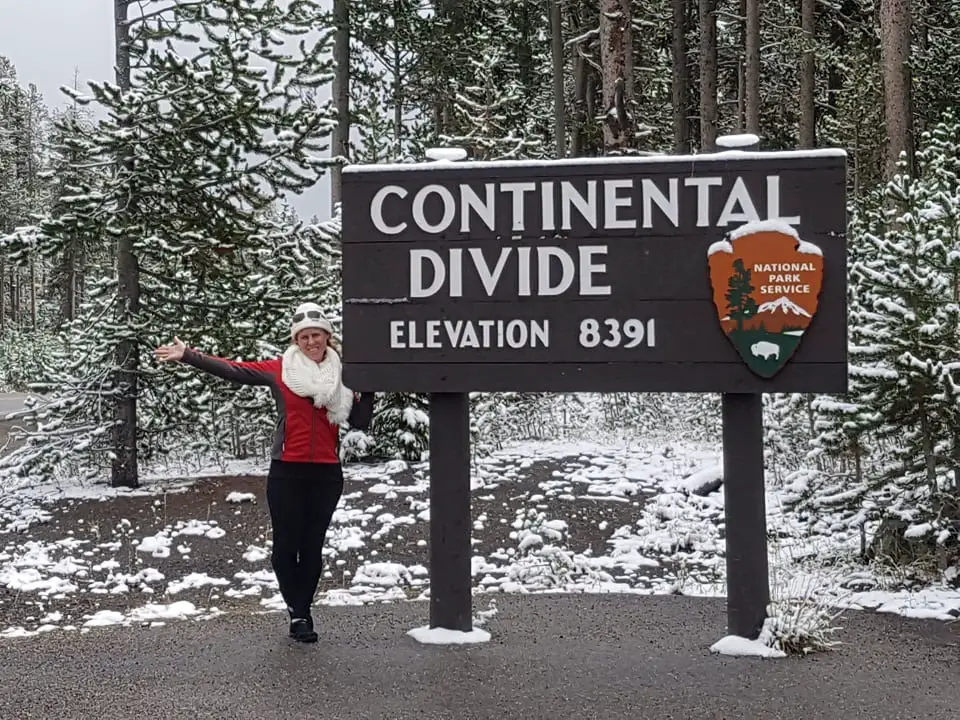 See and do 

Yellowstone Lake
The drive along Yellowstone Lake is gorgeous, with dense forest to one side and the lake on the other. Traffic is definitely not as concentrated in this part of the park, which was a nice change. Also, Yellowstone Lake is the largest body of water in the park.
We saw many elk on this particular drive in the park, stopping for photos along the way. I highly recommend a  stop for lunch at Lake Yellowstone Lodge. The prices for their lunch menu was cheap in comparison to the setting of the lodge.  
Our 3 day Yellowstone National Park itinerary was coming to an end. We made it to the visitor center and general store , just past Lake Village before turning back. It was a very frisky bison bucking playfully, stomping the bushes and rolling on his back that gave us one final farewell to Yellowstone. It was wildly appropriate.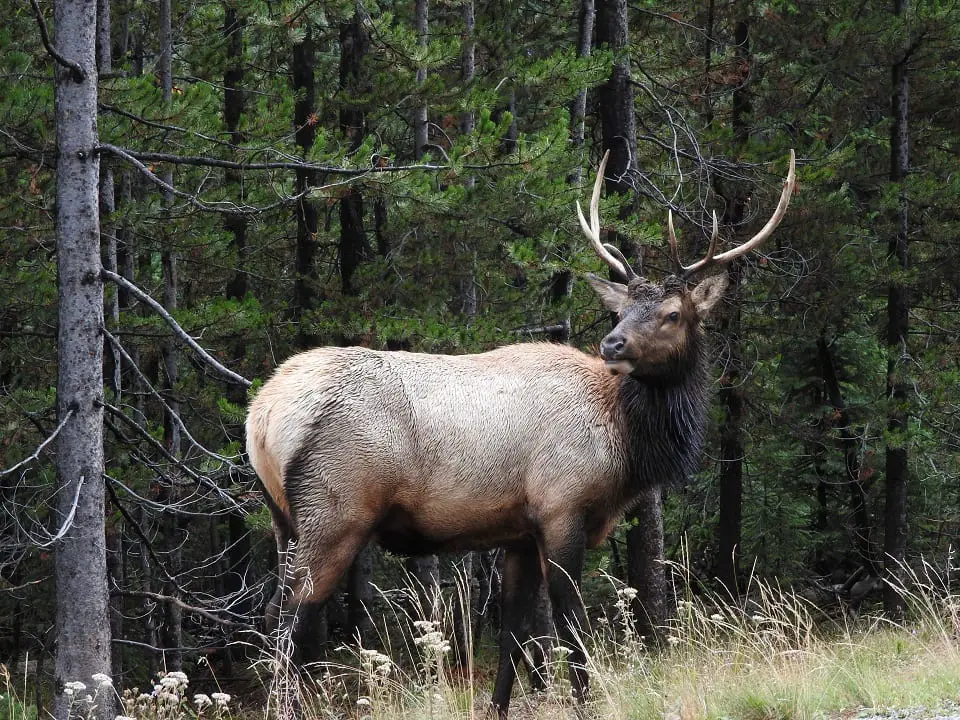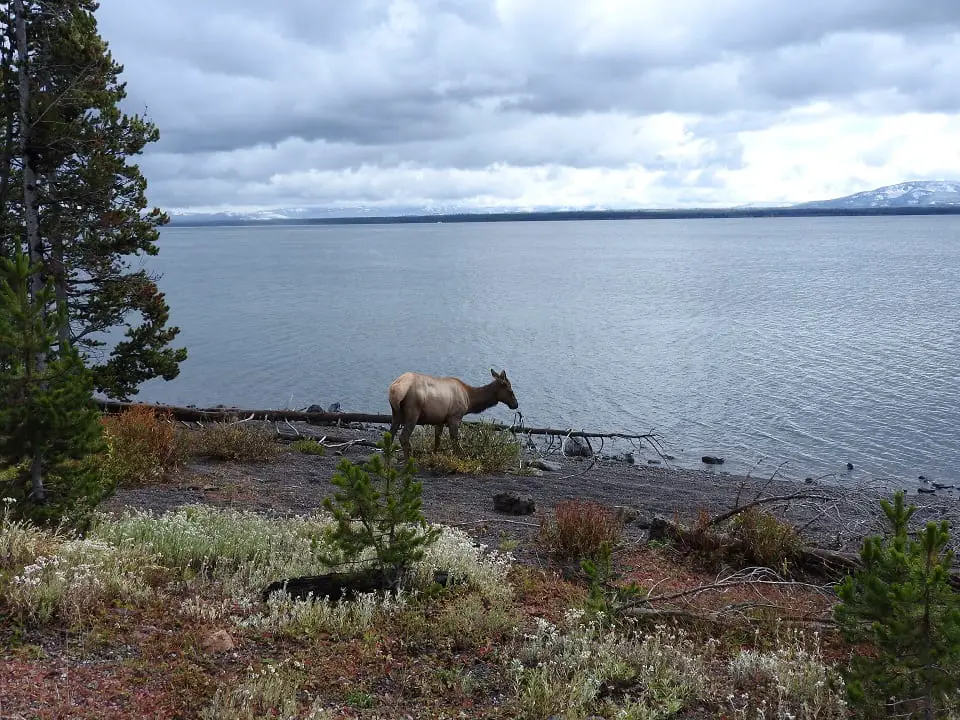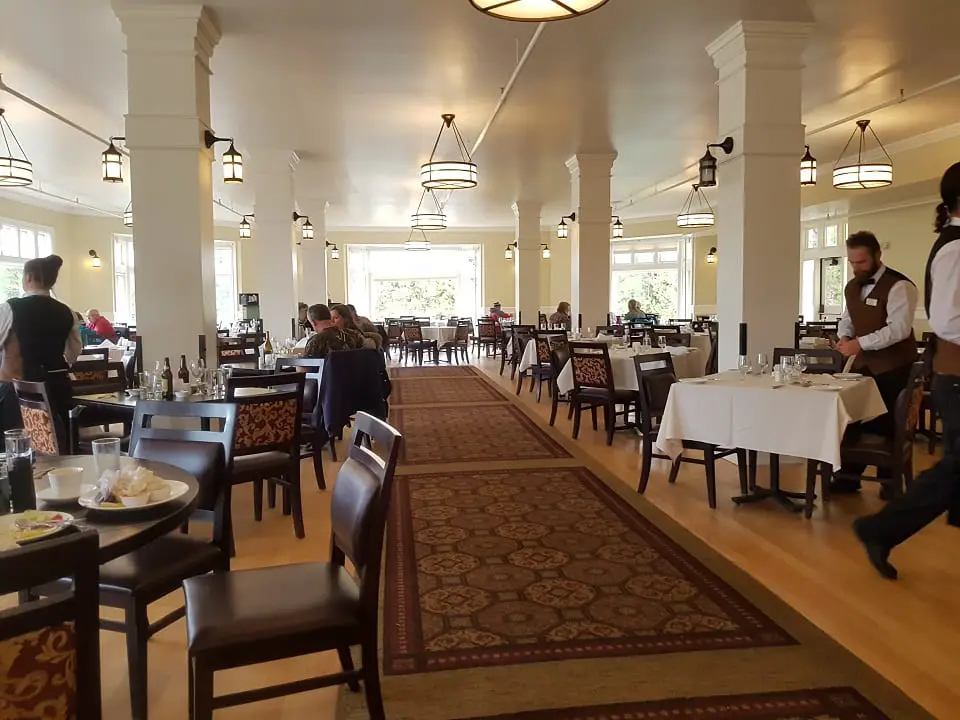 From here it was time to finally say goodbye and make our way to our Grand Teton NP before reaching Jackson Hole for the night.
I will never forget how amazing Yellowstone was and I hope you too consider a trip out to Wyoming for an unforgettable time.
And remember…..book early!!