As an Amazon Associate I earn from qualifying purchases. I get commissions for purchases made through links in this post.
If you only have the opportunity to spend one day in Zion National Park you'll be both thrilled and disappointed  Whilst the beauty of this place will take your breath away, you'll be sad to leave it behind. This amazing destination makes for an unforgettable USA National Park road trip. 
How to get to Zion National Park
Located in Utah USA, Zion is 229 square miles. (148,000 acres)
From Bryce Canyon:  72.3 miles / 116 k.   Drive time 1.20 mins.   HWY US-89 S
From Page Arizona:   104 miles / 167 km  Drive time 1.45 mins.   HWY US-89
From Las Vegas:        160 miles / 257 km   Drive time 2.30 mins    I -15 N
Best time to Visit Zion National Park
Zion is open 24/7, all year round.
The best time to visit is from May to November, It is also when the free shuttles runs all day, every day.
The hottest months are June, July and August, averaging around 95 to 100 F (35 to 37 Celsius. )
May, and late September through to November bring cooler and more pleasant days, especially for hiking.
The winter months are December through to April. Some tracks may be harder to access. Expect temperatures to drop to 54F (12 Celsius) and occasionally below freezing at night during the months of December and January.
For more information – click here.
One Day in Zion National Park 
Visiting Zion National Park is a bucket list destination for many.
I for one didn't realize just how blown away I would be. It was dramatic and epic is every possible way. After visiting Glacier National Park and Yellowstone on the same trip, I thought I had truly sen enough beauty, until we arrived at Zion. its beauty really took my breath away.
So with only one day to take in all the Zion has to offer, getting up early (not too early) will be a good decision. For those who love to hike, this is especially important for your Zion National Park itinerary.
While there are plenty of short hiking opportunities, you still need time to do them all.
Zion national Park highlights
The famous sandstone canyon walls that make up Zion are a dramatic display of white and reddish tones. Lush green vegetation spreads out across the park as the Virgin River winds it's way through the valley floor.
Unlike the Grand Canyon where you stand above the canyon and look down, Zion will have you looking outward and upward. It's quite the submissive position to be in, and what makes Zion one of the most beautiful parks in all of the US.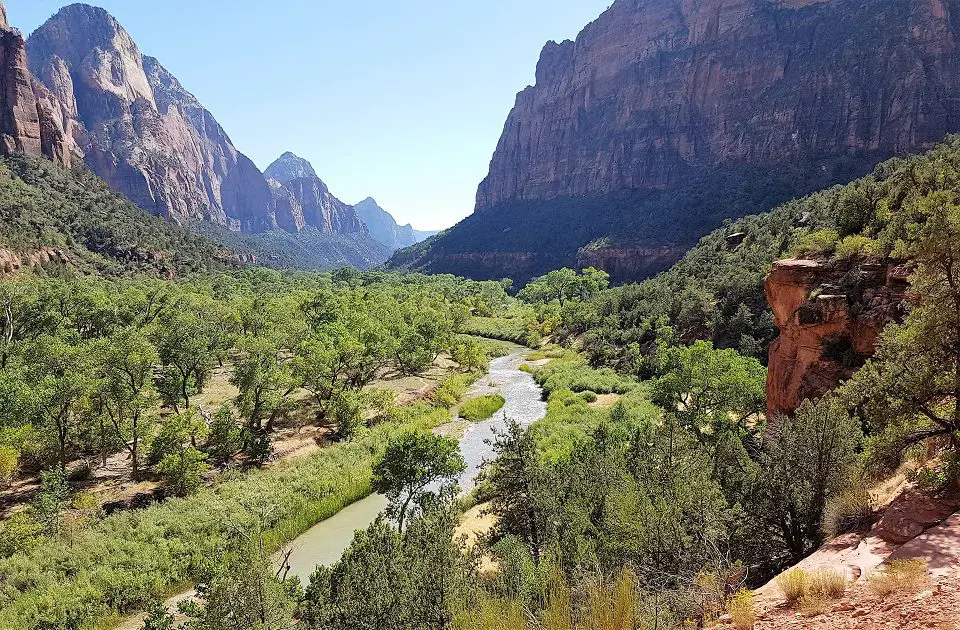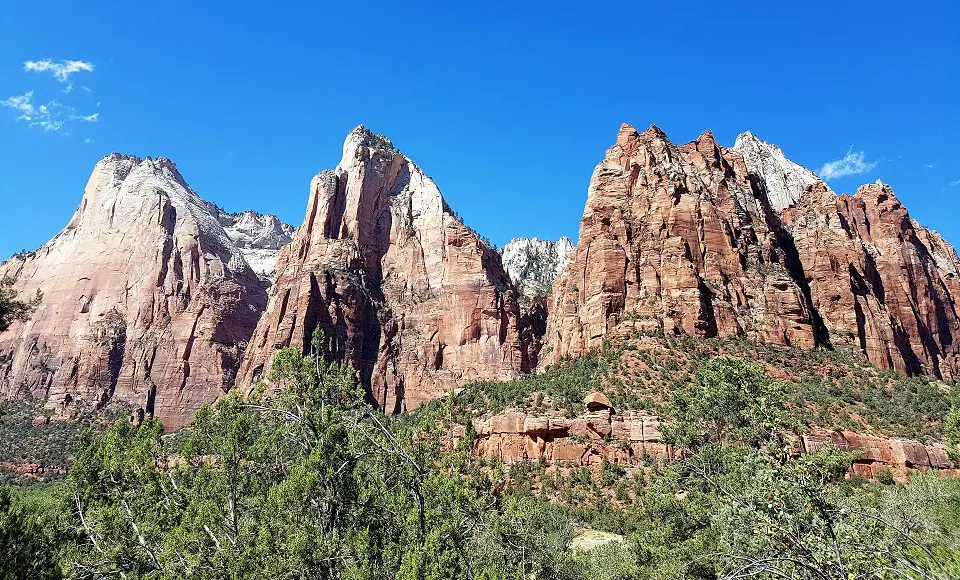 Zion East Entrance for dramatic scenery
I strongly advice you to drive the East Entrance road for some of the most jaw dropping visual scenery you will see in all of the park.
The Zion Mount Carmel Hwy (Highway 9) road is around 10 miles in distance once inside the park boundaries.This subtle windy road encompasses one panoramic view after another. Be sure to take your time and really enjoy it in all it's glory.
Popular stops include the easy walk to Canyon Overlook and also Checkerboard Mesa, but the drive itself is a true highlight.
If you are coming in from Bryce Canyon or Page you'll naturally take this route into the park without double backing.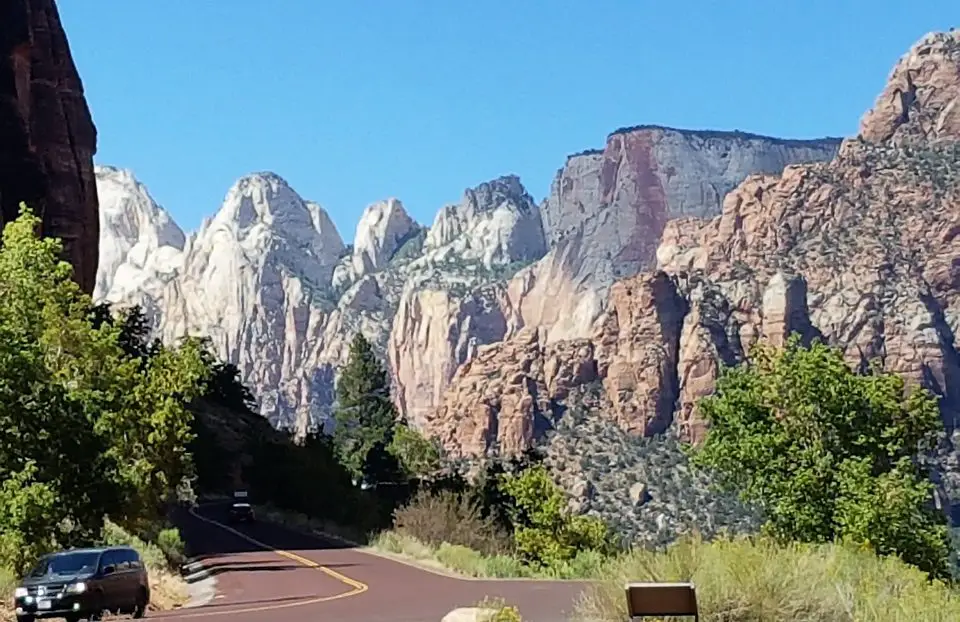 Zion National Park free shuttle bus 
From March to November visitation numbers are at a peak. Parking spots within the park are limited and only go as far as the Visitor Center.
If you arrive before 9 am there is a chance you'll get one of the last places to park but from here you'll have to board the Zion National Park free shuttle bus. Alternately you can catch it from within Springdale township to save the hassle
The bus will head along the Zion Canyon scenic drive where you can stop and re-board at any time. There are 9 stops in total. Wait times are relatively short, generally no longer than ten minutes. A full loop takes approximately 80 minutes which gives you an idea of how much you can get done in just one day.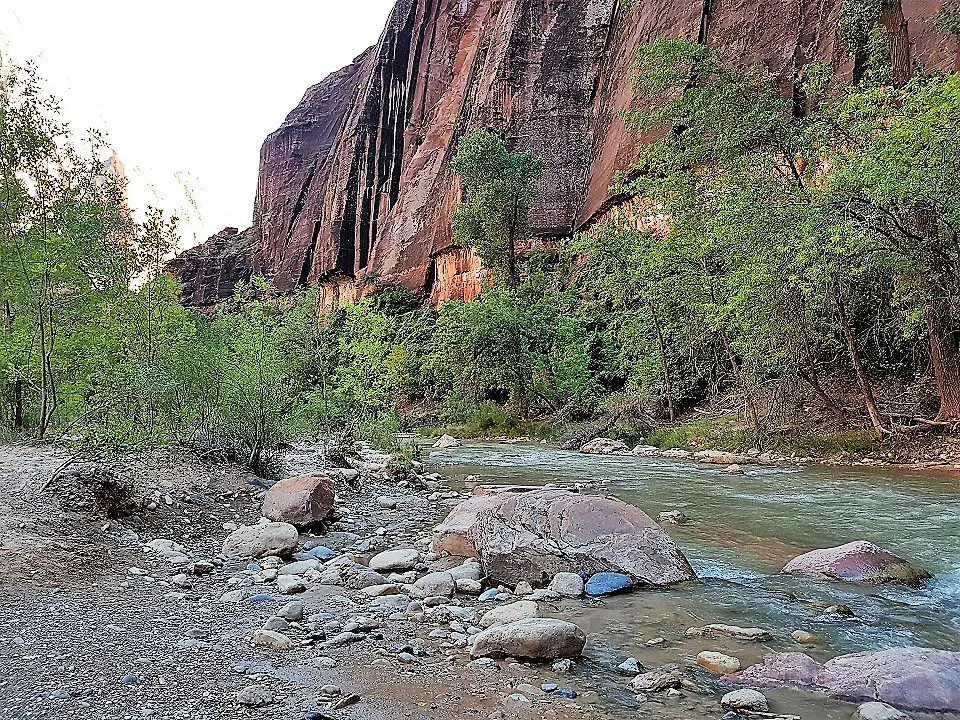 Conveniences within the park
You'll find restrooms along the way and if you need a place to eat you can get off at Zion Lodge. Here you can grab sandwiches, hot food and drinks. There is plenty of space to sit and enjoy the sunshine or a shady spot.
Hiking in Zion National Park
Which hikes you choose to do may come down to how much time you have and what sort of fitness level you feel like participating in.
The beauty about Zion is the amount of shorter trails that exist all within close distance to each other. This makes hiking in Zion National Park accessible for most.
We took the Lower Emerald Pool Trail and then connected onto Kayenta Trail. You'll start this at Zion Lodge and finish at the Grotto.
Lower Emerald Pool Trail is wonderfully stunning and easy in grade, which makes it ideal for young ones or those less active.
The Kayenta trail is graded moderate but we were descending most the time. You can also choose to do the Upper Emerald trail which is accessed along the way.
We also completed the short yet steep hike to Weeping Rock.
Be sure to grab your complimentary map at the visitor center before you head off or click here for a map of trails.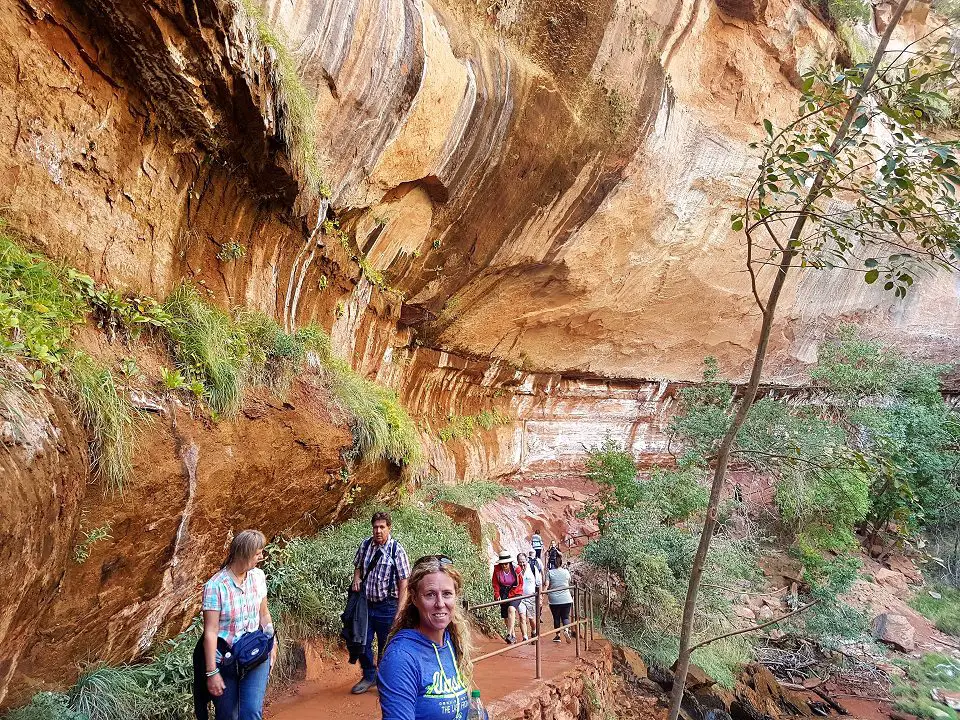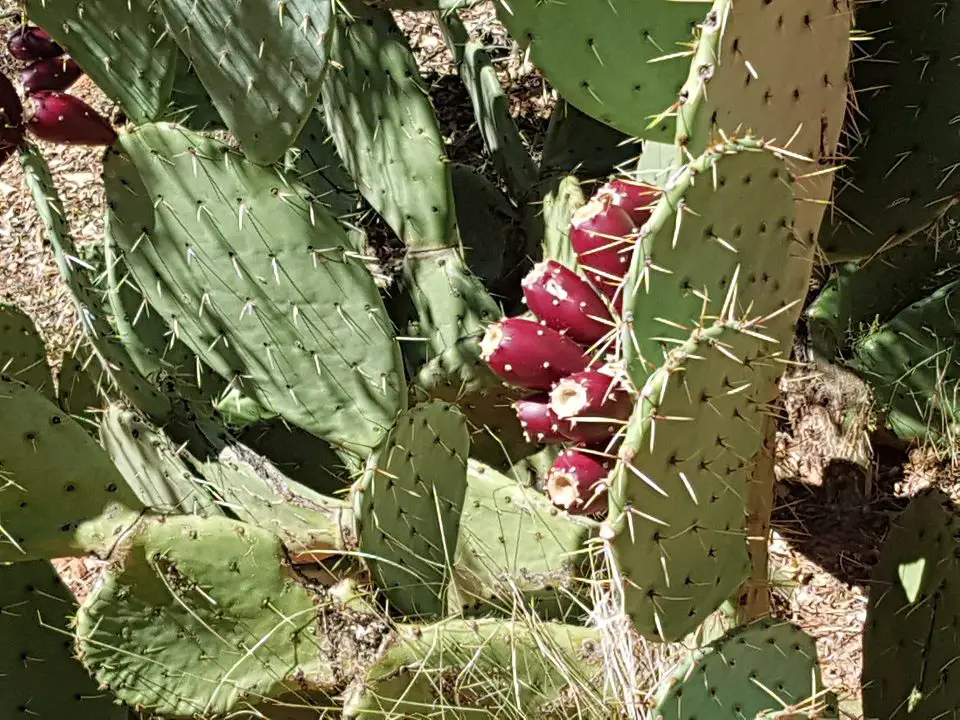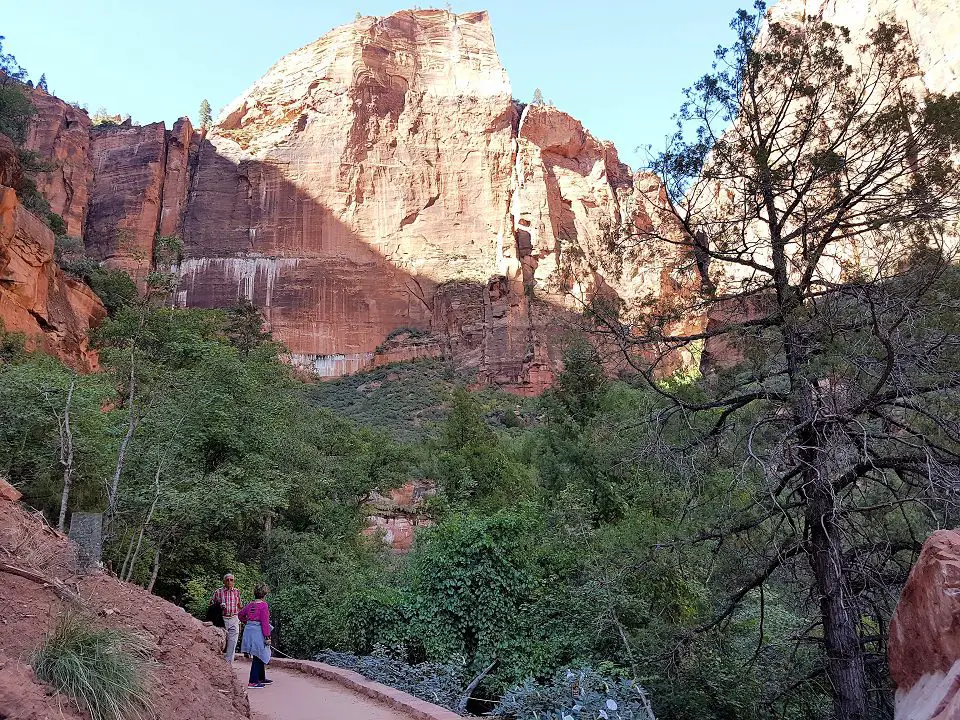 Tips for an enjoyable day 
Head off early. Zion deserves a complete full day. If you are only going to see it once, make the most of it.
Take a small back pack for water and anything else you may need such as lunch, sunscreen, etc.
Wear proper shoes for walking/ hiking. Tracks can sometimes be slippery regardless of whether it has rained or not.
Allow some time in Springdale to check out the galleries. Stay overnight if possible.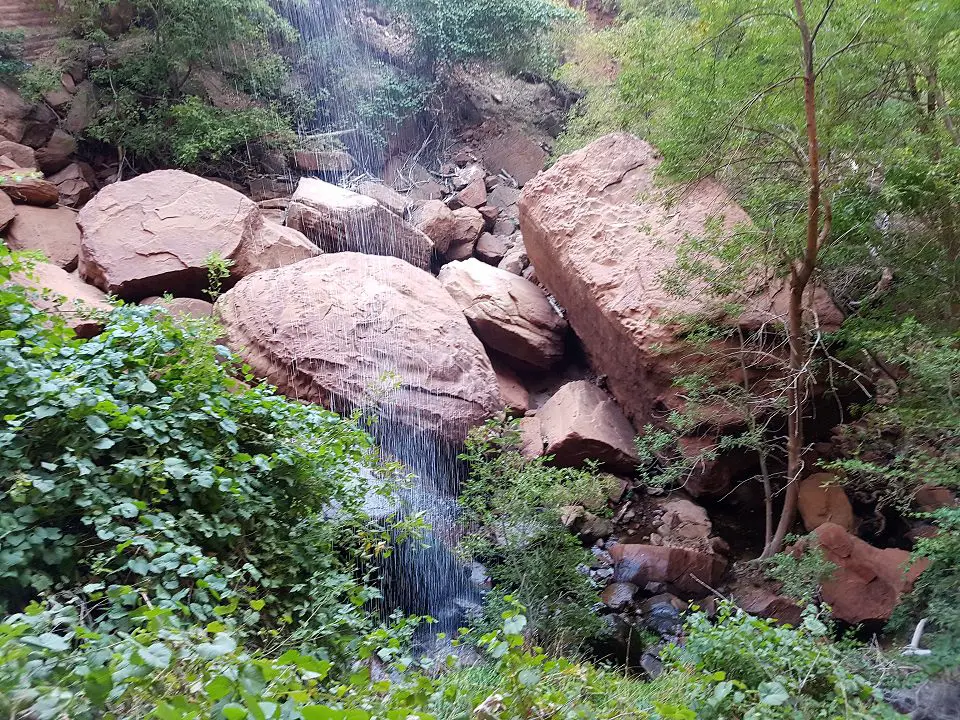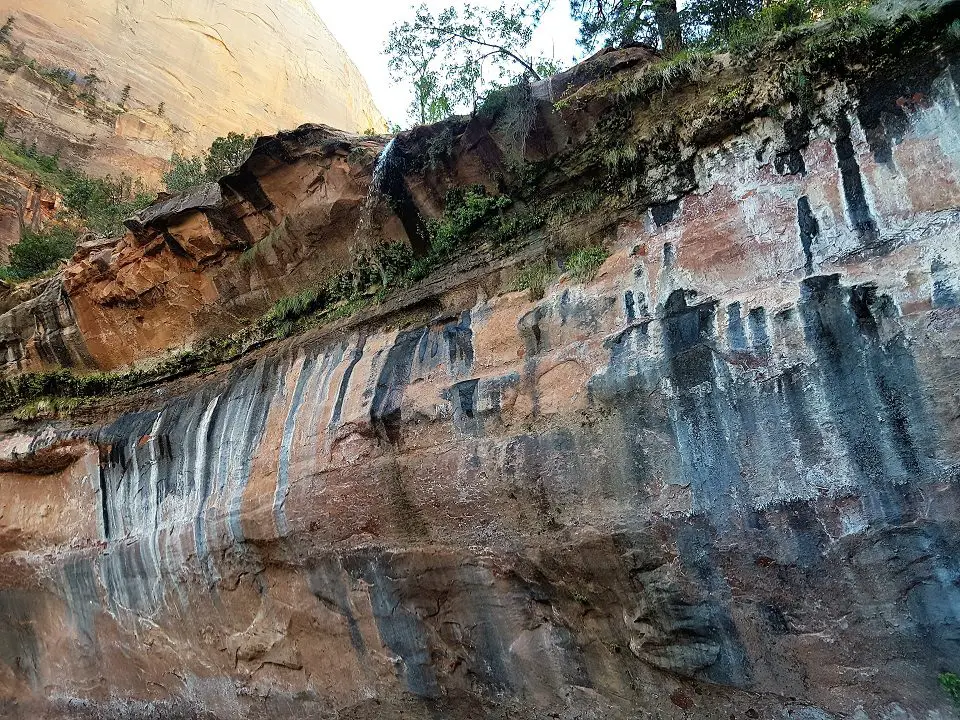 Zion national Park Accommodation 
We stayed overnight at Suites at La Fave Gallery. These two self contained luxury apartments were ideal as they backed onto the pack and were located right in the main street of Springvale. We cooked dinner on our private outdoor grill and had a wonderful sleep. Be sure to stop by the gallery next door for a look at some beautiful pieces.
Extra Activities
For those who have the extra time , there are many activities to take advantage of.
From hiking tours to repelling into a slot canyon. From off road jeep tours to ATV adventures.
You can see a range of activities here. 
---
More Reading
2 week National Park Road trip – click here
Antelope Canyon Tour Highlights – click here
Bryce Canyon 1 day – click here
Like it. Pin it for later.