As an Amazon Associate I earn from qualifying purchases. I get commissions for purchases made through links in this post.
Visiting Hawaii first time?  The Pacific island paradise beckons millions of tourists and first time visitors each and every year for good reason. The promise of warm days and laid back island atmosphere, along with  adventure and scenic travel, a Hawaii vacation goes well above &  beyond expectation.
Waikiki. located in Honolulu on the main island of Oahu, is usually on most peoples bucket list during their first trip. But with extra days, you may wish to head to the outer islands also. In this Hawaii guide we'll take a look at which is the best island to visit in Hawaii first time, along with best time to go to Hawaii, weather consideration and many more travel tips.
Visiting Hawaii and wanting to save money? Read: Hawaii on a Budget – best guide to paradise
Visiting Hawaii first time
When planning your first visit to Hawaii, I'm sure sun drenched beaches, cocktails and sparkling blue waters come to mind.  Also, getting to Hawaii has never been easier, particularly if coming from the US mainland, the west coast of Canada and the east coast of Australia.
And the famous Waikiki beach is on most people's wish list. Hawaii travel has exploded with popularity over the last few years as people from around the globe flock for a bit of island paradise.
The main Island Oahu has much to offer as the majority of tourists head for Honolulu, the states capital. Waikiki Beach has centre stage and is a great base for your trip.
It's an ideal holiday destination as it covers everything for the budget traveler to complete luxury and everything in between. Whether you are here to sight see, shop or party, or wanting that relaxation time you so desire, Hawaii has it covered.
The scenery is gorgeous, the atmosphere is alive.
Best time to visit Hawaii
The months of March to September offer the best weather, especially if you are after warms days and nights.
Summer months include June, July and August, so temperatures are at their highest and rainy days are all but gone. It is also the best time for water based activities such as swimming and snorkeling. Surfing on the other hand is better during the winter months when ocean swells are peaking.
A good thing to remember is that Hawaii attracts warm weather all year round so even if you are set on a particular time, you really cant go wrong. So anytime is the best time to visit Hawaii.
Hottest months – August & September 89 F / 32 C
Note: Hawaii experiences warm days throughout the year. On average between 80 – 90 F / 26 – 32 C
Wettest months – October through to February (between 2 to 3 inches precipitation) 
Windiest months – June, July , August (Average wind speed of 14.4 mph)
Cheapest month to visit Hawaii
Depending on where you are coming from, this may dictate what are your best and cheapest month to visit Hawaii.
For flights coming from the USA, the cheapest months to visit Hawaii are April to mid December. You can expect many families visiting during the school holiday period so prices and availability will be impacted by this. Mid December through to April attracts higher priced flights when most are escaping the cold.
From Australia, February tends to attract the best prices.
For the best hotel deals to Hawaii, September through to mid December is generally when hotels offer the best prices. April and May can also be a good month to book when crowds are at their lowest and hotel accommodation is is less demand. This means you'll get more choice on where to stay, helping catch the best bargains.
How long should you visit Hawaii
Most holiday makers tend to average between 5 to 7 days when visiting Hawaii.
If staying on only one island, this is perfectly ideal. For a combination of islands, I'd recommend at least 7 to 10 days. To give you a better idea, and how I have previously done it, I recommend the following.
3 to 6 days – 1 island
7 to 10 days – 2 islands
11 to 14 days – 3 islands
Though flights to and from the islands of Hawaii are relatively short and easy, it can still be time consuming. I think the original flight you take to get to Hawaii can impact this decision. When I fly from Melbourne, Australia, the flight takes around 11 hours, so i'm not in any hurry to get back on another plane.
Best place to visit Hawaii first time
For most visitors, the main island of Oahu will be the first and last stopping place. But what really is the best place to visit Hawaii first time?
If you do only make it to Oahu you certainly won;t be disappointed. Oahu is a beautiful place to visit and for many, is their favorite island in all of Hawaii. 
I have to agree that Oahu is the best place to visit in Hawaii first time. It has a bit of everything so is quite appealing. From sun drenched beaches, plenty of water activities, surfing, scenic lookouts and lush tropical surrounds.
Of course, with it comes the crowds, but there is still plenty of secluded areas to visit also. I particularly love the other side of the island, away from Waikiki where the beaches are beautiful and so much quieter. You simply have to take a scenic drive around Oahu and check out the beaches of Kailua and Lanakai.
But all the islands have their own special features and attract people for different reasons.
Also, with such close proximity to each other, it makes getting to each island relatively easy. All the islands in Hawaii offer something uniquely different. So depending on what you like to do and see, you can get a quick overview here.
Best island to visit first time Hawaii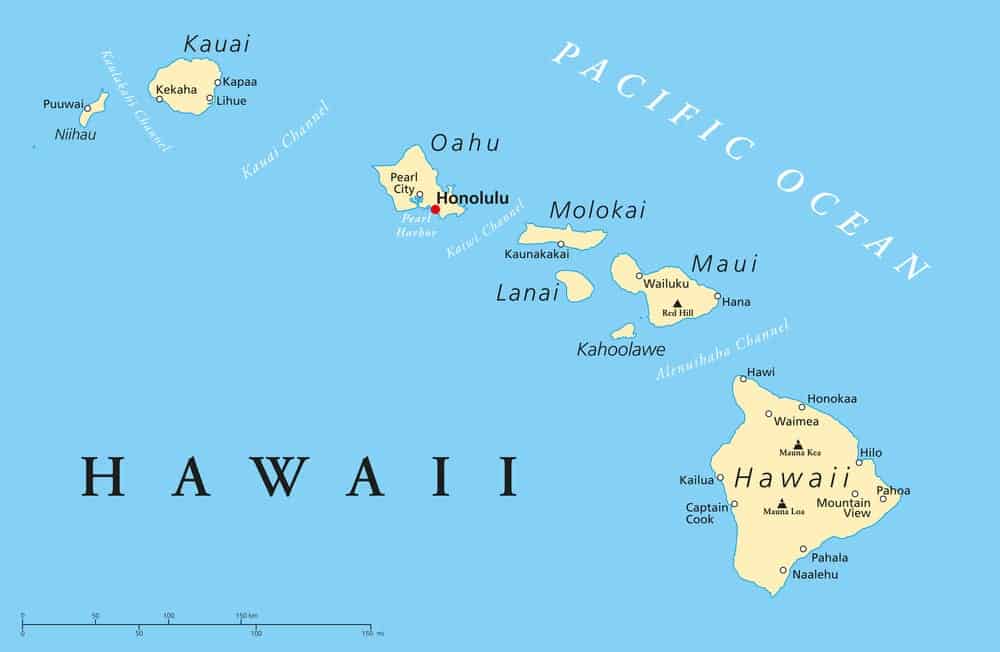 For the best island to visit first time in Hawaii, Oahu is a great choice. It offers such great diversity to suit a range of holiday itineraries.
Visiting Oahu first time 
Waikiki Beach is the hub of activity, including shopping, restaurants, and bars. Of course, the famous beach is the perfect place to swim, particularly for families due to the safe shallow waters.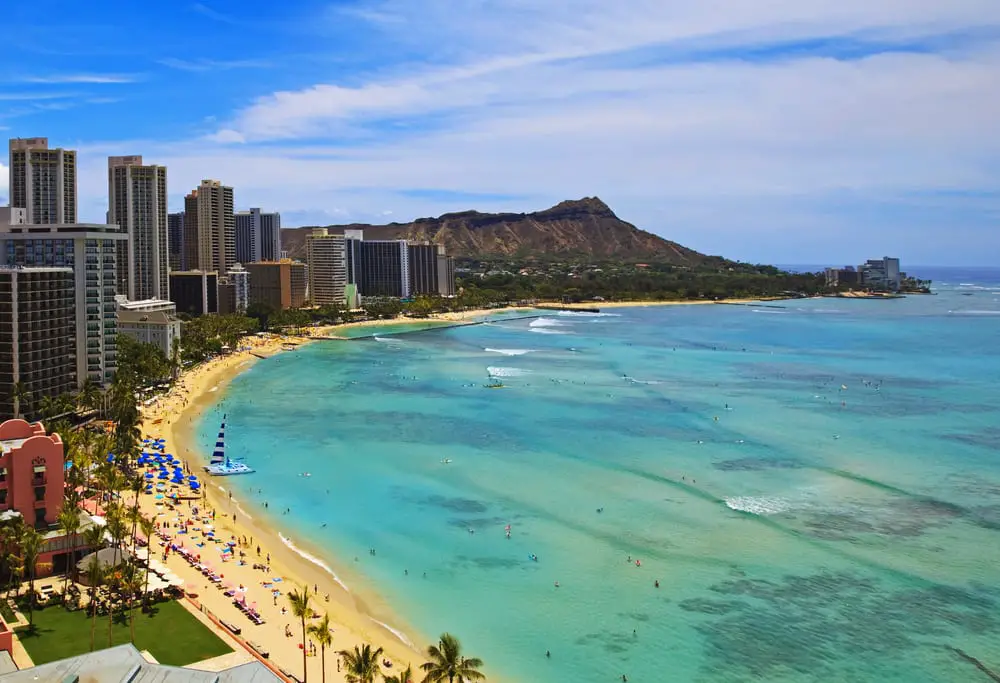 Top highlights of Oahu include: 
Waikiki beach – where all the city action begins
Pearl Harbor national Memorial – learn the history on the attack on Pearl Harbor
Hanauma Bay – for great snorkeling plus family friendly
Diamond Head – hike to the summit for paramount city views
Polynesian Cultural Center – a living museum of Hawaiian culture
North Shore – for big waves and sandy beaches to explore
Circle Island drive – scenic spots and gorgeous beaches on a full day Oahu scenic drive
Conclusion: Oahu is a great all round Hawaiian island. It suits visitors looking for the opportunity to partake in many different activities. In short, it has everything.
I highly recommend either renting a car for one to two days and heading out of Honolulu to see the other sides of the island, or participating in a full day tour around the island. 
Visiting Maui first time 
Known as the Valley isle, and Hawaii's second biggest island, Maui is a huge draw card. Many choose Maui due to its true "Aloha" feel.  It is also home to two of the best luau's in all of Hawaii, The Old Lahaina Luau & Feast at Lele.
With miles of gorgeous beaches and plenty of swimming, snorkeling and diving opportunities, it is a beach goers paradise. The island is also a place of changing landscape, from lush rain forests to lava fields and so much more.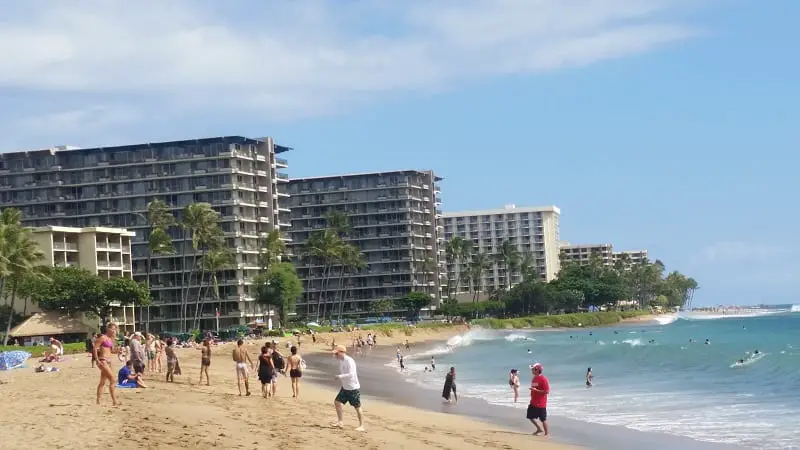 Top highlights of Maui include: 
Road to Hana – take an adventurous drive along the winding Road to Hana
Haleakala Crater – watch sunrise or sunset on top a dormant volcano
Ka'anaplai Beach – for swimming, snorkeling and water activities
Lahaina- see the famous Banyon trees
Conclusion: Maui is a real Hawaiian island. Visitors can choose to get adventurous or go low key. Kaanapali Beach is a great spot to hit the beach, see a luau and and soak up that Hawaiian atmosphere. It is also a great accessible spot if you don't have a car, as you can take the shuttle bus into Lahaina and also book plenty of tours from here.
Be sure to check out the most Hawaiian hotel, Kaanaplai Beach Hotel for free Hulu lessons and nightly local entertainment.
Visiting the Big Island first time 
The Big Island is BIG. It is larger than all the other Hawaiian islands put together. This Hawaiian island is one of spectacular and unique scenery. It has a real sense of remoteness which is very appealing to many visitors.
The landscape changes dramatically from all sides of the island. From black sand beaches to volcanic activity, lush tropical rainforest and mountain ranges, it encompasses so much diversity.
World famous coffee, Kona coffee is grown right here on the slopes of two volcano's on the Big Island. You can participate in a tour around the plantation before enjoying the fresh taste of Kona coffee.
Top highlights of Big island include: 
Volcanoes National Park – see an active volcano and tour the park
Punulu'u – explore the unique black sand beach
Manta Rays – take a night snorkel or dive tour to witness the gentle giants of the sea
MaunaKea – go stargazing from the mountain summit at 14000 feet
Conclusion: The Big Island is a great road trip type of island. With so much to see and do, it's best to be on the move. So be sure to rent a car and get out there, because it is so worth it. Why not try this perfect 5 day Big Island adventure itinerary to see what's possible.
Visiting Kauai first time 
With so much lush vegetation, Kauai is full of spectacular scenery. The mountainous island offers dramatic cliffs and rich fauna. Aptly named the Garden Isle, Kauai is a place of peace and quiet and full relaxation.
A stunning coastline of towering cliffs covered in rich vegetation serves as a picture perfect postcard. Helicopter tours are popular as you get to witness what many cannot reach on foot or by vehicle.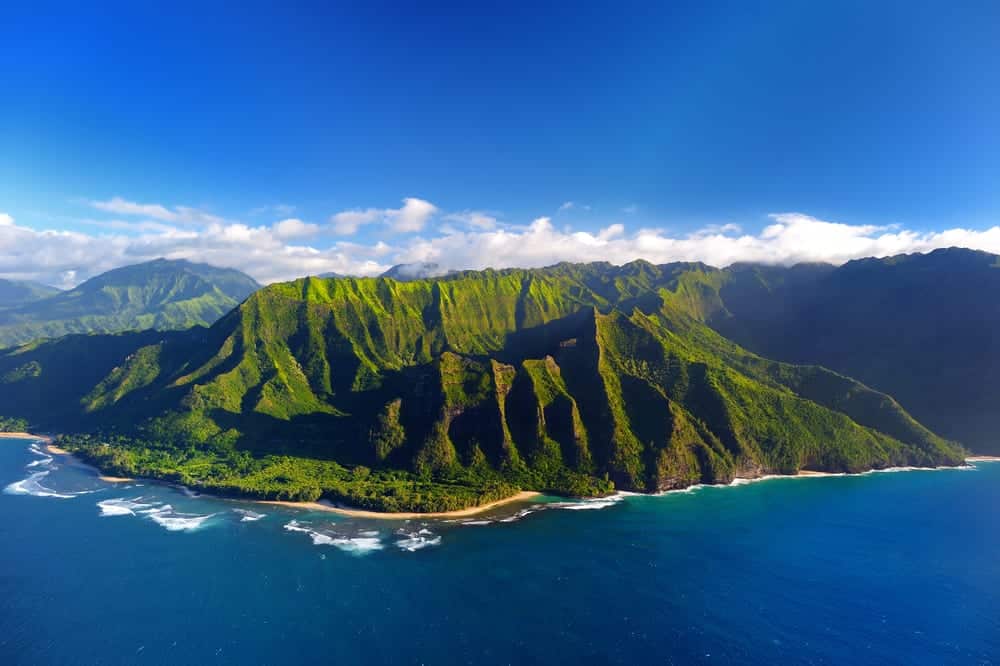 Top highlights of Kauai include: 
Waimea Canyon – see the Grand Canyon of the Pacific
Na Pali Coast- traverse the 17 mile steep and rocky coastline
Kalapaki Beach- swim in pristine waters
Wailua State Park – cruise the lush waterways
Conclusion: If you want to get back to nature, whether spending time rejuvenating or hiking within the different regions, Kauai is a great choice.
The South side is known for better weather, great beaches but also bigger crowds. It also has more activities to choose from and a range of hotels and resorts.
The north side offers some of the best scenery, most luxurious hotels and less crowds. But is also has more rainfall from November to March in particular.
Visiting Lanai first time 
The smallest inhabited island in Hawaii is where people come for true seclusion in luxury surrounds.
If lazy days on the beach appeal to you, away from the hustle and bustle of crowds, this is your place.
Lanai is a place that has retained most of its rugged charm, with most the islands' roads being unpaved. This is a great opportunity to rent a four wheel drive and set off with a picnic to find your own quiet paradise.
The island also boasts a championship golf course. But the Jack Nicklaus 18 hole course at Four Seasons doesn't come cheap, and will cost a few hundred dollars to get the chance to play.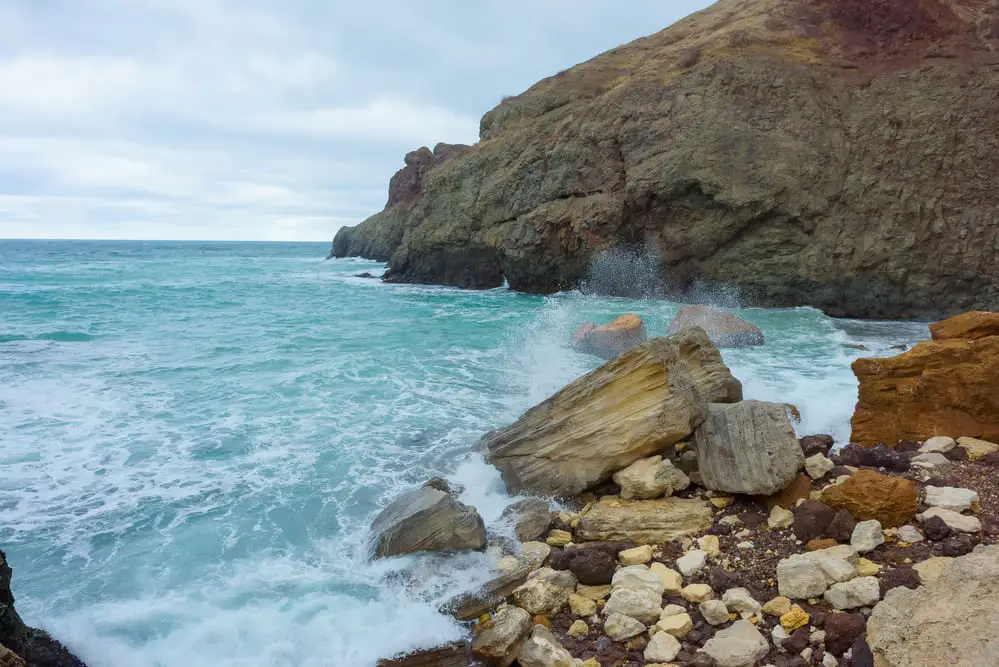 Top highlights of Lanai include: 
Hulapoe Bay – for summer swimming and snorkeling
Garden of the Gods- visit the grounds of odd shaped boulders at sunset
Munro Trail – take a jeep ride around the 13 mile circuit
Conclusion: Lanai is a place of exclusiveness and where people come to get away from daily life.
If the general tourist things such as excursions, scenery, and picture perfect beaches is your thing, this may not be your island, unless you have the funds to back it up. But you can get much more on the other islands.
Visiting Hawaii first time conclusion
I think you'll agree that each and every Hawaiian island offers something different. So deciding may not be an easy decision, especially if you only have time for one.
A two week vacation means you have time to see at least three islands if you are happy to commute between the islands. But of course, you may choose to stick to one and just enjoy some down time from a busy lifestyle.
Whatever you choose, it is sure to be an exciting break.
Like it. Pin it for later.