As an Amazon Associate I earn from qualifying purchases. I get commissions for purchases made through links in this post.
Let me get straight to the point on how you can have a 7 night vacation on Fulidhoo Island Maldives for under $400 US dollars .
Many people wonder "Is the Maldives worth visiting"?. Here are 21 convincing reasons why it is.
When planning a trip overseas I always want the best experience, but I'm also keen to save money along the way. To help you plan all your best local and international trips, be sure to read;
Further reading: Planning a trip overseas you can actually afford
Further Reading: A cheats guide to saving money while traveling.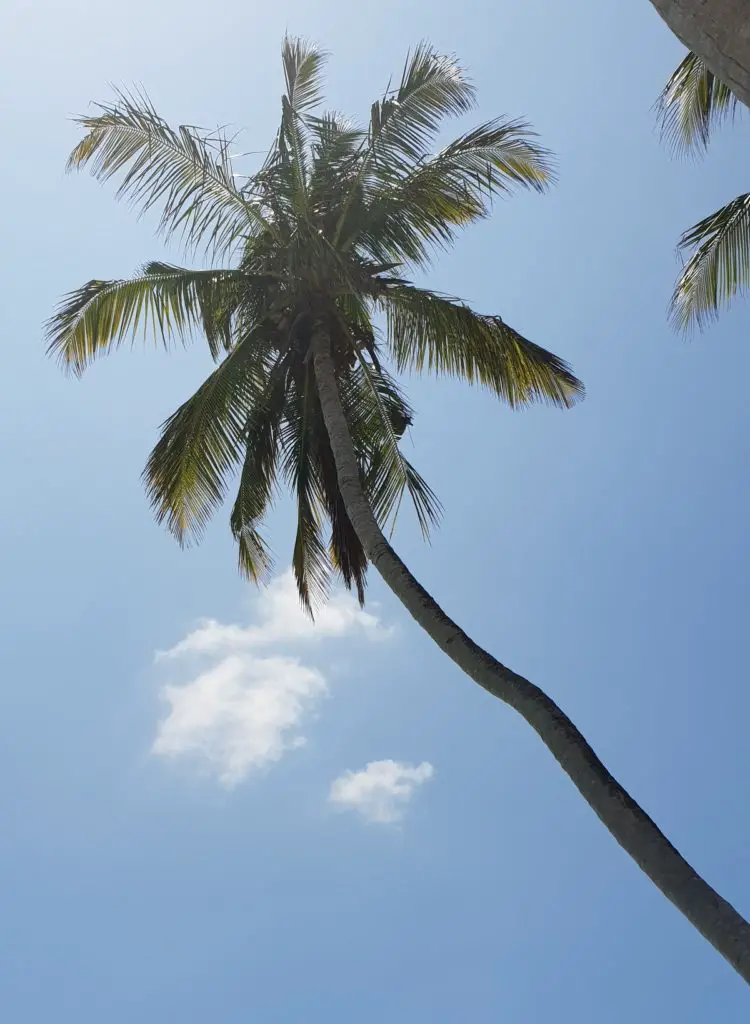 This complete guide and Fulidhoo Island review has everything you should know before you go. Plus I'll show you what you can expect to pay for up to 7 nights including:
accommodation
transfers
meals
activities
For the cheapest and best Fulidhoo island guesthouses (with free breakfast) you have to check out:
Fulidhoo White Inn from US $45 per night
Huvan Inn from US $52 per night
Fulidhoo Ihaa Lodge from US $60 per night
Regardless of how long you plan to stay, this complete guide to the best local island Maldives covers everything you can expect from your visit including a breakdown of costs so you can plan your trip with ease.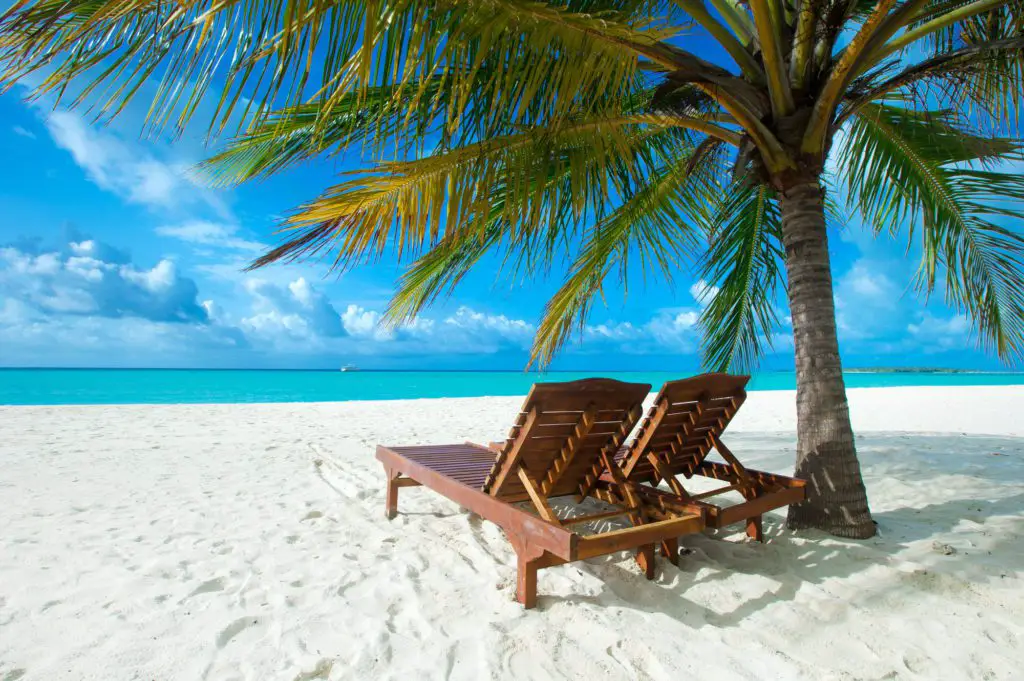 Interested in more budgeted Maldives itineraries?
3 spectacular & affordable Maldives itineraries with all costs included
2 x local islands – Maarfushi & Fulidhoo Island
1 x affordable resort – choose from 3 itineraries
combination local islands & resorts – choose your islands
Fulidhoo promises a place of beauty and solitude, as well as that local island spirit. For those looking for a wonderful experience in the Maldives on a budget, you can't go past Fulidhoo Island Maldives.
Be sure to also read my post on "Maldives on a Budget" , an extensive travel guide to travelling and staying in the Maldives.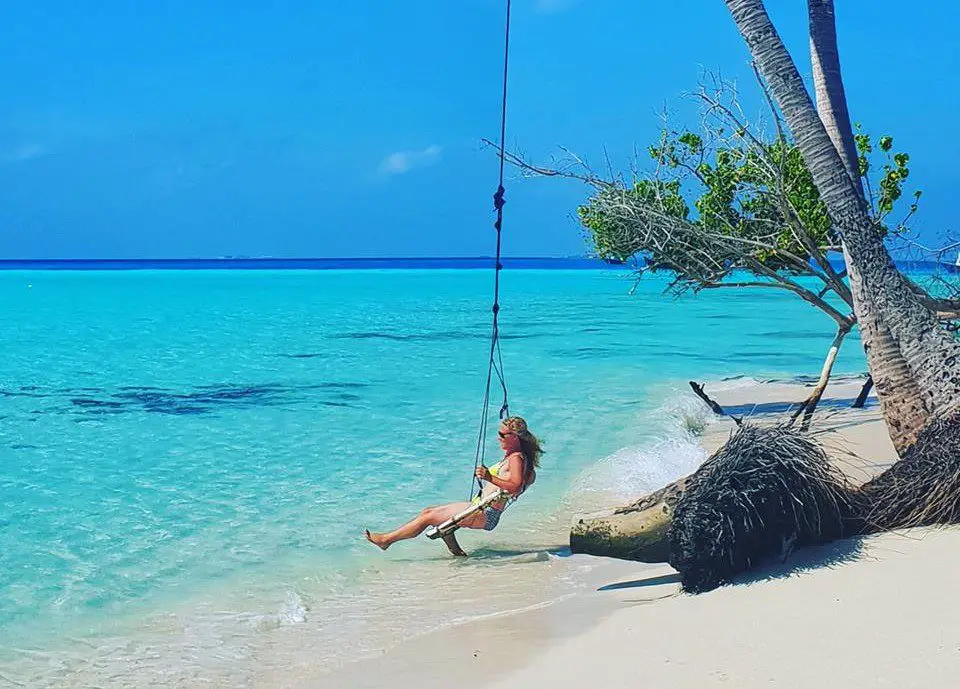 Fulidhoo Island Maldives – Table of Costs
There are a few key things to consider when traveling to the Maldives and they can potentially all impact your wallet. The good news is, they don't have to impact your experience of what it feels like to stay in paradise.
So even if you are travelling to the Maldives on a budget, you can still have a wonderful holiday.
For first time visitors to Maldives who want to keep their costs down but also experience paradise, a local island is a really good choice, and Fulidhoo Island Maldives is no exception.
Here is the breakdown of my 7 days at Fulidhoo Island Maldives. (US dollars)
 Accommodation
   $160 per person
 Transfers
   $69
 Excursion
   $40
 Meals
   $120
 TOTAL

US  

$389
You'll see I haven't included the price of my flight as we all have to come from different locations but I did get a return flight for only US $270. This was from Melbourne, Australia. I kept an eye on prices the months leading up to my trip and booked a crazy cheap price flying Air Asia. 
The 16 hour flight had a connection through their home base of Kuala Lumper. Though this is not a full service airline. so no food or entertainment, we managed just fine. The meals on board were very cheap and I had a tablet anyway to keep me entertained. I was quite happy with the service and the flight into Male International Airport (Velana) was barely half full.
If you are coming from Australia you have the luxury of using budget airlines like Air Asia and also Scoot to Singapore then Singapore Airlines to Male.
What's it like to fly on Air Asia to Maldives? Read my full review here.
CheapOAir – for cheap flights including all the budget airlines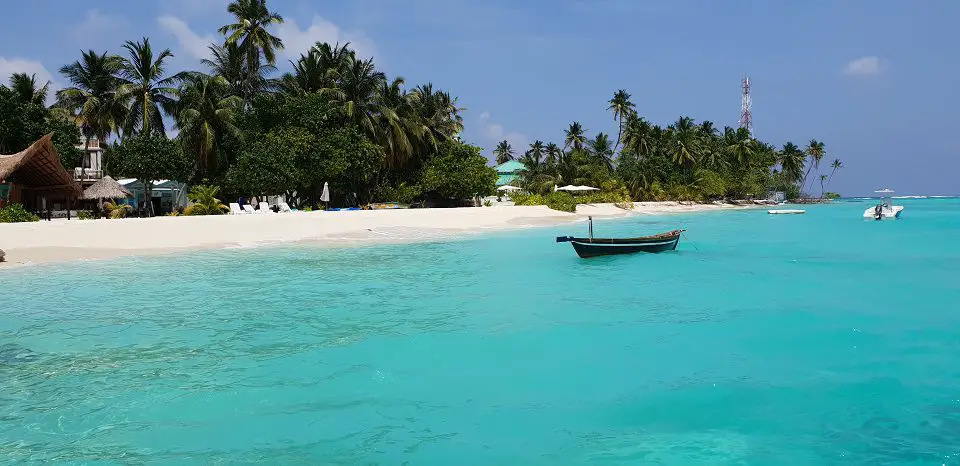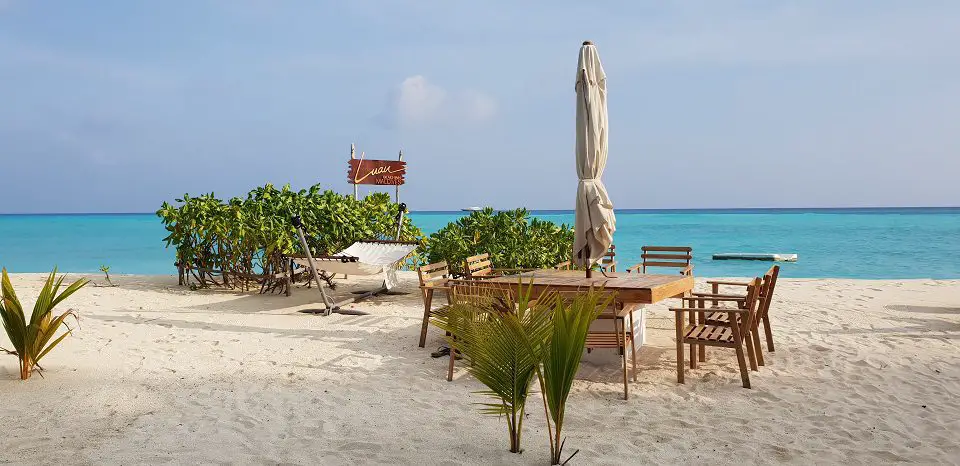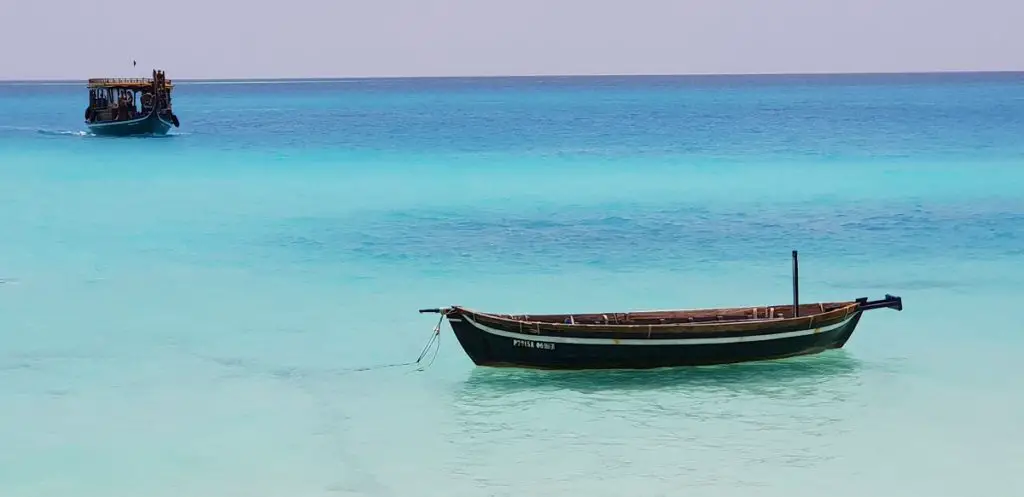 Fulidoo Island Review – why it's best local island for your vacation
Fulidhoo Island Maldives is already gaining itself a name as a top destination here in the Maldives. It is considered the best local island in the Maldives but visitors are limited. There are only a few guest houses and its' popularity is definitely rising.
Here's why you'll love Fulidhoo Island maldives.
suits anyone travelling to the Maldives on a budget
a range of guesthouses and local hospitality
bikini beach
dive shop and activity centre
intimate seclusion in the Maldives
ferry or speedboat transfers
Fulidhoo Island appears to be priding itself on staying clean. Though there was minor pieces of rubbish, the residents here are doing their best to keep it looking tip top for those who come to stay.
I saw the local women every morning sweeping the streets with their straw brooms. The main street, which is also the only real street, was always kept very clean. There are three small markets for groceries and one or two souvenir shops which I never stepped foot in. No one came to try usher me in, it was simply relaxing from morning to night.
Immerse in the culture
The benefit of staying on a local island is the culture you'll get to experience. This doesn't happen on a resort, making it a wonderful inclusion to your vacation.
You will get to see children going to school and locals going about their daily business.
As for the party lifestyle, it's not that kind of place. But a couple of evenings during my one week stay, the locals came out to entertain us. There was singing and dancing with loud drums pounding the night away. It was thoroughly entertaining.
We were pulled up to join in and everyone gathered around and danced to the rhythms. I thoroughly enjoyed being part of the Maldivian lifestyle even if it was only for a short time.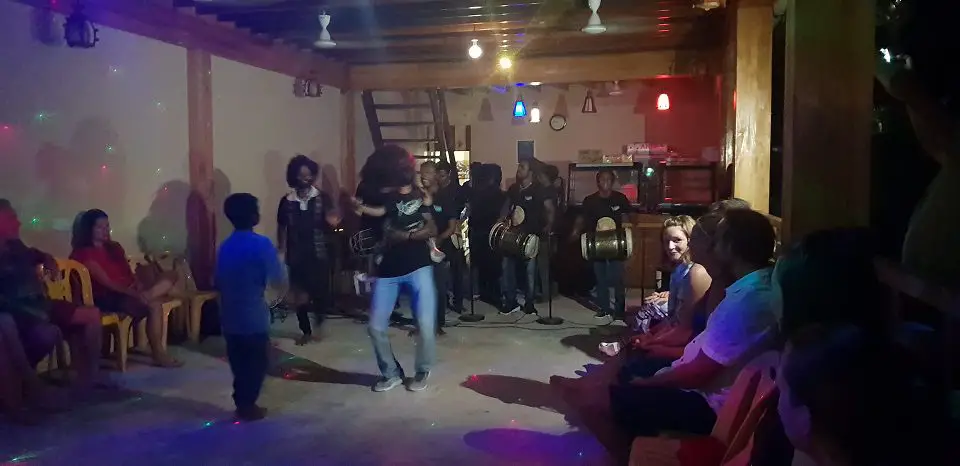 Fulidhoo Maldives versus Resorts Maldives
Having stayed at 3 resorts from my previous trips to the Maldives, I was keen to try a local island. So I set my eyes on this little gem with the big reputation.
I have stayed at were 4 star resorts and 5 star resorts, and whilst they are the epitome of Maldivian luxury, they are not everything that this place stands for.
If like me, all you really care about is that gorgeous and warm clear blue ocean, swaying palm trees and lots of sunshine, this is the right place.
So ask yourself why you want to go to the Maldives.
If it's not about staying in a water villa or indulging in nightly cocktail hour, then you have to consider staying at Fulidhoo Island.
Main differences
Firstly, this is not a resort. This is a local island, and at a fraction of the cost in comparison to a resort. So you can expect accommodation, food and activities to be considerably cheaper on a local island.
But there are other differences you need to be aware of before heading off.
The first difference between a local island and a resort is the NO alcohol policy. Yes that's right, it's a Muslim country. If that hasn't scared you off, read on. The other main difference is where you can and can't swim. Fulidhoo has its own bikini beach so you can swim to your hearts content in your bikini and swim shorts. But beyond that bikini beach, you will have to cover up when entering the water.
i recommend you also read: The Best Maldives packing list – resorts and local islands
This also extends when at your accommodation or walking around the island. A mid thigh dress or shorts is acceptable and singlet top, but short dresses are not advisable or respective to the local people.
You might also like – cheapest and best Maldives 5 star resort
Where is Fulidhoo Island Maldives?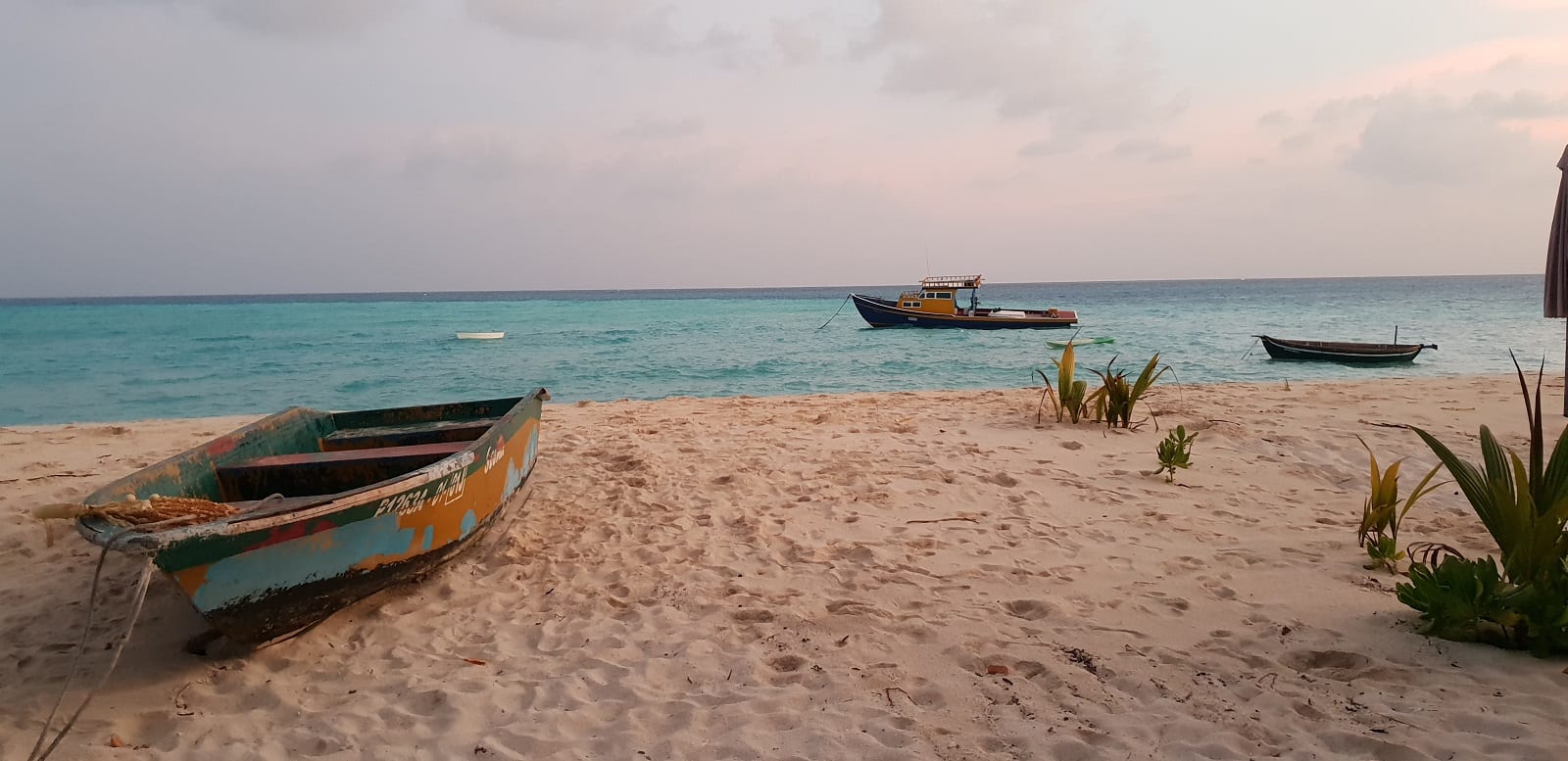 Fulidhoo Island is located in the Vaavu atoll, south of Male. It occupies a total land mass of approximately 28 acres, making the island large enough for space and small enough for intimacy. It is peaceful and the people are shy but welcoming.
There are approximately 400 local residents but you would hardly believe it. The people are friendly and appear undisturbed by any visitors. I loved the slow pace and quiet surroundings.
Fulidhoo's biggest resource for earning income is through tourism so the island is kept clean and well catered to visitors.
One side of the island is much breezier and is surrounded by reef. You can snorkel here. The density of the trees is perfect for a shaded spot, and some welcome cooler air on those hot days.
The other side of the island is the best spot to swim, where beautiful white sand and stunning turquoise water looks like a picture perfect post card.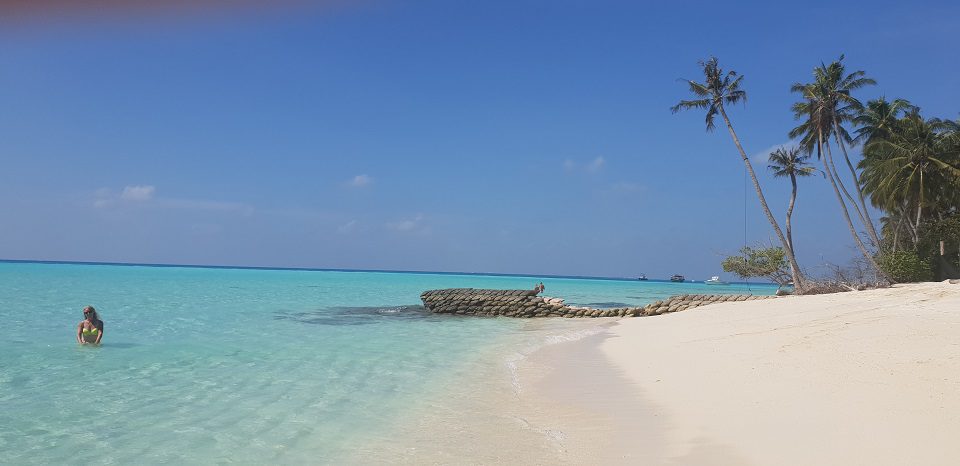 Facilities on the Island
Fulidhoo island has one main street that stretches from one end of the island to the other. You will find a small school, mosque and medical centre. There are no footpaths or cars here (though i did see one small pick up truck) and it is completely sand when walking around.
The island also has a dive shop , a couple of restaurants and guest houses.
Grocery markets
There are three small markets for groceries, snacks and drinks and also one or two souvenir shops which I never stepped foot in. Make sure you bring cash as there is no ATM on the island and while most places will have credit card facilities the small amounts you will spend are best paid for with cash.
Drinks such as bottled water, sprite, juice and milk drinks were all under $1 each. In comparison, a bottle of water at the resort was $4.
There is not really any provision to purchase an extensive range of food but the restaurants are quite cheap to eat at. Plus if you are fussy about certain cuisines, I'm sure you can find something to suit your taste such as burgers, salads and other easy food. But be sure to try the local flavours, such as Mas Huni which is a staple breakfast dish of tuna, coconut and spices.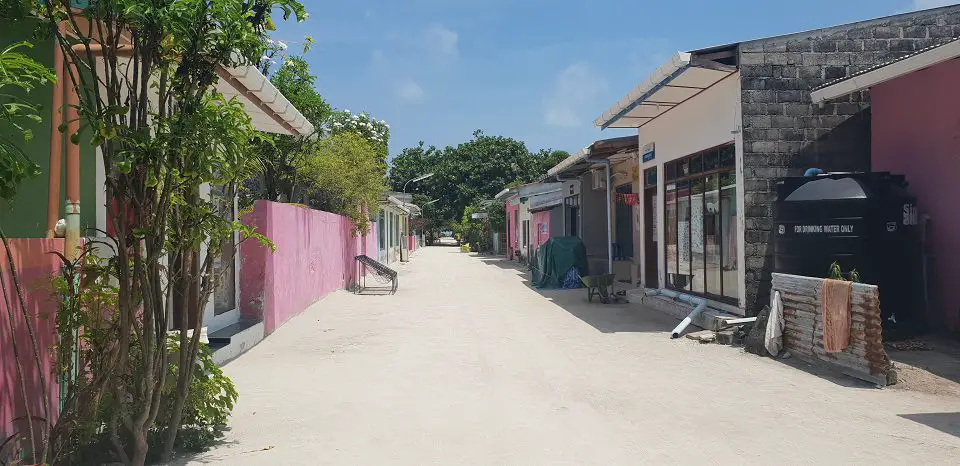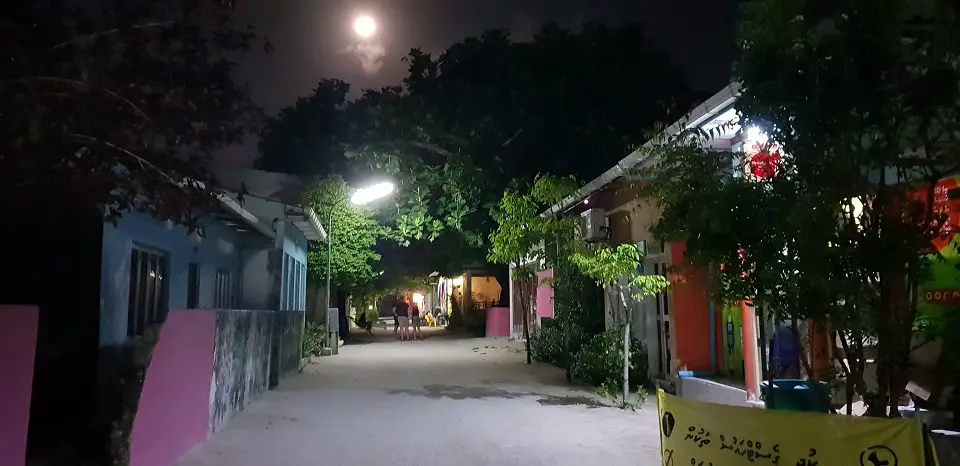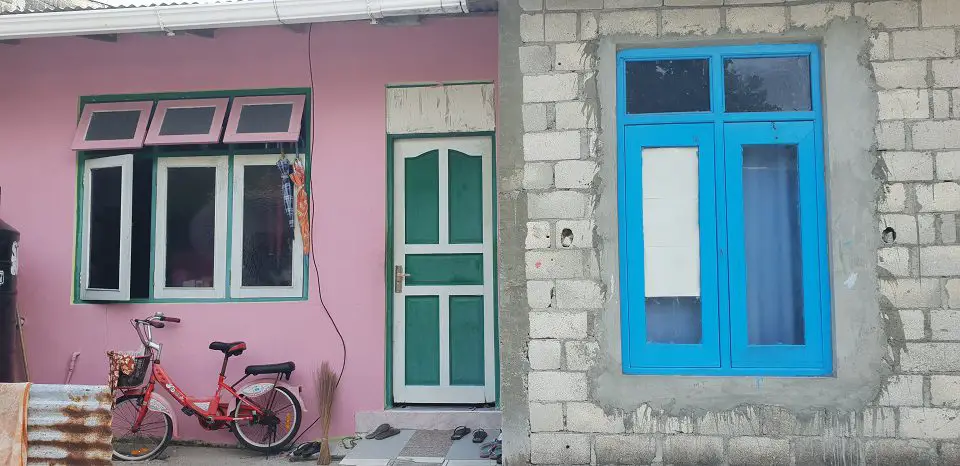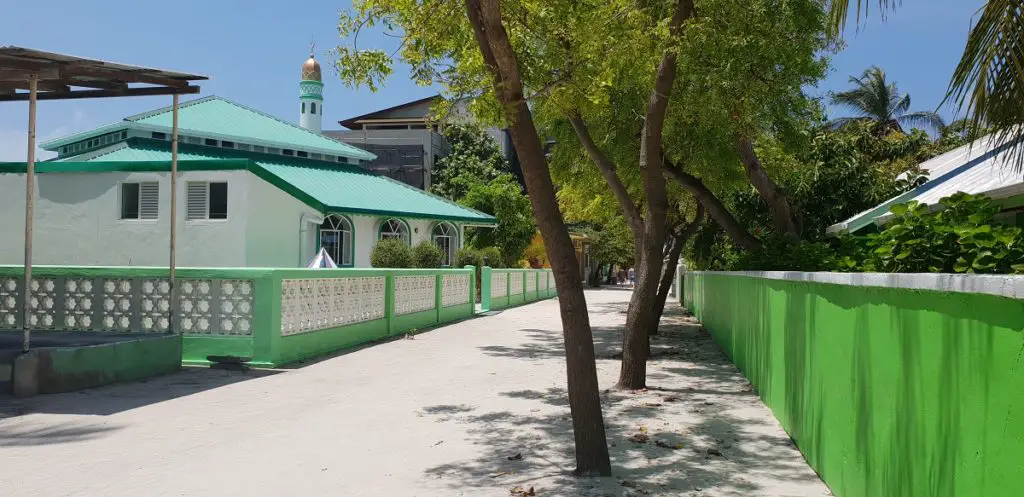 Planning your stay – a complete Fulidhoo Island guide
Let's dive into the breakdown of what you will expect to pay during your stay on Fulidhoo island Maldives.
Fulidhoo Hotels / Guesthouses
Based on the cheapest option – $175 per person for 7 nights accommodation
The first guest house was built over ten years ago and now they have over well 10 guesthouses with more being built. The good part is most of these only have a handful of rooms so it is not as crowded as other islands.
Most Fulidhoo hotels and guesthouses will include breakfast which is a great bonus. You will have the choice of a western style or local style breakfast.
The rooms are air conditioned and generally include private bathroom unless stipulated.
Meals are served in a common area either inside or outside under cover.
All guesthouses available
Prices for guesthouses can vary dependent on time of year. Use the links below to see prices for your preferred dates. 
Starting from $25 US per night per person, you simply can't go wrong.
Click here to see all properties and prices via Booking.com
Click here to see all properties and prices via Hotels.com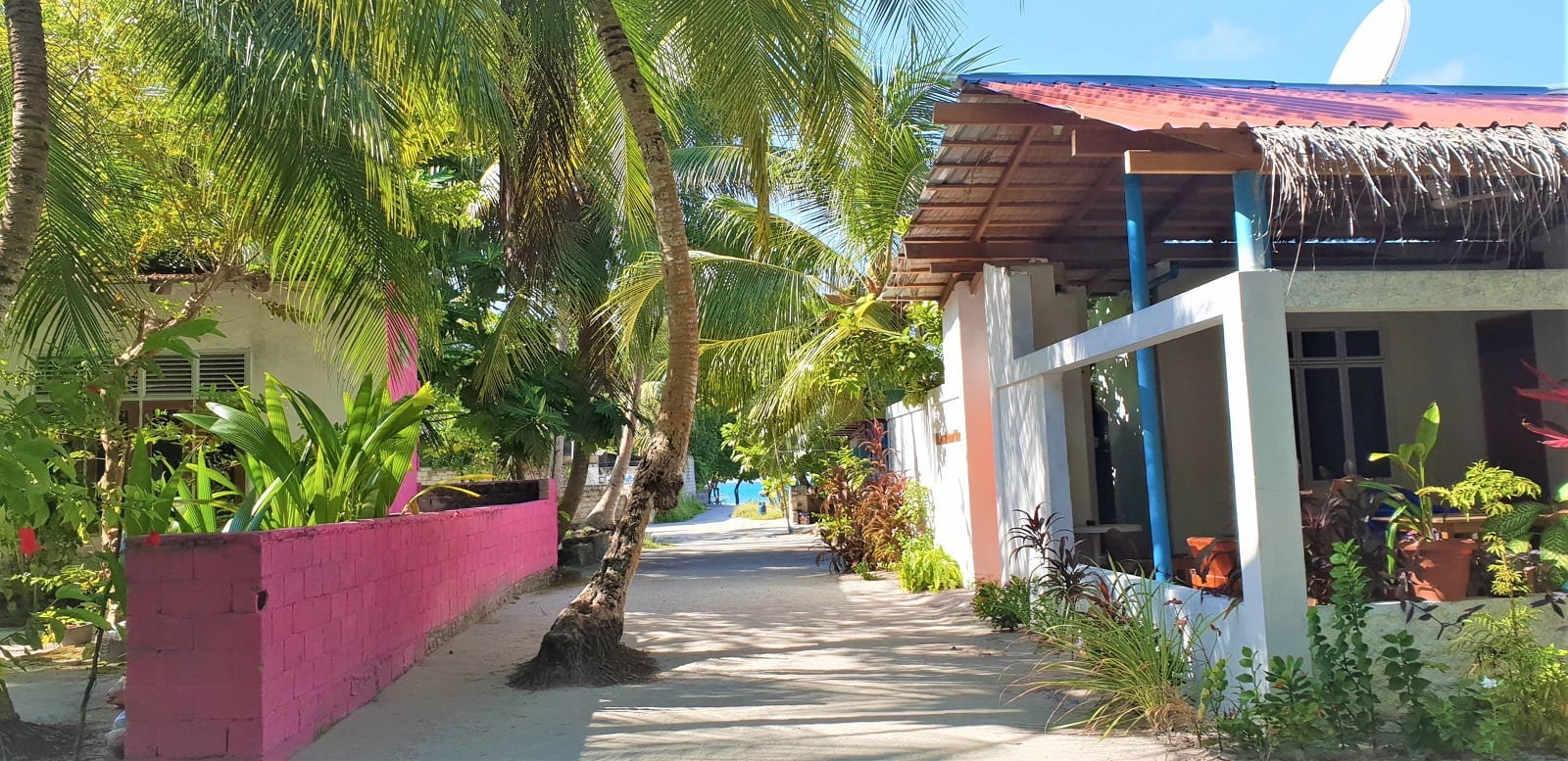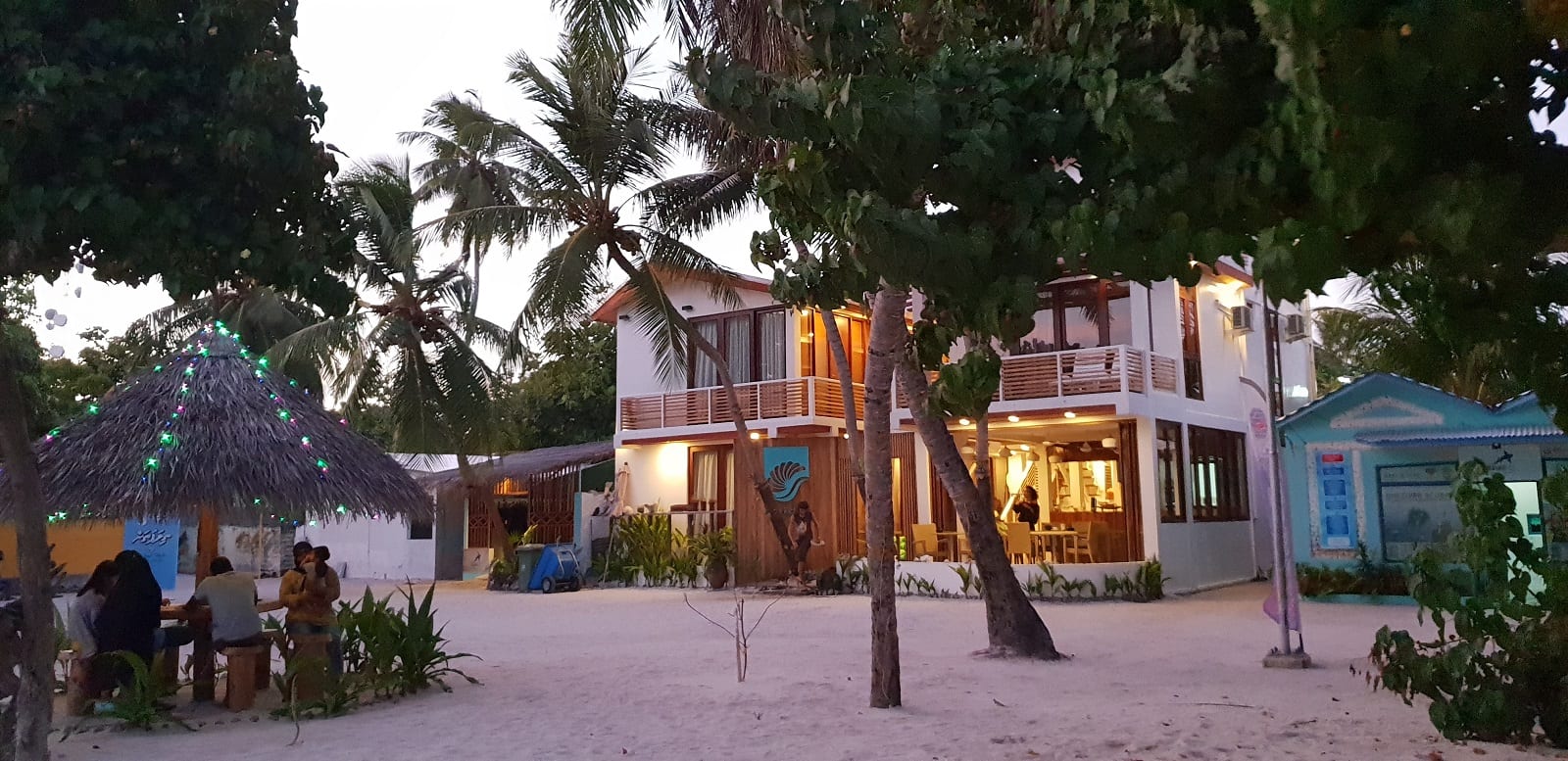 How to get to Fulidhoo Island – transfer options
Male to Fulidhoo distance: 56 km from the capital of Male.
Based on a combination of transfers – $69 per person
Male to Fulidhoo Island Ferry
Fulidhoo Island is lucky enough to be on the local ferry schedule. This means you can cruise for less than a cup of coffee. How cool is that!
Take the 3.5 hour cruise via Maafushi which leaves three days per week and returns three days a week. So you will need to work your schedule around this.
The ferry is large and comfortable and can seat up to 100 people or more. You and possible a mountain of food products will make your way across the azure waters of the Maldives. I found the ride no issues and just relaxed and took in the beautiful views along the way. I was lucky to meet a couple of fellow Aussie travellers and we enjoyed a chat along the way.
Ferry from Male to Fulidhoo
3.5 hour cruise via Maafushi Island
Cost of US $4
Departs Male ferry terminal at 10 am
Departs Male to Fulidhoo on Sunday, Tuesday & Thursday
Ferry from Fulidhoo to Male
3. 5 hour cruise via Maafushi Island
Cost of US $4
Departs Fulidhoo Island at 11 am
Departs Fulidhoo to Male on Monday, Wednesday & Saturday
Purchasing Tickets
You cannot pre purchase tickets online. Head the ferry terminal early to get your tickets or you can purchase the day before. Be sure to inform your hotel as they can advise and help you transfer to the ferry terminal.
Male to Fulidhoo Island Speedboat Transfer
Note: From 2022, speedboat transfer have jumped in prices but still considerably cheap when compared to an island resort.
Our return trip was much faster as we opted for the speedboat. It takes just over an over to reach the airport in Male.
cost of $65 one way
Airport to Fulidhoo 10 am & 3 pm (Sat to Thurs)
Fulidhoo to Airport 7.30 am & 2.10 pm (Sat to Thurs)
Friday times – check the website here
Book via the atoll transfer website or alternately arrange via your guesthouse.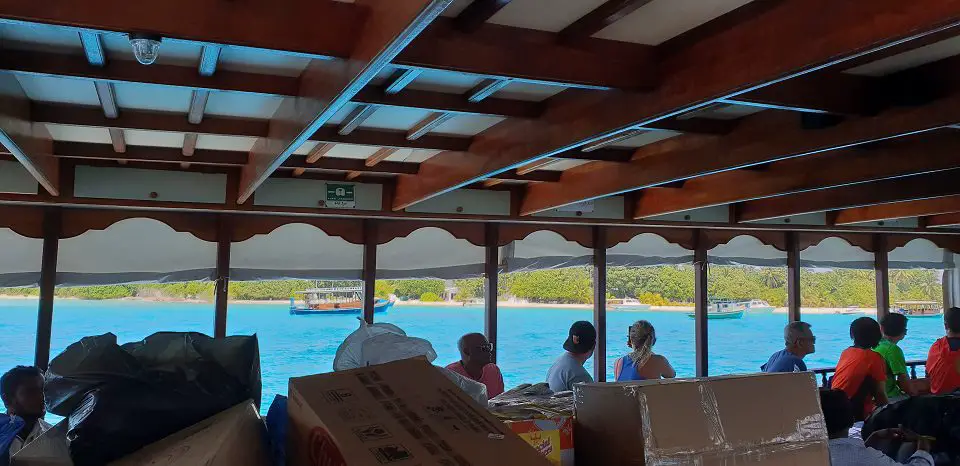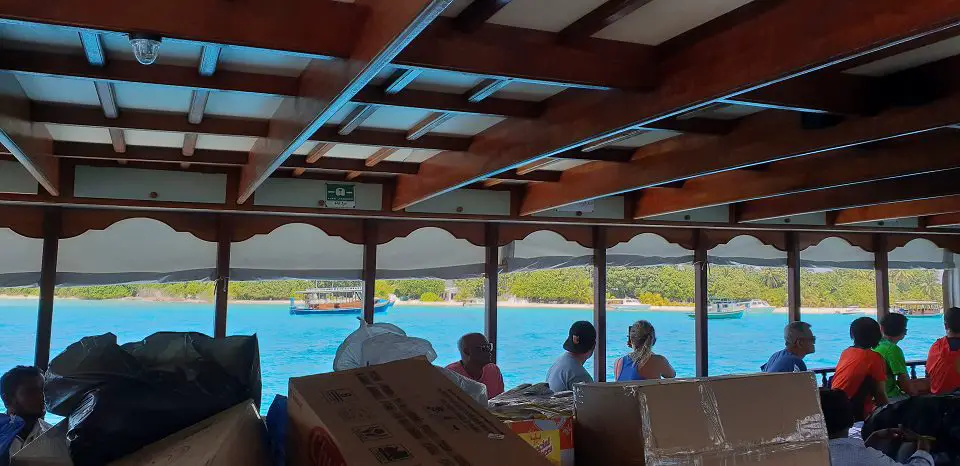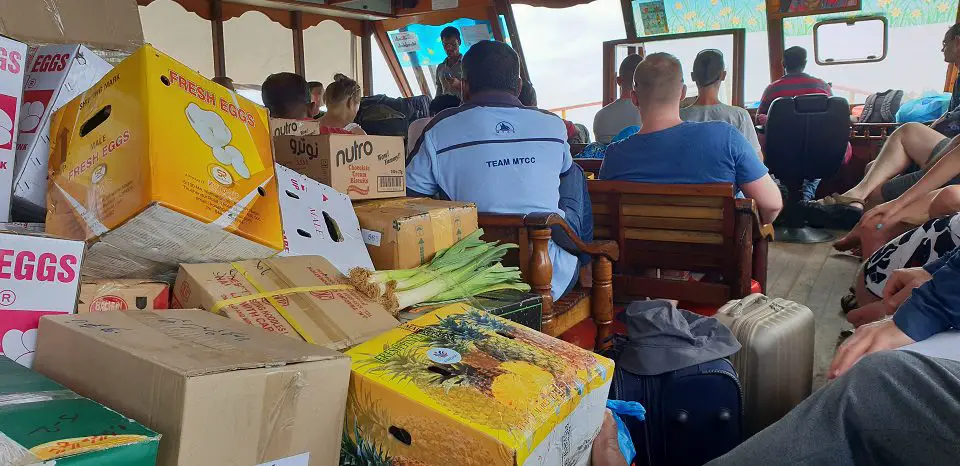 Activities on Fuildhoo Maldives – things to do in Fulidhoo
Fulidhoo Island has a range of activities to choose from which are all reasonably priced. Or you can take advantage of the island and just enjoy the beach vibes.
Fulidhoo Bikini Beach
Just in case you didn't know already, many local islands don't allow you to swim in your bikini. This means you'll have to cover up to get into the water.
Lucky enough, this local island in the Maldives has a private bikini beach and it's possibly the best part of the island in my opinion. Though only a small area, I never saw more than 20 people here at once. In fact on some days I nearly had the beach to myself.
The water at Fulidhoo bikini beach on low tide doesn't get too deep so you can head out quite a distance. It makes it feel like a much bigger area to swim. Even on high tide it's not too deep. Parents watched from the beach as the few kids on the island safely swam.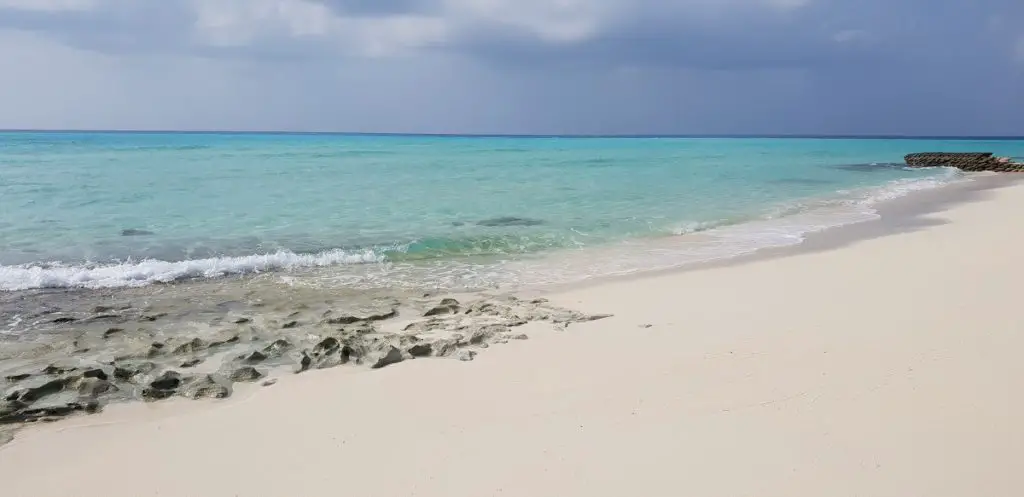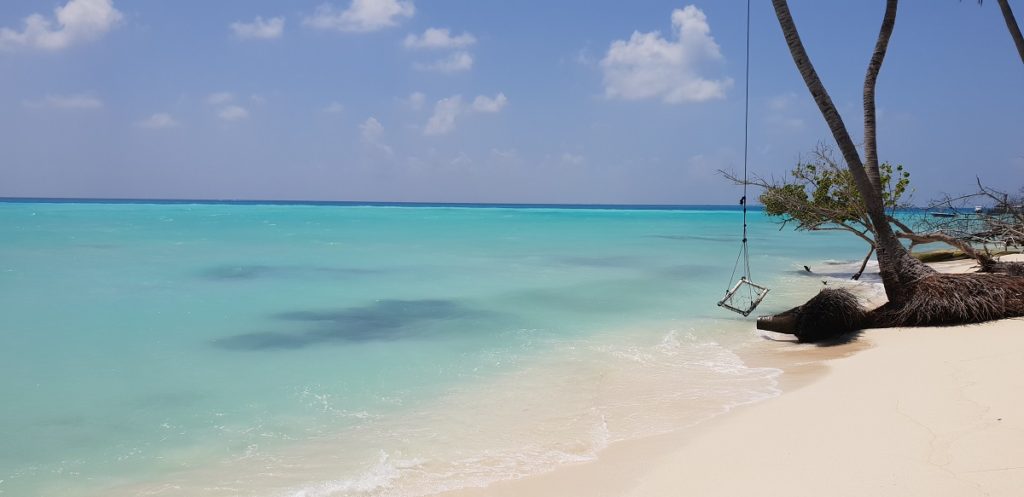 Feed the stingrays at sunset
Head down to the beach just before sunset and you'll find people feeding the stingrays. You are not allowed to do this during the day which I assume is not attract them into shore.
You don't really need any fish to entice them in. Simply wave your hand in the water and they come. But if you want to actually feed them you ask your hosts where you are staying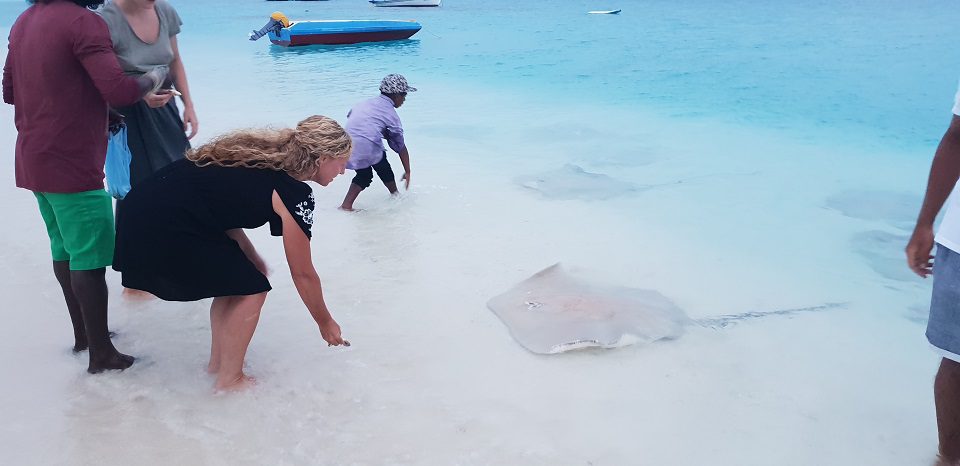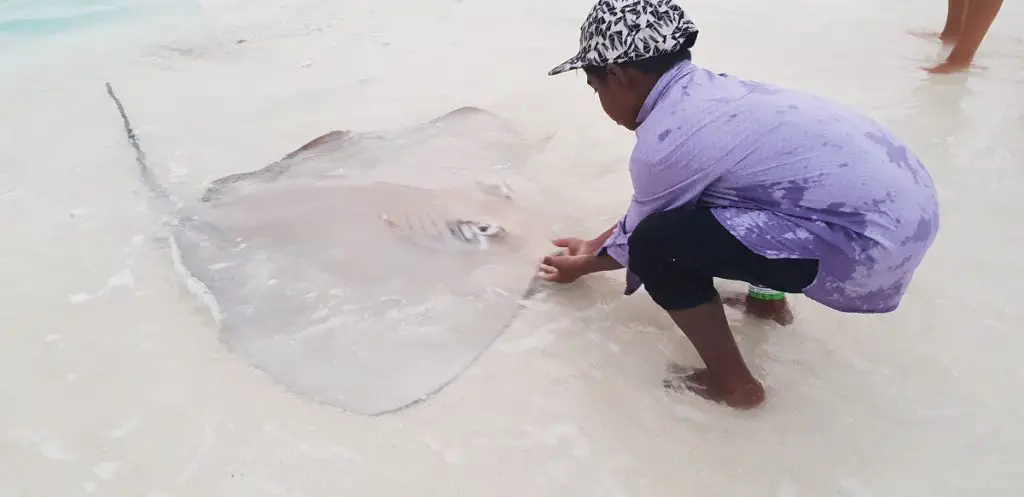 Diving the reef with sharks
Divers come to Fulidhoo because it is known as "the spot" to see sharks.
Whether you are a beginner or experienced diver, the dive shop offers PADI courses, excursions and packages for the abundant dive sites. The many channels that connect the the atoll make this place a little different, as there are a range of different experiences not found in other areas. The most popular includes the shark dives or snorkel experience.
The channels that surround this area attract an abundance of sharks which is why you can see so many here compared to other parts of the Maldives. And it's all a short boat ride away for your scuba diving trip.
The grey reef and nurse shark are the main types. As much as they are curious they are not bothered by the divers presence.
Of course, sharks are not the only things you'll see, with plenty of other marine life and the beautiful hard and soft corals around the house reef and beyond the open water.
Fulidhoo Island has a great dive shop and competitive prices for a local island. You can read more about Diving at Fulidhoo Island here.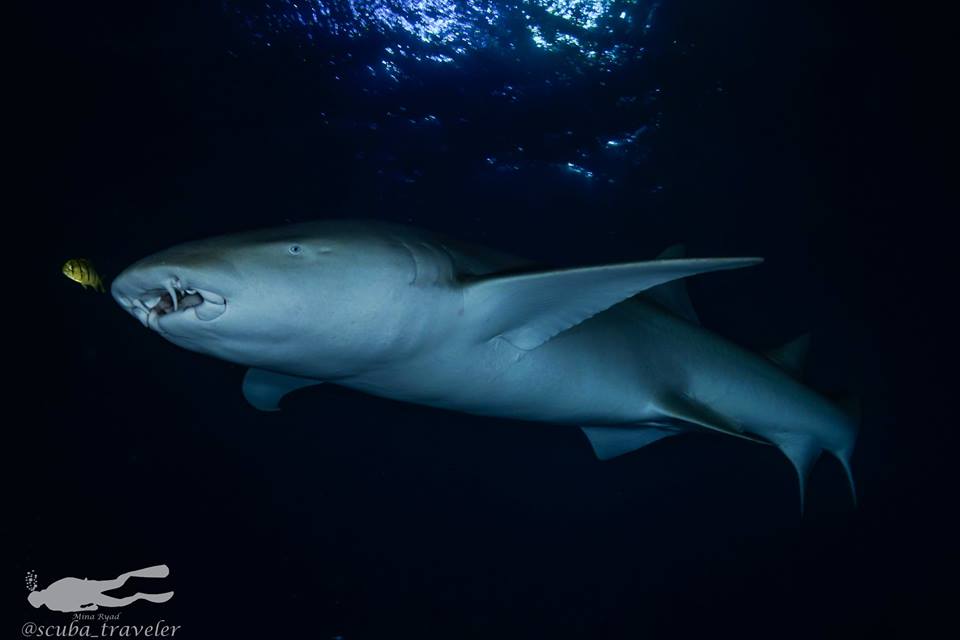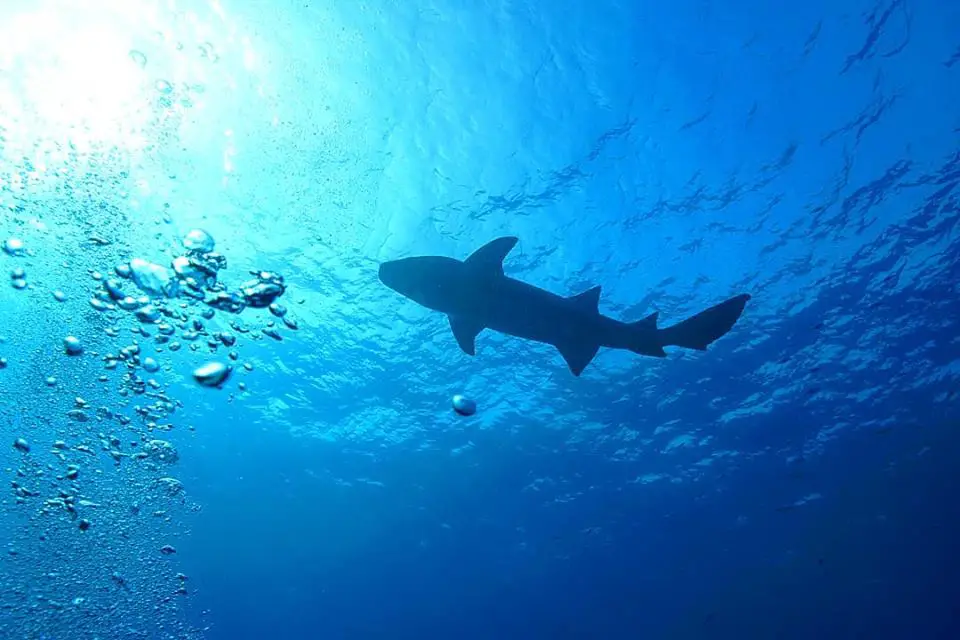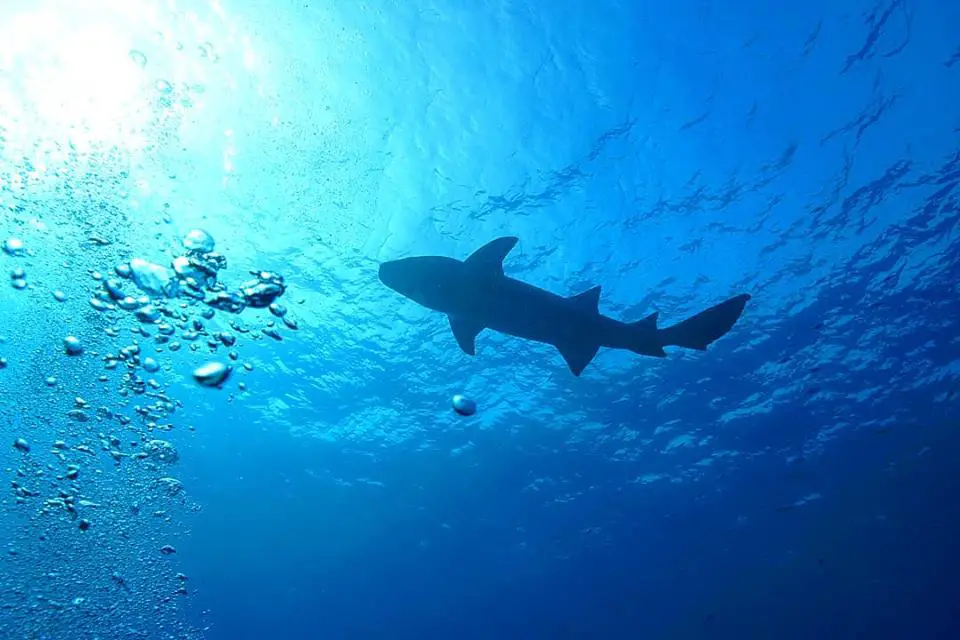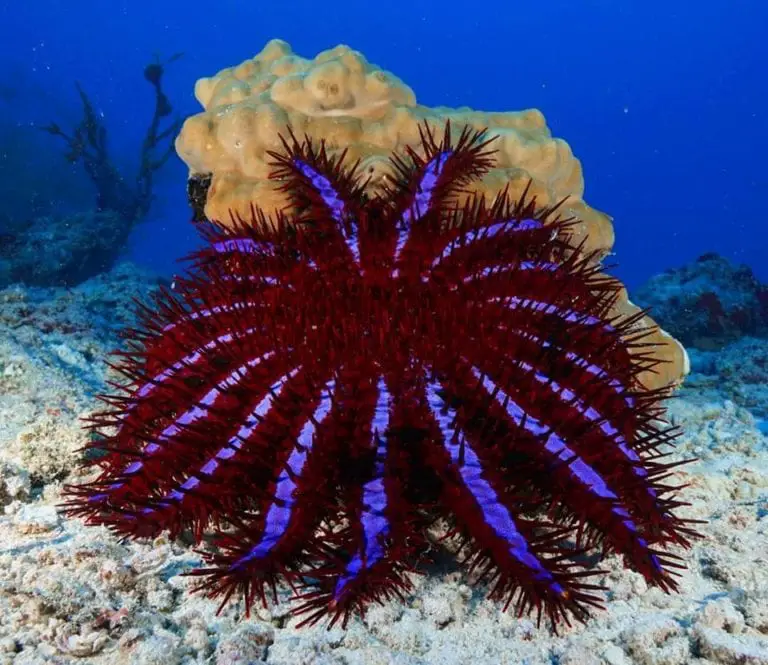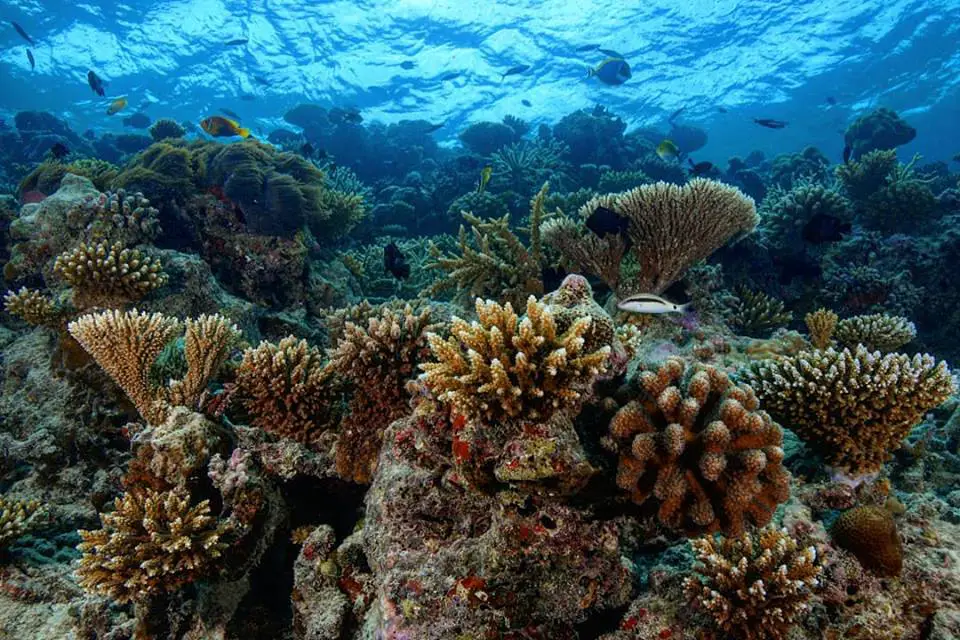 Snorkel and Sand Bar excursion
Snorkel and Sandbar trip – part of the trip costs – approx $40 per person
For US $40 I took a wonderful trip to snorkel with nurse sharks before being dropped off on an isolated sand bar .
It only took ten minutes to reach the site and though apprehensive at first, I never felt concerned about safety. The team were enthusiastic and hopped in the water with us to help guide everyone.
The region has many channels that attract these harmless creatures and it is well worth doing. The nurse sharks were really cool to see and it was my first experience of this kind.
After we were finished, the boat continued on to a remote sandbar where we dropped off for an hour or so. It was seriously cool being stranded out there. A superb 360 degree view under the hot midday sun and a refreshing blue ocean at my feet.
The sandbar gave us time to relax, snorkel the reef and grab those perfect Instagram shots.
The sandbar was really cool too. It was something I wanted to do on some other trips to the Maldives but hadn't had the opportunity. After an hour or so we headed back.
You can ask your hosts at your guesthouse to organize this excursion or head to the local dive shop near the jetty to find out more.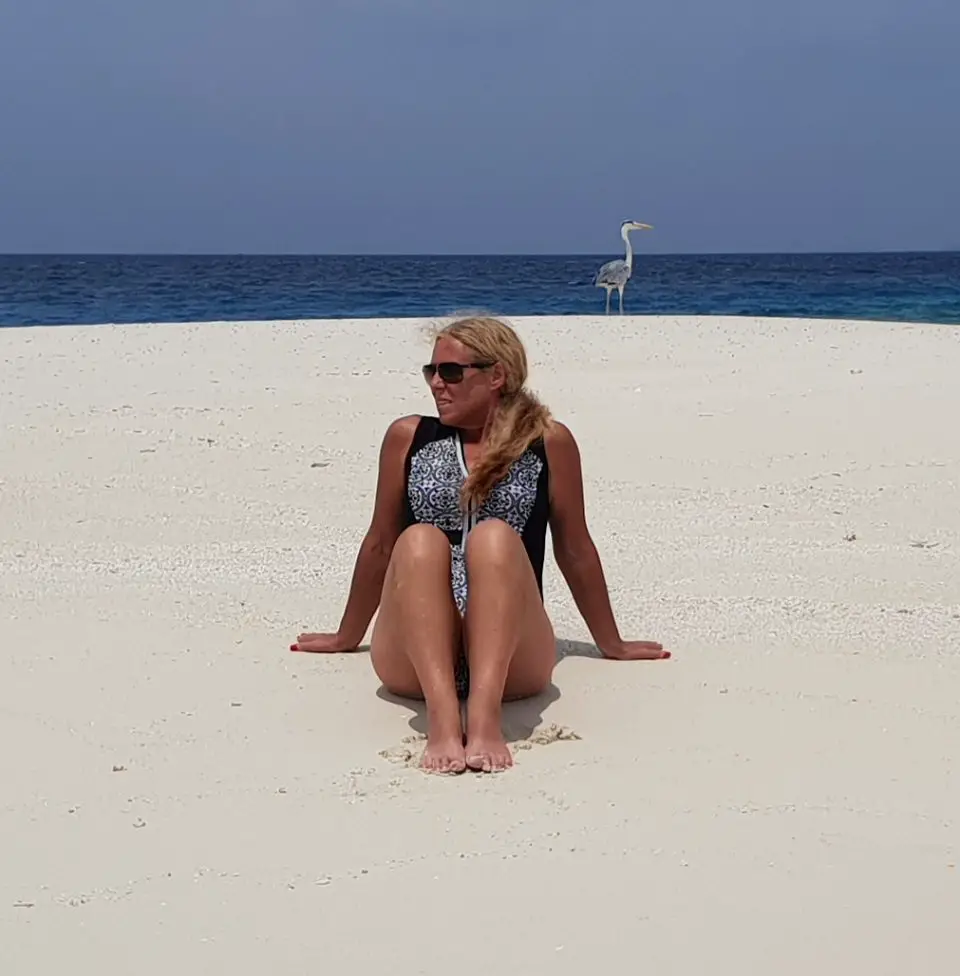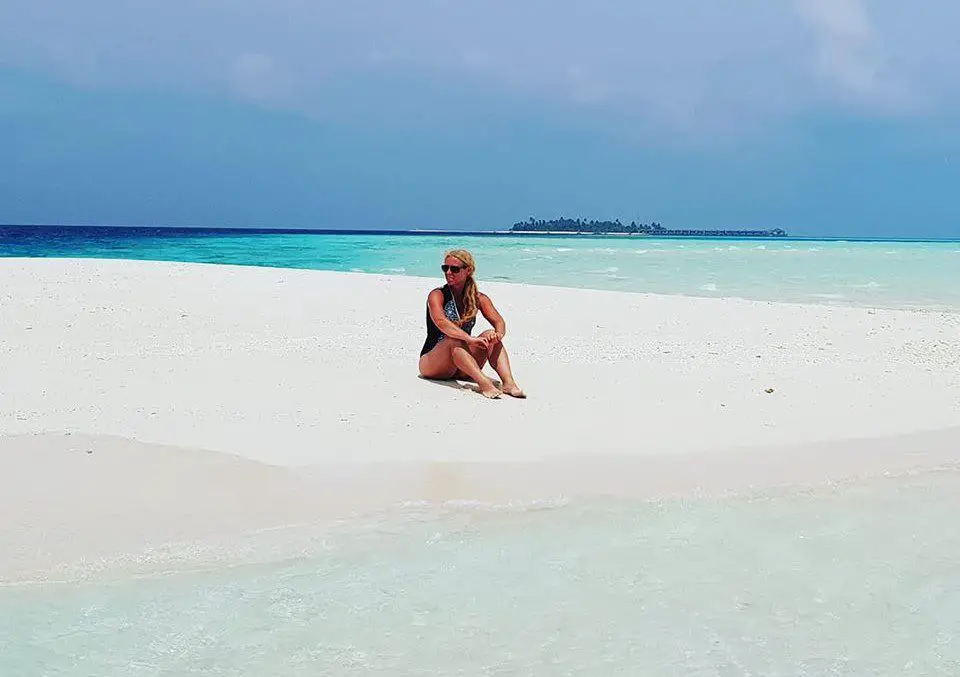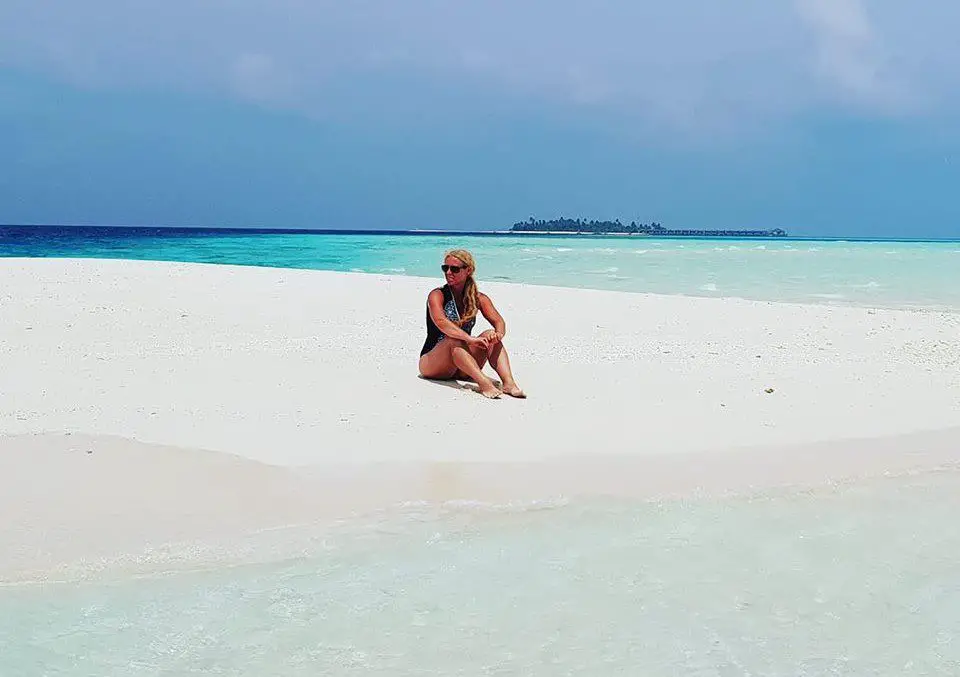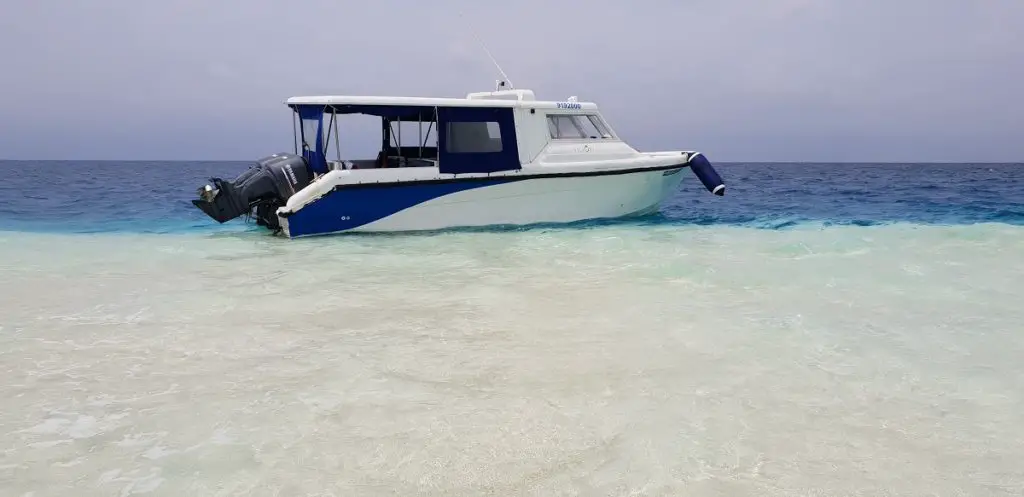 Sunset spectacular
There is nothing more amazing than a sunset in the Maldives.
Locals and tourists gather each night on the beach to watch the sun slowly go down over the ocean. It is a moment not to be missed and never gets tiring.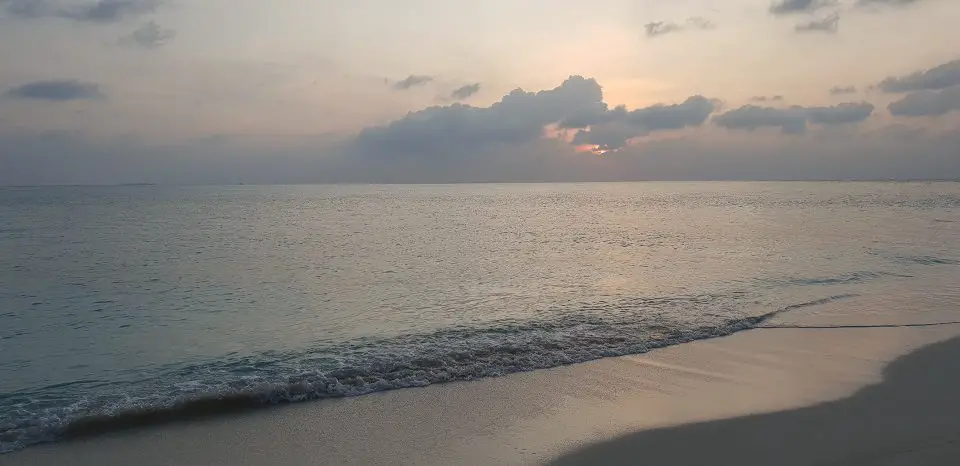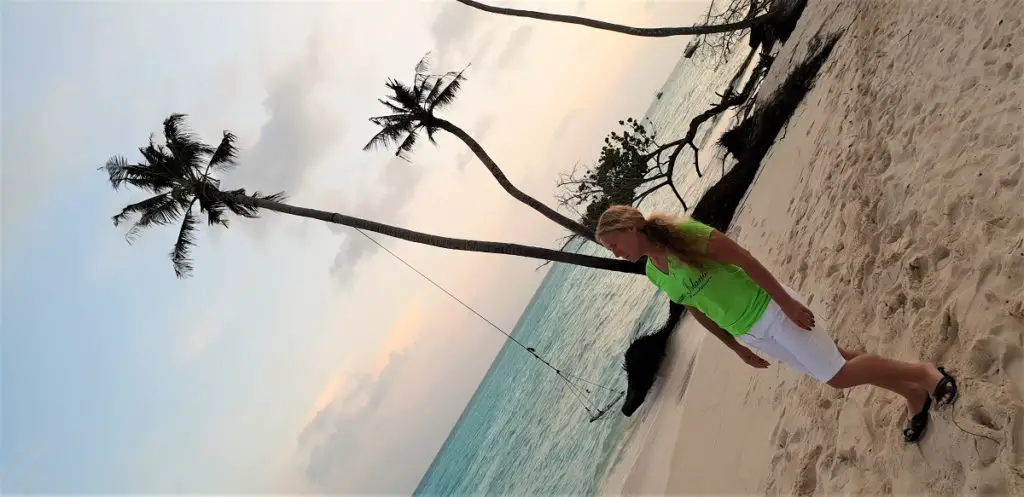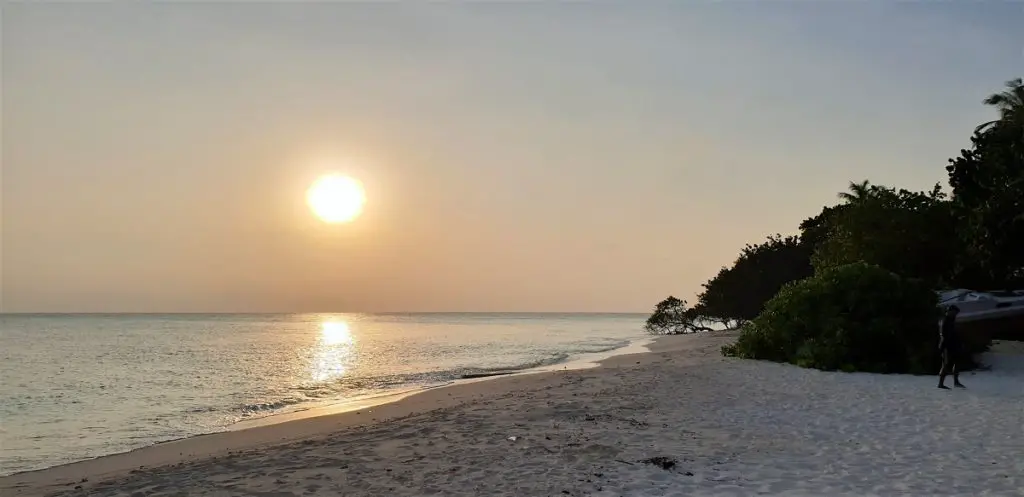 Food Costs at Fulidhoo Island
Our 7 night food costs totalled – $120 per person
To give you a breakdown of my food costs, it went like this:
| | | |
| --- | --- | --- |
| Breakfast | Included in room rate | FREE |
| Lunch | Snacks we brought to the island from Male supermarket | $20 for 1 week |
| Dinner | average $12 per meal x 7 meals | $84 |
| Drinks | Assorted | $15 |
Breakfast
Most guesthouses will include breakfast in your room cost which is fantastic. It will include a western or local tuna dish with fresh juice as well. If the cost is not included you can expect to pay around $4 per person which is very cheap.
Lunch
Not knowing what we could and couldn't purchase on the island I decided to do a shop in Male at the supermarket before we headed out. I spent $20 each on snacks such as tinned tuna, crackers, instant noodles, biscuits, apples and chocolate.
The local grocers on Fulidhoo don't have as many options but you can easily get by, and the prices are very similar.
Dinner
The island has two restaurants and meals are generally between 8 to 12 US dollars. Your guesthouse will most likely provide meals too and you can visit the other guesthouses to dine also.
La Perla guesthouse which is where I stayed, actually had the best meals so I chose to dine here most nights.
Our meal for two would include : a curry each, rice, salad, plate of fruit, juice and bottled water.
You'll love the fish curries here or can also try a chicken version as well. They are not spicy at all so can be enjoyed by most people.
If curry is not your thing, you can buy more western style food like burgers or pasta. Dream Hut on beach side has an extensive menu.
The Cafe was the place that most people recommended. It is in the main street just behind the dive shop.
So again, it's all the more reason to stay at a local island when costs keep adding up.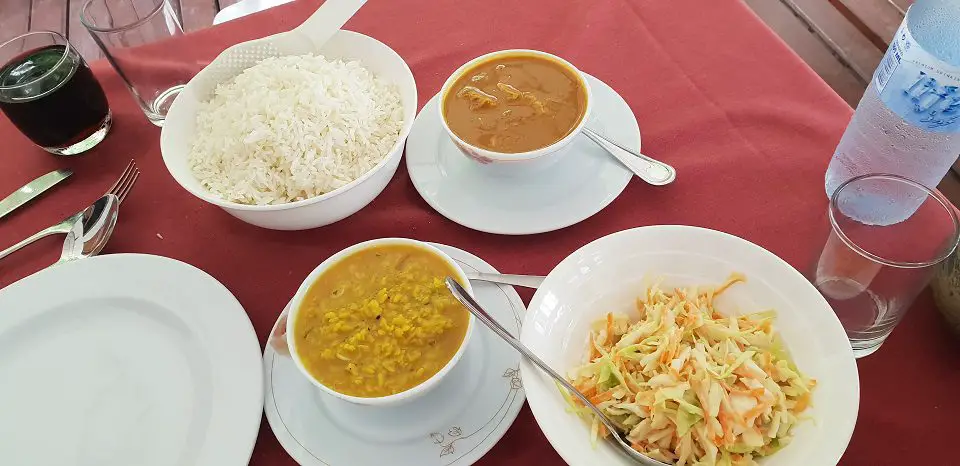 Conclusion to Fulidhoo Island itinerary
As you can see, the most gorgeous Maldives vacation doesn't have to be a 5 star resort. So why not try Fulidhoo Island for your next Maldives getaway.
Be sure to book as soon as possible as Fulidhoo Maldives is one of the most popular local islands with limited accommodation. You can check prices for all resorts through your preferred booking search below.
Enjoy your stay at Fulidhoo Maldives.
What to read next: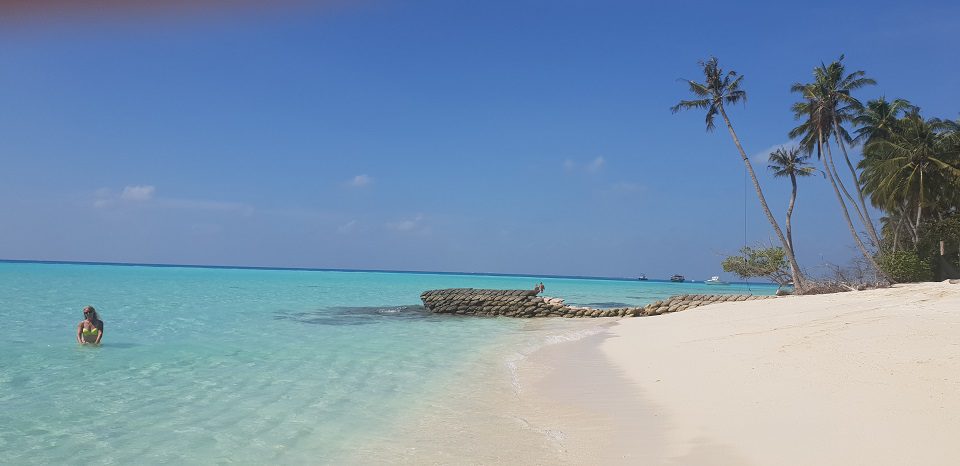 Fulidhoo Island for budget stays