As an Amazon Associate I earn from qualifying purchases. I get commissions for purchases made through links in this post.
Have you ever dreamed of going to the Maldives?  This Vilamendhoo Island Resort Review promises  luxury and amazing adventure. Set against white sandy beaches, crystal blue water and lush tropical surrounds, Vilamendhoo Island Resort and Spa delivers a memorable experience. 
Vilamendhoo island resort review is completely unbiased and true to my experience.
With hundreds of resorts to choose from, Vilamendhoo Island is one you should consider. It is perfect for couples planning a romantic getaway but also is known for a killer house reef, a top notch dive centre and is also within the whale shark region of the Maldives, a wonderful bonus. 
Other reading: First time to the Maldives – Read this first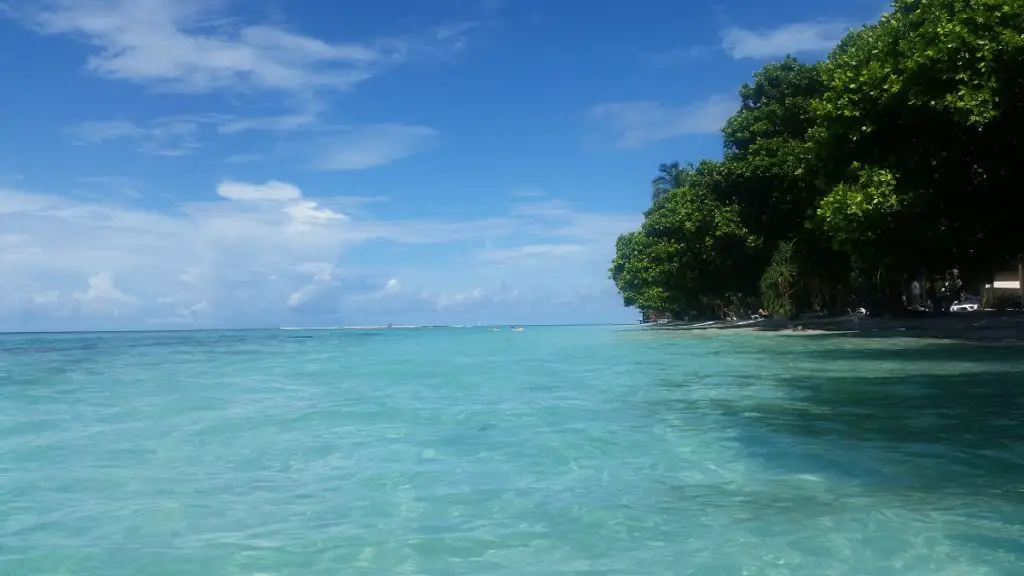 Vilamendhoo Island Resort Review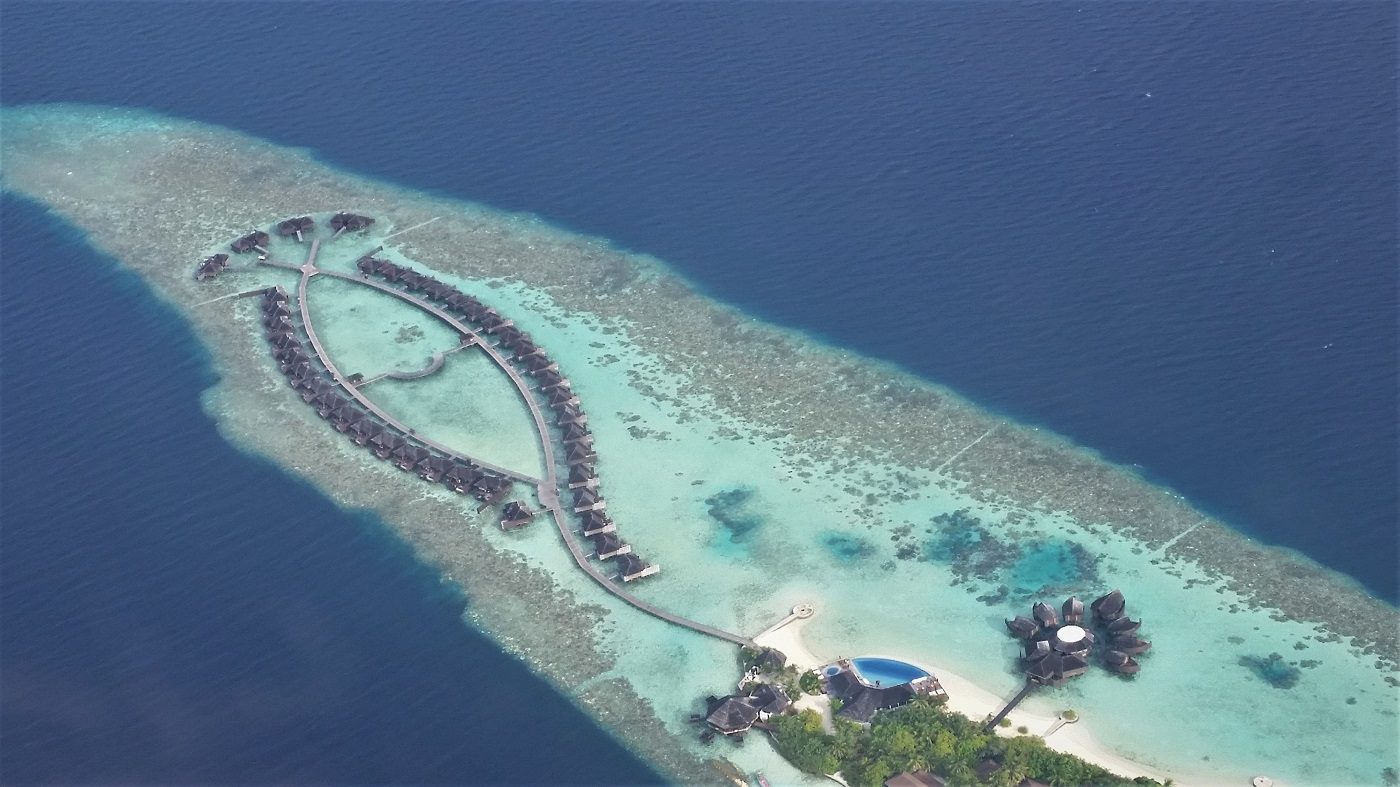 Where is Vilamendhoo Island?
Vilamendhoo Island is located in the beautiful South Ari Atoll. It is approximately 100 km from Male International airport.
It is 900 mts in length and 250 mts wide.
South Ari Atoll is the chosen place for those who want to swim with whale sharks.
How to get to Vilamendhoo Island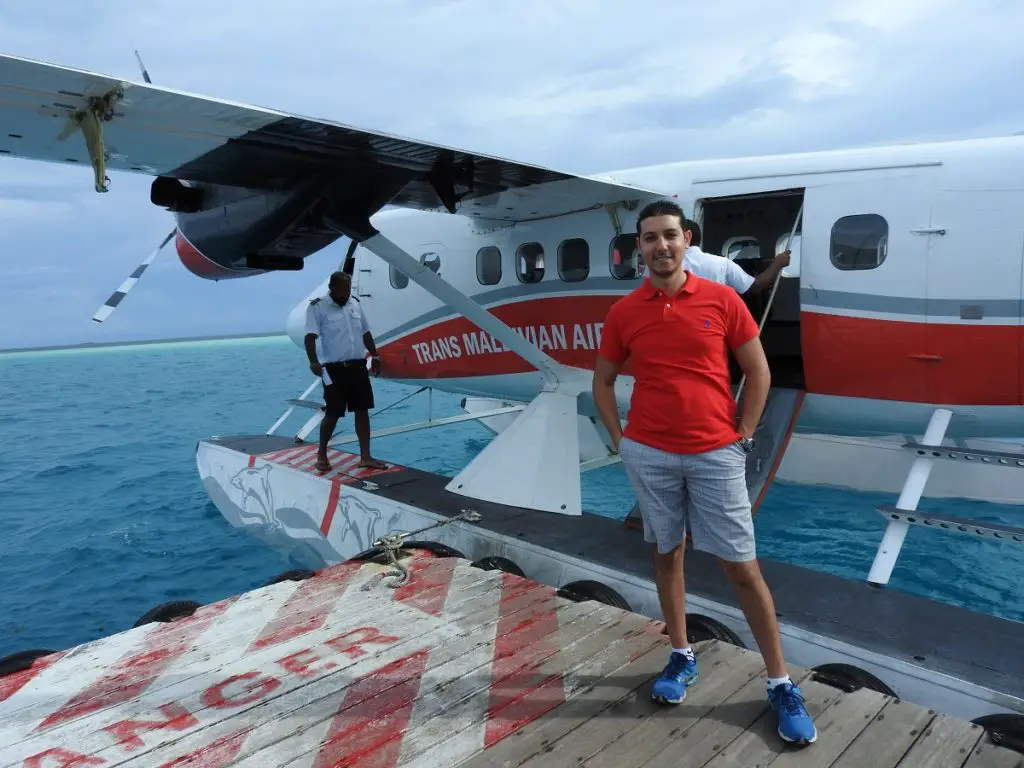 i'm sure to want to know more about getting to Vilamendhoo so I have included this in my Vilamendhoo island resort review.
Vilamendhoo Island Resort and Spa is an easy 25 minutes by seaplane.
My husband and I arrived into the Maldives late in the evening, and so for that reason could not get to the island as it was after dark. Sea planes only fly in day light hours.
We decided to stay in Male, the capital of the Maldives and meet back at the airport the next morning for our trip out to the Vilamendhoo Island. The hotel we stayed at was Somerset Inn which was a great little place. The rooms were modern, clean and it included breakfast. They even picked us up from the airport and arranged the transfer back the next morning.
For all subsequent trips to the Maldives, we have always stayed at Somerset inn as we love the rooms and friendly service.
Once back at Male International Airport, we were taken to the lounge and waited for our call to board Trans Madivian Airways. The seaplane can accommodate 15 passengers with no more than 20 kg checked bagged and 5 kg carry on.
The flight was smooth, providing a stunning aerial of the surrounding islands. Peering down at the turquoise water and those magnificent overwater villas, I was slowly taking in the fact we had finally made it to the Maldives.
Check out this Male Walking Tour while staying in the capital and learn more about the local culture and many attractions.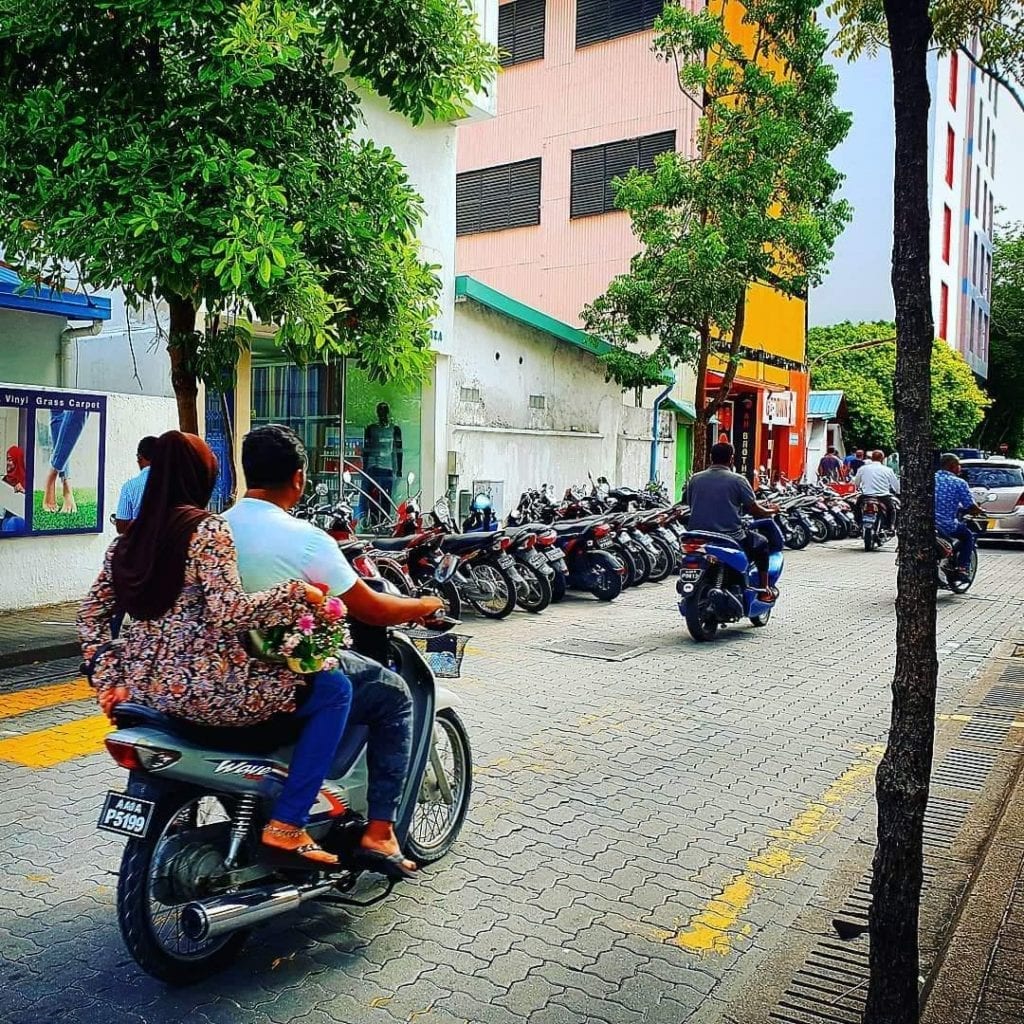 Contact the resort to arrange transfers
Be sure to contact your resort at least 3 days prior to leaving to arrange the seaplane transfer. I even recommend doing this as soon as you know you are going so you can get on the first available fight.
Meeting your representative at the airport
Once you have cleared customs and collected your luggage you will either be met be a representative for Vilamendhoo Island or it not, you can simply walk straight up to the area where all the resort desks are. Just look for Vilamendhoo Island and someone will help you from there. It is so easy.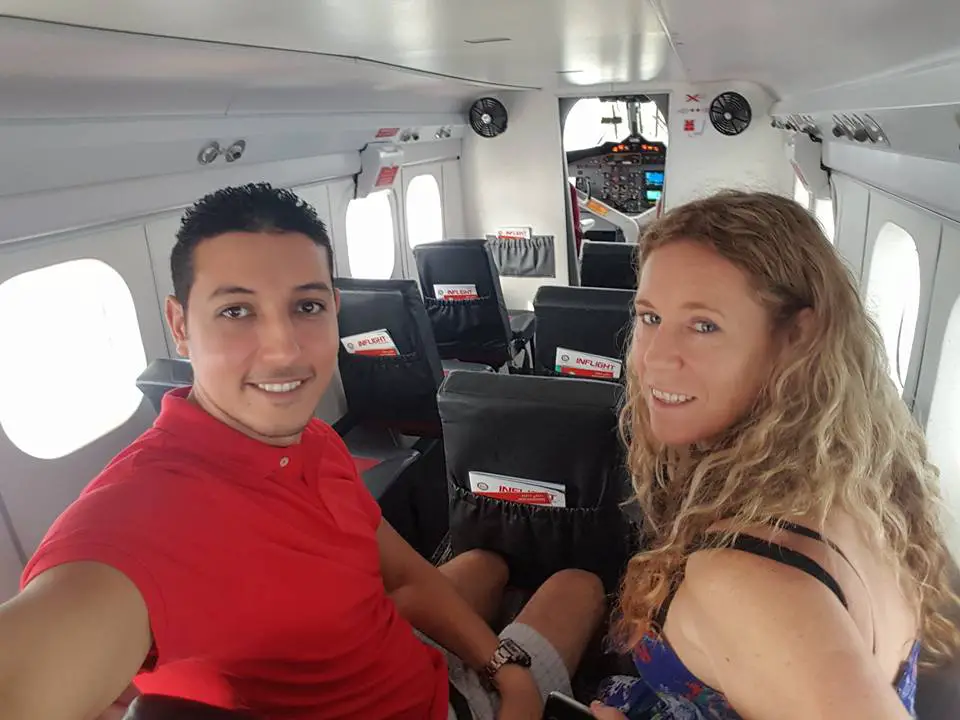 Is Vilamendhoo Island Expensive?
This beautiful resort has become very popular with travelers who are looking for that luxury that the Maldives is famous for but at an affordable price. The accommodation, the beach and inclusions tick all the boxes as a 5 star resort and it also gets outstanding reviews as seen on tripadvisor. While there is certainly more luxurious resorts , the price tag they carry is out of many peoples budget. With Vilamendhoo Island you'll get great value for your money. 
Of course there are seasons so be sure to take advantage of cheaper months if your budget is tight. We went in May which can be a very rainy month but it was actually very nice weather and we had one rain shower in our 10 days there. The temperature was hot and sometimes humid.
If you are keen to save some money, be sure to read my post on: Maldives on a Budget
Vilamendhoo Islands Rooms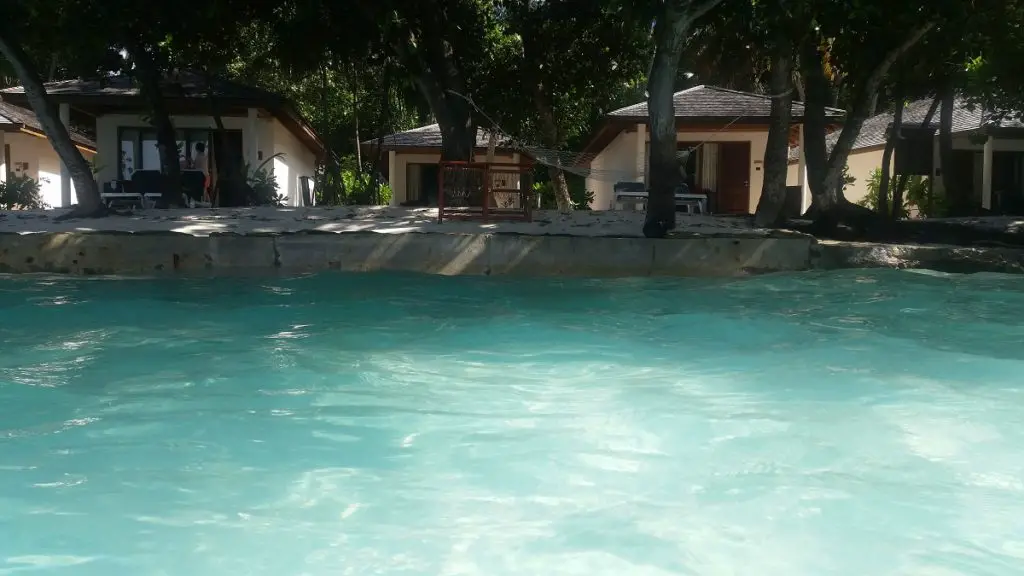 We stayed in a beach front villa which included a king size bed, open air bathroom and free WiFi. The room had air-conditioning, a sitting area and outdoor furniture. You will also be given free water in your room each day.
But the best part…I counted 15 steps from my room to the water. It felt like true paradise and incredibly quiet. Many times I was the only person in the water enjoying the tranquility. The rest of my day was spent lying in a hammock or sun lounge reading a book.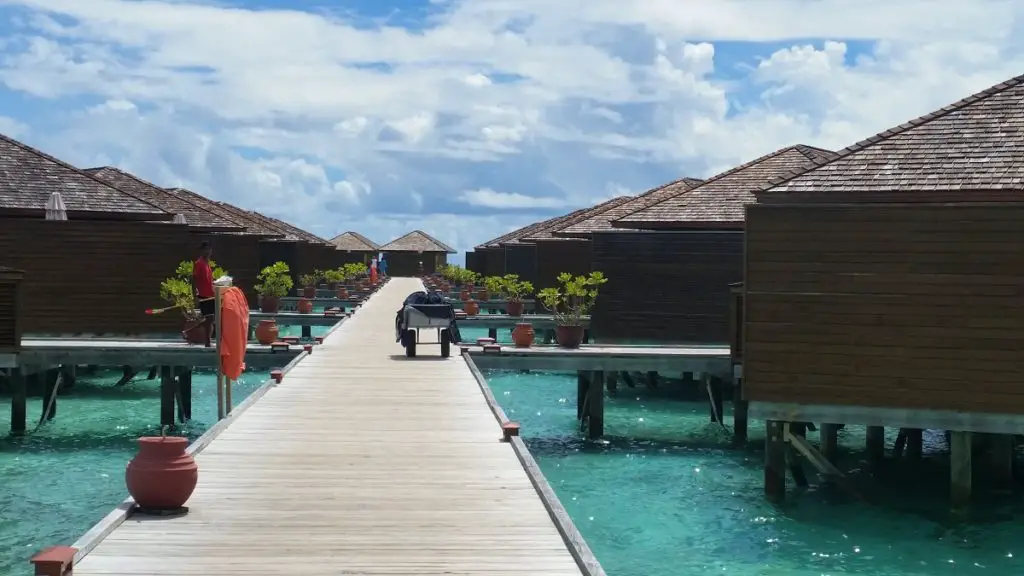 You will also find overwater bungalows which are located in the adult only section of Vilamendhoo island.
If staying in an overwater bungalow is something you have always wanted to do then I highly recommend this place.
You can read my article on : 11 cheapest Overwater Bungalows in the Maldives which includes Vilamendhoo Island Resort.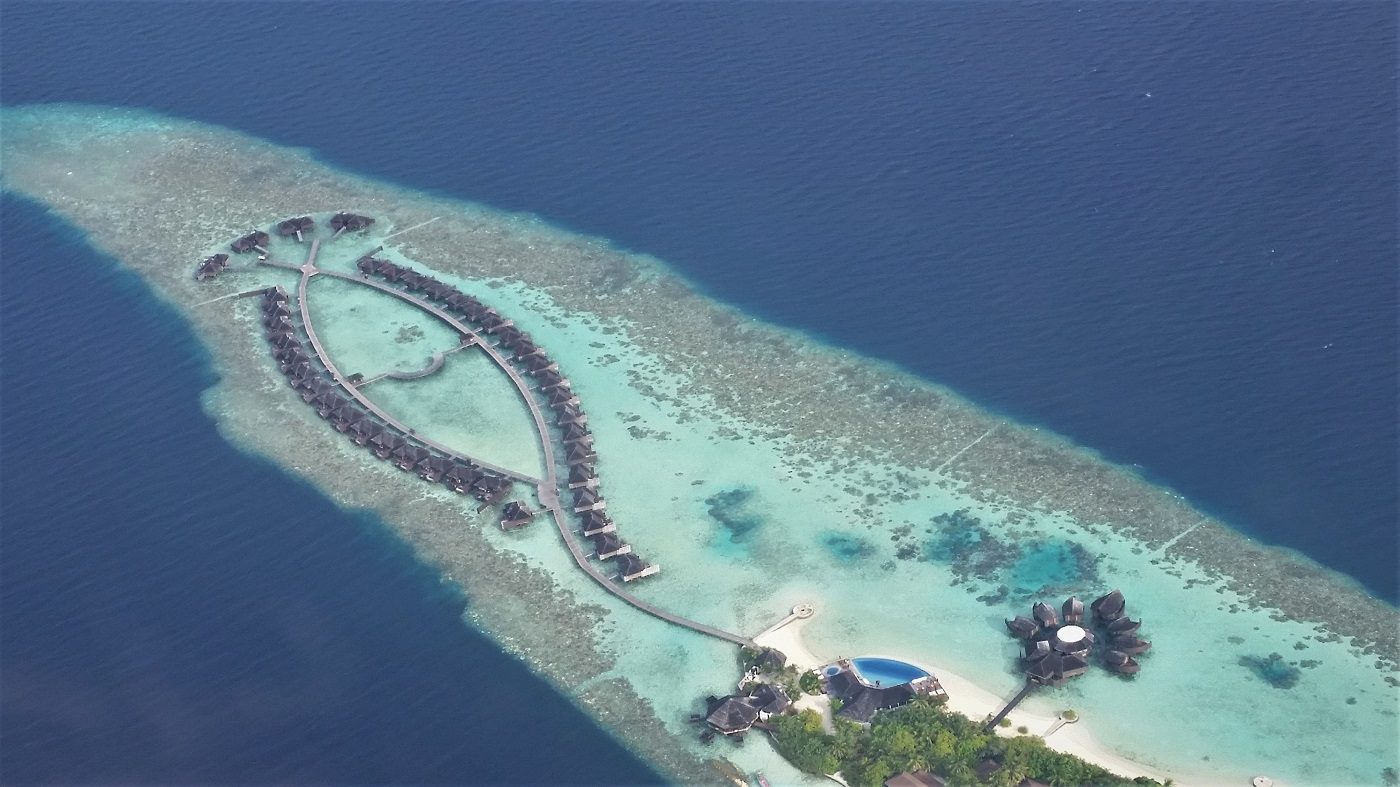 Vilamendhoo Island Restuarants
Many Maldive Resorts only offer free breakfast as part of their rates. Remembering, you have nowhere else to go for lunch or dinner so you are going to have to buy all other meals too. This can easily add up to many more hundreds of dollars.
Vilamendhoo Island provides full board in all their accommodations costs so all meals are included. There is a new theme of cuisine every night and the food from the buffet is outstanding. It is by far the best buffet food I have ever eaten.
The desert bar was also exceptional with a wide range of ever changing deserts each night.
Juice is also served during dining times though water will have to be purchased.
Alcoholic drinks
Alcoholic drinks average $7 US for a beer or up to $12 US for spirits. Cocktails are approximately $10.50 US dollars but dependent on what you order.
You can choose to upgrade to an "all inclusive " package which will include alcohol and a range of beach activities. 
I chose not to upgrade because I don't think I could drink enough to get any value. But it was nice to sit back during the evening with at least one cocktail and watch another incredible Maldives sunset.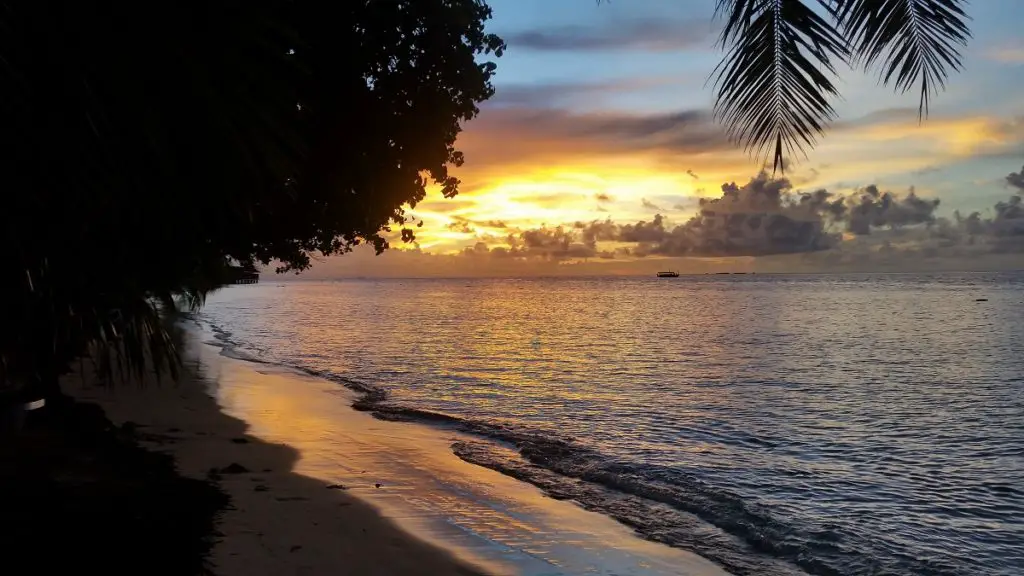 Amenities on the island
Restaurants on the island
There are 3 restaurants on the island. The first is the buffet restaurant which is where we ate each night. The other two restaurants are Asian Wok which offers Asian cuisine and Japanese teppanyaki, and Hot Rock where chefs prepare your meal on hot volcanic rocks.
You can also get snacks at Bonthi or Sunset bar.
Bars on the island
There are 4 bars on the island but the place to be is Sunset Bar each evening.
We spent every night here enjoying the cool sea breeze and watching the sunset in true Maldivian spirit. From here it was onto Bonthi bar for a night of entertainment, though most times I was truly happy just sitting on my outdoor patio and enjoying the sounds of the ocean.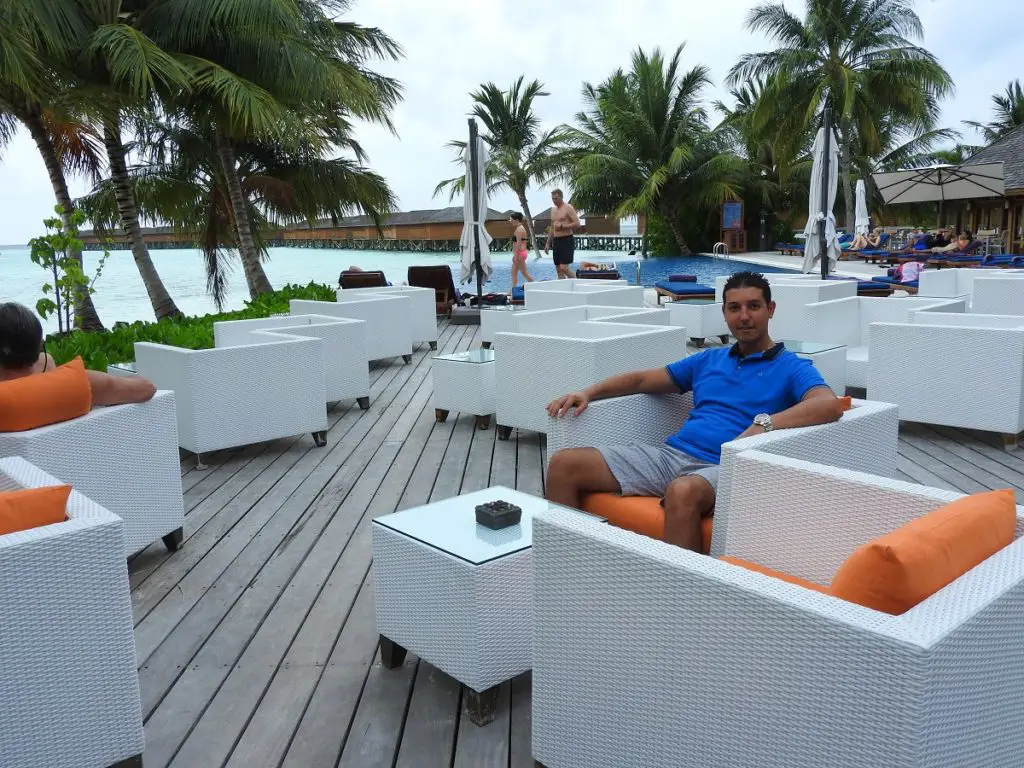 Pool Side 
The pool area at Vilemendhoo is right on the ocean. It overlooks the overwater bungalows and there s a bar here too. 
I have to say I much rather be in the ocean at a steady 29 degrees but is was nice to have the option if the seas were a bit choppy.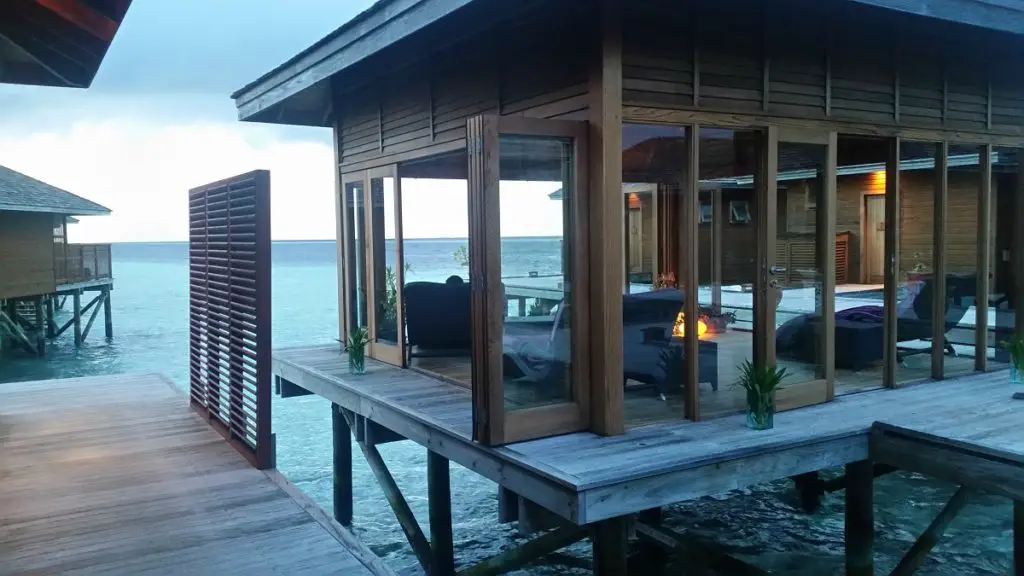 Vilamendhoo Spa
I don't normally worry too much about spas as they tend to be a little overpriced for my liking, but as part of our stay we were given a free massage so of course I obliged. 
The spa is actually over the water and you even have a see through floor to view the marine life as you get pampered. I have to say I really enjoyed how luxurious it was and I felt amazing afterwards. 
The absolutely incredible House Reef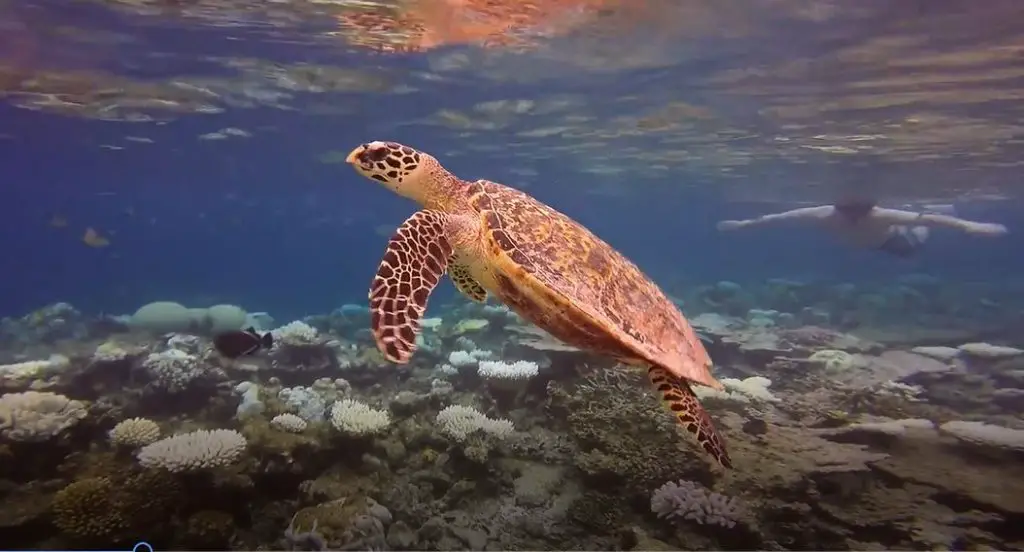 Vilamendhoo Island has its very own house reef, and it is insanely good.
Imagine a coral reef encircling the entire island and teeming with marine life and coral formations that await you every morning. For this reason, snorkeling and diving are very popular activities as there is no need to jump on a boat to go to another site.
You can choose to go snorkeling on the inner or outer side of the reef with clear entry points along the beach. We took advantage of a free guided tour where you will see so many tropical fish as well as an octopus that I'm sure we would have missed otherwise. Those things are hard to spot.
Other marine life included plenty of turtles gracefully moving through the water. Also if you head up toward the water villas you can swim with juvenile reef sharks in their dozens. It's pretty cool.
You can choose to bring your own snorkel gear or hire it form the dive shop.
Diving the South Ari Atoll Region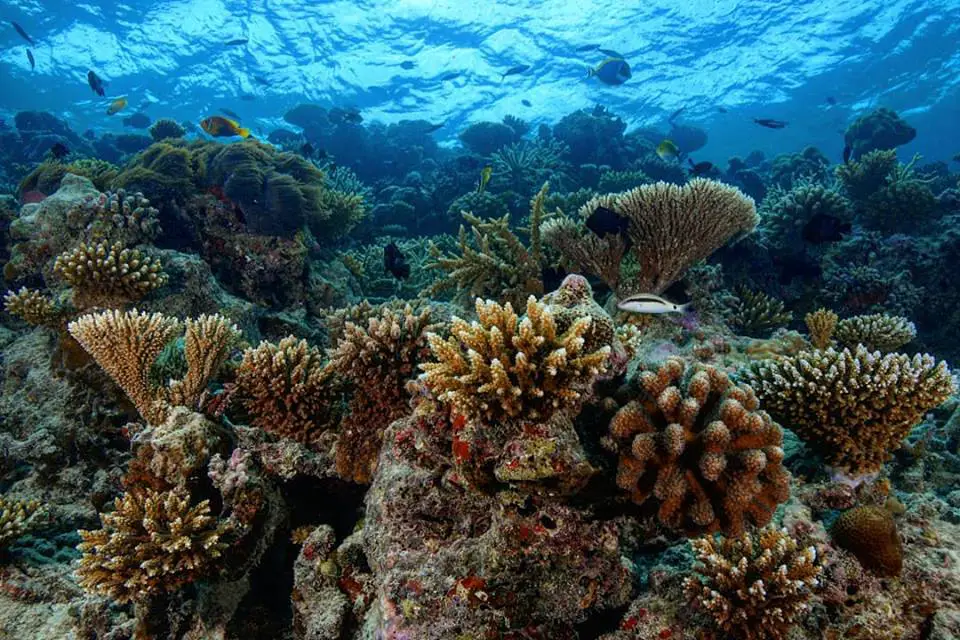 One of the reasons we chose to stay on Vilamendhoo Island Resort and Spa was because of the dive opportunities.
My husband is a very keen diver, having done the Red Sea in Egypt, The Carribean, Hawaiin Islands and the Great Barrier Reef in Australia. After much research we found a great dive package here with Euro Divers on the island.
He took a multi day package which proved to be quite affordable compared to other resorts we looked at. This included dive around the outer wall of the house reef, boat dives and night time dives. He concluded by saying the Maldives is by far the best place he has ever dived for the scale of marine life.
Swim with Whale Sharks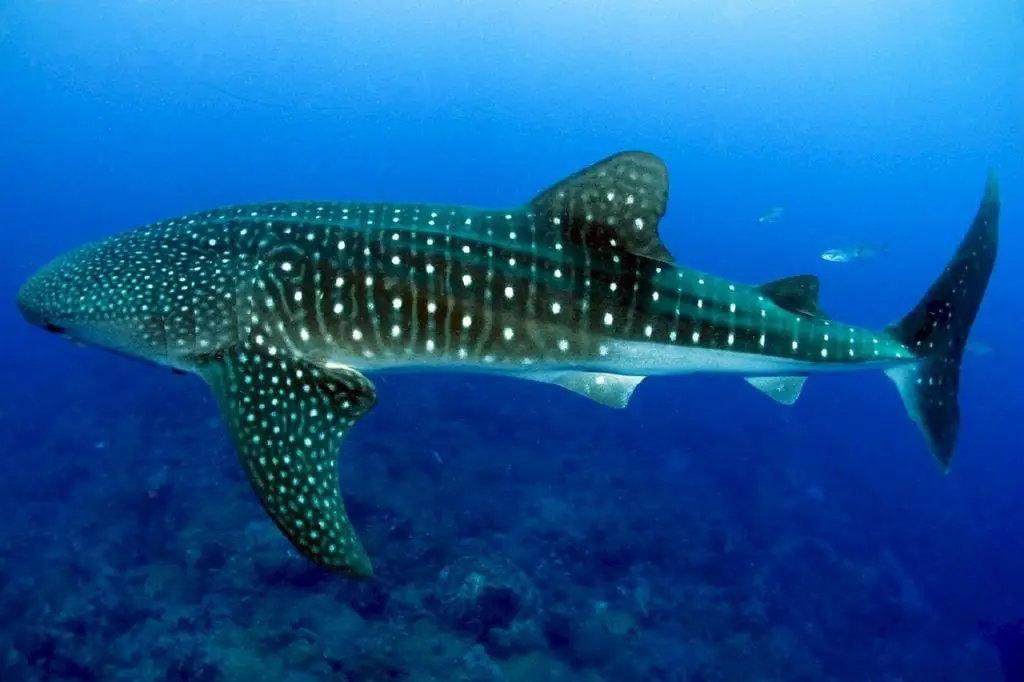 Did you know that the South Ari Atoll is the place to swim or dive with Whale Sharks. 
If you do choose to stay in another atoll region, swimming with a whale shark will probably not be an option, and if by chance they offer one trip per week, expect a long and expensive boat ride to do so. 
So if swimming with whale sharks is something you really would like to do, then Viamendhoo is a great choice. They have up to 4 tours a week and it is one of the best prices I have seen.
You can read more about my experience here: Swim with Whale Sharks Maldives
Vilamendhoo Island Resort and Spa Conclusion
Of all the islands I have stayed on in the Maldives, Vilamendhoo will always be a special place. It appeals to honeymooners. dive and snorkel enthusiansts and adventure travelers. It feels a world away and I encourage you to consider your dream holiday right here.
You can check out more about Vilamendhoo and prices here.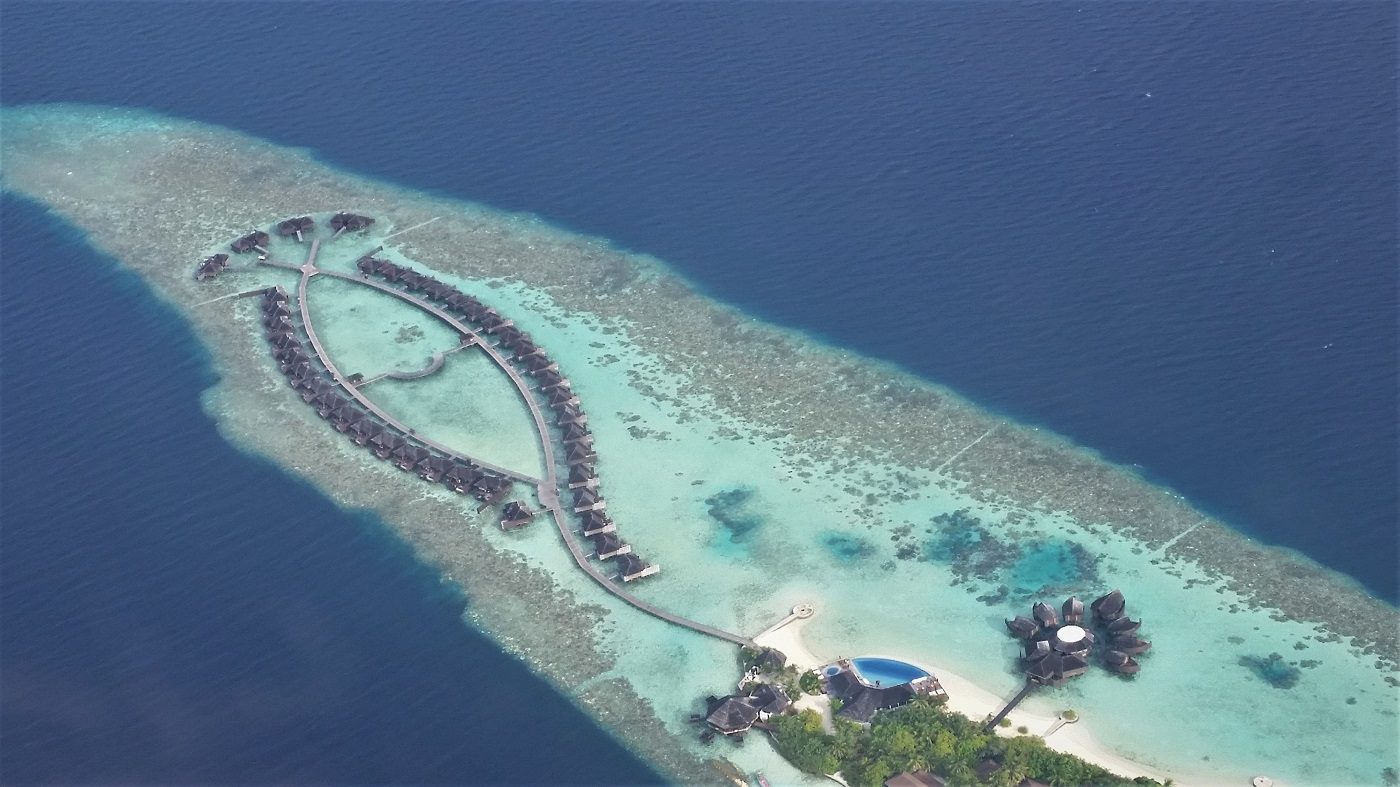 SUGGESTED FURTHER READING
Vilamendhoo Island Resort Review – amazing adventure

As an Amazon Associate I earn from qualifying purchases. I get commissions for purchases made through links in this post.     Have you ever dreamed of going to the Maldives?  This Vilamendhoo Island Resort Review promises  luxury and amazing adventure. Set against white sandy beaches, crystal blue water and lush tropical surrounds, Vilamendhoo Island

First time visit to Maldives- read this first

As an Amazon Associate I earn from qualifying purchases. I get commissions for purchases made through links in this post.     First time visit to Maldives? Before you head off on your long awaited trip, knowing what to expect will help you plan your holiday more smoothly. You can also view my other articles

Swim with Whale Sharks Maldives – which resorts & prices

As an Amazon Associate I earn from qualifying purchases. I get commissions for purchases made through links in this post.     Pack your bags and let's go to the Maldives. Can you imagine being lucky enough to swim with a whale shark? This true bucketlist animal encounter is what dreams are made of right!