As an Amazon Associate I earn from qualifying purchases. I get commissions for purchases made through links in this post.
New Zealand is a magnificent country consisting of two islands, the aptly named North Island and South Island. Located off the south east of Australia, New Zealand is the perfect place for an epic road trip with your fellow travellers. Whilst there are literally hundreds of reasons to go to New Zealand, here are my Top 21.
21 Seriously Great Reasons to go to New Zealand
Wondering why visit New Zealand. I'm here to show you all the fabulous reasons why you should. After three incredible road trip adventures of both islands, I can confirm it's a "WOW" kind of destination.
So while you may be thinking "Is New Zealand worth visiting", the thousands of visitors that get to see it each and every year are simply blown away for it's incredible beauty. So best get there sooner rather than later.
Further Reading: New Zealand North Island 10 day itinerary
Here are all the great reasons to visit New Zealand.
1. The Natural Attractions are kind of cool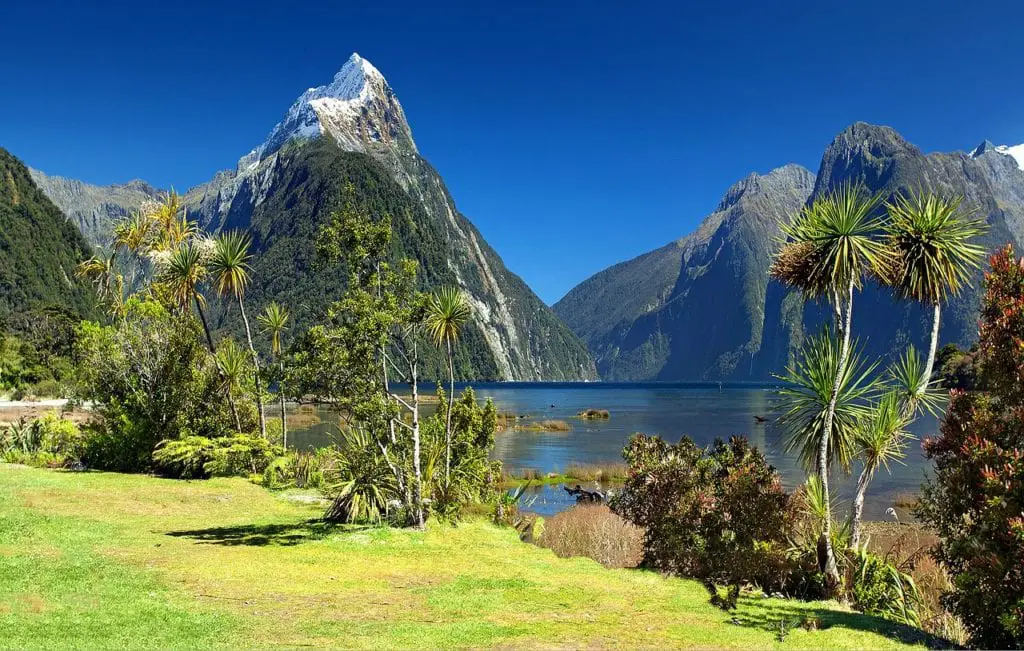 Never will you find so many amazing natural attractions than in New Zealand.
Milford Sound as seen above is a true highlight if you are visiting the South Island. Take a cruise out on the calm waterway and be in awe of it's towering peaks, waterfalls and rain forest.
The endless attractions of both islands are one of the best reasons to go to New Zealand.
2. The overall scenery is not too bad either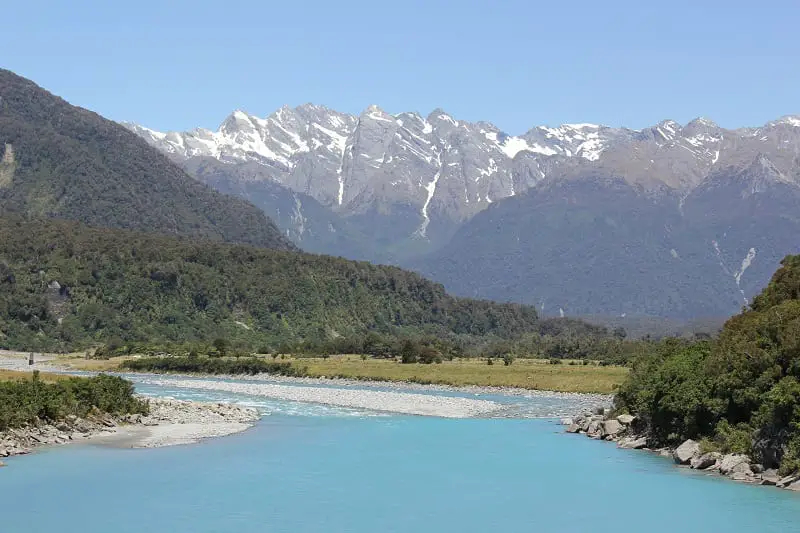 New Zealand makes a point of surprising you at every turn with yet another jaw dropping piece of scenery. With so much open road to discover, it hard not to carried away with your camera.
3. There's Volcanic activity- if you like that sort of thing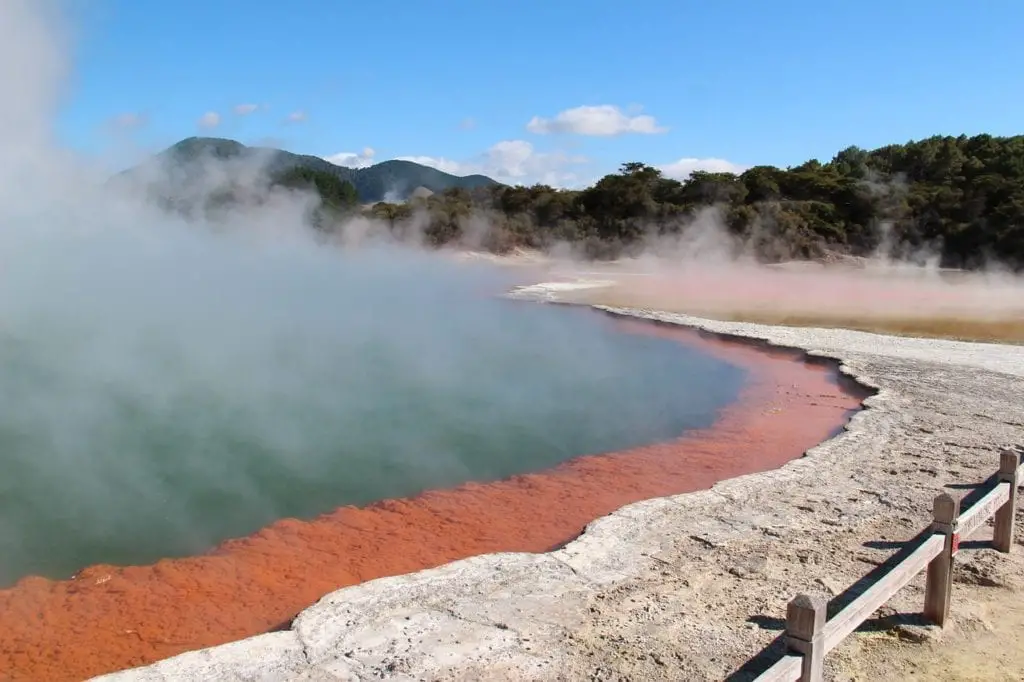 Head inland on the North Island to the township of Rotorua. Located 228 km from Auckland, this place is bursting with activity.
This geothermal wonderland of natural hot springs, bubbling mud pools and erupting geysers is simply magical. Spend at least 2 days here or longer.
Further reading : 40 things to do in Rotorua
4. You may even want to experience an adrenaline rush or two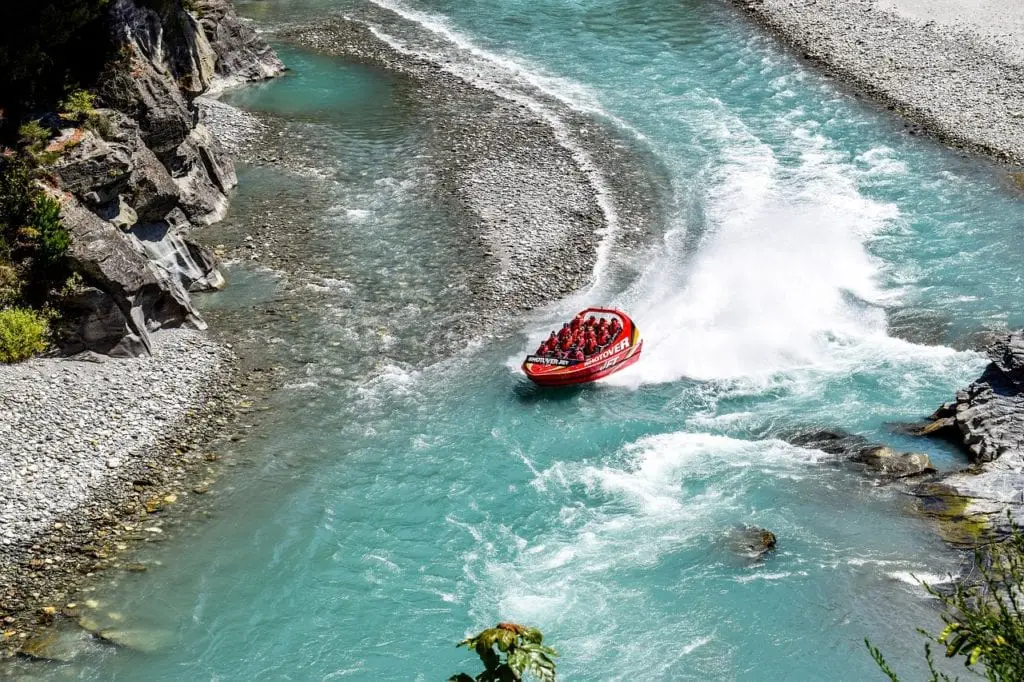 Adventure is one of the key reasons to go to New Zealand for many.
Queenstown on the South Island is the adventure capital of New Zealand.
There is a myriad of activities to be had. From bungee jumping, white water rafting, paragliding, mountain biking, sky dive and so so so much more. If it's an adventure, they're sure to have it here. See my guide on visiting Queenstown.
Click here to see all Queenstown adventure activities
For North Island adventures, you can't go past the city of Taupo for adventure activities. You can read more here: Taupo Adventure – Best things to do in Taupo.
5. Or just chill out and watch yet another amazing sunset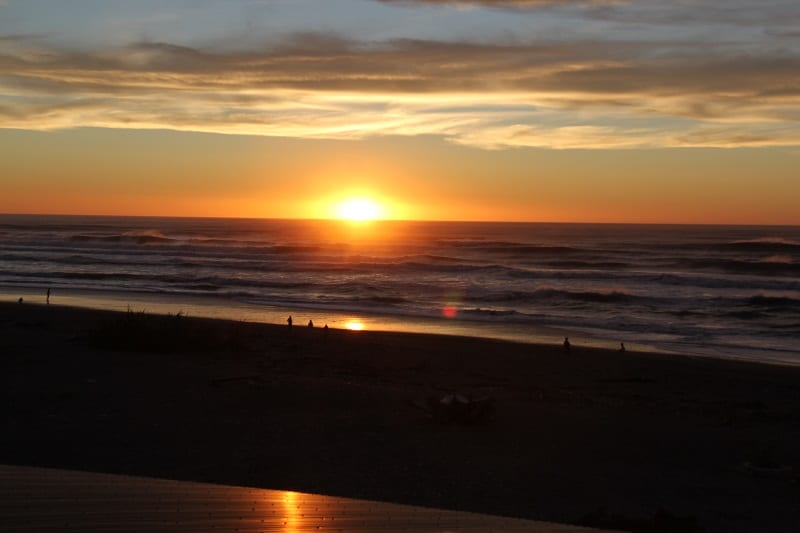 Incredible sunsets appear to be the norm here, especially during the summer months.
The best part is you have unobstructed views practically every where you go. This sunset was captured off the beach near Punakaiki, South Island. 
6. You can go hiking on a glacier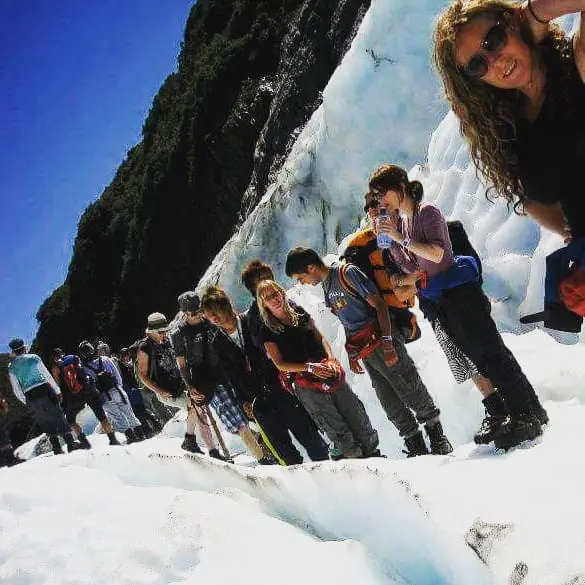 Why go to New Zealand? Because it is unique. Beaches on one side and ice on the other. How diverse is that.
So strap on your crampons and hit the ice!
Franz Josef Glacier and Fox Glacier on the west coast South Island are only 23 km apart. Both offer tours.
You can heli-hike, ice climb or simply see the glacier from the valley floor. They also offer scenic helicopter flights for those who prefer to just see it from the air. 
Click here for a range of Franz Josef & Fox Glacier Activities
7. Or just discover one of the many amazing lakes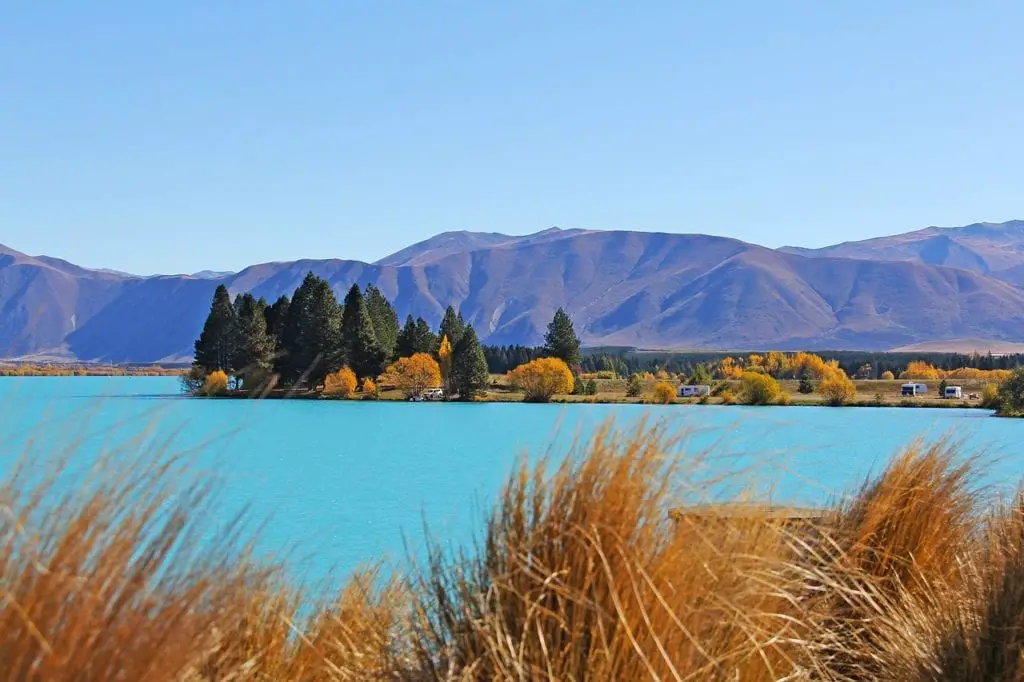 OK, still wondering why go to New Zealand? How about stunning lakes throughout.
The South Island is known for having some of the best lakes in all of New Zealand.
Many are glacial fed which gives them this beautiful turquoise color. Lake Tekapo is one of New Zealand's premier sights and is encompassed by dramatic mountain range. It is nothing short of stunning.
8. The beaches are stunning too, but you can be the judge of that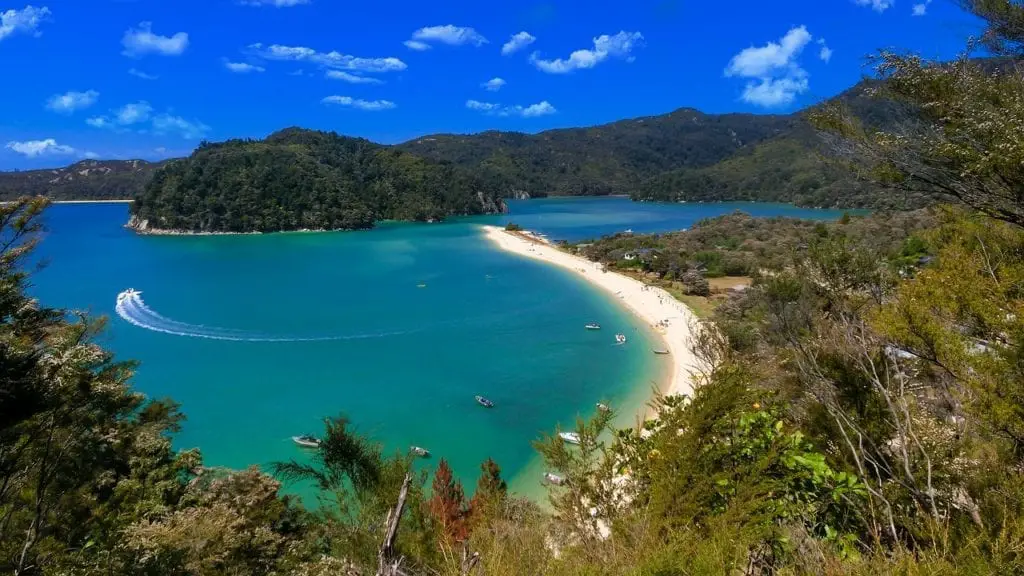 New Zealand offers a magnificent coastline all round. Some of the best beaches are located in the far north of the North Island.
Areas such as Bay of plenty and Bay of Islands are packed during the summer months and are considered some of the best places to visit in New Zealand. Diving ,swimming, surfing and big game fishing are all popular past times.
8. You might even be lucky enough to meet some of the locals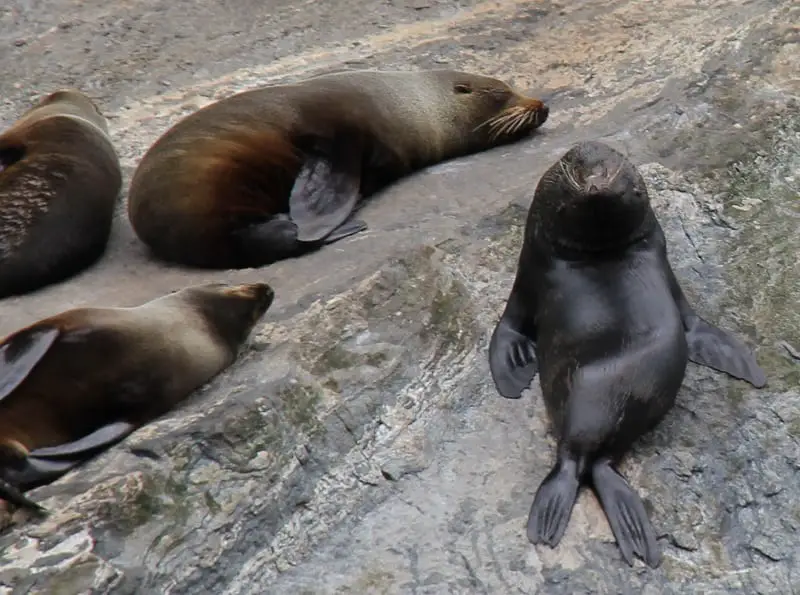 The best thing about New Zealand is there is no real threat from dangerous wildlife.You can hike to your hearts content and not worry about be eaten by a bear or anything else. And get this, there are NO snakes at all in New Zealand, unlike their neighbours in Australia.BONUS!
That means you can enjoy all the cute stuff like these seals spotted on our Milford Sound Cruise.
Click here for cruises & tours – Milford Sound
9. Driving is a breeze, just be sure to stay on the left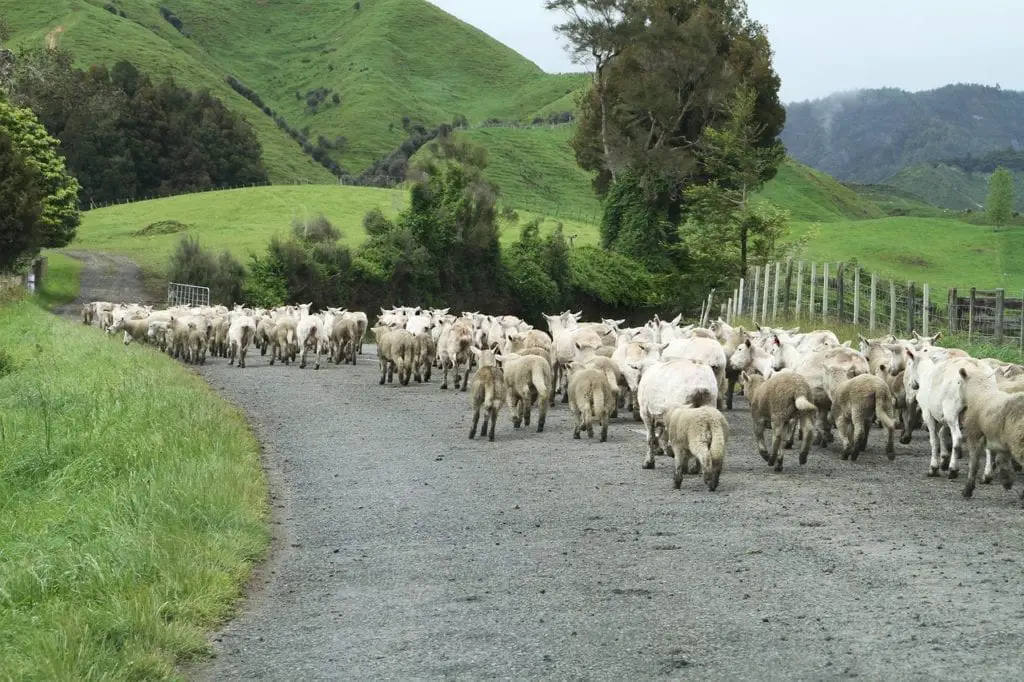 Yes that's right, they drive on the left in New Zealand. The good thing is the roads are open and easy to navigate. The only traffic jam you'll have to worry about is of the four legged kind.
10. You may prefer to get out and stretch your legs once in a while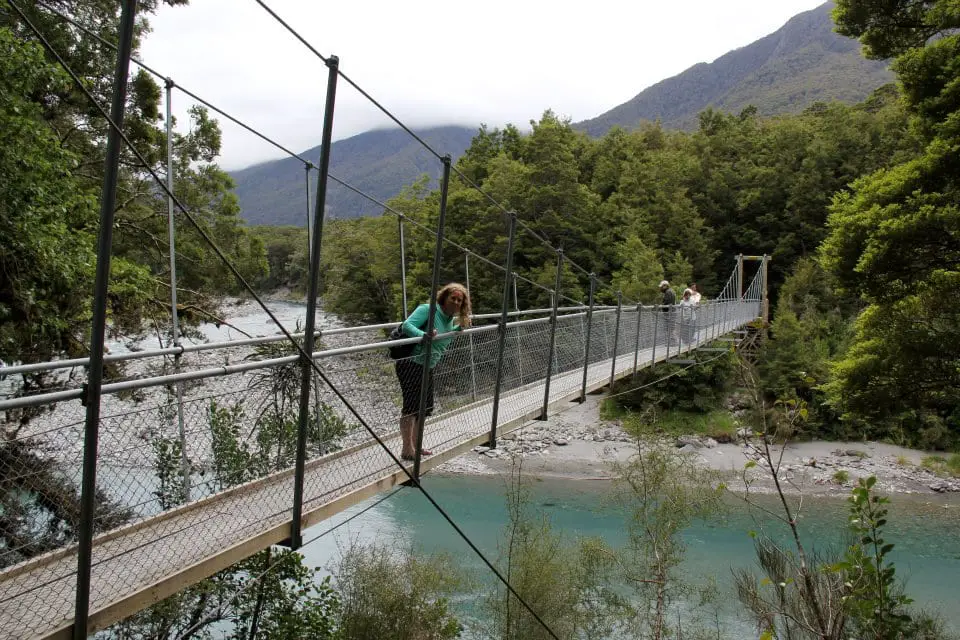 One of the greatest attractions of visiting New Zealand is all that fresh air one can't get enough of. With so many outdoor attractions (I'm talking about the scenery) for free, you really have to get out and see it. 
And did you know that because of the size of New Zealand, you'll never be more than 128 km from the sea.
11. All that fresh air can sure build up one's appetite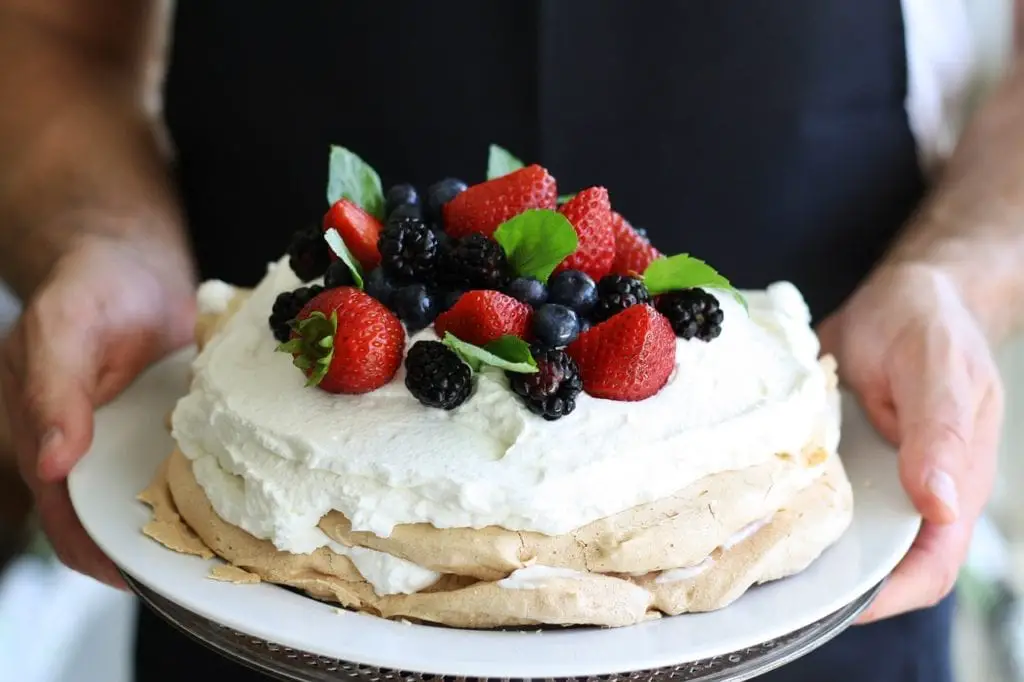 Known for their amazing and abundant seafood and produce, you can find a lot of great restaurants here to dine. Or grab some fish and chips or fresh oysters and sit on the waters edge to enjoy. There are plenty of Farmers markets too through the country, happy for you to try their delicacies. 
New Zealand is also known for having a large number of sheep. 2018 estimates are at 27 million sheep whilst the general population sits at just over 4 million. So be sure to include some succulent lamb on your plate. 
Sweet treats including hokey pokey (vanilla ice cream with chunks of honey comb) and Pavlova are a staple for the locals, well worth a try.
12. And you'll need something to wash it all down with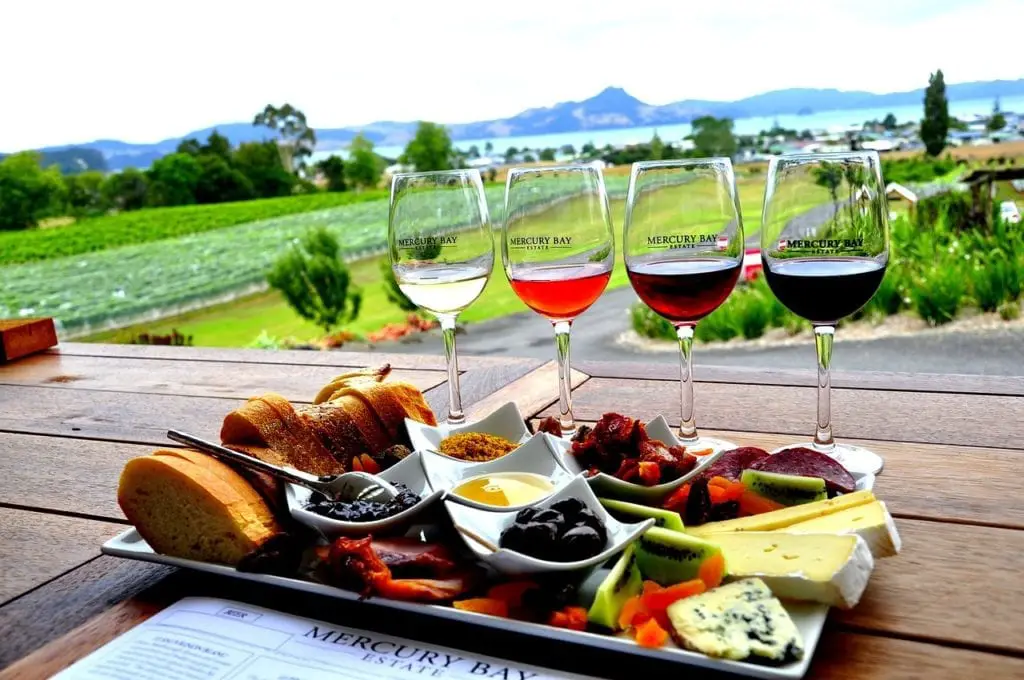 This is wine country with some of the best wines in the world produced here, another reason to indulge.
Best known internationally for Sauvignon Blanc, other wines include pinot noir, chardonnay, merlot and riesling.
Can you think of a better reason to go to New Zealand.
Click here for a range of food & wine tours
13. Wake up to the world's first sunrise every day
Did you know that New Zealand has the honour of seeing the world's first sunrise each and every day.
Located north of Gisborne (North Island) the East Cape area provides a fine vantage point to see the dawn break. 
14. Then end your day with some impressive star gazing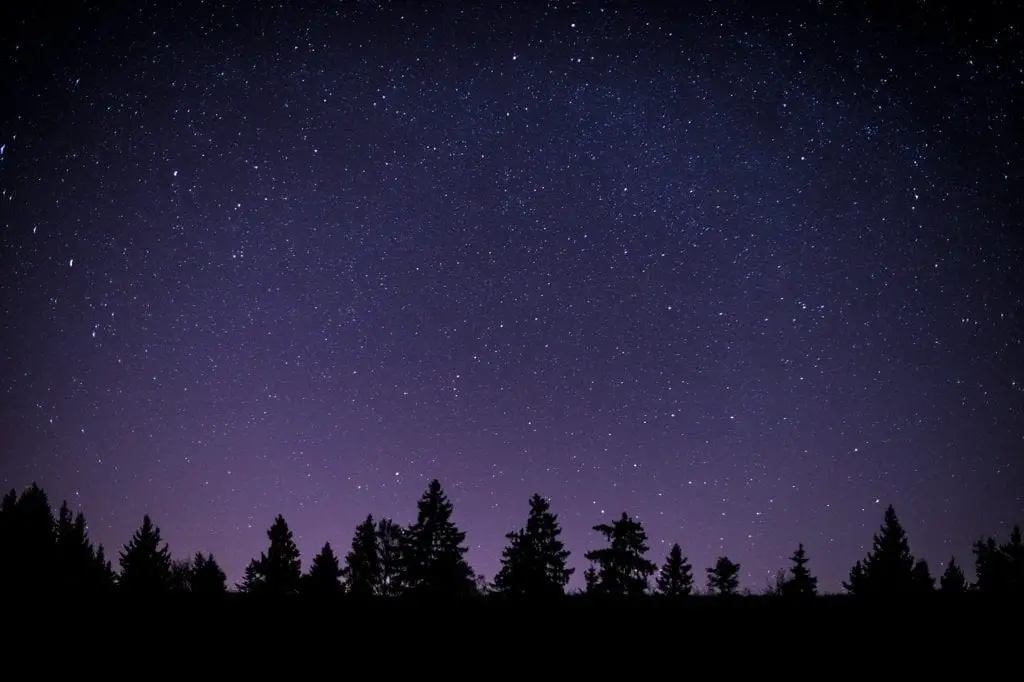 Summer and Autumn are the most prolific times to enjoy star gazing. With the benefit of having dark skies and virtually no light pollution, be sure to look up when you head outside at night. You can find The Southern Cross, Milky Way and two of the closest galaxies, Magellanic Clouds here.
The Mt John Observatory in Tekapo is a popular spot for enthusiasts.
Click here to see the Mt John Observatory experience
15. If you like snow sports, you've come to the right place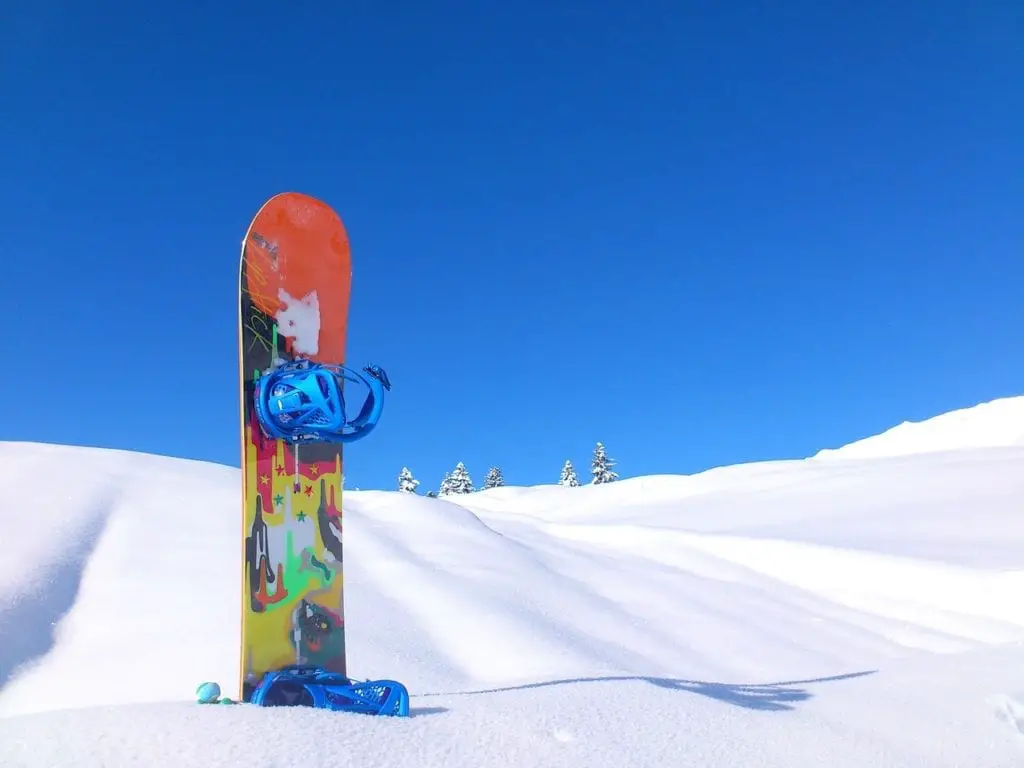 When people fly across oceans to experience first hand the skiing and snowboard conditions New Zealand has to offer, you know it must be good. Just another incredibly popular reason to go to New Zealand.
Whether you are a novice or expert, or looking for a family friendly resort, it's here. Both islands cater for snow enthusiasts. Some of the top ski fields include Cardona, Coronet Peak, Craigieburn,The Remarkables , Treble Cone and Whakapapa are all rated highly for different reasons. The season runs from June to mid October. 
There is also heliskiing for those with a serious addiction.
16. Or maybe fishing is more your thing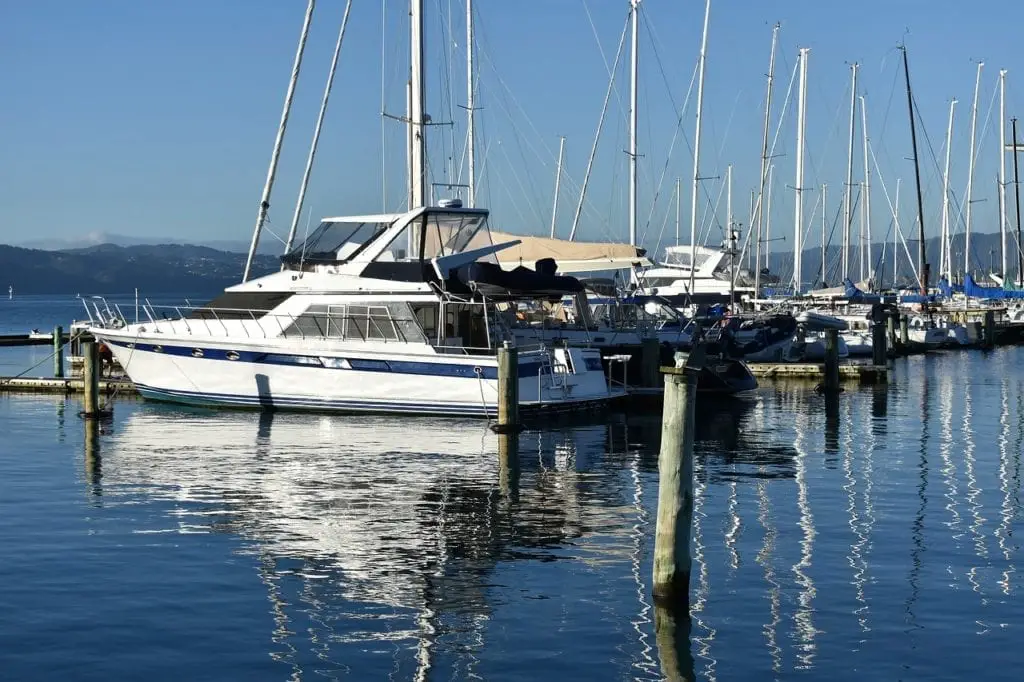 Fishing is a popular past time here, whether in fresh or salt water.
The fresh water lakes provide a sanctuary for rainbow and brown trout. Lake Taupo is world renowned. 
Pull up ocean side or head out into the deep blue to catch a prized snapper. Big game fishing is serious business here with many tour operators ready to take you out. 
Click here for fishing charter adventures
17. Maybe you're a little on the quirky side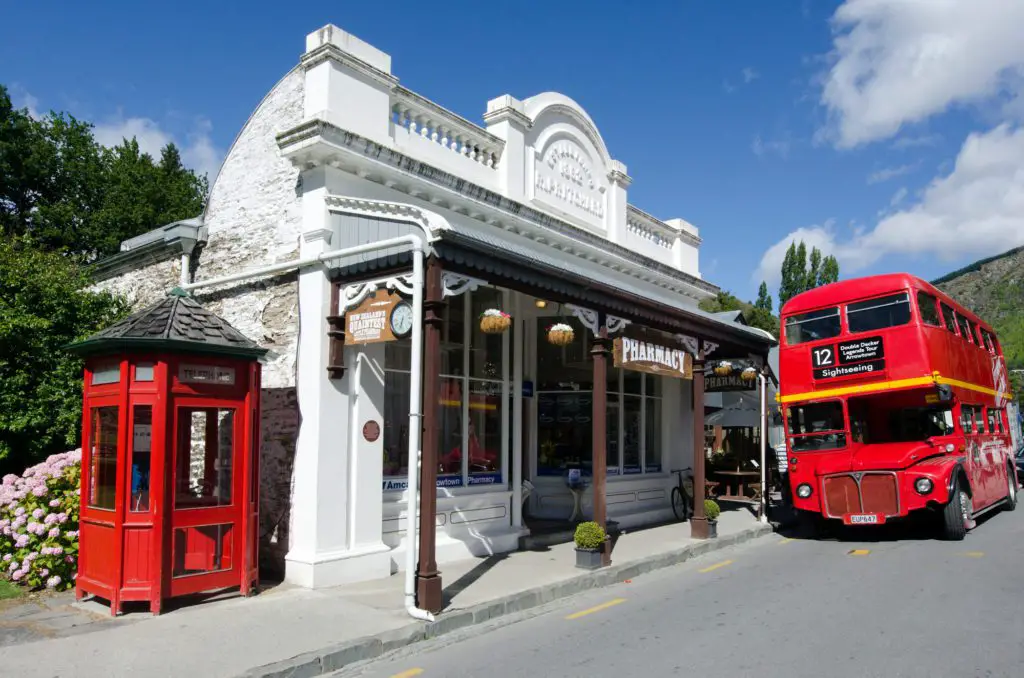 Head to Arrowtown, a short drive from Queenstown on the South Island.
It's a little gem waiting for you to explore. Originally a gold rush village, Arrowtown has kept it's historic feel. The one of a kind shops are fun to browse plus there's a good array of restaurants and cafes to sit and enjoy some splendid food. 
There are some nice walking trails near by or stop by Dorothy Browns old time boutique Cimena and watch a movie.
18. And like the weird and wonderful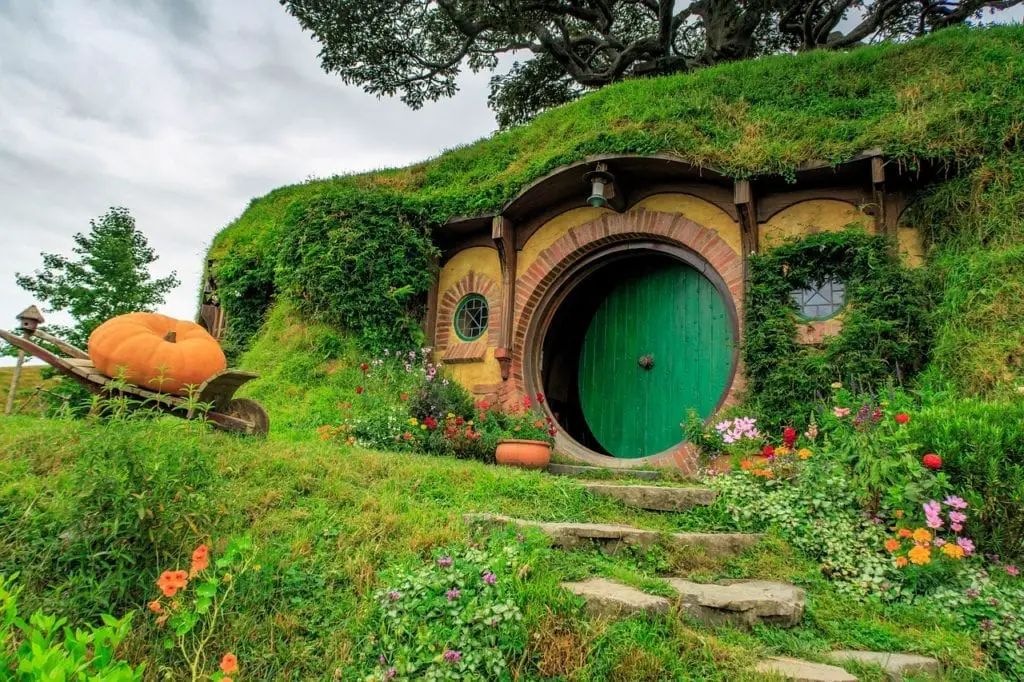 Hobbiton was the movie set featured in the Lord of the Rings and Hobbit trilogy. It is located inland on the North Island. Movie buffs will be thrilled at this genuine attraction,with hundreds of thousands of tourists making their way here each year.
Join one of the many tours on offer and finish at the Green Dragon Inn for a complimentary beer or beverage. 
Click here for all Hobbiton Tours
19.And for all you party animals out there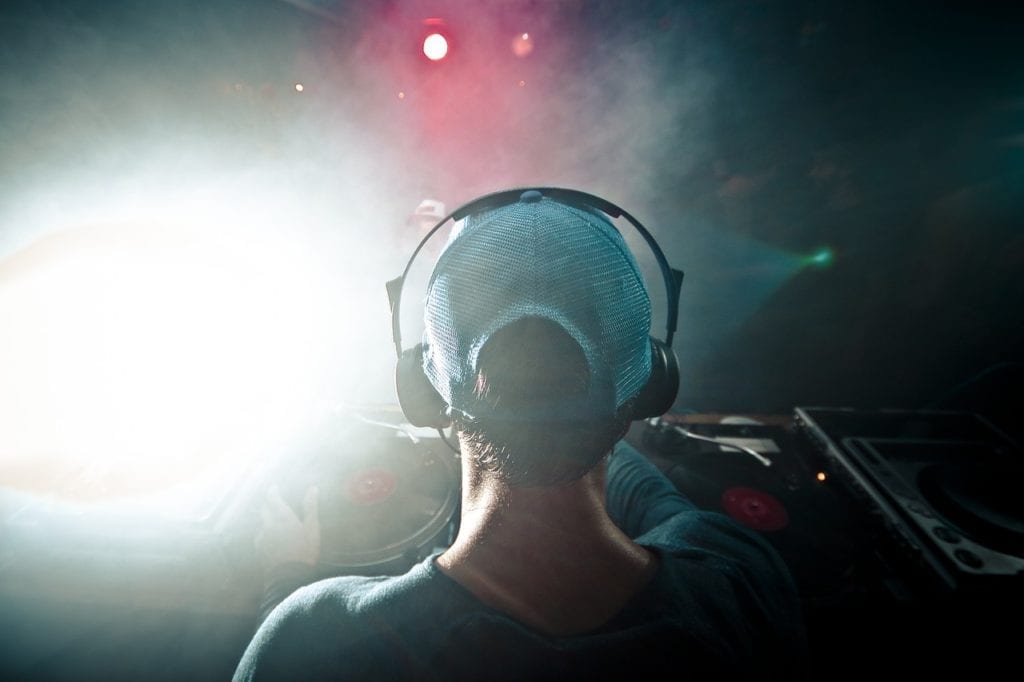 There no better party hot spot than Queenstown South Island. With the biggest concentration of night clubs than anywhere else in the country.
Queenstown attracts up to 3 million visitors each year, the largest market coming from Australia plus many Europeans, Chinese and Japanese making up this number. The amount of adventure activities happening in summer and snow sports in winter make it world class.Let's not even mention the jaw dropping scenery.
Shops, restaurants, cafes, bars and tour operators are confined to a easy walkable precinct. And at the end of a long fun filled day, head to my favourite spot, Fergburger. A local institution, open 8 am – 5 am, ferg serves up hungry patrons all hours of the evening. The line can be long at times,but is it worth the wait..duh! Absolutely.
20. Don't worry too much about money troubles

New Zealand has a great exchange rate, particularly if you are coming from Australia, the USA or Europe. That means it's not only an affordable place to go but you'll have more in your pocket to spend. 
21. And at the end of the day, you'll love the people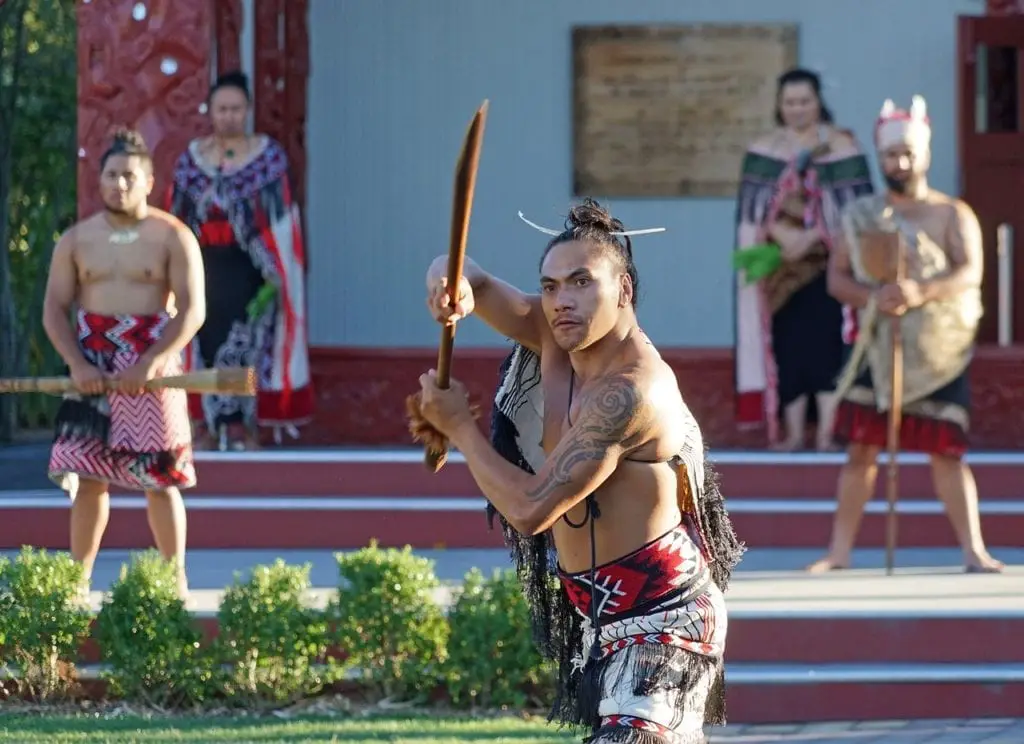 New Zealanders  known as "Kiwi's" are down to earth and extremely relaxed nation of people. They love the water and are very welcoming to tourists.
Maori's (indigenous people) make up around 16% of the overall population. They offer many cultural experiences at different locations around the country, but particularly in the North. Be sure to take the time to learn more through a cultural show, museum or walking tour. 
Conclusion – why visit New Zealand
New Zealand is so fortunate to be able to cater to so many different level of tourists.
Those seeking rich and dramatic beauty, a love of food and wine or adventure and adrenaline junkies, you will find it here.
It is a wonderful place to road trip and perfect for endless tranquility.
So when thinking of all the reasons to go to New Zealand, remember all the incredible things that New Zealand has to offer.
More on New Zealand
New Zealand North Island 10 day Itinerary