As an Amazon Associate I earn from qualifying purchases. I get commissions for purchases made through links in this post.
Looking for the best small towns in Victoria? Each of these towns I have personally visited, and feel blessed to have discovered the unique and interesting side of them all.
Why visit these small Victorian towns?
These small Victorian towns are perfect for a mini break or a quiet little road trip with the family or loved one. If you are after some time out away from the bright city lights, you really can't go past these gems. They are perfect for a weekend getaway, or even a cheeky midweek stay.
So how small are these towns? Well, many maybe considered tiny towns, with a population under 1000 people. Others have just a few thousand. But don't let that translate to "nothing to do" They all have something amazing going for them and hence why they made this list.
So whether you live in Melbourne, other parts of the state or even in further away in Australia, they are all worthy of a visit.
Note: Many of these best small towns in Victoria are from my own home region in Gippsland. We are the reigning champions of tiny towns, but you will find many other regions in Victoria are covered.
RELATED ARTICLE: Victoria Weekend getaway ideas – unique and different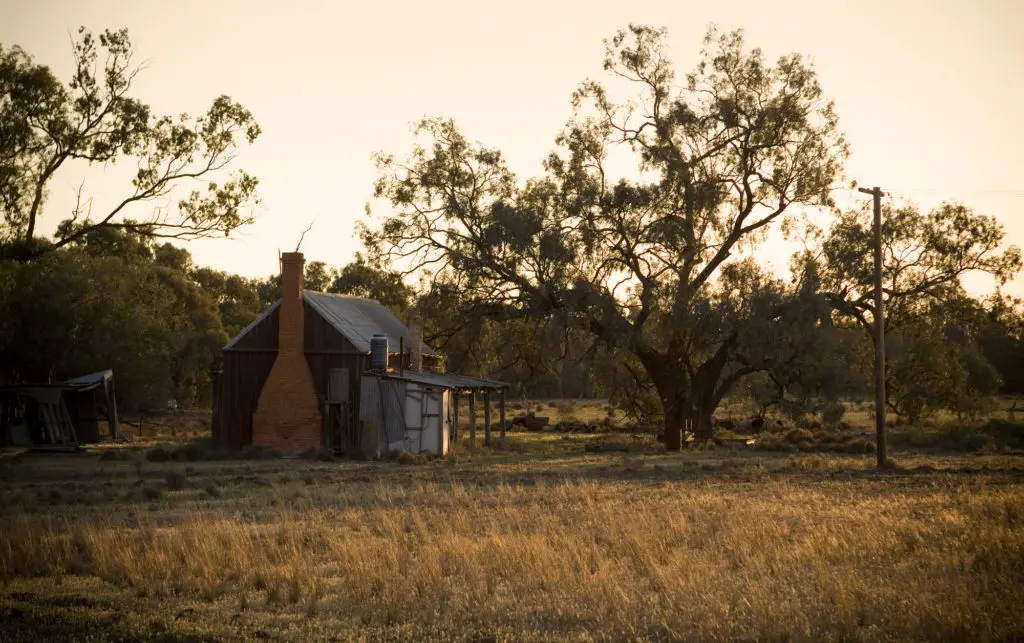 Best small coastal towns in Victoria
Everyone loves the coast right!
A beach of endless shoreline and breath taking scenery, where crowds are low and nature rules is my favourite place. For that reason, you will find some great choices for small coastal towns n Victoria.
One thing to remember is, small coastal towns are super popular during summer and school holiday periods. To embrace a more quiet time, staying out of these times or during the week will be a better option. But if you love the vibe during these times, then it's a win/win all round.
10 Best Small Towns in Victoria
Whether you are seeking tranquility in the country, an isolated beach all to yourself or some local markets to browse, these small country towns in Victoria certainly have plenty to offer.
Even if you can't make an overnight visit, many may be reached on a one day trip from Melbourne.
LOCH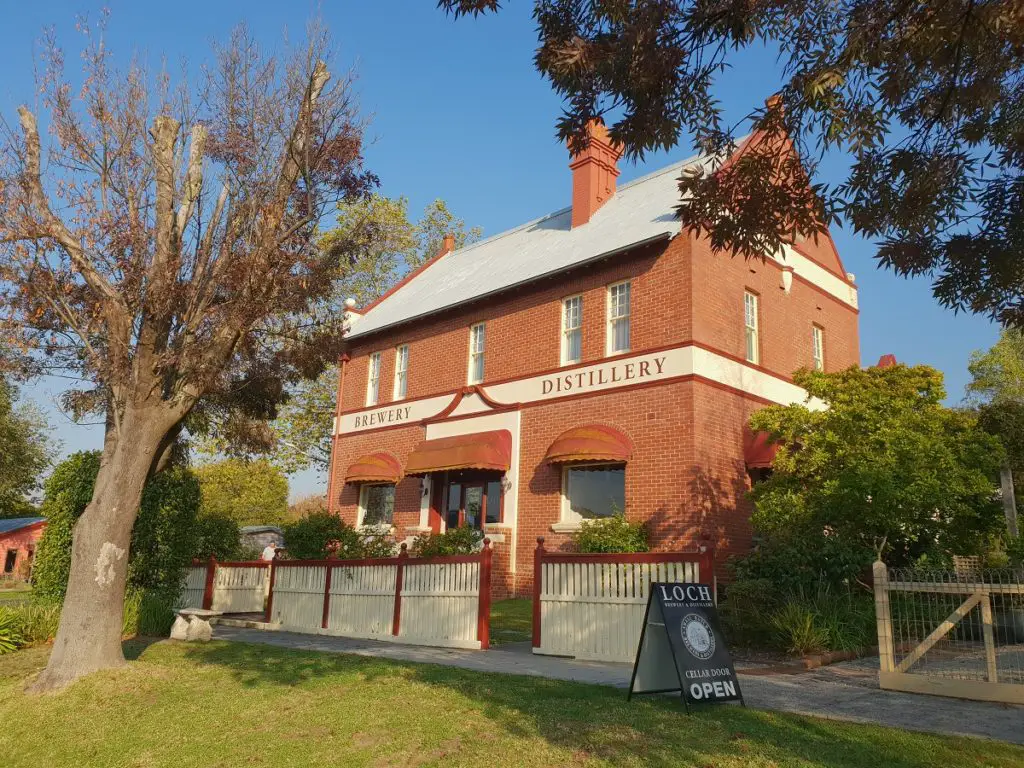 Region: South Gippsland
Population : 638
Distance from Melbourne: 105 km
About: Established in 1876, the town is named after the former Victorian Governor, Henry Loch. It is located along the South Gippsland Highway, 105 km south east of Melbourne.
RELATED ARTICLE : The lively little town of Loch Village
Things to do in Loch
One of the most prettiest and best rural towns in Victoria and close to melbourne.
The main street of Loch Village oozes a quaint and charming feel. Renowned for its food and drink, the tiny town has an awfully big heart, attracting visitors from the nearby towns and far away locations.
For great locally made gourmet meals and treats head to Olive at Loch or Loch Village Foodstore. Both are open for breakfast and lunch. During the evening you can enjoy a wood fired pizza and drinks at Loch Wine Bar.
The Loch Brewery & Distillery is also located in town, residing in the old historic bank building. Serving traditional beers, vodka, gin and of recent, single malt whiskey, patrons can enjoy drinks in or out on the lawn.
The Gippsland Wine Company can be found just out of Loch Village and offers a cellar door showcasing their range of cool climate wines.
For outdoor lovers, Loch has recently become part of the final stages in the construction of the Great Southern Rail Trail. Once fully complete, the 108 km bike and walking path will extend from Port Welshpool to the nearby town of Nyora.
Where to stay in Loch
A private home rental is your best choice and there a few lovely and highly rated properties to unwind and enjoy the beautiful scenery.
Wodella Horse Farmstay Check out all accommodation options on Hotels.com
Silverbirch Cottage Check out all holiday rentals on Stayz Australia
PORT FAIRY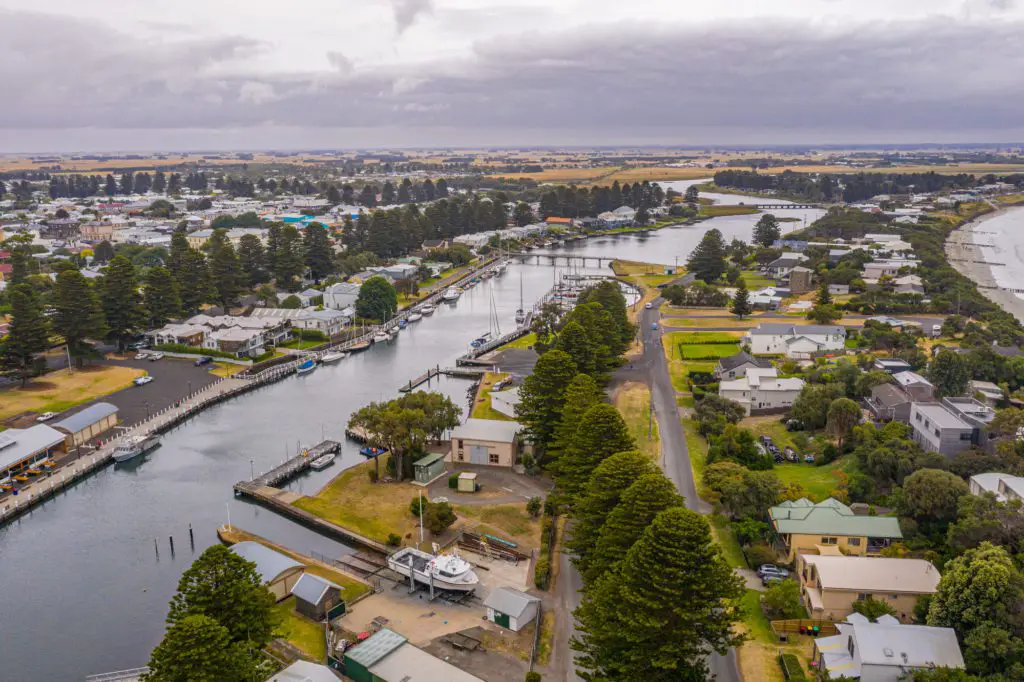 Region: South West Coast / Western District
Population: 3340
About An historic shipping port that was once part of the whaling industry. The town was established in 1835 to around 2000 people and has not grown out of its small town roots. It is a 25 minute drive from the larger town of Warrnambool.
Distance from Melbourne: 287 km
Things to do in Port Fairy
As far as small coastal towns in Victoria goes, Part Fairy is one of the best.
Port Fairy is a coastal town with plenty of natural attractions including Griffitts Island. The reserve is accessible by foot and home to an abundance of plants, birds and marine life. Located at the mouth of the Moyne River, the Port Fairy Lighthouse can be visited here.
The Tower Hill Crater is another popular reserve within the area. The dormant volcanic crater is home to various wildlife such as kangaroo, koala and emu.
Visit the many beaches around Port Fairy including the popular Killarney Beach. Great for families due to its protected and calm waters.
Port Fairy also has plenty of food and wine choices too, and in particular, seafood. Head down to The Wharf for a sunset drink or grab take away fish and chips to enjoy along the foreshore.
Port Fairy can get busy over the school and summer holiday period, so if you are hoping to avoid the crowds a visit out of peak season is a great time to visit.
Where to stay in Port Fairy
Port Fairy has a generous amount of accommodation to suit most budgets, including family stays, luxury and solitude. My top picks are included below.
Clonmara Country House and Cottages Visit Hotels.com for other options.
Moyne Wharf Apartments Visit Stayz Australia for all holiday rentals.
METUNG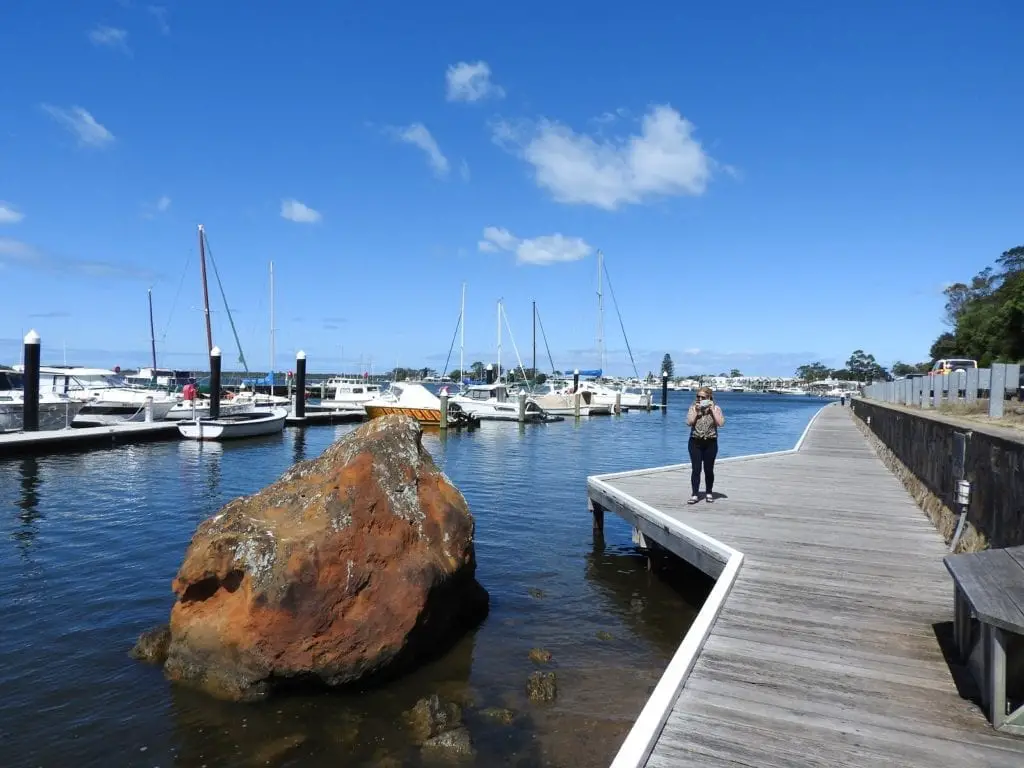 Location: Gippsland Lakes / East Gippsland
Population: 1449
About: Located between Bairnsdale and Lakes Entrance, Metung rests on a thin peninsula and is popular for boating and fishing.
Distance from Melbourne: 311 km
Things to do in Metung
The Metung Boardwalk winds its way along the water edge from the main town centre all the way to Chinaman's Creek. You will stroll along the marina and past the yacht club taking in the serenity of the area.
The sea side village has a great water front pub and a few cafes and shops to explore. The nearby town of Lakes Entrance is only a 15 minute drive as well as 90 mile beach,
Where to stay in Metung
The Moorings at Metung OR Visit all accommodation options at Hotels.com
Interested in The Moorings? The Moorings Full Review and why you'll love it
Edge Water Terraces OR Visit all Holiday Rentals at Stayz Australia
RELATED ARTICLE : 9 Ultimate things to do in Metung
PORT ALBERT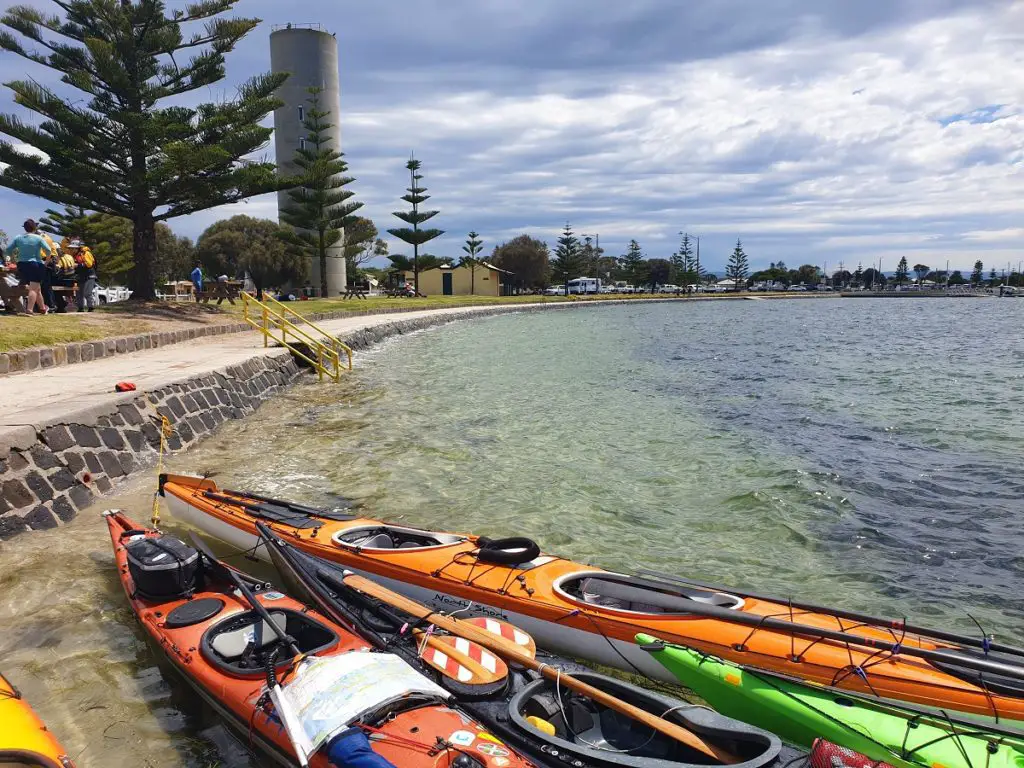 Location: South Gippsland
Population:293
About: The tiny town of Port Albert, named after Prince Albert, has retained many original historic buildings. The sleepy sea side port is a fishing hot spot and other water sports.
Distance from Melbourne: 234 km
Things to do in Port Albert
A great little spot and one of the best small towns in Victoria for a weekend getaway.
A stroll along Wharf Street shows many of the historic buildings dating back to the 1850's when new lifein the way of galleries and cafes. The old Victoria bank has been transformed into the Port Albert Maritime Musuem and worth a look.
Enjoy a walk along the coast from the town centre. The Christopher Robinson Coastal Trail is a 5.7 km track that takes in plenty of birdlife and the natural coastal bushland.
Finish the day right on the water at Wildfish or grab fish and chips to go.
Where to stay in Port Albert
Port Albert Motel OR Visit all accommodation options at Hotels.com
Gowrie Guest House OR visit all holiday rentals at Stayz Australia
BOORT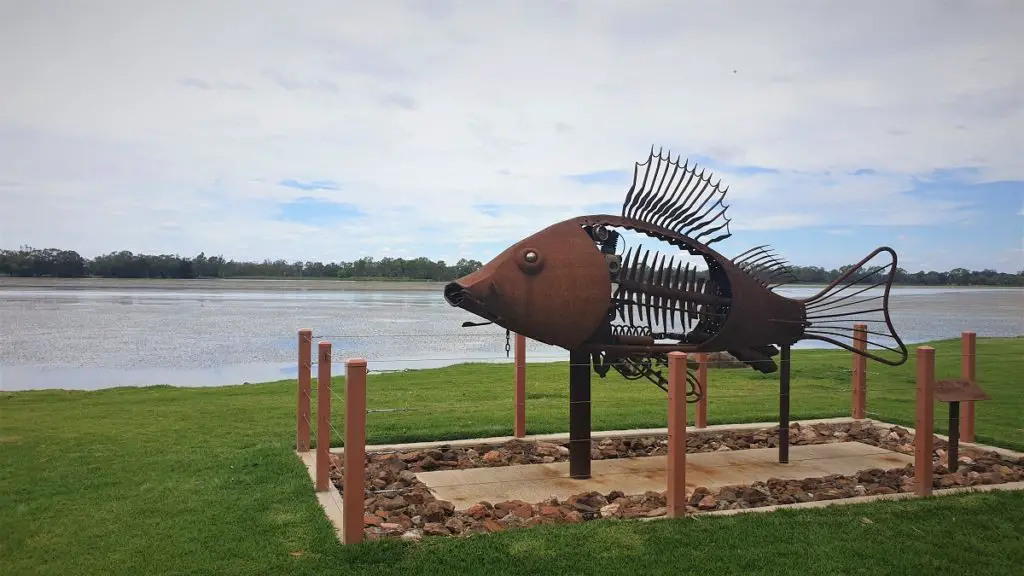 Location: Central Northern VIC / Loddon Shire
Population: 873
About: Located an hours drive north of Bendigo, Boort is a hidden gem to many and one of Victoria's best small towns. It is well known agricultural region of cereal crops as well as canola, olives and tomatoes.
Distance from Melbourne: 254 km
Things to do in Boort
The tiny town of Boort is an oasis within a northern part of the state. Lake Boort is the centre attraction and a haven for bird life. There are actually 3 lakes here and Little Lake Boort is where you can enjoy a scenic walk all the way around the 3.7 km circumference.
The lake sees many visitors water skiing, paddle boarding and riding tubes though out the warmer months.
You'll find a couple of pubs and a local cafe here but most of the action comes from the incredibly popular caravan park here. And yes, right on the waters edge.
Other places of interest include Simply Tomatoes and Salute Olivia (Olive farm).
Where to stay in Boort
NAB & B luxury Self Contained Apartment
RELATED ARTICLE: Amazing Lake Boort & staying at Boort Caravan Park
INVERLOCH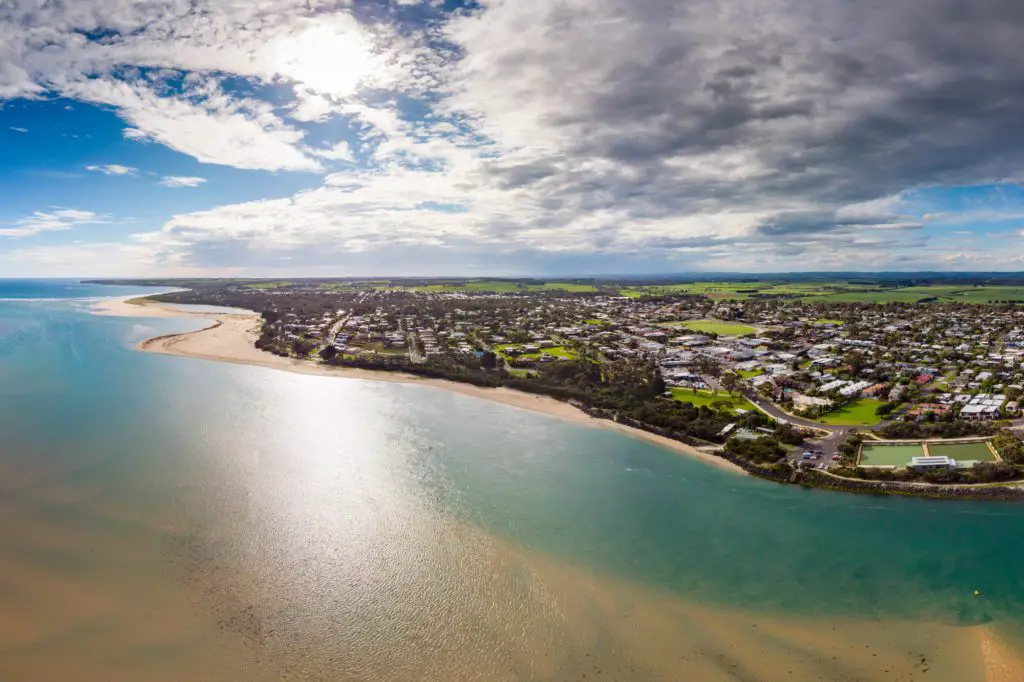 Location: Bass Coast
Population: 5437
About: Inverloch is a small seaside community, located at the mouth of Anderson Inlet. The calm waters here attract many families as well as kite surfers, stand up paddle boards and kayaking.
Distance from Melbourne: 145 km
Things to do in Inverloch
Apart from the many water activities here, Inverloch is the perfect place to explore the coastline.
At one end of the town you can access the Screw Creek Townsend Bluff Estuary Walk. This short but rewarding scenic walk is perfect for young kids. At the opposite end of town is the Inverloch surf beach before ascending into the Bunarong Coastal Cliffs. You will find The Caves, Eagle's Nest and Shack Bay beaches here.
The main town centre has some great cafes and restaurants as well as interesting shops to browse. Dirty Three Wines located on the edge of town, offers a local tasting platter to compliment their wine list.
Where to stay in Inverloch
Inverloch is one of Victoria's best small towns and is popular in or out of season due to its closeness to Melbourne. It is just a short 2 hour drive from the city centre.
RACV Inverloch Resort OR visit all accommodation options at Hotels.com
4 bedroom pet friendly home OR visit all holiday rentals on Stayz
WALHALLA
Location: Gippsland / Baw Baw Shire
Population: 20
About: A true historic town that has remained frozen in time. A simply unique and incredibly delightful place to visit. The old gold mining town dates back to the early 1960's and has done a terrific job at retaining it's old world charm.
Distance from Melbourne: 185 km
Things to do in Walhalla
While the town of Walhalla has only 20 permanent residents, the uniqueness of the area attracts many visitors, particularly during the warmer months.
After strolling the old time main street and shops, the local cemetery up on the hill is an interesting stop. Many choose to take the Goldfields Scenic Railway, a 1 hour return trip that passes through Stringers Creek Gorge.
A tour of the Long Tunnel Extended Gold Mine is a must for those wanting to learn more about the early days of Walhalla and the hardships the miners faced.
The Baw Baw National Park is right on your doorstep, making the whole area especially breath taking. Hiking and camping are popular past times as well as nature photography.
Where to stay in Walhalla
Mill House Cottage OR Visit all accommodation options at Hotels.com
Stringer's Cottage OR Visit all holiday rentals at Stayz
HALLS GAP
Location: Northern Grampians
Population: 430
About: Located at the base of the impressive Grampians National Park, Halls Gap suitably makes up best small town Victoria list. It's current population is the highest in its 160 years of settlement.
Distance from Melbourne: 254 km
Things to do in Halls Gap
Scenic outlooks, hiking and local wildlife are some of the things that make the town of Halls Gap a worthwhile place to visit.
A hike to the Pinnacles is around 4 km return, and through it may be a little strenuous, the views are totally worth every step. Other popular hikes include the Balconies and Clematis Falls.
For scenic panoramas, you have to visit Reed and Baroka lookouts.
Other points of interest include Red Rock Olive farm, Halls Gap Estate for wine lovers and the Halls Gap Zoo.
Interested in hearing more about Halls Gap highlights? Read Grampians National Park things to do.
Where to stay in Halls Gap
Getting back to nature is easy in Halls Gap. The small Victorian town has many options, but note that during the summer school holidays these places can book out quickly.
Big 4 Holiday Park OR visit all accommodation options at Hotels.com
Halls Gap Hideaway Holiday Home OR visit all holiday rentals at Stayz
MARLO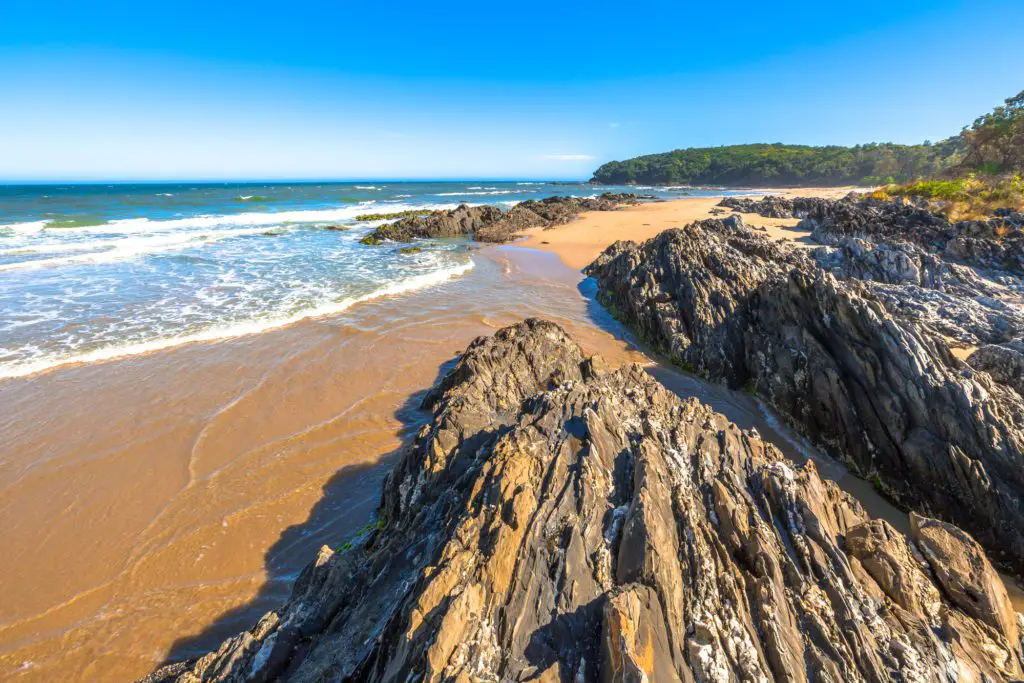 Location: East Gippsland
Population: 564
About: Located on the mouth of the Snowy River, Marlo is surounded by farmland and natural bush settings. This sleepy small town in Victoria is around 4.30 hrs drive east of Melbourne.
Distance from Melbourne: 385 km
Things to do in Marlo
Fishing is an incredibly popular past time here in Marlo. The local jetty at the end of the main street or within the estuary are great spots fro land based fishing.
The Snowy River Estuary Walk starts at the township of Marlo and covers a distance of around 5 km one way. You can also access the boardwalk from other points along the Marlo to Cape Conran Road.
Cape Conran is a nice place to visit too. Short walks around the cape as well as exploring the rock pools and beach area make a great day out.
Finally, the iconic Marlo pub, established in 1886 has long been a place to gather for fine Aussie classics and a cold brew. The pub on the hill overlooks the waterways around the town and has indoor and outdoor seating with gorgeous views.
Where to stay in Marlo
Driftwood 4 bedroom home OR visit all holiday rentals at Stayz
Marysville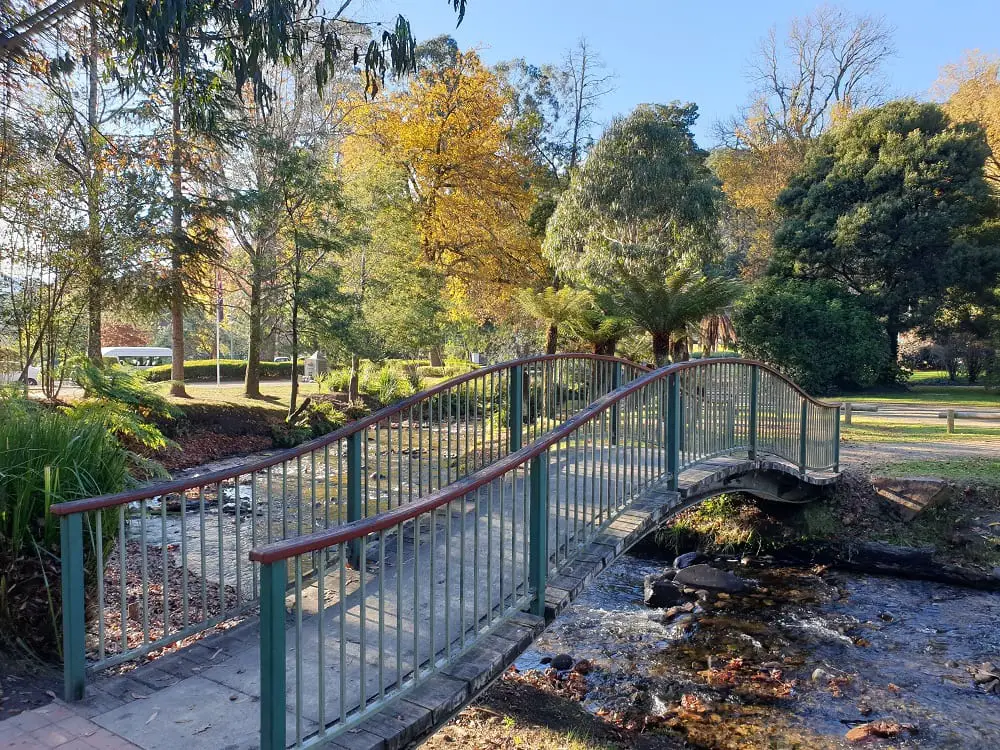 Location: Yarra Valley
Population: 394
About: Nestled in the foothills of the Melbourne's closest Alpine Resort, Marysville is a quaint and gorgeous spot any time of year. Ravished by fire during the infamous Black Saturday fires in 2009, the town and surrounding forest has rebounded to a place of rich and vibrant beauty.
Distance from Melbourne: 98 km
Things to do in Marysville
Steavenson Falls is close to town and one of Victoria's best waterfalls. It is also one of the most accessible too. The falls are impressive any time of day but you must come back during the evening after dark and view it under lights.
Hiking is also popular here with the Fern Tree Gulley Trail being a great easy hike. The trail starts from the centre of town and finishes at Steavenson Falls.
For those up for a more challenging hike, Keppell Lookout circuit is 15 km and rewards you with breath taking views over the surrounding area. Alternately, you can start further along the track or drive up if need be.
Gallipoli Park is just off the main street and Brunos Sculpture Garden, both nice spots within town.
The cafe and restaurant scene is small as expected but excellent for food lovers.
Still interested in Marysville? Read Things to do in Marysville for a couples getaway.
Where to stay in Marysville
Balangara Cottages OR visit all accommodation options at Hotels.com
Mountain Ash Lodge Or visit all holiday rentals at Stayz
Best Victorian Small Towns Conlusion
There are so many wonderful places within our fine state and my top 10 has only brushed the surface.
Oozing that small town charm that many are famous for, you can be sure that a peaceful and relaxing adventure awaits away from the hustle of day to day living.