As an Amazon Associate I earn from qualifying purchases. I get commissions for purchases made through links in this post.
The little town of Loch, once a sleepy community of predominantly dairy and beef farming has transformed into a lively and trendy hot spot that sees visitors arriving in their droves. It is now considered one of the best small towns in Victoria to visit. A place suited for both couples and families, there is plenty of great things to do in Loch for everyone.
And if food and wine is an experience you are looking for, Loch Village has it covered.  With some excellent cafes and restaurants, a Winery and Brewery & Distillery in town, Loch is the perfect place to visit.
This guide to Loch covers:
Things to do, places to visit, where to eat, where to stay and local events to save to your calendar.
Where is Loch Village?
Come spend some time in my part of the world. The tiny Victorian town of Loch is nestled among the rolling hills of South Gippsland, very close to my home town.
It is only a 90 minute drive south east of Melbourne, so can easily be accessed on a day trip. Alternately, if you are looking a great Victorian weekend getaway then the lovely town of Loch is the perfect choice.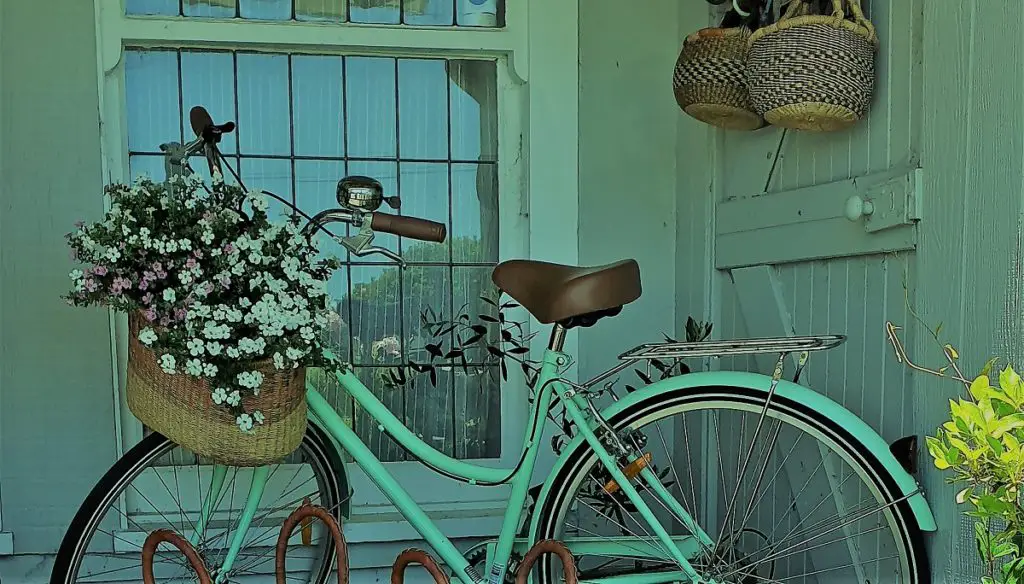 How Loch Village became "the place" to visit
Loch Village simply used to be the town that you passed through on your way to other South Gippsland attractions such as Wilson's Prom and the beaches along the Bass Coast. It was a blink and you'll miss it kind of town, but that has all changed over the last few years.
Once the bypass along the highway was established, the town really started to thrive with more specialty stores popping up around the town.  Over time Loch was able to solidify itself as the most quaint and charming village in the Gippsland region, and the rest is history as they say.
Be sure to read my post on – 10 Best small towns in Victoria
Things to do in Loch Village
There is plenty of great things to do in Loch for a memorable visit all year round.
Ride the Great Southern Rail Trail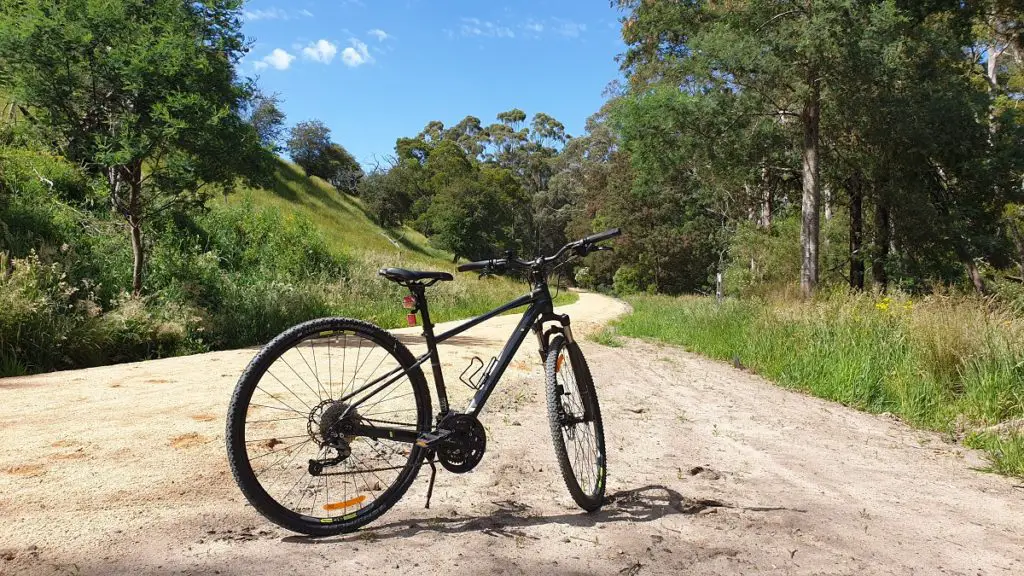 The newly opened section of the Great Southern Rail Trail extends all the way from Port Welshpool to Nyora, passing through Loch along the way. The rail trail was built on the old rail line that connected people in the area to the city of Melbourne. The former station is still standing and has been preserved along the track.
Bring your bikes and make use of the 108 km trail, passing through farm land and scenic surrounds. If you have young kids or prefer to be less physical, make sure you ride west toward Nyora otherwise it is all slowly uphill on the eastern side.
For those without wheels, the trail is popular with walkers also and offers a safe way for families to see the great outdoors.
Note: Some sections are still being complete such as Loch to Nyora.
Walk the Loch Suspension Bridge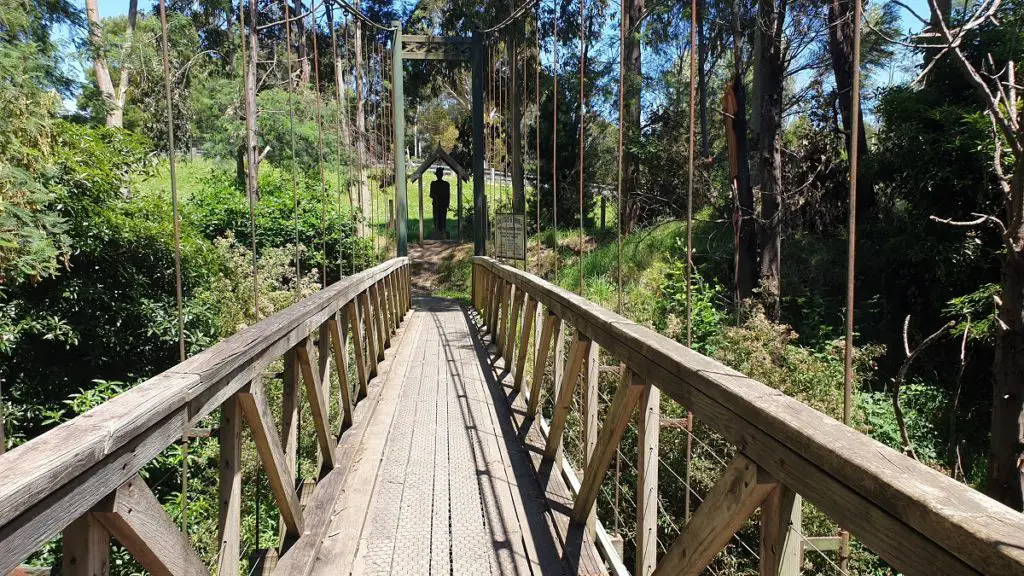 Built in the year 2000, the Loch Suspension Bridge connects the town to Memorial Park.  This was also once the location of the famous Loch Stock and Barrel, a live music event that went all weekend and saw hundreds of campers partying day and night. It was the event of the year, well for me anyway, at that young age. OK, clear the nostalgia.
The small and not too bouncy bridge passes over Allsop Creek where you will find a covered BBQ area with picnic tables.
Be sure to stop and read the memorial board before a walk around the grounds.
Discover Hilda Falls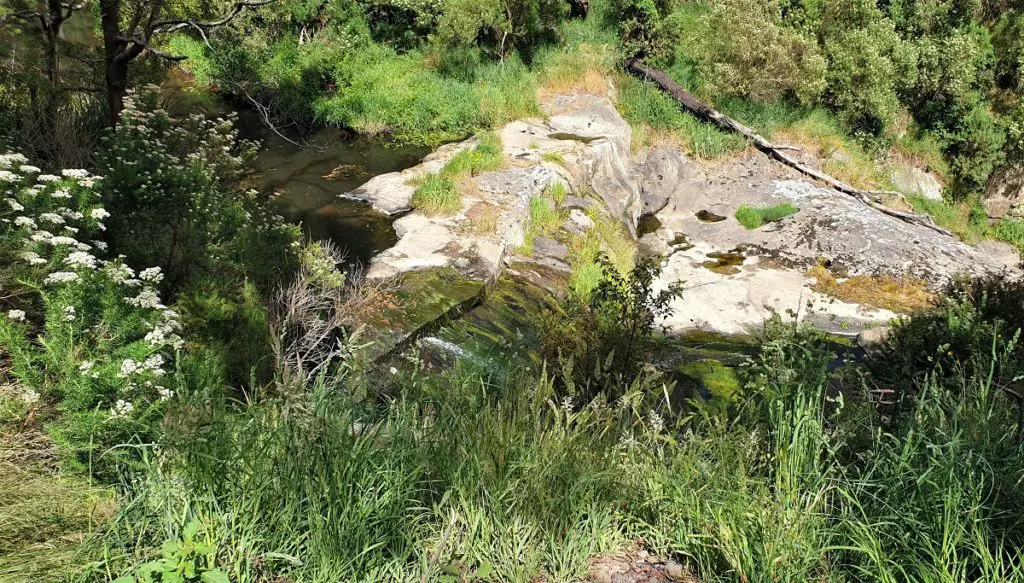 Once a hidden gem that was hard to access, the newly formed Rail Trail makes visiting Hilda Falls a much easier adventure.
Once you hit the trail, turn toward the township of Korumburra. That means turning right if coming from the main street and left if coming from the reserve. Hilda Falls is around 2.3 km from this point.
Look out for the newly built viewing platform and you'll be rewarded by this short but lovely waterfall.
Visit Cape Horn Lookout for panoramic views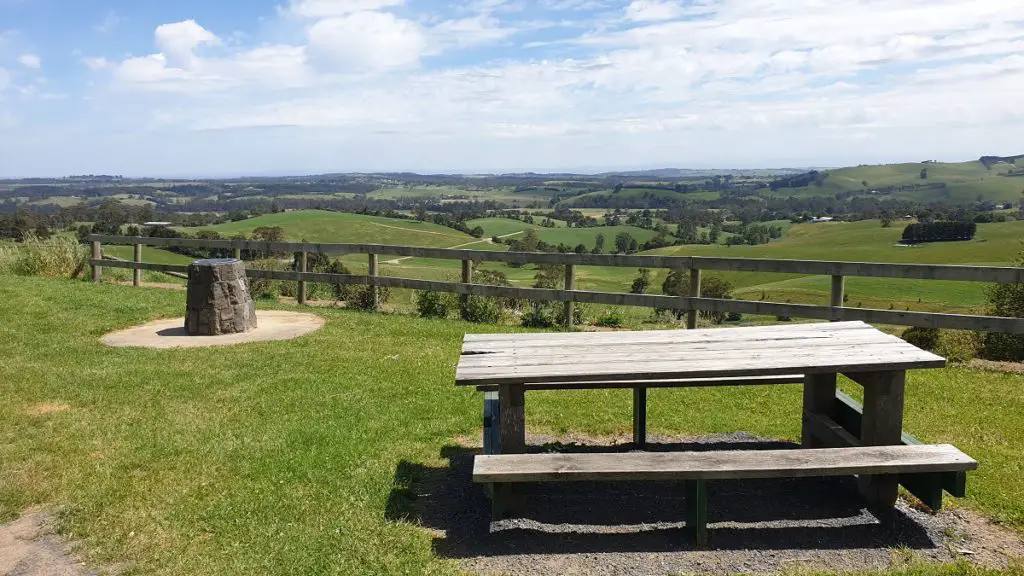 Located 1.5 km from the main street of Loch along the Loch-Wonthaggi road, is the Cape Horn Lookout. This is a great chance to see the country side from up high with views all the way to the coast on a clear day. You will find a compass with points of interest to the areas other attractions and towns.
You may even consider taking a picnic lunch up there and enjoying the panoramic scenery.
Take the kids to Sunny Side Park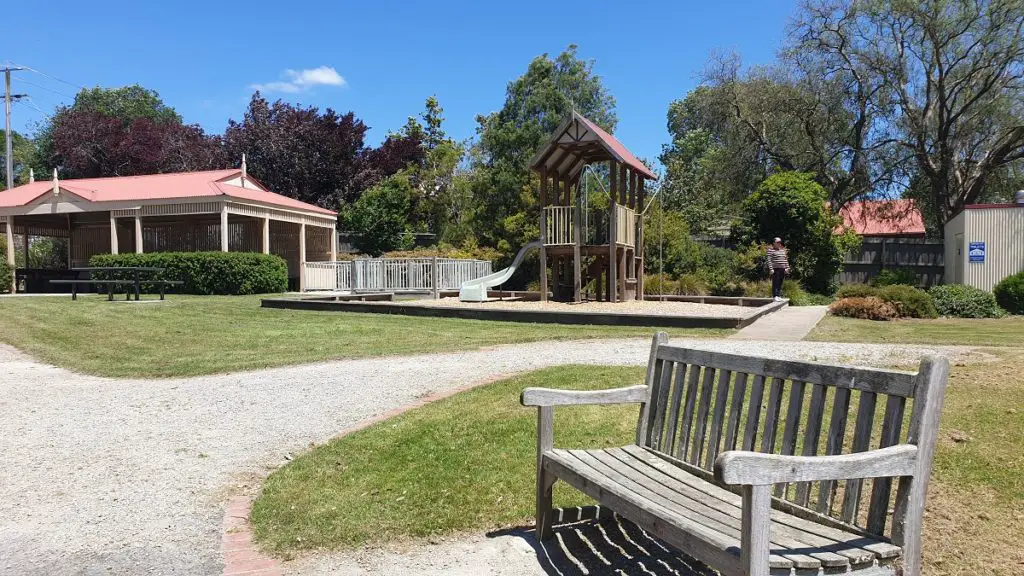 Sunny Side Park is a small kids park at the end of the main street with a pavilion and public toilets connected.  You will also find a skate park here.  Click the link provided for more details.
The Loch Shops – a quaint experience
Loch's main street is not long, but it will take you some time to explore each individual shop.  The town has quite a treasure trove of stores, with one seamlessly complimenting the next. The overall street scape is wonderfully presented with cottage style shops, flowering planters and lots of greenery and shade.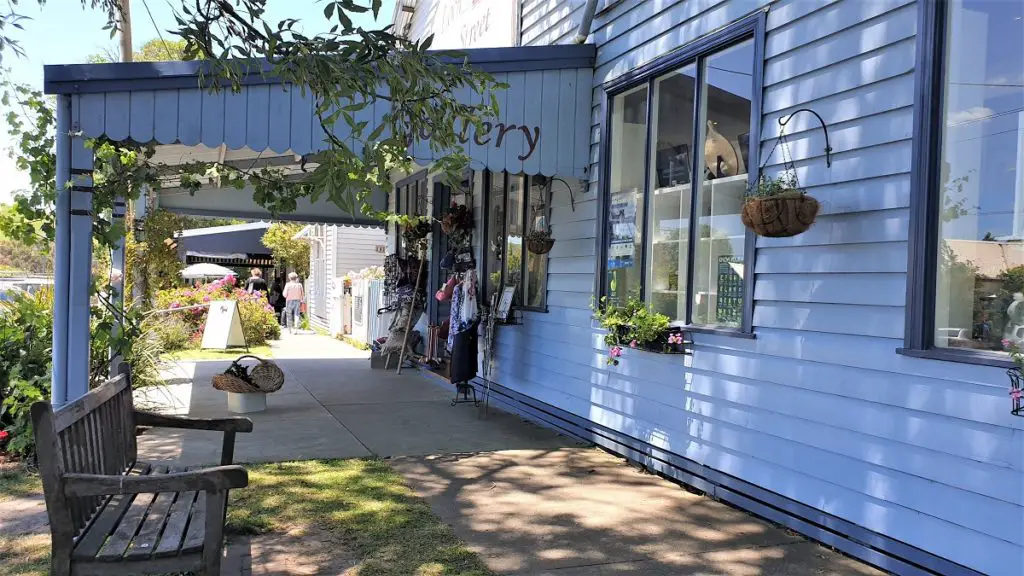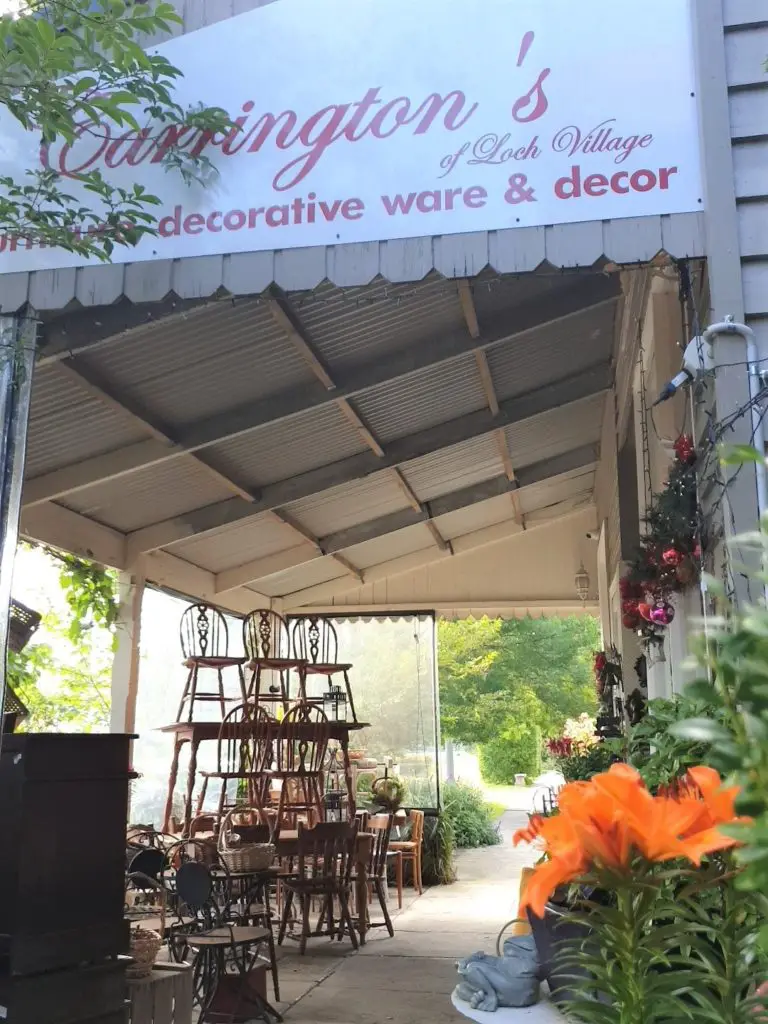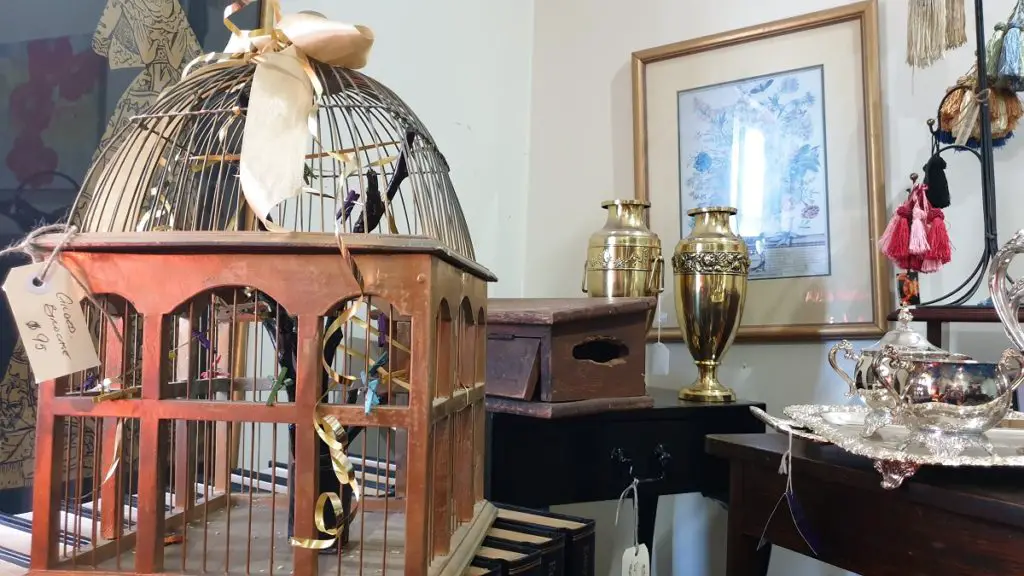 Head on into Yakkity Yak where you will find handmade goods ethically sourced directly from Nepal. The store supports fair trade organisations within Nepal such as the Women's Skill Development Project.  This cute as a button store offers a wide range of products including garments, baskets, bags and several great gift ideas.
If you love vintage and antiques, and an array of charming pieces then Carrington's of Loch Village will pleasantly surprise you. It is brimming with pieces in each room, with no empty space left behind. The store is very decorative and so thoughtfully presented. You can expect furniture, ornaments, crockery, vases and  all things that reminds you of yesteryear.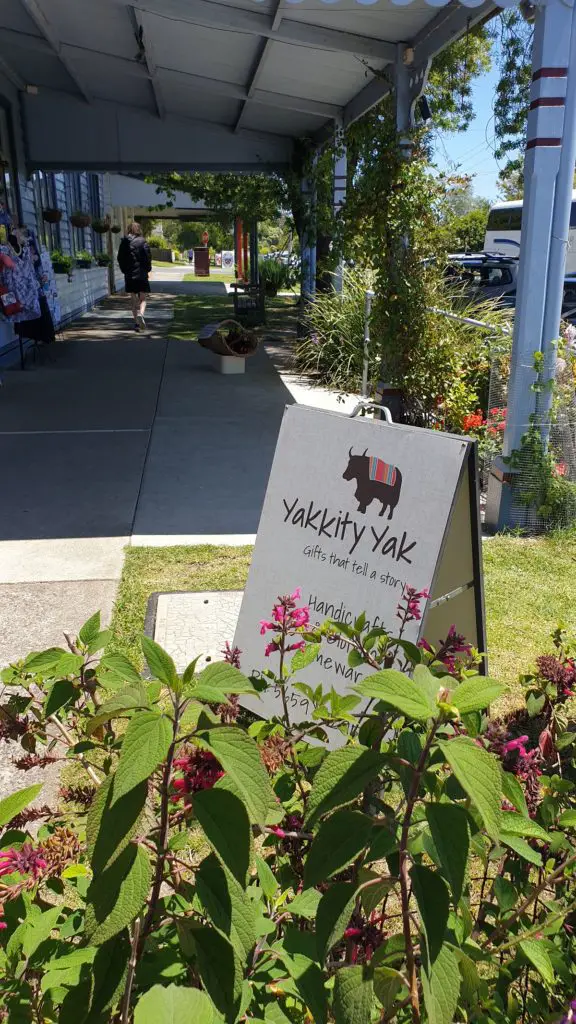 The Loch Village Emporium is a gift shop with lots of cool things such as artwork, old school confectionary, organic cosmetics, gifts and jewellery. And over at Victoria Street Gallery you will find art and craft, a great range of children's clothing, gifts, and lots of home wares.  
Tucked away on Bigelow Lane is the most wonderful boutique, Wildgrass. Be sure to look out for the sign or you may miss it. The lifestyle store supports fair trade, local and international brands. You'll find fashion, home wares, body care and accessories plus lots of gift ideas.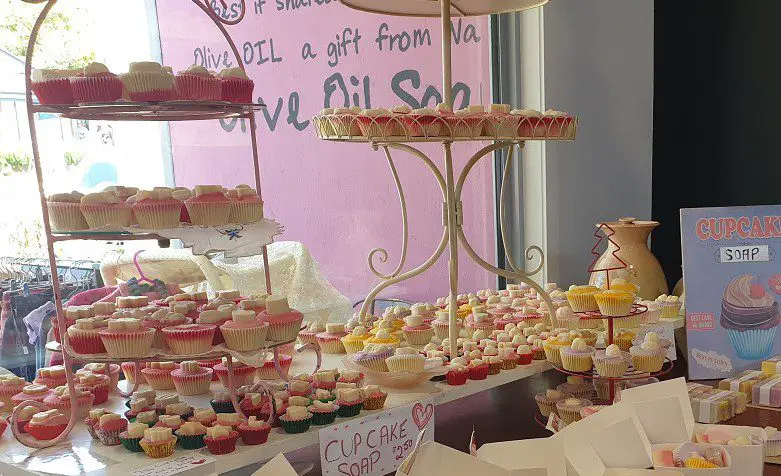 Lok 33 offers 'food for your skin" with essential oils, fragrance oils, hand-made soaps and much more. Be sure to pay this lovely shop a visit.
Further down the road is where you will find Peter McEwan Ceramics, featuring a collection of hand made pottery. The custom made designs include home and table wares as well as decorative items. Peter has been designing since 1975 and offers workshops in his studio.
Opportunity Lochs is the local op shop for those looking for a pre-loved bargains. All funds raised support the local community.
Loch Cafes – indulge a little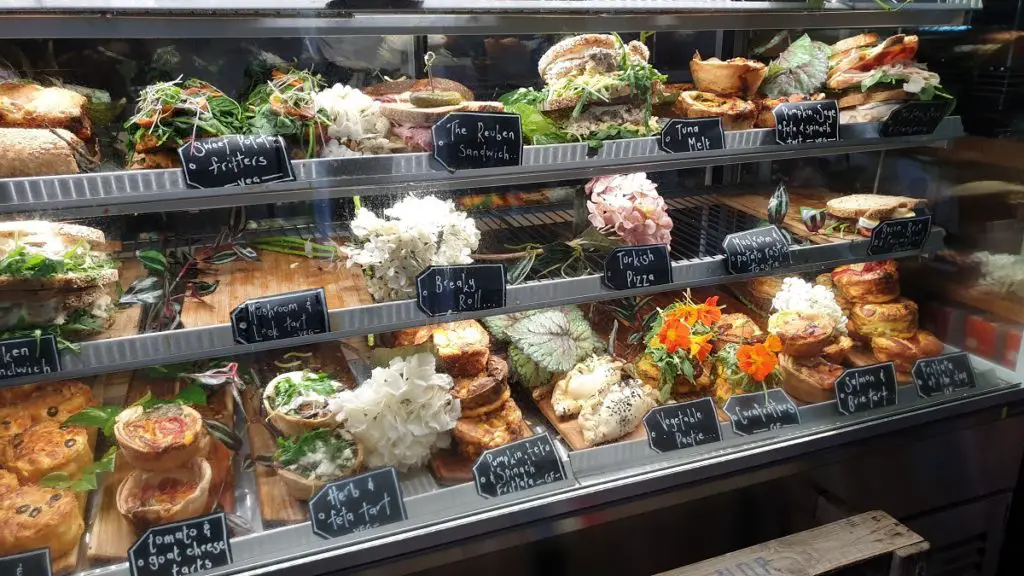 Loch has become famous for its glorious local produce, which has become quite evident on a weekend.  Indoor and outdoor dining venues invite fresh country air and delightful aromas.
You will friends and family at various cafes and restaurants sipping coffee and experiencing the local food on offer.
Olive at Loch, named after the combi van in which the owners drove into town in, is one of Loch's favourite cafes. Serving up scrumptious cakes and desserts as well as a range of rustic dishes, Olive at Loch appears to always be busy, inside and out. They also have an adjacent space of home wares and produce to shop.
Another fan favourite is the Loch Village Foodstore & Cafe. The interior displays a true country flair and pleasing aromas. Start with great coffee and a light or hearty dish for breakfast or lunch. Finish with a classic dessert such as rhubarb cake or jam and scones. Yummy right!
Sit inside or enjoy the garden space out the back on a gorgeous day.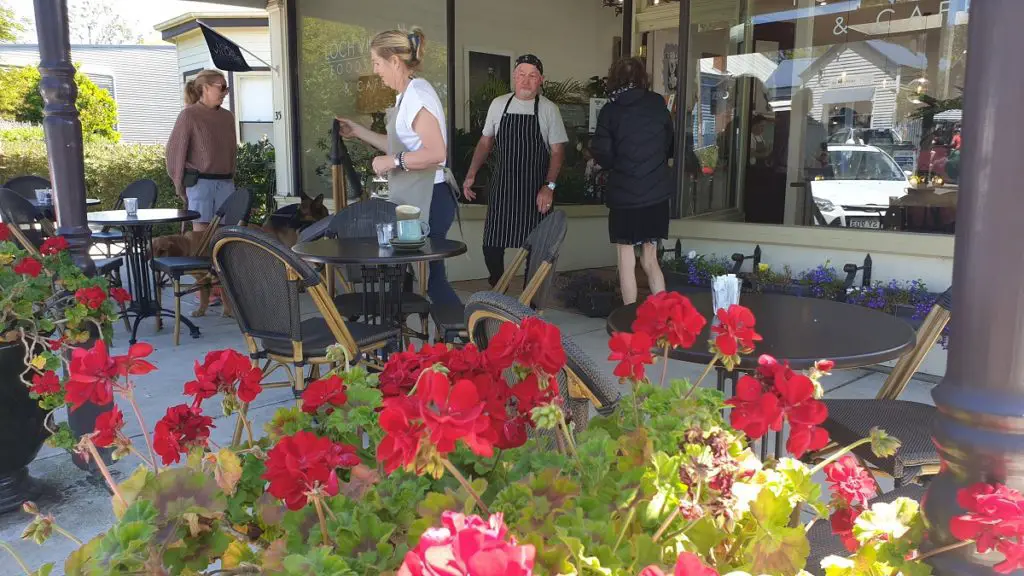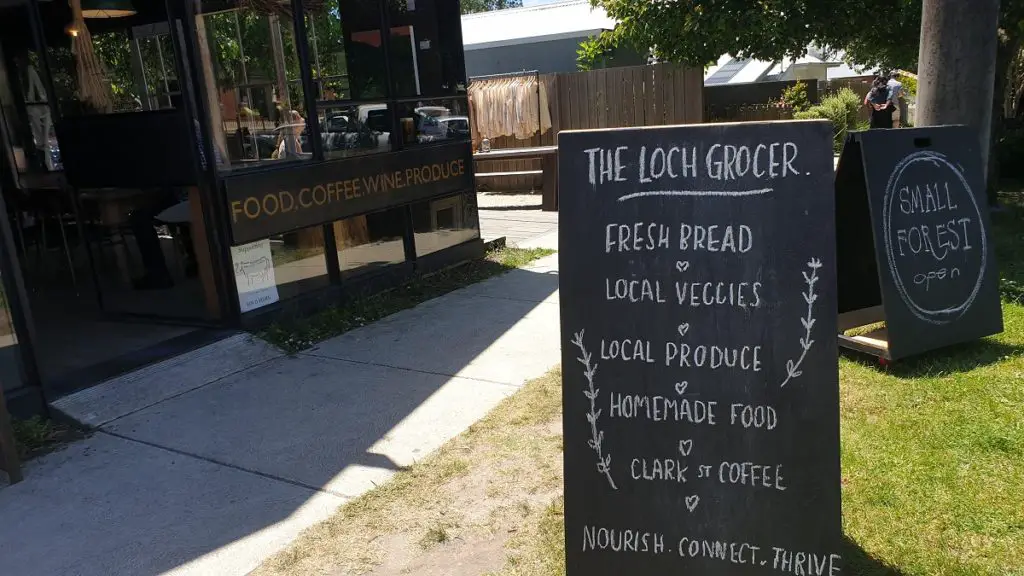 Rustic Fork is all about the freshest produce and rates very highly from its customers. The menu may change seasonally. but the quality is forever apparent.
For take home produce you have to check out The Loch Grocer. Fresh bread, local veggies, home made food and produce, it is a gourmet delight.
Pizza lovers can enjoy a wood fired pizza set in a casual and relaxed atmosphere,. The Loch Wine Bar is open for lunch and dinner. Diners can indulge in a gourmet pizza or tapas to share with a glass of wine, beer or cider.
The establishment regularly hosts live music. You can see updates here.
Local digs – beer, wine and spirits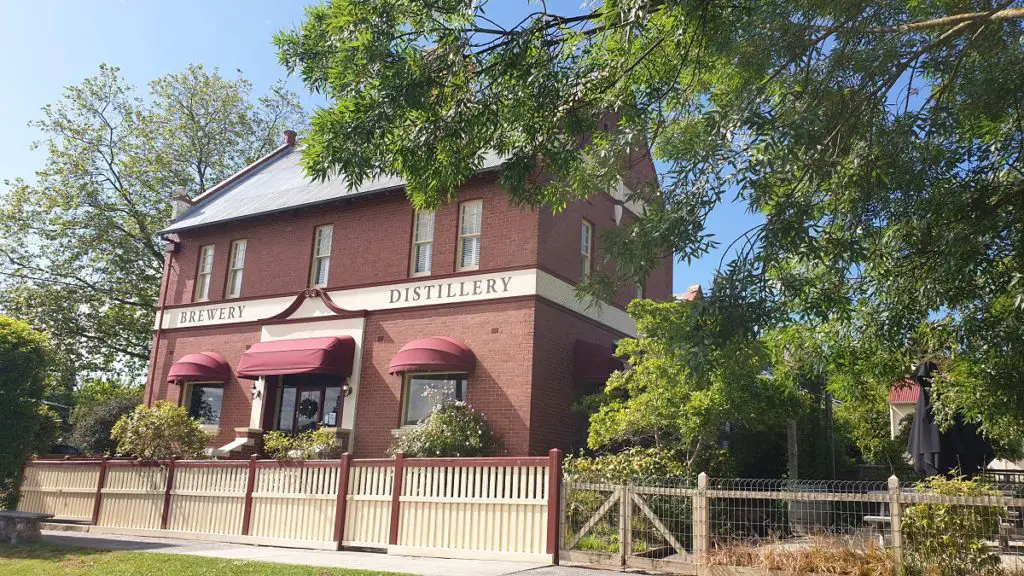 The tiny town just keeps delivering the goods for visitors. This time in the way of locally brewed beer, wine and spirits.
In the main street is Loch Brewery & Distillery. It is situated in the 100 year old former bank building, an historical classic. Sample the various beers or relish in a gin, vodka or single malt whisky. Inside you will find a pleasing atmosphere where you can sit, or head outside to the picnic tables and watch the world go by over a drop or two.
The Gippsland Wine Company can be found just out of Loch Village and offers a cellar door showcasing their range of cool climate wines.
Places to stay near Loch
Staying in or around Loch is an experience in itself. The beautiful hills of South Gippsland provide a gorgeous backdrop and a relaxed feel all round. Give yourself a chance to unwind by staying a night or two in the region.
Silverbirch Cottage Check out all holiday rentals on Stayz Australia
Only 500 mts from the centre of Loch, the 3 bedroom property can accommodate up to five people and is set in a beautiful location for tranquility and scenic views.
Wodella Horse Farmstay Check out all accommodation options on Hotels.com
The one bedroom studio sits on 65 acres of farm land and is perfect for those seeing solitude and a relaxing atmosphere.
The Chevalier tiny house Check out all holiday rentals on Stayz Australia
Suited to two guests, this tiny house is nestled in bush surroundings on a horse and cattle stud.
Calendar of Events
Why not plan your next trip to coincide with one the towns special events.
Loch Food and Wine Festival
Celebrating everything Gippsland is the loch Food and Wine Festival
When:  Held on the Sunday of the Queen's Birthday Weekend in June
The festival is without doubt the biggest event on the yearly calendar. This larger than life event show cases everything that our wonderful region has to offer. Expect crowds in excess of 5,000 descending into the town with a population of 638.  
What a wonderful winter escape this would make so put it in your calendar.
Loch Village Summer & Winter Markets
Everyone love a local market right. You can expect up to 70 stall holders – craft / produce / plants
When: Every 2nd Sunday of the month
Summer Schedule: October to April
Where: Loch Railway Station Reserve 9 am – 1pm
Winter Schedule: May to September
Where: Loch Town Hall
Loch Annual Garden & Antique Fair
The two annual events were previously held together every year for 11 years straight. The last couple of years have seen a pause in the event. We hope to see the Loch Annual Garden & Antique Fair back real soon.
NYE on the Hill
The famous 3 day event is held during the New Years festivities on a local farm only 10 minutes out of Loch. With a huge line up of musical acts, camping and stall holders to help keep everyone fed and hydrated, the festival generally sells out weeks in advance. You can see more here – nyeonthehill.com.au
For live music, the Loch Wine Bar regularly hosts musicians over the weekends. A great excuse to chill out and enjoy the local vibes.  
Other things to know about Loch Village
Being a small rural town, Loch has limited services, but luckily there are bigger towns nearby is needed.
There is a service station in town but don't expect it to be open all night. Monday to Friday trade is 7 am to 6 pm and weekends 7 am to 4 pm.
If you need to find a supermarket, IGA in Korumburra is only 10 minutes down the road. The town has a 24 hour service station and some great dining options for dinner too.
For a unique and soulful experience, why not make Loch your next Victorian getaway.
What to read next:
Great Victorian weekend getaways
Victoria travel ideas – try something new