As an Amazon Associate I earn from qualifying purchases. I get commissions for purchases made through links in this post.
Looking for a relaxing weekend getaway, romantic mini break or timeout with your better half? Marysville has a lot to offer and is considered one of the top places to visit in Victoria. It's no wonder, its' natural beauty is simply stunning, making it one of the best small towns in Victoria to visit. This is a guide to the top things to do in Marysville for couples. 
Marysville Location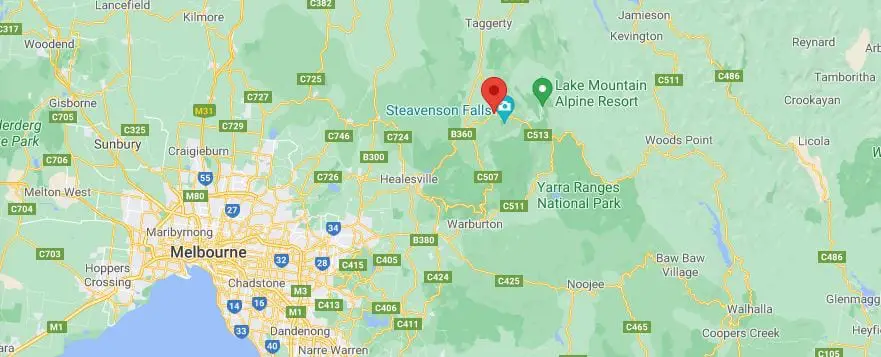 While it might be under 100 km to reach Marysville from Melbourne, the drive will take around 1.40 hrs along the Maroondah highway due to the road conditions.
The Black Spur
As you head out of Healesville, you will notice the road conditions changing. This is because you are now entering the Black Spur. It's a little windy in spots, but the scenery is simply gorgeous. Take your time on those corners, you don't want your loved one getting a bout of car sickness before you have even arrived at your destination. (there goes the romance)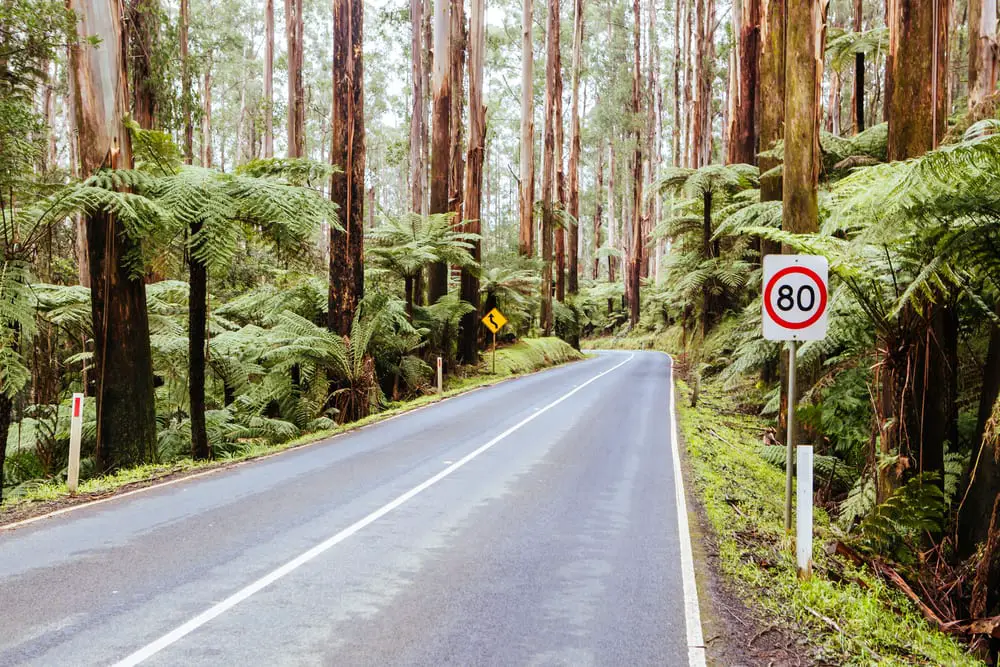 The towering mountain ash and fern trees make this drive very special. You may notice a quick drop in the temperature also while passing through, as the area is well shaded. This means that on wet days this road needs careful navigation.
If you have time stop into the Black Spur Inn, only 1o minutes out of Marysville. This historic pub has survived two major bush fires, the great 1939 bush fire and the devastating 2009 Black Saturday Fires. Opened since 1863, it's a worthwhile stop to or from Marysville.
Most romantic place to stay in Marysville
A couples getaway always involves a spa and a comfy king size bed. You can't beat a stay at Balangara Cottages. 
Located right off the main street, the hosts Christine and Ashraf are extremely welcoming. The modern style cottages have decking which face Gallipoli Park, but provide plenty of privacy.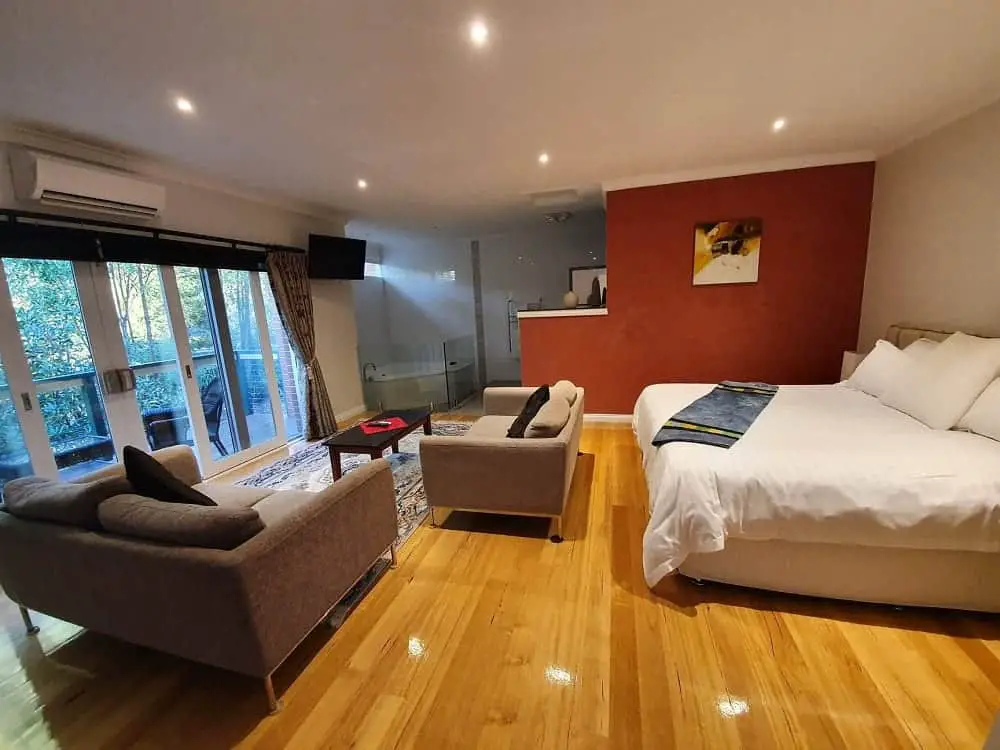 Rose Cottage
We stayed in Rose Cottage with a corner spa. On a cool Autumn's night, it was pure bliss. The heated towel rail was also a nice touch. You'll find a separate shower, small kitchenette and bath robes.
Wake up to a delicious breakfast which is provided in the price. Try the home style muesli & the freshest croissants. Then Christine will cook up eggs, bacon, tomato, mushrooms, spinach and toast. A generous and hearty way to start the day.
Top things to do in Marysville
Do as much or as little as you want. Marysville gets to you that way.
It's the kinda place you could really slow things down. Short strolls, local cafes and extra long sleep ins. Or exhilarating hikes and scenic drives. So which way to go?
Steavenson Falls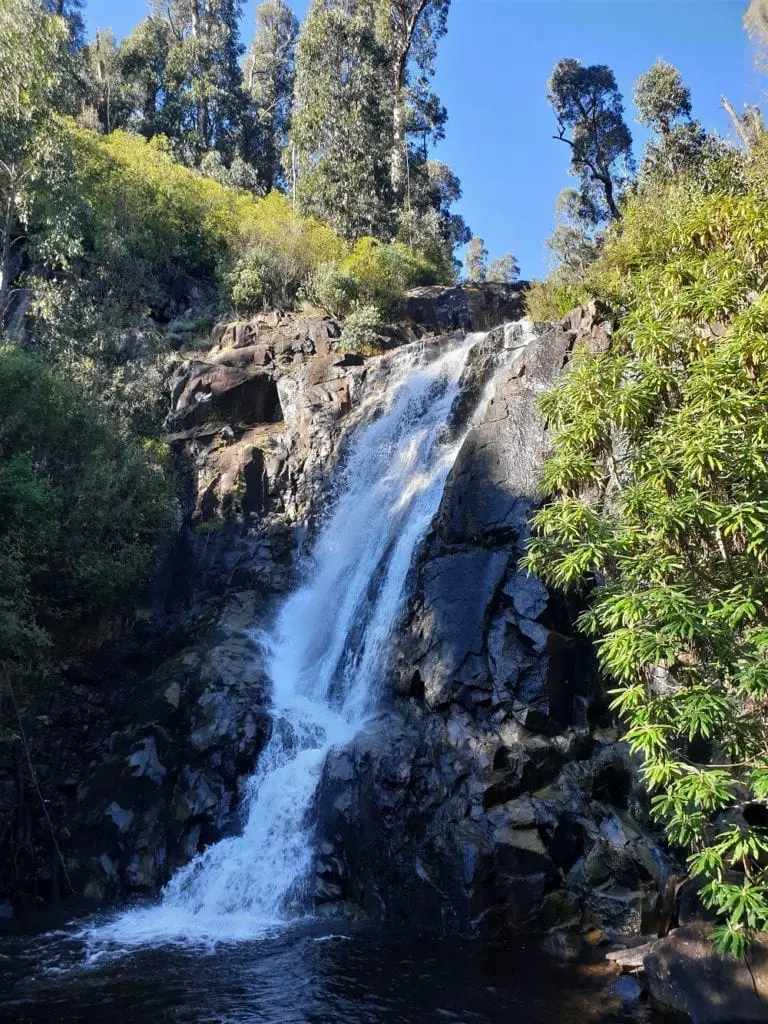 The number one local tourist attraction, Steavenson Falls (spelled correctly) is stunning. With 5 cascades and a final 21 metre drop into a small pond, it's no wonder crowds flock here.
The car park is no where near big enough to support the amount of people coming in on a weekend, so be patient and you'll get a spot. You will need to pay a $3 cash only parking fee which is valid all day.
The walk from the car park is a short 350 metres (700 mt return) and you will find a few vantage points to see the falls.
Walking trail to Steavenson Falls
Feel like taking in the surrounding scenery as you make you way up to the falls on foot instead. The distance is  4 km from the main street. You'll take the Fern Tree Gully trail, an easy, scenic and rewarding walk. You can get a local map of the trail from the Marysville information centre but it's easy to follow.
Steavenson Falls at night
You absolutely must go to the falls during the evening, after dark. The flood lit falls are operating from dusk to 11 pm. The best part is, the crowds have died down and you can reuse your parking ticket from earlier the same day.
Hiking to Keppell Lookout
A challenging and at times strenuous hike to the top of Marysville is full of rewarding views. There are two possible ways to get there when hiking.

Via Steavenson Falls – hike along Fern tree Gully track and link onto Keppell Lookout Trail. The 15 km circuit is expected to take 4 to 5 hours. It can be slippery in some parts so wear sturdy shoes and take water with you.
Alternately, start from the Falls Road car park. The distance is a 11 km loop and will take 3 to 4 hours.
If all else fails, you can drive straight to the top and save your legs.
Bruno's Sculpture Garden
Located along the Falls Road but walking distance from the centre of town, this little gem is interestingly unique.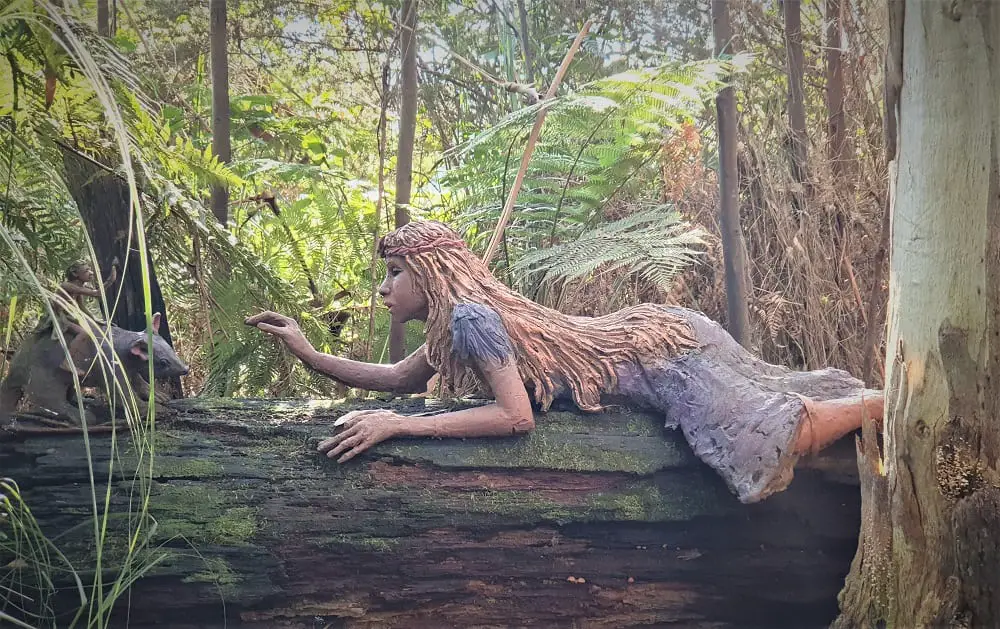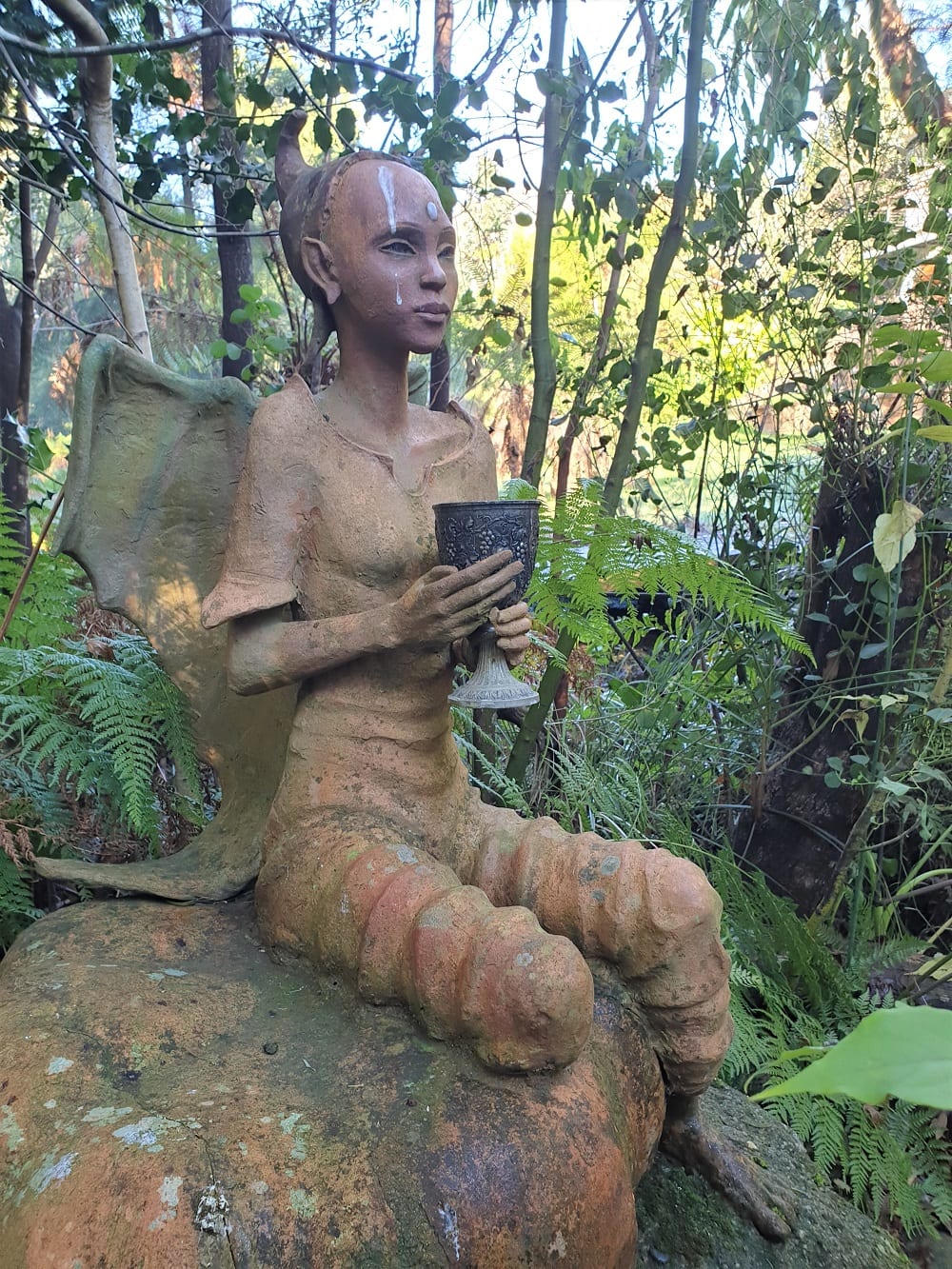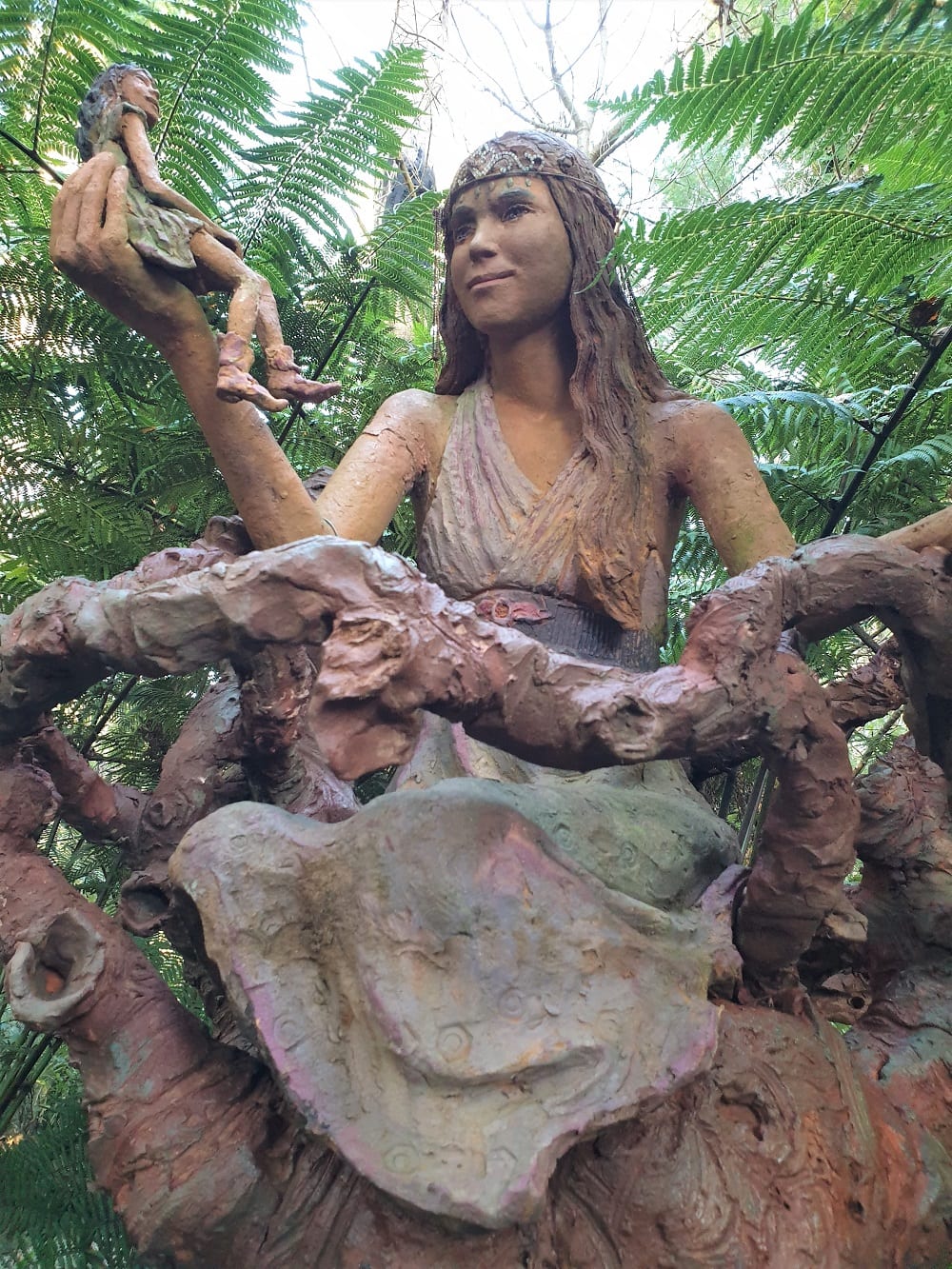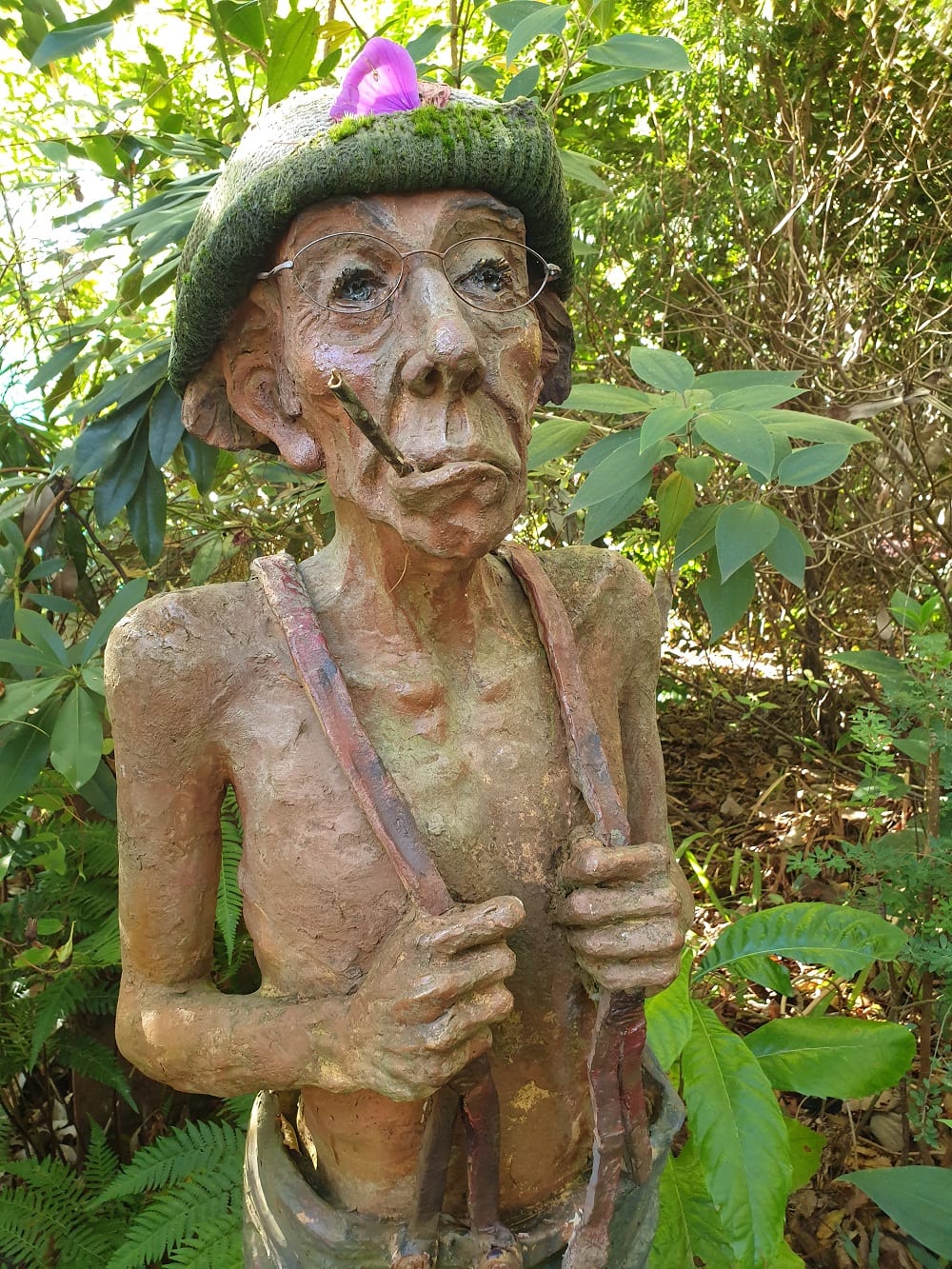 A $10 adult fee in cash will get you in to view the 160 or so sculptures scattered throughout the gardens. The amount of work that has gone into this popular attraction is quite evident. It's an adult fairy tale- I don't know how else to describe it frankly. As I said, it's very unique in a really good way.
Expect to spend anything from 30 to 60 minutes here. Bruno is usually around to answer any questions.
Life after the bush fires
Unfortunately Bruno's Sculpture Garden didn't survive the 2009 bush fires that ripped through the town. You can see the many photos around the property of the devastation at the time, and its' impact on the sculptures and the land. It is quite incredible just how well the people and the forest bounced back, and makes it all the more worthwhile.
Beauty Spot Nature Trail
If staying at Balangara Cottages, it is a short 500 mt walk to the nearby park and entry point, located on Kings Road.
Or you can do what we did and get completely lost in the car (after coming back from Steavenson Falls) and take the wrong entrance down a four wheel drive track. Lucky we have a four wheel drive right!
The Beauty Spot Nature Trail has two loops, a short and a long. But both are actually not very long. The short loop is 500 mts and will take 10 to 20 minutes. The long loop is 1.5 km and will take 20 to 40 minutes.
The trail is flat and easy, and dense, with ferns and tall forest trees. Some of the board walks are slippery so take care as the ground doesn't see much sun.
It's also a great place away from the crowds, where you and your loved one can have some time alone.
Gallipoli Park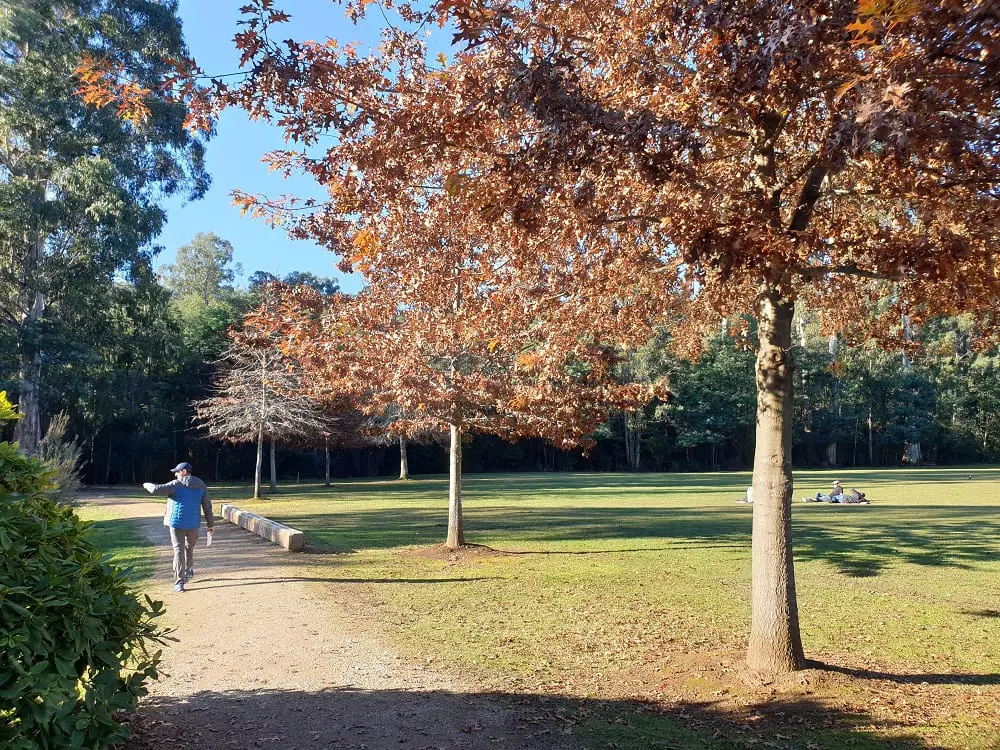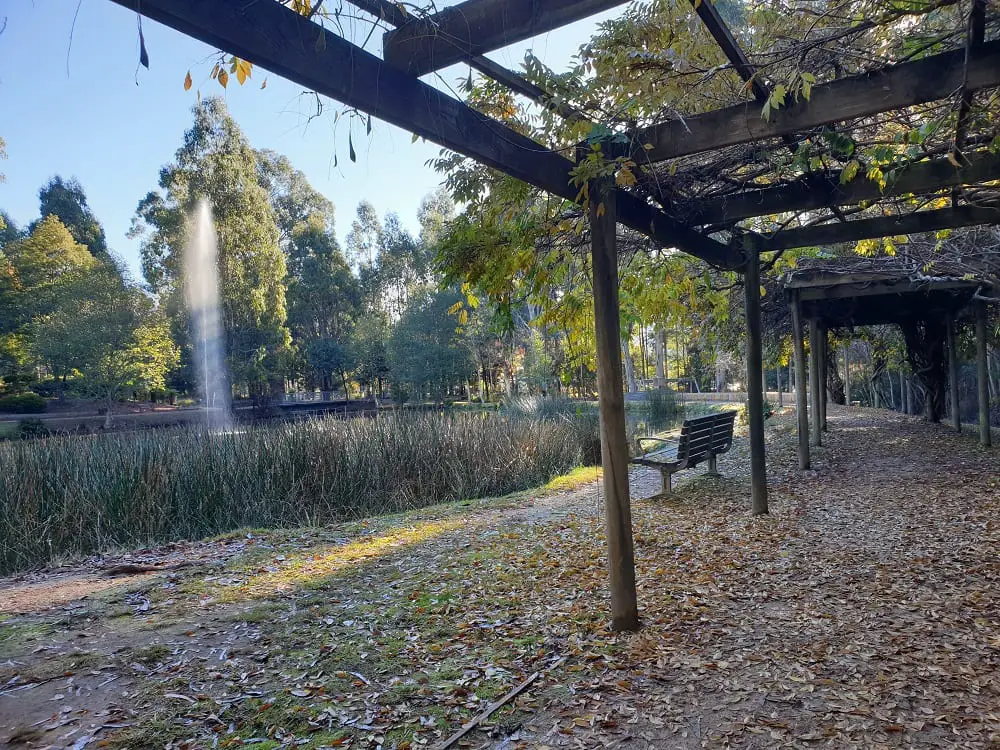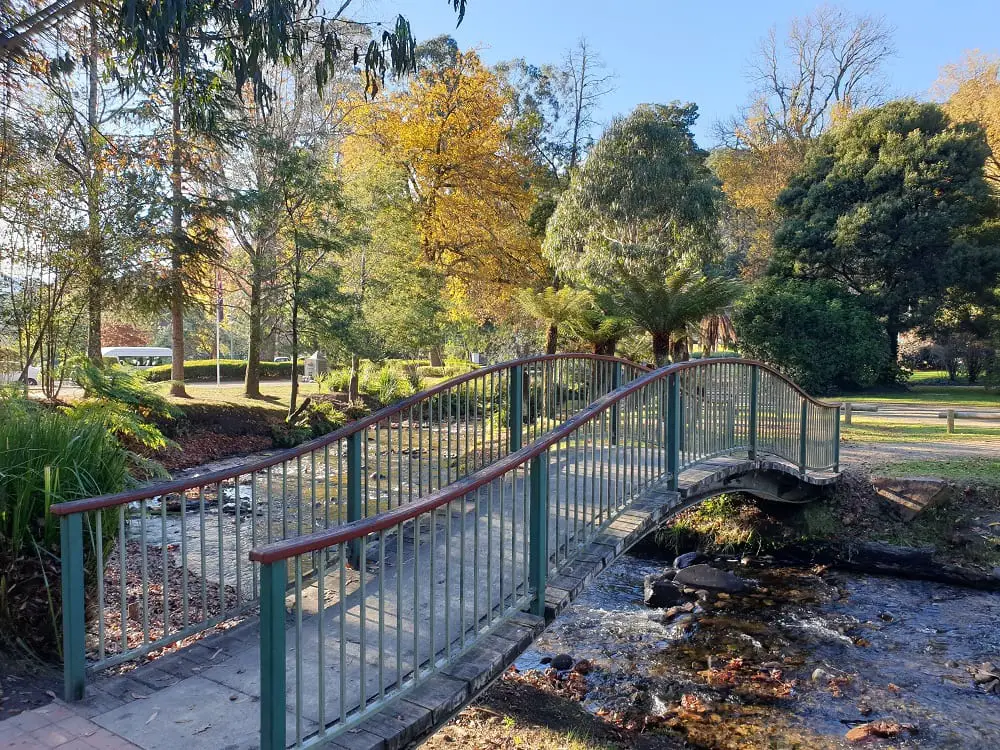 Located directly off the main street, Gallipoli Park is a great place to take a stroll.
The parkland in Marysville is beautifully maintained and well presented. Head up to the lake for a quiet sit down or enjoy a picnic on the grass on a sunny day.
Marysville Lollyshop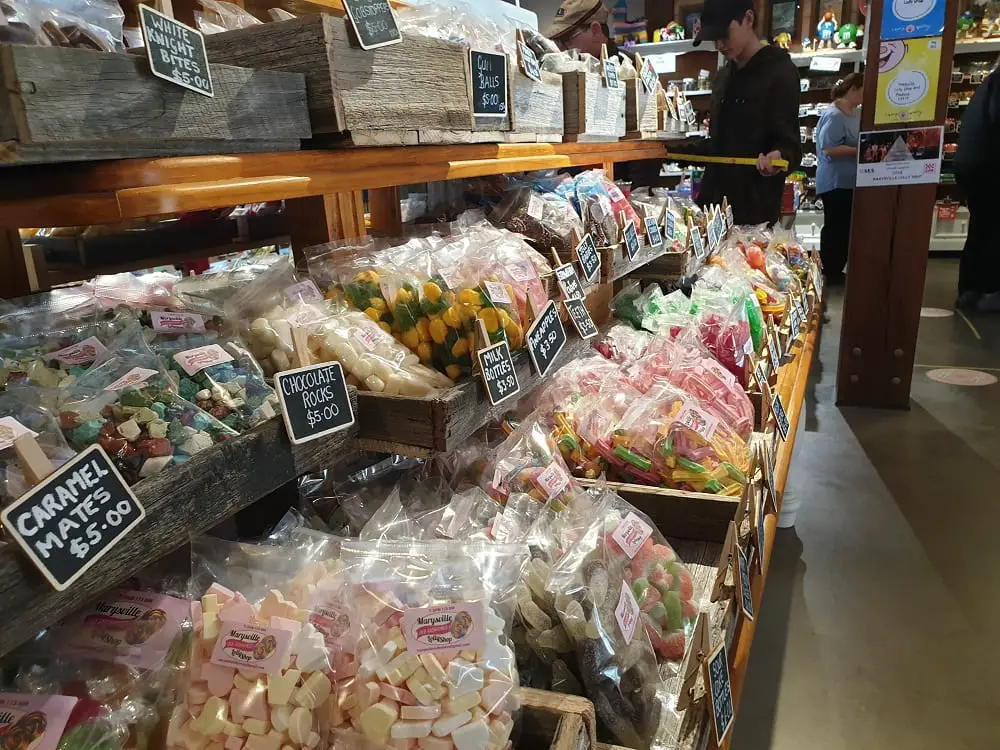 Who doesn't love a good old fashioned lolly shop. Located in the main street, you will find all your favourites here, along with a local produce section of home made condiments, spices and other delights.
There are plenty of sweet treats for everyone and I couldn't go past the white chocolate raspberries that were calling my name. A nice after dinner delight.
A drive to Lake Eildon
Did you know you are only a short 40 minute drive up to the magnificent Lake Eildon, via the township of Eildon.
The drive is picturesque in many parts, including along Memorial Drive.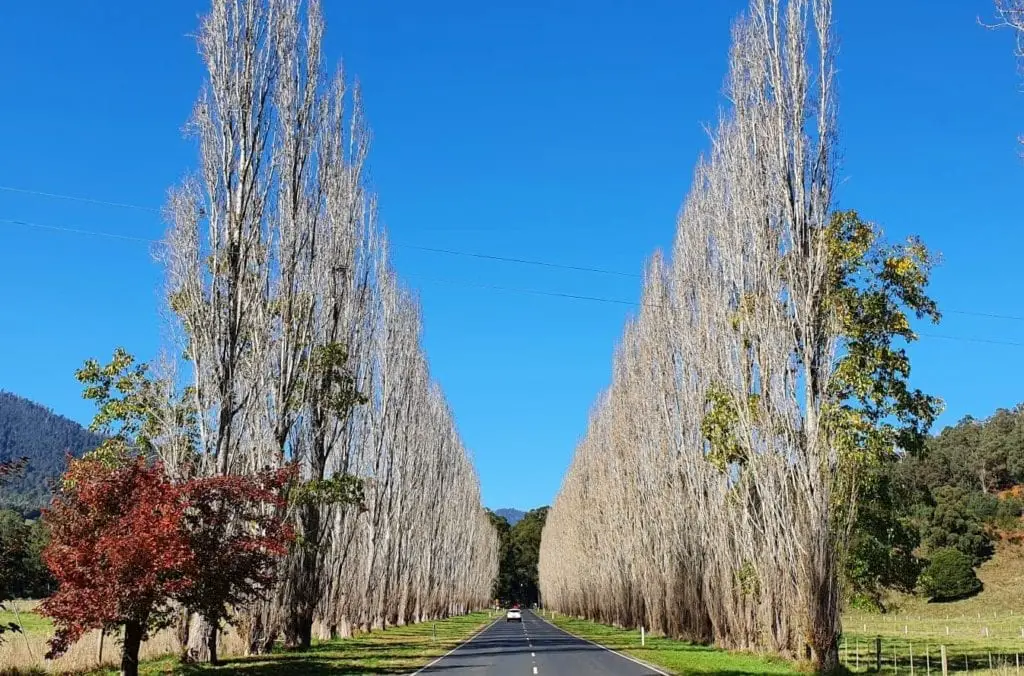 Head up to the best view of the lake at Foggs Lookout. The short windy drive off the main road turns to a final section of gravel suitable for all cars. It was a glorious day up there, perfectly blue skies and no crowds. In fact we were the only ones there. Nice!
Next you can drive down to Jerusalem Creek on your way back down the mountain. There is a general store here, plenty of boats and a great pub style restaurant overlooking the water.
Next head across the dam wall and stop at Eildon Spillway Lookout before connecting onto Sugarloaf Drive. We called into the Aqua Bar and Cafe for a light lunch. The view was pretty cool.
A drive up to Lake Eildon with the above stops took 4 hours out of our day. So if you have the time, definitely think about about adding this into your itinerary in order to see the beauty of this region.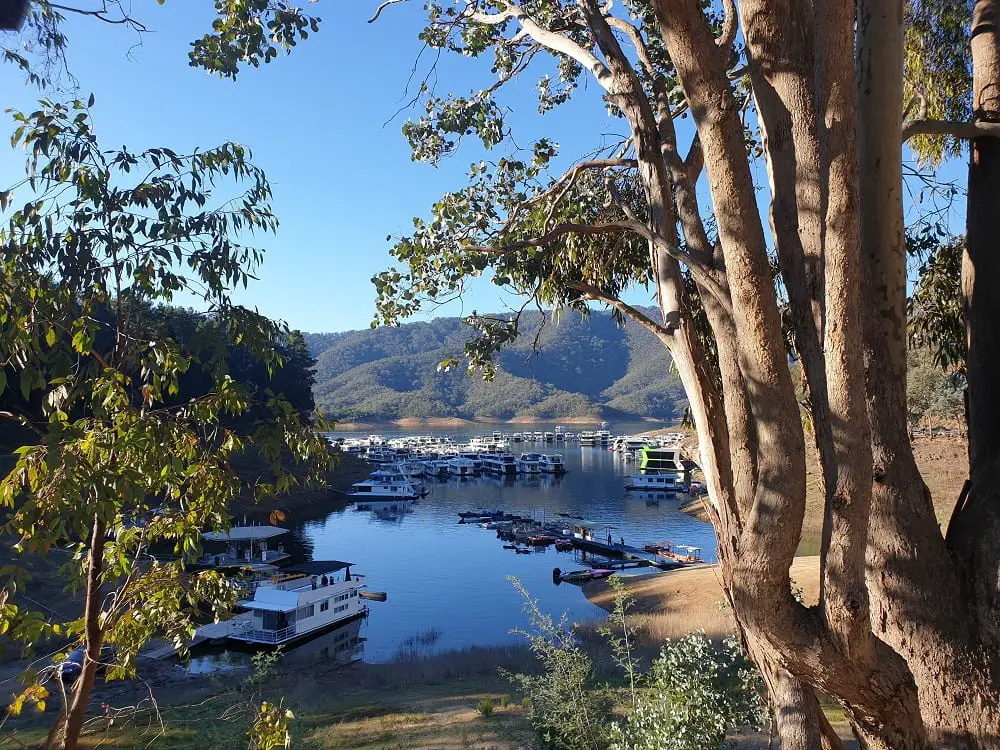 Dining out in Marysville
Marysville has a few dining options to choose from.
We dined at the Duck Inn pub twice while here. A lively little pub right at the end of the main street, the meal options are pretty standard, but they also have some more upscale options too.
My husband enjoyed the lamb shank on a bed of mashed potato while I had seafood linguine. The second night he had butter chicken and I had a comfit duck leg on a bed of risotto. Both nights were good and service was super quick considering it was a full house.
Marysville Take Away was a good option on a night we just couldn't be bothered going out. I'm afraid the spa had both our names written on it that night. Friendly service and good fish and chips.
Good lunch options include Fraga Cafe,  Keppell Cafe or the Marysville Bakery.
The perfect weekend getaway
Marysville is a wonderful place to visit. It is a jewel in the Victorian Alpine region and everyone seems to love it.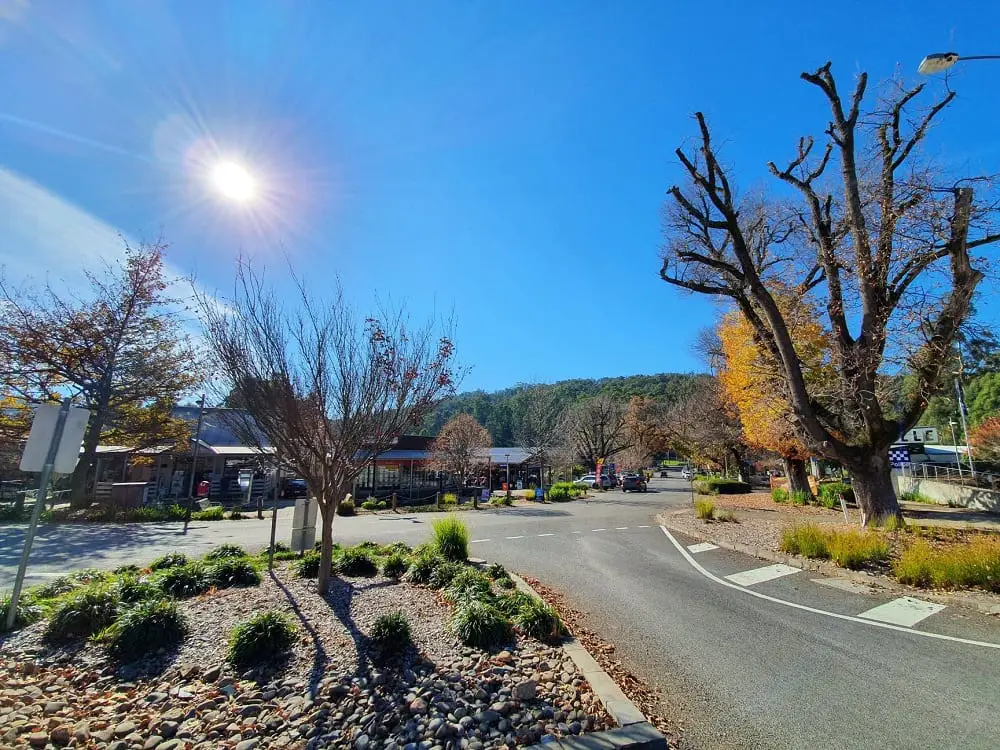 Dress for the region
Weather conditions are generally much cooler than the city so be prepared for extra layers in the Spring and Autumn time and of course, throughout winter. It gets cold very quickly at night with temperatures dropping rapidly at times. The early mornings can produce frost and heavy fog.
Sneakers take precedent over high heels here. Well, that's what I found most comfortable.
Book ahead if possible
Be sure to check bookings ahead of time for the best deals. With Australians checking out more of their own backyards more than ever, Marysville is seeing a boom in hotel bookings. And especially with the uncertainly of how far to travel, weekend getaways are very popular.
Have fun in Marysville.
What to read next
10 Best small towns in Victoria
Weekend getaways- beaches and nature