My stay at the 5 star Werribee Mansion Hotel and Spa was the perfect weekend getaway. It was filled with luxury comforts, indoor swimming,  strolling the extensive gardens and visiting the nearby Werribee Zoo.  Though this stay was a family one, I had previously enjoyed a more romantic stay as well. Either way, I loved it enough to want to come back and experience it again. Here is my Werribee Mansion review.
Werribee Mansion Review
Located a short 30 minute drive from Melbourne, in Victoria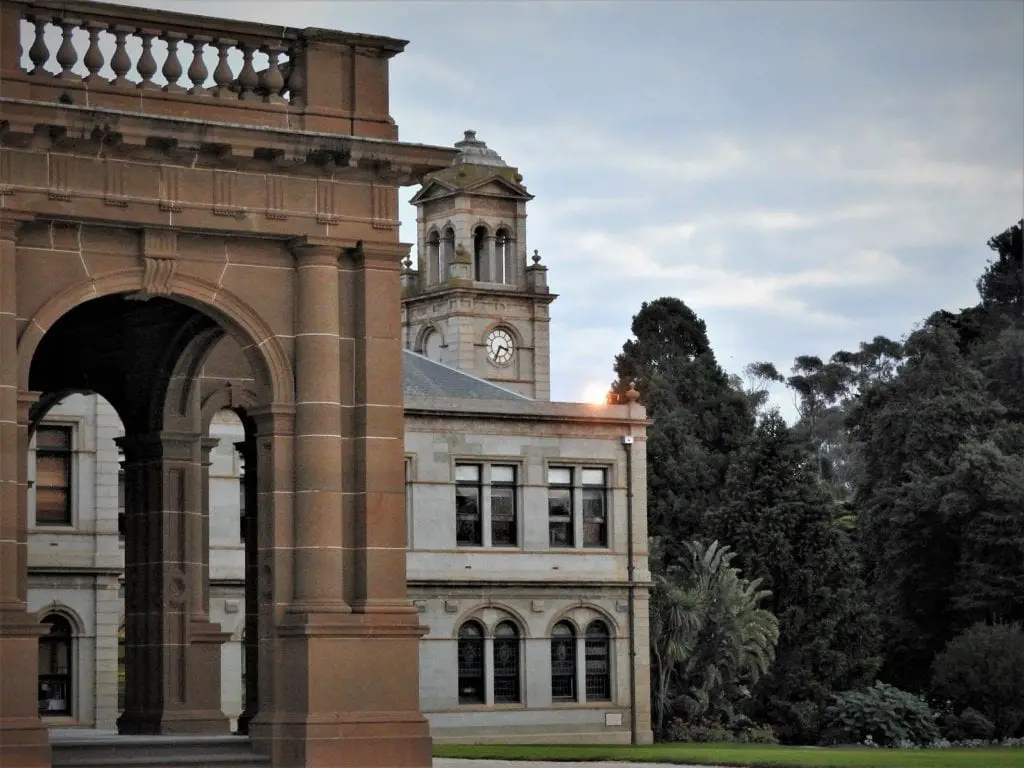 Why stay at Werribee Mansion Hotel ?
I'm not the usual type to be booking luxury stays every time I go away. So when I do, I really want it to be extra special. If you too are looking for  a hotel that promises to provide an indulgent experience rather than just a stay, Werribee Mansion is a fine choice.
It was once a grand residence 
Werribee Mansion hotel has stood since the 1870's, a once grand architectural Italian inspired home.
In 1923 it became  Saint Josephs Seminary and a wing of rooms was built which housed and educated thousands of young men training to become priests, right up until the 1970's.
It was in the year 2000, Werribee Mansion was transformed into the 91 room hotel it is today.
Guests staying here have complimentary access to the heritage listed  mansion.
Werribee Mansion Rooms Review
Some rooms at the Werribee Mansion may be smaller than expected, because these are the original rooms used by students from early last century. They provide all the luxury you'll need for a comfortable stay. I stayed in the smaller Heritage room but they have larger rooms and junior suites with spa for those seeking a bit more comfort.
You'll find complimentary bathrobes and slippers which come in handy when heading to the pool or spa.
Tea, coffee and hot chocolate is provided, free in room WiFi and even a pillow menu.
The beds themselves are absolutely dreamy. In fact, after I first stayed here I immediately went out and purchased a new bed and mattress. I could never go back to a mediocre bed ever again.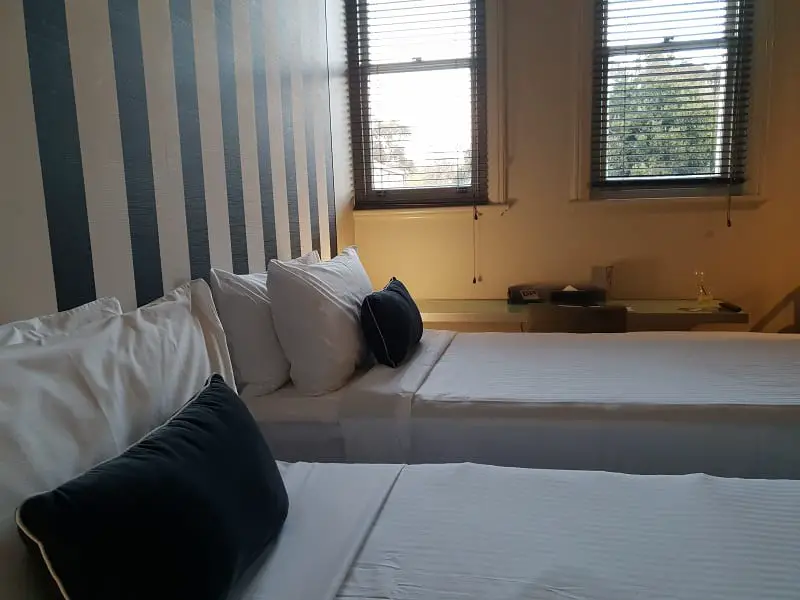 Werribee Mansion Gardens 
Taking some time to explore the grand gardens of Werribee Mansion is a must. The expansive well manicured lawns provide a gorgeous setting for a picnic in the sun.
The walking paths will take you to the ornamental lake, the grotto and several beautiful flowers gardens. Ghost gums and several other species of plants and trees provide a stunning backdrop to the whole  area. Be sure to make your way around the back of the mansion as there are several sculptures to view.
We took many walks around the grounds even long after the park is closed to the public. It's a peaceful time to do so.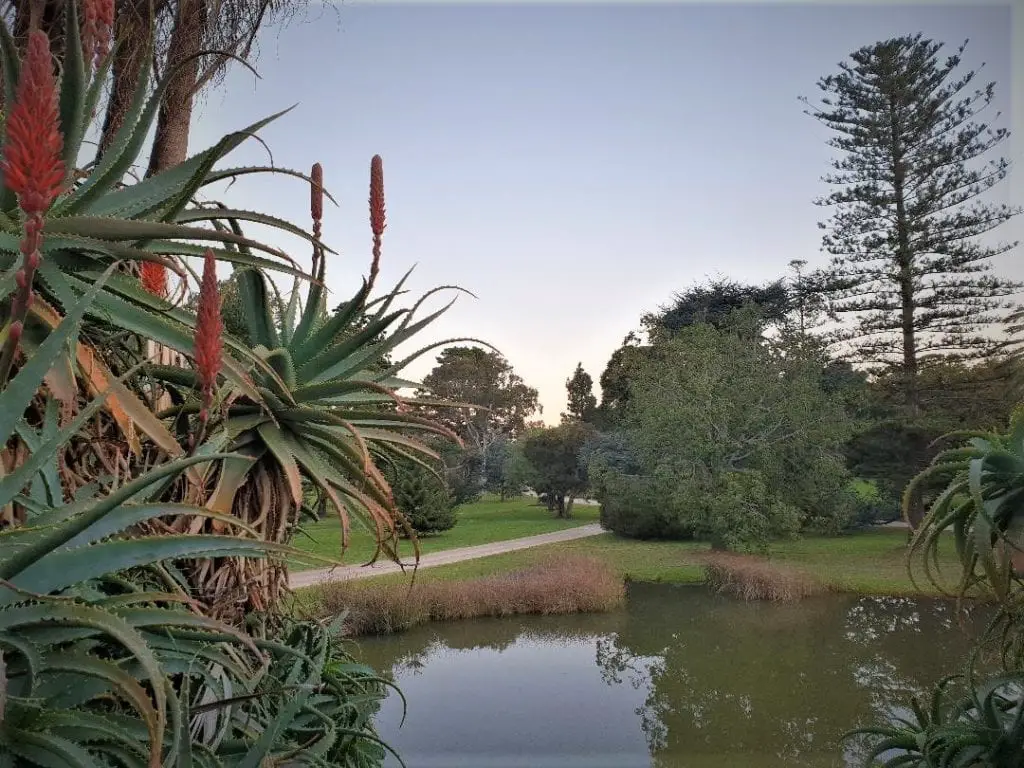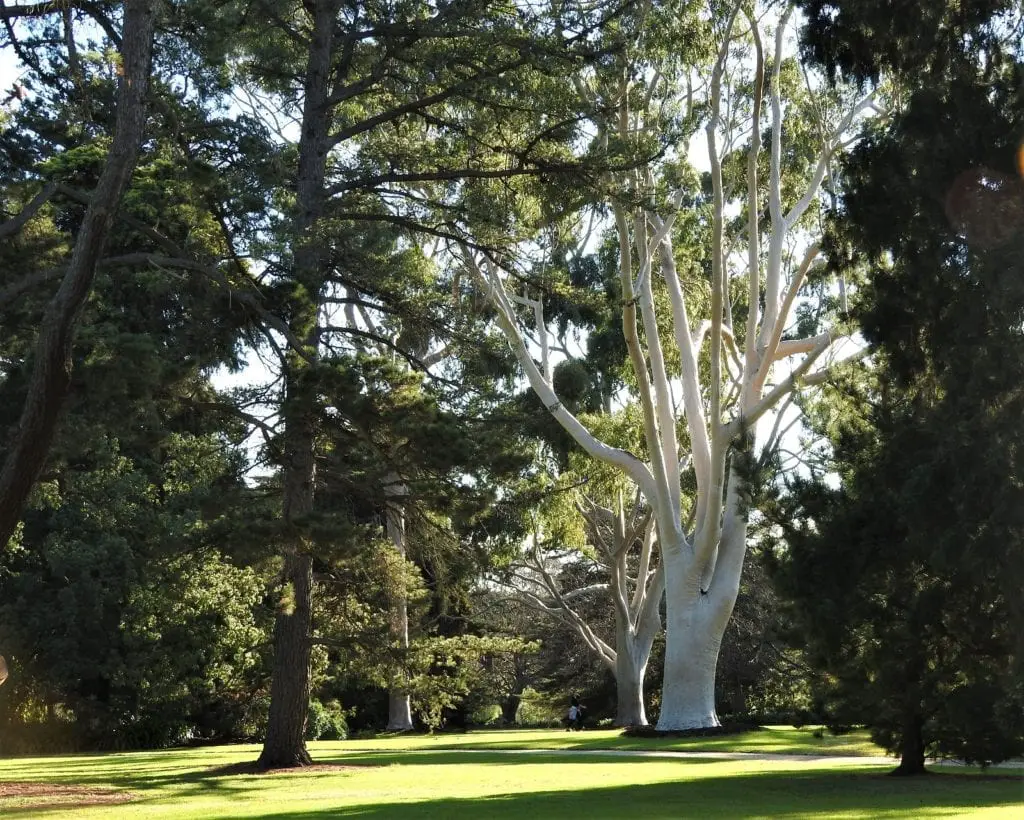 Werribee Mansion breakfast
With a complimentary bottle of wine, I decided to order room service for the evening. The breakfast however is amazing and I wasn't missing out on that. It was also included in the room rate.
The extensive menu included cereals, fruits, yogurt smoothies and cheese platters accompanying a range of hot dishes and an assortment of breads .
We also ordered poached eggs and an omelette which was complimentary plus tea and coffee.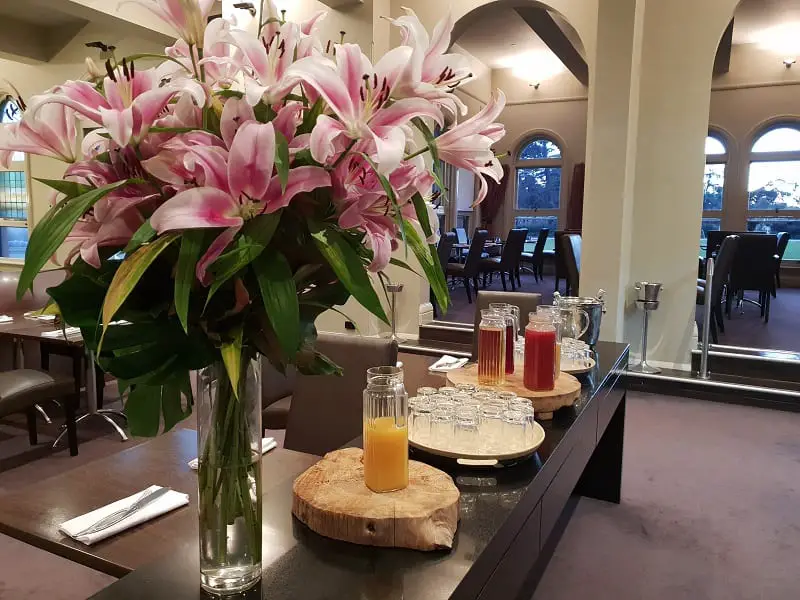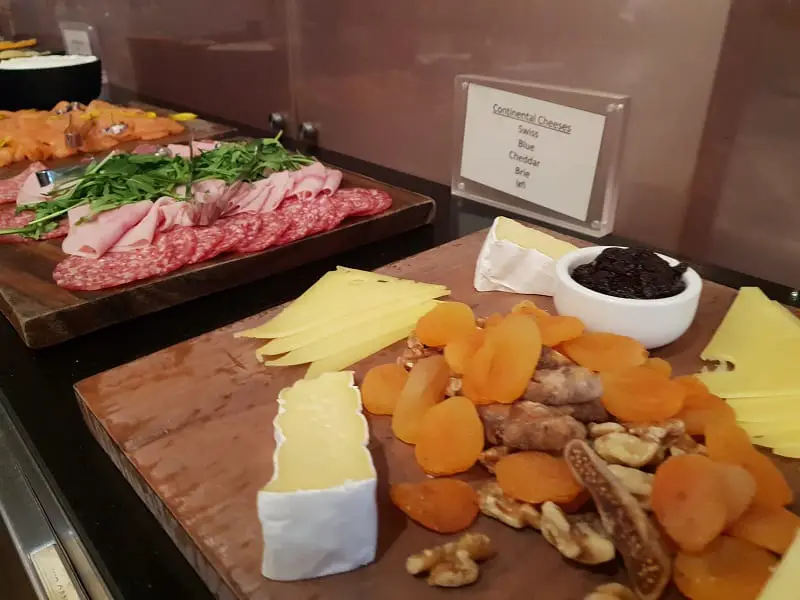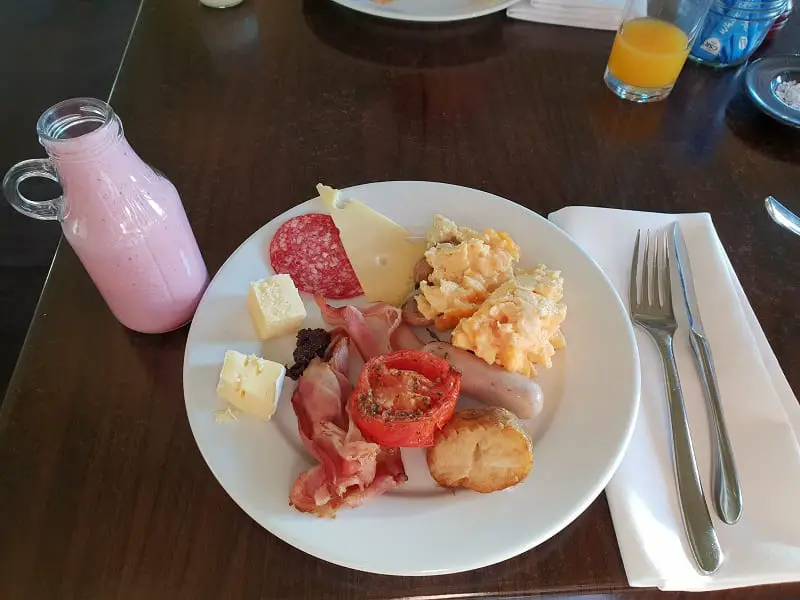 Werribee mansion Pool and Spa Facilities
The 17 metre indoor pool was the first and last place I visited for my weekend. Surrounded by lounges and the small gym adjacent, the pool was ideal on a cold winters day. It includes a spa to one end.
Wanting to rejuvenate? Indulge in a hot stone massage or facial treatment during your stay. The eight treatment rooms offer a range of other beauty treatments.
Though I didn't use any of the other spa facilities, you can check them out here.
There is a snooker room and tennis courts that guests can access. The hotel has a library for a some quiet time and a small bar for before or after dinner drinks.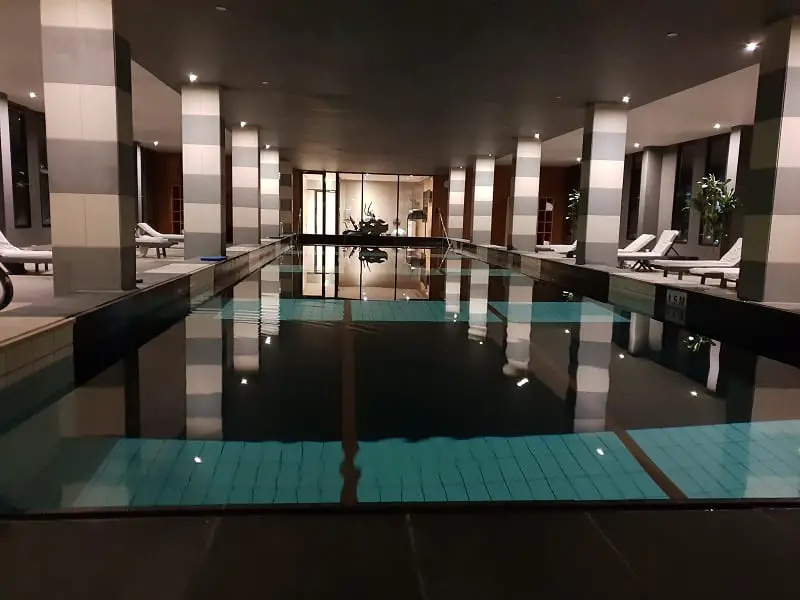 Touring the Werribee Mansion
The mansion was built in the Victorian era (nineteenth century). Italian architecture inspired, your entry into the mansion is included in your stay.
Each room takes you back into a time of high society here. The preservation is outstanding. You'll see how the rich lived, dined and slept. Work your way to the servants quarters and outside to the other buildings for a further look.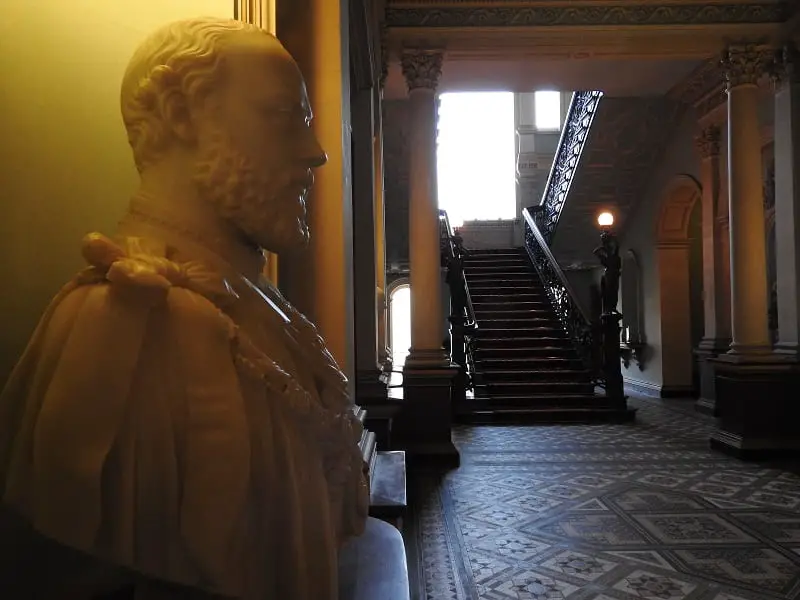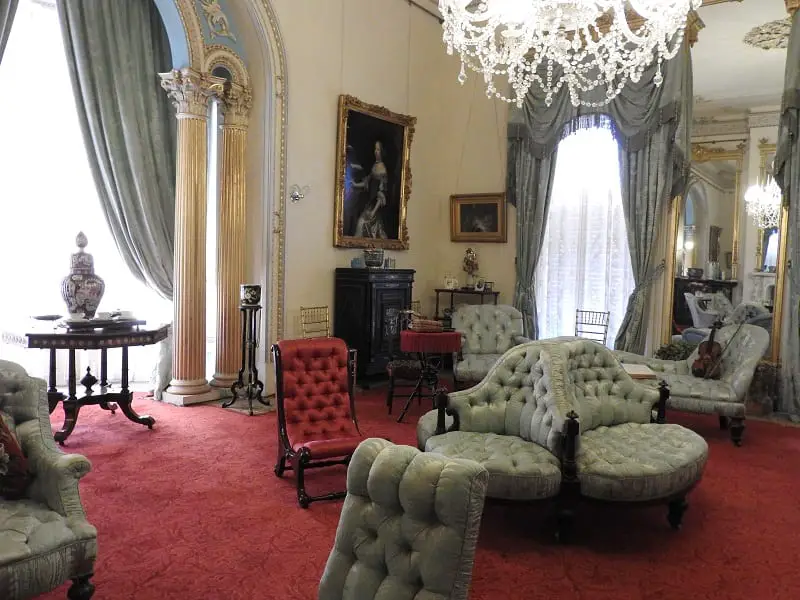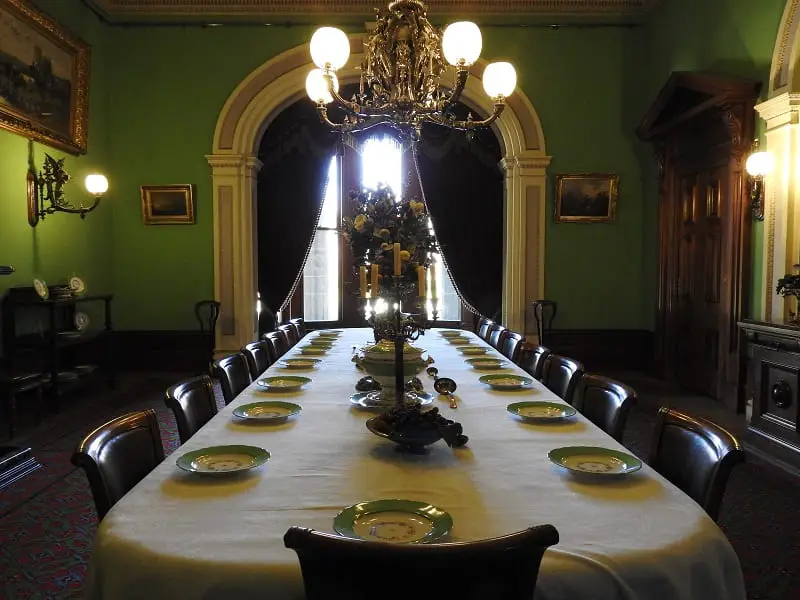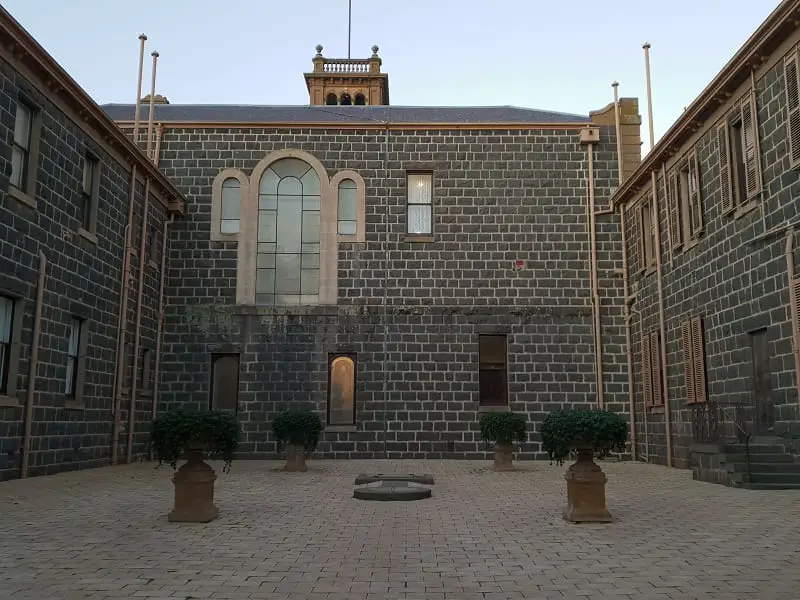 Things to do in Werribee
Werribee Open Range Zoo is a short walk down the road. We included this into our stay and it was fantastic. Go early around 9 am and miss the crowds, especially if it is a weekend or school holidays. You can purchase tickets here. 
Shadowfax Winery is close by and offers free wine tasting. They have an Italian inspired menu for those who wish to dine, and live music every weekend.
Victorian State Rose Garden is just outside the entry gates of the Mansion and is worth a visit when everything is in full bloom.
The National Equestrian Centre and an 18 hole golf course are also located in Werribee..
Overall, the stay was incredibly amazing.
It makes for a wonderful weekend getaway experience,  a romantic stay or just some time out.
Click here to see rates and availability for Werribee Mansion
What to read next
Werribee Zoo – a popular day out
Yering Gorge Cottages- Views, Roos & a Spa 
Weekend Getaways in Victoria – beaches and nature
This post contains affiliate links. That means I may receive a small commission at no extra cost to you, and it keeps me alive and running.