This Pan Pacific Melbourne Review covers everything to expect from staying in the Panoramic Suite. Whether for a birthday celebration, an anniversary or just because, the Pan Pacific offers the ultimate romantic Melbourne escape. Our weekend getaway was perfect from start to finish.
Best location to stay in Melbourne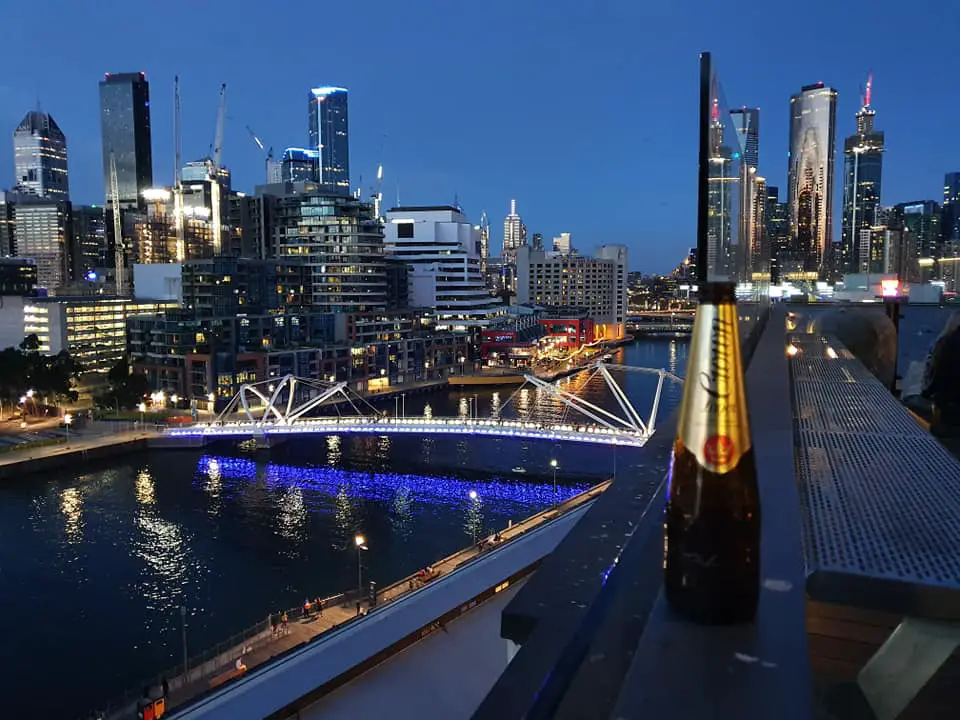 Situated in the heart of Melbourne at South Wharf and right on the banks of the Yarra River, the Pan Pacific is a winner with  the best location to stay in Melbourne.
You'll find the DFO (Direct factory outlet) next door as well as the Exhibition and Convention Centre .
A ten minute stroll along the boardwalk will take you up to Crown Casino and the iconic Southbank area. You can take a Melbourne River cruise  to historic Williamstown for a chilled day out.
Alternately, Melbourne on foot is a wonderful place to explore. The many lane-ways, parks and gardens, and iconic locations are all within walking distance. You can check out this post, Melbourne free attractions.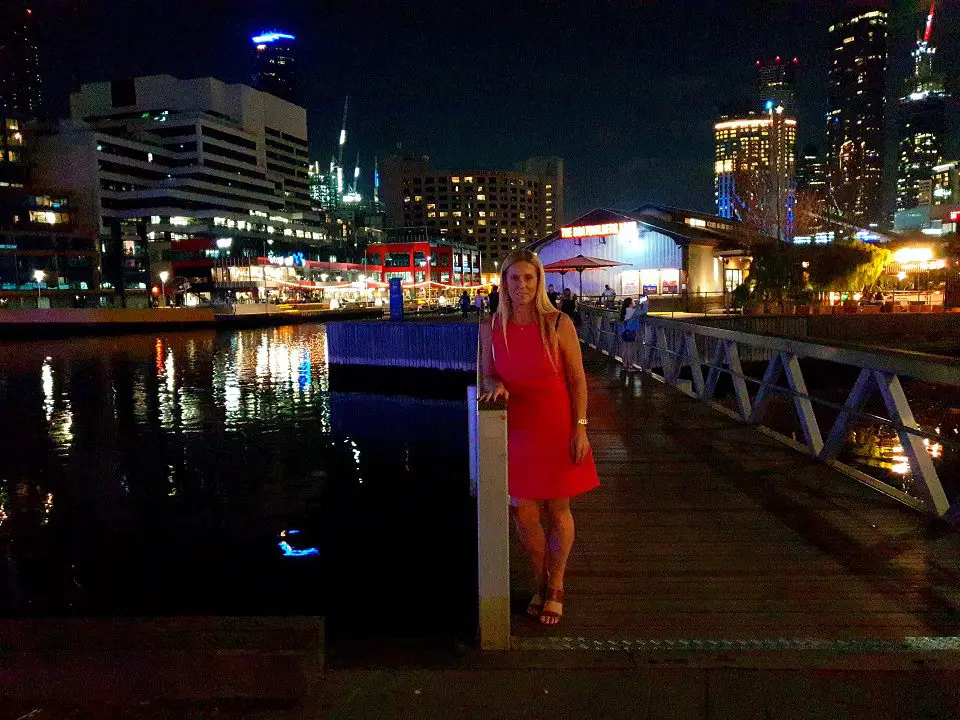 South Wharf and Southbank  are full of hip bars and restaurants, right on the water ,so it's a favourite for locals and visitors. You'll have plenty of great choices for a drink and bite to eat.
We chose to dine at Rockpool which is owned by Australia's well known chef, Neil Perry. The steaks here are a true highlight but the menu offers many other fine choices. The mood and ambiance of this low lit restaurant screams romance through and through.
Pan Pacific Rooms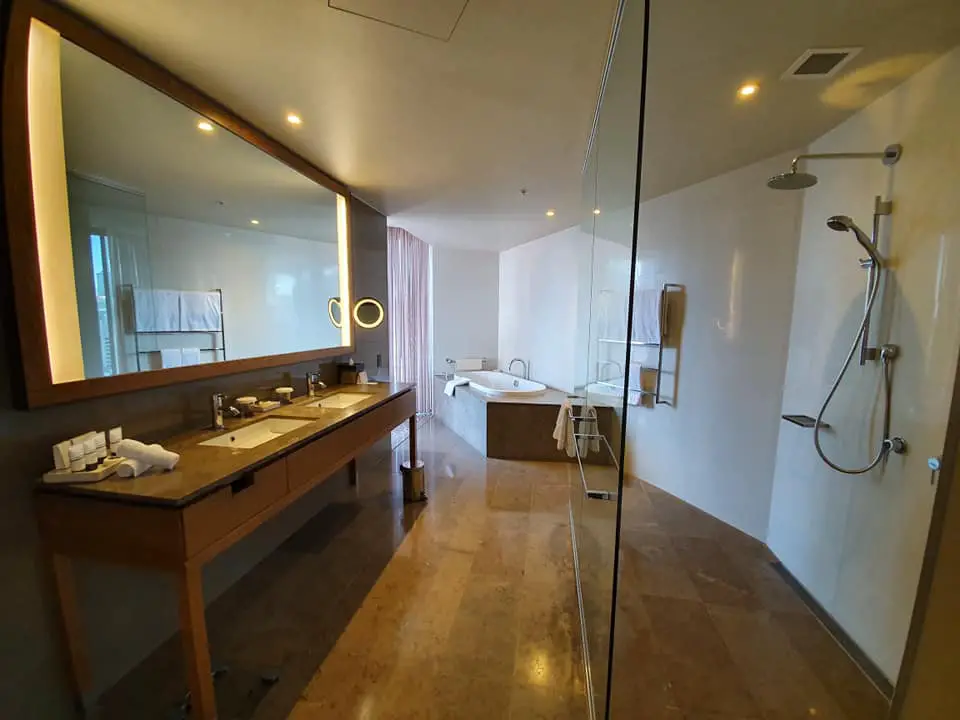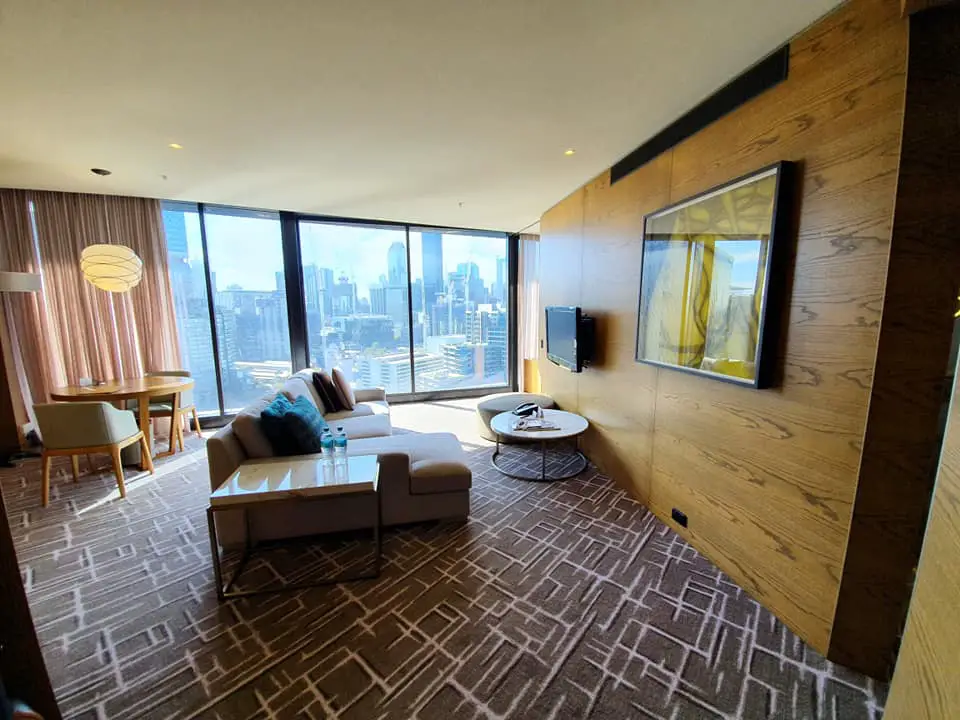 This five star hotel embellishes a stylish decor since it's recent refurbishment.
Formerly the Hilton Hotel, the Pan Pacific Group took over in mid 2017 and over the next year successfully created a luxurious transformation.
All 396 rooms offer floor to ceiling views set among neutral earthy tones,spacious floor plans and plenty of natural light.
The bathrooms are sleek and modern with rainfall shower head and quality amenities. You'll find plush bathrobes and slippers for that special touch.
Rooms are also fitted with a coffee machine which means you might actually enjoy having one rather than having to go out to find a good coffee.
Pan Pacific Club Lounge Privileges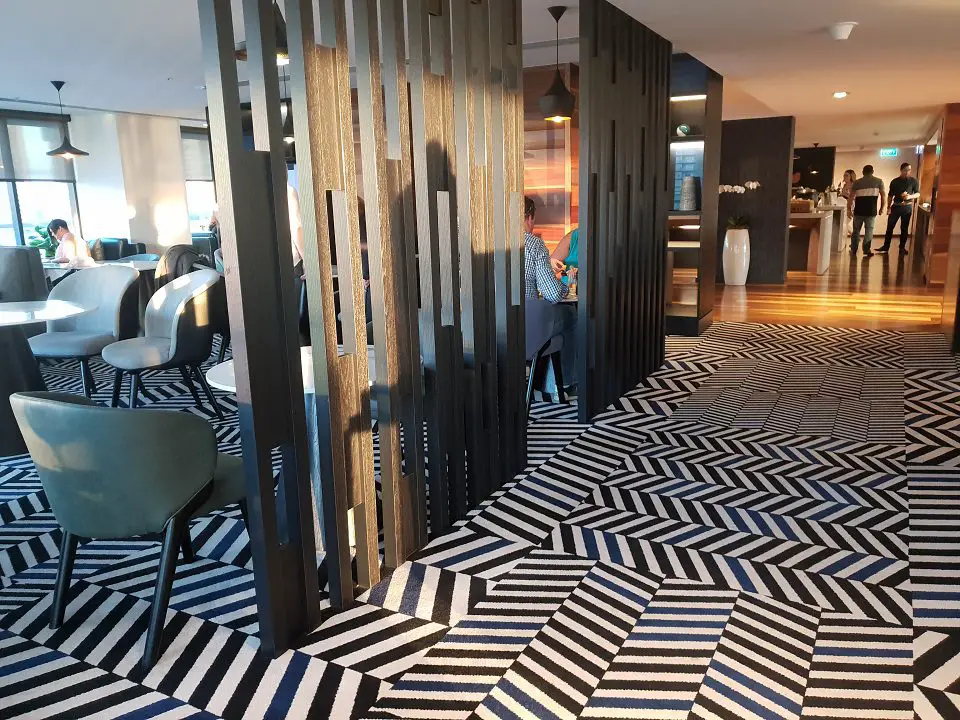 Staying in the Panoramic Suite gives you some added perks such as access to the Pan Pacific Club Lounge. This exclusive privilege is well worth utilizing.
We checked in early, relaxed a little and then headed down to the lounge on the fourth floor. The views are expansive, taking in the city from all angles.
Everything in here in FREE as part of the price you paid for your room.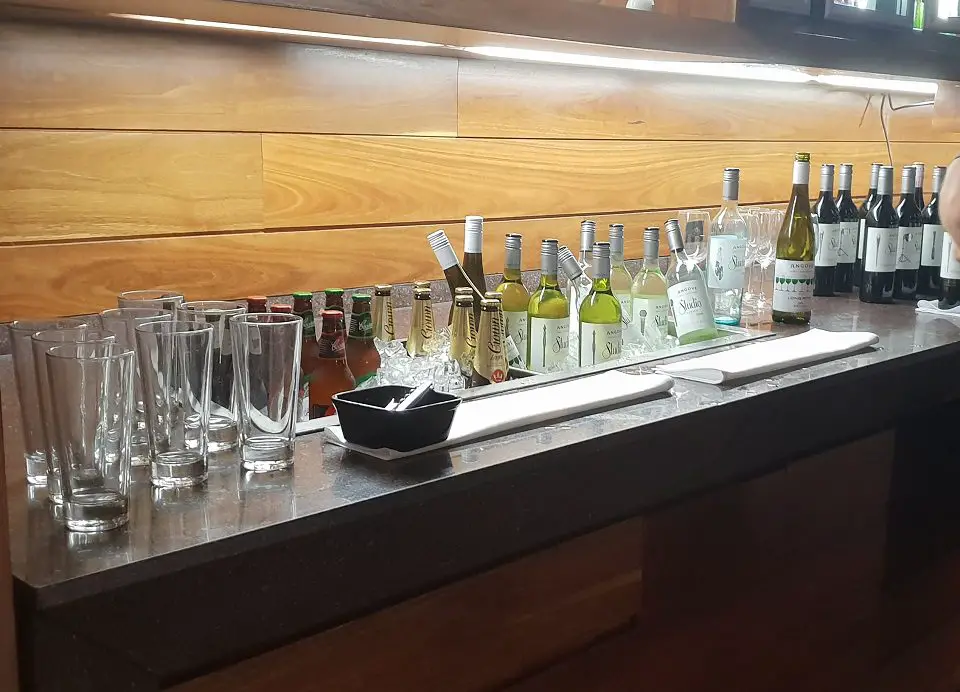 Snacks, as well as tea, coffee and hot chocolate are being served. There is also a great range of bottled premium sodas and drinks so you can take a couple with you when you leave.
We sat down to scones with jam and cream and biscotti before heading back late afternoon for 2 hours of cocktails and canapes.
I was surprised to see Whiskey, Jim Beam, Vodka and Gin all on offer, as well as a huge range of premium wines, beers and liqueurs.
Food included prawn dumplings. deep fried chicken with pesto, arancini balls, antipasto and fruit platters, soup and more.
The mood was relaxed and there was no dress code to worry about. There was absolutely nothing pretentious going on yet I felt just a wee bit classy just by being there.
The Pan Pacific Panoramic Suite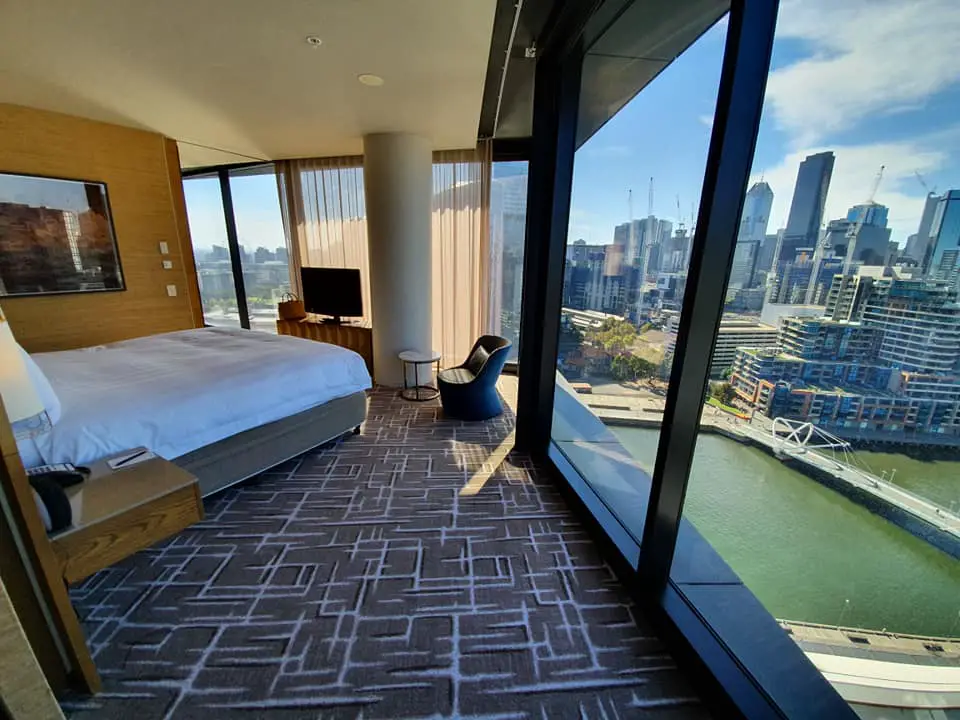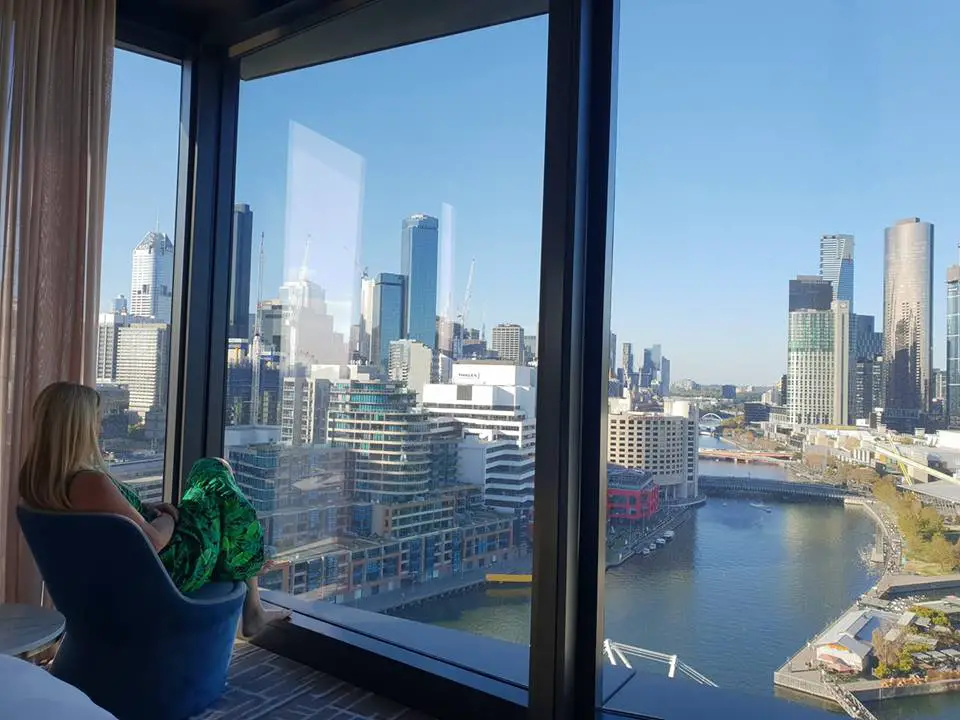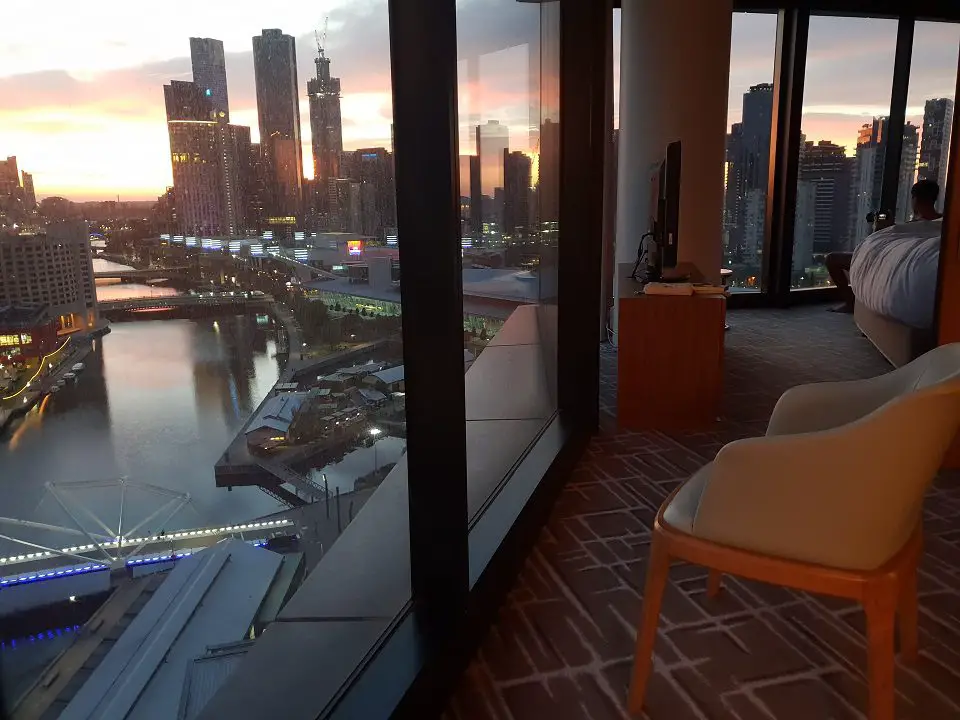 My hesitation in upgrading from a club room meant I nearly missed out on the epitome of luxury, the Panoramic Suite. Luckily enough I got the last room.
This wrap around corner suite is stunning and a great place to just sit back and relax. It's the one time you'll want to just hang in your room.The floor to ceiling windows take in 270 degree views. It means you get an amazing unobstructed view of the whole city skyline. It's simply breath taking.
You can also see all the way up and down the Yarra River and toward Port Phillip Bay on one side and the Melbourne Star and Bolte Bridge on the other.
Watch it all from your king size bed or even in the bath tub.
I absolutely loved lying in bed and taking in the view. We even had a full moon after a perfect blue sky day.
I thought it couldn't get any better till I woke up to this.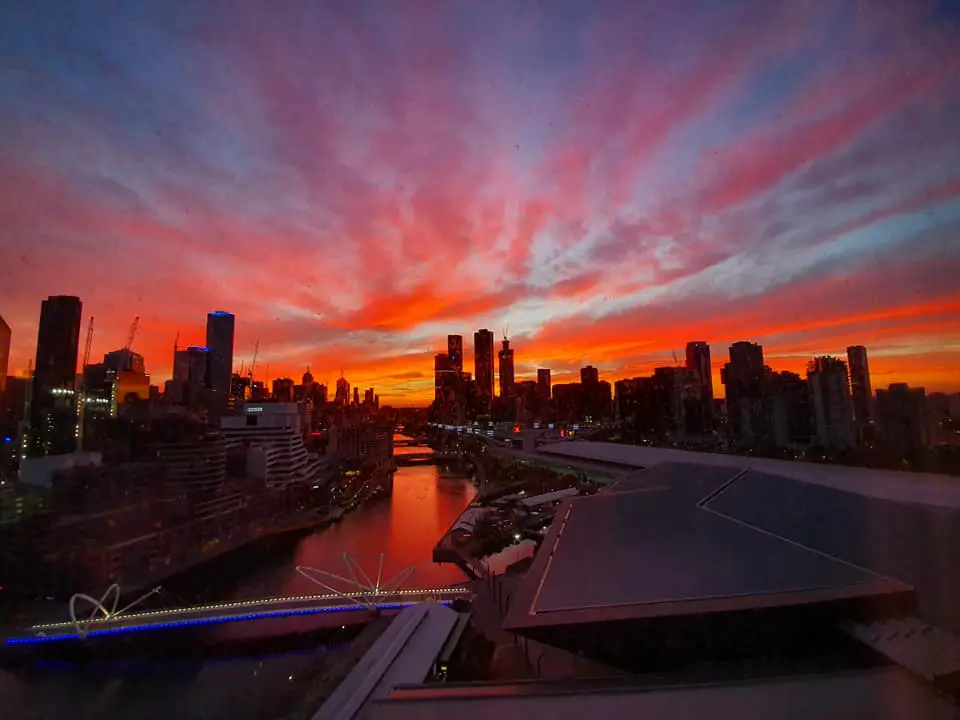 Pan Pacific breakfast buffet -Best in town.
A continental breakfast is served in the Club Lounge in the morning if you have access here.
For a wider selection of food options you can head to the buffet restaurant downstairs which is what we did.
The choices are huge as there are several stations.
I loved the fresh juice bar where you can make you own juice. I made myself a carrot and ginger, delicious.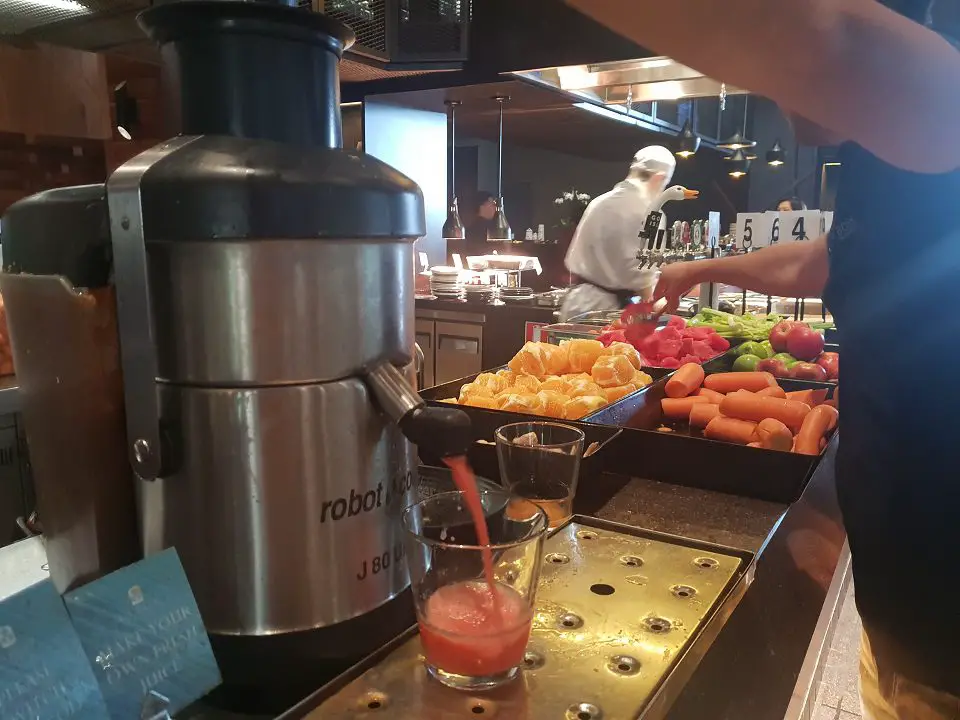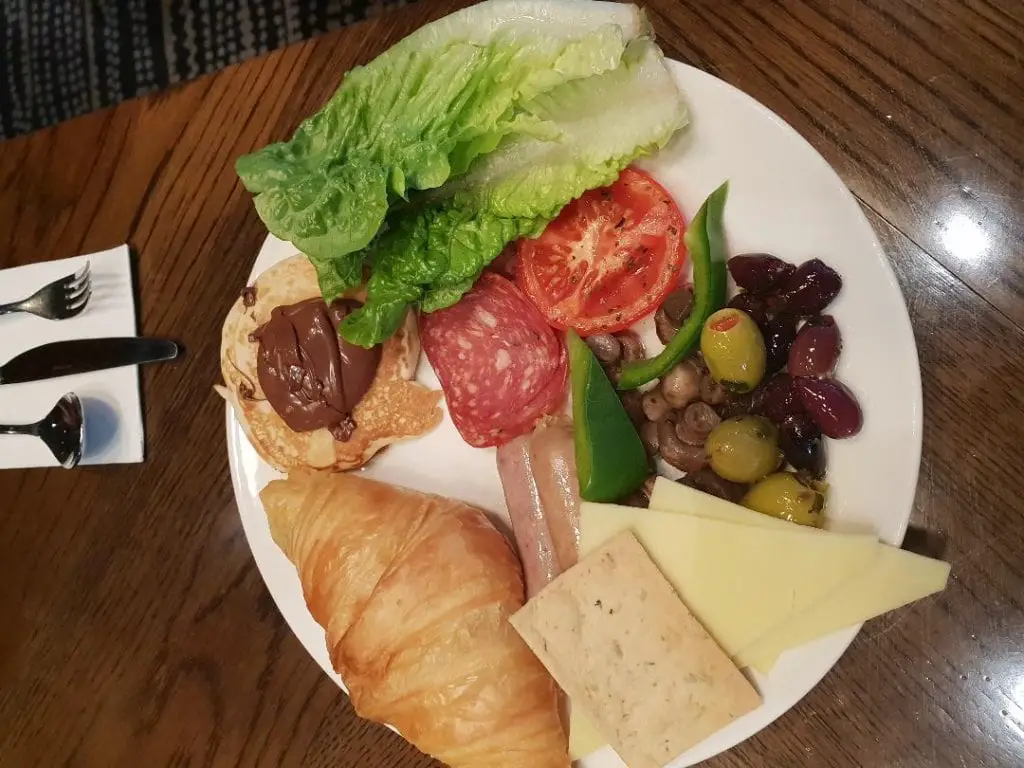 You can get freshly cooked eggs and omelettes, quiche, hash browns, bacon, sausage, beans, mushrooms, grilled tomato, salads, breads, pastries, pancakes,curries, soups, cereals, fruit and more.
It was certainly extensive and you won't leave dissatisfied.
Be sure to mention your special occasion.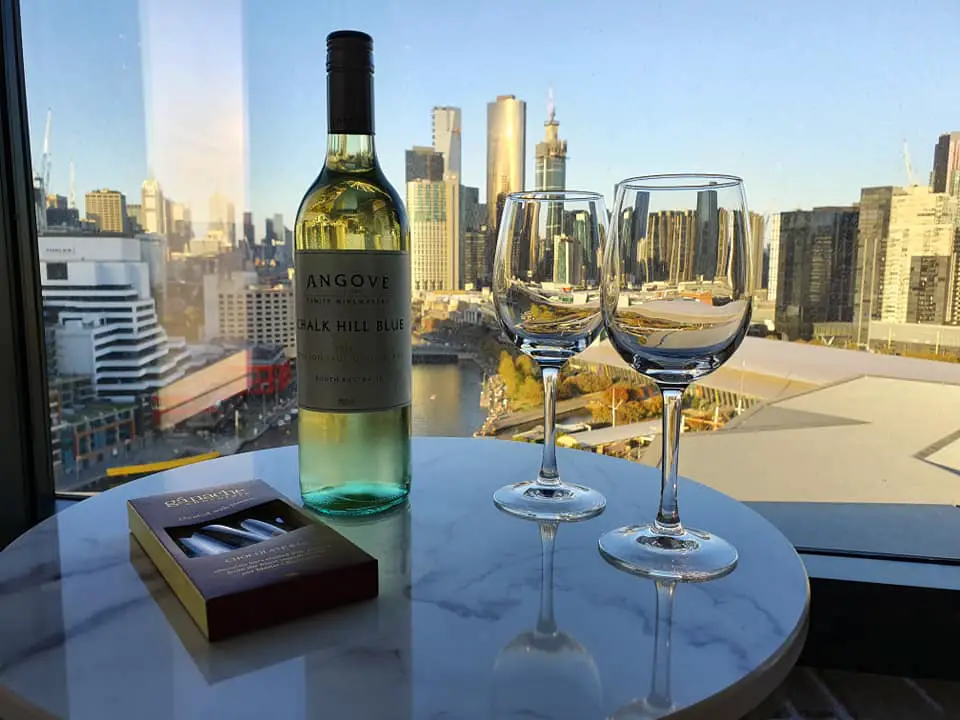 Be sure to make mention of it at the time of your booking.
The one thing I asked for was a high floor. On arrival the lady at reception told us we had secured one so I was pretty happy. As there is only one panoramic suite per floor I made sure to ask as soon as possible.
Later that afternoon there was a knock at the door and we were delighted with a bottle of white wine and chocolates. I was quite touched and certainly wasn't expecting it. Point being, if you are celebrating a special occasion then let them know. You never know.
Other ways you might benefit.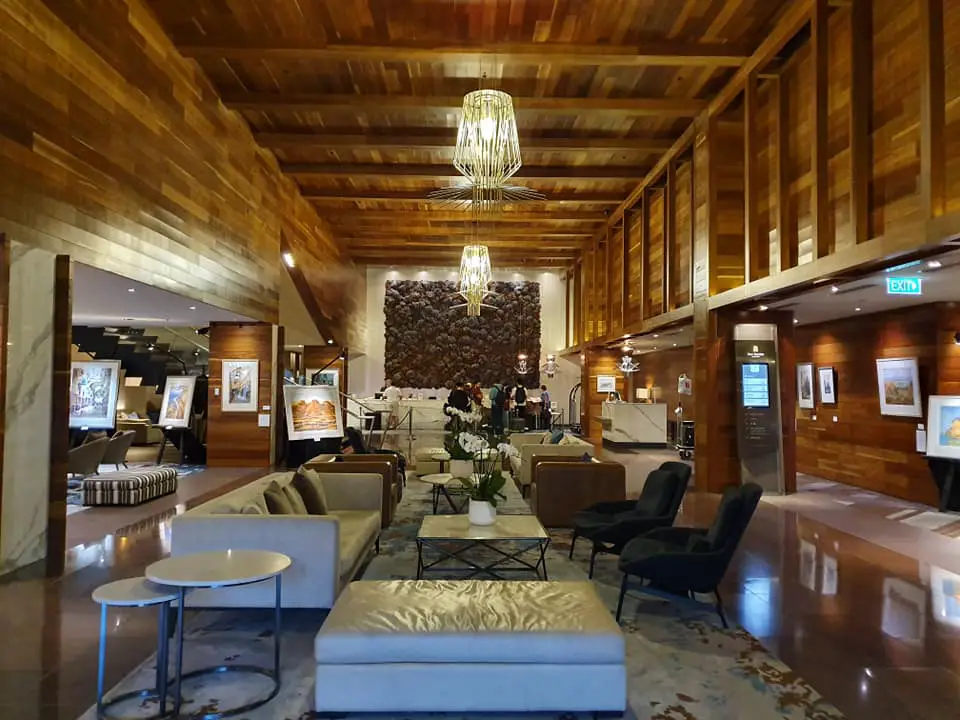 I joined the Pan Pacific Hotel Group online for free as a Discovery member which gave me some extra benefits such as a 3 pm late check out.  Not all benefits are automatic, it may come down to whether there is a promotion on.
We were also able to check in two hours early. I had read some reviews that mentioned others getting in early so I took a chance and it paid off. Worse case scenario, we would go shopping next door.
We also scored two free drink cards at Dock 37 Bar, (provided at check in ) which we used as we were checking out. A nice way to finish our stay.
So maybe just ask politely what other benefits they can offer during your stay.
Pan Pacific Melbourne Review
I was born in Melbourne but mainly raised in the country so dressing casually is the norm. It was certainly nice to put on some make up and heels.
I truly loved Pan Pacific's 5 star experience. The staff are courteous but clearly down to earth. I loved that it felt more casual than formal.
As you can tell from my Pan Pacific Melbourne Review. I absolutely loved it.
MORE ON MELBOURNE
Melbourne Attractions – for free
Day trips from Melbourne – escape the city
Melbourne Bike Ride along beach road
Melbourne Cruise to historic Williamstown
This post contains affiliate links. That means I may receive a small commission at no extra cost to you, and it keeps me alive and running.